A magical Redwood Treehouse located it the beautiful Santa Cruz Mountains. There is a live tree growing right through the main living area and another in the bathroom! It is simply incredible. It was built by my friend, Randy, a stained glass artist. Everyone who sees it are delighted by it. Please read entire description before making a reservation request. It has a delicious high-bed, a kitchen with a small stove and refrigerator, and typical cooking tools. There is a full bathroom with shower and toilet of course. There is now a hot-tub at about 103 degrees ready for your soak before bed or a morning treat. The Treehouse is a short walk of a few hundred yards (about four minutes) through the beautiful woods from the parking area. There is a gas stove for heating. There is a TV and DVD player with many movies to choose from. For travelers this is the best of both worlds. A wonderful treehouse nestled in the redwood forest, a short distance to HWY 1(Pacific Coast HWY) the main vein to Monterey, Carmel-by-the-Sea, Big Sur, Capitola and Santa Cruz and the HWY 101 Corridor. People come from all over the world to experience the Pacific Coast specifically the Monterey Bay area. It is an area rich in history. Here you will find world class art, music, cuisine, golf, surfing, sightseeing, hiking, biking, sunbathing, whale watching, birding, fishing, Monterey Bay Aquarium, Santa Cruz Beach Boardwalk and so much more. You can spend the day engaged in a variety of activities, physical and/or cultural. However you spend your day you can return home to a mountain treehouse and quiet. The weather here is excellent. It is located in a micro climate called a 'banana belt'. Though the beach is only 25 minutes away we are often in the sun when our neighbors in the valley and on the coast are in the fog. Winters are mild we average 25" of rainfall a year. Summers can be warm but delightful. The fog rolling in at night is nature's air conditioner and everything cools down. The weather is nearly perfect. Fog burns off early enough to make the beaches comfortable all day. The Santa Cruz Mountains are home to Sequoia Sempervirens commonly known as a Redwood Tree. They are native only to a specific part of Pacific Coast region. Come and visit our amazing part of the world and experience something special about the California Coast. All linens are provided. The kitchen has the basic items for cooking, i.e., spices, oil, vinegar, sugar, and tea. Two-night minimum on weekends. THREE-DAY MINIMUM on HOLIDAY WEEKENDS. A 60.00 cleaning fee will be charged per each stay. We are a green establishment. Environmentally friendly cleaning products are used. We ask our guests to consider using fewer towels during their stay and not requesting a sheet change unless your stay is longer than a week. I have a moderate cancellation policy. You must cancel a full seven days before your reservation. Please make sure that you read it thoroughly. You will be charged 50% of your stay if you cancel after the grace period.
Opiniones de los huéspedes
"The Redwoods Treehouse está ... ¡Más allá del paraíso! Fue realmente un honor estar en un lugar donde la naturaleza es libre de crecer. Debo agregar que las secoyas son verdaderamente majestuosas, energizantes e inspiradoras. El viaje en coche por las montañas, así como la caminata hasta la casa del árbol, fue una sorpresa igual. La casa del árbol en sí es simplemente increíble (sin mencionar la bañera de hidromasaje), con una excelente artesanía y un diseño estético detallado. Apreciamos ver el equilibrio de la naturaleza y la armonía que los árboles de Redwood intactos nos inspiraron. Todo nuestro viaje fue como un sueño :)"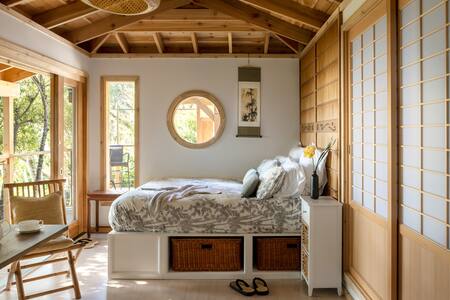 SUPERHOST
Casa de huéspedes completa · 2 huéspedes · 1 cama · 1 baño completo y uno de tocador
Beach View at the Bird's Nest Bungalow
NOTE: Construction next door to my property is scheduled to start in October. I am happy to refund $50 per day that noise from this project affects your stay but want all potential guests to be aware of this issue prior to booking. Relaxing refuge set on a lush hillside in the quiet seaside town of Stinson Beach. Feel transported by the authentic Japanese design aesthetic and tranquil outdoor shower and soaking tub. Indulge in treetop ocean views from the comfort of a queen bed, and watch the sun set from the privacy of a wooden deck. Walk only five minutes to three miles of perfect beach.
Opiniones de los huéspedes
"¡Airbnb de Margaux fue todo lo que podríamos haber querido! Mi novio y yo tuvimos la suerte de haber pasado nuestro fin de semana de aniversario aquí teniendo en cuenta lo lleno que suele estar este lugar. Nos encantó el interior y exterior japonés y todos los pequeños detalles en toda la casa que nos hicieron sentir como si estuviéramos en Japón (y hemos estado allí muchas veces). Nuestra parte favorita de nuestro viaje fue el hermoso baño al aire libre donde podíamos bañarnos afuera mientras escuchamos el océano y miramos las estrellas. A pesar de estar afuera, el baño y la ducha al aire libre estaban bastante limpios. La habitación estaba muy limpia también. Solo unos pocos errores, lo que se espera que esté en la naturaleza, pero no es un problema si cierra las puertas rápidamente al entrar / salir. Margaux respondió rápidamente si teníamos algún problema. Definitivamente recomendaría este lugar si quieres tener una experiencia de escapada única y relajante."
SUPERHOST
Casa de huéspedes completa · 2 huéspedes · 2 camas · 1 baño
Napa Getaway * Modern One Bedroom Guest House
This modern Guest House with private entrance and patio, offers a quiet setting to enjoy Napa Valley and is also available on a monthly basis. Perfect 2nd 'Home away from Home' for your Napa getaways, temporary work placements or for an extended vacation in wine Country! Walking distance to quaint neighborhood plaza. Minutes away from restaurants, tasting rooms and shops in Downtown Napa. Please feel free to reach out to us directly to discuss flexibility on date ranges.
Opiniones de los huéspedes
"¡Qué gran descubrimiento en Airbnb! Nuestro viaje a Napa el pasado fin de semana fue una de las mejores experiencias que hemos tenido y la casa de huéspedes de Amali fue el lugar perfecto para recuperarse y relajarse después de tres días de cata de vinos. Estábamos muy contentos de encontrar una cama King en lugar de una Queen (como se anuncia en el perfil) y nos encantó lo espaciosa que era la unidad en general. Amali fue una gran anfitriona, respondió rápidamente a cualquier solicitud o pregunta que teníamos y nos registró durante toda nuestra estancia. Definitivamente tendremos en cuenta este lugar la próxima vez que regresemos al Valle."