Bienvenido a Frankfurt! Puesto que vamos a viajar a nosotros mismos, estamos alquilando nuestra Apartamento 2 piezas justo en el corazón de Frankfurt. Vas a tener un ambiente luminoso y abierto a la espera de que después de un día ajetreado en la ciudad. En la gran sala de estar, encontrará una cama doble con guarnición fresca y sábanas, una mesa de comedor, y enormes ventanas. La cocina es nueva y totalmente equipada. El baño dispone de bañera y ducha, también toallas limpias. Sólo 3Min. a poca distancia de la estación principal y 10 minutos. al centro de la ciudad.
Viven más cerca del centro de la ciudad es casi imposible! El apartamento está situado entre la estación principal y el centro de la ciudad, ideal para un viaje a Frankfurt. El edificio histórico rehabilitado, en el que se encuentra el apartamento, ofrece un máximo de comodidad con sus muebles de estilo ideal para viajeros de negocios y los buscadores de ocio. La amplia sala de estar cambia fluidamente a la cocina y es muy luminoso. La cómoda cama doble, junto a una de las grandes ventanas, se prepara con hojas frescas y guarnición. Además, la habitación también da cabida a una mesa de comedor con estilo, aquí se puede disfrutar de comidas caseras. En la segunda sala de la vivienda, se puede encontrar otra solución para dormir, el sofá convertible cómoda. Esta sala se puede utilizar para una noche de cine perezoso, con su moderno televisor o de un espacio de trabajo organizado. Todas las habitaciones del apartamento tienen bonitos suelos de madera que crean un ambiente cálido. En la cocina abierta y luminosa, encontrará todos los aparatos para preparar comidas caseras. El baño tiene una bañera y una ducha, también le daremos un juego de toallas frescas. También hay un aseo de invitados.
Directamente situado entre la estación principal y el centro de la ciudad de Frankfurt! A sólo 5 minutos. a poca distancia de la estación principal y 10 minutos. al centro de la ciudad. En las calles de los alrededores, encontrará un montón de tiendas para sus necesidades diarias y también una variedad de restaurantes, etc.
Sandra à été toujours à l'écoute durant notre visite. Pour le reste c'est un joli appartement, confort, propre et bien situer.
Karim
2017-03-12T00:00:00Z
Die Unterkunft ist super schön und sehr komfortabel. Perfekte Lage direkt an der Kaiserstraße in unmittelbarer Nähe zum Hauptbahnhof. Der Rewe to go vor der Haustür ist sehr praktisch. Die Kommunikation war schnell und freundlich, der Check-in flexibel und problemlos.
Noreen
2017-03-16T00:00:00Z
Sandra's apartment is beautiful and very comfortable. Great location-very close to the train station and an easy walk to the center of the city. Check-in was very easy and we appreciate the welcome bag and maps! We would definitely stay here again!
Chris
2017-03-22T00:00:00Z
very central beautiful &spacious flat on 400 meter of the hauptbahnhof. the check in &out was flexible & easy & the communication was great .perfect ! definitely recommend
madeline
2017-03-25T00:00:00Z
Tipo de habitación
Casa/apto. entero
---
Tipo de propiedad
Departamento
---
Capacidad
4
---
Habitaciones
Fráncfort del Meno, Hessen, Alemania
Mein Platz ist nahe dem Stadtzentrum, dem Hauptbahnhof, der Messe, Kunst und Kultur, Restaurants und Restaurants, den Fluss (Main). Sie werden meinen Platz wegen der bequemen Bett, die hohen Decken, die Lage lieben. Mein Platz ist gut für Paare, Solo-Abenteurer und Geschäftsreisende.
18qm-großes Zimmer in Altbauwohnung mit schönen hohen Decken, tollem Dielenboden und großem Fenster. It's a spacious room in an old building with high ceilings and large windows.
Das Bahnhofsviertel lebt von seiner kulturellen Vielfalt und seinen Ausgeh- und Einkaufsmöglichkeiten. Der Main ist auch um die Ecke und lädt besonders in den Sommermonaten zum Entspannen ein. The area 'Bahnhofsviertel' is characterized by its cultural diversity and its wide range of shops, cafés/bars/restaurants, and night life. The river Main is just around the corner and is perfect for sunny summer days to take a walk or relax a little.
Very convenient location. Room is quite spacious. And host is also nice and friendly.
品翰
2016-08-14T00:00:00Z
Anton was a great host and her place was very central and spacious. Great communication before and during the stay, highly recommend booking a room in her apartment. Super close to the main station and a great coffee place right next to the apartment called Plank. Definitely stay here next time.
Denis
2016-08-11T00:00:00Z
Great location, spacious room and welcoming hosts. I would totally recommend that place :)
Anouk
2016-08-19T00:00:00Z
The house is well located, near the Center Station and you can walk to visit the city center. Anton is friendly and kind. Highly recommend. Thank you Anton.
Anh
2016-08-26T00:00:00Z
Hallo, bei Anton hat man eine top Lage um fussläufig die Innenstadt zu erkunden! Vom Hauptbahnhof ist man in wenigen Minuten dort. Im 3. Stock hat eine lebhafte WG Einzug erhalten, deren Laisser-faire zum angenehmen Aufenthalt beiträgt. Die Einrichtung ist praktisch, funktional und man erhält was man braucht. Die Gastgeber waren freundlich, aufgeschlossen und für Fragen da.
Jannik & Leonie
2016-08-15T00:00:00Z
Tipo de habitación
Habitación privada
---
Tipo de propiedad
Departamento
---
Capacidad
2
---
Habitaciones
Fráncfort del Meno, Hessen, Alemania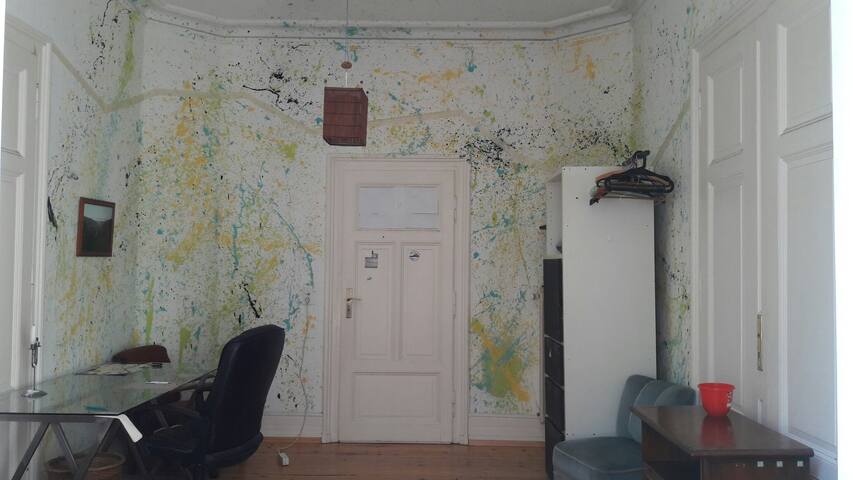 x instalaciones espaciosas y asequibles central con ascensor x 3 minutos de la estación principal | 8 min de la Messe | 10 min del centro, todo a pie. * Gran transporte público * Con cocina completamente equipada | WIFI | para 4 personas | 2 habitaciones * Estacionamiento gratis
COCINA PEQUEÑA; Totalmente equipado (vajilla), microondas, horno PRIMERA SALA: 1 sofás de dormir (2 personas pueden dormir), televisión de pantalla plana, 3 sillas, mesa de comedor, WiFi de alta velocidad, etc. SEGUNDA SALA: 2 x camas individuales armario, cómoda, mesa de noche El baño: ducha, con ducha, champú, gel de lavar, secador de pelo, etc. Vestíbulo: espacio para guardar su equipaje, un montón de sombrillas. Para más detalles sienten libres de ponerse en contacto conmigo.
La Hauptbahnhof (estación central) ofrece conexiones a todos los trenes regionales y de larga distancia. Hay varios tranvías y U-Bahn y las líneas de autobús le llevará fácilmente a todos los lugares dentro y fuera de Frankfurt. Hay varias tiendas, clubes, bares y cafés en esta área. La vida nocturna de Frankfurt se lleva a cabo en esta área también. Todo está a su lado.
Great place with awesome hosts, thanks Diana and Mike to make our short stay in Frankfurt so easy. Communication was easy and straight forward, rooms were clean and well maintained, everything was just great. Highly recommend this place!
Nicolas
2017-04-09T00:00:00Z
Great location in the heart of the city. It's definitely suited for a short holiday with a group of friends. Diana and Mike are very accomodating.
Sebastian
2017-03-26T00:00:00Z
Saubere und ordentliche Unterkunft mit unschlagbarer Entfernung zum Hauptbahnhof. Schlüsselübergabe war unkompliziert. Danke für die extrem spontane Zusage :)
Erik
2016-06-07T00:00:00Z
Great apartment close to station, overall good enough. It is on the 5th floor so you don't hear the streets or any other noises.
Steven
2016-11-12T00:00:00Z
Good clean accommodation
Craig
2016-11-22T00:00:00Z
Was perfect
Sebastian
2016-11-18T00:00:00Z
The place it's perfectly clean and is very near to the central station, the hosts was very friendly and flexible with the arrival times, I highly recommended. Thanks a lot
Isaac
2016-07-06T00:00:00Z
Location and the flat was really good. 2 minutes to the central station and 10 min to the city centre by walk. The communication was very good. Perfect for 2-3 person or for families.
Metin
2017-02-26T00:00:00Z
Tipo de habitación
Casa/apto. entero
---
Tipo de propiedad
Departamento
---
Capacidad
3
---
Habitaciones
Fráncfort del Meno, Hessen, Alemania
JNB se abrió recientemente hostal (15/08/2016) con moto 'se relajan durante el viaje ". Nuestro hostal está situado en Kaiserstraße. Puede encontrar nuestra casa de huéspedes muy fácilmente, ya que en tan solo 5 minutos a pie de la estación central de Frankfurt. Además, Messe, donde las exposiciones se holded y la calle Zeil, donde se reunieron muchos lugares comerciales están muy cerca de nuestra casa de huéspedes.
Además, el río principal donde la gente puede caminar a lo largo con la escena hermosa y Frankfurt el centro en el que el mejor lugar para ver vista nocturna también están cerca de aquí. La parte más atractiva de nuestra casa de huéspedes es que la gente puede llevarse bien con otros viajeros en el café del libro donde la gente puede tomar un café, escuchar música, prepararse para el viaje, navegar por Internet y tomar un descanso. Por otra parte, las personas pueden permanecer en nuestra casa de huéspedes con comodidad porque tenemos la producción de madera para literas que pueden mantener la privacidad de cada persona mediante la instalación de cortinas en cada cama (Cada cama tiene enchufes eléctricos y lugar para poner propias telas de la gente). Proporcionamos camas, no una habitación. Por lo tanto, el cargo por la persona adicional es la misma que la carga de una persona. Se incluye el desayuno gratuito estilo alemán.
Dentro de 5 minutos a pie de la estación central Messe y lugares de interés turístico, del lado del río y comercial más importante se encuentran a 5 minutos a pie
Excelente ubicación
Claudio
2016-11-21T00:00:00Z
덕분에 짧은 3박4일 잘 지내다 갑니다. 프랑크푸르트 떠나서 유럽 몇군데 돌아다니고 있는데 아침밥은 고사하고 물도 안주더군요. 잠자리도 넘 불편하고.. 확실히 자기소유라는 인식이 강한 유럽에서 정을 느낄수 있던 시간이었던 것 같습니다. 그리고 앞으로 남은 여행하면서 조금 더 그리워 질듯 싶네요. 즐거운 시간이었습니다. 기회가 된다면 또 들르겟습니다.
HYUNG JU
2017-04-05T00:00:00Z
Will recommend this place .Our host is very welcoming and polite and thoughtful. Rooms are clean and tidy so you could relax in the living room with many books. There you will have eventhjg you need . :)
Evelyn
2016-11-09T00:00:00Z
The place is very well designed. JC likes to keep his place neat. Very friendly host and great ambience, Its just about 500 meters down from Hauptbnahof station. An inspiring stay!
Nish
2016-09-17T00:00:00Z
Great hosts and nice breakfast. Enjoyed getting up in the classical music.
Yunchu
2016-11-07T00:00:00Z
Jc was very helpful and even let me store my luggage after check-out, as my flight home wasn't until much later in the day. Everything was great - the only little thing was the volume of the music (lovely classical music); it was a bit loud for my taste, but I'm sure if I had said anything, it would probably have been turned down. So all in all, I am very satisfied with my stay at JnB
Lotte
2016-12-05T00:00:00Z
JC & Blue's guesthouse is great and got a cozy atmosphere. My favorite is the bookshelf in the breakfast room. I had a nice stay there. Thank you! :)
Leon
2016-12-07T00:00:00Z
주인분께서 친절하시고 열심히 하시는 것 같고 물어보면 잘 알려주십니다. 일찍 나와서 아침은 못 먹었지만 꼭두새벽부터 투숙객들 먹을 식사 준비하시는 모습이 멋있었습니다. 테라스에서 흡연 가능. 흡연자분들은 참고하시길. 침대랑 베개 상태도 깨끗하도 푹신해서 잠도 잘 옵니다.
인철
2017-02-07T00:00:00Z
Tipo de habitación
Habitación compartida
---
Tipo de propiedad
Casa de huéspedes
---
Capacidad
10
---
Habitaciones
Fráncfort del Meno, Hessen, Alemania
你会留与住在法兰克福的市中心有我的超级好吃的室友,RAIA,阿明和彼得在我的大,舒适和明亮的房间。我们喜欢住在一起,所以我们经常在我们的大厨房,这也是出于客厅聚会,但当然,我们总是尊重你和我们的隐私。 那么,你是更欢迎届时留在我们美丽的城市住宅。
的位置,我们的公寓IST精湛,非常靠近中央车站,公平,市中心和河流。 这房子是一个古老的建筑,所以它的墙壁和天花板都非常高,这使得平板明亮而巨大的。 最后但并非最不重要的,你住我的三个妙室友,RAIA,阿明和彼得,谁是超级漂亮和有意见,如果你需要他们。
我們生活在一個非常繁忙,有時也有點更響亮的街道上,周圍有我們的家吧。所以,在夜間或週末有時有音樂的夜晚。
Wir hatten echt tolle Zeit bei David in Frankfurt. Er ist sehr nett, hilfsbereit und Großzügig. Das Zimmer ist groß und gemütlich, die WG ist schön, die Lage ist gut und die Mitbewohner sind sehr nett. Check in und check out waren gar nix kompliziert und alles ist wie geplant gelaufen.
Salominho
2017-04-11T00:00:00Z
The host canceled this reservation 3 days before arrival. This is an automated posting.
Leandro
2016-12-08T00:00:00Z
Everything was really good, the room is as expected in the pictures
Milnael
2017-04-09T00:00:00Z
Tipo de habitación
Habitación privada
---
Tipo de propiedad
Departamento
---
Capacidad
2
---
Habitaciones
Fráncfort del Meno, Hessen, Alemania
Grande, a estrenar, cuarto piso habitación en la planta 2, a 5 minutos de la estación central y el centro de la ciudad de Frankfurt, situado en una zona muy animada, cerca de restaurantes, bares y con excelentes conexiones de transporte al lado del Messe (recinto ferial), Aeropuerto y trenes para toda Alemania y Europa. Tranquilo y cómodo, con 2 baños y más de 130sq metros, hay un montón de espacio, y un gran balcón para admirar el horizonte.
El apartamento es mi propia casa, que estoy compartiendo mientras pasan este año a explorar el mundo. Está es perfecto para solteros, parejas, familias o amigos que visitan en vacaciones, para una Messe, o que se están moviendo a Frankfurt y necesita un lugar amplio, céntrico y cómodo para alojarse mientras se instalan en. El apartamento tiene una gran cocina / sala de estar combinados con una mesa de comedor que se extenderá al asiento 8. Cada habitación tiene una gran cama doble, y hay un cuarto de baño enorme en el dormitorio principal (además del baño principal). Además, hay una cama individual plegable que puede acomodar una persona adicional. La lavadora se encuentra en un depósito separado que se abre fuera de la sala de estar. Para los huéspedes más largo plazo, puedo organizar un servicio de limpieza semanal o quincenal, y el aparcamiento subterráneo en el edificio a un costo adicional. Además, si usted está pensando en una reserva de más tiempo y le gustaría tener una mirada en el apartamento, por favor hágamelo saber.
El apartamento está en la esquina del bulevar Kaiserstrasse y Elbestrasse, en el corazón de Bahnhofsviertel de Fráncfort. Este distrito que rodea a la estación de tren principal (Hauptbahnhof) tiene una mezcla de imponentes edificios residenciales antes de la guerra y los más modernos desarrollos (el apartamento está en una urbanización de lujo de la marca nueva, terminada en 2014). Situado entre el centro de la ciudad y la estación principal, que es una importante zona de ocio y ninguna otra parte de Frankfurt puede igualar la variedad o estilo cosmopolita. Justo al final de la calle, más allá de los cafés de Kaiserstrasse, es el único teatro idioma Inglés de Frankfurt.
The apartment is exactly as described and even more. I feel Stuart has gone out of his way to make his guests feel right at home with many added homely features and gestures. The area is exactly what you would expect being downtown and is perfect for the travelers wanting to be central. There are plenty of restaurants and great bars within walking distance from the apartment. I would highly recommend this apartment and hope to be back on my next trip to Frankfurt.
Andre
2017-03-19T00:00:00Z
very nice house and much better than 5 star hotel!!!!! wish to stay again next year. thx for the host for such nice house!!!!!
병권
2017-04-07T00:00:00Z
Everything was perfect, the flat is fantastic, really beautiful. it is perfectly located, close to the train station and to the exhibition center. It is close to the center. So I would definitely suggest it to anybody traveling in Frankfurt!
Arianna
2017-03-15T00:00:00Z
Tipo de habitación
Casa/apto. entero
---
Tipo de propiedad
Departamento
---
Capacidad
5
---
Habitaciones
Fráncfort del Meno, Hessen, Alemania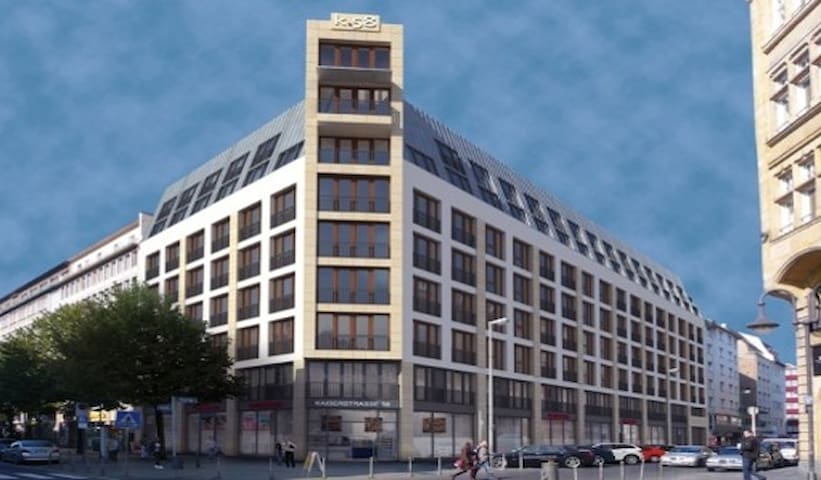 Mazen's place is just a few minutes walk from the Frankfurt hbf. Well connected. A lot of restaurants nearby to choose from. Over and above one of the nicest host.
Rangarajan
2017-01-31T00:00:00Z
Mazen is the perfect host!
Antoine
2016-07-06T00:00:00Z
First the place was great. Very nice, very comfortable, big, sooooo clean, everything what u need and even more :) Location is very attractiv in the center of town. Parking is near and cheap, or u have free 5 min from apartment. Mazen like host is also great. Very communicative, open for all question for help. Me and my freind were very satisfied and I hope so that we see very soon :) P.s strongly recommend
Fani
2016-04-27T00:00:00Z
Mazen did his best so we could get his keys early. His place is large,modern and confortable, very clean too and looks even better than on the pictures. Very well located.
Sylvie
2016-03-18T00:00:00Z
Perfect, as usual with Mazen!
Antoine
2016-08-11T00:00:00Z
He is the best host ever , his room is super clean and well organize , the location is perfect near downtown and train station, He is full of kindness and helpful, I definitely comeback to stay again :)
Sign
2016-09-23T00:00:00Z
很好的一个家伙,地理位置很棒,离火车站走路也就5分钟,公寓也很干净,安全。因为出发那天是周末,还委托他往国内寄了一张贺卡。希望下次能再入住
Yubing
2016-11-20T00:00:00Z
Mazen ist ein sehr freundlicher und hilfsbereiter Gastgeber. Obwohl mein Zug Verspätung hatte, hat die Schlüsselübergabe reibungslos geklappt. Wohnung ist sehr sauber uns optimal für Zugreisende gelegen. Ich kann Mazen nur weiterempfehlen.
Bernfried
2016-06-17T00:00:00Z
Tipo de habitación
Habitación compartida
---
Tipo de propiedad
Departamento
---
Capacidad
2
---
Habitaciones
Fráncfort del Meno, Hessen, Alemania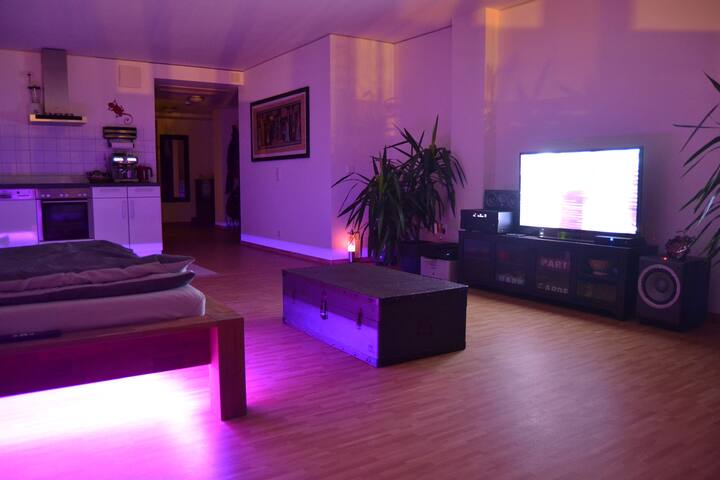 Inés and Carlos is a very nice couple, helpful with everything from restaurants and bars in Frankfurt to what to do if you were to visit Spain. I can gladly recommend staying with this nice couple in the future. Cheers Stefan
Stefan
2016-04-11T00:00:00Z
Carles and Inés are a lovely couple, it was almost like I was visiting friends. Not only is their place good for the fair visitors but you are also near Frankfurts old center which is very nice.
Gerrit
2016-04-08T00:00:00Z
Tipo de habitación
Habitación privada
---
Tipo de propiedad
Departamento
---
Capacidad
1
---
Habitaciones
Fráncfort del Meno, Hessen, Alemania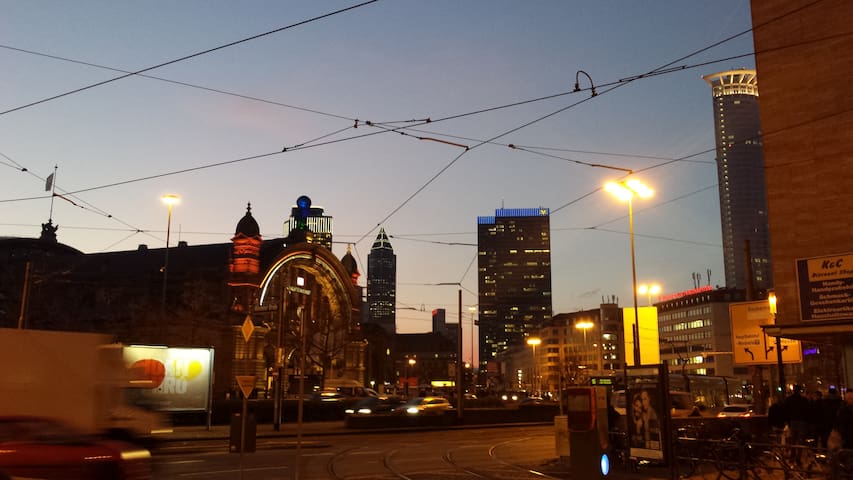 El alquiler de una habitación moderna y muy céntrico de la ciudad. A sólo 3 minutos a pie de la estación central de tren y cerca de 7 minutos para el Centro de Feria (Messe) Desde aquí se puede ir andando a todos los lugares turísticos y no necesita gastar dinero para el taxi o transporte público. Nosotros le proporcionamos libre de agua potable y té o café durante su estancia aswell Wi-Fi de alta velocidad libre. Por la noche se puede utilizar una televisión de alta definición de 52 pulgadas
Thanks for everything
Sindy
2016-12-29T00:00:00Z
I like the appartment. There is everything we need for a good stay. I also really liked that it is very clean, i could walk bear foot in all the appartment. I will definetely come back. Thanks Christina
David
2017-04-03T00:00:00Z
Ich kann nicht besser Deutsch sprechen, aber Cristina ist sehr nett für mich. Wenn ich viele Fragen und bisschen Problems hatte, hat sie schnell geantwortet. Wifi ist schnell, der Arbeitstisch ist plaktisch und das Sofabett ist bequem. Ich denke, wir brauchen ihren Zimmer mehr sauber benutzen.
Saiko
2016-12-19T00:00:00Z
Nice and clean. Good communication and service! Totally okay for a short stay and students travelling on a budget. However, only 3 stars because when I booked it showed pictures of a bed but it ended up being a different room with a sofa to sleep on. Overall very pleasant!
Maja
2017-03-05T00:00:00Z
It is a sofá cama in a living room, but it is very well located near the train station
Cristián
2017-03-18T00:00:00Z
Die Lage der Wohnung ist super zentral. Die wichtigsten Hotspots in Frankfurt sind zu Fuß erreichbar. War für drei Wochen in der Wohnung und fand immer einen gepflegten Zustand auf. Jedes der drei Zimmer war täglich an andere Personen vermietet, was es immer sehr interessant machte neue Leute kennen zu lernen. Mein Zimmer war leider nur mit einer Couch ausgestattet, die zum schlafen teilweise sehr eng ist, aber war trotzdem völlig ok. Im großen und ganzen kann ich die Unterkunft nur wärmstens empfehlen. Der Gastgeber Daniel war super freundlich und sehr sympathisch. Gerne wieder. Danke
Harald
2016-11-02T00:00:00Z
Tipo de habitación
Habitación privada
---
Tipo de propiedad
Departamento
---
Capacidad
1
---
Habitaciones
Fráncfort del Meno, Hessen, Alemania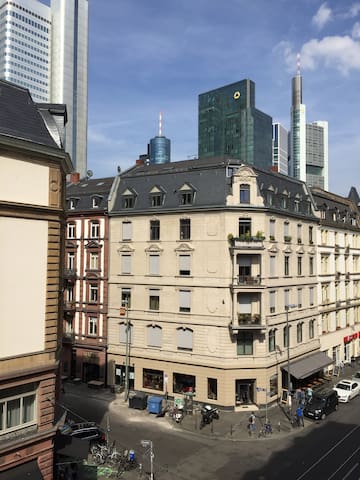 Sie werden in einem schönen und gemütlichen, komplett ausgestattet, 80 m2 Kolonialstil Wohnung bleiben. Es verfügt über ein Wohnzimmer mit TV und Balkon (Blick auf das Rote Ecke des Frankfurter Bahnhofsviertel), Küche mit Herd und Backofen sowie modernisierte Bad mit separatem WC. Sie haben Ihr eigenes Zimmer, ausgestattet mit einem Schrank und ein Bett haben.
Tipo de habitación
Habitación privada
---
Tipo de propiedad
Apto. en complejo residencial
---
Capacidad
2
---
Habitaciones
Fráncfort del Meno, Hessen, Alemania
The apartment is on the Münchner Straße in Bahnhofsviertel. Within walking distance of 5 minutes, you can find everything your heart desires (food, pubs, shopping, subway train, tram or equal to the main station)
In the room there is a large loft bed (1.20 * 2.00 m) in the room in which you can sleep well for two. There is also a sofa bed on the even someone could sleep. There is also a French balcony.
Tipo de habitación
Habitación privada
---
Tipo de propiedad
Departamento
---
Capacidad
2
---
Habitaciones
Fráncfort del Meno, Hessen, Alemania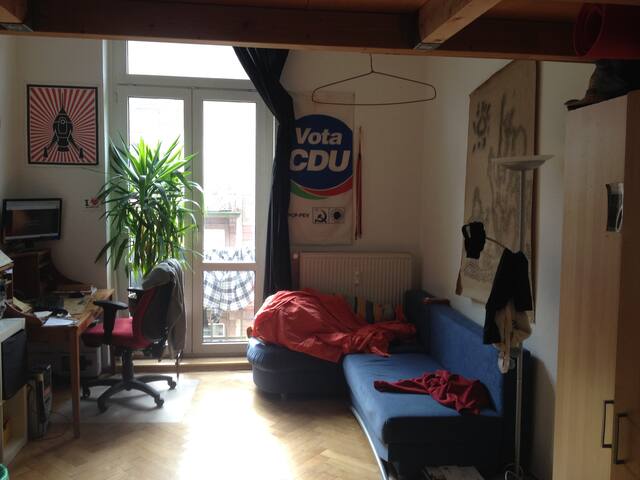 Usted vive justo en la estación principal de la infame Frankfurt, la parte superior central y rodeado de bares, vida nocturna, tiendas, todo lo que está a su alcance. Hay 9 habitaciones disponibles. posible que los individuos, parejas y para parejas o 2 personas por habitación. Usted está realmente en el centro de la ciudad a 3 minutos de la estación principal. Hay 9 habitaciones totalmente, su posible reservar sólo una habitación de uso individual, por parejas y por lo tanto el servicio de reserva hasta 9 salas para grupos.
El apartamento está en el quinto piso de la casa con espectaculares vistas de la ciudad. Las torres bancarias parecen un minuto. El apartamento ha sido completamente reformado y renovado y todo es absolutamente nuevos incl. Todos los muebles. La nueva cocina y 2 cuartos de ducha + 3 aseos son compartidos por todos los huéspedes. Algunas de ellas tienen acceso directo a un gran balcón. El piso está en el quinto piso con ascensor. El piso está reformado totalmente solo, así que todo es absolutamente nuevo. Hay un uso común de cocina y dos duchas y tres baños en esta planta. Algunas de ellas tienen acceso a la gran terraza de la vivienda.
Taunusstraße es realmente muy central, no 5 minutos a pie de la estación central de Frankfurt también puede encontrar mucha vida nocturna se lleva a cabo, clubes nocturnos, restaurantes, cafés y tiendas están en la vecindad inmediata. El río principal está a pocos minutos a pie. Taunusstraße es realmente muy céntrica en la zona de la estación principal de Frankfurt. Por tanto, existe una gran cantidad de vida nocturna, bares, restaurantes y tiendas así. El principal río es sólo 8 minutos a pie.
The place is perfect, very clean, comfortable and modern. Tim and his team were great.
Vincent
2017-04-01T00:00:00Z
Tipo de habitación
Habitación privada
---
Tipo de propiedad
Departamento
---
Capacidad
2
---
Habitaciones
Fráncfort del Meno, Hessen, Alemania
Tipo de habitación
Habitación privada
---
Tipo de propiedad
Apto. en complejo residencial
---
Capacidad
3
---
Habitaciones
Fráncfort del Meno, Hessen, Alemania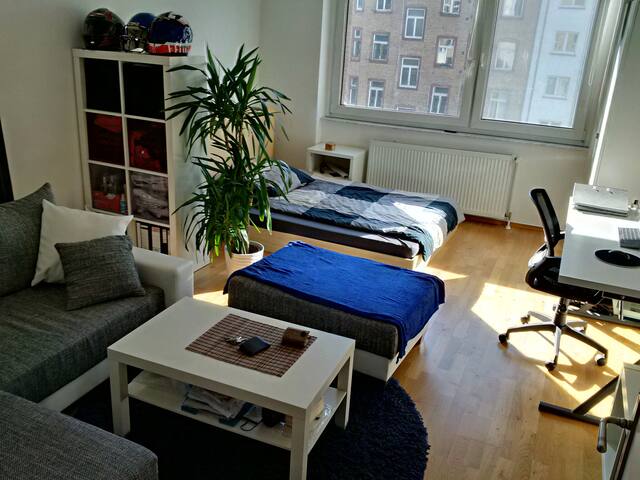 Hallo! Mein Name ist Maria, willkommen in meinem Haus. Meine schöne apartmt ist ganz neu und so zentral wie es nur geht. Auf der dritten Etage eines exklusiven gated Eigentumswohnung, finden Sie alles was Sie brauchen, finden die Stadt buchstäblich vor der Haustür zu erkunden. Restaurants, Geschäfte, Supermärkte, Bäckereien. Aber keine Sorge, das von hier oben werden Sie keinen Ton hören! Von der Wohnung kann man so ziemlich überall zu Fuß. Mitten im Herzen des trendigen Banhofsviertel. Ich hoffe, dass Sie einen angenehmen Aufenthalt!
* Voll ausgestattete Küche w / Geschirrspüler * Wi-Fi Internet * Handtücher und Bettwäsche zur Verfügung gestellt * Platz für Ihre Sachen zur Verfügung gestellt * Elektrische Fensterrollläden * Deutsch Kabel-TV mit einigen internationalen Kanälen
Sie werden in einem der charakteristischsten Viertel von Frankfurt aufhalten, wo jeden Tag eine neue Bar und ein Restaurant zu eröffnen scheint! Hier eine kleine Liste von Orten in der Gegend, die ich genießen: Bento Boutique - direkt nebenan. Kleine Sushi-Restaurant. Eines der besten Sushi in der Stadt. Essen Doori - Hohe Industrie Decken Ganz lebendig. Indian gemacht trendy! ABER - Groß minimilastic Design. Klein und intim. Leckeres Essen! Bella & Rosa - Bio-Lebensmittelgeschäft. Ein verstecktes Juwel! Walon & Rosetti - Immer lebendig und voller Menschen Drinks! Das Essen ist auch gut, aber ein bisschen zu laut, so dass ich lieber für einen Drink, dorthin zu gehen. Maxie Eisen - wie Walon & Rosetti und Plank, immer voll von Menschen aus einem kühlen und gemischtes Publikum. Die meisten der Zeit bekommen Sie nicht einen Platz innen verbinden, um den Rest von uns für einen Drink an der Seite zu Fuß. Versuchen Sie, das Pastrami-Sandwich! Chez Ima - große Restaurant im Levys 25h Hotel. Wie die meisten Orte in FFM, müssen Sie im Voraus reservieren. Gehen Sie für einen Drink auf der Dachterrasse in den langen Sommernächte! Fletcher Burgers - Wenn Burger Ihre Sache sind, sind Sie nur einen kurzen Spaziergang von dieser einfachen, aber gut ausgeführt (habe ich gesagt, köstlich?) Burger! Club-Michel - kleine Restaurant erwartet Sie in einer Wohnung. Gemütliches Hotel und ein großes kulinarisches Erlebnis. Sie werden nie zweimal das gleiche Gericht essen. Montana Pizza - von den gleichen Machern der Fletchers Burguer. Plank - tolle Atmosphäre. Genau wie Maxie Eisen immer voll, so werden Sie wahrscheinlich auf dem Bürgersteig am Ende zu trinken. Welches ist für mich eigentlich der beste Teil! InCantina - Traditionelle italienische Restaurant / winebar mit einer fantastischen Auswahl an Weinen! Direkt an der Haustür! Genehmigt von Italienern. Die kinly Bar - versteckt bar! Exquisite Cocktails. Sie werden nicht ihren Namen an der Tür zu finden. Aber wenn Sie es finden ... Sie werden es lieben!
Primero ofertando un departamento de muy buen nivel.
Jorge
2016-09-17T00:00:00Z
Espectacular experiencia en las dos oportunidades q estuvimos en el departamento.
Jorge
2016-10-05T00:00:00Z
Sehr zentral und sehr ruhige Wohnung. Für 2 Personen perfekt.
Felicitas
2017-01-13T00:00:00Z
Une situation idéale, proche des transports publics, de nombreux restaurants et magasins de services. L'appartement est très calme, une propreté exemplaire, un très bon niveau d'équipement et de confort. Maria est une personne très attentionnée et très sérieuse.
Cedric
2017-03-16T00:00:00Z
Maria's place is very centrally located and is jusy minutes walking distance from the Main Frankfurt central station Hauptbahnof. I was there to attend a convention at messe and it was just one station away. The apartment is right in the middle of restaurants, pubs and the whole area is so lively.
Divyakumar
2017-02-13T00:00:00Z
Maria is a tremendously supportive host. Her flat is super perfect from all perspectives. Location is so central. I walked to all places. I was there for the book fair. I actually walked from Hauptbannhof to arrive to flat in less than 10 minutes. I also walked to the Book Fair and all surroundings for work receptions and to Zeil - all withing 10 to 15 minutes. The flat is super clean and secure. Maria also had it so well organised to make you feel at your own place. Wifi is great. There are many places around for food and drinks and they stay up late too. The pictures are so real but the flat is even more warm and cosy than any pictures can convey. I definitely will return there and I also recommend for all airbnb guests. I'd like to thank Maria so much for the lovely flat, fast and supportive communication and very smooth and easy check in and out.
Randa
2016-10-21T00:00:00Z
Maria was a very warm, welcoming host despite my arriving 3 hours late on a Saturday evening! Unlike many other airbnb hosts nowadays, she personally greets you and shows you the apt and answers any questions that you may have. The apt was immaculately clean, well maintained and cozy. Plenty of fresh towels, bright bathroom, and I wasn't expecting this but TV actually had cable channels including some English channels such as Sky news, though CNN was not available. The bedroom was bigger than it looked in the photo, and she set aside closet space for me which was more than enough for 3 nights. Although it is centrally located, inside the apt was very very quiet. A bottle of water and a chocolate was a nice touch as well. The only downside is washer/dryer is communal and located in the basement of the building for 1 euro each. Overall I enjoyed my stay and wouldn't hesitate to recommend Maria and her apt to anyone. Thank you :)
Aya
2016-11-08T00:00:00Z
Great cozy modern apartment just 5-8 min walk from the central station and 1-2 min walk from REWE mini market that works till midnight. Everything is new and extremely clean. The apartment is quiet and very warm. Decorated Christmas Tree was a wonderful surprise! Maria is a very welcoming host, she gave me some good advice about places in the neighborhood. As for me this apartment is the best value-for-money for its' segment
Marina
2016-12-02T00:00:00Z
Tipo de habitación
Casa/apto. entero
---
Tipo de propiedad
Departamento
---
Capacidad
2
---
Habitaciones
Fráncfort del Meno, Hessen, Alemania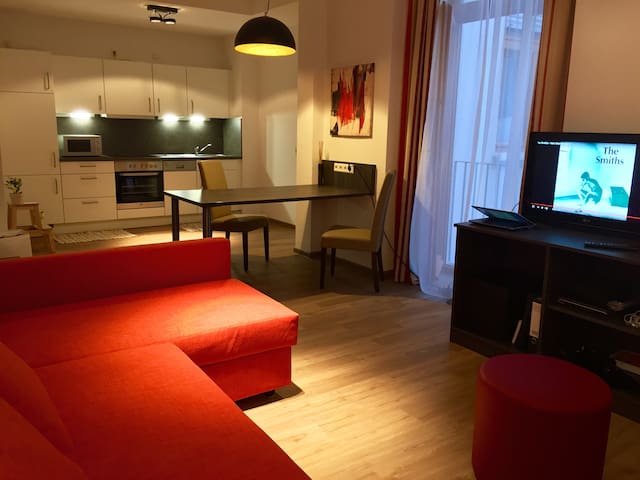 El apartamento está situado en el barrio de la estación, ofrece las mejores opciones para llegar y en coche, muy central en términos de conexiones a la red de transporte (ferrocarril, automóviles, bicicletas y pie) de compras, ocio / entretenimiento; 200m del río principal. La habitación es de 25 metros cuadrados (5,25 x 4,70 m) de altura, 3 ° piso, cuarto de baño con bañera; 2.WC, amplia cocina con estufa de gas, muy luminoso, un balcón a la calle, he vivido aquí por 15 años, sólo esta parte de la zona de la estación de tren es relativamente tranquilo y muy seguro, es un apartamento para no fumadores.
Necmi was a great host, he provide us with everything we need (water, towels, wifi, even he asked if we need to use his computer) the apartment is perfectly located, (really close to the train station and to the messe frankfurt) Necmi es un gran anfitrion, nos proporcionó todo lo que necesitabamos (agua, toallas, wifi, incluso nos preguntó si necistabamos usar su computadora) el departamento esta perfectamente localizado, (muy cerca de la estacion de tren y la messe frankfurt)
hector
2015-03-13T00:00:00Z
This is my fourth time staying with Necmi, and it is a week that I look forward to throughout the year. He is the epitome of hospitality: warm, happy to make suggestions, and now, a good friend.
William
2015-10-18T00:00:00Z
Necmi's appartment is vast and airy, conveniently situated in the centre of Frankfurt, and extreemly pleasant. Necmi is a perfect host, very attentive to the needs and confort of his guests
Veronique
2012-07-21T00:00:00Z
Necmi was really accomodating for arrival time and departure : even if I arrived late, and he had to leave early, he took time to show me everything I had to know. The room is large, the bed is good.
Etienne
2015-09-17T00:00:00Z
Chambre bruyante (impression d'être dans la rue) avec un volet cassé qui n'oculte donc pas la lumière. Salle de bain partagée avec une baignoire sans pare douche Hôte agréable, quartier animé, près de la gare centrale 152 € pour 2 nuits, c'est trop cher payé par rapport à la prestation
Sylvain
2017-03-16T00:00:00Z
this is the second time I stayed at Necmi apartment, I enjoy my staying very much, Necmi is very friendly and we had nice conversation. the apartment is close by to the messe and to the center, I like the restaurants around.
Guy
2015-02-17T00:00:00Z
Great stay, ideal for the fairs at Messe Necmi is a great and warm host Room is noisy at weekends but huge and cosy! Really enjoyed it
marie
2014-02-10T00:00:00Z
Since I have now stayed with Necmi many times, I can only confirm that this stay was as enjoyable as my last. He is a wonderful, thoughtful host, and I look forward to staying with him again.
William
2016-10-23T00:00:00Z
Tipo de habitación
Habitación privada
---
Tipo de propiedad
Departamento
---
Capacidad
1
---
Habitaciones
Frankfurt, Hesse, Alemania
Feria-u. ciudad, cerca de bonitas privadas habitaciones privadas bonitas. Ideal como Bürowohn- o dormitorio con baño privado, TV, escritorio, sistema de internet cargado unos 20 metros cuadrados. para 1 persona. cama supletoria para una segunda persona que sea posible, si es necesario.
El apparment está en el 1er piso. Amo a los perros y los huéspedes con los perros son bienvenidos.
Todo el restaurante se encuentra aquí. La calle de Múnich es el gran Comer calle de Frankfurt.
Alles Top. Zimmer ist wie beschrieben. Wohnung ist sauber und mit alles ausgestattet was man braucht. Jederzeit wieder.
Monica
2016-08-30T00:00:00Z
Christina apartment is in central, I can easily walk to some attractions. Thank you for hosting us. A pleasant stay.
MuonXuan
2017-03-14T00:00:00Z
Very good location
Rafik
2017-01-31T00:00:00Z
Sehr freundlich und zuvorkommend. Kann es nur weiterempfehlen!
Sang-eun
2016-10-10T00:00:00Z
Alles hat genau wie abgemacht funktioniert
Rita
2015-11-27T00:00:00Z
Last minute request! No problem! Thank you very much! Well located and nice room!
hadrien
2015-09-29T00:00:00Z
Christina ist eine nette Gastgeberin. Im Zimmer musste ich ein wenig lüften. Ansonsten war alles ok. Das Zimmer ist super zum Frankfurter HBF gelegen.
Holger
2015-01-15T00:00:00Z
Ottima posizione, a due passi dalla stazione e 15 minuti a piedi dalla fiera. Camera spaziosa, pulita e silenziosa. Non lasciatevi impressionare dall'ingresso, che è davvero brutto, è il retro di un bar o ristorante sporco e maleodorante, ma superato l'ingresso, nella vostra stanza Vi troverete benissimo. Anche il bagno pulito e grande. Consiglio alla grande.
Nicola
2015-06-20T00:00:00Z
Tipo de habitación
Habitación privada
---
Tipo de propiedad
Departamento
---
Capacidad
2
---
Habitaciones
Frankfurt, Hesse, Alemania
Gemütliche Zimmer im pulsierenden banhofsviertel Bezirk. Ganz zentral gelegen, 4 Minuten zu Fuß zum Hauptbahnhof (Hauptbahnhof) und Willy-Brandt-Platz. 30 Sekunden zu Fuß auf die Straßenbahn 11 und 12. Viele Restaurants und trendigen Bars in der Nähe. Kürzlich Gebäude mit Aufzug und Bad renoviert.
Tipo de habitación
Habitación privada
---
Tipo de propiedad
Departamento
---
Capacidad
1
---
Habitaciones
Fráncfort del Meno, Hessen, Alemania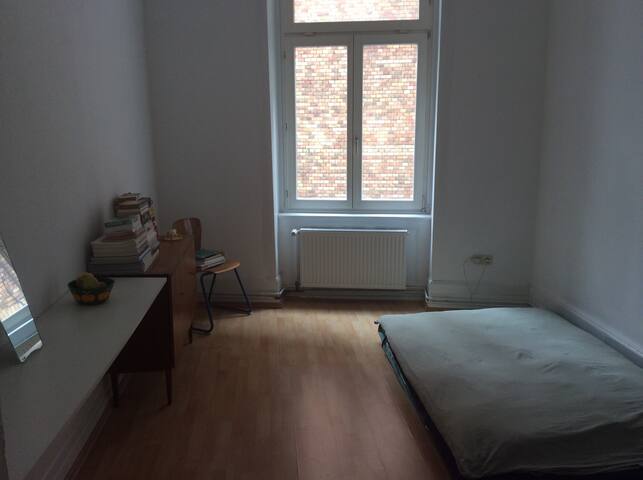 Goditi la vita nel centro di Francoforte! Progettato dal famoso interior designer italiani, la nostra casa Brera aperto il 2015. Incluso nel prezzo: - 64 mq 2 camere appartamento per 2 persone - Tutte le ulteriori costi incl. Wi-Fi - Cambiamento di pulizie ogni 2 settimane comprensivi di asciugamani e biancheria da letto - Accesso illimitato alla lavanderia - Completamente attrezzata cucina incl. full-sized frigorifero e lavastoviglie - Alessi © stoviglie, macchina da caffè Nespresso © - Soggiorno confortevole - Grande TV Samsung © HD - Master bedro
Incluso nel prezzo: - Da 18 a 21 mq 1 camera per fino a 2 persone - Tutti i costi aggiuntivi: riscaldamento, acqua, luce, WiFi - Cambiamento di pulizie ogni 2 settimane comprensivi di asciugamani e biancheria da letto - Accesso illimitato alla lavanderia Attrezzatura: - Cucina con forno a microonde, fornelli elettrici, full-sized frigorifero e lavastoviglie - Alta qualità e divertimento Alessi © stoviglie, macchina da caffè Nespresso © - Tavolo con sedie - Mensole di deposito e grande armadio - Di alta qualità pieghevole divano letto matrimoniale 160x200 - Grande TV Samsung © HD - Bagno con doccia in vetro porte e extra-large specchio - Fissare sistema keyless entry, citofono personali e propria casella postale
Molto comoda posizione: - Possibilità di shopping, ristoranti e caffè secondi di distanza (Kaiserstraße) - A pochi passi da quartiere degli affari
Nice self contained apartments. The rooms are fully kitted, clean and as advertised. The convenience of walking 5 mins to most of the popular offices i.e. main tower, (SENSITIVE CONTENTS HIDDEN)r, european tower etc makes this a good choice especially for business travellers.
Michael
2017-03-30T00:00:00Z
Tipo de habitación
Casa/apto. entero
---
Tipo de propiedad
Departamento
---
Capacidad
2
---
Habitaciones
Fráncfort del Meno, Hessen, Alemania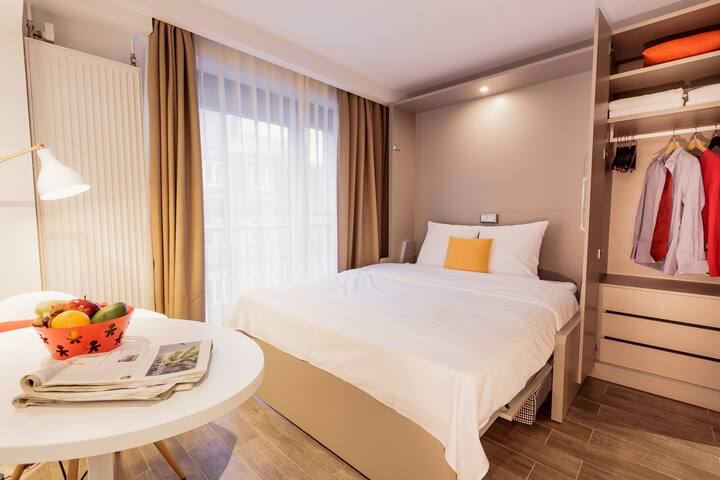 Introduce las fechas para ver el precio total. Ten en cuenta que se aplicarán tarifas adicionales y es posible que se añadan impuestos.