Introduce la fecha de llegada en el formato dd/mm/aaaa
Introduce la fecha de salida en el formato dd/mm/aaaa
Anuncios que no requieren que el anfitrión acepte la solicitud.
Introduce las fechas para ver el precio total. Ten en cuenta que se aplicarán tarifas adicionales y es posible que se añadan impuestos.
En julio y agosto, podrás disfrutar de 100 de los alojamientos con las mejores valoraciones de Sonoma a precios muy diferentes y disfrutar de la cara más auténtica de la ciudad. Relájate y disfruta de tu estadía sabiendo que puedes hacer una reserva inmediata, llegar a cualquier hora y disfrutar del vino de la zona y de otros tentempiés.
My place is close to restaurants and dining, nightlife, family-friendly activities, great views Brand new apartment complex opened September 15th 2016. Located next to Target, Texas Road House and Scheels. . You'll love my place because of the high ceilings, the coziness Everything is brand new, the bathroom has never been used. It has an open concept floor plan with 10 foot ceilings. . My place is good for couples, solo adventurers, and business travelers.
I stayed at Michael's place for four nights on a business trip. Michael communicates well and was quick to respond to my text messages. Since the place is brand new, he guided me to the place over the phone once I got into the vicinity. The place itself is very modern and you have your own bedroom with a huge closet and bathroom. Everything was tastefully decorated and very clean. I especially appreciated the nice big desk which made it easy to work. The bed was also very comfortable. There are many shops and restaurants in the area, so, finding what you need is no problem at all. Michael is a great host, he was very friendly and easy to talk to. He provided a comfortable atmosphere for me to be able to work and rest. I would definitely recommend this place!
Altaf
October 2016
The bed was comfortable, the apartment clean and the WiFi fast. Loved this place.
Scott
November 2016
Mike was helpful in checking us in and responded to messages quickly. Mikes place is very new and some parts of the apartments are still being built so things were pretty modern. The private room was cozy. George (the cat) was added company :).
Jess
November 2016
Thank your for your hospitality!!
Crystal
October 2016
Tipo de habitación
Habitación privada
---
Tipo de propiedad
---
Capacidad
2
---
Habitaciones
1
Sioux City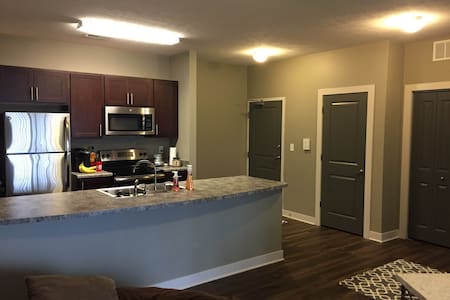 Stay in a private home with 2 car garage 1 hour from Omaha, Sioux City, and Columbus. 15 minutes from hunting and fishing. Walking distance to the Swedish Capital of Nebraska. Not a shared space, you will have the home to yourself.
This rental is for the entire home and we don't live there. You'll have complete privacy, yet we're only a phone call away if you need anything. As a guest in this home, you have access to the entire home, which consists of the main floor, upstairs, and basement, front and back yard, and two car detached garage. Laundry room is located on the main floor just off the kitchen. We are as involved or as removed as you are comfortable with. We own a book store in town and are there to help you six days a week, and a mere phone call away when we're not at the store.
There is no public transportation service in Oakland. The house has a private driveway and two car garage, and parking is free anywhere you go in town. The only exception is that there is no parking on Main street (Oakland Ave.) overnight from November to April. Highway 77 goes through town, and we are close to Highway 32, which will take you to Highway 75 east of town, and Highway 275 west of town.
As traveling contractors we stay in a lot of Diff cities all over U.S. and wanted to let all our fellow contractors and traveling business people that we had a Wonderful experience ! Adam and Sonia are amazing folks ! Small town but quiet and peaceful we love it ! Staying long term working at CF in Sioux City approx 55 miles away
Jason
January 2016
This was our second air bnb experience and it was great. Adam and his whole family are easy to talk to and very helpful when you arrive. When I asked about coffee, they even made sure I had their personal keurig to use, since our reserved house was unavailable and the gorgeous substitute didn't have one yet. Before our arrival, when our reserved house became unavailable, I was contacted by Adam and he put us in a much larger accomodation. I absolutely loved the house we stayed in and it had everything we needed. My kids were excited as well, for they had separate rooms. Overall, if traveling through again, I would definitely stay here.
Linda
July 2016
Schöne Unterkunft, sehr nette Gastgeber. Hat uns sehr gut gefallen.
Dirk
July 2016
My experience has been wonderful house was very clean and newly remodeled 100 year old home very nice cozy and warm ! Loving the small town it's located in ! The Host are amazing people very friendly and super nice and hands free once we moved in for our long term stay ! Would def stay again and again !
Jason
December 2015
Awesome place to stay good people very clean and quiet we loved it
Jason
January 2016
Tipo de habitación
Casa/apto. entero
---
Tipo de propiedad
---
Capacidad
4
---
Habitaciones
2
Oakland
This is a private bedroom with private bath (shower only-no tub) with it's own private entrance. We have a small dog, but he will stay upstairs. Washer and dryer are available as well. Keurig machine, and breakfast (granola bars) are provided for your stay. We are about a mile from downtown Sioux City, directly across the street from a 33-acre park, and two blocks from St. Luke's hospital.
This is a private bedroom, with a private bath. It also has a private entrance, so it will be like staying in your own hotel room! We provide a TV, coffee, granola bars, and you will have a cute patio set to use as well. Towels are provided, and we have a few basic shower amenities if you happen to forget anything. We really want to make your stay as comfy as possible, so we are here to help in any way we can! You'd have access to the basement (where the room is). There's also a washer and dryer available to use. As much or as little as you'd like. I like to cook, and love to entertain, so you're always welcome to spend time upstairs with me, my husband, and our dog, Max. But, if you just want to veg downstairs, feel free!
Our neighborhood is fantastic! The location is the reason we bought the place. We are directly across from a park, where the city hosts concerts and events. There's also a beautiful rose garden, paved walking trails, and a disc golf course - which Jordan designed! (We can loan you discs if you'd like to play while you're here.) We're also about a mile from downtown Sioux City - so, practically walking distance to the Tyson Events Center, Hard Rock Cafe, and Battery Park. We're two blocks from St. Luke's Hospital, and one block from a grocery store if you needed it. We are half a block from a bus stop, but almost anything you'd need is walking distance...just ask us what direction! If you have a car, you'll have off-street parking, right outside the entrance to your room. Please note, because you have basically the whole basement, and we live exclusively upstairs, we can't guarantee access to the kitchen. We'll do our best to accommodate, but we generally unlock the door that separates the upstairs from the downstairs when we're home, and lock it when we're gone or sleeping. Just please be aware of that when you book.
Jacquelyn's place was great - it has its own private entrance with a private parking spot right outside the door, so it was very convenient. The place was a bit chilly, but Jacquelyn provided a space heater and an extra blanket in case I needed it. Personally, I loved it, as I prefer it to be on the cooler side in the room when I sleep. Jacquelyn was super nice, showed me around and made sure I had everything I needed for a comfortable night. Thanks again!
Vlad
December 2016
Jacquelyn's place is super easy to find, and she was more than happy to help us with parking! The space is just enough for a quick stay. Lovely bathroom! She provided a Keurig, K-Cups, snacks, and soaps/shampoos. A very nice stay! I would definitely stay again when visiting Sioux City!
Liz
October 2016
This room worked very well for my visit with family and friends. The sun comes shining through the window in the morning to start your day. Because of the private entrance, I could keep my schedule without disturbing the hosts. Add a hot cup of coffee and a nice shower and we have a winner. There are some typical basement noises - a furnace and footsteps overhead, etc, But some music or tv or small heater mask these. I met Jacquelyn when I arrived and never saw her again. I went about my business for the stay. If I needed something - a simple text did the trick. A good stay.
Diann
December 2016
Jacquelyn was a great host. She told me about all the amenities available and made sure my stay was comfortable. This is a great place . Highly recommend!
Nikhil
October 2016
Jacquelyn is a wonderful host. She always responded quickly and provided easy-to-understand directions for parking, etc. Check-in was super quick and easy and she was so welcoming! She even provided snacks, water and coffee! Great living space; you have the whole downstairs basement area to yourself! Highly recommend!!
Brooke
December 2016
I enjoyed my stay. Jacquelyn is friendly and accommodating. She's a great host!
Ronny
December 2016
It was an awesome experience! It was my first and I can honestly say I was very comfortable to the point that I regretted having to leave. But will definitely be back with them if I have to come again.
erick
November 2016
Jacquelyn was kind and responsive from the my initial inquiry to stay at her place and through out my stay. The place is small but very cozy for a single traveler. With the snow outside and the cold of the season during my stay I felt like I was staying at chalet in the Swiss alps. :) Cozy bed, clean and cute bathroom with plenty of hot water. Will stay there again on future trips.
Kokou
November 2016
Tipo de habitación
Habitación privada
---
Tipo de propiedad
---
Capacidad
2
---
Habitaciones
1
Sioux City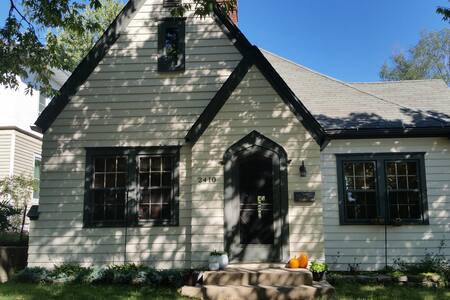 My place is close to nightlife (Hard Rock Hotel and Casino 10 minutes), Concert Venues, parks. You'll love my place because of the neighborhood. My place is good for couples, solo adventurers, business travelers, families (with kids), and big groups.
Kelli made it easy to get access and good at communicating, her place was nice. Comfortable bed, hot shower, clean! Will stay again!
Carolyn
October 2016
Kelli was fantastic! She was very responsive and the apartment was clean and spacious. I felt right at home. She is located very close to downtown and right off the highway, which made getting in and out very easy. I definitely recommend Kelli to anyone interested in staying in Sioux City, and I will definitely look to stay with her again if I'm passing through.
Alex
August 2016
Kelli was fantastic from start to finish. She was great in helping us get around the area, and totally accommodating to our needs. Her place was very comfortable, and more than we expected. This was our first Airbnb experience, and will be a hard act to follow.
Jeffrey
October 2016
Enjoyed this very comfortable, homey atmosphere. Kelli was a sweetheart and made us feel very welcome. We will be staying here again!
Deb
October 2016
This was my first Airbnb experience and Kelli made it so easy and worry free! My family stayed 5 days and enjoyed late night talks in the comfortable living room! You will never get that from a hotel room!
Darcy
November 2016
Very nice apartment. Clean, spacious and private. Much nicer than a hotel room. Will stay again when working in the area.
Cynthia
October 2016
This is the second time we stayed at Kelli's and both times she was so accommodating. Such a nice place to stay.
Deb
October 2016
Kelli was amazing, she made the whole process super easy. Any questions or concerns that I had, she was quick to answer. And it was a way easier alternative to a hotel. Thank you so much Kelli I definitely recommend!!!
Kerra
November 2016
Tipo de habitación
Casa/apto. entero
---
Tipo de propiedad
---
Capacidad
6
---
Habitaciones
3
North Sioux City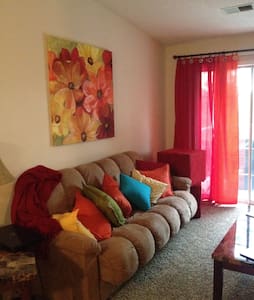 My place is close to nightlife. You'll love my place because of the kitchen, the neighborhood, the coziness, and the comfy bed. My place is good for couples, solo adventurers, business travelers, and families (with kids).
Tipo de habitación
Casa/apto. entero
---
Tipo de propiedad
---
Capacidad
3
---
Habitaciones
2
Sioux City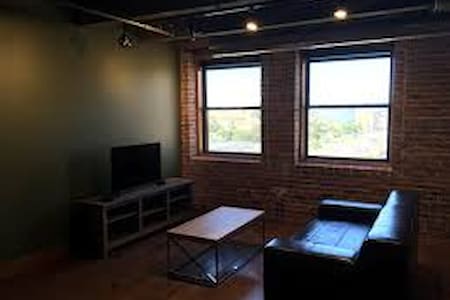 You will find this recently remodeled property perfect for your stay in West Point. It has an overlooking view of main street with bay windows. It is conveniently located in the center of downtown. The Nielsen Center (convention/wedding venue) is 4 blocks away. My place is good for couples, solo adventurers, business travelers, and families (with kids). There is a breakfast and lunch place three doors down (Bud's). There is a bar one block away (Mayberry's).
Tipo de habitación
Casa/apto. entero
---
Tipo de propiedad
---
Capacidad
4
---
Habitaciones
1
West Point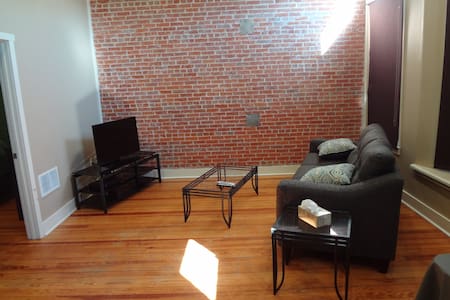 Cozy luxury apartment with hot tub. King size bed, two twin beds, satellite tv, Wi-Fi, in downtown Oakland.
Tipo de habitación
Casa/apto. entero
---
Tipo de propiedad
---
Capacidad
4
---
Habitaciones
0
Oakland
Apartment is located in the heart of downtown Oakland. Wi Fi, HBO, private laundry, dishwasher, microwave, coffeemaker, handicapped accessible bathroom. Private entrance and parking, NO smoking NO pets. Space is not shared with host.
One bedroom apartment is comfortable and secure. The apartment is located behind a bookstore in a commercial district, so it's very quiet except for the occasional train. The apartment is not our primary residence, so guests have the entire space with privacy. We own the bookstore in the front of the building, and are there nine hours a day six days a week, and are only a phone call away if anything comes up.
There is no public transportation in Oakland. However, we are close to Highway 77 and Highway 32. This location is on Oakland's main street, walking distance to groceries, cafe, bars, library, resale store, hardware store, and there's an Anytime Fitness franchise across the street. A little further walk and there's a Dollar General on Highway 77. Oakland's public park includes tennis courts, basketball courts, a frisbee golf course, and a playground for the kids. In summer, there's a public pool.
The host canceled this reservation 55 days before arrival. This is an automated posting.
Ruth
The host canceled this reservation 34 days before arrival. This is an automated posting.
Ruth
Very nice place to stay, room for friends, visiting, and cooking. Close to groceries and downtown Oakland
Steve
November 2016
Tipo de habitación
Casa/apto. entero
---
Tipo de propiedad
---
Capacidad
5
---
Habitaciones
1
Oakland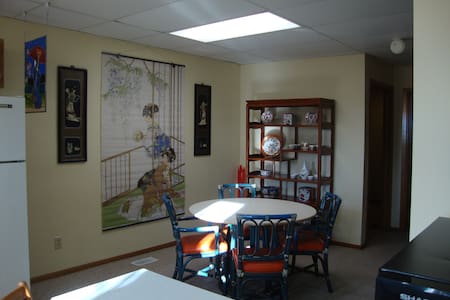 Secluded, quiet, second story bedroom in a Prairie Style 4 by 4 house. On acreage surrounded on two sides by fields. Downstairs bathroom. Breakfast typically provided and other meals may be purchased. Guest may use kitchen to fix their own food.
New double mattress in antique metal frame make for a comfortable night's sleep in bedroom with quirky decorations. Enjoy our living room, dining room and kitchen. Guests can have as little or as much interaction with the hosts as they wish.
We live in a quiet, rural setting. Free parking. We have Wi-fi with a fiber optic connection.
Susan and Jim were wonderful hosts and went out of their way to make me feel at home and cared for. I left feeling like one of the family.
Linsey
August 2016
The host canceled this reservation 7 days before arrival. This is an automated posting.
Joy
Susan and her family made me feel extremely welcome, while also allowing me space to do my own thing. The rural environment was a perfect rest from a busy Berkshire Hathaway annual meeting. It was exactly what I needed and more than I hoped for.
Tiffany
May 2015
Our hosts Jim and Susan were wonderful. They were well informed on many subjects and were excellent conversationalist. The breakfast was cooked for us by Jim and it was so good and filling and enjoyed by all 4 of us at the same time. We opened the bedroom window and slept like two babies who had been fed well. No complaints from us.
Carlene
September 2016
We loved our time at Susan and Jim's rural get-a-way in Nebraska! They were so friendly and welcoming. They made us breakfast, offered us drinks, and supplied us with hours of great conversation and interesting stories. We will certainly come back for another Nebraska visit!
John
June 2016
I was traveling for business, so I spent some extended time at Susan's. I was greeted warmly, welcomed with food and conversation, and made to feel right at home. It is a quiet community surrounded by open fields. And the birds and squirrels are the mornings entertainment! While you are away from urban activities, if you want a quiet, unique getaway, this is your place! Loved it!
Carla
March 2016
The Skinners definitely delivered! The unpaved roads in Craig were difficult for me (and my car), but that was the only downside. Susan and her husband are incredibly kind and definitely made me feel at home. I came to get away from my stressful life and staying with the Skinners definitely helped. The majority of the food I was served was either from Susan's garden or locally harvested, which was impressive and delicious. If you're in the area, this is a great place to stay!
Rachel
October 2015
Susan and her husband were wonderful hosts! I stayed with them for the night while I was traveling. They had a fantastic homemade soup on the stove when I got there, and prepared an early farm-fresh breakfast for me so that I could get back on the road in the morning (even made sure my thermos was full of coffee!) They also helped me to plan my route for the morning. I would definitely stay with Susan and her husband again.
Jennifer
May 2016
Tipo de habitación
Casa/apto. entero
---
Tipo de propiedad
---
Capacidad
2
---
Habitaciones
1
Craig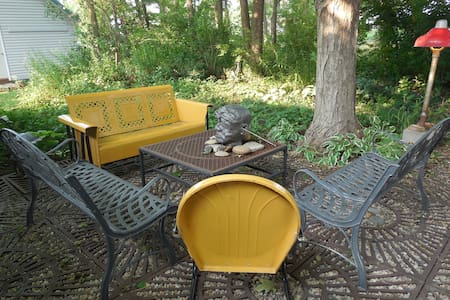 House located only 4 blocks from 4st 1 block from mercy hospital
Enjoy this master bedroom with private bath Guest have access to w/d, wifi ,direct tv in room
Located just 4 blocks to sioux city night life This is a 6bd room house The bathroom is share with 4 other people
The host canceled this reservation the day before arrival. This is an automated posting.
Aza
Tipo de habitación
Habitación privada
---
Tipo de propiedad
---
Capacidad
2
---
Habitaciones
1
Sioux City
You'll love my place because of The space . My place is good for couples, solo adventurers, and business travelers.
We have a wonderful and spacious home that we would love to share with you. You are welcome to make yourself at home while staying with us. Love to cook? We have a great kitchen. Want to relax? In the summer you are welcome to use the pool. In the winter, the jacuzzi tub. My wife and I are both professionals. We opened up our home to guests because we enjoy meeting new people and helping them enjoy their stay in our community.
The neighborhood is a well established residential area that is filled with a combination of folks that have lived here for years and younger professionals.
Tipo de habitación
Habitación privada
---
Tipo de propiedad
---
Capacidad
4
---
Habitaciones
1
Sioux City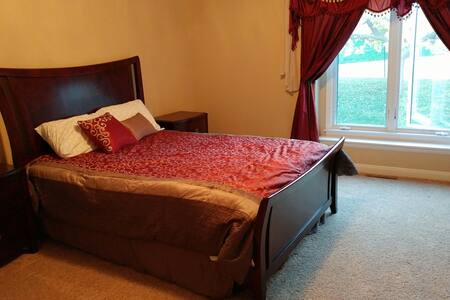 2-story house with ample space, semi open concept main floor. Front and back yard (partially fenced), quiet neighborhood. Multi-car driveway. Town has everything from restaurants to shops and grocery stores.
The main floor includes a large semi-open concept living area with a gas fireplace (not currently in use), piano, and picture window. The kitchen flows into the dining area and has an island. There is a bedroom on the main floor that could be turned into an office. Upstairs there are three bedrooms, each with a walk-in closet. Two full baths, one on each floor. Laundry (washer and dryer) is in the back porch/entry way. Multiple closets that are somewhat stocked for your use. Guests can access yard, including fenced in portion, but not the garage. The entire house is yours to use, except the basement. One of us (most likely Laura, Randy, or Trina) will welcome you to the house upon your arrival. We live less than 15 minutes away and are readily available by phone call or text.
The neighborhood is quiet, a mix of families and retired couples. An alley, not often used, is at the back of the property. There is no public transport in West Point, it's a great small-town that has everything you need within a five-minute drive.
Great stay! Randy was more than accommodating and we really enjoyed our time in West Pointe!
Erin
March 2016
Great! Really nice house. Quiet neighborhood in a sweet small town. Home is fully furnished with plenty of space.
Austin
March 2016
Randy was incredibly prompt and responsive. Our housing fell through last minute and Randy saved the day by getting back to us so quickly. I am grateful for his willingness to be creative on such short notice. The place is super cute, comfortable and peaceful. We would highly recommend it.
Jennifer, Jon & Tove
June 2016
It's always a great stay definitely will keep using it when we go back for visits!
Laura
August 2016
Randy was very helpful and accessible during my stay. I had a couple concerns which he addressed promptly and cheerfully. Great host!
Jackie
July 2016
I didn't actually meet Randy, but we communicated through text. His home is very nice and welcoming.
Lori
September 2016
Great stay! My daughter loved the swing set! It was just what we were looking for.
Laura
April 2016
Great experience. Good communication. Very nice hosts. Easy to work with. What more can I say? If you need a place to stay in West Point, this is the place. More economical than a hotel, comfortable, and great neighbors. I really enjoyed my stay. Thank you Randy (to your family too). Next time I'm in the area, I'll definitely stay here..
Dave
May 2016
Tipo de habitación
Casa/apto. entero
---
Tipo de propiedad
---
Capacidad
8
---
Habitaciones
4
West Point
My place is good for couples, solo adventurers, and business travelers.
Tipo de habitación
Habitación privada
---
Tipo de propiedad
---
Capacidad
4
---
Habitaciones
1
Sioux City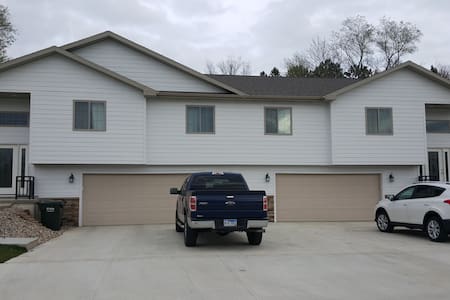 Beautiful older colonial home. 2 med bedrooms & 1 sun-room. Quiet neighborhood with walking park. Shared bathroom. Backyard pool, hot tub, washer, dryer, cooking facilities. City bus stop one block away. Have a glass of wine & great conversation!
Beautiful spacious clean home. At times may have 2 rooms available. Both rooms sleep 2 people. Full Bathroom on second floor with shower next to both bedrooms and is shared with the 2 bedrooms if both are rented. Half bath on main floor also. They may use the hot tub and pool when it is open. They may also use the washer, dryer and refrigerator, microwave & stove. Living room to relax and watch TV. We are interested in getting to know our guests and hear about their adventures but if they prefer to just rest that is fine too.
Walking park behind our home. Quiet, safe neighborhood. Close to bike trails. City bus stop one block from house. Would be glad to tour you around or offer suggestions on what to see in the city.
This was my first Airbnb experience, and it was a great one. Kathryn is a very nice person. Great communication, very easy casual stay...love it! Kathryn's place is a very nice and comfortable Victorian home. I enjoyed my stay, it was very relaxing. The neighborhood and location were perfect for my work, and for convenience to everything. ...(nice quiet safe neighborhood.) My bedroom was great, nicely decorated, very clean and the bed was very comfortable. Though Kathryn was away, during most of my stay, her son Jonathan was very helpful host. I did get to enjoy a glass of wine & chat with her the night before I left....very nice down to earth lady. My stay was truly a "home away from home" experience. I will definitely be back next year when I return for my annual business trip in Sioux City. Thank you Kathryn!
Keith
June 2016
Kathryn is very pleasant and has a very inviting home. I felt right at home. I would recommend Kathryn and her home to anyone looking to stay in the Sioux City Area.
Taylor
September 2015
We needed to be in Sioux City for one night to attend a funeral. Katheryn's place was listed on the internet so we decided to try it. She was very gracious and helpful, providing good directions to several places we needed to go. We especially appreciated her allowing us to come late when we had an unexpectedly late dinner. The swimming pool was also a nice touch.
Chip
July 2015
Great - Her musician son greeted us. When asked about live music Friday night, he recommended a great London blues trio at Vangarde Arts. Kathryn made us a hearty breakfast and gave us local recommendations. Siri doesn't understand me requests, but Kathryn gave us complete directions to 3 fabulous museums: Lewis and Clark, Sioux City Public Museum, and the erudite, stunning National Musical Instrument Museum. These customized tips from an airbnb host made a weekend in a small city fabulous. Pam, College Green in Iowa City, IA
Pam
May 2015
The house was beautiful as pictured and the neighborhood seemed nice. It was unfortunate we didn't get to meet our host as she was out of town, but she made sure we were taken care of from afar. Another family member was available if we needed anything. The bed was comfortable but it was challenging to get up during the night with the bed against the wall and two people! Didn't have much time there but it met our needs for the night.
Jane
July 2015
Kathryn graciously accepted a last-minute request to stay at her house that night. We were fully welcomed when we arrived and stayed in a nice, clean room in a gorgeous house. She offered refreshments and good conversation. She even baked cinnamon rolls for us to eat the next morning! I highly recommend staying here.
Terra
July 2015
Kathryn was a wonderful host! She communicated with us before we arrived, so we knew exactly what we needed to do for a smooth arrival. We had a very pleasant chat with Kathryn and her dinner guest when we arrived. Kathryn is the reason why we love to AirBnB. Such a pleasant interesting person! Kathryn has a couple of bedrooms available. We stayed in the small bedroom with the full size bed that has the white bed posts with an attached sun room. Having access to the attached sunroom was a nice bonus. The bed is very soft. We sunk way down into it. If you are a fan of firm beds, be aware that this is a very squishy sleep. In the room also is a printed sheet of paper with all relevant info: Where things are located in the house, wi-fi access, things to do while in Sioux City. Very helpful! It was also very nice to take a dip in the pool at the end of a very long hot day. Her home is very nice and the breakfast that she made for us was fantastic = cinnamon roll belgian waffles! Thank you Kathryn!
karen
August 2015
I'm so glad I stayed at Kathryn's house. It is warm and inviting and Kathryn and her son Johnathan are easy to communicate with and very helpful. The house is located in a convenient area and was only 8 blocks from my sister's house, who I was in town to visit. The four poster bed was so comfortable and I slept great the whole time. I highly recommend Kathryn's house and will definitely stay there the next time I'm in Sioux City.
Tamara
July 2016
Tipo de habitación
Habitación privada
---
Tipo de propiedad
---
Capacidad
2
---
Habitaciones
1
Sioux City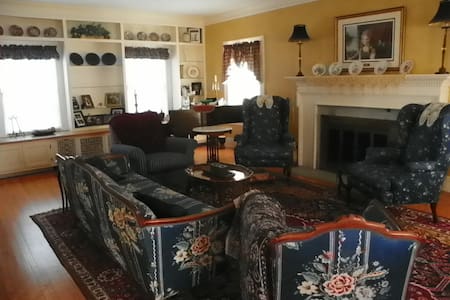 The neighbors are very good live nearby. Furniture with very good live.
Tipo de habitación
Casa/apto. entero
---
Tipo de propiedad
---
Capacidad
4
---
Habitaciones
1
Anthony