Alquilo apartamento con gran vista de las colinas de Chianti, con aire acondicionado, wifi, televisión con antena parabólica, garaje para motos y bicicletas y aparcamiento privado. Desayuno en una hermosa terraza. Le dará la bienvenida el agradable Raffaella.
Apartamento independiente con maravillosas vistas de las colinas de Chianti, tranquilo, agradable y cómodo para un relax total. Con aire acondicionado, wifi, televisión con antena parabólica, garaje para motos y bicicletas y aparcamiento privado. Desayuno en un hermoso patio.
El apartamento está situado a pocos minutos a pie de Borgo Villa a Sesta, una aldea típica en la que el tiempo parece no pasar. Es un lugar ideal para dar largos paseos en el silencio y disfrutar de la naturaleza y los bellos paisajes de Chianti. Si se queda en esta zona se debe visitar el castillo de Brolio, que se encuentra a sólo 5 minutos de nuestra casa. El pueblo de San Gusmè es de unos 3 km, y continuando a unos 7 km de distancia se encuentra la localidad de Campos, un pequeño pueblo que ofrece una vista espectacular. Si usted es aficionado a los balnearios y centros de bienestar, a unos 20 minutos en coche se encuentran las hermosas termas de Rapolano Terme. También vamos a ser muy útil en recomendar otros lugares para visitar y restaurantes donde poder disfrutar de una excelente cena típica de la Toscana. A la vuelta de sus noches podrá degustar también la vinsanto del Nonno Carlo, que durante décadas se produjo el más delicioso Vin Santo del Chianti.
La casa cumplió al 100% nuestras expectativas. Nos guiamos por los comentarios que tenia Raffaella, y son todos ciertos. Estuvimos como en casa. Rafaella nos trató genial, sus hijas (y novios) son encantadores y muy hospitalarios. La localización de la casa es lo mejor, en plena Toscana auténtica, en mitad de viñedos y olivos. El amanecer y atardecer desde las habitaciones son impresionantes. La casa tiene todo lo necesario para sentirte como en la tuya: baño recién reformado y espacioso, acogedoras habitaciones, cocina completa, cómodo salón (tv de pago). Los desayunos son muy completos y caseros, se agradece mucho para empezar el día con mucha fuerza. En definitiva, si vuelvo a la Toscana (que lo haré), me alojaré en Raffaella's House. Un 10
Ignacio
2016-03-26T00:00:00Z
Un alojamiento fantástico con unos anfitriones perfectos. La casa como la describen , muy limpia acogedora y con una tranquilidad absoluta. El trato fue perfecto muy amables y un buen desayuno. Totalmente recomendable, no dudaría en volver. Gracias Raffaella.
Pere
2016-04-15T00:00:00Z
Best host I have ever met! Amazing place, amazing family. Thank you Raffaella for everything!
Agata
2015-09-09T00:00:00Z
We had a lovely time. Raffaella and Claudio are wonderful hosts. Nothing is too much trouble for them, they are kind and gracious and have lots of helpful suggestions for places to visit. The location is ideal: Siena is 30 mins away and Firenze 1.5 hrs. There are many picturesque hill top towns and the scenery is magnificent.
Helen
2016-06-08T00:00:00Z
Our stay in Tuscany was the highlight of our backpacking trip through Italy and Greece BECAUSE of Raffaella and her husband, Claudio! The accommodations were perfect with a modern bathroom, comfortable beds, a convenient kitchenette, and a breathtaking balcony view! The hospitality of our hosts is what made it perfect though. Breakfast was waiting for us downstairs our first morning. Claudio advised us on a visit to a nearby castle and winery, which was incredible. We arranged for cooking lessons with Raffaella beforehand, which I highly recommend! We made homemade pizza - traditional Tuscan style. We then had dinner with our hosts and learned about their family and Italian culture and some Italian words, and we taught them some new English words. When we had to leave the next day for a train to Rome, Raffaella was nice enough to drive us to Siena since she was going there too. I advise using a taxi or car to get there and having a way to call Raffaella for more directions if you get confused. It was a short 20-25 min drive from Siena. I highly recommend this Airbnb!
Kendall
2016-05-27T00:00:00Z
Raffaella's home in Chianti is an amazing place to use as home base for exploring Tuscany. My husband and I spent a few relaxing days at this listing during our Italian honeymoon. Raffaella and her husband Claudio were extremely friendly, responsive, and communicative. They prepared lovely breakfasts for us every morning, which was a great way to kick off our days of exploring the countryside and nearby towns. The apartment is well appointed and has a wonderfully luxurious bathroom. I would recommend this place to a friend - thank you both for helping make our trip unforgettable!
Victoria
2016-10-27T00:00:00Z
Raffaella was very warm and welcoming. She never failed to greet us when we came back each day. The breakfast each morning was a treat. We enjoyed her homemade olive oil immensely. The only regret is that we could buy some back home. The view from the room was breathtaking. Location in Tuscany was excellent with Siena about 30 mins away and San Gimignano a tours drive away. There are many small quaint towns in the area to explore as well. Would definitely recommend Raffaella's place!
Charissa
2016-06-16T00:00:00Z
We had a great time in Raffaella's and Claudio's apartment. They were very hospitable with things like a bottle of wine in the apartment and and a delicious Toscan breakfast each day. Fast communication, very helpful, always available. Excellent wifi and satelite TV with some english, german and even one dutch channel. If you like a clean home, go to Raffaela and Claudia because it is absolutely spotless. The apartment was beautiful in every respect. The view from the bedrooms and balcony is stunning, the decoration is stylish and the design of the apartment itself is at an architectural level. Not just clever use of space but a space that feels good to be in. When the balcony with the view is too hot, there is an other balcony in the shade at the back. When you want to go out for dinner, you can walk to Villa a Sesta in about 10 minutes. There you should go to the restaurant Villa di Sotto which serves excellent food and wine for a very modest price.
Ysbrand
2016-09-21T00:00:00Z
Tipo de habitación
Casa/apto. entero
---
Tipo de propiedad
Casa
---
Capacidad
4
---
Habitaciones
Castelnuovo Berardenga, Toscana, Italia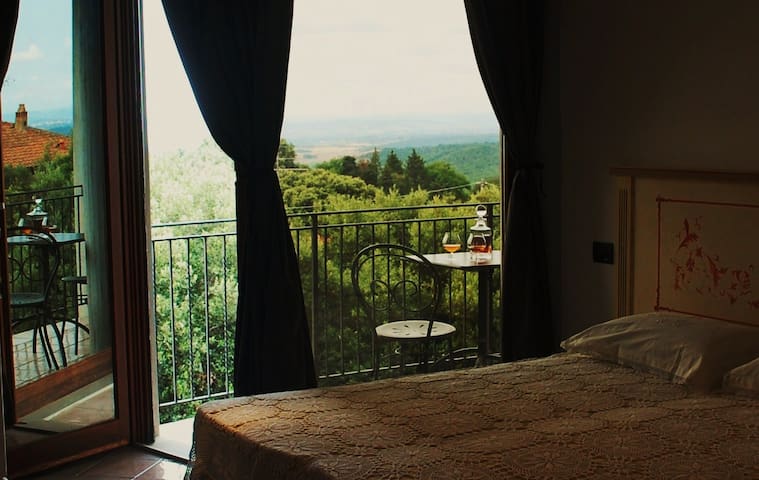 La Villa es una parte de una casa de campo típica de la Toscana inmersa en las verdes colinas del Chianti cubiertas de viñedos y olivares. Recientemente restaurado el edificio original de piedra se encuentra en un verde césped bien cuidado. El gran jardín privado está totalmente cercada asegurar la privacidad completa. Entrar en la propiedad que son recibidos por un patio empedrado delicioso.
Villa la Cipressaia es una parte de una casa de campo típica de la Toscana inmersa en las verdes colinas del Chianti cubiertas de viñedos y olivares. Recientemente restaurado el edificio original de piedra se encuentra en un verde césped bien cuidado. El gran jardín privado está totalmente cercada asegurar la privacidad completa. Entrar en la propiedad que son recibidos por un patio empedrado delicioso. Las características estructurales rústicas se han conservado y se funde con buen gusto con el mobiliario funcional pero elegante donde las comodidades modernas y antigüedades completan el cuadro encantador. Desde su posición elevada privilegiada Villa la Cipressaia cuenta con un paisaje encantador con vistas que se extienden sobre el campo circundante. Este es el lugar ideal si usted desea pasar sus vacaciones en un entorno tranquilo y tranquilo donde se puede disfrutar de una relajación absoluta y encontrar el alivio del estrés de la vida cotidiana. ALOJAMIENTO La Villa tiene es propios espacios privados: gran jardín privado, mobiliario privada y todo. la piscina es compartida con las otras personas de la otra parte de la villa. Sólo mi villa se utiliza para el alquiler por lo que habrá sólo unas pocas personas más! (2-3) La villa se extiende en dos plantas. En la planta baja se encuentra la sala de estar con televisión vía satélite, conexión a Internet WI-FI, chimenea y sofá-cama doble. Aún en este piso es pequeño aseo y el comedor con cocina totalmente equipada con horno y lavavajillas también. Ambas habitaciones tienen acceso directo a la zona exterior y el jardín. En la primera planta hay un baño con ducha, un dormitorio con dos camas y la habitación doble con un pórtico cubierto. El edificio está dividido en dos partes y la piscina es compartida con otra casa individual para un máximo de 4 personas. La zona exterior está totalmente organizado con mesa y sillas y el jardín es totalmente privado. JARDÍN Y PISCINA Al acercarse a la villa se sentirá inmerso en el verde de los alrededores. El jardín es un césped perfectamente cuidado que ofrece una vista panorámica desde el patio totalmente equipada para comer y relajarse al aire libre. La ubicación también permite imperturbable paseos por los viñedos. A pesar de que los vecinos comparten la piscina con Villa la Cipressaia, la piscina (14 x 6 metros) se encuentra en un jardín separado y no en absoluto penetrar en la paz y la tranquilidad del jardín privado adjunto a la propiedad o la vista, que se extiende lejos sobre las colinas de Chianti. UBICACIÓN: Villa la Cipressaia está perfectamente ubicado a una hora de Florencia, a sólo 20 minutos de Siena. Está muy bien situado para llegar también a San Gimignano, Volterra, Cortona y Arezzo. Quince minutos en Rapolano son los balnearios con piscinas climatizadas de aguas termales y tratamientos de fango (barro). Está a cinco minutos en coche de las tiendas y restaurantes en el pueblo de Castelnuovo Berardenga. El pueblo más cercano de San Gusmè a sólo 2 km de la propiedad, ofrece todas las comodidades adicionales se incluyen restaurante, bar, bar de vinos, comestibles y oficina de correos. Por no mencionar el outlet Val di Chiana, donde más de 100 tiendas de las principales marcas modernos le dan la bienvenida a tan sólo 35 minutos de la propiedad. Con en la zona se pueden encontrar paseos a caballo, en globo, y MTB, vino y aceite de oliva polígonos abiertos a visitar y clases de cocina. IMPORTANTE: Por lo general, i alquilar la villa de sábado a sábado
La villa se encuentra en una hermosa colina. Un lugar perfecto donde relajarse. Es una villa toscana típica pero con gusto elegante.
This San Gusme home is second to none! The communication in renting the home was perfect. Bianca was welcoming, warm, flexible, helpful at every turn and speaks English very well. When we arrived, Bianca met us in the center of San Gusme and checked us in early. She led us to the home via small, winding roads through vineyards which set the scene for a serene and relaxing Tuscan experience. Pay attention as you are driving to the property -- the roads wind and are not well marked. The first day we had a fun but unintentional tour of the back roads of the Arceno vineyards. There is a road map/sign as you enter into the vineyards. Bianca slowed down so that we could see it. We took a picture (but we forgot we had it during out explore). Once we arrived at the beautifully remodeled and updated centuries old farmhouse (the area is steeped in history and is so unbelievably romantic and beautiful. You can hardly believe you're really there), Bianca showed us through the home. We went over all the basics (internet access, how to use the stove, lock the doors, the heat, the property/grounds and what parts of the property were ours to use) and Bianca patiently answered all of our questions and gave us tips for restaurants, banks, etc. We were there visiting a friend so didn't need much help in terms of activities. It should be noted that Bianca left this travel - tired family a beautiful, warm gift -- water, tea, instant coffee and snacks. There was enough food for breakfast the next morning (croissants and homemade plum marmalade which was DELICIOUS!). The gardens are impeccably cared for. Many of the plants are even labeled. We came at the end of March, had beautiful weather, but many of the flowers were not yet blooming. The buds were there, however, and the scents were starting to emerge. We had long, lazy breakfasts there each day of our stay and were hard pressed to move on to the next part of our day. There are 3 tables with chairs set up throughout the closest gardens. They are well spaced and offer plentiful seating. There are several reclining lawn chairs peppered in the higher garden and they are very comfortable and offer a sun shade which was much appreciated. There was plenty of room for our four children to run around on the grounds -- the area enclosed by the hedges is perfect for playing ball and the space just outside the gate, on the way to the pool, is spacious and excellent for exploring. The house itself is packed with history and art from all over the world. From the ancient books to the paintings on the walls, to the antiques at every turn to the sculptures, to the old fireplace (where an ambitious guest might roast a boar), to the old kitchen fireplace/stove, one will never be bored! But don't worry, there is a modern...
Ingrid
2017-03-30T00:00:00Z
Tipo de habitación
Casa/apto. entero
---
Tipo de propiedad
Villa
---
Capacidad
6
---
Habitaciones
San Gusmé, Toscana, Italia
casa de campo con piscina
Tipo de habitación
Casa/apto. entero
---
Tipo de propiedad
Villa
---
Capacidad
4
---
Habitaciones
Siena, Toscana, Italia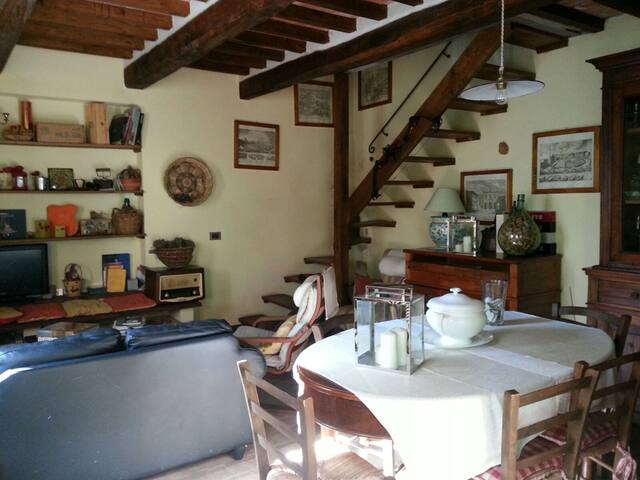 Il mio alloggio, vicino a splendide città come Siena e Firenze (ma anche Monteriggioni, San Gimignano, San Quirico,Bagno Vignoni, Rapolano Terme ecc) permette di incontrare stupende viste panoramiche e luoghi pieni di arte e cultura. Ti piacerà per la sua luminosità, per l'intimità, per i soffitti alti con mezzane e travi originali a vista, per la cura di ogni dettaglio, per la raffinatezza con cui è stato restaurato. Il mio alloggio è adatto a coppie, a gruppi di amici e famiglie (con bambini).
Appartamento situato in Palazzo Braschi, il più antico edificio di San Gusmè (XV sec.) L'appartamento, di circa 60 mq, può ospitare comodamente fino a 4 persone. E' situato al primo piano dello storico e prestigioso Palazzo Braschi (il più antico edificio del Castello di San Gusmè, risalente al XV secolo). L'appartamento, come del resto tutto il palazzo, è stato di recente ristrutturato sotto la supervisione della Soprintendenza ai beni artistici e culturali di Siena, avendo cura di preservare le caratteristiche tipiche dell'antica struttura: i pavimenti sono in cotto toscano ed i soffitti hanno ancora le travi in legno di castagno originali. Quando visiterete la nostra struttura vi renderete conto dell'attenzione e della cura che abbiamo posto nei più piccoli dettagli, al fine di preservare il vecchio stile toscano e di rendere la vostra vacanza indimenticabile. All'entrata c'è un largo soggiorno con cucina, con un antico camino toscano che dà un tocco caratteristico all'appartamento. La cucina, in arte povera toscana, è equipaggiata con forno, piano cottura, frigorifero, congelatore e il servizio completo di piatti, bicchieri e posate per 4 persone. La cucina ha un tavolo in castagno fatto a mano da un artigiano e sedie toscane impagliate. Nel soggiorno c'è un divano a due posti, per godersi momenti di relax vicino al camino. La camera da letto è molto spaziosa ed è dotata di un caratteristico e romanticissimo letto matrimoniale in ferro battuto (con materasso ortopedico), di un armadio originale dell'800, di una poltroncina, di una sedia e di uno scrittoio della fine dell'800. La seconda camera è dotata di due letti singoli ed armadio in stile veneziano. Il bagno è arredato con ceramiche colorate in bianco e azzurro ed ha il box doccia e il porta-salviette riscaldato. "Il rifugio nel borgo" è il posto ideale per coloro che vogliono trascorrere la vacanza all'insegna dell'arte (tutte le principali mete turistiche della Toscana sono vicine all'appartamento) e del relax. Tutte le stanze sono molto tranquille e romantiche.
Un pò di storia.. Percorrendo la strada che dal centro di Castelnuovo Berardenga ci conduce al Castello di Brolio si incontra il Castello di San Gusmè. Il nome di questo castello, era in origine, San Cosma e Damiano, santi ai quali è ancora oggi dedicata la chiesa parrocchiale. Le prime notizie certe di San Gusmè ci fanno risalire all'anno 867, con il famoso atto di costituzione dell'Abbazia di San Salvatore a Fontebuona. In questo documento, si legge che Wuinigi, insieme a sua moglie Richildadona, donò al Monastero di San Salvatore alla Berardenga dei suoi possedimenti posti a Campi e Sestano, che comprendevano fra l'altro, la chiesa dei Santi Cosma e Damiano. Furono poi i due figli della coppia, Berardo e Ranieri, a confermare nell'881 questa donazione. Il Castello di San Gusmè divenne successivamente, feudo di Ranieri di Ricasoli, grazie a Cristiano vescovo di Magonza e vicario imperiale nell'anno 1167. La storia ci riconduce a San Gusmè nel 1554, quando il 25 febbraio, si svolse nei pressi del castello, una sanguinosa battaglia fra senesi e truppe imperiali austro-spagnole. San Gusmè perse però ben presto la propria autonomia fino a venire annessa al Granducato di Toscana: il 2 giugno 1777 venne incorporato al comune di Castelnuovo Berardenga. San Gusmè può considerarsi oggi, a tutti gli effetti, come uno dei più tipici borghi chiantigiani avendo perfettamente conservato la sua antica struttura, con gli archi sovrastati da stemmi, le sue case strette e le anguste stradine in salita. Nei pressi, in cima ad una collina, un piccolo gruppo di pittoresche case coloniche e una piccola chiesa, sono tutto quello che è rimasto del paese di Campi già citato nella donazione di Wuinigi. Un po' più in basso, poco resta anche del castello di Sesta, chiamato Sestaccia, acquistato nel 1388 dal comune di Siena da Farinata e Adriano Ubertini. La fortezza, con un circuito murario a pianta ellittica, è giunta a noi in buone condizioni, non altrettanto si può dire invece per le mura che risultano scapitozzate o a malapena affioranti dal suolo. Anche del vicino castello di Cetamura già feudo dei Ricasoli, posto al di là della gola dell'Ancherona, restano purtroppo pochi elementi e fra questi il rudere della porta d'accesso. Ad est di San Gusmè, sono anche i pochi resti - incorporati in una casa colonica - di quello che doveva essere il castello detto il Palazzaccio.
Tipo de habitación
Casa/apto. entero
---
Tipo de propiedad
Departamento
---
Capacidad
4
---
Habitaciones
San Gusmé, Toscana, Italia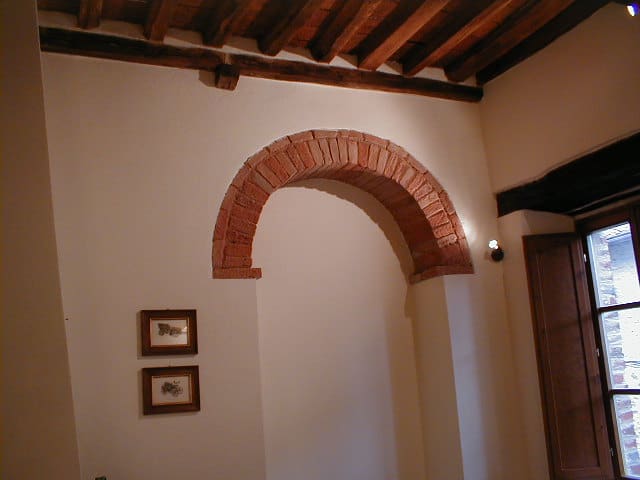 Apartment (120 m2) in an elegant Residence in typical Tuscan style, with nice pool attached. Entrance and terrace with loggia and garden independent.
The nearest village is Villa a Sesta (600 meters, even walkable) with two restaurants and a bar. A 7 km is the village of Castelnuovo Berardenga, with a good selection of restaurants, cafes and shops. There are two supermarkets and a small grocery store in town. Other shops: pharmacy, gas station and a bank in the town center. Siena is a 15-minute drive (25 km). The countryside around the house is of unique beauty, the heart of the Chianti area.
Tipo de habitación
Casa/apto. entero
---
Tipo de propiedad
Casa de vacaciones
---
Capacidad
4
---
Habitaciones
Siena, Toscana, Italia
Caratteristico ppartamento ubicato nel centro dell'antico Borgo di San Gusmè. Open-space di prestigio, ristrutturato di recente. Piccolo piano cottura, camino, divano letto per ulteriori 2 posti. Vista splendida sulla campagna toscana.
Tipo de habitación
Casa/apto. entero
---
Tipo de propiedad
Departamento
---
Capacidad
4
---
Habitaciones
San Gusmé - Castelnuovo Berardenga, Siena, Italia
===== Exterior ===== Beautiful country house situated in the heart of the renowned Chianti Classico region, approx. 20 km from Siena away. The house interiors are tastefully furnished with a charming combination of old materials and refined details. Outside guests can enjoy use of a personal, furnished, panoramic garden ideal for al-fresco dining and of a nice pool to be shared with the guests of 5 additional, nearby units. The house's central location is convenient for visiting Tuscany's most important places of interest such as Siena, Florence, San Gimignano and the entire Chianti area with its characteristic villages (Castellina, Greve, Radda, Gaiole, etc.) and wine estates. Distances: Villa a Sesta (a small hamlet of houses with 2 restaurants) circa 600 meters away, Castelnuovo Berardenga with shops of all kinds 7 km, Gaiole 15 km, Radda 20 km away, Castellina 30 km, Rapolano (renowned spas) 20 km away, Siena 23 km, San Gimignano 57 km away, Cortona 65 km, Florence and Arezzo 70 km away. At guests' disposal: personal, furnished, covered outdoor area ideal for al-fresco dining, swimming-pool (1(URL HIDDEN)min. depth 0,5 m – max. depth 1,5 m – open from 01/05 through 30/10 – from 9:00 to 19:00) to be shared with the guests of 5 additional, nearby units. The house provides free WI-FI internet, wired wireless stereo system, alarm system and safe. Personal parking in front of the house. Additional services: Baby bed upon request. Air conditioning in the whole house (€15,-/day - payment on the spot). ===== Interior ===== 130 m2 Ground floor (access via a nice personal, furnished outdoor area): dining area with fireplace, satellite TV and kitchen corner (oven, freezer, dishwasher, toaster), room with washing-machine, toilet and shower. 1st floor: living-room with fireplace, double sofa-bed, satellite TV and access on to an outdoor area enclosed by large French windows leading to a nice, fenced-in garden decorated with flowers and plants. 2nd floor: double bedroom with ensuite bathroom with shower and access on to a small bedroom with a single bed, access on to a terrace offering panoramic views. ===== Apartment Policies ===== Local Tax: 1,50 € per person/per day for the first 7 days of stay (not applicable to children under 14 years). Arrival between 17:00 and 20:00 Departure between 08:00 and 10:00 Pool open from 1 May to 31 October Not included in the rental price and to be paid on the spot: Final Cleaning (mandatory): 110.00€ Maid service (on request): to be arranged with the owner Refundable security deposit in cash (mandatory): 500.00€ Heating: according to consumption Air conditioning (on request): 15.00€ per day Late Arrival: 25.00€ Tourist tax (mandatory): 1.50€ per person per day Included in the rental price: Internet Wifi Babycot (on request)
Tipo de habitación
Casa/apto. entero
---
Tipo de propiedad
Departamento
---
Capacidad
5
---
Habitaciones
Villa A Sesta, Toscana, Italia
En el contexto exclusivo de Villa Arceno, una maravillosa finca en el corazón de la región de Chianti, Casina es una parte de una antigua casa típica de la Toscana hacia su propio jardín privado con barbacoa de piedra.
En el contexto exclusivo de Villa Arceno, una maravillosa finca en el corazón de la región de Chianti, Casina es una parte de una antigua casa típica de la Toscana hacia su propio jardín privado con barbacoa de piedra. Caminar unos pasos a lo largo de una ruta corta, está la piscina overviewing vieyards y olivares. La casa es de dos plantas: en la planta baja de la amplia cocina - comedor con una chimenea típica de la Toscana, una sala de estar con sofá-cama y chimenea, y un pequeño baño con ducha. En la primera planta, el maestro Bodroom con una cama extra grande, una acogedora habitación de dos camas y el baño principal con ducha y lavadora.
4 km (5 minutos) del Club de Polo La Martina.
We had a really fabulous time staying at San Gusme. The views are breathtaking and the cottage is very well equipped and beautifully clean. The house is a short drive to Siena - which is one of the most interesting, cultured and attractive cities we have ever visited. We also travelled very easily to Florence, Arezzo and San Gimignano. It was a wonderful experience to be in the Duomo in Siena in the morning, drinking coffee in the Palazzo de Campo, then back to the swimming pool in the afternoon to look over the Tuscan Hills - magical! Thank you Frederico and family for a memorable holiday. Di, Dom Liberty & Jake
Diana
2016-09-07T00:00:00Z
Nous avons passé un très agréable séjour chez Federico. La maison est parfaite et la piscine également. Le site est magnifique. Tout correspondait à nos attentes. C'était parfait. Un grand merci à Federico !!!!
Laurence
2016-08-21T00:00:00Z
We were very comfortable in this house – it's tastefully furnished in traditional style with a lovely kitchen that's well equipped. On arrival, we really appreciated not having to go out and buy all the basics as you do in many rental properties - Federico provided tea, coffee, sugar, milk, bottled water, etc. as well as dishwasher and washing machine products. It made things so much easier for our short stay and was a nice touch. The house was very clean and mosquito nets on all the windows allowed us to keep windows open at night for a comfortable sleep. As per other reviews, the pool is lovely and perfectly clean. We found the location of the house quite amazing – it really is right in the middle of a vineyard estate (a couple miles in so we found a car necessary), and we enjoyed a wine-tasting directly on the estate. The location is very peaceful and quiet - the only tip we would give is to bring a strong insect repellent for when outside, particularly if you intend walking.
Gillian
2016-08-28T00:00:00Z
Wonderful House , wonderful Pool Everthing was great. So many thinks to see in this beautiful Place arround the House...
Michael
2016-08-07T00:00:00Z
Nous avons passé un très agréable séjour dans la maison de Frederico. La maison est petite mais pratique (nous étions 5 dont 3 enfants). La piscine est géniale, très grande et nettoyée tous les jours. Je donnerais un petit bemol pour la table de la terasse qui était un peu petite pour 5.
Nancy
2015-08-15T00:00:00Z
This is a tale of two experiences, the inside and the out. Starting with the positive: the property has breath taking views of vineyards and the hills of Chianti, the pool is fantastic with an outside shower, overall if you are looking for a remote location to unplug and soak up the out doors this property has great out door space. Now the negative: when we arrived the property smelled like a porta-potty. We narrowed it down to the first floor bathroom that smells like something died. We called the host and he sent someone out the next afternoon. They confirmed it smelled horrible but after a few minutes said it was the sink and to just let the water run and that may fix it. That proved to be a challenge due to the sink leaks and would flood the bathroom floor. We decided to just for go using this bathroom and kept door closed with a towel by base of four to not let it sink the first floor up. This process best option but 4 people with only one small upstairs bash was not ideal, especially since we chose the property because of the two bathrooms. Over all the ready of the house was just ok it was cleaned but not clean, counters dirty, spider webs in corners but it was obviously hastily cleaned. Once we got past the first day and the smell subsided we actually really enjoyed ourselves. There are some great restaurants and wineries in the area, the pool was awesome with the vineyard back drop. Would not go there again but made best of stinky situation.
chris
2015-07-25T00:00:00Z
Grande Piscine de 18 m ; partagée avec le voisin . Maison petite mais agréable. Table dehors trop petite. Bon rapport qualité prix.
Etienne
2016-07-15T00:00:00Z
Et fantastisk dejligt hus med skønne omgivelser. Der er simpelthen smukt! Dejlig have, god pool og fantastisk udsigt! Det eneste, der giver en anelse udfordring er, at der er meget langt til indkøbsmuligheder. Så det er en god ide at have lidt proviant med.
Henrik
2016-07-30T00:00:00Z
Tipo de habitación
Casa/apto. entero
---
Tipo de propiedad
Casa
---
Capacidad
5
---
Habitaciones
San Gusmé, Toscana, Italia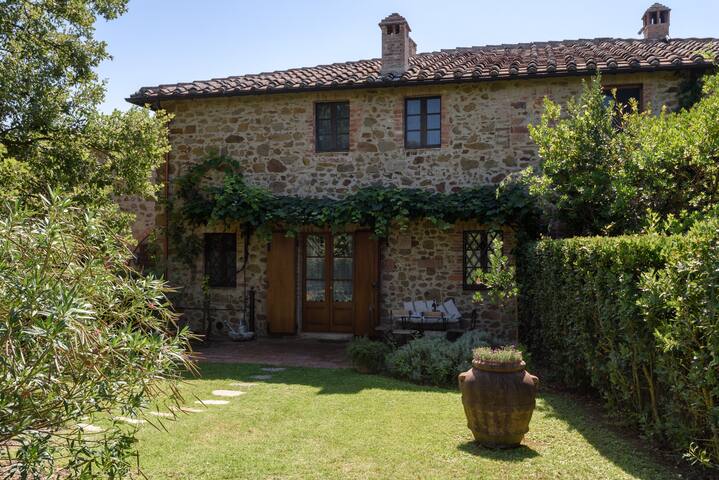 This self-catering apartment, set inside the beautiful historic Arceno estate is ideal for the holidaymaker who wants to get away from it all. . This Chianti estate with its 1000 hectares of vines, olives and woods, is ideal for walking or cycling, to be followed by a refreshing dip in the properties' pool afterwards.
2 persons +1 in the gallery
Casa Rossella forms part of a much larger Casale (=farmhouse) San Giovanni which is located within Arceno Estate  ( go to (SENSITIVE CONTENTS HIDDEN) Maps and enter Castelnuovo Berardenga or San Gusmè and you will see the Arceno Estate sitting between those two villages and the location in term of Siena), at 400 m from the Hotel Relais Villa Arceno . Our farmhouse is located in the most open part of the Estate,surrounded by vineyards and olive trees and with beautiful far reaching views across Chianti countryside .There is also a winery (where wine and oil can be bought ) run by the Californian wine producer Kendal Jackson .The Estate is like a secret world but within 10 minutes of the main highways and numerous local villages with good shops and cafés. There is many excellent  restaurants in the two villages around ,where you can taste and appreciate toscan deliciousness and also attend kitchen courses .Casa Rossella  is beautifully furnished ,with a pleasant private garden and lovely swimming pool ; it has a very high degree of privacy and quiet.Very often you will find that there is almost no one there except the permanent residents ( 1 family) and you will most of the time have the swimming pool to yourself. We have a high degree of privacy and yet have the security of some immediate neighbours so that we are not wholly isolated. All of us who own part of San Giovanni respect and appreciate the peace,quiet and beauty of the location , so I can genuinely say that you will not find yourself in a " holiday camp "situation.
Tipo de habitación
Casa/apto. entero
---
Tipo de propiedad
Casa
---
Capacidad
3
---
Habitaciones
San Gusmé, Toscana, Italia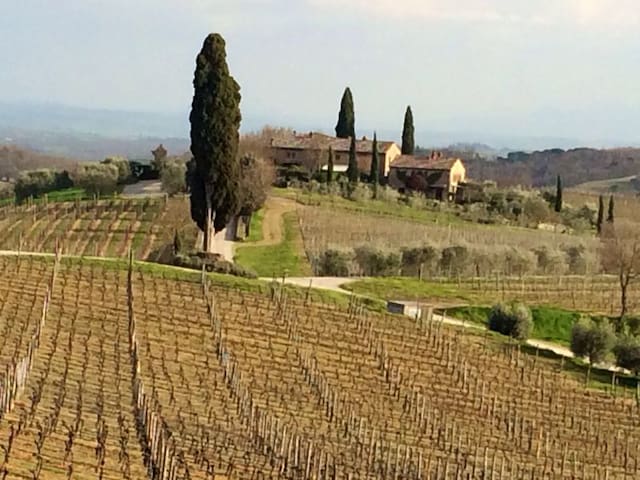 Appartamento in una villa ottocentesca nel Chianti. La struttura è il centro di una azienda vitivinicola con una antica storia famigliare.
Il nostro agriturismo fa parte dell'azienda agricola La Casaccia, dove si coltivano vite e olivo, nei pressi del borgo medioevale di San Gusmè. Gli appartamenti a disposizione sono situati all'interno della villa padronale ottocentesca da poco ristrutturata. Qui vi proponiamo CASA ADAMO. Si tratta di un appartamento situato al secondo piano della villa; ha un accesso indipendente e si estende su oltre 100 metri quadrati. E' composto da due camere matrimoniali, due bagni molto spaziosi con doccia e finestra; il soggiorno è estremamente suggestivo grazie al panorama che si può godere dalle sue 3 finestre; dispone di un camino. La cucina è separata e completamente attrezzata con frigo, freezer, lavastoviglie, forno e cucina. L'appartamento dispone di Sat TV, e Wi Fi gratuito.Gli arredi sono d'epoca e la struttura è con travi a vista, pietra a vista, cotto toscano.Non offriamo servizio di ristorazione ma le cucine che gli ospiti hanno a disposizione sono completamente attrezzate.
Il paese più vicino, San Gusmè, è uno tra i più bei borghi medioevali del Chianti e anche tra i più genuini, perché fuori dalle mete tradizionali turistiche. Offre bar, ristoranti, bancomat, ufficio postale. La Casaccia si trova a 400 metri e 4 minuti a piedi da San Gusmè. Numerosi sentieri per passeggiate a piedi o in bicicletta partono dall'agriturismo e dalle immediate vicinanze.
This was an amazing picturesque villa in Tuscany! We had a very restful stay in Casaccia Guelfi. We were two couples and there was plenty of space. Lorenzo was very accommodating and friendly. I would recommend this to everyone!
Joshua
2013-08-27T00:00:00Z
Superbe semaine en Toscane. Calme, authenticité, vue exceptionnelle. A cela ajoutez un accueil chaleureux de Laura et Asha et vous avez les ingrédients pour passer de superbes moments. À voir : les superbes paysages, la ville de SIenne - exceptionnelle- toute proche A goûter sur place : les vins et l'huile d'Olive produits par Laura. Ah, ce Brunello ... Et n'oubliez pas de profiter de la piscine et de sa vue magnifique... Vous l'avez compris, on a adoré !!!
Ludovic
2016-07-30T00:00:00Z
L'appartement est tres beau, la vue magnifique, la piscine est tres agreable. Un très bel endroit où se détendre. Nous avons été tres bien accueills, les conseils donnes pour les courses, restautants et visites étaient tres bons, Asia nous a tres gentiment fait une lessive pour nous dépanner . Nous serions bien restés plus longtemps...
Sandrine
2016-08-09T00:00:00Z
Hi, i will first start with positive thinks. Location of the building is very good, rooms are big, Laura ans Asia (person responsible for apartment) were very helpful and adviced where to go. There is Castelnuvo little town with wonderful atmosphere very close to this place, excellent pizza take away and wonderful animax restaurant, coop supermarket is very handy as well as yogurtheria on the main road. We went for the sea beach to giannella, some 150 minutes drive, though very nice one (bagno nettuno). If you want to go to seaside, this is not very convenient location, though sienna is very close. The only comment I have, was little road to the apartment, which was really not good. Swimming pool was good, but alot of mosquitos around. This is the real nature, though
Marcel
2016-08-26T00:00:00Z
A great Tuscan hideaway as a simple base to explore the surrounding Chianti, Montalchino, and Montepulciano regions. The apartment is very simply furnished, so it's perfect if for preparing simple meals before driving around and visiting wineries. The pool is also refreshing to relax in. The grounds are quite simple, and perfect for two couples or a family. The roads leading to the property are very windy and enjoyable to drive on. Don't forget to bring shampoo and other toiletries as these are not provided by the host.
Joyce
2016-07-08T00:00:00Z
Laura's apartment was spacious and comfortable, with great views of the Tuscan countryside and the nearby mediaeval village of San Gusme. We had a great time there and would happily return.
Mark
2015-10-02T00:00:00Z
Tipo de habitación
Casa/apto. entero
---
Tipo de propiedad
Departamento
---
Capacidad
4
---
Habitaciones
Castelnuovo Berardenga, Toscana, Italia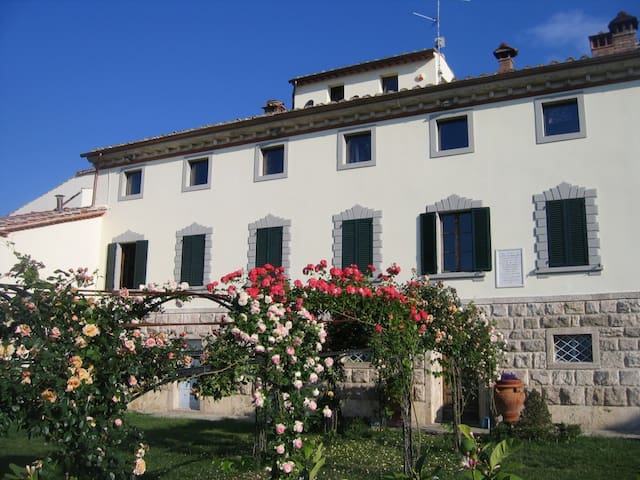 Beautiful Tuscan farmhouse in the Chianti area, surrounded by a large garden and a beautiful panoramic swimming pool. The view of the Tuscan hills that can be enjoyed from the bedrooms and from the pool is like being inside a postcard. The Villantica guests will always have the entire villa available for exclusive use.
B& B " VillaAntica Country House" is an old Tuscan farmhouse, surrounded by a large garden and a beautiful swimming pool mt. 11x5. Located in the heart of Chianti, in front of the quaint little village of Villa a Sesta, Villantica B & B offers to its guests all the modern comforts, while respecting the surrounding nature. The warm welcomelike in a family, will allow our guests to feel truly "at home" with the advantage of being in the middle of the vineyards of the famous Chianti Classico, with a landscape and scenery, really postcard.
We traveled with a group of eight people, two of them being children, and stayed in this lovely farmhouse. It was built over 200 years ago and is decorated in the typical Tuscan way and is incredibly charming. It was clean, comfortable and with lots of indoor and outdoor sitting spaces, surrounded by vineyards. The beds are truly American queen size beds. It is a great place to rent out for a large family visit. It was centrally located, only 35 minutes away from Sienna, 20 from Montepulciano and 1.5 hour from Florence. There was a small town nearby where you can get all your groceries. The host, Massimiliano, was fabulous! He met us at the agreed upon time to open up the house and show us everything that we needed to know. He prepared an amazing spread for breakfast each day and was just a great host. We all loved our stay and would 100% come back, hopefully sooner rather than later!
Regina
2016-07-20T00:00:00Z
We had a wonderful stay at Massimiliano's country house-- the home was just as described in the listing, but even more beautiful. We had a chance to use the grill and pool on the property, and our young son loved exploring as well. It is situated right in the rolling Tuscan hills, which provided for breathtaking views. Massimiliano prepared us a delicious breakfast both mornings of our stay, and invited us to his restaurant on our first evening there- which was delicious and provided for beautiful views of the Tuscan landscape. I can not recommend this place highly enough and Massimiliano was a wonderful, communicative, helpful host.
Laurel
2016-07-18T00:00:00Z
Che dire. Location strepitosa, casa libera su 4 lati, vicinissima al paese ma nello stesso tempo in piena privacy. Massimiliano e l'Host che tutti vorrebbero incontrare!
Silvia
2016-10-09T00:00:00Z
Dům naprosto odpovídal fotografiím a naprosto splnil naše očekávání, jen škoda, že jsme zde nemohli strávit více času. Dům a jeho okolí bylo úžasné. Pokud bude v budoucnu příležitost, rádi se sem vrátíme. Hostitel byl velmi sympatický a vyhověl všem našim požadavkům.
Markéta
2016-10-19T00:00:00Z
This place is a gem with amazing value! The landscape views from the house are amazing. The house itself is old (exactly what we wanted), but Massimiliano has provided comfortable amenities to make the stay successful. He is very responsive to any need and will make himself available. He provided very delicious and generous breakfast food every day. My wife, two small children, two grandparents, and I shared this house for 4 nights in the Spring, and it was perfect for us. Villa a Sesta is a quiet town with a small children park and 4 restaurants. I highly recommend Osteria alla Villa, where the owner Ronaldo and his wife will cook you the most amazing Italian food in all of Italy. He is great to talk to and the price is very reasonable. Massimiliano gave us great tips and deals on things to do in the area. There are of course some amazing wineries to visit nearby that offer free wine tastings, and the cities of Siena and Florence are near enough for day trips by bus or car. Highly recommend! Thank you, Massimiliano!
Ryan
2017-03-25T00:00:00Z
Perfetta
Lupo
2016-07-03T00:00:00Z
The farm house is quaint but so very charming. We fell in love with the house and property immediately. Massimiliano met us at the house and gave a quick tour and run down of the home. He and his girlfriend, who setup a WONDERFUL breakfast for us, were so warm and helpful. I would really recommend this home to anyone who is looking for a retreat, especially if you want to spend a lot of time outdoors or on a porch. The pool was perfect with the hot sun, olive and fig trees and so much lavender!!
Julie
2016-06-30T00:00:00Z
Nous avons été TRÈS BIEN reçus par Massimiliano. Il a été un hôte PARFAIT ( nous a bien aidés pour nos problèmes de voiture!). La maison ,qui a beaucoup de charme, est située au milieu des vignes et des oliviers, près d'un petit village sympathique...avec de bons restaus! Nous avons alterne les visites et les après midi piscine/jardin. Les belles villes de Toscanne sont facilement accessibles. Nous revenons ENCHANTÉS de notre séjour!
Elisabeth
2016-08-29T00:00:00Z
Tipo de habitación
Casa/apto. entero
---
Tipo de propiedad
Villa
---
Capacidad
8
---
Habitaciones
Villa A Sesta, Toscana, Italia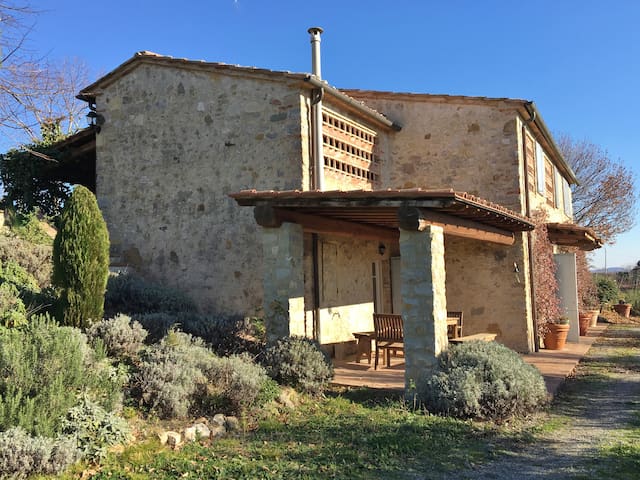 The apartment is within a renovated traditional Tuscan farmhouse in the exclusive estate of Arceno. The beauty of the place, its privacy and the private outside space allow to enjoy the property as a unique place. Private garden and pool.
THE APARTMENT Set into the beautiful Chianti hills of Villa Arceno, a vast private estate and nature reserve, the apartment comprises three floors within a renovated traditional Tuscan farmhouse split into three properties. Exclusively private large airy apartment and covered patio with postcard views facing south over the Chianti countryside. Two large comfortable 'Tuscan' double bedrooms with ceiling fans. Each with separate bathrooms. True Tuscan 'essence' with all modern conveniences, internet access, Wi-Fi, T.V. DVD player and iPod dock. Furnished to the highest standards with local antiques and designs the apartment could accommodate six persons, however the owners rent for four to give a unique and very stylish, comfortable experience, a true 'home from home'. A large and comfortable dining area seating eight and an excellently appointed kitchen for keen or even 'professional' cooks! THE ESTATE OF VILLA ARCENO: The estate of Arceno covers 1000 hectares of forest, vineyards, olive groves, cypress avenues, dotted with traditional farmhouses "the Casali", some of which are enigmatic, romantic ruins awaiting restoration. The "Villa" (Manor House) of the estate dates from the 16th century along with its own chapel, a romantic park and lake. From the Villa the original owners would have managed the estate directing the farmhands and workers who once lived in the Casali with the livestock. Il Poggio was once a working Casale but is now restored with modern benefits, it now houses those who wish to relax and enjoy the stunning views of the Chianti countryside.
AMENITIES AND ENTERTAINMENT: Famous for food and wine there are many places to see and go to in order to discover the flavours of Chianti. One might be a passive or active participant, either eating and drinking the produce or by taking cooking or winery courses at source and making the resulting produce oneself. If one is the more active type, a diverting round of golf or horse riding might be the ticket. There are spas and the seaside to indulge in should relaxing there be preferred. Packed full of history and art, an almost endless list of galleries, exhibitions, museums, churches, palaces and other diverse artisanal places are to be discovered.
Il Poggio was a dream come true. If you want the perfect Tuscan experience, this is it. Anna was a fabulous host - good communication and provided us with a very generous welcome pack including wine, cheese and pasta. The apartment was beautiful and well appointed and the pool is magnificent. The area is also fabulous. The two nearest towns of San Gusme and Castelnuovo Berardenga have everything you need and very welcoming people. We found it very hard to leave Il Poggio and hope to return one day.
Frances
2016-07-10T00:00:00Z
Tipo de habitación
Casa/apto. entero
---
Tipo de propiedad
Villa
---
Capacidad
4
---
Habitaciones
San Gusmè, Toscana, Italia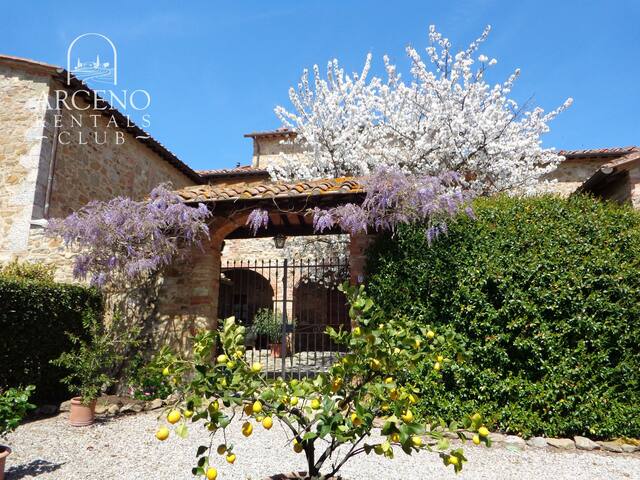 Private home with long vineyard views to Siena, great for touring! Nestled behind a quaint medieval village, surrounded by acres of olive groves & vineyards. The location is in the middle of the most beautiful small villages of the Chianti region, perfect location for setting off on your tours each day and returning home to a quiet residence in close proximity to restaurants.
This duplex property of two adjacent homes set amidst peace, quiet, serenity in Tuscany. An interior door joins the two autonomous residences. 'House_Right' consists of kitchen, living room, two bedrooms each with en-suite bathroom, all on one level. Sleeps up to four. The kitchen opens up to a large and inviting open dining terrace for sunset or moonlit dinners. 'House_Left' consists of kitchen and open-plan living room, two bedrooms one floor below with one bathroom. Sleeps up to 5. There is a large and inviting fig-tree-shaded dining terrace for sunset or moonlit dinners. Three great restaurants are within a short walk down a private lane. Huge nearby WaterPark: EssenzaOnline . it Recent Guest Reviews: Nelson C. said... "What a wonderful property in a charming small town. My family of 4 absolutely loved the property. Everything was arranged perfectly. Michael had everything setup so the check-in and stay was very smooth. The weather was beautiful, and the surrounding was everything how we imagined what Tuscan should be like. The dinner we had at the small restaurant in town was absolutely delicious, the villa's location was idea for day trips to Siena and other locations. We would love to be back and spend more time there." FRANCIS C. said... "Beautiful! This is a beautiful village in a beautiful region. The property has all you need for a great countryside stay. We had a great time and look forward for a future return." Robin M. said... "Wonderful stay. We loved this villa with beautiful views. Michael was great and made a couple reservations for us at the fantastic restaurants just a short walk away. The location was perfect for day trips. We would love to come back and stay again!" Tom said... "Our stay at the Villa~ We loved our stay at this cottage! Michael was most helpful to us in getting settled in this beautiful setting. We stayed 5 nights, and for 4 of those, we made our own meals, with the bbq equipment Michael kindly provided, and enjoyed sitting out on the patio overlooking the valley, and Siena in the distance. It was a most memoral stay, and we thank Michael for his hospitality and his help.
Very Private Classic Chianti setting. The property is immediately adjacent to three very good restaurants, just a short minute-stroll down a private lane.
Tipo de habitación
Casa/apto. entero
---
Tipo de propiedad
Casa
---
Capacidad
9
---
Habitaciones
Villa A Sesta, Toscana, Italia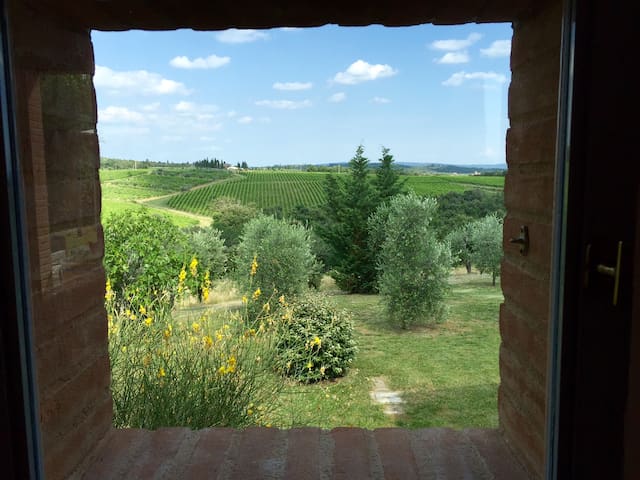 In the beautiful Tuscan countryside lies Villa Viola, a holiday villa for 6 people. The Villa features a swimming pool. The Villa is 55 km from Florence and 18 km from Siena. Rentals are available per week.
Spacious living room with open kitchen. Three bedrooms with private bathrooms. Villa is fully equipped. Including Wi-Fi. A spacious terrace and a beautifully kept garden to relax in delicious. In addition, a large, shared pool. Just hire an entire week, from Saturday to Saturday
Quietly situated in the Tuscan hills
Nous avons passé un très agréable séjour dans la Villa Viola. Elle est très adaptée aux familles avec enfants en bas âge pour qu'ils puissent profiter un maximum de la nature. C'est un véritable petit coin de paradis tout équipé, très bien entretenu et superbement placé pour profiter de tous les charmes de la Toscane. Notre hôte Joost a toujours été disponible pour faire de nos vacances une parenthèse enchantée.
Anne-Charlotte
2016-08-14T00:00:00Z
Un excellent séjour dans cette très belle propriété. La maison est très calme, très isolée dans la campagne; elle se rejoint par un long chemin en terre; donc ne pas oublier la baguette de pain! Très propre, une décoration design, et bien équipée. Le joli jardin et la grande piscine (commune au bloc des 4 maisons) sont rigoureusement entretenus. Joost et la personne qui nous a accueillis ont été tout à fait disponibles. Un endroit à recommander pour les amateurs de grand calme.
Francoise
2016-08-21T00:00:00Z
Wij als familie hebben een fantastische week gehad in Toscane. De villa van Joost heeft hier zeker een grote bijdrage aan geleverd. Wat een heerlijke villa; mooie open keuken met grote eettafel, lekkere fauteuils, ruime slaapkamers (met ieder een eigen badkamer). Daarnaast een prachtig zwembad en tuin en een werkelijk adembenemend uitzicht. En dan die stilte, alleen maar de geluiden uit de natuur... Joost, we hebben het heerlijk gehad en komen graag nog eens terug.
David
2016-09-12T00:00:00Z
maison parfaite dans un petit coin de paradis au milieu de la forêt mais un peut trop éloigné de la route principale, accès difficile.
HOUSSIN
2016-07-31T00:00:00Z
Tipo de habitación
Casa/apto. entero
---
Tipo de propiedad
Casa
---
Capacidad
6
---
Habitaciones
San Gusmé, Toscana, Italia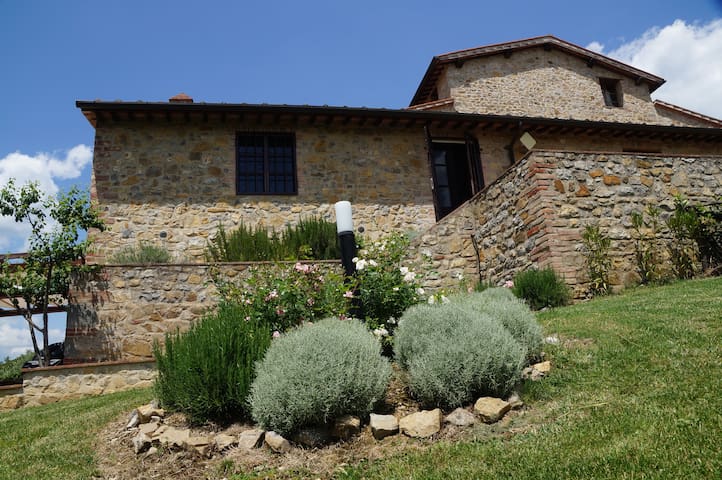 Casa de 2 plantas en una casa con otros 2 apartamentos, a medio camino entre Castelnuovo y San Gusmè B.ga in Chianti. Y ', rodeado de viñedos y bosques, tiene una piscina de 12 metros y un gran jardín privado.
La casa se puede llegar en 2 km de camino de tierra en excelentes condiciones. el tesoro de la casa real es la piscina de 12 mq, rodeada de jardín y flores y sobre todo se encuentra profundamente en los verdes viñedos y bosques. Desde la piscina es habitual ver en los campos de los alrededores liebres, jabalíes, corzos. La casa se encuentra a 2 pisos apartamentos; en la primera planta: gran salón con chimenea, donde es posible hacer barbacoa, ver la televisión y disfrutar del tiempo con los amigos y en los que encontramos un sofá cama; gran cocina empotrada con la televisión también; por la cocina se llega al jardín privado donde nos encontramos con una terraza con mesa, sillas, sillas de playa y una pequeña fuente; un aseo con ducha y un armario. En la segunda planta hay 2 dormitorios dobles, uno con una romántica chimenea, y el gran cuarto de baño con bañera.
Lejos del caos, un oasis de paz que se encuentra dentro de viñedos y bosques del Chianti verde. Está a sólo 20 minutos en coche de Siena, a 10 minutos de Castelnuovo Berardenga, 40 minutos de Arezzo y pocos minutos de San Gusmè. Se requiere un vehículo propio para llegar a la casa; en Castelnuovo Berardenga y en San Gusmè puede encontrar transporte público a Siena, Arezzo, Florencia y sourrondings.
The house is located in a remote area among the tuscanian hills and vineyards. The surroundings are awesome and very quiet, the house and gardens are very well maintained, and the swimming pool is so nice! The village is close to Siena (30mn by car), and many other must-see villages are in reach for memorable half-day or 1-day excursions. Chiara was available to answer questions before our arrival, she's a very nice person who takes great care of her house. My family and I loved our stay there. It is a charming place that I would definitely recommend to friends who want to discover and enjoy Tuscany, without the crowd of Firenze or Siena.
Delphine
2016-07-31T00:00:00Z
My family stayed at Chiara's house nearly two weeks and we had wonderful time. The house is very clean, cozy, very well equipped with stylish furniture which only emphasizes the 'Tuscany experience'. The pool is large with good access for kids and also sufficient for swimming. Chiara is very generous host and she ensures that you don't miss anything during your stay. We got complimentary coffee, olive oil, bottled water etc. The neighbors are very friendly people who stayed at the same property only 2-3 days during our stay so we basically had the house for ourselves. I was only missing wi-fi to be able to plan the trips and check the news from time to time. But you can easily survive without as many restaurants or coffee shops have wi-fi. The location is perfect for doing trips to Siena, Firenze, Montepulciano etc. We also managed to go to the beach in Marina di Grossetto twice which is only 1.5hrs away. In summary, Amazing vacation. Chiara, thank you again!
Ales
2016-07-14T00:00:00Z
We had a wonderful time at the Casa nel Chianti, Casale Ciarpella! Chiara and Guido were excellent hosts and were very helpfull and friendly! The house was very beautiful, the swimmingpool was absolutely great and the surroundings were stunning! Chiara had made us feel very welcom, and she provided us with wine, water and coffee,and everything needed for a good stay. The house is situated in a very natural setting, quite far (6-8km) from the nice little town of Castelnuovo Berardenga,but easily to reach by car. We enjoyed the quietness and the wildlife very much.
Marijke
2016-06-26T00:00:00Z
Posto incantevole,perfetto per staccarevla spina e (URL HIDDEN) casale è bellissimo,ristrutturato con cura e rispetto della tradizione,così come l intera tenuta nella quale è immerso,se siete fortunati incontrerete cinghiali e caprioli proprio fuori dal giardino.Appena partiti già vorremmo tornare,grazie mille a Chiara per l'opportunità!martina e famiglia
martina
2016-08-14T00:00:00Z
Que Dire .... Nous avons passé une très agréable semaine, la localisation de la villa au milieu d'un domaine viticole de toute beauté, une vraie carte poste de Toscane. Un emplacement idéal pour découvrir la Toscane de Sienne à Florence, Un hébergement de bonne qualité avec des extérieurs très bien entretenus et une Piscine immense Merci à Chiara pour sa disponibilité nous garderons un très bon souvenir de notre séjour. PS: Le vin du domaine est de très bonne qualité ---------------------------------------------- What we can say... We spent a very enjoyable week, the location of the villa in the middle of a beautiful vineyard is a real post card Tuscany. A perfect location to discover Tuscany from Siena to Florence, a good quality of the accommodation with very nice garden and a huge swimming pool Thank you to Chiara for her availability, we will keep very good memories of our holidays thanks to this accommodation. PS: The wine of the vineyard is very good
Magdalena
2016-08-07T00:00:00Z
Superbe maison au calme dans une très belle région. Nous avons passé un très bon moment en famille à profiter du paysage, de la piscine, du soleil et des bons produits de la Toscane. Nous y retournerons avec grand plaisir Merci à Chiara
stephane
2016-07-22T00:00:00Z
Fantastic surroundings and very quiet. Wild life around gave our stay a tastier touch. Nice house with a lot of space. We just met Chiara and Guido at the beginning and the end of our stay but they were there to show the place and the superb swimming pool.
Olivier
2016-08-27T00:00:00Z
Nous avons eu un sejour absolument parfait en tous points: Chiara et Guido ont été trés agréable, nous laissant prendre possession de leur maison où nous nous sommes senti immediatement bien. La maison en pierre est trés agréable avec sa grande terrasse ombragéé donnant sur un jardin arboré trés bien entretenu et bien sùr la piscine que nous avons partagé avec les propriétaires des 3 batisses qui font partie de cette superbe propriété niché au milieu de foret de chenes,de vignobles et des champs d'oliviers. Franchement, c'est un trés beau lieu pour se reposer et visiter cette superbe region de toscane, nous avons pu aussi visiter l'ombrie vue la situation idéal de cette maison. Nous avons vraiment eu un gros coup de coeur pour cette maison et la rencontre avec Chiara et Guido avec qui nous garderons des contacts avec grand plaisir. Nous reviendrons dés que nous le pourrons chez Chiara et Guido.
cécile
2015-08-27T00:00:00Z
Tipo de habitación
Casa/apto. entero
---
Tipo de propiedad
Casa
---
Capacidad
6
---
Habitaciones
Castelnuovo Berardenga, Toscana, Italia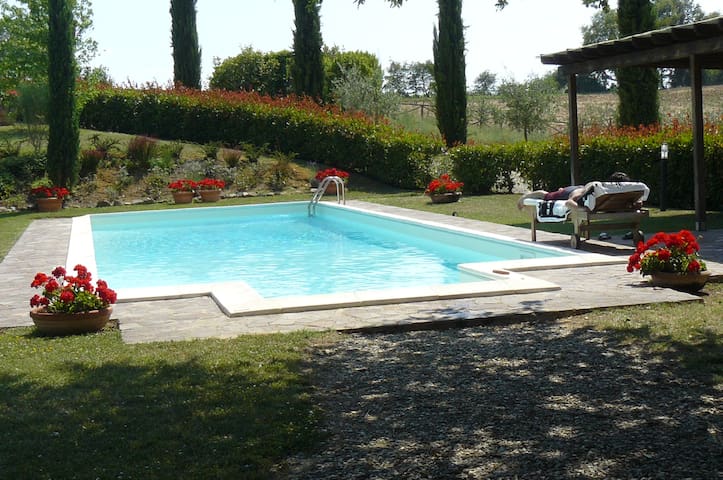 Apartment for 2-3 people with big king's bedroom, small bedroom, wide bathroom with shower including washing machine, complete kitchen with oven, cook-top and dishwasher, TV and Wi-Fi and huge private terrace. Your private Tuscan corner!
The host canceled this reservation 120 days before arrival. This is an automated posting.
Adelein
2017-03-28T00:00:00Z
Tipo de habitación
Casa/apto. entero
---
Tipo de propiedad
Departamento
---
Capacidad
3
---
Habitaciones
Rosennano, Toscana, Italia
Holiday apartment situated in a typical alley in the center of Castelnuovo Berardenga in the heart of Chianti Classico , Tuscan-style residence with basement with kitchen , large living room, 2 bedrooms and 2 bathrooms , independent heating
Beautiful Tuscan villa with all mod cons , on arrival you will find a welcome basket and a voucher for a free wine tasting at a winery in the Chianti
The apartment ' located in a picturesque country lane , well served to you with bars , newsstands and supermarkets , served by public transport
Me ha encantando mi estancia en Castelnuovo Berardenga. Es un pueblo encantador con una gente súper amable. Tiene varios restaurantes muy recomendables, de calidad y precio. La casa me ha resultado muy cómoda y agradable, y las anfitrionas majísimas. El desayuno más que suficiente. En general, un lugar muy recomendable.
Araceli
2016-08-17T00:00:00Z
Muy buena anfitriona, excelente atención y detalles, nos dejo suficientes aperitivos para desayunar todos los días . Nos dio recomendaciones de sitios a conocer, realmente explendido
Daniel
2015-12-26T00:00:00Z
Todo OK. La casa está muy coqueta. Nos hemos sentido muy agusto. María la anfitriona ha estado constantemente pote de nosotros por si nos faltaba algo. El pueblo y la zona muy bonitos. La casa sin duda es muy recomendable.
Carlos B.
2015-08-12T00:00:00Z
What an absolutely wonderful place. So unique and clean and pretty. Our host, Mary even provided breakfast in the fridge although we hadn't requested it, as well as 2 wine tastings. There was also lots of information about what to see in the area and we really enjoyed meeting her daughter and husband. It was the only place we have stayed at in our month in Europe that had facecloth sand that provided so many unique and pretty things in the bnb such as ribbon on the toilet paper, a guest book to write in, facecloths etc.
Dawn
2015-05-26T00:00:00Z
Outstanding experience with Mary and Chiara. The house is beautiful and our hosts were very generous with their time to help us organize a wine tour.
Dominik
2016-07-03T00:00:00Z
This was the best AirBnB place that we stayed in during our entire trip to Europe. The apartment is cute, clean, and set up well. Free parking in a big lot a couple of minutes away. The location is great for exploring nearby towns, and Castelnuovo Berardenga had everything we needed, restaurants, groceries etc. I would stay here again, and would recommend to others. It was great value.
Christopher
2016-08-07T00:00:00Z
The host was really welcoming and explained everything to us clearly. The apartment was great and had all the amenities needed. 2 very clean bathrooms with showers that worked well. Small town was quiet and pretty and we went out to eat locally twice and used it as a base for Siena.
Rebecca
2016-08-08T00:00:00Z
Nous avons séjourné 2 nuits dans ce très bel appartement décoré avec soin et à la propreté irréprochable. Mary nous a réservé un accueil chaleureux avec de nombreuses explications sur les endroits à visiter à proximité. Il y avait même quelques produits frais dans le frigo à notre attention. Je recommande vraiment ce logement !
Charlotte
2015-08-09T00:00:00Z
Tipo de habitación
Casa/apto. entero
---
Tipo de propiedad
Casa
---
Capacidad
5
---
Habitaciones
Castelnuovo Berardenga, Toscana, Italia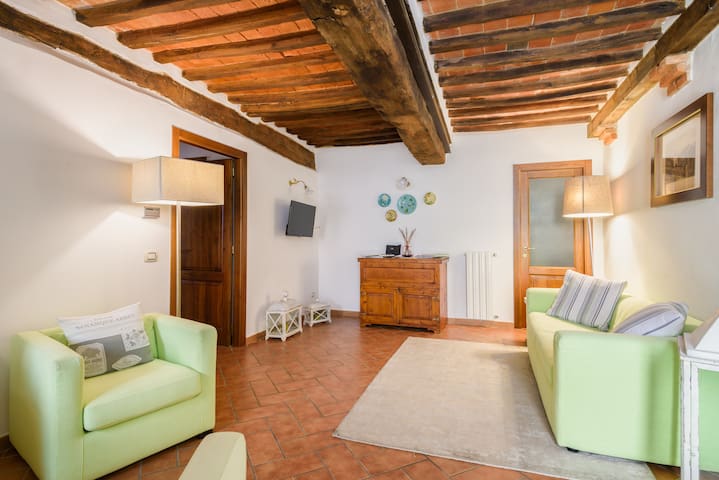 La paz y el silencio. Hermoso parque de olivos. sala de estar grande y brillante. De fácil acceso desde la autopista. un entorno magnífico.
casa unifamiliar de 105 metros cuadrados, parque cerrado de olivos y viñedos.
La paz y la tranquilidad.
Back from Italy after a very relaxing stay at Lucianos place. Very spacious and clean House. Ideal for 4 People. Luciano is the perfect host and very very friendly. The House is located ideal for visting the Chianti Region and a visit to Sienna. We are more than happy to visit Lucinano and his Place again.
Sandy
2016-07-27T00:00:00Z
Luciano è stato un host perfetto! Ci ha fornito indicazioni per arrivare alla casa, ci ha aspettato sulla strada e ci ha fatto anche trovare il camino acceso! Una persona davvero cordiale e disponibile! La casa è molto bella ed accogliente e fornita di tutti i confort ... Non ci è mancato davvero nulla! La zona tranquilla e vicina a diversi luoghi d'interesse, ideale per una vacanza tra amici. Consigliato a tutti!
Leandro
2016-01-02T00:00:00Z
Tipo de habitación
Casa/apto. entero
---
Tipo de propiedad
Villa
---
Capacidad
4
---
Habitaciones
Siena, Toscana, Italia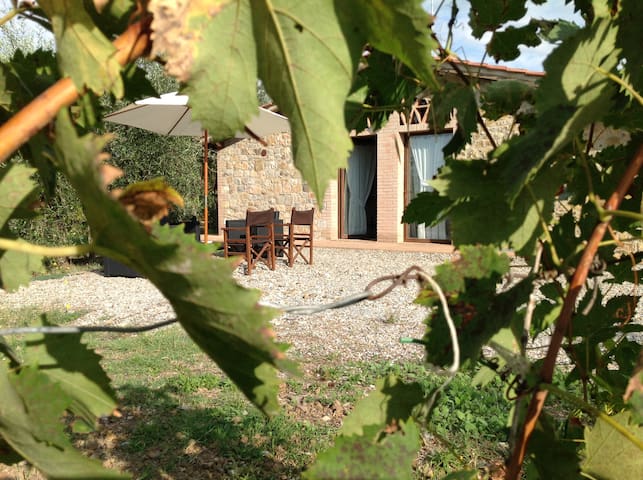 San Gusmé - Airbnb
:
Una media de

4.86

estrellas de un total de

5

de

196

evaluaciones de huéspedes