San José está a su alcance desde este céntrico, recientemente reformado, apartamento. Se le poca distancia de restaurantes, museos, parques, y la vida nocturna.
El apartamento se encuentra dentro de una casa recientemente renovado de la década de 1900. Es un estudio privado y espacioso, con buena iluminación natural. Encontrará una cama de matrimonio en el dormitorio loft. También hay un futón en la sala de estar principal, donde una persona adicional puede dormir.
El apartamento está situado en uno de los barrios más históricos de la clase media de San José. Es bueno que todavía se puede tomar un paseo por aquí y obtener una sensación de lo que era la ciudad hace 30 o 40 años. Y, sin embargo, el lugar está justo en el medio de la acción. En 15 minutos se puede caminar hasta el centro, pero algunos de los lugares más interesantes de la ciudad está aún más cerca que eso. Hay buenas conexiones con la mayoría de las partes del área metropolitana en autobús o tren, y muy buenos restaurantes y la vida nocturna.
Llegue con problemas durante el viaje y el transporte al hospedáje. Pero en cuanto les fue comunicado, se acercaron a buscarme y me ayudaron a resolver las dificultades. El lugar está muy agradable, limpio y confortable. Fueron muy amables, su vuelvo a San José, regresaré va ese hospedaje.
Nancy
2017-01-08T00:00:00Z
Un sitio muy acogedor muy bonito y con todo que necesitas. Humberto esta dispuesto a ayudarte en todo.
Christophe
2016-08-03T00:00:00Z
Un lugar encantador, muy muy limpio, luminoso, cerca del centro; con bares, tiendas y restaurantes alrededor. Muy cómodo y amplio. Una cama grande arriba y un sofa cama abajo. Agua caliente. Cocina con todo lo que necesitas. Fácil de encontrar para el conductor de uber. La comunicacion con Humberto fue muy buena desde el minuto uno. Siempre estuvo pendiente. Y su padre es encantador!! Volveríamos a alojarnos aquí sin duda!
Esther
2016-12-16T00:00:00Z
This place is absolutely fantastic. Sometimes you aren't sure you are REALLY going to get what the picture says...but in the case i did. Ronald (Humberto's father) was QUITE accommodating and the amenities were beyond what I would've expected. a great value for an awesome place. I will stay here anytime I come to san jose!
Lawrence
2017-04-04T00:00:00Z
The apartment was clean, modern, and comfortable as the pictures showed. It was close enough to the downtown area for easy walking. Humberto and his father were extremely helpful and quick to respond when we needed assistance. We highly recommend this location!
Steven
2016-12-24T00:00:00Z
The place is just like on the pictures! It is in a perfect location and super cozy! Humberto made a great effort to welcome me and make me feel comfortable! I would totally recommend the place & would even stay here again! Thank you for hosting me :)
Alexandra
2016-10-12T00:00:00Z
Humberto has a day job, but his brother and father were both there to meet me. Super friendly and helpful. Very good English. Really nice little apartment. Someone who needed to spend extended period of time in San Jose would find this apartment very convenient.
Dan
2016-10-25T00:00:00Z
Humberto was a fantastic host. His little loft suites are close to central downtown and he was most generous offering us a ride to the central market, and a SIM card for use during our stay which would make it easy for us to access Maps and call him if we needed advice or help. There was delicious coffee in the kitchen and a little breakfast sweetie do you have with the coffee. While close to traffic the suite was quite quiet and very comfortable. This is a wonderful place to stay in San Jose thank you Humberto.
Diana
2016-12-12T00:00:00Z
Tipo de habitación
Casa/apto. entero
---
Tipo de propiedad
Departamento
---
Capacidad
3
---
Habitaciones
San José, San José, Costa Rica
You'll love my place because of the location, it is in downtown San Jose. Close to museums, restaurants, supermarket, pub, casino and bus stop to tourism destinations. Ideal if you would like to take a walk to visit the city. It is a completely private apartment equipped with all needed for your stay. This is in the heart of San Jose, per the location, it's noisy due to the bus station in front & different casino/bar around.
The apartment is located in a second floor, is big enough for cooking, eating, watching TV or just stay on bed. The washing machine & dryer is out of the apartment in a third floor, this is the only space shared within the building. There isn't a parking space if you will be renting a car but is not needed during your stay in San Jose meeting the city, however there is a safe parking space for $1.5 per hour 24/7 next to my place.
The neighborhood is not quiet at all, this is in front of a bus station and many stores, a small plaza, casino, hotel and sport bars close. Supermarket, 2 museums and a souvenir street is 2 blocks taking east from my place.
La estancia de suly estuvo excelente!! Por la ubicacion y su atención al momento de la llegada junto con su madre, le agradecemos por darnos la oportunidad de tener un excelente lugar en una súper buena ubicación para conocer San José ya que solo nos quedaríamos un día allí y queríamos conocer los lugares más importantes, se los recomiendo mucho!
Cris
2017-01-27T00:00:00Z
La casa está en pleno centro, lo único es que se oyen los autobuses pero no molesta para dormir ya que la habitación es interior. Es justo lo que buscábamos. Seguro y limpio.
Nadia
2016-11-03T00:00:00Z
Suly nos trato muy bien y se comunico mucho con nosotros y lo apreciamos mucho. La casa está muy céntrica en San José. Estamos muy contentos con la estancia.
Marta
2017-03-18T00:00:00Z
Suly's place is great. Very comfortable, clean, big and with everything you need. The bedroom is fresh, you don't even need a fan to sleep. It is very well located, close to everything. However there is no hot water, it is very noisy as there is no proper windows. Streets, clubs, neighbours... just like there were in the flat. But that is the price to pay to be in a very nice flat close to everything. I'll definitely come back!
Emilie
2017-03-27T00:00:00Z
Great apartment -- very clean, comfortable. It was really easy to check in and explore downtown from. Had a great stay!
Lauren
2017-03-28T00:00:00Z
Everything was great. The check in was very accommodating, especially considering we were an hour later than we thought due to a delayed bus. The place itself is awesome... very clean, spacious, and it has a lot of character. It is in a very busy location, so there is city noise, but it quiets down at night. Plus the bedroom is in the back away from the street. It is within walking distance of everything you need. Suly was very responsive and helpful. Highly recommend this place to anyone looking to experience the center of San Jose
Aaron
2017-01-11T00:00:00Z
Great convenient location for economical stay in San Jose. Host communicates very well and is very helpful. I would definitely stay there again.
Nelson
2017-01-25T00:00:00Z
In the center of the action. Great place to stay. Suly is easy to communicate with.
Roy
2017-03-04T00:00:00Z
Tipo de habitación
Casa/apto. entero
---
Tipo de propiedad
Departamento
---
Capacidad
2
---
Habitaciones
San José, Provincia de San José, Costa Rica
Two private bedrooms in a beautiful 1940's Art Deco house with original flooring, lighting fixtures and high ceilings. Just 5 minutes walk to the gastronomical neighborhood. Close to parks, museums, nightlife, hospital and public transport. You'll love our place because of our small garden, the lively neighborhood and our vinyl collection. Also, you'll have free entrance to "El Sótano", the best jazz bar/live music venue in town! Perfect for families, couples or friends.
Welcome and please feel at home in our cosy but spacious house! Our neighborhood Barrio Aranjuez is perfectly located very close to the city center, just between Barrio Escalante and Barrio Amón. All interesting places of San José (the National Theater, the Central Market, the major parks and museums) are within walking distance. If you feel like staying home, you can relax in our hammock and maybe see some (humming)birds in our little garden. In case you encounter some tropical rain, no worries, you can always enjoy it with a hot cup of tea from our roofed terrace, take a hot shower, grab the guitar, play some piano, listen to some music or just read on the couch.
Barrio Aranjuez, which is the name of our neighborhood, houses the train station, the Calderón Guardia hospital and the organic Saturday market: "Feria Verde". You will find a pharmacy, bakery, fresh juice shop, some little convenience stores and restaurants with typical Costa Rican food just around the corner. Our house lays in one of the more characteristic areas of San José, with nice and old colorful buildings. It lays next to Barrio Amón, which is a pleasant, historic neighborhood with a lot of big coffee grower houses dating from the late 19th and early 20th centuries. It is a popular area, due to its many hotels, restaurants, arts and architectural highlights. Barrio Aranjuez is also located next to Barrio Escalante (the gastronomical neighborhood) where you can find all kind of trendy bars and restaurants and a bigger grocery store opened until 10pm (walking distance). La Antigua Aduana (events, art, festivals), Cine Magaly (independent films in English) and the contemporary art and design museum are very close.
The place is wonderful. It's kind of an artist's house. There is a little (URL HIDDEN) peacefull . The room is very nice, spacious and clean. And Veerle & Jose are just wonderful hosts. They are very attentive and wonderful people to discuss with. It was our first night in San Jose and we are very happy to have chosen this place ! If you have to pick one place in San Jose .... Pick Veerle and Jose's house !!!
vanessa
2017-03-09T00:00:00Z
I stayed with Veerle & José for a few days. Their house is spacious and fully equipped, including a nice garden to enjoy Veerles wonderful Costa Rican breakfast. Veerle & José are very open minded and we had some great conversations. I was also impressed by the amount of records of José, so there is always the possibility to listen to some good music. Neighborhood is nice and in a good part of San José. There is a bakery and lots of cafés nearby. At first I thought I wouldn't want to stay in San Jose for long, but Veerle and José showed me the charm of the city and the interesting parts, so now I definitely want to go back to discover more of SJ.
Judith
2017-03-31T00:00:00Z
Veerle is a very friendly and warm person. Because my flight was delayed I arrived in the middle of the night at her house but that was not a problem at all! It is a beautiful, quiet room. The house itself is spacious and the kitchen is well-equipped. I had a typical Costa Rican breakfast, Gallo Pinto, which was delicious. What is also a big plus, is that her boyfriend (who also lives in the house) owns a cool place called 'El Sotano' where there is live music almost every night. I would definitely recommend everybody to stay at her place while you're in San José.
Marloes
2017-03-01T00:00:00Z
My stay with Veerle and Chema was perfect: they were easy to talk to, superfriendly and attentive. The location of the house is great, it is very easy to walk to the centre from their house or to go to the nearby 'hipster' neighbourhood. The room is clean and spacious. And thanks to Veerle and Chema I discovered El Sotano, definitely a must when you are in San Jose!
Loes
2017-03-16T00:00:00Z
We had a great stay in San José by Veerle. Everything was possible to reach by foot. Veerle is a lovely, wonderful and peaceful person with a beautiful heart. We felt us very comfortable and save! We will defenetly come back! Thank you for hosting us!
Ariane
2017-03-15T00:00:00Z
Veerle and José are great hosts! Super friendly and helpful and their home is a lovely little oasis in San Jose. They helped us when the taxi driver was a bit lost and we had a lovely chat when we arrived. We stayed for our first night in Costa Rica since it was close to the bus station we needed in the morning (the 7-10 terminal) and it was exactly what we needed with friendly hosts and a relaxed atmosphere. If we're ever back in San Jose we'll be staying here again!
Johan
2017-03-24T00:00:00Z
The firt and the last night of our trip In Costa Rica was at Veerle and Jose's Home . Everything was perfect . The place , the location , the welcome ...You couldn't find a better place to stay in San Jose .
Jean-Vincent
2017-03-21T00:00:00Z
Tipo de habitación
Habitación privada
---
Tipo de propiedad
Casa
---
Capacidad
4
---
Habitaciones
San José, Provincia de San José, Costa Rica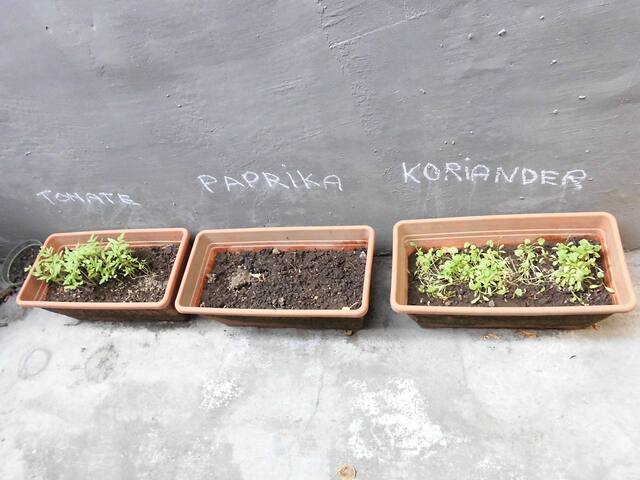 Is a modern complex of Apartments and Studios, very central in the city of Tibás, San José. A lot of services are so close that you can go by walking. It's a nice area and most of the units has 1 parking space.
You have all services you need to be always connected at home. You have free WiFi access, Smart TV to watch your favorite movies or series by Netflix or any other app, and Also in April 2017 you will enjoy recreational and relaxing areas.
At 1/4 mile around, you get Bank, Gas Station, Walmart, Restaurants, Bars, Shopping Center, 1.5 miles around, you get a Lincoln Plaza Mall, San José Downtown, Universities, Saprissa Stadium and more. It's a nice building of apartments and studios, 2 / 4 people, very nice, quite, secure and modern decoration with all facilities you need.
Excelente espacio, cómodo, moderno y bien ubicado, muy recomendable para estar en la ciudad y sentirse como en casa. Andrés fue muy atento en todo momento a nuestras necesidades.
Santiago
2017-02-12T00:00:00Z
It was my first time in Costa Rica and Andres welcomed me worth open arms. He went out his way to assist me with anything I needed traveling alone I didn't know what to expect but he made me feel comfortable and gave recommendations on places and things I could do. The apartment is clean, new and close to everything.
Naisha
2017-04-08T00:00:00Z
The host, Andres is such a nice person. The place is new and it's complete. Everything that you need is there already. Two thumbs up for this place!
Khaye
2017-01-31T00:00:00Z
Andres was an awesome host. He was always reachable and helpfull, there was nothing to complain about. Keep it up!
Nick
2017-03-21T00:00:00Z
The place is awesome inside. Not located downtown like we thought but a 15 min walk away. And there was a local bus station to other parts of the country about the same distance so that was helpful.
Intisar
2017-03-29T00:00:00Z
Tipo de habitación
Casa/apto. entero
---
Tipo de propiedad
Departamento
---
Capacidad
4
---
Habitaciones
San José Province, San José Province, Costa Rica
Feel the beat of San Jose! Industrial Style Studio in the heart of town, six minutes walk to museums, National Theater, and points of interest down town. You will also enjoy typical food restaurants and great coffee shops! The bus terminals are five to ten minute walk, just 25 to 35 minutes from the airport. My place is perfect for back packers, couples, friends traveling together or if you are more of a lonely traveler you will feel safe and comfortable.
Small Industrial Style studio apartment perfect for a couple of days stay in San Jose or it can also be great if you plan a longer stay. It is in a six floor building that has been in the family for almost fifty years now, it used to be an office complex and for many years it was the home of the offices for a very prestigious international bank. After the bank Left, I decided to change the purpose of the building and remodel it for living purposes, Studio #404 is one of the twelve apartments that make up for the condominium. It is small, very cozy and it has everything you will need for a pleasent stay, it's fully equipped with all the amenities , kitchen, microwave, coffee maker, refrigerator, toaster, you will find all you need to cook, there is even a screw cork in case you are in a mood for some wine. It has a full size bunk bed and a pull over couch, which can accommodate comfortably an adult or a small child. There is a dinning table which sits three very comfortably. It has access to internet and digital television with a 24 " TV, you can count with hot water and a very nice and comfortable shower with body gel and shampoo. The apartment is Located on the fourth floor, on the Street side of the building, and there is an elevator.
The place is located close to down town hotels, parks and museums, it is in the heart of San Jose Down town. Although San José has a population of less than three hundred thousand it is a hop all provinces and more than one million people come and go everyday, in consequence it is a very busy and crowded city during the day and lonely at night. The studio is in the fourth floor of the building to the side of the street, it can get noisy in certain hours of the day, but it is quiet at night. Like any city that you are getting to know you should never be over confident.
Mis padres y mi hermano tuvieron una visita muy buena gracias a Marie, les explico muchas cosas para su viaje y el lugar estuvo exactamente como las fotos lo muestran.
Paola del rocio
2016-06-16T00:00:00Z
Marie es una excelente anfitriona, el apartamento genial!! sin duda al regresar a Costa Rica me quedaria en el mismo lugar.
Isaac
2016-03-26T00:00:00Z
Amigable bienvenida a Costa Rica y excelente servicio. Los departamentos que ofrece Marie son geniales, muy bien ubicados y con todo lo que uno puede necesitar. Especial atención a las direcciones para llegar, es algo complejo recibir direcciones en Costa Rica. Muy recomendable. Muchas Gracias Marie!
Federico M.
2016-03-13T00:00:00Z
Muy bonito apartamento , centrico !
José
2016-03-24T00:00:00Z
Decidimos alargar nuestra estadía en el apartamento de Marie porque pasamos muy buenos días ahí. Igual que la primera semana, ella estuvo muy atenta y pendiente de nosotros y nuestro bienestar. Nuevamente la recomiendo a ella y sus distintos alojamientos para futuros planes, si vuelvo en otro momento sin duda repetiría mi estadía.
Michael
2016-10-17T00:00:00Z
Excelente la experiencia con Marie como host, muy atenta siempre ante todas nuestras necesidades, sus recomendaciones en cuanto a actividades y cosas que hacer fueron muy acertadas. El apartamento cumple con todas las necesidades y nos gusto mucho haber compartido estos días y conocer San Jose Centro con esta perspectiva. Gracias Mariee !!
Michael
2016-10-15T00:00:00Z
Es muy céntrico, hay lugares para comer típicos de aquí baratos y deliciosos, el lugar es tal cual en la foto, sin duda es un lugar excelente para hospedarse
Arlett
2017-03-03T00:00:00Z
El apartamento es ideal para pasar unos días en San José. Limpio y con todo lo necesario para para cubrir las necesidades de los anfitriones. La ubicación es perfecta, muy cercana a las calles principales y comercios de todo tipo. Marie y su sobrino fueron muy amables al recibirnos. Totalmente recomendable. Ha sido mi primera experiencia como inquilina de airbnb y he quedado encantada.
Lola
2015-08-10T00:00:00Z
Tipo de habitación
Casa/apto. entero
---
Tipo de propiedad
Loft
---
Capacidad
3
---
Habitaciones
San José, San José, Costa Rica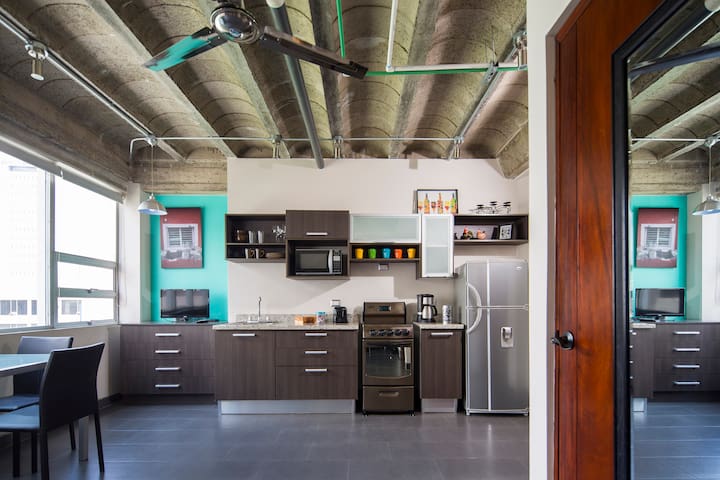 La experiencia histórica de San José en el corazón del centro, 1-8 cuadras de los principales museos, paradas de autobús, restaurantes, vida nocturna y compras. 100+ año. casa, en una colina con vistas a la ciudad / de montaña y un entorno tranquilo. clases de yoga gratuitas ilimitadas. habitación privada, baño privado, cama doble.
ESPACIO: el hogar de más de 100 años de edad, con agua calentada por el sol en el histórico Barrio Amón. Disfrutar de forma gratuita, el yoga ilimitada. Si esta habitación está reservada por favor escribir sobre otra habitación. Aprovecha esta oportunidad tranquila, bohemia en el corazón de San José, 1 - 8 cuadras de museos, tiendas de comestibles, bares y mucho más. Vas a quedarse y relajarse en un estudio de Yoga, en su habitación privada con baño privado. --Esta habitación es muy pequeña. Cuenta con una cama doble y espacio para equipaje grande 1 (ver descripción completa más abajo) El mejor para mochileros. Asistir a yoga ilimitada GRATIS (valor de $ 10 por clase). Soy un único propietario de una agencia de estudio de yoga y tour, así que no siempre estoy disponible para la conversación. Esté listo para usar mi guía que dejo en la habitación y su propio sentido de la aventura de explorar San José. Puede interactuar con los huéspedes de las otras 2 habitaciones, con cocina o patio. Incluso conocer gente local y practicar español si así lo desea. CERCA: Cafe Mundo - 1 cuadra Terrazza 1/2 cuadra Café de los Deseos - 3 cuadras Bar Steifel - 1 cuadra Sab. Mercado del granjero orgánico - 5 cuadras Barrio Escalante Restaurantes - 10 cuadras Museo Nacional - 3 cuadras Museo de Jade - 3 cuadras Museo del Oro - 5 cuadras Nacional de Teatro - 5 cuadras Contemporary Art Museum - 2 cuadras Parque Nacional - 1 cuadra Parque Morazán - 2 cuadras Grocery - 3 cuadras HABITACIÓN: Este es un espacio único. Lo llamamos la cueva, ya que está escondido en la parte posterior del estudio y es muy pequeño, con una pared de piedra .... todo muy cueva. Es pequeño espacio, con llave, por lo que funciona mejor para alguien con 1 gran pieza de equipaje. Tiene un baño privado ..... nuestra única habitación que no comparte una manera que es una ventaja! También tendrá acceso a patio exterior y cocina (nevera, estufa, fregadero y capataz con platos de cocina básicos) a sí mismo toda la estancia. ducha de agua caliente calentada por el sol, wi-fi, ir y venir a su gusto. Toallas, tapones para los oídos, colchonetas de yoga y lavadora disponible. sistema de seguridad (alarmas y cámaras) vinculados directamente a la policía en caso de emergencia y seguridad de los huéspedes. YOGA: Las aulas de yoga están en el frente del edificio, su habitación en la parte trasera. Usted es bienvenido al consentimiento libre, clases de yoga ilimitadas durante su estancia (valor $ 10 por clase). Una gran manera de relajarse después del viaje. CORAZÓN DE LA CIUDAD DE SAN JOSE - pero tranquilo Esto es, literalmente, en el centro de San José, caminar no más de 8 bloques para mejores museos, galerías, vida nocturna y tiendas de comestibles. No se oirá el habitual vecinos, coches o ruidos de la construcción de una zona urbana. Usted escuchará los estudiantes y clases de yoga en un nivel razonable - no antes de las 8 am o después de 10p. $ 12 de estacionamiento durante la noche está disponible en una gran cantidad vigilado, aparcamiento en la calle durante el día disponible. Se trata de un 25 - 45 minutos en coche al aeropuerto, dependiendo del tráfico, los autobuses a menos de 10 bloques también se ejecutan en las inmediaciones de los aeropuertos y en muchos en Costa Rica. TRANSPORTE AL AEROPUERTO: Tengo un negocio gira y puedo tener nuestro conductor a recogerlo o que le lleve al aeropuerto por $ 30. Esto es $ 5 menos que la tarifa normal. * Se debe reservar con 48 horas de antelación * EXCURSIONES POR LA CIUDAD I operar un negocio de la ciudad a pie tour, así que este es definitivamente el mejor lugar para alojarse para conseguir grandes referencias de actividad. Si usted está interesado en una visita turística de la ciudad - toursanjosecostarica para ver las opciones y reservar con antelación. ¡Aclamaciones! Clases de Yoga ilimitadas Cuando estoy en la propiedad que me gusta para el registro y asegurar a los clientes toda la información necesaria. Tranquila, céntrica y cómoda para caminar a todo tipo de entretenimiento. Caminar, taxis o autobuses.
Buen lugar, centrico
Hugo
2016-11-25T00:00:00Z
Great little place with character : ) plus the yoga classes
Demetris
2016-12-12T00:00:00Z
A great place with a great host. Proximity to the railroad is the only bad part, but that stops at a decent hour
Arthur
2016-12-14T00:00:00Z
A gem i SJ! First, it is very easy to find because the house stands out. My little 'yoga cave' was perfect for my needs. It's cozy and comfortable. Only the faucet that's missing in the room but you can find it in kitchen/other bathroom. Nice little backyard for morning coffee. I would've loved to join a yoga class but the schedule didn't fit mine. Also, I had to catch a taxi while a class was going on so I had to sneak out through the yoga room. I just hope I didn't disturb anyone :) . The neighborhood is nice, and actually pretty, which is not that common in SJ. You can walk to Escalante where the best restaurants are.
Sara
2017-02-19T00:00:00Z
Lovely and tranquil place near everything.
janet
2017-01-07T00:00:00Z
Great location with free yoga. Perfect location if you want to be close to downtown activities. Highly recommended.
Cameron
2017-03-05T00:00:00Z
Logement bien situé, mais chambre très petite
Catherine
2016-11-29T00:00:00Z
Fantastic place. Great location. Yoga spectacular! Stacey very great and strong woman. Everybody incredibly kind , couple of sweet cats hanging out too. Watch for hummingbirds in courtyard! Also nice racoon family living nearby. All good!
janet
2016-12-07T00:00:00Z
Tipo de habitación
Habitación privada
---
Tipo de propiedad
Casa
---
Capacidad
1
---
Habitaciones
San José, Provincia de San José, Costa Rica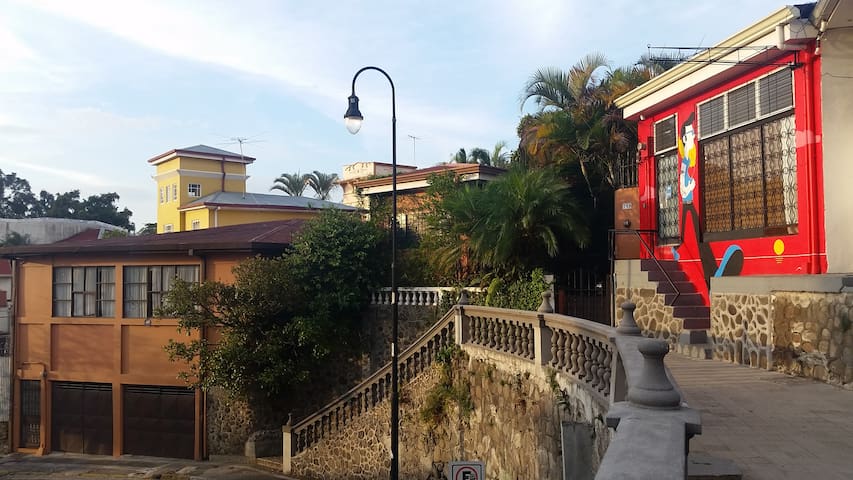 Here, you'll have access to everything. At Paseo Colón, the main transportation artery of downtown San José, guests will have an awesome starting point for day tours to Cartago, Alajuela, Heredia, beautiful natural landmarks like the Irazú and Poás Volcanos or even the beach, with Jaco within a 1:30 minute drive.
With amazing view from the 22nd floor of Torres Paseo Colón, the best of downtown San José. Some amenities within walking distance are: grocery stores, restaurants, banks, and street side access to public transportation. Guests will have access to fully equipped gym, pool, playground for kids, sky deck, lounge, running track, 24/7 security, and lobby service. All you need for an enjoyable stay in San Jose, Costa Rica.
Beautiful apartment in the center of town. Amanda and Fran were very responsive. We had a smooth stay and were very impressed with the apartment itself.
Nirja
2017-04-04T00:00:00Z
Fran and Amanda were wonderful hosts. They were very patient with us as we experienced traffic delays from Jaco. Also, they offered great suggestions on shopping and local attractions. One thing, I think all visitors will love are the views. They were amazing at night and made our evenings even more special. Anyone looking to stay in San Jose will not be disappointed with this place. It was not only a great value but it was WONDERFUL!!
Anita
2017-03-26T00:00:00Z
The view from this apartment's balcony and living room is spectacular. The amenities on the property, including a pool, fitness center, track, and playground for kids, are very nice. We felt extremely safe in this neighborhood, and downtown was within walking distance or a quick Uber ride. This is a great place to live like a local in San Jose!
Danielle
2017-03-31T00:00:00Z
Very good location , excellent security, clean, nice view from 22 floor.
Olga
2017-03-28T00:00:00Z
I waa greeted by Francisco and found him to be a warm, friendly person who obviously pays attention to details to ensure the guests' stay is a wonderful experience. I have stayed in some very nice apartments within my travels over the years but Amsbda & Francisco's apartment was the best I have stayed in thus far. It is very modern, spacious, nice furniture, has two bedrooms, one as a master bedroom with own toilet and walk in closet, both have great beds and offers an absolute stunning view from both bedroons. The place has a modern gym with a running track , outside pool and Jacuzzi. Showers from both bathrooms have great water pressure, were well maintained and very clean. The location was ideal for me as it is about a 10 minute walk to the main downtown core where there is plenty of shopping, restaraunts and all kinds of people doing street entertainment and selling things. The Scotia bank is near by and there are a few restaraunts in immediate area. The building is new and has 24 hour security and parking spaces are also available if you have a car The experience was a total delight and I would rate the apartment and hosts 10 out of 10. I would highly recommend this place as it is great value for money and I will be using this place when I come back to San Jose
Kevin
2017-03-05T00:00:00Z
Great apartment with every amenity very close and convienient to every thing the city has to offer. The hosts were amazing and made us feel very much at home. would not hesitate to stay here in the future.
Chris
2017-03-20T00:00:00Z
Amazing place to stay great eateries with walking distance or drive. Driving is optional doing the day time walking everywhere is fine and safe. A nice little market to pickup some groceries for the stay. At night time it is safer to Uber yourself around. Great night life around the way. The complex has an amazing gym on the 8th floor and on the 9th floor is a beautiful pool good enough to get a few laps in. Not safe to dive the depth of the pool is about 4.5 ft all around and also great deck to also catch an amazing tan as long as you can manage to beat the direction of the wind its a bit windy up there. Did I mention they also have a jacuzzi not crazy warm but a little warmer than the pool. Security staff is amazing easy going and good guides for activities to do in the area. Had a great stay Amanda & Fran are easy to contact great people to talk to and very attentive to any little problems that may occur. No complaints at all just wasn't a fan of Uber drivers canceling on you to make an easy $2.00.
Christian
2017-03-02T00:00:00Z
Tipo de habitación
Casa/apto. entero
---
Tipo de propiedad
Departamento
---
Capacidad
4
---
Habitaciones
San José, San José, Costa Rica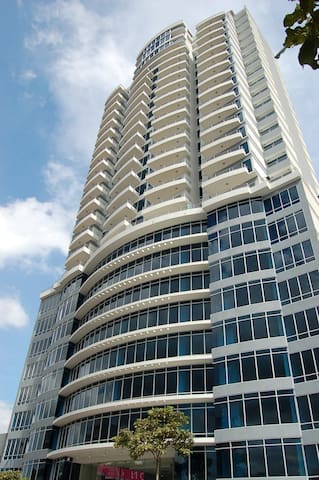 Beautiful house with 70's architecture and a big garden with a gazebo. Excellent location: 2 minute drive to Escalante neighborhood (trendy bars and restaurants), the organic farmers market and the University of Costa Rica. 5-10 minute drive to main bus terminals, 30 minute drive from the airport. Located in a very quiet, safe and centric neighborhood. Perfect place to explore the magic of San José, it's museums, culture and nightlife. Ideal for couples, adventurers and business travelers.
Nice quiet room full of light with a double bed, new mattress and bedding. Big bathroom with hot water shower and clean towel. Nice terrace to have breakfast, read a book on the hammock or have a cigaret. Big living room/ dining room. Big kitchen, italian steel stove, Nikken water filter and many fresh herbs.
Centric, quiet and safe neighborhood. Really close to galleries, museums, night life, trendy restaurants and supermarkets. On saturdays I recommend having breakfast in the organic farmer's market (2 minute drive from the house.) Will provide you with a list of suggestions so that you get to enjoy the best of San José.
The place is amazing. A beautiful apartment full of light with an amazing interior- and within walking distance to the city centre. I think a cab ride from the airport cost me about 38$. Hortensia was a lovely host and could hook me up with many local tips. She speaks fluent english and Spanish and even a little German. Definately recommend!
Richard
2017-03-19T00:00:00Z
Tipo de habitación
Habitación privada
---
Tipo de propiedad
Casa
---
Capacidad
4
---
Habitaciones
San José, Provincia de San José, Costa Rica
Habitación en apartamento nuevo muy lindo muy cerca de todo en San José centro .cerca de paradas de autobús a diferentes playas .cerca de centros comerciales .cerca de parada de buses al aeropuerto.hablo inglés.
Muy céntrico . Cerca de toda la ciudad y muy seguro .
Muy seguro contamos con guarda de seguridad por las noches
The host canceled this reservation the day before arrival. This is an automated posting.
Liz
2017-04-03T00:00:00Z
Tipo de habitación
Habitación privada
---
Tipo de propiedad
Departamento
---
Capacidad
2
---
Habitaciones
San José, Provincia de San José, Costa Rica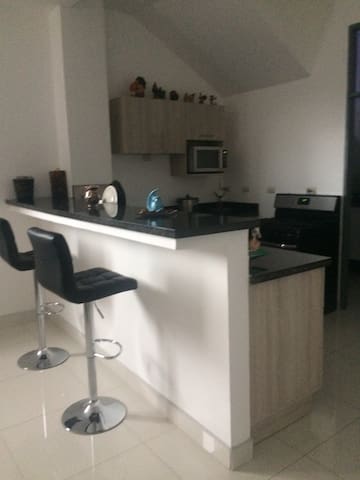 You will have a very clean and modern apartment in a quiet and safe area, you can walk to the Jade Museum, Gold Museum, National Museum, The National Theater, The National Center of Culture, The Institute of Cinema with free films, the Central Market, The National Park and Morazan Park, among other activities and festivals that take place along the year in this area.
Barrio Amon is located at the very center of San Jose, it is a neighborhood full of history, with its Victorian New-classic and Eclectic architectures. This area is the home of many gourmet restaurants, cafes and art galleries, This is a modern and bright new apartment in a second floor, with a very confortable pillow top bed, full equipped kitchen, dining table, furniture made in fine woods, hot water, granite countertop, fan in bedroom ceiling, rain shower, washing machine and a very confortable sofá bed.
Barrio Amon is full of history, victorian and classic houses, art galleries, award winner restaurants cafes and bars. Lively Parque Morazan is only 5 minutes walking, National Theater, Museum of Gold, Museum of Jade are also within walking distance. The apartment itself is located on a dead end road, very quiet. Barrio Amon est un quartier plein d histoire, des maisons victoriennes et classiques, des galleries d art, restaurants gourmet, cafes et boites de nuit. Le Parc Morazan est seulement a 5 minutes a pied, on peut se deplacer tres facilment aussi a pied au Theatre National, le Musee de Jade, et d Or. L appartement est situe sur un cul de sac, dans un endroit tres calm.
Super estadia donde Mauricio! Respondio super rapido a mis preguntas, me ayudó con mis maletas, me consiguió olla arrozera, super atento y me permitió un late check out a las 16h30! Seguro regresaremos pronto! Gracias Mauricio! Un abrazo!
Marilyne
2016-07-01T00:00:00Z
El piso es muy lindo y està en un barrio interesante y seguro. Mauricio es muy cuidadoso y amable. Unico probemito es el ruido/ musica por la tarde que llega desde el pub muy cercano y no te deja dormir (si tienes que levantarte temprano). Buena musica pero no siempre bien venida :-). Lo consejo mucho si no te molesta la musica por LA tarde
Maria
2016-01-30T00:00:00Z
Si buscas un lugar centrico, lleno de historia y cultura, este cómodo y bonito departamento ubicado en el barrio mas colorido de San Jose, será sin duda la inmejorable opción para vacacionar o ir en viaje de negocios, con excelentes opciones gastronómicas a sus alrededores, espacios con frescas propuestas artísticas, un zoologico justo al lado del apartamento, bares, mercado de artesanias y centros comerciales para poder disfrutar de un viaje completo. Lo mejor del alojamiento, aparte de lo comodo del apartamento, es su anfitrion, sin duda el mejor que me ha tocado. Mauricio, te agradezco enormemente tus atenciones y tu calidad humana, la pase increible. Muchas gracias y espero poder volver muy pronto.
Joseph
2015-12-12T00:00:00Z
Mauricio met us when we arrived. He was welcoming and friendly. A couple of days later, we asked for a much needed fan and Mauricio brought it over promptly. The apartment gave us privacy and yet was still in walking distance to the center of the city. In the mornings from our balcony, we could hear the birds from the zoo. Yes, there is a zoo next door, how cool is that! The apartment was described accurately however the photos do not do the apartment justice, it's nicer. We are returning to San Jose in December and plan to reserve this wonderful little apartment again.
GREG
2016-05-26T00:00:00Z
Beautiful apartment, very close to downtown but in a quiet safe neighborhood. Mauricio was very helpful and attentive to all of our needs. Would definitely stay here again.
lauren
2016-07-08T00:00:00Z
The apartment is in a very nice section of San Jose. It is modern, clean, and secure.
Vito
2016-06-23T00:00:00Z
Mauricio is quick to reply and super communicative. His place is on a nice quiet street within walking distance of central downtown San Jose. Recommend to anyone going thru SJ needing a peaceful place in a bustling city.
Raffi
2016-11-20T00:00:00Z
Mauricio was a very welcoming host. He gave me a tour of the apartment and even had fresh flowers there. The apartment is new and immaculate. It is the perfect getaway in busy San Jose. The apartment has everything you could need and is located conveniently to restaurants, clubs, museums and more. I look forward to staying in this lovely little hide-away next time I'm visiting.
su
2016-01-25T00:00:00Z
Tipo de habitación
Casa/apto. entero
---
Tipo de propiedad
Departamento
---
Capacidad
3
---
Habitaciones
San José, San José, Costa Rica
Manténgase cerca de todo y sacar el máximo provecho de su estancia en San José! Estamos ubicados en el centro de San Pedro, un pueblo a 10 minutos de distancia del centro de San José. El apartamento está situado en una calle tranquila y al lado de CRLA la escuela española, donde se pueden utilizar las zonas wifi y jardín, así como conocer a otros viajeros de todo el mundo y tal vez incluso aprender un poco de español! También se puede participar en la danza libre, yoga y clases de cocina.
Un pequeño paraíso en el medio de todo. Somos un apartamento moderno con una entrada privada y una zona de terraza privada, dos dormitorios, un baño, cocina y salón-comedor. Los huéspedes pueden utilizar las instalaciones de la escuela española de al lado, tomar danza libre, clases de yoga y de cocina e incluso inscribirse para las clases de español.
Estamos ubicados en una calle tranquila en San Pedro ya sólo 200 metros del centro comercial de San Pedro, a 300 metros de distancia de la Universidad de Costa Rica y minutos de un montón de bares y restaurantes en la zona de San Pedro. La vida nocturna en San Pedro es grande, usted será capaz de tener una nueva experiencia cada noche.
Muy bonito lugar para hospedarse, esta centrico, comodo, bonito y ambiente seguro, recomendado.
Juan Jose
2017-02-05T00:00:00Z
Casa Agave está equipada con todo lo necesario para una cómoda estadía en Costa Rica, la ubicación está muy bien pues está cerca de centros comerciales, bancos, tiendas y del transporte público. ¡Lo recomendamos y seguro regresaremos!
Cindy
2017-03-13T00:00:00Z
This place is great! Nicest place I stayed in the entire trip. Security is on site after hours.
kristoffer
2017-03-23T00:00:00Z
Very safe and comfortable place that allows you to be near all the fun like the University
Connor
2017-03-26T00:00:00Z
The apartment was lovely and in a good area.
Anna
2017-02-12T00:00:00Z
Great apartment and location
Alan
2017-03-17T00:00:00Z
Tipo de habitación
Casa/apto. entero
---
Tipo de propiedad
Departamento
---
Capacidad
5
---
Habitaciones
San José, San José, Costa Rica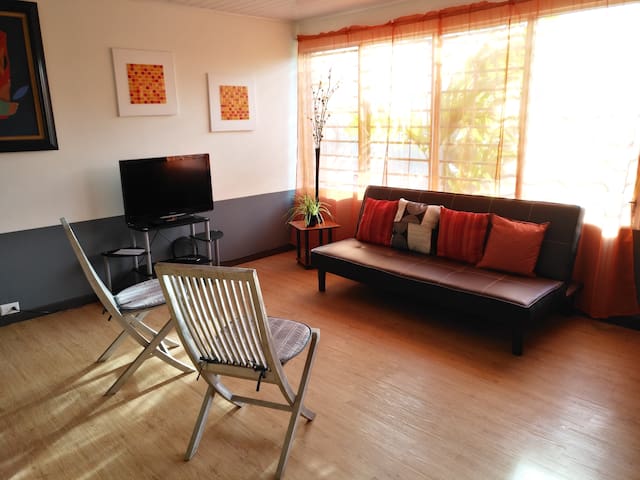 Edificio nuevo en vecindario de alto perfil, en el piso 19°, "Latitud Los Yoses". Localizado en San Pedro, zona al este de la capital. Muy cerca de las principales universidades del pais (UCR, UIA LATINA....), Al frente del paseo gastronómico de Barrio Escalante, Mall San Pedro a 500 mts (Centro Comercial de gran relevancia), Hospital Calderón Guardia. Automercado a 100 mts (Mejor supermercado del país), Principales Bancos y Centros de Conveniencia a pocos pasos.
El apartamento está completamente equipado, dispone de una cama King Size (2X2 Mts) , dos TV de 43" la mayor parte de los mueble son en madera de cedro, sala de estar, comedor, lavadora-secadora, Cocina de Vitroceramica con horno , frigorífico con Ice maker, microondas, caja de seguridad, secadora de pelo, plancha, vista inigualable, wifi con fibra óptica gratis, tarjeta para control de acceso. Si necesitan una cuna, por favor solicitarla con anterioridad
Barrio lujoso rodeado de los mejores restaurantes y lugares de fiesta. Bulevar muy animado y seguro, Importantes ejes viales como la rotonda de la Hispanidad que te conecta con la carretera de circunvalación, anillo que rodea la ciudad de San José,
El apartamento es acogedor, limpio y bien equipado, la cama es muy cómoda. La vista es fantástica desde el piso 19o. La ubicación es muy buena, a poca distancia se puede llegar a muchos restaurantes. Es un edificio nuevo y por el momento no es tan tranquilo porque la mayoría de los propietarios hacen obras de construcción. Si no es un buen durmiente, puede oír el primer tren antes de las 5am. Hay Internet de alta velocidad en el apartamento y las zonas comunes son muy agradables. La piscina está ligeramente caliente.
Emese
2017-04-05T00:00:00Z
The apartment is very well equipped with every amenity you can think of which is a luxury in San Jose. The neighborhood is the best in the city, I really enjoy staying in the Carman District of San Jose, lots of great restaurants, museums and art galleries within walking distance. Also within walking distance is the Feria Verde, the Organic farmers market every Wednesday and Saturday. If walking isn't your thing Uber is in San Jose and you can get most places in the city for $2 or the bus is right outside the front door. The common areas of the building are very nice too, the pool and gym were an added bonus to our stay. Communication before and durning our stay was easy, Raul is very kind and accommodating. Another luxury of this apartment is the high speed internet, as you may know or you will find out internet speeds in Costa Rica can vary, so it was very nice to have a great connection during our stay! Thanks Raul and I am sure we will see you again.
Alys
2017-04-02T00:00:00Z
Modern and New Condominium appartment...equiped with luxury based on Raul style and little bit more expensive...we had fantastic three days...thanks
Jan
2017-03-30T00:00:00Z
Tipo de habitación
Casa/apto. entero
---
Tipo de propiedad
Departamento
---
Capacidad
4
---
Habitaciones
San José, Provincia de San José, Costa Rica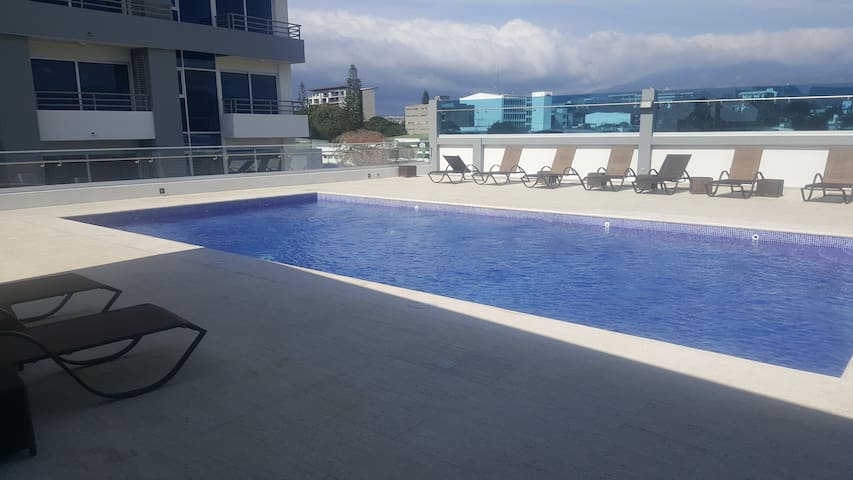 Lugares de interés: Located in the city center walking distance from most of the city's tourist attractions, museums, restaurants, bars, coffee shops. Close to the main bus stations. 20 km from the SJO international airport.. Te va a encantar mi lugar debido a la ubicación, el espacio acogedor y las vistas. Mi alojamiento es bueno para parejas, aventureros, familias (con hijos) y grupos grandes.
This is a two-floor home divided in 2 independent apartments. I live in the downstairs apartment. 90m2 apartment 2 bedrooms, living room, kitchen and eating area. Twin size sofa bed. Access to the garden on the first floor in case you are bringing your pet with you. The apartment is located in a second floor, access only by stairs (no elevator) Parking space available for one car.
Barrio Amón is a beautiful neighborhood filled with history, it was one of the first neighborhoods to be established in San José. Walking distance form most of the downtown tourist atractions, museums, restaurants, bars, cafés.
Buen alojamiento buena zona, lo malo es la entrada de luz en los cuartos en las noches por el foco del frente
Jesús
2016-11-06T00:00:00Z
Good organization
Süleyman
2017-01-03T00:00:00Z
Gabriela's was within walking distance of many things to see. She was always available to answer any questions. A perfect place
Barbara
2016-11-28T00:00:00Z
The apartment is very close to downtown and close to the highway as well so you don't have to go through city traffic which can be a problem in San Jose. So a good spot to explore San Jose. Apartment is quite basic, but has everything you need. It has a separate kitchen where you can eat and two spacious bedrooms. There even is a stair gate, so safe for children. The owners live below and have two very friendly dogs. On very hot days the apartment can get a bit hot, there are no curtains to block the sun. But at night the temperature always drops in San Jose. A very good place to stay. Would recommend for families as well, but up to 4 people. Remind that in San Jose you can almost nowhere escape the sound of traffic. Not even in the more expensive hotels, so also here you will hear traffic noise all night. In this apartment you don't hear the train that well, so that is good.
Jorgen
2017-03-20T00:00:00Z
Tipo de habitación
Casa/apto. entero
---
Tipo de propiedad
Apto. en complejo residencial
---
Capacidad
7
---
Habitaciones
San José, San José, Costa Rica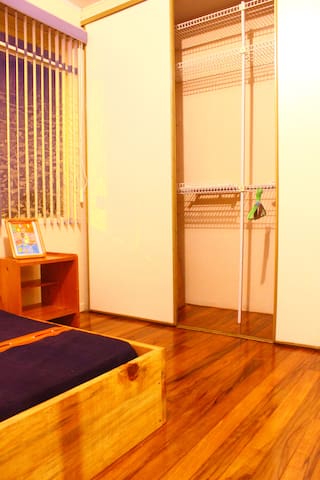 Dormitorio Amplio, ambiente tranquilo y lindas áreas comunes en El paseo gastronómico de la luz. Un oasis en el centro de San José.
La localización en el Barrio más seguro de San José.
Más de 15 bares y 20 restaurantes en un radio de 150m, parques centros comerciales y en radios caminables
Lindo lugar, cumple lo prometido, la atención de Susan es excelente, te sientes como en casa y es un barrio bonito.
Gloria
2017-02-23T00:00:00Z
¡la casa es muy agradable y limpio! esperaron toda la noche porque el vuelo llegó tarde! ¡Habitación muy cómoda! ¡Gracias por la información útil!
Nicolo
2017-02-17T00:00:00Z
Todo súper bien, la casa muy linda y la habitación muy cómoda.
Franck
2017-04-13T00:00:00Z
Susan! Excelente lugar para quedarse, ella es muy amable y muy hospitalaria! La ubicación del lugar es fabulosa, es la zona más bonita que conocí en San Jose! Muchas gracias
Viridiana
2017-01-22T00:00:00Z
100% recomendable para sentirse como en casa en medio de San José. Sitio acogedor, limpio, y los anfitriones muy atentos y dispuestos. Repetiremos seguro!
Albert
2017-02-16T00:00:00Z
Susan y su compañero son súper amables, la casa es muy espaciosa y limpia. El lugar está ubicado en una zona residencial en donde encuentras muchos restaurantes y bares, simplemente es una zona muy segura. A dos cuadras de la casa puedes tomar el autobús que te lleva al centro de San José aproximadamente 295 cólones súper barato( no llega ni aun dólar) pero también pueden irse caminando al centro como 20 minutos en donde vale la pena la caminata, por qué en el camino encuentras diferentes parques, museos y zonas muy padres. Lo recomiendo ampliamente
Mariel
2017-03-26T00:00:00Z
No puedo decir mucho porque llegue tarde y Susan no estaba en la casa, me recibió un amigo de ella. La mañana siguiente yo salí muy temprano.
anna
2017-01-12T00:00:00Z
Susan, and her roommate Sebastian, were great hosts! The house is lovely, very modern and welcoming. Our bedroom was great, with a comfortable bed, TV, Wi-Fi and amenities (towel, toothpaste, shampoo, etc...). The house is close to a lot of restaurants and walkable distant from major attractions in San Jose. Both Susan and Sebastian gave us amazing advice on where to eat and what to do in the city. Highly recommend it!
mariana
2017-01-03T00:00:00Z
Tipo de habitación
Habitación privada
---
Tipo de propiedad
Casa
---
Capacidad
2
---
Habitaciones
Barrio Escalante, San José, Costa Rica
Azenza es una torre de apartamentos de 23 niveles. apartamento de 2 dormitorios situado cerca del centro de San José y Heredia-Alajuela. Cerca de lugares de interés como Sabana Park, Estadio Nacional, hospitales, restaurantes, vida nocturna, etc. Azenza es parte de un residencial tranquilo y seguro. Está a 15 minutos del aeropuerto, 10 minutos de Heredia, a 10 minutos del centro de San José, a 5 minutos de La Sabana y todavía tienen la posibilidad de tomar excursiones diarias a las playas, etc 300 mts. de Azenza.
Azenza es una torre de apartamentos de nueva construcción con todos para su disfrute hermosas instalaciones. Aunque en una zona segura de la residencia cuenta con seguridad 24/7. Es perfecto para viajar pareja, amigos, personas que trabajan, debido a su ubicación ideal, los médicos o los que están en necesidad de tratamiento médico debido a un hospital cercano o una buena parada por ya que se encuentra a 15 minutos del aeropuerto. También es perfecto para los que buscan un lugar para relajarse, pero al mismo tiempo tener la oportunidad de viajar fuera de la ciudad por un día o dos con las excursiones que salen todos los días a las playas y otros lugares exóticos 300 mts. lejos de Azenza.
Excelente trato y atención de alessio...el lugar impecable! Demasiado bonito..lo recomiendo ampliamente!!
Jonathan
2017-03-27T00:00:00Z
Todo fue perfecto y el anfitrión muy bueno.
Rafael
2017-04-05T00:00:00Z
Alessio es excelente anfitrión, el apartamento es tal cual se ve en los fotos, todo siempre muy limpio, y con todas las comodidades. Alessio siempre estuvo pendiente de todo lo que ocupaba, muy respetuoso. Recomiendo este lugar sin lugar a dudas, y espero poder volver a quedarme ahí.
Diego
2016-10-21T00:00:00Z
the apartment is really nice and located close to a 5 star hotel for attractions and tours ... it looks exactly like the pictures & is in a gated community with very strict security so you're safe during your stay . there's a steep hill between the gate and the building , so if you aren't renting a car you'll have a little work out each day on your way in and out of the complex . OUR ISSUE : upon check out, Alessio was not available so we left our key at the front desk. The next day, I received an email saying there's a hole in the wall and he needs $150. THERE WAS NO HOLE WHEN WE LEFT. We didn't even spend time in the apartment except to sleep. He attached pictures, yet they say '1 year old' under the estimate and 'today' under the message I received today. I'm definitely not paying and advise anyone looking for somewhere to stay to stay somewhere else, or to record the ENTIRE unit before leaving to avoid this scam. I wish I could attach pictures of the message. So yeah, place is nice . but not worth getting scammed. The hotel next door charged about the same rate per night as well in the season we stayed. Worth a look.
Jade
2017-02-05T00:00:00Z
I don't speak Spanish, didn;t have a cell phone, don't have transportation and may obstacles but Alessio went out of his way to assist me and make sure I was able to get to the Dentist and on a tour this morning. He has been a wonderful host and I highly recommend his AirBnB. If I come again, I will be better prepared and not such a vurden on my host. This was a spontaneous decision to come here and everything has worked out well thanks to Alessio!
Dale
2016-11-11T00:00:00Z
Alessio was wonderful! Incredibly kind and i thought his place was immaculately cleaned and very nice
Heather
2017-02-10T00:00:00Z
Alessio was a wonderful host. The apartment was even better than expected. Very clean, convenient and a wonderful experience.
Tara
2017-03-31T00:00:00Z
The host, Alessio is very friendly and kind for us and home we stay is super clean and new, so anyone who will stay here will surely be satisfied.
Jinhyuk
2016-12-29T00:00:00Z
Tipo de habitación
Casa/apto. entero
---
Tipo de propiedad
Departamento
---
Capacidad
4
---
Habitaciones
San José, San José Province, Costa Rica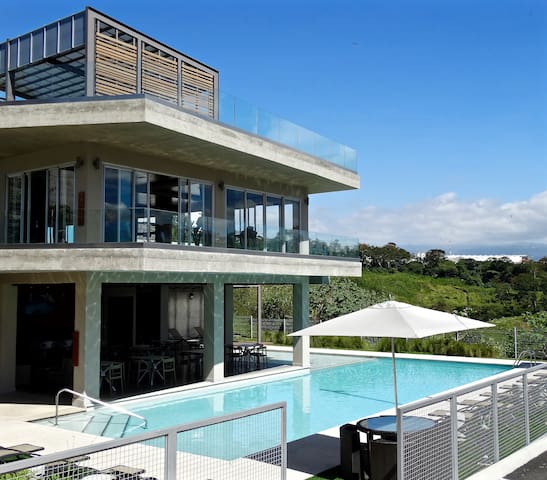 Lugares de interés: vida nocturna, transporte público, parques, el centro de la ciudad,teatros. Te va a encantar mi lugar debido a el ambiente, las zonas exteriores, la comodidad de la cama, el barrio, y la luz, terraza jardin. Mi alojamiento es bueno para aventureros y viajeros de (URL HIDDEN) encuentra en barrio historico de San Jose.
Seguridad periferica en la propiedad. privacidad, amplios closets cocina equipada con:, coffe/maker, olla arrocera, microondas, refrigerador,tazas,platos,copas ,vasos, utensilios Amplio bano ,lugar para trabajar ,sofa .Jardin terraza con hermosa vista,ymesa de desayuno
Leonor has a snack with coffee, tea, milk, and juice awaiting my arrival. This is studio is in an excellent location and my second time to visit in Leonor's studio. It is clean, roomy, quite, and close to everything downtown. Taxis are readily available if you do not like to walk.
David
2016-11-25T00:00:00Z
Great location with safe parking wonderful host offering clean and safe and well appointed accommodations.
David
2017-01-10T00:00:00Z
what can I say...Leonor is a delight...her Son Fabian was also a pleasure...the apartment was the perfect size for me....close to what I needed...block and a half away from good food ....casino and the downtown area...safe ...quiet...and I would stay there again if I am welcomed back...love it...really felt at home
Pete
2016-11-02T00:00:00Z
Great location
Vince
2017-03-04T00:00:00Z
This was a great place. They were waiting when I arrrived, and provided a welcome and tour of the place. It is quite, 2 blocks from the zoo and a few blocks from downtown (el centro) with many museums. There are several restaurants within a few blocks as well as markets for groceries if you want to cook for yourself.
David
2016-11-08T00:00:00Z
Tipo de habitación
Casa/apto. entero
---
Tipo de propiedad
Apto. en complejo residencial
---
Capacidad
1
---
Habitaciones
San José, San José Province, Costa Rica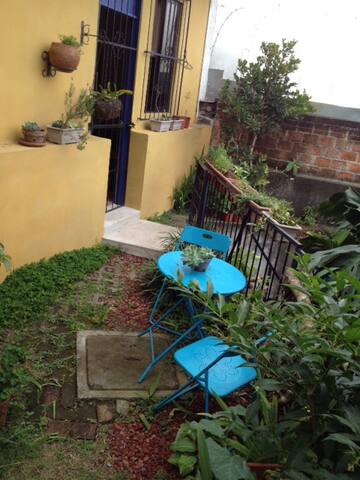 Estamos ubicados cerca de los más importantes atractivos de la ciudad, restaurantes, centro de compras y supermercados. Además estamos en una casa de arquitectura neocolonial construida en los años 40, con un servicio personalizado.
Estamos en el centro de la ciudad, pero en una de las zonas más bonitas y tranquilas.
Estamos a una cuadra de distancia del barrio Chino, y a dos cuadras de la Avenida Central, por lo que puede encontrar casi cualquier cosa muy cerca de nosotros
La casa fuera de la casa. Sin pretensiones pero muy agradable. Cerca del centro. Restaurantes a proximidad. Empleados muy serviciales. Volvería a quedarme en este establecimiento si regreso a San Jose.
Jorge Rafael
2017-01-17T00:00:00Z
Es un hotel muy cómodo. Queda en el centro de San José y por el precio la cálidad es muy buena. Estuvimos solo una noche pero todo fue perfecto. No tiene para ingresar pero hay uno a la vuelta del hotel por 12 dólares. 100% RECOMENDABLE
Hernan
2015-11-25T00:00:00Z
Un buen lugar al centro de San José. Comunication estan muy bien tambien. Deste arrivan muy tarde siempre hay una persona aja.. Service con maletas es super
Olaf
2016-08-16T00:00:00Z
hotel comodo en el centro de san jose, con restaurantes y zonas de interes muy cercanas.
Alvaro
2016-09-24T00:00:00Z
No encuentro ninguna razón para recomendar este lugar. Ruidoso y una pésima atención a la hora de la llegada. Yo buscaría otras opciones antea que esta. Saludos!
Felipe
2016-10-21T00:00:00Z
Este hotel tiene una excelente ubicación, el staff es amable y te ayuda a encontrar cosas que hacer en el centro de la ciudad, las habitaciones son cómodas y siempre limpias. El único pero es que hay una vía de tren a unos metros y puede volverse bastante ruidoso... fuera de eso todo perfecto!
Nidia
2017-01-28T00:00:00Z
Excelente. Recomendable. Atencion excelente
Fernando
2017-02-27T00:00:00Z
The location of this hotel is very central, close to all the major museums and sites in downtown San Jose. It is a 1947 historic grand house that has been thoughtfully converted to a very pleasant hotel, complete with a lovely pool and flowered courtyard. Staff are very helpful and friendly. They can arrange a shuttle for you to and from the airport. If you do take a taxi, watch that the drivers do not take you to the Colonial Casino down the street. The rooms are not too large, but spacious enough, with large bathrooms. A very good traditional breakfast is provided in the courtyard. All in all, we really enjoyed our stay and enjoyed learning about the history behind the house.
Shelley
2016-03-08T00:00:00Z
Tipo de habitación
Habitación privada
---
Tipo de propiedad
Bed & Breakfast
---
Capacidad
2
---
Habitaciones
San José, San José, Costa Rica
La experiencia de la ciudad desde este apartamento en la planta 5ª, en el corazón de San José. Situado en una zona hermosa e histórica de la ciudad, este apartamento limpio y seguro es la opción perfecta para explorar lo mejor que San José tiene para ofrecer. A pocos pasos del de monumentos históricos, tiendas, restaurantes y vida nocturna docenas. Disfrutar de cocinar sus propias comidas con ingredientes frescos de las numerosas tiendas de comestibles y mercados cercanos en la cocina totalmente equipada. servicio de limpieza semanal está incluido.
Este hermoso edificio data de la década de los 70 como una de las primeras residencias verticales de Costa Rica. La arquitectura está muy bien pensado, los apartamentos son amplios y tienen mucha luz natural y ventilación. Hay un balcón que da al parque, que siempre está lleno de actividad. El edificio tiene un portero y seguridad 24/7 guardias. El mismo edificio alberga inquilinos comerciales en el primer piso, donde se encuentra una tienda de conveniencia y tienda de helado famoso del pop de Costa Rica!
El barrio es uno de los mejores y más moderno de San José. Hay muchos hoteles, restaurantes, parques, museos, bares, tiendas, etc, a pocos cuadras a pie desde el apartamento. El centro de San José es una zona de tráfico muy alto así que la seguridad no es una preocupación mayor parte del tiempo. Como cualquier gran ciudad siempre hay que tener precauciones de seguridad, especialmente al visitar otras zonas de la ciudad por favor pregunte si es conveniente o no.
La casa de Xavier y Rory es genial! Es un departamento lleno de cosas únicas, unos muebles súper cómodos, una mesa con una vista impresionante y el balcón ni qué decir, la ducha es una delicia! Y el cuarto es súper espacioso con una vista igual de linda y una cama súper rica. Es un súper lugar donde quedarse en San Jose y en pleno centro, cerca de todo. Y además ellos son unas personas maravillosas, Rory es el mejor roonmate sin duda, cuando se está en casa el es un gran compañero, lleno de (URL HIDDEN) y buen humor. Una joyita de San José esta casa. Volveré!!!
Carol
2016-12-01T00:00:00Z
Un excelente lugar para hospedarse, 100% recomendable
Nestor Daniel
2017-01-15T00:00:00Z
Debido a una extensión de tiempo en Costa Rica pude volverle a pedir a Xavier para quedarme en su casa. Volví contentísima, el y Rory son amigos, personas maravillosas con un departamento increíble y súper bien ubicado. El departamento tiene todas las comodidades posibles y la vista como siempre es su punto más alto. Frente, en el Morazán por las tardes hacen shows de música y baile y es entretenido ir a ver qué pasa por ahí. Si quieres un lugar céntrico y lindo y bien equipado, esta casita lo tiene todo.
Carol
2016-12-24T00:00:00Z
I think this must be the best airbnb in all of San Jose. The location is within a short walk of practically everything you would want to visit in the city. Rodolfo was our host during our 12-day stay. He made us feel that we were in our own apartment. He would frequently check to see if there was anything we needed and was always willing to answer our questions about our location of Costa Rican culture. Xavier manages the online communication for this rental. At all times he was a great communicator, giving us good information before our visit, confirming that our arrival was smooth and checking again during our stay. We were lucky to finally meet him when he was in town for a day and he was as friendly in person as we was via email. As you can see, this is an airbnb location that we wholeheartedly recommend. If we ever find ourselves back in Costa Rica, Xavier's apartment is where we would want to stay.
Paul
2017-03-28T00:00:00Z
Best air B&B I've ever stayed at. They have the traveling trifecta of awesome shower/laundry/and bed lol. The hosts are extremely gracious and helpful. The location was excellent for me, tons of interesting food and cultural destinations within walking distance. Also very easy to find by cab, which is a massive help here in Costa Rica since addresses aren't typically used. Check out the Cavalier for the best cafe con leche in the neighborhood.
Jessie
2017-02-22T00:00:00Z
Great location, great host, and such a wonderful view of Parque Morazan. Shout out to Carlos, Rene, and Sergio (the friendly doormen) and to your roomate Rudolfo, who went out of his to make my stay even more comfortable. I couldn't have asked for a better experience in Costa Rica — thanks!
Helior
2016-12-18T00:00:00Z
Staying at Xavier's place was perfect for me. The view of Morazan park is very cool and it's close to everything anyone would need like grocery, restaurants, bars, cafes, bakeries, ice cream, butchers, other shops, central San Jose, the National Theater, Parks, museums, central Mercado, and more. I would defiantly stay again.
Michael
2017-01-03T00:00:00Z
Tipo de habitación
Habitación privada
---
Tipo de propiedad
Departamento
---
Capacidad
2
---
Habitaciones
San José, Provincia de San José, Costa Rica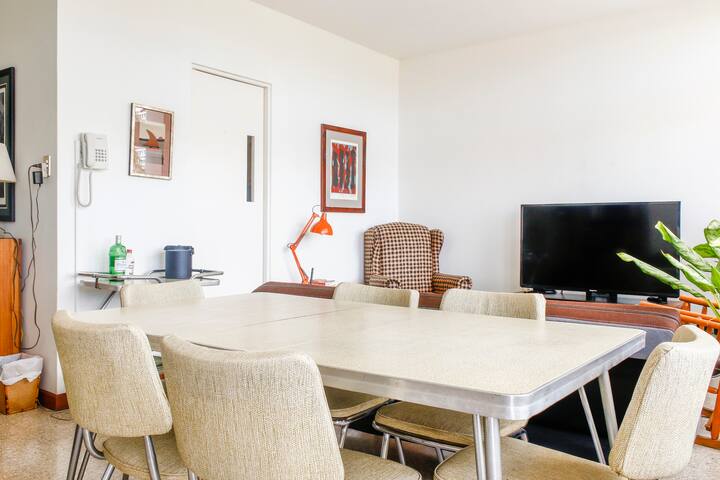 1

–

18

de

Más de 300 alquileres
Introduce las fechas para ver el precio total. Ten en cuenta que se aplicarán tarifas adicionales y es posible que se añadan impuestos.