You'll love my place because of Brook side "Jones River" This 1700's cape has all the "nooks-and-crannies" and is an antique lovers delight. Corner lot home located in the Harrub's Corner Historical District where Plympton history of 8 near by homes in one of Americas oldest villages.
Tipo de habitación
Casa/apto. entero
---
Tipo de propiedad
Casa
---
Capacidad
6
---
Habitaciones
Plympton, Massachusetts, Estados Unidos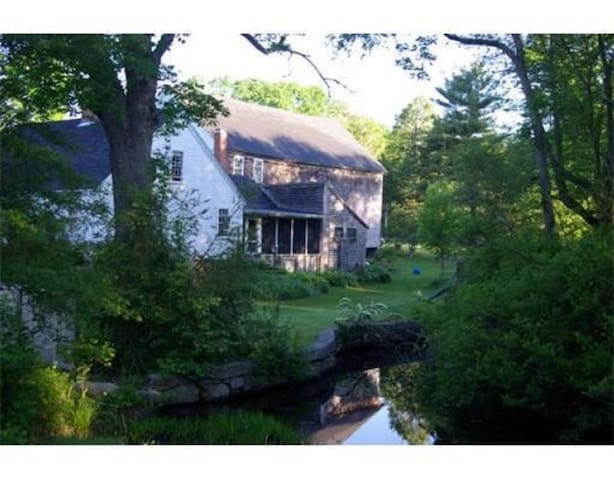 South Shore Ma renovated house close to Plymouth, Cape Cod and Major Horse Show venues!! 3 Bedrooms. Plenty of parking, Horse boarding also available
Tipo de habitación
Casa/apto. entero
---
Tipo de propiedad
Casa
---
Capacidad
6
---
Habitaciones
Plympton, Massachusetts, Estados Unidos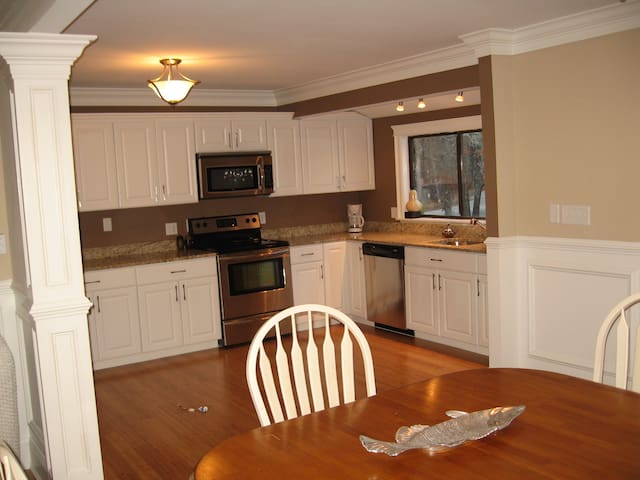 WE'RE BACK!!!! After almost a year offline due to town wide sewer problems I was forced to shut down operations because of non access to my property (and several other town locations) while the town worked 24/7 to resolve these problems. there still remains 'temporary' above ground pipes throughout the town but everything is slowly returning to normal. So.. that being said, let me tell you a little about the surroundings...I am located at the end of a cul-de-sac within minutes to vibrant Plymouth center and waterfront complete with a vast array of dining pleasures, art festivals/museums, eclectic shopping experiences, and multiple musical venues ranging from Celtic to contemporary to our own Philharmonic Orchestra. Less than 3 minutes walk from my home brings you to beautiful Morton Park, offering swimming, hiking trails, concession stand, bathrooms, and kayak rentals. Rental space includes separate lock off entrance with large bedroom, separate room housing small fridge, toaster, coffee maker, closet area and bureau. Full bathroom with shower and laundry facilities. Photos will attest to the beautiful garden areas for a relaxing roam about the property with morning coffee or evening cocktails. i am also very dog friendly having a beautiful chocolate lab as my canine companion. I am located approximately 3 miles from the highway and have attempted to create a tranquil environment blending flora, art & nature into a harmonious habitat. Price reflects close but convenient proximity to highway. Plymouth is a beautiful destination spot year round, midway between historic Boston and Cape Cod offering its own unique blend of history and positive ocean flow...
Lorna is an excellent host and very welcoming. She was always available for any questions prior to my visit and her place was very accurate to the description.
Jessica
2017-01-07T00:00:00Z
Lorna's place was awesome. Very spacious, with nice gestures here and there (candies, refreshments, etc.). She was very helpful with recommendations, and having the separate entrance was freeing. An all around great place to stay! Highly recommend it.
Ryan
2017-03-19T00:00:00Z
Lorna's place is near a main road, but once inside is quiet, comfortable and interesting. It was very clean, we had our own entrance and enjoyed a good night's sleep, despite the noisy heating system.
John
2016-04-16T00:00:00Z
Lorna est une hôte très plaisante, ouverte, à l'ecoute du moindre besoin de ses invités, prodiguant infos et conseils touristiques. Son accueil très chaleureux et sa maison au milieu des bois (un vrai petit bijou !!!) sont un vrai plus pour Lorna. On retrouve dans son jardin et dans son petit studio toutes les touches artistiques qui la caractérisent. Je recommande vraiment !!!!
Cecile
2013-09-06T00:00:00Z
Staying at Lorna's was great. She's super welcoming and her accommodations were wonderful - just like they looked on the website. If I every go back to Plymouth I'd definitely stay there again.
donna
2015-03-11T00:00:00Z
We were only there to sleep but while we were, it was cozy and clean.
Felicia
2015-11-10T00:00:00Z
No complaints. Accommodations were exactly as described. Place was centrally located, made it very convenient. We were free to go and come as pleased. Lorna was available if needed. Her dogs are quite friendly. You don't even know they are on the property. We would revisit. Thanks Lorna for helping make our vacation wonderful.
Melanie
2015-09-21T00:00:00Z
Lorna made us feel very welcome when we arrived she is the type of person you feel like you have known for years. She is very interesting and artistic and has traveled the world. It was great getting to know her. She welcomed our mini dachshund to the rental space. The space was perfect for us. Lorna even let us enjoy her yard and backyard furniture when my family came over for a little pre-party before the wedding we were attending. She gave us our space but was there to help us with any questions about the area, etc. She knows great restaurants and local beaches etc. We would come back and rent from her again. Thank you so much for all you did to make our stay awesome!! - Danielle, Melissa, and Kapers the mini dachshund
Danielle
2015-06-01T00:00:00Z
Tipo de habitación
Habitación privada
---
Tipo de propiedad
Casa
---
Capacidad
2
---
Habitaciones
Plymouth, Massachusetts, Estados Unidos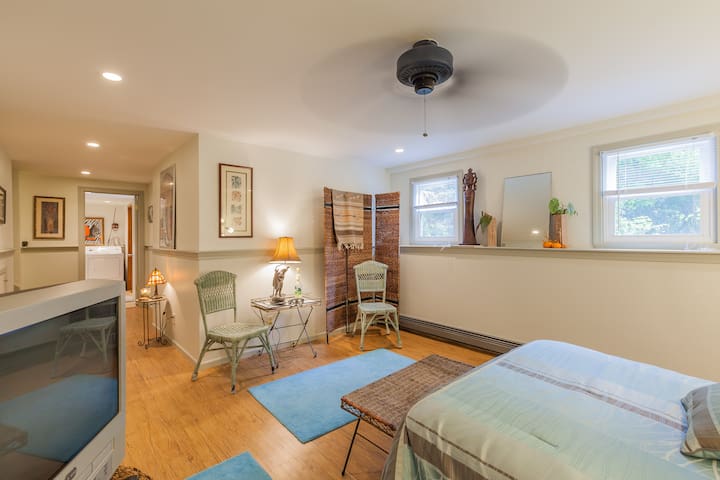 This log house is beautiful. Only minutes from historic Plymouth, beaches and the Cape. On an acre of private, wooded property. Located across the street from lovely cranberry bogs and walking trails. Close to Boston and Providence. A must see! Seasonal rates apply.
This listing is for a Traditional Log House rental/day/week/mo. Great for a summer vacation rental! Amazing for Autumn foliage and especially the cranberry harvest!! We have finished updating this listing with all new stainless-steel appliances, additional deck space and are almost done with re-modeling the basement. Our $125/day off-season rate reflects our ''almost finished'' state. The interior of the log home is as charming as the exterior and never fails to impress with its 30ft vaulted ceilings and hard wood floors. The yard is lovely and well-kept. Central Air/Heat with easy-to-use digital climate interface.
Located only a few miles from historic Plymouth, this property is situated on a series of cranberry bogs and has walking trails along lakes and ponds across the street. It is not located in a neighborhood, per se, although it does sit back from the main ''old'' road leading down to water- front Plymouth. The house has two incredibly lovely neighbors on either side, however, it remains very quiet and private with each property an acre or more each.
Great house. Great host. Everything was as advertised.
Jared
2016-11-14T00:00:00Z
Garrett is the penultimate host! We were in the process of selling/buying homes, and needed a place to stay between closings. We arrived at check-in time, and were surprised to see him there putting the final touches on everything. He gave a tour of the property and took warmly to our two dogs. He even recommended a place for us when we asked about take-out/delivery options for food (which was beyond expectations). We also need some white noise to sleep, so he eagerly offered up a system he had available. A couple days after our stay, he emailed me about a sweatshirt I had left behind. He was willing to come to my new home to deliver it to me - I dropped by instead, but the gesture shows how committed he is to his guests. If you're visiting Plymouth or the Cape, I would highly recommend staying here as an alternative to hotels - especially if you have dogs!
Brian
2016-01-29T00:00:00Z
This house is very amazing, spacious, quiet and very good located. The garden is very pleasant. Garrett is very available and kindest. We stayed only 2 nights but it's sure we will come back to enjoy the Cape Cod Bay.
Fabien
2015-08-09T00:00:00Z
My girlfriend and I travelled from Scotland and wanted a base to explore the Plymouth and Cape Cod area. The cabin was spotless and very welcoming. The area is quiet and beautiful. Our only regret is not staying for more than one night as it was such great value and a lovely cabin.
Neil
2015-10-21T00:00:00Z
Nice place, comfortable for two couples and as the pictures show. Garrett was very helpful and friendly. Will definitely return if again in the area.
Jim
2015-10-10T00:00:00Z
Garrett was an excellent host. His communication was instant and he was very helpful.
Jamie
2015-10-29T00:00:00Z
Positives: the house looked just like it's pictures (though it was a bit closer to the road than we'd expected). The host had left it clean and welcoming and he was very communicative throughout the experience. Negatives: we hadn't read the reviews carefully enough and didn't realize a smoker lived there. The smell wasn't awful but the beds/pillows did smell of smoke which wasn't great for us or our kids. Also, the shower didn't work properly nor did the refrigerator (though the host did give us access to a small, second fridge downstairs).
Amanda
2015-12-22T00:00:00Z
There were 6 of us staying here and it was very spacious! The beds were comfortable and towels were provided for each guest. We also enjoyed the porch on the back of the house. We all wished we could have stayed longer!
Samantha
2015-07-13T00:00:00Z
Tipo de habitación
Casa/apto. entero
---
Tipo de propiedad
Casa
---
Capacidad
6
---
Habitaciones
Plymouth, Massachusetts, Estados Unidos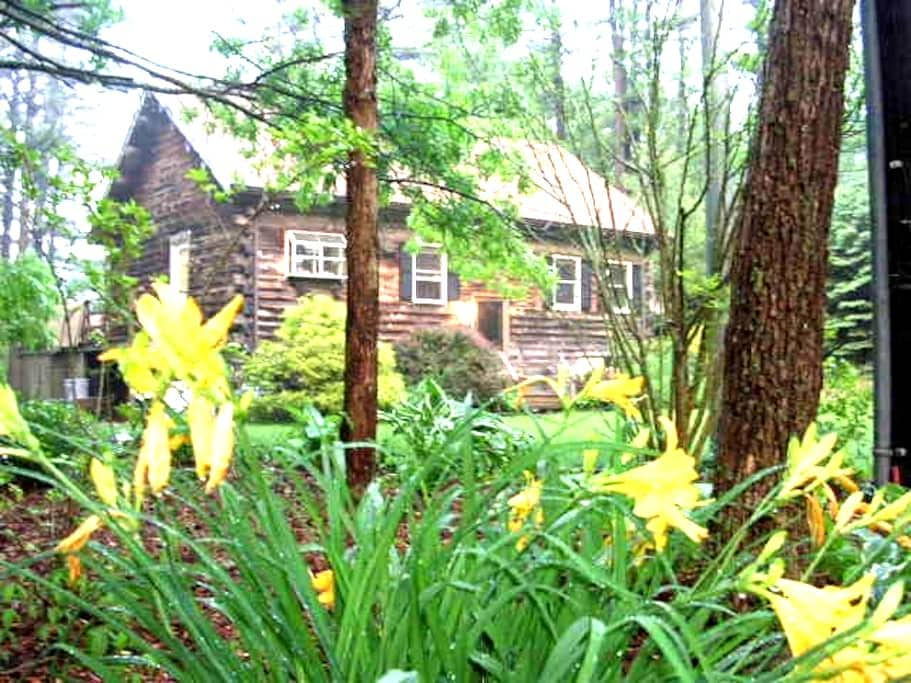 1850 tastefully renovated cottage style home, located in peaceful historic neighborhood steps to vibrant downtown Plymouth & waterfront . Gorgeous brick patio for entertaining, grilling, cocktails, etc. Small fenced in yard ideal for kids and dog The cottage has two bedrooms, one is a loft style which means its opened to the stairwell. Both bedrooms have a shared bathroom which both bedrooms have direct access.
The cottage has been tastefully and comfortably furnished with all the modern conveniences one would expect. The cottage is located only steps from vibrant Downtown Plymouth, the Waterfront and historical sites and museum's. Plenty of bars, restaurants, music venues, boutiques, antique shops, specialty shops water sports, boat and fishing cruises, daily ferry to Ptown and whale watching.
The Cottage is located on "Watson's Hill" this was a area where the Wampanoag Indians once lived and farmed. Most of the homes in this historic neighborhood date back to around 1850. All the homes are unique and have interesting curb appeal.
Bernadette was a great host and very helpful in recommending all the fun spots to enjoy in Plymouth. She has everything you need to feel right at home in this quaint town. The upstairs bedrooms are bright and comfortable. A quiet neighborhood with a restful mattress. Walking distance to town is always a plus as you can get exercise with all the extra eats that are available. We would stay again if we ever go back to the area.
Lisa
2016-05-24T00:00:00Z
Our family of three loved staying at Bernadette's home! It had absolutely everything we needed and more. The house is exactly as described - historic but completely updated. It felt like a second home! Thank you so much Bernadette for hosting us!
Becky
2016-10-16T00:00:00Z
We had a great experience at Bernadette's! Great location, clean, and accommodating. Would definitely recommend to others and we already want to plan another trip!
Danny
2016-10-24T00:00:00Z
My family and I loved staying at Bernadette's cottage. It was bright, spacious, and had everything we needed and more. Her attention to little decorative details made us feel very welcome. The cottage is within walking distance to the Mayflower, Plymouth Rock, The Grist Mill, and many little shops. Plimouth Plantation and Plymouth Long Beach is a five minute drive away. We also drove to Boston, Providence, and Cape Cod, which were all about an hour to an hour and a half away. I hope that I someday can visit Massachusetts again; and if I do, I would definitely want to stay at Bernadette's cottage again!
Paula
2016-06-23T00:00:00Z
Really lovely house close to the main shopping and town center. Everything was very easy and Bernadette made us feel right at home immediately. I couldn't recommend more for a base to stay while visiting historic Plymouth! Thank you!
christine
2016-07-10T00:00:00Z
Bernadette's cottage is a gem. The house is well-furnished, updated, clean, and represents quintessential New England character. The house is located within walking distance of town and getting into Boston was easy from nearby Kingston. Bernadette was incredibly easy to work with and responded quickly to messages. She was flexible with our check-in time and had loads of information about Plymouth laid out for us. I highly recommend this home for anyone visiting Plymouth.
James
2016-06-28T00:00:00Z
Bernadette's cottage was the perfect place for a wonderful weekend getaway, we never wanted to leave! It was the perfect location. Very close to plenty of restaurants and beaches. We were so lucky to be so close to all of the July 4th festivities and met so many wonderful people from the neighborhood while enjoying the patio in the yard. The house was exactly as described and very clean and comfortable. We couldn't have asked for a better host!
Deirdre
2016-07-06T00:00:00Z
We had an absolutely wonderful time staying in Bernadette's cottage. We visited with our 11m old & dog and the house was perfect. There was plenty of room inside and out for both human and animal to enjoy. It was "baby safe" which allowed us to truly enjoy our vacation. The a/c was a godsend in the summer heat and the location to downtown Plymouth was excellent. We would undoubtedly love to stay here again.
Megan
2016-07-16T00:00:00Z
Tipo de habitación
Casa/apto. entero
---
Tipo de propiedad
Casa
---
Capacidad
4
---
Habitaciones
Plymouth, Massachusetts, Estados Unidos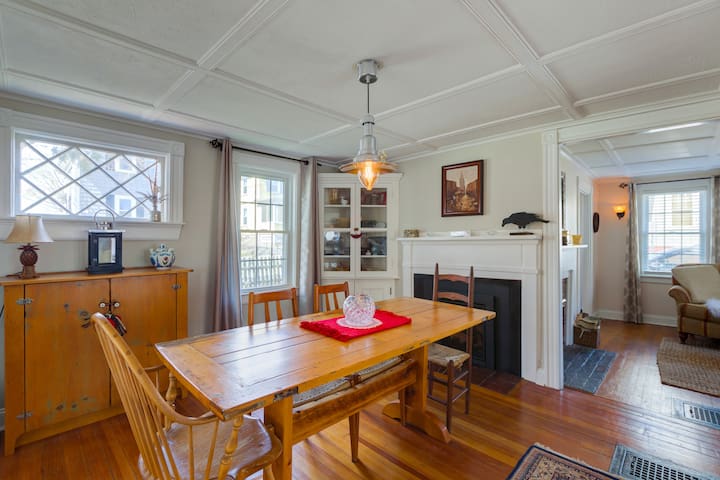 El centro de Plymouth, completamente remodelado grandes etapas de estudio de apartamentos lejos de todas las atracciones de Plymouth tiene para ofrecer, además de una multitud de restaurantes / bares, todos a 1-10 minutos a pie.
Un hermoso gran estudio limpio en el corazón del histórico puerto de Plymouth está esperando. Todo el nivel ha sido totalmente renovado y rediseñado, abierto y tiene todas las especias, y aparatos de cocina que necesita. Ropa de cama, toallas, pañuelos de papel, acceso inalámbrico a Internet y cable de Verizon Fios HD.
Este destino por excelencia de Nueva Inglaterra, situado convenientemente entre Boston y Cape Cod, es mejor conocido por su historia de los indígenas, la historia del peregrino, y uno de los monumentos más emblemáticos del país - Plymouth Rock. Pero la historia es sólo el comienzo de lo que los visitantes vienen a experimentar aquí en el condado de Plymouth. Con todo, desde deportes acuáticos hasta avistamiento de ballenas - jugar al gol en tours de fantasmas -Thomas tierra para viajes de la carretilla - cosechas de arándano para viajes culinarios ... se encontrará planeando volver incluso antes de salir! Y con cama pintoresco puerto lateral y rurales, hoteles familiares, y un complejo de cinco estrellas que se encuentra en el bosque, nuestra gama de alojamientos satisfacer todos los gustos.
What a great time we had! The apartment was just as advertised. It was clean, well stocked and very comfortable. I would recommend this place for anyone.
Margaret
2016-12-27T00:00:00Z
Note: this is a basement studio in a house and the upstairs neighbors are around during weekdays, there will be constant noise. That being said the place was very clean, had comfortable, updated furniture and was very close to the harbor, shops, and restaurants despite being located in a quiet residential neighborhood. We enjoyed our stay and will be back again.
Kate
2017-01-18T00:00:00Z
Sehr gut! Der Aufenthalt bei James in Plymouth war sehr gelungen. Die Kommunikation mit James war immer sehr gut und prompt. Wir kamen abends zum Haus und fanden alles so vor, damit wir sofort starten konnten und uns zu Hause fühlten. Im Appartment standen Blumen und es stand eine leckere Flasche Wein bereit. Das hat uns sehr gefreut. Das Appartment ist sehr angenehm und liegt in Plymouth sehr zentral an den historischen Orten und in Hafennähe. Das hat uns sehr gut gefallen. Wenn wir nach Plymouth kommen werden wir uns sicher wieder um das Appartement von James bemühen. Vielen Dank!
Robert
2016-10-03T00:00:00Z
When I arrived there was a bottle of red wine as a welcoming gift. The space was immaculate and all amenities were high quality, better than described. My stay was very enjoyable and I certainly will come back again, if the occasion arises.
NICK
2016-10-27T00:00:00Z
Fantastic small apartment with all the modern amenities. Very comfortable and in a great location walking distance to all the great spots in downtown Plymouth.
brett
2017-01-11T00:00:00Z
My boyfriend is from Taunton nearby, but has always told me how much he loves Plymouth, so when we had a wedding to attend in Kingston and I saw how close to Plymouth it was I looked for a place in Plymouth. We arrived and found the keys easily, and entering the basement apartment was a real treat. It doesn't look like much from the outside but inside it is clean, comfortable, and expertly decorated. Though it is technically a studio there is plenty of space. Location is great with easy walking distance to restaurants (though be prepared for a little uphill) and we had easy access to the tourist areas in Plymouth as well. I wish we could have stayed longer, as there was a grill and back patio we didn't have time to take advantage of, and it's a gorgeous area. Thanks James for a great stay!
Jessica
2016-09-21T00:00:00Z
Ver nice place in convenient location
colin
2016-09-11T00:00:00Z
Great place, great location, and great host. Well worth the money and would recommend this place to anyone.
Cruz
2016-10-10T00:00:00Z
Tipo de habitación
Casa/apto. entero
---
Tipo de propiedad
Departamento
---
Capacidad
2
---
Habitaciones
Plymouth, Massachusetts, Estados Unidos
Casa mitad muy bonita con 2 dormitorios en el centro histórico de Plymouth. A pie de la vida nocturna, el centro, parques, monumentos históricos. A corta distancia de plantación de Plymouth, playas, el aeropuerto y el transporte público. Gran ubicación, la gente, el ambiente y el espacio al aire libre. Mi lugar es bueno para parejas, aventureros en solitario, y viajeros de negocios. Ofrecemos muchos servicios, pero tenga en cuenta, mientras que sí tienen una pequeña zona de cocina con nevera, cafetera y microondas, no hay cocina completa.
En la histórica Watson Hill, The Carole House es una casa de huéspedes construida en 1899 con 2 hermosas habitaciones cama cómoda, un área común de relajación reservado para sólo nuestros invitados y un patio relajante con un montón de privacidad y muebles cómodos para relajarse y disfrutar de la fauna local.
El barrio se sienta en Watson Hill, que fue el lugar de reunión el primer tratado formal de paz y desarrollada entre los peregrinos y los nativos americanos. Estamos a pocos pasos de un cementerio indio y no lejos de la colina del entierro, que es el lugar de descanso de muchos de nuestros antepasados que llegaron en el Mayflower!
My brother, wife & I need to stay in Plymouth for a few days and Mark at the Carole House was very accommodating and flexible to our needs. The house is situated with a short walk to the town center and water front area. Which made walking to dinner and breakfast quite easy. Thank you Mark!
Tim
2016-11-04T00:00:00Z
I hope my overall rating showed all stars gold! Mark welcomed us warmly, was helpful with suggestions, showed us around our lodging. Beautiful home, close to everything. Easy to walk around downtown Plymouth. Thank you!
Mary
2016-09-15T00:00:00Z
Mark was a lovely host. He was very accommodating, letting us borrow an iron for our dress clothes (we were attending a wedding) and checking in to make sure we were having a good stay. He was very friendly and provided good neighborhood guides, while also giving us our privacy. The rooms were spacious, with lots of natural light, and I really like the wall paper in each room. I would definitely stay at Mark's again if I'm in the Plymouth area.
Ariana
2016-10-15T00:00:00Z
Mixed review. Mark was very responsive both prior to and during our stay. Was there to greet us upon arrival. Very comfortable sitting area with cards and games. Upstairs bedroom, front of house, very large with closet. Drawback was noise from the road. Back bedroom smaller with no closet. Drawback right next to the hosts living quarters. Our daughter was staying in this room and snoring from the adjacent room woke her during the night. This is advertised as a bed and breakfast. Our experience was that Mark prepared an extensive continental breakfast two out of our four mornings - hard boiled eggs/egg sandwich, juice, muffins, yogurt, fruit, cereal and milk. Coffee and tea. The other two mornings he was not available to prepare breakfast so he provided us with a gift card for a local restaurant. The food at the restaurants was good. The only issue was that we weren't informed of having to go out to breakfast until the morning off which threw a small kink in our morning. Walking distance to main attractions. The house sits on a small hill. If you have mobility issues the walk to the house from town could be a bit challenging. The day of our departure Mark generously gave us a ride to the train station. So, as earlier said, it was a mixed stay.
Dee Ann
2016-10-05T00:00:00Z
Mark was a great host and very respectful. He was passionate about letting us know the best places to go and eat.
Alick
2016-07-05T00:00:00Z
The house contains considerable charm and is perfectly situated to walk around Plymouth. The neighborhood is picture perfect.
Jason
2017-01-16T00:00:00Z
This place is as promised and more. Mark is a great and accommodating host. Would for sure stay here again.
J'hon
2016-12-10T00:00:00Z
Mark is an excellent host. Great communication and easy check in. You have 2 bedrooms and a bath upstairs and a nice sitting area downstairs with Keurig and small fridge for leftovers. He also has many games to play. Mark has everything you need. Only a 5min walk to food, shopping and ocean. Excellent location and short drive to many sites. Quiet neighborhood and a parking spot. We can't wait to go back.
kim
2017-01-22T00:00:00Z
Tipo de habitación
Casa/apto. entero
---
Tipo de propiedad
Bed & Breakfast
---
Capacidad
4
---
Habitaciones
Plymouth, Massachusetts, Estados Unidos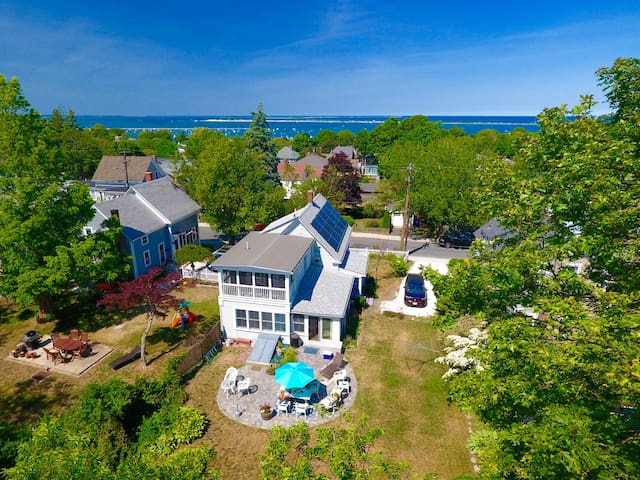 This peaceful, exclusive Pond front suite/studio apartment sleeps 2 to 4 guests comfortably, with all the amenities needed for a great weekend getaway! Situated between Boston and Cape Cod, and a short distance from Historic downtown Plymouth, where you can walk to night life, parks, and historic landmarks.
The suite sits right on Clear Pond where you have access to a private beach for relaxing and rewinding. The suite has a queen bed, and day bed with trundle, along with large comfortable bathroom. The living room offers wifi, cable, HD TV, and beautiful view of Clear Pond! We offer many amenities but please note there is only a small kitchenette area with refrigerator, keurig, and microwave. There is a deck outside with a gas grill for all your entertainment needs. It is only minutes from Colony Place, Kingston Mall, and Plymouth Center where you can enjoy seaside dining and oceanfront shopping..
The setting is a secluded fenced in quiet wooded hideaway on a pond front property; which is perfect for your canine friend since we are pet friendly. The suite offers a relaxing atmosphere with beautiful views of your private beach for fishing, swimming, kayaking, & canoeing. You're a stone's throw from Plymouth Rock, Plantation, beaches, restaurants and shops along the waterfront. There is a walking path around an adjacent cranberry bog, along with fire pits and private patio for your outdoor pleasure!
This was the perfect location in Plymouth: a short drive into town, but totally removed from the hustle and bustle; on a beautiful pond filled with turtles, and a pristine bog/ bird sanctuary next door. We loved being on the water, and being able to use her kayaks and life jackets. The yard was great, with chairs and tables for outdoor living, leading down to the beach on the pond. The apartment was cheery, clean and comfortable. We lacked for nothing. Debra was an exceptionally accommodating hostess who made us feel welcome from our first meeting.
Martha
2016-07-25T00:00:00Z
Très beau terrain et très jolie chambre !! L'hôtesse est très accueillante et super gentille. Valeur sûre :)
Loïc
2016-07-09T00:00:00Z
This is a cozy, welcoming, and clean en suite, and Debra is a lovely host. We will certainly return!
Mark
2016-08-01T00:00:00Z
Debra was very welcoming and went out of her way to make our stay enjoyable. She recommended nearby places to visit plus had informational material in her rental which we used to to plan our activities.
Akiko
2016-10-04T00:00:00Z
We enjoyed every minute! What a lovely and charming space, very conveniently located only a couple of minutes out of Plymouth and about a half hour to the MBTA Red Line southernmost station. Immaculately clean, quiet, and best of all, a dedicated guest parking spot. Debbie was a wonderful hostess, we will definitely be coming back for a longer stay next year!
Maureen
2016-09-29T00:00:00Z
My wife and I had an amazing time here. Debbie was a superb host and provided everything we needed. The place itself was very cute - a quaint little place that backed up to a little pond that we were able to take a canoe out on. We met Debbie on our last night there and she was incredibly friendly, talking to us about the area, asking how our stay had been, and ensuring that we knew we didn't have to do anything to get the place "ready" for her after our stay was over. Overall it was an incredible place that I genuinely hope we get to experience again!
Ryan
2016-11-16T00:00:00Z
We stayed here for 3 nights. Suite is comfy and cozy, equipped with mini frig, and microwave.
Maryann
2016-12-23T00:00:00Z
We had a wonderful work-stayacation in Debra's place! Debra was available at all times and a great deal of fun to talk to, especially about New England. Check-in was really easy and accommodating and there was a spot for guest parking. As soon as we entered the room, what a beauty! It oozed tranquility with the sea/ship color-scheme and spacious arrangements. Everything was spotless. Probably my favorite part of the room was how shady and comfortably dark it was (even though the suite used to be a basement it's not pitch dark, there's enough lighting that makes it as if you were under a cool shade of a tree.) Perfect for escaping the summer heat! Our stay was very peaceful and quiet as we awoke to seeing the still pond in the near background. If you love nature and outdoors, you had access to Debby's kayaks, life jackets and old rowboat (a fun challenge), a nearby trail and of course the lovely pond filled with fish and cute turtles. And if you want to walk around, it's okay too! Town and its bus stop is only 30minutes away by foot. Lovely stay! Thanks, Debby!
Jah
2016-07-29T00:00:00Z
Tipo de habitación
Habitación privada
---
Tipo de propiedad
Departamento
---
Capacidad
4
---
Habitaciones
Plymouth, Massachusetts, Estados Unidos
La ubicación increíble en el corazón del centro histórico de Plymouth. A pie de restaurantes, bares, lugares históricos, museos, la zona del puerto y disfrutar de todo lo que Plymouth tiene que ofrecer! El Harbor House está recién remodelado y ofrece todas las comodidades del hogar en un entorno de 2 dormitorio privado. ¡Lo amarás!
Usted se alojará en el segundo piso de una casa de dos familias. El espacio es muy amplio y luminoso con doble aislamiento nueva ventanas de guillotina para que pueda abrirlos por la refrescante brisa de aire al océano o cerrarlas por la privacidad y aire acondicionado. El puerto se encuentra en la base de la carretera a pocos cientos de pies de distancia. En la parte superior de la calle, a pocos pasos de distancia, se encuentra en el centro de la ciudad! El apartamento está equipado con todos los electrodomésticos de alta calidad, muebles y ropa de cama. Toda la unidad ha sido renovado con pintura fresca, pisos nuevos en todas las habitaciones, una cocina recién remodelada con gabinetes de arce y un mostrador de granito. La cocina tiene todos sus elementos esenciales, incluyendo utensilios de cocina, cubiertos, platos, tostadora, cafetera y mucho más. El salón tiene una sección de cuero italiano con sillones reclinables eléctricos duales y un televisor de 50 "pantalla plana LED con servicio de cable. También se ofrece conexión Wi-Fi. El dormitorio principal cuenta con una parte superior de la línea de espuma Sealy híbrido / gel de reina colchón en una cama de plataforma. La segunda habitación tiene dos camas individuales. Tenga en cuenta que esta habitación tiene el mínimo espacio. Es adecuado tanto para niños o adultos, pero es un poco pequeña. El baño incluye una sola ducha de pie.
Ubicación, ubicación, ubicación! Usted no va a encontrar una propiedad cerca del centro de la ciudad entonces éste porque está justo en el centro de la ciudad de Plymouth! A pie de la roca de Plymouth, el puerto, las playas, el Mayflower II, la colina del entierro y más. Disfrutar de increíbles restaurantes, bares, bodegas, los cerveceros artesanales, museos, teatros y boutiques a pocos minutos de su puerta! Veinte minutos en coche del Canal de Cape Cod y 40 minutos a Boston. Nelson Beach Park es de 7/10 de una milla Plymouth Long Beach se encuentra a 3 millas de distancia o Caminar 5 minutos a Plymouth Acuáticos 'Beach Ferry y llevarlo a la hermosa Long Beach Point
Steve was very welcoming. You can tell he has put a lot of thought into all the details to make sure his guests have whatever they need while away from home. He even had coffee and creamer on hand! The home is cozy and very clean. Smack down in the middle of town. Walking distance to everything. We look forward to our next time starting there.
Brian
2016-12-14T00:00:00Z
Great place with amazing accessibility and access to local spots. Very clean and comfortable spot.
Brian
2016-10-16T00:00:00Z
Great location! Walking distance to the Main Street with pubs restaurants and antique stores. Many of the antique stores are very reasonably priced as well! Parking situation is easy as well!
Kevin
2017-03-26T00:00:00Z
My group and I had a great time staying at Steve's. The apartment was perfect for a weekend away from the city. It's located within a 5 minute drive of anything you may need, and is walking distance from a number of sites. Would recommend this listing to anyone looking to spend time in or around Plymouth.
Michael
2017-01-02T00:00:00Z
We stayed here for the weekend of America's Hometown Thanksgiving. Everything was clean and as expected. The location was in the heart of all events. Steve was easy to work with and a great host. We would stay here again if we ever needed a place in the Plymouth area again.
Ken
2016-11-20T00:00:00Z
We came as a family of 4, and we were comfortable. As a matter of fact, my younger daughter was dying to sleep on the couch because she was so comfy! The pictures are true to what the space looks like, and in terms of location, it was right in town and easy to walk to various restaurants and shops. Thank you, Steve for the little touches, such as the hairdryer, as I had forgotten mine!
Jane
2016-10-23T00:00:00Z
Steve was an excellent host! He let us know everything we needed to about his Airbnb and left an amazing welcome basket! My aunt and uncle were visiting from California and stayed at the Airbnb. They were very pleased with their stay and loved that they were right in downtown Plymouth and could walk wherever they needed to go! If they come out to visit again, they will definitely be booking with Steve, and I have already recommended the Howland house to friends who are looking for a downtown Plymouth experience. It's a perfect home away from home!
Caity
2016-10-12T00:00:00Z
Everything was great
dan
2016-09-27T00:00:00Z
Tipo de habitación
Casa/apto. entero
---
Tipo de propiedad
Departamento
---
Capacidad
4
---
Habitaciones
Plymouth, Massachusetts, Estados Unidos
New one bedroom apartment with kitchen, amenities, yard, parking, private entrance-- nestled into the woods just one minute from the highway. Miles of hiking trails, historic Plymouth, golf, beach, ponds, restaurants, fishing... all ten minutes away.
This is a private furnished apartment attached to our home with open floor plan, living area, full kitchen and bedroom with queen bed & orthopedic mattress. Living room has futon that pulls out to a double bed. Spacious walk in shower, washer and dryer, brand new kitchen appliances. Large back yard with charcoal grill and picnic table for your use. (BYOC). Apartment has its own driveway, parking spots and entrance. . Apartment is approximately 850 square feet.
We are a ten minute drive to everything ! Only 10 minutes to historic Plymouth with its attractions, restaurants, Whale watches, fishing charters and shopping. 10 minutes to Plymouth Beach, Plymouth Plantation and if you are headed to Cape Cod for the day, yep, it's just ten minutes south.
I had a wonderful stay at Jonathan's apartment while I was in town for a wedding. The apartment was spacious, very clean, and the interior seemed like it was very recently updated. Jonathan was very responsive to any questions I had in a timely manner. They made the process of getting into the property very easy, including clear directions once you turn off the main road. The location was very convenient to the highway and within 15 minutes drive of everything I needed. Very quiet and peaceful getaway spot, I would definitely try to stay here again if I was in the Plymouth area.
Katie
2016-06-27T00:00:00Z
We had a wonderful experience staying at this Plymouth Country Hideaway! Communication and responsiveness from the owner were excellent. Although the house is located down a short dirt drive and is surrounded by woods in a secluded environment, it is close to the highway and very easy to get to. A perfect combination of privacy and convenient location. The apartment is roomy, had everything we needed, and is exceptionally clean. We felt at home immediately with the interesting decor and comfortable furnishings, and Jonathan had thoughtfully set up the futon bed for our daughter, which was much appreciated. Both the bed and the futon were comfortable, and there are plenty of blankets if you need them. There are shelves of books for all ages and we enjoyed looking through them and finding old favorites. Wi-fi was easy to access, and the Fios HD TV offered lots of choices, but we loved the quiet, cozy environment to catch up on our reading. The kitchen was very well supplied, and there were various body washes and shampoos in the shower. The information book the hosts have provided is very thorough and helpful. It's a short drive to Plimoth Plantation, and the town of Plymouth is just a bit farther up the road, with Plymouth Rock, the Mayflower and other sights. No shortage of restaurant choices in this area also. The description given was totally accurate, and overall this location is even better than we expected. Definitely one of our favorite AirBNB places. Our only regret is that we did not get to meet our hosts as they were away this weekend. I hope we have that opportunity next time we stay! This Country Hideaway is definitely worth a repeat visit.
David
2016-09-25T00:00:00Z
We selected Jonathan's apartment as a home base for exploring the South Shore and Cape Cod and our 8 day stay in his apartment was wonderful. From the home made jelly to the fishing advise for my husband; it is obvious they make the extra effort to insure guests enjoy their stay. The inside of the apartment was clean, well appointed, and organized. Their "HOUSE GUIDE" was the most helpful of any on our trips. The listings of the businesses and attractions at each nearby exit was invaluable. I highly recommend a stay at Plymouth Country Hideaway.
Paula
2014-08-31T00:00:00Z
fantastic place! There is not a lot of places I have been where I found nothing wrong with them, and this is actually on the list of places where everything was perfect. We decided to take a small honeymoon after we got married and decided to stay in Plymouth and at The Hideaway. When we arrived there was champagne strawberry and cookies waiting for us everything we possibly needed for our vacation was there. there was a book with clear instructions of where to go to find things and what was not included. it was close enough to everything that we were able to see four of the major cities that surrounded Plymouth. on our way back from Martha's Vineyard we were able to meet Jonathan and his wife both amazingly gentle spirits. They had a very nice Aura to them and made my husband and I very comfortable we cannot wait to return to this place. if we were to find anything negative it would be maybe the driveway getting in and out off the main road we have a low car so we had a bit of difficulties leaving but never any problem coming however it is so insignificant to how amazing this place was. It truly was a home away from home. thank you so much again for hosting us and for making our honeymoon exactly what we wanted
Peatrishe
2016-07-02T00:00:00Z
We are an Italian family that stayed 6 days in this location: everything was awesome. The house is big, clean, fully stocked and very beautiful. Jonathan and Mary have been very nice and friendly, they welcomed us with a homemade delicious jam and suggested us what to visit. The house is in a strategic position: less than an hour driving from Boston and the same from the National Seashore beaches in Cape Cod. Plymouth itself is a beautiful and historic town. We strongly suggest this house for your vacation, and we will definitely would like to come back. Marco, Paola and Sara.
Marco
2014-08-13T00:00:00Z
This was probably the best place I have ever stayed. It being my first time using airbnb, I was a little nervous but the place was so homey and just all around great! The zucchini bread that Mary left was amazing! My friends and I couldn't stop talking about how good it was! Everything we needed was there. We will certainly recommend it to others!
Kayla
2014-08-23T00:00:00Z
We had a great time here. The house was in the piney woods and the property smelled wonderful, kind of loamy. The apartment was very cool and clean, well kept and comfortable. A very welcoming feel to it. Plus we enjoyed the nearby lake/canoe beach. I would definitely come back here in the summer. The colors incredible. The locale close to all we needed for this trip. And the property has this cute-A camper property.
donald
2015-07-13T00:00:00Z
We had a great time staying at Jonathan's place. The room is great and there is lots of space in the living area. Jonathan was also very accommodating with great comunication. We would definitely stay there again.
Stephanie
2015-05-31T00:00:00Z
Tipo de habitación
Casa/apto. entero
---
Tipo de propiedad
Departamento
---
Capacidad
3
---
Habitaciones
Plymouth, Massachusetts, Estados Unidos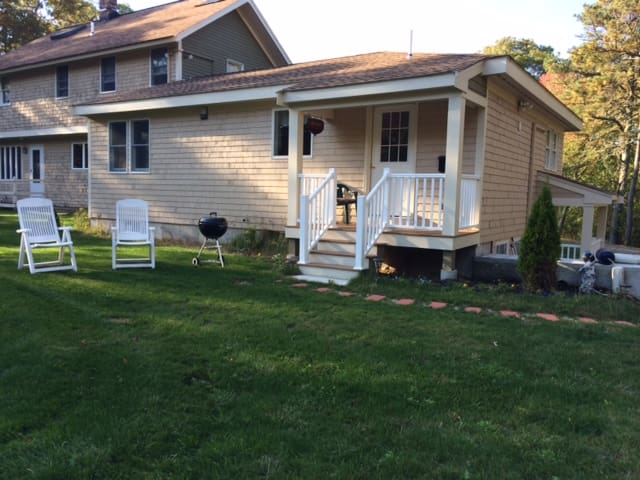 Short drive to Main St Plymouth, waterfront, beach, Plimoth rock Plantation, Thomasland/Edaville R.R. Lg home w 2 dogs. Please ask me questions; any assistance included. Reserving this space is for two private large bedrooms! Bedroom #1 has a king bed, bedroom #2 has a single bed ( all REAL) beds with bureau and closet space. Full new bathroom - Central AC; free parking, all access to kitchen for cooking, large family table to eat etc *** Price increases by $20/person/night after 3 people.
Accommodations are flexible. There are two bedrooms. Bedroom #1 has king size bed, #2 has a single. Rooms are private with real mattresses, closet and bureau space. Very sunny and cheerful space! Please note extra fee for over 3 guests. Full bath in between, totally redone as of March 2016. House is a pretty, colonial style with comfortable furniture, 1 1/2 baths, back deck to sit and drink morning coffee. ***(coffee or tea provided) It's very quiet here, for a good night's sleep. This house has been inspected by the local fire chief and passed all safety regulations with both fire and Carbon Monoxide detectors. It is sunny and comfortable with an open floor plan; central AC keeps us cool.
The neighborhood is quiet and pretty. It is a convenient spot for anyone unfamiliar to the area. Directions are simple from main roads. We are about one hour from both Boston and R.I. airports. 20 minutes to the start of beautiful Cape Cod!
Nancy stayed up late to greet us (after 11pm) and made certain we were comfortable, and setup for a.m. coffee and breakfast. We had a great night's sleep there in the large colonial home. It's in a nice quiet neighborhood just a few minutes from the famous Plymouth Rock. The room(s) are even nicer than the pictures show. ;-) I highly recommend staying at Nancy's place. Thank you!
Victoria
2015-08-15T00:00:00Z
Nancy was a very nice host! She was very uncomplicated, friendly and confident. A very warm Person. We very much liked the personal atmosphere and all the help she gave us so voluntarily to plan our sightseeing. The house is well situated between Boston and Cape Cod and also Plymouth is nice to visit. We can highly recommend this place.
Dr. Wolfgang
2016-08-18T00:00:00Z
Very comfortable home as pictured! Nancy was very friendly and helpful. There were more than enough beds to go around for the four of us and we all slept soundly. The rooms were clean and the shower was nice with good water pressure. Very convenient location near historical Plymouth.
Emma
2016-05-29T00:00:00Z
Nancy let our family spread out into her whole house, and it was great to have the space. We were very comfortable, and Nancy was very kind to us.
Jennifer
2016-07-30T00:00:00Z
Nancy's place is close to Plymouth centre and the perfect location if you are going to Edaville and Thomas Land USA, as we did. We had a very nice experience staying at Nancy's home. Nancy is very kind. She was very helpful on providing information on what to do around. The bed was absolutely comfortable.
Jenny
2015-09-21T00:00:00Z
Nancy was real nice and the house neat. She came through with what we had asked her to do and that was keeping the dogs away from Levi who had allergies. If I were to visit Cape Cod again, I would definitely use her place again if it is available. Nancy was also a source of information on where to visit and what to do. Overall, it was better than staying at a hotel/motel and priced just right.
Mark
2015-08-23T00:00:00Z
I've never met a hostess as warm hearted as Nancy. She waited for us though we arrived a liitle bit late than expected, and the spacious upstair rooms really gave me a large surprise, as well as the newly renovated bathroom. Love the two friendly dogs, which bring a lot of fun to my son!
RONG
2016-08-06T00:00:00Z
My parents and I really like the house. It was Really comfortable place. Very close to beautiful Plymouth. And Nancy was fantastic host very welcoming. Thank you Nancy! I loved your dogs!
Jay
2016-05-17T00:00:00Z
Tipo de habitación
Habitación privada
---
Tipo de propiedad
Casa
---
Capacidad
3
---
Habitaciones
Plymouth, Massachusetts, Estados Unidos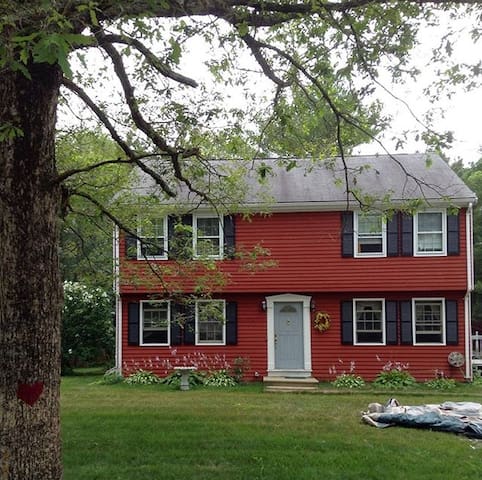 My place is close to public transport, lots of activities on and off the beach. You'll love my place because of the views, the location, and the ambiance. My place is good for couples, solo adventurers, business travelers, and furry friends (pets).
Come and relax at this very private home on 3 acres. Take in all the beauty with a beautiful setting and sunsets galore! The home was recently renovated and has all amenities of home. It has a very large deck for entertaining and it's own private beach. A Crystal clear lake for swimming, canoeing or kayaking and the fish are abundant! It has an acre of fenced in land for your pets, so bring them along too! Enjoy all the fun in total privacy!
This is a private street and in the winter there is only one house beside me and in the summer there are a few cottages on the other side of the house. You can barely see them, so it is very quiet.
If your in the Plymouth area Jackie's home is a great place to stay. Jackie is a gracious host, with great attention to detail. My room more then met my expectations. I would definitely stay here again.
William
2017-02-13T00:00:00Z
If you are an animal lover, this is the perfect place. Jackie and her four dogs are so lovely. Jackie communicates well and is friendly and accommodating. She bought wonderful vegetarian and gluten free options for breakfast. Our room was clean and a good temperature with a very comfortable bed. We enjoyed the claw foot tub. Gorgeous views from our bedroom windows and from the breakfast table. We took two delightful walks around the pond. We highly recommend Jackie's place. We will definitely stay again.
Elizabeth
2017-02-26T00:00:00Z
The host canceled this reservation the day before arrival. This is an automated posting.
Anoop
2017-01-20T00:00:00Z
Jacqueline is a very kind and gracious host. The house and the room are very comfortable, warm and located in quite a picturesque location. I would totally live there on my next visit to Plymouth. Highly recommended!
Pravin
2016-12-19T00:00:00Z
Tipo de habitación
Habitación privada
---
Tipo de propiedad
Casa
---
Capacidad
4
---
Habitaciones
Plymouth, Massachusetts, Estados Unidos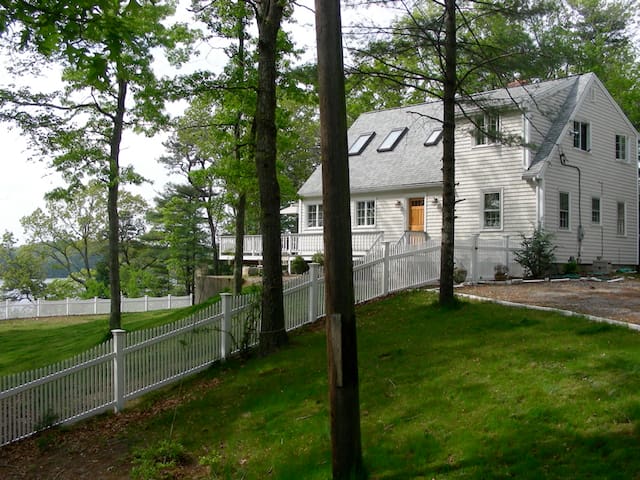 Steps from the beach, enjoy this private room with a queen sized bed and shared bath located on the second floor. Guests may enjoy access to all shared spaces. Beach chairs and towels included for your stay as well as a grille and backyard patio.
Located on beautiful White Horse Beach. Walk to the lobster pound, bird sanctuary or the local organic farm. 15 minutes from downtown Plymouth, 10 miles from Cape Cod Canal. Supermarket, restaurants, general store all within 1 mile.
Great place, great location, great host! Room is very lovely! Host is a very kind and elegant lady. We had a very very pleasant stay here. It's not easy to find such a great place.
Max
2017-03-25T00:00:00Z
Tipo de habitación
Habitación privada
---
Tipo de propiedad
Adosado
---
Capacidad
2
---
Habitaciones
Plymouth, Massachusetts, Estados Unidos
Welcome Home! The Goodman Family welcomes you to their historic 19th century farm house. Guests will enjoy a comfortable bedroom with queen size bed, clean and well-maintained private bath with tub and shower and a cozy sitting room to relax & unwind
Historic Home from the 19th century with a beautiful yard and fire pit for socializing. The home is charming, warm and walking distance to Whitehorse Beach
The charm, beaches and the short distance to Cape Cod
A truly charming place to stay, very welcoming, lovely people.
Milton
2016-10-15T00:00:00Z
Gary & Cathy were wonderful hosts. Their home is beautiful. Great little private suite: bedroom, sitting room, and private bath. Everything was spotlessly clean. They provided a delicious breakfast. All in all, a great stay. I only wish we had more time to spend there.
Amy
2016-10-03T00:00:00Z
Cathy and Gary's place is absolutely lovely, they have decorated the room - which is in fact a suite, coming with its own sitting room and bathroom - very nicely, and provide guests with all the comforts. The breakfast spread that Cathy prepared in the morning was excellent, and she gave me some advice on things to see in the area, so overall I had a perfect stay!
Elena
2016-10-08T00:00:00Z
I have stayed at Cathy and Gary's many times and every time I stay there I am touched by their warm hospitality. It is an absolutely lovely place to stay. Beautifully maintained home with delicious breakfast. It is really too good to be true.
padma
2015-10-21T00:00:00Z
Al I can say is WOW! This home is absolutely breathtaking. From the moment we walked in we knew we were in a special place as we admired all the incredible details and decorations in the home. The listing is for a suite that includes a bedroom, small living space with a TV/books and a bathroom. We honestly had everything we could have ever needed! To complete our stay the next morning we woke up to one of the most amazing breakfasts I have ever had: homemade juice, pastries, granola, yogurt, coffee and tea. I will definitely stay here again if ever in the area! Thank you so much for a great stay!
Jessica
2016-01-17T00:00:00Z
Extremely warm and welcoming, pays attention to every detail. It is a home away from home.
padma
2015-09-30T00:00:00Z
Catherine and Gary were very welcoming and kind! Everything was perfect from the room to the breakfast, and their pets were very well behaved and friendly. Great stay all weekend.
Tara
2015-05-19T00:00:00Z
The host canceled this reservation 43 days before arrival. This is an automated posting.
Leonie
2015-05-25T00:00:00Z
Tipo de habitación
Habitación privada
---
Tipo de propiedad
Bed & Breakfast
---
Capacidad
2
---
Habitaciones
Plymouth, Massachusetts, Estados Unidos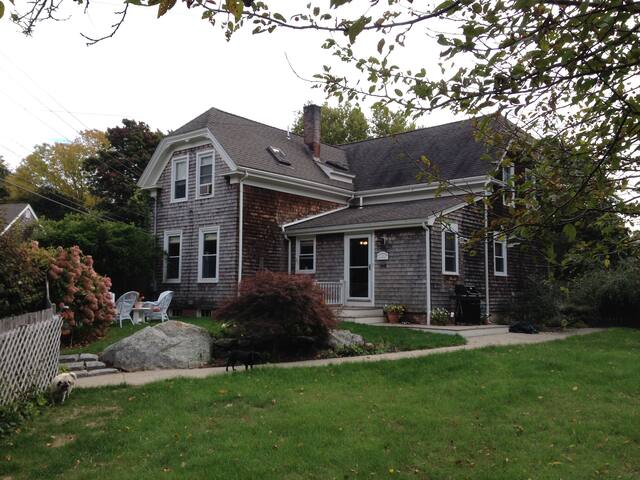 This cute little cottage offers the perfect getaway from the city. Set in a quiet neighborhood just a few minutes from downtown Plymouth and Cape Cod. Only a short walk to the ocean or a town-run pond beach with lifeguards. Wheelchair accessible.
The fenced-in back yard and beautiful deck will offer privacy for use of the outdoor shower and a wonderful outdoor dining. This home is equipped with two new HD TV's and Verizon Fios HD cable and internet.
This house is located on a quiet dirt road in the village of Manomet. This area offers quick access to private ocean beaches and a fresh water pond. Stop and Shop, Dunkin Donuts, Dollar Tree, Luke's Liquors and many restaurants and ice cream shops are located just one mile away.
We chose this location to be close to Plimoth Rock and Plimoth Plantation as we were going at Thanksgiving time so I don't know how it is for beach access. The space was lovely and clean. The living room/dining room is large and the bedrooms are of adequate size. Due to the time of year, we didn't really utilize the outdoor spaces but we did look and they are very nice with great amenities. The host, Mikaela, was very responsive and helpful for everything we needed. We really had a great time. Glad we chose this home.
Wendy
2016-11-27T00:00:00Z
Thanks for an absolutely phenomenal weekend. Everything was just as described if not better. Hope to come back again!!
Bishoy
2016-08-29T00:00:00Z
The cottage was lovely. It had everything you could ever need. The owners and Will the property manager were fantastic to deal with.
Sandra
2016-09-26T00:00:00Z
We spent a lovely few days at Mikaela's place. It is comfortable, spacious, quiet and very close to a quiet beautiful beach, just a few minutes walk. You can eat out on the veranda which was a special treat for us. Cape Cod is an easy day trip. And Plymouth town which we only visited on our last day is beautiful. I would definitely recommend it.
Tom and Lucy
2016-09-10T00:00:00Z
The cottage was very clean, welcoming, cozy and quiet. We called the property manager with a question and he responded immediately. It is a delightful place to stay. Mikaela communicated through email quickly. We were very happy with our visit. Local ocean beach was difficult to get to the water and climb back up a steep hill and proved to be a challenge. The pond was peaceful, with good parking, sand, easily accessed. Stores nearby. Kitchen and bath nicely equipped with basic needs. A few pots & pans, dishes, towels, sheets, blankets. Charming cottage.
Lee
2016-09-15T00:00:00Z
This cottage was a wonderful place to stay for a relaxing weekend on the coast. It is homey, comfortable, and very close to downtown Plymouth, the beach, and the pond. Mikaela provided all the information we needed for her home and exploring the surrounding area, and she was very quick to respond via email. The beach that is walking distance from the house is beautiful, as is nearby Ellisville Harbor State Park. We had a great time exploring downtown Plymouth with its cute stores, and there were many options for local cafes and restaurants! I would definitely recommend this place to anyone traveling to the area.
Laura
2016-10-10T00:00:00Z
The house was perfect for 2 adults and a child. It was the perfect size and way better than staying in a hotel room with 2 beds since the child went to bed earlier in a room with a door. The kitchen was nice since we stayed for a few days and had groceries. It was easy to locate, close to the beach and great views, and close enough to various points we visited throughout our stay. The street was very quiet and the backyard was a plus! If you are traveling with a child this is a great place!
Ashley
2016-09-19T00:00:00Z
Tipo de habitación
Casa/apto. entero
---
Tipo de propiedad
Casa
---
Capacidad
5
---
Habitaciones
Plymouth, Massachusetts, Estados Unidos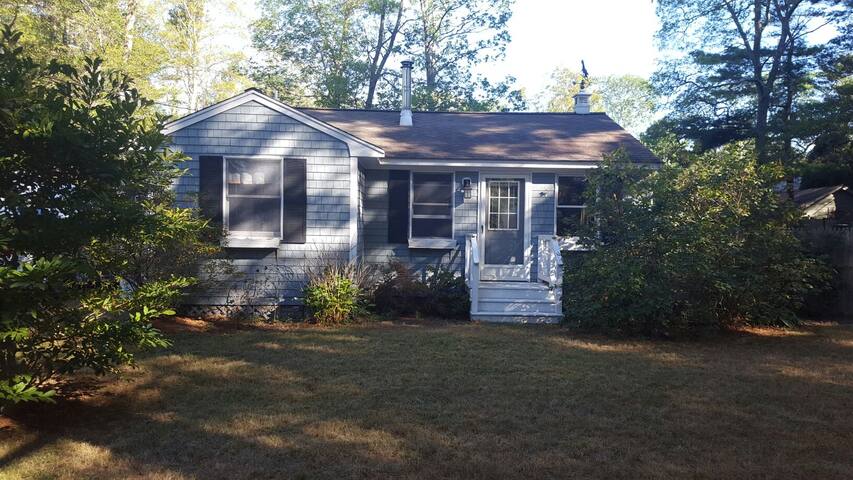 Enjoy peace, tranquility and comfort at Settling Inn. The first class luxury accommodations will provide a great place for you to relax after a busy day exploring downtown Plymouth, Boston, Cape Cod or many other nearby attractions.
Welcome to Settling Inn. Your private accommodations include a large beautifully and newly furnished in-law apartment with private parking. You'll enter an open living room with a cathedral ceiling, skylights and exposed pine beams. The full kitchen and dining area is directly adjacent to the living room. Down the hallway is the master bedroom with ample closet space and a comfortable queen sized bed. The bathroom contains both a shower and soaking tub - perfect for relaxing. Upstairs is an amazing loft where you can relax after a busy day. As you step out onto your two level deck, you can't help but notice being surrounded by a beautiful canopy of mature pine and hardwood trees. For your convenience, wireless internet access is provided free of charge. Our home is set back 500 feet in the woods, adjacent to Morton Park, the largest park in Plymouth. It contains 200 acres of forest, shoreline, miles of walking trails and a spring-fed pond for fishing, swimming and beaching. Step right out of the house and you are actually on a trail. You'll have privacy and easy accessibility to downtown Plymouth which is just a mile away (including Plymouth Rock, the Mayflower II, many other historical sites as well as great restaurants, pubs and shops). It's so peaceful and tranquil yet less than a mile from the main highways (Routes 3 and 44). Plymouth is a beautiful historic coastal town located 40 miles south of Boston and 17 miles from Cape Cod. It boasts an outstanding harbor, a tremendous amount of open space, excellent restaurants and interesting tourist sites. We love Plymouth and no matter what your interests, we will help you enjoy your stay (walking tours, biking, beaching, dining, tourist sites, etc.). We live on site in an entirely separate unit attached to the Inn. Once you check in, you'll have no problem Settling Inn !!!
Peaceful and tranquil, surrounded by a canopy of large pine and hardwood trees, with hiking trails and ponds just a short walk from the Inn. Yet so close to downtown Plymouth, shops and the beautiful harbor and beaches !!
Linda and Lloyd were super quick to reply to any questions we had prior to our visit. They were incredibly welcoming and helpful with tips on where to eat and visit locally etc. The inn is gorgeous, very clean and comfortable and there were lots of thoughtful,touches that made our stay more special. We particularly enjoyed eating outside on the deck overlooking woodland and observing the wildlife - it's the most peaceful setting. Thank you Linda for the fresh flowers and yummy home baking!
Nicola
2016-08-30T00:00:00Z
My husband and I had a wonderful time at the "Settling Inn". Linda & Lloyd are warm an inviting Innkeepers. Each morning they would greet us with a breakfast tray of homemade goodies and inquire on how we liked the area and whether or not we needed any recommendations for dinner or recreation. The accommodations were perfect. The kitchen and bathroom were well stocked with everything you may need. There is a loft that offers additional space to setup a laptop or to just hang out. We enjoyed having our own private deck overlooking the well manicured perennial gardens where one morning we had the joy of watching five hummingbirds chase each other around the garden. The Inn's location is ideal for getting around Plymouth. You are only a short (2 min) drive to Downtown Plymouth and the historic sites, shops and restaurants. You are even closer to Morton Park that consists of foot paths and two ponds (Billington Sea and Little Pond). We had traveled with our kayaks and took full advantage of them after a day of sightseeing. If you don't have your own there are kayak rentals on Billington Sea. We highly recommend the Inn and look forward to our return sometime in the future. Best Regards, The Henneberry's
Rikki
2014-08-22T00:00:00Z
From the moment we arrived we felt welcomed by our hosts' friendly attitude and helpfulness. We were even greeted by their loving and friendly dog named Willie. They were ready with plenty of information about things to do in the area. Linda, one of the best bakers ever, made sure we were happy with the foods she prepared, making sure we had no allergies and asking about our preferences. The food was beautifully presented and brought in with smiles from both Linda and Lloyd that added a happy energy to our day. The accommodations were very comfortable and tastefully decorated. The neighborhood was was gorgeous and conveniently located. Wonderful walks in the woods and to the pond was easy. Swimming in the near by pond was refreshing.
Janet
2014-08-08T00:00:00Z
Settling Inn is the sort of place that makes Airbnb such an invaluable resource. Linda and Lloyd have created that rare space at once warm and welcoming, while still feeling private—the rare ideal for any vacation rental. My partner and I felt home there from the first minute, which was due in large part to Linda's hospitality, opening up their whole property for us to use and explore. Plymouth too was even better than we expected, offering amenities and sights without sacrificing charm or authenticity. We toured the Cape and Ptown our second day but returned glad to be staying (and dining) in Plymouth. We would love to visit again, and hope to. With its resources, generous hosts, and delicious breakfasts, Settling Inn could be a destination all to itself. That it's located in such a historical and gorgeous town make it even lovelier.
David Michael
2015-04-19T00:00:00Z
Great house- we really enjoyed our stay in Plymouth. Linda and Lloyd are fantastic hosts and had nice tips for trips.
Nils
2015-10-07T00:00:00Z
I've rented many a space via AirBnB and other sites, and I have to say that "Settling Inn" ranks as one of my top two favorites. The space is bright, clean, well furnished and spacious. The setting is quiet and woodsy although very conveniently located near highways and a nice walk to town. The apartment has everything we could ask for and more! A fully furnished kitchen, all bath amenities and I even noticed swim towels available in the linen closet. Linda and Lloyd are very friendly and communicative and I could tell that they must enjoy hosting guests. The breakfast provided each day was not only delicious but beautifully presented. (and Linda was kind enough to share her recipes.) If you are thinking of staying at "Settling Inn" don't hesitate, just book it!
Carol
2016-09-25T00:00:00Z
Overall a great, relaxing and invigorating experience. Lloyd and Linda made us feel very welcome (you have to try the granola bars) and were perfect hosts (along with the charming dog Willie). We stayed 2 nights, 3 days and did Whale Watching from Plymouth Harbor and swimming and kayaking in the lovely Burlington Sea (a large freshwater lake and swimming pond just behind the house, a 10-15 minute fun walk through the forest). We also headed out onto the cape for the day to check out the Labor Day weekend fun! All in all a good location to get around this beautiful part of the world. The team were very flexible with our coming and goings and offered good advice on travels and places to hang out. The attention to detail in the apartment is great (my wife loved the towels) and lovely for a quiet weekend getaway! Thanks Lloyd and Linda! We'll try and be back soon!
James
2014-09-01T00:00:00Z
Also das war der Höhepunkt unserer Reise gewesen ! Linda und Lloyd sind super nett, die Unterkunft ist ein Hammer. Ich kann uneingeschränkt diese Unterkunft weiter empfehlen ! Das Apartment entspricht genau der Beschreibung, Linda und Lloyd kümmern sich liebevoll um einen. Man bekommt eine Menge Tipps und Infos über Aktivitäten in der Umgebung. Alles ist sauber und sehr liebevoll eingerichtet. Man hat gleich in der Nähe einen Badesee, man kann auf der Terrasse Sonnenbaden und ist dabei ungestört, da das Haus im Wald liegt. Herzlichen Dank für leider nur 2,5 wundervolle Tage.
Ralf
2015-10-09T00:00:00Z
Tipo de habitación
Casa/apto. entero
---
Tipo de propiedad
Casa
---
Capacidad
4
---
Habitaciones
Plymouth, Massachusetts, Estados Unidos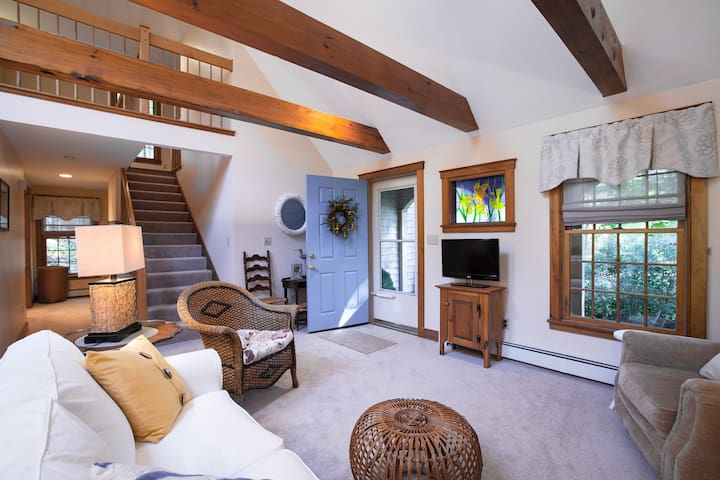 One (of 4) old-fashioned cabins on Long Pond. This cabin is very close to the pond; you can hear the water as you drift to sleep. There is a fireplace, clawfoot tub & small waterfront. Rent 1 cabin or bring a group and take all 4. 5 night minimum.
This cabin, which sleeps 3, has a small sitting room with fireplace, couch and easy chair, microwave and mini refrigerator; a bedroom with queen bed and magnificent lake view; and a bathroom with claw-foot tub. The accommodations are basic. We've kept them pretty much the same as when they were built in the 1930's. The Dick's Maggot cabin is named after a 17th century English Country Dance -- not a six legged creature! Dick was also our grandfather. Lilliburlero (sometimes available) is the commons cabin and has galley kitchen with stove, refrigerator, and equipment for up to 9 people; living room with fireplace and day bed; and screened-in dining porch with lake view. (FYI -- Lilliburlero is another English Country Dance, the cabin was named for our grandmother, Lili). Please message us if you would like to include this kitchen house in your rental. There are two additional sleeping cabins in the group that you can opt to take if you have a larger group (message us for rates). Betty and Helen holds four people and Ricky's house holds two. The cabins are located on the edge of our property next to Pinewoods Camp, a dance and music camp. From mid June through Labor Day, you can hear music coming through the woods. But after Labor Day, the dancers are gone and the summer pond activity settles down. It is a beautiful and peaceful time to visit. The cabins are available in June, early July and September. Cornish Point, our family camp, is way back in the woods at the end of a private, sandy road. There are miles of walking and biking trails available in the area. Long Pond is a great swimming and fishing lake. It's a great location for birding (we have a local pair of eagles) and enjoying all kinds of wildlife.
There are miles of trails nearby that lead into woods, cranberry bogs and more lakes. It's a remote feel with eagles and wildlife nearby -- but only one hour from Boston and Providence and 40 min. to the nearest Cape beaches.
The Conant family were friendly and very helpful. The position of the cabin is idyllic and we found it to be very calm and peaceful and worth the rather bumpy journey to get there. The cabin was basic but clean and comfortable and the pond warm and refreshing to swim in. We were well placed to visit the Plimouth Plantation, Province Town, Concord and Martha's Vineyard. Would definitely recommend this property.
Sheila
2016-09-19T00:00:00Z
Our stay at the cabin was just perfect! We loved everything about it. It is in a great location (close to Plymouth and Cape Cod beaches - you can easily drive anywhere, it's just 1 hour from Boston). The pond is also incredible, we stayed there most of the time relaxing and enjoying the crystalline water. The house is fully equipped, super comfortable and very clean! Everything worked out perfect for us, we will definitely be coming back!
Clara
2016-09-05T00:00:00Z
Absolutely everything about the Dick's Maggot cabin was excellent. Though tucked away in a quiet and private location, it was still close enough to everything we needed that it didn't seem out of the way. The cabin itself couldn't have pleased us more: the claw-footed tub made us feel like we were kids again, the bedroom overlooks the gorgeous lake, and the little dock on the water was the perfect spot to just stare up at the full moon and take it all in. We'll definitely try to stay here every time we make our way North.
Theodore
2014-06-14T00:00:00Z
We booked last minute and Susan was great in communicating and arranging our stay. The cabin is fantastic and has everything you need. It is a great place to relax and use as a base to explore the surrounding area and cape cod. We would definitely recommend and stay here again.
Luke
2014-07-03T00:00:00Z
We loved staying at the house. The way to the house was not easy to find and the road was bumpy, but the result was a very quiet place to be near the waterfont with a jetty. The house was very cosy. Thank you, Susan!
Dirk
2014-09-15T00:00:00Z
Dick's Maggot was so charming - and the lake so beautiful! I was seeking something semi-rustic by the water and this was the perfect find. Susan was great and generous in accommodating my last minute plans and responded quickly to any questions I had. The Conant family has created a beautiful nook along Long Pond...and I hope to be back sometime soon for another peaceful retreat!
kelly
2014-09-06T00:00:00Z
Tipo de habitación
Casa/apto. entero
---
Tipo de propiedad
Cabaña
---
Capacidad
3
---
Habitaciones
Plymouth, Massachusetts, Estados Unidos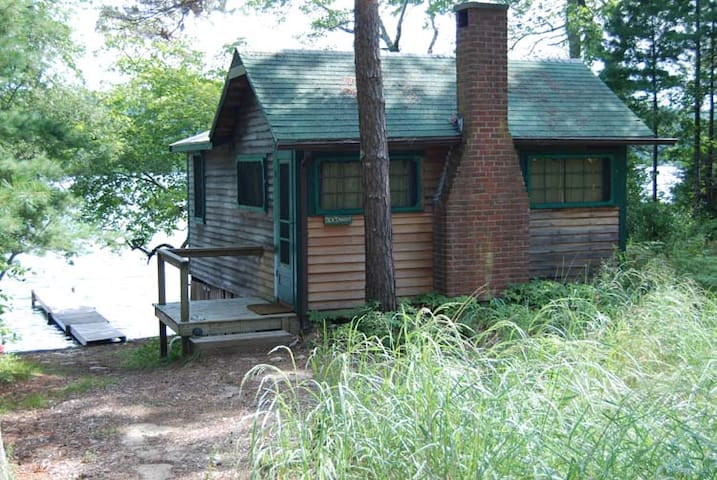 Five minute walk from Priscilla Beach! This little cottage has everything you need to relax and recharge. Perfect for couples or small families, lots of privacy, but also be close to amenities and just 15 minutes from historic Downtown Plymouth. Short drive to Plymouth Plantation, airport, public transport, cranberry bogs and walking trails.
The house is perfect for visiting historic Plymouth, beautiful bay-side Plymouth,Boston, Cape Cod, and the islands. Plymouth Rock, the Mayflower II, whale watching, Plymouth Plantation, Plymouth Country Club, golf courses, Colony Place outdoor shopping mall, King Richard's Fair, as well as tons and tons of waterfront restaurants. It is close to Boston and Logan Airport. 15-20 minutes to the Cape without the traffic! Decorated with local artwork and vintage finds, you'll enjoy the casual, seaside vibe. This house holds 4 people only. Having any additional or unauthorized guests is cause to have your reservation cancelled immediately and without refund. The place has high speed internet (50Mbps), cable (40+ channels via Sling Television app on Roku) with Netflix, Amazon Prime, Hulu via Roku.
The Priscilla Beach neighborhood is fantastic family friendly area close to the beach, shopping, historic Downtown Plymouth and Plymouth Plantation. Priscilla Beach is a private beach association which keeps the beach beautiful and is also pet friendly (on leash only).
What an absolute gem. The cottage is compact but not tiny and ridiculously cozy. Truly, we did not want to leave. The house is full of thoughtful details for the weary traveler (a lovely surprise awaited us in the fridge) and the furnishings beautifully reflect a beach cottage style. The ocean is just around the corner and for future guests that stay in the later spring and through the summer the excellent Priscilla Beach Theatre is precisely 1 minute walk away. You will find your host exceptional and for that, the cottage receives my highest praise!
Jason
2017-02-06T00:00:00Z
The cozy cottage was very easy and comfortable. The host had everything we needed for a relaxing weekend.
Jack
2017-03-20T00:00:00Z
Sheryl's cozy cottage is a great find. It is very close to Plymouth central. The cottage is very cute and has everything you need. The kitchen is well stocked as well. Sheryl left us a bottle of champagne, which was really nice too! We would definitely stay there again.
Meena & Ari
2016-12-27T00:00:00Z
My husband and I needed a get away from our kids and this home provide the prefect retreat for our weary bodies. The house gave us exactly what we needed rest and comfort. Being near the beach even in the winter is so relaxing. Sheryl is a great host. She gave clear instructions on use of items in the home. We lacked for nothing. This is a great value. I can't wait to stay again.
Sandra
2017-02-12T00:00:00Z
Tipo de habitación
Casa/apto. entero
---
Tipo de propiedad
Casa
---
Capacidad
4
---
Habitaciones
Plymouth, Massachusetts, Estados Unidos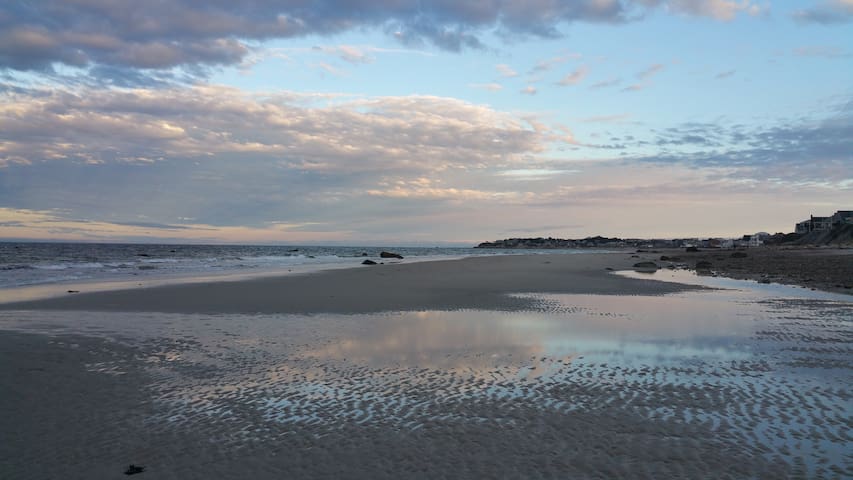 Introduce las fechas para ver el precio total. Ten en cuenta que se aplicarán tarifas adicionales y es posible que se añadan impuestos.