7mins-10mins driving to Hobart Airport. 25 minutes driving to Hobart CBD. Great sea view. 6mins driving to Sorell Coles, Woolworth,KFC, Mcdonalds, and some resturants. 7mins walking to Midway point store and Tavern (650 meters); Perfect starting location for Northern and Eastern Tasmania Trip. If more than 2 people, there is another room with a double bed.
Sea view room:
Very quiet and lovely neighborhood.
great couple great location great waterfront house
Jacky
2017-01-07T00:00:00Z
房子在一个非常安静的社区,离机场很近,房间整洁舒适,床很舒服。早上起来天气很好,屋里被照得暖暖的,窗外就是海景,心情畅快!房东姑娘十分热情,给我们做了美味的咖啡。如果你需要一间舒适、便利、高性价比的住宿,这里将是不二之选。
Chen
2017-04-03T00:00:00Z
This is the perfect place to stay in Hobart. We were three and had two bedrooms! The rooms were Big and clean. One of them had a magic view as on the pictures! The hosts have been more than nice, we arrived really late ans brought nothing to eat because we just wanted to spend a night before a flight the next morning, we did not have a car to go back to thé city so they made us sandwiches which more than lovely. They even offered us a lift to the airport the next day because it was on their way to work. Would definetly recommend!!! Ce sont de super hosts, ils sont aux petits soins et font tout pour vous mettre à l'aise. N'hésitez pas une seule seconde!!!
Anthony
2017-02-06T00:00:00Z
房东夫妻人非常好!人很热心,准备得很周到,位置离机场近,适合早晚赶飞机或者到达的人。还给我们准备非常不错的咖啡!值得推荐。
辉
2017-03-10T00:00:00Z
Great hospitality,clean, and nice sea-view house..
Purnama
2017-01-19T00:00:00Z
Sharon is so considerate and kind, and you can get everything you need here. We arrived very late that evening and Sharon still gave us a warm welcome.
Qi
2017-03-19T00:00:00Z
Nice view of the room. The location is close the Hobart airport, it's convenient for guest who fry to other city.
Ching-yi
2017-01-20T00:00:00Z
Nice friendly couple keen to be of help. The room a nit hot in summer.
kate
2017-01-22T00:00:00Z
Tipo de habitación
Habitación privada
---
Tipo de propiedad
Casa
---
Capacidad
4
---
Habitaciones
Midway Point, Tasmania, Australia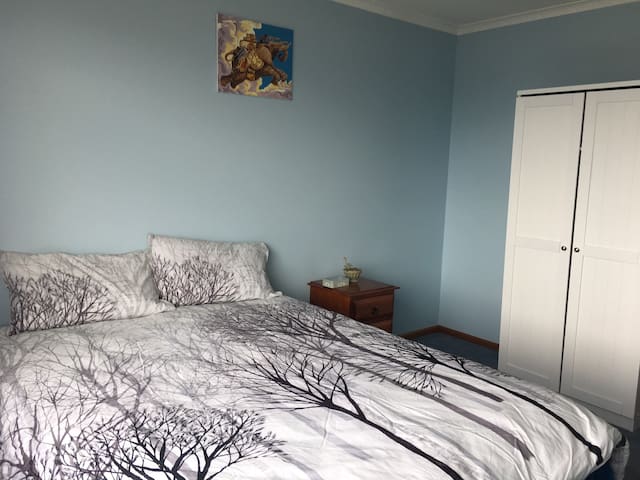 On the Gateway to Hobart's fabulous tourist hotspots this spacious apartment at the rear of the house will give you the freedom to come and go as you please.
There is a very large kitchen that joins to an open plan living area complete with a super comfortable leather couch, coffee table and writing desk. There is an NBN connection that is accessible via wifi. The bedroom has a beautiful queen sized bed with a luxurious Sleepmaker mattress. The large ensuite bathroom has a full length bath. It has a bit of a retro feel and gets a lot of afternoon sun. Merlin the pup and Mr. Pushkins the cat love coming for visits. Two single fold out beds are available for extra guests. Note: access to bathroom is through the main bedroom.
5 minutes from the airport, 5 minutes to Sorell, walk to the local shop, secluded beach access straight across the road
Great place, self contained, friendly owners was exactly what I was looking for would definitely stay there again.
Nathan
2017-03-03T00:00:00Z
Martin's place is a sunlight-flooded unit throughout the day, ideal for two people. Martin is a helpful and responsive host. It is on a street with easy access to the water. We look forward to returning.
Steven
2017-02-28T00:00:00Z
Great and private place very close to the airport.
Natalia
2017-01-29T00:00:00Z
Interesting geographical location.
Robin
2017-03-27T00:00:00Z
Martin was incredibly helpful. We met his wife as we were leaving and she was lovely also. Lovely spacious and clean appartment. Very comfortable bed. Good facilities eg tea and coffee, juice, fresh herbs etc. Would definitely stay here again.
Catriona
2017-01-20T00:00:00Z
Tipo de habitación
Casa/apto. entero
---
Tipo de propiedad
Departamento
---
Capacidad
4
---
Habitaciones
Midway Point, Tasmania, Australia
Stylish home in a spectacular position on the waterfront, sensational views across Orielton Lagoon. Spacious open living with a modern kitchen and covered sundeck. Main with ensuite and WIR and level entry from the double carport
Contemporary house in new section of Midway Point wonderfully positioned 15 minutes north of Hobart
This section of Midway Point overlooks the waters of the lagoon and beyond
This an apartment is so amazing. If u got a car, there is not any problem about transfer. And the house is so cleaning and large, which is suitable for a lot of people living here.
Jasmine
2016-09-04T00:00:00Z
Nice location, close to airport. Lovely large house. Good Parking.
Jocelyn
2016-03-15T00:00:00Z
Stephen's house is exactly as shown in the pictures! It fits all 8 of us comfortably! All of us are really happy with the stay. Stephen is really kind to provide us with fruits, wine and chocolates! Kitchen is well-equipped too! Actually, not only is the kitchen well-equipped, it's the whole house! All the necessities are provided for. There is also a convenience store not far from the house. Travelling to city is a breeze. The self check-in process was very convenient! The neighbourhood is really tranquil! In addition, the view from the balcony is really spectacular. I would love to upload the sunrise photo that we took if I could! It's really beautiful!! All of us would like to thank Stephen for hosting us with such a lovely house! We are really satisfied. It made our stay in Hobart a memorable one! Highly recommended!!!
Teddy
2016-07-04T00:00:00Z
Nice house with good location, near airport, easy to find. Good view from the balcony. Clean and tidy.
Winnie
2016-04-01T00:00:00Z
Great house close to airport and city. Large lounge and with equipped kitchen. Good for family and group :)
Viana
2016-04-12T00:00:00Z
House was exactly as advertised, Stephen very helpful and quick to respond to any requests we had. Would highly recommend and we will be using again in the future.
Sally
2016-10-16T00:00:00Z
A very lovely 3 bedroom house facing the lake . Stephen is very kind to have prepared some welcome snacks and wine for us. It's very near the airport and it's a very great location where you can get cheap and fresh salmon and fresh oysters within walking distance!
Regine
2016-06-10T00:00:00Z
Thanks.
O
2016-04-18T00:00:00Z
Tipo de habitación
Casa/apto. entero
---
Tipo de propiedad
Casa
---
Capacidad
8
---
Habitaciones
Midway Point, Tasmania, Australia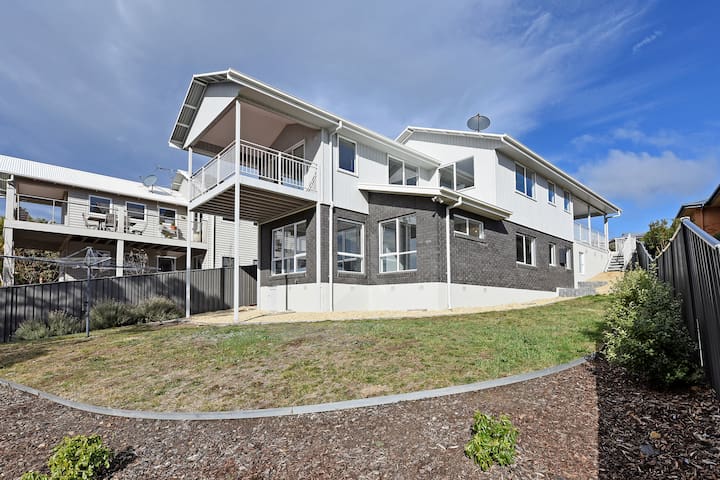 Our home in Penna is warm and comfortable and is a great launching pad for Port Arthur, historic Richmond and the beautiful East Coast. Spectacular views and wildlife. You can walk up the hill or have a quiet place to rest on your travels.
Brooklyn is a large family home with plenty of room for visitors. We live in a flat on the side of the house and the main house is provided for your accommodation. It consists of one double and one single bedroom with fabulous views. Portable cot available. Kitchen with stove, microwave, dishwasher, tea and coffee. Breakfast items provided. Lounge with flat screen tv, dining room with books and puzzles, 2 decks with outdoor settings and a bbq available. We provide bbq supplies if required. Pets are welcome (as long as they are wildlife and sheep friendly!), enjoy our secluded gardens. Smokers accommodated.
Very quiet and peaceful, 5 pm visiting of the kangaroos and wallabies. Morning visits of the potaroo/s.
Sue and John were easy to communicate with, and they were very welcoming. They provided enough supplies for a lovely cuppa with mince pies for when we arrived, and they also provided bread, eggs and bacon for breakfast the next day. This was not always provided at other AirBnBs, and may not be essential, but it made us feel very welcome and cared for. We loved it.
Claire
2015-11-28T00:00:00Z
Beautiful place to stay with an amazing view. Sue and John had prepared everything for us with supplies for a delicious breakfast and all the useful things for cooking etc. Great communication with the booking. Would definitely stay again.
Lydia
2016-12-22T00:00:00Z
It's so amazing house! We are so love here! The host is so warm welcome! They put all your need in the house, the food, the drink, wash things, even the pajamas! The view in the house is so good that my dreaming view! Thank you so much!
xiya
2015-11-11T00:00:00Z
Sue and John are such lovely people. They made me feel so welcome. They went out of their way to help me, they picked me up and dropped me off in Hobart, which was incredibly nice of them. The house is exactly as the pictures looked, and the house itself sits up on a hill, with a gorgeous view. We had bubbles on their verandah in the evening and Sue even gave me a delicious bowl of dessert. I highly recommend staying here!
Lesley
2015-11-07T00:00:00Z
Wonderfully picturesque place. Located midway up a hill, your room window opens up to the view of the sea, and the bridge connecting to Hobart. Place is better than the pictures.
Lim
2016-12-02T00:00:00Z
Sue and John are very nice hosts, and our stay at their 'Brooklyn' home was excellent. It is located in a beautiful area, and the house has everything you need: 2 bedrooms, a fully equipped kitchen (including breakfast the next morning, which was a really great surprise!) a good bathroom and lounge area (with a big TV if you fancy watching TV..) and spectacular views. Especially the bedroom upstairs is great, open the curtains and you have really nice views. The house is located at the foot of a hill, which is nice to climb for some great views of Tasmania. Another great aspect is that it is so close and such an easy drive from the airport, only 10-15 min, and from there onwards easy to get to beautiful inland Tasmania. All in all we had a great stay!
Peter
2015-07-12T00:00:00Z
Very friendly people and nice place! Wanna recommand! Everything is prepared likw breakfast, towel, shampoo ect. I felt so comfortable there!!
Christina
2015-10-12T00:00:00Z
Sue and John were very welcoming and relaxed. They have. a wonderful area wherey you can relax and enjoy nature, yet so close to town and Hobart
Katie
2017-01-26T00:00:00Z
Tipo de habitación
Casa/apto. entero
---
Tipo de propiedad
Departamento
---
Capacidad
4
---
Habitaciones
Penna, Tasmania, Australia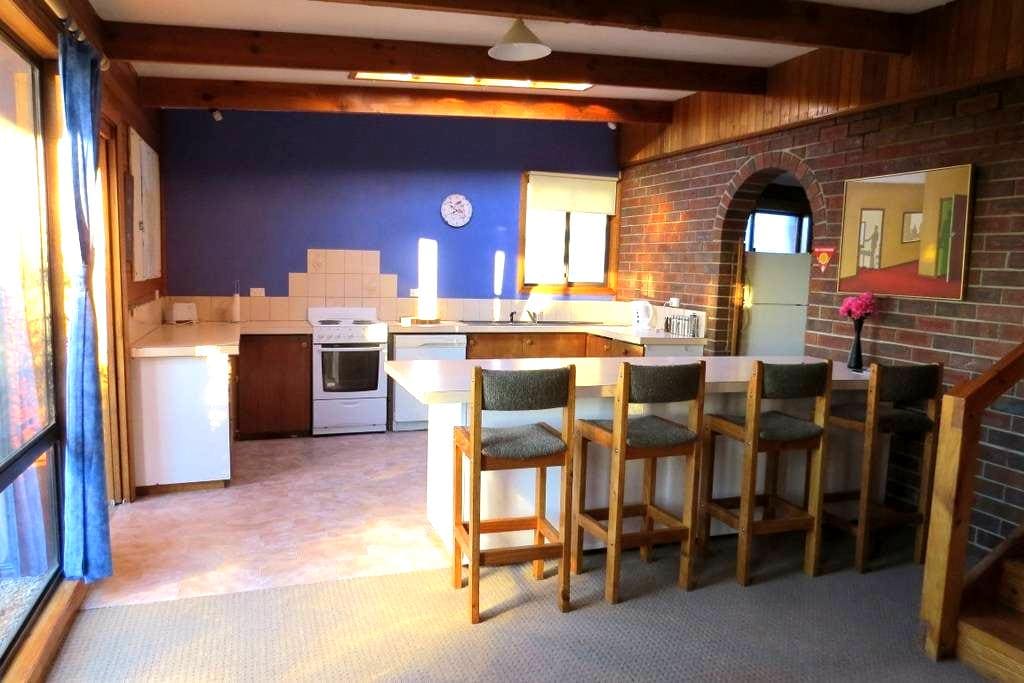 现代化的装饰,购物中心,安全的社区,门户塔斯马尼亚半岛和霍巴特中央商务区仅20分钟步行距离。
The room is so clean and tidy.Liz is a beautiful woman,we all miss her.
Ruby
2016-01-19T00:00:00Z
fantastic place very quiet and private. close to shops and where we needed to go.
Debbie
2017-01-26T00:00:00Z
Lovely and cozy apartment. The location was ideal and safe with hypermarket and cafe conveniently located around the corner. Appreciate that the host went all the way to get us a trundle bed and love the complimentary chocolate provided. Highly recommended for couples and small group of family and friends.
Cheryl
2016-09-12T00:00:00Z
The apartment is perfect for anyone who is looking for a beautiful and clean unit with good facilities for cooking and dining! We had good sleep as the beds were very comfortable and the quilts provided kept us warm. There was a heater in the common hall. There was plenty of space in the wardrobes to keep our things. The bathroom and toilet were very clean. Towels and little bottles of toiletries were handy. Laundry facility without dryer was available too. We were able to dry our clothes on the cloth liner available there. Chris was a great host too. He was easily reachable via phone and was very helpful with the direction to the apartment and to get into the unit. It was very nice of him to welcome us with chocolates, tea bags and coffee! We had a nice and private family time. If there were any queries or assistance needed, Chris was living just next door and was happy to be contacted. Overall, we had a great stay as a family and would recommend Chris' place to anyone looking for a nice place to stay during your visit to Hobart!
Shivabarathi
2016-12-14T00:00:00Z
Chris' place was exceptionally clean and well located for our drive to Port Arthur and also historic Richmond. It and everything you wanted and was within easy reach of supermarkets for supplies and a few restaurants. Thanks Chris for helping to make our first night in Tasmania so enjoyable.
Gwyneth
2017-02-03T00:00:00Z
A good choice to live near Adelaide! Convenient location, clean rooms, and delicious sweets gave us a wonderful impression!
Feng
2016-12-06T00:00:00Z
This was an absolutely fantastic stay, really nothing negative to say. Super easy to collect keys, home was extremely clean and modern. Chris was extremely welcoming and helpful. Will hopefully be back again before Falls next year.
Liam
2017-01-01T00:00:00Z
Cute little place close by the the airport. Clean and tidy. Served us well for our stay :)
James
2017-01-02T00:00:00Z
Tipo de habitación
Casa/apto. entero
---
Tipo de propiedad
Casa
---
Capacidad
4
---
Habitaciones
Sorell, Tasmania, Australia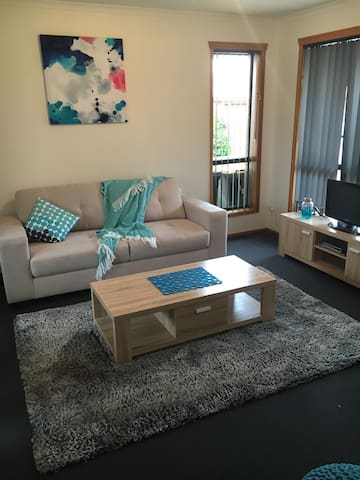 Complete privacy and absolute waterfront is yours. Our place is close to the airport (10min), Hobart city (25min easy drive), a central shopping precinct (less than 10 minutes). We are well located to access the Tasman Peninsular and Port Arthur and the East Coast. We are also within a short, scenic drive of historic Richmond and the award winning wineries and restaurants in the Coal River Wine Region. But really on this property why would you want to leave?
You will love our place because here you will feel nurtured by nature in total privacy on an absolute waterfront setting overlooking Pittwater, Borilla Bay and the oyster farms dotted throughout the estuary. At Oysterhouse there is no sense of dominion over nature, instead there is an intimate relationship with the water and shoreline. Staying in Oysterhouse is a premium luxury experience. Here you will have stunning unparalleled ever changing views where at every turn floor to ceiling double glazed windows frame the estuary allowing you to observe nature from extreme comfort no matter what the weather. Huge bifold doors open on to expansive decking where you may chose to relax on one of the outdoor bean bags, fish off the deck or dine al fresco . This area is a registered Ramsar international bird sanctuary providing habitat for migratory shorebirds and regionally significant flora and fauna. Seals are also sometimes spotted. The property sits on 7.5 acres (3 hectares) of absolute waterfront with several of its own private beaches where you can launch the canoe (life jackets provided) or just take a stroll and at low tide harvest your own oysters. To visit you will leave the main road and enter a private road at the end of which is a historic railway cutting; this is Oysterhouse's private driveway. In the evenings and early mornings expect to see wallabies, possums and echidnas. The house is extremely spacious and the lounge is very comfortable with a cosy slow combustion fire, TV, DVD (in the cabinet there is an extensive range of DVDs), stereo and radio. In the sunroom there are books and a range of board games. Heating and cooling can also be achieved from the reverse cycle air conditioner. There is a gourmet kitchen with fan forced oven, gas plates, microwave/convection oven and steam oven and enough appliances to allow you to cook up a storm. The master bedroom suite has the essence of a luxury resort. All bedrooms are very comfortable, carpeted and have luxury linen. There is a European laundry with a front loading washer, washing powder, iron and ironing board. Older children will love the property but it is not ideal for very little ones due to its proximity to the water. If you wish to bring young children this can be discussed.
The unique feature of this property is its complete privacy and absolute waterfront setting.
Tipo de habitación
Casa/apto. entero
---
Tipo de propiedad
Casa
---
Capacidad
6
---
Habitaciones
Hobart, Tasmania, Australia
Brand new waterfront house, 5 minutes from the airport and a beach. A great base for exploring the scenic Tasman Peninsula. 20 mins drive from Hobart. 10 mins drive to Historic Richmond! Private bedroom with a double bed and private bathroom.
The house has off street parking for 1 vehicle and plenty of street parking also. Guests can enjoy absolute waterfront accommodation within 5 minutes of the airport. When possible, guests will be provided with a lift to/from the airport if required.
This area is close to many tourist attractions whilst being in a tranquil setting. Richmond is a 10 minute drive, the Tasman Peninsula is a scenic 40 minute drive, Hobart CBD is 20 minutes and the Hobart Airport is only 5 minutes away!
Lovely place, close to the airport. Although we didn't meet Imogen get friend Rick was extremely friendly and welcoming and Louis the dog was adorable! Thanks for having us :-)
Rose
2017-01-29T00:00:00Z
Schönes grosses modernes zummer in einem neuen haus. Ruhige gegend. Nette gastgeberin
(EMAIL HIDDEN)
2017-02-06T00:00:00Z
Imogen's place is as described, new house with basic requirements which match the price per night. Thanks for letting me bring Honey. Comfortable and secluded.
Margaret
2017-02-09T00:00:00Z
Lovely, new house. Great view over the lake on the balcony. Very friendly and cute dog Loui. Imogen picked us up at the airport and gave us a lift to the car rental branch. All in all perfect stay!
Julia
2017-02-26T00:00:00Z
Our stay at Imogen's brand spanking new house was fantastic! It is located in a quiet, cute neighbourhood with amazing views to the surrounding bays and hill toops. Just serenene.. pictures dont do justice. It is further away from Hobart but really close to the airport and there is a pub, a restaurant and a grocery store nearby (20 min walk). Our host was super kind and picked us up from the city. Imogen and her friendly dog made us feel welcome and at home. She is well-traveled and really interesting to talk to. Imogen's no-fuss attitude and attention to our needs really stood out. We would stay here again without hesitation!
Andrius
2017-01-06T00:00:00Z
Great little stopover for ease of access to the airport.
Scott
2017-01-20T00:00:00Z
Imogen has a beautiful place in a quiet neighbourhood. The room is comfortable and her pup is very cute! It's the Perfect place if you need to be close to the airport or want to stay outside of Hobart. It was a bit difficult getting a taxi into Hobart so it would be best to have a car if you want to get into the city from here.
Keri and Dylan
2017-02-18T00:00:00Z
lovely bedroom and welcome use of the kitchen. very good bathroom and toilet. Stunning view over the water from the kitchen/lounge and deck.
Margaret
2017-03-07T00:00:00Z
Tipo de habitación
Habitación privada
---
Tipo de propiedad
Casa
---
Capacidad
2
---
Habitaciones
Midway Point, Tasmania, Australia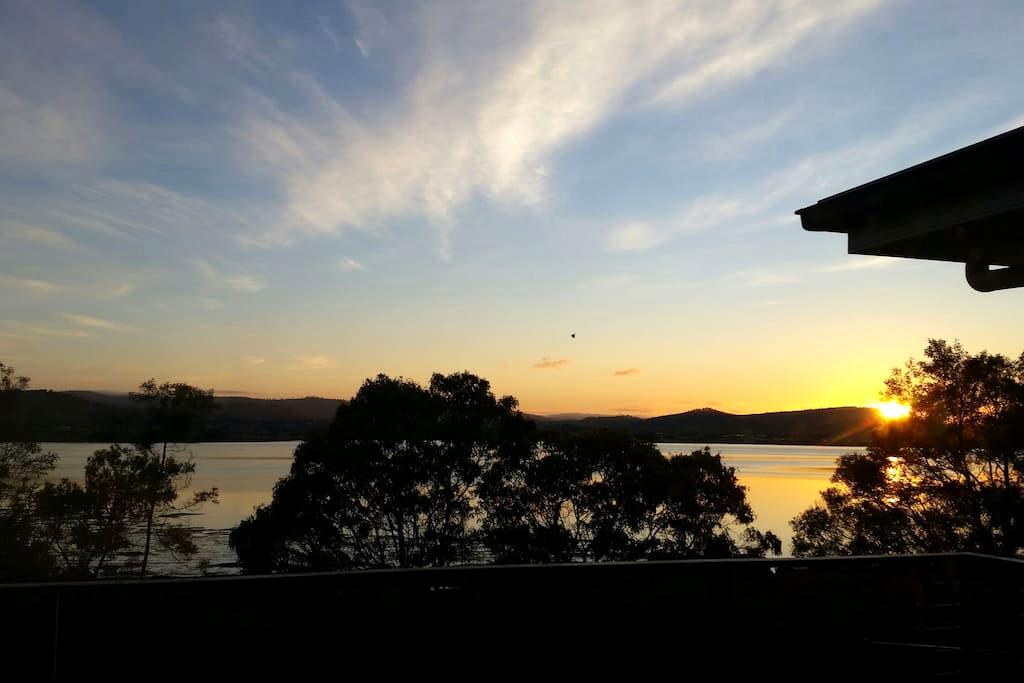 Stunning water views from this unique spacious house, just 7 minutes from the airport, and a 20 minute drive to Hobart. The balcony wraps around two sides of the house, giving fabulous northerly views of Pittwater & the Coal Valley wine region.
This newly refurbished 3 bedroom house has fabulous north facing balconies with gorgeous water views. It has a private well established garden and off street parking for 2 cars.
Midway Point is a quiet suburban area: as it's name suggests, it is close to plenty of Hobart's attractions. 20 minutes will get you to Hobart, surfing at Park Beach, a stroll on the magnificent Seven Mile Beach, Frogmore Creek winery, or to the historic Richmond village. A couple of minutes brings you to the cafes, supermarkets and restaurants of Sorell, the fabulous Barilla Bay Restaurant, (specialising in their own freshly harvested oysters). We can recommend the restaurant at the Tasmania Golf Club, 2 minutes' drive back towards the airport or walk to the tavern for pub grub. A minute from the front door you are at the headland and our own quiet beach: meander along the Pittwater coastline, watch the boats go out of the little sailing club on a Sunday. And we have our own "Painted Cliffs" to rival those on Maria Island. If you are a kayaker, a windsurfer or a kite surfer, there are nearby access points from the beach or the causeways. Golfer's sharpen your clubs! the Tasmania Golf club is just west of where we are. Two other beautiful courses are 20 minutes' drive away: at Seven Mile Beach and Forcett. And at Midway, you're on your way to Port Arthur and all the beautiful attractions of the Tasman Peninsula.
Our stay was fantastic! The home has an amazing view, was very spacious, and the hosts were quick to respond to emails. Myself and my friends would recommend this location for anyone staying in the area.
Sarah
2016-10-02T00:00:00Z
The house is clean and nice
Adilah
2016-10-16T00:00:00Z
Our time in this beautiful home was absolutely fabulous. I was in Hobart for a month for work, so it was really important to me that I found somewhere my family could be happy and comfortable and feel as much at home as possible. This home was that and so much more. The location is peaceful and quiet, the house feels like a home straight away and is cosy, light, well appointed, clean and spacious. Our hosts were wonderful to deal with (organising a delivery of wood for the fire and touching base every now and again) and I felt like they genuinely cared about the experience we were having in their home. We would love to stay in this beautiful home again and have no hesitation in recommending it for your stay in Hobart.
Jane
2016-04-19T00:00:00Z
Our family had a very pleasant stay at Colm's place. The view and surroundings are splendid. The house itself is very cosy, complete with fireplace to keep us warm at night. All amenities are well provided and it felt really homey and relaxing after a full day of activities. The place is quite close to the Hobart town centre, if you have a car. Also close to sorely town centre to buy our basic needs. Would definitely recommend for a big family :-)
Diyana
2016-12-07T00:00:00Z
Good central location. No problems. We were 2 adults; and 2 kids - and the home easily accomodated us.
Glenn
2017-01-14T00:00:00Z
A great location which provided a nice central point to all the places we wanted to visit, but still retaining the nice and relaxing 'out of city' feel. It was lovely to arrive to some basic supplies to get us going (tea, coffee, sugar, bread and butter). The beds were incredibly comfortable too! We would definitely stay again, and can recommend to those considering a trip to Hobart!
Lashan
2016-12-18T00:00:00Z
a good clifftop walk which we enjoyed each day with our dog. The house was very comfortable and the fresh flowers on the table and fresh bread was a kind welcome gesture. This house is a bit out of Hobart, but it's an easy 20 minute drive on the freeway. The beds were great and the whole house was very comfortable.
Josephine
2017-02-12T00:00:00Z
Ce logement confortable est excentré mais permet un "retour au calme". Hobart reste à quelques minutes de voiture, Richmond n'est pas très loin et vaut le détour et le "picking" de fraises, cerises... est lui aussi relativement près (10 minutes de voiture). Les 3 chambres sont agréables, la maison en elle même est lumineuse. Nous avons aprécié la balade sur la plage avec les belles petites falaises teintées par les couches ondulantes d'ocres différents. Le rapport qualité prix du logement nous a paru vraiment bien.
Sabine
2016-12-30T00:00:00Z
Tipo de habitación
Casa/apto. entero
---
Tipo de propiedad
Casa
---
Capacidad
6
---
Habitaciones
Midway Point, Tasmania, Australia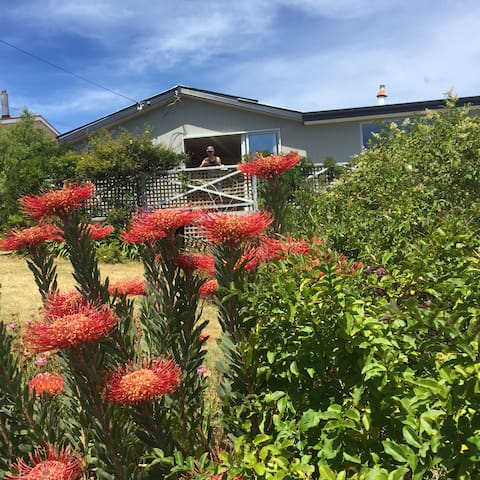 House is close to beach and shops. House has a lovely outlook with deck all around. Lots of walks, beaches etc. Surf beach and club house close by and boat ramp. Limited bus travel into the city. Walking distance to the local village. The village has a cafe, Hill St supermarket, chemist, butcher, baker, pub, hair salons, gym, doctor 's surgery and remedial centre. Supermarket and butcher are open 7 days a week. The house has a beautiful outlook with stunning views. Dodges Ferry is close to Sorell and a beautiful drive down to the South East State forests, with nearby attractions including the Devil Park and Port Arthur. Dodges Ferry is a small township on the eastern side of the entrance to Pittwater in south eastern Tasmania, Australia. It was named after Ralph Dodge ((PHONE NUMBER HIDDEN)) who operated a ferry service across Pittwater from the 1820s. It is now a popular tourist locale. Port Arthur is a small town and former convict settlement on the Tasman Peninsula, in Tasmania, Australia. Port Arthur is one of Australia's most significant heritage areas and the open air museum is officially Tasmania's top tourist attraction. It is located approximately 60 km south east of the state capital, Hobart. Devil Park or The Tasmanian Devil Conservation Park's mission is that of conserving wildlife and entertaining visitors since 1978, in the home of the Tassie Devil.
Jude is a great host - and cook! Charming and attentive, she made sure I was well-oriented and comfortable. Her house has stunning views of the surrounding hills and the bay. My room was fresh and clean, and a pleasure to stay in. Thanks, Jude.
Todd
2014-01-03T00:00:00Z
Jude was a warm and gracious host, an excellent cook and a learned source of information on the local area and greater Tasmanian region. I really enjoyed my stay and would certainly recommend others looking for accommodation in the area to see if Jude's is available.
Alex
2016-11-13T00:00:00Z
Jude's hospitality and beautiful home provided for a perfect weekend stay in Tasmania. She is an amazing cook - both dinner and desserts - which already exceeded our expectations. We really enjoyed our stay in a comfortable room and balcony view of the beach. Dodges Ferry is also conveniently located right on the outskirts of Hobart. I would highly recommend a visit with Jude, as she truly made us feel at home!
Marisa
2016-10-22T00:00:00Z
You are a wonderful host Jude, it was great to share your home for a night. This is a perfect location, close to the surf beach, tourist sites and Hobart. Judith makes guests feel very welcome and comfortable. She went way above her duty and cooked a lovely meal to share, with wine as well. Bliss. Thanks.
Frank
2016-08-17T00:00:00Z
Très bien. Belle maison très propre avec une magnifique vue. Jude est une personne adorable. Elle nous a bien reçu, aider à trouver un van pour notre voyage, donner des conseils et nous a accueilli comme des chef. Merci à elle c étais super
Julia
2016-10-31T00:00:00Z
Judith was extremely nice and welcomed us despite our late arrival time. She made us feel at home and the place where she is living is absolutely beautiful. Waking up in the morning with that view really makes your day. Thank you so much Judith! We did not make it to MONA but it will be a must on our next visit, Shaun fell in love with Tassie too.
Cristina
2016-12-18T00:00:00Z
Great location with sea views. Lovely hostess and very clean and tidy home. Thanks so much Jude.
Wendi
2017-01-02T00:00:00Z
It's easy to find the street using GPS but the house number is not visible enough. The blanket is very warm so no need to worry if you getting cold when going to bed. Shower head is not strong enough, the flow of its water. Her Rock cookies ......yummy! I was served dinner and breakfast so that's convenient otherwise only takes 9 minutes to Sorell to eat .
Farida
2016-12-29T00:00:00Z
Tipo de habitación
Habitación privada
---
Tipo de propiedad
Casa
---
Capacidad
2
---
Habitaciones
Dodges Ferry, Tasmania, Australia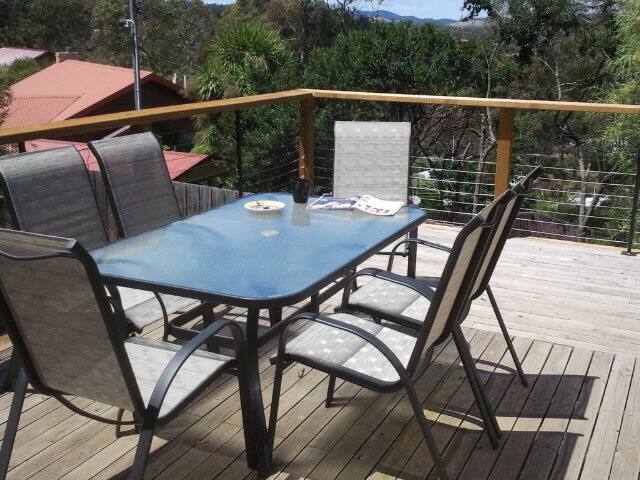 house is in prime spot to go to eastcoast port arthur and hobart. can book a bed or room even house has foxtel and spa. has a party space with bbq 8 ball and arcade games. is clean and tidy backpackers welcome.
free tea and coffee and continental breakfast all you need if not just ask i will be here to help i am just down the back
sorell has plenty of convict history inclueding bushrangers
Peter is super nice. The place is spacious and has everything. It's a 20min drive to Hobart, very convenient.
Cheryl
2016-01-02T00:00:00Z
Very well located, next to everything and close to our family's house also. Peter made us very welcome and comfortable, bringing extra bread, milk and treats for our kids. Family friendly, and comfortable. Had everything we needed.!
Anne
2016-10-11T00:00:00Z
Its a very spacious and tidy house. It is close to the city, airport and supermarket. Staying there is really good value for money.
Clarence
2016-02-14T00:00:00Z
我们一家子再次回到Peter的家住。第二次入住,真的就像回家一样,干净,温馨。美好的塔岛行结束了
jingfu
2016-03-23T00:00:00Z
Peter and Wendy were great friendly host, we stayed three nights, he went beyond and above all our expectations, he helped us check in earlier, and he prepared a loaf of bread and milk and lolly for our daughters. We had Christmas dinner BBQ together, Peter made wonderful time for us in Tasmania. It is perfect for budget family travel or sharing with friends. Highly recommend!!
Tommy
2016-12-28T00:00:00Z
It was a great stay with Peter. We feel a warm welcome and much thoughtfulness from Peter and enjoyed very much the talks with him.
Huyen
2016-12-09T00:00:00Z
Peter is very helpful
Sri
2017-01-01T00:00:00Z
Peter is a great host. He made us felt like home. His house has everything that you need to make you feel comfortable. He even bought ice cream for our kids. Highly recommended.
Nam
2017-01-17T00:00:00Z
Tipo de habitación
Casa/apto. entero
---
Tipo de propiedad
Casa
---
Capacidad
10
---
Habitaciones
Sorell, Tasmania, Australia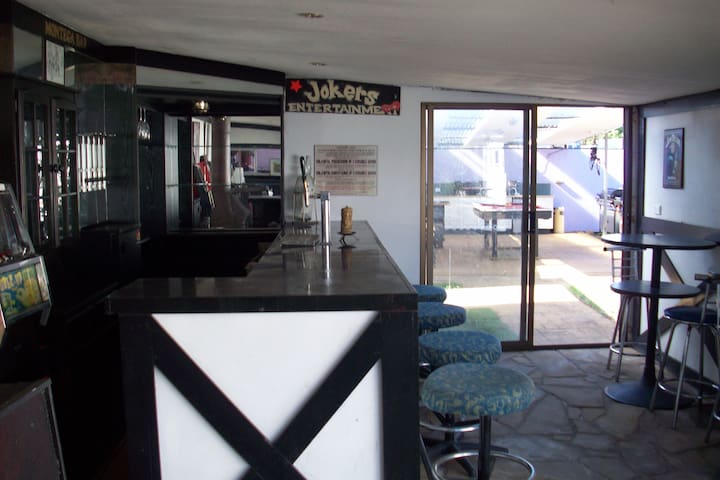 Featured in the TV series 'Love Shack', this is a very special private waterfront property. Boasting two decks, three bedrooms, open plan living and dining and downstairs rumpus room all facing uninterrupted spectacular sea views. 40 minutes from Hobart and 15 mins from the airport. Please note the black swinging chairs and fire pit have been removed for safety reasons.
We had a wonderful stay at the Love Shack. The house has lovely views of the bay and is well fitted and equipped for a short stay for 2 families or a large family. Thanks a lot to Mario for the warm welcome!
Galina
2016-12-06T00:00:00Z
虽然一开始没有联系上房东,但最后还是有惊无险,总体还是非常棒,房子很非常漂亮,一览无余的海景还是很值得入住。
蓝昕
2017-02-07T00:00:00Z
Amazing Apartment! We have a wonderful stay and cooking every night!
Toby
2017-03-25T00:00:00Z
Nice place to be, make sure understand all instruction and keep the sunshine shield during day away, you will enjoy a cool sleep if you stay in summer
Aide
2017-03-14T00:00:00Z
We first saw the Love Shack on Airbnb and it looked amazing! Only problem... There were no reviews. But it looked so good we had to chance it and we were not disappointed.  We wanted to be close to Hobart but also wanted to feel like we were away from it all and that exactly what we got.  The view on arrival is stunning. The brand new home feels like a winning home from the Block- with every creature comfort you could ask for. Even the faux fireplace was smart! And thank-you for Netflix!  Best part of our stay was laying down for an afternoon siesta as the afternoon sun soaks through the big windows overlooking the bay. So relaxing!  Every morning we woke up and went for a walk along the rugged trail along the waters edge just out the back fence- the kids loved these early morning adventures and so did we! Mario was so helpful and was on hand the whole time. We would recommend it to anyone looking for a beautiful home away from home whilst in Hobart. 
Adelle
2016-09-21T00:00:00Z
House was amazing. Really nice spot. A little disappointed there was no fire pit like in photos, and no gas for fireplace.. Other than that was really great.
Jared
2016-11-06T00:00:00Z
We simply loved our stay at the 'Love Shack'! Communication with Mario was fantastic and the house was sparkling clean and welcoming when we arrived. It had lot's of personal touches and felt like a real home. The kitchen was well stocked with everything we needed which was great since we mostly ate in at night. After a long day out sightseeing it was so nice to relax in this beautiful house and enjoy the BBQ and fantastic views which were simply breathtaking! Wifi was fast and worked without interruptions which was great as well. To top it off Mario dropped off a nice bottle of 'Sparkly' as a birthday present for me, since this celebration was the reason for our travel. Very thoughtful! All in all we thoroughly enjoyed ourselves and would love to be back! THANKS!
Barbara
2016-11-22T00:00:00Z
The Loveshack was perfect! We had a group of six and we were all amazed by the house. The architecture was top notch and it has Netflix and a very well equipped kitchen (and grill). We ended up cooking in the house for all 3 nights! The host was friendly and helpful and even provided washing tablets for the dishwasher during the stay. Would recommend this for anyone visiting Tasmania!
Tim
2017-03-09T00:00:00Z
Tipo de habitación
Casa/apto. entero
---
Tipo de propiedad
Casa
---
Capacidad
6
---
Habitaciones
Lewisham, Tasmania, Australia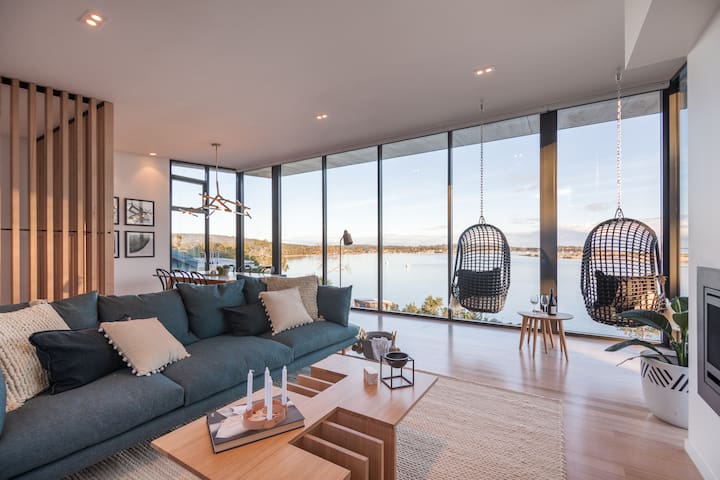 Corner Cottage: Heritage listed accommodation in the heart of Richmond, closest tourist hub to Hobart and airport. A few minutes' stroll from all of Richmond's main attractions is your home in Tasmania. "The Burrow" is a self contained apartment which sleeps 4 adults or 5 people if one is a child. Our other apt, "The Warren" (with spa) is now open. Please see our other listing. Both apts have access to a beautiful garden and bright, leafy atrium. POSSIBLE SPECIAL OFFERS FOR LONGER STAYS :-)
BEDDING: Your apartment, THE BURROW, has two bedrooms (one with queen, one with 2 singles) but there is also the option of using the sofa bed in the small lounge adjacent to the kitchen/dining area (large single, could be a double if you were desperate!). In addition, there is a comfortable, thick foam, single mattress under the double bed which can be slid out and used for a child. A fold out cot is available on request. In summary, can comfortably sleep 4 adults, 5 at a pinch or most families with kids. BATHROOM: The small bathroom includes a shower, toilet and sink, ceiling and wall heaters and heated towel rack. KITCHEN and SUPPLIES: Your kitchen/dining area is fully equipped with oven, microwave, fridge and dishwasher. We provide plunger coffee, a selection of teabags, milk and fruit. We sometimes leave you an extra little something, depending on what we've managed to grow at home. You are welcome to pick any fruit or herbs you can find in the garden to add to your meal! And the IGA supermarket is 2 minutes' walk away. TV: Both the kitchen/dining area and the bedroom have TVs with DVD players. EXTRAS: Lovely, mellow, antique piano to play on, iron, ironing board, coat hangers, good selection of CDs, DVDs, games, books (adults' and kids'), magazines and toys. And....duck food, as the river is only 2 blocks away and the ducks are very friendly! WASHING MACHINE AND DRYER: Access by arrangement for longer stays. No extra fees apply. There is also a clothesline in the garden. CURRENTLY NO WIFI. COMING SOON.
From the "Richmond Village" website: "Richmond is one of Tasmania's most popular destinations, steeped in history, family-friendly and a hub for food and wine lovers. Nestled in the heart of the Coal River Valley, Richmond was established as an important military staging post and convict station linking Hobart with Port Arthur. The village is famous for its elegant Georgian architecture, with beautiful heritage buildings dating back as early as the 1820's now housing galleries, tea shops, craft boutiques and museums." "Richmond is one of Tasmania's most popular visitor destinations, showcasing Tasmania and Australia's colonial heritage at every turn. Heritage-listed buildings and features are found on almost every street, so that even a casual evening stroll offers insights into early settlement days. More recently, the agricultural wealth of the Coal River Valley has led to the establishment of a number of premium vineyards and farm gate food businesses, and food and wine tourism has become a major drawcard. Whether it is a family vacation or a romantic getaway, Richmond and the valley will keep you and yours enthralled for days!"
We loved our stay in the wonderful historic Corner Cottage . A beautiful , very clean, cosy place so central to the town of Richmond. Our host Skye was most helpful and welcoming and we knew if we needed anything or had any questions she was just a quick phone call a way. The house was delightfully decorated and we enjoyed looking at the interesting pictures and objects d'arts! The view from the house into the undercover atrium was a special bonus and the artrium was an inviting space. The house was well equipped and it was fun to walk through the lavender pathway every time we went in or out of the house. There was even a packet of food to feed the ducks on the river- we felt a little guilty because we forgot to take it on our walk- but the ducks looked pretty chubby! Highly recommend this cottage and our host Skye. A perfect place to be whilst exploring the historic town of Richmond.
Jo
2016-03-14T00:00:00Z
"The Burrow" was everything we wanted and needed to facilitate our exploration of Richmond : clean, neat, tidy, fully equipped, well located in a quiet street within easy walking distance of all this historic town's main attractions. A cosy and comfortable place to stay. The eclectic blend of photos and prints, furniture and furnishings gave "The Burrow" a funky feel that was a delightful and refreshing surprise, especially given colonial exterior of the cottage. Equally lovely was Skye - a lovely person and wonderful host - an upbeat, optimistic, positive human being, she could not have made us feel more welcome ; nothing was too much trouble and her constant contact from the time we booked to the time we checked out made the whole experience effortless and pleasant. Thank you.
Geoff
2017-01-03T00:00:00Z
This place is so beautiful that I could not believe my eyes when I saw it in person. The images are far not enough to show the beauty of it. Skye is very nice as well. She decorated the house in every single corner. She even prepared food for us to feed the ducks in the nearby river. We love this place very much and took lots of photos. Thank you Skye for providing this cosy tidy and gorgeous place. : )
Barry
2017-02-01T00:00:00Z
Beautiful cottage in Richmond. More than lived up to expectations. Just loved the additional touches to the place. The meandering garden was amazing. Great place to see, read a book and enjoy the various fruits at your fingertips. Skye puts a lot of effort into ensuring her guests have an enjoyable stay. She checked with me in advance and booked me into a place for Xmas lunch.
Lil
2016-12-26T00:00:00Z
Awesome house we ever had. Super recommend! We should arrive there (URL HIDDEN) enjoy the garden,the living room,and also the dining room. Thanks for sharing this excellent place to us.
hsingying
2017-01-25T00:00:00Z
Ok
greg
2017-03-19T00:00:00Z
Lovely old cottage, homely with lots of added touches and things to enjoy. Everything very convenient. Felt right at home immediately.
estelle
2017-03-28T00:00:00Z
A fabulous place. Very homely and warm. Skye is a wonderful host. Very helpful and caring. Great place to stay for a family.
Justine
2017-04-02T00:00:00Z
Tipo de habitación
Casa/apto. entero
---
Tipo de propiedad
Casa
---
Capacidad
5
---
Habitaciones
Richmond, Tasmania, Australia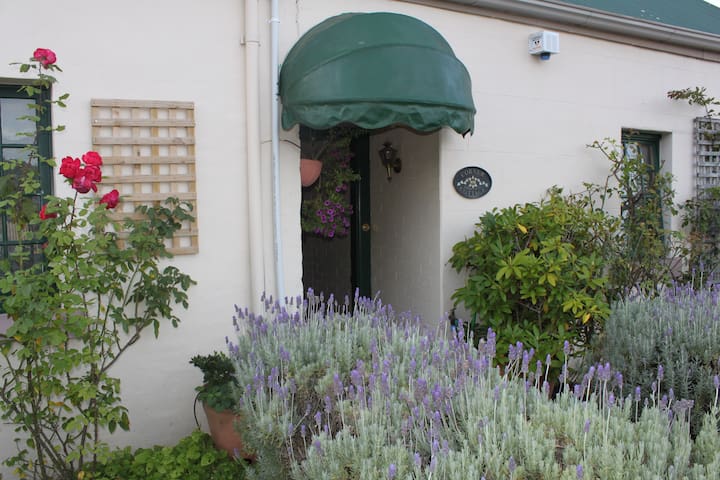 Fully furnished flat with 2 bedrooms and sitting area (2 double beds and a futon in the sitting area), private bathroom, lower level of house. No cooking, microwave & fridge only.Parking & 35 mins from Hobart. Superb water views. Anne is host.
We have just replaced one of our Queen beds so it is even more comfy.
The view and the proximity to the beach and the wine areas
Perfect location in central Sorell. Close to highway and shopping center. Very comfortable rooms! Amazing sea view from the house! But no wifi and no kitchen. Bathroom is inside one bedroom so guests in the other bedroom will be a little inconvenient when using bathroom and toilets especially at night.
Yanan
2017-01-19T00:00:00Z
Lovely, friendly people! Very helpful, especially when I left something behind... twice!!! Thanks Shannon! :)
Lyndal
2016-03-16T00:00:00Z
Wir wurden sehr freundlich empfangen und haben unseren Aufenthalt sehr genossen - vor allem das Frühstück auf der Terrasse mit Meerblick war etwas Besonderes für uns! Alles ist genau wie beschrieben und gut gepflegt. Wir fühlten uns sehr willkommen und Zuhause - schade, dass wir nur auf der Durchreise waren und deshalb nur 1 Nacht gebucht hatten. Für einen kurzen Aufenthalt (wenn man keine Küche braucht) ist diese Wohnung in idyllischer und ruhiger Lage ideal.
Julia
2016-02-26T00:00:00Z
It's a beautiful location and the host was very helpful and accommodating with our stay. It was clean and warm and just what we needed for our short stay.
Matthew
2016-02-15T00:00:00Z
Incredible views! Lovely little 2 bedroom listing, would be perfect for 2 couples. Had everything we needed for an overnight stay.
Sarah
2016-11-19T00:00:00Z
Shannon, a very warm, our family had a good night there. Also prepared a bed for my children. Also prepared a hearty breakfast in the morning, thank you, will come again next time.
婷婷
2016-02-08T00:00:00Z
Nice having 2 separate bedrooms and the view to the sea is awesome
Marcus
2016-03-05T00:00:00Z
It was the great place to stay and host was friendly and lovely. She provided the comfortable, cozy and tidy house with the best waterfront view. You could walk to the jetty in 5 mins , talking with locals and enojoying the sunset. During the night time, the milky way is just above your head. I would like to go back and stay for long terms.
SINYING
2016-03-10T00:00:00Z
Tipo de habitación
Casa/apto. entero
---
Tipo de propiedad
Bed & Breakfast
---
Capacidad
4
---
Habitaciones
Lewisham, Tasmania, Australia
Situated on the banks of the Coal River right beside the historic Richmond Bridge, this self-contained one bedroom cottage nestles in the grounds of the beautiful Mill House (c1853). Immaculately presented, all modern conveniences, stroll to village.
Richmond and it's historic bridge are a must see attraction when visiting Hobart. This property has a prime view of this beautiful bridge and river frontage.
Richmond is a charming, historic village just a 20 minute drive from the airport and 25 minutes from Hobart. Besides the bridge, the village has many attractions including the Convict Gaol, antique shops, miniature Hobart Town, cafes (including a fantastic bakery), museum and supermarkets. A short drive away you will find wineries, cheese and chocolate factories and animal parks, as well as bush walking and mountain biking areas.
The. Cottage was fantastic and well set up. It was exactly as described and being there was stepping into the beautiful pictures displayed on airbnb. The ambience of the property was beautiful and so peaceful. It was a delight to wake each morning with of view of the Richmond bridge. We felt very welcomed by Susan and her family. Wonderful stay and a great experience provided by Susan.
Heather
2016-01-30T00:00:00Z
We enjoyed our stay in the beautiful cottage so much! We wish we were staying longer, and we will definitely be recommending you to our friends!! It made it feel very homely hanging out with the Boston the huge cat in the morning!
Tom
2016-12-19T00:00:00Z
Mill House Cottage is a delight. So is Susan & her family. Firstly the cottage, set in beautiful grounds right next to the historic Richmond Bridge, large trees, pretty garden setting. The building is separate from the main dwelling and has been tastefully restored. Nothing has been missed and the result is a credit to the owners. Our hosts were very friendly and could not have been more helpful, in fact provided more than a guest would usually ask, thank you Susan for helping us out. We have stayed in many & varied Air BnB's this would have to rate close to the best. The property is an easy walk to town. There are several good wineries close by and would be around 30 minutes from Hobart.
John
2016-01-24T00:00:00Z
We had a lovely stay in this historic Richmond property. Hosts Susan & Rob were very welcoming and have provisioned the cottage well. The accomodation was exactly as described and shown in the photos. The gardens are beautiful and the hosts are more than happy for you to make yourself at home in them. We fully recommend staying at The Mill House and should we return to Tasmania, we would definitely stay here again.
Allan
2016-03-17T00:00:00Z
It was an absolute delight to stay at the cottage & to be so warmly welcomed by Susan & Rob. We felt the setting & position of the Millhouse was unsurpassed in Richmond,& indeed anywhere else we have stayed so far on our holiday, & it was so relaxing to wake with the garden view to the bridge from the bedroom window each morning. The cottage has everything to make your stay comfortable, including very generous breakfast supplies & some of Susan's delicious home made jam! Highly recommended in every respect & we hope to return one day.
Nerissa
2016-10-14T00:00:00Z
The Mill house cottage was lovely. Susan was a great host who made us feel we were staying with friends or family. Very Cozy and very private. Strongly recommend staying at the mill house cottage.
david
2016-01-16T00:00:00Z
Sue and Rob (and Millie the dog) were fantastic hosts, very welcoming, friendly and helpful and nothing was too much trouble. The cottage is an outstanding property and in an idyllic location overlooking the historic Richmond bridge. We thoroughly enjoyed our stay and would recommend it to anyone.
Tina
2016-01-01T00:00:00Z
This was about the best Airbnb experience you can have. The house is historical, beautiful, and clean. The hosts are friendly and kind. They shared lots of stories and info about the town, the bridge, and the history of the Mill House. They checked in often, left a stockpile of food in the kitchen, and even shared a beer with us outside. It was just a happy place, in a happy town. Highly recommended.
Tyler
2016-03-22T00:00:00Z
Tipo de habitación
Casa/apto. entero
---
Tipo de propiedad
Cabaña
---
Capacidad
2
---
Habitaciones
Richmond, Tasmania, Australia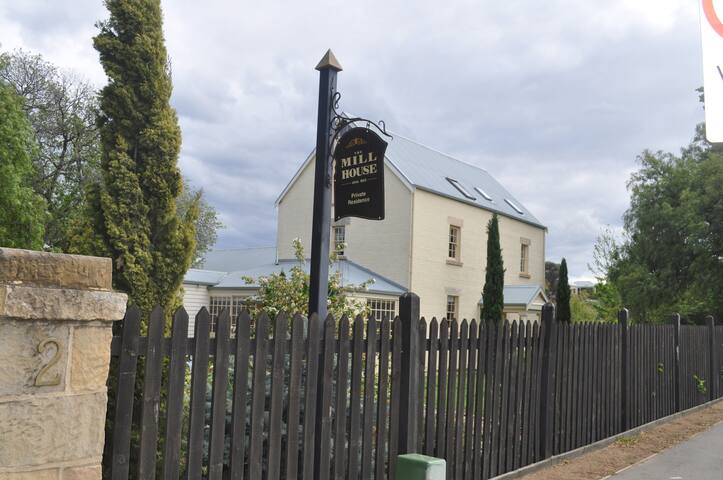 A modern private room and bathroom situated in Sorell, Tasmania. Within walking distance or a one minute drive to essential shops, supermarkets, fast food, takeaway and pharmacy. 10 minutes to Hobart Airport. the Hobart CBD is a 25minute drive. Sorell in the gateway to many of Tasmanias favourite tourist spots. Just over 15 minutes to historic Richmond, just over 1 hour to Port Arthur and 2 hours to the beautiful freycinet national park on the East Coast.
You have access to your own room and bathroom. Also feel free to use the shared spaces- kitchen, lounge and laundry. Within walking distance to supermarkets, food outlets, pharmacy, gym, walking track and bakery. If you have a car please park in the driveway as there is limited on road parking in the cul-de-sac.
The house is located in a new homes area at the end of a quiet cul-de-sac. It is within walking distance or a very short drive to the main streets of Sorell which has 2 small shopping centres with supermarkets, discount stores, butchers, bakeries, post office and more. Fast food outlets such as KFC, Mcdonalds, Dominos and Subway are all in the town. Other options include Chinese and Indian.
Perfect place to stay. Brand new house. And we even got a private bathroom. Very clean and neat house. Mark is great, very kind host. We would really recommend this place!
Jasper
2017-03-22T00:00:00Z
Mark lives in a lovely house in Sorell, a historic small town close to Hobart. House appliances and furniture, as well as the house itself, are new. Our room was cosy, very clean, and the bed super comfy. Bathroom and toilet also very clean and new. Overall the house is pretty and clean, and Mark was very welcoming and nice to us (even offered us cheesecake!). Breakfast was delicious too. Highly recommended!
Diletta
2017-03-19T00:00:00Z
Tipo de habitación
Habitación privada
---
Tipo de propiedad
Casa
---
Capacidad
2
---
Habitaciones
Sorell, Tasmania, Australia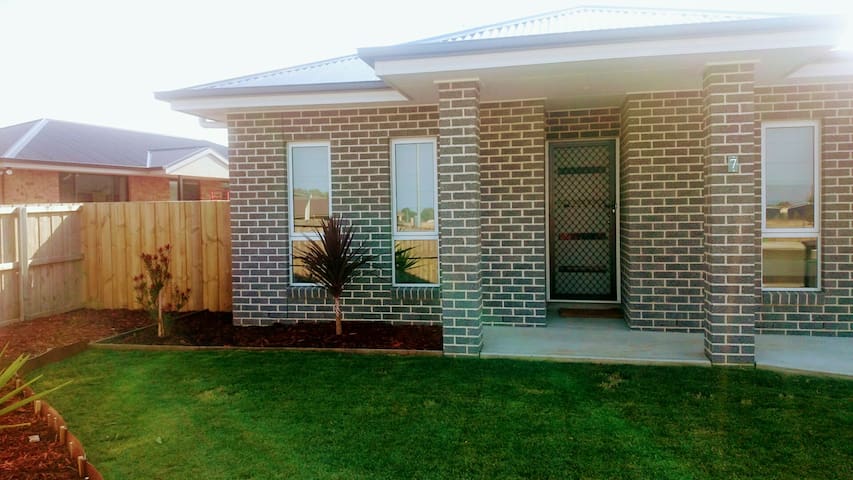 Stylish one level newly built spacious home, with open plan living, dining area, large modern kitchen, games room. Main bedroom with ensuite. Free parking available beside the house for two cars.
Tipo de habitación
Casa/apto. entero
---
Tipo de propiedad
Casa
---
Capacidad
6
---
Habitaciones
Midway Point, Tasmania, Australia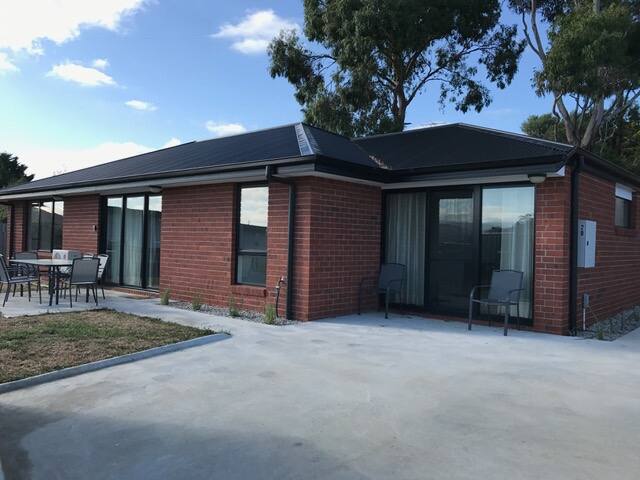 a bird's eye view Perched 260 metres above sea level, atop of Mt Canopus on approx. 2.098 or 5 acres a bird's eye view has stunning views across Cambridge, Pittwater and beyond. The native animals and huge array of birdlife add magic to this unique and private piece of paradise. a bird's eye view is orientated to provide uninterrupted views. The 260 degree view encompasses Mt Wellington to the west, the Meehan Mountain Ranges north – west, Cambridge north-east, Pittwater and the Coal River Valley north . The studio is ideally suited to a couple, but can accommodate extra guests upon request. Additional single mattress(es) can be supplied if required. Mt Canopus is only 15 mins away from the CBD, 10 mins to a major shopping precinct and 10 mins to Hobart International Airport. a bird's eye view is constructed of rammed earth naturally complimenting the rocky outcrops and slopping natural earth walls of the block. Floor to ceiling double glazed windows capture the sun all day all year round and the wedge shaped roof-line allows for maximum light and view. The polished concrete floors enhance the efficient thermal qualities of the studio. The windows are fitted with remote control blinds. The lounge area and bedroom is carpeted. The modern kitchen is well – equipped with all appliances and cooking utensils for meal preparation including microwave, dishwasher, gas hot plates and electric oven. The kitchen boasts a Nepresso coffee machine, tea making facilities with a selection of coffee pods and teas. The loungeroom has an ultra HD 55 inch TV, DVD player, stereo and radio. Netflixs can be utilised and free wifi is available. The sitting room has a cosy free-standing wood fire with comfy arm chairs to read, relax and enjoy the views. The studio is fitted with a Daikin reverse cycle . The master bedroom has quality linen, wardrobe space and a wall-mounted TV. Through to the bathroom with walk in shower, toilet, front-loader washer and sink. Shampoo, conditioner, dryer, washing powder, lotions and hand wash supplied. Inside airer and outside washing line provided. An extra guest can be accommodated on a good quality portable single bed for a tariff of $50 per night. Children under two can be accommodated in a porta cot free of charge. We can provide: •Breakfast supplies (continental/provisions for a full cooked breakfast- fresh eggs from our chickens) •Tasmanian wines/beers/ciders/other alcoholic beverages •Homemade chutneys, pickles, sauces, jams Dinner packs (as arranged) for that late arrival
Mt Canopus is approx. 11 kms from Hobart CBD. It is an easy drive or can be accessed by taxi, however we are always up and down the hill so could be available for a lift. Bellerive is the closest suburb which has some lovely dining options. The shopping precinct has a large range of of retail shops. But the jewel in the crown is our easy access to the Coal River Valley, the Tasman Peninsula and the picturesque East Coast of Tasmania. We can provide detailed information of its' many sight seeing opportunities in our booklet. The Meehan Ranges on the outskirts of Hobart have much more to offer to the keen mountain bike rider. Starting at the end of Belbins Road there is a complex network of tracks and trails heading up over the Meehan Ranges which make a great playground for beginner through to advanced riders.   We are within 10 mins of the Hobart International Airport and can by negotiation provide transport.
Rob and Denise's listing is a fantastic place to stay if visiting Hobart. The view for sunset (unfortunately we missed sunrise) is incredible, and the house is incredibly cozy. Rob and Denise are very welcoming, and were excellent hosts. They have a very well stocked mini-bar if you're looking to try the loc wines - would recommend.
Stephanie
2016-04-30T00:00:00Z
Can't believe this tranquil location is so close to the city! Rob was there to greet us apon arrival, and we had a nice chat. We had the luxury of having a short distance to drive to all the activities we wanted to do for our short stay. Extremely close to MONA, and well known pizza joint 'Local Pizza'. Spectacular views and well equipped home- wish we could've stayed longer!
May
2017-02-05T00:00:00Z
Bird eye view has a breathtaking scenic view. It is hard to believe that it is only 10minutes drive to Hobart centre. The place have everything you need from cookin ultensil to entertainment. Rob has gave us good private space and came over to say good bye before we left. Definitely will recommend to anyone going to Hobart. Thanks Helen.
Helen
2016-11-29T00:00:00Z
We felt very welcomed by Rob & Denise the description was accurate and the site was truly beautiful!!!
Robyn
2016-06-15T00:00:00Z
A bird's eye view is an absolutely amazing place to stay - the pictures really don't do it justice! We had an excellent time during our two nights, and would have loved to stay even longer...will definitely be back :)
Dharini
2016-07-22T00:00:00Z
With spectacular outdoor views overlooking the mountain range and river valley this place will easily surpass your dream home expectations (let alone your air BnB for the night!). Inside is similarly spectacular with a well stocked pantry and lounge perfect for relaxing. Out of the way and comfortable - exactly what we were after for our Tasmania getaway. Thanks Rob and Denise!
Kyda
2017-04-03T00:00:00Z
If your looking for absolute peace and serenity then this is the spot to hit.. very close to the airport and the city
Tarun
2016-12-21T00:00:00Z
This was our best Airbnb experience yet! We arrived to soft music and the air conditioner on, a fire set in the fireplace, all sorts of thoughtful provisions in the fridge and a really comfortable bed. Snow falling on Saturday morning was really lovely.
Graeme
2016-07-26T00:00:00Z
Tipo de habitación
Casa/apto. entero
---
Tipo de propiedad
Casa
---
Capacidad
3
---
Habitaciones
Mount Rumney, Tasmania, Australia
Beach shack consists of two bedrooms with fabulous views over Pittwater, sand dunes, forest and mountains. Spacious fully equipped kitchen with open fire, large lounge area with wood heater, couches and a day bed. Sliding doors open onto a large deck
Great house to stay in whether summer or winter. In summer the beaches are not far away and in winter, stay in by the fire and watch the weather from the couch or day bed.
Lewisham is close to great beaches and shops at Dodges ferry, is also on the way to Port Arthur. Is only 15 mins from the Airport and 30 mins from Hobart. Great wineries and fresh produce are available in the area.
We had a lovely few days at The Beach Shack. It is a perfect base for exploring the Tasman Peninsula and surrounding areas. The house was great for relaxing after a long day, and the views are stunning. Thank you to Tracey for being so friendly and quick to respond to any messages. I would definitely recommend this little house to anybody looking to stay in the area.
Linda
2016-12-29T00:00:00Z
Great place.. our second visit and will surely be back.
Barb
2017-02-15T00:00:00Z
We loved every minute at Julian's place! Warm & cosy throughout in the Tasmanian Winter. Great decor & lovely home to stay at. Julian was quick to respond despite last minute booking & house was ready to go!
Nathan
2015-08-02T00:00:00Z
It was my first time using Airbnb and Julian was very helpful with my many questions prior to our trip. The time we spent at his shack was wonderful. The home was more than we expected - lovely view, very comfortable, well stocked with everything we needed, and all in a peaceful & beautiful location. We have two young sons and they also absolutely loved staying here!
Ruth
2015-10-11T00:00:00Z
We loved the beach shack! Great location looking over the river and lovely and quiet. Short drive to shops etc the shack itself is comfortable, clean and lovely. We all agreed we would be back one day.
Emma
2016-01-11T00:00:00Z
Charming little place that had all the required amenities and more - loved the fireplace and great view from the balcony. The drive between hobart CBD and lewisham was breathtaking.
Minh
2015-11-09T00:00:00Z
Great place! Easy to find, short drive from a good size city with anything you may need. He house was a little toasty in the afternoon but there were fans available to air it out. Thank you for everything. It was a great stay!
Bailey
2015-12-26T00:00:00Z
The beach shack was an absolutely amazing place to stay. We felt right at home from the minute we arrived. the house is set up with everything you could need for a night or a week's stay there. A few minutes in we had a roaring fire, were sitting in the lounge looking out over the stunning view and we felt a million miles from everywhere - perfect! I can't recommend this place enough - thanks for everything Julian!
Kerryn
2015-08-24T00:00:00Z
Tipo de habitación
Casa/apto. entero
---
Tipo de propiedad
Casa
---
Capacidad
6
---
Habitaciones
Lewisham, Tasmania, Australia