El Brandy de bus es un bus de la vieja escuela que ha sido reconvertida en un acogedor y distinto Airbnb casa. Escondido en los suburbios hermosas serenos de Karen es un lugar perfecto para escapar. El autobús está cerca de muchas atracciones turísticas, restaurantes, bares y 25 minutos de ambos aeropuertos. Todas las tiendas, etc bancario son accesibles cerca. Hay dos camas dobles en planta alta y dos camas individuales pequeña de la planta baja que también sirven como sofás. Hay asientos al aire libre y una chimenea al aire libre.
El autobús de dos pisos ha sido completamente renovado para dar cabida a los viajeros aventureros que buscan un tipo diferente de pasar la noche. No importa dónde usted se encuentra en el pequeño autobús, hay grandes vistas al aire libre a través de las numerosas ventanas que cubren las paredes.
Para aquellos de nosotros que se llaman a Nairobi casa, musculares, encantos internacionales de la ciudad incluyen una vibrante vida cultural fabulosos lugares para comer y vida nocturna. Si está de paso, este crisol de las personas y lugares de interés tiene un parque poco probable nacional (rinocerontes negros y todos), un orfanato de elefantes irresistible, la zona cero de la jirafa de Rothschild, la antigua casa de Karen Blixen y mucho más. Bienvenido a una de las ciudades más dinámicas de África! Por favor, tenga en cuenta que Nairobi es notoriamente mala para el tráfico, especialmente en el momento, mientras que las obras viales generalizados están en curso. Yo le aconsejo que trate de evitar viajar en todo momento pico de la hora punta. La mayoría de las sugerencias que he hecho aquí son de fácil acceso desde la zona de Karen para evitar todas las batallas de tráfico los días! Sólo he incluido mis lugares preferidos en esta guía para tener en cuenta que hay muchas más opciones que hay para que usted descubra. OCUPACIONES Parque Nacional de Nairobi Ubicado en las afueras del sur de la ciudad, el Parque Nacional de Nairobi (en 117 kilómetros cuadrados, es uno de los de África más pequeño) tiene abundante vida silvestre que puede, en algunos lugares, puede ver contra un telón de fondo de los rascacielos de la ciudad y los aviones que llegan a la tierra - que es la única nacional aparcar en la tierra que bordea una ciudad capital. Tendrá que tener su propio coche para conducir alrededor o se puede organizar un viaje a través de una empresa local. Localización: Cerca de 20 minutos desde el autobús Brandy a la puerta principal Teléfono KWS: +(PHONE NUMBER HIDDEN) Página web: (URL HIDDEN) David Sheldrick Wildlife Trust Que ocupa una parcela dentro del Parque Nacional de Nairobi, esta confianza no lucrativa fue establecida en 1977, poco después de la muerte de David Sheldrick, que sirvió como el guardián contra la caza furtiva del Parque Nacional de Tsavo. Junto con su esposa Daphne, David fue pionero en las técnicas para criar rinocerontes y elefantes negros huérfanos y reintroducirlos a su hábitat natural, así como la confianza conserva estrechos vínculos con Tsavo para estos y otros proyectos. El centro es una de las atracciones más populares de Nairobi, y con razón. Después de entrar a las 11 horas, los visitantes son acompañados a una pequeña área de visión centrada en un pozo de agua fangosa. Unos momentos más tarde, al igual que un equipo deportivo que marcha a la cancha, los cuidadores de animales vienen en junto a una docena de elefantes bebés. Para la primera parte de la visión, los manipuladores biberón a los bebés elefantes - un espectáculo conmovedor. Una vez que los pequeños individuos han bebido hasta saciarse, se procede a retozar alrededor como bebés grandes. Los elefantes parecen tener alegría en portarse mal delante de sus amos, por lo que no se sorprenda si algunos rango descanso y empieza a frotar contra su pierna! Los bebés elefantes también utilizan este intervalo de tiempo designado para su baño de barro al día, lo que hace que para algunas fotos; mantenerse en guardia, ya que han sido conocidos para rociar un turista o dos con un baúl lleno de barro. Mientras que los elefantes retozan alrededor, los guardianes hablan de los huérfanos individuales y sus historias. También se dan explicaciones acerca de la perspectiva más amplia del proyecto huérfanos y algunos de los otros proyectos del David Sheldrick Wildlife Trust está involucrado. También existe la posibilidad de "adoptar" uno de los elefantes. La confianza también es el hogar de un número de rinocerontes huérfanos, muchos de los cuales, al igual que los elefantes bebés, se mezclan con los rebaños salvajes en el Parque Nacional de Nairobi durante el día. Una excepción es Maxwell, un rinoceronte ciego que vive en una gran empalizada para su protección. Ubicación: A unos 20 minutos en coche del autobús Brandy Teléfono: +(PHONE NUMBER HIDDEN) Página web: (URL HIDDEN) El Centro de la jirafa Este centro, que protege la jirafa de Rothschild el gran peligro de extinción, combina la conservación serio con actividades agradables. Se puede observar, la mano de alimentación o incluso besar a una de las jirafas de una estructura elevada de madera, que es toda una experiencia. También puede detectar jabalíes resoplando en el barro, y hay un bosque a pie autoguiado interesante a través de la Reserva de aves Río Gogo adyacente. Esta es una de las historias de conservación de buenas noticias de Kenia. En 1979 Jock Leslie-Melville (el nieto de Kenia de un conde escocés) y su esposa Betty comenzaron a criar una jirafa bebé en su casa Langata. En ese momento, cuando su Fondo Africano para la Vida Silvestre en Peligro (AFEW) sólo estaba fuera de la tierra, no había más de 120 jirafas de Rothschild (que difieren de otras subespecies de jirafa en el que no hay patrones por debajo de la rodilla) en la naturaleza. A diferencia de las jirafas reticuladas y Masai más comunes, la jirafa de los Rothschild había sido empujado al borde de la extinción por la pérdida de hábitat grave en el oeste de Kenia. Hoy en día, las cifras de población de más de 300, y el centro ha lanzado con éxito estas criaturas carismáticas en el Parque Nacional Lago Nakuru (hogar de alrededor de 45 jirafas), Reserva Nacional Mwea, Parque Nacional de Ruma y la Reserva Nacional Nasalot. Ubicación: Sobre 10 minutos en coche del autobús Brandy Teléfono: +(PHONE NUMBER HIDDEN) Página web: (URL HIDDEN) Bomas de Kenia Los artistas residentes con talento en este centro cultural realizan bailes y canciones tradicionales tomados de diversos grupos tribales del país, incluyendo la influencia árabe-swahili música taarab, bailes guerreros kalenjin, tambores Embu y ceremonias de circuncisión kikuyu. Es turístico, por supuesto, pero aún así una tarde espectacular a cabo. El complejo se compone de una serie de "bomas 'o aldeas, cada una construida en el estilo arquitectónico de los principales grupos étnicos de Kenia. Actuaciones: 2.30-4pm lunes a viernes, sábado y domingo 3.30-5.15pm, 'pueblos' 10 a.m.-6 p.m. sábado y domingo Loaction: Alrededor de 15 minutos en coche del autobús Brandy Teléfono: +(PHONE NUMBER HIDDEN) Página web: (URL HIDDEN) Karen Blixen Museo Si ama de África, te encantará este lugar. Este museo es la casa de campo donde el autor Karen Blixen vivió entre (PHONE NUMBER HIDDEN). Dejó tras una serie de tragedias personales, pero la hermosa casa colonial se ha preservado como un museo. El museo está situado en amplios jardines, y es un lugar interesante para pasear. Dicho esto, la película fue tirada realmente en las inmediaciones, por lo que no se sorprenda si las cosas no se ven del todo bien! Guías (no obligatorio, pero útil) están incluidos en el precio de la entrada, pero sí esperan una propina. Loaction: Unidad de unos 5 minutos (o 20 minutos a pie) desde el autobús Brandy Teléfono: +(PHONE NUMBER HIDDEN) Página web: (URL HIDDEN) Perlas de Kazuri y Centro de Cerámica Un interesante diversión en Karen, este centro artesanal se puso en marcha de una extranjera Inglés en 1975 como un lugar donde las madres solteras podrían aprender una habilidad comercial y lograr la autosuficiencia. De origen humilde, la fuerza de trabajo ha florecido a más de 100. Un recorrido libre que tiene en los distintos edificios de la fábrica, donde se puede observar el proceso desde el moldeado de la arcilla en bruto a los cristales de los productos terminados. También hay una tienda de regalos con precios fijos. Ubicación: A unos 10 minutos en coche (o 30 minutos a pie) desde el autobús Brandy Teléfono: +(PHONE NUMBER HIDDEN) Página web: (URL HIDDEN) Si no te importa pasar el tiempo en el tráfico y le gustaría ver el corazón de la ciudad algunas otras ideas de actividades incluyen: Ir abajo Arts Center El Centro de descenso Artes, un antiguo almacén en la Zona Industrial, contiene 10 estudios de arte separadas y se está convirtiendo rápidamente en un centro de la escena artística floreciente de Nairobi, que reúne artes visuales y escénicas con exposiciones regulares, espectáculos, talleres y noches culturales abiertas Ubicación: A unos 30 minutos en coche, sin tráfico (siempre habrá tráfico!) Desde el autobús Brandy, con el tráfico que sabe! Teléfono: +(PHONE NUMBER HIDDEN) Página web: (URL HIDDEN) Kenyatta International Conference Center plataforma de observación Elevándose sobre la ciudad en la plaza del Ayuntamiento manera, la creación de la firma de Nairobi fue diseñado como una fusión de estilos africanos modernos y tradicionales, aunque la torre platillo distintivo se ve un poco de fecha junto a algunos de los edificios más nuevos y más llamativos de cristal de la ciudad. Tome el ascensor hasta la plataforma de observación y un helipuerto en el techo de maravillosas vistas de Nairobi. La línea de visión va todo el camino a los suburbios y en los días claros incluso se puede ver el Monte Kenia. Se le permite tomar fotografías desde el nivel de visión, pero no en otras partes del edificio. Localización: Cerca de 40 minutos en coche, sin tráfico (siempre habrá tráfico!) Desde el autobús Brandy, con el tráfico que sabe! Teléfono: +(PHONE NUMBER HIDDEN) Página web: (URL HIDDEN) ALIMENTACIÓN Y LA HIDRATACIÓN EN TODO KAREN (He incluido mis favoritos aquí, pero no es una lista completa de los restaurantes de Nairobi en la guía impresa en el autobús) Talismán Este café-bar-restaurante emblemático y con clase sigue siendo de moda con los Karen en multitud, y rivaliza con cualquiera de los mejores restaurantes de comida internacional para Kenia imaginativa. El New York Times ha proclamado mejor restaurante de Talisman Nairobi. Con un encantador interior de la tapicería de Oriente Medio y artesanía de Kenia y comer al aire libre luz de las velas sin igual, que se les puede culpar. El talismán es mucho más que el típico restaurante, el anfitrión de una serie de exposiciones periódicas sobre arte africano y eventos mensuales foodie. El menú continental se extiende desde Japón a Zanzíbar, Limuru a Mombasa. Comience con el queso feta y cilantro samosa de bañado en mermelada de chile. La reserva es muy recomendable. El bar es también un gran lugar para tomar un cóctel o una muestra de la mejor Bloody Mary en Nairobi. Estar dispuestos a pagar precios europeos! Ubicación: A unos 15 minutos en coche del autobús Brandy. Teléfono: +(PHONE NUMBER HIDDEN) Página web: (URL HIDDEN) Tejado de zinc Café Este lugar tiene todos los ingredientes necesarios para ser un favorito de Nairobi - gar una tranquila
The bus is great for spending time together in a fun environment. It is calm and offers everything you need, including a good shower, small kitchen and a fireplace outside.
Carolina
2017-03-09T00:00:00Z
Our family of 6 stayed for 2 nights and loved it! The bus was a very unique and fun get away, exactly as described. We loved staying in Karen, the property was beautiful, peaceful and close to everything. Highly recommend, we definitely hope to return!
Shannon
2016-12-13T00:00:00Z
What an amazing and unique place to stay. Full of character and different from a mainstream Airbnb, we all enjoyed the quirkiness of staying in a converted double decker bus. We loved the relaxed and refreshing ambiance this bus provided. I stayed here with my two adult daughters and their friend and we loved it. The beds upstairs were very comfortable but the ones downstairs would be best suited for a smaller person. The shower was the best we had the whole month in Kenya. Rhoda met us when we arrived and was very welcoming and helpful. Our driver Robert was very flexible and accommodating. We enjoyed a nighttime fire in the outdoor fire pit. We had no issues other than one or two of the windows do not close all the way so Mosquitoes were an issue at night especially if you are sleeping downstairs. But plenty of repellant solves that issue. There was coffee, tea, sugar, milk and water available for our use which was a nice surprise. There are beautiful dogs on the property that we enjoyed. I also enjoyed a trip to the Karen Blixen Museum and coffee house which was very close to the property. We would have liked to stay and rest on the property longer as it provided a peaceful atmosphere for anyone needing a good rest. I would stay again if I ever go back to Nairobi.
Zinnia
2016-12-29T00:00:00Z
Fantastic Tiny Home full of original solutions! Great base in Karen!
Pepijn
2017-02-06T00:00:00Z
The Brandy bus is a unique home and very tastefully done and very comfy - outside and inside. The area is very quiet and safe ... the wifi could be better ... but other than that ... a great place
Thinley
2017-03-24T00:00:00Z
Anyone wanting cosy comfort, something a little different or something to make you marvel and smile... this is where you need to stay. No question.
Anna
2017-03-10T00:00:00Z
It was one of the coolest places I stayed. The kids looooved the bus, which is in a big lovely garden. Karen was very helpful and so was everybody else on the compound! I can highly recommend a stay at the bus!!
Ursula
2017-02-10T00:00:00Z
真的很棒,虽然不在市中心但是在凯伦富人区,适合体验生活的游客
文轩
2017-04-01T00:00:00Z
Tipo de habitación
Casa/apto. entero
---
Tipo de propiedad
Casa
---
Capacidad
6
---
Habitaciones
Nairobi, Nairobi, Kenia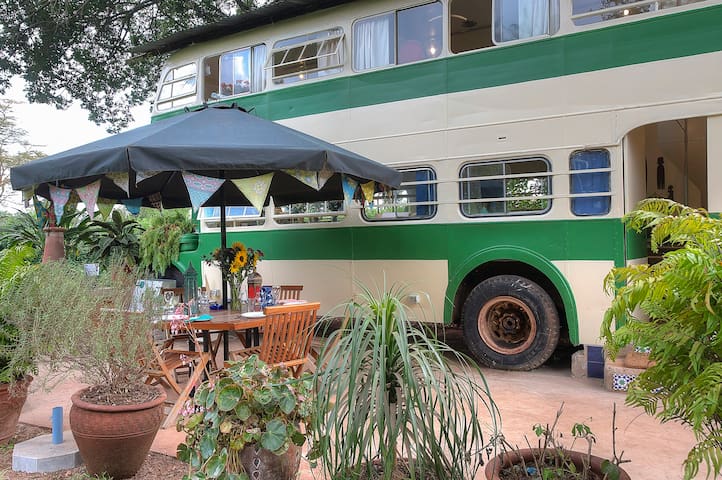 Muy acogedor ático con vistas a Ngong Bosque, a medio camino (4 Km a ambos lados) entre el centro comercial y Karen Junction Mall. 500 m de la variante sur, a 15 minutos de distancia del aeropuerto.
TV por cable dos balcones - uno por cada uno accesible desde el dormitorio y salón, centro comercial y una piscina dentro de las instalaciones. Apartamento se limpia al menos dos veces a la semana y tiene un montón de espacio de almacenamiento
Ubicación con vistas Ngong Bosque, muy tranquila, privada y segura con una gran comunidad en el complejo
The flat is exactly as it looks in the photos. Victor was a great host. I only met him once but he was always quick to respond to any queries. The location was great and close to public transport. Taxis to Junction Mall are cheap. The flats are also manned by 24 hour security. Housekeeping at hand to change linen and spruce up the flat on request.
Patrick
2016-06-15T00:00:00Z
Perfect place for 1 or 2 people. Very close to Karen, secure and everything you need already there. Victor was great and very helpful with everything. Will be back for sure!
Alexander
2015-07-10T00:00:00Z
Victor as a host went above and beyond to ensure my comfort and for that I am greatful.
Yvonne
2015-05-05T00:00:00Z
Victor was amazing. I had issues at the airport so couldn't arrive on time. Victor waited for me till 1.00am to hand the key of the apartment over and show me around. The apartment was as displayed. Every facility worked and it's not far from the main city. It's less than 15 minutes from Junction mall and you can just have a drink at Brew Bistro Ngong which is about 6 min drive from the apartment. I recommend and will book again.
Oluyomi
2016-11-16T00:00:00Z
Perfect cozy apartment, quick and easy access to touristic attractions, a few minutes away from Shopping centers like The Junction and The Hub Karen. The house is clean and very well equipped, listing is totally accurate and the host , Victor, is super friendly and helpful.
Zola
2016-04-02T00:00:00Z
Nice and clean apartment, very uncomplicated logistics. Would definitely stay there again.
Dominik
2016-06-05T00:00:00Z
My husband and I stayed at Victor's place for a few nights in November and loved it. We had a busy few days in Nairobi prior to arriving at this apartment, so we mainly used the time to relax and enjoyed the access to wifi and tv. Everything was exactly as pictured. Very comfortable, clean and we felt very safe. We would highly recommend staying here!
Jamie
2016-11-04T00:00:00Z
Great communication with Victor before and during my stay, the place was quiet, clean, and convenient. Comfy bed, great kitchen, and even a washing machine. Internet, electricity, and water pressure and temperature all worked well. Will stay at Victor's on my next trip to Nairobi! Asante Sana
Jacob
2016-09-29T00:00:00Z
Tipo de habitación
Casa/apto. entero
---
Tipo de propiedad
Departamento
---
Capacidad
2
---
Habitaciones
Nairobi, Nairobi, Kenia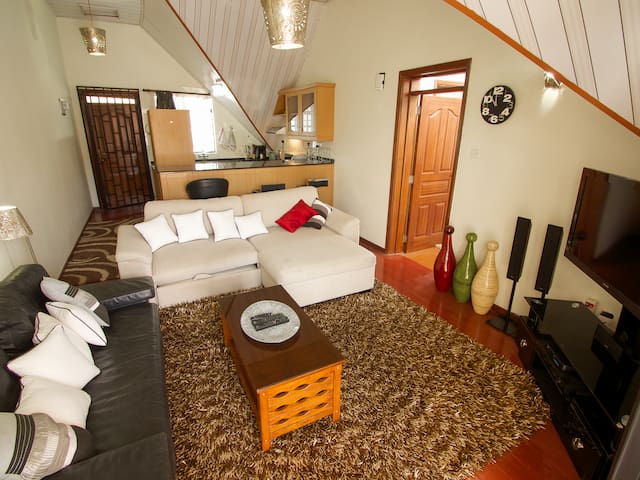 Enjoy exclusive access to your own private wilderness set in a tranquil spot within a woodland in Karen. The rustic barn style charm, open plan living with exposed beams and large windows, frame the outstanding natural outdoor Kenyan beauty. This idyllic and cosy cottage in Karen is perfect for couples or singles on business or safari. A perfect haven to relax, yet just 5 minutes drive to the local shopping center. For relaxation, the large outdoor verandah are a bird watchers heaven for numerous varieties of birds as you enjoy Al fresco dining.
el lugar es muy agradable, tranquilo. las fotos son tal cual la cabaña es. todo salió como acordamos, 100 por ciento recomendable. hay que considerar usar Uber u otro transporte para moverse
Valentina
2016-10-30T00:00:00Z
Right from the beginning of our stay to the end it was very comfortable, quiet, peaceful and wonderful. The cottage is clean, safe and has a warm homely feeling to it. Lets sum it all up to say it was the PERFECT holiday for us.
Karishma
2016-12-31T00:00:00Z
We had a lovely stay. The cottage was just the right size for two and decorated nicely. It is situated in a grove of trees where the turacos and other birds made it seem like you were deep in the forest.
Karen
2017-03-18T00:00:00Z
the place is quiet and cosy. smaller than expected but charming. a great place for peace and quiet if that's what you;re after.
Hawa
2016-12-21T00:00:00Z
Great place with lots of greenery that provides privacy. Francis and Julius the caretakers are excellent at supporting the vacationers.
Basilio
2016-12-18T00:00:00Z
A really neat and sweet little place!
Lucy
2017-01-08T00:00:00Z
Alice's place is in a nice, quiet area outside of Nairobi. She has a number of cottages on the property, hence the variety of photos in the listing. I didn't meet Alice during my stay, but her various staff around the property made it easy to check in and manage my stay with Alice always a text away.
Julie
2016-01-31T00:00:00Z
The cottage in Karen is wonderful. The grounds of the property are beautiful and tranquil. The location is perfect to explore Karen and the surrounding area. The wifi is strong and the dogs on the property are very friendly. Alice and her team on the property were excellent and I look forward to staying again during future visits. Thanks for the recharge...
Sean
2015-11-28T00:00:00Z
Tipo de habitación
Casa/apto. entero
---
Tipo de propiedad
Cabaña
---
Capacidad
2
---
Habitaciones
Nairobi, Nairobi, Kenia
Situado en el extremo de una tranquila y verde calle sin salida, 2 minutos de Langata carretera y 10 minutos de Karen Centro, el lugar es un ala de invitados amplio y luminoso con un dormitorio principal en suite con su propio balcón (de ahí el vista!) y una entrada privada independiente y una terraza jardín privado, sala de estar y cocina. Por lo tanto, esto es perfecto tanto para los viajeros individuales o visitantes a Kenia o en Nairobi, así como parejas que necesitan un poco de privacidad, espacio y confort.
Situado en el extremo de una tranquila y verde calle sin salida, 2 minutos de Langata carretera y 10 minutos de Karen Centro, el lugar es un ala de invitados amplio y luminoso con un dormitorio principal en suite con su propio balcón (de ahí el vista!) y una entrada privada independiente y una terraza jardín privado, sala de estar y cocina. Por lo tanto, esto es perfecto tanto para los viajeros individuales o visitantes a Kenia o en Nairobi, así como parejas que necesitan un poco de privacidad, espacio y confort.
Estamos a unos 10 minutos del centro comercial de Karen y en un buen ubicación central para acceder a los bares y restaurantes y muchas de las atracciones turísticas de Karen y la de Nairobi Game Park.
The flat in Karen is ideal if you're planning on living Karen life. The dogs are AMAZING, so friendly. The staff were so friendly and helped out a lot with our stay. It was perfect for what we were after
Flora
2017-01-24T00:00:00Z
The listing description was perfect for this place. You truly do get everything that is listed. My host was helpful in helping to introduce me to others in the community, taking me to community meetings and to the grocery store when I needed it!
Emily
2015-09-03T00:00:00Z
Lovely place that I wish I could've stayed longer at. The dogs make you feel at home at once. Everything was great!
Elsa
2017-03-18T00:00:00Z
Lucy & Peter were the perfect hosts and very polite and accommodating. The guest wing was very clean, comfortable and safe. Their staff was more than helpful and I had such a great experience in Kenya. I would highly recommend staying here and if I come back this will be my first pick.
Janee
2015-12-19T00:00:00Z
The host family was very warm and friendly and I felt right at home. The description was accurate and the environment was green and quiet. I would recommend everyone to try this place it is heavenly
ann
2016-06-13T00:00:00Z
It was excellent
Trine
2016-07-14T00:00:00Z
First time using airbnb and I loved staying with Lucy, we got a gigantic and most beautiful full wing of the house complete with all amenities, a splendid view and amazing hosts. Lucy and Brian really went out of their way to feel comfortable and at home, even let us have a barbeque on the last day. Thanks for giving us awesome memories of Kenya Lucy!!!
Jabulani
2015-07-28T00:00:00Z
Nicely situated private two-storey house approximately 45 minutes outside of Nairobi in Karen. Location is quiet and serene and has several large dogs on the premises. Internet works in only the first storey, specifically by the dining table as the router is next door. There is all required amenities: ice-box, stove, washer and hot kettle. There is no television though, so if you must keep up with world events you must do so on your own electronic device. Lucy was a great host, answering all my questions and promptly sent her driver to fetch me from the airport. Thank you Lucy for a great stay!
trisha
2015-11-14T00:00:00Z
Tipo de habitación
Casa/apto. entero
---
Tipo de propiedad
Casa
---
Capacidad
2
---
Habitaciones
Nairobi, Nairobi, Kenia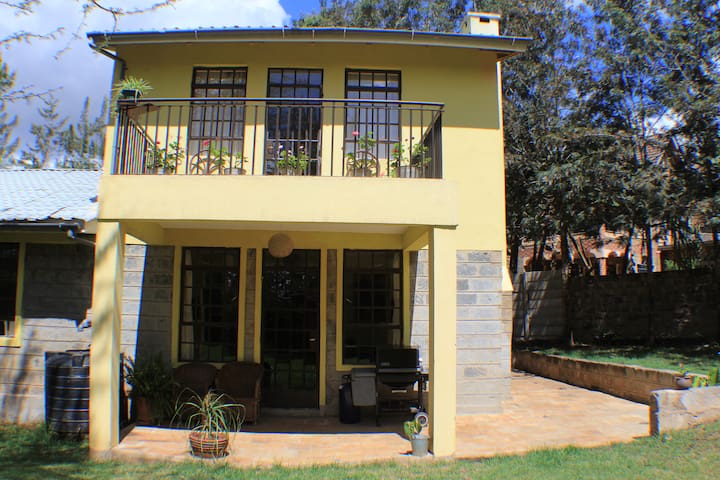 We designed and built in 2013. The mellow stone house sits in two acres of lush garden and paddocks (we keep horses) and has two bedrooms available in a separate wing (a double and a twin) with their own bathroom. English breakfast is included.
Although right in Karen, and easily accessible from Wilson and JKI airports, there is still a real feel of being in the country. There are plenty of local restaurants and we are happy to help make bookings.
Local sights include Sheldrick's Elephant Orphanage, the Giraffe Centre, Karen Blixen Museum and The Swedo House, the oldest in Karen. There are lots of good restaurants, including Indian, Japanese, Italian and Spanish, and a newly opened shopping mall around the corner.
The host made me feel very at home.
Boo
2016-03-28T00:00:00Z
We stayed with the Tozen's in Karen prior to our departure from Kenya. After being in various hotels throughout our travels, it was so refreshing to be in a home with such a warm hospitable family. The home and property which it sits on is absolutely gorgeous. As animal lovers, we loved pulling up to be greeted by dogs and seeing the horses out in their stables. The breakfast was fresh, and quite filling. The bed and room was very comfortable, supplied with interesting books to look through. The bathroom was equally spacious. Jane was helpful in arranging a car, which I do recommend her assistance for as I later realized I had way overpaid in Nairobi. She also has tremendous insight on the area, and helped me find local some local artists. There is a wonderful restaurant down the road that all guests should stop into. We enjoyed hearing about life in Kenya, and look forward to crashing one of their family safari's (just kidding!)…but we will be back someday Thank you!
Rebecca
2016-05-27T00:00:00Z
Hi all jane and jim place is breath taking the grounds are lovely the bed is. Clean and. Comfortable your own private bathroom spotless. You will not be disappointed
Sue
2017-02-05T00:00:00Z
Great place truly felt I was in the countryside! Breakfast was delicious, bed was comfy and pets very friendly.
Shezaad
2016-10-16T00:00:00Z
Dear Jane Thank you so much for a lovely stay in your beautiful house, we were sorry not to meet you but Mary was so welcoming and helpful and she made our stay so comfortable, everything with a smile and nothing too much trouble. Paul was also fabulous, trying (sadly with no success) to get our hire car started. We also met your next guest and her son who were following the same trail as us to the coast, her son enjoyed riding your horses. Many many thanks Simon, Marietta, Ollie and Archie Dear Jane, Thank you so much, their stay was, as you can hear, a great success. They were sad not to meet you, but maybe next time.
PHILIPPA
2016-03-26T00:00:00Z
Jane's place was great. It was clean, the house and interior were beautiful and Jane & Jim were very welcoming and really made us feel home away from home. The location is beautiful and very peaceful. Perfect for a relaxing getaway!
Bas and Carol
2016-11-22T00:00:00Z
Awesome place, awesome host (though I didn't get to meet Jane, Jim was superbly accommodating) and awesome househelp.
Dinesh
2017-04-04T00:00:00Z
Jane and Jim were fantastic hosts! Their home is lovely and perfectly located in a beautiful part of Karen. The breakfast each morning was wonderful and the accommodations were comfortable and spacious. We were even able to do some laundry which was fantastic coming off of a 7-day safari! The home is in close proximity to great restaurants and amenities. Jane was able to connect us with a reliable taxi driver during our stay. We also appreciated Jim's recommendation and help in securing a reservation at the Talisman restaurant--we ended up eating there three more times. I would absolutely recommend their place to anyone visiting Nairobi. Thank you!
Devyn
2016-07-30T00:00:00Z
Tipo de habitación
Habitación privada
---
Tipo de propiedad
Casa
---
Capacidad
4
---
Habitaciones
Nairobi, Nairobi, Kenia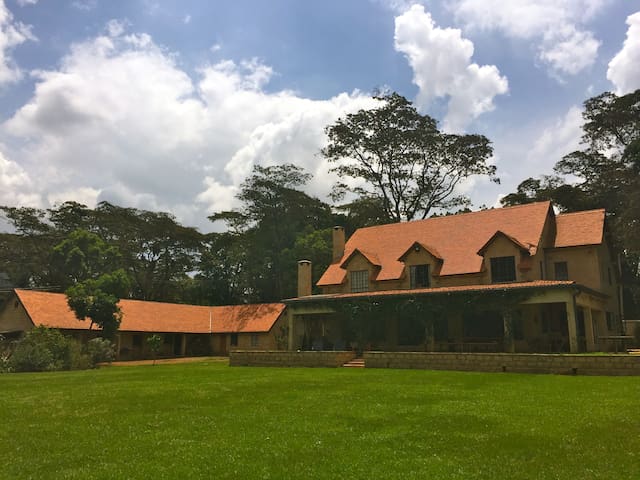 Rustic, warm and unique tree house, located on 2 acres of private garden, with wonderful birdlife. We are a 'home from home' & love to host. We are 10 mins from David Sheldrick Wildlife Trust, 15-20 mins from Karen Blixen Museum & Talisman Restaurant
A 'chalet' in Nairobi with amazing vistas, huge garden, homely environment and a great location to enjoy walks, visit to the Giraffe Sanctuary, Elephant Orphanage and Karen shopping outside of Nairobi
Wonderful neighbourhood of Karen, close to the giraffe sanctuary, good walking, cycling and shopping.
This was my first Airbnb experience and it was really good. This tree house was a unique, relaxing little haven in Nairobi. The photo's don't do it justice! The room was clean and comfortable and I slept so well here. Julie was a great host, very helpful, as was Janet. Its located in a really nice quiet neighbourhood and was perfect for getting to the Elephant Orphanage and Giraffe Center, the places I wanted to visit. If I'm ever in Nairobi again I will definitely be making this place my base.
Claire
2016-10-01T00:00:00Z
Julie's place is excellent! Together with her team (Ann especially!), I felt welcome and well taken care of during my entire stay. I can't wait to stay at Julie's place again!
Andy
2016-08-21T00:00:00Z
Great place to stay in a quite part of Karen. Great home, great location. I would love to stay again.
Taylor
2016-06-07T00:00:00Z
Julie's home is the perfect place to stay if you want to visit the Karen Blixen Museum, the Giraffe Center, elephant orphanage, or have a meal at the Talisman. My husband and I chose not to rent a car while in Nairobi and Julie was very helpful in connecting us with a driver.
Aften
2017-02-04T00:00:00Z
Julie var fantastisk. Varm, imøtekommende og generøs. Jeg hadde en nydelig helg i dette spektakulære huset i Karen, Nairobi. Kan varmt anbefales alle! Nært severdigheter, tilgjengelige sjåfører ved behov, nydelig hage, ideelt både for familier og enslige!
Camilla
2016-10-23T00:00:00Z
Julie's home is actually better in person than the photos on Airbnb reflect. It is a lovely and peaceful respite from the energy of Nairobi, and very close to Giraffe Sanctuary and Elephant Orphanage among other attractions. Julie was not there when I stayed but I was in Anne's capable care. The only minor issue was that it was very chilly at nights and there was no heating source unfortunately which made it a bit uncomfortable. I had a very short stay but it was great, and it was made even better by Julie's recommendation to have Moses do the airport transfers as well as touring Nairobi, he was absolutely fantastic and if you book a stay here you should have as your driver, you can't go wrong. I would love to return.
Candace&Paul
2016-09-05T00:00:00Z
I only stayed overnight during transit back home, very tired and cane back lste but place was worth comming even for a night. very cozy and homely, atmospheric, I could describe it as hygge. would love to come back snd recommend to snyone visiting nairobi. hospitality was great and meal was delicious, thank you for lovely expirience
helena
2017-04-03T00:00:00Z
Sadly, we only got to stay for one night but it was great! Slept like bears and recharged in this lovely and relaxing home! I hope to get to meet you some other time Julie!
Celine
2015-08-17T00:00:00Z
Tipo de habitación
Habitación privada
---
Tipo de propiedad
Casa
---
Capacidad
2
---
Habitaciones
Nairobi - Mukoma Estate - Karen, Nairobi, Kenia
Our place is perfectly located for tourists and visitors. We are 30 mins from JKIA and 20 mins from Wilson Airport, walking distance from the Giraffe Centre (lovely walk), 5 mins drive from the Elephant Orphanage and the entrance to the National Park. Karen Blixen Museum is 15 mins away. There is a lovely new Dutch bakery 5 mins away, a new restaurant, supermarket and gift shop 5 mins drive. . You'll love my place because we are set on a secure, tree filled, peaceful compound..
This is a newly converted studio flat, but with it's own entrance and paved outside deck area, with pond and birdlife around. It is my mother's 'home away from home' for the 4 months a year when she is in Nairobi.
Mukoma is a residential neighbourhood popular with expats. A walk around the 'block' takes approx 15-20 mins - many people walk their dogs, jog etc.
Tipo de habitación
Casa/apto. entero
---
Tipo de propiedad
Apartotel
---
Capacidad
2
---
Habitaciones
Nairobi, Nairobi County, Kenia
Home just out of Nairobi, near Karen; 2 spacious rooms sharing services. Share kitchen with a family of 2 and a house help. Family engaged in consultancy, charcoal briquettes manufacture, vegetable and dairy farming and dog breeding. Well kept home compound. Quiet and peaceful neighborhood. You'll love my place because of the people, the ambiance, the outdoors space, and the neighborhood. My place is good for couples (without children), business travelers, solo adventurers, researchers, etc.
1. NGONG HILLS ROOM - 16.6 Square meters. Through each of its windows, you watch the world-famous Ngong Hills - of the OUT OF AFRICA film fame featuring the life the legendary Karen Blixen. On the balcony, you enjoy the late afternoon equatorial sun and the spectacular sunset behind Hills. The room is very lit, making it a very good working station for the guests so inclined.
We are just outside the city, accessed by taxi and public transport. Our home is close to public transport and parks. We are on the 'touristic' side of Nairobi. Within a 6-km radius, we have the following world-famous attractions: 1. Nairobi National Park 2. David Sheldrick Wildlife Trust, who bring up orphan elephants 3. The Karen Blixen Museum 4. The Giraffe Centre, where friendly giraffes eat off your hand. 5. The cool Ololua Forest nature trail - with monkeys and a water fall. 6. The Ngong Hills - of the OUT OF AFRICA movie fame - for viewing and hiking. 7. Mamba Village
Very lovely family! Beautiful and clean house. Even though I stayed only one night, I really enjoyed it. We had a delicious dinner together and talked a lot. My request came very spontaneously but I got an reply immediately. I was surprised and very happy. I wish you plenty of guest in the coming years and all the best!
Christine
2017-03-25T00:00:00Z
This was my very first time in Kenya and I could not have asked for a more welcoming and hospitable place to start. Mwai and Ann were so incredibly friendly, helpful, and knowledgeable. As a woman traveling alone I felt completely safe and comfortable and am so glad I chose to stay with them. They were extremely accommodating to my vegan diet, making delicious plant-based Kenyan dinners each night for me, and I appreciated the small touches such as waking up to freshly polished boots. The location is in a secluded area within Nairobi and can be difficult for taxi and Uber drivers to find, so I definitely recommend having your own vehicle or hiring a driver for your stay so as to make transportation easy. I hope to stay with them again in the future!
Sica
2017-01-11T00:00:00Z
During my two years of using Airbnb, this stay with Mwai and Ann came the closest to the Airbnb concept. A real 'home from home', a true cultural exchange, as well as the more usual help and tips on where to go or what to see. At Kepro farm you can be as private as you wish, with your own room, bathroom and balcony, or you can join in with life on the farm, with all its varied routines and dramas. You are always included for supper too, if you are home in time! Whether you'd like to try milking a cow or just watch the Vet on one of his (URL HIDDEN) all there waiting for you. I was even invited to a Kenyan Wedding as well as a presentation at one of the beautiful old Nairobi Country clubs for a talk on 'sustainable' bamboo growing. Last but not least Mwai arranged for me to walk in the Ngong hills with the lovely Masai boy he walks with every weekend. Some tourists pay a lot of money to have such a knowledgeable escort to show you such stunning vistas. Mwai and Ann are still patiently waiting for the last 2 kilometers to their farm to be tarmaced, but a bit of a bumpy road is far over-shadowed by all the unique experiences you can have while staying in this little tranquil haven. Highly recommended!
Jan
2017-03-07T00:00:00Z
Tipo de habitación
Habitación privada
---
Tipo de propiedad
Bed & Breakfast
---
Capacidad
1
---
Habitaciones
Nairobi, Nairobi County, Kenia
A beautiful 2 bedroom cottage with a private garden on the grounds of the main house. Completely secure in the peaceful neighbourhood of Hardy, within walking distance to Giraffe Centre and 10 minutes drive from Daphne Sheldrick Elephant Orphanage and Nairobi National Park. Spend the nights under the stars around the outside fireplace and enjoy breakfast in the sun in your private garden.
Tranquil neighbourhood close to the Giraffe Centre, Elephant Orphanage and Nairobi National Park.
The host canceled this reservation 8 days before arrival. This is an automated posting.
Murtaza
2017-04-05T00:00:00Z
Tipo de habitación
Casa/apto. entero
---
Tipo de propiedad
Casa de huéspedes
---
Capacidad
4
---
Habitaciones
Nairobi, Nairobi County, Kenia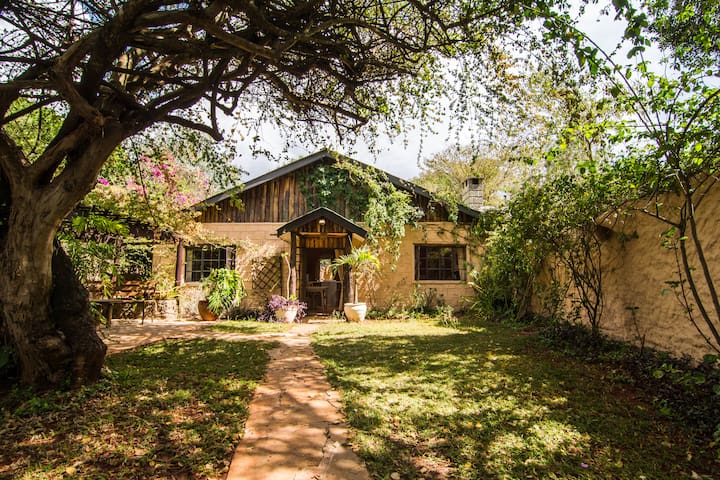 our home is close to family-friendly activities, public transport, the airport, the city center, nightlife. You'll love my place because of the coziness, the high ceilings, the views, the location, and the people. My place is good for couples, solo adventurers, business traveler and families (with kids).
Swahili inspired room, featuring traditionally carved furniture and balconies overlooking a forest is perfect to unwind.The room is separate from the rest of the house located on the ground floor. Its airy with lots of light . There's living room,an out door living area/balcony, and fire place next to the room . Surrounding the house are beautiful gardens with lots of flowers,birds, squirrels,monkeys,hyrax and nature.
Located in the leafy suburb of Karen. The neighborhood is quiet and peaceful tucked away from the hustle and bustle of Nairobi. We are located close proximity to malls and other amenities. Safe, serene ,peaceful with lots of nature.Shopping,banking etc are 15 to 20 min walk. There's a mature well manicured garden around the home lots of birds , trees , flowers and nature around.
Sammy and I stayed at Nina's for a day. The room and home was exquisite. Her and her husband were very hospitable, we felt very welcomed and would definitely love to stay again. We will recommend this place to others we know. The room was as advertised and more. Connie.
Connie
2017-04-01T00:00:00Z
Nina's place is beautiful, relaxed and cozy. We loved staying here! They were very helpful! If you are looking for a place to stay in Nairobi, this is probably the best!
charlotte
2017-01-29T00:00:00Z
Tipo de habitación
Habitación privada
---
Tipo de propiedad
Casa
---
Capacidad
3
---
Habitaciones
Nairobi, Nairobi County, Kenia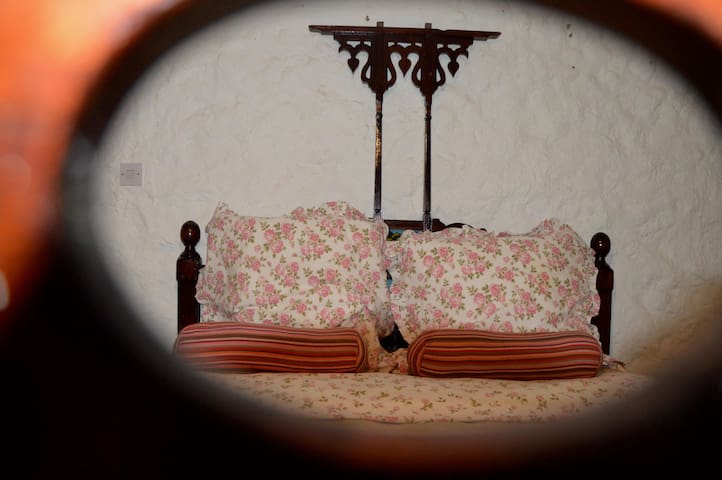 Located 19kms from Nairobi city center. Nearby attractions are the Nairobi National Park; Giraffe Centre; Karen Blixen Museum; Ngong hills and the Sheldrick elephant orphanage.
Large lounge; 3 bedrooms with 2 self contained; large kitchen.
Located in a gated lane inside a gated community that is very secure and quiet.
Anne was an amazing host. She cared about everything and she always helped out. When things were missing at the kitchen she brought them, when there was a power cut she brought candles. As she is living quite nearby it was always easy to communicate. The house was nice as mentioned. The surrounding as peaceful and with the Matatu it was easy to reach other POIs. In the village you were able to find basic things for daily life. I would recommend that place to everyone who wanna be outside Nairobi. It's not that busy and still it's easy to reach the capital. Also it's nice as you get in touch with locals easily.
Andreas
2017-02-11T00:00:00Z
Very good value for the price. Secure residential area, spacious, clean and with all amenities. Fast and reliable internet connection.
Andrew
2017-01-26T00:00:00Z
We stayed for one night at Anne's place and had an amazing experience. She was very nice to us and went out of her way to ensure we were as comfortable as possible. We will definitely be going back soon!
Collins
2017-02-26T00:00:00Z
Tipo de habitación
Casa/apto. entero
---
Tipo de propiedad
Bungalow
---
Capacidad
6
---
Habitaciones
Nairobi, Nairobi County, Kenia
Vintage Wooden Guest Cottage tucked behind its own hedge, with its own parking space, on a plot with lots of big trees, birdlife, and very peaceful. Very private cottage but close enough to the main house. 24 Hour security, in a safe & convenient enclave of Langata, near small shopping mall, and cafe at Hardy. Extra! A tent added to accommodate one extra person, all within the garden area of the cottage. Friendly staff to assist.
Tipo de habitación
Casa/apto. entero
---
Tipo de propiedad
Casa de huéspedes
---
Capacidad
3
---
Habitaciones
Nairobi, Nairobi County, Kenia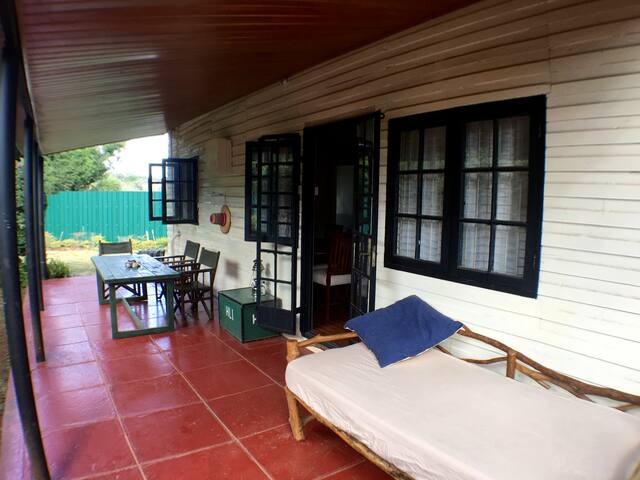 Join us at Chini Cottage (Swahili for "Lower Cottage") for some home-grown Karen hospitality. Set on 3.5 acres of beautiful garden, our little corner of Africa is super cozy & comfortable. We welcome couples and solo adventurers alike. We have two furry friends who are family to us and are pretty much part of the furniture. =)
The host canceled this reservation 4 days before arrival. This is an automated posting.
Millie
2016-10-28T00:00:00Z
Vanessa's place was a perfect place to start our weeks in Kenya. Is is really close to 2 of the most amazing attractions in Nairobi and it was in a beautifull area. If you are arriving in Nairobi by pkane then we can absolutely recommend booking her home, for us it gave us the best place to recover from our flight. Thanks guys!!
Thomas
2016-09-12T00:00:00Z
The host canceled this reservation 42 days before arrival. This is an automated posting.
Karsten
2016-11-14T00:00:00Z
Tipo de habitación
Habitación privada
---
Tipo de propiedad
Casa
---
Capacidad
2
---
Habitaciones
Nairobi, Nairobi County, Kenia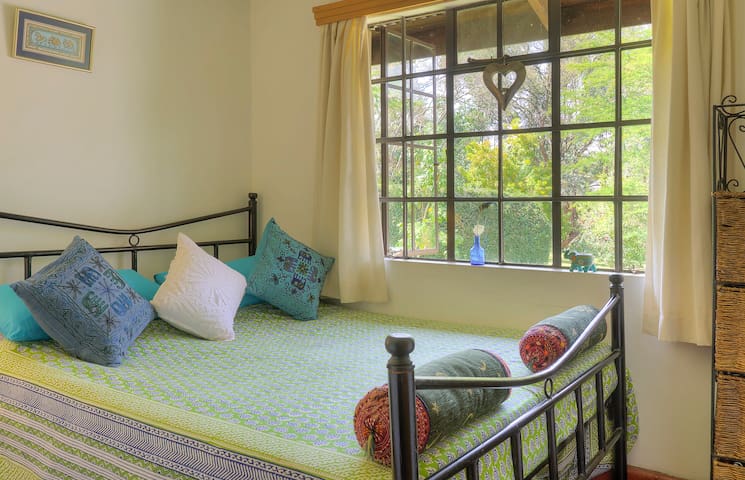 A simple and affordable five Bed-roomed home located in the leafy suburbs of Karen Nairobi, Kenya. Each room has a private bathroom.
My place is good for couples, solo adventurers, business travelers, families (with kids), and big groups of 10-20.
My place is close to Karen Blixen, Galleria Mall, Giraffe Centre, Giraffe Manor, Nairobi National Park, and The Bomas of Kenya.
Maurice was a great host. Nothing too difficult. The food was excellent, the location was tranquil. The room was spacious and comfortable.
Tony
2017-03-30T00:00:00Z
Tipo de habitación
Casa/apto. entero
---
Tipo de propiedad
Casa
---
Capacidad
10
---
Habitaciones
Nairobi, Nairobi County, Kenia
Quiet serene environment with lush green gardens. Nearby attractions are the Nairobi National Park; Giraffe Centre; Karen Blixen Museum; Ngong hills and the Sheldrick elephant orphanage.
Well tiled lounge, 2 bedrooms, kitchen, bathroom and toilet.
Quiet serene neighbor hood with gardens and fresh air.
Robert and Anne gave me a nice welcome. They were very considerate in having had some food items in the kitchen in case I would need it after my arrival in Nairobi from London. And I did! The internet was running well, the bed was all ready, clean and comfortable. Anne visited me in the morning to check if I needed anything more. I was made to feel at home. I was otherwise left to enjoy the privacy of my stay at Laiboni Close. This care continued up to the end of my stay with Robert and Anne.
James
2016-10-16T00:00:00Z
This place is simply memorable and breathtaking.The environment is clean,serene and scenic . The host Robert and Anne have a way of making the guest feel relaxed and comfortable.Anne was particularly concerned with every bit of our comfort.She went out of her way to ensure that we felt welcome just like home.We were pleasantly surprised by her willingness to provide Kitchen supplies every day including milk among other items. She would check on us regularly just to make sure that all was well. The cleanliness and tidiness is unmatched..I loved every bit of my time there.
Elias
2016-12-12T00:00:00Z
We had such a wonderful stay at Robert's place! He & Ann were amazing hosts, always kind, generous & extremely attentive to our needs. The house is large, super clean & comfortable. We especially loved the spacious, well-equipped kitchen – we felt at home immediately & enjoyed every day of our visit. The property & neighborhood are very safe, with friendly neighbors & a guard in the evenings. The Smith is just a short walk away and was perfect for a delicious meal out, day or night. We highly recommend a stay at Robert's place & we very much look forward to returning again soon. Thank you, Ann & Robert, for your incredible hospitality!
Joy Lynn
2017-01-06T00:00:00Z
Quite, safe and a nice place to stay. I highly recommend it to anyone.
Louis
2017-02-25T00:00:00Z
Very peaceful and safe suburban neigbourhood. The Host was very helpful & hospitality was on high level. This place gets my utmost best recommendation because I also liked the area a lot. It was nice to wake up to listen the birds sing in peaceful environment. Also wifi internet worked fine.
Rami
2016-12-21T00:00:00Z
A great clean quiet serene place
VINOD
2017-03-20T00:00:00Z
Tipo de habitación
Casa/apto. entero
---
Tipo de propiedad
Casa
---
Capacidad
4
---
Habitaciones
Nairobi, Nairobi, Kenia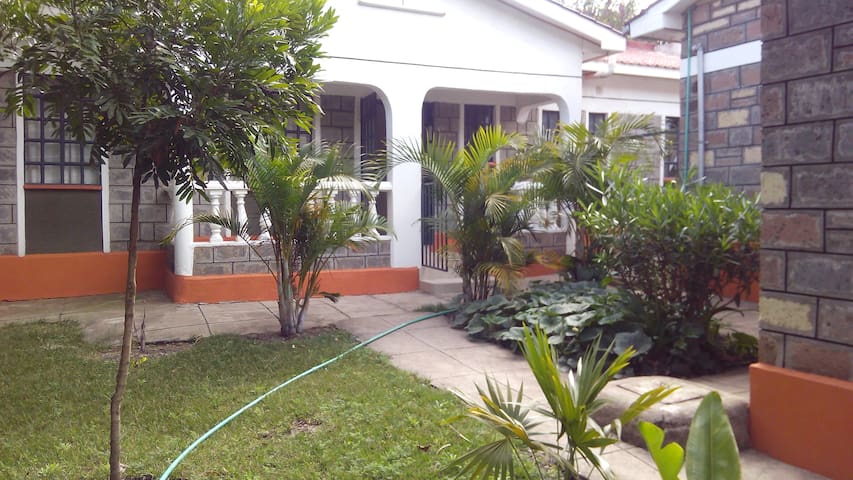 Welcome to Kombo Cottage, whether you may be a business traveller visiting Nairobi for a couple of nights OR basing yourself here to explore what Kenya has to offer. You'll feel truly welcome at Kombo Cottage!
At night, be lulled to sleep by magical chit chat between the tree hyrax.
Located down a quiet cul-de-sac in the historic area of Karen, your little cottage home assures comfort, peace and tranquility.
The hosts were very welcoming and their hospitality was great! The place is actually better than as in the pics. Very friendly staff around too, even got my car cleaned without request. The environment is very relaxing. Wish we could spend more time there. One of my best Airbnb experience!
Abner
2016-09-04T00:00:00Z
Kombo cottage was an amazing experience! Nick and Angie exhibit true hospitality and were always ready to help :) The neighbourhood is very beautiful, serene (I had the chance to take a run with Angie's assistance) and quiet. The cottage is cosy and very nice! The photos do not do justice. Colours, furniture and the space are all well thought out. Two thumbs up!
Rodney
2016-12-12T00:00:00Z
Lovely scenic and secluded cottage for a relaxed and romantic time. Away from the hustle and bustle of the city, very peaceful and tranquil. Better than what was expected. Fully equipped and well catered for. Josphat the care taker was brilliant and cooks well. Definitely recommend this to anyone who would like a nice chilled out, spaced out time :)
Samuel & Chandni
2016-12-26T00:00:00Z
The Kombo Cottage is everything you dream it will be plus more. We made great memories here. Angie was an amazing host. Very concerned and communicative whilst allowing us the room to enjoy our stay. I highly recommend Kombo cottage for a get away from city life or an intimate weekend.
Debbie
2017-03-26T00:00:00Z
I really loved staying at Kombo Cottage! I was traveling solo, and Angie and Nick are exceptionally gracious hosts who made me feel warm and welcome. The cottage is updated, tastefully decorated, and offers a peaceful and tranquil environment. I loved eating breakfast every day on the front porch. The cottage is in a safe and quiet neighborhood. I highly recommend this cottage, and look forward to renting it again on my next Kenya holiday!
Sherri
2016-12-22T00:00:00Z
This is a wonderful spot to chill, great hosts, ideal location - overall brilliant!
Mike
2017-04-03T00:00:00Z
An absolute must stay! Our time at Kombo Cottage was fantastic. Angie and Nick we the best host anyone could ask for. They were so hospitable and helpful in everyway. They truly went above and beyond; helping with taxis, ordering food deliveries and activities. The cottage is beautiful inside and extremely comfortable. Furnished with everything you need! The cottage is located on a gorgeous compound that is very safe and extremelly peaceful. You are close to many attractions including David Sheldrick elephant orphanage and the giraffe center. Plus great malls like Galleria and the Hub are a close drive with lovely shopping and dinning. The cottage stays nice and cool so be sure to bring a jacket along. I can't express enough the delight we had staying at Angie and Nick's Kombo Cottage. I 100% recommend this place to stay!!!
Willie
2017-01-16T00:00:00Z
Nick and Angie, made us feel like very special guests from the time of engagement and throughout our stay. They were warm, considerate and willing to accommodate our queries or requests in a timely and most gracious manner. Thank you Nick and Angie!
Andrew
2016-06-18T00:00:00Z
Tipo de habitación
Casa/apto. entero
---
Tipo de propiedad
Bungalow
---
Capacidad
2
---
Habitaciones
Karen, Nairobi, Kenia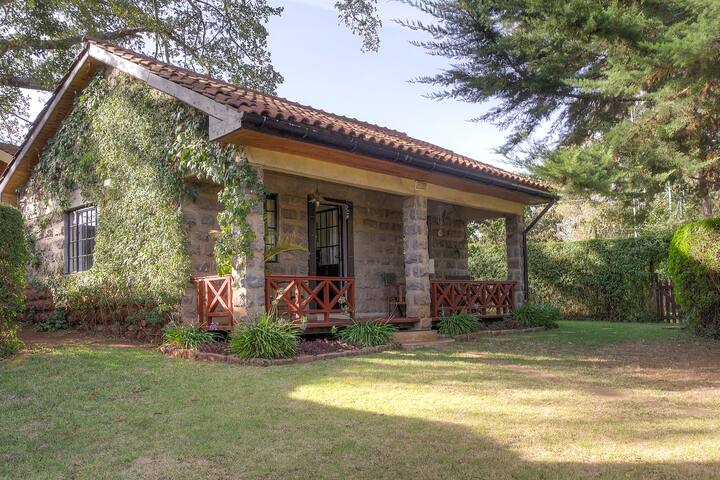 This charming bedsit is set in 5 acres of beautiful gardens on kibo lane, in the heart of Karen. Wifi, laundry, good security, and friendly staff make for a very comfortable and enjoyable stay. Close to all amenities. Good for couples, solo adventurers, and business travelers.
Very beautiful place, very hospitable. A lot of sightseeing near.
Ivan
2016-09-09T00:00:00Z
The bedsit is a hidden gem. I thoroughly recommend it to anyone who wants to take a break from the city life. Everything was as accurate as the profile and definitely worth the value.
Camillus
2016-09-26T00:00:00Z
Loved our stay, sienna was very accommodating. We will be back!
rachael
2016-12-10T00:00:00Z
Sienna's place is definitely worth visiting if your in Nairobi. It's beautiful ,rustic and full of antics. There's something eyecatching at every corner. The place is very peaceful and feels secluded but is close to everything. If you would like some quiet in the city it's the place to be!
brigid
2017-02-18T00:00:00Z
Great place! Would love to come again
Daniel
2016-12-12T00:00:00Z
The Bedsit was truly beautiful and set in a peaceful and serene location which helped us unwind after spending hectic days in and around Nairobi. The room was stunningly furnished and everything we wanted was available. Sienna and her househelp went out of their way to help and advice us on where to go and what to see. Thank you so much for that. We truly appreciate it and you made our trip worthwhile. We will definitely be coming back here.
Roshni
2016-12-31T00:00:00Z
Cutest cottage in Karen. It's within walking distance to Kazuri Bead Factory and Karen Blixen Museum. The garden is beautiful and can be seen from anywhere in the house because there are lots of windows.
Kailee
2017-03-02T00:00:00Z
Lovely spot, beautiful house with lots of character, and nice gardens with lots of birds!
Margaret
2017-01-30T00:00:00Z
Tipo de habitación
Casa/apto. entero
---
Tipo de propiedad
Otros
---
Capacidad
2
---
Habitaciones
Nairobi, Nairobi, Kenia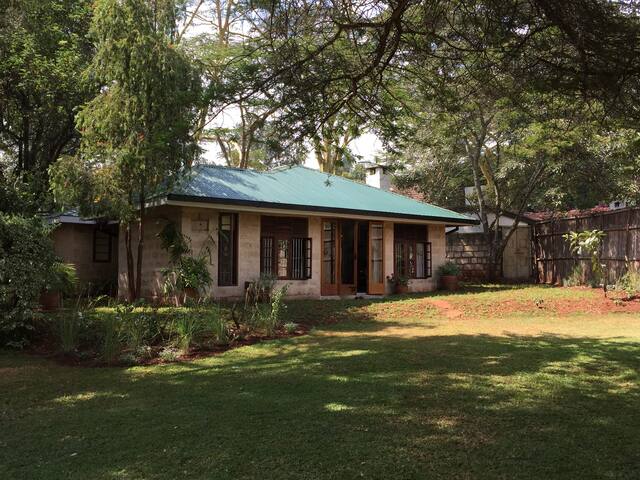 My cool private room is spacious and comfortable with a bed that can accommodate two people
Ample parking, hot shower, its in a quiet place
Very quiet neighborhood with a Masai shopping mall near to the place ,twenty minutes to bomas of Kenya and the giraffe centre. 25minutes to carnivore restaurant.
Tipo de habitación
Habitación privada
---
Tipo de propiedad
Bed & Breakfast
---
Capacidad
2
---
Habitaciones
Ongata Rongai, Nairobi County, Kenia
Introduce las fechas para ver el precio total. Ten en cuenta que se aplicarán tarifas adicionales y es posible que se añadan impuestos.