CLen and very tidy,friendly and happy enviroment
Matthew
2016-08-12T00:00:00Z
Jye was an unreal host; he went above and beyond to make my stay enjoyable and was super flexible with dates in regards to extending my trip. His place is rad, and well equipped for winter in Tassie.
Will
2016-06-30T00:00:00Z
JYe makes you feel very welcome.The house is very clean,tidy and homely and for a young man is a credit to him.It is a very peaceful neighbourhood.You have plenty of room and having your own bathroom the accomodation is excellent and at a great price.if you have your own car I would recommend Jyes accomadation.
Matthew
2016-07-17T00:00:00Z
This was a lovely night stay, incredibly modern and easily accessible house and Jye is a really nice and easy-going guy.
Lauren
2016-07-04T00:00:00Z
It was great stay in his house. Even though I made urgent booking made at the day when we have to stay, he welcomed us so warmly. His house is so new, clean and well-organised, so it was so comfortable stay. I felt so regretful not to stay in his house from the first day in Hobart. Strongly recommendable to someone with your own vehicle.
JinHyeong
2016-06-23T00:00:00Z
Jye's place was super clean, cosy, warm and modern. He promptly answered our request and was flexible on the time of arrival. Jye made us feel like home and made himself available to help us out during our stay at his place. We recommend his place to stay.
emilied
2016-06-30T00:00:00Z
Tipo de habitación
Habitación privada
---
Tipo de propiedad
Casa
---
Capacidad
2
---
Habitaciones
Old Beach, Tasmania, Australia
Tout le confort de la maison. Studio, récemment rénové, avec une vue imprenable à partir de votre propre balcon privé, surplombant la rivière Derwent et le mont Wellington comme toile de fond. Capacité d'accueil jusqu'à 4 adultes et 1 bébé (comme port-a-lit est maintenant disponible sur demande) et à seulement 15 minutes de Hobart.
Nous sommes au centre de tout. La route de Hobart CBD. Grands restaurants commencent à environ 10 minutes en voiture. Nous sommes situés à travers l'eau (qui est à environ 10 minutes en voiture) à MONA. 15mn du célèbre marché de Salamanca. 20mins de l'aéroport. Donc, de nombreuses attractions saisonnières, Taste of Tassie, Sombre Mofo, Sydney à Hobart course de yacht et bien plus encore. Optez pour un déjeuner ou un dîner croisière, qui partent de Hobart Wharf. De belles excursions dans toutes les directions vers les sites les plus étonnants et des vues. Et vous ne devez pas laisser sans aller jusqu'au mont Wellington (mais assurez-vous, vous tapis vers le haut). Ils ont également des promenades Harley qui partent de Hobart Harbour et vont au sommet du mont Wellington. Cet endroit est si beau, vous ne serez pas déçu.
Cosy accomodation. Handy as a base site. Good views from the place. Coffee machine with pods is a great touch. Hot showers.
Nitya
2017-01-20T00:00:00Z
The Shed had everything that we could have needed. The wifi and Netflix kept the kids happy for our downtime. Great views and easy to navigate into Hobart and Glenorchy from The Shed.
Renee
2017-01-02T00:00:00Z
Loved our stay at 'The Shed' Wish we could have stayed longer!
Elise
2017-02-14T00:00:00Z
The "Shed" was the perfect spot to go around Hobart and the southern side. The view was great and it has everything that we need which made our first AirBnB experience truly wonderful and unforgettable. Just a tiny suggestion… It would be good if lights are added in the kitchen e.g. under the overhead cupboards.
Belle
2017-01-25T00:00:00Z
Firstly, thanks for accommodating our slightly earlier check-in then sharing your gorgeous place with us. Its perfect and favourited for any trips in the future. Love the lane up to it & the view is spectacular.
John
2016-06-10T00:00:00Z
I really enjoyed my stay at Old Beach, I was on a work trip and I like to use AirBnB when possible. The Shells were great hosts very helpful and great communicators. I will be staying here again next time in Hobart as the facilities are fantastic , a really comfy bed and awesome view!
john
2016-02-18T00:00:00Z
Michelle was a delightful person and came to help me out when the combination she emailed me would not open the key holder security box. The instructions that were emailed to me on how to get to my Airbnb home were comprehensive and the map was easy to follow. The location of the shed is very private and quiet which is lovely. The bed is comfortable, the bedding warm and the bed linen is made from good quality fabric. The couch was very comfortable and the view through the lounge room windows is gorgeous. The kitchen appliances are well maintained, there is enough pots and pans etc to cook a simple meal and the fridge big enough to stock with quality food. The deck has a pretty outlook to the water and the seating is comfortable. I stayed in the middle of winter and it was very cold outside, so it was great to have a fire place and a small heater to keep warm. Being an actual SHED it's made from steel so keeping the fire going is very important to stay warm. The neighbourhood is lovely and it was a quick and easy drive to the supermarket. On the way back from the supermarket I stopped at an old jetty near the Shed and was able to photograph the most spectacular sunset over Hobart. I had a very comfortable stay and would recommend THE SHED as a place to rest and relax for a weekend. It's a great place for a solo trip or a romantic weekend.
Georgie
2016-06-27T00:00:00Z
Great Views from the listing, location is nice and close to MONA and also a short ride into Hobart and the airport !
Katie
2016-07-25T00:00:00Z
Tipo de habitación
Casa/apto. entero
---
Tipo de propiedad
Otros
---
Capacidad
4
---
Habitaciones
Old Beach, Tasmania, Australia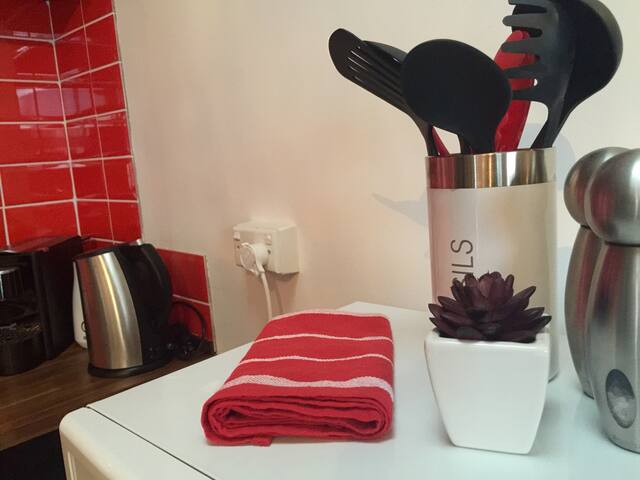 Absolutely loved the experience, the photos doesn't do this place justice! The cottage is truly a perfect getaway, we loved every moment of it. Mark thought through everything to make the experience a fantastic one, from the fresh farm eggs to ensuring that everything was clean, and turning on the heater for us prior to our check in. I look forward to staying here again, and again!
Nihal
2016-11-14T00:00:00Z
Mark is an absolutely lovely bloke and the our stay was great. The farm is beautifully located in the country side and still very convenient, enabling us to reach all the local attractions. The view is fantastic, onto a small vinyard beyond which you can see horses, black swans on a pond, all silhouetted against Tazzy's impressive mountains. We would go there again in an instant and cannot recommend Mark's place enough.
Dorian
2016-09-11T00:00:00Z
Whilst this farm is a little out of the way for some people, it was easily accessible, it was quiet and most enjoyable. I had a small dog with me who was also made welcome.
Jan
2016-12-31T00:00:00Z
hard to believe such a beautiful spot could be so close to hobart cbd. 20mins and i was there watching the sun set over the vines
Paul
2017-02-23T00:00:00Z
Mark was an excellent host and ensured I had everything I needed. I was able to do my own thing when I wanted and Mark was also very flexible about check in and check out.
Nicola
2017-01-20T00:00:00Z
Good option if you want quiet, scenic and semirural accommodation
John
2017-02-11T00:00:00Z
Tipo de habitación
Casa/apto. entero
---
Tipo de propiedad
Departamento
---
Capacidad
2
---
Habitaciones
Old Beach, Tasmania, Australia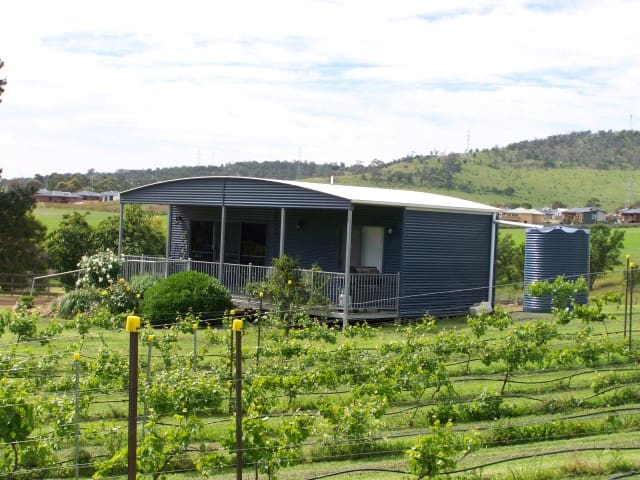 It was nice to meet Craig and Bundy (the big fluffy white dog) and visit this quiet area just outside of Hobart.
Michelle
2016-12-26T00:00:00Z
The host canceled this reservation 25 days before arrival. This is an automated posting.
sanjeev
2016-12-05T00:00:00Z
We had a great stay in Craig's house. Thank you a lot. The room is comfortable with a private bathroom; the house is located about 20 minutes drive from the city. Great views from the balcony.
Liudmila
2016-12-30T00:00:00Z
Craig is a very hospitable host and shares the house with a very friendly and beautiful dog. Room is spacious and clean and ammenities are immaculate. Very enjoyable stay with beautiful views and peaceful surroundings. Highly recommended!
Mervyn
2016-12-15T00:00:00Z
Tipo de habitación
Habitación privada
---
Tipo de propiedad
Casa
---
Capacidad
2
---
Habitaciones
Old Beach, Tasmania, Australia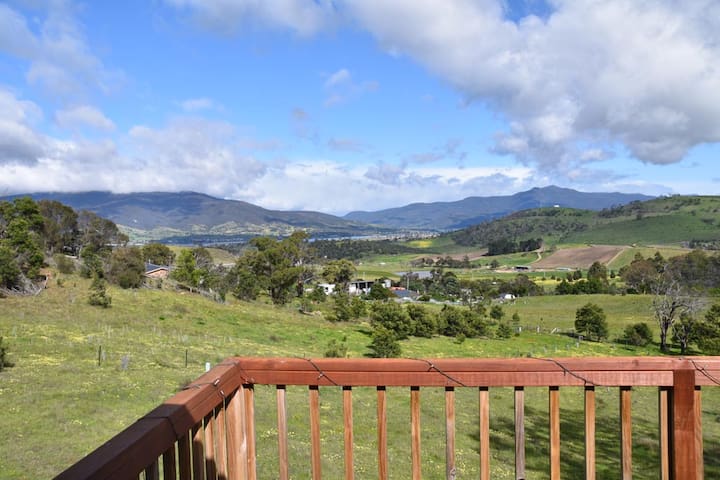 Ιδιωτική κατοικία με πρόσοψη στον ποταμό Derwent. αυτο Ένα υπνοδωμάτιο που περιέχονται μονάδα, με king size κρεβάτι, μπάνιο, ξεχωριστό καθιστικό.
I dont think we can find a better host. That should say it all.
Jade
2016-04-21T00:00:00Z
Jan's "River Breeze" was not our original choice. We were to have stayed close in, near Battery Point, but due to unforseen circumstances, our hostess was unable to accommodate guests. Airbnb offered 5 properties from which we selected Jan's home. It was not just good - it was excellent in every way! In addition to a spacious apartment with an amazing bathroom, full sized bedroom [and KS bed!], we had a living space with dining table, lounge suite and TV plus a generous tray of breakfast goodies. Best of all, though, was that, in conversation, we found that Jan and my husband both came from the N/W of Tasmania.- Tasmanian hospitality at its best, we were invited for drinks and to share a small meal with the family -just the perfect way to begin our stay. Thank you, Jan and Nigel!
Judith Mary
2017-01-06T00:00:00Z
Jan was very accommodating with checking in and out, and the place was lovely. Connected by a sliding wooden door to the house so movements within the house can be heard on either side of the door, but nothing too intrusive. Bathroom was gorgeous, very spacious and modern with new fittings, and the bed was very comfy with electric blankets and a great little heater for the house. All in all a lovely stay :)
Amanda
2015-11-15T00:00:00Z
Jan was lovely and the quality and care taken for the unit was of a really high standard.
Clara
2015-04-12T00:00:00Z
Staying at Jan's was an absolute pleasure. The room is large with an additional lounge/dining area and a huge bathroom. It's a perfect place to sleep and rest after a long day in the city. Jan provides everything you need and more: snacks, tea, coffee, extra towels, blankets, etc. There is a washing machine and fridge but cooking is limited to the microwave. Old Beach is a distance from the center of Hobart but easily accessible via a bus. There is a lovely foreshore track to walk and a small corner store. Jan was incredibly helpful. She offered to pick me up and even drove me to the supermarket. I highly recommend booking with Jan.
Meron
2016-01-09T00:00:00Z
When we arrived at Jan's unit, it was much better than what we expected. The room was very clean, the bathroom is like a 5-star hotel bathroom. The fridge was already filled with food we needed for breakfast the next day. The cabinet was complete with clean plates, cups and cutleries, coffee, sugar, etc. Her unit is situated in a very quiet neighbourhood. The back of their house has a decking facing a river, which is very conducive for relaxing. Jan even gave us a list of suggested places to go around Hobart and outside Hobart. Her husband Nigel also assisted us, gave us access to their wifi and he is also very friendly. They also invited us to join them in a harbor cruise in her friend's boat. Now this was like a surprise to us, since it was a really nice addition to our experience while in Hobart. Jan even gave us a free ride to Mt Nelson. Now this was another bonus. Then the day before we left, Jan and Nigel took the four of us to the pier where the Sydney to Hobart race terminates. Another bonus ! Another excellent addition to our experience to this trip. We had some really excellent fun watching the boats coming in while eating sea food. Jan and Nigel also helped us to buy some Tasmanian wine that we took to Sydney. She even provided the bubble wraps for the wine bottles. Overall, Jan is a 5-star host for me. A well recommended airbnb host!
Dante
2015-12-30T00:00:00Z
Jan's appartement is very convenient: 20 mn from the city. One large bedroom with a very large and confortable bed. A large bathroom with bath and shower. And a large living room with 2 single beds very confortable too. All was very clean. Jan welcomed us very friendly and gave us explanations for our visits. We stayed 3 nights and were glad.
Patricia
2016-01-02T00:00:00Z
My mum broke her hand on her first day of arriving in Tasmania and I just want to say a big thank you Jan for being so accommodating and helpful for the duration of my mums stay. River Breeze suited my mum perfectly and it was spotlessly clean. I would recommend River Breeze to anyone and will book again if my mum comes to visit again.
Anni May
2016-05-01T00:00:00Z
Tipo de habitación
Casa/apto. entero
---
Tipo de propiedad
Bed & Breakfast
---
Capacidad
3
---
Habitaciones
Old Beach, Tasmania, Australia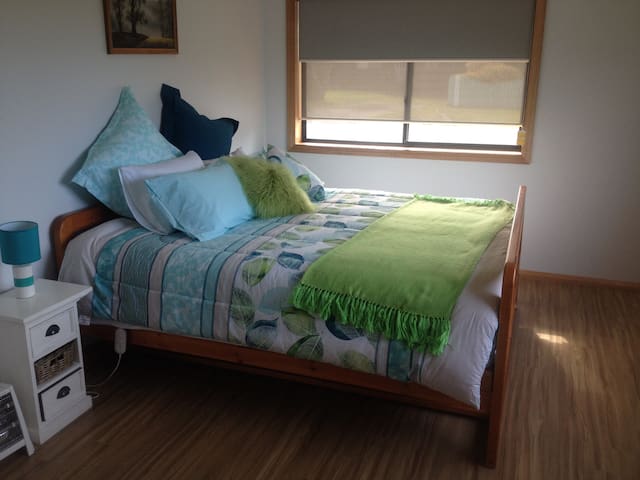 非常私人的"別墅"坐落在主屋後面。 所有常見的設施包括如提到的,非常私人的...好安靜..safe ...尊敬的郊區
完全私人住宿北霍巴特[15分鐘到市]方便的一日遊到里士滿和Mt Field國家公園。三文魚池塘且不說"MONA"僅10分鐘路程
老海灘外霍巴特郊區[15分鐘到市區10分鐘到北門購物centre..Just一個500metre步行到老海灘店
Granny flat at back if house - beat and tidy. Great host.
Christel
2017-03-04T00:00:00Z
Tipo de habitación
Casa/apto. entero
---
Tipo de propiedad
Chalet
---
Capacidad
2
---
Habitaciones
Old Beach, Tasmania, Australia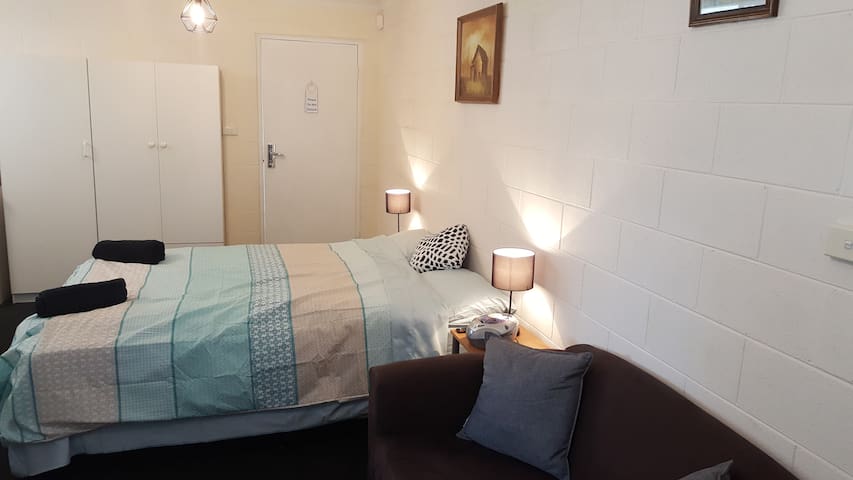 Наша кабина может быть немного причудливой, но уютной и частной, расположенный в нашем саду, только забывает наши милые кроликами в их клетке. Там новая пристройка для кухней с внутренним мытьем посуды (самообслуживание только - BYO пищи). И реальная кровать с изголовьем, боковые ящики и лампы. Много висит пространство & вешалку на прокатную стойке, а также место для Вашего случая на коробке белья Вход в ванной комнате находится снаружи, но это часть очарования. Приходите к нам и убедитесь сами!
Пожалуйста, проверьте нашу страницу в социальной медиа - The Cabin на Elanore, и наш блог Wordpress. У нас также есть веб-страница с WiX. Это частный и изворотливый мало места, что мы уверены, что вы будете любить. Не роскошный, но удобный и уютный, и в одном из самых дешевых ставок, близких к Хобарт. Да, вы должны выйти наружу и вниз 3 шага тоже «объект», но вы можете наслаждаться садом в то время как вы это делаете! И есть свет для ночных поездок. Кабина и ванная с душем, туалетом и умывальником, а также Tastic лампы типа нагревателя и вентилятора. Мы расширили область (в августе 2016 года), заключая пристройку, область, которая находилась под крышей, но открыто, и сделали его доступным через 2 шага, как внутренняя комната в салоне. Теперь также имеет внутри вымыть помещения с горячей и холодной проточной водой и надлежащей раковиной. Эта область является секция кухни, что делает больше места в верхнем пространстве. ОБРАТИТЕ ВНИМАНИЕ: Мы НЕ даем пищу. Чай, кофе и длительный срок службы молока, а также приправы, такие как соль и перец в салоне, но это Self-Catering. Ближайшие супермаркеты располагаются в 25-40 минутах ходьбы. Есть ближе местный небольшой продуктовый / заберите фуды, но они имеют ограниченный запас и гораздо дороже. Мы рады приветствовать Вас использовать свой компьютер с помощью нашего WiFi. Пожалуйста, обратите внимание, что Wi-Fi не является неограниченным, если ежемесячный лимит превышен замедляет дозвона для вас и для нас. Так что, пожалуйста, не огромные загрузки фильмов или фотографий. Стол и стулья для отдыха в красивых мест в нашем саду, чтобы использовать ваш компьютер или планшетных устройств. Оригинальный складной футон кровать была заменена реальной кровати (сентябрь 2016), с ланкийской тика изголовьем и основанием, с надлежащей матраца, а также две прикроватные тумбочки. Гораздо более удобный для нашего пребывания без тенденции прошлого воплощения к провисанию в середине! У нас также есть один свитка кровати с аналогичным матрасом, но добавив это делает пространство очень тесно, поэтому предоставляется только в особых случаях. Дайте нам знать, если вы хотите запросить его. Мы находимся в процессе покупки кровать с portacot стиля ребенка / ребенка (апрель 2017). Существует в размере $ 10 плата за любой из этих добавок, поскольку это означает дополнительное белье и белье.
La vista del montaje Wellington! Y la cercanía de la buena comida y las compras, y nuestra ubicación a sólo 15 minutos de la capital del corazón comercial de Tasmania, y 10 minutos de la famosa calle de los restaurantes del norte de Hobart (en coche o taxi). Por favor, consulte la Guía (arriba a la derecha por encima de la zona de precio), he entrado en un montón de restaurantes y lugares y atracciones para ver y visitar.
Really great little cabin and the price was brilliant. Private, quiet, clean, off road parking, would recommend here to anyone!
Jess
2016-01-19T00:00:00Z
Nestled sleepily in the foothills of Mt. Wellington, this quaint, quiet and cosy residence is as advertised. If you are unwilling to tolerate a handful of stairs or travelling 2 metres outside to reach your bathroom, this accommodation is not for you. The residence is about a 15 minute drive to Hobart CBD and I suspect it would be some effort to get here (especially walking up the hill from the nearest bus stop) without your own vehicle. They have an off-street parking space available and plenty of on-street parking if you are the queasy type that has difficulty reversing precise angles to access their driveway. We, however, found it exactly to our tastes. The residence is wholly separated from the main house and the hosts, Odille & Warwick, were very helpful and even loaned us an umbrella for the couple of days it was pouring with rain during our stay. The fact that the place has no TV, replaced with an amply stocked bookshelf, and WIFI access dependent on the local weather conditions made it a most ideal tech-free getaway for us.
Joshua
2016-11-14T00:00:00Z
We loved the cabin on Elanore! It was small and cozy. We found it very relaxing and quiet. Odelle and Warwick were wonderful hosts. We did not have a car, but the bus passes by about a block away and the shops were a 20 min walk, its easier to reach by car. Thank you for the sparkling wine and happy new year!
Emily
2015-01-03T00:00:00Z
We had a great stay at Warwick and Odille's cabin. Very cosy, quiet and private, and very thoughtfully equipped with everything we needed. Nice location in the hills of Glenorchy and close to shops, restaurants, cafes.
Fiona
2014-12-12T00:00:00Z
The cabin was the most cozy Airbnb place me and my wife stayed so far. Don't be fool by the first impression when you arrive at their house entrance. Walk few steps down pass by their garden, the welcoming cabin awaits you. Once you steps into the cabin, you will feel the coziness and warmth of it. Within the confine space, you have everything needed from cozy bed with headlamps, to bookshelves with much information you need to know about Tasmania to kitchen with almost everything needed for cooking. Although the bathroom is located outside, it's merely next to the cabin with less than 5 steps away. Both Odille and Warwick are so welcoming. We highly recommended this place.
Eugene
2016-11-25T00:00:00Z
居住的環境就像照片呈現的一模一樣~ 相當有自己的私人空間 是獨立小木屋 主人們提供了相當有幫助的資訊 包括 餐廳,旅遊景點 等等 Thank you Odille & Warwick
Gladys
2015-10-24T00:00:00Z
Nice little spot for a stop over close to shopping centre, movies etc. Hiding in the garden was cute. Odille very nice to chat too and helpfull.
Tricia
2016-11-05T00:00:00Z
We loved our stay at the Cabin. It was perfectly as described and we were warmly welcomed on arrival. We felt very much 'at home', comfortable and the surroundings were beautiful. The hosts were kind enough to leave the outside light on as we got back quite late on both nights. A great location only 15 or so minutes to Hobart. Really helpful brochures in the cabin that helped us locate shops, restaurants and places to see etc. If we are ever in Hobart again we will definitely return to the Cabin. Thank you :)
Stuart
2016-01-08T00:00:00Z
Tipo de habitación
Casa/apto. entero
---
Tipo de propiedad
Cabaña
---
Capacidad
2
---
Habitaciones
Glenorchy, Tasmania, Australia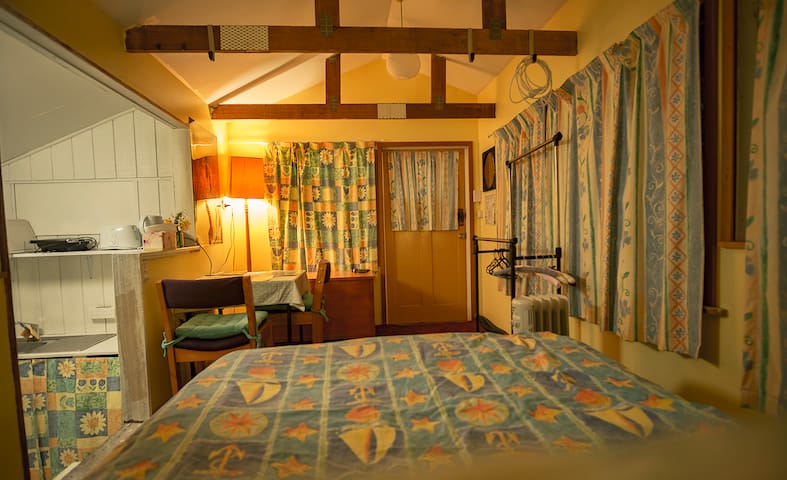 可愛的寬敞的臥室與德溫特河的美麗景色和充足的陽光。 靠近公共汽車站和一個短乘坐巴士到市區。 MONA(新舊藝術博物館)為4分鐘車程和購物中心有2分鐘的車程。布什是正確的背後我的房子,我們有小袋鼠(小袋鼠)訪問大多數的夜晚。它們是害蟲喜歡吃我的草藥!
房間裡有一個大號床。但是,如果需要,我可以容納在一張單人床一個第三人額外收取$ 30 歡迎您使用的休息室看電視和用餐室中放鬆。我在餐廳與塔斯馬尼亞大學在線課程和學習。我輪班工作,將在進出家門。
我在一個死路,因此這裡靜悄悄的大部分時間裡,除了在上午的鳥類!
I had a very restful and peaceful stay. My room was comfortable, the bed was fine, the house was clean and tidy, Agnes is lovely and very friendly. This made my stay in Hobart really pleasant.
Antonius
2017-01-11T00:00:00Z
This room was all we needed to lay our heads after a concert at the Derwent entertainment centre. Less than a 10 min drive away it was very convenient. Agnes gave us all the privacy we needed and the house was quiet.
Jessie
2017-01-13T00:00:00Z
The host u great very informative, I had a comfortable stay. Will recommend everyone to go n checkout the place for a lovely stay.
gagan
2017-03-16T00:00:00Z
Agnes is great host and very friendly too. Her place is best for family and good for most type of people.
Sophiya
2017-02-11T00:00:00Z
Agnes is an amazing host and lovely person. During the stay, we found homely atmosphere, proper guidance and support. Agnes is very caring and has soft corner for kids. We are thankful to her for each and every thing she did for us. We recommend to everyone and would like to visit again.
Amandeep
2017-03-10T00:00:00Z
Is a beautiful place so quite with a beautiful view! Agnes is an amazing person very very friendly we enjoyed Hobart! Thanks Agnes!
Alex
2017-01-02T00:00:00Z
I had a very pleasant stay at Agnes' house. The area is very quiet and green, this is what I looked for. Besides you can reach city center easily with bus stop just around the corner. The room is big enough, comfy queen bed, clean bathrom and kitchen. I felt like I'm at home. Agnes is lovely, we got on very well like we know each other for a long time. She cooked me dinner and muffins, we had dinner out one time, visited salamanca market and casino together. All was great memories that made my stay amazing. I recommend the place. Thank you Agnes, see you again for sure :):)
Hande
2017-01-24T00:00:00Z
Being my first time with AirBnB I loved my stay. Agnes was a wonderful host , who was very friendly and helping in nature. She even picked & dropped me off at the airport for a very cheap fare. The location is very scenic and quite. The rooms were well maintained and I had no issues of any sort. There were a few others who were living in the house booked through Airbnb as well and well all bonded and good fun! I would definitely recommend you guys to stay at this place and enjoy the experience :) Agnes - thanks for hosting me , hope to see you again soon!
Jai
2017-03-24T00:00:00Z
Tipo de habitación
Habitación privada
---
Tipo de propiedad
Casa
---
Capacidad
2
---
Habitaciones
Glenorchy, Tasmania, Australia
Comfortable and homely. Would definitely stay here again if we are in the area again. Both John and his wife were friendly and welcoming.
Nicola
2017-01-21T00:00:00Z
John was very welcoming and supplied an abundance of breakfast food which was great! The place was very clean and well equipped for cooking. A lovely place to stay near the city.
Eugenie
2016-12-28T00:00:00Z
John and his wife were lovely hosts and provided a great introduction to Hobart. The room is self-contained and they are just next door if you feel like having a chat. The room has a nice and cosy feel with many new fittings and appliances etc for use. It is well-decorated and some cute views out of the windows to surrounding landscape. I cycled in there which was pretty straightforward from Hobart along the cycleway. I would recommend this place to couples and solo travellers. Thanks guys !
Oliver
2017-01-03T00:00:00Z
John was a welcoming and friendly host. We were very comfortable and appreciated the breakfast provisions provided. Thank you!
Lauren
2017-01-13T00:00:00Z
John and his partner were lovely hosts. Being locals in Tassie, they gave me a lot of helpful recommendations to make my time in Hobart worthwhile. It was pleasure chatting with them over a cup of coffee. We had a great conversation about art, culture and singing Chinese waitresses. I would highly recommend staying in their cosey chalet, which was well equipped with essentials.
Oliver
2017-01-05T00:00:00Z
Had a great sleep in this lovely chalet, and John and Jacquie are delightful hosts. It's a well appointed, clean and comfortable space. Fantastic breakfast provisions too. Thanks very much for having me!
Eleanor
2017-04-08T00:00:00Z
John and Jackie are lovely, so helpful and welcoming without being at all imposing. The unit is perfect for a long stay. We were moving back to Tassie after 6 years away, and staying there was made so easy while we sorted ourselves out. Everything you could want and need is there when you arrive with nothing - the unit is so well equipped and importantly, very clean. Absolutely perfect - it could not be better
Tracey Ann
2017-04-01T00:00:00Z
Absolutely excellent. We love it so much that we are staying for longer. Perfect!
Tracey Ann
2017-02-28T00:00:00Z
Tipo de habitación
Casa/apto. entero
---
Tipo de propiedad
Chalet
---
Capacidad
2
---
Habitaciones
Glenorchy, Tasmania, Australia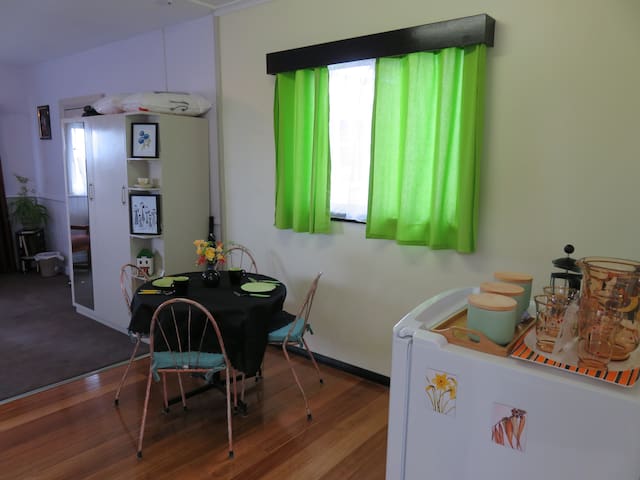 この日当たりの良い2ベッドルームヴィラは、メインと2枚のシングルでのクイーンサイズベッドとセカンドベッドルームにキャスター付きで自宅のすべての快適さを提供しています。彼らは両方のワードローブに建てられています。裏庭にキッチンへのアクセス、スライドドア付きのラウンジオフダイニングルームがあります。バスルームには独立したシャワーとバスタブがあり、トイレも別々です。洗濯は洗濯機と乾燥機を持っています。フロントドアでカバー駐車場の下にあります。紅茶とコーヒーも用意されています。 WiFiが利用可能です。
トロサ公園保護区は、ヴィラの徒歩圏内にあり、子供のためのバーベキュー施設や遊具を備えています。マウンテンバイクキロ内の歩道や地元のショッピングセンターからも2半キロがあります。 MONAわずか数klms離れました。
1、安静,空气清新!2、性价比高!3、房东非常温和友善!5、用具用品一应俱全!4、离市区十二分钟车程!
冬红
2017-03-13T00:00:00Z
Nice comfortable stay. A touch expensive
Ray
2017-03-21T00:00:00Z
Peter's place was very comfortable and had everything you need. Peter was a great communicator and we would recommend staying here.
Anne
2017-02-13T00:00:00Z
Great house and great host, close to public transportation, I highly recommend it if you have a family.
Mohammed
2017-03-25T00:00:00Z
Cosy comfortable accommodation reasonably handy to the city
John
2017-01-27T00:00:00Z
Tipo de habitación
Casa/apto. entero
---
Tipo de propiedad
Villa
---
Capacidad
4
---
Habitaciones
Glenorchy, Tasmania, Australia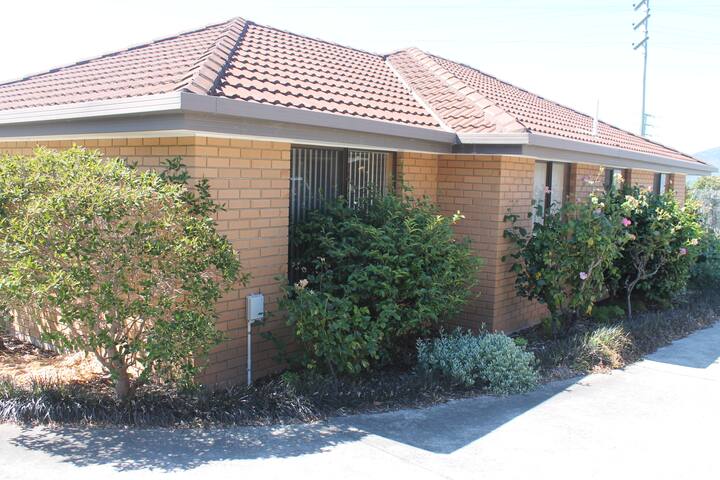 就在塔斯馬尼亞位置最受追捧的心臟。寬敞,時髦的蘇荷風格的閣樓公寓,最多至4間臥室。從每晚375 $ 4人開始。 $ 45P / p之後。分3夜。薩拉曼卡市場,並在你家門口的餐廳。
你不僅是在薩拉曼卡的行動中你有一個完整的廚房和額外的臥室。因此,較大的群體是一件輕而易舉的事。
古老的歷史建築,藝術畫廊和餐館。
Thank Isabel, for a wonderful stay. Your place is so well appointed, and handy to everything you might want. Beds are the most comfortable I have stayed in. Hobart you put it on for us. Thanks you.
Joss
2016-01-26T00:00:00Z
The host canceled this reservation 204 days before arrival. This is an automated posting.
Sarah
2016-06-13T00:00:00Z
Immaculately presented apartment in a very central location, close enough to all the action around Salamanca & the docks, but far enough to be away from the noisy pubs/bars/restaurants. The apartment is decorated in a clean, modern style, but is obviously a converted office (neon strip lights, office carpeting, timed push-lights in the bathrooms). However, we had a great stay, and really appreciated all the lovely little touches - nice toiletries, tea/coffee/milo supplies, and extra chilled wine available to buy. Thank you!
Mary
2015-01-05T00:00:00Z
The reservation was canceled 7 days before arrival. This is an automated posting.
John
2015-03-11T00:00:00Z
This place is in a fantastic location - moments from the Salamanca shops, market, cafes and bars, great cafes in Battery Point and a short 2 minute walk to the Mona ferry. A good job has been done to make (what seems to be an old office building) into a comfortable place to stay. Modern furniture, stylish decor - slightly narrow lay out but comfortable living / dining space and well stocked kitchen (plenty of glasses etc, milk, tea etc provided). The security code entrance was great given it allowed 6 of us to come and go as we pleased without worrying about keys. It was a tad tricky to work out the entrance at first instance - the place we stayed was actually to the right of the building pictured. Overall we were very happy with our stay.
Katie
2015-02-01T00:00:00Z
The host canceled this reservation 83 days before arrival. This is an automated posting.
Rob
2015-12-31T00:00:00Z
The host canceled this reservation 101 days before arrival. This is an automated posting.
Heather
2015-12-01T00:00:00Z
The reservation was canceled 54 days before arrival. This is an automated posting.
Elizabeth
2015-04-25T00:00:00Z
Tipo de habitación
Casa/apto. entero
---
Tipo de propiedad
Departamento
---
Capacidad
8
---
Habitaciones
Battery Point, Tasmania, Australia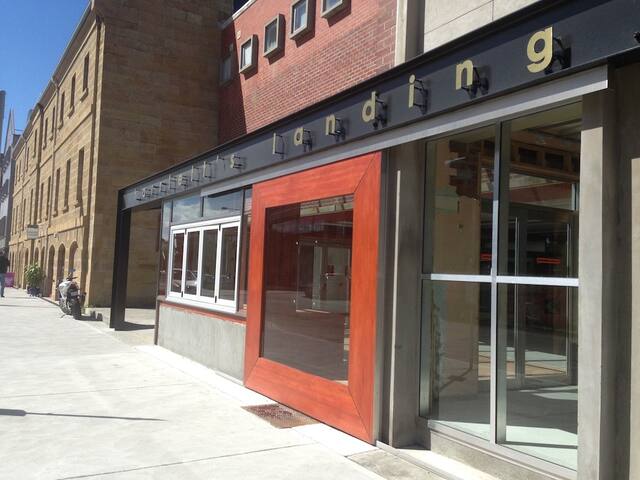 An elegant and spacious late Victorian sandstone house in the heart of West Hobart. Close enough to enjoy all the city has to offer, from the comfort of a delightful neighbourhood with its own gourmet grocer, restaurants, cafes and bus outside. It is a comfortable heritage house, it has 130 years of character (and a squeaky floor board or two!), and is the downstairs house. Upstairs is a completely separate apartment - Manitu.
The space comfortably sleeps 6 people. Two people in each of the large 3 bedrooms. The house is historic and is tastefully renovated, having recently been painted and carpeted.
It's a friendly neighbourhood with lots of pretty older houses and just a short stroll to two cafes, Hill St Grocer, restaurant, playground and Post Office Shop. It is a 20 minute walk to either the City centre or North Hobart restaurant strip. Just up the hill is Mt Knocklofty, with lots of different walking tracks and lovely city views
We had another great stay at Sylvia's home at the end of our Tassie trip. The house is large and comfortable, the location is beautiful and check-in was a breeze.
Gail
2017-02-07T00:00:00Z
Amazing. Beautiful house!
Eduardo
2017-01-27T00:00:00Z
Had a great time here. Very cosy house in excellent neighbourhood. Communications with Sylvia very friendly and quick to respond. House has a ton of rustic charm and is well equiped. Family friendly. I hope to stay there again!
Greg
2016-01-11T00:00:00Z
Sylvia's beautiful house provided the base for our big family trip to Hobart recently. There were 6 adults and two babies and there was plenty of room for us all. One of my concerns was that it would be freezing but each room had a heater and the whole house kept pretty warm. The location was great: a short walk (maybe 15 mins) to cafés and restaurants in Nth Hobart but there is also a great little cafe only a block away if you can't be bothered. Sylvia was a delightful host ensuring we had all the things we would need (sheets, towels, coffee and even a high chair and cot). We actually didn't meet because there is an electronic lock and everything was super easy to organise via messages. Thanks for having us!
kate
2015-08-24T00:00:00Z
We stayed for three nights in William Walker House and just loved it. We also have a home which is more than 100 years old and we love reviewing all the Victorian and Edwardian features as well as the new Colonial influence. House was very comfortable, only 3-5 minutes by car into central Hobart. Rooms were spacious and clean and the kitchen was great for those who love to buy fresh local produce and wines and cook for yourself. We were kept well informed by Sylvia of arrival details. Overall a very warm and enjoyable experience. We will be back.
Chris
2016-02-22T00:00:00Z
Very homey and accommodating. Sylvia is a fabulous host and looks after every need. The location was perfect for what we wanted.
Christine
2015-12-01T00:00:00Z
Loved staying at William Walker House. Lots of space, comfortable and restored sympathetically. We walked into the city and back up the hill. Found a great Deli shop just down the road (left out of the house) and a fantastic Pasta/ Pizza place (right out of the house) which had wonderful food and very friendly and helpful..... good coffee shop this way too. Thank You.
Stephanie
2015-03-08T00:00:00Z
A nicely presented house in easy walking distance to North Hobart restaurants.
James
2016-01-25T00:00:00Z
Tipo de habitación
Casa/apto. entero
---
Tipo de propiedad
Departamento
---
Capacidad
6
---
Habitaciones
West Hobart, Tasmania, Australia
Ricki and Alison were super friendly, helpful and generous. We enjoyed our stay very much. The location was perfect: it was just a hop, skip, and a jump to the Boks Bacon outlet (the best bacon! Reason enough to come to Tassie), delicious scallop pies, seafood outlet, supermaket. Up the hill and to the left, the streets end in a reserve where it is very easy to see wallabies in the evening. We hope to return soon!
Julieta
2016-12-24T00:00:00Z
We really enjoyed staying at Ricki's place. Nice, quite suburb of Hobart, great view of Mt Wellington, easy drive to town and close to Mona - the must see museum/vineyard/micro brewery of Hobart. Rick was great to talk to and we'll definitely stay at his place again next time.
Rosi
2017-02-04T00:00:00Z
Nice place, great views from home.
Rajani
2016-10-10T00:00:00Z
A very comfortable unit, in a quiet area. Rick was very helpful and knowlegeable about the area. This accomodation is about 15 minutes easy drive from CBD. We would definitely stay here again!
Cathy
2016-10-02T00:00:00Z
Ricki's place is private, comfortable, spacious, fully self-contained, clean, central to Hobart, MONA, & 30min drive from the airport. I stayed there with my boyfriend & a friend for MOFO festival at MONA in January this year. The accommodation was everything we needed, would also suit a small family too. We hired a car for our day trips and found Glenorchy to be quite central for what we were doing. We also had no problem getting around via Uber & Taxis to & from the festival or a night out. Glenochy is a residential area, so not many of the local food shops are open after 2pm but with a full kitchen you can prepare your food or drive 15mins into Hobart. Would recommend!
Ashley
2017-01-23T00:00:00Z
Ricki's place was great to relax around Christmas time and enjoy some places next to Hobart. We had a really good time in this cozy and really tidy apartment. Everything you need was provided (towels, cooking equipment, displays..) and we also had a surprise under the Christmas tree :D The place is really close to Hobart and to MONA as well for those who want to go there. I would recommend Ricki's place anytime with no doubt at all.
Clément
2016-12-28T00:00:00Z
Great place to stay, close to Mona and 15 mins to Hobart. Clean and plenty of space with very comfortable beds. Rick and Allison are great hosts and happy to help to make the stay enjoyable.
Jayne
2017-03-11T00:00:00Z
good facility and friendly landlord.
Li
2017-01-11T00:00:00Z
Tipo de habitación
Casa/apto. entero
---
Tipo de propiedad
Departamento
---
Capacidad
4
---
Habitaciones
Glenorchy, Tasmania, Australia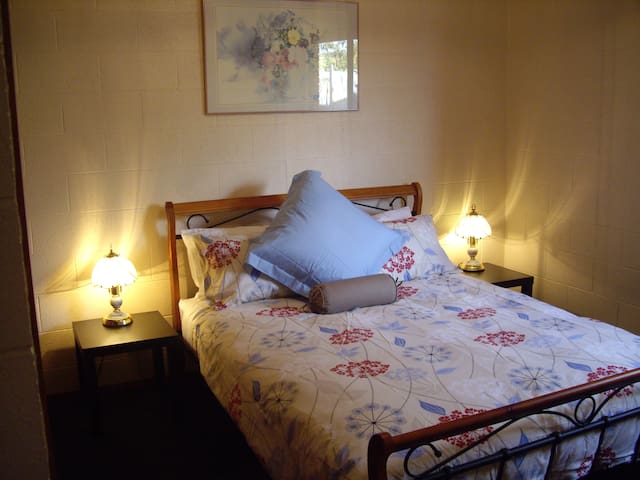 We had a great stay at this sunny house of Joanne during our holidays at Tas(SENSITIVE CONTENTS HIDDEN)ia recently. Joanne the host of the house was very helpful and kind.The house is just like a home to us where we can move freely and also able to make some simple breakfast.We can also eat those foods in the house and use all the utensils for cooking.The only thing is one of the beds in the children's room was not comfortable and the pillow is a bit flat.Other than this, even though the toilet look clean but there a little bit of bad odour smell . Overall it can be consider as a good stay with good value.I will recommend friends to book this house if they are going to Tasmania for holidays.
Josephine
2015-09-30T00:00:00Z
It's clean comfortable and great location close to shops supermarkets public transport and an easy drive to Hobart and surrounding areas Would make a great stay for guests with young families
John
2016-12-30T00:00:00Z
We had a lovely week at Joanne's, the house was very comfortable and clean. Great home for a family, large backyard for the children to play in. In a very quiet location with easy access to Hobart. Joanne promptly responded to all my queries right from the start. We felt right at home and would have no hesitation in recommending this property to anyone visiting Hobart.
JOHN
2016-10-03T00:00:00Z
Fantastic place to stay especially with children. Great location, close to everything. Would definitely stay here again
Michelle
2016-08-13T00:00:00Z
We loved our stay, it was the perfect home for our little family as well as having extra family able to come and stay in the extra room down the back. Great for the kids with toys and a big backyard with lots to do. Very comfortable and clean. Thanks Jo for having us!!
Catherine
2016-09-12T00:00:00Z
Tipo de habitación
Casa/apto. entero
---
Tipo de propiedad
Casa
---
Capacidad
5
---
Habitaciones
Glenorchy, Tasmania, Australia
Mi lugar está cerca del transporte público. Te va a encantar mi lugar debido a la cómoda cama. Mi lugar es bueno para parejas, aventureros en solitario, y viajeros de negocios. Ilimitado y gratuito NBN Wifi. Tenemos un punto de recarga para cualquier persona con un eléctrico o el enchufe en el coche híbrido.
John was a great Host place was very nice Highly Reconmended
Dean
2016-12-27T00:00:00Z
Absolutely terrible service and no response from John (it is now 5 days after we were meant to stay here and we still haven't heard anything!) I booked this accommodation for the evening of 12 November 2016 and received confirmation from the host that my reservation had been accepted. We arrived at the hosts residence on the Sunday afternoon and the house was all locked up as well as the gate to the granny flat I had booked. After numerous Airbnb messages and texts to the host, knocking on his front door and attempting to contact him on his mobile phone number (which just kept going beep beep beep and dropping out on the five attempts I made) and making contact with the hosts neighbours on either side, we waited for more than two hours and have still not heard anything. As such, we had to cancel the booking as we urgently needed to find somewhere to stay the night. After two hours of searching online (Hobart and surrounding hotels were booked out because of the cricket so we finally found accommodation 50km away arriving in the dark and having to leave early in the morning to catch our flight home. I have requested a full refund via the Airbnb Resolution Centre but am still waiting for correspondence from them. We are very disappointed. We have stayed at other Airbnb places and they were great.
Karen
2016-11-13T00:00:00Z
There's a nice living room in John's house. You can enjoy Australian TV and enjoy from youtube as well,when you get home. You can relax yourself when you make your dinner.
Mengxi(Nancy)
2017-03-21T00:00:00Z
John and Sandra were very friendly and went out of their way to make sure we had everything we needed. Food and washing done were a definite bonus. B Flat was in a quiet area and perfect for relaxation. Glenorchy has everything needed in the way of shops and services. It is in walking distance. It also has public transport and provides a quick simple drive to Hobart. John has some great ideas to update the flat. We will certainly be back next year.
Jan
2017-01-26T00:00:00Z
Return visit to John's - great place, perfect location for what I needed. John is a very welcome and flexible host, this time helping out with a late check to suit my schedule.
Garth
2017-04-02T00:00:00Z
Great place, exactly as described. Johns a friendly and accommodate host - thx
Garth
2017-03-10T00:00:00Z
Nice, welcoming hosts. Location close to public transport. Basic furnishings but everything was exactly as described. I don't smoke, but the covered smoking deck would be a nice bonus for those who do. There was a "mini" amenities bar, including peanut butter which was very nice!
Paul
2017-02-19T00:00:00Z
Tipo de habitación
Casa/apto. entero
---
Tipo de propiedad
Departamento
---
Capacidad
2
---
Habitaciones
Glenorchy, Tasmania, Australia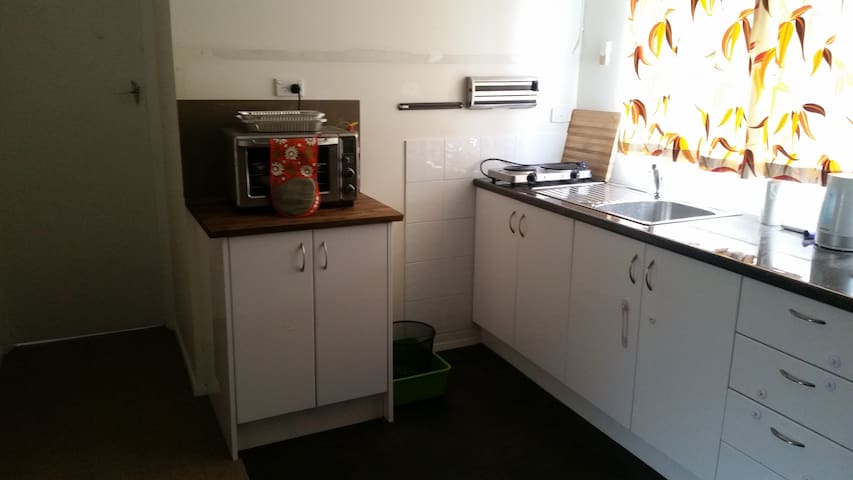 Tipo de habitación
Habitación privada
---
Tipo de propiedad
Casa
---
Capacidad
2
---
Habitaciones
Glenorchy, Tasmania, Australia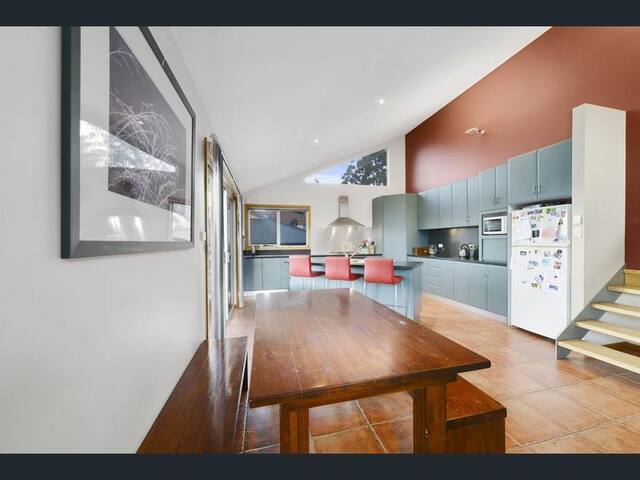 Lucy's family made us feel very welcome, they were very friendly and helpful with everything. They had good tips on what to do and see in Hobart, we truly enjoyed our time. It was a good location away from the busy city, but close enough to reach everything easily.
Katinka
2017-01-01T00:00:00Z
Tipo de habitación
Casa/apto. entero
---
Tipo de propiedad
Departamento
---
Capacidad
4
---
Habitaciones
Glenorchy, Tasmania, Australia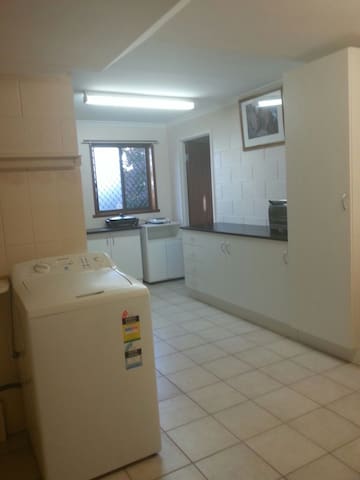 Perfect for a couple, a great little bunker with own courtyard and access. Very comfortable and cool with a fitout using as much recycled material as possible to give it warmth and comfort. Close to the city and North Hobart Restaurant strip and State Cinema.
Great little studio seperate from main house. Perfect for a couple. Own access and courtyard. Specialty grocer, butcher, bottle shop and all the other good stuff. Short walk to North Hobart for restaurants, bars and state cinema. Very central to CBD and all amenities
Specialty grocer next door, butcher, bottle shop and all the other good stuff. Short walk to North Hobart for restaurants, bars and state cinema.
We loved staying at Garry & Yel's place. The location was perfect for us (short walk into town and we had a car). Yel was lovely and so helpful. The room was really beautifully done up and had everything we needed. Thanks Garry & Yel - we hope to visit you again!
Frances
2015-03-01T00:00:00Z
This place is amazing! Garry and Yel are very pleasant and the location was perfect to explore the city and surroundings. Do yourself a favour and stay here!
Tyler
2016-03-03T00:00:00Z
Wir verbrachten eine Nacht in dieser topmodern eingerichteten und supergemütlichen Unterkunft, die perfekt ist, um Hobart zu erkunden. Sehr sauber und mit allem, was man braucht. Würden die Unterkunft sofort wieder buchen.
Karin
2016-12-02T00:00:00Z
The description of the accommodation was accurate. We loved the decor, quiet location but easy access to the city and especially loved the comfy bed! Speciality shops and amazing eating venues were all close by. Garry and Yel were great hosts and the little gifts were appreciated. We would stay again when next we visit Tasmania. John & Lorraine
Lorraine
2014-12-03T00:00:00Z
Garry and Yel were amazing hosts - I would come back every night to the light and heater on and bed fully made! Cannot recommend them enough, a must stay if you visit Hobart. Having the Hill Street Grocer right next door too is super convenient as well and easy to get to all the restaurants and shops on nearby Elizabeth Street
Nancy
2016-05-10T00:00:00Z
Garry & Yel have the most exquisite independant room! If you like design and small attention : this place is for you! The room has a great bathroom too. The bed is really comfy, but not only.. From the wood in the ceiling, the great organic shower gel, and the lights. Everything was great! Garry is nice, and advise us on where we can have a whisky tasting. Thank you both, your place is amazing, and we will come back next time we come around Hobart.
Priscilla
2015-01-26T00:00:00Z
Gary and Yel were very warm and welcoming hosts, showing us into our accomodation and advising of entertainment and amenities nearby. We were even surprised one morning with pancakes and on another occasion with cupcakes! Our hosts offered us space but support if we needed. It was a beautiful, homely location that we would happily revisit another time! Quiet neighbourhood, and close a to suburban shopping strip, and also the city centre/Salamanca. What a stunner :o)
Jo
2014-11-03T00:00:00Z
We had a great time in Hobart staying at Gary and Yel's. The accommodation was cosy and comfortable- you had everything you could possibly need. The store next door was amazing! Lots of yummy food to try and take on a picnic. Yel even provided us with a picnic basket to take on our day trip. Pizza up the road was great also! We would stay here again.
Rebecca
2016-09-23T00:00:00Z
Tipo de habitación
Habitación privada
---
Tipo de propiedad
Cabaña
---
Capacidad
2
---
Habitaciones
West Hobart, Tasmania, Australia