Introduce las fechas para ver el precio total. Ten en cuenta que se aplicarán tarifas adicionales y es posible que se añadan impuestos.
Gorgeous retreat on three acres of spires, boulders and stunning views. It's a magical place with artistic flare and utter serenity, close to Mt. Whitney. The house offers sprawling decks, Wi-Fi and cable TV, Wolf range, gas BBQ and gas fire pit.
Jurassic House is a prefab modern home on 3 secluded acres set amidst rock spires and huge boulders from the Jurassic, between 140-200 million years ago. The home is located at 4,600' elevation where spectacular desert meets the eastern escarpment of the Sierra Nevada. The elegance and comfort of the home is a welcome contrast to the rugged surroundings. It has a new heating and A/C system and electric fireplace. All glass is double-pane. The home is wrapped by a sprawling deck - every room has a sliding door leading outside, so indoor and outdoor living flow together. The floors are hardwood floors except the bedrooms, and the deck is made of a soft synthetic material that you can walk on in bare feet. Inside features three bedrooms – one king and two queens – along with two full baths, living room and dining area with stylish furniture, The kitchen has a Wolf range, dishwasher, microwave and coffeemaker There's a separate laundry room with washer and dryer. Outside features a gas fire pit and built-in gas BBQ. The home has free WI-FI and a large-screen TV/Bose sound system with cable access. As you look out from any room your gaze will be captivated by magnificent rocks and towering mountains - the Inyos to the east and Sierra to the west. Across the street is parkland. There's fishing withing a 5 minute drive. Whitney Portal is only 15 minutes away. Some of the most beautiful rock formations are those on and around the property. From the front deck you see Whale Rock, a spire that looks like a breaching whale. At the edge of the rear deck you're standing beneath Massive Rock, an 80-foot monolith. Stroll up the hill and you can sit on a boulder and look at Mt. Whitney, highest point in the 48 states. The entire house is open and accessible except a small 4th bedroom that's kept locked for storage. The spa is not in use. Please feel free to call, text or email me for tips on what to do and questions about the home.
Amazing location in the Alabama Hills above Lone Pine. Across the street from parkland. Great trout fishing within five minutes. Only 15 minutes from Whitney Portal - perfect base camp for a mountain trip. Close to Movie Flat, where hundreds of films were made. The spa is not in use. The water heater is new but smallish, so with multiple guests you need to be mindful of hot water use.
Excellent location and facilities, very responsive host. Would stay there again.
John & Jenny
March 2016
We loved our stay. The house is very, very nice and very comfortable. What we loved best was the setting. It has magnificent views of the mountains and is surrounded by the most unique rock formations. It feels remote, but close to the town of Lone Pine, a surprising pleasant small town. It is worth a trip to Manzanar, just north of town, and learn more about WWll interment camps. The visitor center on the edge of town is also worth a stop. Doug was very helpful and even texted us on our arrival day to make sure we found the place and to see if we had any questions. This is definitely a place you will enjoy.
Keith
March 2016
Doug was very helpful with everything. We had nice conversation before and when we called him for asking how somethings are working, he was very friendly helping us. His place is wonderful for relaxing, doing walks, visiting the Death Valley . We felt very comfortable and we will come again. The surrounding of his place is so beautiful! We had a really good time!
Ursula
March 2016
The house and the surrounding landscape were amazing. Our children were able to climb and explore (supervised, of course), finding all sorts of wildlife and wonder. And the area around Lone Pine and My. Whitney has a lot of interesting natural and cultural excursions. Everything was immaculately clean and in perfect working order. It was well worth the expense, a good value. Thanks to Doug.
Griff
April 2016
Place was as described.. well it was better than that. The location was phenomenally beautiful and Doug's recommendations were great. Our family had a great time. The 2 kids and dog loved exploring the rocks around the house. Days were filled with hikes and nights watching the starry skies. Perfect seeing break in every way. Thank you so much!
Nitin
April 2016
Highly recommend! Doug's Lone Pine house is wonderful. Very clean, comfortable, nicely decorated and functional with a great host. I would stay again and would recommend to friends. Doug was very professional, thorough and friendly host. Check in and check out were very easy. Particularly the checkout - a short list with reminders such as to lock windows and doors but not a long list of chores which is very nice when one is on vacation.
joan
November 2016
Awesome place. Awesome views. Awesome host.
Josh
April 2016
Amazing house in an amazing place! Very easy to communicate with Doug. Thank you
audrey
June 2016
Tipo de habitación
Casa/apto. entero
---
Tipo de propiedad
---
Capacidad
6
---
Habitaciones
3
Lone Pine
An entire home recessed on a quiet block in Lone Pine, CA! Within walking distance of the Lone Pine's Main Street, this quite cottage is the perfect outpost to begin your Mt. Whitney Hike, Death Valley Adventure, Fishing Trip, Ski Trip and more! Weekend (Friday and Saturday) accommodations currently require a 2 night stay minimum (Adding a Thursday or an adjacent Sunday will qualify). If you must book a single night on a Friday or Saturday, please contact me to see what we can work out. :)
You will have access to an entire house including front yard and back yard. The cottage is 515 square feet with 3/4 bathroom (Sink, Shower, Toilet), kitchen (Stove, Microwave, Sink, Pots/Pans, Utensils, standard Coffee Maker, Keurig machine - BYOP [Bring your own pod], Granite Counter), living room (POÄNG Chair for relaxing, table for eating with two chairs, evaporative-cooler aka swamp-cooler, hiker's cot (not a hammock!), and bedroom (Queen bed pillow top mattress, ceiling fan, closet space). The front yard features a beautiful Ash tree which changes colors with the season. Note: Lone Pine is currently under water restrictions. While our grass may have suffered, we want you to enjoy yourselves while remaining water wise and responsible. You will have full unrestricted access to the property. A Keypad on the front door allows for 24 hour check in. Your specific code is provided 24 hours prior to check in and is changed after each stay to enhance security. By rule: Check in is 3pm, Check out 12pm. Ask about early check in if you think you may arrive early. My wife and I live in Lone Pine and can be over to greet you upon your arrival but prefer to have you come and go as you please. We have set up the property to allow for 24 hour check in via keypad so if you plan to arrive late, just mind the neighbors. We seek to keep our interaction with you to a minimum as to preserve your privacy and keep the peaceful serenity that is the Eastern Sierras. We want you to feel as if this is your home away from home! We will be happy to provide you with maps of the local area, points of interest, suggest dining options, and assist you with your itinerary. We will be happy to assist you securing transportation to local camp sites such as Horseshoe Meadow, Mt. Whitney Portal, Onion Valley, Manzanar, and Death Valley Visitor Center, and beyond (typically only available during the Spring through Late Summer). Please keep in mind that there is typically a fee for transportation paid directly to the driver, usually between $5-20 per person depending on the destination and specifics requested by the party. We live in town and all issues regarding the function of the home can be addressed in person within 20-30 minutes. Please be accepting of our text messages during your stay. We will reach out to you prior to visiting the property, if there is any immediate information of importance such as road closures, hazardous weather, or imminent fire hazards.
There is no Uber in Lone Pine! There is some public transportation but not like you would expect in the city. If you need transportation to and from major events or trail heads and you have not rented a car, contact me so that I may secure a mode of transportation for you (one way/round trip transportation, not a rental car, 3rd party service use at your own risk, may charge cash). If it's stocked in the house, it is yours to use including the food, coffee, towels, and pans! We do not provide internet or TV. There is free internet on Main St. at every coffee shop, store, and bar. Laundry and car washing facilities are located near Main St. (Less than 1/4 mile away). We generally receive great cell phone and phone internet service from most major carriers. NOTE: Virgin mobile seems to be non-functional in the Eastern Sierras. Pet Policy: We love ALL pets! We welcome your cat or dogs to stay with you inside and out. Please do not wash your pet in the shower or sinks, use the garden hose outside (drains will clog with pet hair). Pet owners are asked to keep after their pet's waste and clean up messes in and out. There is a refundable security deposit (handled by Airbnb) of $100 should your pet create damages you can not/do not clean up or repair (scratching up the paint on the doors, chewing furniture, digging up plants). We will NOT claim any portion of the security deposit simply because you bring a pet! Rover will have to have been really really bad for us to claim... Just let us know you will have a pet with you so we can clean appropriately. Note: Airbnb will not charge or hold your credit card in this amount, you simply agree to cover any damages up to this amount using the method of payment charged at booking. Hired help in brought in to clean and launder after every reservation and requires a one time $30 cleaning fee regardless of the length of stay.
We had a great stay at Roberts place. Thank you for making it so convenient. The kitchen was fully equipped and there was also lots of food that we were allowed to use. The bed was really comfortable and he made us feel very welcome. Thank you Robert!
Anna-Lena
September 2016
Robert was very accommodating and kept in good contact to ensure our arrival went smoothly. He also left some really nice treats for my sister and I for our climb of Mt. Whitney. Very thoughtful and we enjoyed our stay!
kimberly
August 2016
Robert's place worked out great. It was a perfect place after a couple of all day hikes in Onion Valley and the Whitney Trail. Robert was very responsive with texted questions. We'll be back
Susan
November 2016
Robert was an outstanding host. The booking process was clear and concise. The Muir Cottage was impeccably clean in a lovely neighborhood at the foot of the Whitney Portal road. Robert was only a phone call away and provided a most wonderful stay. The weekend edibles were a most welcome addition too! Thank you! I would book the East Muir Cottage again as my first choice!!! Looking forward to staying again next summer. Thank you Robert!!!
Lisa
July 2016
Very comfortable little house with just the right amount of stuff you need for a cozy stay. Comfortable bed and very clean and tidy house. Lots of hiking books and brochures for the hiking enthusiasts. Only three blocks from the main strip of restaurants. The house was easy to find and Robert is at your disposal for whatever you need and very responsive to emails. Overall great value for a nice stay! And they had breakfast materials and granola bars for us after our hike stocked in the pantry. Thanks!
Sarah
July 2016
Nice cozy place and the Robert was very responsive and helpful
Marcelle
January 2017
This Cottage was really great to stay! Robert sent me immediate answers for my questions and I took a great rest here. Thank you :)
Minchul
October 2016
it's very close to market and main street in this town. I also eat something here. :) thanks~!
Muqing
October 2016
Tipo de habitación
Casa/apto. entero
---
Tipo de propiedad
---
Capacidad
4
---
Habitaciones
1
Lone Pine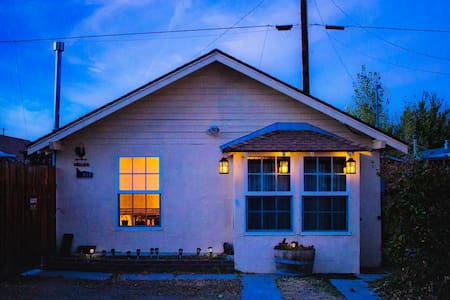 This is located at 6000' and 10 miles from town on 400 acres. The views are amazing and the Sierra are in the "back yard." It is nature at its best and visitors leave feeling refreshed and nurtured. Off the grid. Map available.
This house is located on 400 acres in the Eastern Sierra foothills outside of Lone Pine. It is close to Mt. Whitney, the tallest mountain in the contiguous 48 states and a destination for climbers. Other local attractions include Horseshoe Meadows, Cottonwood Lakes, Lake Diaz, Death Valley, and Onion Valley. There is access to the Pacific Crest Trail at several points in the Owens Valley. The house is large and comfortable. This is the perfect place to make a base camp for exploring the area, or to have a quiet retreat. The views are beyond compare. You are free to walk on the dirt roads that run throughout the property. Other nearby houses are off limits. We are typically working on the property but sometimes make trips to town for provisions. We will strive to be available for check-ins and any questions.
The house is at the end of a mile long road. There other full-time residents on the acreage but no neighborhood to speak of. There is no public transportation available. (SENSITIVE CONTENTS HIDDEN) Maps gives pretty good directions but please get specific directions from me as it can get confusing. It is powered by solar and propane, and includes wood heat in the winter. There is no Internet available and cell reception is sporadic; Verizon is best. Town (Lone Pine) is a 20-minute drive away; there are no stores close by, so make sure to pack thoroughly. The weather also tends to be a little cooler than what is forecast for Lone Pine.
Wonderfull place, beautifull house, great reception. An experience to repeat.
Discovery
July 2016
Doroethy drove out and met us at the gate, to lead us to the house. She is very nice. Showed us around, the property is as described. There were 5 of us and we had plenty of room. We did MT. Whitney in a day as a group, we really appreciated how comfortable the are. I have recommended this place to other friends who will be in the area.
Victor
July 2016
What a great experience. Doroethy was an excellent host. The location was amazing. Located a few miles from town, the home was secluded with a magnificent view of the mountains. Such a gem. You won't be disappointed.
Aaron
October 2016
Ewwww!! There were mouse droppings in my bed - which I found after I slept on it. The "A-frame" part of the house had rodent feces in both the bathroom and on the bed we slept in. My parents came night 1 of 2 nights total to pick up my husband and I at Whitney Portal after 8 days on the High Sierra Trail. They stayed in a different part of the house, and didn't have any complaints. The house is cozy and secluded, but really in need of a cleaning (dust on table, old food in pantry and refrigerator) and rodent abatement. Doroethy declined compensating us in any way.
Sylvia
September 2016
Doroethy welcomed us to stay at her beautiful house built at the foothill of eastern sierra. The house was maintained very well, super clean and very cozy. Both Doroethy and Ron welcomed us and gave us a tour of the house and they were extremely pleasant. The house had everything we needed and more. I would recommend the house for my friends and will also prefer to stay there whenever I travel to lone pine area. In summary its a beautiful house from even more beautiful people and will be a pleasure for anyone to stay there.
Karuna
July 2016
The experience was amazing and beyond what we expected just from seeing the pictures and reading the listing's description. I had expected a quiet, secluded space, but was so surprised by the history and richness of the surrounding area. The town of Lone Pine has great food and great character, and just behind the rental property is some very cool hiking. The property itself was incredibly dynamic and stimulating. Packed with books and movies. A lot of attention is being paid here towards fostering the best possible experience for any visitors.
Thomas
July 2016
Tipo de habitación
Casa/apto. entero
---
Tipo de propiedad
---
Capacidad
6
---
Habitaciones
3
Lone Pine