Illieston es una casa histórica y romántica familiar situado en el lado del país y delimitada por el río almendra y el valle secreto pero a sólo 10 minutos en coche desde o hacia el aeropuerto de Edimburgo. Damos la bienvenida a nuestros huéspedes a permanecer en su propio 1er piso y disfrutar de la libertad de los jardines.
Castillo Illieston y la tierra alrededor de ella fue una vez a la antigua sede real de la caza y visitaron a menudo por los Reyes Stuart (James II y James IV) de Escocia en los siglos 15 y 16 que tienen accidentó hacia fuera de su tribunal escocés en la cercana magnífica Linlithgow Palace. Illieston fue restaurada y alterada a mediados de la década de 1850 (cuando la propiedad de las esperanzas de la famosa casa Hopetoun cercano). Nuestra familia en los últimos años, como los custodios actuales, se ha llevado a cabo algunas modificaciones y reparaciones de la restauración en curso. Illieston se dice que es el más largo en casa habitada continuamente en la zona. La primera planta cuenta con unas vistas preciosas y es exclusivamente suya, se adapta perfectamente a una pareja en un dormitorio principal con cama king size y unos pasos de distancia se encuentra el cuarto de baño un poco rústico (gran bañera y ducha) con un estilo retro de los años 1950. Si se solicita, estaremos encantados de crear un sofá cama y / o una cuna para acomodar un 1 persona / niño adicional. Recién preparado desayuno escocés se sirve abajo en el comedor / sala de estar con una estufa de leña acogedor (en los meses de invierno), que es su espacio interior adicional mientras te quedas con nosotros. Le pediremos la noche antes de decidir sobre el momento que mejor usted y sus planes de viaje se adapte. Los huéspedes son bienvenidos a todos nuestros libros, mapas y guías de recursos que tenemos en el armario de biblioteca y en las tablas para ayudar a planificar / investigación y obtener el máximo provecho de estar en Escocia y Edimburgo. Los clientes son libres de vagar y explorar los terrenos en su tiempo libre; caminar por la orilla del río en el valle de abajo (pero tenga cuidado puesto que el río puede ser un torrente a veces). Garzas, halcones, incluso la rara Kingfisher se pueden observar. Ciervos, liebres, tejones y zorros, aunque solitario, son una alegría al encuentro. El magnífico 'almendra Aqueducto' que atraviesa el río suspensión de un loft del canal de la unión y el camino de sirga es realmente digno de ver y está a sólo 15 minutos a pie (ver fotos).
Tenemos vecinos muy amables en el desarrollo Steadings, la granja y la librea de trabajo más cercano. Estamos en campo con el río almendra que nos rodea en el paisaje abierto y arbolado con las colinas de Pentland aumento en el sur. Livingston ofrece grandes tiendas y excelentes servicios y los centros históricos de Linlithgow y South Queensferry están todos en la puerta. Por favor, eche un vistazo a nuestra 'Guía' para más cosas que ver y hacer en la alojad. Tenemos una buena selección de restaurantes en el barrio y a continuación es una lista de algunas descubrimiento vale la pena: - El Bridge Inn, Ratho. Un pub gastrointestinal sensacional e invitando posada local, recientemente renovado a un alto nivel. En ruta fuera del canal en Edimburgo. A sólo 10 minutos de Illieston en coche (ver datos de contacto en el 'Guía'. Wagamamas que es una famosa cadena de restaurantes japoneses que te pueden gustar; INFORMACIÓN: (website hidden) Wagamama - Livingston, La Avenida, el centro comercial The Elements, Livingston, El Centro, Livingston, West Lothian EH54 6Gs (PHONE NUMBER HIDDEN) Toni macarrones es un restaurante italiano que es también un buen lugar para cenar. INFORMACIÓN: (website hidden) Almondvale Fase 3, El Centro, Livingston, West Lothian EH54 6HR (número de teléfono oculto) El Hawes Inn es uno de nuestros favoritos (con enlaces a la gran Robert Louis Stevenson y 'Secuestrados'. Tiene una hermosa vista hacia el puente ferroviario famoso adelante (Patrimonio de la Humanidad) y el acceso a las playas y el paseo marítimo. INFORMACIÓN: (website hidden) 7 Newhalls Road, South Queensferry EH30 9TA (número de teléfono oculto) El Gurkah cocina es una cocina exótica tanto de comida de Nepal y la India. INFORMACIÓN: (website hidden) 53 Main Street, Broxburn EH52 5EE (número de teléfono oculto) Pizza Express es un gran restaurante, que tiene una deliciosa comida italiana y está muy cerca del cine ((website hidden)) si alguna vez quieres ver anyhting. INFORMACIÓN: (website hidden) Unidad 2, Livingston Designer Outlet, McArthur Glen Diseño Outlet Centre, Almondvale, Livingston, West Lothian EH54 6QX (número de teléfono oculto) Estos son los restaurantes que recomendamos, pero si usted desea descubrir más información, visite: (Website hidden)> ...> Escocia> West Lothian> Livingston También pizza express y wagamamas están en el centro comercial Livingston (el más grande de Escocia), y aquí hay muchos más restaurantes y tiendas también. Si se desea, se puede descubrir (correo electrónico ocultos) y (website hidden). gracias de nuevo
Wow!! What a find! If you are in the Edinburgh area, consider spending a night or two here. The guest space is huge and comfortable- big bathroom, big bedroom. The castle is amazing and beautiful. It's about a 25 minute drive to Edinburgh (castle and royal mile area) and even closer to the airport. The property around the castle is lovely- we only got to enjoy it for a few minutes, but it's worth leaving yourself time to walk around and check it out. Our travel plans changed at the last minute, so sadly, we only spent a brief time here. We did not get to meet Yelena, but we met one of their kids and their cute dog. Nicholas was a lovely host-friendly and gracious. He even cooked us a full, delicious breakfast early in the morning before we left. Very important tip: Finding the location on GPS/Sat Nav is wacky, so follow Nicholas's instructions to get there.
Jesse
2016-11-26T00:00:00Z
You really must venture out into the country to enjoy this treasure yourself!! Nicholas and Yelena were fantastic! They were so friendly and eager to welcome us with tea and treats. It was fun to stay with a family for a change and really wonderful to stay in a place with such history! Nicholas and Yelena were superbly attentive, had fantastic attention to detail, and wonderfully gracious by ensuring we had hot water bottles in our bed and a wonderful breakfast before we had to catch our early flight. Our stay was too short and I'd love to return to better soak up the experience!
Matt and Anna
2016-03-26T00:00:00Z
I cannot describe how phenomenal our stay was! Nicholas, Yelena, and their wonderful children were simply amazing. Nicholas was so kind enough to pick us up upon arrival for our stay and dropped us off at 4:30 AM in the morning for our flight. We unfortunately only stayed here for one night, but wished we stayed longer. You must stay for more than one day! The surrounding environment is absolutely breathtaking; great for long relaxing strolls. Yelena was so incredibly kind to provide us with dinner and Nicholas provided us with breakfast. Both meals were beyond "simple" and were considered a 5 star meal in my book. They were both incredibly helpful and informative. I could say so much more, but you simply just have to experience the goodness of the family and place yourself!
Aika
2016-01-13T00:00:00Z
The hosts are really nice and the history of this castle is incredible. We really enjoyed our stay and the wonderful breakfast in the morning. Would definitely recommend and would comeback in the future
Qian
2016-04-02T00:00:00Z
If you are looking for a romantic stay in an authentically Scottish location then look no further. Nicholas and Yelena could not have done more to make us feel welcome. Their attention to detail and kindness made us feel like special and valued guests. We had our own private sitting room, and Nicholas and Yelena made sure the log burner was fully stoked at all times to keep us cosy!! Beautiful wild flower arrangements were everywhere. Their breakfasts are second to none, the bed was super-comfortable (we slept like babies), the house is quirky and atmospheric - just as we like it. In terms of location, it's extremely easy to use public transport to get into the centre of Edinburgh. Couldn't recommend more highly.
Penny
2016-03-13T00:00:00Z
Our stay at Illieston Castle was one of the highlights of our time in Scotland. The place oozes history and Nicholas and Yelena were delightful. They were attentive and anticipated everything that we needed, and our conversations with them were fun and informative. If you're looking for a place to stay that's close to Edinburgh, but still feels like you're in a beautiful meadow outside of the hustle of the city. This is the spot. The rooms are adorned with books, antiques and vintage finds in a way that wraps you in warmth and comfort, and invites you to explore, learn and dream.
Don
2016-05-03T00:00:00Z
I regret to stay at this castle only because I had just one night. I should have spent an entire week. The host, Nicholas, was truly kind man. He welcomed us with warm heart, took care of every details while we were staying. The castle was in the middle of broad landscape which suits for a King's hunting area. The room was cozy, but what I liked most was the bright bath room and well decorated sitting room. And pizza and salad was just great! We really enjoyed our stay at this castle. I strongly recommend to you to stay here if you want to spend a quiet and peaceful night in Scotland countryside. I do hope to visit here again.
Kyungrim
2016-08-02T00:00:00Z
Nous avons été très bien accueillis par Nicholas et Yelena dans cette très belle demeure qu'est le manoir de Illieston. La chambre et la salle de bain étaient décorées avec beaucoup de goût et la literie haut de gamme. Le petit déjeuner écossais copieux et excellent. Une expérience unique dans un lieu unique avec des hôtes charmants.
Luc
2016-07-24T00:00:00Z
Tipo de habitación
Habitación privada
---
Tipo de propiedad
Castillo
---
Capacidad
2
---
Habitaciones
Newbridge, Escocia, Reino Unido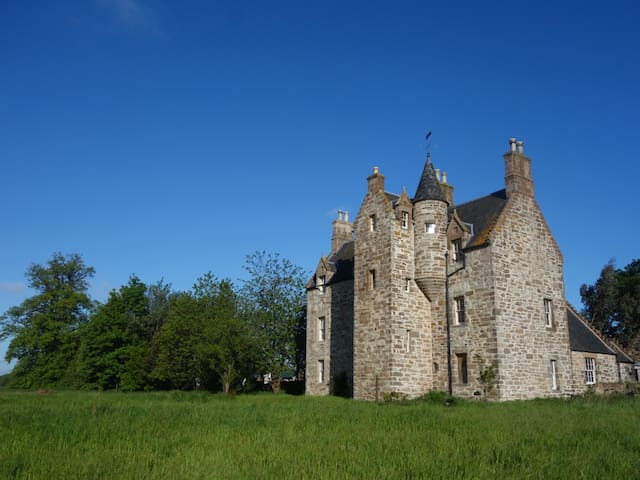 Great spacious double room just 5 minutes from Edinburgh airport! Towels and toiletries available. Room has a 32inch smart tv and alarm clock for that early morning flight. Our house has 2 separate living areas so use of a living room is available.
The area is nice and quiet and only 20 minutes from the city centre, great access to both the M8 and M9. Edinburgh airport is 5 minute drive.
Tipo de habitación
Habitación privada
---
Tipo de propiedad
Casa
---
Capacidad
2
---
Habitaciones
Newbridge, Escocia, Reino Unido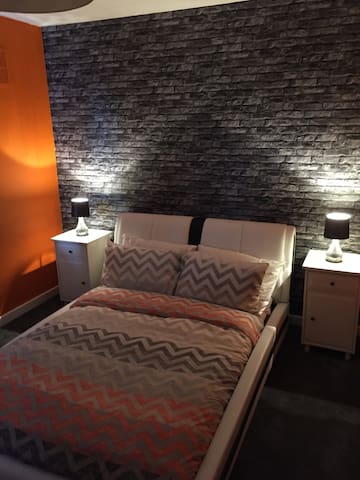 El estudio de jardín está situado en una esquina del jardín del castillo amurallado. El estudio se beneficia de una orientación hacia el con 3 grandes ventanas que dan a los manzanos y ciruelos y operaciones de cobertura de sauce vivo sur. Su propia entrada de la puerta en el lado norte del jardín donde se puede aparcar y entrar. Este espacio está muy bien aislado y es fácil de mantener el calor en invierno.
Your studio open plan room has been created from a former potting shed in the castle's walled garden. Set up for maximum of 2 people. Fully insulated with double glazing - a perfect retreat for self-catering accommodation; for a weekend, a business trip or for flexible short-term accommodation for weeks or months. We offer a comfortable Scots Double wrought iron bed with comfy mattress. TV with digital aerial + new for 2017 an Ethernet Broadband connection (your device must allow an RJ45 socket to connect as we don't have wireless internet). Wireless internet can be received from near the Coach House closeby outside. One thing to mention is that Mobile phone reception is patchy inside the studio but reception best closer to windows. The kitchen area is compact but functional and easy to keep clean. We offer a worktop oven/ 2 hob cooker and small fridge. The studio has excellent insulation properties so is comfortable all year round and a thermostatic oil filled electric radiator comes supplied. The shower room /wc has been recently upgraded and new heated towel rail added. You have access to the garden studio via your own door through the walled garden and can park closeby.
Por favor, vea nuestra información en el sitio del castillo
Fantastic place to stay! Our first stay at an Airbnb and won't be our last. Super weekend, lovely family, great hospitality. Many thanks!!!
Nigel
2016-10-30T00:00:00Z
Lovely garden studio which actually used to be a potting shed in the grounds of Illieston castle! Perfect for getting away and relaxing. Nicholas & Yelena are the perfect hosts; extremely friendly and welcoming!
Allan
2017-03-02T00:00:00Z
Nicholas and Yelena could not have been more welcoming and helpful. The garden studio is wonderfully private and cosy - with just what you need for an easy trip. I will be back again. The castle really is something and it was fantastic to be invited over for supper. My favourite Airbnb so far!
Alec
2016-12-23T00:00:00Z
Really nice accommodation and fantastically welcoming hosts.
Rob
2016-12-29T00:00:00Z
The cottage is just wonderful, like Nichols and Yelena are! It was a great time in Illieston! Liked the countryside and the long walks. That's also a great place for exploring your surroundings and of course Edinburgh! The cottage had everything I needed, was very clean and cozy!
Tanja
2017-03-23T00:00:00Z
Nicholas and Yelena were delightful hosts - super friendly and very helpful with hints on where to go and what to do. We loved the private "potting shed". It is quite a distance from anywhere, so you definitely need a car. Also wifi would be nice. A great place for peace and quiet.
Michele
2017-01-02T00:00:00Z
Nicholas and Yelena are the most welcoming hosts imaginable, and gave thought and attention to every detail that would make my stay as comfortable and enjoyable as possible. The accommodation is in the middle of fabulous countryside, yet just a short hop to Edinburgh by car or public transport – the very best of both worlds.
Sarah
2016-06-22T00:00:00Z
Tipo de habitación
Casa/apto. entero
---
Tipo de propiedad
Chalet
---
Capacidad
2
---
Habitaciones
Newbridge, West Lothian, Reino Unido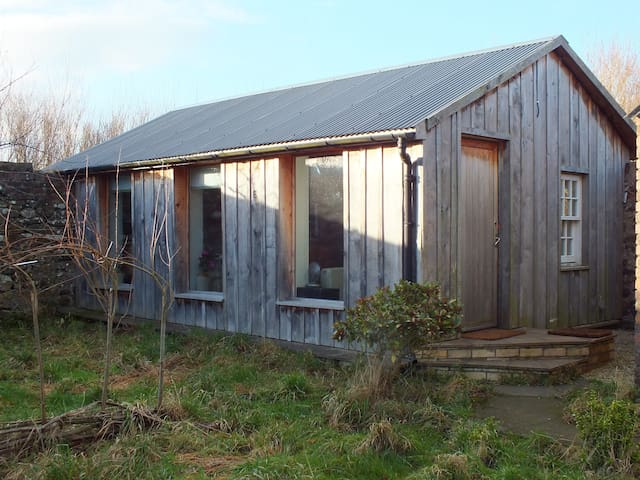 Nestled next to the river almond this idyllic 7 bedroom house can accommodate large get togethers for extended family or friends. Huge dining kitchen, statement lounge and games room with a full size snooker table and darts board. Edinburgh, Glasgow and Stirling are all less than an hour's drive away. The outdoor space is exquisite allowing guests to enjoy the scenery, river and wildlife. There are two wood burning stoves in the property and outside there is a chimnea and kettle BBQ.
This converted mill offers a unique party space drawing room with wood burning stove. The room is huge roughly 30 feet by 20 feet. Perfect for an extended family get together or significant birthday celebrations. The kitchen also has a wood burning stove and is another large party room. This can be used for seated dining for 20+. The kitchen is well equipped with 3 fridges and a freezer, an electric range master with halogen hob, a microwave, kettle and toaster. There is no washing machine. There are 7 bedrooms altogether. Four of these are double bedrooms (two with double beds and two with king size beds). There are two twin rooms with bunk beds. There is a 7th bedroom which has a king size bed with a single above it and an additional double bed (and spare double mattress). This would be perfect for a family sharing or a group of friends or cousins. There is a small study with a sofa bed perfect for one adult or two children and in the snooker room/games room downstairs there's a futon which would sleep two. Altogether there is bed space for 17 people plus two sofa beds and a futon, there is also space in the lounge and snooker room to have more inflatable beds if required. The games room has a full size snooker table which guests are welcome to use and requested to look after. There is also a darts board but you'd have to bring your own darts. This room has access to the garden via a glass door and is a real men's den!
We had an amazing weekend at Penni's beautiful house! It was warm and welcoming, as was she! Iv never stayed in such a lovely home, and the garden and grounds were just breath taking. I would highly highly recommend, and fingers crossssed we can stay again next year! Thankyou for such a lovely stay xxxx
Beau
2017-03-27T00:00:00Z
The Mill House hideaway is a bit of a hidden gem. You wouldn't really think that you were so close to Edinburgh while staying there. Both the kitchen and the lounge room are really spacious and we're more than big enough for the group that we had there. The garden was great for sitting out in and overall the house was just brilliant. Penni, our host, was very accommodating. Very quick to answer to messages and most helpful. She offered to put extra things in the house to accommodate our 2 year old son, which was above and beyond. She was great in answering questions before we booked to see that the house was suitable for what we were looking for. Overall, a very satisfying stay, really enjoyed ourself. Couldn't recommend more.
Stephen
2017-04-03T00:00:00Z
First ever review so please be gentle... I stayed at Lins Mill with a group of friends for 2 nights. Penni and I exchanged quite a few emails prior to my arrival and she pulled out all the stops to make sure everything was perfect for us. A brilliant example is the fact that when I mentioned we'd like to watch some rugby while we were there. Although she advised they had neither a TV license or an aerial, she then set about getting both organised as well as an internet connection. This was all arranged in a couple of weeks and was hugely appreciated by everyone that was there and a demonstration of the lengths Penni was happy to go to. In addition she let us know is was safe to swim in the river, organised for a BBQ to be available for the visit, advised on the local amenities and various other little bits and pieces that helped make the weekend a success. The location is incredible and the photos don't quite do the building justice. You really have to see it to understand the size of the place. The kitchen and living room / lounge areas each comfortably fitted the entire group with room to spare and in particular having the 3 large sofas circled around the open fire while we all chatted was a highlight. We didn't have any kids with the group but I imagine it would be great for them. There's a huge garden to play in with a swing set, climbing frame, and goals for football. Supervised of course, I'm sure kids would love playing in the river, adventuring about in the woods and so on. Advice for future guests is that it is a bit out of the way and (SENSITIVE CONTENTS HIDDEN) maps doesn't seem to direct you to it particularly well. I was fortunate to live locally and knew exactly where it was so was able to give clear directions to people. If you are visiting for the first time it's probably a good idea to ask Penni for directions! All in all the stay was perfect, I would recommend it to anyone and I will certainly be seeking out opportunities to stay again in the future. Thanks Penni!
Kevin
2017-03-12T00:00:00Z
Tipo de habitación
Casa/apto. entero
---
Tipo de propiedad
Casa
---
Capacidad
16
---
Habitaciones
Newbridge, Midlothian, Reino Unido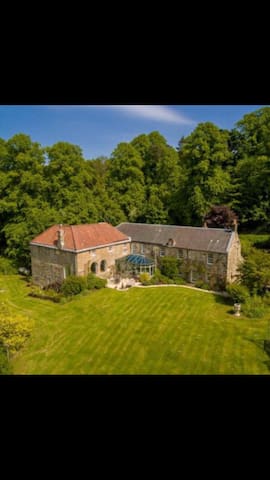 Nuestro moderno loft está por encima de nuestra casa familiar, pero totalmente independiente. Usted tiene su propia puerta de entrada, la cocina de la mini estación de té /, dormitorio principal con TV y zona de estar. Cuarto de baño con cabina de ducha. Otro dormitorio con dos camas individuales. Recientemente renovado y en una ubicación excelente y tranquilo. 20 minutos en autobús al centro de la ciudad y 10 minutos en autobús al aeropuerto. Mi lugar sería adecuado para familias, amigos, parejas y clientes de negocios. Aparcamiento en la calle disponible.
Moderno y loft recién decorada, por encima de nuestra casa, pero totalmente independientes. Usted tiene su propia puerta de entrada, situada en el lado de nuestra casa, lo que lleva a las escaleras de dos dormitorios (con capacidad para cuatro). Tenga en cuenta que no hay cocina o fregadero de la cocina pero usted tiene su propia nevera, microondas, cafetera, tostadora, vajilla, etc. También proporcionamos agua, té y café, y algunos conceptos básicos para empezar. Se puede comer el desayuno, etc. en la zona de comedor en el dormitorio principal. cuarto de baño con cabina de ducha independiente recién instalado. Vistas a las colinas de Pentland.
Corstorphine es un barrio tranquilo y pacífico de Edimburgo. Aproximadamente 3,5 millas al oeste del centro de la ciudad. La carretera principal hacia el centro y el aeropuerto, se encuentra en la parte de atrás de nuestra casa. Los autobuses salen cada cinco minutos, que le llevará al centro en 20 minutos, o bien, en la dirección opuesta, hacia el aeropuerto en 10 minutos (en el enlace aéreo 100 de autobús expreso). Aparcamiento en la calle también está disponible en caso de tener un coche. Corstorphine tiene una abundancia de supermercados, tiendas, restaurantes, tómese aways, cafeterías y bares. Se puede disfrutar de un paseo a lo largo de St Johns Road y disfrutar de la escena local! El zoológico de Edimburgo se encuentra en Corstorphine Hill y es un gran día. El estadio Murrayfield está a 30 minutos a pie (2 millas) o un fácil 5 minutos en autobús desde St Johns Road. Un montón de aficionados al rugby eligen Costorphine por su proximidad y fácil acceso al estadio. Para comer recomendamos Mimis panadería, justo al otro lado de la carretera desde nuestro lugar, para un delicioso desayuno / almuerzo, té de la tarde. Abida restaurante (también al otro lado de la calle de nuestro lugar), para una deliciosa comida india / tailandés, y es un BYO (traer su propia botella). Para una comida más tradicional del Toby parrilla libre es una gran elección. Adecuada domingo asado todos los días de la semana a un muy buen precio. De cinco a diez minutos a pie de nuestra puerta. Si prefiere comer en casa, entonces tenemos un gran Tesco 24 horas para abastecerse de todo lo necesario. También cinco minutos a pie de nuestra puerta. Hay también un montón quitan lugares para que usted pueda pedir una entrega a domicilio. Estas son sólo algunas de las instalaciones Costorphine tiene que ofrecer.
Very warm and comfortable beautifully decorated private space. Great location to visit my son at Herriot Watt University . Would love to stay here again.
antonia
2017-02-17T00:00:00Z
Good place to stay close to stadium
Mart
2017-03-18T00:00:00Z
Notre séjour chez Diane était très agréable :) L'appartement très propre et bien situé (que ce soit du centre ville ou de l'aéroport) offrait tout le confort nécessaire et nous nous sommes sentis comme chez nous! Je recommande! ;) Ottimo posto! Veramente confortevole e vicino al centro! Lo consiglio :) Lovely flat! Very good place to stay and near the city center! I recommend! Thank you Diane
Jessie
2017-04-03T00:00:00Z
The place was quiet and impeccably clean. Diane was a wonderful host and gave great advice that suit us and our travel plans. She saved us a ton with her parking tips! Diane really thinks of all the little touches that make a space feel like a home away from home. Thanks Diane! See you again soon.
Natalie
2017-03-21T00:00:00Z
the space is great, very large and comfortable. the whole area was immaculate. The coffee station was great, Diane had provided a loaf bread, butter, cereal, milk and fresh orange juice too which was great. This location was great for going to Edinburgh Zoo.
Alison
2017-02-19T00:00:00Z
Great location, easy to find parking space near the flat, good nearby restaurants and cafes. The place was immaculate and had everything we wanted. Diane was very keen to help us in any way she could and provided plenty of the basics for coffee, tea and breakfast.
Paul
2017-03-12T00:00:00Z
Diane was extremely accommodating, and has wonderful recommendations for restaurants. The apartment is located one minute from public transportation, and is only about a 5 mile walk to town!
Peyton
2017-03-15T00:00:00Z
Diane's place is very comfortable and quite nice. She's a wonderful host, will reply to your questions quickly and will provide everything you need and more. The loft is independent and well located, with a 24 hour Tesco across the street and the bus stop around the corner. You can be in the airport or in the city center in minutes. It's a wonderful place to stay and I would definitely recommend it!
Mariana
2017-02-25T00:00:00Z
Tipo de habitación
Casa/apto. entero
---
Tipo de propiedad
Loft
---
Capacidad
4
---
Habitaciones
Edimburgo, Escocia, Reino Unido
Guests are warmly welcomed to share our brand new cosy and modern 4 bedroom, fully equipped new-build home situated in Kirkliston, 10 mins from the airport - perfect after arriving here or before flying home, 25 mins from centre of Edinburgh. We have TWO bedrooms available meaning we can accommodate up to a group of 4. We do not list these rooms separately so we can host you exclusively! Fancy exploring further afield? Easily done as major routes close by!
We have TWO comfortable, bright and airy double bedrooms with a double bed which allows us to host up to 2 guests in each room. There is also a shower/bath room - THIS WILL BE YOUR OWN FOR THE DURATION OF YOUR STAY! Downstairs, the area is shared if we are at home, which includes: - Spacious livingroom with full Sky TV package (inc sports) - Kitchen/diner with space to dine for up to 6 guests - 1 x downstairs toilet - Spacious garden is still a work in progress with patio and BBQ facilities (weather permitting!) by summer time. - We have a garage where you can store your own bikes. We live in a modern new-build style property that is suitable for people of all ages!
Kirkliston is a small village approx 10mins away from Edinburgh Airport, 25 minutes from the city centre of Edinburgh. As well as having a village feel but being close enough to the City, the great thing about living in Kirkliston is it's close proximity to the major routes which lead to other great places to visit - including the M9 for Stirling/Loch Lomond (approx 1hr away), M8 for Glasgow (approx 45mins away), and the M90 for Fife, which leads to the A9 for Perthshire and the Scottish Highlands. Closer to home, is the historic village of South Queensferry. This is a 20 minute walk or 5 minute car journey. There are numerous cafes/restaurants/pubs to entertain you - and spectacular views of the recently awarded World Heritage Site, for the Forth Rail Bridge.
Claire and her husband were lovely and gracious hosts. We stayed at their place very briefly the night before we had to catch a very early flight, but nonetheless they made us feel right at home. Claire had typed out very clear and complete instructions on everything in the home and the area. Their place is great for getting to and from the airport, less than 10 min drive.
Arianne
2016-12-29T00:00:00Z
Large, clean, secluded house with very welcoming hosts
Hrolf
2017-03-14T00:00:00Z
Perfect location if you have an early flight. Very quiet, calm and cute new residential development area. Immaculate clean house, pristine conditions and welcoming environment. A true gem if you're considering visiting Edinburgh. A+
Emanuel
2017-02-26T00:00:00Z
Great place to stay, Claire is great and the house is modern and immaculate. I would not hesitate to stay there again. Really enjoyable and close to Queensferry with great restaurants overlooking the river and the glorious bridges.
Karen
2016-12-22T00:00:00Z
Chris and Claire's home was warm, friendly and impeccably clean!
Charlotte
2017-03-19T00:00:00Z
Just perfect. Excellent communication, brand new house, close to the airport.
Tiago
2017-03-04T00:00:00Z
Clair and His boyfriend were really nice hosts, kindly explained everything and how to reach the places we wanted to see. The apartment is very beautiful and cleaned . We had a good stay :) Thank you
marcos
2016-12-20T00:00:00Z
This house is literally brand new, super clean and Claire was really accommodating. Cheers
Simon
2017-02-08T00:00:00Z
Tipo de habitación
Habitación privada
---
Tipo de propiedad
Casa
---
Capacidad
4
---
Habitaciones
Kirkliston, Edinburgh, Reino Unido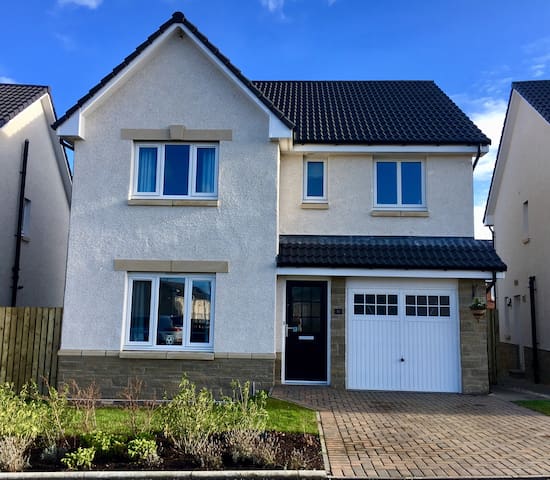 Acogedor y cómodo estudio apartamento, recientemente reformado, en una fantástica ubicación con wifi gratuito. Muy bien comunicado con el centro de Edimburgo, 15 minutes.Airport 10 minutos. El estudio está situado en el Campo de una casa de familia y tiene su propia entrada y aparcamiento. Los servicios locales están a 5 minutos a pie.
El estudio está muy bien amueblado y justo sido totalmente renovado. El cuarto de baño es de un buen tamaño con una corriente eléctrica luces de la ducha y de la característica. La zona de cocina está totalmente equipada con lavadora, microondas, olla a presión, tostadora y mini cocina, plancha y tabla de planchar y una pequeña mesa de comedor y dos sillas. Hay una cama doble, pero tenga en cuenta la cama está en un receso y no hay lugar a ambos lados de ella. Hay wifi gratuito, tomas de corriente del cargador USB y una televisión con TDT y secador de pelo.
El pueblo de Corstorphine está llena de historia y encantador para explorar. Hay varios restaurantes y bares a poca distancia. El galardonado restaurante indio "Spice Lounge Cocina" es sólo 1 minuto.
Lo más destacable del alojamiento es la privacidad y el equipamiento del mismo, en el tiempo que estuve no eche nada en falta, además de ser muy acogedor. Es cierto que no está cerca del centro pero está muy bien comunicado, a pocos metros paran autobuses que te dejan en el centro en menos de media hora y a menos de 5 minutos tiene parada el Airlink 100 que conecta con el aeropuerto de Edimburgo. Y muy importante, Tracey es una estupenda anfitriona, se preocupó mucho por dar detalladas instrucciones para localizar el alojamiento y tiene muy buena disposición para ayudarte en cualquier cosa que puedas necesitar. Gracias Tracey!!!... espero regresar por pronto.
Sonia
2016-11-12T00:00:00Z
If you are staying in Edinburgh then stay here. It's a perfect, self contained flat complete with kitchenette and washing machine. Clean, modern and comfortable. Tracey was a great host - very friendly and helpful.
Ken
2016-10-04T00:00:00Z
We booked very last minute with Tracey and she was very accommodating. She rushed back from being out in town to prepare the room for us and because we waited a few mins she gave us a complimentary bottle of wine. The studio was compact but very cosy. We was given a complete run down on How things worked. Breakfast was provided of cereals and toast with tea coffee and orange juice. Bed was very comfy. Property is in a good location with bus stop right outside going to Edinburgh centre. Tracey and her partner where very welcoming and we would stay here again and recommend it to others. Thanks Tracey.
Katalina
2016-08-16T00:00:00Z
Tracey and her home are wonderful! We had the opportunity to meet her husband who was also incredibly kind, and who did all the work to create the beautiful space we stayed in. So impressive! Tracey was extremely communicative as we were coordinating and she gave my husband and I such a warm welcome. True Scottish hospitality! The unit was clean and very comfortable, and the location was great - close to the airport and multiple bus stops. The bed was very comfortable, the space was warm and the decor lovely. All the amenities were excellent. Tracey helped us locate the appropriate buses for our needs and gave us plenty of tips about where to go in the city. We had a wonderful stay and would absolutely recommend Tracey's place to anyone looking for a place in Edinburgh! Thank you Tracey!
Annie
2016-09-16T00:00:00Z
If you're thinking about booking a stay at Tracey's place, stop thinking. Just do it. If we could rate over 5 stars, we would!! Her home is located maybe 10 minutes from the airport (we rented a car and it was very easy to find our way). The home is quaint, modern, and all around wonderful. You get your pennies worth! Small area, but the perfect amount of space for peoples wanting to make the most of their trip (and not waste it away indoors!) There's also ample room for parking. We were greeted by her parents upon arrival, and they were darling. Very helpful! They informed us Tracey would be working, but we're eager to help us get settled in and explain the in's and out's of the home. We didn't meet Tracey until day two, but I'm sure glad we did. She gave us advice on things to do, places to eat, and "must see" areas. We traveled with our 11 month old daughter. Tracey went above and beyond on making us comfortable. She provided us with a crib and bedding. Also, she went as far as to bring us some toys and books from her work. How awesome is that? Our daughter had a great time with the toys. :) All in all, you need to book this home for your Scotland adventure. We spent 4 days total, 2 traveling by plane, 1 in Edinburgh exploring, and 1 in Loch Ness (3 hour drive). Save money and see the world!
Jamie
2016-11-25T00:00:00Z
Tracy was fantastic, she gave us clear direction on how to get to her place from the airport (which was only 15 minutes on the bus) and then as soon as we got their she presented us with maps and leaflets to help make our stay as best it could be. There was still a guest there when we arrived but she allowed us to leave our luggage with her so we could go explore the town a bit more before settling in. The place itself was beautiful and exactly what we needed for a long weekend. There was a small kitchen that she kitted out with bread, biscuits, tea, coffee, jam, butter and juices, this was great as we made our own breakfast and lunch whilst staying to save on money. Everything was clean and the shower was always hot. Tracy even provided us with a mini work top oven/ stove. She quick at texting back and is even helping me sort out getting back my wallet that I had stupidly left in an Uber on my last night there! All in all it was a fantastic stay, made even better by Tracy's hospitality and lovely little converted garage.
Ellie
2016-11-07T00:00:00Z
房东超级好,房间超级棒!
璐
2016-09-08T00:00:00Z
Tracey was a wonderful host: she was extremely helpful and considerate and easy to communicate with. Her place is conveniently located between the airport and the city center. I would definitely recommend staying here--you're experience will be a great one.
Kate
2016-10-09T00:00:00Z
Tipo de habitación
Casa/apto. entero
---
Tipo de propiedad
Departamento
---
Capacidad
2
---
Habitaciones
Edinburgh , Midlothian, Reino Unido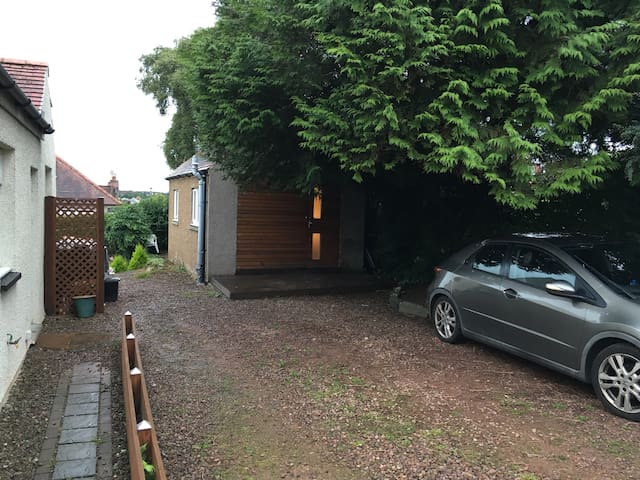 Our beautiful studio with spacious hot tub is close to Edinburgh Airport and only 5 miles from the West End. Perfect for enjoying all that Edinburgh offers, but with the peace and quiet of a rural location. Come for Valentine's and enjoy some extra special luxuries, including a bottle of champagne! Own transport is recommended but public transport is nearby so leaving the car and hopping a bus/tram into town is easy. Plenty outdoor stuff close to hand if you don`t want to go too far.
This garden studio with luxurious Outdoor Hot Tub, large outdoor decking area and barbecue, is a self contained totally private cottage separate to our main house, with all the facilities you could want. It's spacious and in pristine condition with beautiful views over the garden and adjoining fields to the Pentland Hills in the south and Edinburgh Airport and beyond to the west. We love super comfortable beds so the King size bed is exactly that. There's an electric blanket too, although the house is so cosy you'll probably not really need it. Unless of course you just love the blissful luxury of slipping into amazingly soft, cool 400 thread count cotton sheets with gorgeous warmth permeating it all! Wardrobe and storage space are plentiful and there's a wee sofa to relax in. And for those who enjoy their must-have techtoys you'll find a Home Hub docking station for smart phone users with Bluetooth so you can stream your own personal music or DAB radio. The wall mounted flat screen TV is Smart enabled, so Netflix, i player, You Tube etc and many more are available. A DVD player and selection of some of our favourite DVDs are there. Same goes for the selection of music CDs. There's a variety of books and board games too. The kitchen has all that you need including new washer/dryer, microwave, fridge freezer, etc. For coffee lovers there is a Dolce Gusto coffee machine, cafetiere or instant, whichever suits best. And you can enjoy our generous welcome pack with basics like milk, bread, butter, orange juice and cereal plus a bottle of vino and a wee selection of tasty goodies to savour! The shower room is presently being upgraded with larger shower and underfloor heating for added comfort. Loads of thick, super-soft towels, luxurious dressing gowns and gorgeous lotions and potions too. The large decking area has table and chairs, sun loungers, barbecue and of course, a full size Hot Spring Hot Tub offering oodles of room for our guests to soak up those fabulous uninterrupted sunsets and views West. Our location offers the best of both worlds. Easy access to the city for those who want to experience Edinburgh's truly special and unforgettable sights, along with all the peace of the countryside. As we are on the west side of Edinburgh not far from the Forth Bridges it makes a perfect jumping off point for those who want to see more of Scotland.
This location is pretty unique in Edinburgh as you are effectively in the open countryside which is quiet and relaxing , but go 1 mile down the road to Maybury Road/Queensferry Road and you are on the main route into central Edinburgh with a choice of buses and local shops. For guests who want to explore north of Edinburgh, going left on Queensferry Road takes you straight out to Queensferry and the Forth Bridges, across towards Fife/St Andrews/Perth and the A9 to Aviemore and Inverness and beyond. 2 hours car drive gets you to Glen Coe and the West Highlands. There are country walks right from our doorstep around Cammo Estate and down the River Almond to Cramond village, all the way to Cramond Beach on the Firth of Forth. From there you can walk along the front as far as you like all the way to Leith, or cross the tidal causeway to Cramond Island. Alternatively, part way down the river there are routes West through Dalmeny Estate to the historic town of South Queensferry, right under the famous Forth Rail Bridge. On the way back you can stop in at Craigie Farm Shop and enjoy the choice of local fare and have a coffee outside and enjoy amazing views East across Edinburgh.
Nice quiet and peaceful surroundings. Lovely views over looking the airport runway. Host were excellent and went above and beyond what they were required to do by letting us leave our luggage early and going out of their way to make sure we had an enjoyable stay. Will be looking to book with them again.
Michael
2016-11-21T00:00:00Z
We stayed at the studio for 2 nights and we couldn't recommend it enough!! Anne and Allan were the perfect hosts. The studio itself was perfect and the hot tub was amazing. Anne and Allan even made sure all the essentials were there, eggs, butter, milk, fresh orange etc along with a lovely bottle of wine which was a lovely touch. We will definitely be returning to this beautiful studio in 2017!! Thanks very much again x
Catriona
2016-11-19T00:00:00Z
Anne and Alan where very welcoming when we arrived. The cottage was perfect; it was set in a lovely and peaceful destination and the view was beautiful. We were celebrating our anniversary and there was a bottle of prosecco in the fridge waiting for us which was a lovely touch. There were essentials left for us too which was a really nice gesture. The hot tub was so relaxing and we couldn't get enough of it! This place has everything you could need. One of the best places we have stayed and will definitely be back, would 100% recommend. Anne and Alan where great hosts and made us feel very comfortable.
Ben
2016-11-06T00:00:00Z
Anne was a super host, and very easy to contact before we arrived. The studio had everything and more that you need, the drinks and nibbles that she supplied were lovely, it was the perfect place to relax and unwind. The hot tub was gorgeous and the view was superb! Really looking forward to staying there again, perfect accommodation with a perfect host, plus very close to the city centre, making a perfect escape from the busy city. Would highly recommend!!
Scarlett
2016-09-04T00:00:00Z
My husband and I had a fabulous stay at Anne and Allan's studio home. The location is fantastic in a rural setting overlooking edinburgh runway. The studio itself is spotless and has everything you need for an enjoyable stay. Anne and Allan made it extra special by providing some lovely goodies and wine for us arriving. We had a fantastic time in the hot tub watching the aeroplanes through the day and even spent some time in the tub late at night in the dark watching the stars... it was just beautiful. Would highly recommend and we will certainly be back in the future.
Gillian
2016-08-22T00:00:00Z
From the moment we arrived to the moment we left, my partner and I felt thoroughly at home. Anne and Allan were perfect hosts who respected our privacy whilst offering helpful information about the local area. The cottage was brilliant, every single thing was thought of! By far the best airbnb location I've stayed in, we will be back!
Stephen
2016-09-18T00:00:00Z
Anne and Alan couldn't have been lovelier. The place is wonderful. Quaint. Calm. Beautiful. It's a sanctuary near the city. It has everything, even washer and dryer. It is hidden away and remote but easy to find. Highly recommend!
Diane Kate and tom
2016-09-09T00:00:00Z
This was a stunning studio located in a beautiful part of Edinburgh. It's only a short drive away from Edinburgh city centre however the studio is set in a very tranquil and peaceful environment. The studio was very clean and well presented with a nice comfy bed, and everything that you would need for your stay was available. I was very surprised at how much thought had gone in to the little details that Anne and Allan had not over looked. Upon arrival we was greeted by Allan who is a lovely friendly chap. We was pleasantly surprised at the little extras That Anne had left for us such as the fresh milk, bread, butter, eggs and last but not least a nice bottle of wine. There's is a lot of other things I could mention but I would need a extra 500 words! Although the property is close by to Edinburgh airport I can Honestly say it did not bother us one bit we acctually enjoyed looking at the lit up runway at night. i would highly recommend this studio based on the location and the lovely property. The highlight for me however was the luxurious hot tub!!! Thank you once again Anne and Allan it was a pleasure to meet you and we will hopefully be back again in the near future!!
Rebecca
2016-09-07T00:00:00Z
Tipo de habitación
Casa/apto. entero
---
Tipo de propiedad
Bungalow
---
Capacidad
2
---
Habitaciones
Edimburgo, Escocia, Reino Unido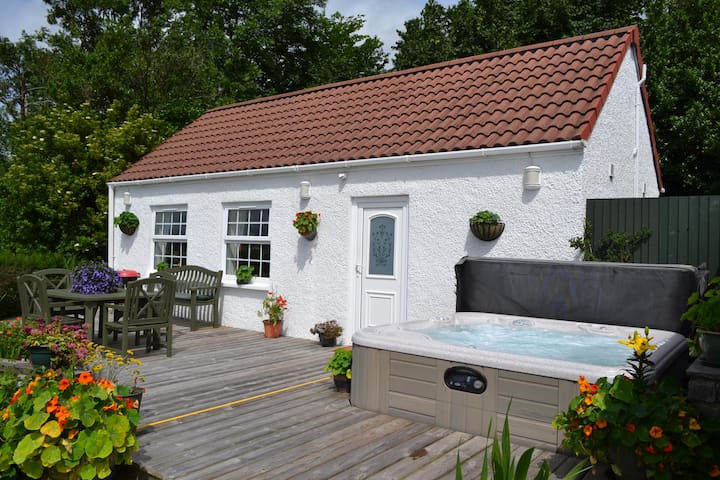 Single room in new build property/development, a hop and skip from Edinburgh airport, with bus links round the corner for easy 30min commute to and from city centre. Closet storage, private toilet facilities, central heated for a cosy stay!
This room is situated on ground floor of a 3 floor / 4 bed townhouse. There is a private toilet/washroom facilties right next to the room, with shared showering/bath facilities just upstairs. Inbuilt closet storage to the rear of the room. Being a new build property, this room is well insulated, central heated with a thermostat on each floor.
My home is situated within a lovely, quaint village called Kirkliston. There is a local pub serving some delicious pub grub ( Lunch time weekdays and 10am - 5pm weekends ), local convenience store, cafe, take away, uni sex hair salon and the best chinese takeaway I've dined from in ages! ( I may be a tad biased, but its seriously good! ). My home is a development built on the site of an old distillery... one of the original distillery towers still stands and is being converted to a 3 bed home, but adds lots of character to the development. Even the brick work on the boundary walls to my property, have been recycled and originated from the original distillery, so history is in abundance! Directly across the road from my home is a little river side walkway, that leads a number of miles to the other side of the village. Perfect for a casual stroll on lazy day! South queensferry is a mere 2 miles away where you'll find the most picturesque little village with quaint pubs and eateries..not forgetting the stunning views of the forth road bridge, all accessible via bus route which stops directly across the street.
I only stayed in Edinburgh for one night but was warmly welcomed by Patrick into his new home. I had a small single but very clean and comfortable and modern room which satisfied me for fringe visit - easy access into town and airport. Thank you Chris
Christopher
2016-08-24T00:00:00Z
Excellent host in every way. Lovely house. Will be staying here a lot over the next couple of months. More reviews to come
alexandra
2016-06-04T00:00:00Z
Patrick made me feel very welcome. The room was clean, tidy, comfortable and Patrick provided a lovely little welcome pack which was the icing on the cake! The neighbourhood is new build and Patrick was very helpful in pointing out good places to eat nearby and a lovely walk along the river. Great stay and would recommend to most but you can probably tell he's already very popular. Reasonably priced too
Louise
2016-05-21T00:00:00Z
Patrick's place is a gem. He is very friendly and helpful, and his place has such great style and convenience. He made sure I had everything I needed and arranged an early morning taxi to the airport for me. I was impressed by his level of professionalism. Great place to stay before a flight!
Danielle & Torsten
2016-09-18T00:00:00Z
Though I arrived late in the night from the aiport, I was greeted and welcomed warmly in Patrick's house. The room is well furnished and all facilities are great. For some calm and also being able to enjoy Edinburgh, this is a great place.
Auxence
2016-07-04T00:00:00Z
Patrick was very welcoming and did his utmost to make you feel at home. It was exactly as described and Patrick was very easy to contact with regards to the stay. I would strongly recommend and would certainly stay again.
Jack
2016-08-26T00:00:00Z
This beautiful house is very close to Edinburgh's airport (10minutes by car), and has good connections to the city centre. Patrick was very kind and helpful. I highly recommend this place.
Sofia
2016-12-17T00:00:00Z
Patrick was really friendly and I helpful, especially the check in booklet he provided me with. Would definitely recommend to others!
Sufyan
2016-08-05T00:00:00Z
Tipo de habitación
Habitación privada
---
Tipo de propiedad
Casa
---
Capacidad
1
---
Habitaciones
Kirkliston, Edinburgh, Reino Unido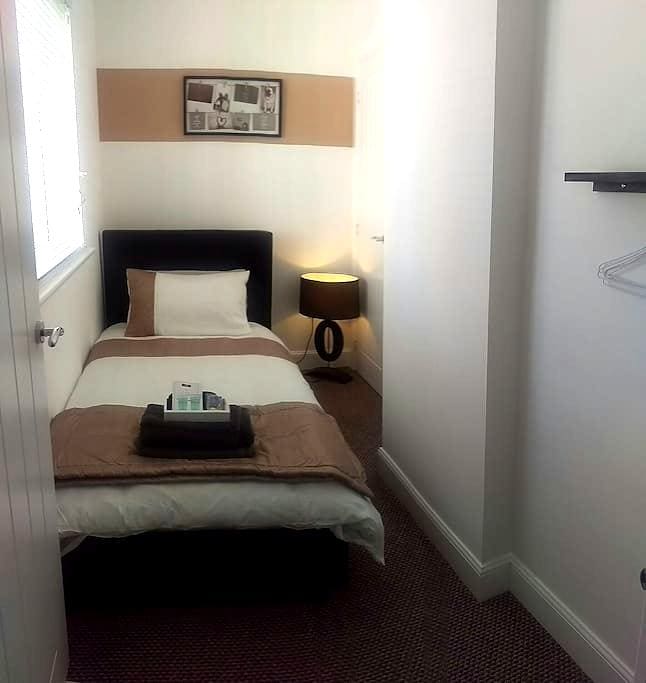 Nuestro apartamento fresco y cómodo cuenta con características tradicionales de Edimburgo y está bien situado entre el centro de la ciudad y el aeropuerto! Preciosa habitación doble disponible con todas las comodidades que pueda desear para disfrutar plenamente de Edimburgo. El dormitorio tiene una ventana de luz de alta prestado.
Nuestro hermoso apartamento estará disponible y está situado a sólo dos calles de distancia de la carretera principal que conduce desde el aeropuerto de Edimburgo en el centro de la ciudad. Los autobuses van a lo largo de esta ruta cada diez minutos.
La zona del apartamento se encuentra en Corstorphine es un barrio encantador de Edimburgo con un suministro abundante en las inmediaciones de cafés, restaurantes, tiendas y supermercados. Nuestro apartamento está situado en una calle tranquila, pero es convenientemente solamente dos calles de distancia de la ruta principal hacia Edimburgo en transporte público. Hay un aparcamiento gratuito en nuestra calle.
Un appartamento adorabile nel quartiere di costorphine, un quartiere tranquillo, c'è un buon supermercato e parecchi negozi e ristoranti, il quartiere è ben servito dagli autobus per il centro che passano ogni 5 minuti. L'appartamento è pulito, ristrutturato, accogliente, il letto è comodo, è dotato di tutto quello che occorre sia in cucina che in bagno, e avrete la sensazione di essere davvero a casa vostra. Jourdan e Rachel sono disponibilissimi a fornire ogni tipo di indicazione o aiuto riguardo la città, cosa vedere e dove andare. Lo consiglio a chiunque voglia visitare Edimburgo in qualsiasi circostanza.
Chiara
2016-08-08T00:00:00Z
Very roomy and cosy apartment in a perfect area for visiting the city. Plenty of local shops and pubs plus very easy access to the city centre via bus. The kitchen is clean, well equipped and ideal for people who want to stay in and cook. Overall a genuinely lovely place to stay in Edinburgh.
Tom
2016-07-26T00:00:00Z
Ich bin Rachel und Jourdan nicht begegnet, da sie verreist waren. Die schriftliche Kommunikation (mit Jourdan) lief aber bis auf ein paar technische Schwierigkeiten am Schluss gut, ich habe den Eindruck gewonnen, dass es nette Leute sind. Ihre insgesamt schöne, gut ausgestattete Wohnung war fünf Tage lang mein Zuhause, und ich habe mich dort nach anfänglichem Erschrecken gut arrangiert. Allerdings wäre es mir unmöglich gewesen, in dem mir zugedachten Zimmer zu schlafen, wo das Bett schon bezogen war. Es hatte nämlich KEIN FENSTER, darunter verstehe ich eines von diesen Dingern, durch die man frische Luft hereinlassen und ins Freie blicken kann. Was es gab, war nur eine Art Verglasung zur Küche hin. Ich kann mich nicht erinnern, dass ich das in der Beschreibung gelesen hätte. Und es erstaunt mich, dass bei all dem positiven Feedback niemand diese Kleinigkeit erwähnt hat… Da ich allein in der Wohnung war, habe ich das Sofa im Wohnzimmer (s. Bild) ausgezogen und dort geschlafen, somit hat es für mich gepasst. Die Gegend hat mir gut gefallen.
Monika
2016-07-31T00:00:00Z
I had a lovely stay in this beautiful apartment, close enough to the city to enjoy all the attractions but far enough away to make it feel homely. The flat was clean and had everything we needed, including a lovely kitchen to make meals in. The links to the city and the airport were excellent, and close enough for a £5 taxi journey back after a late night out. I would recommend to anyone!
Alice
2017-04-03T00:00:00Z
If you're looking to stay somewhere with home comforts and beautiful cosy decor, cose to Edinburgh city centre but no so close to the noisy hustle and bustle then this is the perfect place for you. I stayed with my partner for 2 nights and 3 days and we couldn't have enjoyed it more than we did. We didn't meet Jourdan and Rachel as they were away, however they were great at keeping contact and checking that everything was as it should be for us. Also my first time at using Airbnb and it has been very successful.
Kate
2016-12-29T00:00:00Z
Jourdan's in a great host and his place is excellent. It is a very well located apartment with free on street parking. Ideal if overnight between flights at EDI or visiting Edinburgh but coming with a car. Great kitchen and really cosy living room. Highly recommended. Thanks
Alastair
2016-12-18T00:00:00Z
Great stay here. Close to transport and lovely apartment which was very clean and felt homely. Thanks for letting us stay :)
Hannah
2016-10-17T00:00:00Z
Very clean, modern, comfortable flat. Location very convenient for shops, bars and restaurants. Jourdan was away at the time but kept in touch to ensure all was well - which it was. Highly recommended.
Kevin
2016-10-21T00:00:00Z
Tipo de habitación
Casa/apto. entero
---
Tipo de propiedad
Departamento
---
Capacidad
2
---
Habitaciones
Edimburgo, Edinburgh, Reino Unido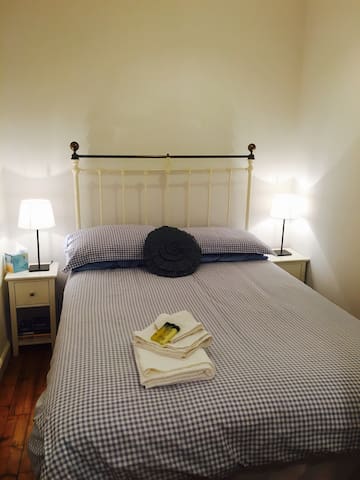 Cosy flat located on the Main Street of a small town in the outskirts of Edinburgh, 10 mins from Airport, 40 mins to city centre (with direct transport links) close by, in South Queensferry, an array of bars and restaurants (10 mins away)
Having lived in my flat for 8 years, I have made it a modern and comfortable place to relax and live in. Kirkliston is a small friendly and family oriented town. It is a great base for many activities, being only 10 minutes away from the airport, 40 minutes away from the city centre (direct by bus), and 10 minute bus/drive to South Queensferry, the iconic home of the Forth Crossings that boasts spectacular views.
Superb host and a lovely flat. Thanks very much!
Tom
2016-09-11T00:00:00Z
Lynsay made us feel welcome and everything was just perfect; nice bed, bathroom with everything you need, quiet place, nice talk, great hospitality.
Fien
2016-08-19T00:00:00Z
Lynsay was a very friendly and lovely hostess. Unfortunately we didn't have the time to become acquainted with each other but we felt very welcomed. Moreover the room was cosy and the bed very comfortable. Perfect, thx again!
Regula
2016-09-17T00:00:00Z
Lynsay made us feel at home and was so accomadating. Her flat is in such a cute little town with a nice little park and easy access to everything you need via bus. She went over and above in making our stay relaxing and ensuring we had what we needed and more.
L
2016-08-26T00:00:00Z
The apartment and room are exactly as described and kept in immaculate condition. Lynsay was flexible regarding our check in time and provided us with information about local busses and taxis. Kirkliston is well connected to the city (even on NYE) via bus and only 10 minutes from Queensferry, where there are many bars and restaurants. We only stayed for hogmanay but this was one of the best experiences we have had, as this listing provides a good base to explore Edinburgh and the surrounding areas. I cannot recommend this listing enough!
Anthony
2017-01-01T00:00:00Z
This was great as a short stop over before my early morning flight from Edinburgh. I would definitely use again in similar circumstances. And the bed was fantastically comfy.
Suzanna
2016-09-15T00:00:00Z
Although my friend and I were staying for only one day the host made sure we had everything we needed and was very hospitable. The flat was really modern and clean, just like in the photos. Good location to get to the airport which is nearby.
Anna
2016-08-04T00:00:00Z
We had the best sleep ever here, the flat was so so nice and so so clean. Lyndsay was extremely kind and wonderful to us in our few hours spent with her. Unfortunately we had to leave early in the morning to catch our flight and couldn't spend more time at this amazing AirBnB. 100% recommend!
Nicolas
2016-10-11T00:00:00Z
Tipo de habitación
Habitación privada
---
Tipo de propiedad
Departamento
---
Capacidad
2
---
Habitaciones
Kirkliston, Escocia, Reino Unido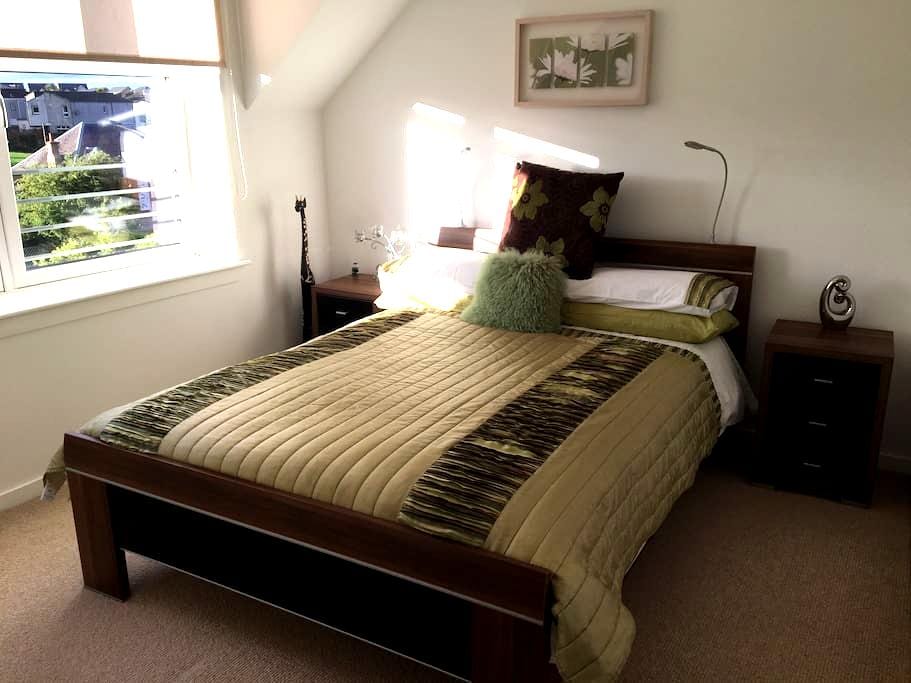 Nuestra casa está en una excelente ruta de autobús que va al aeropuerto y el centro de la ciudad. Somos un 3 minutos a pie del centro comercial Gyle. Un montón de tiendas y restaurantes y bares para probar. Hay Mucho Que Ver Y Hacer.
Nuestra habitación privada recientemente decorado y amueblado puede alojar cómodamente a 2 personas. Tenemos un armario, 2 unidades laterales de la cama y un gran armario con cajones disponibles para los huéspedes. Tenemos nuevas moquetas largo. Tenemos un gran baño estilo jacuzzi con una luz LED de color cambiante estado de ánimo equipada y una cabina de ducha en el baño que acaba de ser instalado y hecho a un alto nivel. Hay una pequeña nevera y una cafetera en la habitación para los huéspedes.
Corstorphine OS de un pueblo seguro y muy cómodo entre el centro de Edimburgo y el aeropuerto. Con una ubicación ideal para explorar la ciudad y RHE RHE áreas circundantes. Hay docenas de tiendas, bares y restaurantes, así como los grandes supermercados docenas. En nuestra puerta hay un montón de atracciones locales como el zoológico de Edimburgo, el estadio Murrayfield, Corstorphine Corstorphine Hill y Palomar. Todas las atracciones de Edimburgo son de fácil acceso por la vía rápida ruta de autobús que está a sólo 4 minutos de nuestra casa.
Quick to respond, clean room with nice bathroom. Especially recommended for everyone who has to catch an early morning or late evening flight because of the perfect connection to the airport.
Sophie
2017-03-28T00:00:00Z
Lovely flat and Stacy was very accommodating with regards to everything. One of the nicest rooms I've ever stayed at with airbnb, would definitely recommend!
Andrew
2017-02-12T00:00:00Z
Stacy is enthusiasm. The room is clean,warm and sweet.
祥鲲
2017-01-25T00:00:00Z
Stacy was very helpful. The place was really nice. We had a short stay, and getting to the airport was easy from the house
William
2017-04-04T00:00:00Z
We stayed for two nights and it's a wonderful flat with a nice room and a lovely Bathroom. Everything was very clean. Our arrival delayed but Stacy was understanding towards us very kind. Definitely recommended.
Cedric
2017-03-19T00:00:00Z
I had an excellent stay here! Stacy is so friendly and the house is lovely. She went above and beyond to make sure I was comfortable and looked after. I would definitely stay here again! X
Jenna
2017-02-25T00:00:00Z
The host canceled this reservation 3 days before arrival. This is an automated posting.
Anil
2017-04-02T00:00:00Z
Very friendly and extremly engaged hosts. Thanks Stacy for the nice stay, I felt welcomed to moment I stepped into your home! I can only recommend this beautiful airbnb and it´s lovely owners, especially if you are looking for something close to the airport!
Stephanie
2017-04-09T00:00:00Z
Tipo de habitación
Habitación privada
---
Tipo de propiedad
Casa
---
Capacidad
2
---
Habitaciones
Edimburgo, Escocia, Reino Unido
Our home is ideal if you're catching an early flight, the airport's less than 10 minutes away.....and we're just 5 mins away from South Queensferry and the historic Forth bridges. The city of Edinburgh is easy to reach too, just a 15-20 minute drive, 40 mins bus ride or 20 mins in the train from nearby Dalmeny. Looking for walking or cycling? We're in a perfect spot too...
Your bedroom, with super-king sized bed, has its own large private ensuite with shower. The view out of your bedroom window overlooks our back garden and west across the village of Kirkliston. Hair dryer, digital radio and TV.
Kirkliston is a quiet little village on the east edge of Edinburgh with good transit links to the city...bus 35mins, by car 20 mins and train (from Dalmeny) 20 mins. The Kingdom of Fife, St Andrews and Stirling are all within easy reach. The village pub serves food until eight on a Friday and Saturday. Otherwise you can take the short trip into South Queensferry where you will find an assortment of great places to eat and drink. Taxi one-way to South Queensferry is just £6. Let us know and we cab book a taxi for you.
Nuestra estancia en casa de Derek y Brendan fue perfecta, son personas muy amables y educadas, nos hicieron sentir como en casa. Tienen una casa preciosa y muy acogedora, la habitación es muy amplia y con una cama enorme con baño propio y todo muy limpio.Estuvimos muy a gusto en ella!Por la mañana antes de ir a coger el vuelo de vuelta nos dieron un desayuno con todo lujo de detalles y perfecta presentación.
Natalia
2016-02-08T00:00:00Z
Lovely house about a £10 journey to the airport. The room and en suite were up to hotel standard and the hosts were lovely too! I wouldn't hesitate to stay here again.
Molly
2016-11-13T00:00:00Z
Derek is a very nice man and very friendly and helpful. He is always happy chatting with you and doing favor with everything he can. The house is really nice and very close to airport. Highly recommended!
Haotian
2016-08-24T00:00:00Z
Peter could not have been a better host - he was friendly and welcoming, also respected our space. The house has a lot of good character and is spotless clean. The room is spacious with a private bathroom. There is no negative aspect to the visit at all. I would very highly recommend staying with Peter!
Karolis
2016-08-20T00:00:00Z
We had the best Air bnb experience with Derek. The place was even better then the pictures, extremely clean and comfortable. Beats any airport hotel by far. High quality room with comfy bed and ensuite bathroom. Derek was very accomodating. We would highly recommend to stay there.
Karoline
2016-08-15T00:00:00Z
We very appreciated the friendly welcome. The home is very confortable, quiet, cosy and modern. We give 5 stars !!
Frédérique
2017-03-18T00:00:00Z
What an absolute pleasure it was to stay at Derek & Brendans home. Such a lovely location coupled with a beautiful home and warm welcome truly made this a 5 star stay. Ideal for the airport also!
Neil
2016-10-14T00:00:00Z
Derek and Brendan were great hosts. We were delayed after being held up on the centre of town but both greeted us warmly when we eventually arrived, offering us a cup of tea and varied conversation. The room was lovely and clean perfect for the short amount of sleep we got due to an early flight. Derek and Brendan went above and beyond to book us a taxi and offer to leave out breakfast for the morning. They are ideally located for getting a flight, particularly early in the morning.
Joanne
2016-10-09T00:00:00Z
Tipo de habitación
Habitación privada
---
Tipo de propiedad
Casa
---
Capacidad
2
---
Habitaciones
Kirkliston, Escocia, Reino Unido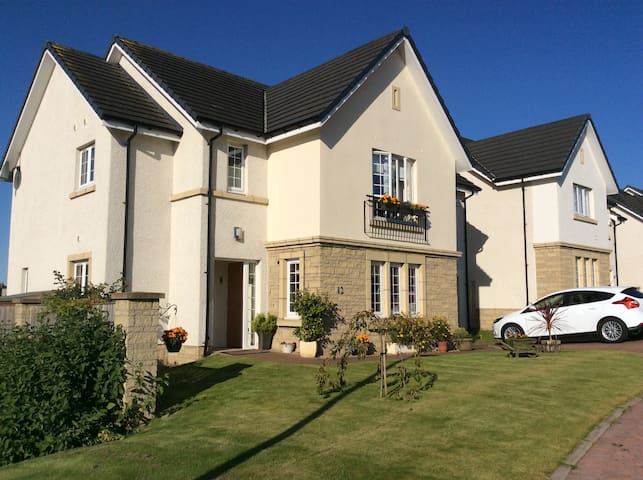 Lovely large double room in a bright, welcoming new home with easy access - just 10 mins to airport and 20 mins to Edinburgh City Centre. Perfect for travelling and visiting Edinburgh. Historic South Queensferry close by too. Late flight? Ask and I maybe able to collect you from airport!
The bedroom is an excellent size with a double bed, book case, bedside cabinets, chair and desk. The bathroom has a large bath and there is a separate shower. The kitchen where you can make your own breakfast (I will leave a continental breakfast out for you) and hot drinks is lovely, modern and bright. The rest of the house is private but you are free to use the lounge to watch TV, read and relax and there is a lovely small garden too.
The neighbourhood is lovely with a small High Street including post office, library and chemist. There are two fantastic gyms near by with classes, gym and swimming pool. We are near the airport, Edinburgh Zoo, South Gyle shopping Centre, Murrayfield stadium, Hill End (for dry slope skiing) and of course the airport, and City Centre by bus or bus and tram. Easy bus route to historic Queensferry or Cramond beach and even Stirling!
Sally-Anne made me very welcome. The room was just as pictured and was clean and comfortable. The area was very nice and it was a short walk to buses into the centre: cheap, hassle free and easier than driving in a busy city. This made it ideal for my trip to the Festival. I would not hesitate to return.
Tracey
2015-08-19T00:00:00Z
Though I only stayed in the house itself no more than 12 hours it was precisely what I needed it to be (that being a stop over close to Edinburgh airport). It was impeccably clean and Sally Ann was both kind and helpful in my brief time there. I couldn't have asked for more!
James
2016-09-25T00:00:00Z
Can't dream of a better play to stay. Everything was so perfect !
Kévin-Mark
2016-08-10T00:00:00Z
Ideal!!! I could not have asked for a more gracious host. Due to a delayed flight (that was already arriving late!) I arrived rather late, but Sally-Anne welcomed this weary traveler with a smile and a cup of tea. The room was very welcoming and had plenty of space. The bed was perfect for me, would have packed it up and dragged it with me if possible! A lovely continental breakfast was perfect to begin my day. A lovely, VERY clean home and a kind host. And of course a cute and cuddly pup that was happy to let me hug on him.
Melissa
2016-07-08T00:00:00Z
Sally-Anne was the perfect host for my first Air B&B experience, and my first visit to Scotland! I had everything I needed and Sally-Anne was very helpful with giving me advice on my trip. Great location and a lovely home. The cherry on the top was an introduction to the Ceilidh (Scottish dancing) and Haggis!
Nicole
2017-02-05T00:00:00Z
Enjoyed staying with Sally-Anne very much, even though it was a short trip only. She is very friendly and welcoming, the itself room is clean, warm and just as described. Also good access to the city center. Definitely recommendable!
Melanie
2015-08-16T00:00:00Z
My stay at Sally-Anne's was brief (in at evening and departing very early for a flight the following morning), but it was perfect after one long travel day and just before starting another. Sally-Anne was lovely to meet, welcoming, helpful, and was also easy to reach with any questions before I arrived. Her home couldn't have been more convenient for using the airport, and her home was inviting and restful (and spotless). I would have thoroughly enjoyed staying longer and getting to know Sally-Anne better, and I would happily stay here again.
Aubrey
2016-09-21T00:00:00Z
Sally-Anne was a wonderful welcoming host. She was there to greet me with a cup of tea and we talked for a few hours. Her home was newly constructed and beautifully decorated in a quiet neighborhood. I felt completely safe and very comfortable. Her listing is accurately described and I would highly recommend a stay here. There is a bus stop just two minutes walk from her front door that takes you into Edinburgh or the airport in just a few minutes time. It was very convenient and easy to use. The bed was extremely comfy and the room was very large with plenty of space. I really enjoyed my stay with Sally-Anne. I had such a wonderful time and will be staying here again on my next trip to Edinburgh.
Lisa
2016-07-15T00:00:00Z
Tipo de habitación
Habitación privada
---
Tipo de propiedad
Casa
---
Capacidad
1
---
Habitaciones
Edimburgo, Edinburgh, Reino Unido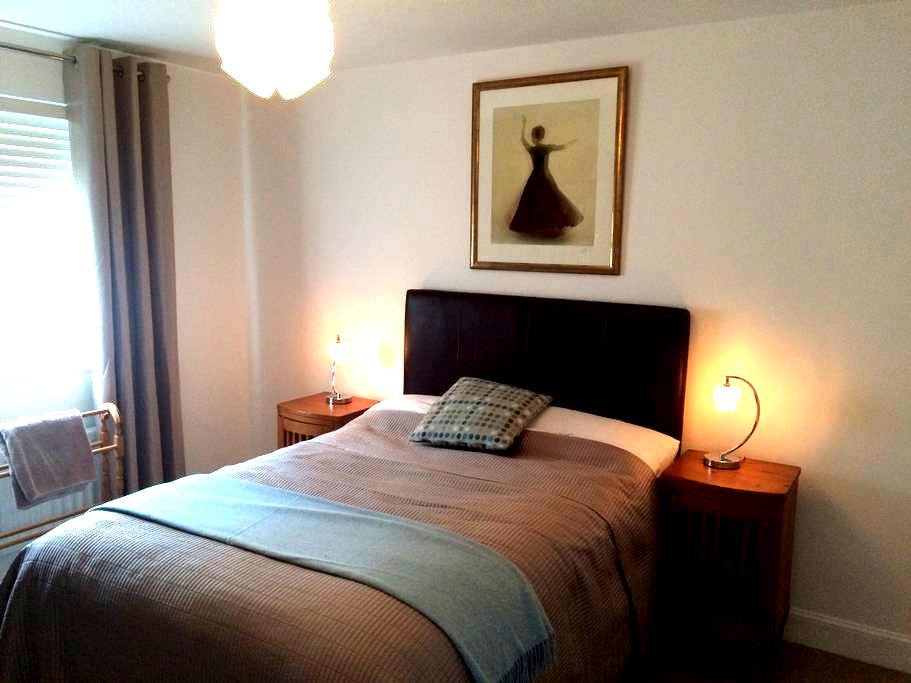 Mi casa está cerca del transporte público - estación de tren de Dalmeny -250 metros (centro de Edimburgo 15 minutos), autobús - 100 metros (centro de Edimburgo 25 minutos) y el aeropuerto. Te va a encantar mi lugar - una casa de grado B artes manuales, el barrio - histórica Queensferry / Adelante puente, un patrimonio de la humanidad. Bueno para solteros, parejas y viajeros de negocios (2 camas individuales se pueden unir para el doble). Amplio y cómodo - el acceso a la sala de estar y la cocina para tomar un refresco.
The hosts were very welcoming and friendly. They were very helpful and went out of their way to make us comfortable.
Louise
2016-08-11T00:00:00Z
Agnes is a lovely lady who welcomed us into her beautiful home. We were only staying for a short time but she gave us advice on where to get something to eat in Queensferry and set out a lovely breakfast for our early start which was much appreciated. The room is comfortable and clean and the house is absolutely beautiful. Thanks again
Sandra
2016-10-03T00:00:00Z
Lovely house, excellent host, thoroughly recommended. Short walk away (8 mins) lovely bars restaurants with spectacular views. 100% will re book.
Don
2016-08-05T00:00:00Z
Enjoyed my stay, Agnes is the a perfect host and her beautiful home is within walking distance to high street, Queensferry.
Bobby
2016-08-24T00:00:00Z
WE have a peaceful and interesting time with Agnès and Ian. some délicate attentions like water, some biscuits un the room. beds are very comfortable and big bathroom. clean lightful and cosy . breakfast is rich with fruits yogurt and warm bread. also the home is near airport easy to park your car and at juste 20min from waverley station , centre of edinburg. and train ticket is cheap. perfect! i recomand you their beautiful home.
Aurélia
2016-07-11T00:00:00Z
Agnes gave us a warm welcome to her home. The room was large and we had two comfortable beds. Agnes made us some help-yourself-breakfast in the morning before we went off to the airport to fly home. Thank you for a great last night in Scotland!
Maria
2016-07-15T00:00:00Z
Gute Übernachtungsmöglichkeit außerhalb von Edinburgh, mit guter öffentlicher Anbindung. Freundliche Gastgeber, leider wirkt alles etwas lieblos.
Sarah
2016-10-25T00:00:00Z
Such a lovely welcome from both Agnes and Ian, they are such a lovely couple, toning was too much trouble. Very comfortable room and very comfortable home. Made very welcome. The breakfasts were amazing and we would definitely recommend staying here. Very close to the railway station, but also very quiet neighbourhood. An enjoyable experience and look forward to seeing them again one day.
Linda
2016-10-19T00:00:00Z
Tipo de habitación
Habitación privada
---
Tipo de propiedad
Casa
---
Capacidad
2
---
Habitaciones
Queensferry, Edinburgh, Reino Unido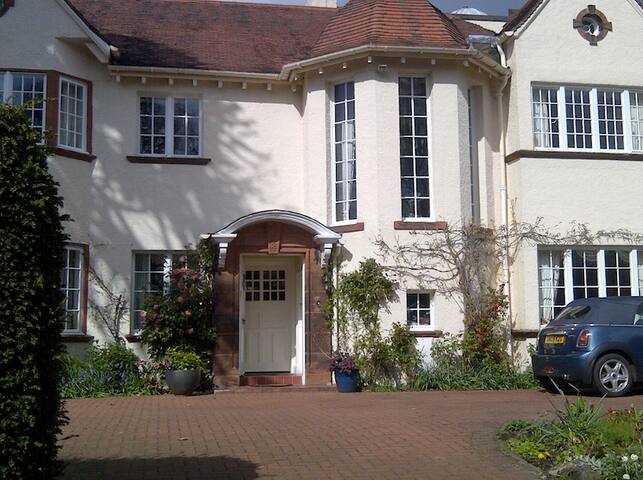 Mi lugar está cerca de la familia actividades, restaurantes y restaurantes, vida nocturna, y el transporte público. Te va a encantar mi lugar debido a la ubicación. Mi lugar es bueno para los aventureros y viajeros de negocios en solitario.
Para aquellos que quieran sentirse como en su casa, este es el lugar perfecto. Muy recomendable.
ALEJANDRO
2016-11-26T00:00:00Z
Didn't have the pleasure of meeting Sonya, but had a great time. The place is clean and cozy!
Maria
2016-10-09T00:00:00Z
Sonya was very kind to recieve me at midnight. Her house is well situated between the airport and the city. Thank you Sonya!
Alejandro
2016-09-06T00:00:00Z
Vary nice room thank you sonya!!
Daniele
2016-12-19T00:00:00Z
J'ai adoré la soirée que j'ai passé chez Sonya ! J'ai pu rencontrer beaucoup de ses amis avec qui j'ai partagé des conversations très intéressantes ! Je remercie encore Sonya et son mari pour leur gentillesse et leur disponibilité !!! J'ai passé une nuit très agréable, la description de la chambre est bonne et leur maison est très chaleureuse ! Je recommande vivement ce logement (en plus proche de l'aéroport) !
Noémie
2016-11-05T00:00:00Z
Sonya and Collin are the most wonderful host you will ever meet. If you want it, they make you feel as if you are a part of the family immediately. I was actually looking for a permanent accommodation in Edinburgh and Sonya went out her way to help me with that . I'm forever grateful and highly recommend you to stay with these two wonderful persons.
Andre
2016-09-01T00:00:00Z
very friendly and lovely hosts. Nice pets and lovely room. Thank you for staying there. christin
Christine
2016-09-27T00:00:00Z
comfortable, tidy room and shower space. she allows me enjoy their tea or coffee and use kitchen freely. their cats are really well-behaved actually you will meet them hardly because the room is located in 1st floor. kk you have to walk over 30 minutes to reach her home. but there's bus stop nearby! and BIG supermarket is located 10 minutes far from home. I think It's definitely good choice to stay Sonya's home.
Jeong-young
2016-10-24T00:00:00Z
Tipo de habitación
Habitación privada
---
Tipo de propiedad
Bungalow
---
Capacidad
1
---
Habitaciones
Edimburgo, Reino Unido
nr aeropuerto de Edimburgo y de tranvía (1 ml). Estacionamiento gratis. ,, Hi-spec casa acogedora casa de campo lindo de 1800 en 7 acres de jardín paisajístico; 360 Puentes vista hacia atrás. Al lado de Highland Show Ground, Norton House Hotel & Spa. enlaces sencillos; Edimburgo, Glasgow, Stirling y más allá.
Romántica de 1800 la casa de campo. salón abierto cómoda, comedor y cocina; encimera de granito, horno dbl, microondas, nevera y lavadora. Televisión y conexión para iPod. Ducha. habitación doble con cama trineo y suelo de madera fabulosa 'Usher Hall'. Amplia sala con sofá es conseguir 'perdido' en la TV. terraza exterior con mesa y asientos. Paisajista 7 acres, con 1 acre de estanques, gansos y patos. Estacionamiento. Antigua casa de albergue a la casa de la familia de Usher (ahora Norton House Hotel and Spa propiedad de Hoteles Unique ''). La 'familia de Usher financió la construcción del Usher Hall, en Edimburgo, cuando el Hall fue reformado hace unos años una sección del piso del auditorio fue comprado e instalado en el dormitorio de la casa de campo. El jardín fue ajardinado por un propietario anterior excéntrica en 1970 de la producción de un jardín de 7 adultos 'parque' con túneles, cuevas y elevaciones que dan vistas de 360 grados desde la parte superior a la Forth puentes, Edimburgo, etc.
A un corto paseo 1/2 ml de Norton House Hotel y Spa con dos restaurantes y un bar. 1/2 ml loca(URL HIDDEN)Coop cerca para la compra de alimentos. Royal Highland Show de tierra en la puerta. Ruta en bici en la puerta de paso en Edimburgo o en bicicleta por Union Canal
Upon our arrival, Adrian greeted us with a bottle of his favorite wine, and gave us a tour of their charming cottage. He was extremely friendly, delightful, and informative regarding the history of the cottage and surrounding areas. Lastly, Adrian encouraged us to tour the gardens and pond behind to main house which are beautiful. Overall, staying with Judi and Adrian was a wonderful and relaxing experience. The house is also only 5 short minutes from Edinburgh Airport, which was helpful to us. I highly recommend staying with Judi and Adrian!
Thomas
2016-05-13T00:00:00Z
This is a great cottage with all the comforts of home for a single traveler or couple. Getting to the city is easy with public transportation just outside the door or an Uber to the city is about 20 or a taxi for about 25. There are small groceries within walking distance and a supermarket in a short drive. The hosts are very helpful and left a lovely bottle of wine. They went out of their way to be sure that I was comfortable and even allowed my leased car to be dropped off prior to my arrival. Don't hesitate to book here!
Ashley
2016-08-15T00:00:00Z
Lovely stay. Judith was very helpful and quick to answer any questions. The cottage is very sweet and very close to the airport - you can walk in 25 mins so maybe to far for dragging a case - but easy to take the team into the city from there. Would recommend.
Helen
2016-08-06T00:00:00Z
This was an excellent break. The Gate House was as described, light, airy and full of all the mod cons required. A real gem.
Colin
2015-08-13T00:00:00Z
We felt very welcome, and were pleased with gatehouse. The hosts were very understanding, when we arrived late into the night due to flight delays. They were also very helpful during our stay.
Chris
2015-01-05T00:00:00Z
Upon arrival we didn't know what to expect! Hosts are very lovely people who did everything they could to make sure our stay was the best it could be! Accommodation was brilliant, perfect for a weekend away, only wish we could have stayed for longer! The garden out back is fantastic, feels and looks like something out of the hobbit! Will definitely consider a return in the future
Stewart
2016-03-14T00:00:00Z
Judith and her husband Adrian's property made for one of the most memorable stays I've had. The cottage was very charming, tastefully decorated, and well-equipped with creature comforts (tea, coffee, biscuits, and a bottle of wine were all graciously provided). I really enjoyed trying to find the gargoyles hidden around. I found 6, but when I asked Adrian if that was all of them he smiled and replied "ohhhh no." The location was great -- Edinburgh is a short bike ride, drive, or bus trip away. I recommend checking out the canal path nearby. The highlight, though, was the garden in the back. Adrian described it as "different" and this was a severe understatement. With multiple ponds, stones on which you could cross them, and a giant wall of boulders lining it, by aesthetics alone it was already exquisite. But I was invited to explore it, so I endeavored to find its secrets. I succeeded in droves. I don't want to spoil too much for future guests, so I'll just describe the highlights... I spent at least 2 hours in all carefully climbing the boulders, finding passageways, delicious berries & apples, and a few chambers within. There are even some deep underground passageways to pump rooms. I felt like a kid in a giant natural playground. Apparently it was once even more splendid, when they had a gardener to take care of it, but honestly I liked it so much as it is -- a little wild -- and I hope future caretakers keep it at least a bit untamed. I hope I can stay with Judith and Adrian again, and I urge you to stay with them, too. Enjoy your time in the playground :)
Ransom
2016-09-18T00:00:00Z
Unforgettable stay! Beautiful quaint cottage to feel you are lost in the countryside, while only being a stones throw from the city! With acres of private land to roam and explore- what is not to love
Kelly
2017-01-15T00:00:00Z
Tipo de habitación
Casa/apto. entero
---
Tipo de propiedad
Casa
---
Capacidad
2
---
Habitaciones
City of Edinburgh, Reino Unido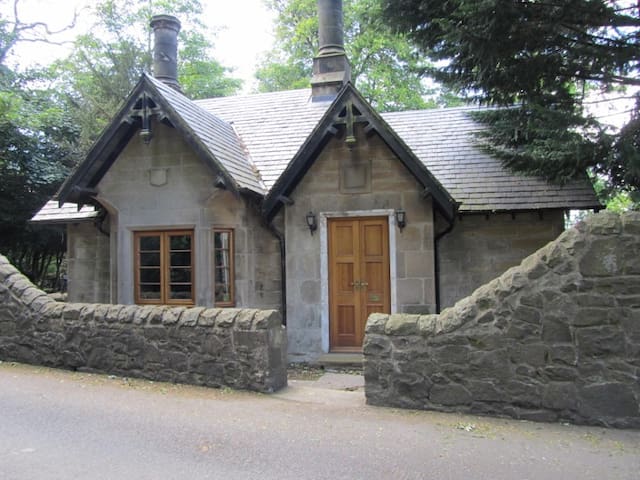 Private quiet sunny comfortable bedroom in traditional Victorian villa with private downstairs shower room and toilet. Evening use of large sitting room with cable TV and free internet included. Free on street parking is also available.
The house is of traditional Victorian style built 1900 and maintains many original features but has also been tastefully modernised to provide a warm and comfortable home.
The house is situated in a residential suburb of the city which has a long history dating back centuries with many points of historical interest. There are also a number of local restaurants nearby. The area is safe and benefits from excellent transport both day and night. Travel time to / from the city centre will be 15-20 mins depending on time of day.
Tipo de habitación
Habitación privada
---
Tipo de propiedad
Casa
---
Capacidad
2
---
Habitaciones
Edimburgo, Midlothian, Reino Unido
Introduce las fechas para ver el precio total. Ten en cuenta que se aplicarán tarifas adicionales y es posible que se añadan impuestos.