Private apartment fully equipped (No Stove or Oven) with a queen bed, cozy living room and convenient location near public transportation. This apartment is in the third floor.
Good for business travelers
Alan
2017-04-03T00:00:00Z
Great stay
Alan
2017-04-04T00:00:00Z
looks exactly how it is in the picture
Ijeomauo
2017-03-24T00:00:00Z
This place felt like home away from home. Washroom was neat and clean, coffee was a nice touch for the morning and appreciated the generosity of the host leaving us chocolates and water bottles. The host was always available to assist us. If anyone is handicap or needs assistance they may have trouble climbing the three flights of stairs. Overall an excellent place!
Vipul
2017-04-02T00:00:00Z
My first experience with airbnb was amazing. Great, clean place with awesome hospitality. I would stay here any time I am in NJ
adela
2017-03-30T00:00:00Z
Yousefs is an amazing host I will for sure book again place looks exactly as the pictures very clean cozy and comfortable me my daughter and husband loved our stay at yousefs place he was very kind made sure we had parking and got settled in as soon as we got there I highly recommend this place to everyone great experience
Melina
2017-04-06T00:00:00Z
Spacious apartment with great value. Yousef is very nice and easy.
Stephen
2017-04-07T00:00:00Z
Great place. Everything you expect. Would come again
Diego
2017-03-26T00:00:00Z
Tipo de habitación
Casa/apto. entero
---
Tipo de propiedad
Departamento
---
Capacidad
4
---
Habitaciones
Newark, Nueva Jersey, Estados Unidos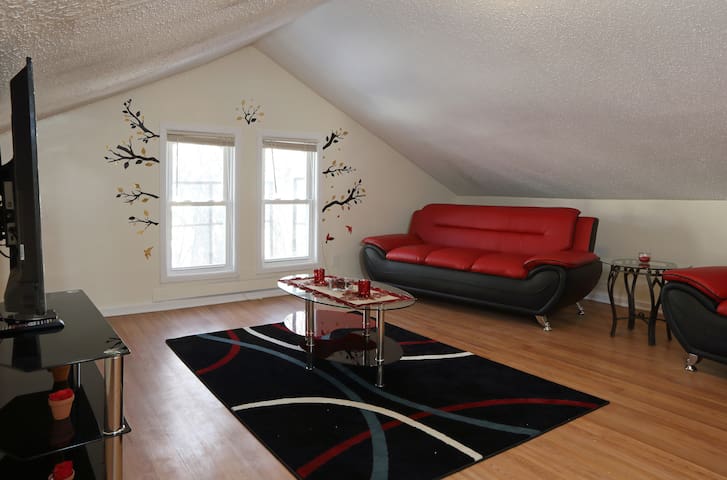 My place is great for solo and duo adventurers too, couples and business travelers. 14,2 miles from Midtown Manhattan. The train to NYC are 0,8 mile walking! We are 4,3 mi from Newark International Airport. There are supermarket, malls, bakery and greats restaurants nearby. :)
Clean home, easy access, bakery and great restaurants nearby. Location is great to go to NYC or shopping in Jersey Gardens Outlet.
Everything you need on walking distance.
Maria is such a great host! i want to personally say a big Thank You to her for being an amazing host. Maria made our stay very enjoyable, and my friend and i had a nice time. This was our first time using AirBnB and Maria definitely set the bar high for us. The house is beautiful, and is in a great location, close to a lot of restaurants (hispanic food, brazilian restaurants, haitian food, etc etc.). its a short 10-15min walk to the Newark Penn station (or a $5 uber ride if you don't like walking), and the train ride into New York City is about 20min. The room is a decent size, perfect for 2 people. There are 2 beds so its perfect for friends, you dont have to share. Maria prepares coffee every morning, and give out those yummy homemade cookies. It was very easy to check in and get the keys, she responds to messages within 15mins, and has everything ready, clean and neat for her guests. she provided us with towels, bar soap, shampoo/conditionner, and she even has water bottles in the room for us. She definitely made us feel welcome and at home, will definitely stay at her home again if im coming to the area in the future. I highly recommend her for your next stay, you will be very happy. Thank you Maria, you're awesome!!! Best, Chris E.
Chris
2017-03-12T00:00:00Z
really nice hostess
Eric
2017-03-29T00:00:00Z
Maria was very welcoming! The room was clean and comfortable. Close to Newark Penn station and Prudential so i was able to walk instead of having to get transportation.
Melanie
2017-03-25T00:00:00Z
Maria was a great host. Her apartment is very nicely updated. Room was warm and cozy with a nice closet organizer for our things. Trundle bed was comfortable enough for a good night's sleep. She provided good coffee and cookies in the AM. Will recommend to anyone I know going to Ironbound area.
Fredrick
2017-02-18T00:00:00Z
Maria was an excellent host. She was very kind and gave me lots of tips on how to get to Manhattan, the local cuisine... She basically was super helpful. The house was nice and comfortable, the neighborhood is very safe, and her family was very welcoming. I really recommend this place. Thank you!
Diogo
2017-03-01T00:00:00Z
The owners are very kind
Luis Keisell
2017-02-13T00:00:00Z
Maria's place is very clean and comfortable and conveniently located next to the train that brings you to Manhattan within 20 Minutes. Maria was flexible with our late arrival time, she's very kind and welcoming, tx for the short but sweet stay!
Sotheary
2017-04-08T00:00:00Z
Very clean and good access to the city.
Sol
2017-04-09T00:00:00Z
Tipo de habitación
Habitación privada
---
Tipo de propiedad
Departamento
---
Capacidad
2
---
Habitaciones
Newark, Nueva Jersey, Estados Unidos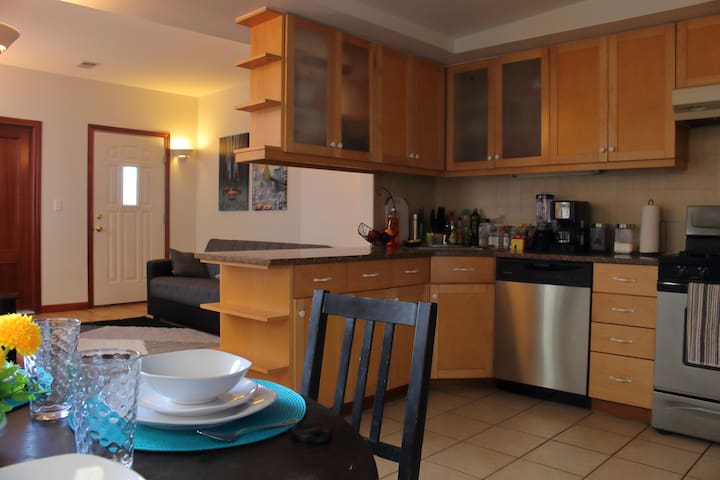 Two blocks away from train station with 7/24 hours public transportation to NYC. Private room accommodates up to 2 guests. AUTOMATIC CHECK IN, DON'T HAVE TO WAIT for anyone or exchange keys. FLEXIBLE CHECK IN ANY TIME AFTER 3pm. Located in the beautiful IRONBOUND area with lots of restaurants and shops. Walking distance to NJPAC, Prudential Center and Red Bull Stadium. 10 minutes from Newark Airport. Convenient, clean & affordable. Make a smart decision book here now!
Private room located 10 minutes away from Newark International Airport. 24 hour public transportation into Manhattan. Newly remodeled house specifically for Airbnb listing. The private room includes: - a deadbolt lock - heating unit - a full size bed - dresser - a chair - one mirror -$5 cleaning fee per DAY Why Book With Me: As a world traveler I believe that one shouldn't spend lots of money on a hotel or room. Instead most of the budget should go to the ADVENTURE itself. I also believe that affordability shouldn't compromise comfort. This is why I offer the rooms with the most value per dollar. LGBT community friendly.
Please go to MeetIronbound com to learn more about the neighborhood. I have lived in this neighborhood for over 10 years. I was here when it was not pretty and I have seen it change dramatically to a nice safe, beautiful and diverse neighborhood. It almost feels like NYC, there are lots of restaurants, bars, lounges, clubs, shopping areas, markets etc. Almost anything you could think of, trust me you won't be disappointed.
El servicio de la casa de Roy fue excelente acorde lo planeado. El ambiente de la casa muy respetuoso, todo en orden, y muy cómodo. La casa se encuentra en un lugar muy bien ubicado ya que está cerca del Penn station de Newark y te deja a minutos de NY y a mí me quedaba cerca de mis cursos en Kaplan. Sería bueno q incluyeran toallas de baño en el servicio. The service of Roy's House Washington excellent, and according to the plan. The atmosphere of the house very respectful, everything in order, and very comfortable . The house is very well located as it is close to Newark Penn Station and leaves you in minutes to NYC and I near my courses in Kaplan. PLEASE READ THE NOTES OF HOW TO GET INTO THE and ENTER TO THE HOUSE. It would if it is added towels to the service.
Jerónimo
2016-05-23T00:00:00Z
Es como una hostal sin contacto con el administrador. El wifi es lo mejor. Se supone que incluía secador de pelo pero estaba malo, gracias a esto mi novia se enfermo, esto arruinó algo el viaje.
Samuel
2016-12-15T00:00:00Z
Yo me senti seguro en el barrio pero en cambio mi amiga no tanto, supongo que tambien depende de la persona, las instrucciones tanto para llegar como para como entrar estaban muy bien
Azahara
2016-11-12T00:00:00Z
I've had a nice stay. I've arrived to New Jersey very late at night, and getting to the house was very easy. After I booked the place, I received an email with all the access info, and getting inside was easy as well. The place is clean and simple. I purposely booked a room in the basement, to make sure that there was little sunlight in the morning, in order to get a good sleep. My only complaint was that the doors in the basement don't have the right fit to the frame, and therefore opening and closing doors is very loud. Despite having ear plugs in, I got woken up at 6am by the housemate who slept next door, because he was going in and out all the time slamming doors for the next hour. So only got 3 hours of sleep, because of that. I guess, your experience will vary depending on whoever stays next door and if your schedules correlate. I hope Roy would take care of that issue. Other than that, everything else was as expected or better. I'm very likely going to stay at the house. But perhaps would book it on another floor. It's a good deal for the money.
Valentin
2016-06-14T00:00:00Z
Clean, convenient, and great value!
Teyu
2017-04-02T00:00:00Z
Roy description was very accurate and the location is great for all your transportation and entertainment needs. Everything is in walking distance. The place was very clean and quiet. I would definitely recommend this place again.
Duane
2016-07-03T00:00:00Z
Always good to stay at one of Roy's places.
david
2016-11-23T00:00:00Z
Easy to get to, easy to get in! A very nice place, and very comfortable. Great place to stay if you need to go to the prudential center and Newark Penn is very close by so you can go to NYC easily!
Ariana
2016-06-25T00:00:00Z
Tipo de habitación
Habitación privada
---
Tipo de propiedad
Casa
---
Capacidad
2
---
Habitaciones
Newark, Nueva Jersey, Estados Unidos
This cozy unit is close to Newark Penn Station, Newark Airport, Independence Park, NJPAC, Prudential Center Arena, Ironbound District and more. You'll love my place because of the comfy bed, the coziness, and the private aspect. My place is good for couples, solo adventurers, business travelers, furry friends (pets), etc...
The unit is a cozy studio. There is a bedroom, bathroom and a porch. Located only couple minutes of the heart of Ironbound, a very good neighborhood of Newark. This unit is located in a multi-family house.
In the 19th century, when trains transported everything from people to produce to products, the Ironbound was literally bound by the iron railroad tracks that ran through Newark's East Ward. Today there aren't as many trains rolling through the neighborhood, but PATH, Amtrak, NJ Transit and Conrail still do business on tracks that buffer McCarter Highway to the west and Routes 1 & 9 to the east. The Passaic River defines the northern neck of the Ironbound. To the south are more railroad tracks, factories and Newark Liberty International Airport. At a glance At first glance, the Ironbound appears to be a Portuguese neighborhood with Brazilian features. Flags of both nations can be found flying everywhere, especially during futbol season and Copa Mundial de Futbol, sometimes out of the same window. The bakeries, restaurants and businesses bend toward Portuguese sensitivities, with some offering English translations for those whose tongues don't bend toward Latin influences. A closer look will expose the Ironbound as a gumbo of cultures, including Puerto Rican, Cuban, Italian, Slavic, Lithuanian, Jewish, German, Irish and African American, all working and winding their way through the neighborhood's narrow streets. Did you know? * The Ironbound was once largely composed of swampland or farmland, and this land indirectly led to the founding of Trinity Church. Col. Josiah Ogden, who attended Old First Church, owned a salt-marsh hay tract, which was threatened by rain. The colonel wanted to extend the harvesting work week into Sunday. Church leaders stood firmly against this and a rift developed in the congregation. One side of that rift stayed at Old First and the other helped found Trinity Church, which is now Trinity Church/St. Phillip's Cathedral. * In the early 1800s, employees began working on the railroad "all the live-long day," which would usher agriculture out of, and the Industrial Revolution into, the neighborhood. Benjamin Moore and Sherwin-Williams, located in the Ironbound, were two of the names that contributed to Newark's thriving paint industry. On the Passaic River, steamboats were shuffling goods and services in and out of the city, requiring men to move the goods on and off the ships. For decades, immigrants and their families came from as close by as New York City and as far away as Europe and South America to work those jobs. * Today's Ironbound, sometimes referred to as "Little Portugal," began to take shape after 1910 when Portuguese-speaking immigrants moved into the neighborhood. Sport Club Portuguese opened in 1921 and was the first of more than 20 Portuguese social clubs to call the Ironbound home. In 1959, a new immigration law expanded the number of people allowed to pass into America, which expanded Portuguese numbers from the low hundreds into the tens of thousands. * Among those early immigrants were Dan Rodrigues, Mario Teixeira Jr. and Vasco S. Jardim, all of whom made their way to the Ironbound. Dan's Friendly Service packed containers for overseas shipping, hauled ice, kerosene and fuel oil, and brokered real estate in the Ironbound. Teixeira worked as the "unofficial postmaster and banker of Wilson Avenue," filling out legal forms, in come tax forms, assisting with affidavits and completing wine permits for countless Portuguese Newarkers. Jardim moved to Newark after immigrating to New England in 1939 to take over publishing Luso-Americano, which is still one of the largest Portuguese-language newspapers in the United States. * In pop culture, the Ironbound was destroyed in the 2005 movie "War of the Worlds." In episode 7 of season 1 of the HBO mob drama "The Sopranos," titled "Down Neck," it is revealed that Tony Soprano grew up in the Ironbound. Local landmarks Ferry Street: Created in 1765 by an act of the colonial Legislature, which authorized the Old Ferry Road, this street became part of the first direct route between Newark and the Hudson River. In 1849, the old roadbed of rough logs was lifted and replaced with smooth planks. The name was also changed to Plank Road and tolls were instituted. In 1899, when its charter expired, the road was turned over to Essex and Hudson counties. Today the street offers just about everything anyone could ever need, from food shops, clothing stores and supermarkets to fine dining, baked goods, insurance, school supplies, sports supplies and even the occasional parking space. 91 McWhorter St.: On March 28, 1946, Dan Rodrigues and his wife, Elvira, moved into their newly built home at 91 McWhorter St. Today, the initials of the "Mayor of McWhorter Street" are still on the iron gateway. Newark Penn Station: Opened in 1935, the transportation hub was designed to be part of the Pennsylvania Railroad's train network. A mixture of Art Deco and Neo-Classical, the interior of the main waiting room boasts medallions illustrating the history of transportation -- from wagons to steamships to cars and airplanes, which, ironically, are credited with the decline of train use. Today, Amtrak, NJ Transit, PATH and the Newark City Subway use the station, along with Greyhound and Peter Pan bus service. Hensler House: 426 Lafayette St. is now the Buyus Funeral Home, once owned by Mario Teixiera Jr. It was originally built by Joseph Hensler in the late 19th century across the street from his brewery, which allowed him to supervise business at all times. Some original pieces, including stained-glass windows, woodwork and interior arches, are still in the current structure. Parks and recreation Riverbank Park, located between Raymond Boulevard and Market Street, at Somme Street. Independence Park, located between Walnut Street and Oliver Street, at Adams Street and Van Buren Street. Hayes Park East, located between Raymond Boulevard and Ferry Street, at Waydell Street.
It was very clean and organized. I had everything I could need for my stay there. My host was very helpful and friendly.
Kimberly
2017-03-25T00:00:00Z
Good place to stay nice room, not an entire home as listed so double check on that
AAqib
2017-04-09T00:00:00Z
Nice spot , better for your a couple and close to everything in the city
La'Mar
2017-03-19T00:00:00Z
I can't stay thank you Eduardo, this place is amazing he was such a great host and well respectful. The place was well organized and he had towels and everything ready for us when we arrived. The apartment was well put together. We would stay here again over and over every time we come to New Jersey.
Samir
2017-03-23T00:00:00Z
Eduardo has a really great place. It is in a nice safe part of Newark and very close to get to NYC (driving or train). Also close to many major highways so you can get to anywhere in New Jersey you need to without much issue. The studio is really clean and well maintained. It is perfect for a single person traveling on business or a couple looking to get away for a couple days. Eduardo provides many essentials to traveling like toiletries, a refrigerator & microwave, eating utensils, towels, etc. I highly recommend this location and look forward to staying again.
Jason
2017-02-12T00:00:00Z
Great stay! I'll be back.
Alan
2017-04-05T00:00:00Z
The room was cozy, comfortable and very clean. The host was friendly and very helpful. Also, excellent location. Walkable public transportation and restaurants. I definitely would recommend to friends or anyone.
Dianne
2017-03-29T00:00:00Z
Eduardo was an amazing host, so I decided to extend my stay. He was very hospitable. Because of train delays I was late checking out but he was very flexible with it, even though I left barely before the check out time. Very recommended to stay here!
Aaron
2017-04-04T00:00:00Z
Tipo de habitación
Casa/apto. entero
---
Tipo de propiedad
Departamento
---
Capacidad
3
---
Habitaciones
Newark, Nueva Jersey, Estados Unidos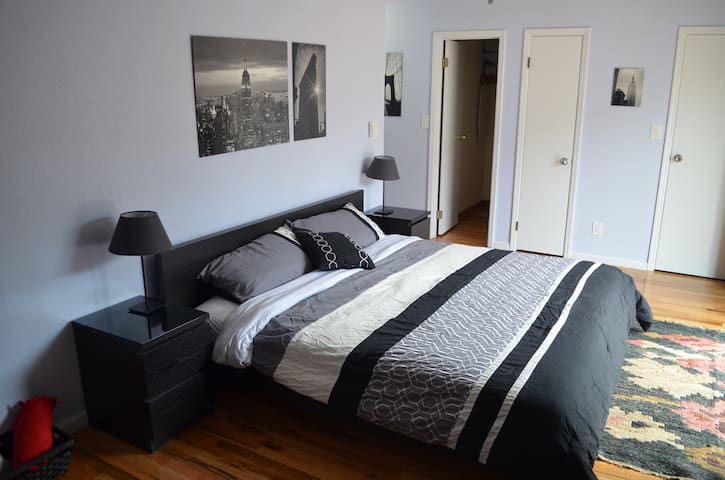 Best place to visit NYC and EWR.Distance to Newark Airport 3.2 miles. You can take uber for $7.00 to reach the apartment from airport. To get to Manhattan you can take Path train for $2.75 and it takes 21 min. Penn station 1.8 miles. Close to Prudential Center.
Quiet neigbourhood. Walking distance to stores, hospital, Rutgers university, Prudential Center
This place is really nice and warm. I stayed here during winter for a long period of time and really felt warm throughout the time. Anna really takes care of you, she is always on her A game ensuring that your stay is pleasant. The place really is worth staying cause the room we stayed I was so big and we also used the tv to watch Netflix. The kitchen was well equipped and there was a washing machine. The house was constantly cleaned which I truly appreciated. The place looked just like the pictures. It was a wonderful stay. Anna really shows you how to get around the area too which I really appreciated about her.
Raissa
2017-01-02T00:00:00Z
Anna place was clean and the decor was beautiful. The home was very comfortable and cozy.
Dexter
2016-11-28T00:00:00Z
Great host, clean and very on point with communication. Will visit again
Naje'a
2017-02-20T00:00:00Z
Anna was awesome! I got stuck at the airport after a flight issue, and I messaged her about 8 o'clock. She got back right away, and was able to get me in that night. Very nice, awesome place. As clean and pristine as a hotel. Would definitely stay again, super comfy bed and warm blankets!
carissa
2016-11-14T00:00:00Z
Great i loved it I be back
Delaware
2017-01-22T00:00:00Z
Great location, friendly hosts, clean/bright accommodations.
Jennifer
2017-03-29T00:00:00Z
Anna was really cool, she let us check in earlier than the time stated which was a hugeeeeeee plus, she described every thing in detail for us, the buses and train schedules, she gave ideas of what to do in NYC. the room was exactly what was in the picture that was a 5 star move right away. the location was great, its a 8mins walk to ihop, a 4 minutes walk to the Njtransit bus. This was my first airbnb and i am really happy to have shared it with Anna in her home
Amaal
2016-09-27T00:00:00Z
Great stay, 35 minutes to Manhattan, Anna was a great host
Niels
2016-11-09T00:00:00Z
Tipo de habitación
Habitación privada
---
Tipo de propiedad
Departamento
---
Capacidad
2
---
Habitaciones
Newark, Nueva Jersey, Estados Unidos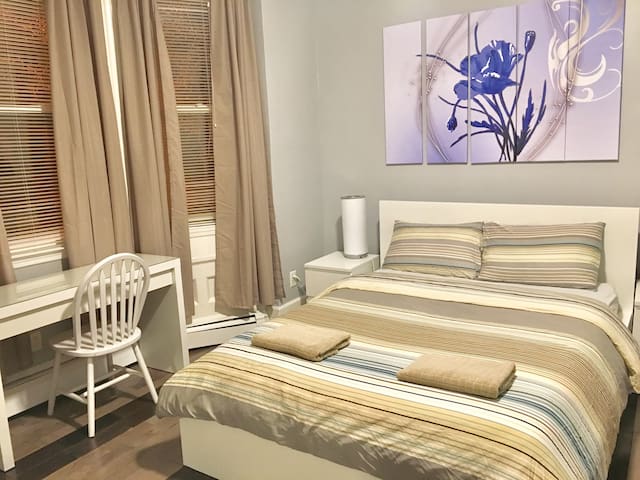 My place is close to art and culture, the city center, and parks. You'll love my place because of the ambiance and the people. My place is good for business travelers.
I had a very short stay but a wonderful experience. Kimberly's home is very very nice. I was impressed from the moment I walked in the door. Very clean and very welcoming to guests. The room itself was perfect for me and my short stay and Kimberly was a very gracious host. I will definitely try to stay here again if I ever need a place in Newark.
Wes
2016-08-15T00:00:00Z
Kimberly was one of the greatest hosts I have ever met. She is very caring, polite, courteous and loving and makes you feel at home almost instantly. She has kept the house very beautiful, very clean and hygienic. Most impressive was her organisation skills. The way she managed her kitchen is mind blowing and was truly inspiring. I am planning to steal few of her tips at my home. :) She is also very helpful providing me with any essentials which I missed carrying over. She also guided me very well to the grocery and also to the other places of my interest. Overall it was a great experience staying at Kimberly's home and I look forward to stay there again. It was indeed "Home away from Home" Thank you Kimberly.
Hanish
2016-08-31T00:00:00Z
I felt really welcome. My flight got in super late due to a delay and she still was up to let me in way past midnight. She was very cordia.
Charles
2016-10-01T00:00:00Z
Kimberly was a very friendly person who gave a warm welcome. She was prompt in answering any inquiries and always willing to help me out. Her place is close from the airport, only about a 5-10 min ride. The room was equipped with air-conditioning, the bed was comfy, and she even prepared some snacks for the morning! Highly recommend this place.
Dongho
2016-09-05T00:00:00Z
Very comfortable room and nice updated bathroom, very clean too. Close and convenient location to Newark .
Sarah
2016-11-18T00:00:00Z
Stanza davvero graziosa e comoda,strategico punto per arrivare in aeroporto in pochissimi minuti. Kimberly è stata gentilissima e l'accoglienza è stata fantastica,dopo una giornata stancante è stato bello dormire in quel letto :)
Francesca
2016-11-30T00:00:00Z
Kimberly was a great host. Everything was as described. Really nice place. Kimberly was awesome, thank you for the great stay. Highly recommended!
Lester
2016-12-01T00:00:00Z
The place is as described. It is clean and comfortable. It is perfect for those who are looking for a place very close to the airport.
Giuseppe
2016-09-06T00:00:00Z
Tipo de habitación
Habitación privada
---
Tipo de propiedad
Departamento
---
Capacidad
1
---
Habitaciones
Newark, Nueva Jersey, Estados Unidos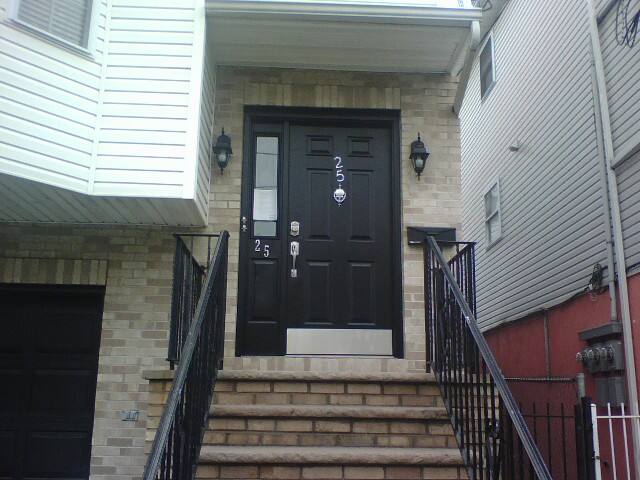 My two bedroom apartment is a nice and small apartment. It's in the heart of Newark, the IRONBOUND. Which is literally 30 minutes train ride to NYC and 8 minutes to EWR (Newark Airport) without traffic. You will enjoy your stay at my place if you are in transit at Newark Airport. This is a perfect spot, if you are visiting NYC and want to save money, then this is the place for you.
It's close everything! If you have a car, street parking is available, it is a safe neighborhood and you will always find parking.
We were quite impressed by this 1st airbnb experience. We only wanted a small, inexpensive room to stay in while waiting for the concert in Prudential Center, but Ms. Fofana provided us with unexpected bonuses as well: snacks, books on the bedside table, a ride back from the concert, and even a special souvenir from Africa as a farewell gift! When we accidentally left our belongings in her sister's car, Ms. Fofana also immediately replied to our urgent texts. (Ms. Fofana stayed the nights at her sister's home, and came back in the afternoons.) Again, we were here for a concert and not for sight-seeing, so we did not ask for a tour of Newark. However, what we will say is that her home is safe, equipped with basic kitchen/bathroom necessities, well-decorated, comfortable, and convenient (i.e. an 8 min ride or ~25 min walk from downtown.) A grouchy lady lives in the neighboring room, but we have no complaints about Ms. Fofana herself. The wifi here is also unreliable if you do not have an optimumwifi account, so I'd suggest walking to the nearby Dunkin Donuts if you need wifi. Overall, we thought Ms. Fofana was a warm, understanding host, and we'd definitely recommend visitors of Newark to stay here~
Cindy
2017-03-25T00:00:00Z
Djena is a sweetheart she made herself available.... She respond back to text and calls at a timely matter, she had groceries available for me to prepare my own breakfast, the house is just as expected...... I strongly recommend her place for I will be back again. Till next time thank you Djena. Xoxo
Esther
2017-04-06T00:00:00Z
The host canceled this reservation the day before arrival. This is an automated posting.
Christopher
2017-03-17T00:00:00Z
Tipo de habitación
Habitación privada
---
Tipo de propiedad
Departamento
---
Capacidad
2
---
Habitaciones
Newark, Nueva Jersey, Estados Unidos
One beautiful Bedroom completely furnished for a wonderful stay. The room has a couch a flat screen Tv, cable and a very comfortable bed. Private rom. The apartment is right by branch brook park , walking distance to Newark Museum, close to Ironbound and downtown Newark. Easy commute to Manhattan.
View from uptown, midtown and downtown New York City. Modern furniture with large flat screen tv with premium channel. The room is cozy and very private. Fresh towel and linen will be provided for the guest. Believe me this room is the best in Newark Nj because of the location and easy transportation to Newjersey and New York City. The 108 bus stop right in front of the building and take you to Newark broad street in 5mins and 10 mins to Newark Penn Station the last stop of this bus Port authority 42nd street in NYC
The room is located right across the street from Branch Brook Park, where you can enjoy 2500 flowering cherry trees, fishing, tennis, picnicking, playground facilities and a wonderful summer concert series. Renowned schools, such as Rutgers University, Seton Hall, NJIT, Essex County College and UMDNJ are also close by. For only the best in comfort, convenience and quality, make your move to the Colonnade today!
We had a wonderful time at Fitz's place. We booked his place after canceling a very bad booking in NJ which we discovered after checking in. Fitz's place is amazing with breathtaking morning and night views of NY skyline. The bus stop is right outside the building which is convenient. I would definitely recommend using the trains as they are convenient. Fitz helped us with the bus routes, schedules and literally all our questions. Wonderful stay experience. Kudos to Fitz.
Pradeep
2017-03-22T00:00:00Z
Fitzgerald is really nice and helpful and the room was just like the pictures.
Sarah
2017-03-25T00:00:00Z
Nice building. The bus stop is just in front of the building. It will take you to penn station per $1,63 per ride. I suggest to take New jersey PATH to go to manhathan. Is very covenient. $2,75 per ride. Newark Cathedral is just at the corner. Is a beautiful place to go, even though you are or not catholic. It was built in 1899. Fitzgerald is soo nice and friendly. I loved the independence way he manages his apartment because he is always busy. And never try to look in to your life style. I suggest this place for independent man or woman. Es un edificio bonito. Y tiene la parada del bus a un paso de la puerta. Fitz es muy agradable y amistoso. La Cathedral de Newark esta en la esquina. Una hermosura de construccion gotica. Me gusto mucho porque fitz es muy independiente y no trata de inmiscuirse en nada. Puedes ir y venir como si nada!
Joel
2017-04-08T00:00:00Z
Nice stay
Steph
2017-03-10T00:00:00Z
Friendly and very understanding host
Kachi
2017-03-26T00:00:00Z
Tipo de habitación
Habitación privada
---
Tipo de propiedad
Departamento
---
Capacidad
1
---
Habitaciones
Newark, Nueva Jersey, Estados Unidos
My place is good for couples, solo adventurers, business travelers, families (with kids), big groups, and furry friends (pets).
Great host, excellent price for space and amenities. Comfortable stay
Melvin
2016-11-24T00:00:00Z
The room is clean. The bed is comfortable, and even though there is no cable, I was able to get enough free channels using the antenna to keep me entertained. The room is exactly as picture, there is a bus stop across the street, and several buses stop around the corner (2 minute walk from house) that will take you to Newark Broad Street Station (in less than 10 minutes) or Newark Penn Station (15-20 minutes). From Newark Broad Street Station you are only two stations away from New York Penn Station via NJ transit, which was great for me.
Deirdre
2017-02-27T00:00:00Z
As a first time Air BnB participant, I am beyond pleased with my decision. I would recommend this location to anyone visiting Newark.
Camesha
2017-02-07T00:00:00Z
Check-in went very smoothly. The rooms were just as pictured, neat, and very well kept. The walls were pretty thin so we could hear noises from people in the other room but that didn't bother me, its just an FYI in case that might bother anyone considering staying there. The host was very nice and checked in to see if everything was okay. Would definitely stay here again!
Taelor
2017-03-25T00:00:00Z
There is no temperature control per room. Temperature easily exceeds 85 degrees and is humid. May be dangerous if you have asthma. This also means that windows must be kept open for semi-comfortable tempeature. Some windows are adjacent to a lower-roof. This is dangerous if you are a female and/or if you are traveling with a pet.We also encountered a hostile guest who screamed with rage as a response to a simple "Hello." Tried to reason with the host,but he was vindictive and pompous.Not a peaceful location, unforgiving host,hostile guests. We would looking for several days of peace for my friend who is recovering from a traumatic period of loss and change and were greeted with negativity and greed. Thank you!
jason
2017-02-13T00:00:00Z
Eric was perfectly available and kind. The house was really nice. It was a pleasant stay for Alice and I to visit NYC. Hope many people will enjoy it too !
Robin
2017-01-01T00:00:00Z
Great budget place. Not too far from NYC
Marc
2017-02-02T00:00:00Z
Close to public transport, bus and light rail. Home is clean, spacious and renovated beautifully. Highly highly recommend
Melvin
2016-12-25T00:00:00Z
Tipo de habitación
Habitación privada
---
Tipo de propiedad
Departamento
---
Capacidad
2
---
Habitaciones
Newark, Nueva Jersey, Estados Unidos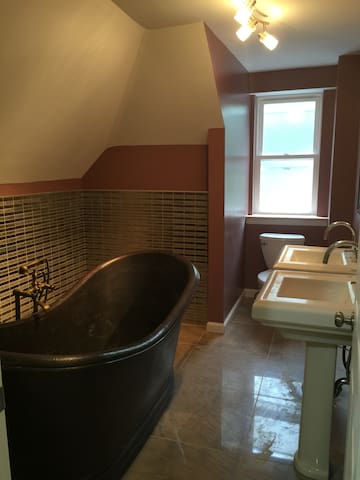 My place is close to Cross street from Riverfront Park. New York ( 20 min by car ,45 min by train ) 15 minutes from Newark Int Airport. 15 minutes walk to Red Bull Arena.. You'll love my place because of the location, the people, the ambiance, the outdoors space, the neighborhood ,is so close to the city and amazing cheap food everywhere from everywhere.. My place is good for couples, solo adventurers, and business travelers.
Excelente, Ceciliane es una gran anfitriona.
Jonathan
2017-01-15T00:00:00Z
Libby
2017-01-02T00:00:00Z
Ceciliane is a wonderful host. Very helpful and thoughtful. Her place very inviting, friendly and homely. Her dogs are an added bonus. The place is very close to Newark Airport and ideal for people looking for a place nearby. Highly recommended. Marty - Ireland.
Marty
2017-02-11T00:00:00Z
Great place, perfect location, street parking available, quiet neighborhood.
Miranda
2017-02-19T00:00:00Z
Ceciliane was an incredible host! The room is exactly as pictured and even better in person. The place felt very home-y all around. She was flexible with checking in and out as needed and was incredibly helpful with transportation info. Newark Penn Station is only a 15/20 minute walk and it's incredibly convenient. She let my guest and I know that we could contact her if we needed anything at all. This was the best Airbnb room and host we've had to date!
Emily
2017-01-09T00:00:00Z
Ceciliane is such a lovely woman and was a great host! The room was warm and cozy. The walk to the Prudential Center was a bit far but nonetheless walkable. The dogs were a plus!
Nicole
2017-03-25T00:00:00Z
Ceciliane is a wonderful host! The room was cozy and very comfortable. Street parking was available easily.
Manish
2017-04-04T00:00:00Z
Ceciliane is very nice person, she is living with 2 adorable doggies, she helped me giving some advice how to take public transportation, where to go and etc. My staying with her was good in general, I liked everything. The neighborhood is nice and calm down, just 20 minutes walking until the nearest train Station and there is about 30 minutes riding a train until Manhattan. Comfortable room and good bed. Just one thing was inconvenient - THERE IS NO WI-FI in the apartment!! I couldn't plan my trip, I couldn't make any appointment with somebody from Couchsurfing and etc.. Just to go by train to Manhattan and go to any Starbucks to catch wi-fi, just that moment was pretty uncomfortable to me. Thank you for everithing, Ceciliane!
Elena
2017-02-03T00:00:00Z
Tipo de habitación
Habitación privada
---
Tipo de propiedad
Casa
---
Capacidad
2
---
Habitaciones
Newark, Nueva Jersey, Estados Unidos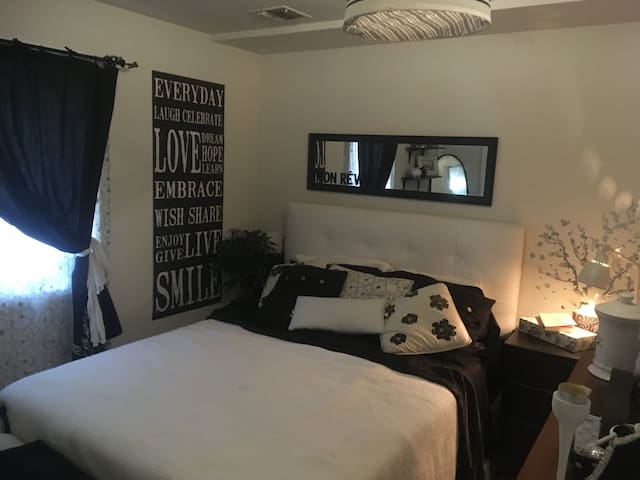 Come relax and enjoy the view in our rustic 1 bedroom. It offers an amazing view of New York City. It is very bright and comfortable. We are 7 minutes away from Newark airport and 10 minutes to Newark Penn Station. Beauty and relaxation awaits you.
In addition to the great view, we provide hotel quality at a reduced rate. Please be advised this is a walk up 4th floor apartment in a working/middle class neighborhood.
The neighborhood is quiet can seem intimidating at first but the residents are kind and helpful. Newark Lincoln Park, the Prudential Center, Newark Military Park, Newark Symphony Hall, and Newark Performing Arts Center are all within a short bus ride away. Grocery is near by ( they provide transportation back to individuals that spend $60 or above).
El lugar estuvo bien pero en el anuncio decia que tenia aire acondicionado y al final tenia solo ventilador, y el lugar esta un poco sucio
Francisco
2016-06-17T00:00:00Z
She was very nice, straight forward and allows extended stay.
T
2017-02-17T00:00:00Z
Keneisha was a perfect..and flexible host ! I made a mistake with my booking dates and she reacted so positively. The apartment is wide, well equiped and really quite ! Thanks to Keneisha's son for hiswarm and efficient welcome.
regis
2016-07-09T00:00:00Z
It was really nice. The host wasn't home at the time but everything was really clean!
Dalffry
2016-07-14T00:00:00Z
Keneisha was a great host really hospitable and extremely helpful through messages. I would book and stay with keneisha again.
tyler
2016-06-25T00:00:00Z
Keneisha was a great host and communicator. She accommodated my early check-in & will let you know when the space is ready. The apartment was tidy. I walked to and from Prudential Center for a concert, but I'd advise not to walk back late at night & to take an Uber to drop you off. Other than that, good place to stay. :)
Merry
2017-03-24T00:00:00Z
We needed somewhere to sleep that was close to the airport and she accommodated us even though we booked the place pretty late that night. We really appreciated that. She met us, let us in, and her husband brought us to the airport in the morning. It was a quick, easy stay! Didn't do any exploring of the area, but the apartment was clean and worked for us perfectly.
Myka
2016-11-19T00:00:00Z
The pictures are slightly inaccurate. The apartment is MUCH bigger and roomier than the pics make it appear to be. Further, the apartment provides a lot of privacy and virtually all amenities you could need. The host is also very accomodating with your needs.
Nickdy
2016-09-03T00:00:00Z
Tipo de habitación
Casa/apto. entero
---
Tipo de propiedad
Departamento
---
Capacidad
3
---
Habitaciones
Newark, Nueva Jersey, Estados Unidos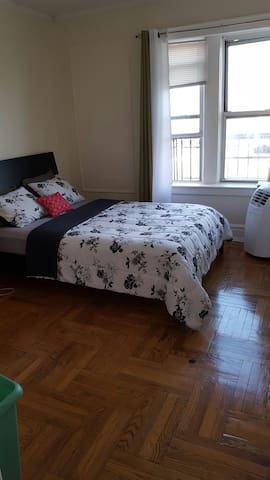 My place is good for couples, solo adventurers, business travelers, families (with kids), and furry friends (pets).
Very cozy & clean place!
Norelys
2016-12-12T00:00:00Z
The host is good with communication and response time. It's a good place to crash quickly but it was quite a bit of unwanted foot traffic in the neighborhood.
JOI
2017-02-12T00:00:00Z
Comfy bed
Joey
2017-01-30T00:00:00Z
everything was great again!
Marc
2016-10-22T00:00:00Z
Stayed in room #31 (third floor). Very clean and spacious. Fresh towels, nice king size bed, TV. At least two working outlets in my room and that was plenty. Shared kitchen not used but it looked nice and spacious. Shared bathroom was clean and well equipped, shampoo and body wash provided. Decent speed wifi no complaints. Easy to check in and check out, all instructions provided by the host.
Dovran
2016-10-16T00:00:00Z
Great cozy place! :)
Norelys
2016-12-20T00:00:00Z
Great place & good host!
Norelys
2016-12-24T00:00:00Z
Very clean & comfy place!! I would stay again!
Norelys
2016-12-08T00:00:00Z
Tipo de habitación
Habitación privada
---
Tipo de propiedad
Departamento
---
Capacidad
2
---
Habitaciones
Newark, Nueva Jersey, Estados Unidos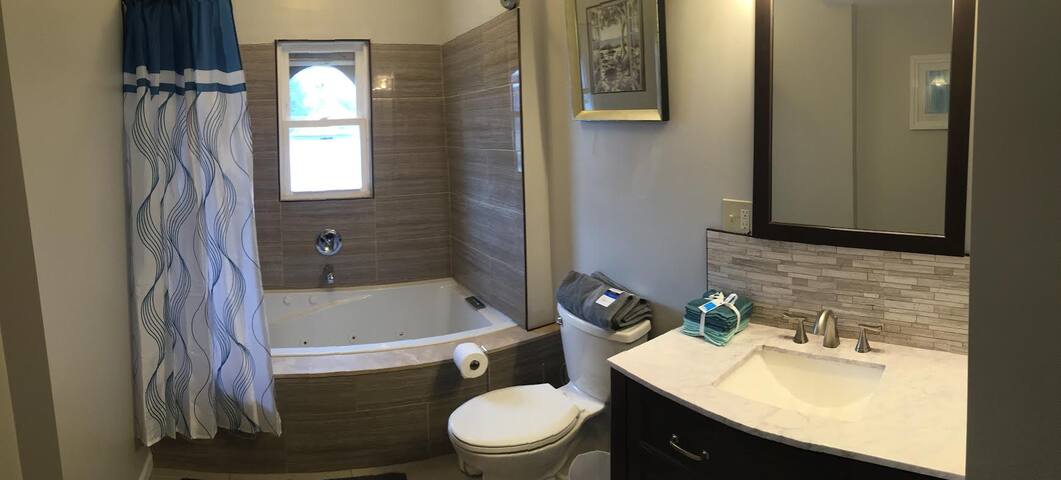 My place is close to Rutgers University-Newark, University Hospital, The Coffee Cave, and Art Kitchen. You'll love my place because of the comfy bed, the kitchen, and the coziness. My place is good for couples, solo adventurers, business travelers, families (with kids), big groups, and furry friends (pets).
Very nice room. Theres no cable but theres wifi witch is dope. I bought my chromecast and hooked it up to the tv and everything was smooth sailing. Only prob i did have was that some one (another renter) kept slamming there door and the bathroom door for some reason but once they checked out everything was nice and cozy. Ill deff be booking another stay here very soon.
Ashlee-renee
2017-03-03T00:00:00Z
Great experience
M.TAREK
2017-03-22T00:00:00Z
good for the bedget
henry
2017-01-29T00:00:00Z
The place had everything you needed and was very clean. Washer and dryer, dishes, toiletries, comfortable beds, and the kitchen was equipped. Lock boxes made access very easy! The neighborhood was pretty rough, the streets were dirty and there was a lot of liter... and you can tell there was some strange activity around at night. However, I felt safe with my spouse. The host (Eric) was very responsive to texts and problems were solved immediately! He was also very friendly and met all our needs. He welcomed my service dog with open arms. There's a lot of kids in the neighborhood, given it is right down the street from a school! There is plenty of parking on the streets but make sure you read the signs and know where to park and WHEN (we got a ticket for parking in the wrong place on a Tuesday (stupid law). We were in the biggest bedroom, it was very spacious! The bathroom is beautiful and you can tell he has recently renovated. His wife is also very polite! Would recommend to anyone looking for an affordable stay and if it is a long one, he works with you depending on your needs!
Leah
2017-02-28T00:00:00Z
Tipo de habitación
Habitación privada
---
Tipo de propiedad
Departamento
---
Capacidad
3
---
Habitaciones
Newark, Nueva Jersey, Estados Unidos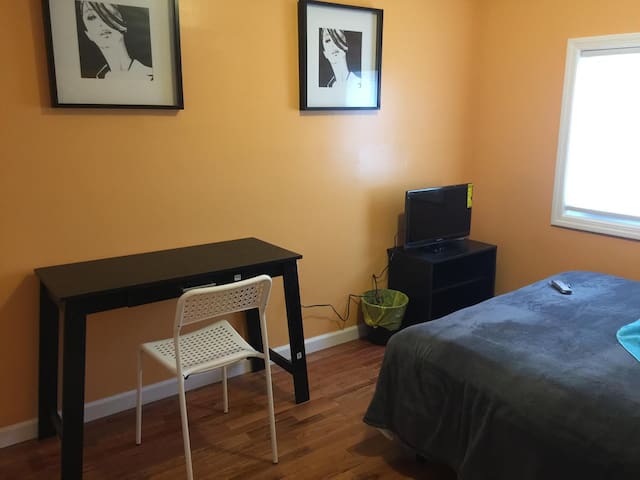 Very clean and quiet house EWR Newark Airport 7 minutes by Cab 20 nice Walking distance from Newark Penn Station Newark Penn Station to Manhattan New York Penn Station Quiet and safe street Bus line half block walking distance Bakery and deli open until 10:00 pm Walking distance restaurants
Quite and clean home, beautiful and spacious backyard
Everything you need on walking distance
Danielle es increible como Host El lugar es una habitacion con todo,totalmente privada,limpieza,toallas,cama excelente,todos los servicios y comodidades. Es dificil encontrar un lugar mejor por ese precio Gran experiencia a pesar de estar solo una noche Gracias !!!!!!!!!
Pablo
2016-09-22T00:00:00Z
Moltó amable, servicial y atenta a hacerme sentir bien.
Ana
2016-08-15T00:00:00Z
Danielle and John were awesome hosts. Not only did the room look exactly as pictured, it was cozy and they provide towels, menus for local eateries and extra blankets! They were also very nice when my plane was delayed several times due to bad weather. Enjoyed my stay and would definitely stay again!
Kristi
2017-04-07T00:00:00Z
Danielle and John were great. Communication was quick and the room was clean. They live about 7-10 mins from newark airport. Great place
Chad
2017-02-13T00:00:00Z
Such a nice and cozy place, great host.
benjamin
2016-12-23T00:00:00Z
Super.thank you. Very close to Newark Airport. Ask about the great pub down the road run brilliantly by Brazilians offering huge cheap tasty meals!
Gregory
2017-03-12T00:00:00Z
Great place to stay. Not safe neighbourhood at night. But during day was all good. Thx Danielle and John for hosting me.
Vasile
2016-12-01T00:00:00Z
The room was great for the price. The communication was very fast both via the app and over the phone. If you're looking for a comfortable place to stay, good and fast interaction with friendly people, and a very fair price, definitely consider this place. I've stayed in the area several times, at a few different air bnbs, and hotels. This will definitely be my new go-to when it's available to me. Thanks for your hospitality.
Peter
2017-01-11T00:00:00Z
Tipo de habitación
Habitación privada
---
Tipo de propiedad
Casa
---
Capacidad
2
---
Habitaciones
Newark, Nueva Jersey, Estados Unidos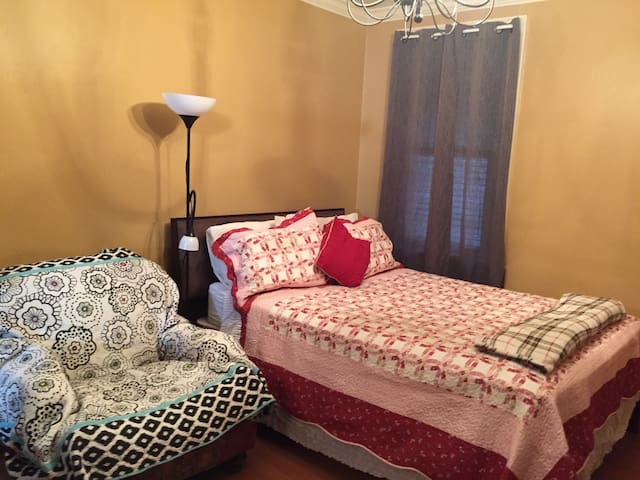 My place is close to Newark Broad St Station (20-min train ride to NYC), Norfolk Light Rail Station, Fownders co-working space, NJIT, and more! Great location and good vibes :-). As a guest, you'll have private access to the entire lower-level apartment, including a bedroom, workspace, bath, and kitchenette. This spot is perfect for couples, solo adventurers, and business travelers.
The lower-level apartment is completely yours during your stay! It includes a bathroom, workspace area, and kitchenette/dining area (no stove). When you arrive, you will be able to access the apartment and the main door using a code. Please note that the apartment is only accessible by you; however the main door is a shared entry for all tenants in the building (see last two pics for more info). It's also important to note that this space is NOT ideal for light sleepers. There are times when our street can be busy/loud, particularly at night... one of the many joys of living in a city. :-)
My home is located in the University Heights neighborhood of Newark, NJ. We're walking distance to Branch Brook Park (home of the gorgeous cherry blossoms), Fownders co-working space, NJIT, and the Norfolk Light Rail Station. Newark Broad St. station is about a 10-minute walk away and downtown Newark is about a 20-minute walk or 5-minute drive. Newark airport is a 15-minute drive. As you can probably tell, our central location is close to so many great things :-).
I really enjoyed my stay in Joy's place. It looks exactly like the pictures. I had a very comfortable stay and it feels like home. It is nearby Newark Penn Station, so it's easy to get into NYC. Also, not far away from Newark Airport. I'll definitely recommend her and stay here again!
Mario
2017-02-20T00:00:00Z
Joy's place was wonderful, and it looked exactly like the pictures presented on Airbnb. The door code keypad was excellent because it allowed for me to not have to keep track of a physical key. The location was great for me because I love seeing neighborhoods revitalizing! The closeness to the light rail and trains made it possible for me to easily access time at Montclair State U. and hanging out in NYC with friends and family. I will definitely consider this place for my next visit. Thank you Joy for all your professionalism even though we did not meet in person!
Robert
2017-02-24T00:00:00Z
I booked this place to be closer to work after a holiday party in NYC! It was perfect! I was less then 10 mins from work and Joy literally thought of everything I could possibly need and then some!! The space was clean, spacious, and well decorated, appreciated the consistency with the red accents lol my favorite color!! Anyway this was definitely worth it!
Jeralyn
2016-12-16T00:00:00Z
You will get the entire basement! Own kitchen, own bathroom, own bedroom and even living room. Really good for two or three people to rest the night when exploring NJ or NYC.
Mandy
2016-12-31T00:00:00Z
Joy was a kind host and made our stay smooth. Her place was incredibly close to the airport. We had a short stay for a long layover and because we got in late it was nice to access the place via a keyless entry. The only negative was the noisy neighbors, but that is not Joy's fault. All in all a great stay.
Mont
2017-03-12T00:00:00Z
The place is extremely well kept and amazing for the price. Complementary towels and toiletries were provided as well. Communication between the host was super quick. Had an amazing stay here!
Marcos
2017-01-28T00:00:00Z
I really enjoyed my stay in Joy's place. The place was really clean and as described in the picture. Joy came to welcome us in person and make sure we had everything we needed. I'll definitely recommend her!
Géraldine
2017-01-01T00:00:00Z
Un pied à terre sympa à 50 minutes de Manhattan!
Pierre
2017-03-19T00:00:00Z
Tipo de habitación
Casa/apto. entero
---
Tipo de propiedad
Departamento
---
Capacidad
3
---
Habitaciones
Newark, Nueva Jersey, Estados Unidos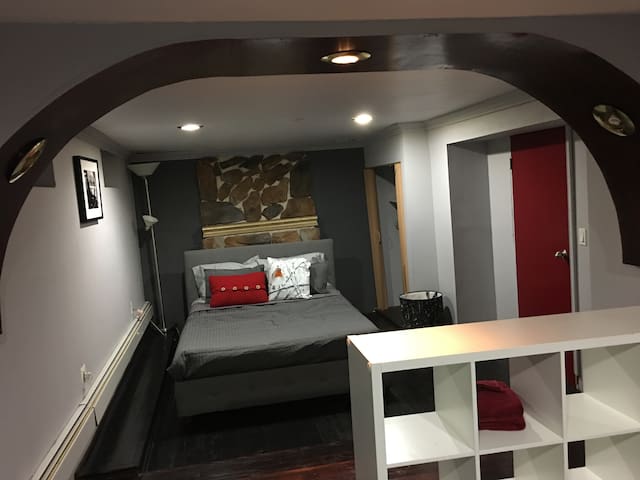 Private studio with 1 bathroom,1 Queen bed,2 single beds,1 couch,distance to Newark airport 2.5 miles and You can take uber for $7.00 to reach the house. 10 min by train to NY and NJ transit Bus station close to the house. If the guest don't mind to sleep in the couch the place can be very comfortable for 4 people. Everything is so easy to access from this fabulous location, we are family of 3 and we will really look forward to hosting you in our divine love place.
Charming and clean open studio,you will love the ambiance.
The hosts were good people. The place is clean, spacious and comfortable.
Khaled
2017-04-08T00:00:00Z
Very friendly host and clean environment.
Oriana
2017-03-25T00:00:00Z
Very spacious with everything you need. Very nice and very attentive to your needs.
Brittney
2017-04-02T00:00:00Z
Tipo de habitación
Habitación privada
---
Tipo de propiedad
Casa
---
Capacidad
4
---
Habitaciones
Newark, Nueva Jersey, Estados Unidos
Comfortable room with walk-in closet and private bathroom in a modern, sunny and spacious penthouse in Newark, NJ. Walking distance to train station, Prudential Center and Ironbound District, one of the favorite New Jersey's dining destinations. 10 minute drive to the Newark Airport.
The room fits two guests in a queen size bed and includes walk-in closet, hangers and full-length mirror. The apartment is clean and fully equipped, with large television with Netflix and fast Wi-fi.
Tipo de habitación
Habitación privada
---
Tipo de propiedad
Departamento
---
Capacidad
2
---
Habitaciones
Newark, Nueva Jersey, Estados Unidos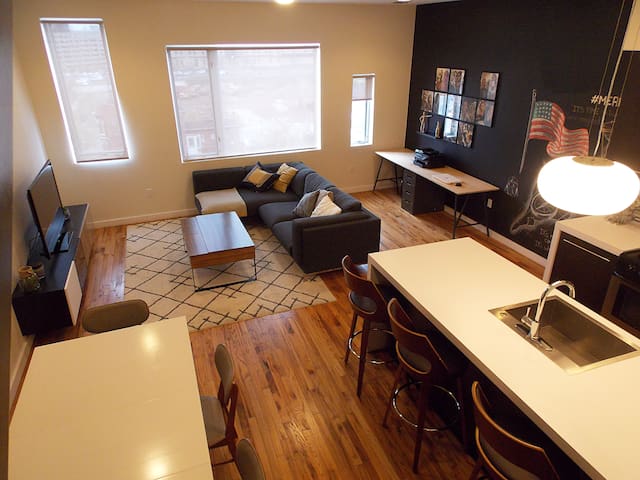 My place is close to the airport, the city center, parks, and art and culture. You'll love my place because of the ambiance, the comfy bed, and the outdoors space. My place is good for couples, solo adventurers, and business travelers.
Tannicha is an absolutely great host and her room and her appartement are fantastic! She is very friendly, helpful and accomodating. She always answer quickly all of our questions and her house is really clean and inviting! Only six minutes to walk to bus station for NYC. We definetely recommend it!!!
Eyke
2016-12-20T00:00:00Z
Everything was perfect, extremely recommended, thank you very much for the service and all the attentions
OSCAR MAURICIO
2016-11-29T00:00:00Z
Super logement je le recommande fortement
Mariie
2016-12-11T00:00:00Z
Tannicha (actually her husband, who greeted us) was welcoming and her apartment was extremely hospitable. She is well prepared for any and all guests and has everything we needed for our short stay.
Sarah
2017-01-09T00:00:00Z
Great host! Very clean apartment!
Eduardo
2017-01-13T00:00:00Z
Homely, quiet, and inviting. Conveniently located to near to Newark Airport and 5 minute walk to NJPath train to NYC. Tannicha's place is a hidden gem for sure and I will definitely return. What great place to get away and relax, the location is up and coming close to Jersey City.
Jenny
2016-11-18T00:00:00Z
Tannicha's place was great. She was more than accommodating and her place was mintues away from the airport and only a bus and train ride away from the city. The pictures she has doesn't do her place justice very spacious and very comfortable.
Channie
2016-12-01T00:00:00Z
Tannicha was a great host and I thought the room was great value for the price. I stayed there because it was close to the airport and it was perfect. Big room, clean, well maintained and great facilities. Thanks so much Sadie
Sadie
2017-01-28T00:00:00Z
Tipo de habitación
Habitación privada
---
Tipo de propiedad
Departamento
---
Capacidad
2
---
Habitaciones
Newark, Nueva Jersey, Estados Unidos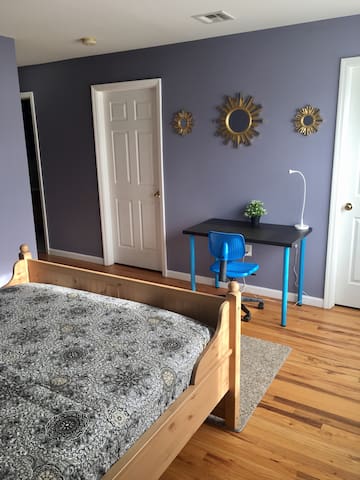 Newark - Airbnb
:
Una media de

4.78

estrellas de un total de

5

de

619

evaluaciones de huéspedes
1

–

18

de

Más de 300 alquileres
Introduce las fechas para ver el precio total. Ten en cuenta que se aplicarán tarifas adicionales y es posible que se añadan impuestos.