Introduce las fechas para ver el precio total. Ten en cuenta que se aplicarán tarifas adicionales y es posible que se añadan impuestos.
3 anuncios
· Lower Peach Tree
3 anuncios
· Lower Peach Tree
My place is close to all of the local restaurants. Just a 10 minute drive will place you in the heart of Downtown Monroeville and all of the city's rich history. You'll feel right at home in this Alabama abode. With brand new appliances and furniture, all that is missing is some happy travelers. My place is good for couples, solo adventurers, business travelers, and families (with kids).
Tipo de habitación
Casa/apto. entero
---
Tipo de propiedad
Casa
---
Capacidad
4
---
Habitaciones
2
Monroeville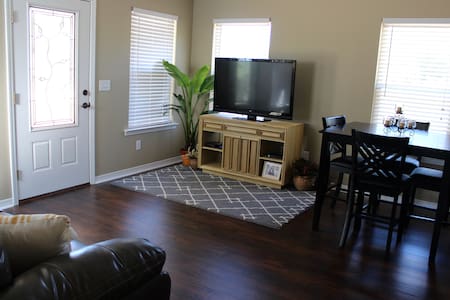 One bedroom with an small kitchen and dining. You have your own private bath area. It is the same location as the other apartment with the same outdoor photo's. Close to the Creek Indian Casino, 2 parks, Monroeville's To Kill a Mocking Bird, kids under 12 years old are free. There is one queen air bed.
The apartment was remodeled in the last months of 2015. There are a lot of new things including the the bathroom. One large room and one small bathroom. PLEASE READ...this is an studio apartment and not bed and breakfast. Bring your eats Walmart and other stores are 17 miles away. You have shared access to the pool and hot tube. There is also a gas and charcoal grill. I'm usually at work.
This is a farming area. Please see my other listing. I do not wish to copy and paste here. You will need an auto. There is no pubic transportation. Large trash container on the west side of the house and it goes out on Thursday.
The studio apartment is a lovely little haven in the country. It is spotlessly clean and tastefully decorated. The grounds are peaceful, I wish we could have stayed longer. Ronald is a wonderful host.
Emma
May 2016
What a wonderful stay! We needed a place during our travel down to gulf shores and this was a hidden gem we loved it!! Highly recommend Ronald and his beautiful place!
Brittany
October 2016
Everything was great. I just needed a place to stay for the night. Half the price of a hotel and a much nicer place to stay.
Jim
November 2016
What a fantastic stay! First of all, despite being relatively compact, the room feels spacious by way of its design, with the fireplace and bookshelves on opposite walls giving the sense of an old living room where you'd expect to see dad in his smoking jacket watching the fire crackle. Which gets to the point - if you're looking to be surrounded by a simpler world than the city's been giving you, you can heal your spirit out here - sing along with the cows, take a walk down a dirt road or along some railroad tracks... get a little lost driving around, you'll just run into more people waving at you from their cars and porches as you drive past. Washer, Dryer, mini-stove, microwave, fridge, ice maker, toaster oven... all packed nicely into one corner and very easy to access. Seriously, I can't say enough about how intelligently-designed this space is - everything feels separated despite being a few inches or feet away. If you need to go shopping, there's a town about 20 minutes up the road. I didn't take advantage of the pool or grilling area, but they're both quite worthy of being put to good use. Ronald himself is awesome - he was always available but I felt private and the 'tranquility' of the area was rarely interrupted, except occasionally seeing him go by on his riding mower. Always friendly when we interacted, he's a professional builder and clearly loves what he does. Cozy bed, nice sheets, lots of pillows - just a comfortable place overall. If you need to get away or want to visit the casino down the road or other nearby attractions, this is absolutely a great place to stay. If you want a little larger place, he also has a 1BR as well. If you found it, book it. You've got the right one :)
Brian
April 2016
Ronald had a perfect place for us to stay. He was a great host and all went really good. He has done some amazing work and wood work to the place. Very talented man!
Gail
August 2016
Cannot say enough good things about this place and Ronald. The pictures do not do it justice at all. First of all, the drive out there is amazing. So much space and beauty. Then, when you get there it's just as beautiful, if not more! Ronald was there to greet me when I arrived and showed me where everything was. He is so, so sweet. It rained most of the time I was there, which made the already-cozy little haven even cozier. It's very spacious and has everything you need. A great electric fireplace, stove, microwave, toaster, pots and pans, washer/dryer, tv/DVD player, etc. I could go on. I went for a getaway by myself to get ready for the new year, and everything about this place exceeded every expectation I had. I will DEFINITELY be going back!
Natalie
January 2017
Great cottage in the country!
Eric
December 2016
Roland's place is very kind, lovely and got everything we need. A great place for a country view and even for long term stay.
Miki
May 2016
Tipo de habitación
Casa/apto. entero
---
Tipo de propiedad
Departamento
---
Capacidad
2
---
Habitaciones
1
Atmore
Apartment in my home in the country surrounded by farm land and timber land. This is South Monroe County. It is about 17 miles N. of the Creek Indian Casino. Towns around are Atmore and Monroeville. Close to Claude Kelly State Park. under 12 free. There is one queen size bed in a private room. The couch is not full size but would be good for a small person. One twin air mattress. PLEASE READ...this is an apartment and not bed and breakfast. Bring your eats Walmart and other stores 17 mi. away.
There is an apartment , pool and hot tub. Extra sleeping can be had with twin air mattress and the couch. Not much...I have to work a lot.
It is my home located in a farming area. You have to have a car. I am close to Wind Creek. It is 75 mile to Pensacola and 88 miles to Gulf Shores.
Ronald's place was absolutely brilliant! He describes it as "no frills" but this is my no means an accurate description - everything is immaculately clean, most things appear brand new and the bed is super comfy! We are going back to stay for my birthday because we had such a relaxing time :) thanks, Ron!
Jennifer
February 2016
Wonderful stay! The apartment is perfect, relaxing and peaceful, so much nicer than a hotel room! Ron is also a wonderful host! He has thought of everything to make your stay a comfortable experience. If you have any questions or need anything he is fast to respond. This is a gem! :-)
Tamara
June 2016
The comfortable bed, country setting, pool and hot tub coupled with the full kitchen, full fridge/freezer and oven makes this place my first choice over the vast majority of hotels. Anything you need from a kitchen is already here. Its a very peaceful setting and should be kept as such.
Joshua
May 2015
The host made us very welcome. And had an interesting story about his family and the home and surroundings. The pool was great. For me, the very rural setting with cattle and corn fields etc. right next to the home property was wonderful. For some urban folks this may be both a great pleasure and a down side. Very interesting area of Alabama. Monroeville the home of "To Kill a Mockingbird" a novel by Harper Lee is nearby. The home itself and accommodations are typical farm house style. Very comfortable, but to most city dwellers sort of rustic.
Steve
July 2015
This place is great! I have stayed here multiple times with the work I do, it is always relaxing, peaceful and clean. Ron is a wonderful host, he has thought of everything, love the washer and dryer! I give it two thumbs up! A GEM!!!
Tamara
July 2016
Ronald's place is a gem. Seriously. It's down a dirt road, there's not much around, and you really have no idea what to expect. We've been staying in Airbnbs for almost two weeks now, with a stop in a different city every night. Ronald's place was one of the best. It has absolutely everything you could need and is immaculate. Seriously, the place is cleaner than my own house! He's also a carpenter, and I didn't confirm with him, but I think he made most of the cabinetry and the furniture in the place. :) We had a lovely dip in the hot tub after we arrived, and the space was perfect for what we needed. The scenery is gorgeous, and you can watch cows graze on pasture while you do dishes. :)
Jessica
December 2016
Perfect experience from beginning to end. Great fast communication with Ronald. We stayed several days and enjoyed cooking out on the grill, relaxing in the hot tub and even swimming in the pool. This place is out in the country and let me just say the stars at night were big and bright! We were traveling lightly so it was nice to have the washer/dryer available. Full kitchen with most everything you would need to prepare meals. Highly recommend this charming place in the country. :-)
Michael
April 2016
We had an absolutely amazing stay at this wonderfull place!! The landscape is so beautifull, peacefull & quiet!! So if you're looking for the perfect gateway on the countryside, that's definitely the place to be!! The apartment is so lovely too!! Offers everything one needs!! So lovely furnitured with love for the detail, unfortunately you can't see that on the pictures!!! Because it's much more beautifull than pictured!! & the best thing, the pool and the whirlpool that we could use any time we liked! & Ronald is a perfect & charming host! So we definitely would have stayed longer & come back again!! Highly recommanded!!Thx!
Tanja
July 2015
Tipo de habitación
Casa/apto. entero
---
Tipo de propiedad
Departamento
---
Capacidad
4
---
Habitaciones
1
Atmore