Our little log cabin is back in action! We are back in the main house after living in the cabin for a year: a fun adventure! About the cabin, it's mostly heated by the wood fireplace. Kitchenette has microwave, 1 burner, mini-fridge, dishes etc. upstairs is full-sized bed
Sweet restored stockade style log cabin right on Haller Lake. You would never know you were within the Seattle city limits! Haller Lake is a quiet, natural spring fed 15 acre lake surrounded by private homes. Custom woodwork inside with artful touches. Sleeps 2 upstairs in full sized bed. Main floor has comfy sofa, kitchenette with microwave, single induction burner cooktop, coffee maker, toaster and small refrigerator, teapot, dishes and glasses; 3/4 bath with new stone tile shower. This cabin is heated mainly with the wood fireplace. The photos show the old wood stove. You can now watch the flames and there is a fan to spread the heat around a little better. There is also a deLonghi oil heater to add a little more heat when needed. There is no TV but there is WiFi. Bring slippers, the stone floor gets chilly. Fish from the dock or take a ride in the paddleboat. We just got a canoe! (The boats are out of the water in the winter). No pets please! We are now living in the main house. We have an Australian Shepherd and a flock of chickens and ducks (the dog and chickens do not come into the cabin, just in case you were wondering) Parking is shared with the main house. It's close to Northgate Shopping Mall with shops, restaurants and Thornton Place Cinema. A few blocks to Northwest Hospital and the new proton center (look up ProCure Center) The lake is about 20-35 minutes from downtown Seattle via I-5 or highway 99 (can be a bit more in heavy traffic). Bus route #346 has a stop at the end of the driveway. If you are interested in having a party or many friends over, please clear it with us before making your reservation. We have limited parking and there is no parking down our communal access road. Check out by noon, Check in no earlier than 2pm, sometimes later if I can't get the cabin ready because of work. To be agreed upon according to schedule. If you want an early morning check-in, please book the night before.
Great location, wonderful little gem in the city. Roberta and Dan's place was very clean. Comfortable bed and linens, which is always nice. Loved it!
Lisa
2017-03-12T00:00:00Z
We came to Seattle to escape the insane summer heat of Dallas. This was our first reservation/stay arranged through AirBnB and we truly loved our stay at Roberta's place. It is like a green oasis in the middle of the city, a charming little cabin only a few steps from a small, clear and quiet lake with its unexpected residents of trout, bald eagles, osprey and many ohers. The cabin had everything we needed to make our stay comfy but what I loved most was the large upstairs window facing the lake where we enjoyed looking at all the birds and the playful squirrels racing up the trees nearby. We would LOVE to come back and stay longer, Roberta made us feel so welcome.
John
2011-06-26T00:00:00Z
Roberta was very quick to respond to all my questions and she was also kind enough to remind me of a few things before we actually got there. The cabin is situated in a beautiful spot and we really enjoyed our stay. It does get cold in Seattle in the winter so be prepared for that, but the heaters and the fireplace certainly helped. We hope to come back in the summer sometime so we can make use of lake!
Sally
2012-03-20T00:00:00Z
We had a great time at the log cabin. It's a lovely place.
David
2012-06-09T00:00:00Z
Nestled by Lake Haller, the cabin feels miles away from the busy metropolis or the surrounding suburbs. Tall cedars and wide-spreading ferns lead down to the dock. The cabin is snug and comfortable. Roberta always makes us feel welcome.
Barbara
2015-02-07T00:00:00Z
Roberta and Dan's cabin on Haller Lake is absolutely wonderful! We had a delightful time during our little stay and wouldn't change anything. Hats off to Dan for waiting for us after our day went... awry. Great place!
Daniel
2012-11-13T00:00:00Z
The cabin was the perfect place for our long weekend. Beautiful, quiet and secluded but just a quick drive to downtown Seattle. Roberta & Dan were helpful with suggestions and information about the area. We definitely recommend this cozy cabin and would stay again if we return to Seattle!
Natalie
2015-03-04T00:00:00Z
The host canceled this reservation 20 days before arrival. This is an automated posting.
Kimberly and George
2016-03-13T00:00:00Z
Tipo de habitación
Casa/apto. entero
---
Tipo de propiedad
Cabaña
---
Capacidad
2
---
Habitaciones
Seattle, Washington, Estados Unidos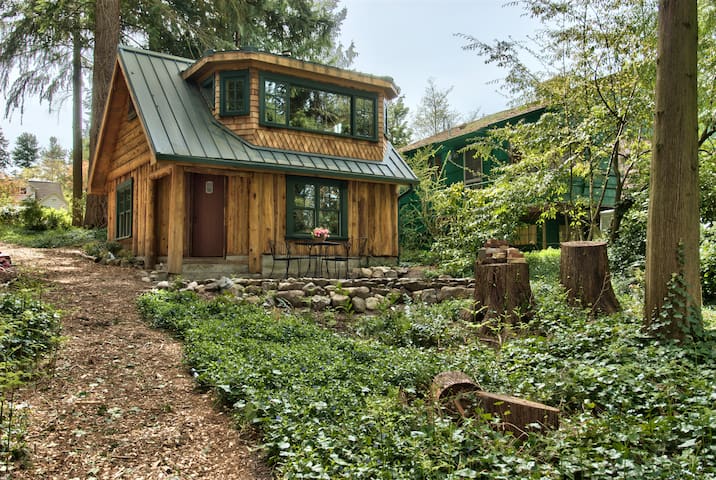 This apartment has lots of natural light and a private, full bathroom. It is in the lower level of our house. It is well insulated to stay cool in the summer, warm in the winter. The space has all the conveniences of a hotel room. You have a private entrance, driveway that's yours to park in, fiber optic high speed wifi, microwave, toaster, electric kettle and a small frig. along with an assortment of tea, organic coffee, dishes, silverware etc. for you to use. There is a wall mounted HD T.V. with DVR and Century Link Prism (two hundred plus channels including HBO and on demand shows) . There is a queen bed and a new couch that converts to a full sized bed. The house has a huge yard and deck you are welcome to enjoy. There are two friendly cats but they stay upstairs. We live two blocks from Delancy's, a pizza spot that has been nationally recognized, Honore, a great bakery whose crossiants were voted the best in Seattle region and the Fat Hen, a French bistro. All three have glowing reviews and are fabulous. The Ballard neighborhood has an incredible amount of restaurants and small, independent shops and Downtown Seattle is 5 miles away and a quick, easy bus ride. We live less than a mile from Greenlake and there are great neighborhoods to explore on all sides. There is plenty of free street parking in our neighborhood and a driveway that's yours to park your car in.
Wonderful weekend in Ballard at Amanda's house!
Michael and Elisa
2012-03-06T00:00:00Z
This was a very comfortable room in a quiet neighborhood. The owner was very accommodating. Yes, there were the brownies and yes I ate them all. A plus for me was the nice bathroom with a tub.
Karen
2012-06-08T00:00:00Z
Great. Easy stay, comfortable place, all the amenities we wanted.
charlie
2014-12-07T00:00:00Z
Amanda was friendly and available if I needed anything. The apartment included some nice touches upon my arrival, such as a full water pitcher and a bowl of fruit. The bed was very cozy, and the apartment was quiet and conducive to sleep. I'd recommend the apartment to those visiting Seattle who want to get a feel for life in one of the city's great neighborhoods.
Mary
2015-04-27T00:00:00Z
Very nice and quiet place. Clean and cozy :) private suite and had a set of keys fr us. definitely recommend.
helson
2015-04-13T00:00:00Z
Amanda is a great host. The room is cozy and neat, and the brownies and cookies were a hit. She makes it a point to say hello during the visit.
Jacque
2016-04-15T00:00:00Z
Everything!
Guozhang
2016-08-02T00:00:00Z
What is not to like? The location is outstanding, within walking distance of everywhere you will want to go and everything you will want to see. The hostesses are superbly kind, very welcoming and incredibly accommodating, helping us make sure the space would work for our two-year old daughter who would sleep in the portable crib we brought for her (and who historically has not done well sleeping in the same room as us - they gave as what we needed to put up a little "wall" made from a bed sheet). The apartment is comfortable, well-appointed and clean. The bed is cozy, firm but not hard with a super comfy comforter. The bathroom is clean and adorable, and we wanted to spend more time in it just hanging out (gotta love those radiant heat floors). The welcome brownies and fruit bowl were a really nice additional touch. We cannot wait to go back; our two-year old talks about the Seattle apartment all the time. Thanks so much for having us!
Kristin
2011-12-05T00:00:00Z
Tipo de habitación
Casa/apto. entero
---
Tipo de propiedad
Casa
---
Capacidad
4
---
Habitaciones
Seattle, Washington, Estados Unidos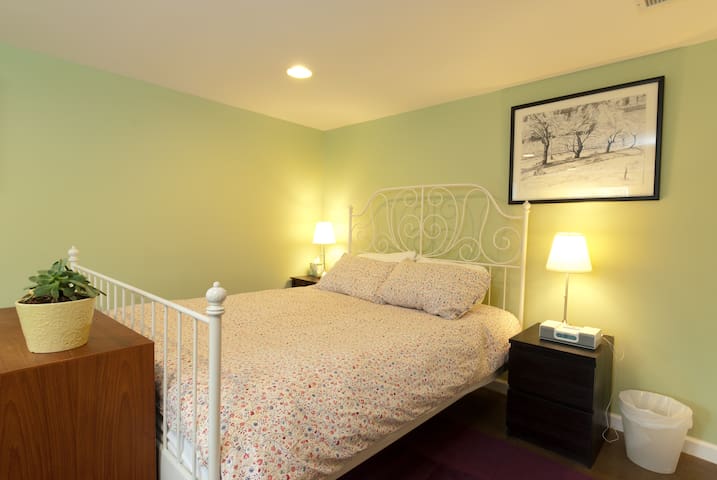 For travelers who are passing through town short-term and like a rustic cabin vibe in a great city location. Features: Futon pull out double bed, twin single loft bed, toliet & kitchette, but note: No bathing facilities available on site. Welcome!
This space has a lot of funky charm and is in a great part of the city. The room is cozy and a bit quirky with a rustic/self built vibe as we inherited the space (for example, the walls are simple paneling) but if you like its charm like we do, you will always have clean sheets, fresh duvets and coffee. You can have your coffee on the roof to see the tips of the skyscrapers while listening to the collection of birds that seem to like our yard! We hope you will love this place so please do not book just because it "will do for the price." Not everyone likes ladders, futons, old wood wall paneling or lack of a shower, but some people love cozy and fun and will truly resonate with our offering as they travel like we do! We love people to be happy and feel safe. There is a toliet is in the room with a curtain and half wall dividing it from the rest of the space, but no solid door. There is a single foam bed in the loft for those that are comfortable on a loft ladder. The futon in the main space is a pull out that could fit two people and is comfy. I set it up with clean sheets and bedding always. It will take up most of the room, so if you are staying more then a night, you may want to push it back to have a sitting space as there is a small table and two seats for eating space and a kitchenette, but no drawers for clothes..though we have lots of hooks and a shelf- if you have large wheel suitcases it will be possibly too tight...I offer all this to be upfront so you will enjoy your stay if you select the Zen Loft :) The wifi password for the zen loft is hulahoop :)
Ravenna is a wonderful neighborhood with an extemely good walking score. You are only a few blocks from so much! Less than 10 minutes walk and you are walking around Greenlake, or at Ravenna Alehouse, Zeeks Pizza, Ravenna Park, Third Place books, you name it! There is so much in our area to enjoy! For drivers, you are just 10 blocks from 1-5 and 5 minutes drive to the University District and 10 minutes to areas like Phinney, Fremont and the Woodland Park Zoo. In the city, but without the traffic, noise or high rises.
Lara was very accommodating and lovely, and the cabin suited our short stay in Seattle perfectly! The ceramic heaters on the walls kept us warm and cosy during the cold night, and we had fun playing cards on the small table provided. The sleeping options probably wouldn't have suited us long term, as the loft bed was a single - so we slept on the futon. I got the good pillow and had a great sleep, but my partner cycled through a few in the night. Despite this, I'd definitely recommend staying with Lara if you're having a trip to Seattle. The neighbourhood was convenient and super residential, and a very easy drive to amenities. Thanks for having us!
Cassandra
2016-02-03T00:00:00Z
The Zen Loft was a perfect place to stay for a short holiday trip. We had family nearby who let us use their shower, but we didn't have to put them out too much because we had somewhere to sleep that was cozy and comfy. The kitchen is quite well appointed for such a small space. The beds were very comfortable, and the heaters kept the space warm even on very cold nights. The fold-out futon does require a small amount of athleticism to re-fold in the morning, but pulling it out from the wall and climbing behind it was the right approach. :) If there is more than one person staying in the cabin, make sure you have a level of comfort with being in close proximity when the other person is using the toilet (there is a visual barrier)....or with stepping outside at certain times (not so fun in the cold). Overall, Lara was a great host, I had all the information I needed for a nice stay, and I will definitely book this again in the future!
Melissa
2015-12-01T00:00:00Z
The host was very kind and helpful.
martha
2015-09-12T00:00:00Z
The Zen Loft was so cozy and fun to stay in! Lara was great and made sure we were comfortable. We had a great time!
Elizabeth
2015-05-30T00:00:00Z
We had a wonderful one night stay in the zen loft. Lights lit up a path to the loft behind Lara's home. Lara had directions inside the loft that described any question we had from, what's the wifi password to how to work the pullout bed! Very quiet neighborhood in a great location near greenlake. We had such a great trip! Thank you Lara for the experience!!
Kelsey
2015-06-19T00:00:00Z
Although we didn't get to meet Lara, she was very welcoming and easy to contact before our stay. We weren't in Seattle for very long, but the Zen loft was a great place to rest. It was raining during the night, which made it even cosier. It was a very unique place to stay, which is one of the best things about using air bnb. We got the experience of staying in a 'tiny home' without the full time commitment. It was just a short drive to a lot of things we wanted to do, like go to the Green Lake area and Fremont/Ballard.
Elizabeth
2015-09-02T00:00:00Z
What a wonderful treat! Lara and family were very accommodating and friendly. I love the fact that my money for a place to stay didn't go towards some billionaire kid's college fund but to a delightful middle-class family's son (who has inherited the family's gift for guest treatment).
Gus
2016-04-08T00:00:00Z
Great stay, Lara is a very accommodating host and great with communication. Would recommend to anyone
Taryn
2016-08-14T00:00:00Z
Tipo de habitación
Casa/apto. entero
---
Tipo de propiedad
Otros
---
Capacidad
3
---
Habitaciones
Seattle, Washington, Estados Unidos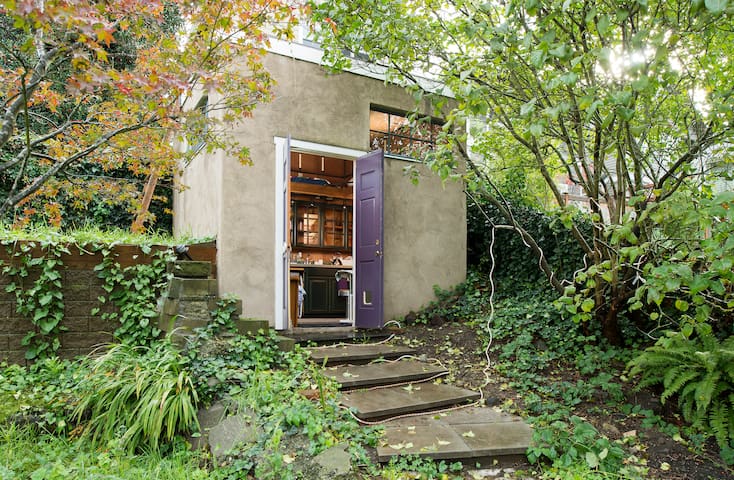 This lovely, modern room and ensuite bath is detached from the main house, so you can enjoy privacy and quiet. We are a 5 min drive from Ballard and a 15 min drive from downtown. Welcome to our quiet, safe neighborhood!
For those who would like more privacy than that offered by a room in someone's home, this detached bedroom is a perfect choice! The bedroom has a queen bed with a memory foam topper. Power strips on both sides of the bed allow for cell phone charging. Wireless internet and cable tv are provided. There is a small, walk-in closet so that you can unpack and feel at home. The full bath has shampoo, conditioner, and liquid soap, as well as plush towels. The windows bring in plenty of light and fresh air in the summer and there is also an air conditioner, and the floors have radiant-floor heating for the winter months. I have created a small area to enjoy hot beverages and quick meals. There is a mini-fridge, a hot water kettle, and a French press for your convenience. I provide orange juice, a variety of teas, freshly ground coffee, hot chocolate, instant oat packets, granola bars and fruit. I'll also bake scones or muffins on one morning of your stay. With dishes and two chairs, you'll be able to have a quick breakfast before you head out for the day. There is a hair dryer and umbrella to use as well as beach towels. If you need or forgot something, let me know, and I'll do my best to accomodate you. The guest suite is attached to our garage. The garage will not be in use between the hours of 9pm and 9am. However, during the day, family members will occasionally open the garage door, which can be heard from the guest room. Please note that there is not a full kitchen or laundry facilities in your guest suite. Our guest suite is not kid-friendly. Babies and young children are not a good fit for this listing. Ages 12 and older are welcome, as long as your child is part of the 2 person max. Thanks!
Ballard is known as one of the hippest neighborhoods in Seattle. Come to Ballard for amazing restaurants, micro-breweries, and coffee shops; come to shop at the boutiques on Ballard Ave; come to check out the salmon run and the boats coming and going at the Locks; come for the year-round Sunday Farmers' Market; come for the Golden Gardens beach with views of the Olympics; or come just to walk one of the most walkable neighborhoods in Seattle. Let me proudly advertise an area just two blocks away from our home. Seattle Met named it "one of the city's best food micro-hoods." You won't have to go far to enjoy these amazing restaurants: Honore Bakery, with French macarons that rival those in Paris; the Fat Hen, a light and cheery cafe that serves great breakfasts and coffee; Delancey's, where locals line up for amazing wood-fire pizza; Essex, serving mixed drinks and bar food especially for foodies; and Brunswick & Hunt, providing farm-to-table fare. I have a notebook full of suggestions of where to eat as well as where to play while you are here. If you'd like, I can email you my info so you can plan ahead.
This is s very cozy place that is clean and comfortable
Wayne
2016-10-28T00:00:00Z
We spent five days staying at Debbie's guest house while we took in the sights around the Pacific Northwest. Staying there felt like staying at home, or that of a relative. We came and went as we pleased occasionally seeing Debbie and talking about all that we'd done in the days prior. If we ever get back to Seattle we hope to be able to stay at her place again.
Travis
2016-06-11T00:00:00Z
Debbie's bnb is "the best" just because of Debbie herself. She knows what it takes to make a house a home....even for a visitor. Careful planning has created a welcoming little oasis independent living suite in her backyard garden. The details of her thouggtfulness are (SENSITIVE CONTENTS HIDDEN)y, many, many!!! The essentials....a very private, safe, warm, quiet place to rest. It is definitely not an extra bedroom in a basement sort of space. The entire place was absolutely spotlessly clean. The bed is VERY comfortable and we'll made. Beyond the essentials. I very much enjoyed her efforts to add many touches of hospitality (URL HIDDEN) a single example.... I enjoyed her offer of a yummy blueberry scone in the morning with a pot of green tea. As I sat reading a couple "Seattle" magazines from her book shelf, I reminisced about my former life in Seattle and thought about how nice her comfy chair and good reading lamp would allow a Seattle "Tourist visitor" to get a sense of the town and relax. The little fridge provided a proper storage place for a few meal items. She even provided a mini eating area. The location is ideal for bus travelers, as the main bus for this part of town is only a block away. For people with a vehicle there is very adequate parking. The shopping and night life of new Ballard is 5 minutes away, the natural environment Golden Gardens 10 minutes, as are the fish ladder, fisherman's terminal and Shilshole Marina and the most interesting Hiram Crittenden Locks. Debbie always communicates efficiently and in a very timely manner. Her book of house info is helpful. She is not a lady who leaves things to chance.... thoughtful, intelligent, commited. It shows!!
lesley
2015-12-30T00:00:00Z
Debbie was fantastic! She was very responsive in our communications leading up to our visit, and even had our room ready a bit early for us :) Her guest house is wonderful: clean, beautiful, well stocked with everything we needed. The neighborhood is as charming as can be! We absolutely loved our stay at Debbie's house in Ballard.
Nathan & Bethany
2016-02-01T00:00:00Z
My host Debbie made me feel very welcome and even had fresh scones at my doorstep the very first morning I awoke! the bedroom and bath is very clean and comfortable. I enjoyed the peacefulness as it is a very quiet neighborhood. I asked her to provide de-caf coffee as there was none, and she agreed that she would. I would definitely rent Debbie's little house again when in Seattle, close to bus stop and walk to breakfast café. Thank you Debbie! Mary
mary
2015-09-03T00:00:00Z
We found Debbie's room was extremely clean and everything was as it looks in the post. It was in a great location and was a very comfortable stay. We would definitely go back again.
Venice
2015-03-24T00:00:00Z
Fantastic, private space in great location! Deb is a thoughtful, responsive, &accommodating host. Highly recommend!
ashley
2016-01-12T00:00:00Z
I had a very enjoyable stay at Debbie's detached bedroom. My friend and I got there a little later in the evening - even in the dark, we were able to locate the room very easily. I thought the room was very clean and comfortable. We didn't get to meet Debbie, but we did see her dogs by the kitchen door and waved to one of her sons when we were checking out. Debbie also made us blueberry scones one morning and they were delicious! (Thank you Debbie!)
Tina
2016-01-25T00:00:00Z
Tipo de habitación
Casa/apto. entero
---
Tipo de propiedad
Casa
---
Capacidad
2
---
Habitaciones
Seattle, Washington, Estados Unidos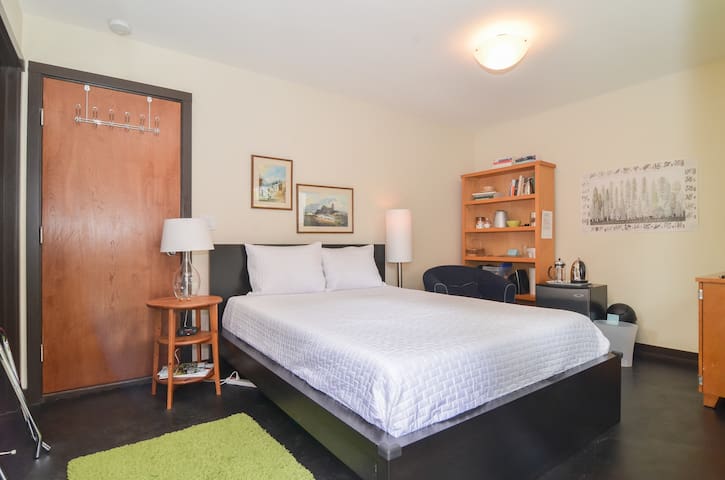 Relax in our minimalist-inspired lower-level bedroom with spa-like private bathroom. Located in the sleepy neighborhood of Crown Hill, you will be in prime distance to Golden Gardens, Carkeek Park, Greenwood and Ballard neighborhoods.
Your mini-suite includes a private bathroom with jet-tub, heated towel rack and heated floor. The bedroom includes a sleep number bed, small sitting area, a large Smart flat-screen TV complete with access to local channels and Netflix (you're welcome to sign-on to your own Amazon prime account if you want to order movies), a selection of tea, Stumptown coffee, filtered water, microwave, small fridge/freezer, an air filter (has been used as a fan and white-noise machine), and a diffuser with complimentary essential oils to make your stay exceptional!
We live in the neighborhood of Crown Hill which is about 1 mile from the hub of Greenwood, 3 miles from the hub of Ballard and 3 miles from Greenlake. Carkeek Park and Golden Gardens are both popular beach destinations that are less than a couple miles from our home. We are about 6 miles from Seattle Center.
What a great place in a great location. I definitely recommend this quiet and comfortable suite. Next time I come to town, I'll be checking its availability.
Jake
2015-10-24T00:00:00Z
Anastasia place was really comfortable, and we had lots of privacy as a couple. Communications was great.
joyce
2016-04-09T00:00:00Z
This is a wonderful place with cozy atmosphere. Fantastic hosts that made me feel at home. Definitely recommend.
Rafael
2015-09-05T00:00:00Z
Our stay was great, everything in the room looked very clean and put together. It was very cozy and welcoming, also Anastasia was great with the communication and getting back to me very quickly. Neighborhood is in a great location, close to I5 and also to Ballard. Would definitely recommend and stay here again!
Preet
2015-12-07T00:00:00Z
Great place to stay in a wonderful area... Amazing accommodations that far surpassed all expectations!
Barrett
2015-12-19T00:00:00Z
For my first stay at an air bnb stay, Anastasia made me feel like I was at home! She thought of everything down to the little details. The bathroom was great and heated floors were an incredible touch. Thanks for the great stay!
Trenton
2016-06-22T00:00:00Z
The place was perfect for our weekend trip :) I appreciated the communication prior to our arrival. The coffee and chocolate were definitely a great touch. Overall, Anastasia did a great job hosting. Thank you! :) -Velia & Cody
Vee
2016-06-19T00:00:00Z
Anastasia's place was BEAUTIFUL! Our stay was peaceful and perfect.
Cat
2016-07-15T00:00:00Z
Tipo de habitación
Habitación privada
---
Tipo de propiedad
Casa
---
Capacidad
2
---
Habitaciones
Seattle, Washington, Estados Unidos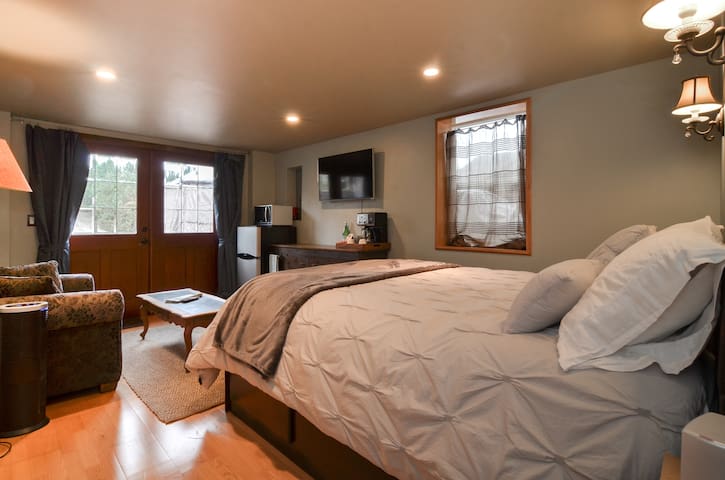 This cozy little bungalow was fully updated in the Summer of 2016. It is a block and a half from beautiful Green Lake, and walking distance to many great local restaurants, bars, shops, and outdoor activities, as well as a short drive (or long walk) to the University of Washington and Woodland Park Zoo. Parking is easy to find and the neighborhood is quiet and safe.
This detached bungalow is in the backyard gardens of the owners' restored craftsman home. It is perfect for 2 people that want a residential retreat in a vital Seattle neighborhood with the option to prepare all your meals in-house. Amenities include Wifi, TV, Netflix streaming, heating, air conditioning, linens, stove, microwave, refrigerator, coffee maker, coffee and tea. Other Things to Note This bright, charming tiny bungalow is entirely yours, with a landscaped backyard that is shared with the owners. Enjoy the comfy queen-sized bed, sectional couch, TV (with local channels and Netflix), tiny kitchen, and a small bathroom with a shower. Heating and air conditioning are controlled entirely by you. If the weather allows, relax outdoors around the firepit or the covered pergola seating area, surrounded by lilac trees, flowers and plants.
Seattle is among the most active cities in the U.S. and Green Lake is Seattle's hub for recreation. Circling the lake is a 2.8 mile walking/running/wheels trail. The park offers tennis and basketball courts, baseball and soccer fields, 9-iron golf course, public swimming pool and beaches, boat/kayak/paddle board rentals, and a theatre. The trail is also a great place for people watching and the best way to access many restaurants and shops lining the lake.
Rob was easy to communicate with, and gave helpful directions and instructions to access the suite. Everything was as described and pictured. It was very clean and well kept. Would stay again!
Heather
2016-11-08T00:00:00Z
This place is such a gem! So close to the lake, and walking distance to a lot of cool sights. The place could be confusing to find but Rob is pretty detailed on how to get there, so we didn't have a problem. They did an awesome job renovating the place! We would totally stay there again. Very clean and comfy.
Monterey
2016-09-29T00:00:00Z
Great place to stay. Nice neighborhood.
Chris
2017-03-18T00:00:00Z
We loved the tiny bungalo! It was very cozy and surprisingly well-equipped and organized. Great location, especially for those that like morning runs.
Madeline
2017-01-30T00:00:00Z
The backyard house was a great place to stay! Clean and convenient, would love to stay here again.
Steven
2016-10-26T00:00:00Z
This was really a wonderful place to stay. My boyfriend and I stayed for four days and it felt like a home away from home. The house is so cozy and has pretty much everything you could ever need and lots of thoughtful extra touches. It's also a block away from the bus and really close to a beautiful lake and some other great areas. We had a great time here and I would definitely recommend it.
Mary
2017-01-17T00:00:00Z
My boyfriend and I said here for an anniversary trip to Seattle. The location was fantastic and the bungalow was the perfect size! We especially enjoyed our walk around the very close Green Lake.
Erinn
2017-02-26T00:00:00Z
Rob & Nadia really thought of everything. Their communication and instructions are great, the amenities in the tiny house are really first rate, and the location was perfect for exploring the city. We thoroughly enjoyed our stay!
Devon
2017-03-31T00:00:00Z
Tipo de habitación
Casa/apto. entero
---
Tipo de propiedad
Bungalow
---
Capacidad
2
---
Habitaciones
Seattle, Washington, Estados Unidos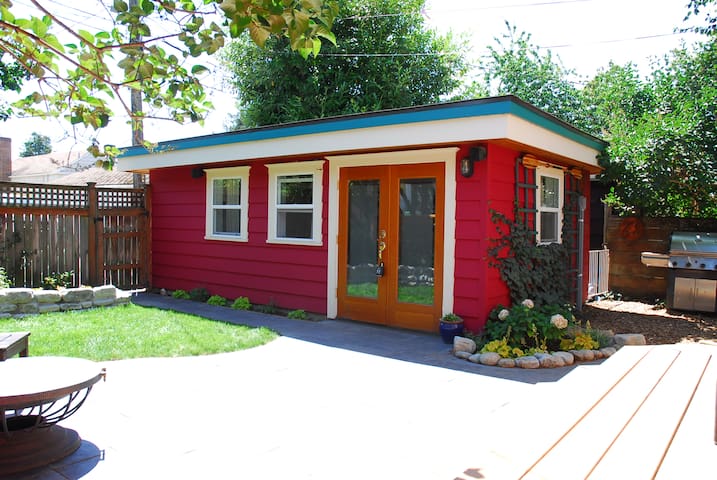 Nuestra encantadora casa de huéspedes se encuentra al final de un camino privado en un bosque de 3/4 acres. Silencioso, tranquilo y acogedor describe este 1922 escondite de estilo artesano. Cocina totalmente actualizada con calefacción por suelo radiante, luminosa habitación de comedor con techos abovedados, amplia sala de estar con chimenea de gas, baño actualizado con piso de baldosas con calefacción, dormitorio principal con cama de matrimonio con vistas al follaje maduro, den amplia con sofá convertible, sillón y TV / cable con puertas francesas para permitir la privacidad. Una sala adicional de descanso den con litera y bolsillo de la puerta es una de las favoritas para los niños, sala entre el maestro, de estar y cuarto de baño y porche trasero cerrado para permitir más espacio de estar. Hay una parrilla de gas en sitio listo para arrancar. Ubicado a pocos minutos de la I-5 de acceso, a 15 minutos a 405,6 I-blocks para el Lago Washington y la popular caminar / ciclismo pista de Burke-Gilman que conduce a la U del campus W si viajó durante 8 millas .. El centro de Seattle 20 minutos, el acceso en ferry a la península olímpica 15 minutos y Bastyr Campus 10 minutos. Woodinville bodegas sólo 10 millas ..easy acceso en coche o en un día soleado ... andan en bicicleta en el Gilman Burke a disfrutar de su día ... Lake Forest Park es conocido por sus carreteras sinuosas y la sensación de estar en el país, sin embargo, sólo 10 millas al norte del centro de Seattle .. Nuestra ubicación es a poca distancia de Starbucks, el tercer lugar Libros, Honey Bear Bakery, nuestra biblioteca local y expresar el tránsito de la Universidad de Washington y el centro. Tenemos un montón de mapas, libros e información general sobre todas las investigaciones locales que pueda tener.
Nos encanta nuestro barrio! Estamos a 6 cuadras de la pista de Burke Gilman que va todo el camino hacia el noreste a Redhook Brewery y San Michelle visita y otra manera, Sur de la Universidad y los barrios Fremont y en Ballard en Seattle. Tenemos un perro amistoso parque a una cuadra de nuestro lugar y muchos otros parques abiertos. Estamos cerca de Seattle, Edmonds, Universidad Bastyr, Ferries ....
We were a group of three women marking our newly empty nests with a wine weekend. We could not have asked for a nicer setting to do that in than Elise's Lake Forest cottage. So many charming touches and so comfortable we almost had to force ourselves to get out to the wineries. This place is a treasure and Elise ( we did not get to meet Andy) is a fun , open and gracious host.
Beth (+Keith)
2012-10-08T00:00:00Z
The LFP cottage was beyond charming. It was the perfect level of cozy and spacious for our family of 5, the grounds beautiful and full of wonder, the location handy for us visiting family while in town, and I am certain Elise has thought of everything. Their daughter is following in her footsteps - she hid eggs on the property for our kids on Easter Sunday, which was amazing. We felt so comfortable that even after schlepping our family/stuff on a 4-hour flight, stayed in Seattle for a week, then schlepping back on a 4-hour flight (with 3-year old twins, no less), we got home and it felt like we never left. We were rested and it felt like an actual family vacation. This is not a place to stay if you want an active scene, but for peace and relaxation. The price point is perfect to allow us to spend a full week visiting family. Thank you for everything!
Victoria
2016-04-02T00:00:00Z
Elise and Andy are amazing hosts. They put a lot of thought into the details at this cozy, spacious forest cabin. We were so comfortable. My son had endless amusement with the plethora of toys, and the house itself is a work of art/history. We loved our stay and can hardly wait to come back.
emily
2015-12-05T00:00:00Z
The host canceled this reservation 38 days before arrival. This is an automated posting.
Christine
2016-09-17T00:00:00Z
Elise and Andy have a gem of a spot! Not far from the city but far enough out of the hustle and bustle you'll find their cozy cottage on almost an acre, tucked into the tall cedars. Surrounded by green and quiet, with bursts of bright pink, red and white rhododendrons, this is a little bit of heaven. The cottage was a step back in time but with everything you could need - and more! Cozy fire, sun porch, bbq, every utensil and little extras that made the stay so special. My family had the most relaxing time and Elise was the warmest host, I felt like an old friend right away. Generous and so hospitable, no wonder Elise and Andy are usually booked out. Being hosts ourselves, we learned a thing or two from these pros! We can't say enough about how much we enjoyed our stay. Thank you so much!
Robynne & Dave
2016-05-02T00:00:00Z
Clean, comfortable, great kitchen with stainless steel cookware
Loretta
2015-11-21T00:00:00Z
We thoroughly enjoyed staying at the Lake Forest Park Cottage. It is an absolutely beautiful home in an amazing setting! The directions were flawless and Elise has even set up signs to help us find our way. She was so welcoming and kind throughout our stay. We loved sitting in the living room with our books and the gas fireplace going. It was quiet, warm and cozy, even with the chilly temperatures outside. We enjoyed looking at all of the special things that Elise has collected to decorate this beautiful home. She also kindly left us with some goodies to enjoy during our stay. And she had great recommendations for places to eat and visit. I can't say enough wonderful things about our stay. We are looking forward to returning on our next visit to Seattle! Thank you Elise and Andy!
Pam
2015-11-29T00:00:00Z
The cottage is even cozier then the images portray. It is tucked back in the trees and close to Third Place Books with a variety of shops and restaurants. Staying in the cottage was one of the highlights of our trip.
Reanna
2016-03-16T00:00:00Z
Tipo de habitación
Casa/apto. entero
---
Tipo de propiedad
Casa
---
Capacidad
6
---
Habitaciones
Lake Forest Park, Washington, Estados Unidos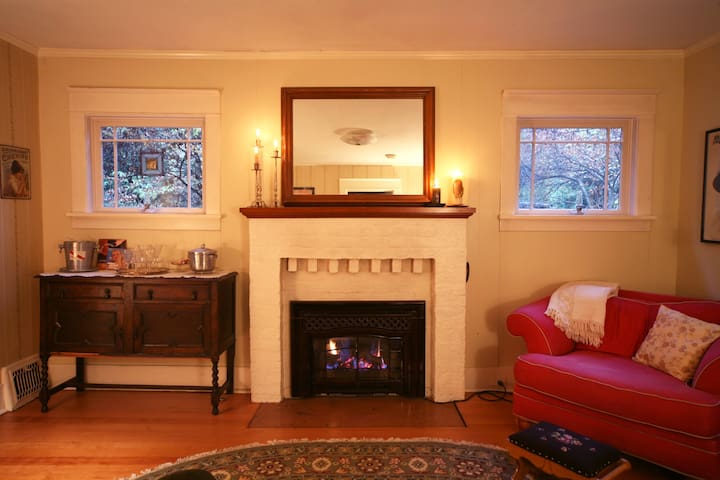 Set on a quiet residential street, this newly renovated, compact yet amenity-rich apartment has green views from every window. A cozy & peaceful home base with easy access to both Seattle and the Eastside, as well as nearby parks & trails. There's 2 bedrooms and a full bath upstairs; downstairs is a chef's kitchen, living/dining area and a second 3/4 bath. Amenities include a washer/dryer, wifi, cable, TV, DVD, free parking and your own deck with gas BBQ. Lockbox keyed entrance for easy access.
Enjoy this quiet and stylish retreat just minutes from urban amenities! We're nestled on a wooded 1/4 acre, where you'll have green views and light from every window of this fully updated apartment. Coming into the entry foyer there's a fully stocked 3/4 bath with a glass shower to your left, to your right is an area to hang your coats and shoes, and the steps leading into the fully outfitted chef's kitchen. We keep the kitchen stocked with tea, coffee, spices and some other basics. The dining table seats four, and has locking wheels should you like to move it to seat a child's high chair or additional chair next to it. There's an outlet next to the dining table should you want to use the space as a desk, and the lighting is excellent. Next to the dining area is the living room, where there's a flat screen TV and DVD player; you'll also have cable and wireless WiFi access. The cable program guide is accessible via the remote. The sofa is also a pull-out bed should you need it. There's an electric fireplace here as well for your enjoyment. The bookcase in the living area is actually a "Murphy bookcase", it opens up to access the washer/dryer and additional storage, as well as the vacuum cleaner and other cleaning supplies. On the landing of the stairs up to the bedrooms is another bookcase stocked with books, games, puzzles, coloring books for both kids and adults, and some toys. Upstairs there's two bedrooms and a full bath. The master bedroom has a custom-made Queen tatami "bed of light" frame, that's lit from below, light controlled by a dimmer switch. The mattress itself is a high quality spring 'futon'. The second bedroom has a full size bed with a brand new memory foam mattress. Both beds have duvet covers, with the option for fiberfill covers and additional blankets depending on the season and your preference. There is additional bedding in the back of the master bedroom large closet, and additional sheets and towels in the linen closet in the downstairs bathroom. Both baths are fully stocked with towels, shampoo, conditioner and soap, and there's 4 adult fluffy terrycloth bathrobes available for your use. During the day you'll hear lots of birds, at night you'll sometimes hear owls, occasionally coyotes. In the morning you might see our resident wild rabbit, or the occasional deer.
Our neighborhood is idyllic, quiet and very safe, in fact not much happens here except the neighbors occasionally chatting with each other and kids playing. Given it's location you'll have easy access to nearby Lake Forest Park town center, Seattle, the Eastside and multiple trails including the Burke Gilman trail.
This was a great place to stay. Everything is clean, modern, and updated. Enjoyed the coziness of the space, but there was still plenty of room for our family of four. Cynthia and Joe have thought of all the little details and it shows they care.
Joel
2016-07-28T00:00:00Z
A beautiful and comfortable home nestled in what feels like a forest! Safe and quiet neighborhood only minutes away (by car) from Seattle! Joe and Cynthia really went above and beyond to make our stay comfortable and enjoyable! Toys for our kids, a washer and dryer, clear and concise rules and expectations, beautiful and tidy home! I can go on and on! :) Definitely recommend it to anyone visiting Seattle and its surroundings!
Victor
2016-08-06T00:00:00Z
Our family stayed from 27 Sep to 3 Oct. Overall we absolutely satisfied with our stay and want to visit again on our next visit to Seattle. Access from the airport was wonderful and very convenience to get to the downtown and premium ourlet. Apartment is same as picture- very clean and comfortable for us. My hubby and I love the facilities they prepared. We actually impressed how they organized manual in detail for us to understand and get used to a new house easily. Also it was safe to stay with my 48months old son and 8months old daughter. My son loved playing games and picture books on the bookshelves and running up and down thru the stairs. He also loved cherry tomatos in the front yard. My daughter enjoyed playing inside of a play bed they provide. They had good bath every evening and we could get rest every night after tired long touristy days. I overslept several times because the bed in the second bedroom was very comfortable. The weather was quite cold for us in Seattle. However, the heating system was perfect to keep us warm. There is shopping centre near by and 24 hr grocery shop is 10mins away. However, we didn't need to buy anything in emergency as host prepared some foods on the shelves such as cereals, pancake powder, rice, oil, dressings etc. We truly felt caring and warm during our visit from the host and apartment. Joe always answer my questions which was very relived. I strongly recommend this apartment if someone is planning to visit Seattle especially with their children.
Yujin
2016-10-04T00:00:00Z
This little apartment is a ton of fun to stay in. Clean, interesting design (secret bookshelf door!) and well located for the Lake Forest Park/North Seattle/Bothell area. The price was unbeatable for the area.
shane
2016-09-07T00:00:00Z
Our family had a very pleasant stay in this nice apartment and we would definitely consider staying here again.
Kari
2016-07-02T00:00:00Z
Everything about the apartment was as described. It was private, peaceful, and quiet which is exactly what I was looking for. Would stay here again in a heartbeat.
Laura
2016-09-27T00:00:00Z
My mom and I stayed at Cynthia and Joe's while we were in town to pick my daughter up from PNB. The apartment was exceptionally clean and located in a very quiet neighborhood. There was more than enough room, with numerous amenities provided. Our flight did not arrive until 1 am, but it was no problem checking in late. I wish we could have stayed longer and if my daughter returns next summer we will definitely try to stay here!
Michael
2016-08-13T00:00:00Z
This is a WONDERFUL place to stay! It's clean and homey and has everything you could possibly need. I stayed here with my brother and sister-in-law, and hanging out together in the house was one of the best parts of our trip. It is genuinely lovely, and feels like a home away from home. I've already recommended it to friends and family!
Cassie
2016-10-10T00:00:00Z
Tipo de habitación
Casa/apto. entero
---
Tipo de propiedad
Casa
---
Capacidad
4
---
Habitaciones
Lake Forest Park, Washington, Estados Unidos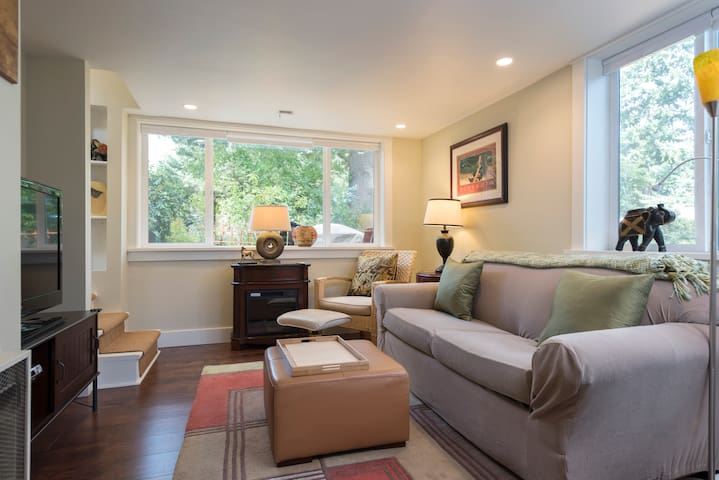 Our roomy Craftsman Style home is nestled among tall trees and lush gardens in a quiet neighborhood. House and garden were professionally designed with gardens featured in a national magazine and on many tours. We are located between major shopping centers, near restaurants, UW Bothell & UW Seattle, Boeing, Microsoft, Amazon, Bastyr U, Burke Gilman Trail, & Beaches. Towne Center offers shopping, eateries and entertainment. We're perfect for couples, business travelers & small families.
Your spacious getaway includes a living area with fireplace, TV, writing desk, and sleeper-sofa. The bedroom has a queen size bed and large closets for your wardrobe and other items. The kitchen has granite counter tops, a range & oven, microwave, dish washer, and a full size fridge. A dining area is next to the kitchen. There is a full bathroom with shower/tub. The laundry is across from the bathroom. Just outside your door is a beautiful patio with fire pit, leading to garden pathways that will take you through rich plantings of flowers, trees and shrubs. We're next to a gorgeous wooded green belt with walking trails along McKinnen Creek.
Lake Forest Park is a quite community between Seattle, Bellevue, and Everett. It is known for it abundance of trees and very friendly people. The area was logged over for the first time around 1910. There is a forest of second growth Douglas Fir and Western Red Cedar Trees in the area that are today well over 90 feet high. Some of these are on the perimeter of The Inn property.
Our company uses Airbnb to let our inspectors feel more at home, when they must travel. This home is really adorable, and you really do feel at home. I would absolutely pick this as a regular location when we send our field personnel up to the area.
Kathleen
2016-09-04T00:00:00Z
Even though i arrived late (1030pm), I was personally greeted and was even offer help getting my luggage into the property. The property is a gardeners dream and the apartment is cleaner than any hotel property that i have stayed in. Its quiet and secluded but also in a very convenient location. Thank you so much for having me !
Eugenio
2016-09-15T00:00:00Z
This place is quite and beautiful. If you want good vacation that place is your best choice.
Kaiyuan
2016-10-30T00:00:00Z
在浓茂森林中的一座迷人的小屋,精心布置的园林,让人留连忘返,屋内设备齐全,非常干净整洁,主人是对慈祥和善的夫妻,给我们的旅行提供了很多建议,步行十分钟左右就有商业区可购物和吃饭,位置稍微有些难找,不过主人早早就在路口迎接我们,让我们倍感欣慰。总之,是一次美好的居住体验,所以我们选择多待了一天,谢谢可爱的Victoria夫妇!
Guo
2016-10-05T00:00:00Z
Perfect stay for my visiting friends. Victoria and Doug were so friendly – they live above this apartment and are happy to help with anything while offering complete privacy. Quiet, inviting, spacious and spotless with very comfy bed, nice fireplace in living room and just what you need in the full kitchen. The grounds were beautiful even in the soggy Seattle weather of December and must be simply glorious in their peak.
Charlene
2016-12-29T00:00:00Z
We were welcomed in person, even though we arrived around midnight. Every thing was in order and they responded to our request for a little more heat, as our Florida bodies were not used to the chilly damp weather.
Robert
2016-11-30T00:00:00Z
Incredibly friendly and helpful! Listing was not hard to find but directions were very helpful. Hard to find at night, but host waited up for us to arrive (huge flight delays made it hard to reach the location within check in time).
Rick
2016-09-18T00:00:00Z
This is a wonderfully located verdant abode on the Eastside with a short 25 minute commute to the Seattle. It's very close to UW Bothell and close to UW Seattle. My husband and I were seeking a bit of respite during a major relocation and this place hit the the spot: secluded yet accessible to dining, shopping, etc. resources, quiet and cozy, and well-appointed comfort amenities i.e. superb kitchen, lounging, and bedroom furnishings. Victoria and Doug did not disappoint on every account and then some - from the tastefully and thoughtfully decor to the French door drop-in natural-stone entrance to the robust gas fireplace (a perfect bonus on this exceptionally chilly winter overnight stay). The gardens alone were enchanting, mesmerizing, and really showcased Victoria's green architectural skills. We would love to return during the summer when the garden is bursting with juicy colors and also perhaps enjoy the outdoor fire pit. Victoria and Doug made checking in a breeze, ensured we were completely pampered from arrival to departure, and let us know about lively local events. Highly recommend. Oh and the neighborhood is equally gorgeous too!
Shana
2016-12-31T00:00:00Z
Tipo de habitación
Casa/apto. entero
---
Tipo de propiedad
Casa
---
Capacidad
4
---
Habitaciones
Lake Forest Park, Washington, Estados Unidos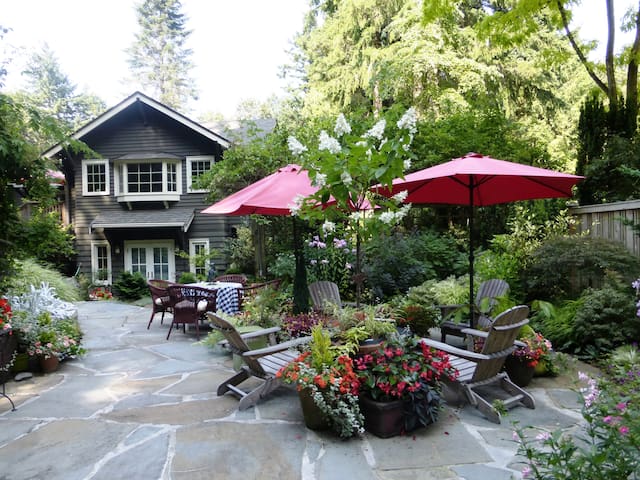 Maravillosamente amplio estudio planta baja de la casa impecable. Tiene baño privado, sala de estar, escritorio ejecutivo, cama de matrimonio, nevera / microondas, lavadero, terraza y cocina de fuego clásica. Usted tiene acceso a la parte posterior del patio y pozo de fuego al aire libre (si el tiempo lo permite). Sólo 21 minutos en coche del centro, enclavado en el bosque y rodeado de altos cedros y abetos de 120 pies. Rodeado de un montón de flora y fauna. Hay incluso un arroyo en la propiedad. Un valor increíble en comparación con los listados en el centro.
Dormirse con el relajante sonido de un arroyo que fluye y suaves campanas de viento en este mini retiro suite ejecutiva con increíbles comodidades como super alta velocidad de Internet de fibra óptica, (nota: la televisión y película en tiempo real viene muy pronto). Que está recibiendo la planta baja de la casa de casi 800 pies cuadrados de espacio privado en suite, además de ventajas. Todo está listo para que se sienta cómodo en su casa. Ahora hay una pequeña zona de cocina con microondas y mini-nevera para su conveniencia. Temporada lo permite, He creado un conjunto de patio en el patio trasero. El espacio incluye (pero no limitados a): + Reina, cama de espuma de memoria (colchón de muelles tradicionales disponibles) + Cuarto de baño con ducha + Escritorio ejecutivo y silla masiva + pisos de madera + Lavadora / secadora + Delicioso privacidad + Verdadera chimenea tradicional horno de leña + Iluminación LED todo punto de vista ecológico + Cubierta trasera amplias como para disfrutar de la naturaleza + Patio + Paz-de-mente 24 horas de seguridad externa. Nota: Vivo arriba. La entrada se comparte de manera que los clientes pueden acceder a la cocina completa si necesitan (con previo aviso). Sin embargo, todo el piso inferior es independiente de 800 pies cuadrados de espacio. Vas a tener total privacidad y todas las comodidades como lo haría en una habitación de hotel estándar (y mucho más). Su seguridad y la seguridad es mi preocupación. Con este fin, hay humo y detectores de monóxido de carbono, extintores de incendios y vigilancia las 24 horas del frente patio, patio trasero, y el vestíbulo. En la parte posterior de la mesa todo tipo de folletos de viajes, mapas y guías de Seattle y la región circundante. Estoy feliz de ayudarle en la planificación y cómo moverse. Una vez alquilado, tengo una estricta política de no entrar en el espacio a menos que haya una emergencia absoluta. Estará rodeado por unas 20 especies de árboles y estar totalmente inmerso en el olor de la naturaleza: el cedro, abeto, fresno, arce, etc. fauna y de flores abundan en los árboles y en el arroyo abajo a lo largo de las estaciones. A lo largo de la casa hay una gran cantidad de orquídeas. La plaza comercial más cercano a una milla de distancia tiene todas sus necesidades, incluyendo: supermercado, Starbucks (que sirve el vino), gimnasio, tercer lugar Libros, pizzerías, panaderías, algunos restaurantes (incluyen un muy buen restaurante nepalí / tibetano), farmacia , etc. Hay varios parques dentro de una corta distancia a pie. La unidad a lo largo del tramo de la carretera detrás de la casa es pintoresco y le hará sentir como si estuvieras lejos de la ciudad. El amado pista de Burke Gilman está a sólo 1 milla de distancia.
Bienvenido a Lake Forest Park, como su nombre indica que está rodeado de lagos, bosques, parques. La casa está ubicada hacia el extremo noroeste del lago Washington, a una milla de la amada pista de Burke Gillman. Los mandatos carta de la ciudad que gran parte de la naturaleza se mantienen, por lo viviendas están diseñadas para estar más alejados por lo que tienen una sensación de inmersión en la naturaleza. Es un barrio extremadamente seguro, de hecho, no mucho sucede. Os animo a conducir por las calles de subproductos de Lake Forest Park ya que la ciudad está rodeada de calles románticas y arboladas.
This is a comfortable studio in a great surrounding. The location is convenient for both Seattle and National Parks. The host is very pleasant and knowledgeable. Highly recommended!
Larysa
2016-08-28T00:00:00Z
Sheen was a great host. A lot of beautiful greenery in his neighborhood. He was very helpful in suggesting different locations to visit and eat. Overall a very good experience which I would definitely recommend to others.
raymond
2016-08-13T00:00:00Z
Sheen is a very polite and fantastic host. The appartement ist big, clean and in a wonderful place surrounded by big trees in a really quiet neighbourhood. It was great, that we could use his kitchen. The only downside for us was the heating: it sounds like a starting plane every quarter hour, especially in the early morning. So if you are used to sleep with noise or you will come in summer time it is a perfect place to stay. Thank you very much for staying in your house, Sheen.
Gudrun
2015-12-06T00:00:00Z
Purrrrrfect trip. Sheen is very nice. Place was lovely & we had a great trip. Thanks, Sheen!
Mallory
2016-08-25T00:00:00Z
I made these reservations for a colleague; here is John's review: "I stayed at Sheen's lovely home for almost 2 full months. During that time, I wasn't just a guest in his house, but he truly made me feel like I was at home. He does everything he can to make sure you are perfectly comfortable and happy. He is EXTREMELY knowledgeable about the surrounding areas and can give you recommendations on restaurants, hiking trails, museums, public transportation, and pretty much anything else. He's traveled the world and has a million stories that he is more than happy to share if you want someone to talk with. On the other hand, if you prefer to keep to yourself, you'll never even know he's around most of the time. The room itself is spacious, clean, and has a mini-fridge and microwave downstairs so you don't have to always go upstairs just to grab a snack. My only complaint is that it gets a little bit cold downstairs, but the blankets he provides are extremely warm. You have your own private bathroom with washer and dryer. Wifi works well. You have direct access to his backyard from the room, and you get a great view of the stream and surrounding greenery that is behind his house (and really surrounds the entire community). You're also in a prime location to explore much of Western Washington. From snow packed passes, to downtown Seattle, there is plenty of things to see within an hours drive. No car? No problem! His house is very close to multiple bus stops. I'm sure I could continue with endless good things to say about both Sheen and his house. I highly recommend you book with Sheen if you are in the area. You will not regret it. " - Thanks for everything Sheen!
Michelle
2016-03-19T00:00:00Z
Staying at Sheen's home gives you the best of both worlds: the beauty of Seattle's natural environment and the convenience of a short 25-minute drive to the city. The rooms are spacious and comfortable with a private deck overlooking the forest. We had full access to many amenities including washer and dryer, mini fridge, and microwave. Use of a shared kitchen upstairs was a great convenience. Sheen himself is a gracious host and checked in periodically to make sure we were comfortable. We were very pleased with this location and would stay here again in a heartbeat.
Stephanie
2016-06-30T00:00:00Z
Beautiful spot, spacious accommodation, and super-friendly host. Highly recommended!
Paul
2016-09-12T00:00:00Z
The listing was accurate. Sheen was a great host whose house was nestled into a nicely forested area. Beautiful walks every morning. Sheen kept to himself and provided rides which were greatly appreciated. We had dinner together one night and he let me use his kitchen, then built a fire on the back patio and made tea for us. I would stay here again, and would highly recommend anyone to stay here.
Jacob
2016-09-11T00:00:00Z
Tipo de habitación
Casa/apto. entero
---
Tipo de propiedad
Casa
---
Capacidad
2
---
Habitaciones
Lake Forest Park, Washington, Estados Unidos
Half-house 45 minutes north of SeaTac Airport; 20 minutes from downtown Seattle, Edmonds Ferry, UW campus, NW Hospital; Alderwood or Northgate Malls; near parks and Burke-Gilman Trail. You'll love the luxurious ambiance, privacy, comfy bed, off-street parking. The deck overlooks a gentle stream in a wooded ravine. We are great for couples, solo adventurers, business travelers, families (highchair/PackNPlay available). Wheelchair accessible. Nightly charge is for 1 bed, +$25 for use of 2 beds.
Our guest space has extra storage space which includes a large closet and a dresser with deep drawers. The bathroom has an extra deep soaking tub as well as a shower, and we provide shampoo, a hair dryer, and curling iron. Guests have told us our space is quiet and the bedroom is very dark for deep sleep.
We are centrally located for recreational activities and cultural events; near museums and shopping; close to great restaurants! Everywhere you look there are mountains, bodies of water, trees, and the prettiest city in the northwest! Even the winter rain has charm for those who like cool weather.
Doug and Joyce are wonderful and they will help you during your entire stay. Excellent hosts. The unit is very private and spacious. You can hear the creek below when you are sleeping and the decor is beautiful and charming! Joyce and Doug had fresh organic fruit waiting for me and the bed was very comfortable. Lake Forest is GORGEOUS and there are several stores nearby.
Carey
2016-09-19T00:00:00Z
We were made welcome and comfortable. Hawk's Landing is as described and we enjoyed our stay.
Leo
2016-09-09T00:00:00Z
Doug was super nice and met us upon arrival, and it was a wonderful place to stay. Wish we had more time!!
Mary Rose
2016-08-21T00:00:00Z
Great location! Close in but the feeling of being secluded. Very comfortable accommodations. Thank you!
Will
2016-09-21T00:00:00Z
We would stay there again. It's dark and quiet at night, so it's easy to sleep. Everything was nice and clean. It's private and possible to avoid any interactions with the hosts if you're not up for socializing, if you are, they're very friendly. They were very nice about accommodating our late checkout. The location is beautiful.
Marietta and Jeremy
2016-08-29T00:00:00Z
Our host was amazing! Their house is so cozy and they are so welcoming ❤️
Tanya
2016-08-26T00:00:00Z
I enjoyed the stay very much.
taek
2016-08-28T00:00:00Z
The space was cute and very livable. Cookies were great!
Jerry
2016-09-05T00:00:00Z
Tipo de habitación
Casa/apto. entero
---
Tipo de propiedad
Casa
---
Capacidad
4
---
Habitaciones
Lake Forest Park, Washington, Estados Unidos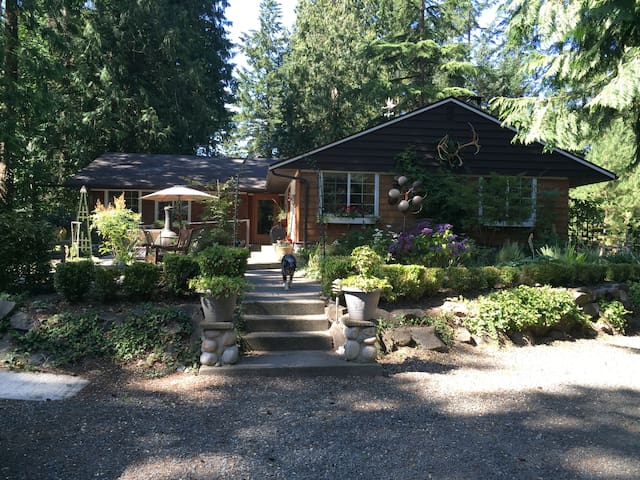 Peaceful, welcoming and secluded private suite includes 1 bedroom w/ double bed, 1 bedroom w/ queen bed, private bathroom w/ shower, private sitting area with TV and mini-kitchenette. The private entrance is through bedroom #1. Enjoy a park-like setting and convenient location.
Quiet and well established residential neighborhood 1 mile of Lake Washington and the Lake Forest Park Town center, including shopping, restaurants, coffee shops, library, independent book store, bakeries, a large grocery store and more. From May-October there is fresh produce, flowers and other goods from our neighborhood Farmer's Market every Sundays. Going west toward I-5, about 2 miles from the house, there is the Cinebarre movie theater (21 and older)... a great place to enjoy movies and the food and drinks are great! We live down a long driveway, well off the road, among tall trees, squirrels and birds in a park-like setting. You may hear an occasionally noise or two from our neighbor's chickens but other than that it's very peaceful despite being located so close to many conveniences.
I booked this for my friend and her mother to so that they could be close to our family for the holiday. Brenda wrote the review below. "My mother is a full time caregiver for my father who has late stage Alzheimer's. The weekend at Deanna and Joseph's was her only respite. The rooms are tasteful, and equally important, very comfortable; linens, towels, etc, all of the highest quality. There were so many thoughtful touches and conveniences that it felt as though we were in a five star inn. Our interactions were minimal, but we felt welcomed and cared for. Thank you for being a key factor in a restorative and delightful stay!" Thank you very much, I know they both really appreciated your hospitality and the very comfortable accomodations
Joseph
2016-12-26T00:00:00Z
Deanna and Joseph's place is in a private forested location that is also close to several town areas and great restaurants. The hosts are awesome - they left very specific instructions for us and wanted to be sure that we were as comfortable as possible. They even provided us with snacks and drinks in the room! Thank you so much for an amazing stay!
Kevin
2016-12-05T00:00:00Z
Deanna and Joseph couldn't have been more accommodating and kind as we visited family in the area with our one year old. They truly went above and beyond and thought of everything!
Katryn
2016-12-23T00:00:00Z
Beautiful view out the bedroom entry greated us on our arrival. Well thought out and comfortable living environment. Small kitchen area is good enough for quick breakfast in the morning and a casual soup, salad or sandwich meal in the evening. Very close to a strip mall with several great places to eat, a drugstore and a grocery store. Check out the bookstore there as well. Conveniently located to the freeways but far enough away there it is super quiet at night. I highly recommend Deanna & Joseph's place for any length of stay - we stayed a week and it could not have been more perfect. They were very responsive to any questions we had - what more can you ask for in a host.
Peggy
2017-03-28T00:00:00Z
Joseph welcomed me on arrival and was super nice. Though I didn't get to meet Deanna face-to-face, she was very polite and checked in with me every couple of days to make sure that we were taken care of. They also provided yogurt, coffee, tea, fruit, and wine for us to enjoy during our stay and plenty of blankets to stay warm. The beds were super comfortable and the bathroom was especially nice! Location was quiet and secluded, which may be undesirable for those wanting to explore the city, but worked perfectly for us while we were job / apartment searching in the area. Would recommend!
Jessica
2016-11-18T00:00:00Z
Tipo de habitación
Casa/apto. entero
---
Tipo de propiedad
Casa
---
Capacidad
4
---
Habitaciones
Lake Forest Park, Washington, Estados Unidos
No hidden fees, like cleaning fees, etc! This is a hosted home, with just us, and we're rarely there. :) Private: bdrm w/2 queen; adjacent common/TV room w/pullout bed, futon bed, & airbed. Lg private baths, outdoor deck, gourmet kitchen.
We love sharing our home with you. Beautiful fireplaces, wonderful colors and art, big rooms and enough bed space to accommodate up to 6 people. Cable TV, Wifi. Full kitchen and bar. Lovely outside gardens and deck that gets great afternoon sun. Truly Seattle home and neighborhood. Games and toys for the kids and you! Breakfast breads included.
Quiet, beautiful - on the highest hill in King County. Short walk to Horizon View Park, playground, swingsets, amazing views.
Cathy's Lake Forest Park house is lovely, in a quiet neighborhood, just minutes away from our wedding venue. Cathy made us feel welcome and comfortable. We felt very much at home, enjoying the spacious, well equipped kitchen, bedroom, downstairs TV room, and deck overlooking the backyard garden. It was the perfect, peaceful sanctuary for us during a hectic, but joyful time.
Teena
2015-08-23T00:00:00Z
This was our first time using airbnb and it met all expectations. Cathy's house was clean, inviting, well-located and a perfect home base for our Seattle experience. Highly recommended.
Doug
2014-06-30T00:00:00Z
Staying at Cathy's was a wonderful and healing experience for my family during a very difficult time in our lives. Her home was so comfortable, and she even let our kids play with some of her toys. Staying with Cathy was like staying with family. We will always be grateful that she let us into her home.
Olivia
2016-05-16T00:00:00Z
While I personally did not stay at this location, I booked it for my family to attend a nearby college graduation. From the raving I've received from them their stay was very enjoyable. The location was very convenient, and the accommodation was luxurious and relaxing. Even my grandmother was comfortable and she can be particular when it comes to staying the night. I would definitely look to book again with a largish party in the future.
Yl
2016-06-06T00:00:00Z
Cathy is a fantastic person! Very hospitable and a beautiful home too. Very happy to have stayed there with my family and would recommend them to my closest friends and family.
Alexander
2016-04-25T00:00:00Z
Cathy was very kind and welcomed my daughter and me. The house was beautiful but a little creaky. There was plenty of space for us downstairs and private enough that we felt very comfortable.
Kimberly
2015-07-18T00:00:00Z
Cathy was very nice. Her home was very nice and comfortable. We felt very relaxed. She had snacks for us in our rooms and she asked us ahead of time what foods we would like for breakfast and she had them ready. She had brochures with coupons for the different activities around Seattle. And advised us on some great local restaurants. She is a very gracious host. I would definitely stay here again! Carole
(EMAIL HIDDEN)
2015-04-26T00:00:00Z
Wonderful house located in a relaxing neighborhood. Start the day with a light, refreshing jog. Spacious kitchen, bathroom, bedroom, and living room. Clean, tidy and bright. Simply switch on the fireplace and let it completes your day. Cathy and her husband are super friendly and easy to chat with. Very accommodating to all our needs and requests.
Arnold
2017-03-13T00:00:00Z
Tipo de habitación
Casa/apto. entero
---
Tipo de propiedad
Casa
---
Capacidad
6
---
Habitaciones
Lake Forest Park, Washington, Estados Unidos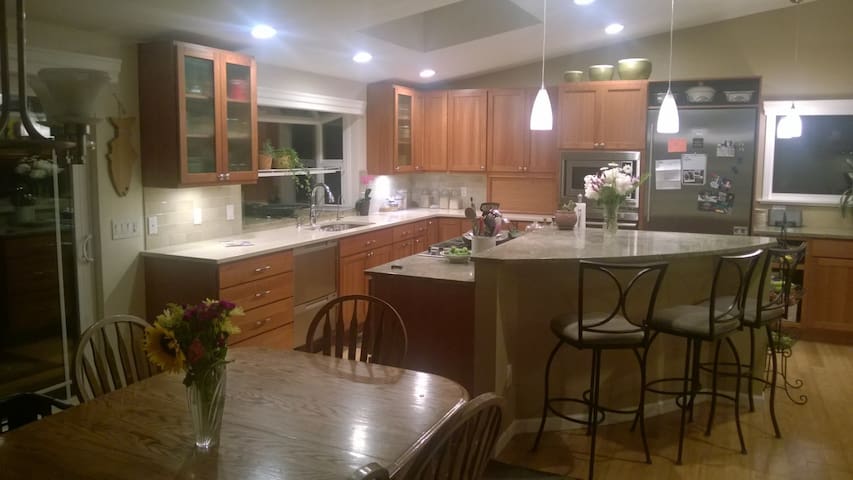 Spacious 2 bedroom apartment with awesome living space, vaulted ceiling, full kitchen, patio, close to the lake. About 15-20min from downtown Seattle, 15min to Bellevue. 1 full bedroom downstairs with Queen Bed & some closet space Mid Level is Large Living Area with vaulted ceiling, daybed, patio, tv, fireplace 3rd Level is a Loft Style Office / 2nd bedroom with airbed.
Very very spacious, great for bigger groups.
Tipo de habitación
Casa/apto. entero
---
Tipo de propiedad
Departamento
---
Capacidad
6
---
Habitaciones
Lake Forest Park, Washington, Estados Unidos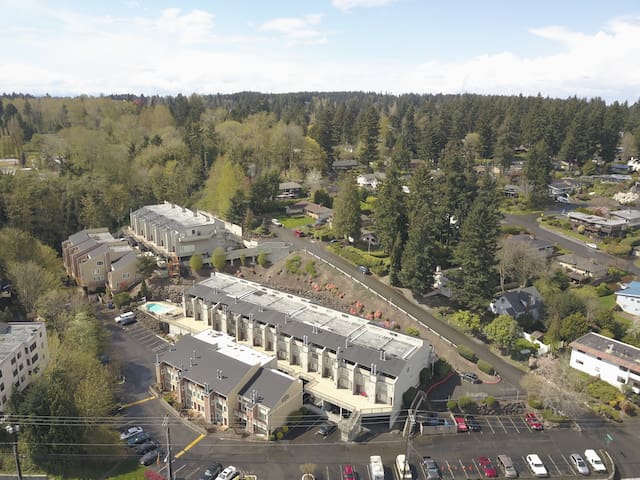 Leave the "skyline" and relax in the "treeline" of north Seattle's LFP neighborhood! Main floor flat includes two bedrooms, TV room, two baths, sleek kitchen, large dining area, fireplace, patio and deck, separate laundry facility, & wifi.
The "Shattuck Digs" is a sweet suburban retreat large enough to host family members, friends or colleagues for a meal or an event with up-to-date kitchen, large dining room table-seats 8 comfortably ( extra tables and chairs available for larger gathering). Sliding glass doors lead to nice sized deck. Both deck and front patio area have lots of light. Master bedroom has queen-sized bed and private bathroom with shower. TV den has NEW sofa-chaise-sleeper (pics coming soon)! Studio room has double-sized futon on solid base. Main bathroom has claw foot tub with hand held shower. Sleeping at the "Digs" is perfect for 4 to spread out, but great for up to eight with additional high-grade futon pads, lots of blankets, sheets and pillows!
We are right in between I-5 and Bothell Way. Easy freeway access. Bus line is in walking distance . The Burke-Gilman trail close by for bike travel towards the University or out towards Bothell. LFP is an old suburb built around and under the old pines, so not a lot of straight roads or too-close neighbors. Our block is made up of working families and creative types, musicians and retirees. We see each other down at Third Place Books, Thriftway Grocery (awesome meat/ fish counter, and deli counter), down at Log Boom Park on Lake Washington, or up at Horizon View Park. We can't wait to tell you about restaurants and shops, so come visit us soon!
Gwen hat uns rundum versorgt, sogar Lebensmittel waren im Kühlschrank. Sie war immer ansprechbar und hat sich gekümmert.
Michaela
2016-08-23T00:00:00Z
This place is awesome. 5 minutes from I-5 and 20 minutes from downtown Seattle (traffic permitting). Beautiful neighborhood that feels feels like a country setting, but is close to restaurants, grocery, and everything else. The inside is spacious and well loved. Gwendolyn was a very welcoming host who was always available if we needed anything (but everything was already provided, so we didn't need a thing). We would definitely stay again.
Robert
2016-06-22T00:00:00Z
Gwendolyn really helped me feel comfortable with my first Airbnb experience. The place was even better than I had expected - it was very clean and spacious. The living space was not stale. Rather it was decorated with personal touches and stocked with the comforts of home. She even provided some of her son's legos for my son to play with. The neighborhood feels rural because of the way Lake Forest Park is built. I kept forgetting that I was in a large metropolis. There is a ton of great restaurants within a few miles of the place. Gwendolyn provided a list of of them which made dinner time easy for us. I am completely sold on Airbnb and Gwendolyn's place. I highly recommend it!
Mathew
2016-02-20T00:00:00Z
Gwen was a good host. She responded to emails quickly. The house was clean and tidy with a large backyard with parking up front. We were a party of 6 adults and 2 young ladies which needed the room to run around. The kitchen was stocked with lots of goodies. We were about 20-25 minutes to Seattle downtown, aquarium and zoo. Everyone was very happy with my decision to book Gwen's lovely Airbnb. Everything as advertised plus better. Anyone who's looking for a family getaway at a valued price should book with Gwen.
Lydia
2016-07-20T00:00:00Z
Came to Seattle for a weekend of Mariner games. Worked very well for our family! Quiet and peaceful place. Gwendolyn did a great job communicating start to finish.
Brian
2016-06-27T00:00:00Z
The house was very well stocked and equipped and with a mid-century style of decorating it was very comfortable. There was more space then we (just two) needed but would be ideal for a small family. The place comes with a very large deck which I am sure in spring and summer will be a great place to be. Gwen and Loud were very accommodating hosts. The space is a great value for what is offered and we would not hesitated to use this place again should the need arise.
Erin
2016-02-14T00:00:00Z
Gwendolyn is a wonderful hostess, we felt right at home. She provided many personal touches from specialty teas and coffee to lovely snacks. The apartment was very spacious and comfortable for the 3 of us. Very clean, neat, and snazzy! We would gladly stay here again if back in Seattle. The neighborhood is quiet and easy to get to and from. There was a little noise bleed through from the apartment below, but only occasionally. Thanks for the great hospitality
Tim
2016-01-25T00:00:00Z
First time I have used an Airbnb. I had a wonderful experience. I didn't feel like I was on a trip, I felt like I was at home. Gwen had everything set up and ready, fresh fruit, coffee, everything we needed. Everything was clean and neat. The extra touch she gives makes all the difference. I would love to stay here again, and will highly recommend it to anyone!
Robert
2016-06-08T00:00:00Z
Tipo de habitación
Casa/apto. entero
---
Tipo de propiedad
Casa
---
Capacidad
8
---
Habitaciones
Lake Forest Park, Washington, Estados Unidos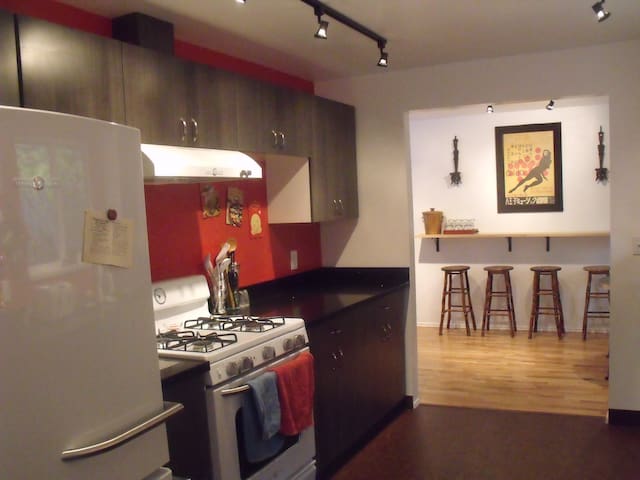 Recientemente remodelado apartamento de dos dormitorios con cocina completa y una nueva lavadora / secadora. Limpio, moderno y acogedor, con un montón de espacio. Tiene su propia entrada y aparcamiento privado. Diez minutos de la I-5 y veinte minutos del centro de Seattle. Cerca de tiendas, restaurantes, parada de autobús, pista de Burke-Gilman.
Con nuestro espacio se puede ahorrar algo de dinero en comer fuera y usar la cocina completa para preparar las comidas. También tenemos una unidad de lavadora / secadora para que pueda ahorrar tiempo en ir a la lavandería. Un dormitorio tiene una cama matrimonial con cajones en la base y un estante de equipaje. El otro dormitorio tiene un futón doble de tamaño que serán hechas a su llegada. Las dos habitaciones tienen un armario con perchas y un montón de espacio de almacenamiento. Hay un ventilador de ruido blanco, dos calentadores de infrarrojos para el calor y ropa de cama. Por favor, solicito y puedo hacer un paquete 'n jugar con las camas disponibles si es necesario.
Hay dos tiendas de comestibles dentro de un par de minutos en coche. Albertsons está al norte en el centro de la ciudad de Lake Forest Park y Fred Meyer se encuentra al sur. Albertsons está a 17 minutos a pie a través de la Burke-Gilman. Hay varios lugares impresionantes para comer en las inmediaciones. MOD Pizza, Starbucks, una panadería y tercer lugar Libros (cafetería y otros locales situados en el interior) están todos en el centro de la ciudad de Lake Forest Park. Si se dirige hacia el sur en forma Bothell, hay Brileys barbacoa y la parrilla de un minuto de una manera, Temerario Brewery unos 4 minutos, una gran panadería alemana un poco más adelante, así como la bahía de Elliot sala de cocción. Lago Washington y el ciclismo / caminar / trail running Burke-Gilman se encuentra a 10 minutos a pie por el barrio. Los peatones pueden cruzar Bothell Way en una caminata ligera / cruz en la calle 165 NE. Hay un manual sobre la mesa de café con más información.
The place was really nice and neat. My fiancé, my sister, and I had a great time staying at Hannah's. We still had privacy even if the family live upstairs. The only downside of this place is that it is so cold because it is in the basement and the heater is too small to cover the entire place.
stefanie
2016-04-23T00:00:00Z
My son and I very much enjoyed our 3 week stay. We appreciated the extra special touches and amenities as noted in the posting. The review by Gareth is spot on and we appreciated the new high quality portable heater. We would definitely stay again as Hannah and Matt were fantastic hosts.
Kennedy
2016-04-06T00:00:00Z
The apartment was very welcoming and clean. Arriving after dark we had a little difficulty locating the address. The street driveway lights were not on. Being a basement apartment the floors were quite cold. The space heaters helped warm the place. The bedroom carpeting was very nice. Also I loved the modern decorating with the different colors. We did not feel like we were in a basement. The location is very accessible to downtown Seattle and the neighborhood is very pleasant. Hannah made sure we had everything we needed. We highly recommend this place and hope to visit again
Kris
2016-05-02T00:00:00Z
Hannah was excellent to work with. She responded to every email and answered phone calls immediately. She seemed happy to help. Her apartment is adorable. She has the decorator's touch. The entrance is inviting, and a lovely grove of bamboo is right outside the large window. It felt very private and safe. The Gilman trail was a real drawing point, and I put many miles on the fitbit. I also walked the neighborhood almost every day...very classy! Just down the hill is Bothell Way, where you can get just about anything you want. I had to leave earlier than I had expected, but I will definitely return to Hannah's apartment if it is available on my next visit to Seattle.
Kim
2016-07-30T00:00:00Z
Hannah and Matt made me very welcome. Their home and the basement apartment are set in a pleasant, established, residential area not particularly far from the edge of Lake Washington (I suspect very walkable). The house backs onto a main busy road (actually it is above the road) however the home is well insulated and the traffic is not particularly noticeable once you are inside. The property is fenced in so you really don't notice the road. The apartment itself is fairly modern and is fresh. Quite spacious. A modern washer dryer which are quite and do not overwhelm when you want to relax. Tile or marble flooring throughout (except the bedrooms which are carpet) are nice but do help to make the apartment physically cold which might well be ideal during the summer but is not perfect in the winter. My hosts are new to the rental business and as a result of my suggestion will probably be adding some additional auxiliary portable heating. The kitchen includes full size fridge freezer, dishwasher, microwave, toaster, filter coffee maker and grinder. All of which helped to make my stay a little easier. The description for this let mentions the patter of small feet, they are noticeable at times, as are other noised. But no more so than any other apartment. I stayed for one month and used the apartment as a temporary base, as a result of a move from California, for a new job. The wifi was ideal for hooking up my laptop. On a couple of occasions I hooked up my laptop to the TV, using the supplied HDMI cable, and streamed a few movies. All in all an ideal base for work in Bothell, Bellevue or downtown Seattle.
Gareth
2016-03-03T00:00:00Z
This place is an absolute gem! The space is magnificently decorated with a modern flair and is as clean and comfortable as it could possibly be. The location is ideal for any activities that you may want to go do in the area, and a short walk takes you right to the lake front. Hannah is a wonderful host and took great care of us during our stay whenever we had any questions or needs. I highly recommend staying here if you are visiting the area. Thank you Hannah for helping to make our trip wonderful!
Jeff
2016-07-09T00:00:00Z
We couldn't have asked for better accommodations for our month stay. The apartment was clean, comfortable, and inviting. Hannah was a great host and eager to help us in any way we needed. My husband commuted to downtown on the bus just a short walk from the house - 20 minutes into downtown on the bus. Thanks for making us feel so welcome Hannah!
Tamara
2016-08-31T00:00:00Z
This place is amazing, very clean and modern and Hannah has clearly taken every effort to make it very comfortable. The private entrance was great and Hannah was very helpful and kind. I would definitely stay here again!
Stephanie
2016-09-11T00:00:00Z
Tipo de habitación
Casa/apto. entero
---
Tipo de propiedad
Casa
---
Capacidad
3
---
Habitaciones
Lake Forest Park, Washington, Estados Unidos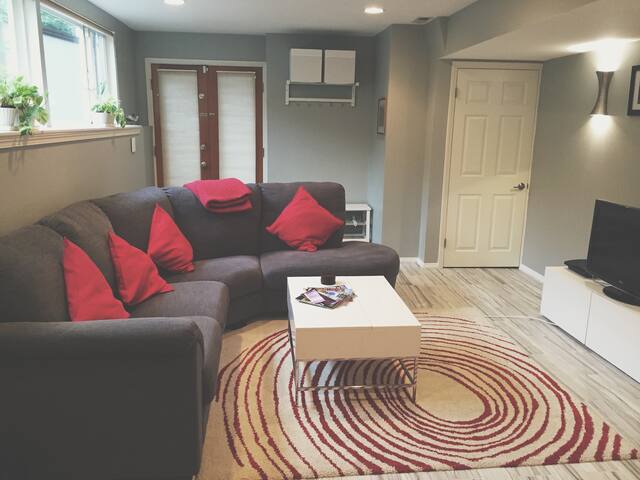 My place is good for couples, solo adventurers, and business travelers.
Our house is a 1916 Craftsman that is listed on the LFP Historic Homes register. Your room is on the first floor, and features 9' ceilings and views of trees and a pastoral backyard.
We are located in the heart of Lake Forest Park - across the street from the Town Center, which includes many local, independent businesses, coffee shops, and restaurants. It is a two-block walk to a playground, and a three-block walk to the Burke-Gilman trail (a bike/walk trail that runs almost all the way around Lake Washington) and the lake! Great summer activities and access.
Tipo de habitación
Habitación privada
---
Tipo de propiedad
Casa
---
Capacidad
2
---
Habitaciones
Lake Forest Park, Washington, Estados Unidos
Our brand new 2 bedroom 1 bath daylight MIL has everything for a perfect stay! Living, dining, laundry, kitchen and wine cellar. Close to wineries, I-5/405, lakes, Puget Sound, downtown Seattle and Bellevue minutes away. Ferries within 15 minutes. Burke Gilman trail and Lake Washington 1 mile away. Park and jogging/walking path across the street, which meanders to a lovely park and reservoir. Beautiful sunsets seen from here as well as our home.
Very private. 2 bedrooms with a queen bed in each as well as a single mattress tucked under each bed to be used either in the bedrooms or elsewhere in the space. Hot tub (shared with the home owners, though we rarely use it) and fire pit outside your patio door! Private parking space. Walking trail for morning walks across the street. Private laundry room in your living space for your convenience as well! Use of upper deck BBQ for your convenience.
Quiet and near restaurants, beaches, cities and local activities. Grocery store, Starbucks, Third Place Books and restaurants all just a mile away!
Maria was a great host to deal with leading up to our stay! Very friendly and helpful and the house is nice and cosy with everything needed!
Kelly
2017-01-02T00:00:00Z
Clean and private. Great view of the Olympic mountains from the hot tub. Responsive host. Very nice private space and separate entry with a dedicated parking space.
New
2017-02-07T00:00:00Z
We had a great time! Maria was always attentive to any of my needs and questions. It had a beautiful view and was perfect for what we needed! We had a great time! :)
EmilyMarieRolando
2016-10-23T00:00:00Z
Tipo de habitación
Casa/apto. entero
---
Tipo de propiedad
Casa
---
Capacidad
6
---
Habitaciones
Lake Forest Park, Washington, Estados Unidos
Lake Forest Park - Airbnb
:
Una media de

5

estrellas de un total de

5

de

1874

evaluaciones de huéspedes
1

–

18

de

Más de 300 alquileres
Introduce las fechas para ver el precio total. Ten en cuenta que se aplicarán tarifas adicionales y es posible que se añadan impuestos.