The apartment is a boathouse located at the bay in a small village called Hvalvík on Streymoy. It is about half an hour drive to all the other islands where you can drive, including the capital Tórshavn. The apartment is 75 square meters, brand new in modern cozy style with a great view over the ocean. Only 3 minutes walk to a great pizzeria and 5 minutes drive to supermarkets.
Tipo de habitación
Casa/apto. entero
---
Tipo de propiedad
Departamento
---
Capacidad
6
---
Habitaciones
Hvalvík, Streymoy, Islas Feroe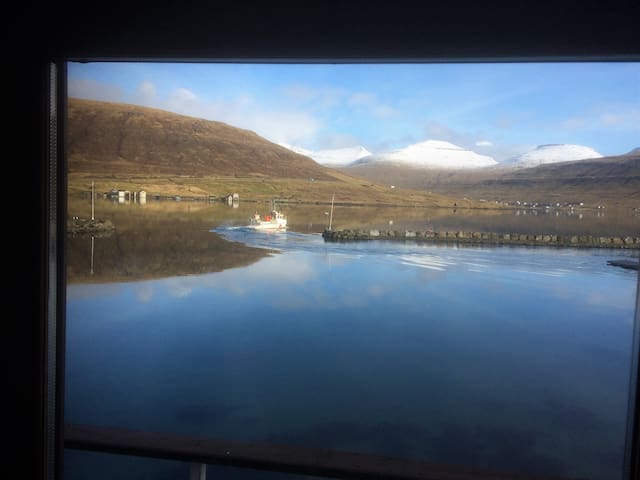 Ny hyggelig lille lejlighed på loftet af et bådhus. Det er lige ved vandet, sandstrand og en lille marina. Pragtfuld udsigt over havet, bygden og de høje fjelde. Hósvík ligger centralt på Færøerne og er den perfekte base for at udforske øerne, eller bare slappe af i fredelige, flotte omgivelser. Lejligheden er perfekt til enkeltpersoner/par, med eller uden børn, som ikke trænger meget indendørs plads. Der er smalle trapper op i lejligheden, dvs. uegnet til folk som ikke er fuldt mobile.
Tipo de habitación
Casa/apto. entero
---
Tipo de propiedad
Departamento
---
Capacidad
6
---
Habitaciones
Hósvík, Streymoy, Islas Feroe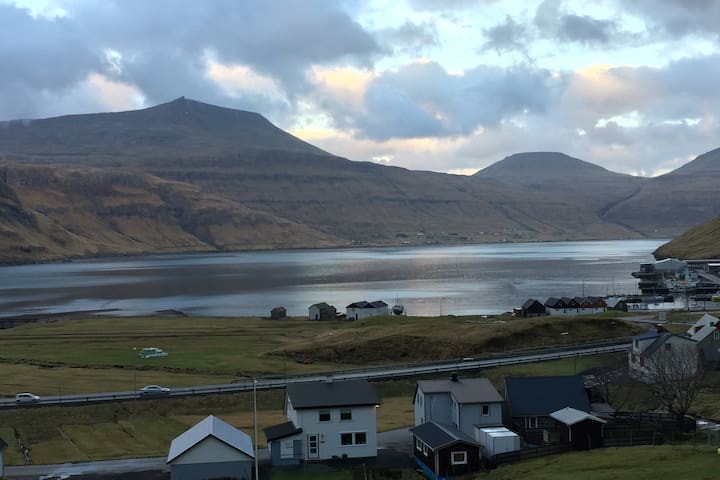 Schönes Ferienhaus in entspannter Umgebung. Mit Outdoor Hot Tub.
Amazing place to stay. Situated not far from everywhere in the islands. But secluded enough to give you that 'off the grid' experience. Thoroughly enjoyed staying at this beautiful cottage would definitely recommend.
Brodie
2016-07-08T00:00:00Z
Die Kommunikation wurde per E-Mail oder telefonisch geführt, sie verlief reibungslos. Das Haus war gut zu finden, der Schlüssel in einer Schlüsselbox hinterlegt. Der Code wurde per E-Mail mitgeteilt.
Henning
2015-07-20T00:00:00Z
This place had everything we needed! Nice and cosy - close to groceryshops and a small village and yet alone and autentic. It was perfect! The location is sublime for exploring the islands. We will recommend the house and the host and we will be back. Tusind tak for en skøn uge i jeres hytte. Hvis vi kunne havde vi forlænget med se sidste 4 dage vores ophold varede, men kunne se det var lejet ud - med god grund!!! Det er et ganske særligt sted og vi var SÅ glade for at bo der. Tæt på indkøb og alligevel for sig selv. Det lå perfekt i forhold til at udforske alle øer - et skønt skønt sted med alt man har brug for. Tak! :)
Louise
2017-04-01T00:00:00Z
The house is awesome and provided everything we needed for our stay. It is located in a really beautiful place and the logistics of getting the key etc. were v easy and relaxed. Beautiful eves on the terrace and a warm wood burning stove inside for cold nights. Would recommend.
Rob
2015-07-18T00:00:00Z
Andreas was a great host. He replied to every question in a timely manner and was helpful with any inquiries. We appreciate his sharing his cabin with us.
Sheila
2015-06-28T00:00:00Z
The host canceled this reservation 117 days before arrival. This is an automated posting.
Simone
2017-04-04T00:00:00Z
Il cottage era meraviglioso e corrispondeva alla descrizione presente sul l'annuncio. Bellissima la vista sul l'oceano e la disposizione del cottage. Cucina accessoriata in tutto
Vincenzo
2016-06-27T00:00:00Z
The cottage is absolutely beautiful, very clean and homey. The outdoor, fire heated hot tub was without a doubt the best thing. We sat in there all night watching the waterfalls and the fjord. The owner messaged us all the details in good time, it was a really luxurious night after a days hiking!
Katie
2016-08-06T00:00:00Z
Tipo de habitación
Casa/apto. entero
---
Tipo de propiedad
Cabaña
---
Capacidad
5
---
Habitaciones
Svinair, Islas Feroe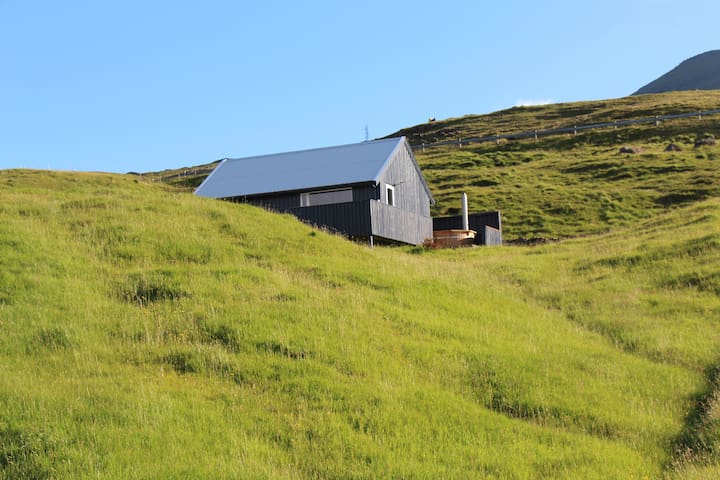 Vores dejlige hjem, med fantastisk udsigt og rumlighed indendørs. Her kan en stor familie bo, idet her er 4 soveværelser, med sengeplads til 7 personer, samt babyseng. Huset er udstyret med trådløs wifi. Der er terasse både til morgen og aften sol. Gasgrill står klar til brug. Nyd det her.
La casa es maravillosa, la elegí tras ver todas las que se ofertaban en las islas y sin duda acerté a pesar de que no tenía aun ninguna referencia. Amplia, moderna, equipada al detalle, se nota que es su vivienda habitual y no una casa de alquiler. Te sientes en el mismo cielo. Camas comodisimas, complementos de cocina a mano, una bañera de lujo y sobre todo que vistas más espectaculares. No le falta nada y la familia es encantadora.
Jose Luis
2017-02-09T00:00:00Z
Tipo de habitación
Casa/apto. entero
---
Tipo de propiedad
Villa
---
Capacidad
8
---
Habitaciones
Hósvík, Streymoy, Islas Feroe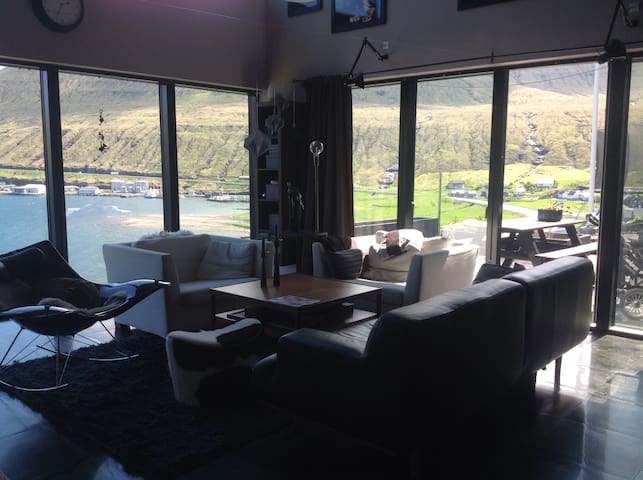 Our hillside summerhouse with a fantastic view is only 25 minutes from the Faroe´s capital Thorshavn. With bedrooms for 4 to 6 people this cottage is located centraly in the Faroes ideal for exploring the islands or taking a walk in the mountains.
The cottage is situated on a hill in the village of Stikkid. The view is excellent and well worth the walk up the hill. Jon explained all the equipment (hispeed wifi, kitchen etc.) and helped us with important information on where to buy groceries or what places to visit. Jon sent us further information on the weather during the week. We felt that we could have easily contacted him if we needed anything. The cottage was very clean and comfortable. We felt at home very quickly and enjoyed the week we spent. There is room for up to 6 people. We were only 2 and had plenty of space. It might be a bit crowded with 6 adults. The location is very good to explore the inner islands, Torshavn is just a 20 minute drive away, the next grocery store and gas station a 5 minute drive. While there is a bus stop just down the hill, we recommend a car. All in all we had a very pleasant stay and can fully recommend the cottage and Jon as a host.
Sara
2015-06-28T00:00:00Z
The host was very welcoming and met us at arrival. Gave good information about the cottage and travel on the islands. There were maps and guidebooks in the cottage that we used a lot. Jon replied quickly to any messages we sent. The location was good. The steep accent to the cottage was a bit difficult for my 80 yr. old aunt but she was in better shape when we left after the walks up and down :). Jon was very helpful, supplied us with walking sticks that made the trip safer. Katrín , Iceland
Katrin
2016-08-02T00:00:00Z
Commentaire très intéressant
Irenee
2016-07-03T00:00:00Z
The cottage has really great location with amazing view on the ocean at the mountains. The panoramic window in a living room is really like a big screen with a constant nature movies. You can sit in the armchair, drink wine and send pics to your friends (fast WiFi)Cosy interier with all you need to make your stay nice and comfortable. Even from the restroom the view is magnificent. Overall the place is clean and functional. Jon met us at arrival and shared useful advices. The only challenging part of the stay is climbing to the hut 75m up the hill. But in the morning it can be efficient warm up! East access to TOP places at FO. Very recommendable place.
Roman
2016-06-25T00:00:00Z
Although we stayed only 3 nights at Jon and Elin's house we felt like at our home. The place is beautiful with an amazing view. The house has everything you need during your stay and it is situated in a good point to start to visit faroe. We absolutely recommend our same choice. Grazie Jon e Elin! Luca e Roberta
Luca
2015-08-31T00:00:00Z
un petit cottage bien confortable. tout équipé, voire plus. avec une immense fenêtre sur le salon donnant sur une vue fantastique. Accueil vraiment chaleureux. n'hésitez plus et allez-y !!!
Richard
2016-08-11T00:00:00Z
We had a delightful staying in Jon and Elin's cottage. The house was wonderful and very well equipped. Great location, sort of central to all the islands. The views are amazing; we couldn't dream of a better place to stay. Hope to be back in the Faroes before long!
Conor
2016-06-02T00:00:00Z
Tipo de habitación
Casa/apto. entero
---
Tipo de propiedad
Casa
---
Capacidad
6
---
Habitaciones
330 Stykkið, Islas Feroe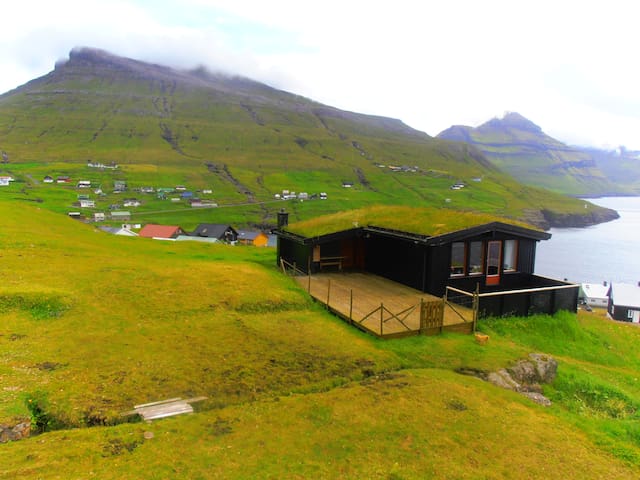 This is a Scouthut, placed out in pure nature. It is placed at the lake "Leynavatn", surrounded by mounts, away from other population. It takes arround 20 min to drive to Tórshavn, and 25 min to the airport.
The unique about this hut is its placement, out in pure nature. It is surrounded by mounts and water (the lake and rivers).
Nature: Lake, rivers and mountains. The hut is placed just at the lake "Leynavatn", where it is possible to fish trout/salmon if you have license. For further information see (URL HIDDEN)
Beautiful location, plenty of space, comfortable and warm. Really enjoyed our stay at Leynavatn.
Jase
2016-08-08T00:00:00Z
We came half an hour earlier, but the owner still was there. He is a truly Faroe islander. There also were immediately sheep around the hut, which was a very nice first acquaintance with the Faroe islands! The cabin is not luxerious, but very good to use as a base for taking hikes and roam around.
Marleen
2016-10-22T00:00:00Z
Accoglienza positiva, veloce. Il rifugio è per chi ama un posto particolare, tipo rifugio di montagna. C'è un lago, pecore, cavalli, mi è piaciuo. La strada per Vagar e Torshavn è vicina. Ci sono materassi ma non coperte e lenzuola. Il rifugio secondo me va bene fino a 8 o 10 persone, altrimenti si sta un un po' sacrificati. Ok bagni e cucina. Unica cosa rilevata negativamente è una delle due scale che portano verso i soppalchi. Questa scala è attaccata alla parete e rende difficile per qualcuno salire sulla zona notte del soppalco. Tavoli e sedie più che a sufficienza.
antonello
2016-08-15T00:00:00Z
Vi har hatt en flott uke i hytten. Fint utgangspunkt for opplevelser på Færøyene.
Per Øyvind
2016-09-01T00:00:00Z
Tipo de habitación
Casa/apto. entero
---
Tipo de propiedad
Choza
---
Capacidad
16
---
Habitaciones
FO, Islas Feroe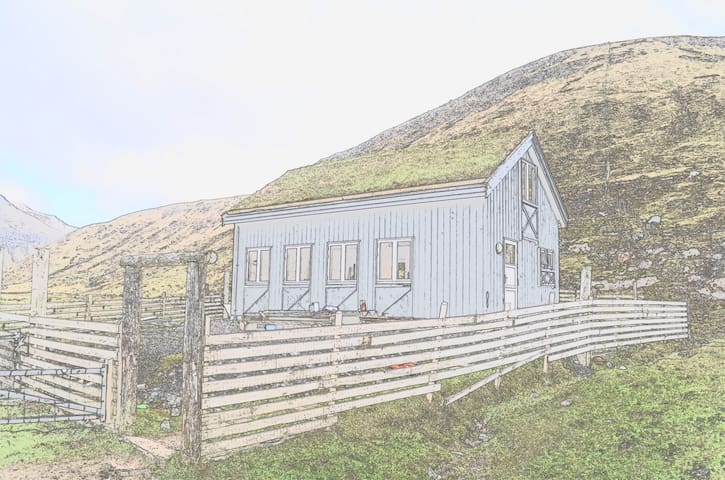 Newly restored holiday house, originally from around 1920, in the beautiful village Leynar. The house has a perfect location, with a superb view over the beach and ocean. A fantastic place to have a relaxing time and experience the outstanding nature
The most perfect location in Faroe Islands - A house that has kept the old traditional Faroese style, and added a bit of the modern touch, to make it even more cozy. Facilities: - kitchen/living room – 2 sleeping room (2 beds in each room, possible to make them double, or single) Two more mattresses are available, which make it possible to be 6 pers. – bathroom w/shower - 42″ television, DVD collection, Bose sound system, Free WiFi internet connection, fridge, freezer, oven, coffee machine, cooking hobs, all regular kitchen tools, washing machine, vacuum cleaner etc.
Very relaxing and quiet neighborhood. Perfect place to stress down and have a relaxing vacation, with the ocean right outside the door.
Wunderbares Haus mit fantastischem Meerblick. Sehr gute Ausstattung. Handtücher und Bettwäsche wurden unkompliziert und zeitnah gebracht. Tolle Landschaft. Ein echter Power-Place.
Jonas
2015-12-07T00:00:00Z
Leisure Pearl is located in a beautiful setting. And I do mean gorgeous. Finding the house and checking in was very easy. The instructions provided were clear and concise. I didn't meet the host personally but I spoke to him on the phone and Martin was very attentive and accomodating. The common areas of the home were clean and in excellent working condition. I'm still amazed by the water pressure in this house. Considering it was built in the 1920's I was expecting water pressure issues - definitely not the case. As other reviewers have mentioned the bedrooms, for some people, could be considered uncomfortable. The rooms are teeny tiny. Two, single beds are on the floor (no bed frames) and there are no dressers to store clothes. And because of the angled roof there's only a small area in the center of the room where a tall person can stand without banging their head. I opted to sleep on the couch downstairs as I was not comfortable sleeping on a mattress on the floor. However, the others in my party were fine with the sleeping arrangements. Listening to the hypnotic sounds of the waves every night before drifting off was music to my ears. The hot tub had to be one of the highlights of our stay. Coming home from a day of hiking and soaking in the tub was heaven. If you're not fussy about the bedrooms, I would definitely recommend Leisure Pearl to anyone looking for peace and quiet in the Faroe Islands.
Judy
2016-08-23T00:00:00Z
The house is in an idyllic location and centrally placed for sightseeing on main islands, if you're not fussed about being in a main town. It is very quick to get anywhere from here! The house itself is charming and found to be relaxing and comfortable. It was easy to find and to access, without having to arrange meet and greet. Well appointed kitchen. The view, hot tub and beach made this a difficult place to leave.
Julie
2016-08-02T00:00:00Z
Had a great time here in Leynar. The location is nicely located for exploring the main islands of the Faroes. Unbelievable views in a quiet setting. Immediate access to one of the few accessible beaches in the Faroe Islands. Host was very responsive to us when we had a minor issue. The bedrooms upstairs are a bit basic since the ceiling is angled in and there isn't much room for big furniture.
Al
2016-06-17T00:00:00Z
PROs: This house is a true gem! I almost can't believe it's real! Built in 1920 but renovated to have modern conveniences and a bit of a modern style yet truly retaining the quaint historic feel. I cannot over emphasize how amazing the location is! Everything was very clean. Kitchen had all we needed. It was like I was in a dream... Or in some reflective nostalgic movie. Fantastic. Martin was also very quick to communicate. CONs: Bedroom had low ceilings, that were slanted. So, if you are tall and not agile this could be a frustration. The stairs to the bedrooms were built in the 1920's. Narrow and steep. No big deal for us, but if my mom tried to stay here with her bad knees it would be difficult. Also if you were elderly or had a high fall risk might not be the best place for you. Lastly, the mattresses and bedding older and not luxurious. If those things are highly important to you then that would be good to know. Personally I was fine and comfortable enough. My wife had a tougher time sleeping, but overall we were still thrilled to stay here. Overall, magical! I will be referring my friends to stay here. I would love to come back in the future as well.
David
2016-06-04T00:00:00Z
What an amazing place, right on the beach in a beautiful section of the world!
Zach
2016-05-23T00:00:00Z
Fantastic house in an amazing location. The owners have done a great job renovating this holiday home - simple and tasteful. The hot tub is a much appreciated addition - especially on a chilly day.
Matthew
2016-07-30T00:00:00Z
Tipo de habitación
Casa/apto. entero
---
Tipo de propiedad
Casa
---
Capacidad
6
---
Habitaciones
Leynar, Islas Feroe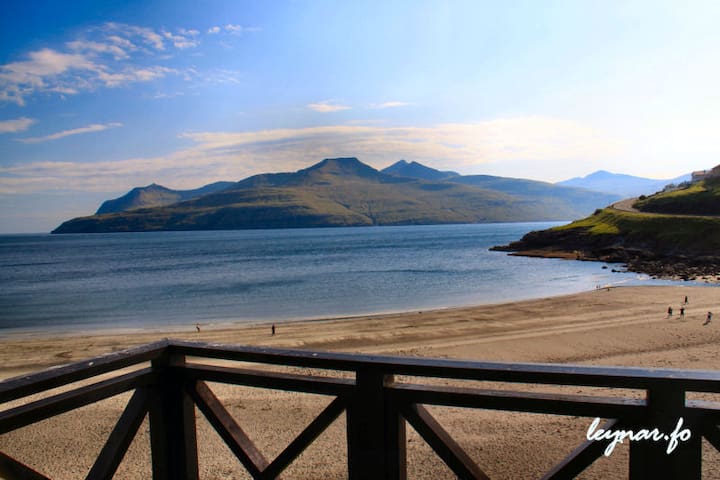 The house is placed in Leynar one of the most cozy village in the Faroes. The view is amazing and you can nothing is as relaxing as an evening on the balcony listening to the sounds of the sea and the splashing waves.
The house is placed in Leynar one of the most cozy village in the Faroes. The view is amazing and you can nothing is as relaxing as an evening on the balcony listening to the sounds of the sea and the splashing waves. Facilities: - kitchen/living room – 3 sleeping room (2 beds in each room, possible to make them double, or single) Two more mattresses are available, which make it possible to be 6 pers. – bathroom w/shower - 46″ television, Free WiFi internet connection, fridge, freezer, oven, coffee machine, cooking hobs, all regular kitchen tools, washing machine, vacuum cleaner etc. If any problem both Regin and Eifinn are in the village next to Leynar and can be reached by phone. Very relaxing and quiet neighborhood. Perfect place to stress down and have a relaxing vacation, with a mountain on one side of the house and the ocean on the other side. - Car is available to rent if booked early enough. - Bus 500 m - Grocery 3,5 km - Restaurant (Kollafjørð / Vestmanna) - Airport 20 km - Beach 0 km - Capital (Tórshavn) 25 km
Apartamento amplio y muy bien equipado con vistas a la playa de Leymar. Zona tranquila, a un paso del túnel que une Streymoy con Vagar y relativamente cerca de Torshavn. Aunque no vimos a Janus, dejó a una persona encargada de venir a ver que todo estaba correcto. Muy recomendable para una estancia en las Faroe
Monica
2016-08-03T00:00:00Z
房东的房子位置非常棒,在海湾的里面,所以既有海滨的美景,又不会让夜间的海浪声影响到休息。房间整洁,便利,从厨卫,到洗浴,到供暖,到衣物洗涤,都各种满意。房东的反馈也非常及时,收费合理。总之,下回来法罗群岛,第一时间还会联系房东住这里!非常棒的民宿体验!
XINYI
2016-09-18T00:00:00Z
We had a marvellous stay in Leynar. The house is perfect - cosy, clean, really well stocked with all the things you might need for a stay, option of Netflix on TV if you are a subscriber, very comfy beds and so quiet that we all slept like babies. The views from the house are absolutely incredible - come rain or shine, we loved watching the changing skies above the water and mountains. The house is in a fab location. It's twenty mins from the airport - we stocked up on the first day at a supermarket called FK on the road from the airport. From the house, it's then in a great central location to explore all the different islands and places in the Faroes. We recommend hiring a car as it would be tricky to stay at this house using public transport. There are no shops in Leynar but supermarkets in all main towns. From the house, you can walk to a little secluded beach with grey sand, and also find your way up on to the hills that surround Leynar. Further afield, our top tips for places to visit are Gjogv, Saksun and Gasadalur. We also enjoyed our boat trip on the Nordlysid around Nolsoy. Thank you Janus and your welcoming parents for a lovely stay.
Amy
2016-08-12T00:00:00Z
Janus and his father were extremely helpful and wonderful hosts. The house was as advertised and is in a great location if you plan on hiking and making the most out of the Faroe Islands. We also rented a car with Janus's help, and everything went smoothly. I highly recommend it.
Matthew
2016-08-27T00:00:00Z
We had a delightful stay, thanks to Janus, his mother and Regin ! Great place, wonderful house and stunning views on the changing skies and sea. Everything went perfectly well, we were sorry to leave at the end of our vacation...
Laurence
2016-07-06T00:00:00Z
The apartment is about 20 minutes from Vagar Airport and located in a small town facing the sea. We spent three relaxing nights at the apartment, enjoying the view, fresh air and water. The spacious apartment has four bedrooms (but we used only three) and has all the amenities needed for a self catering holiday like ours. The view from the dining table and balcony is great regardless of the weather and we had very scenic meals! We didn't meet Janus, but were in contact with his parents which was extremely helpful! They were available for assistance and answered all our questions. All in all, we had a good stay at Leynar and would recommend it.
raina
2016-09-10T00:00:00Z
This accommodation was fantastic - I cannot say a single bad thing. Janus was very helpful, quick to respond and accommodating when we wanted to extend our stay. The house is very clean and one of the best stocked accommodations we've visited. The views are also very nice and Leynar was a great town to stay in - very accessible. We highly recommend!
Erika
2016-10-21T00:00:00Z
Dit huisje is prachtig gelegen en alles wat je nodig hebt is er aanwezig. Het uitzicht is mooi en het is in een klein dorpje Leynar, van waaruit je de andere eilanden kunt verkennen. Prima verblijf gehad, jammer dat we de verhuurder niet hebben ontmoet. Ik zou er wel weer naar terug gaan.
R
2016-07-11T00:00:00Z
Tipo de habitación
Casa/apto. entero
---
Tipo de propiedad
Casa
---
Capacidad
6
---
Habitaciones
Leynar, Islas Feroe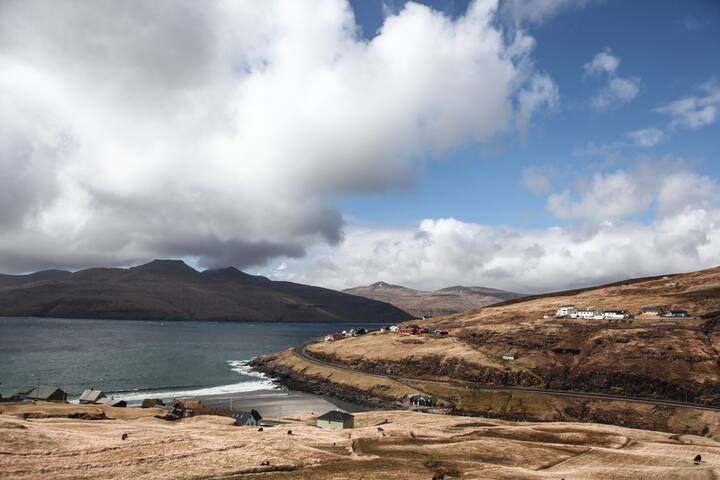 Min bolig ligger tæt på fantastiske udsigter. Du vil elske min bolig på grund af omgivelserne, det udendørs område og placeringen. Min bolig er god til par, soloeventyrere og forretningsrejsende.
Boligen er i 3 etager. Vi lejer 3 værelser ud, som alle ligger på loftet. Der har gæsterne adgang til toilet, fællesrum med TV og er stue med altan. Morgenmaden bliver serveret på anden etage, i familiens stue, hvor der er en fantastisk udsigt.
Vi bor tæt ved en udgravet vikingboplads. Den bliver besøgt af tusindvis turister om året. Den ses fra huset (se under foto)
This was definitely the best Airbnb we've ever had. Susanna and her husband were incredibly kind and hospitable and they gave us a lot of great advices. The house was very cozy and clean with a amazing view, well located - only 15 min from the airport and pretty much close to everything. We got great breakfast every day, freshly baked cake and we even tasted faroese food. Highly recommend!
Rebeka
2016-12-15T00:00:00Z
Susanna and Eydur were very kind and lovely hosts. Our stay was comfortable and the house has a lovely view. They even invited us for a dinner which was really kind. We would definitely recommend to stay here. Thank you again Susanna and Eydur!
Florence
2017-04-10T00:00:00Z
This is the best Airbnb we have ever stayed in (and we've stayed in quite a few!) Súsanna and her husband and kind, accommodating and very helpful. They really go above and beyond when it comes to hosting guests. We were provided with tea, coffee, snacks including soup and a freshly baked cake! We also were given a generous spread of breakfast food in the morning. Not to mention the view from their gorgeous home is STUNNING. We could sit here all day soaking it up! This is a must-stay for the Faroe Islands. We couldn't have had a better experience. Thank you for everything (especially helping to get our car out after we got it stuck!!! Note to everyone- don't try and reverse in their driveway, park on the street and save yourself a scratch and dent ha!)
Ellie
2016-11-09T00:00:00Z
Tipo de habitación
Habitación privada
---
Tipo de propiedad
Bed & Breakfast
---
Capacidad
2
---
Habitaciones
Kvívík, Islas Feroe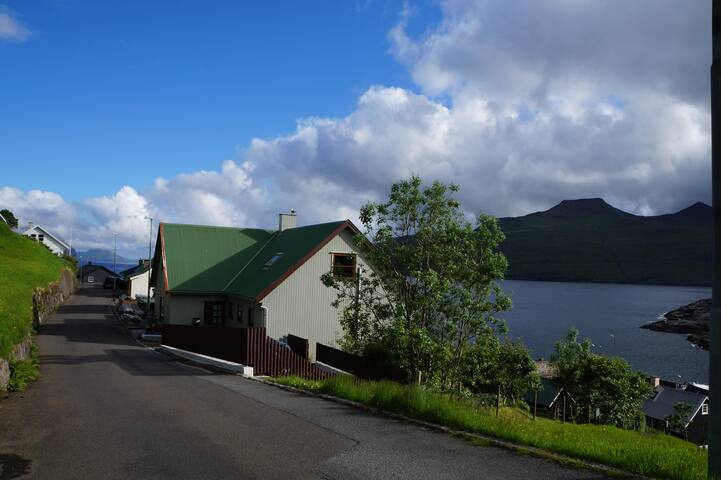 Here you will have the most stunning uninterrupted view of the ocean and mountains from every room, located in Kvivik right between the airport and Tórshavn. The house has a brilliantly layout that can hold groups, yet feel homey for the solo traveller. This was my grandmother's house and she would sit every morning looking our the waves, village, and boats leaving the harbour. All necessities are provided to make this a great experiences. I'll try my best to cater for all needs.
The house is an older house that's continuesly updated. It is very well insulated which is great for heat and for sound, as you are right next to the ocean. It's a charming and practical home with stunning views.
The house is located in the village Kvívík, which is one of the oldest settlements in Faroes with remains of Viking houses. The charming village is built on two sides of a narrow bay with a river running through the village. Kvívík os on the largest island in the Faroes, Streymoy, and right next to the sea tunnel to the airport. From Kvívík (drive): 25min to Tórshavn, the Capitol 25min to Airport 15min to Vestmanna (I'd recommend to do the seacliffs, Vestmanna also has stores and cafes to explore) 5min to Leynar (beautiful beach and best lake for fishing salmon, requires permission June-Oct that you can buy at the petrol station close by) 8min to petrol station in Kollafirði
Tipo de habitación
Casa/apto. entero
---
Tipo de propiedad
Casa
---
Capacidad
6
---
Habitaciones
Kvívík, Islas Feroe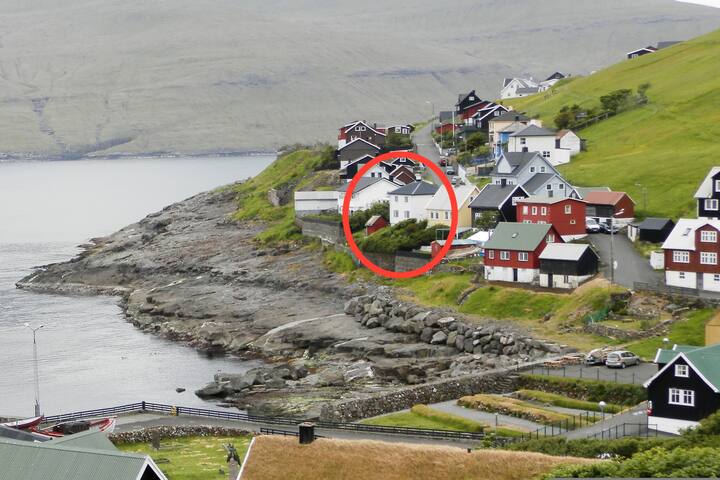 A traditional farm house in Leynar, built in 1865 and overlooking the Atlantic and Leynar River. This is a great base for discovering the Faroe Islands. Only 25 minutes drive from the airport, and 20 minutes to the capital Tórshavn. The allotment is along the Leynar river.
Classic faroese farm house. Basement is a made out of rock and has originally been where the cow where kept during the winter. From the ground floor there is a beautiful view over Leynar River that runs along the allotment. Leynar beach and the atlantic ocean is a few hundred meters away. Next to the house there is a "hjallur" (meet drying shed), and a "hoyggjhús" (hay barn). There are room to park cars on the northside of the house. The house is eqquiped with central heating, and radiator in each room, so no matter the outside temperatur, you will always be warm and cosy inside. Bed linen and towels are included. Please note that this is an old house, and the staircase to the bedroom 2 and 3 on the loft is quite steep, and not suited to small children, elderly or disabled.
There is a supermarket in Kollafjørð (10km) and a Effo service station (3km) which has open off hours. A bigger supermarket is Vestmanna (13km). Tórshavn the capital is a 20 minutes drive away, with supermarkets, shopping center, restaurants and cafe's.
Fantastisk lille hus i de smukkeste omgivelser. Super modtagelse af Jon. Den helt perfekte færøske oplevelse.
Camilla
2016-07-25T00:00:00Z
The house is ideally located - only half an hour to an hour to most sites. It was large enough for our family of five and everyone had enough space. Our host catered to our dietary needs even when we didn't request it specifically (he provided glass plates). He also recommended various options for things to do. There were plenty of amenities (toilet paper, paper towels, soap, etc.) which are not always so plentiful in other rentals. The house had everything we needed - numerous tourist brochures, books, and even binoculars! The sauna was also quite nice.
Etka
2016-09-01T00:00:00Z
Værtsparret er søde dejlige mennesker. Fint og hyggeligt lille hus. Der var indkøbt brød, smør, pølse, marmelade, vin og øl som velkomstgave, vi følte os velkomne. Fra huset er der flot udsigt til fjelde, vand og strand, der kan dog være lidt trafikstøj fra landevejen til Vestmanna. Huset er centralt beliggende på øerne. I huset ligger der mange forskellige brochurer med diverse seværdigheder på Færøerne. Vi var 5 voksne, men huset var fint rummeligt med plads til alle. Naboerne hørte vi ikke meget til, men en morgen fik vi dog næsten besøg af 2 får, der stod lige udenfor vores halvåbne dør! Vi kan helt sikkert anbefale stedet.
Merete
2016-07-21T00:00:00Z
Vores vært stod parat i huset da vi kom fra lufthavnen. Vi følte os meget velkommen. Værten havde købt brød, smør, ost, marmelade, mælk, rødvin og en færøsk snaps til os. Vi blev vist rundt på grunden og fik historien om huset og dens tidligere ejere. Værten havde hentet brochure som kunne bruges som udgangspunkt til ture. Vi fik en masse at vide om området og hvilke muligheder der var for at få nogle flotte ture. Boligen levede mere end fuldt op til vores forventninger. Der var hvad vi skulle bruge for en hyggelig ferie. Vi så stort set ikke indbyggerne i Leynar (det var for koldt fik vi at vide:)). Da huset ligger ud til vejen til Vestmanna var der lidt trafikstøj. Nabolaget var i øvrigt roligt og charmerende med får og lam som løb frit. Da vi ventede på flyet hjem, var der flere afgange som var forsinket om til 7 timer (dog ikke vores), værten ringede da og tilbød at hente os i det tilfælde at det var vores fly som var forsinket. Det tror vi ikke vi nogen sinde ville have oplevet hjemme. Det var virkelige nogle dejlige værter.
Else
2016-05-23T00:00:00Z
great hosts, great house, great location, great islands, warmly recommend it to everyone!
Effi
2016-07-13T00:00:00Z
Et sjarmerende lite hus sentralt plassert midt mellom Torshavn, flyplassen og Vestmanna. Tradisjonelt hus som gir en ekte opplevelse av Færøyene. Fin sandstrand og elv med laksetrapp like ved. Og med badstu i kjelleren blir bademulighet reell. Vennlig og imøtekommende vertskap. Anbefales.
Jon
2016-08-03T00:00:00Z
Vertsparet var i huset ved ankomst og tok i mot oss, vi fekk god informasjon om huset og tekniske innretningar. Huset er eit perfekt feriehus med sentral beliggenheit og ei nydeleg utsikt til havet. Stor sandstrand like ved og huset ligg i nærleiken av annan bebyggelse, men likevel har ein følelsen av å vere åleine. Huset er velutstyrt og ein har ein følelse av å vere heime her. Ei veke i denne idyllen gikk som ein røyk. Vertsparet kom for å seie adjø noko vi sette uhørt stor pris på og vi kjem gjerne igjen. Tusen takk for oss.
Else-Karin
2016-06-10T00:00:00Z
En fantastisk idyllisk bolig, samt beliggenhed. Man føler sig velkommen, og parat til at nyde de dejlige omgivelser. Et perfekt valg.
Claus
2016-08-13T00:00:00Z
Tipo de habitación
Casa/apto. entero
---
Tipo de propiedad
Casa
---
Capacidad
6
---
Habitaciones
Stykkið, Islas Feroe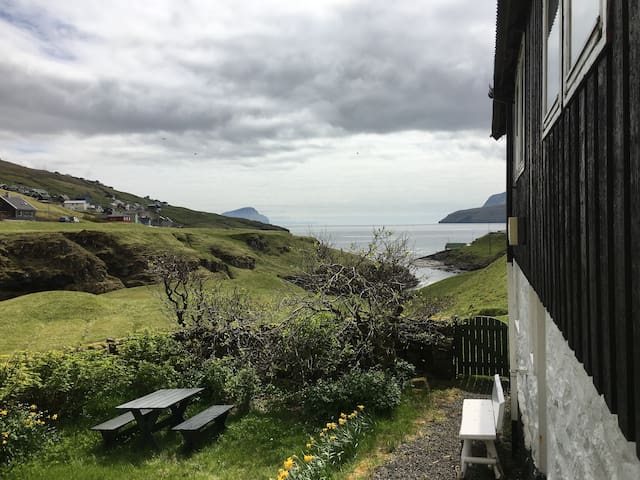 Vestmann is a nice place. Are you young and need a place to sleep and access to kitchen, this is for you. Ca 45 min by bus to Torshavn. Rooms and toilet are on 2. floor , kitchen on 1. floor . There is a shower " in the middel of nowhere " in the basement, witn an entry outside the house.
Bjarti was very responsive and accepted my booking even at the last minute. The house is old-fashioned but spacious. The kitchen and living room are really nice, The bedroom was small but had a nice view. The shower is in the basement and you have to got outside to get access. The location is ideal, just next door to the tourist information office and the boat to Vestmanna bird cliffs. So, in conclusion, very basic but pratical stay.
Marie-Anne
2016-07-19T00:00:00Z
Very good location, kitchen and living room to use, friendly and helpful host. Highly recommended.
Maciej
2016-07-08T00:00:00Z
Thank you for everything, we enjoyed our stay. If I visit Vestmanna again, I would choose this house once again. Danke für Alles, wir haben unseren Aufenthalt genoßen. Sollte ich erneut nach Vestmanna reisen, würde ich mich wieder für dieses Haus entscheiden.
Julia
2016-08-14T00:00:00Z
Not overly impressed with the stay, beds were lumpy, room was aged and cramped, and the plugs did not work, though that may have been human error. Also the host was a little difficult to get a hold of. He was doing his own thing, which is fine but we would have appreciated some information of where our room was etc, as texts from him were delayed and vague. Really, all this would have been alright, if the price was lower.
Zander
2016-06-25T00:00:00Z
Tipo de habitación
Habitación privada
---
Tipo de propiedad
Casa
---
Capacidad
2
---
Habitaciones
Vestmanna, Streymoy, Islas Feroe
Charmerende hus (82m2) i fredelige omgivelser med en fantstisk udsigt. Her er plads til 5-7 personer. Totalt nyrenoveret i 2010.
Huset er totalt renoveret undtagen vaskerummet hvor vaskemaskinen står m.m. Der er oliefyr - radiatorer i alle rum og selvfølgelig varmt vand. Moderne badeværelse med varme i gulvet.
Huset har navnet VIÐ ÁNNA.Det betyder huset ved siden af Åen. I indhegningen som er omkring hele huset er der en port mod åen,hvor der er adgang til åen.Den kan være stor og flot,når det regner, og når åen er mindre er det så fredfyldt at sidde der og høre dens rislen. Der er god plads til parkering.Ved siden af parkeringspladsen er vores udhus (sort) som ikke er færdig renoveret. Huset ligger for sig selv med en fantastisk udsigt over bådehavnen.
The host canceled this reservation 6 days before arrival. This is an automated posting.
Hervor
2017-04-04T00:00:00Z
Tipo de habitación
Casa/apto. entero
---
Tipo de propiedad
Casa
---
Capacidad
5
---
Habitaciones
Funningsfjørður, Eysturoy, Islas Feroe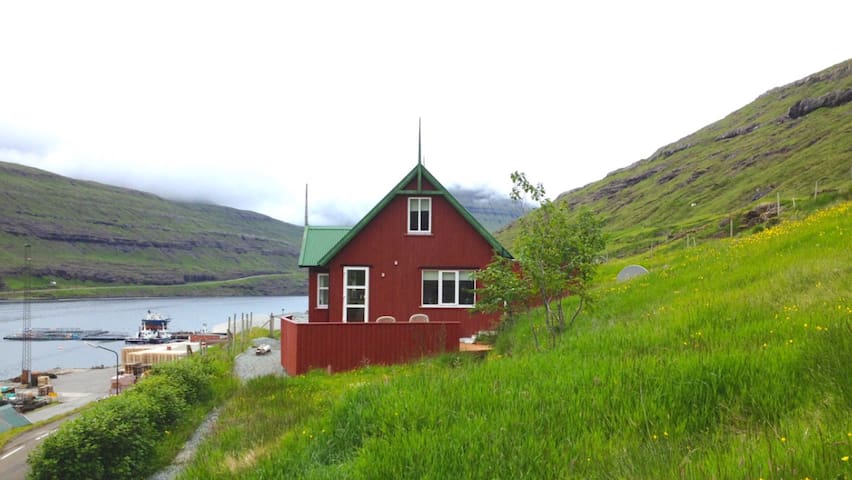 Min bolig ligger midt i naturen, der er mulighed for offentlig transport. Du vil elske min bolig på grund af den omliggende natur, lyset der står ind fra havet og som skifter konstant. Min bolig er et indbydende, varm, ren og hyggeligt sted til enlige, par og forretningsrejsende.
The property is in three floors.
Our nighborhood is unique by Kvívík have an excaviation of a settlement form wiking age.
Tipo de habitación
Habitación privada
---
Tipo de propiedad
Casa
---
Capacidad
1
---
Habitaciones
Kvívík, Islas Feroe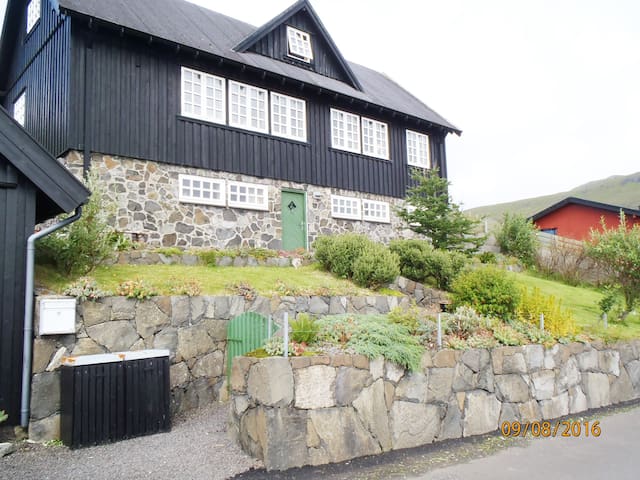 The house is located, 20 min. drive from the capital Torshavn, in a quiet cottage area, set back from the public road. Perfect for relaxing and hiking in the mountains. Around the house there is a beautiful garden with shrubs and hedges. Sometimes you can be lucky and see whales from the house. There is no access by car directly to the house, but there is a path around 100m, which is good to walk on.
Tipo de habitación
Casa/apto. entero
---
Tipo de propiedad
Cabaña
---
Capacidad
4
---
Habitaciones
Leynar, Islas Feroe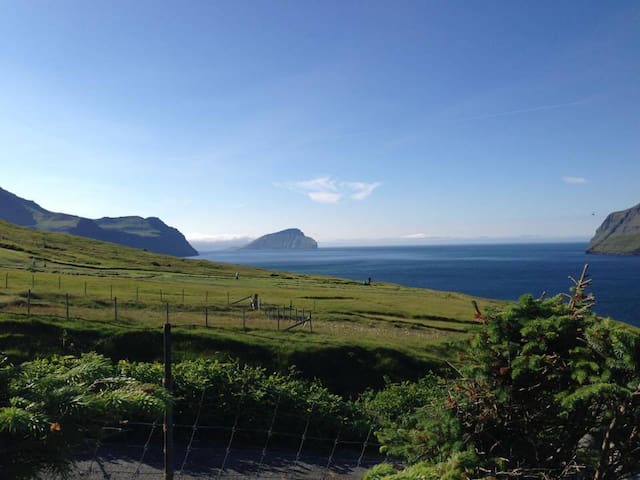 A small house in the village Vestmanna for rent. The distance to Torshavn, the Capital, is only 40 KM.
100 years old - brændeovn - generations on the wall -
(URL HIDDEN) (URL HIDDEN) (URL HIDDEN) Bus connection - (URL HIDDEN)
No tuvimos oportunidad de conocer a Hansj. La casa es como de cuento. Es como un tunel en el tiempo. Estaba muy limpia. La cocina muy equipada. Y el dormitorio es super pequeñito pero con mucho encanto. Fue como dormir en un nido, muy acogedor. La localización es ideal para hacer el viaje en barco por los acantilados.
Silvia
2016-08-27T00:00:00Z
We loved this little house! The home does have very low ceilings but we got use to ducking. We also had some issues using the shower but HansJ was quick to help us. He also answered all of our questions. The location of the house is great! And having a parking spot right in front of the house was very nice. I would recommend this house!
Nicole
2016-04-30T00:00:00Z
This house and the village of Vestmanna provided us with a great base for our 4 night stay in the Faroe Islands. There is a good supermarket for food shopping, convenient for the airport, the Vestmanna bird cliff trips leave from the harbour, and it's easy to drive out on a day trip just about anywhere. As others have noted, it's a small place and you will likely hit your head! But for the two of us we found it to be cosy and never cramped. The lounge is a great place to relax in the evening, and the two couches are really comfortable! The kitchen has everything you need to make great meals. There is also really good, fast WiFi. Hansj is quick to answer any questions you might have, and helped us find hours of a supermarket near the airport so we could still get food despite our late arrival. Overall, a really memorable stay and a place I would highly recommend to others.
Dorothy
2016-07-02T00:00:00Z
Very pleasant stay. This little house is perfectly equipped, everything you need is there. No trouble at all from booking to leaving the place. Vestmanna was a good location to base myself for one week of hiking and photography around these incredible islands. Easy access by car, not far from the Airport. Unfortunately the only supermarket seemed to be closed for ever, but a Gas Station can help you in case you forgot to buy some basic stuff. I recommand and would go back to the exact same nice little house in the future. THANKS HANSJ!
Samuel
2015-09-03T00:00:00Z
Nice small house, perfect for two people! Kitchen is well equiped. We found everything we needed. Good location in Vestmanna, there is a hiking route just up the hill.
Julia
2016-09-05T00:00:00Z
This house was beautiful and as described! We had the loveliest time staying at this amazing location and wonderful little home. It was very Hobbit-esque with a fantasy setting of mountains and ocean.
Rachel
2015-11-27T00:00:00Z
Hans's house is absolutely gorgeous - it's charming, homely and beautifully decorated with everything you could need for your stay. In fact I loved it so much I wish it was MY house :))) The bus stop is very close by, as is the supermarket. There are beautiful views across the harbour too. It's a good 10-15 minute walk to the harbour where the tourist information is and boat trips go from, but it's not hard to find. All in all I had a great time in Vestmanna, Hans was very friendly and helpful, and I would recommend this house to everyone who wants a wonderful Faroese experience. Thanks a lot!
Justine
2015-07-07T00:00:00Z
Meget hyggeligt lille hus med en skøn udsigt over bygten Vestmanna, som var en god base at opleve Færøerne udfra.
Sanne
2015-08-18T00:00:00Z
Tipo de habitación
Casa/apto. entero
---
Tipo de propiedad
Casa
---
Capacidad
2
---
Habitaciones
Vestmanna, Streymoy, Islas Feroe
Kvivik is a small village "bygd" in Strömo, 20 minutes drive (car or bus) from the capitol Tórshavn. It is one of the most charming villages in the faroes with about 400 inhabitants. The house is originally the old postoffice from 1870 and has been carefully restored. It lies with the most dramatic view over the Atlantic ocean and next to the ancient Viking-settlement. And just 10 minutes walk from a wonderful beach in Leynum.
The house is spacious and has a living-room with a stunning view over the ocean, a kitchen/dining-room with washing and dishwashing machine. There are two bathrooms one with shower. Each bedroom have room for 2 persons, one of them is on the first floor. You can have a child or two extra madrases in the room. There is a balcony with view to the mountains and sun in the afternoon.
We had an absolutely wonderful stay in Elinborg's house in Kvivik. It is super clean, spacious, and well equiped. We felt totally at home in this authentic and nicely decorated house. The view from the living room is stunning. We enjoyed the peacefulness of the small town. Elinborg was the perfect host - easy to communicate with, and she had some great tips on what to do around the islands that made our trip even better. Thank you!
Eivind
2016-07-09T00:00:00Z
Tipo de habitación
Casa/apto. entero
---
Tipo de propiedad
Casa
---
Capacidad
4
---
Habitaciones
Kvivik, Færøerne, Islas Feroe
Situated in the small village of Leynar, 25 min from both Torshavn and the airport, you are in the midst of nature when staying in this new vacation home. Equipped with new furnitures and top of the line appliances. Large terrace with hot pool available for an extra charge. Modern Weber gas grill available.
In this small charming village you will experience true faroese village life.
Siamo appena tornati e già vorremmo ripartire! L'accoglienza è stata ottima, abbiamo trovato un host davvero speciale. La casa è nuovissima, penso che noi siamo stati i primi ospiti, bellissima, arredata con molto gusto e mobili di pregio ed in una zona molto scenografica. Il nostro host ci ha fatto trovare frigo pieno e prelibatezze di ogni genere. Cosa volere di più? Grazie infinite!
Federica
2015-03-22T00:00:00Z
Tipo de habitación
Casa/apto. entero
---
Tipo de propiedad
Casa
---
Capacidad
6
---
Habitaciones
Leynar, Streymoy, Islas Feroe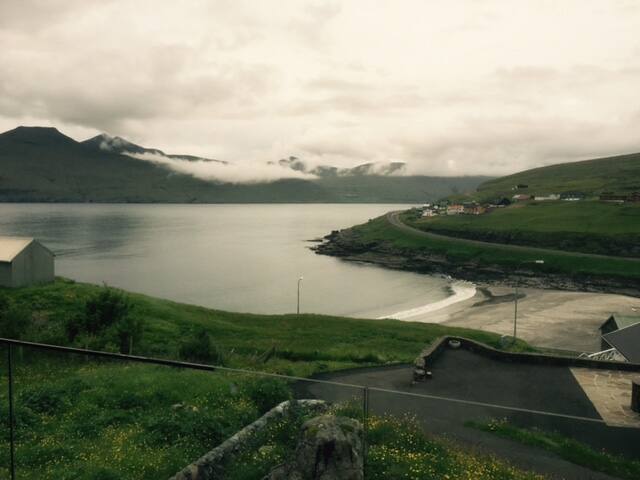 Introduce las fechas para ver el precio total. Ten en cuenta que se aplicarán tarifas adicionales y es posible que se añadan impuestos.