Introduce la fecha de llegada en el formato dd/mm/aaaa
Introduce la fecha de salida en el formato dd/mm/aaaa
Anuncios que no requieren que el anfitrión acepte la solicitud.
Introduce las fechas para ver el precio total. Ten en cuenta que se aplicarán tarifas adicionales y es posible que se añadan impuestos.
En julio y agosto, podrás disfrutar de 100 de los alojamientos con las mejores valoraciones de Sonoma a precios muy diferentes y disfrutar de la cara más auténtica de la ciudad. Relájate y disfruta de tu estadía sabiendo que puedes hacer una reserva inmediata, llegar a cualquier hora y disfrutar del vino de la zona y de otros tentempiés.
My place is close to Limon Colorado. You'll love my place because of the comfy bed. My place is good for couples, solo adventurers, business travelers, and families (with kids). Queen size pillowtop mattress, 32" hd tv DVD player, and Ac.October - February only service available will be electric and due to climate changes. This is a 33ft rv that sits at the corner of an rv park in a small town 10 miles from the nearest gas station or grocery store. This is a great place to lay your head to rest
Great Place to rest your head get a good night sleep and an early start to your day.
Now a semi-ghost town, Genoa is best known for its "Wonder Tower," a 1920s tourist trap that got the attention of Ripley's Believe It Or Not. Genoa is located next to Interstate 70, ten miles east of Limon at exit 371. It's 2010 population was 104. From a mile away the Wonder Tower appears to be bustling. "See Six States!" yell the hand-painted signs. "Confirmed by Ripley!" You can see cars in the parking lot, and people at the top of the Tower, trying to identify the advertised six states. Once you arrive, you realize that the parked cars are 50 years old and stuffed with sun-bleached bottles, their tires buried six inches deep in windblown prairie dust. The people in the Tower are crude fakes -- lumps of red sheets wearing sunglasses. The Wonder Tower, built in 1926 at the highest point between New York City and Denver, was a welcome stop on US 24. Charles W. Gregory, Colorado's P.T. Barnum, would stand on the Tower and spot license plates of approaching cars. When tourists were within earshot, he would boom state-appropriate greetings through a megaphone. "How're things in the Buckeye State?" His billboard motto was Eat, drink, gas, and pop at the Tower. Fan of the 2-headed calf. Then the interstate bypassed US 24. Charles W. Gregory died. The Tower, however, survived, thanks in large part to its owners since 1967, Jerry and Ester Chubbuck. They charge only one dollar for admission. Small signs at the entrance caution the squeamish, "Animal Monstrosities," and "Two-headed calf." The Chubbucks have stuffed the tower with a mass of spoons, farm implements, and arrowheads, much of it nailed and screwed to the ceiling. The Branding Room, Petrified Room, Indian Room (with its rock walls "painted by an Indian princess") are jammed with bric-a-brac. Jerry and his Tower. In the Animal Monstrosities Room, the jar containing the eight-footed pig is dusty dry, while the one-eyed pig jar leaks something we'd rather not investigate too closely. We notice that the Talking Indian Mummy -- Jerry had wired it with a loudspeaker on an earlier visit -- is missing. It has been repatriated. "The Indians don't want you displaying their dead," says Jerry. Jerry, who's surprisingly spry for his age, has a quiz he pops on lucky guests called the "Guess What." He singles out ten unusual items, and if you guess their identity or purpose you get your dollar back. No one leaves until he finishes. The items include rooster eyeglasses, camel nose bells, and a walrus penis. Just about the only thing Jerry doesn't have is a postcard of his own attraction. This is a notable flaw in the Wonder Tower's marketing plan, as are its lack of signs near the interstate (Government billboard prohibitions don't help). But Jerry is upbeat, and his collections of mysterious tools, murky things-in-jars, and tens of thousands of arrowheads and bottles usually keep tourists inside the Tower for far longer than they had planned. Freaaky dummies play cards. No visit to the Wonder Tower is complete without a climb to the top. Flies buzz through unscreened windows as you ascend its ladderlike stairs, six stories of them, past the fake people and even more perplexing exhibits, to the observation deck. It's not a climb for the faint-hearted or flabby. But those who survive are rewarded with an impressive view of eastern Colorado.
Bob was flexibel in terms of arrival time, expected me with a clean trailer, including a comfortable room, toilet, kitchen, wifi. Unfortunately there was no water for taking a shower! Bob was kind and prepared a dvd to watch.
Alin-Florin
October 2016
Bob was the best! He greeted us as we pulled up and we immediately noticed a funny smell coming from my car, so Bob checked the fluids and helped me to find a store in a reasonable area through our route to the NW. He was friendly and accommodating, so I can't complain about a thing. A friendly neighborhood cat even kept us company while we unloaded sundries from our car. His trailer is super basic, yet reasonably clean and comfy. My friend slept on the couch and seemed to be comfortable. My bed (the one advertised) was great! Quite soft, clean and comfy. There was no running water but hey, we just really needed a place to lay our heads down for our long trip and he has just that. No frills, no problem. I'd definitely use him again, since it was so convenient for our basic needs. Thanks again, Bob!
Lana & Jamie
October 2016
had to cancel but responsive to me fast
Jan
October 2016
For the price, it was a good place to lie our heads for the night. Bed was comfy and tv was a nice bonus. Recommend if you are driving through .
Bryce
October 2016
Great host. Friendly. Quien place. The ad is exactly what you get. If you look for something to sleep in the middle of your travel, is a good option.
Jorge
October 2016
Tipo de habitación
Casa/apto. entero
---
Tipo de propiedad
---
Capacidad
6
---
Habitaciones
1
Genoa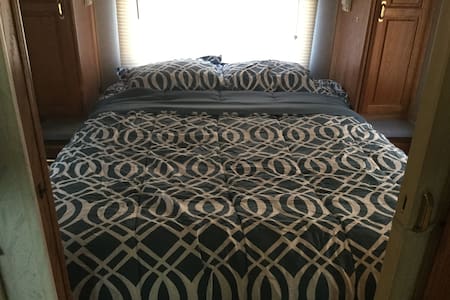 Quiet private rooms, simple clean accommodations. Limon is a small town in the middle of nowhere. We have gas stations, truck stops, fast food-a place to stop on your way to somewhere exciting. If you choose me, plz give me 5 stars for location.
Guest room with queen bed. No unmarried couples, please. I will give you breakfast.... cereal, coffee, tea, milk, fruit and bagels. Limon is a town of 1,800 on the eastern plains of Colorado. No mountains here. We have wind farms, wheat farms and cattle ranches. kitchen, washer and dryer, wireless internet We welcome you to our home. The guest room and family room are on a separate level (basement) from our living area and bedrooms so you will have lots of privacy downstairs.
We have one stop light, no traffic, no lines. I love it! My listing is in a small rural town, not a city. If you choose me, please give me a 5 star rating for location. No public transportation. Plenty of street parking. If you are brand new on Airbnb, please provide a reference. The website will block out phone number, email address and websites. So I need your bosses name, your workplace, a friend's name that I can find online...something like that. Remember, this is a home, not a hotel.
Ellie welcomed me upon arrival and made me feel right at home. She is a super nice lady and I enjoyed chatting with her over dinner and tea later in the evening. The room was clean and comfortable, and it was a bonus having a private bathroom. The neighborhood was safe and I will certainly recommend this to anyone. Great stay!
Colleen
March 2015
Thanks, Ellie for making me feel welcome at a time of doubt for me. the room is comfortable and the bed especially. This being my first time in an AIRbnb home I wasn't sure what to expect, but Ellie and Warren were great. I recommend this home. Sally
Sally
December 2015
Ellie's cozy home was the perfect resting spot for me and my husband on our road trip! Limon is literally right on I-70 so the location is prime. Ellie and Warren are welcoming hosts who will give you as much privacy as you want, but it's a delight to sit and chat with them in their bright kitchen! Bed is comfy, strong wi-fi connection, all in all a great find. Next time we do a road trip out west, we'd love to stay here again!
Gabrielle
September 2015
Ellie is a wonderful host and shows genuine interest in her guests. She and her husband helped us unload the car and provided us immediately with cold refreshment. The space rented is like a basement apartment with three rooms (one queen, one twin, and a double in the family room as well as a private bathroom. Although you have complete privacy downstairs, it's a lot more engaging to chat with Ellie and Warren. Breakfast in the morning included fresh fruit, yoghurt, cereals and doughnuts. You won't find more genuine hospitality anywhere.
Michele
June 2015
Great location - amazing hosts - Had great Ice Tea and conversation. Thanks again for breakfast and leaving everything labeled and out for me. It was a great start for getting on the road. Thanks again Ellie!
John
July 2014
A True Oasis,especially compared to other motels/campgrounds available in Limon. Private entrance and Private Bath in this comfortable downstairs area, real pluses. Hosts were most welcoming. Good Coffee/Conversation and home made muffins were a good way to get going the next morning.
Annie
June 2016
Ellie is a terrific hostess with a constant smile and just fun to be around. The bed was comfortable, the room was spacious, and everything was spotless. We would stay here again. George & Mary from K.C.
George
July 2016
Ellie was extremely accommodating and she took care of everything including dinner and breakfast. She made me feel at home and part of the family. Bed was super comfy too!
Jia Yi
December 2014
Tipo de habitación
Habitación privada
---
Tipo de propiedad
---
Capacidad
2
---
Habitaciones
1
Limón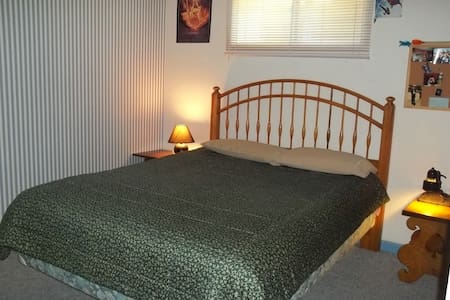 You'll love my place because of the quiet location, the ambiance, comfortable bed!. My place is good for couples, solo adventurers, business travelers, families (with kids), and furry friends (pets).
Great place to stay in Eastern CO (& right off of I-70)! The Suite is beautifully furnished and quite comfortable. Didn't get a chance to chat with Tom much, but he was friendly & welcoming.
Andrew
August 2016
Spacious, convenient stop over while driving across country. Attentive, pleasant host
Rev. Vidya
August 2016
This was our first experience with Airbnb and it was wonderful. Tom was a gracious and considerate host who provided an immaculately clean, comfortable, and welcoming apartment. The private bathroom was huge and it even had a fridge stocked with snacks and water. We loved the quirky and adorable knick knacks that lined the walls and surfaces. We would absolutely recommend him to a friend and would stay there again. It had great off street parking right outside the private entrance. We also ate at the diner and it was very good.
Jackie
September 2016
I regularly travel to eastern Colorado and stay at a couple of hotels so I thought I'd true Airbnb. This was my first experience and Tom did everything right. He called me by name when I drove up, everything else was just as described in the listing right down to the well manicured lawn. Parking was right at the door, no steps. The decor was quaint with lots of memorabilia, comfortable couch, and bed. The bathroom was modern, spacious, with no plumbing issues. Tom was very hospitable, but not overbearing. Don't forget to stop at the I 70 dinner, great food and service.
Dwayne
September 2016
We loved it. Clean, cool apartment vibe, nice house and neighborhood. Very convenient to the highway and a fun diner to try on your way out of town.
Kathleen
August 2016
Tom was super sweet and the room/living area and bathroom we super spacious and comfortable! He's a great host!
Tessa
August 2016
Tom welcomed my husband and with a warm greeting. He made us feel at home immediately. We share his love of travel and enjoyed hearing about some of his adventurous travels. The apartment was furnished so nicely. We were able to settle in and relax after a long day in our car. He provided tasty snacks and good coffee. Thank you, Tom, for providing us a nice stay at your place. Pat
Pat
September 2016
Tom is a most gracious host and the Suite was very comfortable. Everything was there that I needed and It was very spacious.
Sandra
September 2016
Tipo de habitación
Habitación privada
---
Tipo de propiedad
---
Capacidad
4
---
Habitaciones
1
Flagler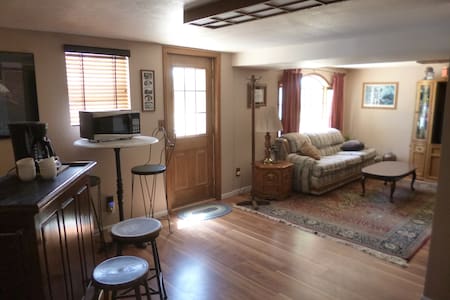 Enjoy a stay in the best little town in the Eastern Plains of Colorado in the modernized 1911 historical Heritage Suites of downtown Flagler.
Offering a guest-super mini suite that is a part of our historical building in downtown Flagler, Colorado located on Interstate 70 in the heart of the Eastern Plains of Colorado. COVETED AREA!!! You can't beat the neighborhood. It's convenient to EVERYTHING! Super desirable small town with historic theater, hometown bank, Ace hardware, Radio Shack, flower and gift shop, small town weekly newspaper, full line super market, museums, and local churches are one to two blocks away. -This is a family friendly place with other family friendly long term apartments in the same building. - 110 miles from Denver International Airport and 80 miles from Colorado Springs. - Mini-sized kitchenette with refrigerator, sink and Microwaves - Child's playground area and and parks nearbyt - Public in-door seasonal pool at the local school - Public 9 hole golf course in the rolling plains of Mossland - Street walking and hiking areas - WIFI -Fully furnished with desk and chair, king bed sheets and covers, towels, window coverings, comfortable chair, fans, night stand, lamps. Community room with comfortable lounge chairs, wide screen tv, and beverage area. Also a fitness room is available. We don't mind interacting but definitely can give you privacy.
Experience country small town America Drive to Flagler, but then walk access to all points. Family gather in the Bowen Magnolia Community room upon reservation.
George and Barbara were great hosts. I only wish I could have spent more time, I was on my to a Geocaching event. If I come back through here I definitely will plan another stop.
michael
July 2016
We were greeted at the door by George and taken to our room. The personal touch was a visit to days gone by. Our room was as described including coffee and muffins in the room for the morning. We had a comfortable night after a long day's drive. The town was fabulous if you love small town America as we do. It was quiet and quaint and the perfect stay over on a multi-day trip. Thank you, George for the hospitality. We will see you again, Lord willing! Jim & JoAnn
JoAnn & Jim
October 2015
George and Barbara was very kind and sweet to us. Apartment was clean, nice and very comfortable with all necessary amenities. We were happy to stay there for one night. Recommended!
Sergey
September 2015
George and Barbara met me and showed me the room. Very clean and peaceful! It was just a stopover on a long trip, but a perfect oasis for me. Thank you!
Barbara
June 2016
George and his wife were amazing hosts! The bed was comfortable and room had everything we needed for our night of rest while we were on the open road. If you're driving through Colorado, this is a great place to stay and a much better price compared to the bigger cities.
Ryan
August 2015
We loved our stay here. Nice big lounge area with kitchen and separate bedroom/bathroom. We appreciated the little snacks in the fridge after a long day of driving. George was very friendly and responsive to messages. Loved the small town feel. Would definitely stay again!
Teresa
July 2016
Charming! George and his wife were simply lovely hosts. A friend and I were passing through town and decided to try this place out. We're so glad we did! The town was absolutely adorable- lots of cute little historic things to see and do. There's even a classic diner just a few blocks from George's place! Don't be intimidated by the relative lack of reviews- they've just gotten started but I think that they have been hosting other types guests (non AirBnB) for a while. They're simply kind and warm people who will make you feel right at home. The room itself was small but very very comfortable, with good heating, a nice bathroom, a mini kitchen (with fridge, microwave, and a sink) and too many nice little touches to list here. A comfy chair, lots of extra blankets, vintage books. A coffee maker with coffee, little snacks and fruit, plenty of towels, etc etc- they really thought of everything to make it feel like a home away from home. They're also involved in the history of the town, so they helped us with some tips for sightseeing. They were kind and understanding when we had a delay in our arrival- they welcomed us helpfully and made sure we were all set and then left us to ourselves (which I appreciate because we were exhausted from driving). This is a family-friendly place, and alcohol and smoking are not allowed. This is a better choice for a calm, relaxing getaway than a party weekend. I definitely recommend checking out the cute town! The location is just off of the tiny (quiet) main street in the town, and it's close enough to the highway for convenience yet far enough away to feel very safe and away from it all. We're so so glad we stayed here on our road trip rather than some motel! Definitely highly recommended.
Iomi
October 2014
Such a cozy, well-appointed space! I was so comfortable here. George and his wife greeted me as I arrived and made me feel immediately welcome, showing me the features of the room, telling me about the history of the building, and making sure I had everything I needed. The room had all the comforts of home, with a great little kitchenette area (with much appreciated snacks!), a nice bathroom, information about the town and building to read, wifi, and tv service. Super comfortable bed! Great communication prior to arrival. I would definitely stay again with such a kind, considerate couple!
Katie
July 2016
Tipo de habitación
Casa/apto. entero
---
Tipo de propiedad
---
Capacidad
2
---
Habitaciones
0
Flagler