Introduce la fecha de llegada en el formato dd/mm/aaaa
Introduce la fecha de salida en el formato dd/mm/aaaa
Anuncios que no requieren que el anfitrión acepte la solicitud.
Introduce las fechas para ver el precio total. Ten en cuenta que se aplicarán tarifas adicionales y es posible que se añadan impuestos.
En julio y agosto, podrás disfrutar de 100 de los alojamientos con las mejores valoraciones de Sonoma a precios muy diferentes y disfrutar de la cara más auténtica de la ciudad. Relájate y disfruta de tu estadía sabiendo que puedes hacer una reserva inmediata, llegar a cualquier hora y disfrutar del vino de la zona y de otros tentempiés.
This house is a new build within 10 years. It is fairly open design with a large kitchen - living room combination. Two nice rooms with queen beds. Easily sleeps 4 with room for air mattresses for more. A crib is also available if needed.
Ken was a great host. This was the first time we used AirBnB and it was perfect. We were a bit later than we expected but he saw us coming down the road and greeted us at the door. We felt very much at home. I would highly recommend Ken's listing to anyone needing a place to stay in Norfolk.
Aimee
August 2016
Ken was there and ready with all smiles when the dogs and I arrived for our stay - was super friendly and available if I needed anything. Felt like an old friend from the start :)
Sarah
October 2016
Big and great house
Liu
August 2016
The host was good. The house was not in the best shape but it was ok. Fewer personal things would make the house more comfortable for the guests. The neighborhood was safe, nothing ver happened to me but it wasn't a very nice neighborhood. It was ok and got the job done.
Mahsa
September 2016
The house was great. Ken was great had the house ready for our arrive, he worked around our schedule.
Esther
September 2016
We enjoyed our visit to Ken's home and appreciated the several personal amenities that he provided. The neighborhood was as he described and we felt very safe and "at home."
Don
October 2016
Tipo de habitación
Casa/apto. entero
---
Tipo de propiedad
---
Capacidad
4
---
Habitaciones
2
Norfolk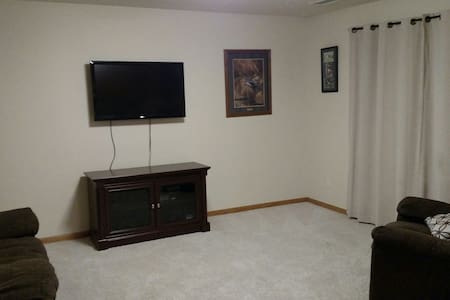 Private room in a modern home. Shared bathroom. Access to whole house including living room, kitchen, and laundry. I want you to feel at home here. Norfolk is great community with everything you need.
The room is great for two people. Queen bed. Television with DirecTV in your room. Guests will have access to the whole house. Full use of kitchen and living area. Feel free to use the laundry. Bathroom is a shared bathroom. Interaction with guests will be as much or as little as you are comfortable. I am gone a lot so may not be at the house while you are there. I am a school teacher so during the school year I am many times tired up until 4pm.
My neighborhood is on two quiet streets with great people. Very low traffic. Great area if you like to walk or run. There is a taxi service in Norfolk. I am also an Uber driver and would be willing to drive you if needed. I have a crib available if needed. I have dogs on the property but not inside.
It was my 1st time to us Airbnb for renting a room. I had a great experience. Ken is really welcoming host. Everything was prepared and room was nice and clean. Would stay there again :)
Liisi
July 2016
Tipo de habitación
Habitación privada
---
Tipo de propiedad
---
Capacidad
2
---
Habitaciones
1
Norfolk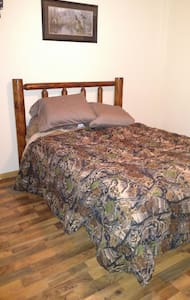 Large room with new queen bed frame and mattress.
The house was build within the last 10 years. Located on the corner of two quiet streets. Guests have full access of the house with the exception of the other bedroom. I am gone often but will interact as much or as little as you like.
I have excellent neighbors in a quiet neighborhood. At this time the other room in the house is occupied by a traveling nurse. This room would be great for another nurse needing an extended stay.
Tipo de habitación
Habitación privada
---
Tipo de propiedad
---
Capacidad
2
---
Habitaciones
1
Norfolk
Our cozy and comfortable private basement living area(separate entrance) comes complete with bedroom, living area, and bathroom. There is a flat screen TV, treadmill, and coffee bar! We are located on a peaceful farm with scenic views just 3 miles from Wausa, NE.
Kathleen & her husband were kind enough to wait up even though I arrived a couple hours later than expected. The atmosphere in their home is very welcoming. Also, Kathleen provided a pleasant (though unexpected!) breakfast before I left the following morning. The lower level of their house has been configured for guest usage and includes a private bath, den and rec room. Overall: very clean & comfy. I would definitely stay again if I go through that area. Heads up that this is a rural location. I did not have (AT&T) cell coverage for the last hour or two and that threw a glitch in communicating travel delays or getting extra directions. Also, beware that a few of the nearby streets are unpaved. Watch that your GPS doesn't send you down one. (All the major roads to the house are paved, but a few of the side/cross streets are not.)
Reese
September 2015
This was the best experience I've had using the Airbnb program. The Hennings were the most genuine family and exceeded our expectations for great hospitality. They provided all of the amenities one would look for in a comfortable stay and offered a helping hand when needed. I highly recommend this experience!
skyler
September 2013
This place is a true gem. Curt and Kathy are fabulous hosts - very warm and accommodating. They made sure we had everything we needed, and were very easy to visit with. My mother and I were heading from Kansas to Minnesota, and this was a perfect stopping place. We had plenty of room, the bed was comfy, and I loved the tiled shower. Kathy's breakfast was superb, and we enjoyed seeing her beautiful gardens and hearing familiar farm sounds. They are truly living the country lifestyle that so many people only dream of. Because of this Airbnb experience, I never want to stay in a hotel again! We will be back!
Nita Kay
August 2015
We had a great time staying with Kathleen and Curt. They were lovely hostz and made us feel very welcome. Five stars all the way! Thank you for your hospitality.
Hilary
August 2015
Fantastic experience! We are recommending our friends make a small detour when they head west or southwest and stop in with the Hennings. Get off the freeways and experience true Plains hospitality. The driving was great...good roads, less traffic, and 60 mph speed limits....much more relaxing than semi traffic on I-35! Rural Nebraska is truly worth the experience. Their home is on a paved road ...just a few miles off US 81 and easily assessed. What wonderful hosts! We have had lots of great airbnb hosts but Kathleen and her husband are tops! We were treated like old family friends.....homemade apple pie and ice cream when we arrived and home cooked breakfasts each morning. We spent the whole evening visiting! It was so great we decided to come back by for a repeat visit on our way home! The photos are completely accurate & the quarters were very comfortable. They are very private if you wish and were nice and cool when we were there on a warm, humid evening. I am sure they would be toasty in the colder months with the living room fireplace. Kathleen's garden is wonderful and we spent time sitting out in the back in the shade enjoying the warm spring weather. We brought supper home and enjoyed it in the backyard the second day we were there. I also enjoyed walking up and down the road and taking photos of the neighbor's cattle, the birds (swallows, red winged blackbirds, sparrows, etc), cottonwood trees, and the farmyards. Nebraska's rolling hills and farmlands are beautiful. Our stay made a long road trip very enjoyable and relaxing! I would definitely recommend anyone stop for a visit & will return any time we are in the area. Life in the Plains states is more like life used to be....more laid back & down to earth.
Deborah
May 2014
Lovely place! Welcoming and cozy! Enjoyed the beautiful gardens and slept like a rock! Thank You also for accommodating my Dad's needs as well, he enjoyed playing the piano!
Lisa
June 2015
I would give Kathleen, her family and her home the highest rating possible - if that's a 5 out of 5, the rating would have to be a 6. Her home is beautiful and welcoming. Its quiet and private. Kathleen and her husband greeted us as we arrived and was ready to make us feel welcome even when my husband and I arrived at different times. The bed was very comfortable which is important when you are away from home. There was a coffee bar stocked with all kinds of coffees and teas. Breakfast was great and included home baked rolls! Need I say more? Kathleen has truly tried to think of everything possible to make our stay comfortable. I wouldn't think of staying anywhere else when in the Wausa vicinity.
Michael
September 2015
For good reason, Curt and Kathy were not able to be there when we arrived, but they made sure that a neighbor was there to show us around and she did a great job. Homemade cookies were left for us as well as other snacks and the message to use the kitchen for whatever we needed. We talked after they arrived home and they were so friendly and accommodating ensuring that we were comfortable and had everything we needed. The gardens are beautiful and interesting. Kathy taught us a few things about gardening after a delicious homemade breakfast. We slept well and had an enjoyable time.
Heidi
June 2015
Tipo de habitación
Habitación privada
---
Tipo de propiedad
---
Capacidad
3
---
Habitaciones
1
Wausa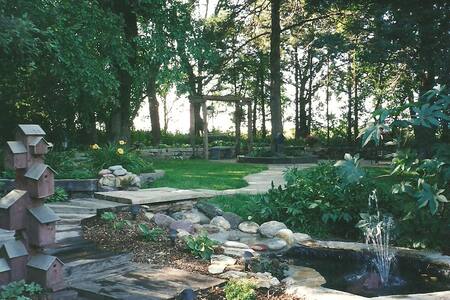 This lovely older farmhouse has been refinished to enhance its naturally beauty! Charming 2-story farmhouse with original hardwood floors, front porch, full kitchen, and beautiful scenery!
This farm house is perfect for families. Plenty of yard for kids to enjoy and yet quiet enough for a family to relax and enjoy one another away from day to day distractions.
I keep a supply of breakfast items at the house for my guests as well as coffee.
Kathleen could not have been a better hostess! We ended up arriving later than planned and she let us know that it was not a problem. Before arriving I would text her and she would text me right back with answers. The house was everything she said and more!! This was more than a home away from home! She made muffins that were sitting on the counter waiting for us when we arrived. My kids loved playing outside. Kathleen also had a few games in the house for the kids to play. And I loved having a fresh cup of coffee while sitting on the front porch in the morning fresh air. This home is truly a Charming Countryside Farm. The next time I'm in Wausa I will make sure this is the place that we will be staying at.
Robin
November 2016
Tipo de habitación
Casa/apto. entero
---
Tipo de propiedad
---
Capacidad
5
---
Habitaciones
3
Wausa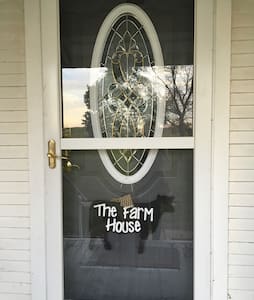 This listing is for our upstairs bedroom, bathroom, sun room and living room. The bed and bath areas are able to be closed off from the rest of the house. The kitchen would be shared with myself and our family. Guests would have full access to the garden, deck, front porch with grill, and farm atmosphere (we can even let you gather the eggs for breakfast!) We will provide breakfast, linens &toiletries. My place is good for couples, solo adventurers, business travelers, and families (with kids).
Kathleen and her husband were exceptionally welcoming, gracious and accommodating. I would gladly stay with them again.
Ross
September 2016
Tipo de habitación
Habitación privada
---
Tipo de propiedad
---
Capacidad
3
---
Habitaciones
1
Wausa
Enjoy all the comforts of home while staying at our newly constructed barn. This spacious guesthouse is the perfect place to slow down and get away from it all. Sleeps 2-6. Includes full kitchen, exercise room, and miles of country roads to explore.
Our space is unusual in that it is so quiet and peaceful. It is a perfect place for a personal retreat or a quiet get away from the city.
Shelley and Bob were very welcoming and oriented us around even prior to our arrival. Everything was even better than expected. The guest house adjacent to the Barn was perfect for our family of five - sturdy beds, family area, and we loved just playing in the yard and on the tire swing. Even after just an overnight stay, it felt like we've known Shelley and Bob for a long time. Great to get a bit of extra insight on corn production in this part of the state too!
Lee
July 2016
Perfectly appointed and very peaceful, this place is a little slice of heaven. Shelley and Bob were away, but took great care to make me feel at home. Shelley left little notes for me about where everything was and how everything worked. And the welcome basket was generous with items to get me started until I could get to a grocery store. I felt that I was in a high-end boutique hotel suite without the exorbitant price tag. Shelley, you really should consider a career as an interior designer(URL HIDDEN)
Karen
October 2015
Lovely hosts on a lovely Farm. The Barn apartment exceeded our expectations on arrival and the host continued to be attentive and helpful throughout the duration of the stay. Riding bikes on the country roads was something we all enjoyed and would highly recommend! Laundry onsite was incredibly useful and there is a beautiful patio with a fire pit for relaxing on summer evenings watching the sunset. Absolutely wonderful! Would definitely stay here again!
Allison
August 2015
I must thank Shelley on this review as it was a stellar experience for our entire family in a time of need. Firstly, the place was immaculate, clean, spacious, and supremely welcoming. It was everything in the pictures (except the snow haha). Though I did not have the chance to personally meet Shelley, I heard from my family how wonderful and gracious she was upon arriving. Without going into further superlatives, it's just a great oasis in farm country Nebraska, great people, and great experience all around. Thank you and hope you have a wonderful time hosting more guests in the future.
Jerome
February 2016
This was a cozy place for my son and his family. They needed a nice place to relax as a family while visiting over Thanksgiving. It was hard to relax, not because of the location, just the other family obligations. Saturday they were able to really enjoy this quaint little spot. Thank you.
Kim
November 2016
This place is like home away from home. From the moment you arrive you feel very comfortable and at ease, and then you meet Shelley and Bob, and it only gets better. The place is beautiful both inside and out! Everything you need for a relaxing stay is included, Shelly even provided water , bagels, tea and coffee! Sleeping accommodations were amazing as well! If your in the area or plan to be please check in at the Noonan Farm!
Mary
July 2016
Bob and Shelley are as good as they come! My friends and I had an awesome time at the barn. Beautiful place, we would definitely recommend.
Amber
July 2016
Shelley and Bob welcomed my family and I personally, had their property beautifully cleaned and ready for our use. I would say that this place is beyond Farm Chic, it is so wonderfully decorated and put together. They had some food and beverages in the fridge, and coffee for the next morning! We truly felt like we had great access to their beautiful property, patio and kindness. I would highly recommend them as a great getaway for families, friends or individuals. Thanks again, Shelley and Bob! ~the Caffrey's
Regina
September 2016
Tipo de habitación
Casa/apto. entero
---
Tipo de propiedad
---
Capacidad
6
---
Habitaciones
2
Humphrey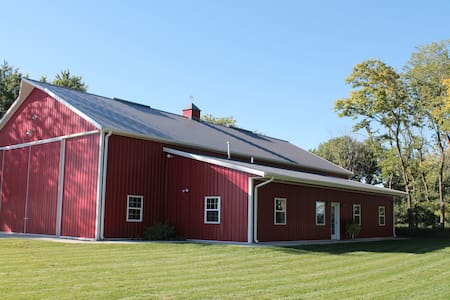 You will find this recently remodeled property perfect for your stay in West Point. It has an overlooking view of main street with bay windows. It is conveniently located in the center of downtown. The Nielsen Center (convention/wedding venue) is 4 blocks away. My place is good for couples, solo adventurers, business travelers, and families (with kids). There is a breakfast and lunch place three doors down (Bud's). There is a bar one block away (Mayberry's).
Tipo de habitación
Casa/apto. entero
---
Tipo de propiedad
---
Capacidad
4
---
Habitaciones
1
West Point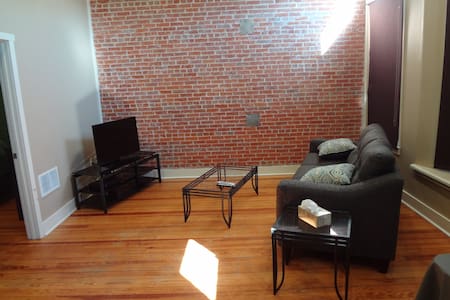 2-story house with ample space, semi open concept main floor. Front and back yard (partially fenced), quiet neighborhood. Multi-car driveway. Town has everything from restaurants to shops and grocery stores.
The main floor includes a large semi-open concept living area with a gas fireplace (not currently in use), piano, and picture window. The kitchen flows into the dining area and has an island. There is a bedroom on the main floor that could be turned into an office. Upstairs there are three bedrooms, each with a walk-in closet. Two full baths, one on each floor. Laundry (washer and dryer) is in the back porch/entry way. Multiple closets that are somewhat stocked for your use. Guests can access yard, including fenced in portion, but not the garage. The entire house is yours to use, except the basement. One of us (most likely Laura, Randy, or Trina) will welcome you to the house upon your arrival. We live less than 15 minutes away and are readily available by phone call or text.
The neighborhood is quiet, a mix of families and retired couples. An alley, not often used, is at the back of the property. There is no public transport in West Point, it's a great small-town that has everything you need within a five-minute drive.
Great! Really nice house. Quiet neighborhood in a sweet small town. Home is fully furnished with plenty of space.
Austin
March 2016
Great stay! Randy was more than accommodating and we really enjoyed our time in West Pointe!
Erin
March 2016
It's always a great stay definitely will keep using it when we go back for visits!
Laura
August 2016
Randy was very helpful and accessible during my stay. I had a couple concerns which he addressed promptly and cheerfully. Great host!
Jackie
July 2016
Great experience. Good communication. Very nice hosts. Easy to work with. What more can I say? If you need a place to stay in West Point, this is the place. More economical than a hotel, comfortable, and great neighbors. I really enjoyed my stay. Thank you Randy (to your family too). Next time I'm in the area, I'll definitely stay here..
Dave
May 2016
I didn't actually meet Randy, but we communicated through text. His home is very nice and welcoming.
Lori
September 2016
Great stay! My daughter loved the swing set! It was just what we were looking for.
Laura
April 2016
Randy was incredibly prompt and responsive. Our housing fell through last minute and Randy saved the day by getting back to us so quickly. I am grateful for his willingness to be creative on such short notice. The place is super cute, comfortable and peaceful. We would highly recommend it.
Jennifer, Jon & Tove
June 2016
Tipo de habitación
Casa/apto. entero
---
Tipo de propiedad
---
Capacidad
8
---
Habitaciones
4
West Point