Introduce la fecha de llegada en el formato dd/mm/aaaa
Introduce la fecha de salida en el formato dd/mm/aaaa
Anuncios que no requieren que el anfitrión acepte la solicitud.
Introduce las fechas para ver el precio total. Ten en cuenta que se aplicarán tarifas adicionales y es posible que se añadan impuestos.
En julio y agosto, podrás disfrutar de 100 de los alojamientos con las mejores valoraciones de Sonoma a precios muy diferentes y disfrutar de la cara más auténtica de la ciudad. Relájate y disfruta de tu estadía sabiendo que puedes hacer una reserva inmediata, llegar a cualquier hora y disfrutar del vino de la zona y de otros tentempiés.
Wall tent with a futon, cot bunk beds, and wood stove within driving distance of El Morro and Zuni. Guests will have the use of the stores showers from 7-8am with a breakfast burrito and small drink. There is a Port-o-Potty available during off time.
This is Glamping, we offer a futon and cot bunk beds. Bedding is available but you are encouraged to bring your own. There is a wood stove for heat and a small refrigerator. We are situated across the street from the Wild Spirit Wolf Sanctuary. GPS Coordinates, 34.914201, -108.485832 You will be able to access the stores showers from 7-8am, so that it is your time. As well as, a breakfast burrito and small drink included with your stay. PLEASE NOTE, do not use your GPS to get here, call ahead for directions!!!! We will be around most days except Mondays and will always be here for your assistance.
We are located across the street from Wild Spirit Wolf Sanctuary. 12 miles from El Morro National Monument as well as El Malpais National Park. We are located near the Continental Divide, sometimes the weather is not cooperative. There is also 4 miles of dirt road to get here. GPS Coordinates, 34.914201, -108.485832
We had a great experience at Michael and Tammy's! We ended up having a friend come along with us and Michael and Tammy were very welcoming. Perfect platform tent with fold out bed, bunks, wood stove, cube fridge and bedding and campfire ring. Included great breakfast burritos. ( Thank you Henry) .. Since the location is opposite the Wild Spirit Wolf Ranch you do have an upfront seat to fascinating nighttime serenades.
John
November 2016
Staying here turned out to be the perfect three day and two night getaway with kids. Driving in there is El Calderon and Fire and Ice to stop at and then the Wolf Sanctuary and El Moro for the second day. There is plenty of space on the inside of the canvas tent for 3 or 4 people. The wood burning stove works great for heat at night as does the outside fire pit for roasting marshmallows. The walkway is well lit at night if you have to get to the bathroom. There is a spigot for water at the main building so you'll have to carry your water a bit. The shower is nice at the main building and breakfast burritos are tasty. If you are interested in learning about the lava fields and volcanoes in the area I totally recommend staying here. : - )
Leah
October 2016
My kids and I had a great experience. The description is accurate. Everyone was very friendly and helpful. I suggest visitors call for specific driving instructions - (SENSITIVE CONTENTS HIDDEN)maps is not accurate.
Joanne
May 2016
We toured the Wild Spirit Wolf Refuge on Thursday and plan to be tent camping for the next two days, so a comfortable place to stay with showers and breakfast the next day sounded good. Indeed, we enjoyed our stay at the Candy Kitchen Glamping! It is not fancy, but comfortable. It is just a few feet away from the store with its deli, so we had a good supper at the store and slept well, showered and are looking forward to breakfast. There were two unexpected benefits of staying there: we heard wolves howling occasionally during the night and also saw the Perseid meteor shower!
Richard
August 2016
Tipo de habitación
Casa/apto. entero
---
Tipo de propiedad
---
Capacidad
4
---
Habitaciones
1
Pinehill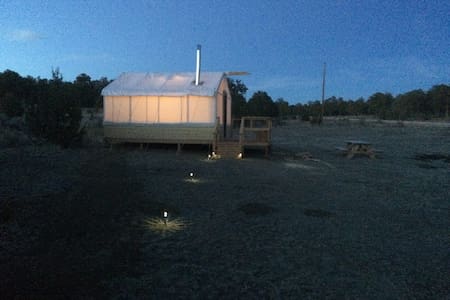 Eight miles west of the Continental Divide, 7,300 ft. in elevation, my house is at the end of five miles of dirt road. The guest room is approximately 500 sq. ft. with a private sitting area, bath & quality queen mattress. Mountain views.
The spacious guest room totals approximately 500 sq. ft. of privacy, offering a sitting area and a full bath. There are views out the large windows in the bathroom as well as the two windows in the bedroom -- which hosts a quality queen size bed neither firm not soft, a shabby chic decor and antique furnishings. My home is modestly appointed, inviting and clean. Outside the guest room is a large unfurnished den made into an art gallery with original paintings and decor for sale by several New Mexico artists. This room also hosts a private library of 600+ books including Tom Clancy's novels, a collection of biographies, books on herbal and alternative medicine, gardening, religion, interior design, and history. From the den is a private entrance / exit to a mudroom then to the outdoors, where a concrete slab may host a telescope focused on the northern sky. There is extensive wildlife in the area including elk, mule deer, antelope, bobcat, lynx, mountain lion, coyote, jack rabbits, cotton tails, kangaroo rats, chipmunks, squirrel and the occasion bear, badger and fox. Also there is an assortment of birds including golden eagles, hawks, ravens, bluebirds, woodpeckers and other common birds. Guests will have access to the great room which includes the kitchen, dining and living room, as well as having complete privacy in the guest bedroom and bath. Guests may walk the five acres around the house which are fenced, as well as stand or sit on the deck on the south side of the house where one can see for miles. I'm available in the evenings to visit, answer questions about sites to visit in New Mexico, and discuss local history until approximately 9 pm.
Pie Town really was named because pies were sold there; that is still true today. Most major TV networks have filmed specials on Pie Town for that reason. I work at one of those pie shops called The Gathering Place. People are often traveling NM Highway 60 on their way to the Very Large Array (VLA), El Malpais National Monument which is near El Morro National Monument (Inscription Rock), the Bosque del Apache National Wildlife Refuge, the Gila Wilderness, or their interest is observing the stars here in some of the darkest skies in the United States. Other travelers hike / bike the Great Divide. Because I live five miles away from NM Highway 60, I'm happy to meet guests in Pie Town where you may leave your vehicle overnight. Or we can meet at the highway between mile markers 49 and 50 where the main dirt road (Catron County Road AO51 on Google Maps) turns north, and you may follow me to the house.
Tipo de habitación
Habitación privada
---
Tipo de propiedad
---
Capacidad
2
---
Habitaciones
1
Pie Town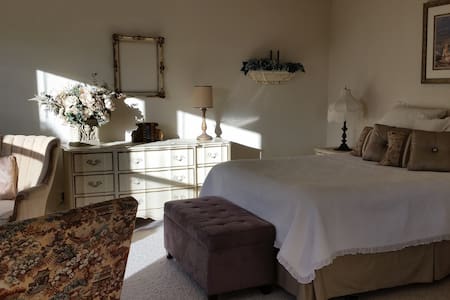 The strawbale casita has one bedroom with a queen-size bed, private bath, a sitting room with a queen-size sofa bed. It is part of a hacienda, off of a courtyard. Kitchen is available in the main house. Outside fire pit and horno available. BBQ grill available. We're on 20 acres, so plenty of room to roam.
The strawbale construction and clay plaster makes this casita cozy year-round. The rich colors make it comfortable and inviting. In true hacienda style, each room has it's own entrance and your casita is completely private. In the main house, you'll find the kitchen, living room, dining room, and if you need it - the laundry room. The style changes from Mexican to southwestern. The floors are adobe and sandstone. The passive solar construction keeps the house cool in the summer and warm in the winter. On those extra cool nights, you can curl up with hot cocoa in front of our wood burning stove. You'll have access to the main house kitchen, dining room and living room. We have an outdoor horno for making pizzas, etc, a fire pit, and porches for just hanging out. Plenty of acreage for walks, close to BLM land and three National Forests. We can recommend local hikes, rock hounding spots, and attractions. If you enjoy talking or playing games, we're in. If you'd rather be left alone - that's okay too. If you'd like to dine with us, you're more than welcome. If you'd rather cook your own food there is a grocery store in Springerville, AZ or we can recommend restaurants.
We are 26 miles from the nearest town, so the only nighttime hotspot is under the stars. If you're from the city, you'll be shocked by our skies. You haven't really seen the stars till you've seen them in our Catron County dark skies. The milky way is so brilliant, it can take your breath away. If you're a star-gazer, this place is for you. Some people are taken-aback by the quiet. You might hear the occasional car if the wind is right, but mostly it's just bird song and coyote howls. Our home is at an elevation of 7300 ft. We are surrounded by BLM land and there are 3 National Forests very close by. You can go from high plains to tall pines in 30 minutes. The Sunrise Ski Park is about an hour away - open year round for both summer and winter fun. Easy day trips include Casa Malpais Archeological Site, Mogollon Ghost Town (open in summer only), El Morro National Monument and Inscription Rock, Painted Desert, Petrified Forest, Albuquerque Old Town, Acoma Pueblo (the oldest in the United States), several casinos, El Malpais National Conservation Area, Ice Caves, the Bosque Del Apache Wildlife Refuge (home of Festival of the Cranes), The Very Large Array, The Lightning Field, Hubbell Trading Post National Historic Site, multiple hot springs, several fishing lakes, and miles of hiking, horseback riding, or cross-country ski trails. If you want to go out to eat, there are good restaurants in both Quemado or Springerville, AZ. Pie Town is nearby if you're hankerin' for a piece of pie. There is no public transportation. Our home is located on a dirt road, but the roads are fairly well maintained. During monsoon season (July and August), it could be muddy, but front-wheel drive is sufficient. The county road leading to our property can become a bit "washboardy" , but if you drive slowly, you'll be fine. We have a cat and a dog. While they won't be in your casita, they are members of our family and will be in the main house and on the grounds. And just so you know, cell phone coverage is spotty in Catron County, and completely absent at our house. We don't have TV, but we do have internet with WiFi. Streaming movies is an option. The house is chemical-free, from the construction materials to the cleaning products. In the summer, you're welcome to help yourself to whatever may be growing in my garden. The hot water heater in the casita is only 10 gallons, so if there are multiple people, either limit your shower time or space your showers out. Also, we're on a well, so multiple people using water at the same time may reduce the water pressure some. If you're arriving/leaving early morning, early evening, or night, be extremely cautious while driving. The elk population is substantial and elk vs car is a common occurence. I'd hate for our first meeting to be in my capacity as an EMT.
I had a wonderful stay with Sher and Gene, their place is just beautiful. Set on acreage surrounded by pinon pine and juniper, jackrabbits, birds and native wildlife, Sher and Gene have built a homely straw-bale house using natural materials and no chemicals. The casita that I stayed in was spacious and decorated with minute attention to detail, from the cute animal tracks in the tiles to the intricately painted wash basins. They welcomed me into their home for meals and I very much enjoyed my interaction with them and their lovely dog and cat. My dog loved romping on their acreage, and I loved the views and fresh air. If only I could've stayed longer! This place truly is a gem.
Ruth
September 2015
This was an absolutely amazing experience for our family. Our kids were a bit nervous about the idea of an Airbnb and they ended up loving it so much they want to do it again and again. Sher and Gene were the most amazing hosts anyone could ask for. Communication with instructions was top notch and EASY. We enjoyed dinner with Gene and Sher making pizzas in their outdoor pizza oven. Breakfast in the morning was over the top with breakfast burritos. The kids loved our rooms and hearing about how the straw bale home was built. The countryside was beautiful and a perfect temperature. The family enjoyed taking walks and enjoying nature. We were well rested for the rest of our journey. We will be back soon and tell all our friends about this amazing place and people.
Tami
July 2016
Very luxury and comfort room. Kind host. Wonderful environment. Everything is perfect to stay. Thank for delicious dinner.
chul
September 2015
When we arrived Sher was waiting at the highway to be sure we found the turn to the house. She and Gene were welcoming in every way. They are an integral part of the little community of Red Hill and we even got to meet some of their neighbors. If you are an artist, a nature lover, a natural builder or just like being in a super healthy environment this is the place for you. It's convenient to "The Lightning Field" and the town of Springerville and the White Mtns. The Very Large Array is not so far and is a fascinating place to experience on the plains. We like going to Pie Town for lunch or dessert. There's a pie festival every September! Best of all is the strawbale casita guesthouse. With custom plasters (throughout the house) and sweet decorative touches we felt nested. Quiet doesn't describe the nights in the Browns' hacienda. Love the courtyard, the main house, the views for many miles! There're relief murals on the casita and the main house. The love of the land of New Mexico is evident everywhere. Just go, I tell you!
Rich
August 2015
The Stawbale Casita was everything listed and more. Sher and Gene went out of their way to make us feel comfortable and to explain straw bale architecture, local hikes and points of interest. We always felt included in any of their activities, were introduced to their friends, and were even included in a gathering of friends they had over for dinner that night. Our room was private and extremely comfortable. We were here during the local monsoons so it did rain, but generally not until 2 or 3 and we had sun the rest of the day. Nights were cool but perfect for an open window. Closing the windows during the day kept the coolness in. Loved the colors, thick walls, and wood. Only wish we could stay longer. Our dog was very happy too. An abundance of Jack rabbits and cotton tails kept her occupied. We walked in the am with Sher and Perricita, both dogs running here and there taking in all the wonderful animal smells. We were lucky to catch a cloudless night and experience the New Mexico starlit sky! Will we come back? Absolutely!
Ron
July 2015
Gene and Sher made me feel very welcome. The room was very stylish and comfortable. It was a five-star experience.
Michael
June 2016
Sher and Gene are excellent hosts. Their home is beautiful and clean, and the casita is private and cozy. They are located in a stunning location, and went out of their way to make our stay a great one. Already planning to book again in the future!
Sarah
February 2016
Sher met us on the road and guided us down the road to the awesome casita. I was so grateful to have found her place, as there are few accomodations on this stretch or road. It was just lovely, a great experience. Clean, warm, well appointed. Great conversation and snacks. Thank you for being so gracious.
Mary Beth
May 2016
Tipo de habitación
Habitación privada
---
Tipo de propiedad
---
Capacidad
4
---
Habitaciones
1
Quemado