Beautiful guesthouse with deck, hot tub and pool in a charming Village. Guesthouse has one bedroom, living area, small fully equipped kitchen, and full bath. WIFI and cable are also available. Living area overlooks pool and gardens. Also includes garage parking with garage remote. Check in is 3:00 pm - check out is 12:00 pm. However, we are truly flexible if we do not have other guests booked later that day. Please check with me for times. We are accommodating!
Why stay with us? Let's us summarize for you the reasons why: - You will have have your own private building with separate entrance; - You will have a full kitchen with stove and oven, refrigerator, microwave, coffee maker, toaster, kitchen accessories (gas grille too); - We provide a full breakfast (quiches, homemade waffles and muffins, fresh fruit, etc.) - You will have a living area with cable tv and wifi with a bay window overlooking gardens and pool; - You will have a beautiful bedroom with luxurious bedding on your queen size bed (2 dressers and full closet too); - You will have a full bath with toiletries, hairdryer, and plenty of beach and bath towels; - You will have your own garage with keyfob (you may store bikes here too); - You will have access to a hot tub for star gazing or our favorite early morning coffee with beautiful sunrises; - You will have access to a large pool with many chairs and lounge chairs; - You will have many books and games within the guesthouse for relaxation; - You will have a round table by the pool for meals or a larger table on our 1,000 square foot private deck; - You are two miles from the most gorgeous park ever - Green Lakes State Park as well as the Erie Canal is nearby; - Our neighborhood is extremely quiet and safe and close to many eateries, boutiques, shopping, etc. and not far from 481 N&S, 81 N&S, 690 E&W, and the Thruway; and - Last, but not least, Mark and I work extremely hard to make sure you have a fantastic visit in Fayetteville. We love giving you daily excursion tips as well as nearby restaurant recommendations. Again, much more than any hotel! The guesthouse is perfect for business travel, a romantic couple getaway or a single adult in need of relaxation and quiet. As a rule, no more than 2 guests. You have your own privacy with the guesthouse being a separate building that has everything you will need throughout your stay. Worth mentioning is our backyard is truly paradise in the summer. Totally private, abundance of gardens, and the best relaxation ever by the pool.
We live in a quiet village neighborhood with restaurants, grocery stores, parks, shopping all within a few minutes of the house. The outstanding Green Lakes State Park and Erie Canal are two minutes away for your morning run or walk. Syracuse and SU are 10 minutes away. Within the guesthouse are hundreds of brochures of beautiful sightseeing areas, parks, and Finger Lake villages all within your reach. A must to visit is Cazenovia and Skaneateles both on the lake with stellar villages to shop. Please view our pictures which will give you a good feeling of nearby places to visit.
Donna and Mark were excellent hosts. We were welcomed with home baked cookies and a choice of delicious breakfast foods. Donna's instructions were accurate. We enjoyed the use of the pool and hot tub and the quiet neighborhood. For persons not familiar with the Central New York area, the hosts have compiled a volume of information regarding places to visit, outdoor activities and local restaurants. This is a great place to stay for one or two people with delightful hosts.
Debbie
2016-09-05T00:00:00Z
Donna and Mark started communicating with us almost a week before our trip. Asking when we would arrive, our preferences for breakfast and giving us tips on how to use the property. A piece of me wishes I was going there again, just to receive the kindly worded e-mails. When we arrived we were treated by Donna and Mark and introduced to the lovely dogs on site. We opened the doors to the cottage together and WOW. Our names were inscribed in chalk, there were seven bags of coffee in various flavors, breakfast quiches precooked the freezer, chocolate cookies on counter and snacks for our arrival. And, this was only the kitchen and dining area. The bathroom was fully stocked with toiletries for in case you left yours. There was a guidebook (binder) filled with restaurants, activities to do (state parks, wineries) nearby and everything in between with ratings . The bedroom was opulently decorated making you feel like you were in the best bed and breakfast the world ha to offer. The linens were clean and there was extra. The best part was having the most beautiful pool and hot tub to ourselves. We used two pool floats (there's a shed filled with them for you to use) and watched the stars. It was so romantic. I wish we could go back already.
Megan
2016-08-14T00:00:00Z
Donna by far is an over the top host...super host Donna, Ollie and Hoover met us upon arrival with warm open arms and paws... The guest house was perfect for our short stay...she knows the area well and suggested Hullar's for a burger and beer...we sat at the bar and Ira, bartender, was awsome. Hullar's is very reasonable The hot tub on a cool end of September evening with a sky full of stars was amazing...pool towels supplied Munchies all over the guest house, no matter what you will gain a few lbs staying here The assortment of homemade breakfast goodies made it difficult to choose what to have for breakfast There is an assortment of toiletries, if you forgot something she has it for you. O yes our auto had a special treat also, we had the honor of parking in her garage during our stay We do plan on returning to the guest house in the future, Syracuse looks like a fun place to hang out for awhile
Frank
2016-09-30T00:00:00Z
Donna's guesthouse was *the* perfect accommodation for our trip to Fayetteville. She's thought of every detail and welcomes you with delicious homemade goodies! Donna was extremely responsive and available if we had any questions. We hope to return again later this year!
Janet
2016-06-30T00:00:00Z
Donna was very good about providing timely and accurate responses to my emails. Her husband Mark was there to let us in the guesthouse when we arrived. Donna came by later and also gave us a very warm welcome. The guesthouse is cute with a living room, kitchenette, separate bedroom and bathroom, all decorated very tastefully. And they provided plenty of items from the grocery store to get our day started. Much appreciated. We will plan to stay here the next time we're in Syracuse. Thanks
Lee
2015-10-26T00:00:00Z
This was my first Airbnb experience, and it simply couldn't have been more pleasant! Donna was thoughtful and gracious, and the guest house is lovely. My only regret is that I couldn't stay longer...hopefully I'll be able to return soon!
Joan
2016-07-15T00:00:00Z
The experience and setting was fantastic. What was to be an emotional experience (dropping my daughter at Syracuse) was made easy and effortless because of my lovely hosts. Donna and Mark really went out of their way to make me feel like family and on my last night let me join them for dinner on Lake Cazenovia. I highly recommend their guest house.
Valerie
2016-08-28T00:00:00Z
Amazing place. Pool, hot tub, baked goods, a fridge with food, a very comfortable and clean guest house with everything you would ever need. Donna was super helpful and very, very nice. We loved staying with them.
Carlos
2016-07-18T00:00:00Z
Tipo de habitación
Casa/apto. entero
---
Tipo de propiedad
Casa
---
Capacidad
2
---
Habitaciones
Fayetteville, Nueva York, Estados Unidos
Moscow Nights, a 4,500 SF house built in 1830, features original Art from world renowned artists. It's a totally unique place to stay in Central NY, for travelers, history buffs, & Russophiles. As the historic mansion is renovated, watch Italian Plaster applied to the walls by skillful artisans, Visit in April and witness the 'Moscow Cathedral' Mural being painted in the Dining Room. Ask about Classes You can take yourself. Languages spoken: English, Russian, Spanish, German and hospitality!
The historic house, long a fixture on the CNY B&B register, is convenient to a wide variety of Restaurants, Syracuse Art & Culture, Destiny Mall, and it's a snowball's throw from Green Lakes State Park and several Ski Mountains. The House, built in 1830, exudes history with original wide plank flooring, doors galore, high ceilings, tall windows in light flooded rooms, original Chandeliers, a Baby Grand Piano, and an original carriage house out back. All this - with a Peterhof Palace renovation in the works. The house is resplendent with Fine Art, Cozy Warmth, Good Conversation, a Convenient Location and (upon request) ..Organic meals. Moscow Nights is for music lovers, art lovers, business travelers, individuals, small groups and perhaps your well behaved dog; (Dogs are slightly extra - Woof!)
Moscow Nights (Formerly the Morgan Beard House), situated in the historic section of the Village of Fayetteville, is walking distance to the Historic Fayetteville Library - formerly the Stickley Furniture Factory - and Now Stickely Museum; also to Starbucks & other coffee shops like 'Freedom of Expresso', the Fred Astaire Dance Studio, and much more. Green Lakes State Park is a 5 minute drive; Syracuse University, Lemoyne College and OCC are just minutes away. Between the outings and our Classes, you can either relax and enjoy, or leave here a learned person!
A lovely house with super friendly hosts. A comfortable house with really great beds and soft warm duvets. Nothing too much trouble for the hosts. The artwork in the house is very special. A very positive experience.
Karen
2017-03-23T00:00:00Z
Moscow Nights is a wonderful place to stay! The rooms very clean and well decorated. Bathroom amenities such as jacuzzi/hot tub and heated towel rack were very much appreciated. We were given information about kitchen use and opportunities for sharing meals in this family home. We enjoyed a very delicious organic meal in a clean and cozy kitchen by the warmth of a wood stove! (an add-on to the overnight rate.) The history of the home which was built (@ 1813?) is in evidence in the architectural details and there are also some very interesting furnishings that may not be quite as old but still quite interesting. The hosts are each interesting and giving of their time and have unique stories to tell. They each have their own perspective on labor as and as art as . Visitors should take them at their word when they state that the residence is a work-in-progress. Our individual room and bath were complete but the overall project is still in full view. We considered that part of the charm ... but some might be put off by the occasional can of paint or gentle slope to a floor. The location is splendid both in terms of access to the quaint town but also easy access to Syracuse University, Upstate Medical Center and downtown. Bottom line -- we recommended it to some of our artist (and real estate) friends and relatives during our extended stay. We look forward to the home's restoration and will definitely inquire during our next trip north!
Phil
2017-01-15T00:00:00Z
This is a beautiful place to stay! The bed is very cozy, the shower very warm, and the hosts sweet and gracious. If you're looking for a cool and unique place to get a good nights sleep, I'd definitely recommend staying with Victoria and Andre!
Kathleen
2017-03-30T00:00:00Z
My daughter and I stayed in a beautiful, quiet spotless room. We had a great night! We highly recommend!
Jennifer
2017-02-22T00:00:00Z
It was a complete pleasure to stay and connect at the Moscow House! The room was very private and I loved being treated to a wood burning stove in the kitchen with some homemade hot chocolate on a snowy winter night! Well played by this awesome host. I choose the option to share a meal w/ Victoria and family and it was an added bonus to share this connection! Also, it is walking distance to Fayetteville's town square and was perfect for my stay on a cold winter's night. Highly recommend if you are near by and need an awesome place to unwind.
Brian
2017-01-11T00:00:00Z
A very pleasant home in the middle of Fayetteville with a welcoming host and hostess and son.
Sarah
2017-04-10T00:00:00Z
Old charm merged with new features, the house is a piece of Art. The room has high ceilings and a great view. Victoria is a great host and has very interesting art stories to share. Very recommended.
Haggai
2017-02-26T00:00:00Z
Victoria and Andre were very welcoming and accommodating. They were so sweet to include me in their family dinner the first evening and to even clean off and start my car the next morning after some fresh snowfall. I had some good conversations with Victoria, and really admired Andre's art, which is incredible and adorns much of the house. I was in the guest room with the double bed, and it is a very nice and quiet part of the house with a private bathroom and no other rooms nearby. I slept well and Victoria included guest towels, soap, shampoo and conditioner in the bathroom. As other guests have mentioned, the house is undergoing renovations but the guest rooms are finished and very nice. They have a cozy wood stove in the kitchen and two dogs who are very excited to meet people. The B&B is in a quiet and safe part of town. Good morning coffee :) Thanks for an excellent experience! This a nice, quiet place for travelers of ages.
Carolyn
2017-02-18T00:00:00Z
Tipo de habitación
Habitación privada
---
Tipo de propiedad
Bed & Breakfast
---
Capacidad
3
---
Habitaciones
Fayetteville, Nueva York, Estados Unidos
Our home is in a quiet neighborhood, a good place to rest or walk; easy walk to trails in Green Lake Park. Your room has a comfy full-sized bed. Share our LR and newly-renovated kitchen. 20 min from downtown Syracuse and SU.
The bedroom is simply furnished with a double bed, dresser and closet space for your use. Your bathroom is next door.
We live in a development that is a bit out-of-the way, so it is quiet and peaceful. People of all ages and dogs walking, children on bikes. Lots of trees. Green Lakes State part is literally next door, so available for short or longer hikes.
This was our second visit and we were as comfortable as we had been the first time. Rosemary and Leon are remarkable people and it is a pleasure to stay in their lovely home. The proximity to the Lake is great and I went for a run there both days. My husband and I highly recommend Rosemary and Leon's comfy room very near Green Lakes.
Holly
2016-05-21T00:00:00Z
Very friendly and comfortable stay. The nearby park with hiking trails is a gorgeous amenity!
Judd
2016-05-28T00:00:00Z
It's so great to stay at Rosemary's house. It's very clean and comfortable. She and her husband were very nice and kind to us. We like everything there, the room, the food, the air, the scenery, etc. I want strongly recommend her place to anyone who want to stay in Syracuse
Linhai
2015-04-20T00:00:00Z
I was just dropping my son off to college and needed a place to crash after the long journey. We got there kind of late and that was not a problem. Rosemary's place is really lovely. There is a great deck to have tea (not coffee) in the morning and look at the hawks. The bed is comfy and room really clean.
Patricia
2016-08-28T00:00:00Z
A great night's sleep! Thank you so much. Rosemary and Leon were very welcoming and responsive. The room is very comfortable.
Hazel
2016-04-03T00:00:00Z
Rosemary was a great host and offered many suggestions for our stay. We appreciated the safe neighborhood and clean, well kept area.
Courtney
2016-07-25T00:00:00Z
My stay was for a period of eleven nights in a quiet neighborhood close to the area that I wished to visit. The bed was comfortable and the bathroom was clean and had very good water pressure. I am a very early riser leaving this family's house usually around 6 in the morning so there was no morning interaction and returning in the evening I usually went straight to the bedroom for a good night's sleep. It was a comfortable stay and convenient for my travel itinerary.
Jim
2016-06-21T00:00:00Z
Rosemary and Leon welcomed us into their home with open arms. We were in town for a wedding and they helped us get an idea of what there was to do in area. The home is located in a quiet neighborhood right next to a beautiful state park. The room, bathroom, and kitchen were spotless. We felt completely at home during our stay and Rosemary even left breakfast out for us on the day of our departure. We will definitely stay here again when we are back in town.
David
2015-06-08T00:00:00Z
Tipo de habitación
Habitación privada
---
Tipo de propiedad
Casa
---
Capacidad
2
---
Habitaciones
Fayetteville, Nueva York, Estados Unidos
We are offering our upstairs with a large bedroom with a queen bed and private bath with double sinks and full tub and shower. You will be the only guests with no one else sharing the space. Breakfast will be oven baked French toast & fresh fruit.
Large comfortable bedroom with queen bed. Keurig coffee maker & mini frig in room. Ceiling fan. Wifi. The door locks for your privacy. The bathroom is next door. Breakfast will be served in our dining room or on the patio.
We are on a quiet safe dead end street. Free parking in our driveway.
This was my first airbnb experience and what a wonderful start. Mary and Bruce could not be more welcoming and accommodating. The room was large, clean and comfortable. There was both a refrigerator and coffeemaker in the room. The room has a private bath down the hall, again bright cheerful, well stocked (my daughter found some special conditioner there that she immediately went out to purchase), and clean. Mary capped the experience with a wonderful Sunday morning breakfast. Again thanks for a wonderful start to using airbnb!
Mark
2015-09-27T00:00:00Z
From the moment Mary opened the front door to two weary travelers we knew that we had made the right decision in booking the room in her lovely home. She (and her husband) are extrememly friendly and made us feel welcome immediately. The room we stayed in was very large and had everything we needed. The refrigerator with the bottled water was a nice surprise, as was the coffee machine. The private bath had everything and more that we would ever need! We didn't spend much time at the house, as the weekend was full of Syracuse University graduation activities, but when we were there, (mostly at breakfast, during which we enjoyed her incredibly delicious french toast and fresh fruit), we had the opportunity to talk with both of them. What a warm, down-to-earth couple!
Arlene
2016-05-16T00:00:00Z
Mary was very welcoming, made us feel right at home, great accommodations, comfortable and private. Ended with a terrific breakfast, with French toast to die for!! Highly recommended.
Randy
2014-10-19T00:00:00Z
Mary and Bruce were very friendly and welcoming hosts. The neighborhood was quiet and beautiful we eve saw some deer in the back yard which was very lovely. Enjoyed our breakfasts and Mary even accommodated my husband by making something he would enjoy since he was not a fan of french toast. I on the other hand will rave about the French Toast it was fabulous!! We slept soundly and comfortably and were refreshed to travel the many hours we had ahead. It was clean and roomy. We highly recommend it for future travelers.
Dan
2016-06-27T00:00:00Z
Mary and Bruce were fantastic during my stay! Very welcoming and inviting, and Mary made amazing french toast and fresh fruit in the morning. The pictures and listing are accurate, and the bathroom is fantastic. Nice and quiet neighbourhood. Would definitely stay with them if I'm in the area again. Highly recommended!
Paul
2015-10-11T00:00:00Z
Mary and Bruce were great hosts and I enjoyed my stay with them. If you have to be in Fayetteville for any reason - this is a great place with very warm hosts. Very quiet place on a nice street in Fayetteville.
Dave
2016-08-01T00:00:00Z
Tipo de habitación
Habitación privada
---
Tipo de propiedad
Bed & Breakfast
---
Capacidad
2
---
Habitaciones
Fayetteville, Nueva York, Estados Unidos
Our comfortable and spacious home is just a 12 minute drive to SU. A great home base for SU games, parent visits and graduation. An affordable option for families or the business traveller seeking a unique home setting
We live in a residential neighborhood with easy access to I-90 and I-81. We have lived here 10 years and believe that we can be anywhere in Syracuse in 15 minutes. Some of the best restaurants in the area are within a 10 minute drive- Arad Evans, Pascals, Alfa, Dark Horse, Limestone Grille. Within the same time frame are family choices like Olive Garden, Carabbas, Red Robin, Chilis and Pizzaria Uno.
Barry and his wife were gracious hosts, and warmly welcomed our group into their home. The basement was the perfect place for our group to gather— it was cozy with lots of seating and room to move around and the wet bar was equipped with a microwave and mini fridge for our use. Our group spent every night in front of the fire relaxing and drinking tea. Our bedrooms were very comfortable and had everything we needed. Barry was happy to share with us recommendations for local places to eat and shop. The house itself was beautiful and very clean and well maintained, and located in a very nice suburb with everything we needed minutes away. Thank you for a great trip!
DTI
2016-02-02T00:00:00Z
The host canceled this reservation 96 days before arrival. This is an automated posting.
Dawn
2015-06-21T00:00:00Z
We felt like we were staying with family. These guys were so nice and helpful. Around enough to answer questions but had plenty of privacy, too. They take great care of their home and made sure we were very comfortable. Thanks!
Sam and April
2016-10-04T00:00:00Z
A wonderful Syracuse graduation weekend was made even more special by staying at Barry's wonderful home. It was a convenient oasis from all the activities of the special weekend. Thank you so much!
Michael
2016-05-17T00:00:00Z
The hosts were so nice and welcoming! It was really close to my Corp office and perfect for myself and my 3 coworkers. The home was lovely, the hosts were helpful and provided a great breakfast each day. I would highly recommend this location.
Tracey
2016-08-25T00:00:00Z
I have used Airbnb twice before, and had wonderful experiences, but Barry and Pattie completely exceeded my expectations. We had a family funeral and little time to find accommodations for myself, my kids, their spouses, and my grand babies. Barry responded to my request immediately and we had everything finalized within a few hours of my initial request. A huge weight lifted off my shoulders, as I was beginning my travels later that day. After a long day of driving with an almost 2 year old, we were warmly greeted with a glass of wine and snack. Our rooms were beautiful, spacious, and very comfy. Each morning a yummy, healthy breakfast was enjoyed in the sunroom, overlooking their large, private backyard. We had fun playing on the swing set one sunny afternoon. Evenings we all relaxed in the huge, comfortably finished basement while the little ones played with the toys there. The location of their gorgeous home was ideal for our needs and in a very safe neighborhood. We will need to find an excuse to travel to Syracuse again to visit our new friends Barry and Pattie.
Patti
2014-10-08T00:00:00Z
Barry and Patty were/are excellent hosts! They made our family feel welcome from the start. Their home is very comfortable, cosy, clean and they are as they say just a "quick hop" to the dome and downtown Syracuse. Our family was able to really be at home during our trip and felt very comfortable relaxing together in their house. We can't say enough about how much we enjoyed the Miller's hospitality and their home's amenities.
Sarah
2015-03-30T00:00:00Z
Tipo de habitación
Casa/apto. entero
---
Tipo de propiedad
Casa
---
Capacidad
6
---
Habitaciones
Fayetteville, Nueva York, Estados Unidos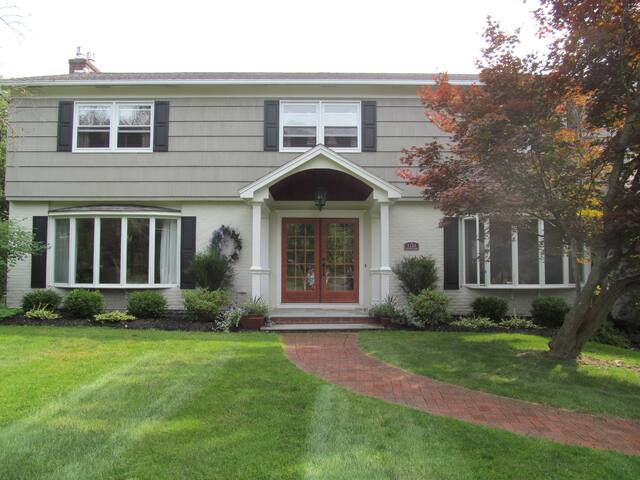 This queen room has new carpeting, bed/bath linens in a lovely suburban home 12 minutes from SU and downtown Syracuse. HDTV and loveseat make this space comfortable and relaxing. Perfect for SU/LeMoyne parents/visitors and business travellers.
This large room all the amenities of a modern hotel, but the feel and comfort of a lovely "b &b".
Our home is located with easy access to I-81 and I-90. In the 10 years we have lived here we have discovered that we can be almost anywhere in Syracuse within 10-15 minutes. We are close to some of the best restaurants- Pascale's, Notch 8, Dark Horse, Arad Evans and Limestone Grille, Scotch and Sirloin. 5 minutes from Wegmans!
Barry was friendly and welcoming. He greeted us and chatted for a while even though we arrived late in the evening. The room was very comfortable and nicely decorated. Towels, toiletries, extra pillows - were all there for us. Everything was immaculate, including the rest of the house and outdoor pool and yard. We had an extremely comfortable stay hope to return next year for a longer weekend. Highly recommended!
Emily
2015-06-22T00:00:00Z
What can I say? Barry and Pattie were the most gracious hosts; very welcoming and very accommodating. Their home is just lovely, sitting on a beautiful, quiet piece of property. The accommodations were EXACTLY as described. A spacious, comfortable, beautifully appointed bedroom, and a nice large bathroom - both spotless. I was made to feel comfortable and at home immediately upon my arrival. I would 100% recommend the space to anyone looking for a gorgeous retreat-like setting, lovely accommodations and lovely hosts. (Did I mention they were lovely?) :) Thank you, Barry & Pattie, for making me feel so at home and making my visit to Upstate even more special.
Cathy
2015-06-15T00:00:00Z
Barry and Pattie were very gracious hosts. We had lovely conversations. Barry met us, even though we arrived late. The accommodations were even nicer than expected. Plenty of privacy, yet ample opportunity to visit and get to them. We would definitely stay with them again, if we return to the area.
John
2016-06-21T00:00:00Z
Tipo de habitación
Habitación privada
---
Tipo de propiedad
Casa
---
Capacidad
2
---
Habitaciones
Fayetteville, Nueva York, Estados Unidos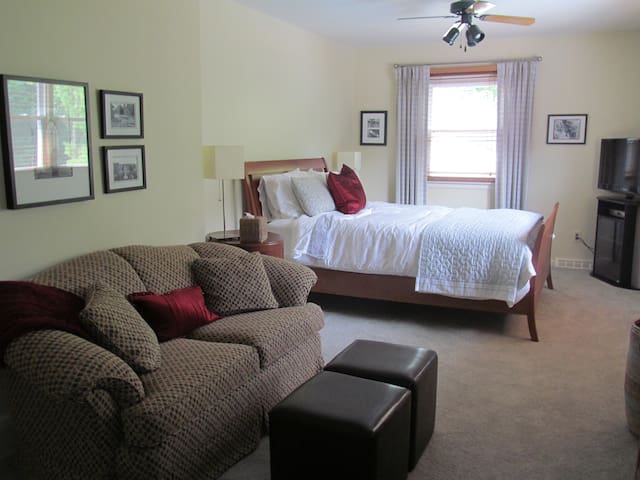 Retreat home offering peace and tranquility in Fayetteville N.Y. Use of internet and cable, & light use of laundry and kitchen. Great corporate career transitions conveniently located 10 minutes from Green Lakes & Towne , 20 to airport. Near ski resorts , wine trails and finger lakes are nearby to enjoy the many seasons.
The neighborhood is quaint, private and quiet and within 5 minutes to a shopping center, Green Lakes State Park and golf. Carrier Circle and downtown Syracuse, N.Y. 20 minute drive.
Tipo de habitación
Habitación privada
---
Tipo de propiedad
Casa
---
Capacidad
2
---
Habitaciones
Fayetteville, Nueva York, Estados Unidos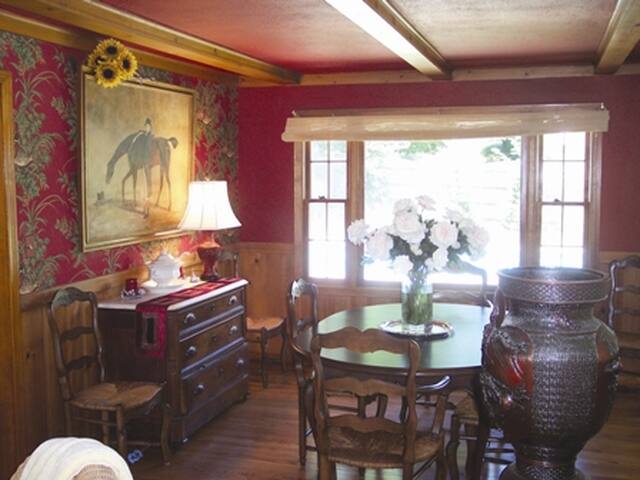 安静,宽敞的卧室设有私人浴室。幽静的后院阳光明媚的甲板上! 中央纽约就是这样 - 中央!除了是来自大学,医院和Syracuse市中心分钟;我们是从当地的公园,手指湖,阿迪朗达克和千岛群岛20分钟至2小时。来放松。工作或玩游戏。
你的房间在我们家的二楼与我们的宁静后院的景色。它是直接旁边的私人浴室。我们欢迎您在整个楼下,并鼓励你放松或吃在甲板上。我们有一些快速的早餐项目一个简单的自助式咖啡/茶站,这取决于我们所回升。你不会相信,我们是多么接近这么多(包括雪城大学)!在回应一些评论,我们有一个床垫可为那些喜欢谁稍软些的床。
我们生活在一个安静和私人居民区的方便,这么多!我们有街边停车车道的顶部。
Excelente!! Holly nos recibió muy bien a pesar de la hora en que llegamos y nos hizo sentir comó en casa. El lugar es hermoso, limpio y amplio. Está situado en un pequeño paraíso rodeado de pinos, luz y tranquilidad! Ideal para quien quiere descansar y relajarse en un lugar rústico moderno, impecable, con WiFi y a sólo 10 minutos en auto de la Universidad, Shoppings y otras atracciones de Syracuse. Una casa lejos de casa.
Anai
2016-08-21T00:00:00Z
Our two-night stay was our first Airbnb experience, and it could not have been better. Anna was away, so Holly was our host. She was clear and accurate in communicating, very accommodating during our time there, and a great conversationalist as well. The room was clean and bed comfortable. It was very quiet and restful at night. The bath is not ensuite, but next door, and not shared. Holly's single medium sized dog, Parker, is quite socialized around guests. We would look forward to staying here again when next in the area.
Neil
2016-07-16T00:00:00Z
I have stayed in many Airbnbs and I must say that this home is fantastic. Holly is lovely and friendly and helpful. Anna her daughter is very communicative and responsive. The house is SPOTLESS and beautiful, the room quiet and quaint and the bathroom is brand new and great. I was visiting my son at Syracuse University and it was a 10 minute drive. Safe, beautiful neighborhood as well. I have nothing but the best things to stay about this home and the very affordable price.
Aileen
2016-10-31T00:00:00Z
Anna's home is situated in a really quite neighborhood. In the night, all you hear is the wind in the trees and in the morning the birds. The house is very clean and cosy decorated. We felt at home immediately! We could help our self to tea and coffee any time we liked and greatly enjoyed staying with her!
Sarah
2016-05-17T00:00:00Z
Beautiful house in a beautiful neighborhood. Very close to down Syracuse / Syracuse University, and an easy 15 minutes commute. The house was immaculately cleaned and maintained, and it was easy to feel very comfortable there. The bed was very comfortable, the bathroom was right next door and everything was very inviting. I would definitely stay again!
Susan
2016-08-26T00:00:00Z
Staying with Anna and holly was a great experience. This was our first time using Airbnb and they certainly went above and beyond as hosts. We were new to the area and they gave us numerous tips about the local area, and we're very accommodating. If we visit the area again we will Definitely try to stay with them again.
Kevin
2016-08-26T00:00:00Z
Great accomodations. Definitely recommended
Bill
2016-12-02T00:00:00Z
We thoroughly enjoyed our experience. The house was very clean, spacious and comfortable. Holly, the owner and host, was very friendly and accommodating. She made us feel very much at home. It was nice to have coffee and breakfast treats waiting for us in the morning. The house is located in a very nice, private country setting with ease of access from major roadways. We found the location to be central for sightseeing the Finger Lakes region and Oneida Lake. We had an awesome time and enjoyed our trip.
Fernando
2016-05-30T00:00:00Z
Tipo de habitación
Habitación privada
---
Tipo de propiedad
Casa
---
Capacidad
2
---
Habitaciones
Jamesville, Nueva York, Estados Unidos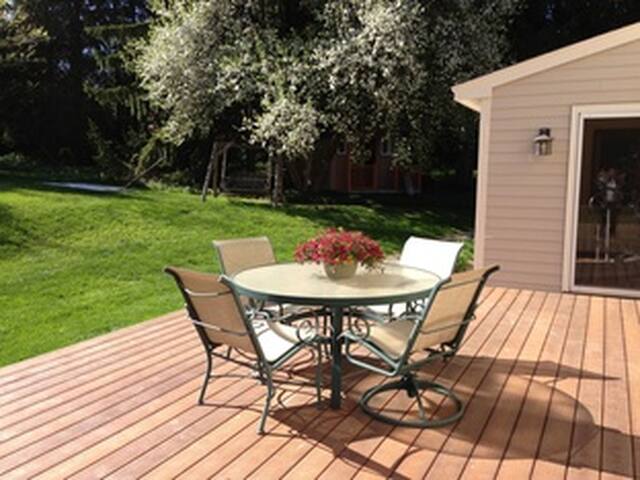 It was my first time using Airbnb and truly had an amazing experience, Mandy was very helpful. As a medical student it was everything I needed, the private entrance, bedroom, living room which I used to study, peaceful neighborhood and it was right near downtime Syracuse. I would highly recommend the place.
Joseph
2016-09-11T00:00:00Z
This apartment definitely met all of my expectations. Everything was very clean when I arrived and I found it to be a comfortable, welcoming space. The kitchen has lots of pots, pans, cooking utensils, etc., there's a good-sized closet (with hangers) and dresser if you bring a lot of clothes like I did, and all appliances (oven, fridge, microwave, stove, washer/dryer) worked properly. Cleaning supplies are also provided so it's easy to keep everything looking nice. Mandy was traveling during my stay but when I emailed her with questions or concerns she responded quickly. As far as the location, it seems like a nice area. I went for walks most evenings and always felt completely safe in the neighborhood. It's also just a short drive to grocery stores, Target/Wal-Mart, and the interstate. A couple of minor points that might be worth noting: 1. The bed is comfortable for one person but I think it would be a bit small for two people. 2. The bathroom sink backs up when you run the washer, so I don't recommend leaving any items sitting next to the sink or they'll get splashed.
Christine
2015-07-21T00:00:00Z
Mandy was an excellent host. We enjoyed our stay despite a few minor issues which were taken care of very quickly. Great place if you are a medical student rotating at SUNY Upstate. Thanks Mandy!
Robert
2015-09-14T00:00:00Z
CAUTION! The day I moved in for a 3 month stay, I ended up cleaning the bathroom and refrigerator due to mold and wiping down all the spider webs throughout the apt. The walls are in desperate need of paint and it smells like mold and mildew This apt is in the basement with no way to control the heat or air. The refrigerator leaks due to a bad seal and will ruin you food I ended up replacing the shower curtain because it was so moldy. The bathroom sink backs up when you run the washer. The landlord told me before I moved in the deposit was $200 but after I moved in it was 600. She did say I could break the agreement and she would send the remainder of the rent back but she never did. I had to dispute my credit card charges to get my refund. She lives out of the country. It is difficult to deal with her due to this. Also if you have a complaint airbnb is basically no help. I was offered a "special offer" but was charged full price when I used the resolution tool the landlord said she never received it so she would apply the overpayment to my next months rent. Then she totally disregarded what she promised in writing. This was my first experience with Airbnb and will never use them again. Also there is no phone number to contact a person at Airbnb. Everything is done by email
Teresa
2013-10-11T00:00:00Z
Staying at this "Sweet Little Apartment" in Jamesville was a delight. This space suited our needs on all fronts; location, convenience, proximity to shopping, wifi, TV, laundry facilities and a lovely neighbourhood to stroll through. Mandy was the perfect Hostess in spite of being half a world away. By the end of our stay we felt as though we had made a friend. I will certainly be recommending this option to my siblings when they come to the Syracuse area to visit friends and family. What a great first time experience on airbnb.com! Martie :-)
Martie
2013-10-24T00:00:00Z
Quiet neighborhood, great place, comfortable bed, good quality carpet, always hot water with good pressure, has all of the necessities for cooking, has a cool side porch-like thing with screens to keep out the bugs. Neighbors upstairs are very quiet and checking in and out was a breeze! There are two entrances for the driveway so it was very easy parking and getting in and out. There are some ridiculously awesome smelling flowers upon the entrance of the garage; gave a nice feeling coming "home". Mandy was really welcoming and the place was clean! If you have a long stay, there is a washer and dryer in the basement; super convenient. Would stay there again!
David
2014-08-25T00:00:00Z
The apartment is clean, simple and in my opinion worth the cost. Mandy made check in simple. I did not have any major troubles while I was staying here. There is laundry on premise as well which was nice! The neighborhood is nice, safe and there is a nice driving range right down the road! My only complaint was the beeping "Internet box" in the bedroom that occasionally beeped unexpectedly in the middle of the night. I would suggest to the owner that she found some way to disable the beeping entirely. Other than that it was a pleasant and convenient experience.
Max
2015-10-12T00:00:00Z
Served my needs, but not as nice as I expected it to be. Mostly clean, but refrigerator smell, dirt in corners on floors, and old crayons in couch cover were disappointing. Apartment could use some updating as table and chairs were unsteady/tippy, both closet doors were off hinges, hole where microwave fan should be, and drop ceiling was in rough shape (present but bowing). The furace broke while I was there in the winter, so after 2 cold nights and 2 calls to the neighbor, we got it professionally addressed. Had to replace 3 light bulbs when I moved in, as homeowner isn't around to check those things. Water pressure good, always warm, kitchen is nicely stocked with cooking tools. House is currently for sale so there were 9 showings during my 10 week stay. I never actually met the host as she was overseas, so her neighbor was the main faciltator and she was great. I had trouble meeting the neighbor to get the keys to check in since she was returning from vacation, so I had to bum around for several hours until I could meet her. Neighbor did help with snow removal after a big storm which was very generous. Nice that its a whole unit to yourself.
Erin
2015-03-14T00:00:00Z
Tipo de habitación
Casa/apto. entero
---
Tipo de propiedad
Departamento
---
Capacidad
2
---
Habitaciones
Jamesville, Nueva York, Estados Unidos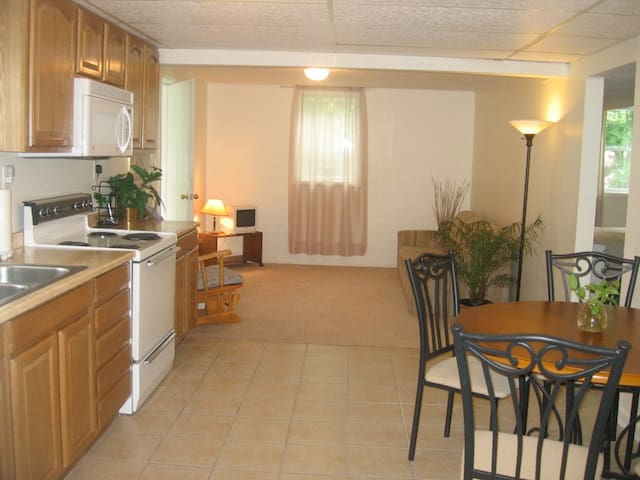 You'll love our place because of the comfortable queen sized bed, the kitchen, the coziness, the art on the walls and the light. Well-suited for couples, solo adventurers, and business travelers. We can add a single bed in the bedroom for a third person. Bradford Hills is a safe, family neighborhood, great for walking and cycling. The apartment has FIOS wifi, a flat screen TV, off-street parking and a laundry room nearby. Conveniently close to SU, hospitals, shopping, and public transportation.
This apartment is a beautiful private space with a fully equipped kitchen, microwave, stove/oven, refrigerator and double sink. There are grocery stores like Wegman's, Trader Joes and Tops within a ten-minute drive. We are also close to many interesting restaurants as well as Syracuse University, LeMoyne College, SUNY School of Forestry and many hospitals.
We are in a safe, family neighborhood, which is perfect for walking or cycling.
We were warmly welcomed by our host and enjoyed our stay. The location was perfect for us. The apartment, while small, was comfortable and the kitchen was perfect for morning coffee and afternoon happy hour. It is in a nice, quiet neighborhood and just a few minutes drive to the Syracuse campus. It was just right for our family weekend. I would stay here again if I have the opportunity to return to Syracuse.
Betty
2016-10-30T00:00:00Z
Wonderful spot and hosts! I would highly recommend this for business travelers who want their own apartment
David
2017-02-17T00:00:00Z
Unfortunately, my family and I never made it to Susan's house, but I had to give Susan 5 stars because she was so responsive and flexible to our changing plans. Thank you, Susan!
Melissa
2016-11-05T00:00:00Z
We had an exceptionally comfortable and fulfilling stay. Susan and Raghav were absolutely wonderful in making everything as convenient as possible. Susan has gone to exceptional lengths to make the apartment as cozy and comfortable as possible. Her generosity and hospitality is spectacular and she was extremely attentive to our needs and very accommodating. It was a great pleasure to relate to her and she really went out of her way to understand our needs and to provide everything we needed. The kitchen in the apartment was extremely well stocked with all the supplies we needed. Meeting people like her certainly makes travel a pleasure!
Param
2017-03-11T00:00:00Z
We had a great time in susans house. Everything was clean and we felt very comfortable. Raghav was very thoughtful, helpful and friendly.
Elisabeth
2016-10-07T00:00:00Z
We had a great stay on our trip visiting SU and attending a basketball game. Would highly recommend for the convenience!
Kelli
2017-03-05T00:00:00Z
Susan's place is really nice. I have a friend coming over to syracuse to visit, and my friend was really satisfied. The apartment is clean, and Raghav helped a lot upon her arrival. Highly recommend!!
Richard
2016-10-06T00:00:00Z
Loved our stay over the Columbus day long weekend. The apartment was cozy and private. The kitchen was stocked with basic condiments, spices, coffee, & cereal...which was a pleasant find! Susan and team had even stocked up with bathroom with shower gel and shampoo...which is not a usual (EMAIL HIDDEN)munication was easy and prompt. We had quite a bit of flexibility with our check in and check out timings which waa great. Would recommend staying here to others too:)
Nisha
2016-10-10T00:00:00Z
Tipo de habitación
Casa/apto. entero
---
Tipo de propiedad
Departamento
---
Capacidad
3
---
Habitaciones
Siracusa, Nueva York, Estados Unidos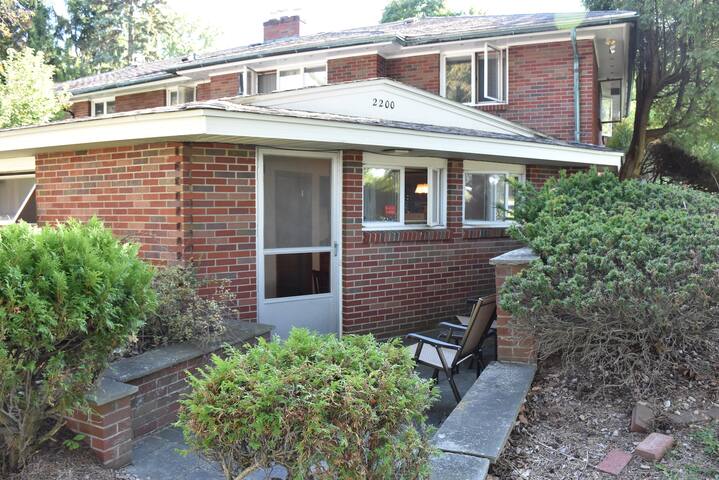 Kick off your shoes, brew a cup of tea, and relax in this lovely two bedroom cottage. Nestled in a quiet residential neighborhood, it's close to everything in Syracuse yet provides a peaceful, comfortable retreat to return to.
This 2 bedroom, one-floor cottage is bright and welcoming, tastefully and comfortably furnished. Its exterior is surrounded with extensive gardens to stroll through, a pleasant corner yard, and off-street parking. There is easy access to highways I-81, I-690 and I-90 (NYS Thruway Carrier Circle exit). Unwind in this beautiful and serene setting just 10-15 minutes to Syracuse University, ESF, and Lemoyne College. Also within easy proximity to many shopping options, great coffee shops and a variety of interesting restaurant choices. A unique combination of retreat and convenience at your cozy garden cottage door. Each bedroom has a full size bed so the cottage can accommodate four people (two couples) comfortably.
The neighborhood is friendly and safe. There are many young families as well as older couples in the area. Many people walk their dogs and babies up and down the road throughout the day, there are several parks nearby and the library is just a stone's throw away.
Easy check in and out. Great communication. Plenty of space, and everything as is mentioned in post. Would stay here again.
Daniel
2016-08-01T00:00:00Z
The home was perfectly clean and cozy. It was the perfect place to stay while visiting our relatives that lived in the area.
Benjamin
2015-10-18T00:00:00Z
Very nice stay! Extremely clean! Loved the country garden feel. Kitchen was well-equipped with essentials provided. We felt safe in the neighborhood. Only improvement would be the bed. Mattress in our room at least seemed uneven and a bit creaky when moving around, which awoke me (Kids didn't mind theirs:)). But, comfortable otherwise.
Jody
2015-08-11T00:00:00Z
We really loved this lovely cottage for SU graduation weekend. It was in a great neighborhood with lovely gardens and,adequate for 3 of us. We loved having the kitchen which saved us money. We would come back again. We never met the host but we found the key easily and everything needed was in the instruction book. Not having a television gave us time to talk and play games. Quite a treat!
Judy
2016-05-16T00:00:00Z
This is a quaint and cozy cottage. We really enjoyed our stay. The cottage was clean. The beds were a little firmer than we were accustomed too. Overall, we highly recommend this cottage for the great location, quiet neighborhood, and nice amenities: French press coffee, access to washer/dryer, nice outdoor seating area, and WiFi. Thanks so much for sharing your home to be our home for a week!
Diana
2016-11-16T00:00:00Z
We really enjoyed our stay here. The house was very clean and comfortable and a quick drive to downtown Syracuse. Thank you!
Niiti
2015-03-30T00:00:00Z
This is as lovely a place as the pictures suggest with thoughtful decor, and everything I could have possibly needed. The gardens are wonderful: a relaxing private space.
Patricia
2015-06-19T00:00:00Z
Wonderful cottage with an amazing garden. The weather was perfect for spending time outside. Inside, we really enjoyed having a full kitchen...I brought one of my speciality deboned chickens, which roasted perfectly in the oven. The bath was very clean (always important) and my bed slept very well. Altogether a great weekend...and the Tigers won the football game! This cottage is highly recommended.
Francis
2015-09-28T00:00:00Z
Tipo de habitación
Casa/apto. entero
---
Tipo de propiedad
Casa
---
Capacidad
4
---
Habitaciones
East Syracuse, Nueva York, Estados Unidos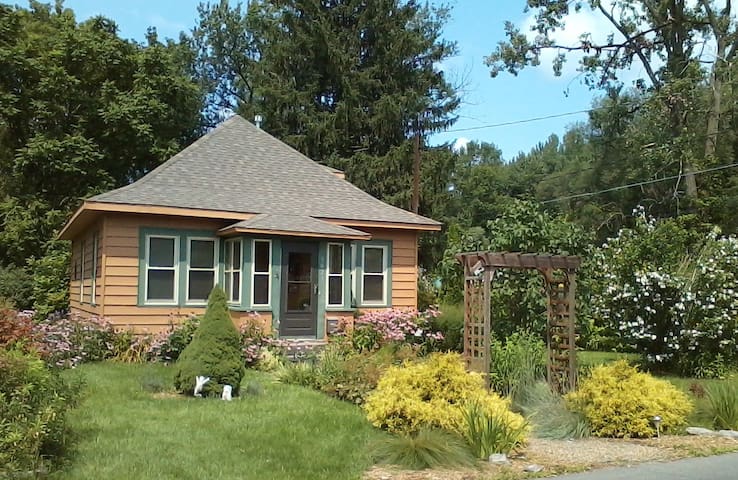 一个舒适,温馨,配备3 BR在安全与和平德威特贴切!
这是一个干净,舒适,配备3 BR首先我牧场的房子我租了外出旅游的时候地板。它有中央供暖和空调,基本有线,无线网络连接,包括一个主卧室(全尺寸的床),两个较小的卧室(双号床每个),完整的浴室和一个开放式的起居餐室厨房。你的租金完全是包括所有公用事业和连接成本。有免费使用洗衣机和烘干机现场,和车道够大了几辆车。虽然你是我的客人,欢迎您使用我的厨房,所有的厨房和用餐器具都包括在内。床单,毛毯,基本的化妆品和清洁用品也包括在内。
漂亮的房子,更好的邻居!房子坐落在德威特 - 安全,高档,非常方便的郊区 - 1-481距离仅2分钟,从SU / SUNY 10分钟,距离文曼斯和伊利大道(驱动时间)5分钟。
Very pleasant experience in a lovely neighborhood. Checking in and out was extremely easy. Mandy puts in effort to make sure you have a pleasant stay. Highly recommended!
Walter
2016-08-29T00:00:00Z
This apartment was clean and quiet, as advertised, however it is an older home and some of the furniture definitely shows its age. That said, check-in and check-out were easy to coordinate, and the neighbor that was our point of contact was lovely, responsive and accommodating; she even brought us extra towels. WiFi, the tea kettle, and proximity to Wegman's were a major plus!
Pamela
2015-07-13T00:00:00Z
This was our second visit, and once again everything was fine.
Curtis
2015-06-16T00:00:00Z
This little home was our home away from home for two weeks in Syracuse. Though it's on a slightly busy street, it was always quiet. I was in the front bedroom and never heard any street noise at all. My room was the light colored bedroom with a very comfortable twin bed. Mandy's home very much reminded me of my sweet grandmothers home back in Texas. It's a simple home with all the basics and the price was an incredible deal. FYI, for the upper home, you enter through the garage at street level, then go up about 3 steps to enter the home. Thanks for a great two weeks, Mandy!
Elaine
2016-04-19T00:00:00Z
Mandy's place was lovely and as described. We had a little issue at he start that was no fault of Mandy's but she sorted it out immediately. Mandy's correspondence was excellent, couldn't have asked for better. Would recommend and stay here again.
Louise
2015-11-21T00:00:00Z
This apartment was well located in a quiet suburb of Syracuse for a recent family visit. It was clean and as pictured, with a full kitchen and three bedrooms - two singles and one double. We had a lot of stuff with us and the separate driveway for our car was handy. Mandy, the host, was very responsive, gave clear instructions, and was easy to reach.
Soren
2015-01-01T00:00:00Z
This is the second time we have stayed at Mandy's place in Jamesville, and it is perfect for our needs. Mandy and her neighbor are easy to get in touch with, and everything exactly as described. We had a happy stay, thanks again!
Heather
2015-12-25T00:00:00Z
Mandy is a great host. Very attentive and responsive. She was also very flexible with us and made sure that all of our needs were met. I highly recommend her as a host and this location in NY was perfect for our prolonged stay there for a work project.
Greg
2016-10-04T00:00:00Z
Tipo de habitación
Casa/apto. entero
---
Tipo de propiedad
Departamento
---
Capacidad
3
---
Habitaciones
Jamesville, Nueva York, Estados Unidos
Newly refurbished 1787 estate house. Syracuse SE suburbs. Easy access. Easy to find. Ample Parking. Charming. One, Two or Three large bedrooms ready for you. Two full bathrooms. Unlimited hot water. Cable TV, Fast internet. Continental B'fast.
OVERVIEW: This is a fully refurbished Federalist style Revolutionary War era home with three bedrooms and two full bathrooms available to guests for rental. Hosts, Jane and Andy Hardman will rent one, two or all three bedrooms to meet the guest(s) specific requirements. Each bedroom room will accommodate two persons except for the third "children's room", which can accommodate up to three younger guests. Continental Breakfast is included. The first floor living and dining rooms are for guest use exclusively. The home is easily accessible by auto to the city of Syracuse, Village of Cazenovia, NYS Fairgrounds, Syracuse University, er College, Colgate University, and to numerous other colleges nearby. Public transportation is Not available to our home. . WHERE WE ARE LOCATED: Our home is easily found on Cazenovia Rd on the main route (NY State Route 92) midway between the Village of Manlius NY and the Village of Cazenovia NY, in the tiny hamlet of Oran. We are also conveniently located between the City Syracuse, and points of interest to its southeast such as Cazenovia College, Morrisville College, Colgate University and Cooperstown NY. OUR NEIGHBORHOOD: We are found at the boundary where Syracuse suburbia transitions to rural Central NY farm country. Syracuse University, Le Moyne College, the villages of Fayetteville and Manlius, the Green Lakes State Park, the Highland Forest County Nature Park, and three local ski areas are just short drives away. There are nearby wineries and we are perfectly placed for guests to take beautiful and enjoyable day long Finger Lakes trail tours of the hundreds of wineries, cheese farms and notable craft beer producers dotting the Central New York area. It is also just a very short ride to numerous local dining and shopping venues. If shopping is of interest, the Destiny Mall, one of the largest in the country is in Syracuse. Wegman's, the number one supermarket chain according to Consumer Reports has one of it's flagship stores only six miles away. Dinosaur BBQ the number one rated BBQ restaurant in the USA is 20 minutes away and a favorite of visitors to Syracuse. ABOUT THE PROPERTY: The property includes 3.8 acres of land which has besides the main 18th century Federalist style house, a large old 18th century fully refurbished three horse stall barn, a detached three car garage, and a large backyard screened in gazebo. The rolling grass grounds, nearly surrounded by woods, are picturesque with a beautiful stream running from the back to the front on the left side. HISTORY: The home was initially constructed after the Revolutionary War around the time of the signing of the U.S. Constitution. It was subsequently enlarged sometime in the early 1800's. The property essentially remained unchanged until in 2004, when Jane and Andy purchased it. All the structures were in a rundown but fundamentally sound condition. We found all the buildings solidity standing, but in serious need of significant renovation work to make the property habitable to modern standards and code compliant. We performed the renovations during a "This Old House" style project continuously conducted for the past 11 years. We substantially enlarged the house by building a new large addition on the rear side and completely renovating the front older side to current building code standards. Utilities upgraded were water, electrical, septic, insulation, roof, heating and cooling, exterior windows and internet systems. These and more were totally refurbished or replaced with new. In 2014 we added 107 Solar panels which now provide nearly 100% of our electrical power requirements. Unlimited hot water is provided by a large commercial style "tank-less" water heater. One of the main features of the new addition is a large modern Caribbean/Spanish style kitchen along with a sunny family eating/gathering area where the new and old house join together. Many other new features were added to the new addition to enhance family living capabilities and convenience to support our three children and an elderly grandparent. Recently, our now adult children have grown up and moved away, and the grandparent has passed on leaving the us with three beautiful bedrooms available for guest rental. GUEST ACCOMMODATIONS: Guests will be the only people staying in the refurbished old circa 1787 side of the house. Three, large bedrooms are offered on the second floor. The first bedroom has two twin beds, the second bedroom the "Master bedroom", has a king sized bed and the third bedroom is best suited for younger guests. This third "younger guests" room can accommodate three persons with a two person "This-end-Up" twin bed bunk bed and an optional twin sized folding roll-away bed. All guest rooms have high bandwidth internet with both wired and wireless access. The three bedrooms share two bathrooms, each with a full tub & shower. The bedrooms and bathrooms all are located off a common second floor hallway. The first floor of the house's older side has the guest area living room with numerous couches and chairs and a 50 inch flat screen TV with full cable privileges for guest use. The main dining room is for exclusive use by our guests for meals, however, guests may join the hosts in the kitchen meeting area for meals if desired. PARKING: We have ample off-road parking for over 10 cars available. During the winter on snowy days we are always accessible by car since we are located on a main highway which is continuously plowed and we keep our driveway constantly open. MEALS: An included continental style breakfast prepared for guests is served in the main dining room consists of fresh coffee, orange juice, milk, toast/bagels or cereal. American style breakfasts, dinners or other meal arrangements can be individually negotiated for an additional price. TRANSPORTATION: There is no public transportation other than local taxis. For a fee we can pick guests up at Syracuse's Rail, Bus and Air terminals. However, a guest owned or rented vehicle is the preferred method of transportation for our location. WHY STAY WITH US: Jane and Andy attempt to give their guests a convenient, warm, friendly, comfortable and reasonably priced place to stay. Guests will find this home a perfect solution for those who want to visit family nearby but do not want to stay in distant expensive hotels in Syracuse or pay the high prices of formal B&B's in nearby villages. We are also well suited for business persons who will be working nearby for extended periods of time. Parents of college students could save time and money staying with us when coming to Syracuse for those special weekends. We are in nominal driving range distance from Syracuse University, SUNY ESF, SUNY Upstate, LeMoyne College, Cazenovia College, Morrisville College, Colgate University and 40 minutes from Hamilton College. The house is just 15 minutes away from downtown Syracuse and all Syracuse Medical Centers.
We had a great stay with Andy and Jane. They were extremely accommodating and gracious as hosts. We couldn't hope for anything more.
Chris
2016-07-25T00:00:00Z
Andy was a very wonderful host! He offered help and made sure we had everything we needed.
Nancy
2017-02-18T00:00:00Z
Andy and his wife are excellent hosts. Their house is a great place where to stay and their land around the house is amazing. Very peaceful area and only 20 minute drive away from Destiny USA mall. We fully enjoyed our stay. Continental breakfast offers a great selection of cereals, jams, yoghourts, drinks, bread, ...
Jean-Pierre
2016-07-13T00:00:00Z
Amazing host and place. Andy and his wife are both amazing. Very welcoming and experienced. Loved our conversations with and and learnt a lot. There was hot and fresh breakfast provided. Even coffee was provided at 5 am when we had to leave early. I would love to come back and stay with them and stay for a long time.
REETIKA
2016-05-31T00:00:00Z
Staying with Andy and Jane was an absolute pleasure. They were very kind and helpful and gave us suggestions about where to eat in the local area. They also provided breakfast and we had a good chat with Andy about his career as a US Navy pilot. Overall they were fantastic hosts and it would be a delight to stay with them again.
Dan
2015-10-12T00:00:00Z
The house exceeded our expectations and our welcome was wonderful and sincere. Privacy was extended and appreciated and then a wonderful breakfast and visit with our hosts in the morning. Andy led us to the Erie Canal pathway and had so much history which we love. We were sad to leave.
Maureen
2015-09-15T00:00:00Z
Andy, Jane and family were a delight. They were gracious hosts who provided helpful directions, suggestions for places to visit, and recommendations for food. The rooms were comfortable, clean, and warm on cool fall nights. We will plan to stay with them on our next visit to the area.
charles
2015-11-02T00:00:00Z
Our stay at this Revolutionary War period home was such a treat! The rooms and bathrooms were so clean and everything was provided for our comfort. Our hosts greeted us and made us feel at home and then allowed us all the privacy we wished. The expansive yard was also beautiful and so peaceful. The breakfast provided in the morning was first-class and the attention to lovely details a delight.
Genny
2016-06-13T00:00:00Z
Tipo de habitación
Habitación privada
---
Tipo de propiedad
Bed & Breakfast
---
Capacidad
7
---
Habitaciones
Manlius, Nueva York, Estados Unidos
This beautiful in-law apartment is a few miles from Syracuse University, Upstate Medical Hospital and downtown Syracuse. Overlooking Drumlins Golf Course. Large rooms and 2 huge walk in-closets.
In quite beautiful residential neighborhood.
Great stay!
Corey
2017-03-05T00:00:00Z
The host canceled this reservation 80 days before arrival. This is an automated posting.
spencer
2017-02-21T00:00:00Z
Tipo de habitación
Casa/apto. entero
---
Tipo de propiedad
Departamento
---
Capacidad
2
---
Habitaciones
DeWitt, Nueva York, Estados Unidos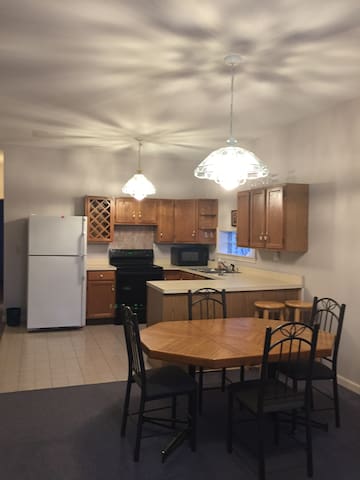 My place is close to Syracuse University, LeMoyne College, downtown Syracuse, parks... You'll love my place because of the quaintness, the quiet and the proximity to what Syracuse has to offer.. My place is good for couples, solo adventurers, and business travelers.
This private basement apartment is a large studio with a private entrance, queen sized bed, television, full sized refrigerator, full bathroom, microwave. On street parking.
Very quiet, friendly neighborhood. Close to grocery stores (Wegmans, Price Chopper, Tops), chain and local restaurants, nightlife, parks and public spaces.
Baller little spot perfect for experiencing Syracuse. Don't miss breakfast at the end of the street!
Jack
2017-03-19T00:00:00Z
Rebecca's place was great price for quality! A great rate for your own apartment with private bathroom, fridge, coffee maker, toaster oven, hot plate, etc. Rebecca left a great selection of cereals, snacks, and even checked in with me for my preferred dairy product to add to coffee. I would stay again for sure.
Katherine
2017-04-11T00:00:00Z
Rebecca was a great hostess. Even though I arrived pretty late she still met me at the door and showed me around. The room was very clean and had everything I needed. There were some snacks and drinks as well. I look forward to staying again!
justin
2016-11-07T00:00:00Z
Tipo de habitación
Casa/apto. entero
---
Tipo de propiedad
Departamento
---
Capacidad
2
---
Habitaciones
Siracusa, Nueva York, Estados Unidos
My contemporary condo is centrally located for a weekend, week or extended stay, near all major colleges in the CNY area. Whether a weekend away, a graduation, wedding, family gathering, or just to enjoy upstate NY, this is the perfect location. 20 minutes to SU, 20 minutes to Colgate.
A lovely three bedroom condo, in beautiful Mallard's Landing in Manlius NY, centrally located between many local towns, villages and universities, such as Syracuse, Colgate, Hamilton, Cazenovia, SU, Morrisville, OCC, Ithaca, Utica, and LeMoyne. The condo has been renovated from head to toe, and is beautifully decorated in a classic, contemporary style, with a wood burning fireplace, and many amenities for you, your family and friends to enjoy. There is a Rite Aid, gas station/convenience store, hardware store, liquor/wine store, nail and hair salon, Chinese take out, Stingers Restaurant, urgent care, and chocolate shop all within one minute from the condo! There is even a hot tub in the garage! Many things to do in the area, Catherine Cummings Theatre at Cazenovia College, Lorenzo, Stone Quarry Art Park, Chittenango Falls, Highland Forest, Green Lakes State Park, and more!
The neighborhood is quiet, on a private drive in a condominium development. There is a beautiful pond off of my sliding glass door/porch, and many birds perch in the trees off of the deck. You can see the pond from the master loft bedroom. There is an old railroad trail across the lawn to walk your dog, or cross country ski and snow shoe in the winter, and the streets are very safe around the development as well if you feel like a stroll.
This home is beautiful! Colleen did everything to make sure we felt welcome and comfortable. She kept in touch prior to our visit (even letting us know that it was snowing on the day of our arrival) and left us wonderful written information to help us acclimate to the house. She was even so kind as to leave us some snacks. I would stay at Colleen's again in a heartbeat!
Jacki
2017-04-09T00:00:00Z
Tipo de habitación
Casa/apto. entero
---
Tipo de propiedad
Apto. en complejo residencial
---
Capacidad
8
---
Habitaciones
Manlius, Nueva York, Estados Unidos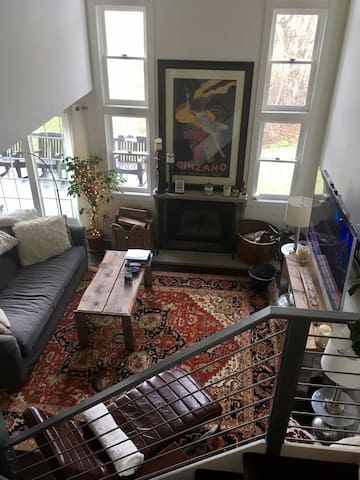 Named the Sea Side Escape, this private 2nd story bedroom has a king bed, private ensuite bathroom, large closet, desk & a sitting area w couch/chair. It also include another small bedroom with a firm queen air mattress for a 3rd or 4th guest on the second floor. Within walking distance to Wegman's supermarket, Wendy's, local diner, Friendly's, and more.
Furnishings include a KING SIZE BED with a premium high end Serta mattress with a down filled mattress pad, couch, chair and desk for your laptop. INCLUDED: All utilities, wireless internet, exclusive use of your private bedroom and bathroom, bedding, bath towels, and all paper products provided. For longer-term guests, weekly cleaning of bedroom, including vacuuming, dusting, changing of garbage and making up of bed with clean linens is also included. Off-street parking Perfect for TRAVELLING MEDICAL, BUSINESS PROFESSIONALS, & GRADUATE STUDENTS. Previous renters have included travelling nurses and other health care workers, business professionals, college professors, and college students.
We live in a quiet peaceful neighborhood within walking distance to Wegmans Super Market, Friendy's Family Restaurant, the famous Mother's Cupboard Dinner that appeared on Man vs Food, Cafe Kaubal, a local coffee roaster, Original Italian Pizza a local pizzeria, & Wendy's. The house is minutes away from the airport, hospitals, local colleges, Destiny USA, and downtown's Armory Square.
We only stayed for one night but we loved it here. Dan & Ashley are fun and interesting to talk to, and the space was clean and comfortable. We would definitely stay here again.
Jared
2016-06-13T00:00:00Z
Dan and Ashley were amazing house hosts! As soon as I got there they were extremely warm and showed me all the amenities and my room, which was SUPER nice! They had space in the fridge, cupboards and had the coffee maker all set for me in the morning. I hope to stay with them again soon, as it made my business very easy with their accommdations.
James
2016-03-18T00:00:00Z
Dana and Ashley's place was perfect for our needs. We were visiting Syracuse University. The bedroom with bathroom is upstairs. The room is large with a separate sitting area. Linens and towels were very fresh and clean, the bed is super comfortable. A full length mirror would be helpful for getting ready to go out.
Tom
2016-10-30T00:00:00Z
We were at Dan and Ashley's house for a short time due to a crazy two wedding weekend as wedding photographers. We arrived late, crashed on the comfy bed (and amazing pillows) and didn't really notice how beautiful the room and entire house was until the next morning! Though we never actually met we can tell they are absolute sweethearts by the wedding pictures on the fridge and the tasteful decor around the home. They even had a personalized welcome sign on the counter and plates ready for us to eat with all set out in kitchen. We recommend this listing 100% to anyone coming too Syracuse who wants a warm, homelike, place to stay!!
Brock
2016-09-04T00:00:00Z
This is just a great place to stay. Privacy, in a bedroom with own bathroom and a small space with couch and table to rest. Everything very clean and nice. The communication with the hosts was fast and useful before and during our stay. I would love every place in Airbnb to be like this one (and all were excellent so far!). A good place to be in Syracuse with a car.
Patricia E.
2016-08-02T00:00:00Z
Such nice people! What a wonderful place to stay. The room is spacious and beautiful. Sparkling clean, and the hosts provide their guests with brand new soft and cozy sheets and towels. They're very sweet people and are welcoming and accommodating.
Elizabeth
2016-08-15T00:00:00Z
Ashley and Dan's room was incredibly comfortable and they were very welcoming. From the welcome sign to the Hershey kisses and ridiculously comfortable bed, definitely recommend staying with them!
Kristen
2016-05-31T00:00:00Z
Ashley and Dan were wonderful hosts! From the cute little welcome sign, to a well stocked kitchen for breakfast, to little Hersey kisses in the room awaiting us on arrival, there were so many things to make us feel welcome! They are both very friendly and gave us a great suggestion for dinner for the one evening we were there. I highly recommend staying with them!
Lindsay
2016-04-15T00:00:00Z
Tipo de habitación
Habitación privada
---
Tipo de propiedad
Casa
---
Capacidad
4
---
Habitaciones
Siracusa, Nueva York, Estados Unidos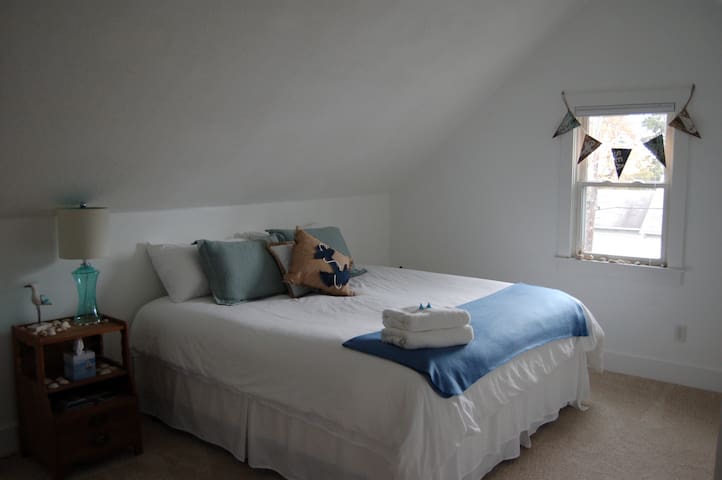 A sweet and dreamy guest room with private bath available for your next weekend in the Cuse. Convenient location near SU and Lemoyne, breakfast included. Comfortably sleeps two in Queen bed. Smart TV and Internet provided.
The sunken 2nd floor guest room has a private and cozy feel. It's welcoming, clean and has an attached private bath with standup shower, two bright windows, and all linens provided.
The Bradford Hills historic neighborhood provides city access with a suburban feel. Walkable and tranquil area, but minutes away from all Syracuse destinations.
Julie and Binh were awesome hosts, absolutely perfect for our circumstances. They were flexible with our arrival time, which was great since we were finishing up a long day of driving! Their animals were adorable, especially Nelly their dog, whom we seriously considered dog-napping ;) Our room was very nice – clean and quiet, with our own bathroom and TV. Having coffee and breakfast ready in the morning was a great plus. Overall highly recommend staying in their lovely home.
Ben
2016-06-22T00:00:00Z
Thanks Julie and Binh for hosting us. It was a pleasant stay. Thanks for the early morning blueberry muffin and great coffee:)
Pan
2016-06-28T00:00:00Z
Wonderful Airbnb location. Both Julie and Binh were so welcoming! The room and bathroom were perfect and we had use of their kitchen which really helped us with dining expenses. I couldn't be more pleased.
Charlotte
2016-04-17T00:00:00Z
Julie and her husband could not have been more welcoming. They are lovely folks with a lovely home. I liked the room for it's privacy and private bathroom. And the bed was very comfortable! So nice to wake up to available coffee and light breakfast.
Aileen
2016-08-28T00:00:00Z
We stayed at Julie and Binh's private room one night, while travelling to Canada. They were very responsive from the very first moment and even though we arrived later then expected due to heavy traffic, they welcomed us nicely. The place was clean and comfortable and the early morning coffee was a nice surprise! Thank you both for the great experience.
Sonay
2016-07-02T00:00:00Z
Julie was a fantastic host and made us feel very welcome. She greeted us warmly at the door and showed us around. There were nice warm towels ready for us and it was a perfect resting place for us on our roadtrip. There was also breakfast for us in the morning which was really thoughtful. The bed was also comfortable and I had a great sleep and we had our own private bathroom which was small but had what you need! Excellent hosts and a beautiful house.
Monica
2015-08-19T00:00:00Z
Both Julie and Binh were super responsive and friendly through email, text message and in person. They were also very accommodating given that my boyfriend and I were planning to arrive earlier than a "normal" check in time. The room was so cute and homey! Definitely felt comfortable in the space. We had our own in suite bathroom with shower and a nice sized closet. There are two windows and they look out to the nicely manicured lawn. There was also a small tv with Netflix and Hulu capabilities which was convenient to have. They had a few family pets that were very friendly. Loved everything about our stay from the moment we walked in to the lovely breakfast that was left out for us in the morning. Everything was done with care and consideration and it absolutely showed. Would be such a pleasure to stay again :)
Tiffany
2015-10-12T00:00:00Z
We had an excellent stay in Syracuse with Julie! The room was lovely, and Julie and her husband were very welcoming- we also loved their sweet dog Nellie. The breakfast they put out for us was delicious, and we were very happy with our overall experience!
Colette
2016-07-09T00:00:00Z
Tipo de habitación
Habitación privada
---
Tipo de propiedad
Casa
---
Capacidad
2
---
Habitaciones
Siracusa, Nueva York, Estados Unidos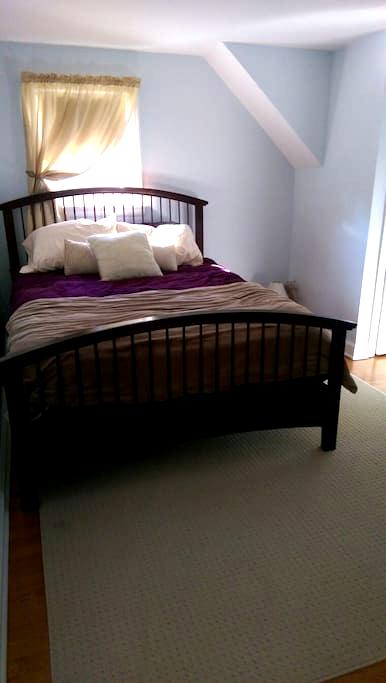 Introduce las fechas para ver el precio total. Ten en cuenta que se aplicarán tarifas adicionales y es posible que se añadan impuestos.