Introduce las fechas para ver el precio total. Ten en cuenta que se aplicarán tarifas adicionales y es posible que se añadan impuestos.
Cozy 3 bedroom 2 bath located in a transitional neighborhood in older downtown Fallon. Walking distance to restaurants, a casino and a movie theater. Two miles from the fairgrounds, and 30 minutes to Sand Mountain or Lake Lahontan. 90 minutes to Lake Tahoe and Ample parking for cars, a boat or a trailer.
This is currently the only type of residential listing in Fallon. Perfect for families visiting the area who don't want to be cramped up in a hotel room. The neighborhood is an older one in transition and not all the homes in the area are as well kept as ours. Whether you're local and need extra room for out of town guests or just passing through this is the perfect place to stay. Guests have access to the following amenities - cable tv, wifi, parking, full kitchen, etc. There will be minimal interaction with the guest. A key will be left for you on check in day and you should return it to the same location when checking out and lock the doors and follow the check out procedures. We love that it is walking distance to restaurants, shops and casino. It's a very slow paced town and this property is centrally located. Clean, quiet and safe. No public transportation but many places are within walking distance. Upon check-in you will find a resource guide in the kitchen listing wi-fi codes, contact numbers and areas of interest, hotels, etc. There are also detailed check-out instructions for your review. Feel free to contact the hosts for additional information or assistance.
The house is located in an older part of Fallon and is a neighborhood in transition. Our home is well maintained and very nice, but that cannot be said of all the neighboring properties. Many homes are in various states of repairs and upgrading and some are rentals which are not well maintained. The neighborhood is safe and we have never had any problems at the property or in the immediate vicinity. There are dogs living next door but the neighbors keep them quiet. There is no public transportation in the city. There is uncovered parking at the house for up to 4 vehicles and/or a motorhome. The driveway is gravel and the rear parking area is dirt.
Lorretta & Heather are EXCELLENT hosts! I had to house my employees for over a month on a project up there, and this home was perfect! The house was clean, and supplied all the comforts of being at home. My employees did not mind being away from home for so long thanks to Lorretta & Heather's hospitality! Thank you both so much!
Trisha
May 2016
What a wonderful choice this was over a motel. It was so roomy and comfortable allowing us to lounge around and visit with family and friends as well as do some cooking. Would definitely stay here on our next visit. Only suggestion would be some reading lamps as we all read in bed and the overhead is so bright.
Ginger
July 2016
From the moment I've made my reservation Loretta and heather have been very accommodating. I had a few questions regarding the listing and I've gotten a response from them within the hour. The listing itself was very cozy and comfortable with all the amenities you would need to provide a home away from home. I was so pleased with my stay and Loretta and heather made it that much more pleasurable. I would HIGHLY recommend this listing for those who pass by Fallon,NV you will not regret it.
christine
October 2015
Our host was terrific and very timely in communicating and answering questions. We corresponded by email/text messaging, which was nice. The advertisement was true to its description and even better in person. The home was excellent, super clean, tastefully decorated, no clutter, and super comfortable. The sheets were fresh and clean. Beds were really comfortable. The bathrooms were really nice and clean too. The same was true everywhere else in the house. All the amenities of a nice hotel were there like little shampoo bottles, clean towels, and even a mini tube of new toothpaste. The air conditioning worked really well too. The yard was great and there was lots of space to park in the back. The location was great too, being right off the main street of Fallon. Overall, I highly recommend this place. We will definitely reserve Lorretta and Heather's place again for our next year's trip to Fallon. Thanks again for letting us stay there.
Chad
September 2015
The house was very comfortable, exactly as pictured, and had a very well stocked kitchen. It was a short walking distance from many restaurants and had ample parking (for three SUV vehicles). The group I stayed with was comprised of three adults, and the space had a good amount of space for the three of us to be comfortable and have privacy.
Kelly
June 2016
Both of our sons are in the military and both being granted leave at the same time proves to be difficult. This rental gave us a chance to get our family together for Christmas given it was close to the Naval Base where the oldest son is stationed. The younger son was granted his request and he flew out making it an awesome family Christmas. Lorretta & Heather's home was perfect for such an event. It was warm, inviting, & nicely stocked with all the essentials. We had a wonderful time. Thanks for the memories, ladies!
Pamela
January 2017
The host quickly accepted our request and kept informed of the home timings. I had stayed in this property along with my friends, when we visited Lake Tahoe. This is a very comfortable place, spacious and clean - as seen in the description. My wife loved playing the orgaHighly recommend if you are bunch of family and friends and wanting a comfortable stay.
Aravinth
February 2016
Lorretta and her daughter Heather are gracious and lovely hosts. They are easy to communicate with. The house was immaculate, and even had fresh flowers all over. The house seems practically new and all the systems are in top shape (kitchen, heat, air conditioning, washer/dryer, wifi). The living room and kitchen and dining area are open and provided a great place to hang out and swap stories after being out all day. When Lorretta heard we had car trouble, she came over and offered to help. We already had the problem solved, but that was just sooo sweet. When you stay, be careful not to make much noise in the driveway, as the neighbor works graveyard. She was very nice about it when she told us about as we were chatting on the front porch.
Brooke
May 2015
Tipo de habitación
Casa/apto. entero
---
Tipo de propiedad
---
Capacidad
6
---
Habitaciones
3
Fallon
This comfy little home in Fallon (rural Nevada) is in a nice little town along the Vegas to Reno drive. Nice interior, dog friendly, your own room and bathroom. Nearby restaurants of all types, local movie theater, plenty of space for outdoors fun.
It is a nice clean house with easy upkeep and is generally nice and quiet. You'll feel welcome here and be able to relax in peace during your stay. Guests have access to the whole house other than my bedroom. Feel free to sit in the living room or kitchen or enjoy the spare room or time on the front porch. If you are interested in talking about the area, State of Nevada, sports, food, beer or wine then I am always happy to make friendly conversation. If you just want your own time alone to relax the spare room has its own TV and quiet space.
The neighborhood is safe and quiet. It's very family friendly with low traffic or worries. Public transit is available but not needed. Small town allows you to walk or bike around to anything in town.
Dan did make us feel welcome. When we arrived early he came home from work and let us in earlier than we had planned on arriving. He was very pleasant and allowed me to park my motorcycle in his garage.
Michael
May 2016
Dan's home in a quiet neighborhood was very nice. He was very welcoming and I appreciated his hospitality . I would highly recommend his place and look forward to staying there again as I live an hour and a half away and it made my work as a traveling phlebotomist so easy .
Pamela
December 2016
Staying with Dan was a great experience. He goes out of his way to make you feel welcomed and at home. He let me bring my two dogs which was really nice because they had a yard to run around in. My wife and I will definitely stay with Dan when we return to Fallon.
Corid
February 2016
As always, Dan is an awesome host.
Tami
March 2016
Dan provided perfect accommodations for me. The neighborhood is quiet and tidy, as is the house. The bedroom and private bath provided exclusivity and comfort, and I slept well on the mattress. In the morning, Dan had fresh towels in the bathroom and a selection of coffees to choose for the Kuerig. Dan is an interesting and amicable host, and, Flash, the droopy eyed Bassett Hound, was a definate highlight. I do not hesitate to recommend Dan as a host.
Tami
November 2015
Thank you again, Dan!
Tami
March 2016
Once again, Dan went out of his way to accommodate my schedule. I will return to this adorable, pleasant home away from home! Thanks, Dan for making everything so perfect!
Tami
December 2015
First of all, driving into the Airbnb location it truly is rural Nevada, then you enter the city limits of Fallon& back to modern society with all the familiar comforts. Dan was a superstar host with his attention seeking side kick dog, 'Flash.' He did everything to make me feel at home. If traveling around Reno this is the spot for any weary road traveler!
Ansar
January 2017
Tipo de habitación
Habitación privada
---
Tipo de propiedad
---
Capacidad
2
---
Habitaciones
1
Fallon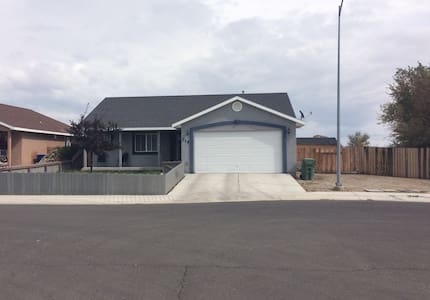 Our 2017, Travel trailer has all the luxuries of a tiny house but without the weight. Spacious bathroom with lots of cabinets, full amenities of a kitchen on a smaller scale. Comforting atmosphere with adjustable thermostat. No fuss auto leveling system and out door water proof speakers with electronic awning. This little trailer is winterized and has double insulated windows, ready for any occasion of fun. Who needs a foundation when you can keep your options mobile and classy!
You can take it anywhere you please Upon initial meeting for tutorial and to answer questions about the trailer.
Tipo de habitación
Casa/apto. entero
---
Tipo de propiedad
---
Capacidad
4
---
Habitaciones
1
Fallon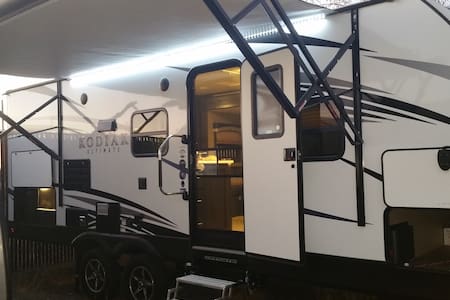 Tucked in a quiet block in bustling Belltown, this studio is located 3 blocks from Elliott Bay and 5 blocks from the Space Needle. Included is a futon for two lofted above the space, a kitchenette, and wide open windows that let in sea breezes.
The studio itself is in an old, charming building made in the early 1900s that is now a registered historic place in Seattle. The studio is the first unit next to the staircase and shares a wall with management (who is a very friendly Irish man ready to help with anything when he is there for a few hours on the weekdays) and another with a neighbor who is very quiet. Bathrooms are shared with other tenants, but there is never an issue with waiting for an available restroom. Inside the unit is a full-sized refrigerator, gas stove, toaster oven, blender, Crosley record player (plays cassettes, CDs, radio, and AUX too!), and sewing machine! You can also see Elliott Bay from the windows, and two delicious restaurant/bars occupy the ground level of the building. As this is an older building, there are no communal spaces like a gym or roof deck. There is lounge seating downstairs but is not commonly used by residents. I will be available 24/7 via phone or email should you have any questions about the studio or apartment building, the neighborhood of Belltown, or the Seattle area as a whole!
As one of the more outgoing neighborhoods of Seattle, Belltown boasts an array of things to do for both families, petowners, and young millenials! About a ten minute walk is Seattle Center, where you will find the Space Needle, the EMP Museum, the Chihuly Garden, Key Arena, and lots more. Two dog parks are within a five minute walk south, and three blocks to the west is the beautiful Elliott Bay. Like many other local Seattleites, I like to go for a jog each day down to the bay and through the Olympic Sculpture Park and Myrtle Edwards Park. Some of my favorite coffeehouses, Drip City and Bedlam Coffee, are all a short stroll away, and nightlife really picks up at the dive bars (I recommend skeeball at the Rabbit Hole and pinball at Shorty's) and local favorite Foundation Nightclub, both within walking distance as well. Two blocks away is a busy bus stop that can take you south to the heart of downtown, where you'll find Pike Place Market and Westlake Station (where you can catch a train to UW or SeaTac Airport) in about 5 minutes, or up north to Queen Anne, Fremont, and Wallingford in 10-20. There are probably 10 different Zipcar lots within a 10-minute walk, and Car2Go's are usually littered around the area. Ubers and Lyfts are also ready to pick you up at any time of day! I myself don't have a car so I've gotten pretty good with the routes so I can always help you find a line. If you will be having a car, you can usually find a spot on the street, and parking is $1.50/hour between 8a-8p Mon-Sat (the cheapest in the city!).
Tipo de habitación
Casa/apto. entero
---
Tipo de propiedad
---
Capacidad
2
---
Habitaciones
0
Seattle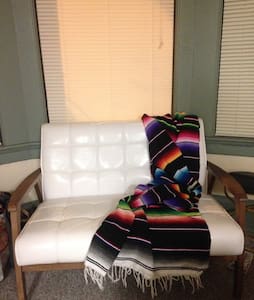 My place is IN Fernley, NV is 28 miles East of Sparks/Reno NV. Pyramid Lake a 20 min drive to fishing, boating and beaches. Lake Tahoe 1 hr to a outdoor hiking, boating or winter skiing. Airport, Reno Cannon International 30 mins drive. parks; City of Fernley has 5 parks for BBQ's, baseball, sports, skate park, great views of the mountains and desert.. You'll love my place because of Its a relaxing, fun and entertaining atmosphere. Close to everything, country setting with mountain views.
You will be welcomed with a fruit basket and local vintage bottle of wine and sparkling cider for the kiddos. Brochures of local adventures available for boating, beaches, hiking, touring the area. Lots of casinos in the area close and 30 minutes away. Great boating, fishing, beaches, skiing and lots of fun surround Fernley and the outlying areas. You have access to the entire home, front and back yards for BBQ's, quiet nights and family gatherings. You are welcome to pitch a tent or 2 on the lawns temporarily.
The neighborhood is quiet and serene and close to everything. There are local taxi cabs and several Uber drivers in Fernley.
Wonderful stay in Fernley. Our new home away from home when visiting family.
Sue
September 2016
The house was very nice and clean. It had everything we needed for the weekend. No issues at all! I would definitely recommend this place to others and will stay there again myself next time I need a place to stay in the area.
Anthony
September 2016
Tipo de habitación
Casa/apto. entero
---
Tipo de propiedad
---
Capacidad
8
---
Habitaciones
3
Fernley