!! PS. A chipmunk got in and made one guest give us a bad review. He's gone now. :) Come stay in your own cozy mini studio, just a little over 25 min. from the Portland suburbs, 45 minutes from Downtown Portland. Our home is on 2 wooded acres. You have a private deck, private bathroom, private entrance and private living space. Did I say private? Yes! Very quiet. No Smokers! No pets. Enjoy a country walk! Or visit the quaint town of Estacada which is just a little over a mile away.
More than just a bedroom, this space includes a small living space where you can relax outside of the bedroom. The living space includes a couch, TV with basic DISH channels, a DVR and DVD player. Also included is are a coffee maker, a toaster, and a small crockpot. Or in nice weather, sit out on your private deck. We have great hot water for your private bathroom, stocked with basic toiletries. Enjoy the forested 2 acre property or visit with the fuzzy friendly outdoor cat. Nice places to walk around the property. There is a common laundry room just outside your space. Feel free to use it as needed. If you are not a native Oregonian, please know that Oregon is lush and green, and to keep it that way, we get a lot of rain! We Oregonians have webbed feet and enjoy the pitter-patter of the rain on the roof while we are cozy inside. Springtime is often full of intermittent rain and sun, but summers are wonderful and often last until October. Winters are generally wet, but mild and snow rarely makes an appearance for a few days a year. Because we live in the forest under the large Douglas firs, it can seem rather dark in the rainy winter when the days are short and the sun sets between 4;30 and 5:30 on December evenings.
We are just a mile and a half from the small town of Estacada located on the Clackamas River. This quaint town has its own award winning brewery, pleasant restaurants, pizza parlors, grocery store, gift shops, antique shops and an art gallery. There are original murals on city buildings painted by local artists and several parks in the town. Estacada has a beautiful new library too. Two state parks are just a couple of miles away, and we just off of HWY 224 that will take you right into the Mt. Hood National Forest for hiking, fishing, and boating.
Christina is a great host! I really enjoyed my stay! It has a living room, bedroom and a full bathroom. It's in a nice wooded area and it's very quiet and peaceful. I had everything I needed and more. I will definitely stay here again!
Shelly
2016-12-15T00:00:00Z
Reasonable winter rates, clean, private entrance, quiet-country (URL HIDDEN) peaceful! Definitely a repeat visit.
Michelle
2016-10-31T00:00:00Z
We really annoyed staying at Christina apartment. Very quite and peaceful area. Everything was exactly as described. Hopefully We'll visit again in the future!!
Yoni & Timna
2016-06-22T00:00:00Z
Beautiful forest setting-almost like a fairytale. The host was very friendly, but allowed me my privacy as well. The room itself is secluded from the rest of the house which was nice. You have your own bathroom and living space. Overall very satisfied with my stay :)
Keeleigh
2015-08-30T00:00:00Z
We enjoyed out brief visit to Estacada. The location of the property is charming and secluded. We had complete privacy and access to complementary snacks and coffee. Great little getaway for anyone looking for some peace and quiet.
Paul
2016-08-27T00:00:00Z
Beautiful choice. Felt like we were out in the wilderness, which is so nice since we live in a very urban area. Birds in the morning, stars at night, sounds of the forest! Separate living/sitting space with bedroom and dedicated bathroom, with a connected laundry room, like a private attached apartment (separate entrance). Very nice, stocked with supplies, including food items (oatmeal, crackers, coffee, granola bars, etc.) and paper supplies (bowls, cups, plates). Everything you need for a stay was provided graciously. Deck was a nice extra. Convenient to town (Estacada) and close to a bigger city (Sandy) with lots of stuff to explore nearby (lakes, rivers, Mt. Hood wilderness area) while still being close enough to Portland (about an hour) to be convenient (if you're brave enough to fight the traffic in the city!). Extremely gracious hostess, very warm & personable. She made it a very nice stay and was extremely helpful in providing information about the surrounding area. Great communication throughout stay while providing privacy. Super experience, would definitely highly recommend. Thanks!
Faith
2015-08-11T00:00:00Z
I had an easy and relaxing experience during the two nights I spent here. I was able to visit local farms nearby, explore the town of Estacada, and reunite with a pal in Portland. Christina gave me a full orientation upon arrival, offered me freshly baked bread and then left me to my whims and privacy. I'd contacted her ahead to ensure the attached space would be quiet and just as she said, the space had plenty of privacy from the main home nearby and I had the quiet I came seeking as a guest. The place was very well done and everything operated well. Christina was a lovely host.
Erica
2015-09-27T00:00:00Z
Cute space but a ways out from Portland. Nice retreat 45 min from the city and the living room, curtained off from the laundry room and the rest of the house was cozy and came in handy for the two of us for sleeping.
Kevin
2016-06-30T00:00:00Z
Tipo de habitación
Habitación privada
---
Tipo de propiedad
Casa
---
Capacidad
2
---
Habitaciones
Estacada, Oregón, Estados Unidos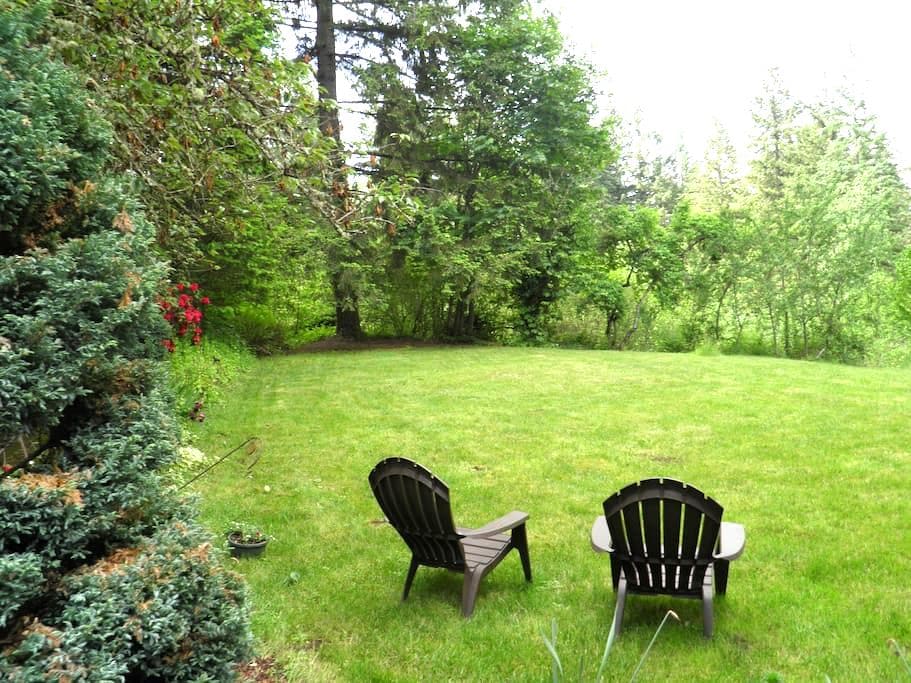 Introduce las fechas para ver el precio total. Ten en cuenta que se aplicarán tarifas adicionales y es posible que se añadan impuestos.