The Prospector Hotel & Gambling Hall is a full service hotel and casino with a restaurant and cocktail lounge. The property is newly remolded with 5 Star amenities throughout, therefore, we are positive you will enjoy your stay with us! See you soon!
Even though I received a text and an email confirmation listing my stay as being on Monday August 15, 2016 Jason apparently put our reservation down for Sunday August 14 instead. Therefore they were not expecting us on Monday and had no rooms for us! No accommodations were made for us beyond calling the other hotels in town to see if any of them still had rooms. There was no offer made to pay for our room at the other place. It didn't matter that I could show them an email with the right date and a confirmation code, they had already listed us as a no-show, no-call reservation for the night before. And my credit card was still charged (although I'm sure AirBnB will refund my money.) DO NOT STAY HERE!!! THEY CAN'T GET A SIMPLE RESERVATION RIGHT. WHY IS A HOTEL EVEN LISTED ON AIRBNB?!?!? THEY SHOULD BE REMOVED FROM THE SITE.
Andy
2016-08-17T00:00:00Z
Awesome hotel. Didn't know hotels posted their rooms on here, but was glad this one did. Enjoyed the pool, fitness room, and the overall atmosphere of the place. Even won a few dollars messing around on a slot machine.
Steve
2016-08-19T00:00:00Z
Meet with a smile, clear information, they were happy to keep my motorcycle under the canopy! Amazing decor throughout! Very Very interesting place. They have created almost a museum of artifacts and paintings everywhere!
Eric
2016-08-26T00:00:00Z
I wish that it was possible to give 10 stars. We were moving across the west and used The Prospector as a stopping point. I'm so glad that we stayed here. They were extremely pet friendly (both dogs and cats). The casino is a great time and the pool and hot tub are terrific. The best part was our room. The bed was HUGE!! The room was extremely clean and had a nice mountain view. If you're going to Ely you should stay at The Prospector :)
Anthony
2016-07-27T00:00:00Z
Really comfortable nights.
Feifei
2016-11-26T00:00:00Z
This is a hotel & casino. The hotel's website showed full but we were able to get a room on Airbnb. Nice room. Big. People were nice and Mexican restaurant was pretty good. Nice stop in Ely.
Deno
2016-05-30T00:00:00Z
Tipo de habitación
Habitación privada
---
Tipo de propiedad
Otros
---
Capacidad
2
---
Habitaciones
Ely, Nevada, Estados Unidos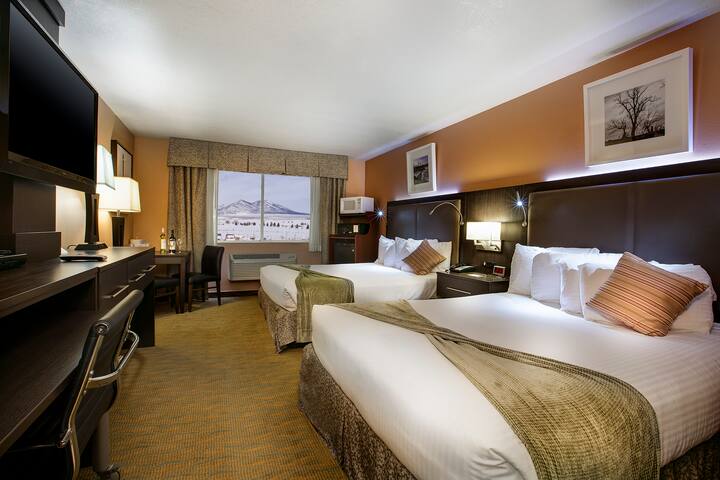 My place is close to Downtown Ely. My place is good for couples, business people, traveling Mine workers and solo adventurers.
Great value and location for Ely activities. Quiet neighborhood and only a short drive to the center of town. House is spacious, clean, and has all necessary appliances and amenities for a short stay. Host is very responsive and helpful--I will be a repeat customer and recommend to others.
TsuTOMu
2017-01-29T00:00:00Z
Nice bright comfortable basement apartment. Kirsty was very helpful and responsive even providing great cross-country skiing beta. The location is excellent for its quick access to the canyons and easy walk to the main old-town. It is a basement apartment for sure and as such you get some noise from the footfalls and dog claws of the overhead dwellers. We were truly pleased with the bright cozy space and would happily stay again.
Trever
2017-02-06T00:00:00Z
The host canceled this reservation 11 days before arrival. This is an automated posting.
Crystal
2016-11-08T00:00:00Z
Tipo de habitación
Casa/apto. entero
---
Tipo de propiedad
Departamento
---
Capacidad
4
---
Habitaciones
Ely, Nevada, Estados Unidos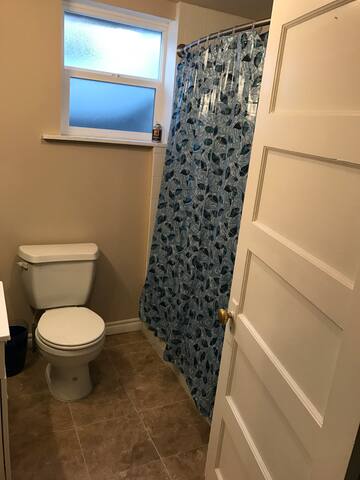 Cabin 20 miles from the Great Basin National Park. Nice deck with gas firepit, 2 BBQs, and a magnificent view. One bedroom, loft, kitchen, and living room. Great wildlife and amazing starry nights. Telescope available for guest use. There is also a hammock available for our guests use.
Approximately a 20 minute quick drive to be at the Great Basin National Park. A lot of wildlife in the area. Beautiful view of Mt. Wheeler from the living room or deck. The night sky is like no other. View the milky way and millions of stars, and watch satellites pass over.
Cute cabin conveniently located near Great Basin National Park. Wildlife viewing, hikes into the park to see Bristlecone Pines, glaciers, mountain lakes, and tours through Lehman Caves. The cute town of Baker is located 5 miles from the park. Almost zero light pollution making the night sky amazing for star viewing. This is offered at the Park usually on Saturday night in the summer.
Sally checked in multiple times prior to our arrival to make sure we had no problem finding the cabin. She even made calls for me to get the most up to date trail conditions of the national park. The cabin was a wow! Clean, comfy, clever use of space and cute decor everywhere. It had everything you need not only for staying overnight, but to truly enjoy the stay. As many guests have shared, the night sky was amazing... and you have the view to yourself, no flashlight nor headlight from other visitors! I hardly spend time at the lodging when I travel but this cabin made me want to skip my hike at Great Basin. We are already planning to come back and bring more friends!
Min
2016-06-07T00:00:00Z
We really loved this cabin in the woods near Great Basin National Park. The deck is spectacular with an amazing view. It was cozy, comfortable and well-equipped. Highly recommend to those who love the cabins feel.
David
2017-03-07T00:00:00Z
We loved our stay here! Sally and Terry did everything to make the stay wonderful! The views were amazing. Sally and Terry were very accommodating they provided muffins and flowers. The outdoor area is beautiful for dinner and breakfast!!Wonderful stay we would stay again!!
Karen
2016-08-17T00:00:00Z
Sally and Terry were very gracious hosts during our visit to the Great Basin National Park. They were very helpful in sharing all of the information they could about the surrounding area before our visit. They made sure to fill us in on details of the general area, directions to the cabin, great hiking trails and dining recommendations. The cabin was very well cared for, clean and full of amenities that we enjoyed during our stay. Thank-you for being wonderful hosts and for making our first Airbnb experience outstanding.
Matthew
2016-03-30T00:00:00Z
My family and I had a PERFECT time staying at Sally and Terry's cozy, IMMACULATE cabin at Sacramento Pass. It is a superb location to stay if you want to see Great Basin National Park as it is only 15-20 minutes from the visitor center. Sally and Terry were very friendly and communicative and answered all of our questions in a timely manner. The directions they provided for finding the cabin were foolproof and we had no trouble at all finding the property after a 3+ hour drive from SLC. Upon arrival, we were greeted with a sweet little welcome note, along with fresh flowers on the table and plenty of visitor guides/brochures to get us started on exploring the area. I loved the time and care they took in making sure my family and I felt welcome. The little touches were noticed and appreciated. The cabin was very well-equipped with plenty of bedding, linens, pots/pans/dishes and other necessary items. I was able to prepare a fully home-cooked meal in the kitchen, never having to bring anything except the ingredients! Additionally, there were extras like TVs, movies, board games, kids' toys, etc. to keep us occupied when we weren't exploring outside during the day. Great Basin National Park is a fun place to explore. Highlights include the 60 or 90 minute tour of the amazing Lehman Caves which boast unique geological features rarely found in other caves around the world. The scenic drive to Wheeler Peak was beautiful (great pics can be taken at the Mather overlook) and there are plenty of nature hikes that can be enjoyed. A favorite is the Bristlecone Pine trail, where you can see for yourself the namesake trees. Over 4000 years old, they are they oldest living things on Earth...amazing! The Astronomy program put on by the "Dark Rangers" on Saturday nights outside the Lehman Caves visitor center is not to be missed. They put on a great presentation, including a slide show and breathtaking views of stars, planets, nebulas, etc through their 4 high-powered telescopes. My favorite part of staying at Sally and Terry's cabin was siting on the deck each night to watch the Milky Way rise above us. I've never seen so many stars, planets or meteors in all my life! The dark skies of this region are something to be cherished and I promise you that you will experience something of a spiritual nature when you look up and actually see our beautiful universe splayed out before you while you sit next to the cozy fire pit on the deck or lay on the included hammock. The cabin even has a telescope you can use to peer even further into the night sky. A great bonus addition! What a unique and memorable experience. Do yourself a favor and book with Sally and Terry. You will not be disappointed.
Natalie
2015-09-08T00:00:00Z
This is THE place to stay if you are visiting the Great Basin NP area. The cabin was very clean and well apportioned. Sally was great to work with. The cabin is about 10 miles from the town of Baker, but it was not an issue for exploring the area. It was just my husband and me traveling, but there would be room for a couple more people or children if you have a bigger party. Great place!
Karey
2016-07-05T00:00:00Z
Fantastic little cabin, very tastefully designed, great deck for star-gazing and eating out - and close to the Great Basin National Park. Sally and Terry were very helpful and great hosts - thanks for the flowers and muffins!
Gabriela Ann
2016-07-28T00:00:00Z
I would highly recommend this property for anyone wanting to explore Great Basin National Park or the surrounding area. It was beautiful, clean, and full of the thoughtful touches that make a stay feel more like home. As there was no tv or wifi, my daughter was particularly pleased with the selection of great movies. The hosts were very easy to work with as well. We had an absolutely amazing visit and would love to return in the near future.
Stacy
2016-08-20T00:00:00Z
Tipo de habitación
Casa/apto. entero
---
Tipo de propiedad
Cabaña
---
Capacidad
4
---
Habitaciones
Baker, Nevada, Estados Unidos
Introduce las fechas para ver el precio total. Ten en cuenta que se aplicarán tarifas adicionales y es posible que se añadan impuestos.