독특한 별장 스타일의 침대와 아침 식사 하우스 제공하는 개인 정보 보호, 완벽한 주방과 역사적 Choctawhatchee 강 강 전면보기. 두 개의 침실, 두 개의 화장실, 화재 피트, 추가 비용없이 카누와 카약도 가능합니다
촉 토어 로지 리 트리트 편리 파나마 시티 비치에서 25 분, 해변, 데 스틴과 Grayton 비치 지역에서 35 분 위치한 역사적인 Choctawhatchee 강에 있습니다. 낮이나 저녁 여행을위한 해변으로 조용하고 평화로운 장소에서 자연과 아직 쉽게 액세스를 즐길 수 있습니다. (URL HIDDEN)
우리 동네는 개인, 깨끗하고 이상 역사적인 Choctawhatchee 강 아름다운 전망을 보인다. 자연 야생 동물과 독특한 식물 생명의 끝없는 viewings 풍부.
Kathryn is the epitome of a gracious hostess. Everything exceeded my expectations. The location,charm, accommodations were superb. I've recommended my friends stay here. I hope to come back again.
meg
2015-01-26T00:00:00Z
Tipo de habitación
Casa/apto. entero
---
Tipo de propiedad
Bed & Breakfast
---
Capacidad
4
---
Habitaciones
Ponce de Leon, Florida, Estados Unidos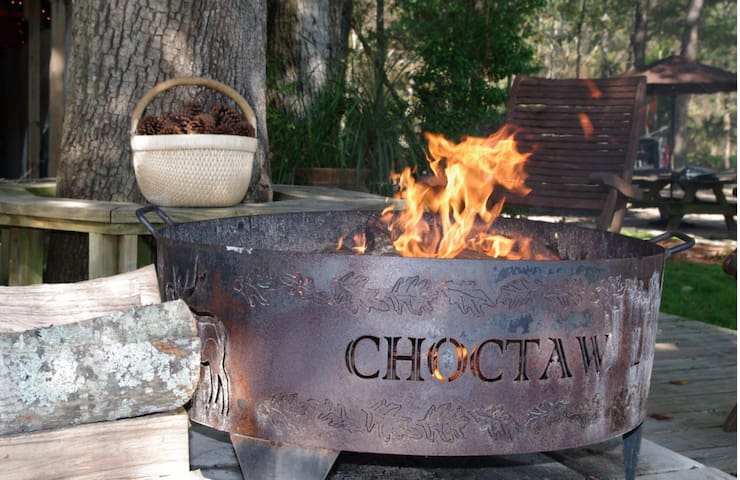 Close to the airport, Lynn Haven, & Panama City Beach, but far away enough for the privacy & seclusion you need to relax on your vacation! With an open concept kitchen, high ceilings, quiet cul de sac, natural wooded surroundings. Our home is great for multiple couples, business travelers, families (with or without children), and larger groups. Just outside the city, in a quieter, secluded area. Check out the stars at night - millions of them light up the night sky out here in the country!!
Comfortably sleeps 10 adults/children. Fire pit in the back yard with wood available to burn. Secluded, quiet neighborhood with very little traffic. Queen size air mattress also available for use.
Very quiet, secluded neighborhood, surrounded by wooded areas. Great for long walks! Located approximately 30 minutes from Panama City Beach where there is shopping at Pier Park, restaurants, Shipwreck Island water park, Gulf World Marine Park, Zoo World, Club LaVela, Spinnakers, Ripley's Believe It or Not, WonderWorks, bowling & roller skating at Rockit Lanes, miniature golf & so much more!
It's is very clean and organized place a very quiet place I would stay again
Letoria
2017-03-16T00:00:00Z
Tipo de habitación
Casa/apto. entero
---
Tipo de propiedad
Casa
---
Capacidad
10
---
Habitaciones
Panama City, Florida, Estados Unidos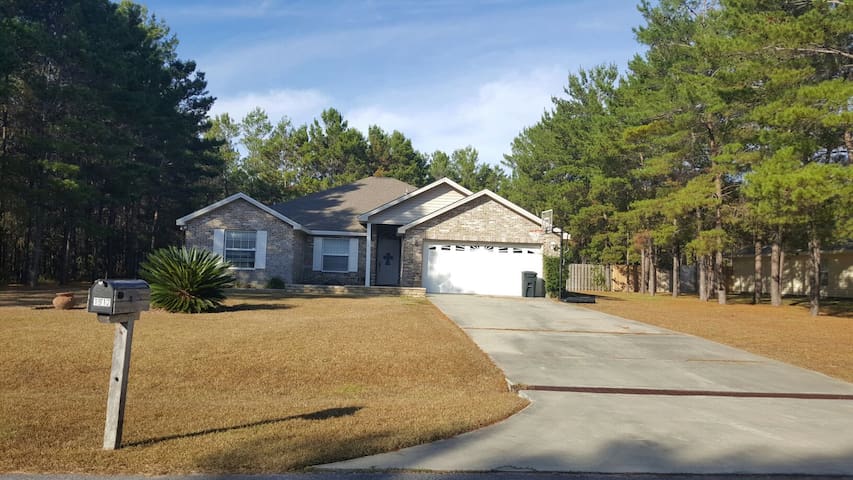 Stay on one of the prettiest lakes in north Florida. enjoy stunning sunsets and a beautiful sand beach with crystal clear water. you can enjoy wonderful cannoning kayaking and fishing. Pier Park and Panama city is only a short drive away.
Tipo de habitación
Casa/apto. entero
---
Tipo de propiedad
Cabaña
---
Capacidad
4
---
Habitaciones
Chipley, Florida, Estados Unidos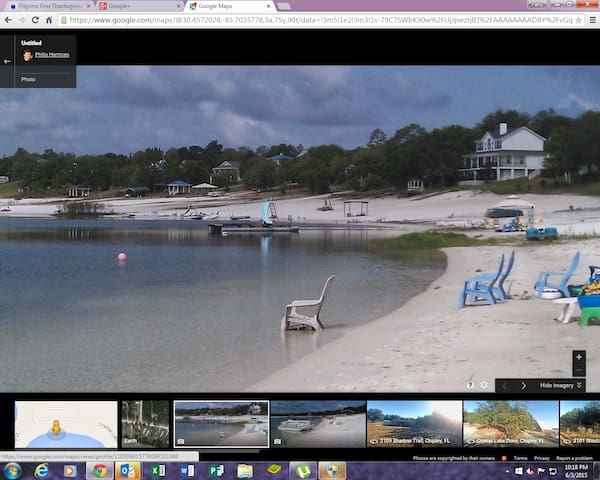 Right on the water with fishing allowed. Have fishing rods you can use. Pool is spectular... Minutes from the beach. We offer weekly rates...Have Great Host Comments. Check them out!!!!!!
. Your spacious room has everything for any enjoyable stay. Right on the water. Fishing is available right off the dock and I have fishing rods you can use. Queen size bed with sitting area and laptop table and TV and Internet and WIFI in room. Private bath right across the hall. Pool with chairs and table and chase lounges. All screened with access to Garden Area and Gas Grills and Swing.
Love the area to rest and relax and still close to it all
Sheila's place was beautiful. We enjoyed the water view and gardens. Thank you for a wonderful stay
Cathy & Gary
2016-10-31T00:00:00Z
I loved staying at Sheila's place in Panama City Beach, my only regret is not staying longer! My mom and I were stopping here on our way to Savannah from New Orleans and had a very nice night in this Air BNB. I was very grateful to have access to the covered pool and was able to enjoy some swimming under the stars after a long day of driving. The dock overlooking the water was beautiful and I definitely would have given fishing a shot had we more time. My mom enjoyed our sleeping arrangements and private bath and we liked having a television and refrigerator in our bedroom. Sheila was very welcoming when we arrived and the next morning, Faye was very kind and made us coffees to take with us on our drive. She also made some good recommendations to find breakfast and pass thru on our way out of town. Thanks so much for the great visit!
Michelle
2016-09-30T00:00:00Z
I booked this within hours of my arrival, as I had not made other accommodations. Sheila was prompt in responding and made sure she had everything in order, even though she was out of town. Her fiancée was expecting me and he and their home were very nice! I was on a quick business trip so I arrived after dark. The next morning before leaving, I walked the grounds of this beautiful Bayfront property with many amenities! I regret I didn't have time to hop in a canoe and go exploring, or make it 5 miles down the road to get my toes in the sugar white sands of the Panama City Beach! But it was a business trip, afterall, and made comfortable by this pleasant place to stay! Thank you Sheila and Daniel!
Doug
2016-10-03T00:00:00Z
Great place to stay. Very friendly hosts.
Gabrielle
2017-03-20T00:00:00Z
room are nice and clean, they prepare tissue and clean trash can. The bed is great to sleep. Lisa is very friendly.
zoe
2016-11-24T00:00:00Z
What an amazing stay I had! TBH I didn't know what to expect using this app. As a college basketball coach who travels a lot I figured I would give it a shot. From the minute I arrived Sheila treated me as if I was at a 5 star hotel (The place could be considered that). Smooth check in, beautiful, clean home. The room is beautiful, queen bed is very comfortable. Indoor pool was amazing for a late night dip! Shower clean and ready to go. Loved Shiela and her home. Will for sure stay again when I can. YOU WILL NOT FIND A BETTER PLACE TO STAY IN PANAMA CITY BEACH.
David
2016-10-08T00:00:00Z
The place was beautiful! Sheila and Joyce were friendly and super accommodating by letting us book last minute and arrive early! They responded quickly to all our messages and communication was never an issue. We definitely felt welcome and we're blown away by the gem of a place they have. Mango is a great, friendly little dog and it was amazing to swim in the pool and be able to look out at the lake. On top of that, we were less than 15 mins from panama city beach with tons of shops and restaurants as well as the gorgeous beach itself. We finished off our evening with grass-fed filets cooked on their grill and ate outside while enjoying the beautiful scenery. We would definitely stay there again in a heartbeat the next time we're traveling that way.
LeAnn
2016-08-24T00:00:00Z
The host canceled this reservation 134 days before arrival. This is an automated posting.
Blaine
2016-12-29T00:00:00Z
Tipo de habitación
Habitación privada
---
Tipo de propiedad
Casa
---
Capacidad
2
---
Habitaciones
Panama City Beach, Florida, Estados Unidos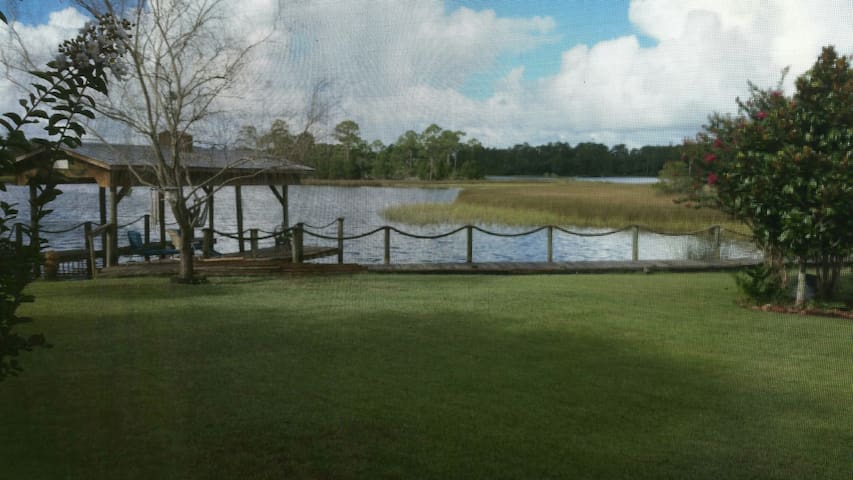 Located on the west end of Panama City Beach, only 15 minutes from Pier Park and 5 minutes from 30-A, this town home feels very secluded. Tuck away on Lake Powell, it is a perfect location for kayaking and paddle boarding. There is also close beach access in PCB and Inlet Beach. This property also boasts an on site boat ramp, dock on Lake Powell and a pool. This property offers the best of both worlds, seclusion and access, the magnificent gulf waters and a pristine lake.
This is a split level town home with parking underneath, a fenced back yard, a full kitchen, laundry room and full bath downstairs with both a front and back porch. There are 2 bedrooms and a full bath upstairs as well. There is also a small porch off each bedroom, one open air and one glassed in. There is a stunning view of Lake Powell from the front of this home.
The best thing about this location is that you feel miles away from civilization sitting on the porch, looking out over Lake Powell, but you are actually minutes away from Pier Park and 30-A. There is Camp Helen State Park, Winn-Dixie, a Publix, a CVS, A Dunkin Donuts, a Crab House, Carillon Beach and other restaurants with in 3 minutes of you.
Tipo de habitación
Casa/apto. entero
---
Tipo de propiedad
Adosado
---
Capacidad
6
---
Habitaciones
Panama City Beach, Florida, Estados Unidos

This unit is small yet has good layout and is conveniently located in quiet part of town within short drive to variety of entertainment, dining and shopping at "Pier Park" Mall and Rosemary Beach
The location of the unit provides serenity and relaxation for somebody who is looking for a place to get away from "bustle and hassle" of a big city and be on the beach in no time, yet still wants to be not far from conveniences and entertainment of a true resort destination. The "Villas of Bahamas West" condominium is located on the west end of Panama City and sits just 1 block away from very quiet and private beach. You'll be on the beach in less time than it takes to wait for elevators in some high-rise buildings. And you'll be sure happy to have sugary white sands and turquoise waters almost all just for yourself. The accommodation is very comfortable for two adults, or a family with up to two children able to share one bed. You'll have a small, yet private, bedroom with Queen bed, and a decent size living room with pull out Queen size sofa-bed. Both rooms have individual TV sets ( Cable TV ) , so everyone in the family can enjoy their preferred show. The small kitchen opens to the living room, making family gathering after all activities of the day very homey and accommodating. The private and very spacious balcony has a dining set too, so you can enjoy family meals inside or outside, at your preference.
Regina's place was perfect. Comfortable, well equipped, very clean and nicely decorated. She stayed in touch with me via text and was very clear on lock box instructions. Nice neighborhood with easy access to the gorgeous beach. I had an easy arrival and enjoyed my stay. Only one glitch was the varied and random motion lighting on the stairwell. Best to have a little flashlight at night. Otherwise I felt safe.
Alison
2017-02-23T00:00:00Z
Cozy condo with the perfect amount of space for two people. Quite nice for the price. Would definitely stay here again.
Rebecca
2017-02-28T00:00:00Z
I highly recommend this condo. Adorable, well equipped, convenient location with a short walk to the beautiful beach. Quiet complex and short ride to Pier Park. The condo was tastefully decorated, has a large covered porch and all the necessities you will need. Regina was thorough on all her communication ensuring everything with our stay went smoothly. It was our first time visiting PCB and this condo met our needs and then some. If we plan another trip we will defintiely stay here again.
Debby
2016-11-25T00:00:00Z
Great, affordable place. It was very clean, the kitchen was equipped with a blender, coffee maker, electric tea kettle along with most other kitchen necessities. It's only about a three minute walk to the beach. Nice balcony, you can hear they ocean from it. The only thing we weren't quite satisfied with was the super firm mattress, but that's really a personal preference thing. BUT, there's a decent sized pullout couch that's a big cushier. Overall, we were very pleased with our stay. Thanks Regina!
Jamie
2016-11-04T00:00:00Z
Everything was nice for our mini honeymoon!
braejhan
2017-04-03T00:00:00Z
We enjoyed our mini honeymoon at Regina's place. She was so attentive & gave full instructions. The beach is so close & the apartment is just the cutest! We will definitely be back and stay here in the future.
Amy
2016-06-02T00:00:00Z
Nice condo located in the quiet part of town. Has all your favorite stores, and restaurants close by. Takes about a 15 min drive to get lively part of town. Overall great place to stay, with a great host to accommodate.
Jay
2017-03-20T00:00:00Z
The listing photos depicted a newly refurbished condo, and the reality exceeded our expectations. Loved the spacious deck!
Debra
2016-07-23T00:00:00Z
Tipo de habitación
Casa/apto. entero
---
Tipo de propiedad
Departamento
---
Capacidad
4
---
Habitaciones
Panama City Beach, Florida, Estados Unidos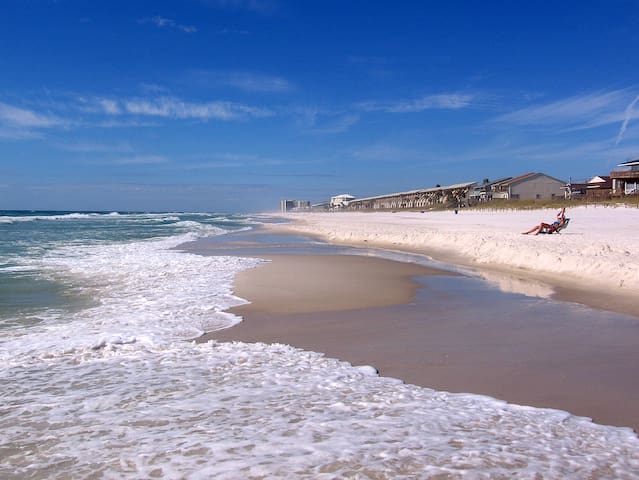 Enjoy close to the famous white sandy beaches comfortable, luxurious living for those who like to kick back in an easy-going atmosphere bursting with beautiful features. This one bedroom apartment home includes a screened balcony opposite to Conservation National Park. In our luxury apartment community, you will find even more impressive features: a resort-style swimming pool, state-of-the-art fitness center, and beautifully landscaped grounds.
Isabel is so nice and very attentive to it's guests. This apartment is in a beautiful and quiet place. The location is near beaches, restaurants, markets.
Caroline
2017-04-02T00:00:00Z
Tipo de habitación
Casa/apto. entero
---
Tipo de propiedad
Departamento
---
Capacidad
2
---
Habitaciones
Panama City Beach, Florida, Estados Unidos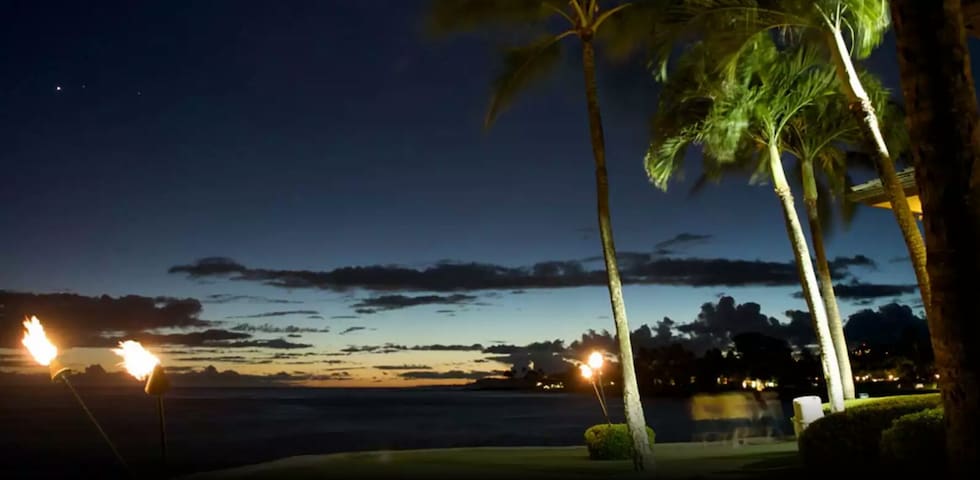 This is a brand new home new to the rental market, nestled at the end of a quiet street just two blocks from the Gulf of Mexico and 2 miles from Pier Park restaurants, entertainments and shopping. Adjacent to Pier Park is Frank Brown Park, which is a wonderful recreational facility that has a pool, tennis, and softball/baseball accommodations.
The host canceled this reservation 85 days before arrival. This is an automated posting.
Nina
2017-04-05T00:00:00Z
Tipo de habitación
Casa/apto. entero
---
Tipo de propiedad
Casa
---
Capacidad
8
---
Habitaciones
Panama City Beach, Florida, Estados Unidos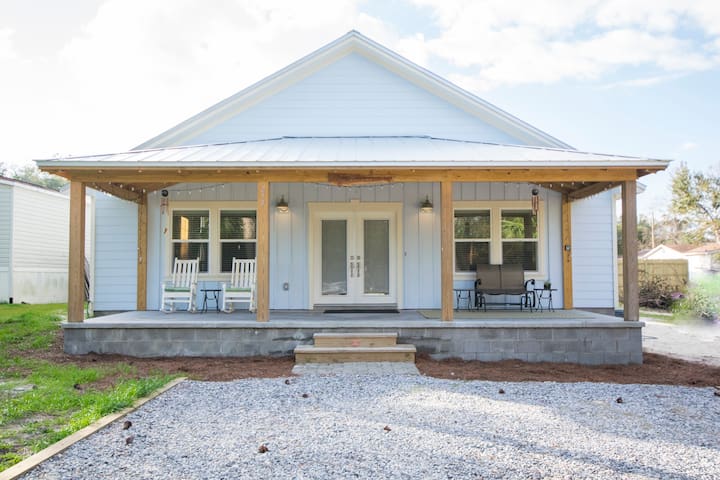 This Private Carriage House is the perfect vacation get-a-way for anyone interested in escaping from the every day grind of life. Enjoy the sidewalk community of Seacrest Beach w/ 24/7 onsite security, palm tree lined streets & the amazing 12,000 sq. ft Lagoon Pool. Make yourself at home in this one bedroom/one bathroom Carriage House with a full kitchen that opens into a spacious living room w/ private outdoor covered porch. Complimentary pool passes, Tram Service to/from the beach & 2 bikes
The Private Carriage House has travertine tile throughout and is a very clean, comfortable and cozy place to relax after a long day at the beach or pool!
Seacrest Beach is a beautiful, palm tree lined side walk community with 24/7 onsite security. It is perfectly situated between Alys Beach and Rosemary Beach communities and a stroll by foot or a ride by bike will take you to either of these neighborhood where you can enjoy plenty of dining, shopping and entertainment!
Tipo de habitación
Casa/apto. entero
---
Tipo de propiedad
Alojamiento vacacional
---
Capacidad
2
---
Habitaciones
Panama City Beach, Florida, Estados Unidos
Jen's home is lovely. She is so sweet and kind and gave wonderful local recommendations. Her home is clean and beautifully decorated. The room was comfortable and cozy. The neighborhood is so quiet and peaceful. You just drive across the street and you are at the beach. Inlet Beach is easy access with plenty of parking. Great local restaurants and less than 5 minutes from Rosemary Beach. I would absolutely stay with her again. It was a perfect weekend getaway.
Katie
2017-04-02T00:00:00Z
Tipo de habitación
Habitación privada
---
Tipo de propiedad
Casa
---
Capacidad
2
---
Habitaciones
Inlet Beach, Florida, Estados Unidos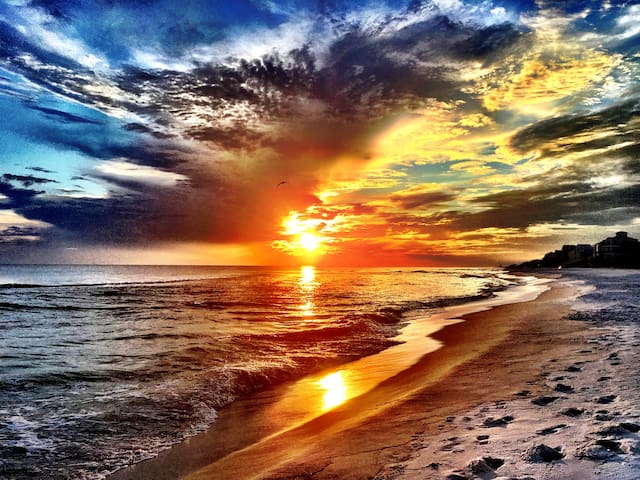 This is the perfect beach house. You have a view of the beach. There is a large balcony on the main floor as well as the upstairs bedroom. Wake up in the morning and you are staring at the beautiful Gulf of Mexico. Footsteps away from the water. There is a 4 percent local tax.
The Beach House is two floors. The main floor is off the ground with the car port underneath. The balconies are a great place to hang out, and there is plenty of space. I put that this place sleeps 6; its been done before, but if you don't want to share a couch bed with someone, it really sleeps 5.
The host canceled this reservation 28 days before arrival. This is an automated posting.
Holly
2016-08-05T00:00:00Z
Great location! Franklin was easy to contact. Outside shower was a plus! Easy walk to the beach with our 2 young kids! We would definitely stay again.
Larcie
2016-07-16T00:00:00Z
This is a older, well kept town home home that is very clean and conveniently located on a beautiful beach. Everything works and it is set-up well for travel. Good restaurants and shopping are nearby, too. It is located in a quiet residential area West of Panama City. It is a great place for a quiet get away and would also be convenient with kids. The owner has thought of all the details!
Bill
2016-10-15T00:00:00Z
Would be wonderful for a family with lots of bathrooms and an outdoor shower .Beach is fabulous 'unit quite dated but clean.
Torben
2017-03-11T00:00:00Z
Franklin was easy to reach and I had a positive experience.
Sandra
2016-11-08T00:00:00Z
This condo was very clean and the host answered all question very quickly. Will stay here again. It was very close to the beach and very quiet. Easy in easy out. Absolutely loved it. Great place to stay.
Jan N Kirby
2016-06-28T00:00:00Z
This home was in a great location, the view from the main bedroom was perfect as was the weather! The beach was clean, quiet and close! we would go back again!
Richard
2017-03-30T00:00:00Z
Better than the pictures! Steps from the beach, perfect balconies and so clean! We will be back!
meg
2017-03-24T00:00:00Z
Tipo de habitación
Casa/apto. entero
---
Tipo de propiedad
Casa
---
Capacidad
5
---
Habitaciones
Panama City Beach, Florida, Estados Unidos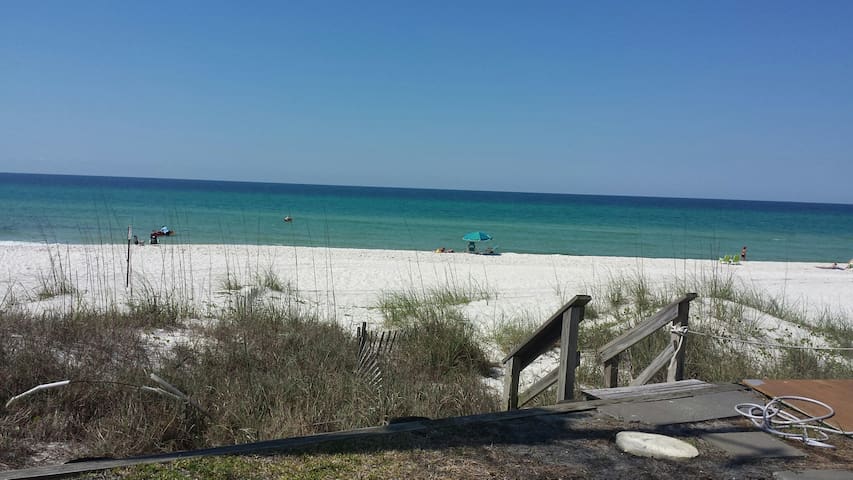 Tipo de habitación
Casa/apto. entero
---
Tipo de propiedad
Otros
---
Capacidad
10
---
Habitaciones
Walton County, Florida, Estados Unidos
The Little Dolphin @ 21810 Dolphin Ave. is new to AirB&B-Sept. 2016! It has been our vacation home for many happy years-and now we are sharing it with verified guests! Close to 30-A in South Walton, Pier Park in Panama City Beach and BEST OF ALL it's only a 2 block WALK to the Gulf! We have a ton of recommendations for fun stuff like golf cart, jet ski & kayak rentals to nightlife, restaurants, day trips and more . Perfect for couples, business travelers, friends and families . Owner nearby.
21810 Dolphin Avenue- Super cool Beach Cottage is uber comfortable and welcoming and is only a short walk up Dupree OR Kelly Street to to the best and whitest sand beaches and emerald waters in Florida. It has had a major remodel summer 2016 and has just been listed on AirB&B. In front is a spacious porch with a seating area complete with directors chairs and table AND a large dining table with 4 chairs! On most nights you can hear the Gulf waves and feel the breeze..and the outdoor open to the sky showerhouse is awesome! JUST ADDED: Cool new patio, grill, table and chairs just added March 2017
Quiet, family "old Florida"neighborhood with a mix of full time residents, long and short term renters and vacation homeowners (part time residents). Only 800 feet from the finest beaches in the WORLD and it can be yours !!
Jon was the ultimate Host !! Everything was exactly as described if not better !! We would definitely book with Jon again if needed.
Mike
2016-10-05T00:00:00Z
It's great because you can cook your meals, and walk to the beach with a cup of coffee before the coffee cools.
Austin
2017-03-29T00:00:00Z
The house was very sweet and we loved the proximity to the beach. Very comfortable beds and loved the outdoor shower! We would stay here again!
Edie
2017-03-25T00:00:00Z
My friends and I loved this house! It is in a perfect location and super close to the beach. Very cute and homey in a quiet and friendly neighborhood!
Allie
2017-03-17T00:00:00Z
Cute little house. Close to the beach! Worked great for little ones.
Tassie
2017-04-05T00:00:00Z
Nice apartment, 5 min walk to the beach. Nice stores and more just 10 min drive. Enjoy to stay here and I will come back for sure.
Mario
2017-03-05T00:00:00Z
Jon was a pleasure to deal with. I booked the Airbnb for my groomsmen and they all enjoyed their stay. Jon was very helpful and even called one of my guests to say hi. The place is a two minute walk from the beach and the place is very welcoming. Do yourself a favor and stay here.
Mark
2016-10-09T00:00:00Z
Jon went over and above in making this transaction a Wonderful experience. Everything was as described and any questions we may have had were answered immediately. This is a GREAT location a short distance from the tourist areas but close enough to everything required or needed. We would definitely use Jon and his beautiful home again in the future. Mike Payton
Mike
2016-09-28T00:00:00Z
Tipo de habitación
Casa/apto. entero
---
Tipo de propiedad
Casa
---
Capacidad
6
---
Habitaciones
Panama City Beach, Florida, Estados Unidos
Pinnacle Port A921 : This gorgeous 2 bedroom 2 1/2 bath condo is located on the quiet west end of Panama City Beach. Walk out of the condo to the ocean or head down to the dock to access beautiful Lake Powell. Best location in Panama City Beach!!
THE VIEW - The condo is located on the ninth floor of the west wing, in the tower building. This location allows for unobstructed beach views from the living room balcony and the dining area as well as the windows of the guest bedroom upstairs. A second balcony off the master bedroom offers gorgeous views stretching across the property to Camp Helen State Park and all the way down Rosemary Beach towards Destin. You can see for miles and the sunsets are not to be missed!! THE CONDO - This wonderful 2 bedroom, 2 and 1/2 bath condo can sleep up to seven guests. Downstairs, you will find a fully equipped kitchen, as well as a half bath with a FULL SIZED washer / dryer. In the living room, the entertainment center includes a large flat screen TV set up with cable and a Blu-Ray / DVD player, which will also give you access to Netflix. Plus, a Bluetooth enabled Sony sound system, can connect with your phone or tablet and allow you to play your favorite tunes with the touch of a button. A workstation gives you an area to set up your laptop with a 100 MB Ethernet cable and the UPGRADED WIFI in the unit is a real bonus! A generous supply of movies, games and books are available if you need some downtime after a busy day at the beach. Put your feet up and relax on the comfortable couch which can double as a sofa bed. The two upstairs bedrooms each have a comfortable queen bed, a large TV, and ample closet space. An additional twin bed in the guest bedroom provides for a little extra sleeping space. Both rooms offer incredible beach views looking out opposite sides of the building. The hall bathroom has a large walk in shower while the master bedroom includes a private bathroom with a tub / shower combo. The walk out balcony in the master bedroom allows for gorgeous views down the coastline. A beautiful sight to wake up to every morning!
PINNACLE PORT - The location of this private access property is perfect; secluded enough to be away from the crowds and traffic in Panama City Beach but still less than 15 minutes to Pier Park and all of the fun vacation activities this growing city has to offer. Directly to the west of the property is 30A and Rosemary beach which is famous for its upscale shops, dining and night life. The beaches here are bigger than in other areas of Panama City and the water is crystal clear. As an added bonus beautiful Lake Powell borders the property and can be accessed by guests by either the on-site dock or boat ramp. Bring your fishing pole, paddle boards, boats or jet skis. Kayaks, canoes, and paddle boards are available for rent in the office. Ample parking means you won't waste time searching for a parking space. Also on property are two pools, four tennis courts, shuffleboard courts, grilling areas, a workout room, saunas and a playground. This is that special kind of place where you can check in with your loved ones and then settle in for a few days (or even a few weeks) of memorable family fun!
The listing perfectly described the place. It was exactly as the pictures show. Hosts were very prompt in their responses, and were very helpful with any questions we asked. Super easy and pleasant to work with. The hotel is on the East side of a small stretch of hotels, and we loved having the Carillon Beach quaint little houses right next to us. It couldn't have been more picturesque if it tried.
Stefanie
2016-05-20T00:00:00Z
Great service.. Always available for any queries
Sreeram Madhu
2017-03-14T00:00:00Z
Great location, very clean. The kitchen was fully equipped, strong wifi on both floors. The views from both terraces was impressive.
Thomas
2017-04-08T00:00:00Z
We had a wonderful stay at Jed and Laura's condo. Perfect and quiet location, while still so close to the activities of PCB. The condo itself is beautifully decorated, clean and has fantastic beachfront views from the widows. Our whole family had such a great time and look forward to a future return trip.
Mary
2016-10-30T00:00:00Z
We had a terrific time here! Everything was just as described and better. The ocean view from the condo was breathtaking. We got to see many interesting ocean wildlife right from the balcony. Dolphins were leaping out of the water for an exciting experience. Private access to the beach was a huge plus. Many attractions near by. Jed and Laura were exceptional host. Very friendly and accommodating. They were readily available and responded to our every need in an instant. I would definitely recommend this place and will be back again!
Eva
2016-08-25T00:00:00Z
My family enjoyed the beautiful private beach walk and relaxing time. Close to mall for shopping and affordable restaurants. My wife wants to go back there again so I must be coming too :-). The only caution I'd like to give is to carry your shoes with you when walking at the private beach although my family got the shoes back the next day, some body stole/pranked us by stealing our shoes one day. Not sure what to make out of this.
Daniel
2016-12-29T00:00:00Z
I loved staying at Jed and Laura's condo! I can't say enough positive things about my experience. There are ocean views from every room, they paid attention to every detail even down to USB charging jacks on the bed stands, its close to Destin and Panama City, and the beach was very private. The place is decorated very well, BIG TV's in every room, very cozy living room and dining area. They made it very easy to access the condo with a personal key code and very specific instructions to use upon arrival. There are two beautiful pools as well! Great communication too. I will be back. Thank you again :)
Jeff
2016-12-16T00:00:00Z
Our stay at Jed & Laura's condo was fantastic and we had a wonderful time! The condo had everything we needed - and more. The location was perfect - close to everything but not too busy or crowded. The private beach was gorgeous and easily accessible. Jed & Laura were wonderful! Starting with the reservation process through to after our departure they were very responsive and attentive. The condo, location, and amenities for the cost cannot be beat - it is an exceptional value and were extremely pleased with our decision to rent from Jed & Laura.
Lori
2016-11-02T00:00:00Z
Tipo de habitación
Casa/apto. entero
---
Tipo de propiedad
Apto. en complejo residencial
---
Capacidad
7
---
Habitaciones
Panama City Beach, Florida, Estados Unidos
Want closeness to the activity but peace of mind to get away from it all? My place is 1/2 mile walking from the white sands of Laguna Beach to your front steps. Fully furnished, all working appliances, bike and pet friendly. Ages 25 and up!
Our rental is a private mobile home, with all the comforts of your home. (If you are a winter visitor, there are self contained radiant heaters in each room, not central heat.) We are located on a residential side road with mixed housing, not a mobile home park. A fenced in back yard, fire pit and BBQ grill. Bring your charcoal if you plan on grilling out. 1/2 mile from the beach, where you'll find sunbathing, beach combing, swimming and fishing. If you head towards the strip where all the action is, just keep the gulf to your right... You can't miss it!
The neighborhood, is older, residential, friendly and tolerant of activity. Most of the houses in this neighborhood are modular in style and the neighbors live there full time. Please respect them and the quiet nature around you. There is a Sheriff who lives directly across the street from us, for that extra sense of comfort. His Crime Scene SUV is usually parked in his driveway. We are in an area which allows bonfires. There is a fire-pit in the yard, you must supply your own firewood. A garden hose is 20 feet from the fire-pit, please make sure to saturate it thoroughly before going back inside. We don't need any unattended fires.
Dawn's place was perfect for my family. I traveled with a party of six for a week to PCB. We comfortably fit in the 3 bedrooms with sleeping space for 2 more. We spent most of our time at Laguna beach which did not disappoint with the white sandy beaches and crystal clear waters. There was plenty of shopping & restaurants close to home. Having a full kitchen to cook breakfast every morning was a delight. The washer/dryer was also very convenient for our day's dirty beach towels & suits. Once we ventured out to the more touristy & over crowded parts of town, we realized how lucky we were to be staying in a more quiet & relaxed area. Laguna beach was not over crowded and we found parking next to the beach every single day. We loved our trip so much we hope to return and stay again.
Jessica
2016-07-24T00:00:00Z
Dawn was a nice host even tho I didn't get the chance to meet her personally. We were a group of 7 friends and the house were super comfortable for us .Everyone had a comfortable bed and we shared the two restrooms. All of us agreed that the house looked way better than in the pictures. She has a large ,very nice and well equiped kitchen , perfect for a late night meal after party or a breakfast before going to the beach. The house was clean and the neigbourhood was calm and safe and we had space to park both our cars . The check out day , some of my friends left earlier than us and they had a car accident on the way.Dawn was very helpful and understanding and she gave us time to check out late .She kept cheking on us and she gave us names of towing companies . I totally recommand her and her place .
Wissal
2016-03-27T00:00:00Z
This place is a great value and Dawn is an excellent host.
Dana
2016-11-27T00:00:00Z
Great place to stay. 5 mins away from the beach and about 10 mins to pier park. We had a 4 nights stay and everything was great. Dawn is really quick in responding, we had a problem getting in the house and Dawn solved our problem quickly. Recommend this place to everyone.
Karen
2016-08-06T00:00:00Z
Dawn was so pleasant to talk to and very nice when making arrangements and throughout our stay! We had eight people sleep quite comfortably in the space, so it is great for large groups. The beds are soft, the wifi is fast, and the drive to the beach is short. We had a great time around the fire pit and the kitchen is great for cooking. We always had two to three chefs at a time but the kitchen is spacious enough to make it possible. The surrounding food and entertainment is top-notch and we spent most of our evenings out and about. All in all, great experience from beginning to end!
Katy
2016-03-10T00:00:00Z
Dawn was great very attentive had to contact her one in our trip she responded within minutes I'll definitely recommend her place to have a great time near the beach. Thanks Dawn!!!
Roberto
2016-05-23T00:00:00Z
This is a great place to stay with dogs, the fenced yard was perfect for us. A short drive to the beach, and a good price for all the space.
Jen
2015-05-07T00:00:00Z
We stayed at Dawn's place for the Labor Day weekend. We had a great time staying there. Its not too far from the main hangout places (around 10 mins drive). Safe locality. If you were to take a cab to the beach area, it wont cost more than 30-40 bucks. Dawn was very kind and helpful with all our questions and very prompt in replying to them. I would definitely recommend this place if you are visiting PCB.
Sagar
2015-09-07T00:00:00Z
Tipo de habitación
Casa/apto. entero
---
Tipo de propiedad
Casa
---
Capacidad
8
---
Habitaciones
Panama City Beach, Florida, Estados Unidos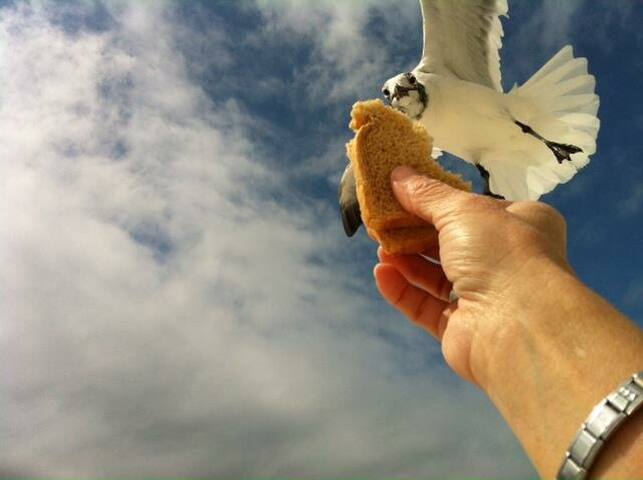 Old Florida beach house with Gulf view from top deck, great for sunsets . Large great room, great patios, and screened porch,large yard and beautiful beach access. Quite beach side neighborhood, but close to everything. Borders Rosemary beach.
Staying at the beach house has been just the best experience! Sharon was very easy to communicate with and entirely helpful throughout. The house itself is just to die for. It's in an incredible spot, so close to the beach, and has everything you could wish for to make your time away easy and pleasurable. The beach is stunning, I have travelled the world and never seen such crystal clear turquoise waters and it truly took my breath away. It's literally a 2 minute walk on the quietest of roads and the beach is well used but not at all crowded like those further up the coast. The house is very comfortable, lovely and cool, everything you could want to use in the kitchen. The bedrooms are spacious with very comfortable beds. We loved the top deck and hung out there most of the time, watching the pelicans and other birds, just enjoying the sea air and the amazing views. Local facilities are just a few minutes drive away and we took a walk into Rosemary Beach where there are plenty of restaurants with great food. I couldn't recommend this place highly enough and would love, love, love to come back soon!
Georgia
2016-06-08T00:00:00Z
We enjoyed our family vacation here. Walking distance to a great beach and a few minute drive to the beautiful Rosemary Beach community and shops. Spring breakers had stolen the BBQ, but Sharon offered to pay for a new one so we were able to get our grilling in
Rick
2016-06-01T00:00:00Z
Tipo de habitación
Casa/apto. entero
---
Tipo de propiedad
Casa
---
Capacidad
6
---
Habitaciones
Panama City Beach, Florida, Estados Unidos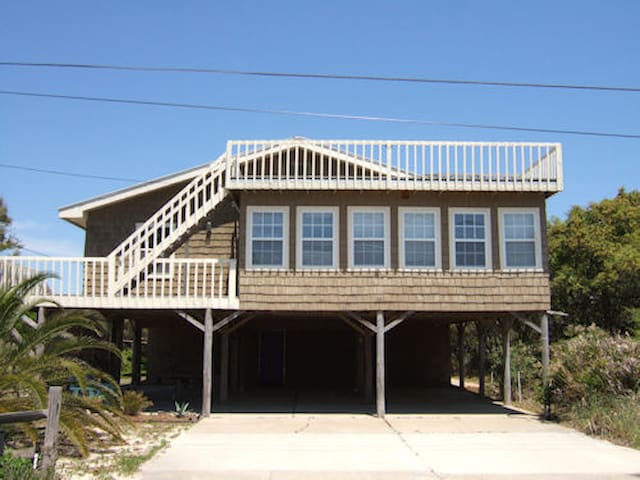 Recently remodeled condo unit at popular INN AT SEACREST BEACH! Corner unit, building's west side, overlooking pool/hot tub, not parking lot side. Unparalleled for cleanliness and value. A terrific beach basecamp! Corner unit with wrap-around balcony/outdoor living room. Relaxing Gulf water views across famous Highway 30A. No key or "meet-up" to worry about; door has an app-controlled personalized PIN for each booking! Stress-free arrival and departure. Walk to Rosemary Beach and Alys Beach!
FULLY STOCKED UNIT: ---FULL-SIZE refrigerator with icemaker. ---Upscale travertine floors. ---Large, comfy microsuede couch. (Not a pull-out but can easily accommodate a child, or for napping.) ---Closet stocked with hangars, iron, board, blanket, etc. ---Several tables to place luggage in easy reach. ---Wall-mounted flat-screen TV up and out of the way. ---Granite kitchen countertop, and custom stone backsplash. Toaster oven, microwave, wine glasses, the works. ---USB plugs in electrical outlets. These are conveniently at kitchen counter, to charge your many devices. ---Clean, open bathroom with oversized counter space, large drawers, and hotel-style U-shaped curtain rod. With our compliments, the first day's coffee and hot tea is set-up to get you going! We have "sleeps 3-4" because we have hosted families traveling with two toddlers or a teenager --- some of our best reviews! We will leave an extra sheet set for the couch if needed. There is also plenty of room next to the couch for a Pack-n-Play.
This place looks just like the pictures. It's really comfortable and great for a quick get away from the beach. It's in a great location that isn't really loud so it's great for relaxing. It's just a short walk from the beach.
Pat
2017-03-06T00:00:00Z
The condo was even better than the pictures! Huge balcony, very clean and comfortable and the best part was probably how close it was to the best beach, shops and restaurants. Will definitely come back.
Nicole
2017-03-27T00:00:00Z
Great Location! Easy to get to Ally's, Seacrest, & Rosemary. The corner unit provided extra privacy and a large wrapped patio. The pool and hot tub were great, especially with cooler temps! Very cozy condo. Limited Kitchen. Best for 1-2 people.
Tricia
2017-03-18T00:00:00Z
I was so grateful to find this property available as close to arrival as I did. It was lovely, clean, and comfortable. A similar property in the general area was available, but I chose this one because of the full-size fridge and sizable (URL HIDDEN) glad I did!!! Kelly was incredible to work with, attentive and very responsive. Definitely on our "return to" list!
Jennifer
2017-03-24T00:00:00Z
Great value here!
Eric
2017-04-02T00:00:00Z
Tipo de habitación
Casa/apto. entero
---
Tipo de propiedad
Departamento
---
Capacidad
4
---
Habitaciones
Seacrest Beach, Florida, Estados Unidos
Spacious townhome in the Sunnyside Beach and Tennis Resort on the West End of Panama City Beach. Dedicated beach so you are guaranteed a beach to yourself! We are located on the beach road, walk or skip across the street to surf and sand or take the underground tunnel that delivers you to our warm waters. Newly refurbished pool and kiddie pool. Playground for the kids, tennis courts and shuffleboard.
Tipo de habitación
Casa/apto. entero
---
Tipo de propiedad
Apto. en complejo residencial
---
Capacidad
8
---
Habitaciones
Panama City Beach, Florida, Estados Unidos
1

–

18

de

Más de 300 alquileres
Introduce las fechas para ver el precio total. Ten en cuenta que se aplicarán tarifas adicionales y es posible que se añadan impuestos.