Bienvenidos a las Naciones Unidas de Redfern, justo al lado del centro de Sydney! Los clientes de todo el mundo han hecho de este enorme, cómodo, céntrico, situado a casa su propia - para las vacaciones, reuniones, trabajo, escapadas románticas - y lunas de miel! La ópera y el puente del puerto son un fácil caminar por unos 40 minutos a sólo diez minutos en el tren City Circle de Redfern.
En los últimos cuatro años, he acogido a personas procedentes de Suecia, Arabia Saudita, Trinidad y Tobago, Sri Lanka, Irán, Finlandia, Canadá, Corea del Sur, Singapur, EE.UU., Rusia, Malasia, Países Bajos, India, Noruega, Nueva Zelanda , Los Emiratos árabes Unidos, Vietnam, España, Indonesia, Alemania, Irlanda, Inglaterra, Escocia, Gales, Brasil, Egipto, Dinamarca, Hong Kong y china continental, Francia, Suiza, Japón, Dubai, México, Timor Oriental, Sudáfrica, Austria, Tailandia y Argentina! Y mis primeros belgas acaban de reserva, así como yo he reservado mi primer viaje a Bélgica :) Usted es bienvenido a quedarse en mi apartamento no importa qué país eres. Me he alojado musulmanes, Judios, hindúes, cristianos, budistas, ateos y probablemente otras religiones. Todos ellos han sido bien recibidos, y todo el mundo siempre habrá en mi casa. Muy GLBTI ambiente. Muy recto también! Durante estos tiempos en que el mundo está al borde, el viaje es una manera maravillosa para que las personas se conectan, y que los extraños se convierten en amigos de confianza. El que se encuentre, puede ser su casa en Sydney. Hay un aparcamiento cubierto vigilado disponible. Tengo dos apartamentos en la misma calle, y hago esta disponible para cualquiera de apartamentos de reserva. Si usted está conduciendo a Sydney o pensando en reservar un coche de alquiler, por favor hágamelo saber para que pueda reservar el aparcamiento para usted y su familia, pero tenga en cuenta que este necesita ser comprobada por adelantado. Estoy ofreciendo una enorme elegante apartamento, en una calle tranquila, a 10 minutos a pie de la estación central de cinco o simplemente a la estación de Redfern. Es, literalmente, cuatro cuadras de la ciudad. Este es el tamaño y la calidad de una suite en un hotel de alta calidad por el precio de una habitación normal fuera de la ciudad. calidad sin precedentes y valor. Si las fechas de tu no están disponibles, pero todavía les gustaría la conveniencia de Redfern, por favor, echa un vistazo a mi otro lugar. Mira más abajo en la página - por debajo de las críticas. Verá 'sobre el anfitrión'. Haga clic en el enlace '+ Más', luego 'Ver el perfil completo'. En esa página, podrás ver mi otro apartamento catalogado como "cama más grande en Sydney! ' Cualquier apartamento de la ciudad tendrá un poco de ruido de tratar. Mientras que casi no hay ruido de tráfico de la calle, hay una línea de metro a una cuadra. Durante el día no se dan cuenta de ello, y mientras yo soy un sueño ligero, es raro que me perturba por la noche. Muchos de los huéspedes comentan lo tranquilo y calmar el apartamento es, pero algunos clientes han notado y me lo mencionó. Hago proporcionar tapones para los oídos si ellos (Siempre que viaje con ellos de todos modos) necesita. Airbnb funciones sobre la base de la honestidad lo que me gusta señalar esto -, así como observando cómo es grande y cómodo el apartamento es! Cerca de 80 metros de ancho (860 pies cuadrados) el apartamento tiene un dormitorio con una cama de matrimonio de látex, y también un tamaño queen cama plegable en la alcoba oficina. Se puede ver la cama de repuesto plegar contra la pared, detrás de mi escritorio, en las fotos que muestran la oficina. El salón-comedor-cocina-office combinado es amplio. El proceso de registro normal es de 10 am y la salida es las 8 am. Esto es para permitir la limpieza antes de que lleguen los invitados nuevas - pero tenga en cuenta que si usted está en un vuelo temprano por la mañana, puede dejar las bolsas y salir para el café y el desayuno - una gran variedad de cafés locales! - Mientras termine preparándose para usted. Es práctico para llegadas de madrugada. Lo mismo para la hora de salida. Voy a ser tan flexible como pueda. He tenido clientes salgan de maletas aquí tan tarde a las 6 pm en el día se echa un vistazo, en lugar de arrastrarlos por la ciudad antes de dirigirse al aeropuerto para tomar un vuelo de noche. Pero si no se discuten de lo contrario, la salida es de 8 am a permitir la limpieza de dos horas. El edificio es de unos 60 años de edad - antes de un garaje y oficinas -, pero se convirtió en un bloque de apartamentos de cinco hace 10 años. La mía fue renovado hace tres años. No hay ascensor, pero hay sólo nueve pasos para el apartamento, y cuatro más desde el vestíbulo hasta la sala de estar. Redfern está en el extremo sur de la CDB, lo que puede tener un paseo a la derecha por St George de la Opera House, Circular Quay y el puente del puerto, y volver a través de los jardines botánicos. También proporciono té, café (con su propia máquina de café espresso), cereales y leche fresca para el desayuno. Airbnb es sobre los viajes asequible y la experiencia de vivir como un local. No es un alojamiento económico, sino más bien de la comunidad basada en la confianza, el conocimiento local, un interés común en los viajes y un común creer que el permanecer en la propia casa de alguien ofrece una experiencia diferente y superior cuando se viaja. Debido a esto - y los enormes costes de Sidney inmobiliario - No soy capaz de descontar. Los precios que se ofrecen son más baratos que un segundo hotel tarifa, pero el apartamento es enorme y de excelente calidad! Por favor, cocinar! La despensa también está bien surtido de especias, arroces y pastas, aceites, tomates enlatados, etc. estoy feliz para que esta disponible en un sistema de honestidad - no dude en ayudarse a sí mismo, pero por favor reemplace lo que usa. No es necesario reemplazar los aceites, especias, etc, si se utiliza el último de los contenedores. Sólo déjame una nota de lo que abastecerse de nuevo! Quiero hacer que su estancia sea lo más fácil posible. Ministros, los ateos, los profesionales de TI, esquiadores profesionales, yachtswomen profesionales y aficionados a la vela, un cerero, artistas, trabajadores sociales, los joyeros, los contadores, la gente en su 10 aniversario de boda, 25to aniversario de boda, las parejas homosexuales, las familias monoparentales, los niños, los adolescentes, los directores de cine , reuniones familiares, reuniones de la vieja amigo, enfermeras, empresarios, constructores, los jubilados que tienen todo un año de descanso para disfrutar de la compañía del otro a medida que viajan por el mundo. No es una mala palabra de cualquiera de ellos, no es una mala palabra sobre cualquiera de ellos. El mundo que viene a través de su puerta como un host Airbnb hace que mi corazón se eleva.
La proximidad a la ciudad! No se puede superar los barrios que se apoyan en el CDB por conveniencia, y la estación de Redfern es uno de los mejores para conseguir todas partes en Sydney. Me encanta la historia, la arquitectura, la mezcla de personas de todas las culturas imaginables que viven lado a lado en este mismo pueblo moderno de Sydney. Redfern es una de las zonas más antiguas de Sydney, y sin embargo, este lugar es tan tranquilo teniendo en cuenta lo cerca que está a la mitad de Sydney. Es una mezcla de casas adosadas del siglo 19, las conversiones y nuevas promociones de apartamentos. El área era venido a menos talones durante años, pero su proximidad a la historia de la ciudad e intacto ha visto florecer en una nueva zona vibrante (de pared a pared tiendas de muebles retro y nuevos bares pequeños) en los últimos 10 años. El centro de la ciudad está en la puerta, y dos principales estaciones de tren dentro de cinco minutos a pie significa que la totalidad de Sydney es fácilmente accesible. La línea Eastern Suburbs pasa por Redfern, por lo que la estación de Bondi y los suburbios del este alrededor de 16 minutos. Bondi y Tamarama Beach son otros 15 minutos en autobús desde la estación. Es una gran ciudad - y esto es un gran lugar para explorar desde.
En todo momento nos sentimos tratados de una manera respetuosa y a la vez independientes. Nos sentimos en nuestra casa. La calle es tranquila y cercana a una estación de tren
Lali
2014-07-24T00:00:00Z
He is really a great host! We appreciate everything that he has done for us, he was the first host to answer our queries and the apartment is exactly the same as advertised, my wife loves the style, deco, colour scheme, towels, sheets and furnishing. My family enjoy the trips very much! We like the central location, the space, the convenience of his apartment, and most credit goes to his hospitalities! Bravo!
Jack
2012-08-27T00:00:00Z
We had a very pleasant stay in this apartment. It is very spacious and every thing we needed was there. The apartment is very well furnished. We felt like at home. Redfern is a very nice quarter, with a green grocer, good restaurants and cafes around the corner and the train very near to downtown. Paul is a very nice host and he was very helpful. We appreciated the evening, which we had together. It's a pity, that Sydney is so far away from us. When ever we had the possibility, we would like to stay in this apartment once again. We highly recommend staying at this place.
Ruth
2014-03-02T00:00:00Z
Paul has a really nice apartment which has great access to all the facilities of the city. It was good to meet up with Paul and he is such fun that I am hoping to be able to get back to have a night at the opera with him. Thanks Paul for the use of your place.
Anne
2014-04-25T00:00:00Z
I had a fantastic time at Paul's apartment! The apartment is very clean and comfortable; the location is strategic (close to train, cafes etc) and Paul is great host! Just too easy to deal with Paul, he made me feel so at ease and welcomed! Thanks Paul!
Yuzrina (Rina)
2014-05-16T00:00:00Z
Great location and a beautiful home. Paul is a very thoughtful host. He left us very detailed information before we got there and it really helped us get into his apartment with ease. Felt very much at home. Would definitely stay here again.
Pamela
2015-07-04T00:00:00Z
House is great, Paul is very kind and easy to contact, all are good
Zhang
2014-12-30T00:00:00Z
Great spacious and stylish apartment, fabulous location (within a short walk of Crown St cafe and shopping district in Surry Hills). Good communication and easy to find location. Highly recommend.
Larissa
2016-06-27T00:00:00Z
Tipo de habitación
Casa/apto. entero
---
Tipo de propiedad
Departamento
---
Capacidad
4
---
Habitaciones
Redfern, Nueva Gales del Sur, Australia
Stay overnight on the most beautiful harbour in the world with a view to the Harbour Bridge and Sydney Opera House on board your very own, completely private, luxury yacht! We can even take you for a harbour cruise. No boating experience needed. Thanks to all the wonderful reviews we've received over the years, the yacht is now listed as Airbnb's #1 place to stay anywhere in Sydney and is rated by the Sydney Morning Herald as one of the top three places to stay in the whole of Australia.
THIS IS HOW IT WORKS At the start of your stay you'll board the yacht at a jetty in Sydney's east (about ten minutes from the city centre and half an hour from the airport). We'll then take you to a mooring in the harbour for the night - either in nearby Elizabeth Bay or at a more sheltered bay, typically the one just next to Taronga Zoo. If you're staying in the bay next to Taronga Zoo, you'll be surrounded by a National Park, you can enjoy a swim to the nearby beach, and you'll the sun setting over the Harbour Bridge and Opera House. If you've chosen to stay the night in Elizabeth Bay (for which there's no extra cost on top of what you pay via airbnb) you'll be just a few hundred metres from the jetty where you'll be picked up from. While the mooring in Elizabeth Bay is perfectly safe please be aware that Elizabeth Bay can be exposed to the wind, you won't have a view of the Harbour Bridge or Opera House, you'll be surrounded by other boats that are permanently parked there, and it's not advisable to swim there. Your skipper will leave you at your mooring for the night (so don't forget to bring some food and wine or beer!). On the morning of your departure after you've had breakfast (and, if you're at Taronga Zoo, another swim!), your skipper will come out to get you and bring you back to the jetty where you boarded. The Taronga Zoo option costs an additional $200 to cover the time it takes to get to and from there. You can easily combine your staying overnight on the yacht with a private Harbour Tour. Please see 'Optional Extras' at the bottom of this section. HARBOUR TOUR Whether or not you're staying on the yacht overnight, we'd be delighted to take you for a private two hour tour around the harbour, under the Harbour Bridge, past the Sydney Opera House and past the exclusive and very expensive houses in the Eastern Suburbs. If you'd like to book the yacht for three or more hours you'll also have time to stop in a sheltered bay for a swim or lunch. Harbour tours start from $200 if you're staying overnight and from $500 if you're booking the yacht during the day. Please see the bottom of this section for pricing details. WHAT'S ON BOARD Your beds will be made up with luxury linen, blankets, pillows and duvets and we'll supply fluffy towels, face cloths, soaps etc. The kitchen (galley) has a two burner cooker and oven, a small fridge and plenty of wine glasses, champagne glasses, crockery, cutlery and pots and pans. We'll also leave you with cooking basics like salt, pepper, tea, coffee, fresh milk etc and a welcome bowl of snacks. The yacht has two bathrooms with hot showers and whisper quiet electric toilets. There's also a hot shower at the back of the boat once you've been for a swim. In the saloon there's USB charging for your phones, a Bose stereo system (with Aux input for your phone) and a DVD player with a stack of DVDs to choose from. On deck there's an awning to keep you cool and a table for dining outside. ABOUT THE YACHT "Europa" is a Wauquiez Centurion C45S. She's 46 feet (14m) of hand made European luxury and she's been built to the highest quality. She cost a little under $1m and she's considerably larger (and a class above) the kinds of yachts that you may find with commercial charter fleets. WILL I HAVE FUN? Yes! The Sydney Morning Herald published a list of the eight "most amazing places to stay" in the whole of Australia – and, I'm very proud to say, we were #3 on the list! If you're still unsure about how spectacular it is to stay on a luxury yacht in Sydney Harbour, please read the 200+ reviews we've received. WHAT TO BRING Once you're on board, getting off the yacht isn't easy so you'll need to bring with you some food for dinner and breakfast, some drinks (there's plenty of drinking water on board but please do bring wine, beer, soft drinks etc), your swimming costume, some relaxing reading material – and of course, your camera! There's a supermarket and shopping centre at Edgecliff, 1200m away from where you'll be boarding the yacht. WHAT NOT TO BRING! For reasons of space - and to prevent damage to the teak woodwork on board - please limit your bags to one soft bag per person (plus your food and drink) and please wear soft-soled (non marking) shoes. Work shoes and heels are strictly forbidden. You must not bring eskies (cooler boxes) or suitcases because they can damage the woodwork - if you arrive with suitcases you will not be able to board until you've found somewhere else to store them (if you have a rental car that's the easiest place to store them). If storing luggage is going to be a problem please contact me well in advance and we'll see what we can arrange. If there are only two of you staying overnight you may bring more than one (soft) bag per person and your luggage can be stored in the back cabins. WHAT ELSE DO I NEED TO KNOW? The yacht is magic for two people, very comfortable for four people but, while there are three double beds, you'll find that six people is a bit of a squeeze. You might like to think of it as 'glamping' – ie glamourous camping – and although Europa is truly luxurious, she is, after all, a yacht not a hotel! Please also bear in mind that there is no 240V (mains) power on board. FREQUENTLY ASKED QUESTIONS • Do I need a boating licence or boating experience? Not at all – a skipper will drive the yacht for you and when the yacht's on a mooring for the night he'll leave you there and you'll be perfectly safe on your own. • Can I hire the yacht for a tour during the day? Of course! The yacht can take up to 10 passengers for day trips and we can either take you for a tour of the harbour or drop anchor in a quiet bay so you can have lunch, drinks and a swim. Please feel free to bring whatever drinks and food you like. Two hour cruise/tours (without staying overnight) cost $500 Mon-Fri, and $600 Sat-Sun and holidays. Additional time costs $100 per hour. • What are the check-in and check-out times? Arrival times for overnight stays are typically at 4pm and we'll have you back on dry land before 10am. If you'd like to extend your stay (or if you'll be arriving after 4pm) please contact me. • Where will the boat be moored for an overnight stay? You can choose either Elizabeth Bay or a sheltered bay next to Taronga Zoo. (Please note that the exact location where you'll be moored for the night may depend on the weather). At Taronga you'll have a view of the Opera House, the city lights and the Harbour Bridge, you'll be surrounded by a National Park, it's safe to swim there and you can even paddle ashore in the dinghy to catch a ferry into the city. There is an extra cost for staying at Taronga - please see 'Optional Extras' below. Staying at Elizabeth Bay is included within the Airbnb price but please note that swimming there isn't recommended and you won't have a view of the Bridge or Opera House. • I have a boat licence – can I drive the boat myself? Yes, you can certainly drive the boat - but we'll still provide a skipper to make sure everything's safe. Of course, once the boat is on a mooring the skipper will leave you, but the boat must stay on the mooring - you won't be able to drive her away! • Can we get off the boat? Swimming from the boat (when it's moored near Taronga Zoo) is highly recommended! If you're staying just one night you'll probably enjoy every minute of being on the yacht and going for swims but please do bear in mind that getting onto dry land isn't straightforward: if you do want to be able to get off the boat (for instance to go into town) it's best if you contact me to make arrangements. The easiest way, if you're staying at Taronga, is to use the two-person dinghy to row 50 metres or so to the beach and from there you can catch a regular ferry into town. If you're staying at Elizabeth Bay the only way to get off the boat is by water taxi (but please be warned: water taxi fares typically start at $120 each way). • Can we get picked up or dropped off at different wharves around the harbour? Of course! Although the regular pick-up and drop-off point is a jetty in Sydney's Darling Point, please enquire if you'd like to be picked up elsewhere and we'll see what we can organise for you. For instance, you may want to be dropped off at the Opera House, Rose Bay or Watsons Bay so you can have dinner and then be picked up later in the evening. • Is there parking nearby? Yes – there's free and untimed parking along New Beach Road, near the jetty where you'll board the yacht but if those spaces are taken there are plenty more spaces on Darling Point Rd about 500m away. • Is there a supermarket nearby? Yes, there are Coles and Aldi supermarkets in the shopping centre at Edgecliff, about 1200m (three quarters of a mile) from the wharf. • Will staying on the yacht be safe? Absolutely! Unlike other boats listed on Airbnb, Europa is equipped and certified as a commercial vessel. That means she has all the safety equipment you can imagine and the yacht is rigourously tested each year to ensure that she's completely safe. In addition to this (and unlike the owners or operators of other boats on Airbnb), I'm an approved Master 5 commercial captain which is a requirement for commercial vessels (I'm also an RYA Yachtmaster Instructor!) so you'll be in very good hands. • Will we be comfortable? The yacht is wonderfully comfortable and, being 46' (14m) long the volume inside is more than twice the volume of the 34' yachts you may find elsewhere. But please do bear in mind that it is a yacht, not an apartment and space is, of course, limited. There's 6'6" of headroom (approx 2m) and the beds are nice and long, but they are a little narrower than the beds you'd have at home. Being on a yacht also needs a degree of physical adeptness so if you don't feel comfortable climbing a 4 ft step ladder (about 1.5m), or if you have trouble getting through the narrow doors of an aircraft toilet then staying on a yacht may not be for you. Please also bear in mind that the boat is on water and it will move (for instance whenever a ferry goes past or if you're moored in Elizabeth Bay on a windy night). While 99% of my guests are absolutely fine with the boat's gentle (and very soothing) movement, if you're the kind of person who feels queasy just by looking at boats, then please don't make a booking. • What are the costs of tours etc and how do I pay? 'Optional Extras' are in addition to the accommodation costs paid via airbnb. We ask you, please, to pay for any of these extras in cash before you leave the yacht. OPTIONAL EXTRAS (for overnight stays - payable in cash before you leave the yacht) • Being taken across the harbour to stay in a quiet bay next to Taronga Zoo (or some other sheltered bay, depending on wind direction): $200 • Two hour private harbour cruise: $200 • Two hour private cruise plus staying next to Taronga Zoo (or some other sheltered bay): $300 (valid when the cruise is taken at the start or end of your stay) • Early arrival (prior to 4pm) or late departure (after 10am): $150 (Mon-Thu), $250 (Fri-Sun and public holidays) subject to availability. • Hire of 2 person inflatable rowing dinghy (the dinghy is ideal for getting from the yacht to the beach at Taronga Zoo from where you can catch a ferry to the city): $50 for the duration of your stay. • Hire of small outboard: $50 per 24 hours or part thereof. CRUISES/TOURS/HIRE OF YACHT (without staying overnight) • With a two hour cruise you'll have a guided tour around the entire harbour: under the Bridge, into Darling Harbour, past the Opera House, Fort Denison and the Naval base, past the expensive real estate in the Eastern Suburbs and up towards Nielsen Park and Watsons Bay. Two hour cruises cost $500 on weekdays and $600 on weekends (Fri-Sun) and public holidays. Up to ten passengers. Departures typically any time after 10.30am and return to shore any time before 3pm. • A three hour cruise is as above but the extra hour allows time to drop anchor in a sheltered bay for drinks, lunch and a swim (alternatively you can skip the tour round the harbour and instead head straight to a sheltered bay - entirely up to you). Three hour cruises cost $600 on weekdays and $700 on weekends and public holidays. Additional time beyond the three hours charged at $100 per hour.
Puerto de Sydney es el lugar más impresionante en la tierra. OK .. tal vez un poco exagerado, pero es sin duda la altura de los mejores! Si ha elegido la opción de Taronga Zoo tendrá el horizonte de toda la ciudad se establece en frente de usted y usted será menos de 100 metros de una playa protegida de arena (se puede nadar hasta la orilla o se puede contratar embarcación auxiliar del yate) . A cinco minutos a pie de allí y ya está en el muelle del ferry, donde hay barcos cada media hora para llegar rápidamente a través del puerto a la Circular Quay, el centro de la ciudad, y la ópera. Si la dirección del viento es desfavorable para su estancia en Taronga, que en cambio te llevan a diferentes bahía que también está rodeada por un parque nacional y que va a ser muy bien protegidas del viento. Si ha elegido la opción de Elizabeth Bay vas a estar en una bahía que a menudo se expone al viento predominante - significa que el barco podría rebotar hacia arriba y hacia abajo un poco durante la noche. El barco estará rodeado de otros barcos que están permanentemente 'aparcados' no, no hay vistas del puente del puerto u Opera House y no se recomienda que usted nada en Elizabeth Bay.
Our stay on the Europa was a great experience and one we would all do again if we were to visit Sydney. The chance to combine a tour of the harbour and a unique accommodation option was fantastic. David was very obliging and made the tour of the harbour very memorable with his local knowledge. The yacht was very well appointed and the beds were comfortable, we made good use of the cooking facilities and enjoyed eating & drinking on the deck as the sun went down and came up the next morning. The kids made full use of the harbour and swam to shore to explore the nearby beach on our second day. All in all it was a great way to spend a few days and well worth considering if you want to explore Sydney from the water and experience sleeping on a yacht.
Rebecca
2016-07-03T00:00:00Z
David went above and beyond to make our experience unique and unforgettably perfect. I secured the yacht as a surprise honeymoon getaway from our wedding reception and just weeks out from the date, David's personal yacht was damaged and unavailable. Before he even let me know (so as to not worry me), David had already secured an even newer and equally beautiful yacht to ensure I could keep the booking--at his own personal and significant expense. David and his partner went above and beyond to help cater meals on the yacht to our tastes--even personally baking for us. The entire experience could not have been more perfect and I would recommend David as a first-class host for anyone wishing an unforgettable and incredibly unique Sydney Harbour journey.
Cassi
2014-01-07T00:00:00Z
Everything was perfect. As you can see from previous reviews, David was amazing host, very polite and helpful. Yatch is beautiful and in very good condition. Harbour cruise was all worth money and a must. David provided everything required for the stay and was very quick with any communication. It was just beautiful to sit on deck and enjoy the view. Will do it again.
Nakul
2015-03-18T00:00:00Z
David is a true gentleman and absolutely amazing host. The yacht was only surpassed by the experience and friendly guidance that David offered us. Booking with David and on this magnificent yacht is truly a once in a lifetime experience... strongly recommend.
Steve
2015-10-05T00:00:00Z
因为在悉尼只有半天时间,我们约定下午四点航行四个小时。虽然在出发前就被美景震憾,但是上船后还是被狠狠的美番啦,这就是我梦想中的悉尼,美丽的海港,棒棒的帆船,帅帅的主人,一切都很美好。 夏天的悉尼有点晒,但是我一点不介意,坐在船甲板上欣赏着海景,David一路详细地解说着,天哪,海港边的豪宅那么贵啊……… 我会推荐给以后来悉尼的朋友们,一定要来感受一下David的船,会给您的旅行留下美好的回忆。 谢谢
LAN
2016-02-15T00:00:00Z
We can hardly put this experience into words. This really was the kind of stay that dreams are made of. If you are reading this now, stop right here – and book right away! You really must! From the moment that we booked (and through our pre-stay dealings with Europa's legendary owner, David) we knew that we were certainly in for a special treat of an evening - and our stay aboard the Europa well and truly exceeded our high expectations. The yacht is fabulously European and in PRISTINE condition. David was such a terrific host – so easy-going, kind and welcoming. We actually couldn't get over how laid back he was, given the wild scenario of him lending us his beautiful vessel for the evening to enjoy! It is clear that David's passion is sailing, but it is also clear that he delights in affording others the experience of being at sea to enjoy as well. We opted for the additional extras – the two hour chartered cruise around Sydney and the Taronga Zoo mooring – both spectacular and must do's (and probably once in a lifetime for many tourists) for maximum enjoyment. The yacht is gorgeous and impeccably presented – we spent most of our time atop the yacht but the cabins are equipped with all the mod-cons (we didn't need to use) although the sound system is great. The cabins are comfortable and the linen is of high quality and really fresh. Sydney is so beautiful around dusk when all the lights come on and being moored at Taronga Zoo was just sensational. This really is one of Sydney's best kept secrets, do yourselves a favour and please stay here – you will savour the high life for an unforgettable evening under the stars in Sydney's beautiful basin.
Alecia
2015-12-05T00:00:00Z
From first contact dealing with David was smooth sailing. Friendly, clear, efficient and accommodating. The Boat and location were absolutely perfect. The old saying if it flies or floats rent it comes to mind. What a wonderful experience to be trusted with such a magnificent Yacht. David's instructions and willingness to help out made our stay relaxing and comfortable. If you are looking for a truly unique experience book a stay on the Europa.
Gregory
2014-07-03T00:00:00Z
We really enjoyed our stay in David's yacht.David really take good care of us,he prepared everything what we needed ,very thoughtful.We will definitely book his yacht again .
Yan
2015-02-19T00:00:00Z
Tipo de habitación
Casa/apto. entero
---
Tipo de propiedad
Barco
---
Capacidad
6
---
Habitaciones
Darling Point, Nueva Gales del Sur, Australia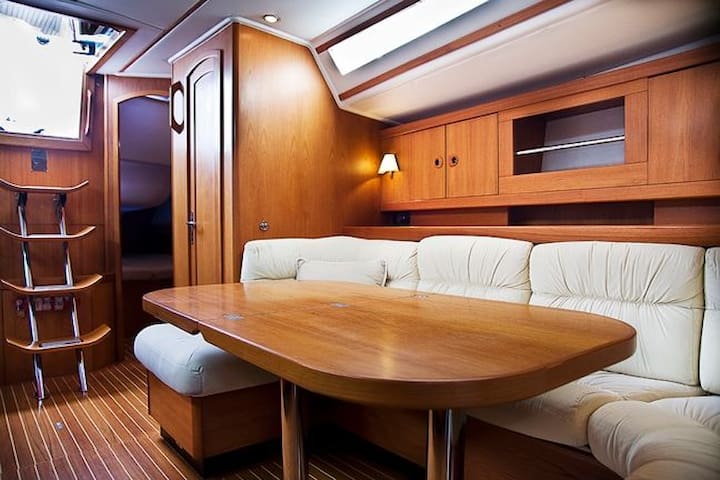 A comfortable private room in a spacious 3-bedroom top-floor apartment in the historic Rocks + FREE PARKING onsite. Sweeping views over Circular Quay, the Opera House & City skyline. Lots of Sydney's best destinations only a short walk away.
Walking distance to: Opera House 12 min. The heart of central Sydney 6 min. Stairs onto the Harbour Bridge 1 min. Museum of Contemporary Art 3 min. 100s of clubs, pubs, restaurants & cafes within 10 min radius. Botanic Gardens and Harbour foreshore walks 12 min. Circular Quay 5min for ferries, buses & trains for fast access to the rest of Sydney. Apartment has modern furnishings, art works and decorations. Living space has fireplace and full entertainment system. Floor to ceiling sliding glass doors between living space and balcony provides 180 degree views and makes this apartment feel even bigger than it already is. Balcony is 17m wide with outdoor setting and BBQ. Modern fully equipped kitchen & laundry. All the basic kitchen needs are provided, including tea, coffee, milk and sugar etc. There's a 24hr convenience supermarket only 2 min walk away. There are 3 bedrooms in total, one master room which is used by us, and two guest rooms. The room for rent is one of the two guest rooms, accessible from foyer and offers great privacy. It has a queen sized bed, build in wardrobes, a desk and it's own sound system. There are 2 spacious bathrooms each with large showers & spa baths. The one in the master room en-suite is used by us, the second one is the guest bathroom shared by two guest rooms.
Claus and Jessica are really very friendly and helpful! Beautiful and modernised design with great view from the balcony! Good location and great price for the 2 nights we stayed there! Really enjoyed Sydney! Thanks Claus and Jessica!
Esther
2016-10-20T00:00:00Z
Claus and Jessica's apartment is beautiful, with a perfect location and gorgeous view. The place is clean, comfortable, and has style. Although the access road to the Harbour Bridge is just behind the building, there was little or no noticeable street noise. They are welcoming and relaxed -- I had a good, low-key stay.
James
2016-02-19T00:00:00Z
Easy parking access, perfectly located, and with a beautiful view! We had no issues.
Joshua
2016-04-01T00:00:00Z
Claus and Jessica were both very welcoming! They're both very very nice people. Their home is impeccably clean and extraordinarily beautiful! The location is in the heart of the city and with views of the harbor, the bridge and Opera House. Just a Few minutes walk to the restaurants, public transportation and all the festivities.I could not have asked for a better place! Exceeded my expectations! Truly a gem! Don't hesitate!
Armen
2016-09-12T00:00:00Z
Saying Claus and Jessica's accommodation is amazing is and understatement! It's perfect. A spacious room, great hosts and an impressive view which single handedly justifies the price itself. I was greeted by Claus on arrival after following accurate guide lines in the itinerary provided by them. He provided me with a tour of the apartment showed me all the amenities. During may stay no negatives were discovered, hot shower, bath, fresh towels, clean bed and a wonderful lounge space. This is a great place in a superb location i can't recommend this place enough!
Elliott
2016-10-28T00:00:00Z
The views are amazing. The room is super comfortable and the hosts are extremely nice! Location is perfect if you want to be based near the Rocks and Opera House. Would definitely stay here again.
Simon
2016-06-18T00:00:00Z
Excellent location, nice flat in a great neighbourhood.
Gergo
2014-02-23T00:00:00Z
Nice people, lovely apartment full of great art, a challenge to walk to if you're a bit older and not in great walking shape. Sorry this is short. I'm still on my month-long cruise.
Margaret
2016-02-26T00:00:00Z
Tipo de habitación
Habitación privada
---
Tipo de propiedad
Departamento
---
Capacidad
2
---
Habitaciones
The Rocks, Nueva Gales del Sur, Australia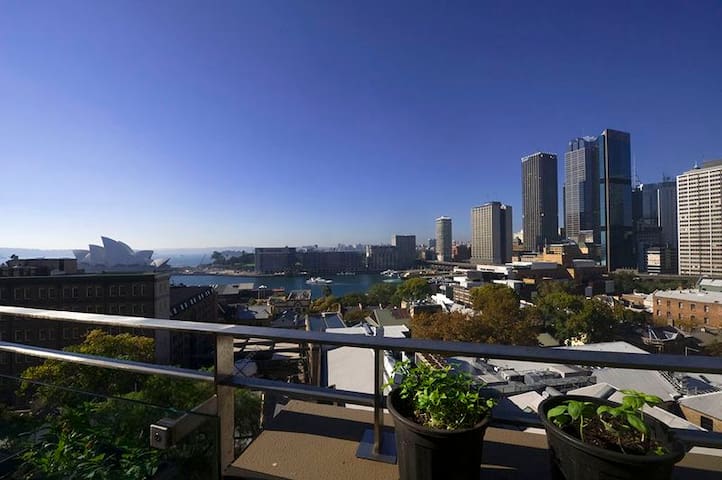 Well done, you have found one of the best locations in Sydney to stay during your visit.
Well done, you have found one of the best locations in Sydney to stay during your visit. Designed and equipped for Airbnb visitors, the apartment is surrounded by walking streets, cafes and restaurants in an attractive village style area. We provide a high-quality bed (picture included), computer and many handy items to enhance your visit. Metro buses & trains are only minutes away. Daily visitor car parking vouchers are available on request. Apartment - Entire home/apt. Located on Corner Orwell St and Llankelly Place, Potts Point (Kings Cross) Sydney, NSW 2011, Australia. Check the street view to understand how great this location is. If this apartment is booked out, then take a look at our other apartment show in the last image. It's a similar style and less than 50 metres away. This furnished holiday apartment is central to Potts Point, which is the best inner-city village area in Sydney. Previous guests consistently review the apartment as well-equipped, perfectly situated, serene, homely and clean. Spacious with a separate living area, this apartment is surrounded by walking streets, cafes, markets, bars, restaurants, deli's, supermarkets, local shops, Saturday organic markets and a cosmopolitan neighbourhood. Well-reputed Room 10 Café is just downstairs. A short walk will get you to Victoria Street, the city centre, Sydney Harbour, Opera House, NSW Art Gallery, Australian Museum, beautiful parks and excellent public transport is minutes away. Our overall aim is to help you enjoy the apartment and surrounding area as much as we do. It has everything you will need for a comfortable stay, and it is professionally cleaned to a high standard for two full hours before each guest. And if there is something we can do to make it more enjoyable, we are only 5 minutes away. Check in and check out times can be flexible with availability, just let us know, and we can work it out :) ★ ★ Key Features ★ ★: LIVING ROOM: - Free UNLIMITED ADSL2+ Internet and WiFi - iMac Computer for video calls, email and the Internet - Free local calls on Land Line Telephone - A mobile phone (just recharge or add your SIM) - Digital LCD TV - DVD player (in TV) and includes many DVDs titles - Conran Dock for iPod, iPhone, Bluetooth & Cable - Light filled windows - Sofa-bed folds down for additional guest. - Extra linen available for 3rd Guest Included for 3 guests. - Sofa Bed use is for a one-time fee of $25 if you book for 2 guests. KITCHEN: - Freshly renovated fully equipped galley - Kettle, tea and coffee - Fridge & Freezer - Stove with 4 burners - Oven - Microwave - Cutlery, utensils, pots, pans, oil, condiments, etc. - Breakfast table BEDROOM: - Comfortable quality queen-size bed - Separate from with door - Quality Linens included and four pillows - Walk through to bathroom - Built in wardrobes BATHROOM: - Full-size bathroom - Full-size bath - Freshly renovated with shower & bath combined - Towels included - Hair dryer - First aid kit LAUNDRY: - Access to Washing Machine and Dryer - Iron - Ironing board - Umbrellas - Phone Chargers - Stationary - Picnic blanket & equipped hamper Just in case you want more details, please read on. ABOUT THE LOCATION: Rich with local history, culture and sophistication, Potts Point is an ideal place to stay or visit. Situated within Sydney City, just a short 20-minute walk to the CBD and a stone's throw from Kings Cross Railway Station, so you can easily catch a train to some of Sydney's beaches major attractions. Sydney Buses, Taxis and Car Share / Hire are also readily available in the immediate vicinity. Daily visitor car parking vouchers are available on request. ☺ PERSONAL SAFETY? We live in the area with our six-year-old daughter, as does many young families these days. Macleay Street has gentrified over the last ten years, and Potts Point is one of the most on-trend and affluent areas of Sydney. The area is highly populated and using simple common sense it's easy to stay safe. CAR SHARE IS AVAILABLE! Forget car rentals. Highly recommended and right outside the front door are two "GoGet" car-share "pods" and there are more than 20 GoGet cars within a two-minute walk. No need to worry about parking when you get back to the apartment if you sign up for these share cars - parking is free! Foreign licences are accepted, we will give you the address for the information pack and activation card. You should register before you leave home. Search for GoGet car share Sydney. Look for the FAQs. ASK US FOR OUR EXCLUSIVE PROMO CODE TO SAVE THE $50 JOINING FEE! EATING OUT? Dozens of restaurants, cafes and bars are on your doorstep. Plenty is happening in the area, and some of Sydney's best restaurants are a short walk (Otto - at the Finger Wharf, or Macleay Street Bistro, down the road, just two examples). One of Sydney's best new cafes (Room 10 - Voted in SMH Good Cafe Guide) is 10m from your door, and there are loads of great places to eat and drink nearby. Wilbur's Place (100m) and Bourke Street Bakery (200m) are just around the corner. You're also just a short walk to the Italian hub of Stanley Street; a 20 min walk into the city, via the Domain and Hyde Park; a 20-minute walk (or less) to trendy Surry Hills. I'll leave you a list of my favourite eating spots on check in. COOKING IN? The apartment is 100 metres from the excellent Harris Farm supermarket (or there's an even bigger supermarket within 200 metres), and there's a Farmers' Market every Saturday only 80m walk away. I'll also leave the kitchen all set up with oil, vinegar, etc. so you can just focus on the main ingredients. There's even a high-end caterer - "Sides & Main" - on your street, selling gourmet meals from their shop-front, so if you are too lazy to cook but want to eat in. Too easy. NIGHTLIFE? Everyone knows neighbouring Kings Cross is famous for nightlife, but you may NOT know that its areas (Potts Point, Darlinghurst, Woollomoolloo and East Sydney) include some of Sydney's best areas to eat and drink in, all within a 5-minute walk. There are lots of small hip bars in the area - including on fabulous Llankelly Place, just near your building. You can also walk 10 minutes to Oxford Street clubs, or just 20 minutes to the centre of Sydney (Rocks, Circular Quay, etc.). I'll give you plenty of tips on arrival. If you like your nightlife more serene Govindas lounge cinema is about 5 minutes up the road, the Old Fitzroy Pub (so much character!) has a cheap theatre attached, and a great vibe. There are also numerous other local theatres and cinemas within walking distance. (I'll leave you a few suggestions for all of this on check in). SIGHTSEEING? Walk to Hyde Park or the Botanic Gardens; the Opera House (probably 30 minutes, via Hyde Park and the Botanic Gardens); or short bus/train to Bondi Beach or other eastern suburbs beaches. Potts Point is in Sydney's centre but has easy access to beaches, the famous Bondi-Bronte walk, and Sydney Harbour (I'll leave you tips with my favourite picnic spots and nearby walks). WORKING? Walk into the city, so easy! Potts Point is walking distance to George Street and the main centre of Sydney. The apartment is also about 15 minutes walk UNSW's College of Fine Arts on Oxford Street, a quick bus to UNSW, easy commute to The University of Sydney. The apartment is a 10-minute walk to St Vincents' Hospital. There's unlimited wireless internet in the apartment so getting online is no problem. GYM'S, YOGA & PILATES? The apartment is located on the same street as P.E. Dept Gym and Fitness First is 5 minutes away. There are also a few boutique Yoga and Pilates classes in the local area. Just tell us what you want to do, and we will advise you on some of the options. PLEASE NOTE: The Potts Point apartment IS up three levels of stairs. That's 60 steps in total folks. No problem for healthy adults (whoever checks you in will be happy to assist you with bags), but just letting you know... Washing machine and dryer one level up in the building (coin operated). Plus I've installed a great drying rack in the bathroom in case you want to handwash anything. Yes, there IS a hairdryer! iMac Computer is provided with ADSL2+ WiFi internet, of course! Also unlimited free local calls available on the land-line telephone. If you require extra bedding for the sofa bed and you are not paying for a third guest, there is a one-time $25 surcharge for the additional laundry charges we incur. One-time and not per night. An Infant cot is also available for a one-time $25 fee. We ask guests to leave $25 on the table for our cleaners who manages the laundry services. The extra bedding set for the 3rd guest comprises of 1 x flat sheet + 1 x fitted sheet + 1 duvet cover + 1 x duvet + 2 x pillow covers and pillows. There are also a couple of soft blankets to put under and over the bedding for extra comfort. The location is superb, but the Kings Cross area IS busy on a Friday/Saturday night. This is an action-packed part of town; one reason it's great to stay here. While the apartment itself is quiet, and I doubt you'll ever hear the neighbours, you might hear some noise from the street at night on the weekends. I think the location is totally worth it, but forewarned is forearmed, so they say! Cars - Parking is available nearby but is a hassle, and it's expensive. Daily visitor car parking vouchers are available on request. Car rental locations are close by and GoGet car share is easy and available close by. Locals walk everywhere or use the buses and trains as the location is central and easy to navigate. If you have a car, I'll give you tips on where to park long-term, and it's less than 5 minutes walk away. Kings Cross train station is only 300m walk away from the apartment. There are windows, but sorry, no view. Although this place is so close to the city you can see the Harbour Bridge from the laundry room (see, washing IS worthwhile), and Centerpoint tower from Orwell Street outside. However you don't need them through a window - they're just walking distance away!
Rich with history, culture and sophistication, Potts Point is an ideal place to stay or visit for those who want to enjoy the picturesque surroundings of a bygone era and still be close to everything Sydney has to offer. Potts Point situated within Sydney City is just a short 20-minute walk to the CBD and a stone's throw from Kings Cross Railway Station, so you can easily catch a train to some of Sydney's major attractions. Sydney Buses, Taxis and Car Hire are also readily available in the immediate vicinity. As for dining out, Victoria St, and in particular Macleay St, are dotted with a range of restaurants to suit all tastes. Kings Cross, Darlinghurst Rd offers a countless number of nightclubs, bars and theatres for those who enjoy the nightlife. Or for the more subdued there are plenty of parks, museums and harbour side charm in the neighbouring suburbs.
Recomiendo 100% este departamento! Es muy lindo, limpio, igual a la foto, lo tienen totalmente preparado para ayudarte Con todo lo que puedas necesitar en tu viaje, mapas, libros, datos, paraguas, manta para picnic, cosas de baño, etc. Nos recibió el marido de charlotee, chris que fue muy puntual y gentil. Esta a menos de 10 minutos del metro, buenos restaurantes cerca. Queda en un tercer pisó sin ascensor así que mejor andar con mochila. Volvería de todas maneras!
trinidad
2013-10-19T00:00:00Z
Even though we never met Charlotte, we received several pre-stay emails from her with great information. We also talked with her after arrival on the phone and she was very helpful. The apartment is as described with a large living room/kitchen and a comfortable bedroom and large bath. What isn't mentioned is that this is the best stocked/outfitted apartment I've ever rented. It's as though someone was living there and just moved out a few days for us to have it. Spices, olive oil, canned soups, ketchup, mayo, soaps, laundry detergent, lots of extra towels and even a backpack to use for day trips in case you didn't have one. The location is excellent near the heart of the city. Two blocks from lively Kings Cross action but if you don't want to be in the middle of the action, you can just walk a different direction to town and you miss the area. The only negative would be for people that would find a third floor walk up a problem. We loved our 11 day stay and would stay again if we returned to Sydney.
Gregory
2014-10-15T00:00:00Z
Die Wohnung ist super möbiliert und eine perfekte Dokumentation von Charlotte lag bereit für die Gäste. Charlotte hat an alles gedacht, Handtücher, Tee, Adapter, und vieles mehr. Die Lage der Wohnung ist sehr zentral, mit Bus, Zug oder zu Fuss erreicht man alles. Charlotte und Chris waren immer hilfsbereit. Man kann sich glücklich schätzen, solch eine super Wohnung zu mieten. Vielen Dank, Sabine und Christoph
Sabine
2014-12-06T00:00:00Z
This appartment was perfect for us, we stayed there with our 4 years old son. It was clean and very comfortable and the location is just great. We met Chris for the keys and he was very friendly and helpful with many tips for the appartment as well as for the surroundings. We would definetely stay there again!
Sascha
2014-01-11T00:00:00Z
The room is nice, clean, and have anything you can imagine if you are a traveller. Even they have a picnic tools. But the most important thing is the place about 2mins walking distance from the kingcross train station, means u have an easy access to explore the city. Chris and charlotte are a very good host. They make sure everything you need is in the room.
Prasdityan
2016-12-14T00:00:00Z
Charlotte's is a lovely clean little apartment central to cafes, restaurants, nightlife and the city. We had a lovely stay.
Melissa
2017-01-15T00:00:00Z
We really enjoyed staying in this area of Potts Point. There were many restaurants just steps away, both upscale and budget priced. A grocery store was located just around the corner. The apartment was just a 30 minute walk to the center of Sydney. We would cut across the Sydney Botanic Gardens each day as we walked towards downtown. Our Sydney experience was outstanding! Charlotte responded quickly to all of my messages and her husband met us at the apartment and helped us get settled.
Mary
2017-01-21T00:00:00Z
My wife and I stayed here for 9 nights at the back-end of September. Clean and well appointed, the apartment was ideal for our stay. Less than 5 mins to Kings Cross station or a leisurely 20-25 min stroll through the Botanical Gardens to the Opera House. It can get a bit noisy at night but that didn't affect us too much - ear plugs helped. All in all a very good air bnb experience.
Richard
2015-09-29T00:00:00Z
Tipo de habitación
Casa/apto. entero
---
Tipo de propiedad
Apartamento
---
Capacidad
3
---
Habitaciones
Sídney, Nueva Gales del Sur, Australia
El estudio es su plataforma de escape en el corazón de Redfern / Surry Hills. Diseño arquitectónico. Donde industrial y urbano se combinan para dar una verdadera experiencia interior de la ciudad. Rodeado de maravillosos parques y comodidades. Cerca de transporte. caminar por todas partes
El estudio es un espacio independiente en la parte trasera de mi casa terraza. Seguro, tranquilo y privado. El estudio tiene su propia entrada privada en un parque maravilloso. Cerca de algunas de las mejores cafeterías, bares y restaurantes de Sydney. Los huéspedes tienen su propio baño con una simple pero funcional cocina. Incluyendo una lavadora, nevera, microondas, tostadora y hervidor de agua. Los huéspedes tendrán acceso a un patio soleado privado compartido por el propietario de la casa adyacente, rodeada de árboles maravillosos. Yo vivo y trabajo desde casa. Puedo interactuar con usted tanto o tan poco como usted desea. Mi espacio de oficina en casa está bien lejos de estudio para mantener la privacidad de su tarifa. Tengo un perro pequeño que es muy bonito, que le dará la bienvenida de todo corazón. Él puede ser aislado del patio en caso que usted no es un "amante de los perros '. El área de Redfern estamos ubicados en está en la frontera de Surry Hills. A sólo 5 minutos a pie de Bourke Street Bakery, Gelato Messina y muchos otros establecimientos emblemáticos locales. Redfern es una interesante suburbio del centro de la ciudad, con elementos de la urbanidad variable. Nuestra ubicación especificar está llena de calles arboladas y grandes era del Victorian Terrace Houses. Totalmente encantador y relajado. Usted se sentirá como un verdadero local después de su estancia aquí, sin duda. Los autobuses y conexiones de tren se encuentran a 5 - 15 minutos a pie desde aquí. la estación más cercana es la estación central, un árbol forrado relajada caminata de 15 minutos de distancia. Las conexiones de autobuses se encuentran a 5 minutos a pie. Desde aquí se puede coger un autobús a la ciudad oa la playa, que es sólo un paseo en autobús de 20 minutos en coche. El verano en Sydney es tan hermosa, tan venir y quedarse, disfrutar de las piscinas, playas del puerto y las playas del océano en abundancia en todas partes.
El área de Redfern estamos ubicados en está en la frontera de Surry Hills. A sólo 5 minutos a pie de Bourke Street Bakery, Gelato Messina y muchos otros establecimientos emblemáticos locales. Redfern es una interesante suburbio del centro de la ciudad, con elementos de la urbanidad variable. Nuestra ubicación especificar está llena de calles arboladas y grandes era del Victorian Terrace Houses. Totalmente encantador y relajado. Usted se sentirá como un verdadero local después de su estancia aquí, sin duda.
Daniel was a great host and the studio was the perfect place for us to recharge and rest during our busy stay in Sydney. We were able to walk everywhere and found yummy cafes and restaurants within the neighborhood. If people are willing I suggest walking into center city rather than using public transportation - it was a fun way to explore!
Emily
2016-08-04T00:00:00Z
Daniel was a great host. Very communicative with check in details & the place was great for what we were after. Would recommend.
Courtney
2016-11-18T00:00:00Z
Wonderful place to stay for our first two days in Australia. Quiet location but lots of places within walking distance. And the bed is super comfy! Daniel was VERY responsive. Great host; his space is small but has everything you need.
Emily
2016-11-15T00:00:00Z
Daniel's place is accessible to everything you need around Sydney. Make sure he communicates clearly your exit times if they change.
tania
2016-12-03T00:00:00Z
Daniels place was in such a great location, central to everything we wanted to do/ see in Sydney. Was a lovely modern room with everything we needed. Daniel was easy to contact and check in was a breeze, got lots of tips for transport and places to eat and drink in the local area!
Madi
2016-12-28T00:00:00Z
HOST...lovely LOCATION... brilliant STUDIO...cosy PRIVATE ACCESS... is a bonus POODLE... also a bonus
Jenny
2015-09-11T00:00:00Z
really enjoyable stay. Thanks for your hospitality Daniel. I will stay again if i need a bed in this area as its a great location close to shops and restaurants and very helpful host.
Jill
2015-05-04T00:00:00Z
Daniel was a great host who accommodated very much to our needs. He had some hand-drawn maps of the area ready in the room, along with a few brochures of things to do in Sydney and stuffs. The room itself was cozy and comfortable, and the description was spot on. It really has everything and the washing machine meant that we did our laundry before we went home!
Muhammad
2015-10-24T00:00:00Z
Tipo de habitación
Casa/apto. entero
---
Tipo de propiedad
Casa
---
Capacidad
2
---
Habitaciones
Redfern, Nueva Gales del Sur, Australia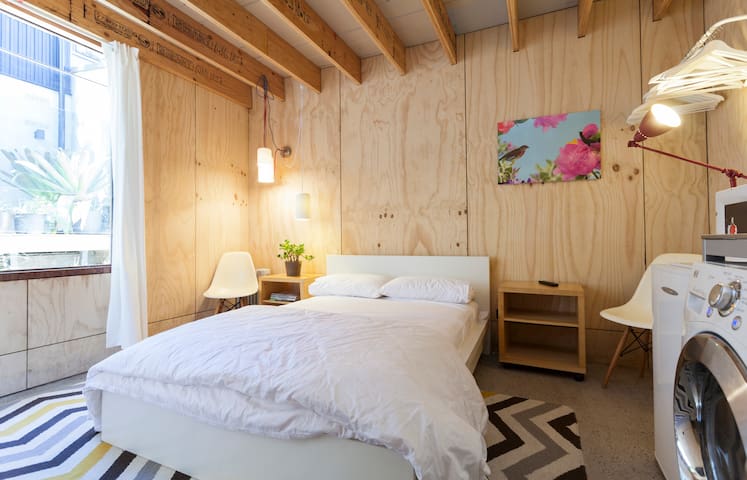 Enjoying spectacular views of the iconic Sydney Opera House and harbour. Kirribilli water views is close to the CBD and a stroll to the harbour. Includes all mod cons, unlimited wifi & pay TV. The perfect pied-à-terre for a stay in Sydney: whether you're travelling for business or pleasure.
Our apartment is luxuriously appointed with modern amenities, spectacular views and unrivalled convenience. Located just a short stroll from Kirribilli village, the Sydney Harbour Bridge and all forms of public transport you will not find a better location. The living area offers sweeping views over Sydney harbour and the Opera House. The kitchen and bathroom are modern and Wifi and pay TV are included for free with your stay.
Kirribilli is a very cute little suburb located on a waterfront of iconic Sydney harbour. The local village has everything you'll need: cafes, a grocery store, restaurants etc. Guests will love to take the ferry to see the sights of Sydney or to take a stroll to the park that overlooks the harbour in Milson's Point.
Wonderful wonderful wonderful! Hannah is so so thoughtful and helpful! The location of the house is perfect! Near ferry and train station, and the balcony is awesome!!! I can see the opera house through the balcony in the morning, at noon, at night, any minute I want! The coffee machine in the kitchen is definitely a plus! In one sentence, Hannah you should raise the rental for such a good location apartment!!! Linli
linli
2014-08-20T00:00:00Z
We were attracted to this property for the view which didn't disappoint. It was our first time in Sydney and the apartment is in such a great location to take in the views of the Opera House and Harbour. Very easy to get around with such close proximity to the ferry at Milsons Point. The local neighbourhood is a lovely quiet-ish area but has plenty of restaurants and cafes etc if you do want to stay local. The apartment is small but very comfortable and clean and had everything you need. Hannah is an excellent host and was very helpful from the start providing us with lots of information on how to get around. Throughout the process she was very prompt with her communication which was appreciated. She also was happy to go above and beyond by providing us with a travel cot for our little one and provided useful extras in the apartment such as basic food, nespresso and very handily a mobile phone with credit which was useful when visiting from abroad for calling cabs and take away etc. All in all we really enjoyed our trip and thanks to Hannah for making it all so easy!
Jemimah
2016-09-13T00:00:00Z
We very much enjoyed our brief stay in Hannah's apartment. It is ideally located to see the sights of Sydney, very clean very well equipped. Great views from the balcony including a friendly cockatoo! Hannah couldn't have been more helpful.
Libby
2016-02-05T00:00:00Z
We chose this apartment because of the views, but it is so much more! It is small, and there were 2 adults and three kids, but we managed perfectly. The kids shared the sofa bed, and we had the bedroom. The kitchen is small but has nice appliances, and I was able to cook eggs and toast in the mornings easily. It is very close to all the shops, restaurants, and grocers in Kirribilli. The Milsons Point train station is a very short walk, also. We chose to walk across the bridge everyday as there is easy access, but we did use the station when going out to the blue mountains. A great location in a quiet neighborhood!
Karena
2016-09-30T00:00:00Z
The location was great with good views of the city and the opera house. There are lots of restaurants within walking distance. Also within a very short walk is the milson's point train station which is one stop from the city. If you are feeling energetic then it is easy to walk across the harbour bridge and enjoy a great view of the city and the activity in the harbour. Parking is one the street and hard to find.
kerry
2016-11-18T00:00:00Z
The apartment was excellent with a great location and plenty of info. Hannah was available and easy to reach with any questions I had. Views were spectacular!
Kiernan
2016-06-02T00:00:00Z
Kirribilli Water Views was a truly pleasant experience. The apartment is quite comfortable and well equipped in concordance with the provided description. We were delighted with the convenient location and charming neighborhood. Ferry stop and train station at 5 minutes walking made rather easy any tour around Sydney. The Sydney bridge and fabulous views over the harbour at less than 5 minutes!... So, walking through the bridge wasn't a hard decision. Enjoying a breakfast or resting at night at the balcony while watching the maritime traffic crossing the Opera House certainly mesmerized us. Moreover, Hannah made everything easy and well planned during our stay.
Gianni
2014-12-05T00:00:00Z
Hannah is an exceptional host and the apartment is perfect for a couple looking for stunning Sydney Harbour views. Knowing that we were celebrating our honeymoon, Hannah went above and beyond in terms of making us feel welcome, and she was very quick to respond to any questions we had. One thing that really stood out is that Hannah provides a local phone pre-loaded with minutes so you can call home and let your loved ones know you made it OR book a cap using a local number (many won't accept international #s). This little extra was huge in allowing us to reserve taxis. I would highly recommend Kirribilli water views to anyone looking to relax in a cozy apartment with the iconic views of the Sydney Opera House in the background.
Daniel
2015-02-10T00:00:00Z
Tipo de habitación
Casa/apto. entero
---
Tipo de propiedad
Departamento
---
Capacidad
4
---
Habitaciones
Kirribilli, Nueva Gales del Sur, Australia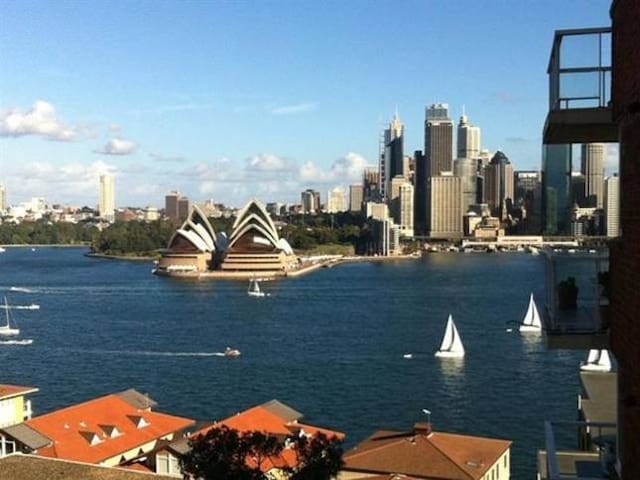 Fully furnished apartment situated next to rushcutters bay close to Sydneys CBD. With the train station and all amenities 5 minutes walk away.
The host canceled this reservation 264 days before arrival. This is an automated posting.
Jeannine
2017-03-29T00:00:00Z
Tipo de habitación
Casa/apto. entero
---
Tipo de propiedad
Departamento
---
Capacidad
2
---
Habitaciones
Edgecliff, Nueva Gales del Sur, Australia
Ubicado en un enclave aislado tranquila, este segundo piso precioso, amplio y luminoso, apartamento de dos dormitorios es la mejor base para explorar todo lo mejor de Sydney tiene que ofrecer. Susurro tranquilo, pero muy práctico - nuestro apartamento está situado frente a la estación Edgecliff y tiendas, por lo que es muy fácil llegar a la ciudad, y todas las mejores playas del océano y del puerto de Sydney. La habitación disponible es una amplia habitación con un armario y una cama de matrimonio muy cómoda.
10 minutos en el CDB 5 minutos a Bondi Junction (conexión a Bondi, Bronte, Coogee, etc.) 5 minutos a pie de la bahía de Rushcutters 20 minutos en autobús a pie / 10 minuto para las playas del puerto (Red Leaf, Milk Beach, Neilsen Park)
Vivimos en un enclave aislado dentro de un barrio tranquilo y céntrico en Sydney. Para aquellos que aman el acceso al agua, este lugar es perfecto. Hermosas bahías y playas del puerto están a pocos pasos de distancia, mientras que las playas más populares de Sydney están a 30 minutos de distancia de transporte.
We stayed at Amanda's place for 2 weeks and had a wonderful time! The flat is exactly as described on the pictures, with high end wood-flooring throughout, a well equipped kitchen and large bathroom. The flat was very clean and the location is amazing! It is 1 minute walk away from Edgecliff station and from two major supermarkets. At the same time, the flat is very quiet because it is nestled in a private courtyard style development. Amanda was a wonderful host, really nice and easy to talk to and she took great care of us during our stay. We loved our time at Amanda's and would certainly stay there again when we are back in Sydney!
Ann
2017-03-24T00:00:00Z
The traffic here is very convinient, just across the road is edgecliff station. And in the edgecliff centre, there are a coles and some other shops. There is also a park not far away from the apartment. And thanks for Amanda' help. Whatever I asked, Amanda answered quickly and helpfull. The neighbour in the other room is also quiet and good this time. If you want to share an apartment with others, I think this is a good choice.
春玉
2017-03-08T00:00:00Z
Amanda's apartment is beautiful and exactly as shown in the pictures. My husband and I stayed 5 nights in February/March and absolutely loved it. Amanda was not the in and unfortunately we couldn't meet her however her instructions and communication was excellent. The apartment and room were very clean and the apartment smelled very nice. The location ia very good, a bit far to go walking daily to cbd however the train station is just across the road and it takes literally 5 min to get to town hall or central.This was not an issue for us at all as Sydney's trains are great. If we come back to Sydney we would definitely stay at Amanda's place again.
Agustina & Federico
2017-03-01T00:00:00Z
Tipo de habitación
Habitación privada
---
Tipo de propiedad
Departamento
---
Capacidad
2
---
Habitaciones
Edgecliff, Nueva Gales del Sur, Australia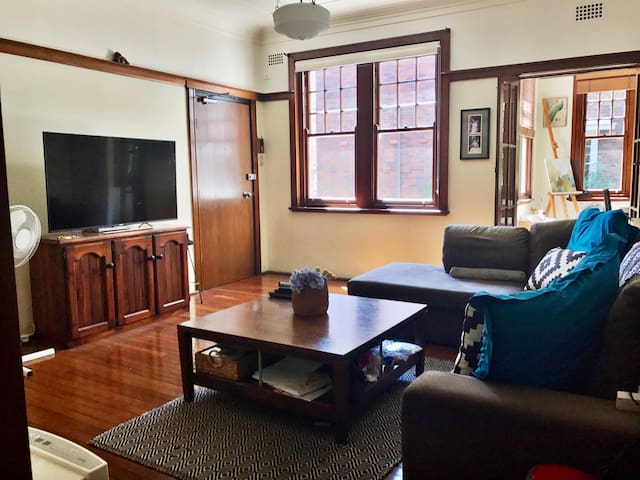 Perched between city & sea, Darling Point is the perfect base for exploring Sydney's best attractions. Tastefully decorated, with art deco charm & natural light, it overlooks a quiet lane opposite Edgecliff's public transport hub and shopping centre.
Close to both the city centre and the beach, Edgecliff is perfectly positioned for Sydney visitors who want to see and do it all - or for professionals needing a base that's convenient to the office AND a fantastic after-hours lifestyle! With large sun-drenched windows and breezy plantation shutters throughout, the apartment has a peaceful, relaxed yet chic vibe - all with rail and bus links at your door!
There are so many beautiful places around Edgecliff to explore. You'll be footsteps away from Rushcutter's Bay with its stunning Sydney Harbour views, outdoor gym, cafe and playground, and picturesque McKell Park, perfect for harbourside picnics or watching the Sydney to Hobart yacht race. Explore the many fantastic eateries and bars in nearby Potts Point, Darlinghurst and Double Bay, or wander the boutique shopping precincts of beautiful Paddington and Woollahra all just a short stroll away. Watersports including kayaking and stand-up paddle boarding await in neighbouring Rose Bay, and kids of all ages can enjoy swimming the sheltered, netted Murray Rose pool at Redleaf Beach with its floating pontoon.
The Apartment was fantastic and very spacious. The photos don't do it justice! Great location and great access to the building. Great host and great communication. Key pick-up and access was great. Would highly recommend. Great for a weekend or a longer stay.
Ali
2016-05-23T00:00:00Z
Sarah's apartment is lovely! It's located across the road from Edgecliff station, bus interchange and various shops (e.g. Coles, Harris Farm and Aldi). It had everything we needed and the heating provided made the place even more cosy. Thank you :)
Kim
2016-06-04T00:00:00Z
Lovely bright clean apartment , with easy access to the city.
Hayley
2017-03-09T00:00:00Z
Great location because of 20 min distance to CBD and 20 min to bondi beach, both by public transport. Supermarket is also in 2 min walking distance as well as restaurants. When I got in the flat I really felt like I'm in my place, with microwave, iron, dishwasher, washing machine, dryer and heater. It'd be more comfortable if it provided us hairdryer. There is just few minor drawbacks, though. One of the bedrooms is kind of noisy due to being close to the street and the bed couldn't let me turn over without making noise. All in all, if I had a chance someday to travel to Sydney I'd stay in this place again.
Samira
2017-03-24T00:00:00Z
Sarah was really nice to arrange the the room check in for us. The apt is convenience and only two mins walk to station. We had a lovely time in Sydney.
Y
2015-06-26T00:00:00Z
Great location and very clean place!
Sarah
2017-02-12T00:00:00Z
The location is great and the apartment very nice. However, we were disappointed with the cleaning.
Maude
2017-02-11T00:00:00Z
Great location
Alistair
2017-03-25T00:00:00Z
Tipo de habitación
Casa/apto. entero
---
Tipo de propiedad
Departamento
---
Capacidad
4
---
Habitaciones
Edgecliff, Nueva Gales del Sur, Australia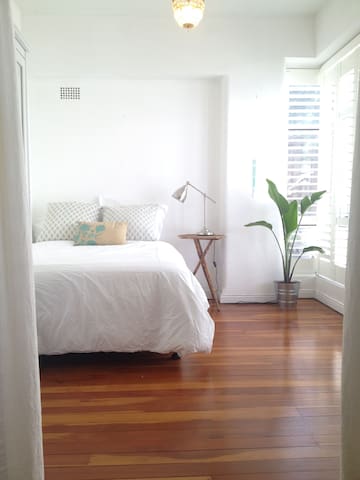 light and airy spacious apartment. Smell the fresh sea air. Swim off your own private jetty. Celebrity watch in Double Bay, cafes, restaurants, they are all at your doorstep. Jump on a ferry and see where you end up.
Welcome to Sydney! I have a beautiful large sunny room to let in my apartment in Double Bay in the Eastern Suburbs of Sydney. The apartment is in a small secure block of 3 and is located right on the edge of the harbour. The room is large with garden and harbour views, through 2 walls of large windows and very quiet and private. You will go to sleep with the gentle lapping of the water and wake up with cheeky rainbow lorrikeets and sometimes a curious kookaburra... Double Bay is a beautiful suburb with great shopping, reataurants, pubs, and all amenities. It is a very safe area with lovely parks and beaches. There is a ferry almost at the doorstep (city is approximately 9 minutes) and bus and train very close by. The airport is a 20 minute drive. The room is equipped with a queen size very comfortable bed (including pure cotton linen and bath towels) flat screen tv, dvd. You are welcome to use the kitchen if you would like to cook. You will have your own fridge stocked with breakfast essentials including tea and coffee. I treat guests like friends, but also respect your privacy. Sometimes there will be impromptu drinks on our private jetty to watch the sun go down on another beautiful Sydney day. One thing to think about... there are quite a few steps to my apartment, no lift access. I am always happy to assist with baggage too. Thanks and look forward to meeting you!
Boutiques,Cafes, restaurants, galleries, beaches, walks, parks all at the door step. What more is there??
It is a wonderful place to stay in Sydney, we liked it very much. Its only five minutes from the ferry which goes to the city center in 15 minutes with a great view on the opera House and the Harbour Bridge. The view from the appartment on the harbour is lovely. Primrose is a very nice and friendly host and we enjoyed staying with her and her cat Humphrey
Katrin
2014-09-04T00:00:00Z
Had a really good time at Primrose her place ! The land lord Humphrey ;) and Primrose both make sure you feel welcome. The location is perfect, just a few minutes away from the city with the Ferry or you can use a taxi for all kind of other locations (like Bondi Beach). We would really recommend this AirBnB !
Alyssa
2016-03-26T00:00:00Z
Primrose's apartment is superbly located in a beautiful and very convenient location. Primrose made me feel very welcome at all times. She was very friendly, relaxed and enthusiastic, and she made herself available to chat and answer questions, without ever being at all intrusive. Primrose's advice was very helpful regarding such things as suggestions regarding the best way (or different possible ways) to get to various places, interesting places to visit or things to do. As I don't know Sydney well, I appreciated this very much. Overall, I felt totally at ease staying with her, and hope to have the opportunity to stay with her again.
Alice
2016-08-02T00:00:00Z
Thanks Primrose I had a most enjoyable stay, very convenient area for access to the city with the ferry just 2 minutes away, bus and train 10-15 mins walk. Primrose was very helpful with up to date brochures of tours, general information and travel timetables. Thanks Primrose.
Anne
2014-11-04T00:00:00Z
Stunning and super convenient location with a ferry stop a minute's walk away, nice clean apartment and room. Primrose was wonderfully welcoming and helpful, always happy to chat.
Susan
2014-01-26T00:00:00Z
Wow! The views from Primrose's apartment are fantastic. Breakfast outside on the deck was a great experience. We loved it. Added to that was a very comfy bed and a very peaceful neighbourhood. Complete bliss. Primrose herself was a terrific host. Lots of useful information on local travel and just generally a nice person. To give one example she made us aware of the spectator boat which accompanied the local sailing club when they were racing in Sydney Harbour. We booked this and had three wonderful hours out on the water. Summing up the location is perfect and Primrose couldn't do enough to smooth things along. Recommended to everyone. One point to mention there are several steps up to her apartment so bear that in mind if you are booking, but then again talk to Primrose. I am sure she will come up with a way to help One last point was that Primrose organised a shuttle service at a very keen price to get us to the airport. A very reliable driver and an added service that I would also recommend. John Whyte
john
2015-02-04T00:00:00Z
The reservation was canceled 6 days before arrival. This is an automated posting.
David
2014-06-05T00:00:00Z
Primrose was a fabulous host, with a wealth of information about the area! Her apartment is in a fabulous location overlooking Double Bay! The bed was comfy, lots of coat hangers and a TV in the bedroom. The apartment has a large deck overlooking the bay, where we enjoyed a glass of champagne with our charming host. We will certainly return!
Maryanne
2016-10-09T00:00:00Z
Tipo de habitación
Habitación privada
---
Tipo de propiedad
Departamento
---
Capacidad
2
---
Habitaciones
Double Bay, Nueva Gales del Sur, Australia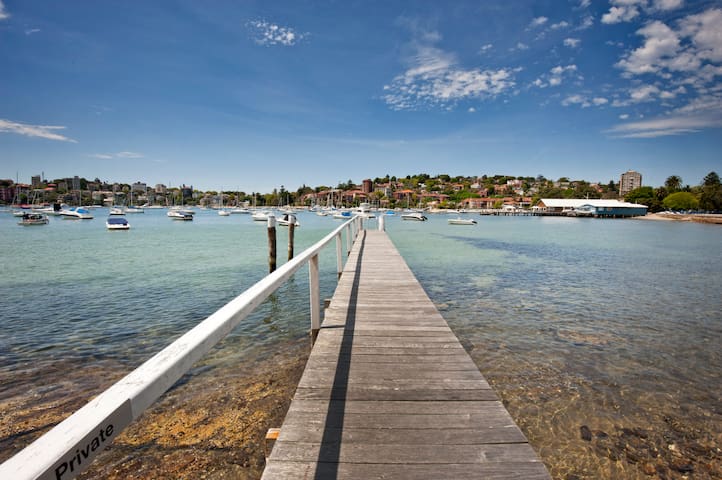 Your own room with neighbourhood views at the back of an old converted mansion in beautiful Darling Point. A short stroll down the leafy street to the waterfront and the ferry to the city. Walking distance to Double Bay, Redleaf Beach & the train.
The bedroom available is upstairs and is one of two in the apartment. The lounge room, bathroom, kitchen and laundry are downstairs on the ground floor. The apartment opens on to a grassy backyard with plenty of sunshine and shade. The bedroom itself has a split king bed, so this can either be set up as a King size bed for a couple or a single person, or can be two King Single size beds if two people want to sleep separately. Just let me know how you'd like it arranged. The bathroom is downstairs and has a bath, a shower and a toilet. This is shared between the host and the guests.
Darling Point is a very nice established neighbourhood on Sydney Harbour, in the Eastern Suburbs. It features a lot of heritage houses and some impressive new homes as well. There's not a lot to do in Darling Point itself, but the yacht club and park at Rushcutters Bay is down the hill on one side, and the bars, cafes and shopping at Double Bay is down the hill on the other side.
The room and other places are exactly same as pictures, clean and VERY quite. Bed is comfortable and I can get everything I need from Chris before & during my stay. The bathroom was a bit cold, but I guess I felt that way because I used it very late night. :)
영란
2016-09-10T00:00:00Z
I had a lovely experience at Chris's beautiful home , it is easy to find he lives in a great area walking distance to a lot of nice places coffee shops , supermarkets, parks etc also the train station is very close if you don't like walking .I loved my room, very bright and the bed is very comfy .I highly recommend to stay there , it is very peaceful and quite see you next time . Thank you for having me short notice. All the best Alexandra
Alexandra
2016-01-29T00:00:00Z
We had a wonderful four-days-stay at Chris' place. The garden unit is very quite and comfortably equiped. Chris was a very kind, helpful host and the communication before we got there was fluent and provided us with all we needed.
Sabine
2016-03-22T00:00:00Z
We stayed at Chris's place as we had a wedding in darling point. The neighbourhood is beautiful. It was very convenient and affordable for what we needed. Recommend highly. Thanks Chris
Luke
2017-01-21T00:00:00Z
Had a really great stay. Everything was perfect. Big room, clean home and a beautiful location. Can highly recommend it.
Peter
2017-01-10T00:00:00Z
Calm, nice beighbourhood, beatiful interior and the garden is very chill and just 10-15min by foot from the subways, location in generell is really cool, 2 stations from city centre and 1 from bondi
Gabriel
2017-01-18T00:00:00Z
Chris was a lovely host, and indulged us by letting us watch bad TV on his Netflix. Highly recommended, particularly if you enjoy the ferry life.
Lanna
2016-09-09T00:00:00Z
My stay at Chris' place was calm, clean and Chris is a very nice and kind person. Everything was like it was described. I can highly recommend to stay at this nice apartment. If you are looking for a fun neighborhood with bars, cafes, etc. this is not the place to go. This is more about relaxing.
Mareike
2016-02-06T00:00:00Z
Tipo de habitación
Habitación privada
---
Tipo de propiedad
Departamento
---
Capacidad
2
---
Habitaciones
Darling Point, Nueva Gales del Sur, Australia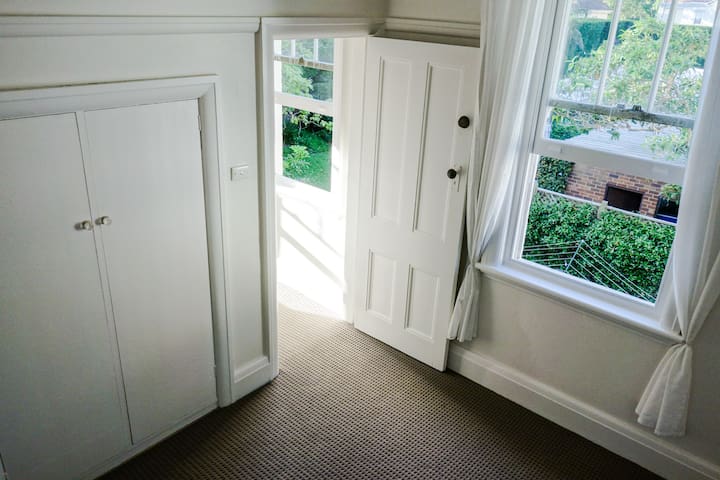 Beautiful one bedroom apartment in a complex with Sydney Harbour Views, Balcony, Outdoor & Indoor Pool. HD TV with Netflix & Foxtel, air con, wi-fi and full kitchen facilities if you're staying in. Or if you're heading out; Apartment is opposite Edgecliff Station (with 3 Supermarkets) - trains to CBD & Bondi Junction; 6 minutes each way! Five minute walk to Double Bay; Cafes, Shop's, Bars & Restaurants. Few moments to Rushcutters Bay park with lovely inner harbour views.
Living area is open plan, comfortable and plenty of room for two. All kitchen utensils will be available to use so feel free to cook up a storm! There is also have a kettle, toaster and Nespresso machine with pods - knock yourselves out! The balcony makes a perfect setting for brunch, lunch or a lovely sunset dinner. There are few novels, cooking books and a couple of board games to enjoy. Aircon is in the bedroom but no the main living area, so ensure you pull the blinds if the sun is out :)
Darling Point is perfectly located to everything you'd want or need! A short walk to the local parks; Rushcutters Bay, Darling Point Park. A stroll over the road to Edgecliff station which will take you to the CBD and Bondi Junction in minutes. Walk, cab or bus to the local beaches; Red Leaf or Rose Bay! For pubs, cafes, great brunch spots, restaurants and bars walk to Double Bay in 5 minutes! Tennis courts in Rushcutters are also available to book by the public! You can also take a 10-15 minute walk up to Paddington for cosy pubs, quirky coffee shops and designer shopping!
Tipo de habitación
Casa/apto. entero
---
Tipo de propiedad
Departamento
---
Capacidad
2
---
Habitaciones
Darling Point, Nueva Gales del Sur, Australia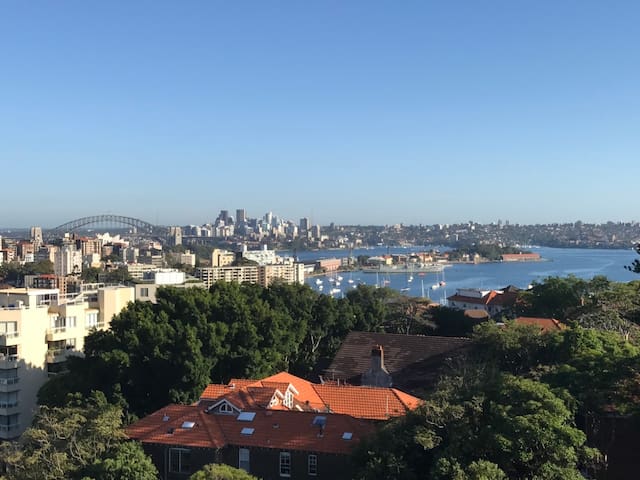 large apartment right across the street from beautiful Ruschcutters park. Open plan kitchen, leading into living and dining which leads onto balcony. Queen sized bed and bathroom w/ bath and shower. Kitchen is fully equipped and dishwasher.
This apartment is right next to Ruschcutters bay park, a great place for a morning jog or a picnic and glass of wine. It also makes for a nice spot to watch the NYE fireworks. There's a bus stop 2 min away to go to the city or Bondi beach, and edge cliff train station is about 10 min away. Additionally, it is a short stroll to trendy Potts point, Kings cross and Darlinghurst.
Great apartment with plenty of space and everything you could need. Sofa and bed are very comfy. Super nice and accommodating hosts!
Clément
2016-01-14T00:00:00Z
Tipo de habitación
Casa/apto. entero
---
Tipo de propiedad
Departamento
---
Capacidad
2
---
Habitaciones
Darling Point, Nueva Gales del Sur, Australia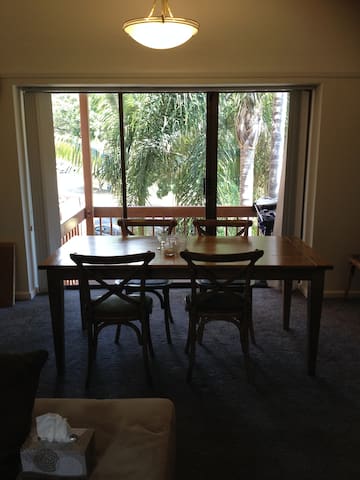 This quaint apartment has a romantic and peaceful feel in the quiet area of Darling Point. Relax in the large courtyard by day and enjoy your dreams at night in the designer quality queen bed, whilst being on the door step to everything you need.
The apartment is designed and equipped for Airbnb visitors, nestled in a beautiful suburb and a very quiet and safe part of Darling Point but so close to the city edge. It is in a beautiful street scape, is a unique little space and very comfortable with plenty of natural light. The apartment has a lovely spacious courtyard for lazy afternoons with a BBQ and a glass of wine. Or snuggle on the comfy sofa by the heater on the cooler nights. Street parking is usually available just in front of the apartment. This is a perfect location if you are relocating and searching for your ideal place to settle or equally as good if you are visiting Sydney and looking to explore either by foot or you have all methods of public transport on your door step.
Darling Point is an exclusive and very safe suburb close to everything Sydney has to offer. 10 minutes to Darlinghurst's famous restaurants and Kings Cross and all the nightlife it is famous for. The lovely Rushcutters Bay Park and Marina are just a 5 minute walk. 20 Minute walk to the City, Darling Harbour and the Sydney Opera House and only 2 minutes to Edgecliff train station. The Edgecliffe Shopping Centre is perfect for all fresh food - including Harris Farm Markets and many options for amazing freshly prepared food to take home ready to heat and eat. This centre also has gym, yoga, medical centre, bank, etc. etc.
Julie's place was divine! Perfect location walking distance to Edgecliff Station and Double Bay. We loved the parquet flooring and delightful courtyard. Communication was quick and clear, internet worked well. We can't wait to come back!
Sarah
2015-12-08T00:00:00Z
Julie was prompt with all enquiries and great to deal with during our AirBnB stay. The place is cosy and has everything one needs for a short term rental. It is exactly as displayed on AirBnB. The apartment is in an extremely convenient location and just down the road from the train station as well as Rushcutters bay. Julie was also more than happy to accommodate us by allowing us to check in earlier than expected which was a great help. Currently they are building on the property bordering on the back of the apartment which means the place is a particularly noisey with construction work Monday to Friday between 7am and 5pm. This is something to take note of if you plan on utilising the apartment during the day. Other than the construction work which is part of city living, the accommodation was perfect and a great place to rent.
Damian
2016-04-18T00:00:00Z
Lovely little place! We enjoyed our time staying at Darling Point. Julie was great to deal with - always prompt with responding to emails. The Internet wasn't working but Julie did try to help us fix it! Other than that we had a lovely stay and the place was as described in the listing.
Linsey
2016-01-08T00:00:00Z
We had a lovely stay at the Darlingpoint retreat. The location was excellent and Edgefield station is just a few minutes walk and provides easy access to the city. There are also nice walks nearby and the Bay with good views of the harbour. The apartment is clean, cosy and well equipped and we found it comfortable and charming. It also offers great privacy and quiet in a a very pleasant neighbourhood. We highly recommend it.
Loong
2016-10-30T00:00:00Z
Julie was very friendly and accommodating. Nothing was a problem and it was all very seamless. The place was excellent and location fantastic.
Matthew
2016-03-30T00:00:00Z
Julie was fantastic, extremely accommodating with options to extend and the check in/out process couldn't have been easier. The location was perfect, close to cafes, shops & a quick train ride to the city. The unit is quiet & 100% pet friendly with the fantastic court yard. I stayed for 2 weeks with my cats after relocating to Sydney and they settled in very quickly.
Therese
2016-11-12T00:00:00Z
Julie was a wonderful host! Although she was not in Sydney, communication was no problem at all, and the apartment was managed professionally. The apartment is nicely designed and cosy. The bed is very comfortable, and the kitchen is very well equiped. There is a big TV in the sitting area, and the Internet works well. The washing maschine and dryer was also very handy because we stayed for 3 weeks. Everything was as decribed. The apartment's location was perfect for us. We liked the quiet, safe and beautiful area of Darling Point, the old trees along the road, the beautiful houses… There is no car needed at all. Edgecliff train- und bus station is just 2 minutes walk away. All the shopping can be done there too. There are supermarkets, a grocery, butcher, bakery, a good fish shop, a pharmacy, bottle shops, in fact all kind of different shops, cafes and Take Aways, and Westpac bank too. About 10 minutes walk away from the apartment the Darling Point ferry takes you to Circular Quay in less than 20 minutes! It's also a spectacular ride home, passing by the Opera House and the harbour bridge, all lit up at night! Or you just enjoy the little Darling Point park and beach, or a drink at the Sailing Club House. If you enjoy walking: You can even walk to the Botanical Garden via beautiful Rushcutters Bay in about 45 minutes. Centennial Park is also in walking distance (about 30 min). Well – we could go on and on …. To sum it up: It was perfect for us and we try to come back next year! And thanks very much Julie !
Petra
2016-10-22T00:00:00Z
The house was lovely, clean and centrally located. Julie was prompt in responding to all communication
Lauren
2016-12-12T00:00:00Z
Tipo de habitación
Casa/apto. entero
---
Tipo de propiedad
Departamento
---
Capacidad
2
---
Habitaciones
Darling Point, Nueva Gales del Sur, Australia
Light, bright and hugely spacious, this stylish and well equipped two bedroom apartment has an open view of Rushcutters Bay (harbourside) Park and the Sydney skyline. It is conveniently located for transport, shops, CYCA, Kings Cross and the city.
Our spacious and character-filled security apartment is located on the top floor in an updated unique block of six directly across from Rushcutters' Bay Park. Our apartment is fully furnished with chic and playful interiors. We also provide you with every convenience to ensure that you enjoy a comfortable home away from home. Rooms are naturally light filled and bright with the front areas taking in serene, green and leafy views from a fully opening Juliette balcony. The block was built in the 1930's and has been extended at the rear to accommodate a large european style kitchen with an island bench. In main living area there is a large flat screen TV with Foxtel and an Apple TV and a study alcove. The bedrooms include large cupboards for your use and each has a chest of drawers.
Rushcutter's Bay park is a perfect place to relax, there is a cafe opposite where the Barista makes the perfect brew along with typical Sydney lunch and breakfast. You can have a picnic, exercise or just relax with a view of Sydney's harbor and the Yachts of the CYCA marina.
We had the most wonderful stay: a gorgeous apartment and very comfortable. But more important than anything, Emily provided the most professional, helpful and supportive service possible. She sets the standard in Air BnB hosting. Thanks Emily.
Virginia
2016-07-13T00:00:00Z
Everything was perfect. Karen was a great host and very accomadating. We were able to check in early and check out late. Everything was perfect - i can't express enough thanks. It defintely added to the wonderful experience i had in Sydney.
Brendon
2016-10-23T00:00:00Z
My friends and I (2 couples) had a wonderful stay. The apartment was as described and was just as big and beautiful as the photos show. Probably even bigger than expected. Location was great. Right near the water and park and a lovely walk to Double Bay. We have stayed in Sydney many times before in either Bondi, Coogee or Darling Harbour so this was a nice change. Very peaceful yet central. Emily was very helpful over text messages and let us check in and out an hour earlier/later to save us waiting around with luggage. Extra bonus: shower pressure was so good! Thanks again!
Michelle
2016-08-29T00:00:00Z
We absolutely loved our stay. It was perfect for 2 couples and very spacious with everything we needed. The area was lovely and quiet, and not too far from the city. We walked a lot! Close to shops and public transport with an awesome view of the city. Emily was so helpful prior to our stay checking that everything was in order, and checkin was smooth. We can definitely recommend to others, and we would stay here again. Thank you!!!
LEE
2016-08-15T00:00:00Z
Outstanding in every way. Super beautiful, huge, very well equipped, excellent communication, it was was absolutely fantastic. Great value for what it is, five stars plus.
Teresa
2016-10-31T00:00:00Z
The apartment is really fantastic. The photos don't do it justice. Lovely high ceilings. Beautiful furniture and pictures throughout. Everything is at a very high standard. The kitchen has everything you could possibly need. Location is great as is central but overlooking the beautiful park and marina. Would love to stay here again.
John
2017-03-12T00:00:00Z
We had a wonderful experience staying in this apartment. The host was ready with the keys as soon as we landed at the airport. The apartment is exactly as it looks on the website and it is in a great location. It was great for us with our kids as Rushcutters park is just over the road where they have a great fenced playground for the little guys. The apartment was really nice and clean and the host very helpful. I would definitely recommend this place to anyone - if you aren't from Sydney it's a great central location just out of the city.
Melissa
2016-04-05T00:00:00Z
Amazing experience! The apartment was simply outstanding. Perfect location, right next to a very large park, with a fantastic kids play area right opposite to the apartment unit. It was 10 minutes by taxi to the city center and about 25 minutes to the airport. The park was fantastic to go for a morning run. Our host, Karen was super helpful and provided excellent recommendations to explore Sydney. I can not recommend this apartment enough. Everything in the apartment was well kept, clean and easy to use. All instructions were provided. Parents traveling will toddler, look no further and simply take this apartment.
Cherian
2016-10-08T00:00:00Z
Tipo de habitación
Casa/apto. entero
---
Tipo de propiedad
Departamento
---
Capacidad
4
---
Habitaciones
Darling Point, Nueva Gales del Sur, Australia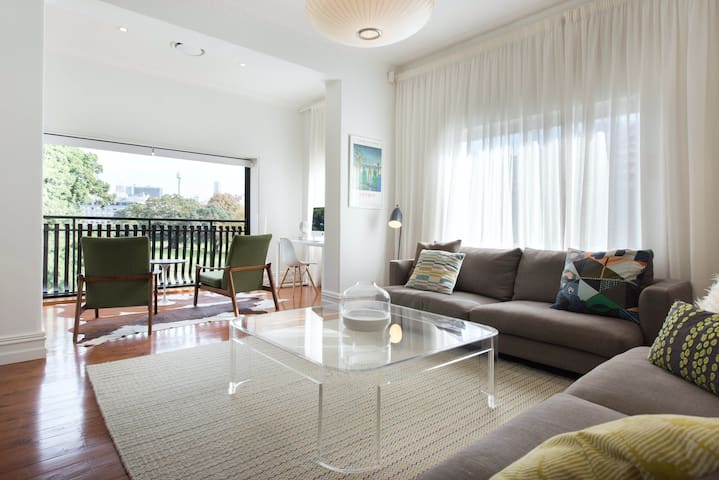 Located on the north west corner of Darling Point, the city's most picturesque and convenient suburb, our apartment faces west offering beautiful views of the city both morning and night while staying cool during the day. Check-in time negotiable.
The second floor apartment measures approximately 70sqm and is accessed via stairs only. Wooden floors throughout. White walls with tasteful mirror decoration and nice artworks. Beautiful clean furniture, lovely heavy wooden dinning table which can be slid away from the wall for entertaining. Queen size bed with firm mattress. Natural stone tiled bathroom with sink, glass shower and toilet. Large kitchen, light cream stone work tops with gas hob, electric oven and dishwasher. For your Convenience: We want to make your stay as comfortable and simple as possible. For this reason we supply a 'starter kit' to get you going which includes: Nespresso coffee, tea, bottle of white wine, couple of bottles of beer, sparkling water, milk, cooking ingredients (spices, salt and pepper and basic condiments), kitchen stuff (washing up, dishwasher and washing machine liquids) and bathroom stuff (shampoo, soap, toilet paper). Kitchen equipment includes toaster, kettle, microwave, eggbeater, Nutri bullet, food processor. Audio visual equipment includes Apple TV, Sonos Sound system and big TV with Full Fox Sports Channels. Visiting: Tourist and leisure activity is covered by so many other websites so I won't go into depth here. However; less publicised activity easy to do from the apartment and our favourite things are as follows: Sydney Museum (very badly promoted, brilliant for really understanding the city) Hermitage Foreshore Walk from Rose Bay to Watson's Bay for fish and chips lunch! Ferry Up Parramatta River (Go to Circular Quay then head to Parramatta) Taronga Zoo Drink at the CYCA on a Wednesday or Sunday with the racers (check calender on the clubs website) NSW Art Gallery Business: Commuting to businesses in or around Darling Harbour from the apartment is very quick in the morning by car or transport services. Slower by car in the evening but not the end of the world. The apartment wifi is plenty fast and allows VPN connections. The dining table is a good working height with power points beside it.
Darling Point is genuinely unique. Many people have heard of it but few have visited because its a peninsula so you don't just pass through. You can see from listing pictures once you reach Rushcutters Bay, with all the yachts, trees appear and you instantly leave the city behind.
Loved staying at Ian and Andreas place. A beautiful spot of Sydney with a beautiful view. Thank you for a wonderful stay
Connie
2016-08-13T00:00:00Z
Wow what great place to stay. Located in a quiet little pocket but within easy reach of the CBD, Double Bay and Bondi. A really lovely one bed apartment with a stunning view - and great value for money too.
Richard
2016-08-28T00:00:00Z
Ian & Andrea's place is fabulous in a stunning location. We were met by Jeremy who let us check in early & made us very welcome. The apartment is lovely, clean & well equipped, there is everything you need for a relaxing, comfortable stay. We enjoyed eating in some evenings with the balcony doors open, watching the sun go down over the bay. We had a wonderful time & very much recommend this property.
Roselyn
2016-10-26T00:00:00Z
Amazing place to stay. Bay view, sea breeze. Very clean and comfortable, hosts are accommodating.
Dmytro
2017-02-09T00:00:00Z
Ian and Andrea's place was just as it said. It was fabulous and there was support if needed. Will definitely be looking forward to coming back to Sydney and booking this place if available
Alex
2016-10-14T00:00:00Z
We had a wonderful time! The apartment was exactly as advertised with a wonderful view of Rushcutter's Bay and the city behind it. Ian and Andrea were out of town, but Christine accommodated our request to check in earlier than the stated check in time, and everything went smoothly. We used to live in Darling Point, so we were very familiar with the wonderful neighborhood. Rushcutter's Park is beautiful and a wonderful venue for a walk or morning run. The condo is in walking distance to Edgecliff where there is a wonderful variety of food shopping including a Cole's grocery store, Peter's Meats, a fresh fish market, and Harris Farms produce. We were able to cook in the well equipped kitchen, while we watched the sun set behind the city skyline. The city is quite accessible to the condo, as is the village of Double Bay. We will definitely look to book this property again, when we return to Sydney.
Cindy
2016-06-19T00:00:00Z
Host was really great. Lots of nice touches that make the difference (drink selection in the fridge on arrival, selection of cereals and so on). Really comfy bed, a great view of the bay. The balcony is really nice to have open. Good internet connection too. Very much recommended.
Chris
2016-10-05T00:00:00Z
Ian and Andrea's apartment was fantastic, great location with a beautiful view over Ruchscutters Bay. The flat itself was clean and modern with everything we needed. Really convenient to have the car parking space downstairs too ! We loved it so much we booked it for a second week. Would highly recommend.
Josephine
2016-11-05T00:00:00Z
Tipo de habitación
Casa/apto. entero
---
Tipo de propiedad
Apartamento
---
Capacidad
2
---
Habitaciones
Darling Point, Nueva Gales del Sur, Australia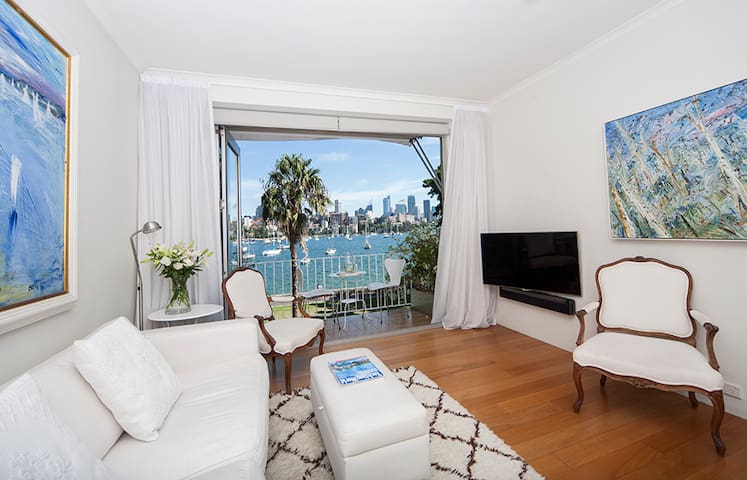 Estación -Edgecliff 5 minutos andando - Dos habitaciones dobles ambos tienen grandes armarios empotrados - Techos altos y ornamentados muchos detalles originales en todo - Cocina luminosa y moderna equipada con conexiones de gas - Baño completo Además de lavandería internos en la cocina - Paseo a Waterfront Park Rushcutters Bay y Edgecliff Centro de trenes - Momentos a puertos de navegación y puntos de estilo de vida del pueblo de la ciudad-marginales
lugar estaban convenientemente, caminando a todas partes incluyendo tren, parque, bahía, número 1 escuela privada y mucho más. TV, DVD, lavadora, nevera, plancha y tabla de planchar, gratuita Wi-Fi y mucho más.
Todos nuestros vecinos son profesionales urbanos, algunos tienen bebés. Por favor tener en cuenta, sin ruido afer 22:00 o antes de las 8 am. Por favor, mantenga tranquilo, ya que se trata de una zona de estar preciosa. Vivimos en una zona residencial con preciosas vecinos y así nos appreciateno partes, estrictamente prohibido fumar en el apartamento (y / o en el exterior cerca del edificio. No es necesario para lavar cualquier ropa o toallas. vamos a lavar todos ellos después de su uso. Poner en orden y / o el lavado de su cocina es bienvenido.
John is a great host.He's very helpful and reply my question quickly.He let us check in early cuz we arrived before the check in time.The apartment is very clean and tidy,the space is enough for two couples.Highly recommended.
Weida
2017-02-03T00:00:00Z
Stay was good however just before checkout I called the host to ask him.if I can checkout by 12 rather than 10 to which the host replied ok. However 30 mins after 10 the host came and started cleaning the house. Threw all our luggage out of the rooms. In the process a $300 Ray Ban sunglasses went missing which was a special gift from someone. If the host had advised that No and to checkout right at 10am than this would not be the case. Some of my friends came in the morning to visit us and the host started claiming more than 4 people stayed overnight which was incorrect.
Rajneel
2017-02-06T00:00:00Z
Jun has a very clean place and is great when contacting. Great location apart from being near a freeway.
Gemma
2017-03-16T00:00:00Z
Great apartment. Very spacious and a good layout that worked well for our family. Close to Edgecliff station and amenities. Downside that we weren't prepared for was that it's right by a very busy road, on a hill, close to a junction so the noise from the traffic was constant (even through the night) and very loud, even with the windows closed. In the kitchen only 1 out of 4 lights was working and the one above the job also wasn't working. And there was no plug for the bath. We also could have done with a clothes airer. Despite these things however we had a great stay and were very comfortable.
Sarah
2017-02-26T00:00:00Z
The apartment is modern and clean. The furnitures are comfortable. It was kind of hard to find parking good parking on the street but it wasn't too much to handle. Everything else was well provided we enjoyed our stay as a family!
Arya
2016-12-19T00:00:00Z
Yes, he was very accommodating as we arrived late and he make sure that we are able to get assess as soon as we arrived.
Sha
2016-12-12T00:00:00Z
I really really enjoyed my stay here, Simple, exceptionally clean, everything worked really well, perfectly in fact. Comfortable and spacious. There is road noise from the busy road out back but, i was surprised at how little it bothered me, the traffic was quite consistent, and it felt almost like a steady sssshshhhhh. On the whole i slept really well! Thanks again for having me stay.
Abraham
2017-03-09T00:00:00Z
Great location for a visit to Sydney
Warren
2017-03-14T00:00:00Z
Tipo de habitación
Casa/apto. entero
---
Tipo de propiedad
Departamento
---
Capacidad
4
---
Habitaciones
Darling Point, Nueva Gales del Sur, Australia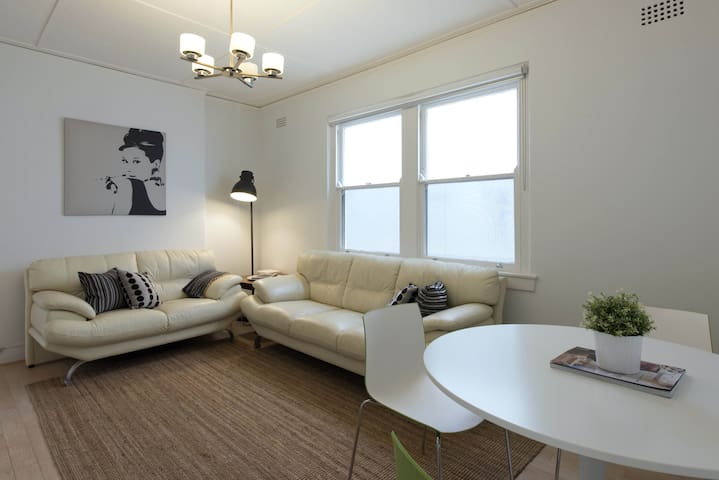 Impresionante edificio de estilo Art Deco situado en una de las mayoría de las direcciones de prestigio en Sydney. calle arbolada con impresionantes vistas de la ciudad de Sydney y el puente del puerto. Caminar 5 minutos para tomar el ferry a través de Sydney (8 minutos) en el parque hermosa McKell donde se puede ir a dar un paseo por la mañana o la creación de un día de campo a ver los fuegos artificiales de NYE emblemáticos de Sydney. Ruschutters Bay Park está a sólo 5 minutos de distancia y se puede caminar a Kings Cross (Barrio Rojo) en 20 minutos.
Lujo de 2 dormitorios, 1 baño apartamento Art Deco en el centro de Darling Point.
El suburbio junto al puerto de prestigio de Darling Point está situado a sólo 4 km al este del centro de Sydney, en el área del gobierno local del Consejo de Woollahra y es parte de los suburbios del este. Está delimitada por el puerto de Sydney al norte, Double Bay, al este, Edgecliff al sur y Rushcutters Bay al oeste. Tiene una población de aproximadamente 3,900 11% de los cuales son menores de 18 años y el 34% de los cuales son mayores de 60 años. Precios de las propiedades son altas. El precio medio de las casas en el barrio es de $ 3.8 millones y el precio medio de las unidades es de $ 1,05. Es una de las zonas más densamente pobladas de Sydney. Iglesia Anglicana de histórico San Marcos es muy popular para las bodas. Elton John se casó allí (la primera vez) al igual que mis padres hace muchos años. Es el hogar de la Cruising Yacht Club de Australia, que dirige el Sydney a Hobart Race anual y sede de los eventos de vela durante los Juegos Olímpicos de Sydney. Muchos famosos tienen casas en el barrio. Entre ellas se encuentran Nicole Kidman, Gough Whitlam e Ita Buttrose. El suburbio es atendida por los transbordadores y autobuses. Debido a su proximidad a la ciudad y el puerto con sus fabulosas vistas, Darling Point es un gran lugar para vivir si se lo puede permitir. El barrio tiene una gran cantidad de tipos amigables que están jubilados y tienen apartamentos en la zona. Hay una gran cantidad de familias jóvenes también como los parques e instalaciones recreativas son excelentes. Otras actividades de ocio incluyen; el famoso paseo a lo largo del Harborside a Elizabeth Bay, almorzando o una cerveza en el club náutico maldición, un picnic con su botella de vino favorito y reservar en Mackell Park, bebiendo un café en el café del pueblo amigable (sólo 1 de 2 en el barrio) o hacer ejercicio duro en el parque. El transporte público es excelente, con una autobuses y un ferry limitada que opera en lun-vie
Monica & Milan were lovely host, we had everything we needed, they helped us with some tips about activites. The room is great with a fan. Apartment 15 min walk-in distance from train station. We definitely recommend it, we enjoyed our stay in her place and Sydney, thx guys!
Solène
2017-03-06T00:00:00Z
Darling Point is a wonderful location and Monica could not have been more helpful.
Peter
2017-03-01T00:00:00Z
Monica and Milan were fabulous hosts. A nice and comfy bed, a cold bottle of water on the bedside table on arrival and a toothbrush set - almost like in a hotel
Marcel
2016-12-25T00:00:00Z
Monica and her partner were incredibly welcoming during our temporary stay at Darling Point. We chose this listing for proximity to my partners work (20 minute walk to Kings Cross), but it was also a great choice in terms of public transport, scenery and quiet retreat. Whilst we didn't get to see our hosts very often due to their busy schedule, we had great conversations and got some great advice for maximising Sydney. The pool was lovely on hot days, and Double Bay Woolworths/ shopping was only a 20 minute walk. Easy access to the ferry during the week! Comfy bed and sheets, and a morning/ afternoon chorus of birds were bonuses! Overall we were ecstatic with our stay with Monica.
Hailey
2017-02-25T00:00:00Z
Tipo de habitación
Habitación privada
---
Tipo de propiedad
Departamento
---
Capacidad
2
---
Habitaciones
Darling Point, Nueva Gales del Sur, Australia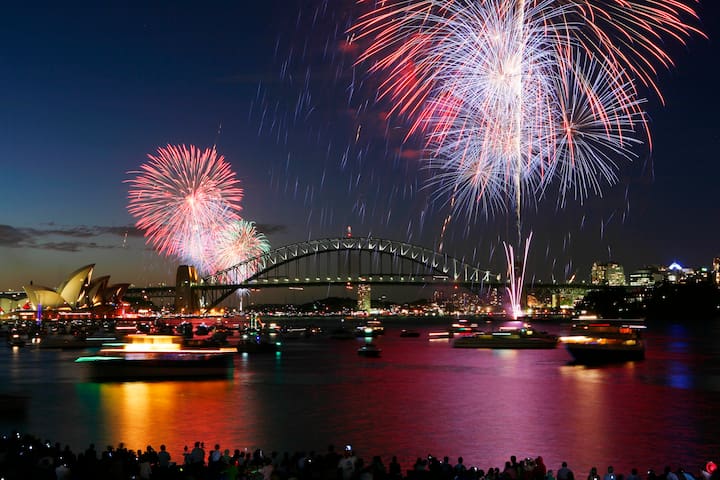 1

–

18

de

Más de 300 alquileres
Introduce las fechas para ver el precio total. Ten en cuenta que se aplicarán tarifas adicionales y es posible que se añadan impuestos.