Introduce la fecha de llegada en el formato dd/mm/aaaa
Introduce la fecha de salida en el formato dd/mm/aaaa
Anuncios que no requieren que el anfitrión acepte la solicitud.
Introduce las fechas para ver el precio total. Ten en cuenta que se aplicarán tarifas adicionales y es posible que se añadan impuestos.
En julio y agosto, podrás disfrutar de 100 de los alojamientos con las mejores valoraciones de Sonoma a precios muy diferentes y disfrutar de la cara más auténtica de la ciudad. Relájate y disfruta de tu estadía sabiendo que puedes hacer una reserva inmediata, llegar a cualquier hora y disfrutar del vino de la zona y de otros tentempiés.
The Sedgwick Antique Inn has 14 bedrooms available in the historic bank building. Our guests tell us this is a wonderful place to stay. Please stay with us as long as you wish.
Lots of space and lots of room to let your imaginations flow. Guests have access to the whole building... We love to connect before, during and after our guests stay with us.
We walk the streets at night. You will be safe in our friendly little town. We have the Jumbo Reservoir 5 miles west of us. Fishing and hunting is abundant in our area. Keep in mind we are a small town with a bar and a dispensary across the street. Walk, ride bikes, etc. We have a new restaurant right next door.
My recent stay @ Sedgwick Antique Inn , everything was as advertised. Lupe is a very friendly host and the accomodations hit the spot after a long days drive.
luis
September 2016
Incredibly wonderful host and place to stay! Lupe was super accommodating with my extra late arrival. Easy to find, incredible value, and the perfect stop over on my long road trip for some rest. Recommend to other travelers!
Rhodes
November 2016
We had a great time. Unique room, nicely decorated. Shared bath but convenient. Someone met us right away. Cafe next door had good food and friendly service. Very small but welcoming town
Nancy
July 2016
I was driving a long distance and was just looking for a place off the I-76 highway to rest for the night. This place sounded interesting and I'm glad I stayed here overall. Sedgwick is truly a tiny town and The Antique Inn has a lot of history. Lupe and the other staff I met were very friendly and helpful. Room had a window AC and fan in the room which made sleep more comfortable due to the high heat. The place had no WiFi and only had shared bathrooms, but that did not bother me.
Chris
July 2016
Very comfortable stay, thanks so much!
Paul
August 2016
Lupe's door to her Airbnb and heart are wide open and waiting for you to enter. Lots of good stories about the area and an attached cafe with a full menu. Delicious BLT.
Greg & Helen
October 2016
Pretend you're embarking on an American road trip, escaping the dull routine, fleeing the law, chasing a dream, heading West. As an AirBnB virgin, I've only my internal catalogue of good ole USA road trip movies from which to base my expectations, and most of those escapes from suburban, workday toil end in either back home with a renewed-lease-on-life or by slaughter. Still, we're pretending we're getting away from it all. To the place where buses don't run. Forget Wi-Fi. Remember air, crisp and indifferent, as it bears you lovingly to fall finally asleep upon a bouncing queen-sized bed. Envision corridors moodily lit in this temple, Spanish bibles about. Here you are both sacred and anonymous, beloved and different, a part and apart for as long as you'd wish to stay. This is Lupe's Air BnB, her 5-star experience. I-70 through Nebraska, over long hours like the land so damn long I have to drive. The sign for Colorado is wooden, brown and literally "colorful." With this, the mere onset of statehood brings beauty. The sun has been drawing to a close, taking with it all the restlessness and boredom, other towns' talk radio, gasoline, yawning, burned CDs, and that one, Oh My God, overturned 18-wheeler, and traffic of a long day's drive. Other people are home now. To my left, seriously, this rainbow appears in the south plains, while, above me, sun-dying clouds crumble amberly, a vast bluish sky stretches outward to my right. Before night falls, I enter Ovid, Colorado, quiet and oblivious to Lupe's house of vacancy. In Ovid, nothing's open. Nothing moves. Then Sedgwick, Main Street, R.D.'s, the inn, Cha Cha's Family Restaurant, 8 miles further down the road. What I love about this town, to put it simply, is just a literally smaller example of my love for this state, is its signage, this delicate, adorable four-foot cross street sign. It's on 1st and Main, but only about four feet tall, the street names themselves only about ten inches long. Wooden and clearly hand-crafted. It looks like it belongs at summer camp. This is the stuff that Republican politicians' rhetoric reaches for. Lupe's small business is quartered in the back of the stately brick building kitty-corner to the Main Street sign. Built in 1922 as a bank, now filled by antiques both personal and collective, its current owner and AirBnB privateer, Lupe, has owned this building for 15 years. Banks, small banks like this once was here in Sedgwick, really just couldn't cut it these days-- what with the big banks finding their ways to meddle, frustrating just the simplest intentions by all their transaction fees and confusing charges and pages and pages of paperwork. A small bank just holds people's money, uses that money to give out loans, while making sure people can still withdraw from their own amounts. But they're the ones who get hit worst when the economy tanks. Then again, it was built in the 20s, and who knows how much...
Frank
August 2016
This place was so easy to find, even at night, after a long drive. Lupe was a great host, the place was very interesting. Good for the price. Bathrooms could be more updated and more clean.
Bethany
October 2015
Tipo de habitación
Habitación privada
---
Tipo de propiedad
---
Capacidad
16
---
Habitaciones
1
Sedgwick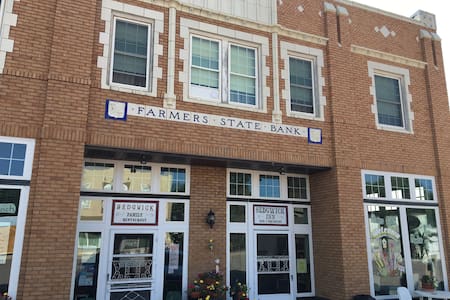 Traffic is very convenient to live. The neighbors are very good live nearby.
Tipo de habitación
Casa/apto. entero
---
Tipo de propiedad
---
Capacidad
4
---
Habitaciones
1
Chappell