Una casa del barco convertida cómodo y cálido en el borde del río Thames en Cookham, Berkshire. Separada de la casa principal, la casa de botes estudio de lujo de doble acristalamiento con cuarto de baño ha sido decorado. Disfrutar de sábanas de algodón egipcio y toallas suaves. Relajarse y disfrutar de una vista del río. cama individual adicional x 2 disponible. Póngase en contacto con nosotros para solicitar información. desayuno continental incluido Cuarto de baño con ducha Refrigerador Doble acristalamiento Calefacción televisión aparcamiento privado gratuito Amarradero
La casa del barco es ligero y espacioso, con un amplio espacio para dos personas. Hay una cama de matrimonio, sofá, mesa y sillas. El uso exclusivo de un cuarto de baño aseo con ducha dentro de la casa del barco. sillas de jardín exterior y mantas de picnic para que usted pueda utilizar en un día agradable. * Desayuno continental de cortesía * Las toallas y ropa de siempre * Refrigerador * TELEVISIÓN * Calefacción * Plancha y tabla de planchar * Secador de pelo * Gel de ducha y champú * Sillas al aire libre para los días agradables * mantas de picnic * paraguas * Aparcamiento justo al lado de la casa de barco La casa del barco se parece a un jardín, con una vista del río Támesis más allá. Situado en una calle privada tranquila, no hay nada que perturbe el oído o el ojo.
Cookham es perfecto para los caminantes, ciclistas o remeros, con una multitud de senderos en el extremo sur de las colinas de Chiltern, y el Támesis Camino de larga distancia a pie que pasa por él. carriles del país para los ciclistas para explorar y por supuesto, el río Támesis para los navegantes y remeros. El pintor Stanley Spencer nació y vivió aquí toda su vida, y hay una sala dedicada a su trabajo en el pueblo. Con vistas a Cookham, en una empinada cresta, calcáreo, la famosa casa y los jardines de Cliveden mira hacia abajo. Es una propiedad del National Trust y ofrece un hermoso largos paseos con excelentes vistas sobre el río Támesis y más allá. Bares y restaurantes para explorar a poca distancia.
What an exceptional host and beautiful place to stay! I stayed here to go to a festival in the area and was taken to it on there river launch boat which is moored up right Infront of the boathouse. Everything was perfect! The boathouse is beautiful with high quality 300 thread count linen, luxury feather pillows I slept like a baby! Also there is a well stocked mini-bar and lovely selection of teas , felt like I was in a 5 star hotel. Sheridan, husband and their adorable little girl made me feel so welcome and invited me for coffee on their riverside patio and also left me to my own devices which was just perfect. The early check in and late checkout was the icing on the cake so I got to enjoy the experience for so much longer ! I didn't want to leave and will definately go back when I get the chance!! Highly recommended and thank you so much!
Adele
2016-05-23T00:00:00Z
Sheridan and family made our wedding night unforgettable, stunning place great hosts. Thank you for the bubbles. X
Laura
2016-08-02T00:00:00Z
R&R and W&C (wine and cheese) weekend. I would definitely recommend Sheridan and Andrews boathouse. What an absolute treat it was to stay for the Halloween weekend. A lovely outhouse, with a view of the Thames. The place was rather pristine and cosy. Exactly as the photos show-- a little like walking into a show room, advertising the white company products, with a cheeky mini bar and an automatic toilet seat (you'll have to experience that one). Let's just say, everything you'd look for in a weekend away and more. We even had our very own firework display and bonfire- with Marsh Mellows! Not to mention the boat trip home with the lovely couple, and yes there was wine too. Thanks Captain Andrew! A short and scenic walk into the village for a delicious roast dinner by the fire. A bit like the holiday, except I wasn't Cameron Diaz, so bring appropriate walking shoes kidos and practical coats. Along the way you'll find a local outdoor pub (The Bounty), great for a tipple with the neighbourhood regulars and their dogs- it's uncle Fox's (Sheridan's Neighbour) favourite. Please send my regards as you pass by his house and If you're an arsenal supporter he'll have you over for match of the day- you know, if that's your thing... perhaps for the guys. Thanks again to two great hosts. I will definitely make a return visit- just for the stories! M
Martina
2016-10-30T00:00:00Z
What a beautiful place! All was as described and Sheridan added all the little touches to make our brief stay memorable, including asking what type of bread we wanted with the breakfast she provided. Definitely one of our best Airbnb experiences!
Robert
2017-02-15T00:00:00Z
This was such an amazing find! Very true to its description it's filled with light and looking out to the river it's got a great view. Very secluded and with beautiful, peaceful surroundings, it's a perfect place to relax and rejuvenate. Would visit again!
Gyan
2017-03-22T00:00:00Z
What a superb place to stay. Sheridan and family provide a warm welcome and do everything they can to ensure you are comfortable. Their pre-arrival information made it easy to find the house. I only wish I'd been able to stay longer as it's a great location for the river, walking and so much more
Suzanne
2017-03-14T00:00:00Z
Idílic and beautiful place. We had everything we needed and total privacy and relax.thanks!
Miriam
2017-02-24T00:00:00Z
The boathouse on the Thames was brilliant. I had a a local wedding and I'm so glad I decided to stay here for a couple of days. Sheridan and Andrew were the perfect hosts and made my stay extremely comfortable, they are always available to help but gave me complete, respectful privacy. They even took me for a little boat ride on the river. I had a car but was easily able to get taxis and Uber's at any hour after celebrations. Not only great accomodation but a true English experience.
Joe
2017-03-31T00:00:00Z
Tipo de habitación
Casa/apto. entero
---
Tipo de propiedad
Cabaña
---
Capacidad
2
---
Habitaciones
Cookham, Reino Unido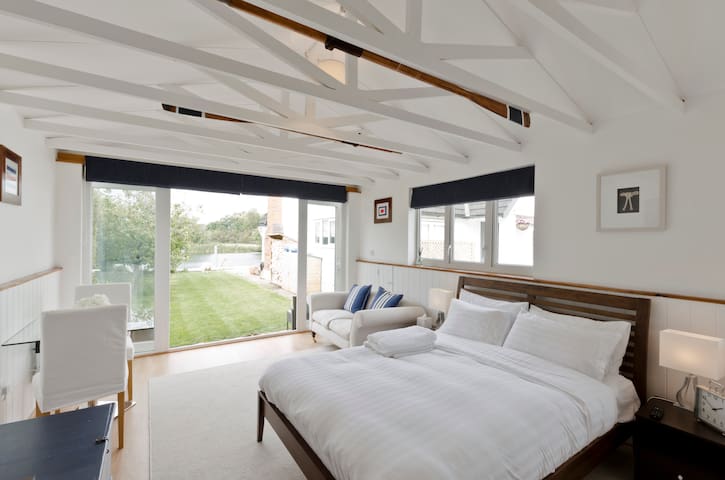 Nuestro apartamento restaurado del siglo 15 se encuentra en una posición única en la calle principal de Cookham, situada a menos de 500 metros a 7 restaurantes y bares diferentes y cuatro restaurantes Michelin estrellas dentro de 3 millas. Situado por encima de nuestra hermosa tienda de vino con un pop-up bar de vinos de los viernes y sábados por la noche que puede ser animado y alegre. Tenemos muy cómodas camas, sábanas de algodón 100% y toallas. La elección perfecta para parejas, viajeros de negocios y familias.
We have a unique 2 bedroom apartment that can potentially sleep six if you incorporate the sofa bed in the lounge. A well equipped kitchen that has lots of essentials so that you don't have to waste time buying dishwasher tabs, washing powder, olive oil and toilet rolls! organise a shop directly if required and we will ensure we are here to receive it and will put away your chilled and freezer food.
We are very lucky to live in a beautiful and unique environment. We are a stones throw away from the river Thames and there are some beautiful walks along the river to Marlow or to Boulters Lock in Maidenhead. Cookham has a wonderful friendly community with so much to explore, a destination that will suit all ages!
This was our first Airbnb experience, normally used to country hotels and this didn't disappoint. Accommodation, location, restaurants, pubs near by, welcome - all first class - even Riedel wine glasses in cupboard.. importantly extra special welcome for Poppy our Springer spaniel - normally hard to find in hotels. Great walks by the river on doorstep..We'll be back!
Kym
2017-03-05T00:00:00Z
Very attractive apartment and very attentive hosts. It's warm, beds are comfy and the kitchen is very well equipped. Cookham itself it a great place to stay with lots of great places to eat. Special mention to Anong Thai, The White Oak and Bel and the Dragon. The famous Stanley Spencer gallery is almost opposite. We walked from Cookham to Marlow and got the train back. So plenty to do.
Harriet
2017-02-26T00:00:00Z
A really REALLY lovely apartment to stay in, handy for lovely walks and good restaurants.
Jessica
2017-03-03T00:00:00Z
Amazing apartment - we loved our stay here. The renovations on this 15th century building are amazing; great kitchen and bathroom and plenty of room between the two bedrooms and sofa bed for our small group. The breakfast supplies were a plus too! Coffee, eggs, hot crossed buns, milk, OJ.. we really felt at home! We chose the apartment as an alternative to staying at the CIM for a conference and can't recommend doing this enough; it's just across the road and far better for value, space and privacy.
Fritha
2017-02-03T00:00:00Z
Thank you so much to Angela and Paul for such a lovely stay. We had a great time exploring Cookham and the local walks (and pubs!) Their home is in such a perfect, central location for exploring the area. The fact the house was built in the 1500s while being recently refurbed made it extra special. There were 6 of us and we had a fantastic time catching up and enjoying a drink down in the wine bar too! We found Angela and Paul to be extremely accomodating. They gave us great suggestions for places to go/eat and they went out of their way to make sure our stay a pleasant one! Thanks again... we would love to come back. :) Camille, Jack, Andy, Guy, Ray and Anna xx
Camille
2017-02-19T00:00:00Z
Angela's and Paul's place was absolutely lovely. The pictures capture the apartment perfectly, but I was still thoroughly charmed and comfortable with my extended stay there. Angela and Paul were always helpful and accommodating and their location was perfect (quiet but still close to all the bars and restaurants). I would absolutely recommend their place and would stay again.
Jordan
2017-03-30T00:00:00Z
Tipo de habitación
Casa/apto. entero
---
Tipo de propiedad
Departamento
---
Capacidad
6
---
Habitaciones
Cookham, Inglaterra, Reino Unido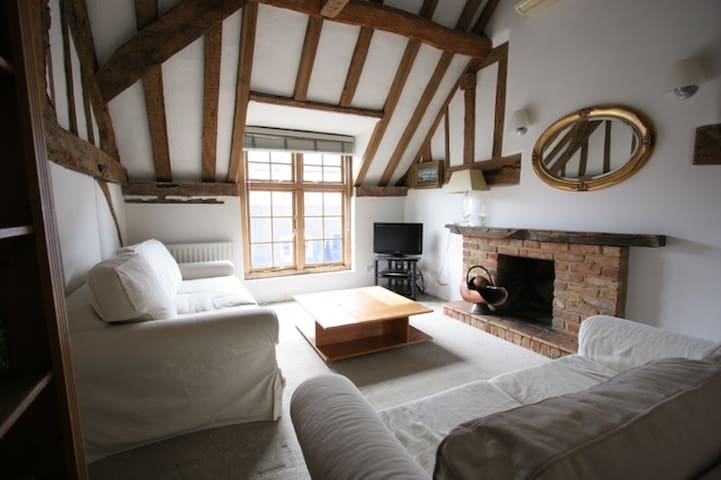 Pretty contemporary open plan cottage with open fire, hidden gem. The Cookhams combined epitomise rural English living, yet are only a few miles from the M4, M25, and the M40 and is on a main line from Paddington London t Cookham a bustling thriving village. Windsor (legoland), Henley, and many more historic towns are close by. The area boasts many Michelin star restaurants (including The fat Duck in Bray and The Hand and Flower Marlow). For walkers the stunning Chiltern way is on our doorstep!
Our little chocolate box cottage is newly refurbished with an open plan living room and kitchen and an open fire. Cookham is a beautiful bustling typical English village with all the amenities and many lovely pubs and restaurants and easily accessible from London Paddington. Close by is the Chiltern way meandering through stunning countryside and beautiful villages all usually equipped with typical cosy English pubs! We are close many historical towns such as Henley on Thames (famous for it's regatta and riverside festival), Marlow (Tom Kerridge's Michelin star restaurant and his brasserie), Windsor (Famed for the queens favorite castle and residence, and of course Legoland) and many more including Bray (home of Hestons world famous Fat Duck). The area epitomises rural country living and featured in the likes of Midsummer Murders, the Vicar of Dibley and "The Holiday" and yet it is within a few miles of the M4, M40 and the M25. We are located down a little unmade lane, parking is available 100yds away next to the church as is the local pub. We have a small private cottage garden to the front.
Cookham Dean is one of the prettiest villages among the many beautiful villages in the Thames Valley and neighbouring Chilterns , featured in the likes of Midsummer Murders and the Vicar of Dibley. The Chiltern Way and the the Thames tow path offer a pletherer of idyllic walks, peppered with traditional watering holes. There are many wonderful pubs and great restaurants close by including Heston Blumenthals world famous Fat Duck only 15 mins away. The riverside town of Marlow is 10 mins away and Henley 25 mins. Windsor and of course Lego land are also only 25 Mins away. London is less than an hour away by train! The world is your oyster from this spot!
The cottage was delightful and perfect for up to two couples. The owner Helen was very helpful and we would certainly consider staying again.
Bill
2017-02-08T00:00:00Z
The cottage is really lovely and beautifully decorated with a pleasant atmosphere. We enjoyed sipping on some wine in front of the fire, going for a country walk and good pub lunches. The location is great!
Louise
2016-12-31T00:00:00Z
Beautiful little house. Country chic interior with plenty of space for four people. Good walks nearby and nice pub next door. Helen was very easy to contact and very helpful with tips on the local area. Would very happily stay here again.
Rupesh
2017-03-12T00:00:00Z
Beautiful little cottage in the country that provides a ver relaxed and cosy get away
Neil
2017-02-03T00:00:00Z
The cottage is simply great! I will definitely book it again . Helen is a great host :)
Giovanni
2017-01-20T00:00:00Z
Amazing trip! Beautiful modern place, Helen was more than helpful! Will be back!
Brittany
2017-02-19T00:00:00Z
We had a lovely stay at Helen's place. The cottage is in a lovely quiet village and is clean and cosy. There is a nice pub nearby and you're a 25 minute walk from Cookham Village. This is a great place for a weekend away in the country. We'd recommend! Will and Courtney
William
2017-02-26T00:00:00Z
Tipo de habitación
Casa/apto. entero
---
Tipo de propiedad
Casa
---
Capacidad
4
---
Habitaciones
Cookham, Inglaterra, Reino Unido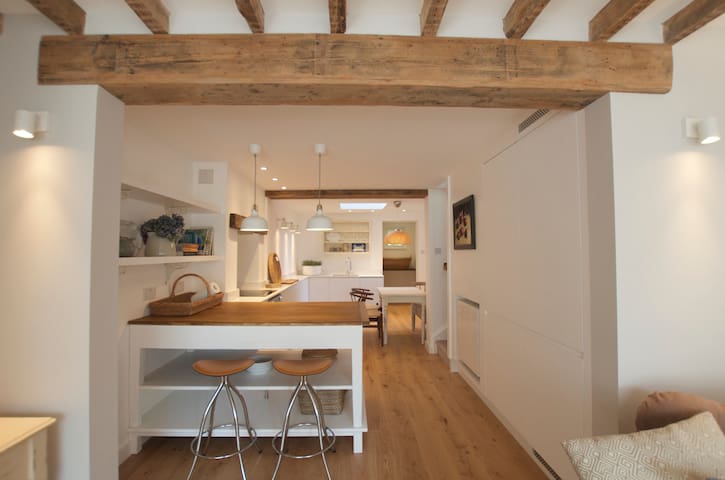 Fully furnished, newly decorated double room with en suite bathroom in terraced house in Cookham Rise. 5min walk to Cookham train station and all local amenities. Views over Cookham to Cliveden. Resident English cocker spaniel. Professional owner.
Very safe and picturesque area.
Very welcoming
stephen
2016-07-30T00:00:00Z
Fantastic location lovely clean and peaceful room great host thanks Niki
Jon
2016-09-30T00:00:00Z
Nikki is an amazing person, she is friendly and makes you feel welcome. The property is very clean and I would definitely recommend it. Also Nikki has an adorable and cute dog.
Gelu
2016-11-17T00:00:00Z
Another good stay in a lovely clean, comfy room! Thanks Nikki :-)
Daniel
2016-01-09T00:00:00Z
Another pleasant stay!! Thanks Nikki
Daniel
2016-01-23T00:00:00Z
Niki informed me in advance about her nice dog. Room is exactly like the photo's. House is very clean. Very nice and cozy cottage!
Ronald
2016-08-05T00:00:00Z
Very comfortable snd pleasant stay at Niki's lovely home. The village of Cookham is also a real breath of fresh air while still being extremely commutable to the larger surrounding towns and London
thomas
2016-11-25T00:00:00Z
A pristine and comfortable room with a view in a beautiful village on the Thames. Pleasant and friendly host too. Country lanes so not the quickest to get in and out but worth it.
Derek
2017-02-24T00:00:00Z
Tipo de habitación
Habitación privada
---
Tipo de propiedad
Casa
---
Capacidad
1
---
Habitaciones
Cookham, Reino Unido
habitación tipo loft elegante y espacioso para una persona, en la casa relajado y agradable .. La casa está situada en una zona muy agradable callejón sin salida y se enfrenta a una gran zona verde, por lo que hay un montón de aparcamiento seguro. Estamos a 5 minutos a pie de la estación de tren y Cookham los muchos bares y restaurantes del pueblo de Cookham, y la zona de río. Estamos siempre a mano para ofrecer asesoramiento y asistencia Si los clientes lo necesitan.
Un montón de aparcamiento, tranquila estación de tren, cerca, té y café en la habitación, entorno muy agradable, amable, útil para el hogar.
Un montón de paseos y paseos en bicicleta, buenos bares y restaurantes, vuelos y conexiones eficientes, cerca de Londres y muchas ciudades y pueblos interesantes.
Tipo de habitación
Habitación privada
---
Tipo de propiedad
Loft
---
Capacidad
1
---
Habitaciones
Cookham, Inglaterra, Reino Unido
Period house set in acre. Quintessential country charm in famous surrounds close proximity to London in award winning village. Choice of Michelin star eateries to famous pubs all local. Cosy fire, dining for 12, perfect for Xmas, decorations intact. Windsor castle, Legoland, Heathrow, Oxford, Cliveden, London all within 30 mins.
Victorian stable conversion sits with views overlooking historic & protected countryside in the Royal borough of Windsor. Newly refurbished period house. Large sitting room with wood burning stove overlooks garden. Modern kitchen seats 12 comfortably around the dining room table overlooking orchard. Separate utility room. Spacious study. Master bedroom ensuite bathroom. Further bedroom ensuite shower room. 3 further bedrooms & guest bathroom. Games room in garage with darts, table tennis & table football. 2 tier garden, top lawn a 4/aside football pitch. Perfect house for summer entertaining or cosy winter get together. Bridle paths of the Chiltern way run other side of the house directing you to good walks within yards of the front door.
From Michelin starred dining to historic views to the river Thames to the preserved villages to the easy access to London, Oxford, Windsor, Cliveden, to the breath taking walks outside the front door, to the quintessential British garden to the roaring winter fire - what is not to like. Looking to combine London with the finest sites around greater London such as Oxford City centre or Windsor Castle this is your perfect destination for a first time or seasoned Tourist to Britain. The house is for a family or group of friends. Looking for a stay vacation we have the family home for you to experience English countryside without even needing to get in the car it's literally on our doorstep with National Trust common land in all directions. Happy to discuss using our bicycles, cars, boat, sporting equipment.
We loved the spacious of the place. We were 4 couples with two kids and we didn't feel cramped at all. The kitchen/diner/lounge area is a fantastic room where we spent most of our time and had beautiful views of the garden and the fields. We all had cars so travelling to nearby towns and amenities was easy but I think people may struggle with public transport.
Inger
2017-01-02T00:00:00Z
This beautiful house is a 5 star luxury experience, with large bedrooms, 2 ensuites and a 3rd general bathroom. The house has period features and has been renovated and decorated to a high standard. The massive open plan kitchen diner with a beautiful oak table that seats 12, also has a corner sitting area with tv with many channels. The sitting room itself is beautifully presented with gentle colours and a fantastic wood burner. Off the sitting room is a teenage/children's/library zone with a bedroom above, very quirky and comfortable. A fully stocked kitchen, large fridge freezer, Neff appliances, gas hob, Granite workrooms, dishwasher, all add to the 5 star experience. The owls hoot at night and you are surrounded by beautiful countryside but very close to Marlow and Maidenhead. The children loved the table tennis table and the utility room had everything we needed for washing. Highly recommend this amazing house. Thank you to our hosts for being so attentive to all details. Kindest wishes Tania and family
Titania
2016-12-28T00:00:00Z
A really beautiful cosy family home in the countryside. We were 5 adults and a toddler and the house was perfect: spacious enough but great communal areas to all spend time together in front of the fire with a glass of wine. The house is extremely family friendly. Lots of toys available in cosy separate areas and toddler table and chairs along with high chair too. It made our stay hassle free as our daughter also felt very at home. Overall a great stay and would highly recommend it to anyone looking for a weekend country get away in a beautiful and comfortable house. Daniel sent us comprehensive information about the area including local pubs - we agree that the local Uncle Tom's Cabin has delicious food!
Paul
2016-12-18T00:00:00Z
Tipo de habitación
Casa/apto. entero
---
Tipo de propiedad
Casa
---
Capacidad
10
---
Habitaciones
Cookham, Inglaterra, Reino Unido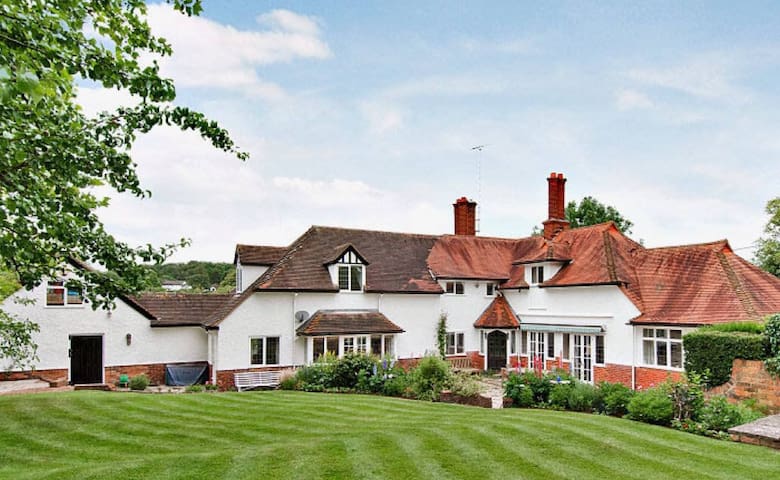 Alquiler disponibles durante la Navidad 2015! Situado en Cookham con sus bares y restaurantes de la zona, esta casa es una gran base para explorar la zona, como el río Támesis, Windsor, Henley y Marlow con Oxford y Londres. 30 minutos de Heathrow.
Nuestra casa es ideal para el entretenimiento con una gran cocina abierta y un montón de lugares para relajarse / chat. Tenemos una increíble nueva cubierta para disfrutar de las vistas de Cookham Moor. La sala de estar (planta baja) fluye muy bien. Vamos a hacer la mayor parte de nuestra vida en la cocina, pero tienen un amplio TV / sala de juegos, que es un plan abierto en forma de C. También tenemos un salón muy grande conectado a la cocina, que es accesible a través de una puerta. El salón se divide entre sofás con vistas al jardín paisajístico y otro conjunto de sofás cerca de una acogedora chimenea. Lo mejor de nuestra casa es que si está lloviendo, todavía puede estar en el interior y se siente como si aún se encuentra fuera, como nuestra cocina tiene una gran invernadero. Hemos convertido el garaje en un gimnasio, que está justo al lado de la cocina. También tenemos un lavadero para lavar la ropa. Arriba, tenemos 4 habitaciones, por lo que, 8 dormir cómodamente. El dormitorio principal tiene un rey de aúpa. Capacidad para 2 adultos (y podría caber fácilmente 2 niños en el medio ya que la cama es enorme) La pequeña habitación tiene una cama doble. 2 plazas. Nuestra habitación hijos tiene una sola cama nido. La cama nido tira fuera y hacia arriba, al nivel de la cama. Puede ser 2 individuales o empujar juntos como una cama de matrimonio. 2 plazas. Nuestra habitación grande con una cama doble. Capacidad 2. Hay un sofá que podrían aplanar (haga clic / clac, no futón) y colocar 1 niño, si es necesario. Hacemos un montón de entretenido y hemos tenido 8 adultos cómodamente. Nuestro sofá de la sala de televisión realidad se convierte en un buen sofá cama. Se abre como un cajón y hasta (no un Wirey incómodo sofá-cama). Con amortiguadores traseros apagado, puede alojar a 2, si es necesario.
cookham pueblo es un punto de destino - que tiene mucho que ofrecer. Nos encanta la vista de Cookham páramo. Gran para pasear al perro, patear el balón, correr, nada. Podemos caminar por todas partes incluyendo el río (10 minutos). La gente incluso navegan en el río aquí!
We had our family meet here and stay for 11 days. It was just spectacular, eight adults and a baby fit very comfortably. The home is exactly as described, spacious, easy parking, good wi-fi, great fully equipped kitchen and solarium area. Room to enjoy each others company, or to get a bit of alone time. Very convenient to local grocery, bus and train service to London was easy and close. Several nice pubs in easy walking distance. Beautiful view out over the moor. Shannon and Tim were great hosts, leaving detailed instructions for the TV, internet, local sights and contact information. We found the first night unseasonably cold, and they had Amazon deliver a small space heater. I would definitely give this home five stars plus! It is quiet and gives a wonderful feel for small village living in England, but is 45 minutes by train (including the walk to the station) from downtown London. A car is useful, but not an absolute necessity. Just be aware village roads are narrow.
James
2017-01-08T00:00:00Z
Shannon was amazinginly helpful from start to finish. Nothing was too much trouble. The house is even more beautiful in real life. So spacious and very relaxing. Fantastic location too. Will definitely book again.
elaine
2016-07-03T00:00:00Z
Our family (3 adults, 2 teenagers) stayed in Shannon's home for 10 days and had a wonderful time. Shannon went out of her way to ensure we had a great stay (eg, supplied fans since the weather was expected to be hot during our stay and there is no air conditioning in the house). The house is in the village of Cookham, west of London, and one can walk (10 min) to the train station, or the few shops and small grocery store. We rented a car which worked well for getting around the beautiful countryside and to see our son's crew team row at the Henley Royal Regatta (the reason we were in the UK). There are several good restaurants in Cookham too (we enjoyed The White Oak, and The Bell and Dragon), although Shannon's kitchen was fully stocked and completely functional for preparing meals, which we did on several evenings. The fact that there are three full bathrooms upstairs makes her house comfortable for larger families. Shannon was very helpful in showing us around her house when we first arrived, and was available via email when we had additional questions. We would return to Shannon's house in the future and recommend it to others with more than four people who are seeking to rent a house in the countryside.
Peter
2015-07-07T00:00:00Z
We had a great stay at Shannon and Tim's beautiful house. The house was very spacious, with a lot of comfortable beds,huge kitchen and luxurious living room full equipped. It was a fantastic Airbnb experienced.
Terrie
2015-12-20T00:00:00Z
We had a wonderful Christmas staying here. Spacious yet cosy, well equipped and a great space for entertaining. A home from home. Shannon was incredibly helpful liaising before the trip about equipment for Christmas dinner cooking and baby stuff such as a cot/ highchair etc. Cookham is a very pretty village with lots of gorgeous walks as well as great shops, pubs and restaurants. I'd definitely recommend staying here.
Helen
2015-12-30T00:00:00Z
Tipo de habitación
Casa/apto. entero
---
Tipo de propiedad
Casa
---
Capacidad
8
---
Habitaciones
Cookham, Reino Unido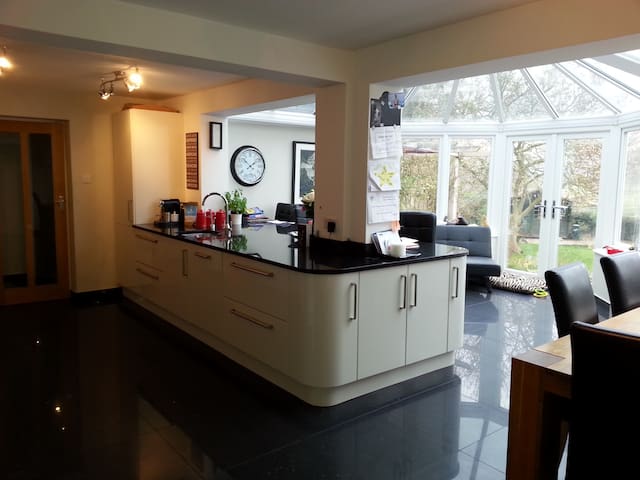 A double bedroom with your own bathroom located only a five minute walk from the train station, along with cafes, convenience store and restaurants. Beautiful countryside and the Thames right on the doorstep. Trains to London take about 40minutes.
The room is light and spacious, with ample space for two people. There is a double bed, a desk and exclusive use of a bathroom with bath and shower just on the landing. * Towels and linen provided * Free wi-fi is included * Central heating * Parking outside house The room looks onto the road, with views of fields beyond, but as the road is a quiet cul-de-sac, there is nothing to disturb the ear or the eye.
Cookham is perfect for walkers, with a multitude of footpaths into the Southern end of the Chiltern Hills, and the Thames Path long distance walk passing through it. The painter Stanley Spencer was born and lived here all his life, and there is an unique gallery devoted to his work in the village. Overlooking Cookham, up on a steep, chalky ridge, the famous house and gardens of Cliveden looks down. It is a National Trust property and offers beautiful long walks with great views over the River Thames and beyond.
The hosts were inviting and the atmosphere was very warm. The local area is nice and easy to explore by foot.
Kat
2016-11-26T00:00:00Z
The room was lovely, but I was a little disappointed with Beatrice's attitude. She did not really make us feel at home, there were no drink-making facilities in the room, she would not provide breakfast as I had not "pre-booked", etc.. On the plus side, she did help us get our wet clothes and shoes dry.
Lara
2015-05-15T00:00:00Z
Had an excellent experience, Beatrice and Barry are both wonderful people, staying at their place was an absolute pleasure. Highly recommended.
Steve
2016-07-14T00:00:00Z
Beatrice and Barry were fantastic hosts - they welcomed us into their home and were very friendly and helpful. This was my first experience of Airbnb and, thanks to Beatrice and Barry, I'll definitely be doing it again.
Charly
2015-08-16T00:00:00Z
This was my first experience of AirBnB and it was a very positive one. Beatrice and her husband welcomed me warmly into their home, invited me to join them for coffee and gave me helpful tips on the area - specifically on a good running route and the area generally. The room was colourful, comfortable, with a good sized desk and a dedicated bathroom. There is a lovely little pizza place 5 minutes walk away I'd recommend. A great experience, thanks Beatrice!
tracy
2015-04-16T00:00:00Z
My first airbnb experience, and really wonderful. Beatrice and her husband welcomed me into their lovely house and showed me the room and bathroom. They were very welcoming and immediately made me feel at ease and relaxed. After a chat they left me to it. The room and bathroom were clean, the decor was enchanting and the bed was really comfortable. Ideally situated for my visit to Cookham, but also very handy for the train into London, I couldn't recommend it more highly.
Dan
2015-01-18T00:00:00Z
Beatrice and Barry were very welcoming. They were happy to talk and offer information about the local area.
Brian
2015-06-25T00:00:00Z
The room is on the first floor of Beatrice & Barry's home and overlooks houses and countryside. The bed is good and the bedroom is warm. The private bathroom is excellent. The house is close to the station and there is no difficulty to park a car next door.The famous village of Coockham offers a number of typical pubs at a walking distance. Beatrice is a warm and welcoming host and makes you feel at home.
Helena
2015-11-24T00:00:00Z
Tipo de habitación
Habitación privada
---
Tipo de propiedad
Casa
---
Capacidad
2
---
Habitaciones
Cookham, Reino Unido
Ideal for a short break in the Shires, or a base to commute in the Thames Valley or to London. A quiet village location with excellent eateries within easy walking distance. Thames walks and Chiltern bike rides are close by, too. Great connections: only 300m from Cookham Station with access to Marlow\Maidenhead (Paddington\Reading); 10 mins to either the M40 or M4; 30min drive to Heathrow. You'll be sharing my home with myself and, maybe, one of my children if they've boomeranged back!
Within a 5 minute walk are three pub\restaurants and a range of shops (including a French deli and Costa Coffee shop). Cookham village is a 15 minute walk away with access to the River Thames and 8 high quality pub\restaurants. The Stanley Spencer art gallery is in the village too.
Stephen is a fantastic host with a beautiful house in a great location. There are plenty of places to eat locally with a good connections to Paddington/London. If I need to stay in the area again I would definitely contact Stephen again. Thanks Matt
Matthew
2016-09-21T00:00:00Z
Tipo de habitación
Habitación privada
---
Tipo de propiedad
Casa
---
Capacidad
2
---
Habitaciones
Cookham, Reino Unido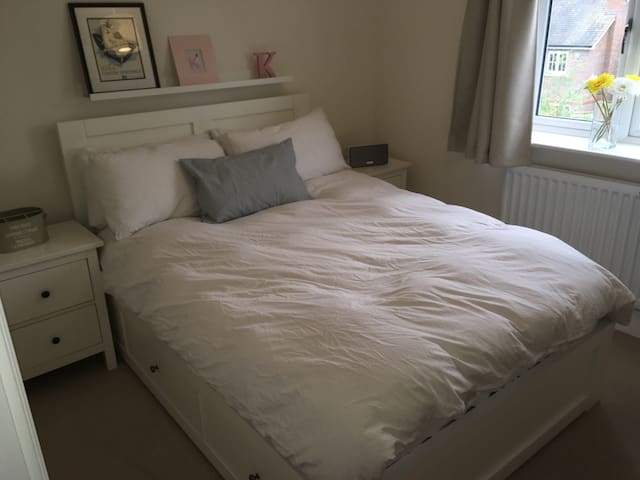 Our Hotel Boat 'Down the Hatch' is a fully crewed super sized wide beam river cruiser, with more space per guest than any other Hotel Boat on the River Thames. Join us for B&B, B&B Cruising Breaks or All Inclusive Cruising Breaks. You have a choice of bedroom, twin bedded or super king, both with en suite. Enjoy 5 star hospitality on a 'one to one' basis, this is the perfect way to fully appreciate Britain's greatest river. The entire boat benefits from central heating & 4G WiFi.
Tipo de habitación
Habitación privada
---
Tipo de propiedad
Barco
---
Capacidad
2
---
Habitaciones
Cookham, Inglaterra, Reino Unido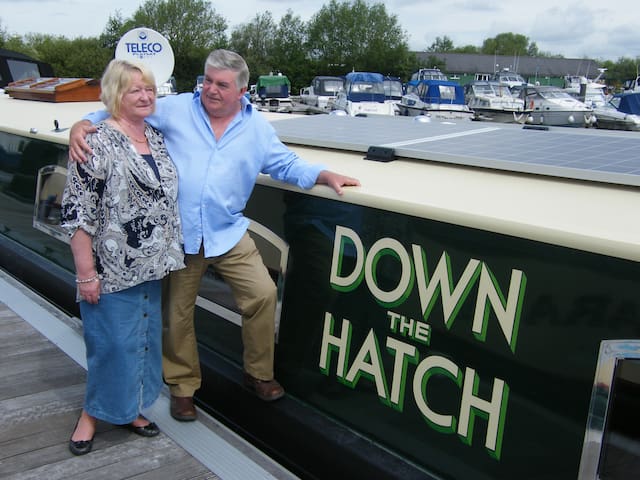 The Penthouse has a variety of restaurants to choose from within walking distance. There is a local supermarket close to hand for everyday needs and Cookham train station is a couple of minutes walk away. Though centrally situated, the surrounding countryside and the River Thames are very close offering many walking options. The apartment has a very peaceful ambiance and is beautifully light. The bedrooms are spacious with comfy beds. Suitable for couples and business travellers.
On entering the apartment, you will appreciate the spaciousness that it offers. A wide staircase leads up to the galleried hallway, with access to the bedrooms and open plan living room and kitchen area with its impressive vaulted ceilings. All rooms have underfloor heating and are well furnished.
Close to the many restaurants in Cookham, with The Fat Duck and The Waterside Inn in Bray just a short taxi drive away. For sightseeing and days out, Windsor, Legoland, Henley and Marlow are all close easily accessible.
Tipo de habitación
Casa/apto. entero
---
Tipo de propiedad
Departamento
---
Capacidad
4
---
Habitaciones
Cookham, Inglaterra, Reino Unido
Situado en una calle tranquila de la A4 entre Maidenhead y Reading y con fácil acceso a la M4 y M40, esta bella y tranquila casa de campo le da acceso a millas de paisaje exuberante, justo en el paso de la puerta! A sólo 5 minutos en coche se encuentra la ciudad junto al río por excelencia de Henley-on-Thames, famoso por su prestigio anual Regata real y de la animada festival de música de rebobinado. Tenga en cuenta; transporte público es bastante limitado. A menos que usted está planeando una excursión de ciclo, se necesita un coche.
Gran habitación doble, cómoda para 2 adultos + 1 cuna de viaje también está disponible
Un pequeño pueblo en el corredor M4 / A4. El A4 pasa justo por el centro de Conocimiento Hill. Por un lado se trata principalmente de bosques y tierras de cultivo por otro con senderos públicos, vías de hojas verdes, carriles bici y caminos de herradura a lo largo.
My 22 year old daughter traveled to Reading from the US to attend festival. However her accommodations fell through so at last minute I had to find a great place to stay, with an individual who would look out for her, and have to navigate her to the house after the festival. Hazel was fabulous, made sure she arrived safely, then let me know. Though it was late she stayed up, talked with my daughter, and got her a great nights sleep and a much needed bath. My daughter said the stay was only slightly superseded by seeing Mumford, a strong endorsement for Hazel. Well done, we both send our thanks!
Steve
2015-08-30T00:00:00Z
What a great place to stay really home from home, Hazel is so welcoming & accommodating, nothing is to much trouble, thank you for your wonderful hospitality xx
Rachel
2016-02-20T00:00:00Z
Hazel made me feel incredibly welcome and was amazing from the moment I arrived with my broken vehicle and the recovery man! Hazel went over an above board to make sure that I was settled in the short time I had before I had to dash out to deal with the recovery of my vehicle. I stayed at Hazel's as I was studying at the local college for a 3 day course so the time spent at hers was in the evening. I was able to use the dining room table to study which really helped with the work I was doing. The room I had was perfect. It was very comfortable and clean. There was no noise from other guests (who were also lovely) and no noise from passing traffic/people etc. It was just the perfect stay with the perfect host and I cannot thank Hazel enough. Even for the support she gave me while I was getting frazzled with the work I was doing. Over and above anything I could have wanted in a host. Thoroughly recommended and especially as I passed the course with flying colours, I couldn't have done it without Hazel :)
Joanne
2015-11-02T00:00:00Z
We booked the room as we're going to reading festival on the Saturday and Sunday.. Hazel was kind enough to let us take our luggage there early and drop it off so we could be on our way. The room was great and suited our needs and was very clean and tidy. This was our first experience with airbnb and we wasn't too sure how things worked .. Hazel was great and very helpful and we would recommend her without fail.
Michelle
2016-08-28T00:00:00Z
I stayed here one night with two friends in a room for three. I really, really liked staying at Hazels. She had to work at our time of arrival but her brother and his wife welcomed us. They were very friendly, showed us the house and made us coffee and tea. The next morning we met our host Hazel, she is very kind and easygoing. The house is great with an amazingly huge garden where you can find squirrels in the morning and even dears if you are lucky. The beds were very comfortable, I loved the fluffy big towels, breakfast with toast (or cereal) and coffee is included. I felt relaxed and at home at Hazels. I wished we could have chat more and could have stayed longer. If I ever come back within a 200 km range I will definitely stay here again. Hope to return some day with my granddaughter so we can meet again Hazel. Thanks for your good care!
esmeralda
2015-10-12T00:00:00Z
Hazel was very friendly and accommodating throughout our stay. We were made to feel welcome and had access to all of the facilities we needed.
Kane
2015-09-21T00:00:00Z
i was on a professionnal trip, so more focused on my job and on things to do and therefore a bit less available but hazel is a very nice person, the place is well designed and it was perfect for our stay...
Philippe
2016-02-12T00:00:00Z
Nice stay. Hazel very pleasant and helpful. Enjoyed the lovely big, well-kept garden on a summers evening.
James
2015-07-01T00:00:00Z
Tipo de habitación
Habitación privada
---
Tipo de propiedad
Casa
---
Capacidad
3
---
Habitaciones
Reading, Windsor and Maidenhead, Reino Unido
Part of a stunning Victorian manor house steeped in history and built for the Sheriff of Buckinghamshire back in 1867. HH is close to Taplow Train Station - 5 mins drive and 35 mins train journey to London Paddington Windsor - 10 mins drive Heathrow Airport - 20 mins drive 2 x Michelin star restaurants - Bray (Fat Duck & The Waterside) 10 mins drive to River Thames Its great for couples, solo adventurers and business travellers.
The manor house was built for the Sheriff of Buckinghamshire in 1867 and the building works were approved by Benjamin Disraeli (who became Prime Minister). friend of Sir George Hanbury, who would visit. In the WWII it was used for the secret police and Winston Churchill would visit the manor house.
Full of country lanes, restaurants and pubs with good food. We recommend the Oak and Saw in Taplow, the Feathers at Cliveden, The Crown in Bray, the Riverside Brasserie in Bray and the Bel and Dragon in Cookham. There are also Michelin star restaurants within 10 mins drive - The Fat Duck (Heston Blumenthal) and Waterside (Michel Roux) in Bray and Tom Kerridge's Hand and Flowers in Marlow. The Cliveden Hotel which is 5 mins drive away is also fantastic for lunch, tea, dinner or for walking around its gorgeous grounds. Its history is . . . (URL HIDDEN) The house is very convenient for Windsor, Beaconsfield, Maidenhead and the Thames and Jubilee Rivers. It is also easy commutable distance into London by car or train. Surrounding areas are steeped in history with Windsor Castle 10 mins drive away, Runnymede (where King John signed the Magna Carta) - for more information: (URL HIDDEN) For Downton Abbey enthusiasts, Highclere Castle which is where it was filmed is 50 mins drive away. For more information: (URL HIDDEN) Our property is also next to Taplow (2 mins drive), the village's name is Anglo Saxon in origin, and means Tæppa's barrow; the Anglo-Saxon burial mound of Tæppa can still be visited, and important artefacts excavated there are now in the British Museum, notably a gold belt buckle. Taplow was recorded in the Domesday Book of 1086 as Thapeslau. Taplow Court nearby is also the site of an early Iron Age hill fort and was the site of the manor house.[6][7]
Tipo de habitación
Casa/apto. entero
---
Tipo de propiedad
Casa
---
Capacidad
8
---
Habitaciones
Burnham, Inglaterra, Reino Unido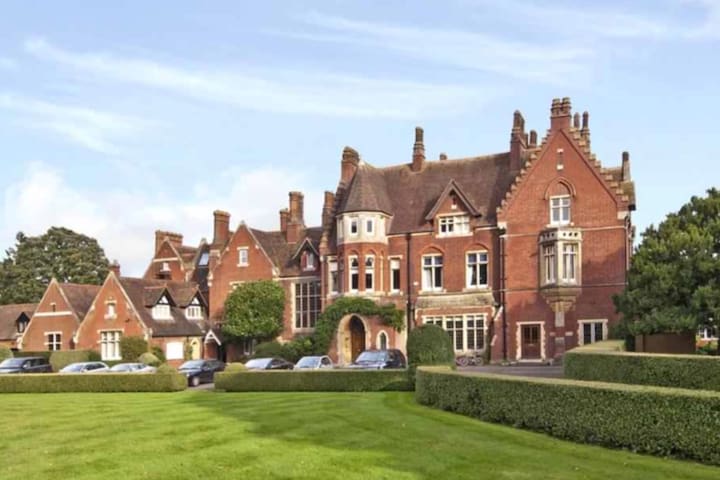 This warmly decorated and elegant listed 5 bedroom rare Elizabethan cottage, set in serene and expansive garden with park views. Quiet and secluded, yet accessible, perfect for family or birthday gatherings, and weekends with friends. Three fireplaces, Sonos music player, Wifi, Philips hue lighting, stone tile underfloor heating, AppleTV, fully fitted kitchen with range cooker, and flexible bed arrangements. Scenic views with lots of wildlife! Garden dining for 18!
The fabulous listed detached and private cottage is a unique experience offering a glimpse of times past with the amenities of a beautiful modern home. Set on Hitcham's winding Lane, located in heart of Hitcham Park, the best of both worlds, a pocket of countryside with easy accessibility to shops, restaurants, and attractions. The Cottage and Garden is for your exclusive use and pleasure, though wildlife, ducks-parrots-red kites-heron-squirrels-muntjac deer-cows, and the rare Mr. Fox is likely to also make an appearance. Accessible to London 45 min drive. 4-6 min drive to all necessities/pubs, etc. Perfect for family gatherings, quiet friend get-togethers, and small neighborly celebrations (No STAG parties) however, we would love to host your Hen. -American Refrigerator/Freezer/sparking water. -Dishwasher -Largest capacity washer and dryer in own utility room -Garden, with lawn games -Wireless High Speed Internet, (code is posted in the kitchen) -3 working fireplaces, 5 in total -Philips Hue dimmable lighting throughout -Underfloor heating under all the natural stone tiles on the main floor, to include the stone wall shower room. -Fully-equipped kitchen including range cooker, fridge, toaster, kettle, microwave, etc. During Englands warmer months, enjoy a morning Nespresso coffee in the garden with the birds, or relax under the stars with a glass of wine. -Hotel-style beds with excellent quality mattress -Black out blinds in all bedrooms, so you're sure to have a restful stay. -Cealing fans in room #1-2-3, remote controlled, two directional fans for warmer winters and cooler summers -On request we have two portable cots, a high chair, and a king air mattress. -Linens and 1 towel pr guest A cozy breakfast nook comfortably seats 12, and our formal dining room seats 6-8 (near a working fireplace, smokeless-woods). The kitchen is fully equipped with a 100cm electric range cooker with a double oven. A washing machine and tumble dryer and microwave in the utility room. The pantry is full of dishes, bowls, jugs - everything you could possibly want. So if you are real foodies you won't be short of utensils, pots and pans. SLEEPING ARRANGEMENTS The house can very comfortably sleep 10 people (with 2 people per bedroom) and at a squeeze can accommodate up to 16 plus. UPSTAIRS BEDROOM #1 The ceilings are high and the room is large. Huge imported American King bedroom four-poster bed with en suite bath, rocking chair/recliner, bathtub room, decorative fireplace, and single trundle bed. A long, narrow windowless BONUS room is only accessible through bedroom #1's hall, you could fit a cot, 2 toddler beds or air mattress. There is a small completely enclosed hallway connecting the bedroom and bonus room where you could put a toddler bed or cot in a push) UPSTAIRS BEDROOM #2, The ceilings are high and the room is large. Located in the middle of the hallway, with a king bed and red toile accents. There's a single-trundle bed beneath the king and a decorative fireplace. UPSTAIRS BEDROOM #3 The ceilings are high and the room is large. Light blue walls located in the corner of the house, with two windows. This room has an huge American King bed, two single-trundle beds beneath it. The room has a sink basin. A family bath and shower room are adjacent. UPSTAIRS BEDROOM #4 The ceilings are high and the room is small with a single bed (Daybed) and a single-trundle. This bottom trundle is more suitable for a child. The room is adjacent to a 1/2 toilet. MAIN FLOOR BEDROOM #5 (wheelchair accessible) is a medium-sized room with an adjustable king bed, a working wood fireplace, and beautiful garden views. This bedroom has access to a built-in closet in the hallway and drawers under the stairs. It might be my favorite room in the house for the prolific morning birdsong in the summer, when the windows are open all night long. The large SITTING ROOM has a fireplace. The sofa in this room is long (imported from America) and down feather-filled, it's very comfortable and can sleep one tall adult. There is also a small double pull-out sofa mattress suitable for 2 people, if you move the coffee table. *Please note if you're looking to have more than 10 people, please stagger your shower use. New on demand water heater coming some time in spring. *The trundle beds, have a standard size single real mattress, which you can move around the room as you please, and slide back under the bed when not in use. Having the trundle beds out is fun, and likely the most comfortable sleep over you will have. :) We hope your family and friends enjoy the versatility, good value, and intimacy the trundle beds create as much as we do! In America, we call it as slumber-party. **For PRICES, please use the Airbnb site with your dates and guest numbers rather than messaging me, as you'll get a faster and more accurate answer! If the dates say AVAILABLE, send a booking request. All questions are welcome, I am happy to talk. :)
We are are spoiled for choice when it comes to restaurants in the area. We can recommend real English pub food, restaurants with views, etc. Extremely convenient 15 min walk to the villiage centre.
A beautiful cottage that feels both spacious and cozy. The grounds are well kept and attractive and waking up to healthy cows looking into the grounds was a real treat for us londoners! The communication in advance was spot on and very accommodating for our needs. I only wish our stay had been longer.
Hannah
2017-03-14T00:00:00Z
Lovely place, we all had a great time.
Mikaela
2017-03-26T00:00:00Z
Lovely old house on beautiful grounds. The 4 double rooms are fabulous and very spacious and it was great having the small 5th room for our baby. The communication before and during our stay was clear and Estelle and Victoria were always very quick to answer my questions. I'd definitely recommend this house for a friend or family group get together.
Carissa
2017-03-05T00:00:00Z
Stunning garden with beautiful walks from the house. Go in spring for primroses and daffodils. We spent hours on the swinging sofa in warm April sun. Had the feel of a top end hotel in the bedrooms. Thoroughly recommend.
Charlotte
2017-04-02T00:00:00Z
Stayed here for Valentine's Day with my boyfriend. We had a lovely stay at Estelle's cottage. It is a spacious cottage in the countryside but a 15 minute walk to the local village with restaurants, cafes and little shops so really we had the best of both worlds! The area was beautiful and estelles grounds were amazing, we saw many wild parrots, a red kite (massive bird of prey), a deer, ducks and many other animals. The cottage was decorated beautifully and unlike many airbnb's the bed was extremely luxurious and comfortable, the sofa was huge and very comfortable and everything was just great! We had a very comfortable stay and the cottage was not lacking anything, it was just perfect Thanks Estelle for a great stay, we hope to come back soon
Camilla
2017-02-15T00:00:00Z
We stayed here as it is a good central location for us as a group of friends. The cottage was clean, tidy, well equipped, and easily spacious enough for our group of 10 adults, 2 toddlers and 2 babies! Unfortunately the dishwasher wouldn't work for us, though they organised a plumber to come out straight away to look at it which was great. The garden isn't totally secure so beware of that if you take dogs. There was a roll of stock fencing in the garden which we used to block one of the gates which wasn't secure so be aware if you have pooches that like to explore! Estelle and Victoria communicated very well and answered all questions in the run up to the trip to make sure we knew the best pubs etc in the area. Highly recommended.
Jack
2017-03-12T00:00:00Z
I love it here, the garden is so delightful. I loved the house in general, the massive old wood beams with the fresh clean interior was a joy to be around. Sleeping in that comfy bed then having espresso from the Nespresso machine while standing on the warm kitchen floor was perfect. There are so many wonders here and things to explore I'm certain that i didn't see all of the little treasures that the property has to offer. I'll stay here again when I'm back in England.
James
2017-02-02T00:00:00Z
Gorgeous listed property, full of character with big rooms and great lounge areas. Well equipped, warm and comfortable. Stunning garden. We had a multi family reunion with university friends and the house and stay was lovely. We intend to come back!
Chris
2017-02-19T00:00:00Z
Tipo de habitación
Casa/apto. entero
---
Tipo de propiedad
Casa
---
Capacidad
16
---
Habitaciones
Burnham, Inglaterra, Reino Unido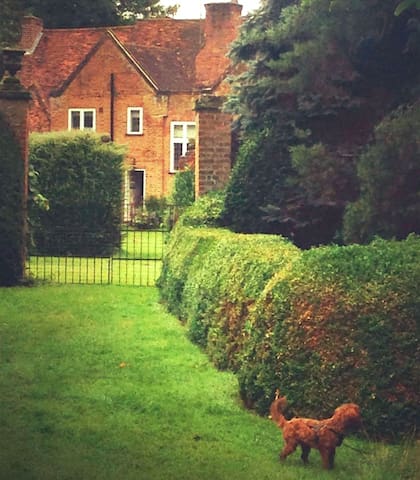 Beautifully decorated, fresh and light room overlooking grass tennis court and fields with horses. The room is a large single with a wardrobe, chest of drawers, basin, desk and basics such as kettle, toaster . microwave and fridge but you also have the use of another room at the front of the house where you can eat and prepare food. There's also a smart TV. I leave you breakfast basics and you can eat them whenever you want and in the separate dining area if you prefer.
This is a lovely light room with a view over the grass tennis court and onto fields of horses looking towards Cliveden. This room can be single, twin or double. It has a kettle, toaster and microwave in the room and the use of a small separate dining area.
Nice walks, great restaurants, traditional village and quiet setting.
A beautiful family house with lovely views especially of the manor house from the breakfast room. The room had everything one could need including your own fridge, microwave, kettle and toaster. Lots of storage for clothes etc if staying for a while. Judy is friendly, welcoming and helpful with any requests but allows you your own space and privacy. I was very happy with my stay and would happily return.
Angela
2016-11-27T00:00:00Z
Despite the fact that Judy was in Australia when I booked she was quick to answer my questions and help me sort any glitches in booking. When the room I wanted wasn't available she came up with another, very acceptable solution. The room was more spacious than I expected even with the extra bed and it was rather lovely sitting next to the window and looking out on rural Berkshire as a view. Everything was clean and the kitchenette has everything you need to knock up quick snack meals.
Annya
2016-03-21T00:00:00Z
I have stayed with Judy many times now and keep coming back when I work down in Beaconsfield as her beautiful home suits my needs so well. It is clean, and quiet and she has the friendliest dogs who always make me smile when I get back to the place. If you need to be in the area, this is a great place to stay.
David
2016-08-29T00:00:00Z
Thank you judy for hosting me in your home. It was perfect!
Rosie
2017-02-21T00:00:00Z
Good value and friendly
david
2017-03-12T00:00:00Z
Very nice and accommodating. Lovely large room overlooking the garden with all the usual facilities and more. I especially liked the toaster with the egg poacher attached. Thoroughly recommend and I have stayed a second time already
Simon
2015-11-19T00:00:00Z
Wonderful place, great Host and would always try to book here if I am in the area.
Oliver
2017-03-30T00:00:00Z
Clean, private, comfortable, would stay again
JASPAR
2016-07-21T00:00:00Z
Tipo de habitación
Habitación privada
---
Tipo de propiedad
Bed & Breakfast
---
Capacidad
1
---
Habitaciones
Burnham, Bucks, Reino Unido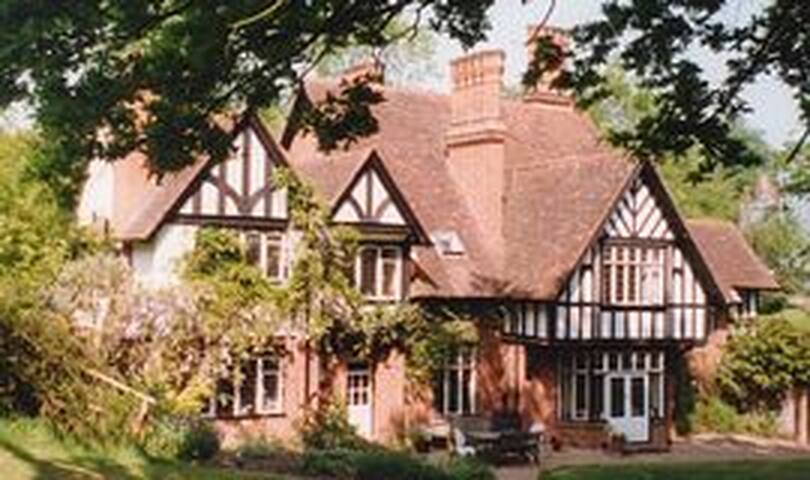 Our place is a country cottage - just 30 minutes from central London - and ideal for scenic walks along the river Thames at Windsor & Eton, Cliveden, Cookham or through Burnham Beeches forest. The cottage is part of the Orchard Poyle estate, with historic links to the Royal family and the suffragette movement. Now quietly situated next to the former farm, it offers a place to stay among the oak trees off a quiet country lane. We are also within easy distance of Slough for business events
Hi, the space is a detached cottage that you will have the keys to like your own home. It was previously the lodging for the visiting coachman and Palka and I live in the cottage next door if you should need anything. There is plenty of under cover car garaging and we have two bikes available for your daylight use - they have no lights!
Burnham provides easy access to London, Windsor, the Chilterns and Oxford as well as different amusement parks such as Legoland. Local pubs are great for food
The cottage is in a lovely area, nice and secluded. We used it as a base to go to Legoland which was about 15 mins away. Cottage was nice, the bed was extremely comfy. Everything we hoped it would be
Danny
2016-10-30T00:00:00Z
We have had a fantastic week in Burnham. Alexander's place is cosy and filled with light. We were made to feel very welcome, and there were lots of thoughtful touches. We had everything we needed during our stay. The bed is very comfortable. The kitchen has everything you might need. The location is great, very picturesque with some lovely woodland walks on the doorstep, and close to all amenities.
Rachel
2016-10-28T00:00:00Z
It has been a lovely time in the cottage. It was very clean, tidy and fully equipped with everything. The village is amazing and has lots of farms and horses. Thanks to Melissa for hosting us and provide advice for places to visit.
Fawaz
2016-11-09T00:00:00Z
only stayed for one night but very lovely place to stay indeed. would recommend and stay again. thanks
Zlatica
2016-11-10T00:00:00Z
Great place. Great host
Craig
2016-10-13T00:00:00Z
Great little cottage in the countryside.
Colin
2016-12-22T00:00:00Z
Alex contacted me upfrint with useful information and let me know that a friend would welcome me on his behalf as he was not in the country. Melissa was a great deputy host. The cottage is in a secluded setting, close to the beautiful Burnham Beeches park. It is big and has all required amenities. My only point of critic is the shower which delivers boiling hot water at the start for several minutes, then switches to cold water within seconds.
Marcel
2016-11-03T00:00:00Z
Tipo de habitación
Casa/apto. entero
---
Tipo de propiedad
Casa
---
Capacidad
2
---
Habitaciones
Burnham, Inglaterra, Reino Unido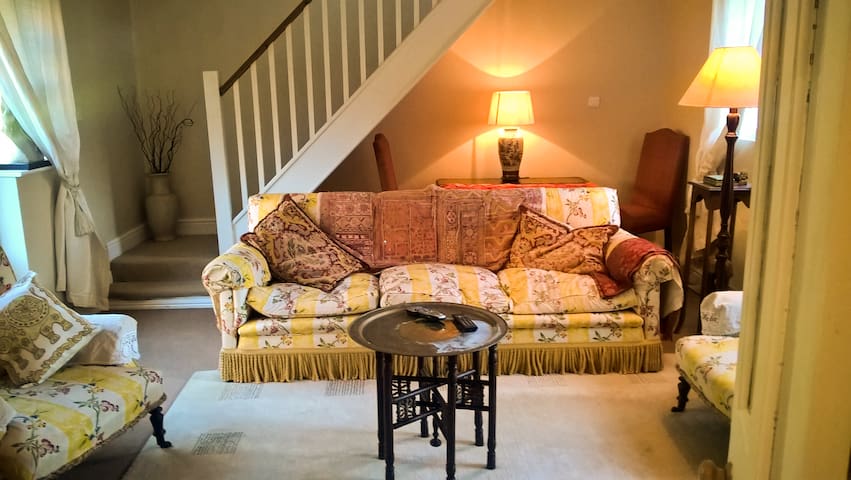 Un coche es imprescindible para moverse por el transporte público es limitado .... Situado en una calle tranquila de la A4 entre Maidenhead y Reading. El fácil acceso a la M4 y M40. hermoso campo en el paso de la puerta, de Henley-on-Thames a tiro de piedra.
Cómoda habitación individual, con orientación sureste por lo que recibe el sol de la mañana.
Un pequeño pueblo en el corredor M4 / A4. El A4 pasa justo por el centro de Conocimiento Hill. Por un lado se trata principalmente de bosques y tierras de cultivo por otro con senderos públicos, vías de hojas verdes, carriles bici y caminos de herradura a lo largo. Hay una serie de bares y restaurantes con-a poca distancia de la zona y una cafetería para desayunos y almuerzos por reserva anticipada.
Hazel gave me a warm welcome, I felt very much at home, and I had a most enjoyable stay. My room was warm and comfortable, with TV and wifi and a sunny window at the front of the house. The very attractive big bathroom was almost opposite my room. Hazel's breakfast was more than plentiful, with a wide choice of cereals, different breads for toast and a huge range of jams and marmalades. (Though if you wanted more, Hazel offers a cooked breakfast for a small extra charge). We had a lovely time chatting over breakfast before I went off to my meeting at Berkshire College of Agriculture which is only a few minutes drive away. So I can recommend staying with Hazel if you're heading that way.
Frances
2016-11-04T00:00:00Z
I stayed two nights here. Hazel is the perfect host, friendly, welcoming and caring. She makes sure you are happy with everything. A very quiet area, lots of parking, room as described. Excellent really.
Alan
2016-05-19T00:00:00Z
Another very pleasant stay at Hazel's near Reading.
PASCAL
2015-07-18T00:00:00Z
Owing to work commitments, I didn't see much of Hazel during my staff. However, our paths did cross, she was always very friendly and accommodating. Furthermore, her home is clean and comfortable. A very enjoyable stay.
Phil
2015-12-05T00:00:00Z
Great place to stay when I'm working nearby. Hazel is very friendly. Room is warm with TV...does the trick
Richard
2016-11-23T00:00:00Z
Hazel is extremely welcoming and made out stay very easy and enjoyable. The location of the property is perfect for all surrounding towns based in a quite neighborhood. Hazel has set her house up very well for accommodating guests and she can give as much or as little space as you require. Would definitely go back again and thoroughly recommend a stay here!
Michael
2016-04-05T00:00:00Z
I had a very comfortable and lovely stay at Hazels. She immediately made me feel very much at home and was incredibly helpful and friendly without being intrusive. The bed was very comfortable as was the lovely bath! I really enjoyed our chats over breakfast and felt I had made a good friend at the end of the stay. The house is on a very quiet road and very conveniently there is a local shop a stones throw away. I would highly recommend staying with Hazel.
lynn
2016-01-30T00:00:00Z
Nice clean warm house, was perfect as a place to stay whilst working in the area for a few days. Would definitely stay again.
Steffan
2017-01-31T00:00:00Z
Tipo de habitación
Habitación privada
---
Tipo de propiedad
Casa
---
Capacidad
1
---
Habitaciones
Reading, Windsor and Maidenhead, Reino Unido
A spacious double room with private bathroom in a stunning, quiet location overlooking parkland. Easy access to London, Windsor and the beautiful Thames Valley. Full English breakfast included, great pubs and Michelin starred restaurants close by.
Lucy and Mike were the most perfect hosts. The house is fabulous and ideally located within walking distance to Burnham centre or to the train station that will take you directly into London. The room is really big, with plenty of storage and a comfortable bed. Lucy, Mike and there familly are really welcoming, they will make you feel at home and help you with everything you need or recommend you the place you must see. It is definitely a place to stay.
Margaux
2014-08-03T00:00:00Z
Very helpful, friendly hostess. Very good breakfast.
Maureen
2016-10-10T00:00:00Z
In a word, superb! Mike and Lucy welcomed us warmly into their delightful family home in the countryside. Spacious, immaculate room, en suite, with supremely comfortable bed and all the trimmings. Great views across the fields, great breakfast, great ambience - try it!
John
2015-03-25T00:00:00Z
This property is a unique experience offering a glimpse of times past with all the space and convenience of a beautiful modern home. Michael was a fabulous host and gave us great tips and advice regarding places to eat and places to go. We would definitely recommend this idyllic location -we certainly hope to return ourselves.
Chris
2016-12-04T00:00:00Z
Michael and Lucy were wonderful hosts and did everything they could to make our stay enjoyable. Their recommendations for food and drink were spot on. The room was spacious and well appointed and the bed the most comfortable we slept in our entire trip. The breakfast was delicious and plentiful. Our only regret was that we had only planned on for one night.
suganya
2016-08-18T00:00:00Z
Michael was very welcoming when my husband and I arrived to his home. The room was very spacious as was the bathroom, and overall it just felt like home. The view out the bedroom window was gorgeous...we sat down for 30 minutes just looking out at the fields. Michael was gracious enough to book us a table at a restaurant 15 minutes away in the Eton/Windsor area. He even asked them to give us a window seat which they did (as well as free champagne)! We had a lovely time chatting with him and his wife the next morning. Breakfast was great and made to preference. I will absolutely request to stay here again on our next trip to the UK. Burnham is quite close to Heathrow if you're looking for a B&B nearby. Thank you for hosting us, Michael!
Caroline
2015-10-16T00:00:00Z
This was our first booking with Airbnb and what a great way to start it of with Michael and his lovely wife. The whole experience was first class, my wife and I loved the location, Micheal has a lovely, warm and welcoming home and the ample room with en-suite facilities, was really appreciated. Michael made us really welcome on our arrival, he went above and beyond, to assist us reach a nearby venue. The following morning we had a lovely cooked breakfast preceded by fresh fruit, berries and yogurt. We shared a long friendly chat after breakfast before heading off for the day. After leaving, Michael was very quick to let us know we had left something behind - thanks again :-) We liked every aspect of our stay, could not fault it, lovely location, lovely home and lovely hosts... and we would love to return again.
Paul
2015-09-27T00:00:00Z
What a pleasant experience! The room was spacious, clean and comfortable with a private bathroom. Mike and Lucy made us feel at home the minute we entered their house. They kindly made suggestions as to eating places and even booked a table for us at their favourite pub. Breakfast the following morning was a feast! Freshly-made fruit salad, hand-made marmalade, eggs and bacon cooked to perfection - and wonderful company! Mike even taught us how to poach eggs whilst Lucy shared some touching (URL HIDDEN) They encouraged us to explore their beautiful countryside and we were given a map to guide us along the way. We can highly recommend this very tastefully furnished 200-year-old farmhouse, nestling in a picturesque location. The peace and tranquility, along with genuine hospitality, made it a memorable visit!
VYVYAN
2016-04-11T00:00:00Z
Tipo de habitación
Habitación privada
---
Tipo de propiedad
Bed & Breakfast
---
Capacidad
2
---
Habitaciones
Burnham, Inglaterra, Reino Unido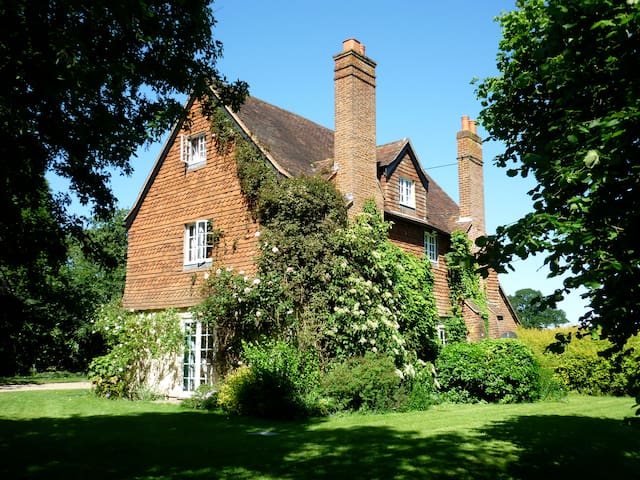 1

–

18

de

Más de 300 alquileres
Introduce las fechas para ver el precio total. Ten en cuenta que se aplicarán tarifas adicionales y es posible que se añadan impuestos.