Cozy and tasteful family house boat with a wide view into nature with horses, sheeps and birds. The village is known for the biking, walking and great landscapes and historical houses. Enjoy city life of Amsterdam and have the benefit of the country side. Perfect for small families. We're managed to decorate our house in a permanent laid back holiday atmosphere. We have seating area's all around facing the sun.
Deportes recreativos o tipos
There are some cafe's and restaurant's in the nearby, walking or by bike. Such as: Atelier Elly Koot - Perfect for lunch, coffee or tea De Witte Swean - Dutch traditional pancakes De 3 Noten - Fine Cafe & Restaurant Thee Tuin Overleek - perfect for lunch
Tipo de habitación
Casa/apto. entero
---
Tipo de propiedad
Barco
---
Capacidad
4
---
Habitaciones
Broek in Waterland, Noord-Holland, Países Bajos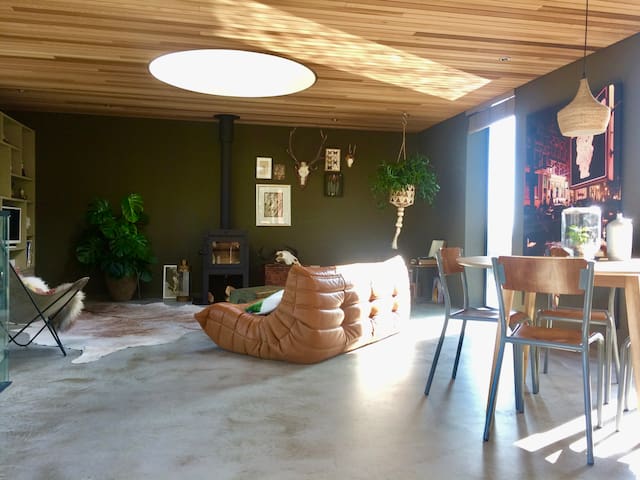 A charming private room in the beautiful quite village Broek in Waterland. A lovely place to rest, cycle or canoe, while within 15 minutes you're in the heart of Amsterdam. - Towels and bed linen provided - Breakfast included
A charming private room in the beautiful quite village Broek in Waterland. A lovely place to rest, cycle or canoe, while within 15 minutes you're in the heart of Amsterdam. - Private room with a view over the fields. - Breakfast optional - Kingsize double bed - Free WiFi - Tea/breakfast area - Beautiful village with lots to do - Village is the 3rd greenest village of Holland - Rent a bike or canoe closeby - Lovely walk/bike routes - Famous pancake house - Wine tasting nearby - Very good bus services - Free parking - From Schiphol airport good connection with train and bus
- Beautiful village with lots to do - Village is the 3rd greenest village of Holland - Rent a bike or canoe closeby - Lovely walk/bike routes - Famous pancake house - Wine tasting nearby
El alojamiento se encuentra en un enclave privilegiado, relativamente cerca de la ciudad de Amsterdam, accesible en autobús. Han sido muy amables y Annika nos resolvió algunas dudas. El desayuno muy correcto. Recomendable para todos aquellos que busquen un descanso de calidad cerca de la cuidad. Saludos!
Mayra
2016-08-19T00:00:00Z
fue nuestra primera experiencia en airbnb. fue una experiencia muy buena y para repetir, annika y su marido son muy atentos y hacen que la estancia muy agradable. muy bien comunicado con el centro de Amsterdam con autobuses cada 5 minutos. muy buen desayuno, y si volveria a Amsterdam volveria a repetir la experiencia, gracia annika.
Marta
2016-05-15T00:00:00Z
La descripción del anuncio era correcta, el barrio hermoso y muy cerca de Amsterdam, a unas cuadras de la estación de bus y a 15 minutos de Amsterdam. Annika y Martjn nos trataron muy bien, son muy amables, nos ayudaron en todo, nos recomendaron lugares para visitar, muy amorosos. El desayuno que te dan es muy bueno, hasta nos preguntaron que preferíamos para desayunar. Muy completo. La casa es hermosa y el barrio de sueños. Gracias a los dos, tuvimos una hermosa experiencia.
Agus
2015-05-31T00:00:00Z
No necesitas buscar más para visitar Amsterdam. La casa está en un vecindario hermoso y la habitación es genial. Para ir a Amsterdam basta tomar un bus que pasa con bastante frecuencia y la parada está a 5 minutos de la casa andando. Annika te trata genial y te da toda la información que necesitas, te hace sentir muy bienvenido. Todos los días te llevarán desayuno a la habitación. El transporte es caro pero Annika te da tarjetas de transporte muy útiles que hacen que sea más económico. Definitivamente nos encantó quedarnos con Annika y Martin, si volvemos a Amsterdam regresaremos con ellos y lo recomendamos 100%
Gaby
2015-12-21T00:00:00Z
It was an awsome experienced we had with my girlfriend to visit amsterdam, we stayed at Broek in waterland,dorp is really (URL HIDDEN) situated with water..its also clean village and we are amazed of houses. The owner Martin and anika also are nice and martin even bring us to ferry just for us to catched up our train/bus around 4:15am and its not actually included in our stay, its really an effort to woke up and help us through it for free. We sincerely grateful for it.
ONDREJ
2015-11-23T00:00:00Z
Door een late vlucht, arriveerden we pas 's nachts. Hier maakten ze helemaal geen probleem van en lieten ons meteen welkom voelen door onder andere een welkomsbriefje op te hangen aan de voordeur. Ook kregen we op voorhand voldoende informatie over de route naar hun toe. Annika en Martijn zijn heel open en vriendelijke mensen en gaven ons de do's en don'ts van Amsterdam. De kamer was identiek aan de foto, heel proper, ruim en verzorgd. Zo lagen er handdoeken, washandjes, toffees en stond er thee en koffie klaar. Het ontbijt was lekker, meer dan voldoende en gevarieerd. Voor herhaling vatbaar en een aanrader voor iedereen! Bedankt voor het aangename verblijf! Groetjes Tamas en Julie
Tamas
2015-09-19T00:00:00Z
The house is a little far from the center, but definitely worth it! The neighborhood is the most lovely one I've seen.
Yi Hua
2015-09-03T00:00:00Z
Очень понравилось, милая гостеприимная семья, радушный прием, сытный завтрак. Уютная голландская деревушка, рядом автобусная остановка, 12 мин и центральный вокзал. Забавный flea market в 10 минутах от дома. Восхитили 3 африканских ежика - любимцы хозяев! Очень рекомендуем!
Elena
2015-04-26T00:00:00Z
Tipo de habitación
Habitación privada
---
Tipo de propiedad
Casa
---
Capacidad
2
---
Habitaciones
Broek in Waterland, Noord-Holland, Países Bajos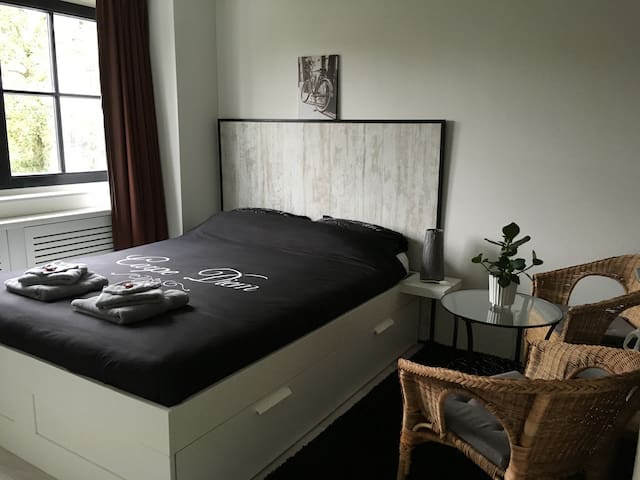 Beautiful family house, plenty rooms, 350 m2 National monument, fully renovated 2010 Garden-front (40m2) & back (200 m2) + canal Famous village Boat/bike rental next door 15 min (car/bus) downtown Amsterdam Airport: 20 min Free parking
Fully renovated farmhouse (listed building, date 1785) that offers plenty of rooms and relax areas in stunning surroundings. It's the highest building in the village after the local church and has 4 floors in total. below a detailed description. ground floor; - 1 large (50 m2) kitchen, with dining area, a relax area with TV/XBOX & music installation and a fireplace - 1 large sitting room (50 m2) with fireplace and couches - 1 large study 1st floor - 4 bed rooms: 1 x master bed room (double bed -160 cm, can be seperated) 1 x childrens' bed room (double bed- 160 cm, can be separated) 1 x childrens' bed room ( single bed) 1 guest bed room ( double bed -140 cm, can not be separated), = total of 7 beds remark: extra beds in case of 9 guests: 2 extra matresses to be placed on the ground (please request beforehand) - 2 bath rooms: 1 connected to master bed room with private shower/toilet, 1 bath room with 1 bath and 2 showers - 1 separate toilet - 1 washing area with washing machine, dryer etc - 1 study area 2nd floor: large area (90m2) where our childeren play (table tennis, hide & seek etc)
- 115 listed buildings in the village - our village is situated in a farmland landscape with cows, many 'special' birds etc. - water sports in- and around the village - fishing is possible everywhere, from the back of the house till the many waters that surround us - the local boat rental is one of our neighbors, an excellent way to discover the area around us - 3 restaurants in the village (all max 5 min walking), rest in Amsterdam and villages around us - 3 small shops in village, large shopping malls within 10 minutes drive
Our stay in Broek in Waterland was a wonderful experience! The town is quaint and picturesque! There are three restaurants within walking distance, but the farmhouse is well equipped with everything you need to cook your own meals too! Amsterdam is a 15 min bus ride away and the bus stop is a 5 min walk. There is also a bike rental shop right in town if you want to ride bikes through the country side. We had 6 people stay here, and we had plenty of room! Our host communicated very well with us too! We would recommend this place to all of our friends and family! Thank you so much for a nice stay in The Netherlands.
Everlasting
2016-06-02T00:00:00Z
We had a great time with our family in this spacious farm. Prior to arrival, Frank has been very helpful in providing information and respond to queries almost instantly. The house is large, has a pleasant atmosphere and the kitchen has enough space for a large family. Environment is pittoresque and Amsterdam is only 15 minutes away. Highly recommended.
Koen
2015-12-31T00:00:00Z
Frank & Erica's house was amazing! It's located in in a tiny historical village just 15 min away from Amsterdam. The house is large enough to host 7(-9) people. The house is very nice decorated with several cosy rooms. All communication with Frank by mail or phone went very well. An absolute recommendation for everybody who wants to relax just two steps away from Amsterdam!!
Thomas
2016-01-03T00:00:00Z
Frank's house was absolutely perfect in every way. Spacious, beautiful, quiet. While he has managed to renovate the house to make it incredibly comfortable, warm and functional in every way, Frank has also managed to preserve the charm of the old. Staying in Broek in Waterland was a treat. It was like traveling in time. The entire village is beautifully preserved and the people there were incredibly friendly. It is in my opinion a perfect place to unwind, and discover an authentic part of the Netherlands. Frank was always reachable to guide us and answer any questions! We were delighted by our stay!! Thank-you Frank!!
Julie
2015-12-26T00:00:00Z
Our stay in Frank's large but still cozy house was absolutely wonderful. We used the extremely well equipped kitchen quite a lot, relaxed in the beautiful garden and were happy to have a very efficient heating because the first 2 days the temperature went down to 6 degrees (EMAIL HIDDEN)munication with Frank was easy, he responded immediately to any kind of question. The small village with the pretty houses from the 17th Century and lush gardens is a must-see. All in all, we can highly recommend a stay in Frank's house!
Christoph
2016-05-22T00:00:00Z
Words can not describe just how incredible this house is. My friends and I had an absolutely perfect time in this paradise. During the day we lay on the back patio getting sun, then cooking dinner in the amazing gourmet kitchen, followed by relaxing by the fireplace in the back room when it was chilly at night-the house is so warm and cozy. To get into the city is so simple..a five minute walk to the bus then 10 minutes in the center. There are lovely little villages to explore and a restaurant near the house is amazing! Although the owner was away, we had a contact person to call if we had any questions and she was perfect! I have been in many houses from AirBNB in Amsterdam and this is without a doubt the best I have been to. We are definately coming back
William
2016-06-13T00:00:00Z
Cette demeure est fantastique. Tout est prévu pour y passer de délicieuses journées et soirées, et la maison devient un but de voyage elle-même ! Des grandes chambres, très grands salons, des salles de bains partout. La cuisine est immense est parfaitement bien équipée. Les espaces extérieurs sont parfaits aussi, avec le canal qui permet d'arriver à la maison en bateau ! Il y a plein de bonus, comme les vélos, la xbox, le babyfoot, les livres ou jouets des enfants. Le village est charmant aussi. Bref nos sommes réellement très satisfaits de notre séjour chez Franck et sa famille et nous avons bien l'intention d'y retourner un jour.
MANUEL
2016-07-31T00:00:00Z
I booked Frank's place in 3 minutes. Communicating with him was that smooth and easy! The house is amazing, perfect for a family gathering in the quiet and green outskirts of Amsterdam. One can tell Frank and his family have great taste, from all the little details in the house. We loved sitting by the fireplace in the back room and cooking in the kitchen, super functional, full of light and with a great view! We'd love to be Frank's guests again in the future!
sara
2016-07-07T00:00:00Z
Tipo de habitación
Casa/apto. entero
---
Tipo de propiedad
Casa
---
Capacidad
9
---
Habitaciones
Broek in Waterland, Noord-Holland, Países Bajos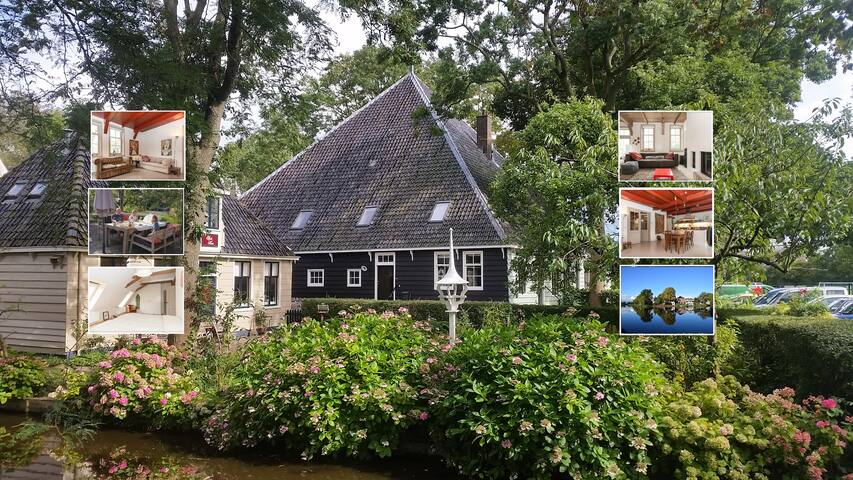 Independiente casa familiar en una ubicación muy buena. Diseñado por Jan Rietveld con muchas ventanas de esta casa es cómoda y ligera. Usted y sus hijos les encanta el ambiente informal de esta casa! Y Amsterdam está a pocos minutos de distancia.
Este revés casa fue diseñada por Jan Rietveld. El salón está arriba, el dormir y el baño es abajo. Hay cuatro habitaciones. 1 con cama de matrimonio, 3 con camas individuales. Una cama extra es liviano. El baño es espacioso y moderno. Hay una lavadora y secadora. En la superficie habitable es también una chimenea disponible. Las camas supletorias se pueden añadir, 7 personas pueden dormir aquí. Las habitaciones de los niños tienen camas suficientemente grande para acomodar los adultos. El salón es amplio cuarto de la luz, el ambiente de la casa es increíble. se le fel cómodo aquí es especialmente si usted tiene hijos van a tener un gran tiempo. Ámsterdam está a unos minutos, pero ya que la casa tiene un muelle y un barco opcional también se puede explorar las Waterlands.
Broek in Waterland tiene un centro histórico con casas de madera característicos del siglo 17 o más. Hay un bar, un restaurante y tres pequeñas tiendas.
We had a very good time in Maarten's house, which is very nice and well located in a quiet place but also close to the center of Amsterdam by bus. Maarten was very attentive and provided a very good breakfast, thank you very much ! I warmly recommend Maarten's house if you plan to spend some days in Netherland
Thibaut
2016-07-04T00:00:00Z
We loved Marteen's house and the village were it was located. The trampoline, the cat and the boat were big hits with our 4 kids! The kitchen was very well equipped (better than mine!!) and we loved the big and sunny living area. We've passed many days visiting Amsterdam and the public transportation was very convenient. We also visited the surrounded typical villages and it was also very interesting and easy to reach by bus. Thanks Marteen for your hospitality!
Marie-Josée
2016-08-09T00:00:00Z
Marrten's house is absolutly lovely, only 15 minutes by bus from the central (URL HIDDEN) was very convenienced to go to the city and the surrounding little towns, which were all so charmingly beautiful. Me and my 4 kids enjoyed our stay greatly. House was clean and bright, kids love to play in the garden and the trampoline was a big hit with my 10 years old twins. They also love the hens too. I enjoyed the view outside the livingroom window right by the water just like the photoes shown. The first two days was a little cold so we made a fire in the living room, it was very cosy and warm, although there's heating but we didn't manage to make it work . Luckily the weather got much warmer, so we enjoyed the rest of the week immensely in this house. Communication with Marrten wasn't always easy but it got through with text messages which took some time for him to response. All in all , it was a wonderful experience... staying in this unique big house with everything we need provided. Waterland is such a beautiful place to stay for a family holiday. Shame that I didn't get to meet Marrten in person to say thank you. :)
Sue
2015-08-05T00:00:00Z
Es war klasse! Das Haus ist noch schöner als auf den Fotos, man hat viel Platz. Alles drin, alles dran, Maarten stand immer für Fragen zur Verfügung. Die Nachbarschaft ist ruhig, die direkten Nachbarn sind ebenfalls sehr nett. Broek in Waterland ist ein idyllisches kleines Dorf, sehr zu empfehlen ist das Pfannkuchenhaus. Nach Amsterdam ist es nur ein Katzensprung, zum Meer ist es ebenfalls nicht weit, und somit eignet sich Maartens Haus auf jeden Fall für eine Familie, die ein wenig Großstadt schnuppern, sich aber auch erholen möchte. Wir kommen gerne wieder!
Ralf
2016-07-28T00:00:00Z
Tipo de habitación
Casa/apto. entero
---
Tipo de propiedad
Casa
---
Capacidad
6
---
Habitaciones
Broek in Waterland, Noord-Holland, Países Bajos
Our 175m2 waterside house with a great view is only 12 minutes from downtown Amsterdam. It offers 5 bedrooms, 8 beds, 2 bathrooms, open living room/kitchen,free parking & wifi. Waterside garden, trampoline,3 bikes. Swim directly in front of the house!
Our spacious, waterside semi-detached house is well equipped for (large) families. It sleeps up to 8 people, has a large dining table, large stove, Weber BBQ, cozy fireplaces, outside lounge couch, trampoline, free parking, free wifi and TV. It is situated in the pittoresque village 'Broek in Waterland', only 12 minutes by bus from Amsterdam CS.
Broek in Waterland is a pitoresque little village, just 10 km north of Amsterdam. The village is famous for its beautiful, wooden houses from the 17th century. In winter it is ice-skate heaven! Top 10 things to do: -After a long day in Amsterdam, a glass of wine with a beautiful view over the water from our garden -Rent a boat in the village with silent electro motor to discover the local nature -Pancakes in the village restaurant De Zwaan, or De Posthoorn with a Michelin star in Monnickendam -Museums: Van Gogh Museum, Anne Frank House, Rijks Museum: (website hidden) -Kids: Swim in front of the house, trampoline, Hemmeland beach, Museum Nemo & TunFun in Amsterdam -Markets: Amsterdam Waterloopplein flee market, Monnickendam rural food market -Cool areas to visite in Amsterdam: De Pijp, De Jordaan, Westergasfabriek -Boat daytrip from Volendam to Marken and back. -Music: Concertgebouw for classical, Paradiso for Pop, or Clubbing -Festivals: Over 400 yearly festivals in Amsterdam:
Nous avons passé un agréable moment dans la maison d'Herminia, totalement conforme aux photos, nous sommes arrivés à 9 personnes et nous avions de la place pour nous installer. La décoration est moderne, les pièces sont grandes, l'extérieur est agréable entre la terrasse au bord de l'eau et le trampoline chacun peut y trouver son compte. Nous avons eu 3 jours de beau temps ce qui est une chance et avons vraiment pu en profiter. La maison se situe à environ 15 min de la charmante ville de Volendam, et environ 15 min d'un parking relai tram pour le centre ville d'Amsterdam qui s'est révélé fort utile et bien moins cher que de se garer en ville (1€ pour une journée + 7,90 pour 5 tickets de tram). Je pense que vous l'aurez compris nous avons passé un moment plus que sympathique et Herminia est une hôte prévenante qui nous a laisser sur place un guide complet sur le fonctionnement de la maison ainsi que des choses à voir aux alentours. Très bon séjour et nous espérons pouvoir y revenir visiter le reste de la Hollande.
Priscillia
2016-08-20T00:00:00Z
Our stay in Herminia's place was a wonderful experience, her beautiful home with amazing view let you feel an idyllic life in Holland for a few days. It provides you comfortable, warm shelter after windy, rainy day in the city or long hike in beautiful nature around. Communication with Herminia was seamless and quick, and she gave us many useful advice which made our traveling much easier. I can only recommend :)
Ondra
2016-10-23T00:00:00Z
Great host, great location and great home. Thank you, Herminia; our family had a wonderful stay in this beautiful home! Even though our schedules prevented us from meeting, Herminia still made sure we felt welcome and cared for upon our arrival. From leaving fruit, drinks and snacks, to life jackets for our two small children, and the use of bicycles, our host thought of everything we might need to make our stay as enjoyable as possible. Detailed instructions and guides were left for us that answered every conceivable question we might have about how everything worked in the house, as well as everything we might need to know about Amsterdam, including the very affordable ($12 Per day) central parking garage in Amsterdam.
Ada
2015-07-20T00:00:00Z
We had a great stay in an amazing house! Herminia is a perfect host, she picked us up at the bus station and prepared a very warm welcome. We felt like home and enjoyed our long weekend in Broek in Waterland. The village is very nice and close to Amsterdam city, only 15min by bus.
Alexandra
2016-05-17T00:00:00Z
We very much enjoyed stayed in this beautiful house. Herminia made sure that we had everything we needed for our week long stay. The house was spacious and comfortable. It was easy to drive into Amsterdam and use the parking facilities recommended by Herminia. We then enjoyed relaxing in the evenings by the canal with a barbecue and a glass of wine. I would definitely recommend Herminia as a host and the house as a place to stay to explore Amsterdam and the surrounding area.
Joanna
2016-08-04T00:00:00Z
They were very kind and welcoming and the house was lovely.
Marie-Louise
2017-01-01T00:00:00Z
Super liebe und zuvorkommende Gastgeberin! Sie hat uns jede Frage beantwortet und uns bestens auf unser Abenteuer vorbereitet. Wir sind spät abends angereist und es hat alles einwandfrei funktioniert! Das Haus hat genau den Beschreibungen entsprochen und darüber hinaus haben wir uns wie Zuhause gefühlt. Das Haus liegt in einem wunderschönen Dorf nahe bei Amsterdam und wir hatten tolle Abende gemeinsam auf der Terrasse. Die Nachbarn und die Menschen die dort leben waren alle sehr nett und haben uns bei allem geholfen. Wir hatten eine sehr tolle Zeit und bedanken uns bei der Familie, dass sie uns ihr wunderschönes Zuhause zur Verfügung gestellt haben. Auch wollen wir uns für das entgegengebrachte Vertrauen bedanken, da wir ihr Hab und Gut benutzen durften. Das Haus und auch die Gastgeber sind nur weiterzuempfehlen! Jasmin, August 2015
Jasmin
2015-08-08T00:00:00Z
Si vous cherchez le parfait compromis entre capitale animée et villages pittoresques, alors la maison d'Herminia et de sa famille est faite pour vous. Le magnifique village de Broek in Waterland est situé à 10 min en bus d'Amsterdam, le réseau de bus est dense (un bus environs toutes les 10 min). Dans l'autre sens, vous partirez à la découverte des villages du Waterland (Edam, Monickendam, Vollendam, Marken...) tous aussi beaux les uns que les autres. La carte de bus valable toute la journée coûte 10 euros. Herminia est une hôte aux petits soins. Tout est fait pour que vous vous sentiez chez vous, la maison dispose d'un guide explicatif très complet, Herminia est très disponible pour toute question précédant l'arrivée, l'intérieur est cosy et décoré avec goût et l'environnement est splendide et très calme (au bord du canal, avec vue sur les prés). Bref vous l'aurez compris, nous avons adoré notre séjour dans le Waterland!
Delphine
2016-01-03T00:00:00Z
Tipo de habitación
Casa/apto. entero
---
Tipo de propiedad
Casa
---
Capacidad
8
---
Habitaciones
Broek in Waterland, Noord-Holland, Países Bajos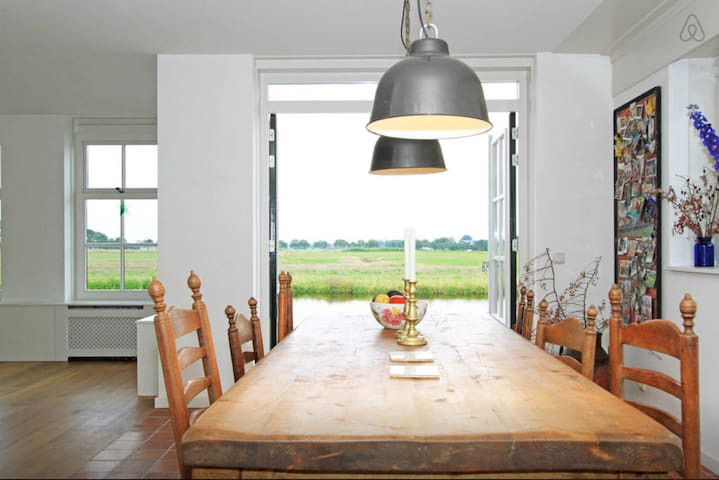 Bienvenido a Ámsterdam campo y quedarse con nosotros en su propia casa acogedora jardín romántico. Usted se sorprenderá de lo cerca que está de Ámsterdam (15 minutos en autobús o en coche impecable). La casa se está situado en un amplio jardín privado. Aparcar el coche en nuestra propiedad. Te invitamos a descubrir el pintoresco pueblo a pie, en bicicleta o en barco. Absorber la tranquilidad del pueblo y disfrutar de la deslumbrante variedad de Ámsterdam, a un tiro de piedra. Disponible para pareja o familia pequeña.
Su propia pequeña casa histórica (75m2) con entrada privada en un amplio jardín. La casa cuenta con una sala de estar con cocina, mesa de comedor, un dormitorio tipo loft con vistas al jardín, cuarto de baño
la casa se ha quedado en el jardín privado de la casa que está históricamente protegida. Tiene una ubicación única, en el maravilloso pueblo tranquilo y pintoresco en las inmediaciones de Amsterdam, llamado Broek in Waterland. Se puede descubrir en barco o en bicicleta. Bicicletas disponibles para alquilar, justo al otro lado de la calle. Nuestra casa está enfrente de la famosa crepería, por lo que un panqueque durante su viaje debe ser disfrutado.
La casa es exactamente como se muestra en las fotos. Estuvimos 2 adultos y dos niños y es lo suficiente amplia. Esta en el jardín de la casa y es un pueblo muy tranquilo y muy agradable. Pasamos 4 días en fin de año muy divertidos y entretenidos con los petardos. Manon es muy atenta y nos trajo unos buñuelos típicos de Amsterdam.
Anna
2016-01-02T00:00:00Z
Excellent séjour chez Manon, petite maison chaleureuse et authentique avec le charme de l'ancien ... Le village est également attractif et chaque maison en bois présente une spécificité. Emplacement reposant aux portes d'Amsterdam et très bien desservi par des bus toutes les 10 mn. Manon parle couramment français et c'est une hôte très accueillante. Plusieurs bouquets de fleurs fraîches à notre arrivée dans la maison. Je recommande sincèrement ce cottage surtout si vous arrivez en voiture (stationnement dans le jardin !)
sophie
2016-10-18T00:00:00Z
Very pleasant place, we will definitely visit this place again. Located in a quiet place, 15 minutes' drive to the city center by bus is an opportunity through the night and return by bus number 4 which goes from a central station
Felikss
2016-12-04T00:00:00Z
Perfect double experience ! One minute walk to the bus station, and 15 minutes later you're at Central Station - Amsterdam - Manon really helpful can provide you some transportation cards to reload at Central Station (around 5 euros for return ticket)- but when you wake up, or when you come back to the cottage, you feel deeply as you're in another world, the historical Holland : charming wood houses fully renovated, water everywhere, a tasty pancake house just across the (little) street, and - again - Manon very helpful with two bicycles you can borrow for a few hours - thank you Manon !
Alexandrine
2015-09-02T00:00:00Z
Beautiful little traditional cottage in a historic village. Close enough to Amsterdam to take bus/drive in 15 minutes, but well worth exploring the local scenery too.
Will
2017-03-12T00:00:00Z
Manon had great communication and everything was perfectly set up for us when we arrived. The cottage is so lovely and feels immediately like home! My only wish was that we had more days to spend here.
Amanda
2016-03-27T00:00:00Z
Not only was the cottage lovely to stay in, Manon was absolutely amazing. We had major car trouble and she was so helpful. We couldn't have asked for a better and considerate host. Will definitely stay here again when we are next in Amsterdam. Thank you so much!!
Susan
2016-06-10T00:00:00Z
Manon ist ein freundliche (sehr hübsche) Gastgeberin, berufstätig, mit 2 Kinder, und war dementsprechend viel beschäftigt und unterwegs. Wir hätten Sie aber jederzeit, wenn nötig, anrufen können. Da ich selber Holländerin bin, und jahrelang in Amsterdam gewohnt habe, brauchten wir das nicht wirklich. Wir hatten ein sehr schöne Zeit, und der Verbindung mit Bus nach Amsterdam ist schnell, kaum Wartezeiten, alle paar Minuten kommt ein Bus (2 Minuten zu Fuß entfernt vom Unterkunft), in 15 Minuten bist du in Amsterdam Hauptbahnhof. Der Ort Broek op Waterland ist TOTAL SCHÖN!!!!
Joyce
2016-09-02T00:00:00Z
Tipo de habitación
Casa/apto. entero
---
Tipo de propiedad
Casa
---
Capacidad
4
---
Habitaciones
Broek in Waterland, Noord-Holland, Países Bajos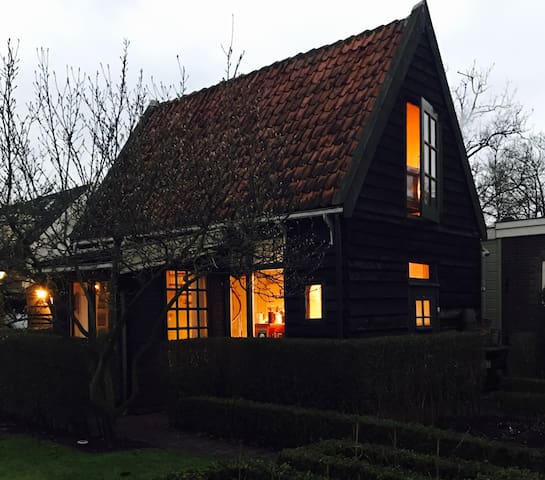 Unbelievable how beautiful and rural your stay can be, so close to the city. Wake up with the morning sun on your face, while you're drinking an espresso from freshly ground coffee beans and watching the cows. Within 15 minutes you're in the centre of Amsterdam by public transport. You can park your car in front of the house for free.
You'll be staying in a big, newly build house which is just been completed in the rural and quiet village Broek in Waterland. The village is just outside Amsterdam and within 15 minutes you're at Central station from where you can easily reach all popular attractions. There's a lot of space and a lot of rooms. There's a double bed, 2 single beds and a children bed. If you want we can add an adult matrass in the room. The kitchen is the center of the house where you can cook, sit and drink a wine with eachother. It's well equipped with new equipment like a quooker (boiled water tap), microwave, steam oven and a fancy coffee machine, which grounds the fresh coffee beans and has a milk foamer. This machine is probably the best way to wake up in the morning. We have 2 bikes you can use and you can use the waching machine and dryer if you want.
The village is a small, quiet and rural village surrounded by fields. From the house you look over the fields and most of the time you'll see the cows. It's a beutiful village to have a nice walk, bike tour or to rent a boat and explore the water. The water here is even more beautiful. The neighborhood is child friendly hardly any cars. The kids can play on the street.
Der Gastgeber war super nett und zur Begrüßung gab eine Auswahl an holländischen Keksen. Absolut kompetent und freundlich. Die Gegend ist wunderschön und sehr ruhig. Es befindet sich allerdings nur ein Doppelbett im Haus und die anderen zwei Betten sind Kinderbetten. Ansonsten alles tip top.
Julia
2016-10-21T00:00:00Z
Tipo de habitación
Casa/apto. entero
---
Tipo de propiedad
Casa
---
Capacidad
5
---
Habitaciones
Broek in Waterland, Noord-Holland, Países Bajos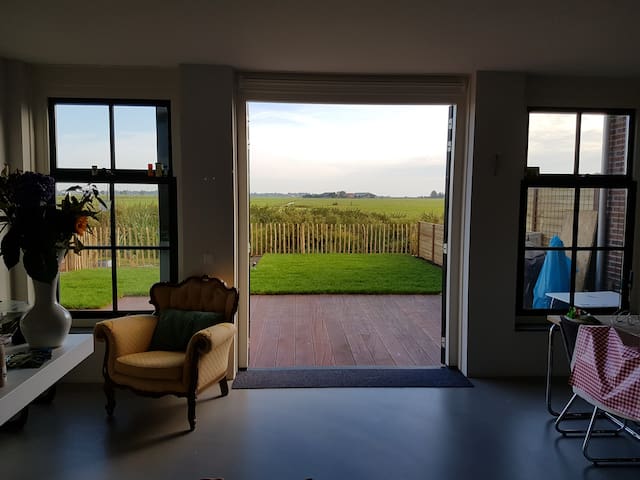 Bienvenido a mi casa única en el entorno de la hermosa Ámsterdam y tantos otros pueblos famosos.
Buscando una manera de combinar el trino y el brillo de Amsterdam con la vida rural tranquilness, mira nu más! Se puede recorrer en 10 minutos en coche / autobús para viajar desde la estación central de Ámsterdam hacia Broek in Waterland. Si prefiere la forma holandesa de viajar, puede alquilar una bicicleta que le llevará 30 minutos para terminar en el Broekervaart, A lo largo de este canal, que conduce hacia la famosa ciudad del siglo 17, se encuentra mi casa flotante. De pie en el pequeño bote de remos que tiene que tomar para llegar desde la carretera hacia mi casa flotante, todavía se puede en sí Ámsterdam tumbado en la distancia. Una vez que llegue al otro lado del canal, usted se encuentra en el verde del jardín y los prados colindantes de Waterland. Estoy contratación de la propiedad de obra nueva anexo, que es una expansión privado de lujo de 70m2 que tiene alojamiento para dormir para 4 personas y un gran cuarto de baño. Además, tendrá acceso al jardín, salas de estar al aire libre como una chimenea y, cuando el holandés wether le permite, una barbacoa. La ubicación de la casa flotante es perfecto para paseos por la reserva nacional, que comienza justo detrás del jardín. O tal vez alquilar un barco para descubrir por qué el área se llama Waterland. La línea de autobús directa que lleva a Volendam, Marken y por supuesto nuestra capital. En resúmen, si usted está buscando algo diferente, un poco de tranquilidad fuera del ruido de Amsterdam, que estará encantado de tenerte!
Adri hat und sehr nett mit Kuchen und einer Flasche Wein empfangen. Da es sehr windig war und es dazu noch viel geregnet hatte durften wir die Hauseigene Fähre zur Überfahrt auf das Hausboot benutzen. Es war immer sehr ruhig und gemütlich im Studio. Wenn es Fragen hab war Adri immer zur Stelle. Alles in allem eine sehr schöne Unterkunft mit netten Host .
Meike
2017-03-02T00:00:00Z
Alles war super! Danke Adri!
Stephanie
2017-04-01T00:00:00Z
What a wonderful stay, I can't recommend Adri's place enough. The studio is beautifully decorated and backs onto open fields which are great to watch the sunrise over. It's only a short bus ride from Amsterdam centre (it took 10 minutes when it was quiet and only 15 minutes during rush hour as the bus has its own lane and skips all the traffic) but is so peaceful and quiet compared to the crowds of the city. Adri is super friendly and easy to communicate with, and the studio has lots of great books about the local area. If you're planning a trip to Amsterdam you should definitely stay here, it's the perfect base to explore the city from.
Zoe
2017-03-26T00:00:00Z
It's a really good experience!
mai
2017-03-29T00:00:00Z
Adri s place is like living in a fairy tale. The area is quiet, the house proper, simple, charming and special. She has a very good design touch and the environment around is simply unexpected. The bus connects downtown Amsterdam in few minutes during the whole day and at night. I would suggest for sure a visit to the near villages up north, just a piece of Holland you wouldn't expect! Adri was always helpful. I would definitely recommend it like a place to stay and enjoy!
Thibaud
2017-04-03T00:00:00Z
Adri's houseboat is beautiful and she is a most welcoming and helpful host. We didn't have a super busy weekend planned, so a little bit of extra travelling and logistics was worth it to see another side of the city. Would recommend to any friend.
Alice
2017-01-15T00:00:00Z
We have had a brilliant time staying in Adris studio attached to the house boat. It was perfect for going into the city during the day and getting away from all the buzz at night. The location was great, beautiful surroundings for going out walking or biking. Adri has been very accommodating and has been incredibly kind in making sure our stay was extra special. We will definitely be coming back in the future!
Jennifer
2017-02-07T00:00:00Z
Great house, with some really nice views. Very clean and amazing location. About 20 mintues to central amsterdam, and thank you Adri for the apple pie, it was amazing
Arlind
2017-03-21T00:00:00Z
Tipo de habitación
Casa/apto. entero
---
Tipo de propiedad
Apto. en complejo residencial
---
Capacidad
4
---
Habitaciones
Broek in Waterland, Noord-Holland, Países Bajos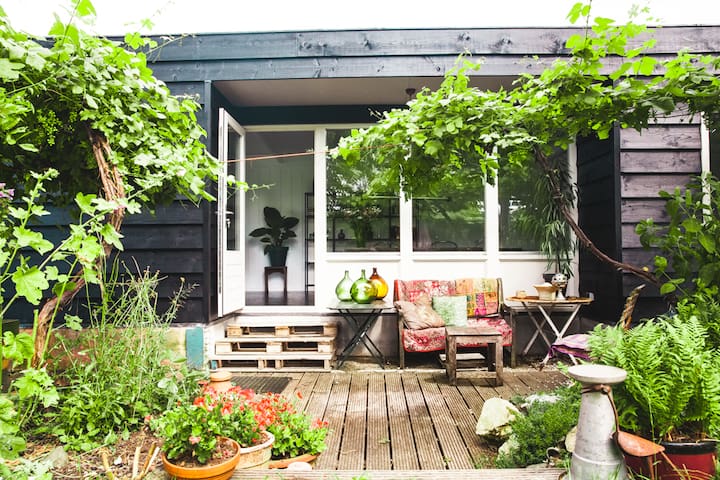 Welcome to the best of both worlds! Only 4 busstops away from the hart of Amsterdam lies the unique village of Broek in Waterland. Here our original wooden Waterland country house with it's 2.500 m2 garden is situated. Grab the opportunity, experience living in one of the best preserved villages of our country. Car parking on the property, bikes available.
We'd like to welcome you in our spacious and child-friendly home! It's yours while visiting Amsterdam and the surrounding picturesque fisherman villages. The 4 bedroom house is fully equiped and spacious enough to host up to 8 people. Our dining table seats 12. Enjoy the perfect starting point for your holiday in the Netherlands! Apart from 4 king size beds, we have additional single beds and baby bunks available.
Broek in Waterland started as a fishermen's village. However, from the mid 16th century, sweet water fishing and especially whaling was replaced by stock farming and the production of dairy. Many houses, including ours were enlarged on the rear end with a large adjoining stable and hay barn. Milk and cheese was transported on a daily base to Amsterdam by flatbottom boats. The harbour thus remained vital for the village, and still is a characteristical focal point of Broek en Waterland. In the 17th and 18th century, the town was florishing due to succesfull trading with the Baltic states. Many impressive mansions were build for wealthy local merchant families. For centuries, Broek in Waterland welcomed travellers to the village which was well-known even abroad for its cleanliness and ornamental gardens. Starting in the 17th century, the town became a popular tourist destination for people visiting nearby Amsterdam. You can find our house in one of the historic streets of the village. We proudly present you our pancake restaurant (serves a larger menu card), our local pub, a coffee & tea art gallery, take-a-way gourmet grocer Jesse and two more small grocery stores. All there for your daily fresh baked bread, etc. The small grocery store is only 50 metres from our house.
Tipo de habitación
Casa/apto. entero
---
Tipo de propiedad
Villa
---
Capacidad
10
---
Habitaciones
Broek in Waterland, Noord-Holland, Países Bajos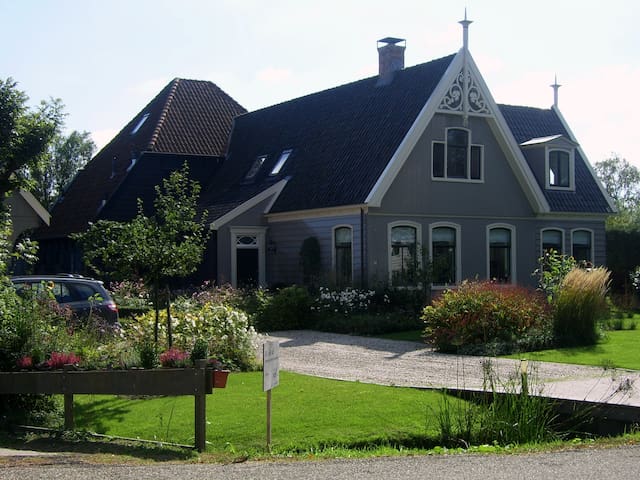 This family house is located in a small, rural village near all dynamic activities in Amsterdam. Free parking and very good public transport service. You're in 15 minutes in the center of Amsterdam with a car or public transportation. The house has all facilities you need: fully equipped kitchen, big living room, garden with trampoline, cable, tv & WIFI. The village is very quiet and rural. A lovely place in the fields to rest, walk or canoe, while you 're in the center of Amsterdam in no time.
Main bedroom has kingsize waterbed for 2 persons. Two other bedrooms have 3 single beds. The bathroom is fully renewed in 2016.
Tipo de habitación
Casa/apto. entero
---
Tipo de propiedad
Casa
---
Capacidad
4
---
Habitaciones
Broek in Waterland, Noord-Holland, Países Bajos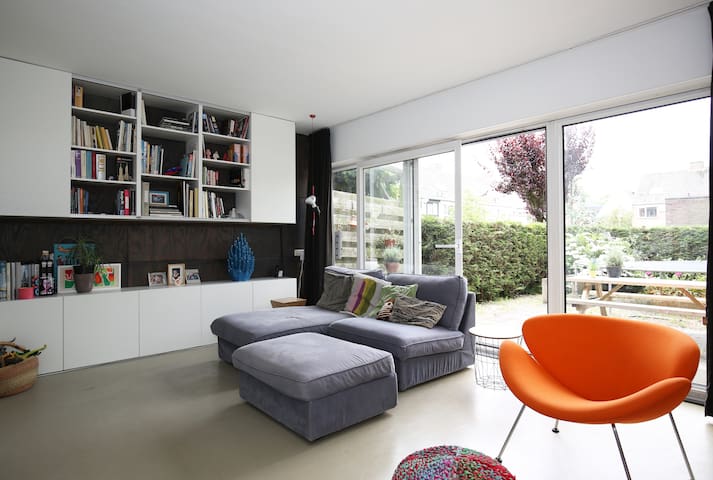 Enjoy the silence, comfortable beds, view over the fields and a whirlpool bath, while you just outside Amsterdam. This luxury room has everything you need for nice stay and located in a small village nearby Amsterdam, Volendam, Marken and Zaanse Schans. Every 10 minutes you can take a bus and brings you in 12 minutes to CS of Amsterdam.
The view , and also the garden and peace-full village so near a big city as Amsterdam A box-spring bed , fridge, water-cooker and coffeemachine and a micro to use . A complete bath-room is the finishing touch
There are in our village different place to have diner And also a little shop close-by to get Bread and other food , verry Nice ! It is an old village with beautifull houses!
Tipo de habitación
Habitación privada
---
Tipo de propiedad
Bed & Breakfast
---
Capacidad
2
---
Habitaciones
Broek in Waterland, Noord-Holland, Países Bajos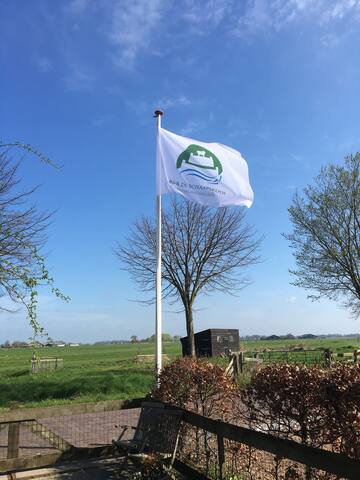 Only 10 minutes from the hustle and bustle of Amsterdam you'll find the rural village of Broek in Waterland, with its 17th century wooden houses and tranquil canals. Here we live, in our newly built houseboat with clear views over the fields with cows, sheep and a variety of birdlife. Our water villa measures over 170 m2, has 3 bedrooms and sleeps up to 6 people. You want to enjoy the beauty of Amsterdam, and come home to a campfire, barbecue and quiet night filled with frog concerts? Than look no further and check out our houseboat that comes with a private rowing boat to discover the real Holland. Broek in Waterland has a small supermarket, a drugstore with local food, a pancake restaurant and two other cosy restaurants. Bike in 20 minutes to the centre of Amsterdam, or take one of the local busses that stop in our village and bring you to Amsterdam in only 7 minutes. Or stay home for the day, dive into the canal from the living room or spend the afternoon in the hammock overlooking the fields in our rear (URL HIDDEN) the evening you can light one of the 3 outdoor fireplaces and fire up the barbecue.Beats the tourist trap restaurants at the Red Light District :-)
Juliettes father in law met us at the houseboat and showed us around, he was really friendly and very helpful. He even took my partner to the super market as we came without the car. He gave us all the information we needed for our stay. we found the house boat very easily as juliettes directions were very straightforward to follow. The whole experience was easy and stress free.
Diane
2015-08-08T00:00:00Z
"Danke Juliette und Matthijs!" Wir - zwei Familien mit drei Kindern - waren drei wundervolle Tage im Hausboot von Juliette und Matthijs. Die Kinder waren dermaßen begeistert vom Hausboot mit der Hängematte, den schönen Zimmern, der lieben Katze, der Handfähre und vor allem dem Ruderboot, dass sie kaum nach Amsterdam zu bewegen waren. Und wir Erwachsene waren sehr glücklich, am Abend wieder in das wunderschön eingerichtete Hausboot zurückzukehren, mit dem Boot den Kanal hinunter zum Einkaufen zu rudern, in der perfekt ausgestatteten Küche zu kochen und gemütlich am Kamin zu sitzen. Wir werden uns sehr freuen wieder zu kommen. Es war großartig.
Natascha
2014-03-04T00:00:00Z
Vivre sur l'eau : une expérience vraiment originale ! Tout est fait avec goût dans ce houseboat : les meubles, le hamac, le brasero disponible sur la terrasse, la barque, la barge... Amsterdam reste à proximité (utiliser les P+R), de jolis villages à proximité immédiate (Marken, édam, Volendam...). Du tout bon quoi !
Nicolas
2013-08-19T00:00:00Z
Alles, aber auch alles! in und auf diesem Hausboot ist einfach wundervoll: die Aussicht auf den Kanal von der Terrasse oder auf die endlosen Weiden vom Garten, die geschmackvolle Einrichtung aller Räume, die Anbindung an Amsterdam und die Freundlichkeit der Gastgeber haben uns einen perfekten Kurzurlaub beschert! Danke für die großartige Unterkunft mit so viel Charme!!
Bina
2014-09-01T00:00:00Z
We had a fantastic weekend on your houseboat! The kids loved the swimming in the canal and playing with the cat. The atmosphere was very relaxed and cosy. It is a very special location which we enjoyed very much. Thank you again for sharing your home with us. We would love to come back again! Have a good summer!
Axel
2014-06-11T00:00:00Z
We LOVED our stay in Matthijs & Juliette's houseboat. From our check-in to check-out, everything was great! 20 minutes from Amsterdam, perfect to do if you have a car, I don't know how is by public transport, but however nice place. Close to typical villages, funny to cross with the ferry, nice vieuws... The decoration was also tastefull. We stayed with 6 people and it was espacious enough. Easy going with the reservation when I've some troubles to book... Perfect! Thanks!
Anna
2013-08-13T00:00:00Z
Die Unterkunft hat eine traumhafte Lage am Rande von Amsterdam. Das Haus steht quasi in einem Fluß und ist nur über ein Floß zu erreichen. Hinter dem Haus befindet sich ein Garten, dahinter erstrecken sich meilenweit Wiesen und Felder. In einem Kilometer ist man zu Fuß an der Bushaltestelle. Von dort in 15 Minuten mit dem Bus am Hauptbahnhof mitten im Amsterdam. Das Haus ist modern und zugleich gemütlich eingerichtet und lädt durch die offen gestaltete Küche zum gemeinsamen Kochen ein. Informationen Rund um die Unterkunft, zu Einkaufsmöglichkeiten und über Restaurants in der Umgebung gab es von den Gastgebern in übersichtlicher Form in einer Mappe geliefert. Wir haben die Unterkunft zu sechst besucht und waren voll und ganz zufrieden.
Jasmin
2016-01-02T00:00:00Z
We absolutely loved our stay here. It was such a fun and unique experience to live on a canal for a week and to cross the water to and from our car on the other side. We did it with 5 kids under 4 years old and they loved it too. The house has a great open space on the top floor where the kitchen flows into the eating area which flows into the living area. The hammock is a fun touch too! The rooms downstairs were spacious and the beds were very comfortable. Thank you Juliette and Matthijs for your help and tips on what to do and where to go :) We look forward to a future visit.
Ser
2014-06-18T00:00:00Z
Tipo de habitación
Casa/apto. entero
---
Tipo de propiedad
Otros
---
Capacidad
6
---
Habitaciones
Broek in Waterland, Holanda Septentrional, Países Bajos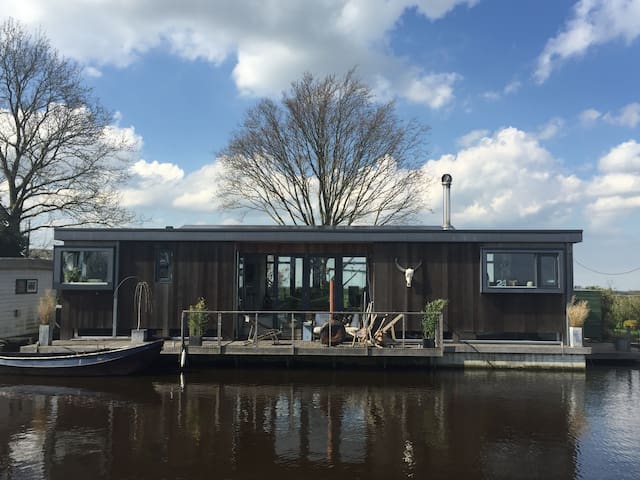 Enjoy the silence, comfortable beds, view over the fields and a whirlpool bath, while you just outside Amsterdam. This luxury room has everything you need for nice stay and located in a small village nearby Amsterdam, Volendam, Marken and Zaanse Schans. Every 10 minutes you can take a bus and brings you in 12 minutes to CS of Amsterdam.
The view , and also the garden and peace-full village so near a big city as Amsterdam A box-spring bed , fridge, water-cooker and coffeemachine and a micro to use . A complete bath-room is the finishing touch
We have specially routing how to enjoy the trip with bike to Marken and go with the bike on the boat to Volendam It is a pleasure !! And also rent a wispering boat in town.
Tipo de habitación
Habitación privada
---
Tipo de propiedad
Bed & Breakfast
---
Capacidad
2
---
Habitaciones
Broek in Waterland, NH, Países Bajos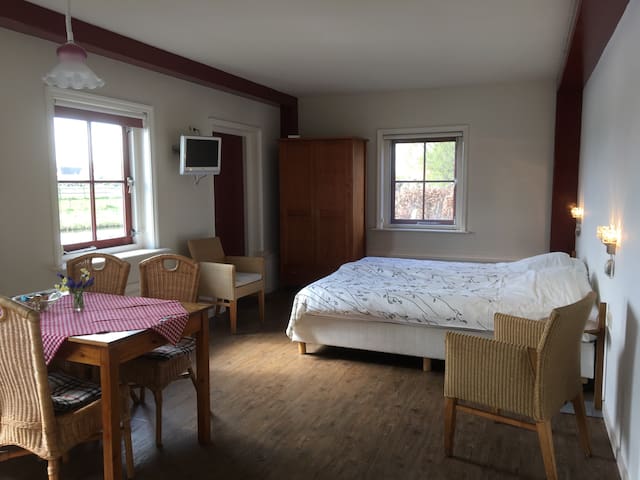 nice country side house with the greatest view,waterfront sitting, only 8 kilometres from Amsterdam. every 3 minutes goes to amsterdam central. even at night the bus goes frequently. the busstop is a 5 minute walk from our house.
Private Garden attached to meadow and water. fireplace inside and outside, Dishwasher, Washing mahine, dryer, Wifi.
a very pitoresk area, beautiful to walk, bike or explore by boat. Also close to famous Edam and Volendam
Tipo de habitación
Casa/apto. entero
---
Tipo de propiedad
Casa
---
Capacidad
2
---
Habitaciones
Broek in Waterland, Noord-Holland, Países Bajos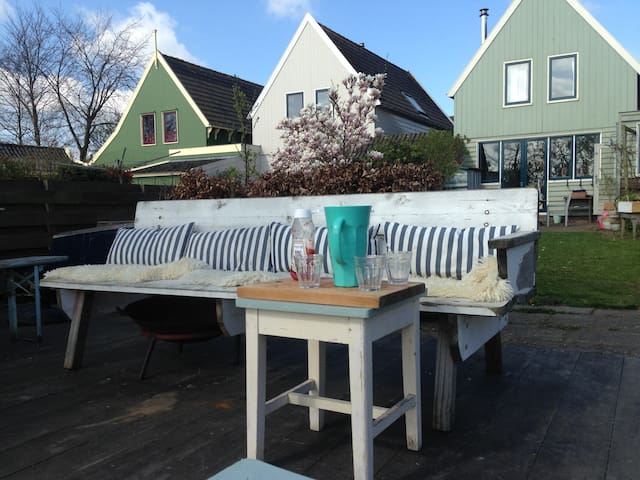 Waterfront room with great view, private bathroom and own entrance. Free Wifi, free parking, free coffee & tea. Lounge-sofa outside: make a fire in the stove! Wood to use freely. 24/7 check-in. Bikes to lend (if available). 15 min. from downtown Amsterdam.
Charming room with private bathroom and a beautiful view over the water and meadows, 15 minutes by bus/car to Amsterdam Central Station. The best of both worlds: close to the hustle and bustle of Amsterdam, but in a nice and quiet area with an amazing view over a typical Dutch landscape with swans and sheep. The room (17m2) provides fresh linen and towels, shampoo and soap, free Nespresso coffee and tea, free Wifi, a TV and a mini-fridge. Please note: there's NO kitchen (but there's cutlery, plates and glases for you to eat whatever you bring yourself). You can use the BBQ. Included: Private entrance; Check in 24/7 with a key-locker + code; Outside loungebank with a beautiful view; Possibility to make a fire in the outside stove, free wood available; Take our 2 family bikes for a trip through Broek in Waterland (only if available, our children use them too...) Private bathroom with shower, toilet and sink; Free wifi; Free parking; Free coffee and tea; Queen size double bed (160cm x 200cm); Towels, soap and shampoo; Hairdryer; Little fridge; Use of BBQ; TV; Public Transport Cards to lend (please, recharge them yourself).
You'll be staying in the pittoresque village Broek in Waterland, 10 km north of Amsterdam, with typical Dutch wooden houses. Don't forget to visit the old part of the village which is really beautiful: 83 houses in the village have been listed as heritage buildings. You can use our familybikes to bike around the village (if they are available: our children use them too...) Within 500 m of your room, you'll find a small supermarket 'Wals/Schokker' ('t Winkeltje') for bread, fruit, milk etc. Opens daily from 08:00 - 17:30 (on Wednesday up to 12:30, closed on Sundays). Address: Zuideinde 15. In the centre of the village there are four places to have dinner: 1. Restaurant 'The Three Nuts' 2. Pancake House 'De Witte Swaen' 3. Restaurant 'The Broeker House' 4. Cafeteria 'The Rob'. On Fridays you can buy wood-oven pizza's at the parking lot next to the school. For all the exact adresses: please check the guide in the room. 'Deen' is a nice, relatively cheap supermarket in Monnickendam (4km). Opens every day from 08:00 tot 20:00, on Sunday from 10:00 to 18:00. In Broek in Waterland, you'll also find a deli-shop called 'Jesse', a little gallery with a terrace (only in Summer and on Friday, Saturday and Sunday) and an electric boat rental. You'll find a cash-dispenser next to the school (address: 'Nieuwland'). Attractions in the neighbourhood: Monnickendam: 4 km Golf Course Waterland Amsterdam: 6 km Shopping Buikslotermeerplein: 7 km Volendam: 10 km Edam: 10 km Amsterdam Centre: 10 km Golfcourse BurgGolf in Purmerend: 12 km Marken: 13 km De Zaanse schans 19 km Amsterdam Schiphol Airport: 31 km Beach Zandvoort aan zee: 41 km De Keukenhof: 46 km
La habitación era genial, tal y como aparece en las fotos. Nos dejó desayuno con cafés, tes, chocolates e incluso pastas. El barrio es muy tranquilo y acogedor, un pelin difícil encontrar la casa desde el bus, pero todo el mundo es muy amable
Javier
2016-07-02T00:00:00Z
Loved loved loved the studio apartment! Very cosy and laid back place, away from the hustle and bustle. We thoroughly enjoyed our stay here! Herminia was also very kind and helpful! She picked us up from the bus stop when we arrived. Very sweet and kind lady! Will be back!
Chenise
2016-05-05T00:00:00Z
De deur was open, makkelijk want het regende pijpenstelen. Gezellige ontvangst met leuk geschreven kaartje. We namen een nespresso en gingen naar ons feestje in Broek. Lekkere bedden en prima douche!
Robert
2016-11-06T00:00:00Z
Nous avons passé un excellent séjour chez Herminia. Le logement est propre et fonctionnel. Un guide à votre disposition vous donnera de pratique informations. La vue sur l'eau et la campagne est très reposante. Nous avons pu profiter chaque jour de la terrasse au soleil. Broek in waterland est une petite ville charmante. Pour vous rendre à Amsterdam, rien de plus simple.. Le bus passe régulièrement et le trajet est très rapide.
mathilde
2016-06-13T00:00:00Z
What a beautiful place!We will definitely be coming back!Herminia is a great host.We were provided with all the necessary information to spend a few wonderful days in Broek as well as in Amsterdam.We took a bike and a boat trip in Broek,had a barbecue and a nice evening at the fireplace.But we also went to Amsterdam of course which by the way is truly easy and fast to reach because of the many buses. The couple of days we spent here were a perfect mixture between the pictoresque village of Broek and its beautiful countryside but also the vibrant city of Amsterdam!We absolutely loved Herminias place!
Mirela
2016-06-28T00:00:00Z
We only spent one night at Herminia's place but i highly recommend this room. It was very clean and convenient, the view is magnificent and you can discover many authentic villages in the surrounding area. Amsterdam is only 15 min by taxi or bus, very easy to access. Thanks again for your friendly welcome Herminia, i will come back for sure! :)
Julia
2016-07-04T00:00:00Z
Heel leuk, romantisch plekje aan de waterkant! De kamer is precies zoals op de foto's! Het is een prachtige omgeving om te gaan fietsen, met schattige dorpjes in de buurt. Broek in Waterland zelf is ook leuk, met een prima pizzabakker en een pannenkoekenhuis. Herminia is erg hartelijk, gemakkelijk in communicatie en super behulpzaam! Zeker een plekje om naar terug te keren :)
Sandra
2016-04-17T00:00:00Z
Отличное тихое место в маленькой деревушке не далеко от Амстердама. Небольшая комната со всем необходимым. Хороший вид на канал, можно вечерами разводить огонь. Для спокойного отдыха в самый раз. В деревне есть крошечный магазин и 2-3 ресторанчика. Можно взять велосипед и кататься по округе. На 1-2 дня это отличное место для отдыха от суеты.
митя
2016-09-18T00:00:00Z
Tipo de habitación
Habitación privada
---
Tipo de propiedad
Casa
---
Capacidad
2
---
Habitaciones
Broek in Waterland, Noord-Holland, Países Bajos
Disfrutar de todo Ámsterdam tiene para ofrecer durante su estancia en una casa familiar confortable a sólo 15 minutos del centro de la ciudad. O tomarlo con calma y salir al aire libre y disfrutar de las ciudades históricas de Broek en Waterland, Volendam o Edam y los paisajes surrouding.
Bienvenido en nuestra cómoda casa de la familia! Durante la visita a Amsterdam y ella es alrededores, es bueno tener un lugar para sentirse como en casa. Esto es lo que deseamos a usted y su familia ofrecen con nuestra casa familiar de 4 dormitorios. Totalmente equipado y lo suficientemente amplias como para albergar hasta 6-7 personas. Pensando en la celebración de su familia o grupo de vacaciones pequeña en los Países Bajos? Permanecer en nuestro lugar y tener una cena fabulosa! Nuestros asientos mesa 8. Disfrute!
Broek in Waterland fue originalmente un pueblo de pescadores, y por esa razón su iglesia está dedicada a San Nicolás, el santo patrón de los marinos. Desde mediados del siglo 16, sin embargo, esta actividad económica fue reemplazado rápidamente por la ganadería y la producción de productos lácteos, por lo que muchas casas se extendieron con un establo adyacente en el lado posterior. Los productos lácteos fueron transportados a Ámsterdam en barco. por lo tanto el puerto seguía siendo vital para el pueblo, y sigue siendo característico de Broek en Waterland. En el siglo 17 y 18, esta ciudad era un lugar rico en muchas casas impresionantes fueron construidos para las familias locales. Durante siglos, la naturaleza pintoresca del pueblo era conocido incluso fuera de los Países Bajos y fue elogiado por su limpieza. Desde el siglo 17, la ciudad era un destino turístico muy popular para la gente de Amsterdam próxima Incluso Napoleón llegó a visitar aquí! Nuestra casa está en una de las calles históricas de Broek en Waterland. Hay 3 restaurantes, un bar, un café y te lugar galería y algunas pequeñas tiendas de comestibles para su conveniencia. Una de las pequeñas tiendas está justo enfrente de nuestra casa. Hay algunas zonas de juegos preciosas muy cerca de nuestra casa.
Le quartier est très paisible alors que nous ne sommes qu'à 10 km d'Amsterdam.C'est un endroit très bien situé pour rayonner en voiture et découvrir les pays bas, au delà d'Amsterdam. La campagne est également agréable avec beaucoup de balades possibles depuis la maison. La maison est parfaitement équipée.Le séjour a été très agréable.
Pascal
2016-08-14T00:00:00Z
Really enjoyed the house was lovely Great location Beautiful area Good neighbors and most charming hostess
dorit
2017-01-02T00:00:00Z
Tipo de habitación
Casa/apto. entero
---
Tipo de propiedad
Casa
---
Capacidad
6
---
Habitaciones
Broek in Waterland, Noord-Holland, Países Bajos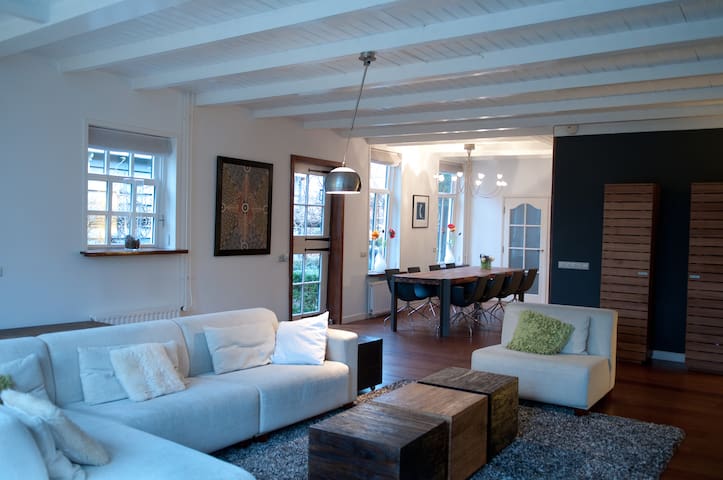 En el pintoresco pueblo de Broek in Waterland esta auténtica casa de campo está situado Waterland. Una oportunidad única para experimentar la tranquilidad y el ambiente de este hermoso pueblo con el centro de la ciudad de Ámsterdam, a sólo 15 minutos en las inmediaciones.
Muy singular casa antigua de madera "Waterland" estilo de país que tiene semejanza con la casa de Rembrandt en Amsterdam. Esta casa es un monumento protegido por el gobierno. El pueblo entero real es uno de los pueblos más bellos de un entorno rural a las afueras de las fronteras de la ciudad de Ámsterdam.
Broek in Waterland es una ciudad en la provincia holandesa de Holanda del Norte con cerca de 2.350 habitantes. Es una parte del municipio de Waterland, y se encuentra a unos 8 km al noreste de Amsterdam. En el siglo 17 y 18, la ciudad era el lugar de residencia de los comerciantes y los marinos de Ámsterdam. Debido a su condición de monumento, la mayor parte de su historia se ha conservado. Hay algunos pequeños restaurantes increíbles cerca de la casa. Puedo dar consejos sobre lugares para visitar cerca, restaurantes, museos, bares, noche hotspot vida y barrios para ir a Amsterdam.
Het huis én de lokatie zijn echt geweldig. 7 km vanaf Amsterdam, bushalte om de hoek en je waant je in het openlucht museum! Het ontbrak aan niks! Flesje wijn, eitjes en brood en een sapje stonden voor ons klaar en we kregen een uitgebreide rondleiding door Michel. Zeer gastvrij.
Pauline
2017-03-19T00:00:00Z
Il paese è un po' fuori Amsterdam ma comodissimo da raggiungere, un luogo fuori dalla realtà...per noi che arriviamo da roma(super caotica), tranquillo e piacevole con ristoranti per chi come noi non aveva voglia di cucinare. Siamo stati in 8 ( 4 adulti r 4 bambini)ma con 2 bagni non abbiamo avuto nessun problema...casa molto grande e veramente particolare
Sonia
2017-04-04T00:00:00Z
A superb location in the most quaint are. Beautiful spacious home, very tasteful decor with the most comfortable beds. 5 stars and Michel could not have done more to assist us with our travel questions and navigating the city. Thank you.
beci
2017-02-07T00:00:00Z
Ravissante maison dans un village de charme à seulement 15 minutes d'un arrêt de bus avec des liaisons directes toutes les 3/4 minutes jusqu'à Centraal Station. Une façon idéale de profiter d'Amsterdam et duWaterland dans une maison confortable et vaste. Michel est un hôte disponible et charmant. Super adresse !
Virginie
2017-01-06T00:00:00Z
This place is off the charts charming! I am so in love with the area and it is super easy access to the bus stop and only 10-15 min to get to Amsterdam. We stayed for 3 nights & wish we had stayed a few more. I have stayed at many Airbnb's all over the globe and by far, this has been my favorite. Michel is so super nice and welcoming. He is excellent at communicating, gave us loads of information/tips & had wine, chocolates & breakfast food waiting for us when we arrived. His home is a historic Dutch house, the details are beautiful, he gave us detailed history of the house & the are which was fascinating. The neighborhood is truly out of a fairy tale! We shopped at the little local grocery store, they had wonderful homemade pies and desserts and the cheese was to die for. We also ate at the 100 year old pancake restaurant which is around the corner from Michel's house, everything we had was delicious. You won't be disappointed staying here! I will be back again to visit and will definitely stay there again! Thank you for the most memorable visit to Netherlands!
Melissa
2017-03-15T00:00:00Z
Michel was a very thoughfull guest always a available to answer all our questions. He gave excellent advices to guide our visit to Amsterdam and was very accommodating. The house was charming and cosy and a short drive from Amsterdam.
Véronique
2016-12-30T00:00:00Z
Everything was just great! It's an old nice house in a lovely location. You get to Amsterdam in just about 20 minutes by bus, so this was no problem at all. Michel was really nice and also had some cool tips for our city trip. The beds are big and comfortable and the old furniture and items in the house are simply breathtakingly beautiful. We enjoyed coming there and highly recommend staying at Michel's place!
An
2017-03-12T00:00:00Z
Great place, Highly recommended!!! Thank you Michel it was a pleasure.
Ran
2017-02-22T00:00:00Z
Tipo de habitación
Casa/apto. entero
---
Tipo de propiedad
Casa
---
Capacidad
6
---
Habitaciones
Broek in Waterland, Noord-Holland, Países Bajos
Staying in Amsterdams countryside in a very quiet charming garden house, only 15 minutes from Amsterdam. The house has a lovely garden and a great view.
Charming Little House of in the quiet and peaceful countryside. Only 15 minutes by car or bus to the city centre of Amsterdam. Parking places on the property. You can explore our village by boat, bike or foot. Available for couple or small family.
The house is situated in a very charming unique neighborhood. The village is build in the late 1800 by rich farmers and fishermen . The wooden houses in the village are cultural heritage and are well preserved.
Tipo de habitación
Casa/apto. entero
---
Tipo de propiedad
Casa
---
Capacidad
3
---
Habitaciones
Broek in Waterland, Noord-Holland, Países Bajos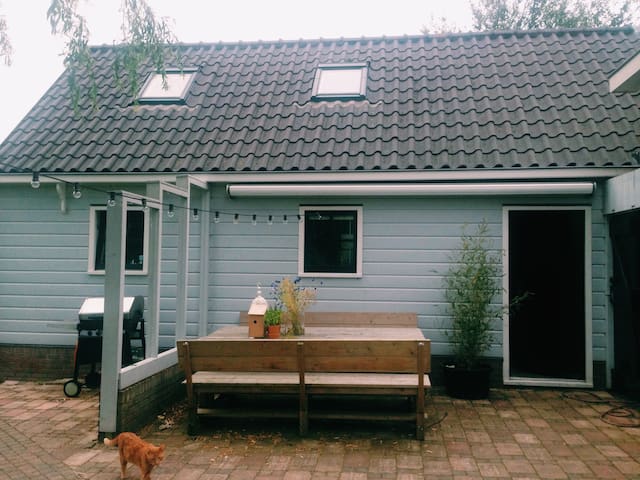 1

–

18

de

Más de 300 alquileres
Introduce las fechas para ver el precio total. Ten en cuenta que se aplicarán tarifas adicionales y es posible que se añadan impuestos.