S dómu podkroví a velkou terasou v korunách stromů, budete cítit, jako byste byli ve stromě v lese. (Jak jsme si až měsíců předem, pokud si přejete, aby zůstali na naší zemi, rezervovat naši sladkou Hummingbird Haven: https://www.airbnb.com/rooms/6562632) Jsme v klidné ještě výhodné poloze. Stínu dubu a Madrone stromy a vedle Redwood háje, si můžete vychutnat venku z paluby. V létě, to je v pohodě a v zimě můžete dostat slyšet potok běží dále.
Tenemos 10 acres próximos a la tierra sin cercas de modo que se llega a disfrutar de la naturaleza: simplemente pasar el rato en la terraza, tomar una caminata en el bosque, ver los colibríes, acariciar a los caprinos, ir a la playa o contemplar las estrellas - como siempre y cuando la luna no es completa. ; ) Durante el verano, si no hay ninguna niebla nocturna, podemos ver la Vía Láctea aquí. Para comprobar nuestra disponibilidad, haga clic en el enlace "Añadir sus fechas de viaje" por encima de las fotos de la cabina. Y sí, si no está disponible, se reservado ya! Si usted desea permanecer aquí en un fin de semana durante el verano, se tendrá que hacer su solicitud de reserva de unos 6 meses de antelación. Nosotros, sin embargo, de vez en cuando conseguimos una cancelación, así que si quieres una fecha que ya está reservado, puede dejar que nosotros sabemos y le avisará de una cancelación. Si quieres estar aquí, pero la Cúpula de hongos es reservado, ahora tenemos la Hummingbird Haven disponibles: https://www.airbnb.com/rooms/6562632. Va a tener el mismo acceso a la naturaleza y una gran vista! (Por favor lea toda esta descripción antes de hacer una reserva.) La cabina semi-rústico acogedor y limpio tiene un altillo bajo una cúpula geodésica (la "seta"). En el loft es un nuevo tamaño queen Casper colchón que permite dormir muy cómodo y simplemente pasar el tiempo, proporcionamos sábanas y fundas de almohada. También se proporcionan un montón de mantas. En el desván, tenemos una pantalla de 24 "plana con un reproductor de DVD (no hay televisión) para las películas. (Tenemos más de 80 películas se pueden ver también). En la planta principal (un pentágono) es un sofá que se dobla como un futón estrecha (que puede dormir una tercera persona para un extra de $ 10. Una noche), así como una mini cocina. Aquí se encuentra una placa doble profesional, un pequeño refrigerador, horno tostador, licuadora, aire caliente palomitas de maíz, café francés, un hilandero de la ensalada - incluso una para hormigoneras y todos los platos y el equipo que pueda necesitar para preparar un aperitivo o una comida o para abrir un vaso de vino. Tenemos 2 mesas donde se puede disfrutar de las comidas, juegos, etc .: 1 interior y 1 exterior en la terraza que da a las secoyas. También tenemos una parrilla de la barbacoa en la cubierta con un quemador de gas extra en el lateral. Ofrecemos café orgánico, té, harina de avena, palomitas de maíz, mantequilla, miel, azúcar, levadura nutricional (para las palomitas de maíz!) Especias, aceite y vinagre y varios aperitivos. Nuestro pozo de agua es tratada por un ozonizador, una luz ultravioleta y un filtro de agua blanda. Si usted tiene un bebé y que no va a necesitar la segunda cama, realizar una reserva para 2 y háganos saber si va a necesitar una pequeña almohadilla para el desván. Y si hay 2 de ti, pero que quieren utilizar la segunda cama, por favor haga su reserva para 3. El baño lindo tiene una ducha de travertino, fregadero de azulejos personalizados y un inodoro de compostaje autónomo naturalezas cabeza. Algunos clientes han tenido un problema con el baño, así que quiero dejar claro que tenemos una cortina de la puerta del cuarto de baño y requerimos que usted pone su papel higiénico usado en la basura. (No olerá) Si sigue las instrucciones de cómo usar el inodoro, no tendrá ningún olor. Proporcionamos toallas, jabón, champú, acondicionador, un secador de pelo de cabello, etc. (una palabra de precaución: el cuarto de baño tiene un techo bajo Si usted tiene más de 6 'puede que tenga que hacer un poco de agachándose aquí y allá.). A medida que los sábados son de una gran demanda, (y nos gusta ser libre los sábados), se requiere un mínimo de 2 días sobre los fines de semana. Tenga en cuenta que los viernes y sábados por la noche son $ 125. cada una, a partir de marzo de 2016. Por lo tanto, para permanecer aquí en un fin de semana tendrá un costo de $ 250. además de los $ 30. cuota más el 12% ($ 34) que airbnb le cobrará y el Condado de Santa Cruz impuestos transitorios de 11% de los cerca de $ 30 de limpieza. Por lo que el total para el fin de semana será de aproximadamente $ 344. Para mantenerse durante 2 días a mitad de semana cuesta un total de $ 307. Para permanecer aquí por 1 noches, entre semana, tendrá un costo total (incluyendo los honorarios de Airbnb y los impuestos del condado de Carolina del Sur) de aproximadamente $ 172. En 3 días de fiesta día, se requiere una reserva de 3 días. (Esto incluye el Día del Presidente, Memorial Day, día de MLKing, y el Día del Trabajo.) Pero para permanecer aquí en un fin de semana, por lo general se tiene que reservar la cabina 6 - 10 meses de antelación - a menos que la suerte de encontrar una cancelación! Condado de Santa Cruz considera lugares como el nuestro gravable para el "impuesto sobre la ocupación transitoria" que se cobra en los hoteles de nuestro país. Así que desde airbnb no está configurado todavía para cargar este, y no se le permite incluir en las tarifas que cobramos, tendremos que recoger este impuesto del 11% a partir de cualquier huéspedes que se alojan aquí. (A partir del 15 de abril de airbnb será la recaudación del impuesto para todas las reservas realizadas en y después del 15 de abril el año 2016! ¡Sí! ¡Gracias Airbnb!) Así que a menos que usted hizo su reservación en o después del 15 de abril que se debe a la llegada en efectivo o con cheque. Por lo general, el impuesto llegará a $ 15. una noche. Me dejaré saber en mis "Instrucciones letra" exactamente cuánto suyo vendrá a. El check-in es entre el 4 y 10pm. Si quiere llegar tarde o temprano, a veces esto puede ser arreglado. La hora de salida es mediodía. Como hemos experimentado algún daño de los clientes, que ahora requieren un $ 100. depósito de garantía que será devuelto a usted 48 horas después de la salida - siempre y cuando usted no ha causado ningún daño! Aunque se siente muy aislado aquí, estamos a menos de 10 minutos a Aptos Village, donde encontrará tiendas, restaurantes, un teatro, una tienda de alimentos saludables, Safeway, etc. Estamos ubicados en la Bahía de Monterey: 10 minutos de la playa (Rio Del Mar y la playa de estado de Seacliff), así como 10.000 acres Nisene Marcas State Park para las millas de senderismo o bicicleta de suciedad en las secoyas ya lo largo de Aptos arroyo. Estamos a 20 minutos del centro de Santa Cruz, a 25 min. al paseo marítimo, a 45 minutos de Monterrey y de la Bahía de Monterey acuario de fama mundial, 50 min. a Carmel y 1 1/2 horas a Big Sur y hacia el sur de San Francisco hacia el norte. Sí, estamos ubicados en una de las zonas más bellas de California. (Estos tiempos no son durante la hora (s) fiebre;) Uno de los atractivos que damos por sentado es que se pueden ver las estrellas en la noche aquí - a menos que haya una luna brillante o las nubes. Si usted ama colibríes, traiga su cámara. Nuestro jardín es el año el hogar de muchos colibríes Anna. (Por lo general tenemos aproximadamente 250-500 año) Durante el verano, también nosotros estamos llamados a casa por muchos Rufus Allen y Hummers también. Así que tienen que ver nuestra "Aeropuerto Colibrí", donde les damos de comer a unos 160 oz de jarabe en un día de verano! Por favor, no fumar en la cabina o en la propiedad. Utilizamos los fumadores a dejar que se quedan aquí, pero apestar la cabina y es un peligro de incendio exterior. Algunos teléfonos celulares no funcionan aquí, pero ya que tenemos wifi gratis en la cabina, si el teléfono funciona con una red Wi-Fi, que son buenos para llamar. A veces puede obtener el servicio de Verizon en el asiento oscilante por el camino de entrada. Para obtener información sobre lo que se puede hacer en la zona, hacer una búsqueda en Internet para Santa Cruz, CA. Los perros son bienvenidos a quedarse aquí, pero con una serie de requisitos: ya que tenemos tantos animales, que requieren que sus perros se mantienen con una correa cuando fuera (las cabras se ponen muy nerviosos con los perros sueltos). Además, no permitimos perros en el desván o en el sofá de la planta baja así que por favor traiga una cama para perros. (Su perrito puede ir en el sofá si trae una cubierta para ella) Si esto es difícil, háganoslo saber y vamos a ofrecer una almohada perrito. Tenemos una puerta que se puede configurar para que su perro puede ser fuera de la correa en la cubierta. Si trae a un niño pequeño, podemos poner un futón plegable (2 / 3rds de la futón o una almohadilla de espuma al lado de la cama) sólo háganoslo saber antes de tiempo. Tenga en cuenta, sin embargo, que un niño no debe dejarse en el desván por sí mismos ya que la cama es bastante alto en la barandilla. Como estamos cerca de 3 millas a la parada de autobús más cercana, es bastante difícil permanecer aquí sin un coche. Usted está invitado, si usted cree que ser armónico aquí, a unirse a nosotros en nuestro farmette Permacultura en desarrollo. Se aceptan las cabras, echa un vistazo a nuestros pollos, gatos, perros miniatura y disfrutar del aire muy fresco. Le daremos un poco de leche de cabra si le gustaría probarlo. Y si usted viene aquí cuando no hay luz de la luna y el cielo está despejado, se verá un montón de estrellas. Cansado del calor en el verano? Ya que estamos en el borde de la "franja de niebla", que puede ser a la vez soleado y fresco aquí. Si quieres un lugar ruidoso, no como aquí: la mayor parte del sonido aquí proviene de las aves o los grillos, las ranas croando y la brisa que sopla a través de los árboles. La gente vive en la tierra aquí, sin embargo, por lo que no esperan que sea totalmente carente de sonidos humanos y de vez en cuando la cadena de sierra. :) (Alimentamos las ramas de roble cabras)
A pesar de que vivimos a sólo 7 minutos en coche al pueblo Aptos y de las playas, se siente muy aislado, y privado aquí. Por lo general es muy tranquilo por la noche - a veces podemos oír las olas del mar rompiendo en la playa. Hay un montón de tierra para caminar y explorar aquí también. Tenemos una pequeña comunidad de artistas, músicos, curanderos, trabajadores de la construcción - todos disfrutando de la maravillosa naturaleza y compartida de vivir aquí.
The cabin is so unique and adorable. Kitty was so welcoming and helpful, she made us feel right at home!
Brenda
2017-03-16T00:00:00Z
Kitty was the most incredible host in the most incredible cabin. She greeted us with her adorable dog and brought us fresh goat milk and even left us a bottle of sparkling cider in the fridge. She told us about all the beautiful hidden treasures and hikes on the property. The cabin itself is beautiful. Great little kitchen, shower, fridge, hot-plate, comfy bed on the lofted top "floor" and a tv with lots of DVDs. Wifi worked great too! Waking up to the sunshine pouring through the trees and into the dome's window was magical. We also had an easy 20 min drive into Santa Cruz downtown for dinner and in the morning we cooked breakfast in the cabin, which we enjoyed on the deck. I only wish we could have stayed more than one night! Thanks Kitty!
Katya
2015-03-06T00:00:00Z
We thoroughly enjoyed our stay with Kitty & Michael at the Mushroom Dome Cabin! The MDC is very peaceful & tranquil, yet fun & funky! The energy from their property is amazing, we found ourselves completely relaxed immediately! The fresh goat milk was to die for! Next time I will ask for more! YUM! The kitchen is very complete and ready for cooking. Thank you for allowing us this wonderful experience! ~~Ann & Gary Lewis
Ann & Gary
2011-04-18T00:00:00Z
Staying in the dome was quite a unique experience. I don't think I could have imagined anything quite like it. Kitty and Michael keep the dome immaculate and modern enough to feel comfortable and at home. The ride up the hill is an adventure in and of itself..save your energy before climbing up! We cooked and ate on the patio and felt as if there was no such thing as time passing by. It was the most relaxed I have been in a really long time. Thank you Kitty and Michael (and John B for finding the dome online) Crissa
john
2009-08-13T00:00:00Z
Kitty and Michael are amazing hosts! Kitty gave us great suggestions on where to explore on the property and let us know it was whale watching season, so we kept our eyes peeled at the beach and saw so many humpback whales. She was full of great stories and one of the most welcoming hosts I've experienced. Greatly appreciate their hospitality.
Reed
2014-10-05T00:00:00Z
Kitty and Michael gave us a truly once in a lifetime experience at the beautiful Mushroom Dome Cabin! Kitty was a warm and wonderful host, providing us with everything we needed (you've got to try the goat's milk) and a bunch of great local recommendations. The cabin is cozy, but perfect for a group of 2 or 3. We especially enjoyed reading and playing games out of the porch in the morning. Be sure to check out their hummingbird feeders on the back porch of the main house, truly something else! Can't recommend this listing enough, stay here!
Eric
2015-10-25T00:00:00Z
My friend and I were on a road trip from Seattle to San Diego, staying at unique airbnb's along the way, so we were very surprised and excited to see this bnb just happened to be open for the night we needed! The mushroom dome is so unique and cozy and Kitty was a phenomenal host. We enjoyed great conversation with her and she even gave us a little tour of the rest of her beautiful property. I would highly recommend this spot to other travelers. Keep up the good work, Kitty!
ryan
2017-01-20T00:00:00Z
We really enjoyed our stay at this beautiful little getaway with our family. It felt very private, but still close enough to the beach, food, and other activities. Kitty was very welcoming and showed us around the property first thing! We absolutely loved sitting on the porch and watching all the hummingbirds zip right by. Such a unique experience. I will say, the only unfortunate thing was waking up to an army of ants in our food the next morning. A good suggestion would be to bring food that either has to be refrigerated or sealed tightly so you don't run into this same situation. Overall we had a great stay!
Corina
2017-02-14T00:00:00Z
Tipo de habitación
Casa/apto. entero
---
Tipo de propiedad
Cabaña
---
Capacidad
3
---
Habitaciones
Aptos, California, Estados Unidos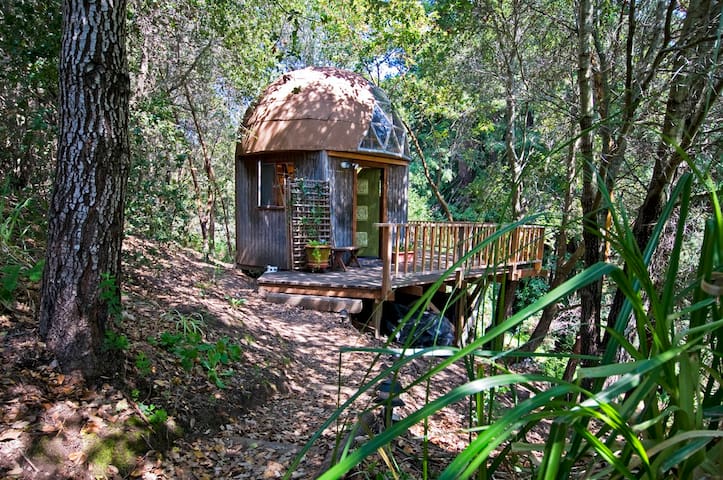 Disfrutar de paz, tranquilidad y bonitas vistas en Cazadero. Para cada alquiler, $ 50 serán donados a Raphael House, una organización de San Francisco, cuyo objetivo es ayudar a las familias en situación de riesgo a lograr una vivienda estable y la independencia financiera.
Esta pequeña cabina de un marco haría un retiro productivo para un artista, escritor o músico, o una escapada romántica. Rodeado de secoyas en una calle privada en Cazadero, mi cabina es de una hora y cuarenta y cinco minutos al norte de San Francisco: a menos de diez minutos en coche de la hermosa costa de Sonoma, y sólo quince minutos a Guerneville y el país del vino en la otra dirección . Vaya hacia el oeste y llegarás a la encantadora ciudad de Duncans Mills; ir hacia el este de Monte Río, y ver una película en el histórico Teatro Río. La cama de matrimonio tiene capacidad para una o dos personas cómodamente. No hay televisión o en el microondas; Sí tocadiscos, estufa a leña, cocina equipada, y un montón de libros de cocina. El patio es soleado y en pendiente con vistas. Hay una mesa y un banco en la cubierta para comer al aire libre. Y hay Internet inalámbrico rápido, también.
The place is great, quiet and secluded in a good way. There are great beaches 20 minutes away from the cabin. I will definitely come back with my friend / partner for a short getaway.
Jessica
2017-03-12T00:00:00Z
Ended up being a great place for us to crash on our road trip!
Lauren & Casey
2015-08-12T00:00:00Z
Rachel's place is the most charming little cabin you could ask for. The cabin can get chilly in the morning (we stayed during late March) but the space heaters upstairs and downstairs help a lot, and theres also a wood stove if you find it necessary. My husband and I stayed here for a portion of our honeymoon, and found ourselves not wanting to leave! The surrounding towns have lots of charming little shops and restaurants/coffee shops, with really welcoming locals who made us feel like we really belonged. Rachel's place is really close to the coast, with lots of scenic outlooks and cool beaches, but it's also right in the redwoods, which are absolutely breathtaking. Rachel is super nice, and so helpful; she put together a whole list of things to do while in town based on our interests! The place has a rustic charm, so don't expect the same furnishings as you'd find in a 5 star hotel, but honestly this was just what we were looking for. Loved it, and we definitely want to return for an anniversary trip in the future!
Ellen
2017-03-31T00:00:00Z
A perfect weekend getaway from SF. My husband and I enjoyed listening to all of the records, the soft bed, the smell of the woods and cooking in the kitchen. We can't wait to return!
Helene
2014-06-16T00:00:00Z
Rachel sent a ton of additional information the week before we arrived which was super helpful! We absolutely loved staying in this little A-frame, and wished we had about 5 more days to relax and rejuvenate in the redwoods. Photos were very accurate. All in all - this place did not disappoint. I hope we can return for another perfect weekend!
Lindsey
2016-10-31T00:00:00Z
We loved staying at Rachel's cabin - it was just as amazing as the pictures and we had a great time. Highly recommended and we will definitely be back! It was a great experience.
Allison
2014-12-01T00:00:00Z
CAN'T SAY ENOUGH. Rachel was very accommodating and responsive, making our short stay in the A-Frame enjoyable. We longed to stay longer. Unfortunately, it's quite a popular find. The house is compact and super efficient. The deck overlooking the backyard + view is spectacular. For those of you who like cooking, the kitchen is well equipped and the oven gets HOT. The deck is splendid. The details are ON POINT. Everything is perfect. So please don't stay here. Because I want it.
lila
2015-01-10T00:00:00Z
We had such an amazing and magical experience at the a frame cabin! What a perfectly designed hideout in the woods. We loved the record collection, the selection of books, and the fully equipped kitchen. I would recommend this place to anyone. One of the best air bnbs I've stayed in!
Travis
2016-03-15T00:00:00Z
Tipo de habitación
Casa/apto. entero
---
Tipo de propiedad
Casa
---
Capacidad
2
---
Habitaciones
Cazadero, California, Estados Unidos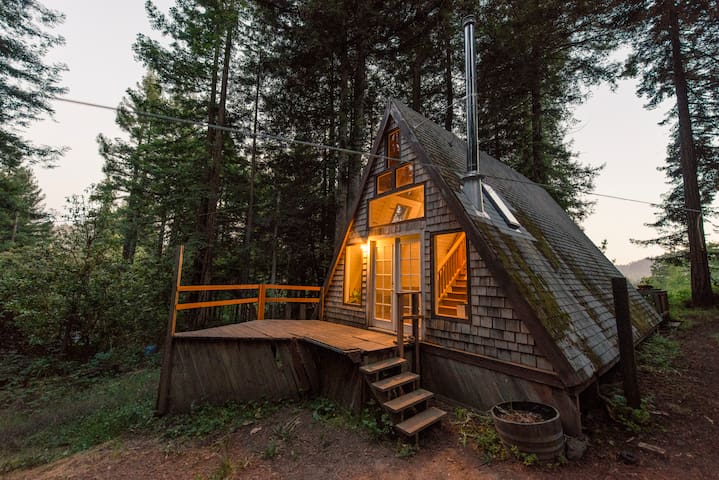 1895 Victorian planas w / 12 pies techos. (No hay alquileres a largo plazo o parejas) Cerca de la misión, y 2,5 cuadras de Castro teatro. MUNI está a 3 cuadras de distancia. Habitación es pequeña y acogedora, y un gran valor para uno de los barrios más caros en los EE.UU.!
Vivimos en una parte superior de estilo victoriano 1.895 plana con techos de 12 pies en el mejor bloque en San Francisco. Nuestro calendario está siempre al día. Ubicación Ubicación ~ Nuestra casa está cerca de la Misión, Baja Haight, y 2,5 cuadras del teatro Castro. El metro está a 3 cuadras de distancia, con un coche de la calle aún más cerca. La habitación es pequeña y acogedora, pero un gran precio para uno de los barrios más caros en los EE.UU.! Por favor, complete su perfil si usted está interesado ~ y asegúrese de organizar un tiempo para reunirse antes de su llegada, llevo una vida ocupada, trabajar a tiempo completo, y no quiere perderse cualquiera! El proceso de registro es a las 4 y que son 37 pasos desde la calle. Los restaurantes son abundantes y hermoso Parque Dolores es bastante estrecha. Su habitación tiene una cama de día doble 75 pulgadas de largo con un escritorio y una puerta sólida. La habitación es de 9,25 pies por 8 pies. Las comodidades incluyen inalámbrica y una cocina completa precioso. Tenemos un gato que disfruta de la compañía casi tanto como nosotros y un perro de rescate dulce. El piso se vuelve más ligera que cualquier otra casa me he visto en mis 13 años de vivir en esta gran ciudad. Por todo lo que gourmets BiRite Creamery, Tartine, de Delfina pizza y adecuada son el plazo de 4,5 bloques de la puerta principal. Michelin clasificado rango es sólo un poco más lejos. Por mucho que nos gusta bicicletas, y lo hacemos, no tenemos espacio para el almacenamiento. Si alquilas uno vuelve por favor al final del día o encerrar en la calle a su propio riesgo. Por favor, pregunte si le gustaría tener un amigo para una corta visita.
Brenda made me feel welcome despite my late arrival Her flat is lovely and the area is good with easy access to public transport. The flat is very clean. Brenda's dog and cat also made me welcome!
Dorothy
2015-09-01T00:00:00Z
Brenda's place was the perfect spot for a solo traveler like me. She was out of town for my first two nights there, but mailed me the key well in advance of my stay. I was so exhausted from a half day of travel my first night there, and nothing looked cozier than that little red room once I finally made it to SF! Additionally, the apartment is in a great location. I walked all over the Mission and Castro with no problem, and for a slightly longer stroll headed up to Haight one morning. Lots of public transit options nearby. Brenda herself is a lovely host, and made me feel completely at home. And the dog and cat are so sweet!
Gretchen
2011-06-01T00:00:00Z
Brenda's place was a real treat to stay at. The room and bed are small but it's very cosy with great art on the walls, interesting books on the shelves and a view of the street from 3 floors up with good natural light. The flat itself is well furnished, equipped with fast wifi and in a good neighborhood with plenty to do within a short walk. Brenda was really friendly and accommodating during my stay, she went out of her way several times to help make my stay that much more memorable and easier. I highly recommend staying at the 'Perfectly located Castro'. Johnny
Meighan
2012-02-02T00:00:00Z
Brenda was an excellent host. She maintained an open line of communication, and was very easy going and flexible. Her flat is lovely and very clean, and I felt very much at home there. The location is fantastic, as noted in the description, and it is close to a number of transit options. Walking distance to tons of restaurants and nightlife in the Castro and Mission neighborhoods. As mentioned, the bed is on the short side, but I am 6'2" and slept very comfortably. I very much enjoyed my stay, and would definitely stay there again when I'm in San Francisco.
Stephen
2012-05-06T00:00:00Z
I had another successful stay at Brenda's, last week, and I'm reluctant to even consider staying anywhere else. Never give up on a good thing, right? I also haven't been able to try all of the recommended places in her neighborhood, yet, but the ones I have tried were good. I also took advantage of the wash and fold service at the end of the block, which is super convenient. I'd highly recommend it. It was a little louder outside than the last time I stayed, but the white noise machine helped significantly.
Marc
2012-05-19T00:00:00Z
Brenda and Gates were great hosts and made me feel welcome from the moment I arrived. Brenda has had an interesting career in publishing and has worked with some of my favorite photographers. So it was a definite bonus to sit and share some of those experiences with her. Art, music, food, and of course pets...good company, good conversation. MuMu is the sweetest kittie and Boo, although we disagreed on some issues, is nobody's fool and fiercely devoted to Brenda. My room was comfy and quiet (even though it faces the street) with good desk space and wifi. Location, location, location...perfect is definitely the word. My favorite restaurant and bakery withing a few blocks (no, not the famous ones which are also close by). Two 'new favorites' suggested by Brenda. If needed, there is a cleaners and laundromat on the block, a bike shop around the corner, a library around the other corner and a Radio Shack two blocks up on Market St. I am hoping to return this Spring and would definitely stay here again. Thanks, Brenda and Gates.
Larry
2012-12-23T00:00:00Z
I had a great time staying in San Francisco at Brenda's place. I stayed there for 3 weeks and it felt like home. Brenda is a nice and warm person and makes you really feel comfortable at her place. The room is small but large enough to fit in all the stuff you need. The kitchen is convenient and has all the gear. And it is pleasant to watch tele together with Brenda, her dog and cat in the big livingroom. The location is briljant: in nice and lively Castro. I really recommend a stay with Brenda in San Francisco!
Anouk
2015-02-21T00:00:00Z
Staying at Brenda's was wonderful. She is easy going, friendly and HELPFUL - went out of her way to help me navigate an unknown area, gave me a map so I wouldn't get lost, and was interesting to talk to and be with. Great space, Nice room, Friendly, helpful host - what could be better! Thanks for everything, Brenda!
Susan
2011-09-12T00:00:00Z
Tipo de habitación
Habitación privada
---
Tipo de propiedad
Departamento
---
Capacidad
1
---
Habitaciones
San Francisco, California, Estados Unidos
A partir de junio 1, El jardín secreto se mueve hacia arriba a la parte superior DOS PLANTAS EN LA PARTE SUPERIOR DE BARRIDO árbol con vistas a la bahía para uno solo. ¡NUEVO! 2500 SF, 2 habitaciones (acogen a 4 PERSONAS). (Nuestra familia está reduciendo en The Garden Apartamento previamente en Airbnb.) Si te gustó el jardín secreto SANTUARIO, le encanta la tapa del árbol JARDÍN SANTUARIO! Ver las fotografías exteriores actualmente en el lugar. Nuevas tomas interiores muy pronto!
Super Clean diseño moderno, este luminoso y muy abierto 950 pies cuadrados de espacio artístico se extiende hasta una enorme pizarra patio rodeado de exuberantes jardines tropicales - vistas de la Bahía de Monterey el brillo en la distancia. anillo de campanas de viento en las suaves brisas del mar y el Cherry Plum árboles están vivos con los pájaros hambrientos; ardillas grasa saltan de rama en rama. Al anochecer, las luces blancas románticas brillan en el dosel anteriormente. El Jardín Secreto es un apartamento completamente independiente con una entrada privada. Ocupa toda la planta baja y jardines de los alrededores de esta gran 3-Story, 3400 pies cuadrados con vista al mar Inicio. De pared a pared de travertino, Arte Diseño vibrante, Splendid y atención al detalle hacen de este maravilloso espacio visualmente dramática todavía sumamente funcional con todas las comodidades El baño por pedido es Palatial - más de 200 pies cuadrados de diseño creativo con On-Demand de agua caliente. La zona de cocina sencilla y hermosa y bien equipada despensa tienen todo lo necesario y más. Hay una parrilla de gas en el patio de barbacoa. Como los mejores hoteles, mullidas toallas, ropa de cama y artículos diversos buenas de calidad se proporcionan. La amplia terraza de 30 pies arriba tiene amplias vistas de la Comunidad costero y tranquilo, el Pacífico Azul y Monterrey en la distancia. Es el "área común" de la casa y usted puede encontrarse conmigo cuando estoy allí. (Estoy fuera de casa la mayor parte del tiempo.) Las puestas de sol son increíbles y los sonidos de las olas llevo en el viento. Llevar encima de su café de la mañana y tomar el sol en medio de las copas de los árboles. Después de haber trabajado como director en la gama alta industria hotelera, el espacio fue inspirado por mis viajes a Five Star Resorts en todo el mundo - el robo de sus mejores prácticas. Este precioso apartamento de encargo de estilo loft es ideal para el viajero exigente. Es perfecto para aquellos que buscan una experiencia de calidad en un entorno tranquilo, privado. Una experiencia para recordar ... A su llegada, será recibido con una botella de vino o jugo espumoso que se puede disfrutar de descansar en el jardín Patio soñadora, en su habitación preciosa o Arriba Arriba en la cubierta con vista al mar. ¡El desayuno es la comida más importante del día! Comience el día con un delicioso yogur griego, bagels, magdalenas, cereales o huevos orgánicos. Café francés / Keurig y tés especiales. Leche entera orgánica y DO siempre se proporcionan. Usted es bienvenido a prestado mi Monterey Bay Aquarium pases de invitado a tomar en esta experiencia espectacular. Ir a los VIP - directamente a la parte delantera de las líneas de la "Ventana de miembro"! Relajarse y disfrutar de la televisión de alta definición con Home Theater, Netflix, Pandora, DVD, WIFI. O bien, puede desconectar e ir Old School Low-Tech con juegos de mesa, backgammon, juegos de cartas, lectura en el jardín. Reserva un lujo privado o la puesta del sol de avistamiento de ballenas en la Carta precioso de 50 pies Yate "Meridian". Es originaria de Moss Landing Harbor donde el Cañón Deep Water termina - OUT lugar favorito de caída por las ballenas jorobadas, nutrias, leones de mar y aves marinas. Este íntimo cuesta dos horas de crucero $ 495 y incluye capitán, la tripulación y delicias para el paladar local. Es una experiencia que nunca olvidará. Verla en "puerto santuario secreto - Monterey Bay" y reservar con antelación. Caminar por millas a lo largo de las mejores playas de la comarca, limpias y con poca gente, a menos de una milla de distancia como vuela el cuervo. Ir con la marea baja y recoger los montones de dólares de arena para los recuerdos. Paddle kayaks en Elkhorn Slough santuario de fauna en el aterrizaje del musgo. O tomar un maravillosamente civilizado Eco-Tour con Whisper Charters para ver aves, nutrias y leones marinos de cerca. En sábados por la mañana, pasear con los lugareños en el mercado de los granjeros de Cabrillo. Paisaje marino Golf Club y el complejo están en la misma calle. Tome un paseo en la Osa Mayor en el paseo marítimo de Santa Cruz. Sip Santa Cruz Denominaciones de montaña en las bodegas locales. Visita las secuoyas en Big Basin State Park. Tome el espectacular coche por la autopista de la Costa del Pacífico de Big Sur para un viaje que recordará para siempre. Visite Lindo poco Carmel en el mar para la cena en su camino de vuelta a casa. O simplemente relajarse en el jardín y no hacer nada en absoluto ... "Mágico ... como un sueño .... dulce ... Perfecto ... Pacífica ... Calmante .... increíble .... .... El confortar romántica ... Smart Design ... Un hermoso refugio .... selva mística ... "Éstas son sólo algunas de las palabras de mis maravillosos clientes han utilizado para describir el jardín secreto SANTUARIO desde que comenzó la buena acogida. Las vacaciones deberían ser bien vivida. TRISTE, NO mascotas - los tiene. Amarlos. Sin embargo, el apartamento es una zona libre de productos animales.
Vivimos en un lugar muy tranquilo barrio de clase alta. Pedimos que todos nuestros huéspedes respetar la soledad y no interactúan con los vecinos. Nosotros no queremos afectar su tranquilidad. Un comportamiento fuerte nunca es aceptable que el sonido se propaga a través de la comunidad de ladera. Todas las actividades al aire libre después de 21:00 deben ser conscientes de este hecho y tienen que ser suave volumen y baja.
Karen obviously puts a lot of effort and TLC into this space, and into making her guests feel comfortable. It is just as it appears in the listing photo, no surprises. Very comfortable bed, and the kitchenette is fully equipped with all the necessities. We've done private rentals all over the world, and I can't recall one where we were greeted with as many food/beverage "treats" as we found here:). Thanks for everything, Karen!
Cin and JF
2014-11-28T00:00:00Z
Karen has a beautiful home and my husband and I loved the space. The pictures accurately reflect how beautiful it is. Karen paid special attention to all the little details and that made our trip all the more special.
Shereen
2016-03-29T00:00:00Z
I extended my stay. Please see my previous review for the good stuff!
Sarah
2015-10-10T00:00:00Z
I stayed at Karen's place and really loved it! I know other people already said it, but she really goes above and beyond to make you feel welcome. She replied to the reservation request within a few hours and was very helpful in giving me all kinds of info. The whole place is decorated so smart and functional. Great location and very quiet. To say that the place is fully stocked would be an understatement! Everything you would need is here. Kitchen and bathroom is stocked with all kinds of goodies. This place is well worth the nightly rate. I cant wait to stay again. Thanks Karen for a wonderful stay!
Chris
2014-03-06T00:00:00Z
We really enjoyed our stay here! It was our first Airbnb experience, and it was awesome! Very lovely place with a lot of cute stuff. Our breakfast was prepared as well, and I loved the banana chocolate muffin! I would recommend it to anyone :)
Daeki
2014-03-29T00:00:00Z
I had a great stay at the Secret Garden Sanctuary. It was very peaceful and cozy. Karen made me feel welcome with cookies, chocolate and wine. The apartment was very interestingly decorated and the kitchen well stocked with snacks.
Yangli Hector
2014-11-25T00:00:00Z
Karen's sanctuary is precious. I enjoyed spending time in a well designed, peaceful, and super clean space! And I even squeezed out a quick visit to the aquarium -- first time in 15 years, and very lucky to have no crowds. Really worth the drive in traffic since there was a major event starting in Monterey (classic car show). The only thing that didn't work for me was the bed being far too soft, but I've stayed at enough airbnbs now that I should have known better (memory foam is common in many US listings, and I have found them to be too squishy for my liking). That said, I would totally recommend this space to anyone for a great respite from traffic and noise!
Carolyn
2016-08-20T00:00:00Z
Karen was a wonderful host, showed us around, and was on her merry way. Great apartment with all the amenities. Quiet neighborhood and easy to get to highway 1 for travel up and down the coast.
Christopher
2015-07-08T00:00:00Z
Tipo de habitación
Casa/apto. entero
---
Tipo de propiedad
Casa
---
Capacidad
2
---
Habitaciones
Aptos, California, Estados Unidos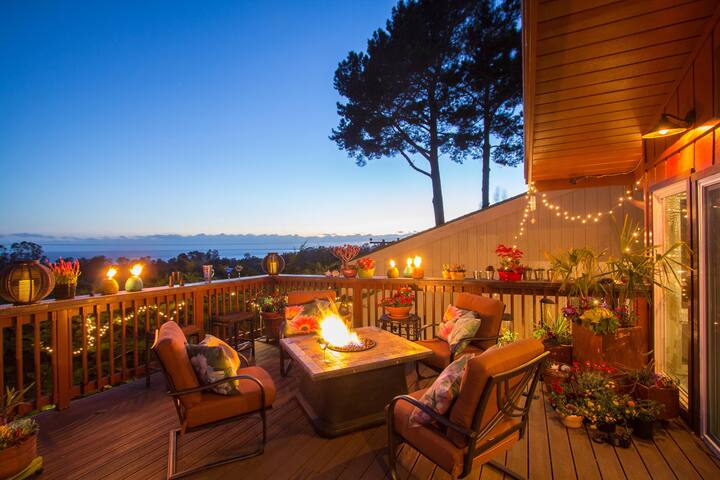 Venga a disfrutar de nuestra gran estudio en el encantador y conveniente Bernal Heights de San Francisco! Usted disfrutará de su propio alojamiento acogedor y privado con una chimenea de gas romántico, madera y suelos de piedra y la decoración artística. Usted estará cerca de clase mundial vistas de San Francisco y es hermosa bahía. Las líneas de autobús están muy cerca y el aparcamiento y es fácil!
Nuestra descripción completa sigue este aviso generada ciudad, que están obligados todos los alquileres a corto plazo para incluir en su lista: SAN FRANCISCO DE CORTO PLAZO alquiler residencial NÚMERO DE REGISTRO: STR-920 La posesión de un certificado de registro de Alquiler a Corto Plazo San Francisco certifica que el titular del certificado de registro se ha comprometido a cumplir con los términos de la San Francisco a Corto Plazo Alquiler Residencial Ordenanza (Código Administrativo de San Francisco 41A). Esta ordenanza no requiere una inspección de la unidad por parte del Ayuntamiento para el potencial de construcción, la carcasa, incendio, u otras violaciónes de código. Este hermoso apartamento era una vez a la tienda de la esquina. Se ha remodelado con buen gusto para hacer un espacio de vida muy cómoda. Se compone de una habitación muy grande con una zona de dormitorio dividido en partes por cortinas. También cuenta con un atractivo baño y un armario. Hay áreas separadas para dormir, comer, cocinar, trabajar y relajarse. La zona de cocina tiene una nevera, dos quemadores, microondas, horno tostador, cafetera y agua filtrada de barril, así como todos los utensilios de cocina y vajilla que pueda necesitar. La cama tiene un muy cómodo colchón de tamaño queen. Es todo muy romántico, pero también se puede dormir a otras dos personas en el cómodo sofá doble hacia abajo. Usted tendrá el uso de Internet inalámbrico de alta velocidad por cable y antena de TV de pantalla ancha y reproductor de DVD. El apartamento es totalmente independiente de nuestro espacio de vida por lo que tendrá todo para ti. Tiene una sensación grande y amable con todo totalmente cómoda. Nos gusta atender a visitantes y estaremos encantados de darle información y consejos sobre la petición. Te va a encantar nuestra vecindad donde encontrará uno de los climas más soleados de la ciudad, los restaurantes más asequibles, excelentes vistas y aparcamiento fácil. aparcamiento en la calle es seguro y generalmente disponibles ya sea justo fuera o dentro de un bloque. La casa está en una tranquila calle residencial a dos cuadras de Bernal Hill Park, que tiene unas vistas espectaculares de la ciudad y la bahía. Nuestra electricidad proviene de paneles solares en el techo! Todo lo que necesita es un corto paseo de la calle Cortland incluyendo la calidad, restaurantes interesantes y asequibles, cafeterías, bares, tiendas de comestibles, tiendas, servicios, una panadería, una librería, una biblioteca, incluso una galería de arte! También hay un mercado de agricultores en las inmediaciones de los sábados, y dos parques preciosos. Nos encanta nuestro barrio que es tan amable y habitable! Transporte al centro (cerca de 3 millas a centro municipal) o cualquiera de las atracciones de San Francisco es fácil con autobuses frecuentes. A dos minutos de la puerta principal se puede coger un autobús MUNI a la cercana estación de BART (metro). O dar un paseo por Bernal Hill a BART y el Distrito de la Misión y ver unas vistas increíbles de la ciudad y la bahía. Acceso a la autopista está cerca y fácil.
Bernal Heights es un barrio muy popular. Es interesante, seguro, cómodo, hermoso, tranquilo. El mejor lugar para vivir en San Francisco!
El departamento es muy completo y luminoso. Si bien el barrio está un poco alejado, tiene excelente comunicación por transporte público. Tuvimos todo lo que los anfitriones ofrecen. Pasamos unos días espléndidos en San Francisco
Laura
2016-02-10T00:00:00Z
I spent 3 nights at Mike and Nic's place. Upon my late-night arrival, Nic showed me around the apartment and got me oriented. Bernal Hts is a bit off the beaten path but you're not far the main attractions. The neighborhood is cute and quiet with several good breakfast places nearby. They're also right next to Bernal Hts Park which offers great views of the city and surrounding neighborhoods. The apartment was very clean and well-equipped with easy parking! I would stay here again when I get back to San Francisco.
Mark
2012-05-22T00:00:00Z
My family had a wonderful stay! Mike and Nic were so accommodating, helpful and communicative. The place was clean and cozy and in a perfect location. Thank you so much, my family plans to come back in the future!
Jennifer
2013-12-31T00:00:00Z
This apartment was located in a neighborhood with a very safe feeling and absolutely lovely old houses packed side by side up and down the hills. The neighborhood is very charming. The apartment looked just like the pictures and was comfortable for 3 persons; though the studio couch was certainly not a standard bed, it allowed for a restful sleep. The bed was great. The host met us soon after arrived and again when we checked out and phoned between once checking to make sure everything was OK, and it was. We rented a vehicle the last 2 days and easily found a parking spot just over a block away.
Emilie
2014-08-09T00:00:00Z
We had an amazing experience in San Fran and the place was great for us. We managed to go all around the city and take the tours without a problem. It was a really great time.
Aman
2014-09-24T00:00:00Z
Loved the surrounding community. Lots of fun restaurants, boutiques, etc. Right on a major bus line into downtown, although we walked all the way in one Sunday morning and it was an experience. On the street parking, which was great for those with a rental car. Fantastic views of the City too. The large open space was cozy, while being able to comfortably accommodate four adults. We'll be back for a future visit for sure!
Ellen
2012-07-18T00:00:00Z
I traveled alone to San Francisco for the first time and this place was a little slice of heaven for me. The studio looks even better in person then it does in the pictures and the pictures are amazing. The location is amazing and the hosts were awesome. Mike and Nic were more than accommodating. I had the most amazing trip and was able to rest up quietly and comfortably. Oh and I absolutely LOVED the fireplace. This would definitely be my go to spot the next time I head to San Francisco.
Patricia
2012-09-17T00:00:00Z
This was the PERFECT apartment for our San Francisco travels. It was located within minutes of all the action and short drive to any destination. It was secluded enough to give you plenty of space and the apartment was huge. Mike and Nic were excellent hosts and provided everything we needed up front. I would stay here again!
Ashley
2014-07-05T00:00:00Z
Tipo de habitación
Casa/apto. entero
---
Tipo de propiedad
Departamento
---
Capacidad
4
---
Habitaciones
San Francisco, California, Estados Unidos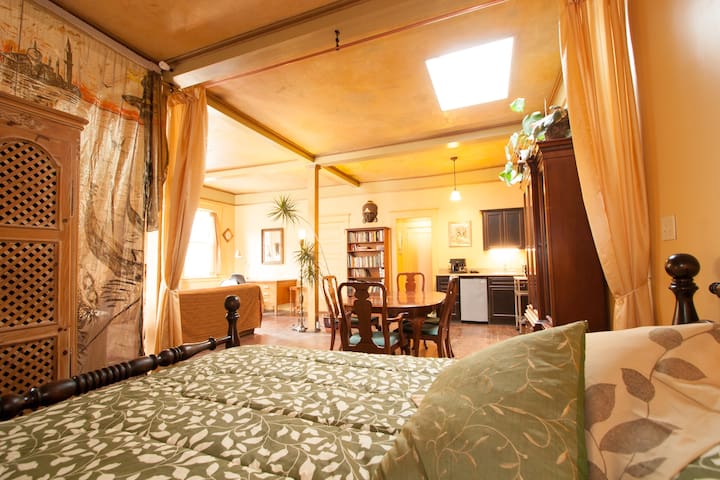 Un santuario dormitorio con vistas al jardín hermoso y acogedora chimenea. Viene con su propia entrada a un paso de las líneas de autobuses, trenes y todo lo que la calle Haight tiene que ofrecer. privacidad completa con un dormitorio independiente, cuarto de baño y barra de desayuno.
Si quieres estar a poca distancia de Golden Gate Park, Haight St, Buena Vista Park, y Cole Valley, este es el lugar. cama de tamaño completo en la habitación con sábanas de 400 hilos y una individual cama en la sala de estar. chimenea acaba de instalar y televisión de pantalla grande hace pasar el rato en la sala de estar cómoda. El baño tiene una ducha dentro de la bañera y toallas suaves blancas.
Se le oye de muchos de que este es el mejor barrio de San Francisco. Elegí esta zona por las muchas casas de estilo victoriano, la facilidad de transporte masivo, la capacidad de caminar, y la abundancia de parques, restaurantes, y la vida nocturna. Como trasplante reciente a esta zona te puedo decir que las tiendas, cafeterías, restaurantes y bares son muy bien aquí. Me olvide que tengo un coche mayor parte del tiempo! aparcamiento en la calle es fácil, excepto para el miércoles 8-10 debido a la limpieza de las calles.
El apartamento de Sara está bien decorado, limpio y es tal y como lo muestra en las fotos. Es una buena anfitriona que mantiene contacto por si tienes alguna duda. Sin duda lo recomiendo
Amelia
2017-03-17T00:00:00Z
I was not able to meet Sara as she was out of town during our visit. Although her friend, who was house sitting and attending to the flat, was very kind and helpful at all times of our stay. Sara was also helpful and prompt in her communications in making arrangements for our stay. We loved Sara's space, for 3 of us who each needed our own space. I put my blow up mattress on the floor in the kitchen area and slept well, mtg daughter had the bedroom, and my mom, 89, slept on the fold out twin couch and said it was very comfortable. I loved the neighborhood as it is charming, safe and quiet and only a block from Haight Ashbury, a delightful part of SF I'd never visited before. I loved the ease of walking to places, and also driving and finding easy parking. The Buena Vista Park is just a couple of blocks up the hill, it's a beautiful place to walk and enjoy views of the city. If you take your dog, this is a very dog friendly neighborhood. We enjoyed the fact that any area of SF was within 15 minutes, the location is wonderful and the retreat is a treat!!
Carie
2015-08-23T00:00:00Z
We had a fantastic stay at Sara's. The location was perfect, the accommodation wonderful and we were extremely comfortable. Having a daily visit from Boo (Sara's dog) was really cute. Would recommend highly for your stay in SF.
Ina
2016-08-20T00:00:00Z
It was my first time in SFO and the 2nd time of my husband and his brother after 15 years, and Sara's place gave us the best experience of SFO! We loved her place the moment we saw it from outside and walked in our cozy apartment at the back. We felt right at home. Her place is very pretty, cozy and clean. I love the style of her place and we like the neighborhood. It's conveniently located right in the center of where we wanna go and I'm in love with the houses on the street. There are lots of places to eat that are just walking distance. The bus stop is right there as well. Sara was such a gracious host that she even allowed us to leave our bags in her own home since our flight was still at night and we checked out during lunch. Her dog Boo was so lovable too! We definitely enjoyed our stay and would love to stay again each time we visit SFO. Thanks again Sara!
Ellen
2014-09-11T00:00:00Z
My husband and I stayed at the garden retreat during our trip to San Fran. Sara was great with communication leading up to our trip and was so friendly upon our arrival. The apartment perfectly matches the pictures- clean, well decorated and just an incredibly welcoming setting. It is situated on the back of the house and super quiet overlooking a wonderful garden. We loved being able to leave the windows open for a cool breeze or have the option of turning on the fireplace at night when it cooled down. The neighborhood is a wonderful mix of eclectic Haight Street traffic below and the gentrified Cole Valley bars and restaurants several streets above. Sara had great recommendations and we loved exploring the neighborhood and found ourselves eating many meals in that area! Our flight was a red eye and Sara was incredibly gracious allowing us to leave our luggage in her front hall after we had "checked-out" so that we didn't have to lug it around the city our last day! We loved everything about our stay and would highly recommend this Garden Retreat to anyone visiting San Fran. Sara is a fabulous host and her apartment is the perfect place to take a break from sightseeing!
Meg
2014-09-17T00:00:00Z
Perfect location!!! Did I say perfect location. Very bright and airy and completely comfortable. A wonderful coffee shop and brewery 2 blocks down hill. I would definitely stay here again.
Peter
2016-02-12T00:00:00Z
This was our first time staying at a place through Airbnb and we're afraid it may have set the bar too high for any other places that follow! We loved Sara's cozy and tranquil retreat. It's exactly as pictured, bright and nicely decorated. The garden outside added to the tranquility of the place. Staying in this area, we felt like locals instead of tourists. Sara was very easy to communicate with. She was very responsive and answered all the questions we had. We'd recommend this place to anyone looking for a nice quiet place to retreat to after a busy day in San Francisco.
Khammany
2016-05-31T00:00:00Z
This was our first experience with Airbnb. Sara has been great. She's been very easy to contact, was very helpful and the place has everything we could have needed. And the bed was heaven after our 14hour flight. There isn't a thing I could fault and I would definitely recommend to stay here if you are coming to San Francisco. We will definitely stay here again when we come back.
Tara
2014-10-26T00:00:00Z
Tipo de habitación
Casa/apto. entero
---
Tipo de propiedad
Casa
---
Capacidad
3
---
Habitaciones
San Francisco, California, Estados Unidos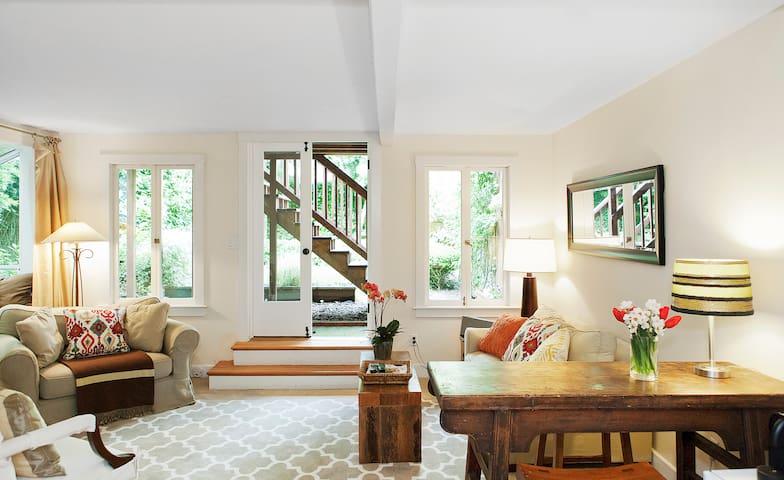 プライベートエントリ、1911エドワードで芸術的なタッチで静かな、一階のスイートです。思い出に残る休暇/ビジネス/後退のための都市全体のトロリーライン上ビーチ、GGateパーク、GGate橋、食料品、カフェ、レストランがあります。マリンに簡単にドライブ。
プライベート一階、歩道レベルスイートは、オリジナルの窓は、自然光と新鮮な空気を提供し、清潔で静かで快適です。 SF STR許可番号(4ゼロ)949
私たちは、カフェやレストランでのフレンドリー近所に住んでいる、と完全に歩いたり、近くの訪問美術館に地元の交通機関を利用するように配置されています。黄色のドアをステップアウトし、そこにあるベーカービーチに樹木が茂った道、ゴールデンゲートブリッジ、ランズエンド、オーシャンビーチウォークスルー - リンカーンパークで名誉博物館の軍団、デヤング博物館および/または科学アカデミーにしてゴールデンゲートパーク、その湖や植物園の美しい庭園を持ちます。 あなたが探検歩道を好む場合は、パブや中国のレストラン(リトルチャイナタウン)でで停止、25日アベニューからアルゲロにクレマン・ストリートを歩くために楽しいです - フィルモアストリートにビットさらに頭、またはカリフォルニア州で完全な旅を取ります1つのトロリー(電気バス) - サンフランシスコに訪問し、生活するような素晴らしい場所を作る明らかに異なる地域を通してフェリービルディング(約2時間の散歩)に7マイル。 あなたは映画と夕食を探している場合 - Pizetta 211と4つ星劇場はすぐ近くです。 みんなのために何があります。
Excelente opción para alojarse, con todas las comodidades que describe en el anuncio. El departamento es muy cómodo, decorado con buen gusto y con todos los pequeños detalles que se pueden necesitar en habitación, baño y cocina. Ubicado en un barrio muy tranquilo y con muy buena conexión al transporte público. En el vecindario hay cafés y tiendas y servicios útiles para la estancia (ej. lavandería). Muy cercano a los parques Golden Gate y Presidio, ideal para disfrutar la arquitectura propia de San Francisco a pie o en bicicleta.
Catalina
2015-11-22T00:00:00Z
This spacious studio goes above and beyond to offer all the comforts of home. In a nutshell, we would stay here again in a heartbeat. The Good: - Away from the touristy hustle and bustle - Walking distance to Golden Gate Park, the Presidio, and Lands End - Cute, incredibly clean, with a comfy bed - Well-stocked kitchenette and bathroom - Wifi - Two outdoor patios, one private, with birds and landscaping - On a bus line The Not-So-Good: - Paper thin walls (the tenants above weren't loud, per se, but we could hear every footstep and conversation as though they were occurring in the next room) - Transit street noise (while this didn't bother us, I might suggest that light sleepers bring earplugs) - No TV (again, not an issue for us but might be for others) - Super stellar bars and restaurants directly in the neighborhood are a bit lacking - While incredibly easy to get to SF-Proper, know that it takes approx. 20 minutes via bus
Ellene
2016-01-28T00:00:00Z
Great little one bedroom apartment. The hosts made me feel very welcome and even saved me a parking spot. I wasn't too familiar with SF, so I didn't realize that it was part of a larger tri-level house. There was a family living above me, but the pitter patter didn't bother me.
Rachel
2015-08-10T00:00:00Z
My husband and I really enjoyed our stay. The apartment is as described, well equipped, clean, and comfortable. The neighborhood is great. It is on a convenient bus route that runs frequently and gets you downtown easily. Short walk to a nearby park and slightly longer walk to Golden Gate Park. Lots of neat restaurants and shops just a few short blocks away on Clement St. Host was easy to communicate with and exceptionally considerate! Would stay here again without question!
Sarah
2015-07-30T00:00:00Z
Dennis has a very cute place available. Its in a safe area with a laundromat and market only a few houses down. It's clean and comfortable. Whilst it's not right where all the tourist attractions are, it's a lovely walk or bus ride into town, or a relatively cheap uber. Would definitely stay here again.
Joshua
2016-01-05T00:00:00Z
Very good experience and really sweet and helpful hosts. Highly recommended.
Malte
2015-10-18T00:00:00Z
Dennis and Nancy were very easy to work with- they provided easy access instructions prior to our arrival and we had no issues finding it. We ran into them while they were sitting outside the unit and they made us feel very welcome and offered lots of tips for nearby points of interest. The unit is charming, thoughtfully decorated, and stocked with everything you need. The neighborhood contains many nearby gems and is within easy walking distance of Bakers beach and the gorgeous batteries to bluffs trail. But the neighborhood is a bit aways away from many parts of the city, so depending on your itinerary that may be something you wish to keep in mind.
Alexandra
2016-04-25T00:00:00Z
This apartment ia a charmer!!! Spacious clean and well decorated. I highly recommend this place. The location is fantastic with a lot of great restaurants withing walking distance. The apartment was very secure with a coded gate to enter. The house felt private and tucked away in the back away any street noise. This is a great find.
Suejon
2016-08-08T00:00:00Z
Tipo de habitación
Casa/apto. entero
---
Tipo de propiedad
Apto. en complejo residencial
---
Capacidad
2
---
Habitaciones
San Francisco, California, Estados Unidos
Bienvenido - recién renovado habitación privada con spa-como baño / ducha sobre la bañera. A pasos de la calle Fillmore. Caminar a la puntuación del 100, un gran vecindario lugar seguro y divertido para alojarse en la ciudad. Pacific Heights, Lower Pac Heights, Fillmore. Compruebe mis otros 2 anuncios.
Por favor, lea toda la información en la lista antes de reservar, gracias. Imagínese una suite privada en un recién remodelado 1879 victoriano en el centro de uno de los barrios más animados de la ciudad. Luxe renovado suite de huéspedes en el centro de la ciudad ... Fillmore, Pacific Heights, Lower Pac Heights. cama de matrimonio muy cómoda y baño con baño privado con ducha sobre la bañera de hidromasaje (debido a las continuas condiciones de sequía que pedimos que sólo utilice la ducha, por favor abstenerse de baños). Su habitación privada se encuentra en el nivel superior de la Victoria. Vas a tener llaves de la puerta principal y su habitación. Compartida escalera arriba y pasillo. Gran barrio, seguro, limpio, a pie de todo. Echa un vistazo a mis otros 2 anuncios en mi página de perfil. Se trata de una habitación privada con su propio baño de lujo dentro de la habitación. No hay instalaciones de estar, comedor o cocina común. Todo lo que desea comer o beber es justo delante de nuestra puerta. Gracias, esperamos hosting!
Nuestro barrio es increíble! Se puede caminar a todo ... un gran centro comercial, comida increíble, hermosos parques con espectaculares vistas y gente amable. Justo al norte del centro de la ciudad. Pacific Heights, Lower Pac Heights, Fillmore, NOPA. Seguro y divertido, mañana y noche.
Probablemente uno de los mejores sitios para alojarte en San Francisco. Un buen barrio, al lado de la calle Fillmore (tiendas, restaurantes...) y bien comunicado con el centro y Castro. La habitación fue excepcional (como en la foto), muy limpia y silenciosa. El baño, impecable. Y los anfitriones (viven en la puerta de al lado, no compartes casa con ellos) muy educados, amables y serviciales. Te ayudan en todo lo que necesitas si les preguntas. Volveríamos sin ninguna duda, una gran experiencia!!!
David
2015-07-19T00:00:00Z
El departamento es moderno, limpio, la zona está rodeada de bares, un supermercado y un Sturbucks justo enfrente. Jeff & Mike nos recibieron cálida y amablemente y nos ayudaron en todo cuanto pudieron, en modo rápido, sugiriéndonos lugares para visitar o bien guardando nuestro equipaje luego de que dejamos la habitación. Definitivamente volveríamos a hospedarnos con ellos y lo recomendaremos a familiares y amigos que viajen a SFO. Tks for everything guys!! :)
LUJÁN
2017-03-15T00:00:00Z
Jeff and Mike were very courteous and friendly . The place is excellent , the location could not be better , close to public transport , restaurants and shops. We even had a beautiful park with large trees and walking trails , excellent for walking after breakfast or lunch. If we ever go back to San Francisco , we will contact Jeff and Mike.
Luis
2015-10-27T00:00:00Z
Jeff and Mike's place couldn't be more ideal for a visit to San Fransisco. The room was clean, comfortable, quiet and cool. Jeffrey was especially kind in letting us drop our bags off prior to check in as we arrived late morning. He is also an expert in the neighbourhood and gave us and excellent recommendation for dinner at SPQR down the street on Fillmore. We will definitely stay with Jeffrey when we next visit San Fran and highly recommend this place to others.
Leah
2016-08-24T00:00:00Z
非常好的一次入住体验,一幢小房子,隔成了两部分,住客拥有自己完全独立的空间。房间设计、饰品都很时尚。边上就有一个public parking,方便停车。
语桐
2016-03-19T00:00:00Z
Jeff and Mike are great hosts. The accommodation was perfect.
Cindy
2016-08-16T00:00:00Z
Jeffrey and Mike were excellent hosts! The listing description is right on the money, and the space is as clean as it appears in the pictures. Everything's been renovated and redone, and CORRECTLY and professionally I might add. I'm in the business, and can spot hack work usually within minutes of seeing a space; It's usually clear (and sad) when a host or property owner tries to do the work as a "DIY" project, hires unlicensed people who don't know what they're doing, or just tries to take shortcuts, not spending the money they should've spent; Jeff and Mike seem to have spared no expense, and It really shows. The space is contemporary / modern, and has just the right design touches that make you feel completely comfortable and relaxed; it's akin to a modern 'luxury hotel' room, which if you're like me, equate that to heaven. When it came to communication: excellent. I had a slew of questions initially, and Mike and Jeff were right on it, as well as their BNB management service, "Guesty", which was helpful too, responding very timely to everything. Also, Mike and Jeff live literally next door in their own home, so they're there if you need anything, although you most likely won't ever see them during your stay -- which is good. I hate when you stay at a "private room," only to have overbearing hosts hovering around you or the space; this won't happen here. There's a common entrance (for Air BNB guests only) and stairway/hallway, but that's about it. I usually prefer to have an "entire place" as I like the privacy. But as a "private room," this literally is the same thing, other than the shared entrance and hallway. Please note that although I could tell there were guests staying in the other two rooms, I did not once ever run into them. And yes, as some reviews mention, the walls are kind of thin and you can hear other people in their rooms, but it's not that bad; just be conscious of it when you stay. As far as location, it's just right and central to a lot of the action, as most reviews describe here. You're within 5-10 min walking distance of great bars, cafes, shops, and critically acclaimed restaurants. If you're on the fence about staying here, I would 100% say to go for it. Due to being in construction, and having a knack / eye for good design, I admit that I am very critical, and hard to please, but I couldn't find much at all to critique about this place. Jeff and Mike know what they're doing, and that's hard to find in an Air BNB host, I have to say. 5 star experience -- book it.
Matt
2015-07-28T00:00:00Z
This room was great. The pictures represent the clean design, airy space and natural light very well. Great art and tall ceilings, and the bath had impressive all-new fixtures and a glass shower. Would definitely recommend staying here! Great location too - in a remodeled Victorian with tons of great shops and restaurants around! I even reserved on a very short notice, and the host was great and very accommodating.
Will
2015-02-02T00:00:00Z
Tipo de habitación
Habitación privada
---
Tipo de propiedad
Casa
---
Capacidad
2
---
Habitaciones
San Francisco, California, Estados Unidos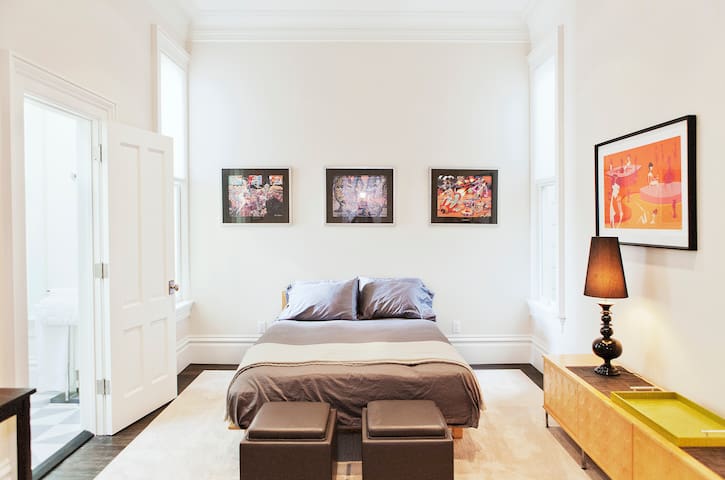 Schöne 1bedroom mit Balkon, klassische Erker und neu gestaltete Küche. Nur 3 Blocks von all den besten Geschäften, Restaurants und Nachtleben in der Stadt am Fillmore, Union und Kastanie. Zu Fuß von der Marina und Presidio. Die besten Viertel in der Stadt!
The location was perfect, close to Union street where there are good restaurants and shopping. A quick walk to the Hyde street trolley line. The house was beautiful, very clean and felt like home. We felt at home when we were there, better than a hotel. The patio is fantastic for a nice meal or a glass of wine while you wind down from the day. We definitely will stay here again when we are back in the city, it was a beautiful home!
Naomi
2015-08-03T00:00:00Z
Lovely, lovely place!
Stuart
2014-01-16T00:00:00Z
We loved Blair's apartment, it was a fantastic place to stay so thank you for having us as your guests Blair. The neighbourhood is very residential and quiet, but still within easy walking distance of Union Street (great shopping!) and other areas. We would be happy to come back again for another visit one day.
John
2014-07-02T00:00:00Z
Blair was an excellent host! Check-in and check-out were a breeze, not to mention that Blair was very accommodating with our request for a later check-out time. This was our first experience with Airbnb but the description and the pictures were true to the space, even exceeding our expectations. The apartment is truly lovely. It is well-decorated and cared for, clean and cozy. We felt instantly at home, so much so that we are already talking about our next stay at Blair's.
Danny
2015-04-28T00:00:00Z
Blair's place in Pacific Heights is impeccable and extremely comfortable, and Blair is a fantastic hostess! Seriously, best airbnb experience I've had thus far. Thanks, Blair!
Austin
2014-03-02T00:00:00Z
What a great place to stay! Nearly perfectly equipped with everything you need, quality interior and furniture and with a lot of love in all the little things. It was worth the price and in the end very hard for us to leave. Is there's a 6 star rating? 5 is not enough ... Thank you Blair!
Michael
2015-01-14T00:00:00Z
The place was beautifully decorated and had everything we could ask for. The neighborhood was lovely and quiet, and a short walk away from Lafayette Park. We would definitely stay at Blair's place again, and we enjoyed it so much we're hoping to move to the neighborhood in the near future!
Stephen
2016-06-07T00:00:00Z
I can only think of one word to describe this listing...'beautiful'. Great location, spacious, strong wifi. Blair is an Awesome host. Flawless communication and easy check in/out process. I've stayed in many listings all over the world and this spot in Pac Heights stands out as the most memorable. Thanks for a great stay in a super listing!
Eoin
2015-02-07T00:00:00Z
Tipo de habitación
Casa/apto. entero
---
Tipo de propiedad
Departamento
---
Capacidad
2
---
Habitaciones
San Francisco, California, Estados Unidos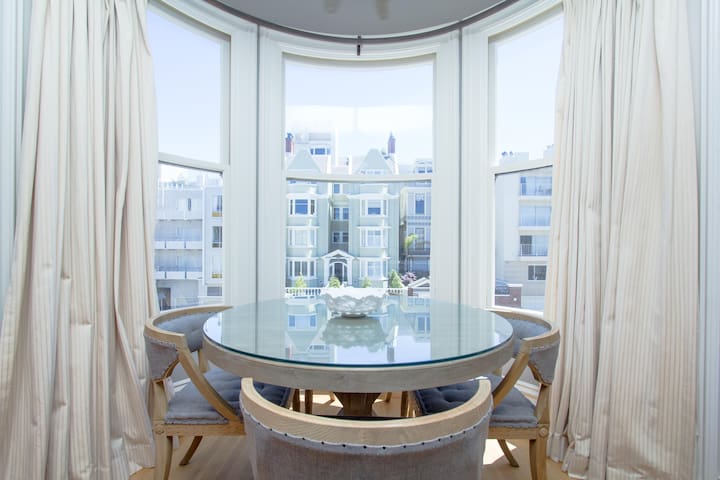 Our little treehouse (now for grown ups) offers the best of both worlds - securely nestled above it all in a quiet forested canyon with a serene Bay view, yet 20 minutes to San Francisco, 10 to SFO and an easy scenic drive to the Pacific Ocean and the Silicon Valley.
Serenity for 1, ideal for 2, the Treehouse is a very special retreat for one adult or a couple. Sorry, NO CHILDREN! Suitable for candle-light dinners, relaxing, reflecting, rejuvenating or simply enjoying the sights and sounds of nature - birds singing, morning sun rays sprinkling through the rustling leaves, a squirrel scampering across the roof! Enjoy the sunset or sunrise with a beautiful view of the San Francisco Bay from the wrap-around deck. Fluffy down duvet comforter/pillows & quilts will keep you warm and cozy. Comfy queen size bed w/crisp linens in the sleeping loft and a lower level chaise/reading nook. Remember, this is a true TREEHOUSE, a wee house in our big 150 year old Live Oak tree, which we built with love for our own growing family nearly 18 years ago. We feel so fortunate to share this experience with you and we take great care in making your stay comfortable, inviting and private. However, if you are expecting the Ritz versus a natural retreat, you may want to reconsider!
The treehouse is on our private, wooded hillside property, which is located on a cul-de-sac street. Off-street parking for 1 car is dedicated for our treehouse guests - park only and directly in front of the "Route 66" sign at the 1st telephone pole on the right side of Fey Drive.
The treehouse is an amazing place to stay in San Francisco. Doug and Linda communicated very well with us and left instructions for us which was very helpful. The accommodations exceeded expectations!!! Every detail of this stay made us feel special and honored as guests.
Heather
2016-06-30T00:00:00Z
Heaven on Earth! I highly recommend a visit at the Studebaker's beautiful and magical treehouse. Doug and his daughter Mackenzie made me feel so welcome and at home. Loved all the details from the design and interior details of the treehouse to the breakfast and the warm positive energy that touches every part of their home. This was a wonderful and close getaway retreat for divine inspiration and rejuvenation. I'll be back. Thank you!
Karen
2016-08-04T00:00:00Z
Our time at the treehouse was magical. Doug and Linda made it extra special for my fiancé's birthday. We spent the whole night in and around the treehouse, and even ordered pizza straight to our front ladder. You can't ask for better hosts or a more Airbnb-esq experience.
Lenny
2015-03-13T00:00:00Z
Great experience! Doug was very warm and welcoming and loved our escape to a treehouse. Would recommend!
Aly
2016-09-06T00:00:00Z
My husband and I loved our stay in the treehouse. It was the perfect way to celebrate our five year wedding anniversary. Linda met us upon arrival and gave us a tour around the property and then disappeared for the rest of our stay to give us sweet time alone together. The treehouse itself was amazing. It absolutely outdid my expectations and we had to pull ourselves away at the end of our stay. We enjoyed a delivered pizza up in the treehouse for dinner. It was incredibly easy...the pizza place knew exactly where we were. We would highly recommend everyone to stay in Linda and Doug's treehouse!!
Layla
2015-01-11T00:00:00Z
The treehouse is a magical romantic and incredible place. Only 30min away from the city but a true escape. We really enjoyed our weekend there. Thanks Linda and Doug!!
Maria
2014-09-14T00:00:00Z
A very unique experience. I've been there twice and I am pretty sure I'll bring more friends to the treehouse in the future.
Jacky
2016-07-30T00:00:00Z
It was such a treat to stay at the treehouse! The space was cozy and warm and clean. The amenities were lovely and I was pleasantly surprised with the breakfast that was served! We met Doug and Linda's oldest daughter, MacKenzie, and she was so friendly and warm. We'll definitely be back.
Kate
2016-02-17T00:00:00Z
Tipo de habitación
Casa/apto. entero
---
Tipo de propiedad
Casa en un árbol
---
Capacidad
2
---
Habitaciones
Burlingame, California, Estados Unidos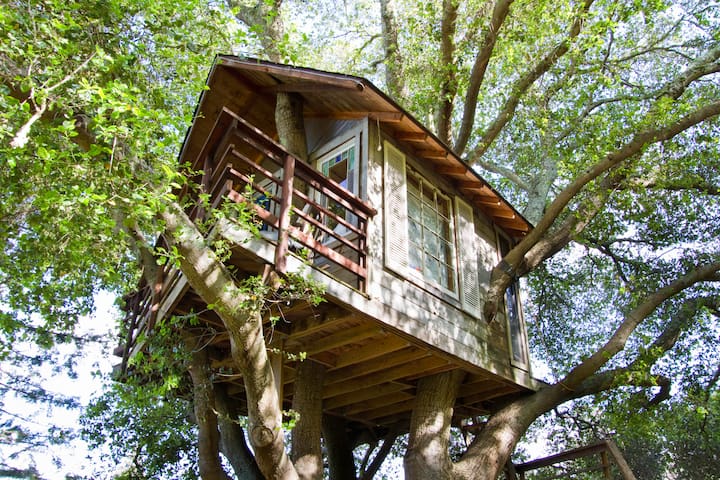 POR FAVOR LEA todo el camino a través de: Este espacio de jardín pintoresco se encuentra en el corazón del distrito Mission de San Francisco. Para citar la guía Michelin, "El sol siempre brilla en la Misión, un paraíso bohemio salpicado de palmeras, y el hogar de artistas, activistas y una vibrante comunidad latina con murales de graffiti se alinean en las paredes de las galerías enrrollados, tiendas de segunda mano y librerías;. Y puestos sobre las aceras ráfagas con plátanos mexicanos, nopales, y el más jugosos limones este lado de la frontera "! Va a encontrar muchos restaurantes étnicos, tiendas de café frescas, bares, tiendas y galerías dentro de unas pocas cuadras. Sólo una o dos cuadras de distancia, se encuentran líneas de autobús (el 27 y el 9) que te lleva al centro en 25 minutos, BART está a sólo 12 minutos a pie. Por desgracia, el aparcamiento no es grande en el barrio, por lo que no recomendamos venir con un coche. Tenemos una hora de estacionamiento 08 a.m.-6 p.m. de lunes a viernes. Podemos proporcionar permiso diario de aparcamiento ($ 15 cada uno) si es necesario. El espacio se encuentra en la parte posterior de la casa. No tiene cocina por decir, pero sí proporcionamos una placa eléctrica, un microondas, una cafetera y un mini refrigerador. (Café complementario y té) para cocinar mínima. El baño tiene una bañera, lavabo e inodoro pequeña. El loft tiene una cama matrimonial, un escritorio, un armario y un TV / VCR para el entretenimiento. Podemos proporcionar una maleta y jugar bajo petición. Proporcionamos toallas y sábanas. Para su disfrute tenemos una gran selección de registros con el jugador que esperamos que usted disfrute tanto como nosotros. El más adecuado para una persona o una pareja. No hay acceso directo desde la calle a la sala de jardín. O bien se llega a través de la casa principal o por el garaje. Wi-Fi gratis está disponible! Usted puede relajarse en el jardín después de un largo día de turismo. Tenemos una lámpara de calor si se pone un poco de frío sentado fuera. Va a tener una idea de lo que se whithin unos bloques mediante la visualización de nuestras fotos.
Un apartamento muy confortable, con una terraza muy bonita y todo lo necesario para sentirse como en casa, incluida una colección de vinilos de muy buen gusto. Jim nos mostró los locales de desayunar, comer y de visitar en la zona, y fueron, tanto él como Carolyn buenos anfitriones. Además el distrito de Mission tiene mucho encanto, es muy soleado, y tiene una oferta gastronómica amplia, y un bonito parque donde pasar la mañana. En definitiva, un apartamento ideal en una situación buena, bien comunicada para visitar SF.
Sara
2016-06-08T00:00:00Z
The cottage is adorable, spacious, and perfectly located. Jim is a wonderfully accommodating host. We sat in the garden and soaked up the sun; it was hard to rally to leave!
Sara
2014-03-09T00:00:00Z
We had a great stay - fantastic location (The Mission), great hosts, cozy apartment. Jim & Carolyn made everything super easy for us, giving us maps, suggestions for restaurants and sightseeing, basically anything we needed, like helping us with parking, etc. Added value: the small garden, the record collection, the DVD collection.
Nicolas
2014-04-18T00:00:00Z
Having used Airbnb a couple of times before on the East Coast we thought we would try it again but in San Francisco this time. We stayed with Jim & Carolyn in their Garden cottage for a week and what a delightful stay it was. Carolyn was there to meet us on arrival as planned and gave us a quick tour of the property and all the local info we needed. The Cottage is very well equipped and it really is your own place as you have a private entrance thru the garage. We didn't have a car so purposely chose their Cottage as the location has a number of frequent buses into the city centre. The area has many eating places and we have now become firm favourites of Mexican fast food with El Metate two blocks away on Bryant & 22nd St...Delicious Quesadillas! Liquor stores on 24 th and a Walgreen a block away 24th going towards Potrero Ave.The BART is quite a few blocks away and we didn't bother to use it as the buses were good enough altho be warned that the 27 bus did have a habit of cancelling the odd service after 1830 ish from city but there was always the 9 or 10 Ladies if you want your nails done Carolyn suggested a great nail salon just around the corner on 24 st towards Potrero Ave...the salon doesn't take bookings but great value @ $27 for a manipedi. Takes an hour but don't forget some flip flops or shoes with open toes as you leave with the varnish still slightly wet! We were very fortunate that the local Art Studio a few blocks before 16 Street & Bryant had an open weekend...well worth a visit if you have time and it coincides with your visit. Space and airline baggage weight precluded us buying anything but some delightful and impressive art. Incidentally the area in Mission that the cottage is in has some beautiful murals on the street walls. There is even a cake decorating studio in the block with cakes due out on that Saturday afternoon to local weddings...all very impressive! Cake Boss Buddy Valastro had better watch out as there were some seriously beautiful looking cakes on show Incidentally there is a lovely garden to sit in at Jim & Carolyn's to enjoy a drink or fall asleep as we did after an exhausting day exploring the city!. Do like real Thai food?...then do please try Bangkok Noodles 110 Powell St…just a few doors up from Body Shop. Great food and excellent (URL HIDDEN) is only a small restaurant but always packed with Thai's so must be good! With all the food and noise you cud be at your favourite Thai on Soi 5 in Sukamvit Bangkok not in the middle of San Francisco. Jim & Carolyn are the consummate hosts and were most helpful in all their advice of what to see and do Thank you Jim & Carolyn you have a...
Imogen
2014-04-29T00:00:00Z
My wife and I loved this place. Great location in the Mission. Hosts provided lots of materials about area, maps, recommendations of restaurants, and books about SF. They were very good about communicating w/ us in advance and meeting us soon after our arrival and orienting us. They were also kind enough to give us use of their garage, which was a real bonus. Bed in upstairs loft was very comfortable although that area has a low ceiling and does not work well for taller guests. Also the spiral staircase might be a bit tricky for older guests.
Ken
2015-05-19T00:00:00Z
Carolyn was very accommodating, allowing us to come by early and leave our luggage so we could begin our San Fransisco adventure right away. Before we set out, she offered us beers, gave us a rundown of high points of the city, as well as good restaurants close by. The locale of the Mission district, not without its charm, isn't the most convenient for most of the tourist attractions. But the bus is very close by, and Uber/Lyft are convenient alternatives. The garden was great for relaxing after a long day of biking, and Jim's extensive vinyl collection provided hours of great music (he's got excellent taste by the way). This space has many special touches that make it feel like a home away from home. Also, co-hosts Lulu and Timmy we're very welcoming :)
Kelly
2016-09-22T00:00:00Z
Carolyn and Jim were excellent hosts .. They were there to greet us and gave us detailed information about the area and all the sites/ points of interest to see . We used the transit system and they had helpful maps / bus numbers . We did a lot in our short time and our hosts were available to us whenever we needed assistance . The unit was perfect and had everything we (URL HIDDEN) was cozy and clean . The garden area was enchanting . The area was well located and easy to navigate . Note to remember in San Fran there are streets and avenues with the same name > if you are staying on a " street" remember it because the " avenue " is way in the other side of town . Thank you so much Jim and Carolyn for sharing your records ( flashback ) and for the attention to detail so that our stay I San Fran was so wonderful !!
Alan
2016-01-08T00:00:00Z
This wonderfully eclectic loft apartment is one of the true gems in the Airbnb stable of properties. JIm and his French born wife, Carolyn were a delight from the first hand shake to the last. They are both proud and passionate San Franciscans and their loft is located in the vibrant Latino neIghbourhood of the MIssion. Located at the back of their house, the apartment is both clean and spacious with everything one would need for a short stay. We particularly liked the fact that they were readily available to give practical advise for tours, train and bus transport and also for introducing us to a game I'm still struggling to understand, baseball and the SF giants. On Jim's recommendation we want to Locals Corner just one block away, this restaurant received a high-quality review from Obama's private chef..we had the fixed 3 course menu for $38 and it is definitely a must when you stay at Jim and Carolyn's loft apartment. We have nothing but praise for our courteous and fun loving couple and a stay at their place in the vibrant Mission will not disappoint. A definite 10 out of 10 experience. Thank you again Jim and Carolyn.....Terry & Peter
Terry
2014-10-27T00:00:00Z
Tipo de habitación
Habitación privada
---
Tipo de propiedad
Loft
---
Capacidad
2
---
Habitaciones
San Francisco, California, Estados Unidos
SÓLO PARA ADULTOS registro # (PHONE NUMBER HIDDEN): Doy la bienvenida a los adultos sólo 18 años de edad y mayores, lo siento no hijos o nietos permitidos en la propiedad en cualquier momento. El jardín Cabana es una joya especial ubicado en un jardín de suculentas increíble! Usted tendrá completa privacidad y ser capaz de disfrutar de su cubierta por ustedes mismos. Por favor, venir y quedarse en este complejo hotelero que mientras disfruta de su tiempo en San Francisco.
SÓLO PARA ADULTOS Bienvenidos Estimados clientes! Tengo ganas de satisfacer cada uno de ustedes. Mis listados son sólo para adultos mayores de 18 años: sin excepción alguna manera por favor, ni siquiera se preguntan. Mis anuncios no son para familias. Mi propiedad fue diseñada con el adulto tranquila y madura en mente, el huésped que está buscando un descanso en la ciudad, un lugar para ponerse al día con la cantidad de sueño necesaria y restauración entre los días pasados de trabajo, para visitar parientes, o la exploración de San Francisco. Muchos de mis clientes llegan con el jet lag, así que no hay por favor- niños (no hay bebés / niños pequeños / niños o adolescentes) menor de 18 años de edad y no se permiten mascotas. Mi estudio de arquitectura está en la propiedad y vivo en la casa principal, así que voy a estar aquí para ayudar a usted como a familiarizarse con San Francisco. Gracias por ayudar a asegurar un ambiente tranquilo para todos nosotros. Miro adelante a compartir mi casa y el jardín. detalles Cabana: Súper cozy-- gran calentador de ventilador del invierno / techo para el verano. terraza privada para los huéspedes del Cabana. Una cama doble, estilo europeo de ganso edredón de plumas (hipoalergénico disponible-me pregunta). Ducha, excelente presión de agua y mucha agua caliente. Libre de wifi de alta velocidad dedicada a la cabaña, funciona muy bien. Pequeña mesa para el desayuno o el trabajo portátil, 40 "HDTV con cable. Plancha, tabla de planchar, secador de pelo, un montón de toallas, sábanas recién planchado. No hay cocina cocción: Ofrezco un "Coffee Bar" para desayunos sencillos, sobras, y snacks: Pequeña nevera, cafetera, tostadora, microondas, tetera, de café local suministrado, selección de té y cerveza local de Anchor Steam le espera en la nevera. El acceso a la lavadora / secadora. Un montón de excelentes restaurantes a menos de dos cuadras, Whole Foods y su café es de cuatro bloques, facilidad de aparcamiento de calle (que me haga saber si quieres llevar un coche, así que puede explicar el día de aparcamiento en la calle y la zona restringida común a todos SF), a pie de Mission Bay, South of Market (hogar de muchos famosos empresas de nueva creación), cerca del bus / tren ligero se detiene, la cabina fácil y rápido de recogida / Lyft / Uber, 20 minutos al aeropuerto. POR FAVOR LEA LAS NORMAS DE LA CASA: • No fumar en la propiedad • Nadie en las instalaciones menores de 18 años (no hay niños / bebés / niños o adolescentes- incluyendo la supervisión de un adulto) • Dos adultos máximos por anuncio • No se partying- favor respetar que otros huéspedes pueden tener el jet lag y están durmiendo o napping- o que pueden tener los clientes más para los negocios (mi oficina arquitectura está en la casa de atrás). Todos podemos ser un poco demasiado alto con demasiado a beber así que por favor no beba demasiado! • Mantenga la puerta de la calle cerrada en todo momento • No se han o grabaciones de vídeo o uso comercial whatsoever- esto es una propiedad residencial y mi seguro podrían ser anulados si lo hace (y además es inappropriate- esta es mi casa). Las fotos personales son bienvenidos. • Sin mascotas • No hay aparcamiento en la calzada de mis vecinos ni siquiera por un momento, por favor me pide que le muestre dónde aparcar: APARCAMIENTO: Si planea traer un coche, por favor dígame antes de tiempo para que pueda explicar a usted donde se puede aparcar en la calle para evitar una multa. Por favor trate de alquilar una economía o espacios car-- compacto puede ser ajustado de otra manera. Gracias por que no bloquea las calzadas de mis vecinos, incluso para un moment-- que es un punto de preocupación para mí, ya que será muy molesto!
Excelente ubicación para moverse por la ciudad durante su estancia en un ambiente rural vino, o pasar un rato muy cerca y disfrutar de algunos de los mejores restaurantes y cafeterías de San Francisco. ¡En serio!
Nice neighborhood. Inspired me to tweet this: (URL HIDDEN)
Ian
2014-12-18T00:00:00Z
I reserved the cabana for a colleague who was visiting San Francisco. I didn't see the location myself but my colleague said it was nice and clean. Kepa was a pleasure to work with and easy to communicate with.
Katja
2014-10-29T00:00:00Z
The place was nice and close to some quality restaurants. A short lyft drive to the mission or walkable (if you like to walk). Owner was helpful. Outdoor gardens are really lovely and a very enjoyable way to have coffee in the morning.
stacey
2016-07-11T00:00:00Z
Kepa is an absolutely amazing host! The space was perfect and she is clearly one who pays close attention to detail. The cabana was stocked with all of the essentials, information about the area, and even a few local beers (treats*). It was so nice to walk in after a long coast to coast flight to a warm little note on the door and cozy cabana set up perfectly for our arrival. Kepa came to greet us and gave us excellent food recommendations (we ate at Chez Maman and Plow). We will be back for sure! I'll be dreaming of coffee on the deck everyday until then..
Mitch
2016-05-21T00:00:00Z
Excellent location, easy to find parking, and the garden was gorgeous. The place was very clean and the bed was very comfortable. Hoping to stay again.
Julian
2014-05-20T00:00:00Z
즐거운 시간이였습니다- 샌프란에 일정이 빠듯해서 돌아다니느라 호스트와는 메일로만 이야기나눴는데 너무 따뜻하게 잘해주셨어요! 참 좋아요! 방은 1개고. 작지만 편안했어요!
YK
2016-01-05T00:00:00Z
The picture are very accurate, place is uniquely decorated, feel warm and elegant. Kepa is a great host, she helped me settle and dropped me a warm note on the door. I will definitely recommend this place to friends if they come over for a short stay.
Xiaochuan
2017-01-06T00:00:00Z
One of best places I have ever been as an accommodation. It was a nice garden with different colors of beautiful flowers, black bamboos, apple tree, a green house and hands of Buddha! The room was very clean, cozy and San Francisco style. Kepa was hospitable and I enjoyed talking with her about the city, life and everything. Welcome to Cabana!
Juchuan
2017-03-13T00:00:00Z
Tipo de habitación
Casa/apto. entero
---
Tipo de propiedad
Cabaña
---
Capacidad
2
---
Habitaciones
San Francisco, California, Estados Unidos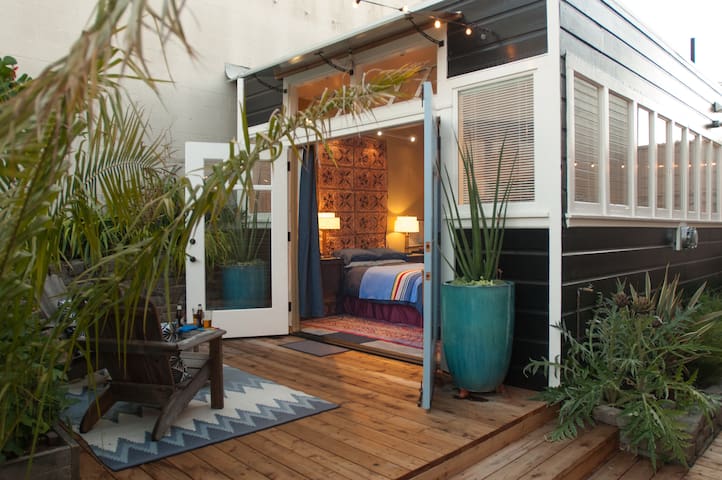 Esta totalmente amueblado condominio / 2 baño 2 dormitorios se encuentra en Fremont cerca de todas las comodidades imaginables, incluyendo: de BART Ohlone Fremont Hub Newpark Mall Washington hospital Teatros de Película restaurantes Fremont Central Park ( "Lago Elizabeth") Principales autopistas - 680 y 880 estación CalTrain Esta casa es de 840 pies cuadrados y características: cama de matrimonio en el dormitorio principal -REAL -Super Sofá de dos plazas cómodo / sofá cama doble en el salón electrodomésticos de acero inoxidable -nuevas - lavavajillas, cocina, nevera y microondas encimeras -granito en cocina y baño cocina-epuipped -totalmente -2 dormitorios grandes, cada uno con grandes (vacío) vestidores Cuarto de baño completo fuera de la habitación principal -Adicional bathrroom completo a través de la segunda habitación balcón -private -onsite piscina y el jacuzzi -parque infantil Internet de alta velocidad y televisión por cable -alta cochera cubierta -reserved
A great central location in fremont with ample parking and easy access to transportation and roads. We loved spending time at nearby Lake Elizabeth. The home is comfortable with 2beds, 2baths and great linens. Thanks for a lovely california stay!
Allison
2014-12-02T00:00:00Z
Terri is a great and thorough host. She is very caring and goes out of her way to make sure everyone has a good stay. We chose her place as it was close to our event and we loved being able to cook breakfast and dinners in her updated kitchen. We plan to come back next year and stay again. Thank you Terri!
Rich &
2012-10-30T00:00:00Z
Terri was an excellent, friendly host. She showed tremendous integrity when she informed us that we were overcharged for our baby and refunded the difference to us promptly. The apartment was cosy and well equipped. Highly recommended even for families with young children.
Michael
2015-09-22T00:00:00Z
I had the pleasure of meeting and of being hosted by Terri and her husband - they made sure every detail was looked after and were great about communicating. Terri has a heart of gold and any guest she has will leave feeling cared for. Thank you Terri for your understanding and flexibility. I am glad this worked out - we may be in touch in the future should we need accommodations again.
Trish
2012-07-08T00:00:00Z
Due to schedule conflicts we were unable to meet Terri until the end of our visit, but from the initial reservation until arrival we kept in contact thru text and phone calls. Terri was always available and answered all of my questions. The unit was very clean and the availability of the washer/dryer on site was great traveling with two infants. There was plenty of room for our four adults and two infants. The pool area worked out great when we had family join us for a day. I would recommend this unit to anyone and am planning on using it again when we make our next visit to see family.
David
2015-06-15T00:00:00Z
Terri's condo was great! It was everything we needed for our trip. Cooking utensils were in great condition. The rooms were comfortable with extra sheets if it got cold. Would definitely recommend this place as it has all the essentials of a home away from home.
may
2013-09-27T00:00:00Z
Terri is the perfect host: friendly and accommodating, making our visit entirely pleasant. The condo is exactly as we hoped it would be. The unit has everything we needed, and everything worked. The neighborhood is ideal for us: near grocery stores, parks, etc.; a short ride from the BART station; a nice walk from Suju's, our favorite coffee shop. We want to stay here again next time we're in Fremont.
Tom
2015-04-02T00:00:00Z
Loved the condo. Has all the amenities. Also very close to shopping such as whole foods. Terri was super helpful in getting us all situated. We will be back!
Mike
2013-12-15T00:00:00Z
Tipo de habitación
Casa/apto. entero
---
Tipo de propiedad
Departamento
---
Capacidad
5
---
Habitaciones
Fremont, California, Estados Unidos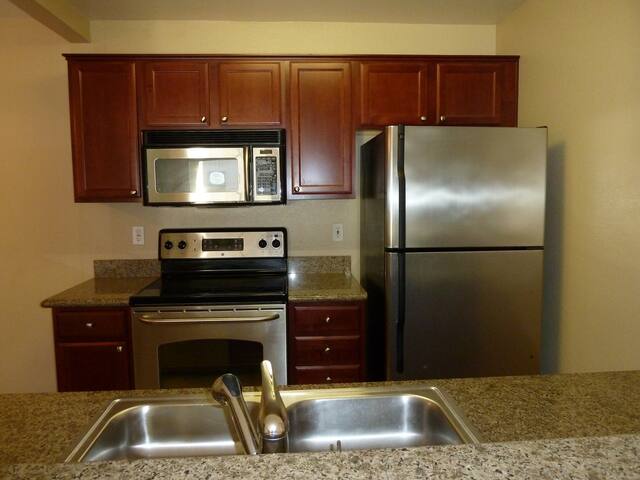 Tenemos un encantador, 2 dormitorios, 1 baño de gran casa victoriana en una colina con vistas panorámicas, un jardín y una terraza. Hay aparcamiento gratuito en la calle y una parada de autobús está a 2 minutos a pie en la esquina. El centro está a unos 30 minutos en transporte público.
Usted tiene su propio dormitorio con una cama doble (más pequeña que una cama de matrimonio) y comparte el cuarto de baño individual con nosotros. Usted está invitado a sentarse en la terraza y disfrutar de la vista siempre que el tiempo lo permite. También es agradable de utilizar la luz de la cocina. Adicionalmente: Ofrecemos un desayuno sencillo hacer-su-propia como la fruta y granola. , No dude en para almacenar artículos adicionales en su desayuno en nuestra nevera. Safeway y Whole Foods son ambos lugares cercanos populares para la compra de comestibles. La mayoría de nuestros clientes optan por una de varias opciones de desayuno increíbles cerca. Siempre tenemos café y té disponibles para usted. Mi marido y yo somos de bienvenida, los anfitriones amables, felices de ayudarle a encontrar su camino alrededor de usted. Soy un profesor de yoga y terapeuta de movimiento del cuerpo, y mi marido es un agente de hipotecas. A pesar de que ambos tienen una vida activa, nos gusta conocer e interactuar con nuestros clientes. Al mismo tiempo, sabemos que usted tiene sus propios planes y prioridades, y queremos respetar su tiempo a solas y privacidad. Vivimos en una gran parte de San Francisco. El aire es fresco, la gente es amable y estamos cerca de restaurantes y las tiendas de barrio. La calle 24 en el "centro" Noe Valley es uno de los más encantadores barrios de San Francisco. Es como estar en una pequeña ciudad en medio de una gran ciudad. Estamos en una gran ubicación para caminar, conducir y tomar el transporte público. Para caminar: Estamos a 10 min. caminar cuesta abajo hasta la calle 24, la moda tiendas y restaurantes de la calle de Noe Valley,; a 5 minutos a pie cuesta arriba a Safeway supermercado, farmacia Walgreens, oficina de correos, y algunos restaurantes Algunos de nuestros clientes más ambiciosas a pie de los barrios cercanos, como el Castro, la Misión, y Glen Park. Estamos en una colina empinada, así que estar preparados, especialmente en el camino de vuelta! Recuerde que siempre puede coger el autobús! Transporte público: Nuestra casa está cerca de varias líneas de autobús: 35, 24, y 52 líneas están a pocos pasos de nuestra casa. El 35 es especialmente estrecha, un tranquilo un minuto y diez por segundos a pie de nuestra casa a la parada de autobús. (Sí, nos cronometré!) El 35 le llevará al "centro" Noe Valley y el Castro en cuestión de minutos. En la estación de la calle Castro puede conectarse a muchas otras líneas que fácilmente le llevará al centro y más allá. El 24 y 52 están a menos de 5 minutos de nuestra casa y le llevará a muchos otros barrios, así como a otras líneas que conectarán a toda la ciudad y para el BART. Estamos encantados de ayudarle con los horarios de autobuses y de responder a sus preguntas lo mejor que podamos. Toda esta información se puede encontrar en línea, también. Otra opción popular es tomar el tranvía J-Iglesia al centro. Está a 10 minutos a pie cuesta abajo desde nuestra casa hasta la parada 27 San. Este tranvía se dirige principalmente sobre el suelo y ofrece vistas interesantes y preciosas de diferentes barrios y el Parque Dolores en el camino. Conducción: Estamos en una ubicación excelente para aquellos de ustedes que están conduciendo. Aparcamiento en la calle cerca de nuestra casa es fácil y gratis (a diferencia de muchas partes de San Francisco). Nuestra casa está en una calle empinada, pero la mayoría de los visitantes del parque en frente de nuestra casa o dentro de unas pocas casas de la nuestra. De vez en cuando un huésped se estacione cuesta abajo o en la calle transversal más cercana, ya que es más plano, después de caer primero sus maletas. Tres cosas importantes que debe saber sobre el aparcamiento (le ayudaremos con todos ellos!): 1) Tenga cuidado de no bloquear el camino de nadie. 2) Asegúrese de "frenar" las ruedas en las colinas como el nuestro. 3) Preste atención a las señales de estacionamiento. Estamos cerca de otros barrios de San Francisco, así como a las carreteras que le llevarán a cualquier parte del área de la bahía incluyendo Berkeley, Oakland, Silicon Valley, Santa Cruz, Monterey, el condado de Marin, Point Reyes National Seashore, el condado de Sonoma y bodegas de Napa Valley , y más. Taxi: Los viajes en taxi se pueden organizar fácilmente y muy asequible. Elija entre los taxis tradicionales a servicios como Lyft y Uber moverse por la ciudad! Tener un teléfono inteligente para mapas, horarios de transporte, y la cartografía es una verdadera ventaja, aunque no es una necesidad. Tenemos internet inalámbrico para ayudar en las búsquedas. El número de teléfono en nuestro anuncio no acepta los textos, ya que es un teléfono de casa, así que siéntase libre de llamar y dejar un mensaje de voz o utilizar el correo electrónico. Si tiene que hacerlo de texto a la celda de Ed, que le proporcionaremos una vez confirmada su reserva.
Vivimos en una gran parte de San Francisco. El aire es fresco, la gente es amable y estamos cerca de restaurantes y las tiendas de barrio. La calle 24 en el "centro" Noe Valley es uno de los más encantadores barrios de San Francisco. Es como estar en una pequeña ciudad en medio de una gran ciudad.
Excelentes anfitriones en excelente casa. Judy y Ed son muy atentos, siempre están dispuestos a ayudar y aconsejarte y al mismo tiempo respetan tu propia intimidad. La descripción de la casa encaja perfectamente con la realidad, es limpia y acogedora. La habitación es muy cómoda. El vecindario es bonito y tranquilo. Aunque no es estrictamente el centro, está bien comunicado. Se lo recomendaría a todos mis amigos.
Alba
2015-09-21T00:00:00Z
Pasamos cuatro días en esta casa, que está situada en un barrio tranquilo donde es fácil aparcar. Judy nos ofreció desayuno todos los días, que tomábamos en su terraza con vistas a downtown. Judy y Ed son dos personas muy amables que además se toman su tiempo para aconsejarte respecto a las visitas que realizar y cómo utilizar el transporte público para ir y volver al centro.
Jose Antonio
2016-07-06T00:00:00Z
First time came to San Francisco, Its really unbelievable we live this such a beautiful hillside scenery!! Every morning when the fog was standing on the balcony you will see scattered sunlight mountain views. San Francisco has always been mountain climbing mountain sports, So cool. Noe veally Area is very convenient, either it is transportation or restaurants, bars, and many specialty shops. The most important is Judy and E.D they were very friendly and warm, earthy goodness of character in this short days we have been very cordial, and I totally feel like live in my own home. I want to say thank you Judy&ED.
Liv
2014-09-26T00:00:00Z
Si vous desirez sejourner a Noe Valley et avoir une belle vue sur Sf down town,vous y etes,pour le reste,c'est sans interet. If you want to stay at Noe Valley and enjoy a good view upon Sf dowtown,you are at the right place.For the rest,no interest.
jean-bernard
2016-05-18T00:00:00Z
Judy和Ed真的非常好,每次都给我们很多建议。The house is so great and I will recommend to my friends
丽
2016-12-26T00:00:00Z
Gorgeous deck view, wonderful accommodations and humbling hospitality/grace.
Cara
2017-03-21T00:00:00Z
Great location - downtown is easily accessible. Street parking is easy to find. Ed and Judy were very friendly and knowledgable about the city. I have back and neck issues so the bed left me a little sore but overall this is a GREAT value for your money. Stay here and you're sure to have a lovely time in San Francisco!
Allison
2016-08-27T00:00:00Z
Judy and Ed are very nice! Their house was in a great location and very clean. Enjoy the view on the terrace and you don't even need to go to the twin peaks nearby. Judy gave us lots of good advice for city exploration. We had great time and we'd love to visit them any time again!
Nan
2016-10-27T00:00:00Z
Tipo de habitación
Habitación privada
---
Tipo de propiedad
Casa
---
Capacidad
2
---
Habitaciones
San Francisco, California, Estados Unidos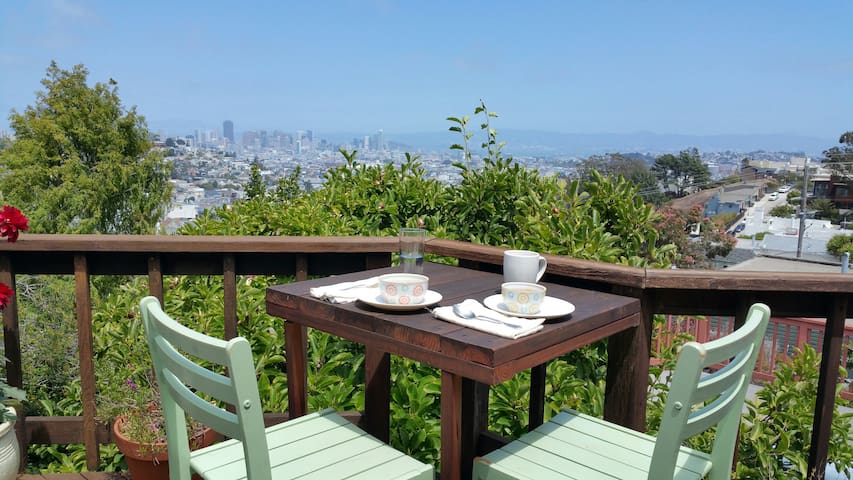 Glamour + camping = glamping! - Centrally located to BART, UCB, and restaurants - Borrow one of our loaner bikes - BART (7 blocks away) to SF in 25 minutes - Wifi, linens, towels, coffee, and tea provided - Big ol' yard with chickens - One of two Airbnb spots here, so you might meet some other travelers! It's like a hostel, but clean. ;)
Welcome! Enjoy all the comforts of home in this fabulously restored vintage caravan. Come say hi to the chickens, borrow a bike, enjoy coffee and tea in the garden. You'll be close to pretty much everything and BART is 7 blocks away. We look forward to hosting you! MAKING A RESERVATION: Please check out our FAQ & house rules first. If the dates you want aren't available, check out our other listing (click on our profile to see listings.) Come glamp in our little slice of country life. This 1964 Kenskill camper has been fabulously restored and customized so you can play "pretend camp" while enjoying the comforts of home. This is a great spot especially if you've ever been tiny-home-curious. In a previous life, this caravan was the food truck for Katie Cupcake, serving up the delicious treats in Flagstaff, AZ. You're sure to enjoy sweet dreams. ;) We rearranged the interior so it feels much more spacious than the traditional layout. It's really quite nice inside. And yes, there's even a full bathroom with a proper flush toilet, sink, and small separate shower. Towels and linens provided. All greywater (sinks and shower) is recycled into the garden. We'll provide you with biodegradable soaps safe for plants and animals. Full kitchen is stocked with the tools you need to cook for your stay. Working gas range, double sink, microwave and fridge. Coffee and tea provided, plus fresh eggs when the hens start laying enough! In the meantime, watching "chicken TV" is a relaxing way to enjoy the garden. Our place is one of those homes that's all front yard, and we positioned this trailer so you can sit at the dinette and enjoy a view of the garden and our silly flock of chickens. Some people ask about safety. We've lived in the East Bay for 15 years, sampling the whole socioeconomic spectrum of neighborhoods. The only times we've ever had issues were in the "nicest" and the "worst" of them. We've felt more at home here in this slice of town that we've felt anywhere else in the Bay Area. Put on your city smarts and you should be A-OK. That being said, there are lots of great places to eat and drink nearby whether you want to walk, bike or drive. Three great new restaurants opened nearby: Moxy (excellent beer garden with amazing fries), Restaurant 44 (comfortable bar/lounge with tasty fried dishes), and Easy Creole (casual and delicious). Our favorite local spot is Sweet Adeline with delicious pastries and tasty coffee. Another coffee and sandwich shop, Alchemy Cafe just opened up next to Easy Creole. It's straight out of Portlandia. On Tuesdays, there's a farmer's market from 3-7pm just a couple blocks away! A little further and we have a Saturday market nearby too on Stanford Ave. Your hosts are two UCB alums and former co-opers. Lewis is a programmer by day, musician by night. Ginger takes care of their new baby, Jules. We enjoy playing innkeep so after we get you all settled in, we'll leave you to your own devices, but don't hesitate to ask if you need anything. Thanks for looking and happy travels!
For some reason Airbnb doesn't know how to place us on the map. We're on the same block as Lois the Pie Queen -- a neighborhood fixture and solid greasy spoon diner. Although our neighborhood is not the prettiest, we have a great community and are happy to be raising a family here.
Great and helpful hosts - the place is just as lovely as advertised!
Patrick
2016-08-19T00:00:00Z
Ginger and Lewis were friendly and accommodating. Ginger was very good at sending us some thorough and welcoming communications before we arrived. Once there we had the chance to meet them both. A lovely couple. The caravan was stocked with assorted things for breakfast, such as oatmeal, coffee beans to grind and brew, an assortment of tea and all the dishes, pots, and kitchen items you would need to prepare a good breakfast, lunch or dinner. And if preparing food isn't your thing, there was a notebook with information they had prepared, about surrounding food places and local sites of interest. The listing description was exactly as we found it to be. It was a cute, small but a complete living experience on the inside, surrounded by a small garden and a wonderful chicken coop that we could sit by and enjoy on the outside. Warning though, if you are not a fan of natures little creatures, such as tiny ants, then the occasional parade along the bathroom window might not please you. The neighborhood was a quiet area most of the time (depending on how loud the neighbors were), with houses all around. Nearby though, a few blocks away, was the commuter train which on a weekday morning we could hear, rather clearly, the zooming by of the trains keeping to their frequent train schedule. At night, it seemed mostly safe, but being unfamiliar with it, I wouldn't walk it by myself. Ginger and Lewis also made bicycles available for use to the guests if they wanted to explore the area by bike. Unfortunately, we just didn't have enough time to do that. I am glad we had the chance to stay at the "Muffin Mansion". It was a unique, comfortable stay. Thank you to Ginger and Lewis for offering it.
Vivian
2015-10-14T00:00:00Z
The muffin mansion was adorable! Clean and comfortable! I never got the chance to meet Ginger or Lewis but I enjoyed my stay. I was engaged in a conference at the Oakland Marriott which was a quick BART ride away. I was surprised at how safe the community felt walking to/from Ashby station. I loved Adeline's cafe down the street which had delicious gluten free almond cake! This was such a great alternative to staying at the conference hotel. It felt like a rural oasis with the garden and the chickens. it was lovely to hear the rain!
Sue
2014-04-07T00:00:00Z
Again an amazing stay in this unique and amazing vintage caravan. We really enjoyed our stay :)))
Alex
2016-10-22T00:00:00Z
Cozy, clean camper with everything you need for a comfortable stay. We are actually from Oakland but came back to the Bay after traveling abroad for several years and needed a place to stay for a week. This place was great. It's walking distance to Ashby Bart station which was a definite plus. The little extras like the white noise machine and good fresh ground coffee were things we appreciated too! We met Ginger a couple of times and she was super cool. We would stay here again.
Ari
2016-11-09T00:00:00Z
What a great AirBNB experience! Everything was fine from booking until check out: Ginger' s fast answer was important while I was looking for a place to stay during the airbnb hosts event at San Francisco at november 2014. She answered all my questions very kindly, so I choose to spend my birthday night at this lovely space and couldn't be a better choice! The place is calm, cute and very complete. Although compact, offers all you need for a quick stay, for 1 person alone or a couple. The atmosphere is pleasant and the hosts very nice and Kind: they left good written information at the place and they were also able to help me thinking about tours and walks when I needed. Walking distance to Ashby BART station, conecting with the Whole Bay Area. I Really enjoyed the time I have spent there and will never foget the cute muffin mansion. Thank you :)
Fabiana
2014-11-26T00:00:00Z
We had a great stay at the Muffin Mansion! Ginger and Lewis were very nice, made us feel welcome and provided everything we needed to make our stay comfortable. Thank you, we look forward to visiting Oakland/San Francisco again soon!
Gabriel
2015-08-07T00:00:00Z
Ginger and Lewis, you two seem like great people! Really enjoyed our stay. We slept great, and the neighborhood had genuine personality. We will be back!
phineas
2015-10-24T00:00:00Z
Tipo de habitación
Casa/apto. entero
---
Tipo de propiedad
Autocaravana
---
Capacidad
2
---
Habitaciones
Oakland, California, Estados Unidos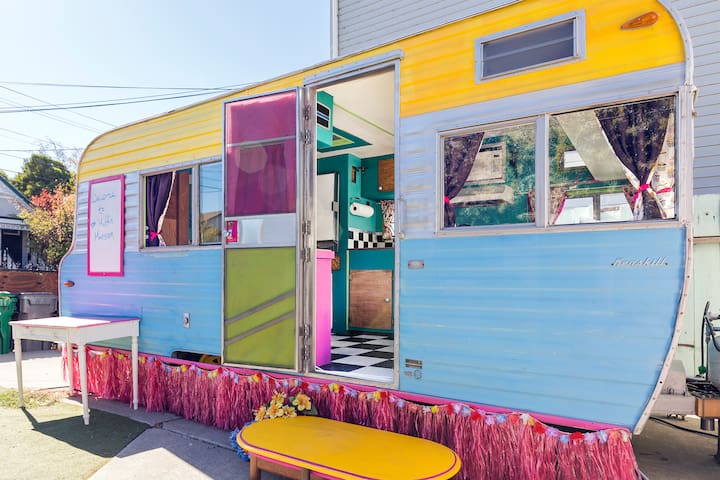 Este retiro inspirado japonés sereno y privada está a sólo 3 minutos a pie de la ciudad, la playa y senderos. Use su yukata (kimono) a la casa de baños en el interior / exterior para experimentar una bañera japonesa. Dormir con el sonido de las olas, despierta al canto de los pájaros.
P0
Highly recommend! This perfect retreat is just as it is described. Margaux had everything ready for us, and no detail was left out. She has seriously thought of everything you need to enjoy your stay in her beautiful place. The view is amazing, the living space was perfect, and the soaking tub/shower were great! The treats and breakfast were icing on the cake. We couldn't have asked for a better experience. Will definitely Be recommending this to others and put it on our list of places to return!
Rachel
2015-09-08T00:00:00Z
Ridiculously delightful. Best experience I've had staying in an Airbnb, or anywhere else for that matter. The little cabin is gorgeous and extremely well maintained. Beautiful view of the ocean and hills. The cabin is right next to the main house, but it feels quite secluded and peaceful. Margaux even put together an amazing breakfast for us each morning. Can't wait to come back!
Nathan
2015-04-27T00:00:00Z
Margaux was a fantastic host. She sent directions the day we came up that were very accurate and easy to follow and when we showed up we were so much more pleased than expected. Although these are some lovely photos, they don't come close to showing the details Margaux has put into this place. She was only a text away if we needed anything but we felt completely private in our little zen garden house. The coffee and tea station for instance, so fab. She also has folder filled with laminated menus and such for the area. (Her recommendation for the Siren cafe on the beach shouldn't be missed, BTW) Totally love the ocean view retreat!
celia
2014-10-21T00:00:00Z
We had the most wonderful time at this Airbnb. It has a great view, a outdoor shower and bath that works great and a very authentic japanese feel to the room. This honestly might be one of the best airbnb's out there , I highly recommend it. It even comes with breakfast outside your door :) if it's available to fit into your schedule, you should definitely book it! Thank you Margaux, you're the best!
Grace
2014-11-18T00:00:00Z
I had the good fortune to stay here the first day that Margaux posted it on AirBnB. She welcomed us warmly, suggested interesting activities, and we woke the next morning to find tasty surprises left outside the door. The best praise I can give to the space and atmosphere is to try to describe it. The architect, obviously well-versed in the Japanese aesthetic, created an environment both beautiful and subdued. Margaux has added many authentic touches that express her love for the culture and especially the attitude of caring for others. I think it is as much like being in Japan as you could experience without actually going there! We could easily imagine that were were staying, not in Stinson beach, but in a small hut somewhere in rural Japan. To enter, you walk down steep but regular stone steps to a garden with a Japanese bath on one side, a wooden bridge between, and a tea hut on the other side with a balcony that looks out over Stinson beach. On one side of the balcony, the bamboo privacy screen is a work of art, bound with copper wire and twine and fitted with a little thatch roof. On the other side is a refigerator there with water and snacks. Sitting on top are binoculars to look for dolphins (we didn't see any) watch boats, or observe wet-suited surfers bobbing on the swells as they wait for a suitable wave. The wooden floor of the hut is inset with tatami mats, and their clean fragrance, mixed with the scent of the exposed cedar beams is immediately recognizable. (This fragrance, with the sound of wind chimes, helps keep one's head cool during Japan's torrid summer months.) In the center of the hut, comfortable on the tatami mats, is a futon-style bed with an indigo-dyed quilt. On the quilt, a bamboo tray with teapot and teacups. A circular moon-window looks out of the garden. It can be covered by two sliding wooden screens with reed laths. On one wall, a screen painting of two herons hangs on a silk cloth scroll. Flowers in vases are set into alcoves in the two other walls. The bedside stands are authentic, with fabric covered rectangular lanterns each sitting on its own perfect tatami mat. You can sit on the thick traditional sitting cushions (as used by Zen meditators) or on a simple wooden bench made by mortising without nails. Shoji screens, with their delicate wooden frames and taut paper lining, complete the feeling of a Japanese interior. Across the gravel and bamboo garden with the bridge is the bath house. One side is set right into a huge rock. The floor is covered with pebbles, one section white and one section black. The tub is small and rectangular, big enough for one, or possibly two people to squat in hot water up to the neck. (It is traditional to wash or shower outside before soaking, keeping the bathwater clean for the next person.) Margaux...
Joel
2014-09-05T00:00:00Z
This place was the perfect little one-night getaway. Margaux was a very considerate host in communications before booking and her breakfast (which I wasn't expecting) was incredible and delivered at the time of our choosing when we woke up. While this house is just off the main house, it felt very private the whole time. Only a 5 minute walk to the town and another 5 minutes to the beach. Beautiful view from the deck in the house to enjoy breakfast. Good wifi for streaming movies at night. Highly recommend this place!
Stephanie
2015-11-23T00:00:00Z
I had a great time at Margaux's Oceanview Retreat. Like other reviewer said, the space is quite tiny, but the big sliding window opening up to the little deck and the really beautiful garden, the outdoor shower and bath tub area totally makes up for it and beyond. During our visit, the weather was unfortunately bad, so my husband and I couldn't do much at the beach, but in stead we enjoyed looking out the window to the ocean, to the garden, and took turns to take a long bath and that made our relaxing trip. Thank you Margaux !
Motoko
2015-05-27T00:00:00Z
We have stayed in many places and this is by far our favorite. If I was going to create a fantasy place I could not have imagined a place any better than Margaux has created. We live in Florida and would fly to California just to stay there.
Gary
2017-01-19T00:00:00Z
Tipo de habitación
Habitación privada
---
Tipo de propiedad
Departamento
---
Capacidad
2
---
Habitaciones
Stinson Beach, California, Estados Unidos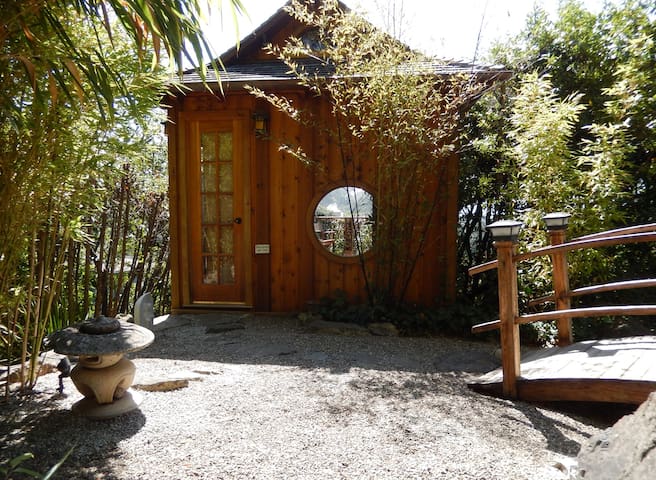 Cozy 8 X 15 North Oakland cottage. Just several steps away in the main house are your private full bathroom with sink, toilet, shower, fresh towels, and a lovely, large shared eat-in kitchen. There is complimentary tea and coffee for you in the kitchen. The cottage has a mounted flat screen tv, a very comfortable queen sized bed, wireless internet and cable, plenty of books and New Yorker magazines if you feel like reading, a comfy leather chair, and a full sized dresser for your clothes. Enjoy the sunny, plant filled backyard deck just outside your front door. There is a private entrance alongside the main house that leads back to the cottage. If you like community gardens, the lovely one acre Dover Street Park is just around the corner. You can also walk the few blocks to Temescal shopping, excellent restaurants and cafes, art spaces, public library, post office, etc. We do offer instant booking, but please contact us prior to arriving. Please note that we have a moderate cancellation policy, full refund when cancelling 5 days in advance: https://www.airbnb.com/home/cancellation_policies#moderate
Easy access to everything in the Bay Area, great neighbors, excellent restaurants, coffee houses nearby. Easy to walk, bicycle and enjoy our usually great weather.
nice cottage,very clean!20minutes walk to BaRt station. Both Chris and Babara are very helpful and provide super quick response. Babara also drove car to pick up us at Bart station on the first day. I enjoyed my stay here very much.
Ye
2015-10-11T00:00:00Z
Always a pleasure! Thanks Barbara and Chris! See you in a month ;-)
Janet
2015-03-10T00:00:00Z
Chris and Barbara are great hosts. They make you feel welcome and are very communicative. This cottage is a unique experience in a peaceful neighborhood. I would definitely go back.
Ben
2013-05-15T00:00:00Z
Clean, quite, and very affordable. You do have to go to the main house to the bathroom right through the kitchen, but the place is well worth the money and the host's were very sweet and accommodating.
Warren
2014-06-19T00:00:00Z
This place was AMAZING! Chris was such a great host, very welcoming, and super nice! It is very close to public transit to get to San Francisco. The cottage was very spacious and he even had cool books you may read. It even had a little heater too which made my stay cozier. I would definitely stay here again if I ever come back to the Bay Area
Cristofer
2017-03-17T00:00:00Z
Cozy and quiet. Lovely stay close to BART.
Jennifer
2016-06-05T00:00:00Z
Beautiful place to stay!! Quiet and peaceful!!
Sarah-claude
2016-05-26T00:00:00Z
This Airbnb was absolutely fantastic can't say enough good things. Both Chris and Barbara were so friendly. Communication with Chris was so easy, he was so welcoming and friendly. The Airbnb that included cottage, private bathroom and shared kitchen were all extremely clean and well stocked. The bed was extremely comfortable, plenty of pillows and their fury friends especially Rudy are so cute. We wish we could have stayed longer, if you are considering this place, book it now!
Todd
2016-01-31T00:00:00Z
Tipo de habitación
Habitación privada
---
Tipo de propiedad
Casa
---
Capacidad
2
---
Habitaciones
Oakland, California, Estados Unidos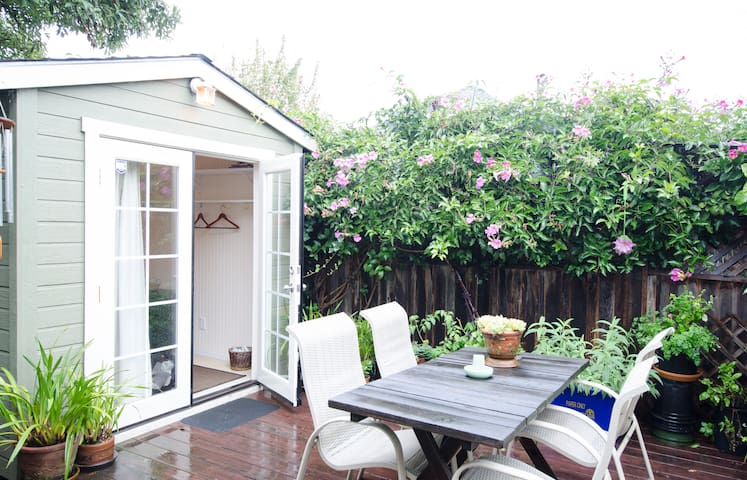 **Please note: There will be construction occurring on the floor above the studio in July and August of 2017, so expect some additional noise and activity from 8:00am to 5:00pm. The studio space itself will not be impacted other than the noise. We have reduced the nightly price during this period. It's important to us that our guests are comfortable, so please consider this factor seriously before booking. Thank you.
Welcome to our studio! This is a fully furnished retreat located two blocks from lively Castro Street and two blocks from amazing Dolores Park. The space is in the rear of a classic San Francisco Victorian house on the garden level. THE SPACE -Private entrance -450 square-foot (40 square-meter) space looking onto garden. Sorry, no garden access. -Queen bed, linens provided -Living area including small sofa and a bistro table with chairs -Small full kitchen with refrigerator, stove, oven, microwave, toaster oven, coffee maker/grinder, dishes, pots/pans, utensils... Let us know if you're missing something. -Bathroom with shower, towels, shampoo, soap, and hair dryer provided. Warning: the bathroom doorway is quite low. Watch your head. -Free fast wireless internet -Television with Apple TV and free Netflix -White noise machine (helps if you're a light sleeper) -Iron and ironing board -Small wall heater (no A/C, but rarely needed) -Portable crib available on request -No smoking or pets please LOCATION (we think it's the best in the city) Within a 1-minute walk: -Laundromat/dry cleaners -Neighborhood cafe -Small convenience grocery store -Frances, one of the best restaurants in the city (reserve early or show up and get lucky) Within a 5-minute walk -Castro MUNI station (access to K,L,M,T subway lines, 10-minute ride to Union Square, downtown, and the Embarcadero) -The historic F-line streetcar -Central Castro Street including bars/restaurants/shops and the Castro Theater. Within a 10-minute walk: -16th Street BART station -Dolores Park! -The heart of the Mission District shops, restaurants, and nightlife Within a 30-minute walk: -Haight-Ashbury -Golden Gate Park -Buena Vista Park -Divisadero Street shops and nightlife -Hayes Valley neighborhood -Alamo Square -Top of Twin Peaks (if you're up for a challenge) PARKING Street parking is restricted to 2-hours during weekdays on most streets in our neighborhood, including ours. Weekends are generally unlimited, but weekend afternoons can get busy. HOSTS Our family of four lives upstairs. We're here to help if you need anything. We keep the studio for guests only, so there isn't much personal clutter, just a few touches. NOISE (IMPORTANT - PLEASE READ) The studio is on the bottom floor of a wood-framed building. Our family's main living space is directly above the studio, so you will hear us: footsteps, dropped objects, muffled voices, music, etc. Our family is generally active from 6:30am to 10:00pm and occasionally during the night (the little ones are unpredictable). The hallway and doors just outside the studio are also used by the building occupants. Most of our past guests have noticed the noise but have told us that it didn't bother them. If you are particularly sensitive to sound or suspect that it might keep you from enjoying your stay, this may not be the right place for you. It's important for us to know you are comfortable as we go about our business above you. A white noise machine and individually wrapped ear plugs are provided in the studio. Feel free to contact us with any questions. Cheers!
Todd fue siempre muy amable y estuvo dispuesto a ayudarnos, e incluso nos pasó algunos consejos sobre Napa y Sonoma. El estudio está muy bien ubicado, a dos cuadras de Dolores y a otras dos cuadras de Castro, con múltiples opciones de restaurantes, bares, farmacia, 24/7, etc.
Sol y Ari
2017-01-16T00:00:00Z
Craig & I enjoyed our stay at the Cabinets Secluded Studio in Castro / Mission area. Very easy to get to from either 16th Street Bart stop or Castro Muni stop. The studio is so very central but also so very quiet. The Cabinets are a lovely family and so very helpful. Many shops are close by for all your needs.
James
2016-12-08T00:00:00Z
You can't ask for a better location! Amazing restaurants within walking distance and public transport at your door. Todd and Amy were wonderful hosts, very friendly and provided a list of restaurants, shops and fun things to do the area.
Cassandra
2014-04-16T00:00:00Z
Todd and Amy's apartment was amazing! Best air b'n'b ever! It was in a great location and they had literally thought of everything. It was well equipped with everything we needed to make the stay comfortable. We especially loved Todd's neighbourhood map. We met Todd and he was so nice and gave us some great insight into SF. Thanks for the great stay!!
Anastasia
2014-12-29T00:00:00Z
We had the pleasure of meeting Todd on arrival and introducing him to my in laws who were staying with him. He is very nice and helpful. Communication was easy and my family had a great time. Thanks a lot.
Domitille
2017-02-19T00:00:00Z
A great place to stay in the middle of the Castro/Mission with everything a young couple visiting San Francisco would need. Todd and Amy were attentive hosts whilst giving us space to go as we pleased.
Simon
2017-01-03T00:00:00Z
Great home and great location. Love the eateries around the neighbourhood. Todd and Amy are great host, very helpful and friendly. The running around kids noice was hardly noticeable. Would definitely stay here again.
Yvonne
2017-03-15T00:00:00Z
This studio is well maintained, clean, very comfy bed and has all that you need for a short stay and the location is fantastic. Close to the wonderful Castro neighbourhood and transport links. All of the tips, general information, check-in details etc. were spot on and sent in advance. I would stay again and would recommend to a friend!
Claire
2017-02-08T00:00:00Z
Tipo de habitación
Casa/apto. entero
---
Tipo de propiedad
Departamento
---
Capacidad
2
---
Habitaciones
San Francisco, California, Estados Unidos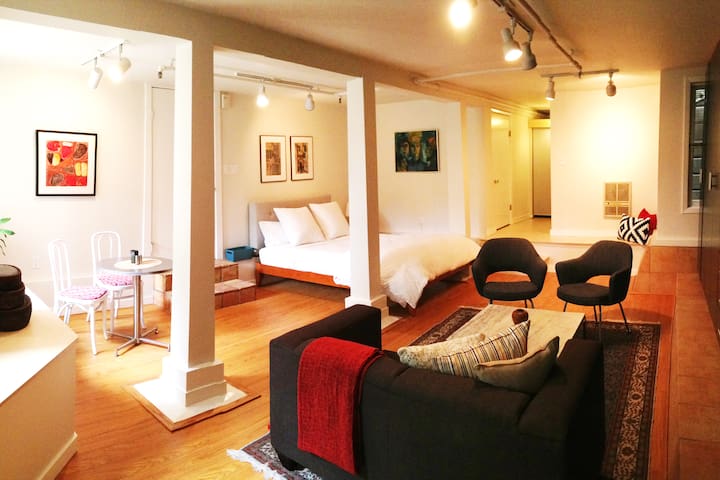 1

–

18

de

Más de 300 alquileres
Introduce las fechas para ver el precio total. Ten en cuenta que se aplicarán tarifas adicionales y es posible que se añadan impuestos.