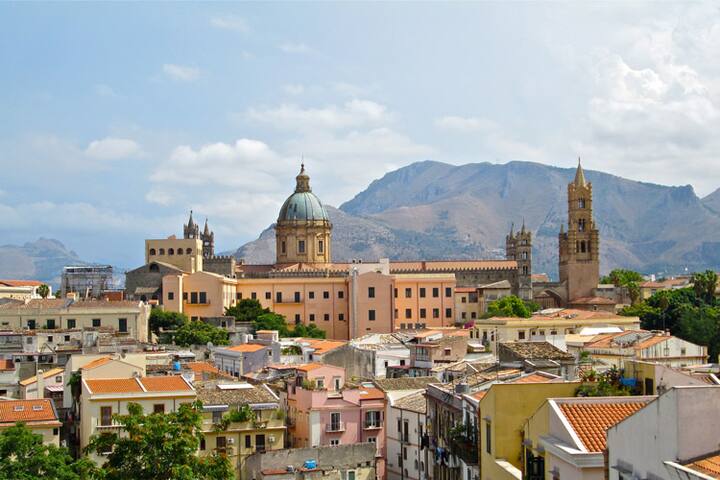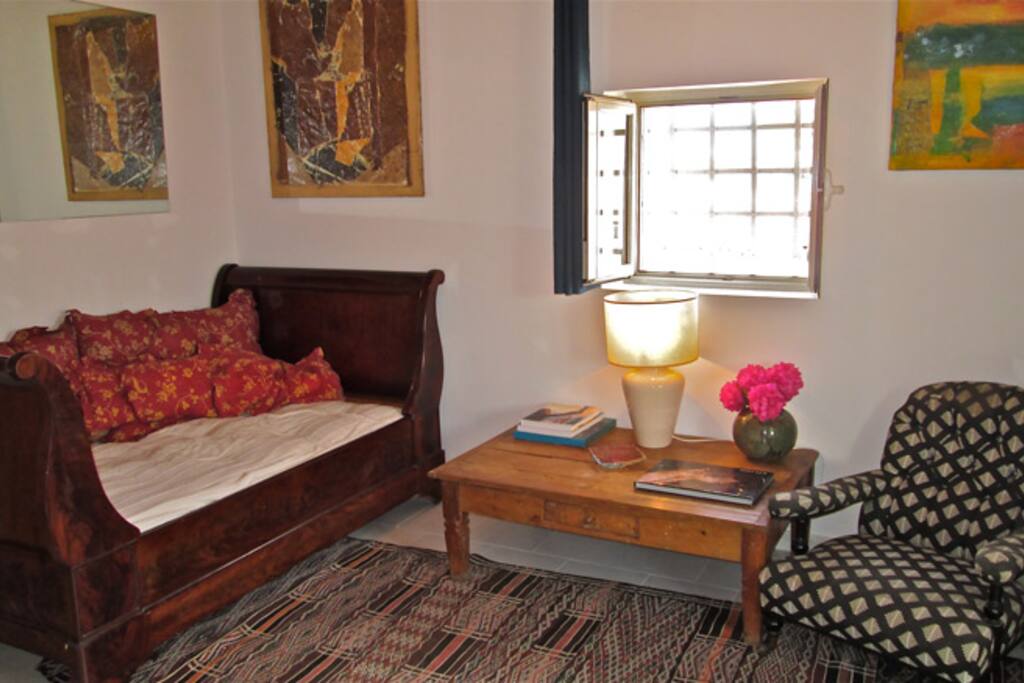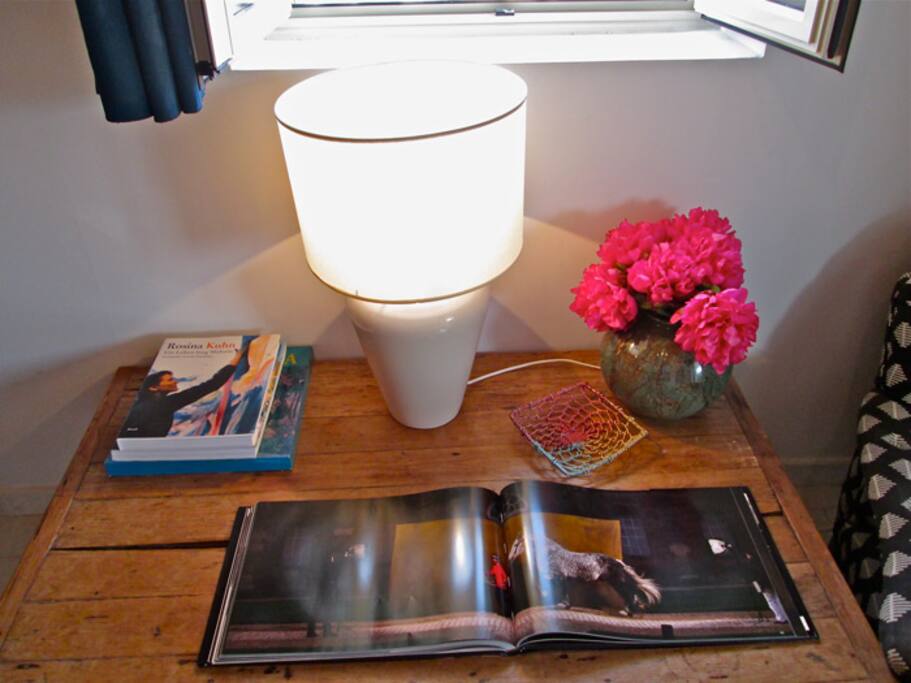 GEM ROMANTIC 1BED HISTORIC PALERMO
De apartamento en Palermo, Sicilia, Italia - Tranquilo, aireado, elegante, tranquilo y tranquilo con vistas estupendas de Palazzo Normanni y Duomo de Palermo
Apartment in Palermo, Sicily, Italy - Peaceful, Airy, Elegant, Quiet And Calm With Stupendous Views Of Palazzo Normanni & Duomo Of Palermo
---
---
Personas adicionales $12 / noche más de 2 huéspedes
Comunícate siempre a través de Airbnb
Para que tus pagos estén protegidos, nunca transfieras dinero ni te comuniques desde afuera de la página o la aplicación de Airbnb.
Más información
---
Hello future guest, I have lived and worked around the world and know what it is like to look out the window and feel the need to want to get away to a beautiful, exotic (but not too), sensory filled, interesting, sunny, place. I learned to appreciate renting a flat rather than staying in a hotel - -no matter how upscale. However, I was often disappointed with the decor, the quality of the linens, the style.
When I came to Palermo I decided to create a 'home' as I would like to have it: elegant but not overstated, with a good kitchen, good quality crockery and linens and good art on the walls. I wished it to be quiet, full of light and airy. And I wanted to be able to eat outdoors, under the sun or the stars, with a view of the city before me. I hope to have achieved that, for you.
Now that you are coming, please treat it with care and attention. Enjoy the books, music and videos and please don't forget to put them back before you leave! The next guest can enjoy them as you did.
IMPORTANT RULES (that are often ignored by Guests, sadly, so we are making them clear here!)
Once we you are booked and we have your email, we can send you the DIRECTIONS DOCUMENTS, MAP and the GUEST BOOKLET which will give you the different options re arriving at the apartment and a good sense of what is around. Please RESPOND TO US so we know that you are in the 'system'.
Regardless of your choice of how to arrive from the airport (Taxi or Bus) , it is VERY important that you call Mr Mokbul (tel: + you have collected your bags so he can be there to greet you. He needs some lead time as he is not exclusive to me.
If you are coming by car, train or bus you need to let us know two days in advance the hour you intend to arrive and also IT IS IMPERATIVE YOU CALL ONE HOUR prior to your arrival (no SMS/TEXT/ for Mokbul). We do not live there and not calling could cause delays in your entering for which we would not be responsible.
NOTE: we strongly recommend the taxi (€35 instead of €45) from the airport upon arrival. It makes your arrival hassle free and the driver, always the same as we have longstanding working relationship, will call ahead and warn of your impending arrival so the caretaker can be there for you. And it avoids having to walk to the flat after a long trip. We also suggest the BUS on the way out to the airport as it is easier and mellow. The voice is yours but the taxi is the way to go... :))
If you have a flight that arrives after 8pm (20:00) we would like you to take the taxi into town (we have a discounted service and can arrange it for you) instead of the bus. If you take the bus and then have to walk to the flat you will not arrive before 10pm (22:00). We do not live there and have to have someone stand by to let you in. We will always work with you as long as you communicate.
The arrival time is between 4:00 PM and 6:30 PM. There is a certain amount of leeway if we are informed beforehand. Departures need to be no later than 10:30 AM in order to allow time to prepare for the next Guest. We will be strict about departure time if another Guest is coming.
Thank you for your comprehension.
John
Host
T: + - -reachable also on .
---
Este anfitrión tiene una política de cancelación estricta
Si cancelas hasta 30 días antes de tu viaje, podrás recibir un reembolso completo. Si cancelas 30 días antes del viaje, puedes obtener un reembolso del 50 % de la tarifa por noche, además del reembolso completo de las comisiones.
---
Estancia mínima de 3 noches
---
Todo correcto, el mayor problema fue la ubicación de la casa el primer día, todo lo demás perfecto
Gracias Marcos por tu comentos. Soy contento che el departamento te gusto. Por los problemas de ubicación pido disculpa por problemas que tenia --es también verdad que nosotros hemos explicado come hacemos (cuando falta telefonar, el que falta comunicar etc) y que la nuestra preguntas no fueron contestadas correctamente. Y po eso nosotros no podemos ser responsabile por problemas que has echo. En final el tema es que todo el resto passo bien. Gracias autra vez. John
---
El dpto es lindo,un poco falto de mantenimiento.....sábanas y toallas bastante usadas y la conexión eléctrica se satura y salta si por ejemplo prendes dos hornallas (son eléctricas), por lo que cocinar se complica un poco. El agua se cortó varias veces,pero al rato había nuevamente. Lo mejor del dpto es la vista fabulosa que tiene desde la ventana de la cocina y la ubicación céntrica. El estacionamiento está a un paso y es gratuito
Querida Maria Fernanda, Thank you for your comments but I will answer in english as my Castllano is no longer good enough. Simply put, there are things that one does not control in Palermo. This is not like the fancy neighbourhood of Palermo in Buenos Aires but much more la the neighbourhood of La Boca about 3o or 4o years ago when people were afraid to go. We do not control the electrical cuts of the city (that are due to to the excessive use of air-conditioning, something that did not exist when the original gris was made) nor do we control the water rationing that comes from the distribution of water cuts that happen on certain days in different neighbourhoods. It ius the city that controls that. Also, as mentioned to you when you were booing, it is not really an apartment for two adults and two grown children. I suggested you use one of our other bigger apartments where you would have been more comfortable. But you wanted to save money... Thanks about the comments on the towels and sheets. I will look anthem. I hope you have a good continuation of your trip. John
---
We stayed here for 4 nights on our trip. Good things: -The view - outstanding, probably the best in Palermo, though the view from the roof of the Cathedral is pretty awesome too. -Communication - John and his team are very quick to respond to calls, emails, messages etc when we needed them. Especially Mr Mokbul who was a gem. We did not meet John himself, I understand he lives/works overseas currently. -The neighbourhood - Excellent location in the heart of real Palermo, surrounded by markets and families. Lots of hustle and bustle. Close to all the major sights. We really enjoyed it here. -Well equipped - Has all the things you'd need for a few days. Things that could do with improvement: (And after reading other reviews where past guests have politely pointed out certain issues I know I will be in for some criticism....) -It should be noted that there are water restrictions in place for summer - and I feel we should have been informed of this if not before check-in, then at least upon check-in. No water in the apartment from about 9 or 10am (sometimes earlier..... ) until about 7 or 8pm daily. I know this is not John's fault at all, but a warning would have been useful as I know the restriction is not in every neighbourhood (we spoke to several locals who did not have it in their apartments) and when one searches online about it there is no information - so it is not something one can learn about before booking.. Travellers with small children might want to consider this fact especially for summer months. -We had to keep going down the stairs to re-set the water pump (when we did have water available) each time the electrics cut out, which they did frequently, especially when using 2 appliances at the same time (eg air con and cooker). We also have an older apartment and so know what this can be like if not updated. -Slightly shabby apartment chattels - the arm chair is threadbare in places, the towels are mismatched and stained, there is no lid for the bin, the toilet seat is broken, the bed linen had holes in it and there was no mattress cover/protector on the bed (this seems both unhygienic and fairly uneconomical as the mattress will have to be replaced more frequently). -The front door does not shut easily and so when the downstairs neighbours go in and out they have to SLAM the door, as did we. And sometimes after slamming it still does not shut properly. The door needs attention, as does the door to the apartment which is very difficult to open at times. We have stayed at many airbnb places on this trip, including a few in Sicily and their standards have been higher than this one, for about the same cost per night. It's a great little space that just needs some TLC to bring it up to others' standards.
Dear Amanda, Thank you for your comments that are taken to heart and good feedback. I think there is some form of 'Archimedes' law that ensures that once a year everything seems to go wrong at the same time. So let me address, for you and for future Guests that might read this, what has been done since your comments --some of which was being done while you were there. 1. THERE NO LONGER IS A WATER PROBLEM in spite of water rationing. We have managed to install a special monitor that bypasses the individual pipes that go to apartments and have accessed the water main. Hence there now is water all the time. BUT, you are right that we should have mentioned it to you before but we thought to have solved the problem when you had arrived but had not. For that we apologise. 2. We have finally received permission (it was in the works and promised daily but, being Sicily, these things are not as accurate as in the northern countries) to double the amount of electricity coming to the flats so the fuses should be able to hold everything. 3. There WAS a mattress cover there and somehow it got misplaced by the cleaning crew. A new one has been put there again. 4. Mis-matched towels are not where i see the problem but if they are as used as you mention then they will be replaced. My co-host is looking into that tomorrow, in-between Guests. Thank you fo pointing it out. 5. Guests unfortunately break toilet seats and we are not told about it. Had we known beforehand we wold have changed it. It HAS BEEN CHANGED thanks to your alerting us. And the staff has been talked to as they should have pointed it out, stringe as they normally do. 6. My co-host will check the sheets. we had purchased new ones last year and maybe, with all the different apartments, they might have ended up elsewhere. But there are new sheets in the flat. 7. The front door HAS BEEN REPAIRED. It was broken prior to your arrival and we did not have the time to get the correct technician in on time. We apologise for inconvenience this might've caused you. 8. We will look at the door to the flat. It has been in good shape and maybe there was something new or wrong to it. But that too has been dealt with. When comments are valid and we are at fault we are the first to admit it and make changes and thank the Guests for feedback. But when people complain of directions and do not print out or follow what we send them then I point it out... I don't bark when it is legitimate and you did have bad luck with all this stuff happening to you. Luckily we have an over 90% 'superlative comments' and it is our intention of keeping it like that. As per your comment about "We did not meet John himself, I understand he lives/works overseas currently." it appears you were misinformed. I LIVE IN PALERMO and am there most of the time however the last period has required that I both travel for my work as a photographer (see Instagram, John R. Pepper) and, as in the case when you were there, I was tending to my 95 year old mother who had had a fall and was in a wheelchair and I was the only relative that could get to her. It was dicey but she has recovered so i am back home. BUT, when I am absent, I HAVE AN OFFICIAL AIRBNB CO-HOST, RAFFAELLA, who speaks 4 languages and takes care of the arrivals alongside our caretaker, Mr Mokbul and the rest of the team. I just wanted to make certain this was clear to you and others since i do not want to appear as an absentee Host --with no backup provisions. Again thank you for taking the time to write a critical yet constructive report and we hope that, should you come back some day, you will see that the TLC was given. Have a great rest of the summer, Kind regards, John
---
Nueva York, Nueva York, Estados Unidos
Se registró en Septiembre 2014
I am at photographer who works in black-and-white, analogical, who shows his work in different parts of the world. I also direct theater from France to Russia. I normally travel for work. I also have five appartments that I rent out therefore I am particularly sensitive to house rules, communication, and leaving the place the way I found it.
John R. Pepper
Índice de respuesta:
100%
Tiempo de respuesta:
en menos de una hora
Descubre otras opciones en Palermo y sus alrededores
Más alojamientos en Palermo: