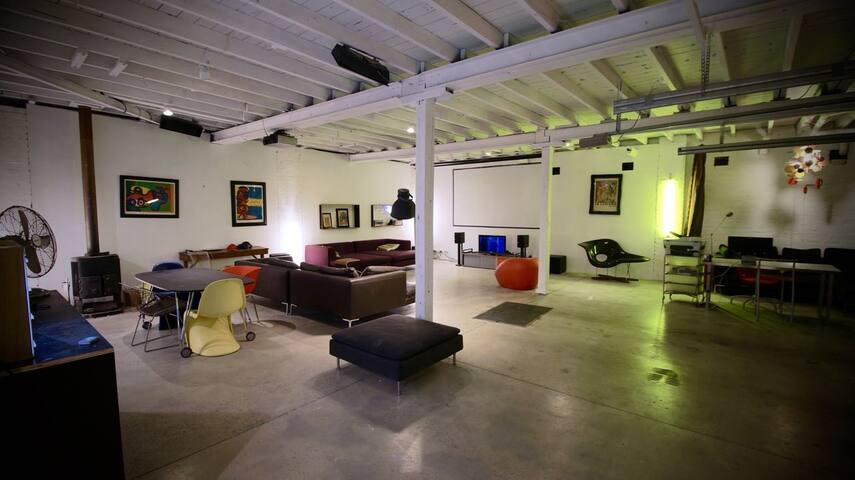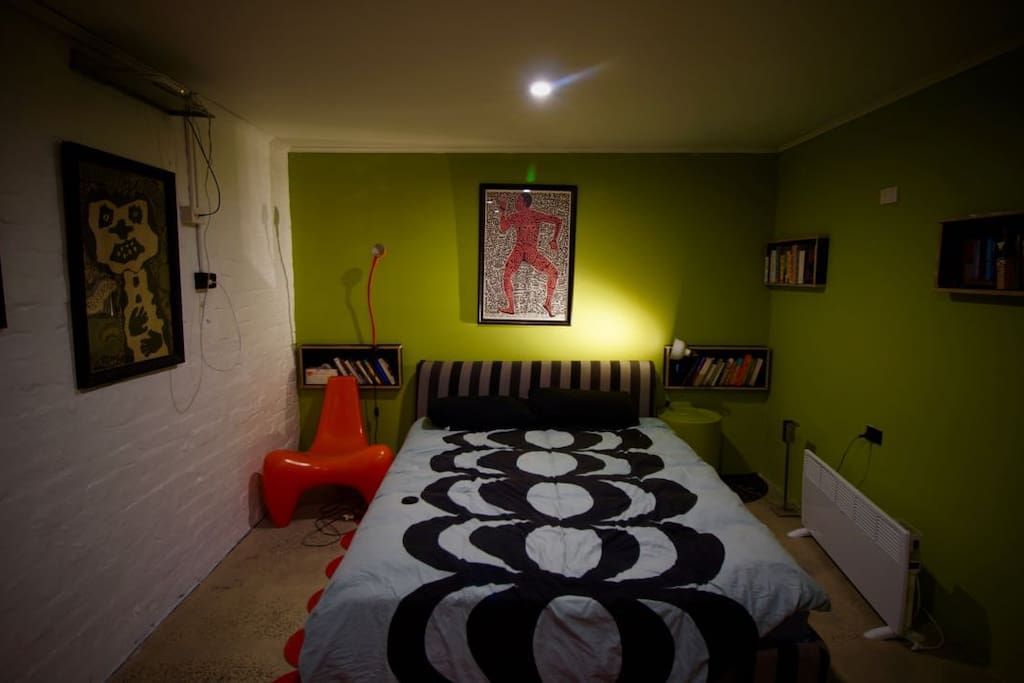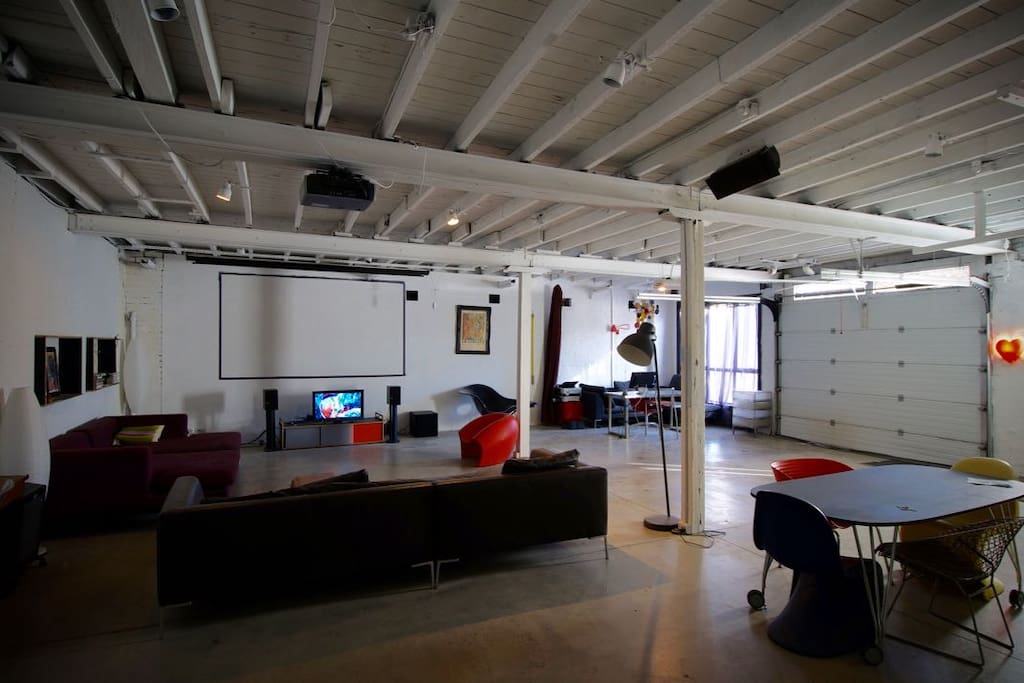 A 200 square metre true warehouse. There are no internal walls, just curtains to divide the space. Think polished concrete, beams and general funkiness in Sydney's coolest area. But before you book, read the full description.
El lugar
The Lair has its quirks, and whilst almost all of our guests have been cool with them, two have walked in, freaked out and fled screaming into the night, never to be seen again.
Okey dokey. My original intention was to give a warts and all description of the Lair. Starting with the warts. But it seems from the enquires so far that you all want to know, first and foremost, about the sleeping arrangements.
Your wish is my command.
There is one large dedicated bedroom space with a proper queen size bed, mattress, quilt and all the trimmings. Notice I said space not room. There is another very small dedicated bedroom-esque space with a single bed, mattress and trimmings. These can be, if not closed off, at least have curtains drawn for privacy.
Then there are two very large sofas. There's only one in the photos but I have added another. These are each about the size of a double bed (130cm x 2300 to be precise), but I'd suggest you think of them as roomy singles. If you wish to use them for sleeping, I'll provide sheets and a quilt.
These are in the middle of the lounge area. No privacy.
Now the important bit. The Lair, as the name suggests, is not your typical nice cosy 'warehouse' apartment. It's not New York style loft with big windows and light streaming through.
It's just a bit evil.
The Lair is a proper warehouse that used to be a glue factory and then a rehearsal space for bands. When I have no guests it is my garage. Whilst I have funked it up a bit when renovating, it is still completely open and quite raw.
The only door is the one to the toilet. It is also quite dark, partly because some of it is below ground, partly because there is only one main windows, but mostly because I like it that way.
The photos were taken during the day, and my camera lies about light, so it isn't quite as gentle as it seems. The walls are no longer purple and I should take new pics, but it is still untamed.
In response to some suggestions from guests, I've added some more lights and mirrors so chaps (or chapettes) can shave and chapettes (or chaps) can do their makeup, but the essential nature of the beast hasn't changed.
It is a Lair.
It's also noisy, partly because it is on a busy-ish road, but also because there is a roller door so I (and now you) can park a car. You will hear traffic. Again, the guests who have stayed so far haven't complained, but don't expect to hear pins drop. The main sleeping space is tucked away so it isn't so bad.
Also, the ceilings are thin because they are raw beams, so if I start dancing upstairs, you'll also hear it downstairs.
I have three year old who likes to run around on the deck above you. He's small, but has heavy feet. So when he practices his Jedi Knight moves, you will hear them. On occasion he starts these moves earlier in the morning than I, or you, will like.
You can hear water flow through the pipes when we ablute. I find it calming. You may find it maddening.
Speaking of water, there is the occasional leak in heavy rain.
Occasionally we'll entertain on said deck. Our friends make noise and drink a lot. You will hear this.
Now the good news. The Lair is huge. The space takes up the full lower level of my house. It is around 200 square metres, with 100sqm just for the living area. It's 10 metres wide. You could fit 100 people in there, if I allowed it.
Sorry, no parties.
There is art I like but which you may hate on the walls. Don't steal it please. Don't move it and break the frames.
It's been 'renovated' to keep the warehouse feel but make it more liveable. So there are polished concrete floors. A funky new metallic grey shower room. A separate toilet with a Lichtenstein wall. A cheap but functional kitchen. A large lime green sleep space. A tiny black sleep space. A walk-in robe. Various other storage spaces. Rugs. A Dalek. The afore-mentioned ineffective mirrors. Other stuff.
There is also (unless some asshole damages it) a high end stereo system, cable TV, LED TV, free wifi, Apple TV, Blu-Rays and so forth. You'll have trouble using it and I will get grumpy because it seems so simple to me, but it is there.

The lights all work via remote control so you don't have to get up off the couch. This seemed like a good idea at the time but confuses everyone.
As mentioned, you can park a car in there, but it will be in the lounge area. Some people don't like cars in their lounge area, but I'm not one of them.
Put it this way, a friend wants to open a small (if dingy) bar in the Lair. It would also make a cool (if dingy) art gallery.
It's that kind of space.
NOTE TO FILM PRODUCTION COMPANIES: I get a couple of enquiries a month from various production companies/location scouts about using the Lair for a shoot. None have panned out and I am sick of wasting my time with them. I am not going to give you a discount to help prop up the Australian film industry. I am not going to let you film your video clip for free. I am not going to let you come around and do an inspection. I work in the business. If you are prepared to pay regular commercial location rates that's fine. Otherwise stop asking.
Rant over.
Disponible para huéspedes
The Lair takes up the bottom floor of my house, but is fully self-contained. You have your own entrance. There is a digital door thingie with your own code so you don't even need a key. I'll meet you to explain stuff if needed, but it's basically your own space. I have internal access to it so I can sneak around while you sleep, but that door will be closed to you so you can't sneak around while we sleep.
Atención a los huéspedes
How can I put this delicately... I'm not the most sociable person so whilst I'm available if needed, I'd prefer it if you did your own thing. Unless we bond like long-lost brothers.
My partner is friendlier, but we'd rather not have you upstairs for tea and crumpets.
I'll provide a list of things I think you should know, and a guide to the area, but won't poke my nose in otherwise unless asked.
That said, I will be as nice as pie when we do interact unless you are truly horrible. If you are horrible, please don't book.
Otros aspectos destacables
There is a Buddhist temple next door. They like to bang bells on weekend mornings.
Occasionally drunken people (usually Irish for some reason) will ring the bell thinking it is a brothel. I'd suggest sending them on their way unless you need help with the rent.
It is noisy. Especially during weekday mornings and evenings when buses go past taking students to university. I think walking would be better for their mind body nexus, but I'm biased.
The Lair opens to a street. Leaves enter. Dust sneaks in. If we get too boisterous upstairs the odd bit of plaster may fall. You may see the occasional bug. Probably no snakes though, and so far no sharks.
We get cleaners in but it will never look spotless. It's not the Lair Hotel. It's the Lair.
We welcome visitors of all nationalities and sexual orientations. If English isn't your first language, we will endeavour to (SENSITIVE CONTENTS HIDDEN) Translate our way to nirvana. Failing that, my partner speaks fluent German, and I speak remnants of schoolboy French, mainly swear words.
Va te faire foutre.
See?
---
---
Dormitorio 1
1 cama tamaño queen
Dormitorio 2
1 cama individual
---
No se admiten fiestas o eventos
The only real rule is don't be a dick.
Don't break my stereo.
Actually, don't break anything.
Otherwise, I don't mind if you carouse quietly. I don't mind if you talk politics. Please don't play bad music loudly, but that's as much for aesthetic reasons. You are welcome to play it softly.
The kitchen is directly below where my partner, my child and my cats flop upstairs. It also has the thinnest ceilings. If you are discussing something embarrassing like your secret love for boy bands we will probably hear you and lose all respect for you.
In the main seating area you can profess your One Direction love without offending our judgemental ears.
If there is stuff in the fridge, feel free to snaffle it. Check expiry dates first.
We have cats, but they won't be around when you are there. This means there will be the odd piece of fur floating around. You can bring a pet if you like, but I can't imagine why.
I smoke in the Lair, and don't mind if you do. Don't burn the place down. If you have a particular phobia about microscopic levels of cigarette smoke lurking, ready to leap into your lungs, the Lair probably isn't ideal for you.
The buses going by will kill you faster anyway.
I do draw the line at parties, cooking up meth, raves and live bands.
Aspectos que también debes tener en cuenta
En la casa viven gatos
---
I'm a writer who specialises in unsuccessful novels. I like jazz and classical music and play saxophone in a reggae band. I also have an imaginary horse but he will not be making the trip. My partner is also a writer, and we have a two year old son, Wolfie. He is presently une…
Índice de respuesta:
100%
Tiempo de respuesta:
en menos de una hora
Descubre otras opciones en Surry Hills y sus alrededores
Más alojamientos en Surry Hills: