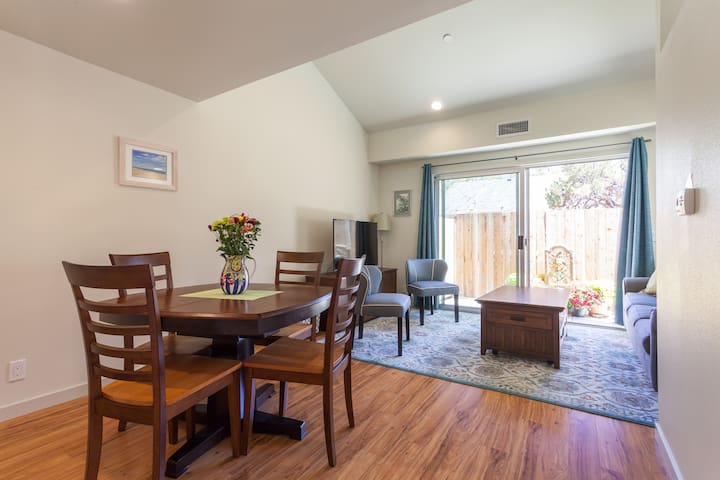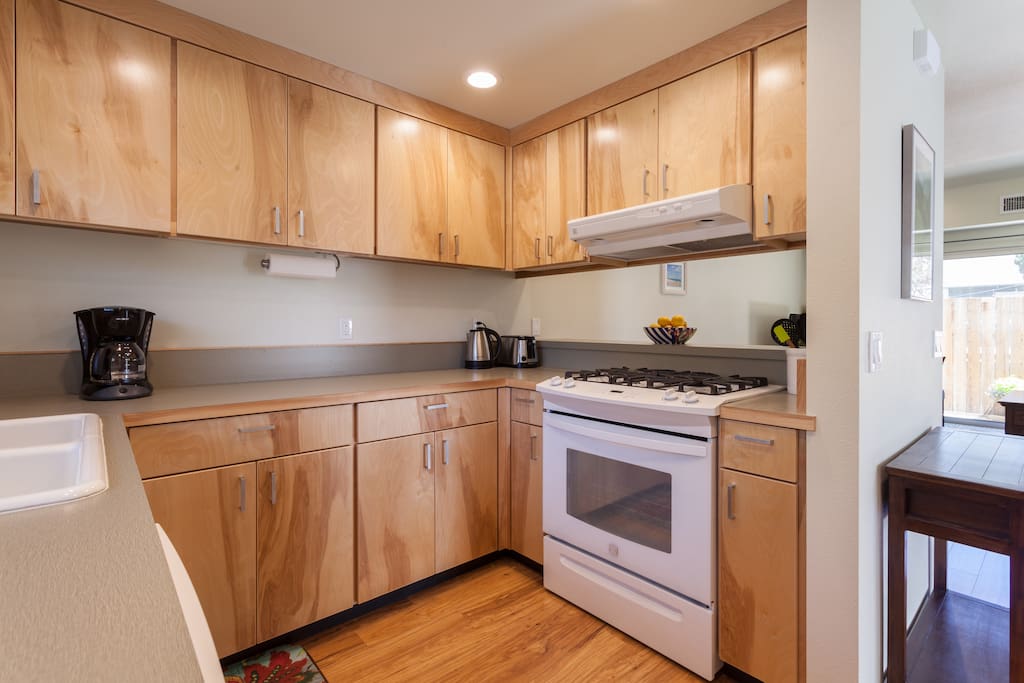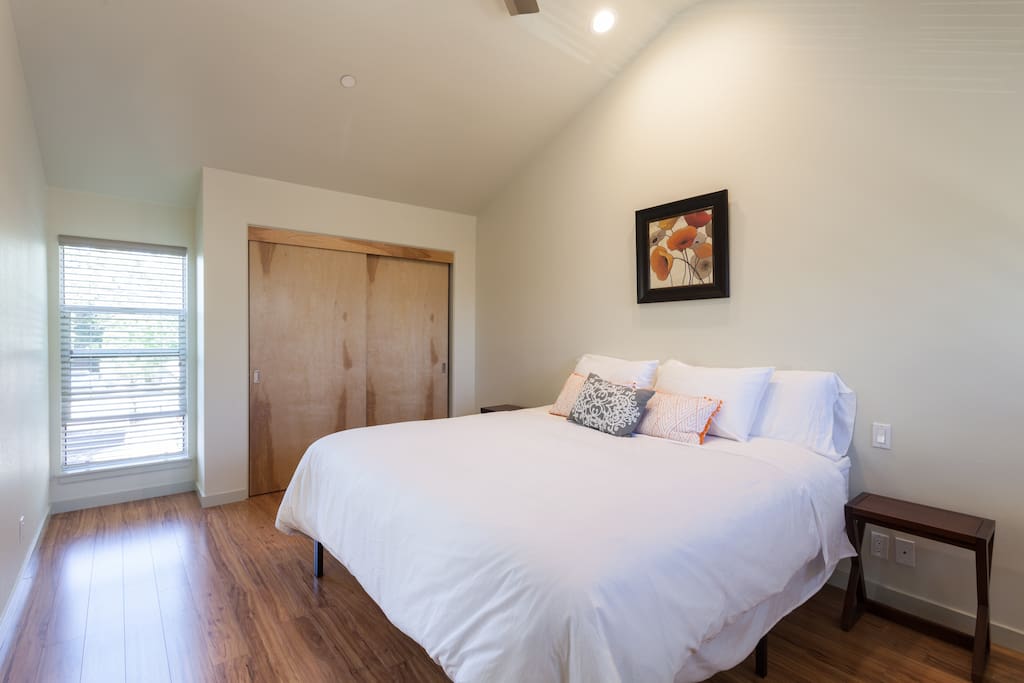 Townhome near downtown, 30-day min.
Townhome near downtown, 30-day min.
Departamento o casa entera
This brand new duplex unit is just blocks from downtown. City requirements allow rental periods of 30 days or more only.
---
Llegada: A partir de las 14:00
Tipo de habitación: Departamento o casa entera
---
---
Personas adicionales $20 / noche más de 2 huéspedes
Depósito de seguridad $1000
Descuento por semana: 20%
Comunícate siempre a través de Airbnb
Para que tus pagos estén protegidos, nunca transfieras dinero ni te comuniques desde afuera de la página o la aplicación de Airbnb.
Más información
---
Dormitorio 1
1 cama tamaño king
---
No se admiten fiestas o eventos
La hora de llegada es a partir de las 14:00
LONG TERM RENTAL AGREEMENT
For stays of 28 days or more, all guests must agree to the following rules and conditions:
1. RENT: Rent will be collected by Airbnb, with the first month's rent charged at the time of booking. After check-in, Airbnb will charge you monthly for the duration of your reservation.
2. NONPAYMENT: If Airbnb is unsuccessful in collecting payment when it is due, you will be served with a "Three-Day Notice to Pay Rent or Quit" notice and a late fee of $100 will be added to the rent due. If payment is not received by the Owner/Agent within three days of serving the notice, the reservation will be cancelled immediately and the security deposit will be forfeited.
3. SECURITY DEPOSIT: Amounts may be withheld from the security deposit as are reasonably necessary to remedy guest defaults including, but not limited to, the following:
(a) defaults in the payment of rent, and/or
(b) to repair damages to the premises caused by Guest, exclusive of ordinary wear and tear, and/or
(c) extra cleaning of the premises beyond the norm, if necessary, upon termination of the tenancy in order to return the unit to the same level of cleanliness it was in at the inception of the tenancy, and/or
(d) to restore, replace, or return personal property or appurtenances, exclusive of ordinary wear and tear.
4. RENTAL UNIT AVAILABILITY: In the event the unit is not available on the move-in date due to a prior tenant holding over, or other cause not within the control of Owner/Agent, Guest's damages will be limited to a return of the security deposit, and any advance payment of rent.
5. UTILITIES: Owner/Agent shall pay for the following utilities connected at all times during the tenancy: Gas, Electric, Water, Trash, Sewer, Internet.
Guest shall not use common area utilities (such as water or electricity) for the Guest's personal use, without prior written permission from the Owner/Agent.
6. CASH PAYMENT: The Owner/Agent may demand or require cash as the exclusive form of payment of rent if Airbnb is unsuccessful in collecting any month's rent.
7. TERMINATION: Except as prohibited by law, this Agreement may be terminated by either the guest or the Owner with a 30-day notice.
8. VISITORS: Any person who is not listed in the Airbnb reservation guest count is a Visitor. A Visitor may not stay on the premises overnight without prior written consent. At the discretion of Owner/Agent, Visitor(s) who overstay this limit may accrue the "extra person charge" as noted in the Airbnb listing. Guest is responsible for any violation of this by Guest's Visitors.
9. SUBLETTING AND ASSIGNMENT: No portion of the premises shall be sublet nor this Agreement assigned. Any attempted subletting or assignment by Guest shall, at the election of Owner/Agent, be an irremediable breach of this Agreement and cause for immediate termination as provided herein and by law. Guest is prohibited from offering all or part of the premises for short-term rental. Any person who is not a reserved Guest, who occupies any portion of the dwelling unit, for any period of time whatsoever, for any compensation or consideration whatsoever (including, without limitation, the payment of money and/or trade and/or barter of other goods, services, or property occupancy rights) is not a Guest. This constitutes attempted subletting or assignment under this Agreement.
10. PARKING: This Agreement DOES provide for parking. Number of parking spaces assigned to Guest's unit: 1 . Only one vehicle may be parked in the space. Guest shall only use assigned parking spaces and shall ensure that visitors park only in unassigned areas or designated parking area. Guest shall ensure that posted and designated fire zones, "Handicapped" or "No Parking" areas remain clear of vehicles at all times. Guest shall refrain from parking in unauthorized areas or in another resident's designated parking space. (Vehicles parked in unauthorized areas or in another resident's space may be towed away at the vehicle owner's expense.) Only currently registered vehicles may be parked on the property. A vehicle that lacks an engine, transmission, wheels, tires, doors, windshield, or any other major part or equipment necessary to operate safely on the highways, is subject to tow under California Vehicle Code 22658. Vehicles parked in violation of local laws/ordinance are subject to tow.
11. PROHIBITIONS: Without Owner/Agent's prior written permission as an addendum to this Agreement, no pets, waterbeds, charcoal burners or other open-flame cooking devices, or liquefied petroleum gas fueled cooking devices ("grills") shall be kept or allowed in or about the premises.
12. SMOKING PROHIBITION: Smoking of tobacco products is prohibited everywhere on the premises, including in individual units and interior and exterior common areas. Guest shall inform his or her visitor(s) of this Smoking Prohibition. Guest shall promptly notify Owner/Agent in writing of any incident where tobacco smoke is migrating into Guest's unit from sources outside of Guest's unit. Guest acknowledges that Owner/Agent's adoption of this policy, does not make the Owner/Agent the guarantor of the Guest's health or of the smoke-free condition of the areas listed above. However, Owner/Agent shall take reasonable steps to enforce this provision. Owner/Agent shall not be required to take steps in response to smoking unless Owner/Agent has actual knowledge or has been provided written notice. Owner/Agent and Guest agree that the other residents of the property are the third party beneficiaries of this provision. A resident may sue another resident to enforce this provision but does not have the right to evict another resident. Any lawsuit between residents regarding this provision shall not create a presumption that the Owner/Agent has breached this Agreement. A breach of this provision by the Guest shall be deemed a material breach of this Agreement and grounds for immediate termination of the Agreement by the Owner/Agent.
13. QUIET ENJOYMENT: Guest and Guest's visitor(s) shall not violate any criminal or civil law, ordinance or statute in the use and occupancy of the premises, commit waste or nuisance, annoy, molest or interfere with any other person on the property, or neighbor. Any such action may result in the immediate termination of this Agreement as provided herein and by law. Guest shall refrain from creating, or allowing to be created, any noise that is disturbing to other residents. Guest is also responsible for compliance with any local noise ordinances.
14. ACCESS CHARGES: Guest should take care not to lock himself/herself out of the Premises. If Owner/Agent is required to assist any Guest in gaining entry to the Premises, Guest may be assessed a charge for the actual costs, including out of pocket expenses, incurred by Owner/Agent and Owner/Agent may require Tenant to contract with a professional locksmith.
15. PLUMBING: Cost of repair or clearance of stoppages in waste pipes or drains, water pipes or plumbing fixtures caused by Guest's negligence or improper usage are the responsibility of the Guest. Guest shall reimburse Owner/Agent for these costs on demand.
16. FINES AND PENALTIES: Guest is responsible for any fines or other costs occasioned by violations of the law by Guest or Guest's visitors on the premises or property while Guest is in possession. If any such fines or costs are levied against Owner/Agent, Guest agrees to pay such fines or costs attributed to Guest's tenancy or the conduct of Guest, Guest's visitors or others at the premises, upon receipt of an invoice from Owner/Agent. The obligation to pay fines and costs assessed against Owner/Agent may be in addition to any assessed directly against Guest.
17. REPAIRS AND ALTERATIONS: Guest shall make a written request to Owner/Agent regarding any repairs, decorations or alterations contemplated. Except as provided by law, no repairs, decorating or alterations shall be done by Guest without Owner/Agent's prior written consent. This includes, but is not limited to, painting, wallpapering, and changing locks. Guest may not make any alterations to cable or telephone inside wiring (such as may occur when changing telecommunications providers or adding phone lines) without prior written consent of the Owner/Agent. The consent request regarding proposed alterations to inside wiring shall include the name, address, and telephone number of any new telecommunications providers. Guest agrees to pay all costs resulting from the alteration and agrees to pay to the Owner/Agent any costs associated with restoring the inside wiring to the condition at the time of move-in, except for reasonable wear and tear. Guest shall hold Owner/Agent harmless and indemnify Owner/Agent as to any mechanic's lien recordation or proceeding caused by Guest.
18. ACCEPTANCE OF PREMISES: Guest shall inspect the premises upon arrival and notify Airbnb within 24 hours if any furnishings, equipment, plumbing, heating and/or electrical systems are not operative or deemed satisfactory.
19. CARE, CLEANING AND MAINTENANCE: Except as prohibited by law, Guest agrees:
(a) to keep the premises as clean and sanitary as their condition permits and to dispose of all rubbish, garbage and other waste, in a clean and sanitary manner. Guest shall ensure that large boxes are broken apart before being place in trash containers. Guest shall be responsible, at Guest's expense, for hauling to the dump those items too large to fit in the trash containers. Guest shall not dispose of any flammable liquids, rags or other items soaked with flammable liquids or any other hazardous material in trash containers or bins;
(b) to properly use and operate all electrical, gas and plumbing fixtures and keep them as clean and sanitary as their condition permits;
(c) to keep the premises and furniture, furnishings and appliances, and fixtures, which are provided for Guest's exclusive use, in good order and condition;
(d) not to willfully or wantonly destroy, deface, damage, impair or remove any part of the structure or dwelling unit or the facilities, equipment, or appurtenances thereto or to permit any person on the premises, to do any such thing;
(e) to occupy the premises as a residence, utilizing portions thereof for living, sleeping, cooking or dining purposes only which were respectively designed or intended to be used for such purposes.
(f) to leave the premises in the same condition as it was received, subject to normal wear and tear, as its condition permits.
(g) to return the premises, upon move-out to the same level of cleanliness it was in at the inception of the tenancy.
(h) to pay Owner/Agent for costs to repair, replace or rebuild any portion of the premises damaged by the Guest, Guest's visitors or invitees.
(i) to promptly advise Owner/Agent of any items requiring repair, such as locks, light switches or dripping faucets. Guest shall make repair requests as soon after the defect is noted as is practical.
(j) to keep Guest's personal property inside Guest's unit, unless Owner/Agent has expressly agreed otherwise in writing in an addendum to this Agreement. Guest shall refrain from shaking or hanging clothing, curtains, rugs, and other coverings and cloths outside of any window ledge or balcony. Plants and other items may not be placed on balcony railings or ledges, unless Owner/Agent has expressly agreed otherwise in writing in an addendum to this Agreement.
(k) Guest shall refrain from storing gasoline, cleaning solvent or other flammable liquids in the unit.
20. LANDSCAPING: Guest is not responsible for the upkeep of the yard and maintenance of the landscaping, including watering, mowing, weeding and clipping. Guest shall promptly advise Owner/Agent of any problems with the landscaping, including, but not limited to, dead grass, plants or tree limbs, insect infestations, discolored or yellowing foliage and insufficient irrigation or leaks. Guest may not delegate the responsibilities of this paragraph to any person, including a contractor or other landscaping professional.
21. SMOKE DETECTION DEVICE: The premises are equipped with a functioning smoke detection device(s), and Guest shall be responsible for testing the device weekly and immediately reporting any problems, maintenance or need for repairs to Owner/Agent. If battery operated, Guest is responsible for changing the detector's battery as necessary. Guest may not disable, disconnect or remove the detector. Owner/Agent shall have a right to enter the premises to check and maintain the smoke detection device as provided by law.
22. CARBON MONOXIDE DETECTION DEVICE: If the premises are equipped with a functioning carbon monoxide detection device(s), Guest shall be responsible for testing the device weekly and immediately report any problems, maintenance or need for repairs to Owner/Agent. If battery operated, Guest is responsible for changing the detector's battery as necessary. Guest may not disable, disconnect or remove the detector. Owner/Agent shall have a right to enter the premises to check and maintain the carbon monoxide detection device as provided by law.
23. RENTERS INSURANCE: Guest's property is not insured by Owner/Agent. Guest is not a co-insured and is expressly excluded from coverage under any insurance policy held by Owner/Agent which is now in effect or becomes effective during the term of this Agreement. Guest is encouraged but not required to obtain renters insurance.
24. WAIVER OF BREACH: The waiver by either party of any breach shall not be construed to be a continuing waiver of any subsequent breach. The receipt by Owner/Agent of the rent with the knowledge of any violation of a covenant or condition of this agreement shall not be deemed a waiver of such breach. No waiver by either party of the provisions herein shall be deemed to have been made unless expressed in writing and signed by all parties to this Agreement.
25. JOINT AND SEVERAL LIABILITY: The Guest(s), whether or not in actual possession of the premises, are jointly and severally liable for all obligations under this Agreement and shall indemnify Owner/Agent for liability arising prior to the return of possession to the Owner/Agent for personal injuries or property damage caused or permitted by Guest(s), their visitors, and invitees. This does not waive "Owner/Agent's duty of care" to prevent personal injury or property damage where that duty is imposed by law.
26. ENTRY: California law allows Owner/Agent or his/her employee(s) to enter the premises for certain purposes during normal business hours. The Owner/Agent will provide written notice to the Guest prior to the entry of the dwelling unit whenever required by state law. (Civil Code Section 1954.) Guest's non-compliance with Owner/Agent's lawful request for entry is a material breach of this Agreement that may be cause for immediate termination as provided herein and by law.
27. DESTRUCTION OF OR DAMAGE TO THE PREMISES: In the event the premises are partially or totally damaged or destroyed by fire or other cause, the following will apply:
(a) If the premises are totally destroyed by fire, earthquake or other casualty, this Agreement will terminate, as of the date on which the damage occurs. However, if the damage or destruction is the result of the negligence of the Guest, or his or her invitees, then the Agreement will not terminate, unless notice is given by the Owner/Agent, specifying the termination date.
(b) If the premises are only partially damaged, or are temporarily uninhabitable, as determined by Owner/Agent, Owner/Agent will use due diligence to begin the process to repair such damage and restore the premises as soon as possible. If only part of the premises cannot be used, there will be a proportionate reduction of rent until the premises are repaired, to be determined solely by Owner/Agent.
28. ENTIRE AGREEMENT: This Agreement, which includes all attachments referred to above, constitutes the entire Agreement between the parties and cannot be modified except in writing and signed by all parties, except as permitted by applicable law. Neither Owner/Agent, nor any agent or employee of Owner/Agent has made any representations or promises other than those set forth herein.
29. CREDIT REPORTS: A negative credit report reflecting on your credit history may be submitted to a credit reporting agency if you fail to fulfill the terms of your credit obligations. Guest expressly authorizes Owner/Agent (including a collection agency) to obtain Guest's consumer credit report, which Owner/Agent may use if attempting to collect past due rent payments, late fees, or other charges from Guest, both during the term of the Agreement and thereafter.
30. ATTORNEYS' FEES: If any legal action or proceeding is brought by either party to enforce any part of this Agreement, the prevailing party shall recover, in addition to all other relief, reasonable attorneys' fees and court costs.
---
---
Detector de monóxido de carbono
---
Estancia mínima de 5 noches
---
We can't say enough about our 3 month stay in Jerry's home. From the beginning communication between Jerry and us was prompt. When we got to the place it was very clean with everything that we could possibly need for our long term stay. The unit itself is very modern and chic. We loved how Jerry thought of every detail when putting this loft together. The open concept of the place makes it really cool. The kitchen is fully stocked and a great size. The living room is perfect size. Great TV size. Bathroom downstairs makes it ideal for guests or a small family stay. The bedroom has plenty of space and the king size bed is beyond comfortable. All the linen and towels were very clean. It was awesome having a washer and dryer (that is very modern) in the unit. Last but not least we enjoyed so many meals in the outside patio. It's the cutest. The area is quite and quaint. It's an ideal distance from downtown SLO! Don't think about it twice...this is one of the best places to stay in SLO:)
Thank you for your kind words and recommendation, Sara. I can't say enough about what a great guest YOU were and I'm kicking myself for letting the review period run out before I could leave one for you! For the record and any hosts reading this, Sara is an A+ guest and I hope she'll return for another stay in the future.
---
I had an amazing time in SLO largely because of my stay at the townhome. The space is exactly as pictured, very clean, well-lit, comfortable, and homey. Jerry and Lia were incredibly helpful and informative from day 1 of my booking, and were even able to accommodate my request to stay an extra week because I just didn't want to leave! Will definitely re-book. A+
---
Exceptional accomodation in SLO. Ideal for a senior couple who value a quiet neighbourhood yet close to downtown. All amenities provided and an excellent supermarket within a few minutes drive. We did not meet Gerry but Lia, his representative, was extremely helpful in getting us settled in and in providing details on SLO and environs.
---
This unit was GREAT! What a find. We were really pleased with everything and would HIGHLY recommend it. The town home was clean, well appointed (had everything we needed), and comfortable. The photos of the unit and description as described are accurate. It is located in a quiet, safe neighborhood within walking distance to downtown. Our host was EXCELLENT to work with; provided maps, directions, transportation information, and a hand out with places to shop, eat, walk and bike around town. Our host was responsive. Our experience with the unit and the host was Excellent. Would definitely stay again.
---
This town home was extremely quiet and clean. We enjoyed walking to downtown SLO's stores and restaurants. The neighborhood was quaint with historical homes and parks. The kitchen was fully stocked for those who like to cook. The king size bed was comfortable with plenty of closet and drawer space for clothes.
---
I first came to SLO in the 70's to teach a semester at Cal Poly, and I have been returning to this beautiful area ever since. This duplex unit is our home-away-from-home when we're not in Europe. I hope other travelers will enjoy it as much as we do. Lia, the daughter of a good friend and colleague will act as your host in our absence.
Idiomas:
English
Índice de respuesta:
100%
Tiempo de respuesta:
en pocas horas
Descubre otras opciones en San Luis Obispo y sus alrededores
Más alojamientos en San Luis Obispo: