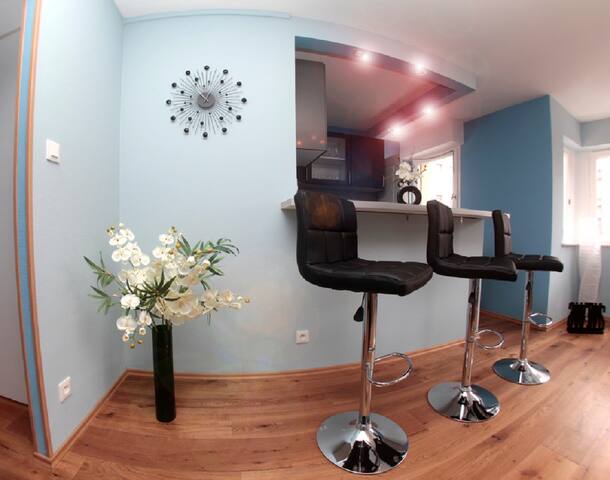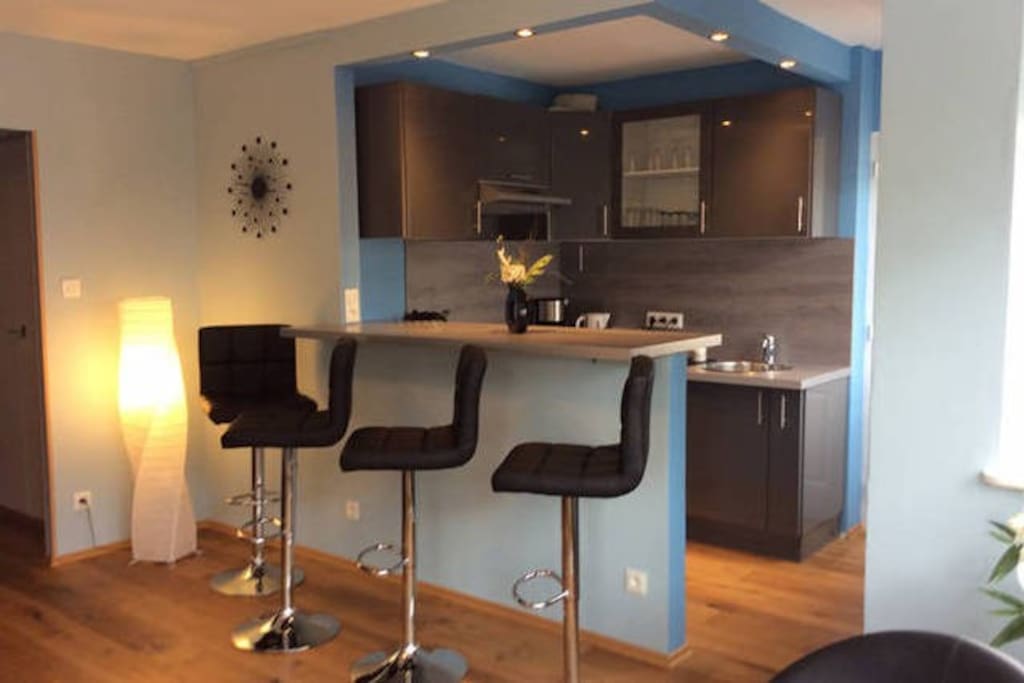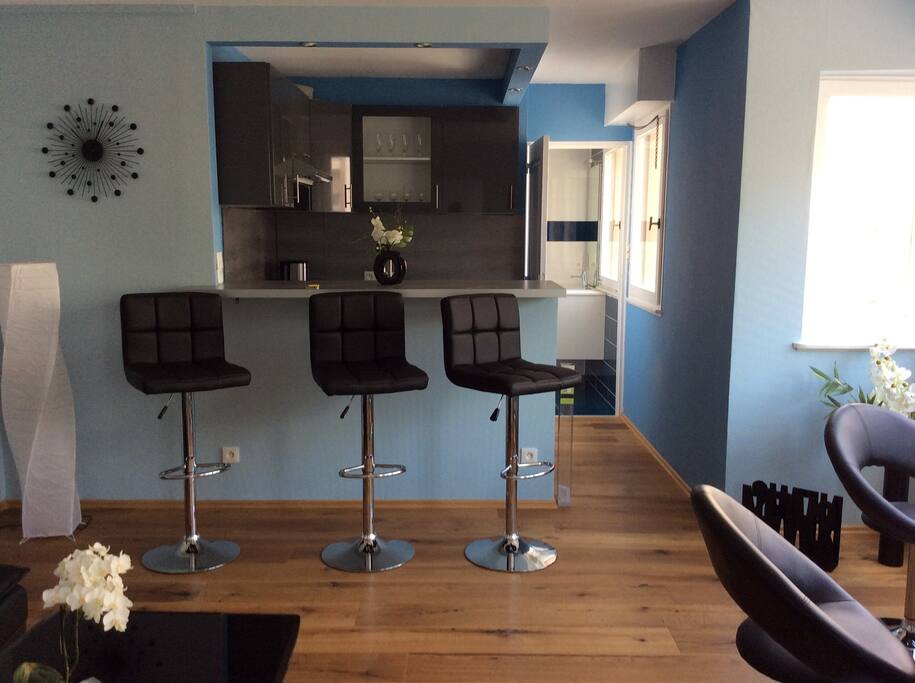 Apartamento, hypercenter 5min a la catedral, lugar Broglie / Opera / facil aparcamiento, tranvía 100m, 1r piso ascensor, 1 dormitorio con cama matrimonial, 1 salón con sofá cama / escritorio / TV / Internet wifi, cocina abierta, ducha / WC, roble Piso, todas las conveniencias cercanas
Apartment,hypercenter 5min to cathedral,place Broglie/Opera/ easy parking, 100m Tram, 1st floor elevator, 1 bedroom with kingsize-bed, 1 livingroom with sofa bed/desk/TV/wifi Internet,open kitchen, showerroom/WC,oak flooring,all conveniences nearby
El lugar
Impecablemente limpia 2 habitaciones-apartamento en el corazón de la ciudad 1er piso con ascensor 1 dormitorio con cama matrimonial 1 salón con cómodo sofá cama y escritorio con wifi, TV de alta definición, reproductor de DVD Blu-ray Cocina abierta equipada Duchas / aseos Suelos de roble
spotlessly clean 2 rooms-apartment in the heart of the city
1st floor with elevator
1 bedroom with kingsize-bed
1 livingroom with comfortable sofa bed and desk with wifi, HD TV, Blu-ray DVD player
equipped open kitchen
Showerroom/toilets
Oak flooring
Disponible para huéspedes
Atención a los huéspedes
Vivimos a 5 km del apartamento y permanecen disponibles durante su estancia por sms / llamada telefónica / correo.
We live 5 km away from the apartment and remain available during your stay per sms/phone call/mail.
Este espacio dispone de los servicios básicos para viajes de negocios.
Apto para familias y niños
Dormitorio 1
1 cama tamaño king
No se admiten fiestas o eventos
La hora de llegada es a partir de las 14:00
Salida antes de las 11:00
Llegada con acceso libre con doorman
Deutsch – Francais - English
1. Nutzung
Die Wohnungen können nur zum Wohnen und Schlafen benutzt werden. Jede Störung der Nachbarschaft ist zu vermeiden und führt im Beanstandungsfall zur sofortigen Kündigung.
2. Aufenthaltsdauer
Nach Ablauf der gemieteten Aufenthaltsdauer hat der Mieter keinen Anspruch auf Verlängerung seines Aufenthalts in der Wohnung.
3. Belegung
Die Wohnung darf nur von den angekündigten Personen belegt werden. Die -auch nur zeitweise- Belegung mit zusätzlichen Personen bedarf der schriftlichen Genehmigung durch den Eigentümer. Zuwiderhandlungen führen zur sofortigen Kündigung zu Lasten des Mieters.
4. Bezahlung und Annulierung durch den Kunden
4.1. Bezahlung
Bei Reservierung wird eine Anzahlung von 50% des gesamten Mietbetrages durch den Kunden fällig. 20 Tage vor Mietbeginn werden vom Vermieter der Restbetrag und eine Kaution ( siehe 8.) in Rechnung gestellt.
4.2. Annulierung Woche 1- 47 ohne die Parlementswochen
Jede Annuliering bedarf der schriftlichen Benachrichtigung an den Vermieter.
a) Bei schriftlicher Annuliering mehr als 30 Tage vor Beginn des vereinbarten Mietzeitraumes entstehen keine Kosten für den Mieter. Die Anzahlung wird vom Vermieter an den Kunden zurückgezahlt.
b) Bei Annulierungen, welche weniger als 30 Tage vor Aufenthaltsbeginn eintreffen, erfolgen keine Rückerstattungen an den Kunden.
c) Falls der Mieter sich nicht spätestens 10 Stunden nach Mietbeginn vor Ort beim Vermieter meldet, erlischt der Mietvertrag zu Lasten des Mieters und der Vermieter kann über die Wohnung wieder frei verfügen. Der Mieter hat die gesamten Mietkosten an den Vermieter zu bezahlen.
4.3. Annulierung Woche 48-53 und während der Parlementswochen
Die Gesamtmietkosten sind bei Reservierung zu bezahlen und nicht erstattungsfähig.
4.4. Grundsätzlich werden bei Verkürzungen des Aufenthaltes keine Rückerstattungen gewährt.
5. Ankunft
Die Schlüsselübergabe erfolgt ab 15 Uhr am vorgesehenen Tag. Der Mieter verpflichtet sich, den Vermieter über seine Ankunftszeit zu informieren und einen Zeitpunkt zur Schlüsselübergabe zu vereinbaren. Vor Übergabe der Schlüssel ist der Gesamtmietbetrag per Kreditkarte zu bezahlen.
6. Handtücher und Bettwäsche
Der Vermieter liefert eine frische Garnitur von Handtüchern und Bettwäsche, welche alle 3 Tage bzw. jede Woche gewechselt wird.
7. Nichtraucher-Wohnungen
In unseren Wohnungen ist das Rauchen - auch aus dem Fenster - strikt verboten. Im Falle von Zuwiderhandlungen wird vom Vermieter eine Reinigungsgebühr von 250 Euro erhoben.
8. Kaution
Zur Abdeckung der Kosten für Zuwiderhandlungen gegen diese Bestimmungen verpflichtet sich der Vermieter, eine Kaution von 300 bzw. 400 Euro beim Vermieter zu hinterlegen ( siehe 4.1.). Die Kaution wird nach Ende der Mietzeit vom Vermieter innerhalb von 15 Tagen zurückgezahlt.
9. Verlust der Wohnungsschlüssel
Bei Verlust der Wohnungsschlüssel sind vom Mieter eine Entschädigung von 150 Euro an den Vermieter zu bezahlen.
10. Benutzung der Wohnung und Einrichtungen
Die Wohnung und deren Einrichtungen sind vom Mieter so zu benutzen, daß die Nachbarschaft nicht durch Lärm, Geruch und sonstiger Unannehmlichkeiten gestört wird. Das Halten von Tieren in der Wohnung ist grundsätzlich nicht gestattet. Im Falle von Beschwerden durch die Nachbarschaft erfolgt die sofortige Kündigung zu Lasten des Mieters.
Die Wohnung ist in einem sauberen Zustand zu verlassen, d.h. insbesondere, daß die Mülleimer entleert sind, das Geschirr sauber und der Herd, die Spüle und der Kühlschrank sauber und leer sind. Im Falle von Unsauberkeiten werden die zusätzlich notwendigen Reinigungsmaßnahmen dem Mieter in Rechnung gestellt. Sämtliche beschädigte, fehlende oder kaputte Wohnungsgegenstände und Einrichtungen muß der Mieter dem Vermieter bei Schlüsselübergabe melden und bezahlen.
11. Dringende Reparaturen
Im Falle notwendiger Reparaturarbeiten während der Mietzeit kann der Mieter keine Entschädigung oder Kostenreduzierungen vom Vermieter verlangen.
12. Belegungskapazität
Die bestehende Vermietung erfolgt unter Einhaltung der maximalen Belegungskapazität der Wohnung wie unten angegeben. Bei Überschreitung dieser Grenze kann der Vermieter die zusätzlichen Personen ablehnen. Sämtliche Folgen auf das Mietverhältnis gehen zu Lasten des Mieters.
 
Maximale Belegung
Installation eines
zusätzlichen Bettes
Installation eines
Baby-Bettes
claire-voie
4 PERSONEN
Nicht möglich
Ja ( auf Anfrage )
Ruelle
Obernai
Saverne
6 PERSONEN
Nicht möglich
Ja ( auf Anfrage )

13. Baby-Bett
Baby-Betten können auf Anfrage des Mieters und Bestätigung durch den Vermieter gegen eine Gebühr von 20 Euro/Tag genutzt werden.
14. Tiere
Es sind in den Wohnungen grundsätzlich keine Tiere erlaubt.
15. Datenschutz
Sämtliche kundenbezogenen Daten werden streng vertraulich behandelt und nicht an Dritte weitergegeben.
15. Gerichtsstand
Für die Parteien gilt der Gerichtsstand Straßburg.
Strasbourg, den 1.6.2015
1. DESTINATION :
Les appartements loués ne pourront être affectés qu'à l'usage d'habitation à l'exclusion de tout autre usage.
2. DUREE DU SEJOUR :
A l'expiration de la durée du séjour, la location prendra fin de plein droit sans que l'une ou l'autre des parties ait à donner congé. Le locataire ne pourra en aucune circonstance se prévaloir d'un quelconque droit au maintien dans les lieux à l'issue du séjour.
3. OCCUPATION DES LIEUX :
La location ne peut en aucun cas bénéficier même partiellement à des tiers, personnes physiques ou morales, sauf accord écrit du propriétaire. Toute infraction à ce dernier alinéa sera susceptible d'entraîner la résiliation immédiate de la location aux torts du locataire, le produit de la location restant définitivement acquis au propriétaire.
4. PAYEMENT et ANNULATION PAR LE LOCATAIRE :
4.1. Payement
Un acompte de 50% du montant total du séjour est facturé à la réservation. 20 jours avant la date d'arrivée le reste du montant et une caution remboursable ( voire 8. ) seront facturés.
4.2. Annulation semaine 1-47 sans sessions parlementaires :
Toute annulation doit être notifiée par écrit au bailleur.
a) Si l'annulation est notifiée par écrit au bailleur plus de 30 jours avant la date d'arrivée prévue dans les lieux, aucun frais ne seront appliqués et l'acompte remboursé par le propriétaire.
b) Si l'annulation est notifiée moins de 30 jours avant la date d'arrivée : Aucun remboursement est possible.
d) En cas de non présentation, si le locataire ne se manifeste pas dans les 10 heures qui suivent la date d'arrivée indiquée sur le contrat, la location deviendra nulle et le bailleur pourra disposer de son appartement. Le montant du séjour reste également acquis au bailleur qui demandera, le cas échéant, le solde de la location.
De manière générale, si le séjour est écourté, le prix de la location reste acquis au propriétaire. Il ne sera procédé à aucun remboursement.
4.3. Annulation semaine 48-53 et période de sessions parlementaires :
Le montant total du séjour est payable à la réservation et n'est pas remboursable. Si le séjour est écourté pour quelque raison que ce soit, le prix de la location reste acquis au propriétaire. Il ne sera procédé à aucun remboursement.
5. ARRIVEE :
La prise de possession des lieux s'effectuera le jour prévu à partir de 15 heures.
Le locataire s'oblige à prévenir le bailleur de son heure d'arrivée et à prendre rendez-vous pour la remise des clefs.
6. LINGE DE TOILETTE ET DE LIT :
Le bailleur fournit au locataire le linge de toilette avec un change deux fois par semaine. Le linge de lit est fourni avec un change toutes les semaines.
7. APPARTEMENTS NON FUMEURS :
L'appartement est non fumeur. En cas de constatation du non respect de cette règle (odeur), le bailleur prélèvera une somme forfaitaire de 250 € en réparation du préjudice subi.
8. Caution :
A titre de garantie de l'exécution de toutes les clauses des présentes conditions générales, le locataire s'oblige à payer au propriétaire une caution de 300€ où 400 €. Cette somme sera restituée au locataire, au plus tard dans les 15 jours de son déménagement, et sous les réserves figurant au précédent alinéa.
9. PERTE DU BADGE D'ACCES :
Une somme de 150 € sera prélevée pour chaque badge d'accès (ou clefs) perdu ou non restitué à la sortie des lieux.
10. UTILISATION DES LIEUX :
Le locataire devra assurer le caractère paisible de la location et habiter les lieux bourgeoisement, conformément à leur destination. Le locataire ne pourra introduire d'animaux dans les lieux loués.
Toute transformation ou aménagement nécessitera un accord préalable exprès et écrit du bailleur. A défaut de cet accord, le bailleur pourra exiger la remise en état des locaux ou des équipements, au départ du Locataire.
En cas de dégradation, perte, casse, le locataire sera redevable envers le bailleur de tous remplacements ou réparations nécessaires.
Même si le ménage en fin de séjour est compris dans le prix de la location, l'appartement devra être rendu propre. Cela signifie notamment que les poubelles devront être vidées, la vaisselle nettoyée et rangée, les provisions emportées ou jetées, le réfrigérateur et le four micro-onde nettoyé. Si l'appartement n'était pas rendu propre, tous frais correspondants seront facturés au Locataire.
11. REPARATIONS URGENTES :
Le locataire ne pourra réclamer aucune déduction de loyer ou indemnité au propriétaire au cas où des réparations urgentes, incombant au propriétaire apparaitraient pendant la location.
12. CAPACITE D'ACCUEIL :
La présente location est établie pour une capacité maximum de personnes. Si le nombre de locataires dépasse la capacité d'accueil, le propriétaire peut refuser les personnes supplémentaires. Toute modification ou rupture de la location sera considérée à l'initiative du locataire.

1. DESTINATION :
The appartements can only be used for habiation. In case of complaints made by the neighborhood the owner could resign the stay immediately at cost of the client.
2. DURATION of the stay
After expiration the client has nor right of prolongation of the stay.
3. OCCUPATION :
The appartements can only be used by the announced persons. Additional persons have to be allowed in written form by the owner. Every violation will cause immediately a resign of the stay at cost of the client.
4. PAYMENT and ANNULATION by the client :
4.1. Payment
With the reservation the client has to pay a commission of 50% of the total amount of the stay. 20 days before the arrival-day the rest of the amount and a refundable deposit ( see 8. ) will be factured by the owner.
4.2. Annulation week 1- 47 without the weeks of parliaments-sessions
Every annulation has to be made in written form for the owner.
a) If the annulation is made in written form more than 30 days before the reserved arrival-day, there will be no fees and the commission refunded to the client.
b) If the annulation is made less than 30 days before the reserved arrival-day, there will be no refund.
c) If the client don't show up within 10 hours after the planned arrival-time, the rental-contract is cancelled and the owner will have the right to dispose about the appartement. The total rent have to be paid by the client.
4.3. Annulation 22.11. - 31.12. and the weeks of parliaments-session(URL HIDDEN)The total amount of the stay has to be paid with the reservation. Any refunding is impossible.
4.4. In principal shortenings of stays can't be refunded.
5. ARRIVAL :
The handover of the keys will be done on the reserved arrival-day at later than 3 pm . The client have to inform the owner at what time he will arrive and take a date for the handover of the keys. The total amount of the rent have to be paid by credit-card before the handover of the keys.
6. BEDLINEN and TOWELS :
The owner deliver fresh towels all 3 days and fresh bedlinen every week.
7. APPARTEMENTS NONSMOKING :
The appartements are nonsmoking. A violation will cause cleaning-mesures which will be charged
with 250 Euros to the client.
8. DEPOSIT :
In order to guarantee the assumption of any costs resulting from the violation of the above rules the client will make a deposit of 300 or 400 Euro to the owner, which will be repaid by the owner within 15 days after the end of the stay.
9. Loss of the keys :
A loss or not-return of the keys will be charged with 150 Euros to the client.
10. Use of the appartement and its facilities :
The client have to use the appartement and its facilities quietly without any disturbances like noise or smell to the neighborhood. In case of complaints the owner could resign the stay immediately at cost of the client. Although the cleaning-mesures of the owner after the stay the client have to leave the appartement properly, which means he have to empty the trash and refregerator and leave the dinnerware, sink and cooker cleaned. Additional cleaning-mesures have to pe baid by the client.
Lost, damaged or brokened facilities have to be announced and paid by the client and the end of his stay.
11. Urgent REPARATIONS :
In case of urgent reparations made by the owner during the stay the client can't demand any reductions of the fees.
12. CAPACITY :
The present rent has to respect the maximal capacities defined in the following table. The owner can refuse any additional quests.
 
Maximum Capacities
POSSIBILITY
of additional beds
POSSIBILITE D'INSTALLER UN LIT BEBE ?
claire-voie
4 PERSONS
NO
YES ( on request )
Ruelle
Obernai
Saverne
6 PERSONS
NO
YES
( on request )
13. Baby-Bed:
All children younger than 2 years will be charged with 25 Euros/day for the baby-bed. The client has to ask the owner before if a baby-bed is available.
14. ANIMALS :
Animals in the appartement are not allowed.
15. PRIVACY :
All data from the client will be handled confidential.
16. PLACE OF JURISDICTION :
Place of jurisdiction is Strasbourg.
Idiomas:
Deutsch, English, Français
Índice de respuesta:
100%
Tiempo de respuesta:
en menos de una hora
Descubre otras opciones en Estrasburgo y sus alrededores
Más alojamientos en Estrasburgo: