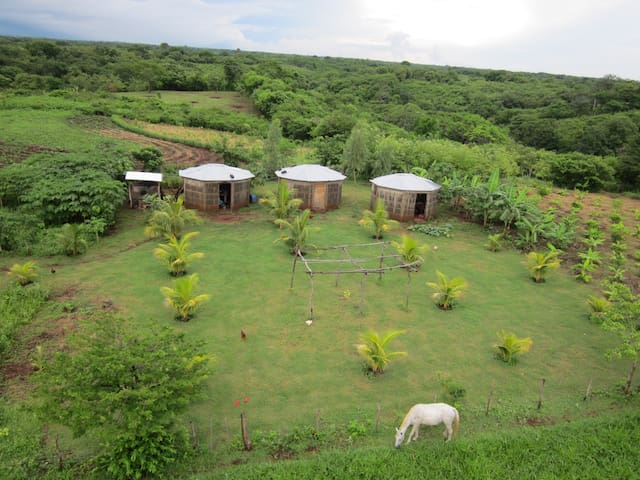 Habitación privada
2 huéspedes
2 camas
Información sobre este anuncio
Con Airbnb, puedes encontrar alojamientos únicos en casa de otros particulares: desde pisos y departamentos hasta cabañas en un árbol e iglús. La información que aparece en la parte inferior del anuncio explica qué encontrarás en el alojamiento. Si tienes alguna pregunta, puedes enviar un mensaje al anfitrión.
---
Capacidad: 2
Dormitorios: 1
Camas: 2
Tiene mascotas: Perro(s)
---
Servicios
Cocina
Cocina disponible para el uso de los huéspedes
Elementos básicos
Toallas, sábanas, jabón y papel higiénico
Desayuno
Desayuno incluido
Apto para familias y niños
+ Más
Cocina
Cocina
Cocina disponible para el uso de los huéspedes
Internet
TV
Elementos básicos
Elementos básicos
Toallas, sábanas, jabón y papel higiénico
Calefacción
Calefacción
Calefacción centralizada o calentador eléctrico
Aire acondicionado
Lavadora
Lavadora
Gratuita o de pago, en el mismo edificio
Secadora
Secadora
Gratuita o de pago, en el mismo edificio
Parking incluido
Internet inalámbrico (wifi)
Internet inalámbrico (wifi)
Accesible a todas horas
TV por satélite
Desayuno
Desayuno
Desayuno incluido
Admite mascotas
Apto para eventos
Apto para eventos
El espacio tiene capacidad para un grupo de 25 o más asistentes
Apto para fumadores
Acceso para discapacitados
Acceso para discapacitados
Edificio de fácil acceso y alojamiento apto para huéspedes en silla de ruedas
Edificio con ascensor
Chimenea interior
Timbre / Interfono inalámbrico
Portero
Piscina
Piscina
Privada o comunitaria
Jacuzzi
Gimnasio
Gimnasio
Gratuito, en el edificio o los alrededores
Detector de humo
Detector de CO
Botiquín
Ficha de instrucciones de seguridad
Ficha de instrucciones de seguridad
Incluye números de emergencia y otros recursos
Extintor de incendios
---
Personas adicionales:
$10 / noche después del primer huésped
Tarifa semanal:
$84

/semana
---
Descripción
Truly off-the-beaten track Nica experience you won't find in guidebooks. Stay in your own bungalow in the Nicaraguan countryside with an ocean view and access to a beautiful waterfall.
The casita (bungalow) is clean and basic. It has electricity, one double bed and one single bed, tile floors, a table, and chairs. Fresh air flows through the room. Outside is a covered ramada with hammocks overlooking the countryside and ocean. Included in the price is breakfast and an initial tour of the lovely waterfall and local community. You can relax or be active in our humble Nicaraguan village. Do as much or as little as you like!
NOTE! We do our best to respond immediately to your reservation request within the required 24 hours; however, we are not connected to the Internet everyday on the farm. We appreciate your patience and look forward to your visit!
Price includes coffee/tea in the morning and a traditional Nicaraguan breakfast. We cook fresh meals.
Daily meal plan (includes lunch and dinner): $9
We use fruits, vegetables, and herbs from our farm when they're in season. One meal a day is vegetarian and the other includes fresh fish, chicken, or beef.
Accomodations:
Two single beds, fan, table, and hammock.
Ecological composting privy located near the room.
Internet:
We now have a fast 4G cellular data connection which we can tether to guests from our cell phone via wifi. Cost is 30 cordobas per hour for 50MB of data transfer. If you plan to use the Internet regularly on the farm, we recommend that guests bring an unlocked smartphone and buy a local prepaid SIM card (about $2) with a prepaid data package.
Activities:
Take a tour with our local tour guide
Enjoy typical Nica cuisine
Practice your Spanish
Swim at nearby waterfalls
Learn about sustainable farming
Visit our local beaches on the Pacific Ocean
Practice yoga
Note: Buses run to our farm 4 times and day and currently costs 14 cordobas. Mototaxis also run all day from Diriamba and runs from 100-150 cordobas. The farm is not difficult to reach and is conveniently located only 1 hour from Managua. When you book a reservation, you'll get detailed directions to the farm via public and private transport.
You will have access to the kitchen, waterfall, and fresh drinking water from our spring.
We are usually home during your stay, although we may be busy during the day. We enjoy conversation with guests.
Our local community has about 13 families. They are charcoal producers, cattle ranchers, farmers, and local merchants. The women wash clothes down at the river and guests are welcome to join in to wash their clothes.
There are buses that run 4 times a day between the farm and Diriamba. The village is easily accessible on foot.
We are located between Managua and Granada off the Panamerican Highway. From the Managua airport, you can take a taxi to Diriamba for about $50, or we can save you some time and money and have our taxi driver pick you up at the airport.
You will get detailed directions to the farm from Diriamba after you book.
A headlamp, earplugs, and some snacks are good to bring along.
We do our best to accomodate all the needs of our guests, and please ask if you need anything. Thanks!
+ Más
---
Enjoy the rest and relaxation. Please no smoking in the room.
+ Más
---
Ninguno
Detector de humo
Detector de CO
Ficha de instrucciones de seguridad
Extintor de incendios
---
Estadía mínima de 2 noches
In short, I recommend this place if you are open to a joyfull but humbling experience away from luxury and excess.

Jeff gave us a tour of the area and walked us down to a beautiful local waterfall.

Jeff is truly a host with the most, and he was very helpful and full of information.

If youre interested in an experience in the hills of Nicaragua, with a great set of hosts , definitely book with Jeff and Jasmina!

The evenings were nice when wed get together in the kitchen drink beer, eat good food and talk about life, travel and permaculture!
We had a great time staying with Jeff and Jasmina. They are very kind people, they welcomed us in their paradise - home. Jeff told us a lot about the farm, showed us the beautiful waterfall and gave us our first yoga class. Jasmina cooked the most delicious meals. We enjoyed the tour with Chilo and Brian very much too! All in all it was a wonderful experience and gracias a Jeff y Jasmina! (Y Chilo y Brian tambien)
+ Más
My friend and I LOVED staying with Jeff and Jasmina on their finca. We really enjoyed learning about the farm, practicing yoga, and getting to know them and the rest of Jasmina's family in the surrounding community. Jasmina's brother is also a terrific guide and can give you different tours. The community is a little far removed from other things but it is easy to get around to neighboring places via buses. Jeff and Jasmina are very helpful when it comes to getting you information about the public transportation. If you want a different experience that is off the beaten track and one that will give you insight into life in rural Nicaragua, I highly recommend this host!
+ Más
The Jeff and Jasmina were very welcoming. The meal plan was excellent. The highlight of our trip was the motor tour offered by Chilo. For anyone headed out this direction it is a MUST!
I can say that this is not a place to stay for anyone who has problems sleeping through loud noises. Even with earplugs the wind makes it hard to fall asleep.
+ Más
It was an absolutely awesome experience staying with Jeff and Jasmina. Their property is beautiful and the nearby waterfall is stunning. The meals Jasmina prepares are huge and delicious, well worth the (very small) additional fee. If you're looking for a dynamic, interesting off-the-grid experience this is it!
+ Más
Jeff and Jasmina were great hosts. They gave us a peak into the life in more rural Nicaragua. Jasmina is a great cook and we didn't have any trouble drinking from their fresh water spring. We took advantage of the 35$ water tour and has a lot of fun zipping around and seeing sights from the back of a motorbike with Janine's brothers Chilo and Jose.
+ Más
Jasmina and Jeff were amazing hosts and made the time we spent at their farm near Diriamba very special. The house is located in the countryside 10 minutes away from the most beautiful waterfall I´ve ever seen (and I saw many). The facilities are basic, but thought through. They have everything that is really needed and we found the experience of going back to the basics wonderful. We also enjoyed two tours conducted by Jasmina´s brother. We loved the first tour where we learned much about typical Nicaraguan life in the countryside. We had bad luck with the second tour to a waterfall/ lagoon/ the sea because it was rainy a considerable part of the day and because it is all about swimming it is not advisable for a rainy day, but it´s supposed to be beautiful on sunny days. Jasmina is a good chef and adjusted typical Nicaraguan food to our vegetarian diet. The portions were enormous and tasty. Jeff is a very knowledgeable and sociable person who knows a lot about the region, yoga, permaculture, philosophy and much more. He is very willing to share his knowledge and time. It was very inspiring, thank you so much!
+ Más
Jeff & Jasmina were wonderful hosts, the stay was great, the highlight the short walk to the waterfall and having a dip during the day. Jasmina provided amazingly tasty and filling local meals. It was very relaxing and private.
+ Más
Información sobre Jeff & Jasmina, el anfitrión
Welcome to our finca! Around these parts, we love planting, ukulele, ashtanga yoga, the beach, and especially receiving airbnb guests! Lifelong learning - only when we're not farming, is what we love and we hope to share a part of the life here with you. A little help from youtube university and books certainly help due to our remote location.
Once an airbnb guest and Zen buddhist practicioner was wearing a wristband with the message, "Live Joyfully". We couldn't agree more.
+ Más
NI
Miembro desde Agosto de 2012
Ratio de respuesta:
88%
(hace 90 días)
Tiempo de respuesta: en el mismo día
---
Descubre otras opciones en Diriamba y sus alrededores