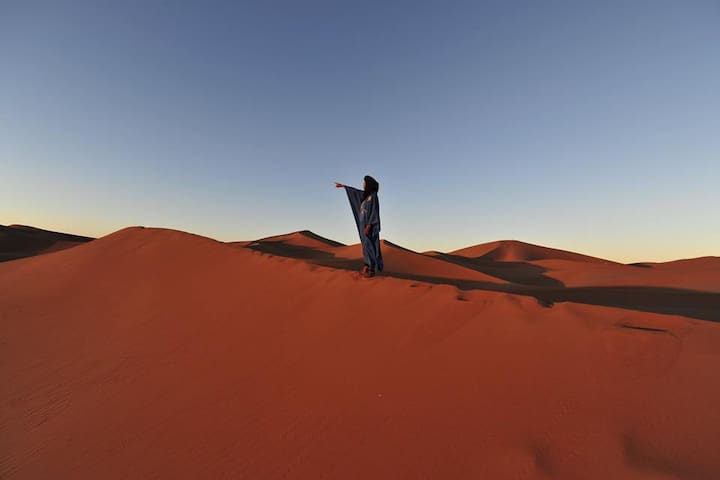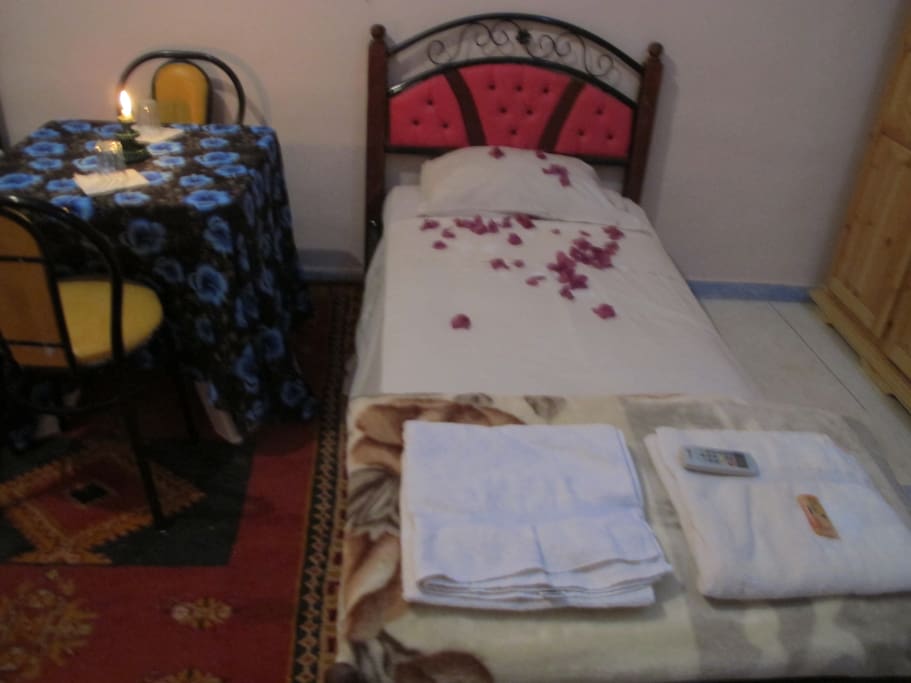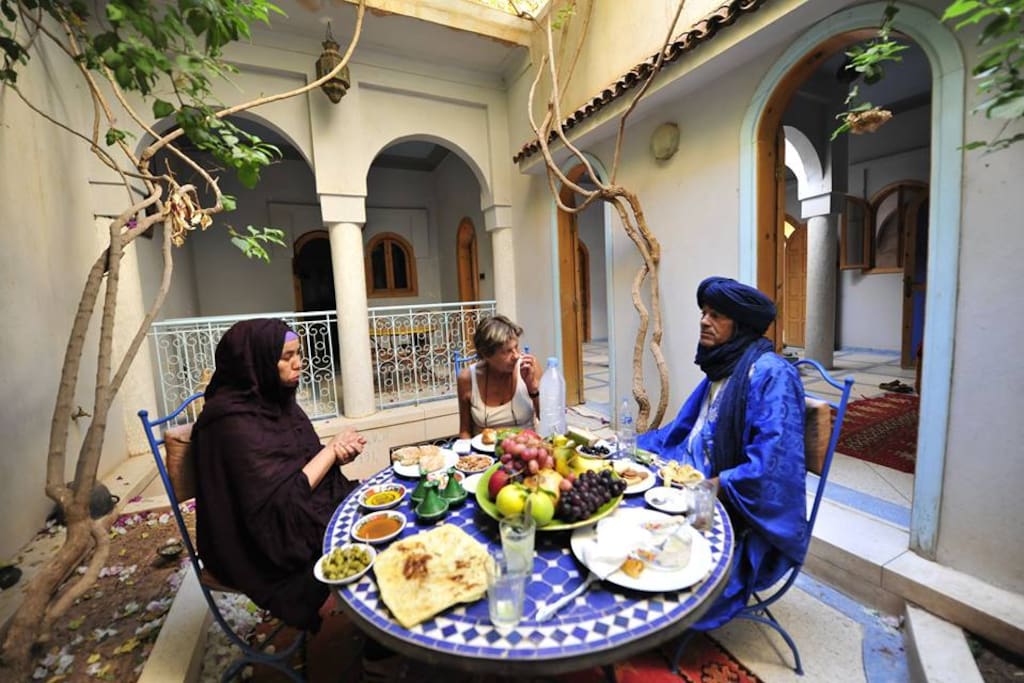 Room at Riad De Rêve guesthouse
Riad de Rêve is located at a 5 minute walking distance from the city centre in a quiet and secure location. The atmosphere is relaxed and it features a patio. Home-cooked meals are available where gastronomic specialties can be prepared on request.
El lugar
Escape typical tourist accomodation and spend a night or two in my guesthouse where I will prepare traditional meals and homemade breads. Having lived in Switzerland for almost 30 years, I am familiar with European standards and tastes. As a native of the Sahara desert, I organise unique trips to inaccesssible locations of the Sahara.
Disponible para huéspedes
I organise bespoke trips tailored to the wishes of the group, either by jeep or by camel. Since each excursion is unique, prices will depend on the size of the group and the means of transport.
Atención a los huéspedes
The Riad has a family atmosphere where guests can participate in the cooking to learn Moroccan cuisine. Your host lives at the guesthouse and wants all visitors to treat it like their home!
---
Tipo de habitación: Habitación privada
---
---
Smoking is permitted on the patio but not in the rooms
---
---
Ficha de instrucciones de seguridad
---
Estancia mínima de 1 noche
---
I was welcome at the CTM station, and everything was fine until I discover that the Riad was pretty far from the centre, and that the owner was ready to offer me an excursion unique and special, which was completely touristic and out of price. Yes, the road is clean, but there is no water at night in Zagora and no hot water ever. The ambiance is way to much hippie for me, no key of the room , people coming in and out all the time to drink beers. I didn't feel secure and I was rip off. Like a beautiful pastry, the owner and the place is fill with something not good. It is the first time that someone beg me to have a good review, and to have it in english as Francophone doesn't have money anymore...
Unfortunately I find your comments false and I would like to clarify on the following: 1) Riad De Rêve is centrally located, being just 10minutes walk from the city centre. However the CTM bus station isn't located in the city centre as it is 20-25 minutes by foot from the Riad. 2) regarding the issue of the water supply being cut off during the night, it has to be made clear that this practice is applied to the whole of Zagora. This region faces a problem of shortage of water supply due to the arid and dry climate as its located next to the desert. Furthermore, it hasn't rained for a long time as well. 3) There is hot water available here and as informed to you earlier if you do require hot water for a shower , you should let me know so I could get the heater to run. There was a Singaporean there during the same period and she had no problem with the hot water as she would inform me when hot water was required so I could get the heater to run. Furthermore, you have also mentioned that you didn't mind taking cold showers as it was good for health. 4) concerning the excursions to the Sahara desert, indeed I do have plenty of programs in mind and you could choose whichever suited you the most. If you found the price too expensive or program too touristic you could always voice it out so I could arrange for a suitable itinerary. The price may not be the same fair enough however it must be made clear that it is not compulsory to take up an excursion with me. Hence, it was you who made the decision on the type of program you wanted. 5) a thing to add: you arrived on the 31/10/2014 at 7:30 in Zagora at the CTM bus station. I was there waiting for you and when i realised that it was difficult to carry your 19kg luggage back to the Riad, I arranged for a small taxi to bring us there. It is only fair for each one to pay for their share but there wasn't any show of gratitude which is basic courtesy. We ate our breakfast together and after that we discussed on the excursions you wanted and only after confirmation from you, I arranged for a driver 4*4 jeep that very same day who arrived at 12:00. We left for the journey to the Draa Valley, palmerie oasis with the Kasbahs and mountains which covered a total of 240km. We returned to the Riad and had our dinner at 22:00. The following day, I woke up early at 06:00 to prepare breakfast and the driver (Omar) took us towards Tamgroute where we bought vegetables and fruits at the souk for our excursion. We took the road Godronnée for 6km and we followed the track until Tagounite for 70km and then the track to la source sacrée 110km away. We had our lunch in the midst of the desert and continued on towards Chgaga for 20km. We were always on the track towards Erg Zahara 60km where you slept and ate your dinner well. The following morning, I woke up early to prepare breakfast and we followed yet another track at 08:10 until M'hamid 62km away. We had tea at the village centre and we continued on our journey until Oulade Idresse to visit the Kasbah and the museum of the Draa valley. Next, We continued towards Anagammes where we took another track towards Tamagroute to have a look at the Koranic library and the green pottery. These visits to the museum/ library were not free and I had to pay for them. We arrived back at the Riad at sunset in the 02/11/2014 and I prepared a special dish which required much effort and work but you didn't seem to notice or take that into consideration. Lastly, would like to add that usually for a rental of a 4*4 jeep, it is to accommodate 6 persons. However, you rented the jeep for just 3 persons, the driver, myself as the guide and yourself. This means that the capacity wasn't well utilized to its maximum as there wasn't any sharing with other clients. Would also like to ask if you met any tourists during the excursion especially when sleeping in the Sahara? Not at all. I did take a beer but this should not concern you. You slept well(without any disturbance) ate well, went for excursions hence this that you are looking for, evidently you are unable to find it at my Riad. In my opinion, I feel that you came to Morocco not to learn about it and its culture but for other reasons and I'm not interested in what you are searching for. On a side note, you had 1000 dirhams due to me and on your last day, you gave me 600 dirhams and 20 Canadian dollars. According to you, the exchange rate for Canadian dollars to dirhams was 1:15 but I've verified it and it is 1:8 which is indeed heartbreaking cause I've been misled and I am still short of 240 dirhams due to me. Despite all, I still hope that you have a good and safe trip in Morocco. Short review from a current Singaporean guest who arrived on the 28/10/2014: Have been staying at the Riad for a week and so far have had no problems with the hot water and even though there was no key to the room, I had no issues with security. The Riad was also very convenient to get to as it was just a short walk to the town centre with many cafes and grocery shops nearby as well.
---
Descubre otras opciones en Zagora y sus alrededores
Más alojamientos en Zagora: