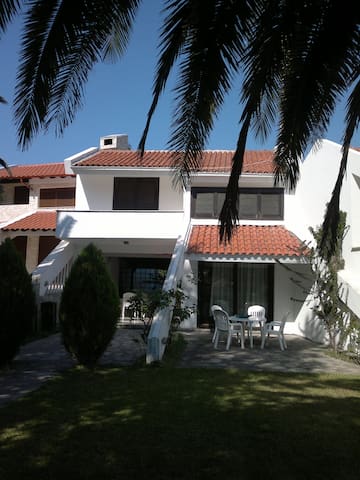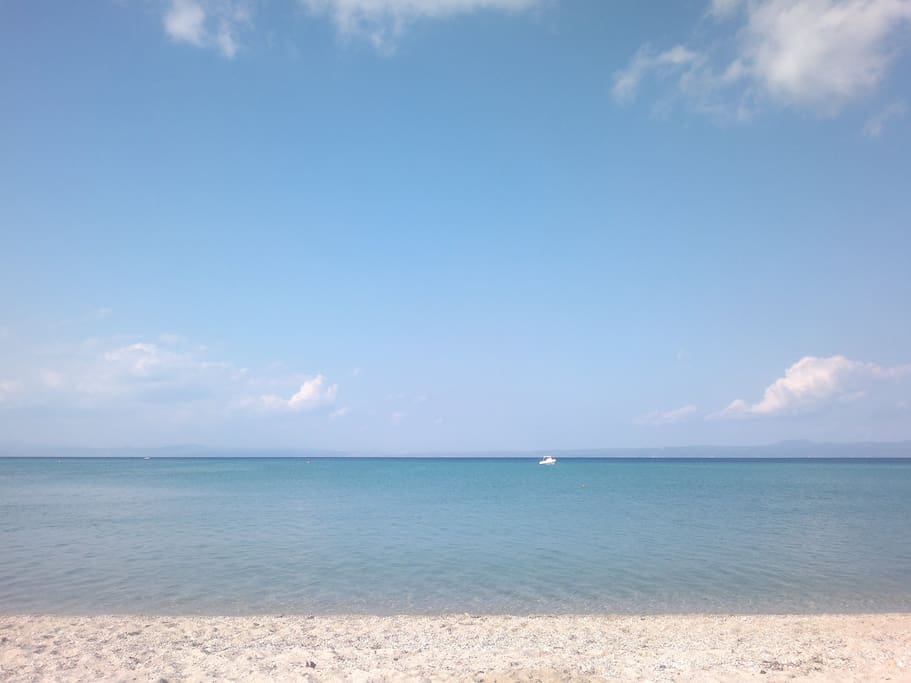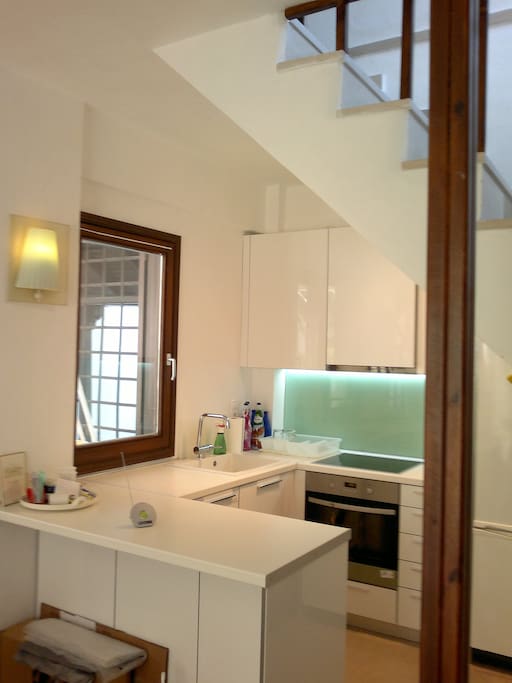 1 baño completo y uno de tocador
1 baño completo y uno de tocador
Maisonette (small villa) with 1 acre garden for 30,60 or 90 days It consists of two bedrooms and bathroom on the1st floor and livingroom, WC on ground floor. For 4-6 persons. Only 50 meters from the sea and 500m from the village of Hanioti

El lugar
Η μεζονέτα ανήκει σε έναν οικισμό καλαίσθητο, με 1 στρέμμα κήπο , privacy σαν μονοκατοικία και ησυχία γενικότερα. Είναι πλήρως επιπλωμένη
Дом принадлежит к деревне со вкусом, с 1 акра сад, уединение и спокойствие, как дома генеральный. быть полностью меблирована
Disponible para huéspedes
Οδικώς απο Θεσσαλονίκη. 90 χιλιόμετρα απο το Αεροδρόμιο Μακεδονία - Θεσσαλονίκης
Выезд из города Салоники. 90 км от аэропорта Македония - Салоники
Otros aspectos destacables
Μινιμουμ διαμονή 30 μέρες
Minimum 30 days
Apto para familias y niños
Lugar de estacionamiento privado
Salida antes de las 12:00
Θα παρακαλούσα οι επισκέπτες να σεβαστούν και να προσέξουν την κατοικία μου σα δική τους. Προσοχή στο άνοιγμα των ξύλινων κουφωμάτων, στο κλείδωμα του σπιτιού κατά την απουσία τους , όχι σκουπίδια στον κήπο, κατά προτίμηση να καπνίζουν εκτός σπιτιού και να το παραδίδουν όπως το παρέλαβαν.Γενικότερα απευθύνομαι σε νοικοκύρηδες, που αγαπούν την τάξη και την καθαριότητα.
Я хотел бы попросить посетителей уважать и смотреть, как мой дом, как у них. Имейте в виду открытие деревянными рамами, замок из дома во время их отсутствия, не мусор в саду, предпочтительно не курить вне дома и доставить его в качестве parelavan.Genikotera для домашних хозяйств, которые любят порядок и чистоту.

Maisonette is a really lovely place, very comfortable and has everything you need. It was exactly as described. Thalia is a great host. We had a wonderful stay in Hanioti. Strongly recommend =)
---
We strongly do not recommend this house or any communication with the owner! We rented the house for the whole June and had a lot of issues before and during our stay. First problem we had was the price. We agreed one price and after a short period of time the owner increased price for 200 euro claimimg that we didn't understand the first offer. Then we had problem with dates. The owner asked us not to come on 1st of June as she is out of country! We resolved this issue only after we said that we will not come at all and will cancel the agreement. The house was moistured and the smell was very unpleasant. Therefore, we couldn't use 1 room. It was not cleaned at all athough we paid 100 eur cleaning fee! For the first few days it was very cold and we only had 1 blanket in the house! During our stay, owners parents were coming every 2, 3 days to water the plants although we asked them not to come and obliged to water the plants ourselves. They were walking arround the house controlling if the pillows on the outside chairs were dirty, asking us to put them back in the house etc. The host did not inform us that the house was right next to the main road and very noisy during the night. Therefore, we couldn't sleep properly. Eventually, at the last day of our stay, the owner and her parents came to the house and immediately started yelling, claimimg that we broke the glass behind the stove in the kitchen! Then they took our computer and tried to keep it as compensation. The whole idea of renting the house is having peace and privacy. Neither one we had in this house! If someone still decides to rent this house we recommend making a list of things that are out of order, signed by both sides, to avoid at least one part of unpleasant situations with these people.
UNTRUE ,she has put regulation for dollars instead of euros and she saw different prices, and as for the period she couldn't come before 13thof june because of school and she brought her parents with a friend (3 persons) from the 1st june with the same price, and as for the cleanliness her parents who received the house, they took out their shoes before entering Seeing how Clean it was.As for the moisture the whole June it was rainιng, they did not clean at all and not ventilate the house at all ,that's why it smelled them. (their Dirt and not the house).They did not want us to visit our property for putting the automate watering to avoid seeing the situation.The decorative pillows from the living room (not washable) used outside with the plastic chairs soiled by food.They should respect the house and clean it.When you rent a house for one month you Have to clean!!! They made damages 500euros and more.Cups and things from the kitchen are missing.Towels and sheets coloured in red ,to replace and not just wash!!They broke the green glass in the back of the kitchen , that was renovated.( I mention that in the foto of airbnb).They made me buy for them 40euros internet cards and they refused to pay it .And while they were leaving the husband said that i can not prove anything. The fotos of my house show (and can prove) how clean and tidy was everything both inside and outside.The conclusions is yours to make......... :-(
---
Descubre otras opciones en Hanioti Halkidiki y sus alrededores
Más alojamientos en Hanioti Halkidiki: