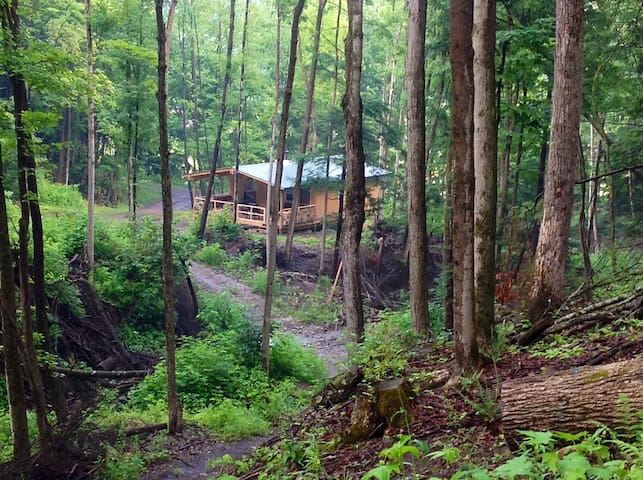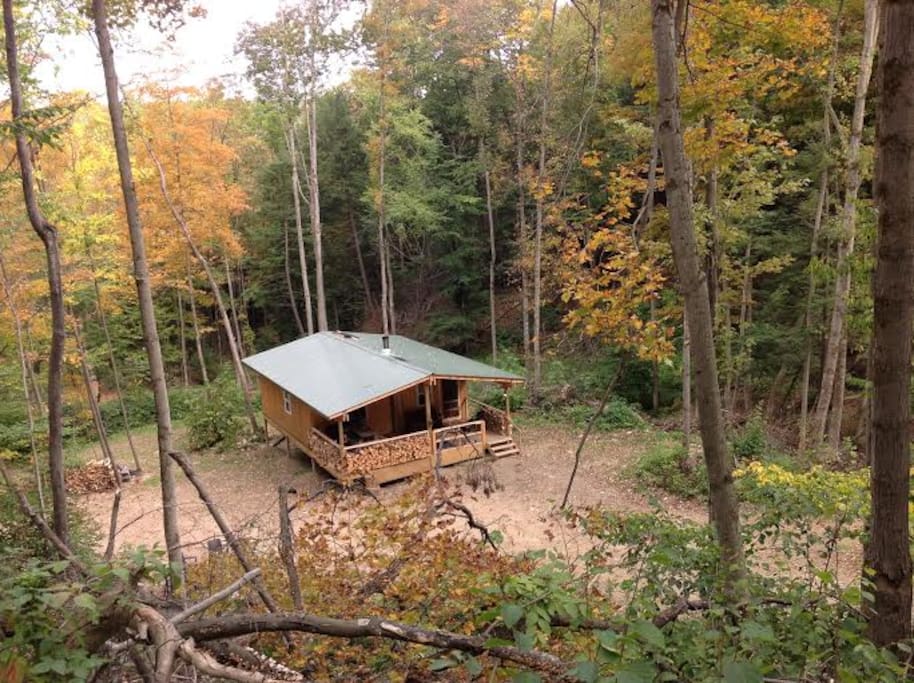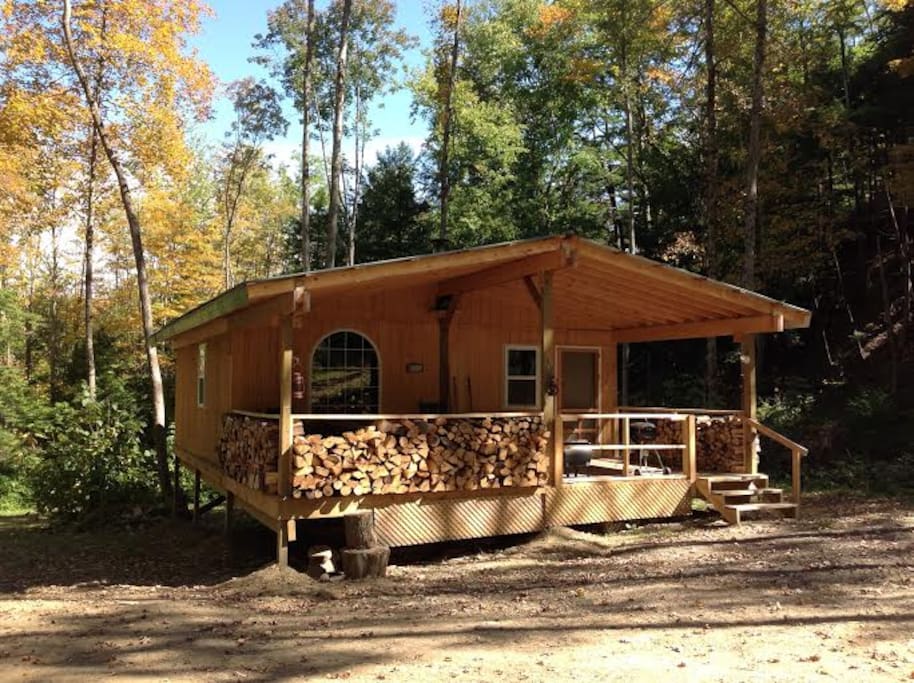 Cabin Creek Escapada (Letchworth)
Cabin Creek Escapada (Letchworth)
Departamento o casa entera
Esta descripción se tradujo de forma automática del Inglés con Google Translate, así que es posible que tenga errores.
100 hectáreas de bosque privado a sólo 15 min. De Letchworth Park, NY, con una cabaña aislada junto a una corriente en cascada. La cabaña está fuera de la parrilla, con las comodidades modernas. La propiedad contiene 100 hectáreas de bosque, senderos y abundante vida silvestre.
Swain Mountain Ski Resort está a sólo 4 millas al sur, y 7,700 hectáreas de la zona de gestión de vida silvestre de Nueva York es sólo 1/2 milla al este!
El lugar
El espacio es de 100 acres de bosque privado! Los huéspedes pueden traer una carpa, RV, o ... estancia en la cabina! La cabaña rústica hermosa, construida en 2013, está completamente fuera de la red! (La cabina es fácilmente accesible tanto en verano como en invierno.) La energía solar proporciona electricidad de 12 voltios para la iluminación y la recarga de la electrónica. Las lámparas de aceite dan un ambiente hermoso. El agua es alimentada por gravedad. El baño está equipado con un inodoro de compostaje. El gas LP alimenta el agua caliente, la estufa y el refrigerador de tamaño medio. Una estufa de leña de calefacción natural convierte las noches más frescas cómodamente acogedoras.
(Nota - 1 de diciembre - 14 de abril la cabaña está seca, el agua será transportada por usted, y una ducha de campamento facilita las duchas de agua caliente.
Animamos a nuestros huéspedes a traer su propia ropa de cama, pero ropa de cama disponible a $ 15 / cama, a pagar a la llegada. (Háganos saber si usted está solicitando ropa de cama). Toallas de baño, lavado corporal y champú, cafetera percoladora, cocina equipada, leña, y una pequeña biblioteca de libros al aire libre y de autosuficiencia.
Disponible para huéspedes
Los huéspedes pueden disfrutar de la cabaña aislada, cubierta cubierta grande, fuera de los fuegos de campamento con madera proporcionada, una milla de media cascada de arroyo y cascadas, kilómetros de rutas de senderismo y abundante vida silvestre - 100 hectáreas todo para ti!
Atención a los huéspedes
A su llegada, los huéspedes serán recibidos para una orientación de la cabina, la propiedad y atracciones en los alrededores, que incluyen Letchworth State Park (El Gran Cañón del Este). Servicio de limpieza viene una vez al día en un momento mutuamente conveniente. A sólo un cuarto de milla de distancia, estamos siempre disponibles para responder a las necesidades de los huéspedes.
Otros aspectos destacables
¡Ubicación! ¡Ubicación! La cabaña se encuentra a 20 minutos en coche de muchas atracciones: Parque Estatal de Letchworth (Gran Cañón del Este), Stony Brook State Park, Estación de esquí de Swain Mountain, Mount Morris Dam y 7.000 acres de State Wildlife Management Area. Wine Country Tours comienzan dentro de un fácil 40 minutos en Nápoles, y Cataratas del Niágara es un poco más de una hora y media de distancia!
NYS 8,5% impuesto de ventas y 4% de impuesto de ocupación hotelera ya está incluido en nuestra tarifa de alquiler.
---
Llegada: De 15:00 a 22:00
Tipo de habitación: Departamento o casa entera
---
---
Personas adicionales $20 / noche más de 4 huéspedes
Depósito de seguridad $200
Descuento por semana: 15%
Comunícate siempre a través de Airbnb
Para que tus pagos estén protegidos, nunca transfieras dinero ni te comuniques desde afuera de la página o la aplicación de Airbnb.
Más información
---
Dormitorio 1
2 camas matrimoniales, 1 cama individual
Zonas comunes
1 sofá cama, 1 sofá
---
Horario de llegada: de las 15:00 a las 22:00.
Al hacer tu reserva, también aceptas los Términos y Condiciones de Uso de la Propiedad de Escapada de Cabin Creek:
Reservas y Fechas de depósito de seguridad se reservan a la recepción de la cantidad de alquiler de propiedad y depósito de seguridad. El depósito de seguridad será reembolsado electrónicamente dentro de 48 horas después de la salida, a menos que los términos y condiciones descritos a continuación no se cumplen El arrendatario será responsable de cualquier daño sobre el depósito de seguridad.
Estancia mínima en fines de semana largos de vacaciones es de 3 noches.
Party Size-Las fiestas de invitados están limitadas a 8 personas en total. Un cargo adicional de $ 20 por persona por noche se aplica a las partes de más de 4. No hay música fuerte después de las 10:00 PM.
Ropa de cama - Los huéspedes son invitados a traer su propia ropa de cama, pero la ropa de cama se puede proporcionar por un cargo adicional de $ 15 por cama. Se debe proporcionar aviso previo si se solicita ropa de cama.
Límites de la propiedad y uso del sendero-Los huéspedes deben permanecer dentro de los límites de la propiedad, que están marcados en los árboles con pintura azul, pero son de otra manera libre de explorar la propiedad, dentro o fuera de los senderos.
Los fuegos y la leña - leña están disponibles para la compra. Los huéspedes también pueden obtener su propia madera de fuego de dead & down tapas alrededor de la cabina. Los incendios del campamento deben estar contenidos dentro del anillo de fuego proporcionado. En ningún momento se moverá la ubicación del anillo de incendio. Los huéspedes no pueden encender el fuego en estufa de leña (haremos eso por usted). Los incendios están expresamente prohibidos en cualquier otro lugar de la propiedad. Los incendios del campamento deben ser atendidos en todo momento, y se extinguirán cuando no estén atendidos.
Fumar-No se permite fumar dentro de la cabina. Todas las colillas de cigarrillos deben ser desechadas adecuadamente en la bandeja de cenizas fuera o en el anillo de fuego (Nunca en el suelo!)
Manejo-Manejo vendrá como sea necesario para mantener el baño de compostaje, y para atender cualquier necesidad de mantenimiento.
Basura-Toda la basura generada por la parte durante su estancia debe ser depositada en los recipientes proporcionados. La limpieza de la propiedad está expresamente prohibida.
Se admiten mascotas en la propiedad, pero no se permite dentro de la cabina. Todas las excretas de mascotas deben limpiarse y colocarse en el contenedor de basura. Si los huéspedes ausentes dejar las mascotas en la propiedad, la mascota debe estar contenido fuera de la cabina.
4 Wheeler ATV's-Casual ATV montar en máquinas de propiedad de los huéspedes se permite en la temporada por acuerdo especial con la gestión. Sólo se permiten 3 máquinas por invitado. Los certificados de registro y de seguro de responsabilidad civil deben ser producidos antes de la descarga. Los cascos deben ser usados en todo momento. No montar después del atardecer. Las máquinas deben mantenerse en los senderos, y no se debe montar en los senderos marcados como "No ATV". Deben mantenerse velocidades prudentes por el terreno accidentado y las condiciones del sendero.
Caza- La caza limitada es permitida por el arreglo especial con la gerencia. Se aplican cargos adicionales. Los huéspedes están expresamente prohibidos subir los stands de árboles propiedad de la gerencia. Se prohíbe descargar armas de fuego excepto durante los campamentos de caza.
Daños y robo-Más allá del desgaste normal, el arrendatario se compromete a ser responsable de los daños o robo durante la estancia de su partido no cubierto por la cantidad del depósito de seguridad.
Declaración de liberación - El arrendatario asume toda la responsabilidad y responsabilidad por el riesgo de lesiones o la muerte de todos los miembros de su huésped durante la recreación en la propiedad, y libera más los propietarios de cualquier responsabilidad, incluyendo las facturas médicas incurridas.
Al hacer mi reserva, acepto y acepto los Términos y condiciones de uso de Cabin Creek Getaway Property para mí y los miembros de mi grupo.
---
---
Detector de monóxido de carbono
---
Estancia mínima de 2 noches
---
From the moment we arrived and greeted by Dave, everything was absolutely perfect! The cabin is beyond amazing! The setting, the prestige condition of it and the attention to detail that they have put into it makes it beyond perfect! I was looking for a secluded place to stay when visiting Letchworth State Park and this was perfect! Dave also suggested to us Stony Brook and I am so glad he did!! I was concerned about the composting toilet, but am quite impressed with the concept that it is!! Honestly, I am impressed with the concept of the entire cabin! The only regret I have is that we didn't have enough time to spend an entire day on the land at the cabin hiking. It is absolutely beautiful.... I really wanted to take the time to go to Dave's bear feeder blind but we just didn't have enough time!! We will most definitely be back. Thank you so much for sharing your beautiful cabin and land with us!!
Shawn and her husband came to Cabin Creek for his birthday, leaving the kids behind, for some time alone together. Sounds like they really enjoyed the natural wonders our 2 nearby state parks have to offer (Letchworth & Stonybrook). Next time they come though, they'll have to bring the kids to enjoy some of our adventure activities we offer here too: Float Trips on the Genesee River, the 100' Climbing Rope down to the hidden waterfalls, Target Shooting, and Hiking on over 3 miles of forest trails. And yes, as Shawn mentioned, we do have a bear feeder at a remote location where you can watch the bears safely on the other side of a deep ravine! The guests who hike up there, and watch bears, tel us it's the most exciting part of their vacation! David & Terry
---
The cabin was spotless and in such a serene and private location. Our boys played in the creek and found frogs and salamanders, and 4wheeled the majority of the time! We cooked over the campfire and stargazed at night! Dave was so welcoming and made us feel like family! Cant wait to come back.
Stephanie and her husband brought their 2 young sons and 4-wheelers here to enjoy the ATVing opportunities we have on over 3+ miles of trails, and our quiet seasonal use roads. It was fun seeing them ride around, enjoying their time together! We're also excited for Stephanie, because the next time we see her, there will be yet another little Murray! Stephanie & her husband are great parents, both very attentive to their young sons. We will be praying for God's blessings upon you Stephanie, as you & your husband continue to love and grow your family, as we are all called to do! We look forward to seeing you again very much! David & Terry
---
Great place to enjoy NY state country side and wild life ! Terry and David are very nice and welcoming, they gave us all the info needed and were very professional in the positive way!
We loved meeting Karen, her husband, and their 3 beautiful & bright children! The kids were so full of questions, and it was fun helping them learn more about our wild critters. They also enjoyed meeting "Bob" the Bobcat, our little Bobcat-cross kitten we just acquired... the kids even had to stop by to say "Good-bye" to Bob when they left! We've always said it's a small world, and Karen is living proof! Having moved to the U.S.A. from France, working for an international company, it turned out that Karen worked with a very good friend from my days at the American Cancer Society! You never know when paths will cross, and we certainly hope to cross paths again with this wonderful family. You'll always be welcome here at Cabin Creek Karen! David & Terry
---
Terry's cabin is such a wonderful place to get away! They were incredibly thoughtful hosts, and our girls (8 and 11) loved the remoteness and charm of this home. Both Letchworth and Stone Brook State Parks are a must while staying here. Otherwise we just loved being in the cabin, walking around the property, watching the deer in the fields at dusk, and listening for all the very diverse wildlife.
Annie & her family were so much fun to meet & host here at Cabin Creek! Sounds like they made the most of their stay, hitting our 2 best state parks (Letchworth & Stonybrook), as well as exploring our 100 acre private forest, trails, & waterfalls. We're glad Annie booked 3 nights with us, because so many guests tell us 2 days are just not enough to see and do everything there is here in the Cabin Creek area. The girls also got to meet Bob the Bobcat, our little Bobcat-cross kitten. Come again any time Annie... Bob will be anxious to see how much your girls have grown! David & Terry
---
Had a blast, the property is expansive and yet cozy. There is plenty to do and it's a great place to relax and hang out.
Mike and his posse of friends were a fun bunch to meet! We could tell they were getting out and exploring Cabin Creek by the shouts and laughter! Courteous, clean, and respectful; they took great care of our cabin & property, which we always appreciate! Come again any time Mike! David & Terry
---
We had a great meeting at the cabin, perfect place to get some time away from the city and enjoy nature. Spending evenings without noise and TV, enjoying a camp fire. Perfect! They did everything they could to make our stay as easy as possible, we loved it.
So glad you & your lovely wife enjoyed your time here Jasper! Come visit us again in one of our other beautiful seasons. Cabin Creek is so beautiful when the leaves take on their Autumn colors, and the forest is stunning when it gets covered in fresh snow! David & Terry
---
Our stay was wonderful! And beautiful place back in the woods for a quiet weekend.
Jesse and his crew were a great bunch of guys who took wonderful care of our cabin and property. In fact, they left the cabin so clean, it was ready for us to move in on Sunday afternoon with 30 friends & family for a Memorial Day Weekend picnic! Thank you Jesse! We do hope you'll visit us again, perhaps when the leaves are turning color, or the snow is falling... each season has something beautifully different to offer here at Cabin Creek! David & Terry
---
Dalton, Nueva York, Estados Unidos
Se registró en Julio 2014
Hi! I'm Terry, and I'd like to invite you to Cabin Creek Getaway!

My husband and I purchased the 100 acre property for our family's recreational use a few years ago, and built our beautiful cabin on it. Our friends enjoyed visiting to go hunting, hiking, four-wheeling, and camping so much, that we thought we'd extend an invitation to you!

We enjoy our professional lives, and our small farm, but Cabin Creek offers a completely different environment close to home, that takes us far away! We absolutely love the beautiful ridges, deep woods, cascading stream, and all the wildlife! We think you will too!
Índice de respuesta:
100%
Tiempo de respuesta:
en menos de una hora
Descubre otras opciones en Dalton y sus alrededores
Más alojamientos en Dalton: