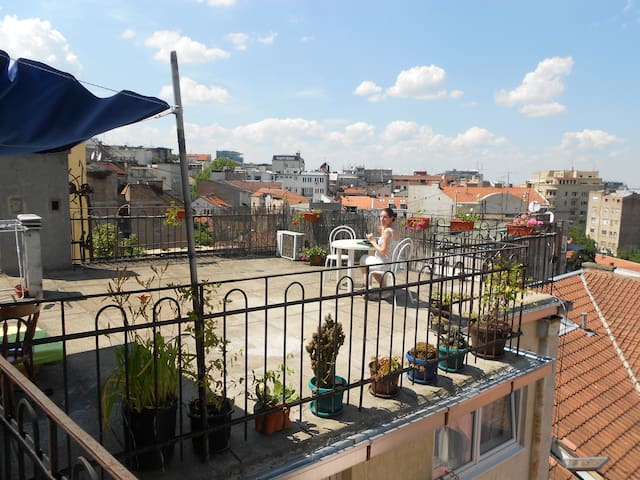 Budget option in the heart of city center ,located in the best part of Belgrade - famous bohemian quarter area (SKADARLIJA).
Apartment ( 35,00 Sq M,5th floor ) consists of a living room , kitchen with a dining space , bathroom , veranda , 2 terraces.
---
The appartment is unfortunately not that good equiped. Waterheater is leaking, tv doesn't work and the bathroom is not really clean... Most annoying thing: The key to the front door, did not work properly and we had to ring at the neigbours door... Concerning the price, its ok to sleep there, even thoug its not a bed, more a couch and the rooms are smaller than the pictures suggest... Maybe our expectations were too high?! You can easily spent some nights there, but don't expect too much comfort...
Sebastian , next time you can try to book some fancy hotel for 5 times bigger prize and you will not have any problems . You should read carefully my advertisement ,its written BUDGET OPTION ..... Now about the problems: -water heater is not leaking -TV works , but the picture is not very clear because its old - problem with the front door is not because of the my key , its because of the building lock and we are waiting for City maintenance company who are in charge for that kind of problem. Anyway , with just a little patience you can open the door..... - about the cleanness , I DO NOT AGREE WITH YOU because I am one who clean my apartment and I am doing my best....nobody before you didnt have any complaint about that. And most important thing , the way how AIRBNB works is that when you come to check in you can cancel booking easily if you find something what is not as advertised and find another place ( AIRBNB will refund money to you) . Best regards Mile
---
Mile was a extremely helpful host, always reachable and made sure that we are okay. The apartment is really in the best area you could imagine, close to a lot of bars and restaurants, very good as a base to explore Belgrade. Best thing were the two terraces, the view is amazing and a great place to relax. I would recommend this place to everyone.
---
Descubre otras opciones en Belgrado y sus alrededores
Más alojamientos en Belgrado: