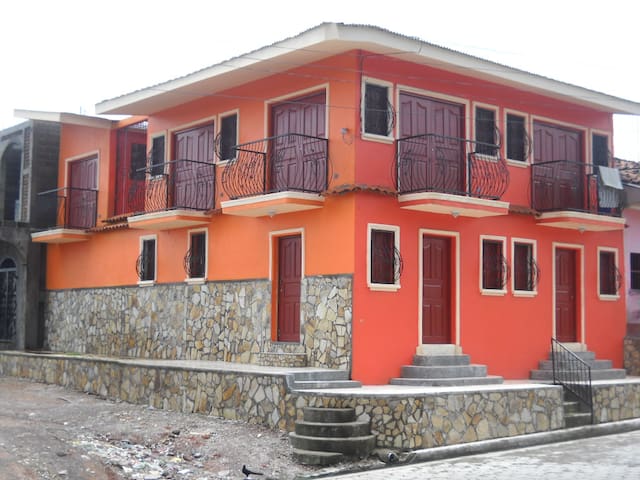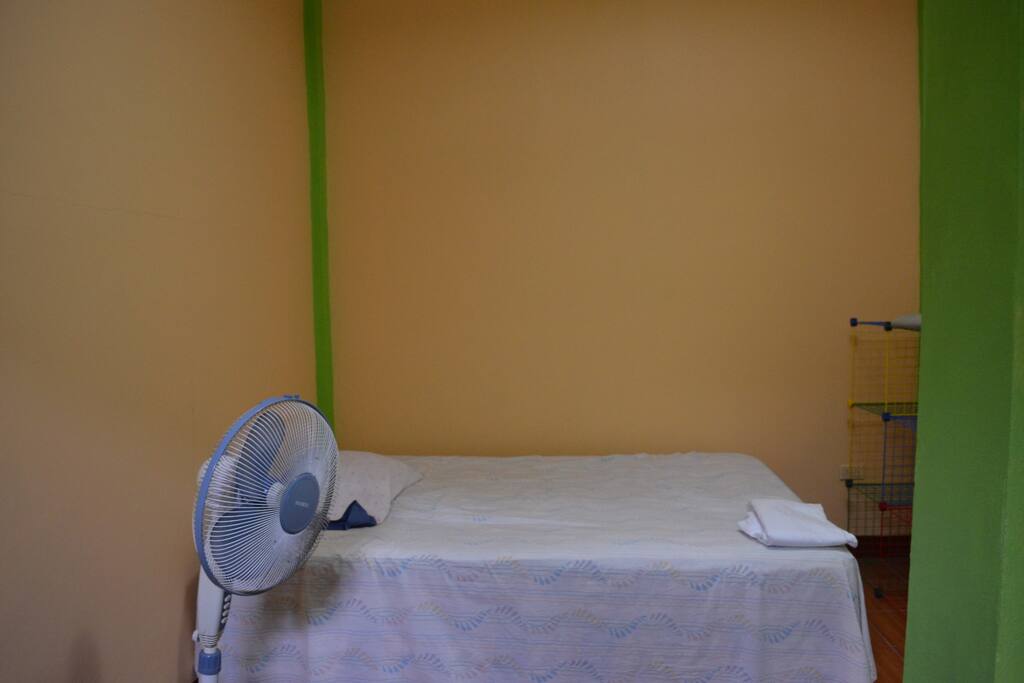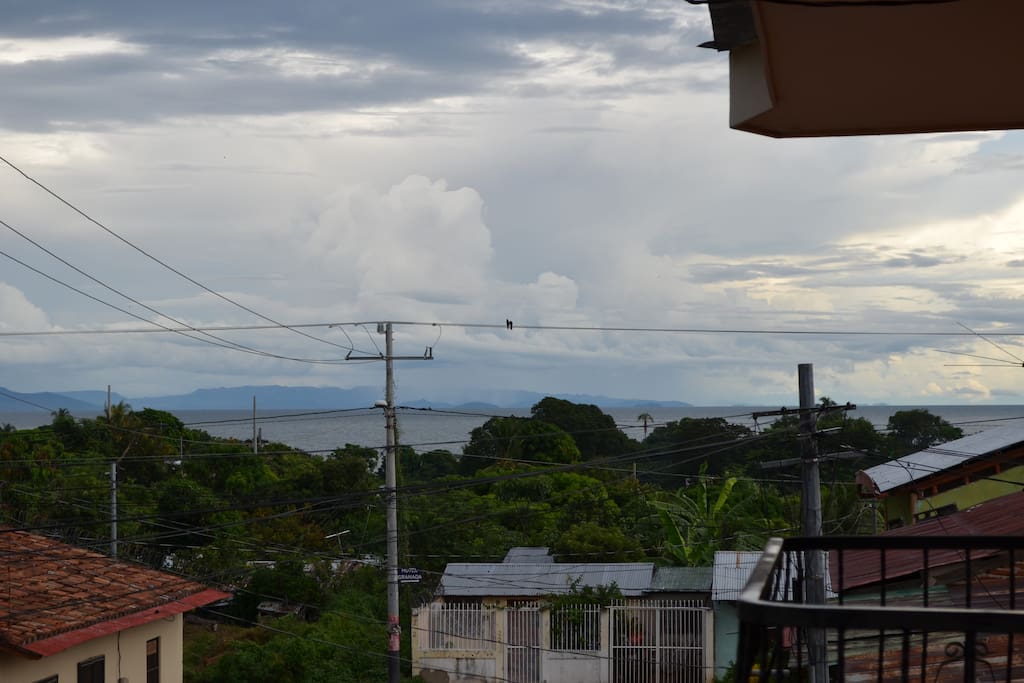 Casa Chiquitina es un apartamento de 3 habitaciones de 2 personas cada una las cuales se rentan individualmente. Es ideal para pasar tus vacaciones ya que además de ubicarse en una calle tranquila posee un fácil acceso al centro de Granada.
El lugar
Casa Chiquitina está localizada en una zona que permite interactuar con los ciudadanos y se encuentra muy cerca de múltiples opciones de relajación y diversión. Nuestro apartamento dirigido por una familia granadina, es agradable, cómodo, económico y seguro. La habitación 2 posee una cama matrimonial, baño compartido, abanico de pedestal, cocina compartida y sala de estar. El apartamento posee total acceso a Internet WIFI.
Atención a los huéspedes
Como anfitrión considero que una buena comunicación puede ser la clave para que los huéspedes se sientan tranquilos y cómodos al estar en el apartamento. Nuestra casa de habitación se sitúa a menos de 50 metros de Casa Chiquitina, por lo tanto mi familia y yo tenemos toda la disponibilidad de interactuar y estar siempre dispuestos y atentos a colaborar con lo que los huéspedes necesiten.
---
---
•Cualquier daño causado a los objetos, bienes muebles o al inmueble será responsabilidad del huésped, debiendo abonar la reparación de los mismos.
•EI uso que deberá hacerse de los muebles, toallas, ropa y otros objetos de servicio, será racional y moderado, cuidando de ellos debidamente.
•Hacer uso adecuado de los servicios de agua y energía eléctrica.
•Al salir del apartamento, dejar cerradas las puertas, ventanas, llaves de agua, apagar luces y desconectar cualquier aparato eléctrico para disminuir el riesgo de incendios.
•Comportarse con decencia y moralidad dentro del apartamento, sin incomodar o molestar a los demás huéspedes (en caso que los hubiera), así como usar la habitaci6n para ejecutar cualquier acto prohibido por la ley.

---
Casa was a convenient place to stay. We booked with Adela very very last minute and she was responsive and helpful. The room was very basic, and quite warm with no windows, but the fan helped. We weren't expecting the bathroom to be shared but we're really only crashing for the night so did not mind too much interacting with the other couple who were staying there from Sweden. This isn't a place to stay if you're looking for a lot of frills, but it was economical and within walking distance of many of granada's great sights.
---
Adela and her daughters were very helpful! Her daughters spent 20 minutes offering suggestions and assistance upon our arrival. The kitchen is great if you are cooking for yourself, there is a washbasin if you are washing clothes by hand, and there are 2 bed rooms upstairs (one is a balcony that overlooks a side street filled with children playing and radios playing music / the other is quiet and in the back corner - perhaps it is possible to request a room). The location is about 5 to 10 minutes from both the Central Park and the boat launch that leaves for Omatepe / San Carlos twice a week. Enjoy!!
---
The Casa was perfect for my stay in Granada. I'm an Airbnb host and I appreciated the care Adela has taken with the place. It is cute, clean and comfortable. I stayed a week but I could've stayed a month. Close to everything but on a quiet, residential street. Adela and her family live very close by. Superb value over a hotel. Highly recommended.
---
We were very disappointed with the Chiquitina cCasa! the person who greeted us did not show up, she was content to accompany us to the house is a few meters and she leave. The house is well situated, not very clean, there are cobwebs everywhere one can into the bedroom! indicate in the description is "basic product" there are actually towels and soap but instead any condiment to enjoy the kitchen available, nor oil, pepper or sugar! I question the owner, she simply said that the food was not included! so you must buy 1litres oil, 1kg of sugar and go with after 3 days! I never was in a Airbnb it or miss anything! there was no toilet paper available it took us to go buy. Nobodys during the stay came to ask us if we needed help or anything! Still people who just wants to make money on airbnb without me having understood the concept!
---
Kind of complicated. So there are three bedrooms, one is amazing and is the balcony on the far right of adela's picture. This room is more or less the same size as the other two but has a balcony and windows overlooking what is a very festive st. The other two rooms, from what I saw are windowless. The st has a nice feel to it, the kitchen and dining are are good and bathroom is large. We were there for New Years Eve and this was the st to be. Fireworks, parades, everything. Your experience will come down to which room you get, unless you have no intention of spending any time in your room. Probably still quite a sweaty night. For us on the balcony it was terrific!!!
---
They accommodated us on very minimal notice (within hours) when we decided to take a last minute trip to Granada. The daughters were cleaning the apartment when we arrived. They were very generous, speaking in english because only one of us spoke spanish. The daughter (Allison) was patient and provided us with lots of information about tourist sites and recommendations. The apartment has a beautiful view of the lake and is far enough off the beaten track that you don't feel like you're staying in a mini-america, but close enough you can easily walk to everything. We were lucky enough to be the only ones staying for the weekend, but the apartment was definitely large enough to share with multiple guests. Would love to stay here again!
---
Idiomas:
Español
Índice de respuesta:
0%
Tiempo de respuesta:
en unos días o más
Descubre otras opciones en Granada y sus alrededores
Más alojamientos en Granada: