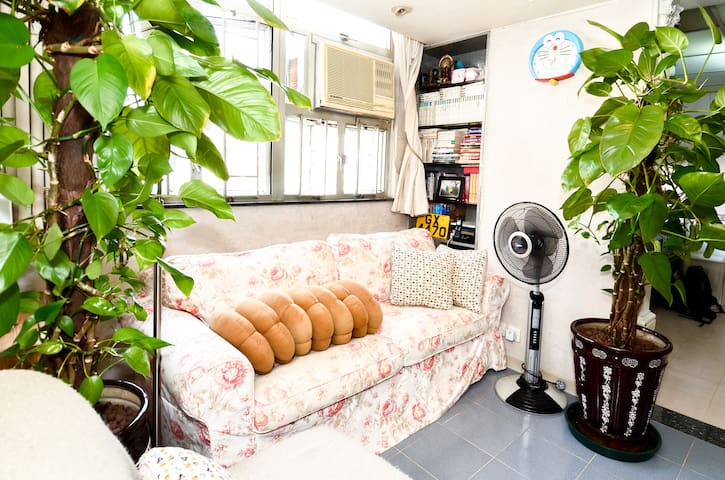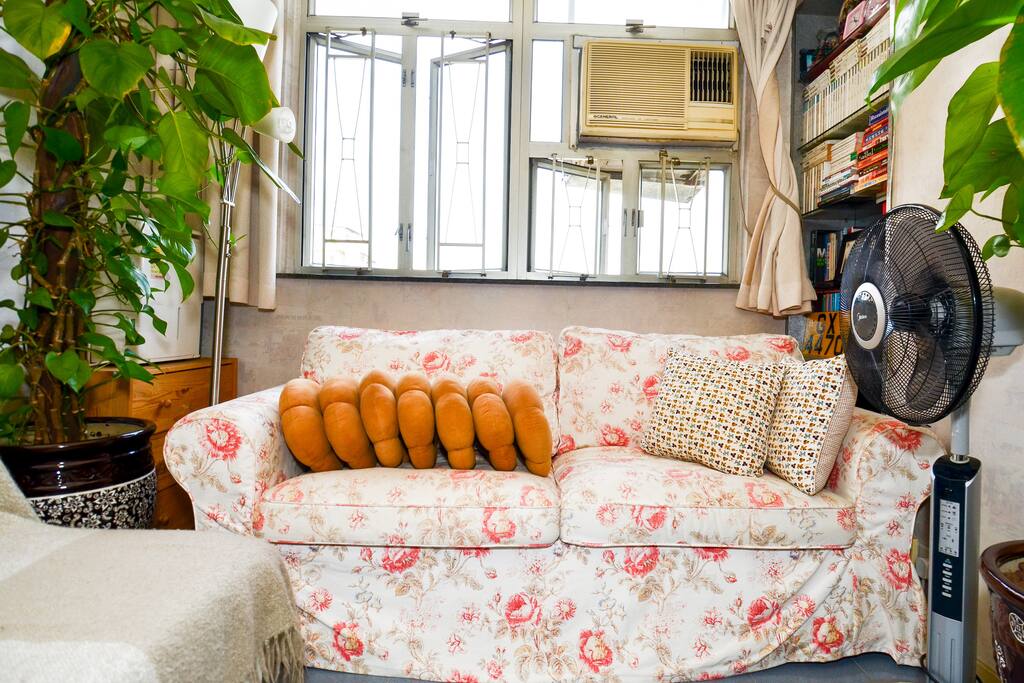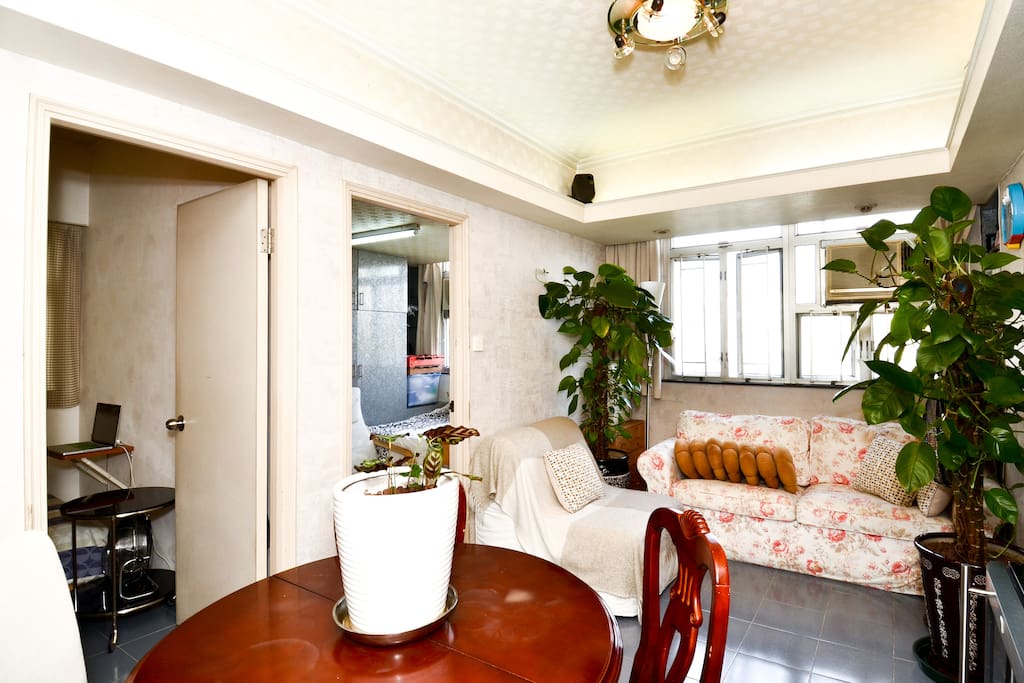 This cozy two-bedroom 600 square foot flat, located in a nostalgic non-touristy relaxing neighbourhood in Kowloon, comfortably sleeps up to six. The area is a short walking distance to many popular sites of interest & types of public transportation.
El lugar
600' TWO BEDROOM FLAT IN PRINCE EDWARD, KOWLOON
CONFIRMED GUESTS: PLEASE PROVIDE FLIGHT ITINERARY AS EARLY AS POSSIBLE SO THAT WE CAN COORDINATE CHECK-IN TIME.
The price of the flat is the same for 1 to 4 guests.
NEIGHBOURHOOD: few minutes walking distance to Prince Edward MTR Station and just 10 minutes to walk either to Mongkok or Sham Shui Po shopping areas. The area has a lot of local restaurants, supermarkets, banks, pharmacies, hair salons, and anything one would need. This is also the most convenient location for transportation; there are buses and mini bus routes located just a two minute walk away to get anywhere in Hong Kong, Kowloon and even the New Territories. There is an Airport bus route E21 just around the corner downstairs from the flat as well.
FACILITIES: The flat is a fully equipped functional home, with absolutely everything a family would need. All you have to do is arrive and you have a complete home.
KITCHEN: The kitchen is fully loaded with enough dishes to serve well over 10 people. There is a double gas stove for cooking, a microwave oven, two full size refrigerators, pots, pans, wok, and all utensils and accessories for cooking that you are welcome to use. There is a wine cellar for those who enjoy a glass of wine (please ask for wine prices as stock rotates frequently) with a meal or just to relax after a long day outside.
WASHROOM: The shower stall is large and comfortable; easily two people can shower without feeling cramped. The hot water is instantaneous, so you never run out of hot water to shower or wash dishes or if you hand wash some clothes.
LIVING ROOM: There is a dining table for up to six persons, with chairs. A 42 inch television with over 35 channels, a hi-fi Blueray DVD player. On the other side is a single sofa and double sofa, both of which fold out into beds in case of many guests. There is an air-conditioner to cool down the area during the hot season.
TWO BEDROOMS: There are two average sized bedrooms. Each bedroom has a double bed and some space to store clothes. Each room has its own air-conditioner.
OTHER: There is a ironing board and iron, hair dryers, towels, sheets, detergent and many other home appliances and accessories that can be used by guests.
Pre Check-In: Please inform us of your flight itinerary well in advance so that we can coordinate your time of check-in smoothly.
Check-In: Please provide a photocopy of your passport.
1. Personal identification information page with photograph
2. Hong Kong Immigration Authority entry chop and entry-exit form
REQUEST: We request that guests turn off air conditioners, hot water heater, and any other electrical devices while outside of the flat (except for the wine cellar and fridges).
VERY IMPORTANT: INFORM US OF YOUR FLIGHT ITINERARY IN ADVANCE SO THAT WE CAN PLAN YOUR CHECK-IN SEAMLESSLY.
CHECK-IN TIMES THAT OCCUR LATER THAN 11PM, WITHOUT A MINIMUM BOOKING VALUE OF HK$2,200 WILL INCUR AN ADDITIONAL FEE OF HK$120 FOR OUR PERSONNEL AS AFTER HOURS TRANSPORTATION FEES. THIS FEE MUST BE PAID IN CASH TO OUR STAFF AT THE TIME OF CHECK-IN.
IF EXTREME ELECTRICAL CONSUMPTION IS OBSERVED THEN GUESTS WILL BE CHARGED ABOVE AND BEYOND AVERAGE USAGE ON A KwH BASIS. THEREFORE, PLEASE OBSERVE PROPER ENERGY CONSERVATION PRACTICES.
Disponible para huéspedes
As we rent out the entire premises, our esteemed guests have exclusive access to all of the facilities offered.
Atención a los huéspedes
While we do not stay at the premises; me and my colleagues are always around for instant communication. We welcome any questions about the neighbourhood or Hong Kong in general.
Otros aspectos destacables
As there are too many local tips to share, simply contact me with specific requests so that I may provide you with a customised response.
Apto para familias y niños
Personas adicionales $13 / noche más de 4 huéspedes
Depósito de seguridad $264
Descuento por semana: 10%
Comunícate siempre a través de Airbnb
Para que tus pagos estén protegidos, nunca transfieras dinero ni te comuniques desde afuera de la página o la aplicación de Airbnb.
No se admiten fiestas o eventos
La hora de llegada es a partir de las 14:00
Salida antes de las 11:00
HOUSE RULES AND REGULATIONS
VERY IMPORTANT: INFORM US OF YOUR FLIGHT ITINERARY IN ADVANCE SO THAT WE CAN PLAN YOUR CHECK-IN SEAMLESSLY.
CHECK-IN TIMES THAT OCCUR LATER THAN 11PM, WITHOUT A MINIMUM BOOKING VALUE OF HK$2,200 WILL INCUR AN ADDITIONAL FEE OF HK$120 FOR OUR PERSONNEL AS AFTER HOURS TRANSPORTATION FEES. THIS FEE MUST BE PAID IN CASH TO OUR STAFF AT THE TIME OF CHECK-IN.
IF EXTREME ELECTRICAL CONSUMPTION IS OBSERVED THEN GUESTS WILL BE CHARGED ABOVE AND BEYOND AVERAGE USAGE ON A KwH BASIS. THEREFORE, PLEASE OBSERVE PROPER ENERGY CONSERVATION PRACTICES.
1. The proprietor only accommodates properly registered guests. For this purpose, guests are to provide their valid ID card or passport, or any other valid proof of identity to the proprietor or relevant person in advance of arrival for check-in and at the time of check-in.
The proprietor is to allocate guests with accommodation immediately upon registration, which will contain the name and address of the accommodation, the name of the guest, the passport number with country of origin, the address of the guest, the phone number of the guest, his/her signature, the description of the accommodation and the total price for the duration of the stay. The tariff is not inclusive of any charges for food and beverages or any other services; these can be provided on request and billed to the guest's account.

2. Settlement of bills: bills must be settled on or before registration either by payment in cash, valid credit cards, telegraphic transfer, or other online payment methods.

3. Guests are to use their rooms for the agreed period. If the period of accommodation is not stipulated in advance, guests are to check out by 11.00 a.m. on the last day of their stay at the latest, and they are obliged to have vacated the room/premises by this time or the full daily rate of occupancy will be charged.
Check-in time is approximately 2.00 p.m.; if the room is vacant, check-in time can be earlier. In the event that the hotel has already reserved any given room beforehand, and the guest fails to pay attention to requests to vacate the room, or if he or she is not present on the premises, the proprietor reserves the right to catalogue the guests possessions and to store them in a safe place so that the room can be used by the next guest for whom it has been reserved.

4. Be advised to keep valuables in a safe place, not lying around openly. We have a permanent live-in helper on the premises, but she can't see all the rooms at the same time. The proprietor, although paying due diligence, will not in any way whatsoever, be responsible for the loss of guest's belongings or any other property.

5. In special cases, the proprietor may offer guests tailor-made accommodation other than that which has been arranged, if it does not differ in any essential manner from that which was stipulated in the confirmed booking.

6. On the basis of a confirmed booking the proprietor is to reserve the room for the guest up to 2:00 p.m. only, unless the booking stipulates otherwise.
Guests should advise the proprietor in writing of their incoming and outgoing itinerary. Arrivals of confirmed bookings that are later than 11:00pm will be subject to a HK$120 fee as transportation fees for staff to come to late night check-in.

7. The proprietor may offer guests who ask to extend their stay a different room from the one in which they were originally accommodated if the room they are occupying in is booked by another guest.

8. The proprietor's keys, if issued, must be returned whenever guests leave the premises and at the time of check out. Guests should ensure that the electrical power is off when they are not in the room. This will save power so we can continue to maintain offering a competitive price as well as be environmentally friendly. Loss or failure by guests to return keys will incur a replacement charge of HK$200. IF EXTREME ELECTRICAL CONSUMPTION IS OBSERVED THEN GUESTS WILL BE CHARGED ABOVE AND BEYOND AVERAGE USAGE ON A KwH BASIS.

9. Hazardous goods like gas cylinders, cooking stoves, inflammable fuels, firearms, illegal drugs and other contraband on the premises by guests is strictly prohibited.

10. Management rights: The proprietor reserves for itself the absolute right of admission to any person in the premises and to request any guest to vacate his or her room at any moment without any previous notice and without assigning any reason whatsoever. The guest shall be bound to vacate when requested to do so. In default, the proprietor will be entitled to remove the luggage and belongings of the visitor from the room occupied by him or her - with a three-member committee in attendance - and lock the room or rent the room to another guest. This will only happen if the person(s) occupying the room(s) are disturbing the peace or / and safety of the premises / personnel, proprietor or other guests.

11. Guests may not move furnishings, or interfere with the electrical network or any other installations in the rooms or on the premises without the consent of the proprietor. If any malfunction is discovered during your stay please report this immediately and we will repair it as soon as possible.

12. A guest may not use his or her own electrical appliances, which are not used for the guest's personal hygiene and comfort. You can use electric razors, hairdryers or chargers for laptops, flashlights, etc. in your room.

13. A guest may only receive visitors with the consent of the proprietor. All visitors must register prior to entering the community and the premises. The rooms/premises may not be used for more guests than that of the original booking; if additional guests are admitted they will be charged accordingly.

14. If any guest becomes ill or injured, the proprietor can assist in calling for medical assistance or, as the case may be, to arrange for the guest to be taken to hospital, all at the guest's expense.

15. Upon departing, guests are obliged to turn off all water faucets, lights in the room, and its facilities as well the air conditioners. Keep your door and windows closed when the air conditioners are in operation. Once again: IF EXTREME ELECTRICAL CONSUMPTION IS OBSERVED THEN GUESTS WILL BE CHARGED ABOVE AND BEYOND AVERAGE USAGE ON A KwH BASIS.

16. Smoking is not allowed in the rooms or on the premises. There are public areas just outside of the premises.

17. The washing of clothes is allowed. Laundry is also available at several laundromats nearby the property within a few minutes walk and with same-day service.

18. The use of wireless internet on the premises is free of charge, provided the guests warrant that they will not partake in any fraudulent activities online or browse any violent pornographic/adult web pages.

19. For security reasons, it is not appropriate to leave children under 16 years of age without adult supervision in the room or other areas on the premises. Running in the living room, dining room and rooftop is dangerous and not allowed.

20. We regret that dogs and other animals are not allowed.

21. Noise level must be kept to a minimum at all times and guests are to observe the night time peace and quiet period from 9:00 p.m. to 9:00 a.m. so as not to disturb or cause a nuisance to neighbors or other guests. In Hong Kong, neighbours have the right to summon the police to come investigate and document the cause of the noise.

22. Unless stipulated otherwise in advance, guests are obliged to pay the prices for accommodation and other services rendered in accordance with the valid price list upon arrival. The bill is payable upon being presented if it has not been settled in advance.

23. Long distance bookings domestically or from abroad from unknown guests can only be registered by receiving the full amount of the total booking fee. This amount will be deposited into an appropriate multi-currency account nominated by the proprietor until the guest checks in and appropriated accordingly thereafter.

24. If and when guests use the kitchen, utensils, dishes, stove, refrigerator and other facilities on the premises, all of the items MUST be properly cleaned and placed back into their original place so that other guests can also enjoy use of the items. If left in an unreasonable state of mess, the proprietor will impose a HK$300 cleaning fee for the extra staff rates to properly clean the flat.

25. Guest's and proprietor's security and property are important: Guests are responsible for any malicious damage to the premises, endangerment to themselves and other guests and will be held legally and financially responsible for any damages to the premises or any loss of property caused by themselves, their friends or any person for whom they are responsible.

26. Minors under 18 years, male or female, are not allowed to stay on the premises without being accompanied by there parents or legal guardians. It is unlawful for any person under the age of 18 to possess or consume any alcoholic beverages, illegal drugs or cigarettes.

27. Guests are not allowed to eat food inside of the bedrooms. The dining room, outdoor dining table in the garden, kitchen countertop with stools and rooftop garden are all designated areas for the consumption of food. Should an unreasonable state of mess be realized, this may incur additional cleaning fees.

28. Guests are obliged to observe the provisions of these House Rules. In the event that a guest is in breach of these rules, the proprietor has the right to repudiate the agreement on the provision of accommodation services before the agreed period has elapsed.

These House Rules may change at any time without prior notice.
Estancia mínima de 7 noches
The apartment looks just like the photos! The doorway to the apartment can appear a bit hidden, but I surprisingly had no problems finding it. The location was convenient and close to Prince Edward Station. It had all the necessary toiletries, towels, and amenities too. The door was a bit tricky to open at first but I easily figured it out. The lift is quite fast, and the rest of the residents in the building were super nice! Best of all, Dietrich was extremely responsive and had great communication before and after the stay, which really set my mind at ease! I did find some tiny bugs on the dining table and sometimes on the floor, but they were so small and I figured maybe not so uncommon in Hong Kong, so it was no big deal. Overall, I definitely had a comfortable stay and would recommend it to others looking for a convenient place with a great price point.
---
After our trip to China, we extended our stay in the same apt for three more nights.....was so glad that the host actually changed fresh sets of bed sheets and the apt was cleaned for our return. He was courteous to allow us to leave our extra baggage in apt while away in China. Mr. Osmond was puncture in meeting us for the check in. Thank you guys, appreciated what you both did, to make our stay comfortable. Thumbs up to you!
---
Pros: Apartment very clean, location accessible and near to mrt, shopping and restaurants. Host: Mr. Dietrich and Mr. Osmond are very responsible and quick in responding to our requests. Cons: Apartment have too many personal belongings, which make the home a little too clustered Tip: travellers do take note to try booking for flight that is more suitable to the checking time which is 2 pm to avoid any wait time especially if your flight arrive early and you may not have access to apt. and could be stranded with your luggages for few hrs especially when travelling with young kids (luckily, we did not have our kids with us on this trip) Overall review: Highly recommended. Thank you, Mr. Dietrich and Mr. Osmond
---
We were met on the street as we approached the apartment, which was very nice. Location was good. The place was just a few subway stops from the foot of Kowloon. MTR station was relatively close. Place was clean, and adequately furnished with consumables, like toilet paper, shampoo, etc. Wifi was broken, which was somewhat inconvenient for us. Needed better instructions on the TV and washing machine. One of the beds was pretty short.
---
Both Dietrich and Mandy are great host and hostess! We had such a positive experience with them from the beginning to the end of our stay. Both are fun and friendly who are ready to help in all different aspects. The flat looked exactly like the pictures shown on the website and the location was very convenient. Will definitely go back to stay next time when we are in Hong Kong.
---
A chillax, whimsical, witty, and passionate foodie. With over 30 years of experience in Hong Kong, China, Macao and Vietnam, I can guide you to the most unique and elusive venues to wine and dine. A way off the beaten path gastronomist mixologist drinkologist maximus supremus; aka "DaiPaiDong D"!!!
Idiomas:
Bahasa Indonesia, Bengali, Deutsch, English, Français, Italiano, Tagalog, Русский, ภาษาไทย, 中文, 日本語, 한국어
Índice de respuesta:
100%
Tiempo de respuesta:
en el mismo día
Descubre otras opciones en Sham Shui Po y sus alrededores
Más alojamientos en Sham Shui Po: