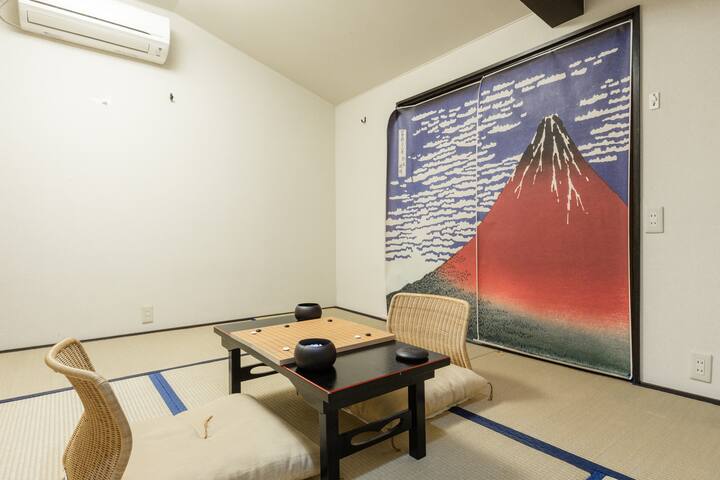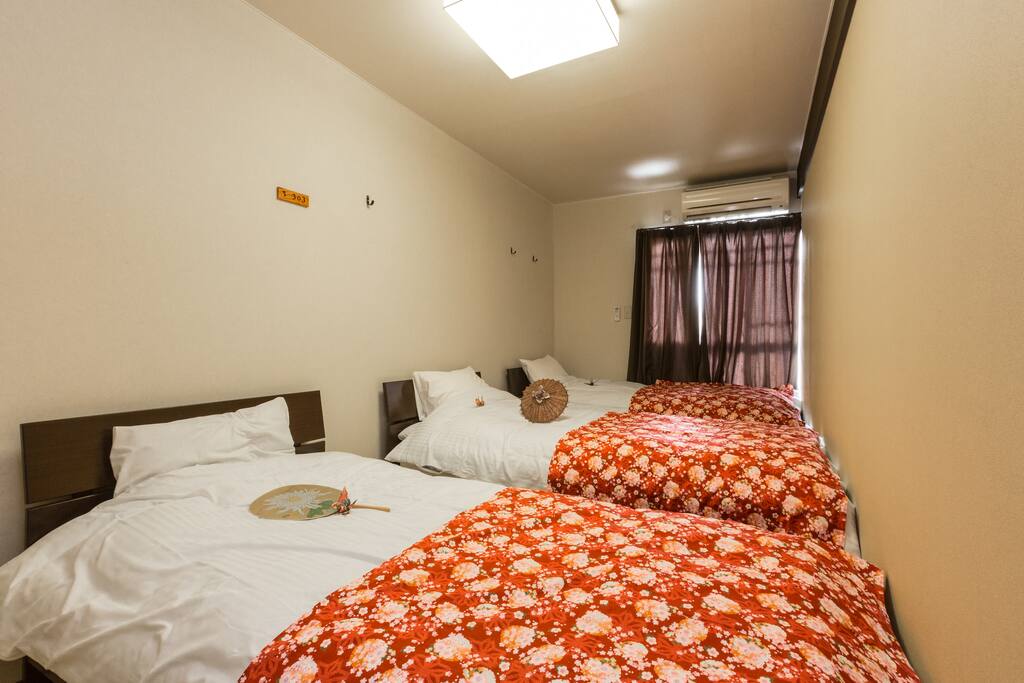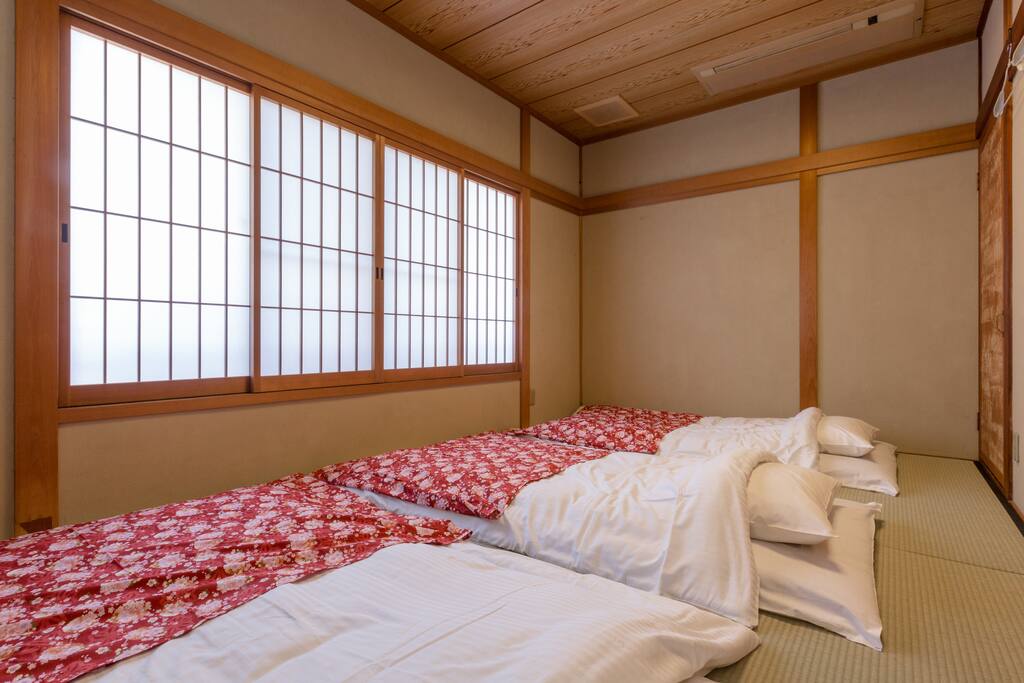 京都 新宮川通り 町屋を改装したゲストハウス。
最大 26名 宿泊可能です。
キッチン使用可能 コンロはIHをご利用ください。
(ガス器具はプロ用ですので、使用不可)
冷蔵庫、電子レンジ、ケトル、食器
使った食器、調理器具はご自身で洗ってください。
コーヒーマシンでエスプレッソからカプチーノまで自動で作れます(有料 100円)
1階のダイニング リビングは 使用は夜23時まで
洗濯機、乾燥機(無料だよ)
1階 トイレ2箇所 自動販売機 ランドリールーム
2階部分 シャワー 2箇所、トイレ2箇所
朝食は オプションになります。
オーナーさんは 近隣で有名な懐石料理屋さんです。
すごい朝食が出てきます、1,000円から
チェックイン前の手荷物預かりは可能です。
荷物預かり、
チェックイン日 昼12時から 1階の洗濯機前にご自身でチェーンを巻いてご利用ください。紛失などは一切責任負えませんん。
チェックアウト後の荷物 預かりは 夕方6時前です。
El lugar
スペース
ドミトリー部分は
女性専用エリア & ミックスエリアに分かれています。
ご利用時にリクエストしてください。
ホームWi-Fi無料、1階にはテレビがあります。
バスタオル
フェイスタオル
ヘアドライヤー 3台
ハンガー 木製
アイロン
アイロン台
ゴミ箱 分別 室内用
トイレ 4箇所

シーツ
枕カバー
布団カバー
枕
キッチン
電子レンジ
冷蔵庫
食器
ディナー皿
取り皿
ボール
グラス
マグカップ
フォーク、ナイフ、スプーン、はし

救急箱 ばんそこう程度

消耗品
トイレットペーパー
ボディーソープ
シャンプー
コンディショナー
洗濯洗剤
食器洗剤 スポンジ

ゲスト用清掃道具

バスタオル 1泊 一人 1枚
2泊以上 一人 2枚 自分で洗濯

朝食オプション 1000円 現金払い
ディナー オプション
天ぷら会食
懐石コース
Disponible para huéspedes
1階に管理人室があります、個室ダイニングルームの奥です。
Atención a los huéspedes
Maiko se puede arreglar. Comidas de 7000 yenes por persona Maiko unos 40.000
舞妓さん 手配可能です。
お食事 お一人様 7000円から 舞妓さん 約4万程度
Otros aspectos destacables
Por favor, consulte en principio hasta las 9 de la tarde, si es tarde en la noche. Hay una sala de administración al lado del baño en el primer piso. El personal es administrado por 1 persona. Por favor entienda porque es la regla de Kioto. Los baños y las duchas son compartidos. Hay dos baños en el primer piso y dos en el segundo piso. Productos de gas no se puede utilizar vajilla, cocina de electrificación, refrigerador, máquina de hielo disponible Por favor, lavar los platos y utensilios de cocina de nuevo a su ubicación original. El tiempo de uso de la cocina en el primer piso es de 7 am a 23 o'clock. El centro comercial más cercano es Fresco (24 horas) Lo más parecido es Lawson 100 (24 horas) El alcohol es siete once. Siempre apague la corriente del aire acondicionado y el televisor después de usarlo.
チェックインは 原則 夜9時まで、深夜になる場合はご相談ください。
1階のバスルーム横に管理人室があります。スタッフが1名宿泊管理しています。京都の決まりですのでご理解ください。
トイレ、シャワーは共有です。
トイレは 1階 2箇所、2階 二箇所あります。
ガス製品は使用不可
食器、電化調理器具、冷蔵庫、製氷機使用可能
使った 食器、調理器具は 洗って元の場所に戻して下さい。
1階のリビング キッチンの使用時間は 朝7時から夜23時までになります。
近所の買い物は品揃えはフレスコ(24時間)一番近いのはローソン100(24時間)
アルコールはセブンイレブンです。
エアコン、テレビは使用後は必ず、電源をお切りください。
Apto para familias y niños
Personas adicionales $19 / noche más de 8 huéspedes
Depósito de seguridad $556
Precio por fin de semana $352 / noche
Comunícate siempre a través de Airbnb
Para que tus pagos estén protegidos, nunca transfieras dinero ni te comuniques desde afuera de la página o la aplicación de Airbnb.
Dormitorio 1
4 colchones en el suelo
Dormitorio 4
4 colchones en el suelo
Dormitorio 5
3 camas individuales
Dormitorio 6
3 colchones en el suelo
No se admiten fiestas o eventos
Horario de llegada: de las 15:00 a las 21:00.
Salida antes de las 11:00
Llegada con acceso libre con lockbox
日本具有多元的文化,而我们真切地希望您能在这里度过愉快的时光,所以在此我们想告知您一些日本和其他国家之间的文化差异。在旅行之前,请您花几分钟时间仔细的阅读以下内容,以保证您在日本旅行期间可以避免不必要的麻烦,尽情地享受。
我们诚信希望您能在日本得到精彩的旅行体验。为了保证您旅途的顺利,我们请求您遵循以下几点:
1). 在确认了您的预定后, 您将需要签署一份"租房协议", 目的只是确保您在我们这里入住的合法性, 因为目前AirBnB处于法律的灰色地带。此外,这个协议列出了通常情况下人们在日本入住居民楼的一些准则,其中包括房客需要赔付在入住期间引起的损坏。比如说,万一您不慎遗失了钥匙,如果是普通款式,配一把可能需要500日元,而如果是复杂的电脑芯片,花费可能高达25000日元。所以在您入住期间,请仔细爱护我们的房间设施。
非常重要的一点是,请务必在入住期间尽可能地保持安静。即使是在城市里,安静也是人们所向往的。所以我们请求您牢记这一点。
公共场所,比如说大厅或者电梯,通常会因为人多而制造出大量的噪音。有的地方公共场所空间有限,希望不要长时间地在这些地方逗留。由于日本的电梯通常比较小,行李和人可能迅速占满整个电梯,如果您遇到了这种情况,我们请求您在外面等候一段时间(大概两分钟左右)以乘坐下一趟。
在其他文化中,邀请一大群朋友到家里聚会可能是很正常的,但是,这在日本很少发生。由于住房相当密集,人们更加喜欢聚集在酒吧、咖啡馆和俱乐部,这些地方往往营业至凌晨。请务必谨记!
我们热切地希望我们的客人能在日本度过愉快的时光,然而,我们也请求您在进行任何喧闹的活动之前首先询问我们。即使是在大城市,晚上10点之后基本也就很安静了。当然我们会尽最大可能提高房间的隔音效果
虽然AirBnB在日本已经合法化,但是很多日本人还是没有意识或者不习惯和外来人共享这种经济资源。我们希望这样的情况能在将来得到改变。不过,为了避免来自物业和其他居民的投诉,我们请求您不要过多地和这些人交涉。如果您有任何的问题,请直接联系我们。
此外,如果有人按门铃,请不要应门。99.9%的情况下,那是某些销售人员,您不会感兴趣的。只有很少的例外,但也请不要开门,必要的话,联系我们,我们会帮您处理。
我们实行无烟制。如果您在房间里面吸烟,房间里的烟味需要通过特别的手段才能得以驱除。一旦我们发现我们的客人在他或者她的房间里面吸烟,我们将收取70,000日元以用于烟味的驱除。对于有阳台的房间,您可以在阳台上吸烟,但是请务必记得熄灭烟头。
此外,除了指定的地点,即使是在室外,日本也是禁烟的。近期,警察对于在外吸烟打击很严厉,为了您自身的利益,我们请求您在吸烟的同时多多体谅您身边的人。
2). 入住信息
无论是在房间里面还是外面,请在早晨8点之前和晚上10点之后保持安静。
请在入住之前的一天发信息确定您入住的时间,并在退房之前发信息确认退房手续。
在入住期间,请像日常一样表现。比如说在出浴室之前拖干净地面,在离开的时候关闭点灯和空调,等等。
即使在规定的时间后,再或徘徊,或擅自行李的地方,清洁的干扰,下一位客人的入住的干扰将统一30000日元索赔。
所有变更请求的是审批制度。如果您有未经批准变更为30,000日元以下的罚款
*************************************************************************************
1. 通常情况下,我们可以免费地为您变更预定。
2. 如果您在预定后的24小时之内取消订单,您将需要支付5000日元的服务费。此项条款仅适用于您的预定发生在入住前的一星期之外,并且在预定后的24小时之内取消订单。
3. 如果您在预定后的24小时到72小时之内取消,但还是在入住前的一星期之内,您还是将会被收取25%的取消预定费用。
4. 除此之外,其他的取消标准同样适用。
Though Japan has a vibrant and wonderful culture and we truly hope that you enjoy your stay here with us, there are some cultural differences between Japan and other countries that we'd like to first inform you about. Please kindly take a few minutes to read the following points prior to your trip so that your stay in Japan will be as enjoyable and problem free as possible.
1) Damaged equipment's
Guests will be expected to pay for any and all damages during your stay. Please use common sense and take care of our properties while staying with us.
2) Caring neighbors
Please be quiet before 8:00am & after 22:00pm both inside and outside the house. Even in urban areas, residences are quiet and peaceful therefore we would like to ask you to keep this in your mind to not disturb those areas where you stay.
As a cultural and general rule, "public spaces" such as the lobby or elevators are areas where people should not make much noise.
While we encourage our guests to have a good time in Japan, please consult us first before being loud in the any of our apartments. Even in the big cities, neighbors get pretty quiet at home after 10 PM and though we do the best to soundproof our listings to the extent possible, if there is a formal noise complaint made against us we will have no recourse but to charge a 30,000Yen penalty. As such, we kindly ask you to respect your neighbors and keep quiet at night.
While AirBnB does indeed operate legally in Japan, many Japan are still unaware of the sharing economy and are not yet accustomed to the idea of sharing with outsiders. Though we hope this will change in the near future, to avoid any complaints from both the building management and other residents, please do not speak or interact with anyone on the premises. If you have any questions please address them to us and not the management of the building as they will not be able to help you.

3) No Smoking Inside of the House
All of our listings are non-smoking. If you end up smoking in the rooms, it will require a special cleaning to remove any smell or stains. If we find that a guest has smoked inside of the house, we will charge you 50.000yen to cover the cost.
It is OK to smoke on the balcony or outside but please properly dispose your cigarettes after smoke.
Additionally Japan does not allow smoking in public spaces except for designated areas. Police have been cracking down lately on smoking outside of these areas thus, your own benefit, we'd like to remind you please be mindful of others when enjoying a cigarette.

4) Late check out
If you stay longer than the check-out time without our permission, you will be charged double of the room rate.
Remember to send a message a day before you check in to verify your check-in time and also another message to confirm the checkout procedure.
5) Saving environment
Please use common sense while staying with us, for example dry off completely before exiting the bathroom, turn off the lights and air conditioning before leaving, etc.
6) Before check in & after check out please contact us if you want to keep your bag.
7) Lost key
This includes lost keys that replacement costs vary from 2000yen for older simple locks, and range upwards to 10.000yen as newer buildings have more complicated computer chip-included lock systems.
Aspectos que también debes tener en cuenta
Es necesario utilizar las escaleras
Hay zonas comunes que se comparten - There is a room administrator's room at the back of the first floor. A manager enters and exits at night. Over 2 floors are fully private space
Detector de monóxido de carbono
Ficha de instrucciones de seguridad
Estancia mínima de 1 noche
We stayed here for 5 nights with 6 of us and this place was perfect. The location is walking distance to train station and is situated on a beautiful street in Gion. The kitchen is restaurant quality and spent many mornings and evenings cooking and hanging out in the kitchen and living room areas. We quickly felt at home and would highly recommend this place. We can't wait to come back and will definitely stay here again! Thank you again for a wonderful stay, Aloha & Mahalo. -Kai, Kristina, Joss, Adam, Marzi and Danica from Hawaii, USA
---
I rented the entire apartment with all 6 bedrooms except the management room for our group trip. At the second day of our stay, when we went back to the apartment at night for the rest, we heard that someone using our bathroom. The girls were really scared and I tried to reach the host for the reason why there were other people in our apartment. But Yukio just let me read the description about the apartment that there is a management room for exception. The terrible experience was that two other groups of guests checked in the same day with us and lived in 2 bedrooms of the 6 we rented, not the management room at all. But no one explained why! I tried to reach Yukio several time later. No one reply. Feel so disappointed about the trip. I just received the email from Airbnb that Yukio wrote a review for me. It's ridiculous that the host did not solve the problem but write a review so fast.
---
日本 北海道 東京 千葉 神奈川 京都 大阪 沖縄(日本は全て許可取得が前提です)
タイ チェンマイ アユタヤ バンコク シラチャ パタヤ プーケット
カンボジア シェムリアップ
プノンペン
ラオス
アメリカ ハワイ サンフランシスコ ロサンゼルス ニューヨーク
インドネシア バリ島
ベトナム ハノイ ホーチミン
フランス パリ市内 及び近郊
イギリス ロンドン リバプープ
イタリア
スペイン

全世界 民泊運営管理 気軽にご相談ください。

功到自然成 功亏一篑 健康胜于财富

ฆ่าควายอย่าเสียดายพริก ช้า ๆ ได้พร้าสองเล่มงาม ต้นร้ายปลายดี

Airbnb Best of Bangkok(Thai land)

Airbnb Best of Japan (sapporo)(tokyo)(kyoto)(Osaka)(Okinawa)

We are canceling the property whose 5 stars are less than 60%.

Even though the number of cases is high, it is a high quality.



Nice to meet you. My name is Yukio. I love hosting on airbnb and it is my life. It is tons of fun and there are new surprises every day! I have met so many interesting people as a host and I look forward to those I will meet in the future.

I am a sports fan, reader, movie goer, and I like to try new things. I play Ski,Surfing, scuba diving and just about any sport you can think of. I love ramen, yakiniku, yakitori, and shabu shabu here in Japan. I love to try pizza all over the world when I travel.

Relationships are the most important thing for me in my personal life as well as business. I like to go out and have a good time with my friends and meet new people.

I have learned so much from my over three years as an airbnb host and I am pleased to say I have most questions answered for you before you ask them, whether it be in the description of the listing or in the detail I supply you with at confirmation. Still, I am always thinking of ways to make the guest experience more comfortable, efficient, and hassle free. This is my goal as a host. I will continue to get more places every month so I can host more travelers. I want everyone to see Bangkok at least once!
Idiomas:
Deutsch, English, Italiano, ภาษาไทย, 中文, 日本語, 한국어
Índice de respuesta:
100%
Tiempo de respuesta:
en menos de una hora
Descubre otras opciones en Higashiyama-ku, Kyōto-shi y sus alrededores
Más alojamientos en Higashiyama-ku, Kyōto-shi: