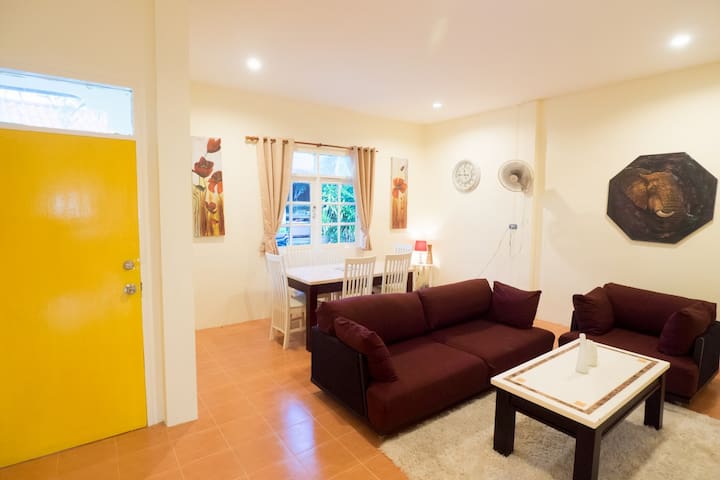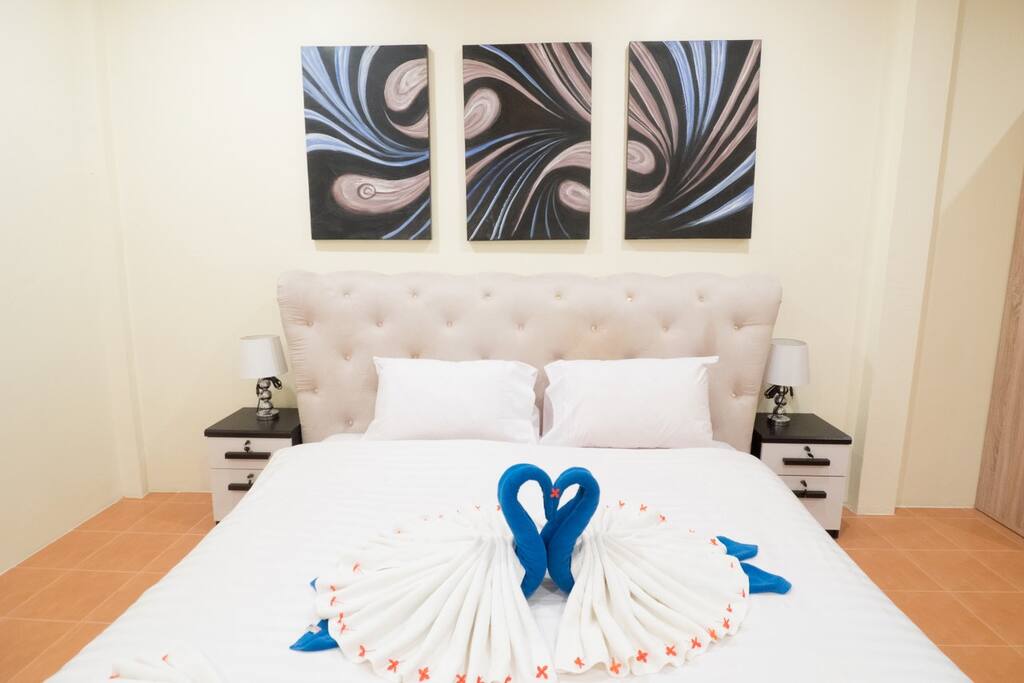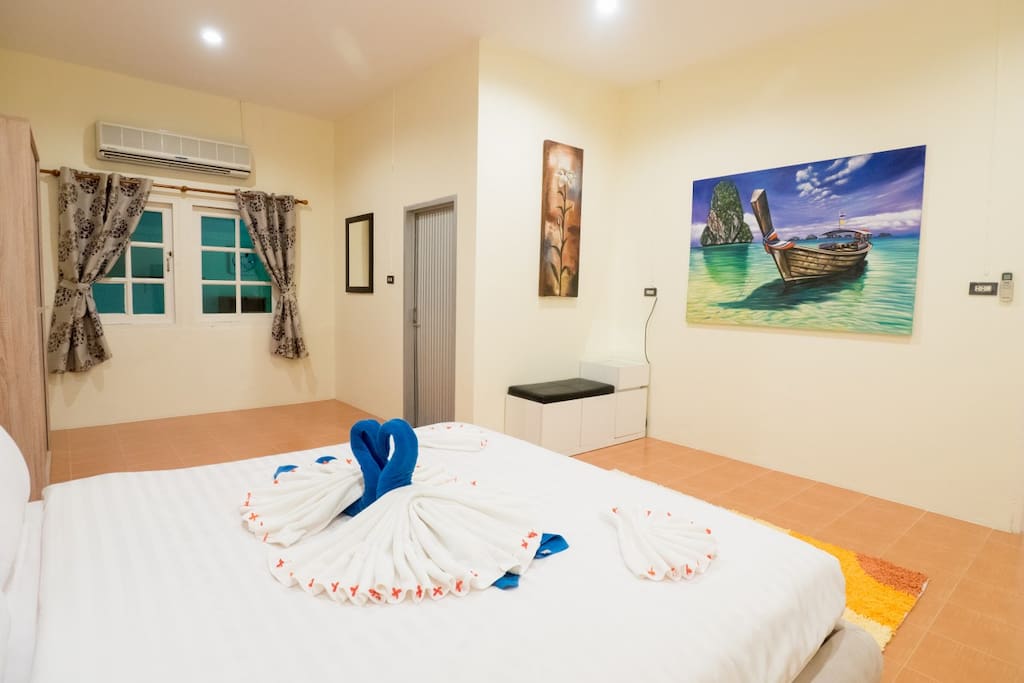 Lovely, spacious 3 bedroom villa close to beach.
This recently renovated property is a fantastic holiday home for people wanting to experience life in a lovely Thai village, close to the beach with excellent restaurants etc close by.
The villa comes with free wifi, large living spaces - washing machine, cooking and kitchen utensils and a maid service every 3rd day. The villa is situated in a quiet cul-de-sak with the closest restaurant open for breakfast just a short walk away.
El lugar
Please note: Before a reservation is made airbnb will block out any attempt by either party to try to communicate by exchanging email, phone number etc. If you attempt to do this you will see in your message "CONTENT HIDDEN/BLOCKED"
PLEASE READ ALL the information provided below before asking me any questions as you will find that some of your questions are answered in what we tell you here. Thanks.
Please also note that access can be given to an 80 meter swimming pool, gymnasium and sauna just 100 meters away from the villa. Please ask for details.
On Bang Tao beach itself you will find many restaurants, bars, massage benches and a whole range of water sport activities. Phuket airport is just 25 minutes away.
The closest restaurant is about 30 meters to the villa and convenience store about 50 meters away. Bang Tao village is a 10 minute stroll down the beach and here you can find in excess of 30 bars and restaurants and more on the beach, serving Halal food, Western Food, Indian food, Thai Food and much more.
Guests can use the pool and local gym 100 meters away for a small fee at the Baan Puri resort. The resort has a fantastic restaurant, 80 meters swimming pool, very large gym facility and very friendly staff. We can introduce you to the resort on check in if you require the extra facility.
Car rent, motorbike and bicycle rent, tours and trips are all arranged through us and as local people; we pride ourselves on being totally flexible if there are additional needs and requirements.
Car rental fees start from 1,000 baht per day depending on the model of the car and season.
A private driver for up to 12 people in a minibus can be arrange for 3,000 baht for a full days sight seeing of 8 hours. Please inform us beforehand if you require any of these services as we will need to make a reservation for you.
To us you are our friend's not just customers and we'll do our best to make your holiday as special as we can with our help, without being intrusive.
Our years of experience and of hosting more than 5,000 customers have taught us many things. Most importantly we understand that no 2 sets of guests and families are the same as the last, each one is treated as a new friend with new needs and desires for their trip.
Therefore, we ask when making an enquiry that you do a bit of research into what it is you want to do and see in Phuket and we will sort it out for you. We can plan days and activities for you without any hassle at all but we need a general idea of what you want from your experience in Phuket. For example, a family with small kids is not going to want an ATV and white water rafting experience, whilst similarly a group of young graduates is probably not going to want a day out at a children's adventure park.
Popular activities include
1)Island trips by boat – Phi Phi, Maya Bay, Coral Island, Similan Islands, Khai Islands, James Bond Island. All come with free transport, lunch, snorkel hire and soft drinks on the speed boats or ferries.
2)Night and day fishing trips – where you are allowed to keep your catch and take home to BBQ.
3)Adventure activities like ATV riding and White water rafting.
4)Elephant Trecking in the jungle.
5)Trips to monkey temples.
6)Trips to traditional Thai temples.
7)Private driver days around Phuket – includes Canoeing, elephant tracking, trips to the waterfalls, temple visits, cooking class, monkey show, snake show, Big Buddha etc.
8)Safari trips.
9)Phuket Fantasea Show & Simon Cabaret show.
10)Visits to Pearl factory.
11)Phuket bird park.
12)Phuket water Park.
13)Phuket Zoo.
14)Scuba diving courses.
15)Jet skiing, Para sailing. Wake boarding and other water and beach water sports/activities.
We can orgnise all of the above for you either before or when you arrive and get significant discounts off the brochure prices from our sister company. We very much discourage our customers with going to online agencies. They will generally charge about the same price as we can or more but they have in the past been the source of many problems, often not refunding money if a late cancellation is necessary from sickness or bad weather conditions. We have worked with our sister company for 5 years now and they come highly recommended.
Please send your enquiry to us on what it is you are interested in and we will get a price for you.
The beach is just a 10 minute walk away from the development, so the location is great. There are small convenience stores within walking distance and tuk tuk's that charge only 150 baht can take you to the big shopping centre within 5 minutes if you need to visit a supermarket or Bang Tao's excellent afternoon and night markets. There is also a fresh seafood shop in Bang Tao village that is bringing in fresh Andaman seafood all day long and is fantastic for BBQ's. If lobster or Tiger Prawns are required, please inform us 1 day prior to your planned BBQ.
Our maids come to clean every 3 days, if required and will take away your laundry to our off site laundry and wash your clothes, return them on the next day (if you leave them in a bag in the morning) and all of this is done for free!!! (This is for properties where there is no washing machine installed)
Am is the villa manager and along with her brother Soup and our staff, they will take good care of you right from the check in stage. I (Lee) live locally too and am very often around for customers to make sure everything is ok and you are happy. If there are any problems, there is always somebody to hand to assist you, normally within a few minutes.
We are always available for our guests. Right from the moment you land or arrive in Phuket we have one of our drivers collect you from the airport so there are no complications or worries on arrival. Our drivers are available 24 hours a day so no matter what time you arrive, we have somebody to collect you and check you in.24 check in service really is no problem for us.
Once you have made your booking and reserved your flights, please send us your flight details. We will take care of the rest for you.
You will be told what the drivers name is and he will be holding a sign board outside the main airport terminal with the name IN ENGLISH (if your airbnb name is written in another language please supply us with your ENGLISH Spelling of the name to make it easier for us to write the sign). He will then return to the car park to get his car or minibus and come to collect you where you stand. Please do not venture away from the pick up point to go to a shop or exchange booth as the drivers are not allowed to park outside the airport building and may be moved on by police. This will cause you immense delays.
You will be given contact details in the case of emergency. The driver will then take you to the accommodation where a member of my staff will be there to meet you. You will then be given the check in paperwork by the check in staff which will ask a few important things such as when do you require maid service, what time do you wish to check out, any other requirements and you will also be given the meter reading for the utilities. On check out you will be given another reading by the check-out staff. Please do not let this put you off enquiring, it is very common with private villa and apartment rentals in Phuket to have to pay for electricity.
If you arrive late at night or after a very long flight, we understand that you may be tired and need to rest. This is of course fine and we just say that we will come and see you the following day to ensure you fully understand things and are ok. It is ok to tell us before you arrive what time is a convenient time for us to come and see you the following morning.
There will then be the opportunity to talk to probably Am about any activities or excursions you want to arrange – we can come up with a plan for you for your holiday and get the ball rolling with organizing it all for you. There will be a catalogue of ideas and brochures made available to you. Simply choose what it is you require, the price will be given to you and the tickets booked on your behalf. A deposit or full payment can then be made.
We very much encourage people to use telephone apps so that the costs of calling etc. can be eradicated from both your bills and our bills. Am is very keen on LINE and (SENSITIVE CONTENTS HIDDEN) so we would encourage people to download these apps before they arrive so that communication is easy from the start. If you would like to make contact with us before arrival, please introduce yourself saying your name, accommodation name and dates of stay. We can then identify you from our systems and assist. We strongly encourage all communication however to be through the airbnb system so there is an audit trail and all management staff can access it.
We aim to make our guests stay as fantastic as possible, offering all our help, knowledge and wisdom, often going with you for dinner and showing you the local sites if that's what you want from us. By the same token we are far from intrusive but always available.
ANY problems that you have can be sorted but if we are not aware of the problem, it is very difficult for us to deal with. Please let us know.
Please also let us know if somebody is ill within your party. It is important of course that the right treatment and advice is given and we have experience in the symptoms of tropical illnesses that you Dr's and clinics are nearby, as are hospitals so please seek our advice if you need it on this.
Water and electricity is not included to encourage guests to save on aircon consumption. It is very cheap and the meter is read on check in and check out. This is nothing to worry about but we just do this as many people will leave the apartment with all aircons left on and return at night from the beach. It is very common practice in private villa and apartment ranting in Thailand and is done just to encourage people to be a bit more responsible with consumption. We also believe that if people are responsible for their own bills they will act as if they were at home. This enables us to keep our prices low and pass on these cheaper prices to you the customer in the future. The average price for a 1 bedroom apartment aircon per day would be 100 baht, for a 2 bedroom apartment approximately 300 baht, 3&4 bedroom villa maximum 400 baht. This is based on an average taken over a period of months from our current listings.
We also provide airport transfers but ask that guests pay the driver directly. The fee is 1,000 baht for a minibus (12 people) and 800 baht for a luxury 4X4 that fits 7 people. We have baby safety seats available so please request this if needed. There is no charge for a baby safety seat on airport transfers but if customers need this on private drivers, we have to rent them in and they are charged at 150 baht per day.
We offer the airport transfer service because it is convenient for you. Please see below my advice regarding this matter.
No smoking inside but plenty of space outside. Please just come, have a great time and respect of course the rules and cultures of the Kingdom of Thailand.
Phuket airport is just a 25 minute drive away and the night market and Tesco lotus 5 minutes by car or bike. Patong is further down the coast about 25 minutes away. Phuket old town is a 30 minute drive away. Major shopping centres such as Central Festival are 30 minutes drive away.
Please note: We get many enquiries and bookings from people looking for the "Patong experience" or asking me "are you near Kata or Karon"? Maps of Phuket are readily available online – Bang Tao is on the west coast of the Island between t airport and Patong. Please familiarize yourself with the geographical location if you have plans to visit other places or have friends staying elsewhere.
I do not have properties in Patong and can say that Bang Tao does not offer the same as Patong. Patong is an over run tourist spot, full of bars, shopping outlets and is very (URL HIDDEN) is the place for clubbing youngsters and does not offer anything close to what Bang Tao and local villages offer. Please carefully consider what you want from your holiday. If you want the hedonistic lifestyle of a rock n roll star then Patong is your place, if you want the real experience of Thai culture, people, food, villages, relaxing beautiful beaches then Bang Tao is your place. I myself have lived in the same village for 11 years…..Thailand has many fabulous places one could live in so Bang Tao must have something to offer, I urge you to come and see what
If you do however require accommodation in Patong perhaps if you are going for a night out and wish to stay over night, I do have contacts who run hotels there and can happily pass these on to you to make your enquiries.
Getting around is very easy. We can organize pretty much anything from a simple motorbike, car or even a private driver. Taxis are available at very short notice also. For the guest wishing to have a day out in style, why not rent one of our luxury sports cars, which can be seen In the pictures. Please contact us for prices and details.
Please also be aware that transport in Phuket is not as cheap as other parts of Thailand, especially for taxis. When I give you the price for airport transfers, taxi journeys to places, I only give you the price that is charged to anybody else. I do not profit from recommending people, I simply do it as a convenience service to ensure my customers are well taken care of.
Please if I give you advice, try to follow it as this will really help you have a better more comfortable holiday. Years of experience has taught me that saving the odd $ here or there is not always the best way to plan your holiday and when it comes to things like airport transfers, taxi services, tours and trips that could impact on your enjoyment, I would ask you to take my advice on these areas.
Other things to note.
1) Please pay special attention to our points about guests paying for utilities.
2) The listing will tell you the maximum allowed people in the villa or apartment. Please do not try to cheat us into booking for the maximum amount and then turning up with more than what you tell us. We simply won't allow the booking to proceed. Please be honest with us about numbers etc.
3) Be very conscious that although we can be flexible on check in and check out times, busy times of the year we may not always be able to do this. If you are arriving on a very early morning flight, for your own comfort and relaxation we would strongly urge you to book for the night that you are arriving so you can arrive at the accommodation for early check in, relax, sleep and start your holiday feeling nice and refreshed.
4) Driving licenses are not required in Thailand to rent vehicles. Passports are enough to secure rental vehicles. However, we strongly recommend people bring their driving licenses as if there is an accident, you will need to show you are a qualified driver to the insurance company.
5) Visas can be gained on arrival into Phuket. If you are staying for less than 45 days in Thailand a visa on arrival is perfectly acceptable. This is free of charge.
6) International travellers. Please note, when booking flights ALL budget airlines go from Don Mueang International Airport in Bangkok. You will probably arrive at Suvarnabhumi International airport.
DM airport is about 1 hours' drive away and at the end of a long flight is a really tiring and tedious experience, especially if travelling with kids. My recommendation would be to go direct to Thai Airways website and book Thai air. They DO NOT charge for baggage up to 30kg, depart from Suvarnabhumi, have an inflight nice meal and cut out all the hassle of changing airports etc. They are a tiny bit more expensive but believe me, for somebody who travels long haul several times a year between Europe and Phuket, it is very much worth the extra few $s to save the pain.
7) Once you have got your flight details please send us all information and total numbers. If you are part of a large group and travelling separately please send the group leaders name for the airport signboard. Your driver will have a sign outside the main building with your name clearly visible.
8) All towels (including beach) and bed linen is provided by us. Please bring your own insect repellants and sun tab lotions. We do not provide any lotions such as these.
9) Baby chairs and cots can be provided for families with young children at no additional cost. Please inform us if these are required.
10) If you require things at the villa for early morning / late night check in such as beer, breakfast material etc, please inform us when you tell us your flight details. Our staff will happily get these at the apartment / villa for you so you can settle in and not have to worry about shopping trips. Please note there is a 300 baht (plus of course the groceries bill) fee for this service.
11) Please pay all taxi drivers their fares directly and not to any other staff member in cash.
12) Each villa or apartment has a staff tip box. Our staff do a fantastic job for above average salaries but of course often have big families to feed and school so are always grateful for any tips. This also makes them feel more valued and comfortable that they feel they have done a good job for you.
We very much welcome your questions should you feel there is something I have maybe missed in this listing.
---
---
Personas adicionales Sin cargo
Comunícate siempre a través de Airbnb
Para que tus pagos estén protegidos, nunca transfieras dinero ni te comuniques desde afuera de la página o la aplicación de Airbnb.
Más información
---
Dormitorio 1
1 cama tamaño king, 2 sofás cama
Dormitorio 2
1 cama tamaño king, 1 sofá cama
Dormitorio 3
2 camas individuales
---
La hora de llegada es flexible
Salida antes de las 12:00
- Please be quiet in the outside areas after 10pm
---
Ficha de instrucciones de seguridad
---
Los viernes y sábados, la estancia mínima es de 1 noche.
---
We had a wonderful experience staying in Lee's villa. Having lived on the island for a number of years, Lee (and his team) are super knowledgeable and helpful. Upon arrival they arranged scooter hire to be delivered to the apartment which was really handy and saved us a bunch of time shopping around. The villa is located in a lovely quiet village 20 mins scooter away from Patong Beach. The scooter ride there and back is awesome... the road winds in and out of the coast and is great fun to ride in both directions. There's a couple of authentic thai cafe/restaurants a stonesthrow from the villa and the quality of food and price is much better than anything else we had on the island. Lee was very responsive to all of my messages and so overall I'd highly recommend him and his properties to anyone looking to explore Phuket. Thanks Lee!
---
Hi, I live in Phuket and am originally from the UK.

I have lived in Phuket (always in the same village Bang Tao) for 11 years now after originally working as an investment adviser in the city of London.

At 29 years old i just thought 'what on earth am i doing this for....gotta be more out there to see' and so there was. I came to Phuket and for a couple of years didn't do a great deal but travel, explore some options and started to get a feel for what i really wanted to do.

I had renovated and over seen my own property renovations in London and loved every part of it. From seeing an uninhabitable bin turn out into something incredible, cool and really worthy of being called a home i decided this was where i wanted to be and what i wanted to do.

I met some incredible people along the way who are still friends and who now work for me and i wouldn't change a lot of it for the world. I always feel i made the right decision, even on testing days, the days when i have that passing thought we sometimes all get 'sod this for a game of soldiers' ;-)

I have an amazing team of people around me who not only do a fantastic job for the customers but make me proud of what we have all created together. Some i have worked with from the start and i genuinely believe they are happy.....they show it in their clocking in, seeing them around the village during work hours on their bikes smiling and when we have our get-together BBQ's and staff parties etc.

They are warm hearted people who would genuinely do anything for anybody if treated with the respect they deserve.

Am is my direct Operations Director and Villa / Apartment manager and responsible for all of the staff and customers needs. She is really the one who is dealing with anything people need either before, during and sometimes after they have vacated the property and left something behind that may need posting etc.

She's lively, funny, golden hearted and a pleasure to work with and customers just love her because of her very endearing qualities. She's great with kids, knows how to get things done and always willing to go the extra step to make sure people have the best experience with us that they possibly can.

We've built up a very strong company together, all by understanding our jobs and playing our part in the success. I admit we are not perfect but we always try to do the right thing by people and our customers and our 500 reviews are testimony to that, with only a few negative......of which we take on board and always try to put right.

We hope you like our villas & Apartments, our reviews and make an enquiry about one of our many places with the intention of booking and one day meeting us all.

Thanks for reading and best wishes.

Lee, Am & The Team
Índice de respuesta:
100%
Tiempo de respuesta:
en menos de una hora
Descubre otras opciones en Tambon Choeng Thale y sus alrededores
Más alojamientos en Tambon Choeng Thale: