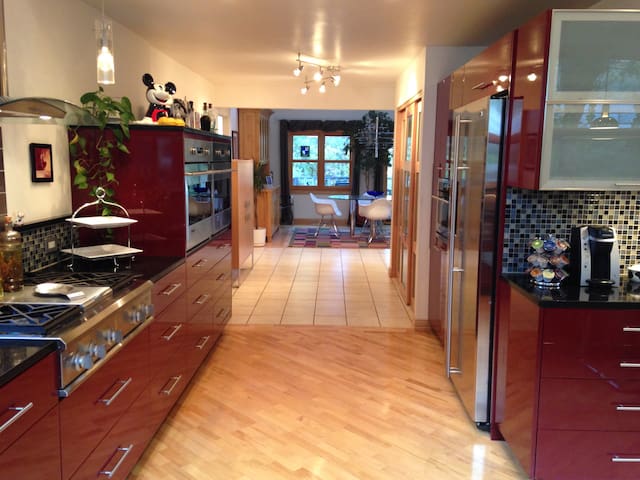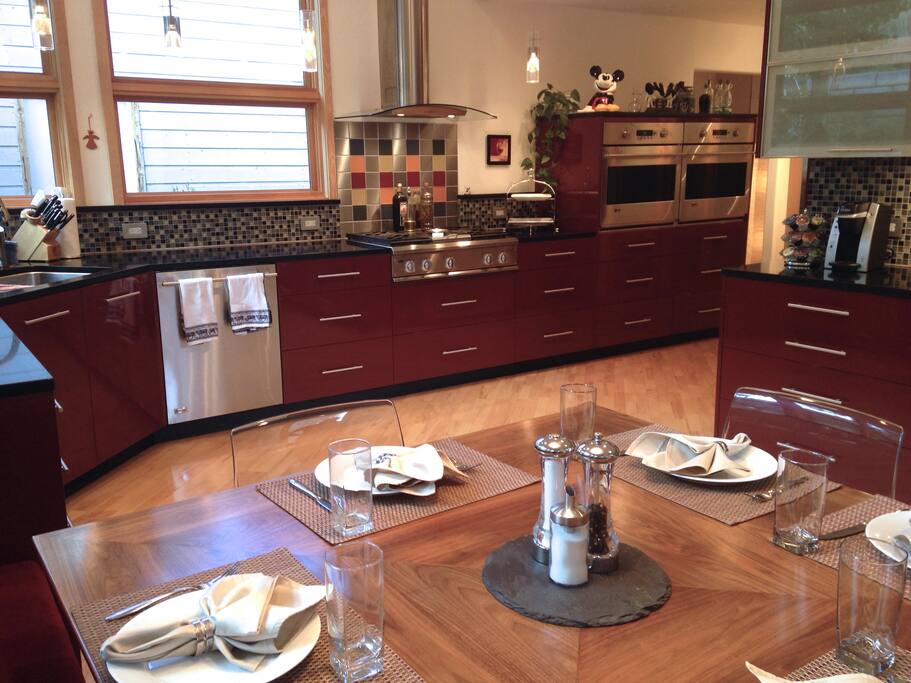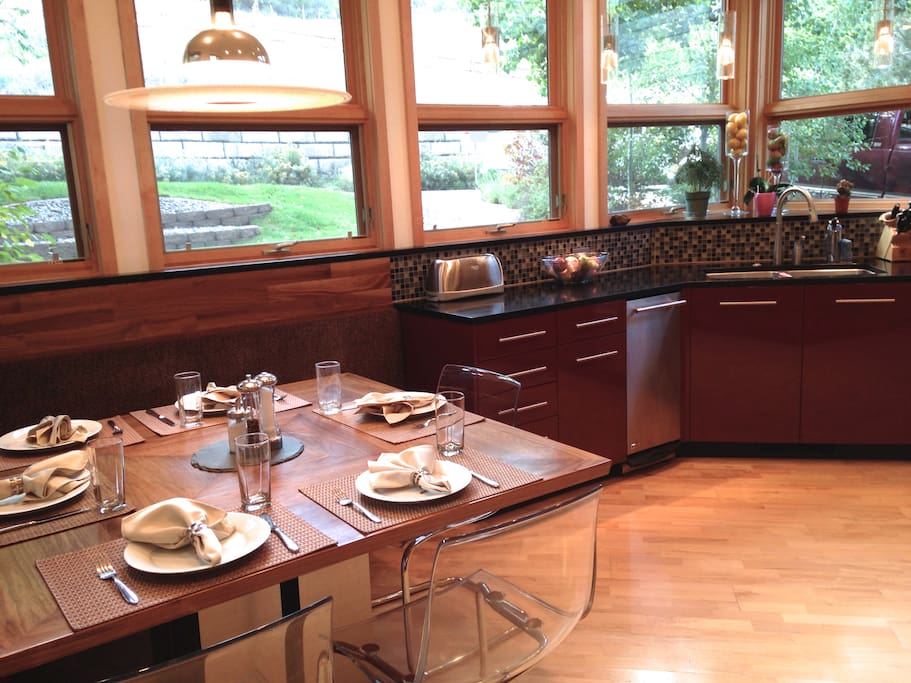 Nestled against Red Mountain, this home is conveniently located in a private neighborhood near Glenwood's bustling downtown. Shops, restaurants, the Hot Springs Pool and many outdoor activities are within walking distance!
Great home for families!
For larger groups, this home can be rented in conjunction with a 3 bedroom, 3 bath home that sleeps 6 people that is located next door. Please inquire.
El lugar
This custom 2 bedroom, 2 bathroom contemporary home is truly special! A combination of custom finishes and that warm welcoming feeling guarantees a most comfortable stay! Its vaulted ceilings, skylights and large windows provide great views and plenty of natural light! Air conditioning and a wood-burning stove ensure extra comfort year round. Cable and DVDs can be enjoyed on Plasma and LCD TVs and the stereo system combined with WiFi and Airplay can play your favorite tunes and shows.
The kitchen is everyone's favorite part of the house! It is a custom, gourmet, eat-in kitchen with seating for 8 and large windows to enjoy the view of Red Mountain. During warmer months, llamas can be seen grazing the hillside! It is an inspiring place to create your favorite meals for family and friends. The kitchen is well stocked and has spacious countertops, modern, state of the art appliances, double ovens, and a flat screen television. Preparing meals is made easy and fun! A single serving Keurig coffee machine offers a carousel of complimentary coffee and tea.
The entire upper level is a private master suite including a spacious bedroom, bathroom, walk-in closet and a small laundry room. It is nicely furnished with a king size bed with a luxurious down comforter and feather pillows. There is a single rollaway bed for an additional sleeping accommodation. A gas fireplace and mini fridge are just steps away from a large soaking tub in the bedroom. Bathrobes and bath salts are provided to make your stay luxurious and memorable. Perfect for a romantic getaway!
The second bedroom on the main level is comfortably furnished with a queen size bed with a down comforter and feather pillows. A relaxing futon can accommodate two extra people. Children's toys, books, crayons and an enormous plush teddy bear are a big hit with the kids!
The living room has a queen sleeper sofa with a memory foam mattress for added comfort.The open floor plan of the main level provides a great space to gather with family and friends. The dining room has a seating capacity for 6. The deck has additional seating for 6 and a propane BBQ grill.
For larger groups, this home can be rented in conjunction with a 3 bedroom, 3 bathroom home that sleeps 6 people that is located next door. Please check out listing 923559!
THE OWNERS OCCUPY A PRIVATE BASEMENT RESIDENCE PART-TIME AND WILL GLADLY ANSWER ANY QUESTIONS OR OFFER ANY ASSISTANCE.
DUE TO A SEVERE PEANUT ALLERGY IN THE FAMILY, PEANUT PRODUCTS ARE NOT PERMITTED IN THE VACATION HOME. Alternative product suggestions will be gladly provided. If the home has been exposed to peanut products, please notify us so that extra cleaning procedures can be performed. An additional cleaning charge may apply. We apologize for any inconvenience but greatly appreciate your understanding. Please feel free to call or email me with any further questions.
City of Glenwood Springs License # 13-009
Otros aspectos destacables
Children are welcome and for your convenience a pack and play and high chair are provided.
• Pets not permitted
• Smoking not permitted on property
• Minimum age requirement of 25 to rent this property
• Check-in time 4:00PM, Check-out time 10:00AM
• Damage deposit is refunded 14 days after departure; may take up to 7 business days to return to your account
• Additional cleaning fee for excessive cleaning may apply
• Rates are subject to change until reservation is confirmed
• Monthly rates may vary depending on dates booked
---
---
No se admiten fiestas o eventos
La hora de llegada es a partir de las 16:00
Salida antes de las 10:00
VACATION RENTAL AGREEMENT
Thank you for booking your Vacation Rental Property through KEYLINK, LLC Vacation Rental Management ("KEYLINK"). Please read this Vacation Rental Agreement ("the Agreement"), as well as our (a) Terms and Conditions, (b) Privacy Policy, and (c) Payment Terms all located on our websit(URL HIDDEN) This Agreement which incorporates by this reference the (a) Terms and Conditions, (b) Privacy Policy and (c) Payment Terms is a binding legal agreement, the terms of which, you, as the "Guest", and KEYLINK are agreeing to be bound. In addition to the (a) Terms and Conditions, (b) Privacy Policy, (c) Payment Terms, and (d) House Rules, upon booking your reservation through KEYLINK, you are acknowledging and agreeing to the following terms, covenants, promises, and conditions for your Vacation Rental Property ("the Property"):
1. BOOKING TRANSACTION- You are entering into a rental agreement with KEYLINK, LLC Vacation Rental Management, a neutral party, that manages the Property you are booking. KEYLINK is your primary contact if there is any issue with regard to accessing the Property, or the condition of the Property upon your arrival. KEYLINK is also your primary contact should any services or maintenance need to be scheduled during your stay.
2. PAYMENT TERMS AND CANCELLATIONS- A down payment of 50% of the total lodging bill is required at the time of booking. The remaining balance is due thirty (30) days prior to your arrival date. These terms and the balance due terms are explained in the Payment Terms section on the checkout web page for the Vacation Rental. Please review these terms carefully as they are a part of this Agreement. You may cancel your booking at any time; however, all amounts paid are non-refundable by KEYLINK. No refunds of any kind, regardless of whether due to road conditions, inclement weather or any other contingency considered an Act of God, shall be given to the Guest for any amounts paid. Guest is strongly encouraged to purchase travelers insurance to protect against any cancellations.
3. CANCELLATIONS BY THE HOMEOWNER: If your reservation must be canceled by the Owner of the Property you have booked, you will be notified as quickly as possible and refunded 100% of any amounts paid. KEYLINK is not responsible or liable for any cancellations by the Homeowner. Guests are strongly encouraged to purchase travelers insurance to protect against any cancellations.
4. SHARED PROPERTY: Guest(s) is/are hereby informed that the Homeowner maintains an efficiency basement apartment on the Property and will be present and or staying in the apartment from time to time.
5. CHECK-IN/CHECK-OUT INSTRUCTIONS: Check-in time is 4:00 p.m. and check-out time is 10 a.m. Once your booking is paid in full, and one week prior to your arrival, you will receive check-in/check-out instructions at the contact email provided by the Guest at the time of booking.
6. MAXIMUM OCCUPANCY: The maximum number of Guests that may occupy the Property is indicated in the listing. This occupancy rule applies to children as well. KEYLINK is not authorized to make exceptions to these terms. Occupancy over the indicated capacity may result in eviction and forfeiture of amounts paid.
7. FURNISHINGS: Any and all furnishings within the Property are the personal property of the Homeowner. The Guest is expected to exercise due care in the use of all furnishings, appliances and other tangible personal property, including ensuring that no wet clothing, shoes, boots, bathing suits are used on flooring or furniture. The Guest is to make sure that sand, where applicable, is cleaned up immediately. No item of furniture or appliance is to be relocated without the express permission of the Homeowner.
8. MAINTENANCE AND REPAIRS: During your stay, you agree to keep the Property and all furnishings in good order. It is the responsibility of the Guest to promptly notify KEYLINK of the need for any such repair of which the Guest becomes aware. If any necessary repair is caused by the negligence of the Guest and or any Guest's occupants and/or invitees, the Guest is fully and financially responsible for the cost of the repair and/or replacement that may be required. Guest shall allow any representative of KEYLINK and/or the Homeowner reasonable access to the Property for purposes of repair and inspection. KEYLINK and/or the Homeowner shall exercise this right of access in a reasonable manner.
9. KEY REPLACMENT: Guest shall return all keys and is responsible for any lost or unreturned key(s). Guest will be charged and agrees to pay thirty dollars ($30.00) per unreturned or lost key. The amount will be deducted from the refundable damage deposit, or will be due by Guest directly upon check-out.
10. DAMAGE AND INSURANCE: A security deposit or third-party accidental rental damage insurance is mandatory. If a security deposit is collected, it shall be refunded within fifteen (15) days of your departure, provided no deductions are required to cover damage to property or furnishings, items removed from property, excessive cleaning or trash removal, or any other costs incurred by the Homeowner as a result of the Guest's stay. Any damage to the Property must be reported to KEYLINK before check- out. Damage not covered by the security deposit, or that exceeds the coverage limit of the accidental rental damage insurance, shall be the full responsibility of the Guest. To ensure that the proper party is held responsible for any damage, Guest shall inspect the Property upon check-in and report any damage to KEYLINK within twelve (12) hours of check-in.
11. RENTAL RULES: There are House Rules associated with the Property and the terms of the House Rules are incorporated herein by this reference and as such, the terms of the House Rules shall be a part of this Agreement. Guest agrees to abide by all House Rules at all times while at the Property and shall ensure all members of the rental party and anyone else Guest permits on the property abide by House Rules at all times while at the Property. The breach of any House Rule may result in the Guest being asked to leave by the Homeowner, whereupon, the Guest must depart the premises within twenty- four (24) hours after a written notice is posted on the front entryway leading into the Property.
12. FALSIFIED BOOKINGS: If your booking was made under a factual misrepresentation of any kind, a false pretense, including, but not limited to, a falsified name, age or size of party, you will be subject to immediate eviction and forfeiture of all amounts paid.
13. ATTORNEY'S FEES AND COSTS: If the Homeowner employs the services of an attorney or attorneys to enforce any conditions of this Agreement and any terms incorporated herein by reference, Guest shall be liable to the Homeowner for reasonable attorney's fees and costs incurred by the Homeowner.
14. RELEASE OF LIABILITY: For and in consideration of the Homeowner's Lease of the Property to the Guest, the Guest, for himself/herself and for his/her respective heirs, executors, personal representatives, administrators, successors, and assigns agree to fully and completely defend, indemnify, hold harmless, release, remise, acquit and forever discharge the Property and the Homeowner's thereof, KEYLINK and its agents, employees, and respective heirs, legal representatives, successors, assigns and insurers, against and from any and all claims, actions, causes of action, bodily and personal injury and property damages, costs, loss of service, expenses, and compensation whatsoever, known and unknown, foreseen and unforeseen, including, without limitation, any consequences thereof, which they now have or which may hereafter accrue on account of or resulting form or in connection with the rental of the Property by the Guest.
By selecting the check box next to: "I have read and agree with the Rental Agreement, Privacy Policy and the Terms and Conditions of the site", on the indicated Vacation Rental Website by submitting payment on the checkout web page, and booking the reservation for the Property, the Guest agrees to the terms of this Agreement including (a) Terms and Conditions, (b) Privacy Policy and (c) Payment Terms, and (d) the House Rules. The Guest has agreed to the Release of Liability provision of this Agreement in paragraph thirteen and each Guest expressly assumes the risk of any harm of whatsoever kind, foreseen or unforeseen, arising from his/her/their use of the Property.
HOUSE RULES
These rules have been and are incorporated into the Vacation Rental Agreement of the Property you have booked. The renter of the Property shall be referred to herein as the "Guest" or "You" and the owner of the Property shall be referred to herein as the "Homeowner". You, as the Guest, accept and assume full responsibility for ensuring any person permitted at the Property abides by the rules expressed herein. Upon booking, reservation and payment, you agree to abide by the following rules:
A. DUE TO A SEVERE PEANUT ALLERGY IN THE FAMILY, PEANUT PRODUCTS ARE NOT PERMITTED IN OUR VACATION HOME OR ON THE PREMISES.
Alternative product suggestions will be gladly provided. If the home has been exposed to peanut products, please notify us so that extra cleaning procedures can be performed. An additional cleaning fee may apply. We apologize for an inconvenience but greatly appreciate your understanding. Please feel free to contact me with any further questions.
B. Smoking or recreational drug use is NOT permitted in the house or on the Property. The damage deposit will be automatically forfeited if these policies are not observed.
C. You are responsible for all occupants of the home and must make sure that all rules are followed.
D. No one under the age of twenty-six (26) shall qualify to rent this property or stay in the property. You shall not rent or stay at the Property unless there shall be at least one Guest over the age of twenty-six (26) concurrently renting or staying at the Property. All children must be under direct adult supervision at all times.
E. All movie rental charges shall be deducted from the refundable damage deposit.
F. Pets are NOT allowed in the house or on the Property. The damage deposit will be automatically forfeited if this policy is not observed.
G. You, or any other person on the Property during your stay, may not interfere with the peaceful enjoyment of the neighbors.
H. You are solely responsible for any other person at the Property. Additional persons, other than the number of guests reserved and booked in the original booking and reservation, may NOT stay overnight at the Property.
I. You will be responsible for any fine and/or violation that is imposed on the Homeowner due to the negligence of any person permitted on the Property by you.
J. You shall abide by all Federal, State and Local laws.
K. You shall notify the local police and Homeowner of any illegal activity that is witnessed in or around the Property.
L. You agree not to use the Property for any unlawful purpose, including but not limited to, the sale, use or possession of illegal drugs on or around the Property.
M. You must report any malfunction with smoke detector(s) or carbon monoxide detector(s) immediately to KEYLINK. You agree not to remove, dismantle or take any action to interfere with the operation of any smoke detector(s) or carbon monoxide detector(s) installed on the Property.
N. Absolutely no hazardous materials are permitted to be in or around the Property at any time.
O. You may not use or store Kerosene or space heaters at any time in or around the Property.
P. The burning of candles is not permitted within the Property.
Q. Under no circumstances may a stove, oven or range be used as a source of heat. All appliances are to be used only for their intended purpose.
R. Charcoal and Gas Barbecue grills may not be used inside any structure located on the Property.
S. You shall use ventilating fans at all times when bathing or cooking.
T. All windows and doors must remain closed during inclement weather.
U. You shall notify KEYLINK of any pest control problems.
V. The use of any provided swimming pool or hot tub is at your own risk. You further understand that any interruption of use will not alter or change any of the terms of this Agreement.
W. You may not block the fire escape at any time.
X. The Homeowner does not permit loud gatherings at the Property. A disturbance caused by you or any person permitted on the Property during your stay which results in any police action, complaints from neighbors is considered sufficient cause for immediate termination of this Agreement, immediate eviction and forfeiture of all monies paid as permitted by law.
Y. Housekeeping: There is no daily housekeeping service. While linens and bath towels are included in the unit, daily maid service is not included in the rental rate. We suggest you bring beach towels. No towels or linens shall be taken from the house. A cleaning fee is automatically added and charged to you for each booking and reservation. You must keep the Property, inside and out, clean and sanitary at all times. Even though a cleaning fee is charged, you are expected to leave the Property in a clean, neat and orderly condition. An additional cleaning fee may apply if excessive cleaning or trash removal is required upon your departure.
Z. This house is privately owned. The Homeowner is not responsible for any accidents, injuries or illness that occurs while on the Property. The Homeowner is not responsible for the loss of personal belongings or valuables of any Guest or any other person. By accepting this reservation, you expressly assume the risk of any harm arising from your use of the Property or others whom you invite to use the Property.
AA. Damage Deposit: A refundable security deposit or a mandatory fee for third-party accidental rental damage insurance will be automatically charged to each booking. For refundable security deposits, a full refund of such deposit will be given unless a deduction is necessary to cover damage to property or furnishings, removal of items, excessive cleaning or trash removal, or any other costs incurred by the Homeowner as a result of the your stay. Should the assessed damages and or the amount of missing items, exceed the amount held in good faith, you shall be held responsible and pay for the deficiency.
---
The house was absolutely gorgeous and top notch! Kate was an excellent host and communication was great. I would recommend anyone that wants a house that is close to downtown glenwood and travel in style to choose this place. I will book again!!
---
We had a great girls weekend in Glenwood Springs and Kate's house was so nice for relaxing and fun. The location was perfect and we even saw a llama across the street. Loved making breakfast in the kitchen and gathering around the living room at night for games. The house is very well stocked, the bedding was comfortable and the skylights and glass windows were beautiful. We enjoyed the patio as well. Kate was a pleasure to work with!
---
Kate and family have created a cozy environment, very family friendly, yet classy. The home is in a beautiful location, nestled at the edge of the mountain, but also close to town....Needed amenities were available to us. We played games, grilled on the deck, laughed and relaxed. Our family was delighted!
---
Kate's place is extremely nice! ...and as she states in the write-up, the kitchen is a focal point. Our group of 7 had a great stay and enjoyed the house very much. It's an easy drive to anything you want to do within Glenwood Springs. Highly recommended!
---
Glenwood Springs, Colorado, Estados Unidos
Se registró en Octubre 2013
KEYLINK is a vacation rental management company that offers Full Service or Booking Management options for a successful vacation rental experience for both the guest and homeowner. We respond to guest inquiries 7 days a week. Please feel free to contact us for information.
Idiomas:
Deutsch, English, Español
Índice de respuesta:
100%
Tiempo de respuesta:
en menos de una hora
Descubre otras opciones en Glenwood Springs y sus alrededores
Más alojamientos en Glenwood Springs: