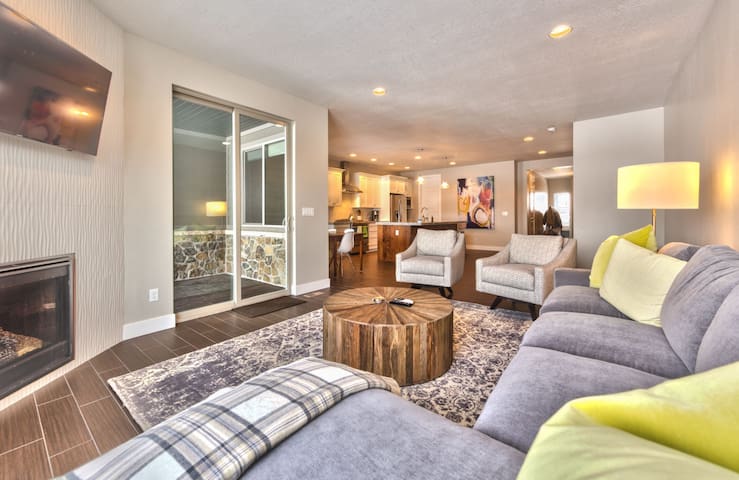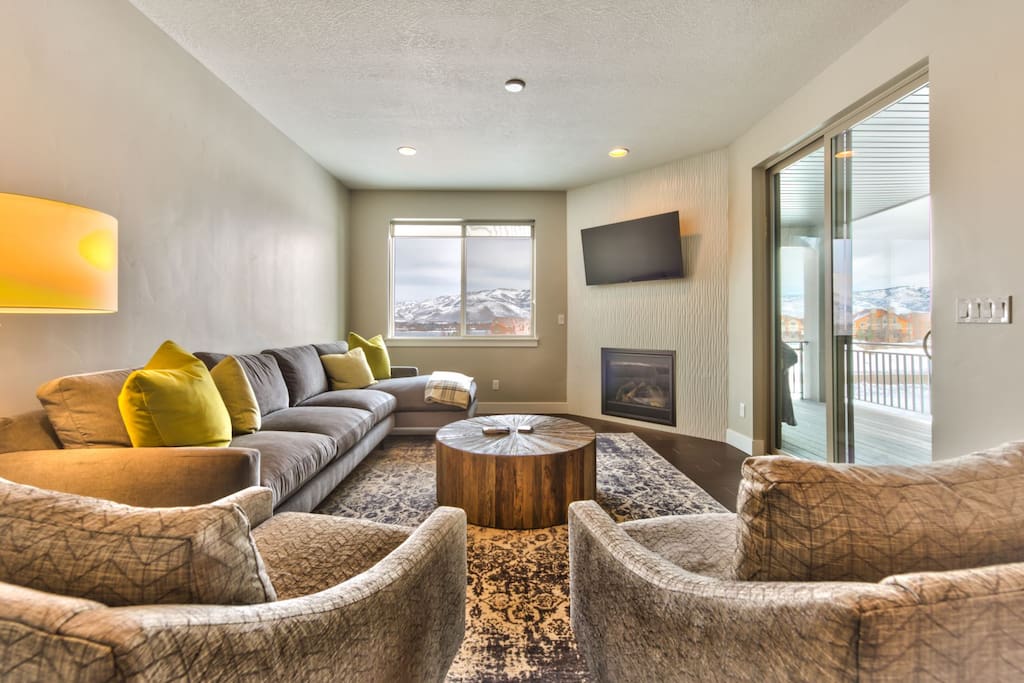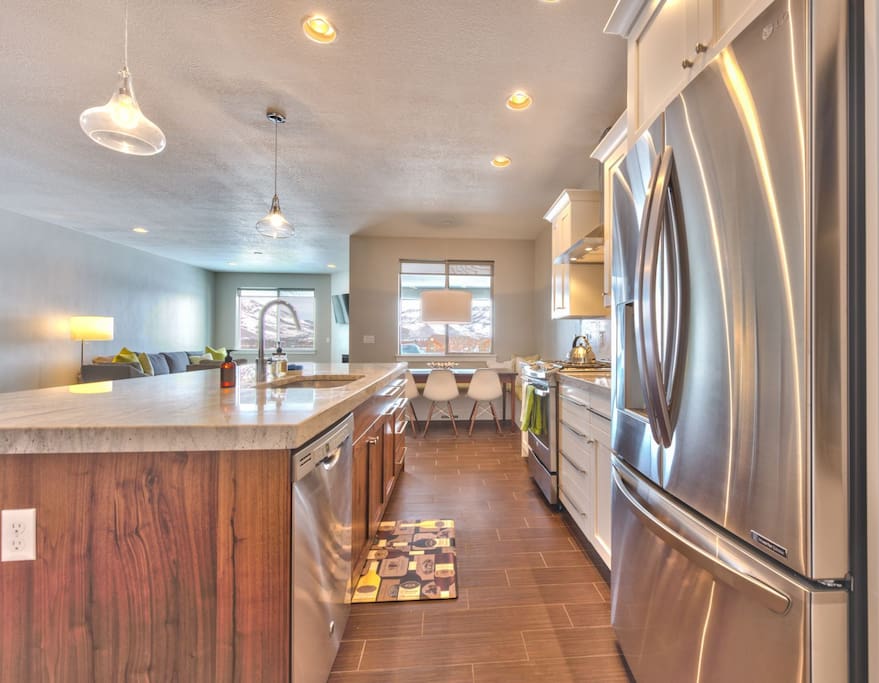 3 baños completos y uno de tocador
3 baños completos y uno de tocador
Brand new beautifully furnished property on three well appointed levels!

Right on the water of Pineview Lake for amazing hot tub views year round. Minutes to Snowbasin, Powder Mountain, Monte Cristo, Causey, and Historic 25th Street.
El lugar
Pristine, modern and spacious townhome right on the lake. Spacious bedrooms with two separate living spaces, gourmet kitchen, three bedrooms with one bonus sleeping nook.

Sleeps 8
King Bed in Room 1
Queen Bed in Room 2
2 Twin Beds in Room 3
2 Twins on Bunk Bed in Nook
Disponible para huéspedes
Walk right onto the beach! Access to community pool and hot tub (there is also private hot (EMAIL HIDDEN)munity also has an open picnic area, fire pit and grassy area for yard games: horseshoes, bocce ball, and pickle ball.
Atención a los huéspedes
Property can be accessed using key pad code given prior to your reservation. A Utah Lodging representative will not be present at the property unless there is a special request, grocery delivery, or maintenance . Guests are more than welcome to stop by the Utah Lodging office anytime!
---
---
Personas adicionales Sin cargo
Comunícate siempre a través de Airbnb
Para que tus pagos estén protegidos, nunca transfieras dinero ni te comuniques desde afuera de la página o la aplicación de Airbnb.
Más información
---
La hora de llegada es a partir de las 16:00
Salida antes de las 11:00
Check-in is after 4PM
This Vacation Rental Agreement (Agreement) is a binding contract between Utah Ski Resort Vacations L.L.C. doing business as Utah Lodging (Agent) and each Tenant.

As used in this Agreement, the term Tenant collectively refers to each individual or entity that pays all or any portion of the Rental Fees (the Primary Tenant(s)) and all other individuals who occupy and use the Rental Property (the Additional Tenants).

It is the responsibility of each Tenant to be familiar with the terms and conditions of this Agreement. Payment of all or any portion of the Rental Fees and/or occupation of the Rental Property demonstrates acceptance of the terms and conditions of this Agreement.

Please direct any questions, requests or notices related to this Agreement (including reservation changes or cancellations) to Agent via email.

THIS AGREEMENT IS SOLELY INTENDED FOR SHORT-TERM RENTAL OF THE RENTAL PROPERTY FOR NO MORE THAN THIRTY (30) DAYS. ANY USE OF THE RENTAL PROPERTY FOR MORE THAN 30 DAYS WILL BE SUBJECT TO THE TERMS AND CONDITIONS OF AGENTS LONG-TERM LEASE AGREEMENT.

1. Primary Tenant Minimum Age
Primary Tenant(s) must be at least 25 years old. Agent may require proof of Primary Tenants age as demonstrated by a valid drivers license, passport or other government-issued photo identification. If Agent discovers that the Primary Tenant(s) fail to meet this minimum age requirement, Agent may immediately evict all Tenants and the guests of any Tenant, and all payments made by any Primary Tenant will be immediately forfeited.

2. Check-In
Directions to the Rental Property, along with check-in instructions, will be emailed to the Primary Tenant(s) when the Rental Fee has been paid in full.
Check-in begins at 4:00 PM. Agent will make every reasonable effort to ensure the Rental Property is clean and ready for occupancy by this time. However, in some instances, it may be necessary to delay occupancy until the Rental Property is ready. Please do not attempt to enter the Rental Property before check-in time, as doing so will delay the cleaning, servicing, and inspection of the Rental Property as well as your check-in time.

3. Check-Out
Check-out time is 11:00 AM. Upon check-out Tenants must follow the departure instructions posted at the Rental Property. Such instructions will include (i) disposal of all garbage, (ii) loading and starting the dishwasher, (iii) starting a washer-load of used towels, (iv) placing all furnishings and personal property items where they were upon check-in, and (v) locking the doors and returning the key to the lock-box. Failure to follow the departure instructions may result in charges to the Security Deposit Credit Card(s).
LATE CHECK OUT: If any Tenant fails to vacate the Rental Property or remove their personal belongings by the check-out time, penalties may be charged to the Security Deposit Credit Card(s) and/or such penalties may be collected from any Tenants who fail to timely vacate the Rental Property. Such penalties may include, without limitation, additional daily or nightly rental fees and/or loss or revenue incurred by Agent due to the Rental Property not being available for the next group of tenants.

4. Rental Property Availability
If for any reason the Rental Property becomes unavailable (i.e. the Rental Property has been sold or foreclosed upon, is no longer in the Agents rental program, or is under maintenance or construction) Agent reserves the right to cancel the reservation or transfer the reservation to another property in Agents rental program. Should this occur, the reservation will be transferred to a comparable property, or Agent will refund (without penalty) any portion of the Rental Fee that may have already been paid. If a transfer should occur, Agent reserves the right to determine which rental properties are comparable. If Agent determines that comparable properties are not available, Tenants will have the option of selecting from available properties with a partial refund or completely canceling the reservation with a complete refund.

5. Use of Rental Property
Tenants accept responsibility to properly care for the Rental Property during their occupancy and agree to: (i) leave the Rental Property in the same condition as when Tenants began occupancy except for normal wear and tear, (ii) replace or repair and pay for any breakage, damage, or loss caused by any Tenant or any Tenants guest, (iii) be financially responsible for unwarranted or unneeded service calls, or any service calls caused by misuse of the Rental Property, (iv) immediately report any and all Rental Property problems to Agent, (v) not enter any Rental Property private storage rooms, closets or spaces, and (vi) abide by occupancy limits of the Rental Property at all times. Tenants agree not to use the Rental Property, or any Common Areas or Common Facilities, for any activity or purpose that violates any laws, rules or regulations.
Breach of any part of this Section 8 by any Tenant will be considered material, and may result in the immediate termination of this Agreement and the immediate eviction of all Tenants and their guests.

6. Use of Common Areas / Facilities
If Rental Property is part of a condominium project or residential subdivision with Common Areas (such as a playground, basketball court, tennis court, etc.) or Common Facilities (such as fitness center, swimming pool, hot tub, grills, etc.) Tenants and guests of any Tenant must comply with any and all rules or regulations regarding the use of such Common Areas or Common Facilities.

7. Maximum Occupancy
The maximum occupancy of the Rental Property is the total number of individuals that the Rental Property can accommodate as indicated by the number of beds that have been provided by the owner of the Rental Property. Any violation of occupancy limitations may result in additional charges to the Security Deposit Credit Card(s).
HOUSE PARTIES IN OR AROUND THE RENTAL PROPERTY, OR IN ANY COMMON AREAS OR FACILITIES, ARE STRICTLY PROHIBITED AND ANY SUCH ACTIVITIES WILL BE GROUNDS FOR IMMEDIATE EVICTION!

8. Excess Charges
Any repair or maintenance problems must be brought to Agents attention within 24 hours of occurrence or Tenants occupancy of the Rental Property. Failure to report such matters to Agent may result in Tenants being held responsible for damages or repairs. Any excessive or unauthorized repair or maintenance expenses incurred by any Tenant such as unwarranted or unneeded service calls may be charged to the Security Deposit Credit Card(s).
Tenants may be charged for the removal or excessive use of consumables (e.g. toilet paper, paper towels, dish soap, laundry detergent, hand soap, dishwashing soap and garbage bags) or for excessive use of utilities (water, gas, electricity, etc.,) during Tenants stay. Such excess charges may be charged to the Security Deposit Credit Card(s) up to forty-five (45) days after the Tenants date of departure.

9. Appliances, Equipment and Utilities
Agent cannot guarantee against the failure or unavailability of heating, air conditioning, refrigerators, ovens, hot tubs, pools, saunas, TVs, satellite receivers, DVD players, or other similar appliances or equipment. Likewise, Agent cannot guarantee against outages of utility services such as electricity, gas, water, plumbing, cable television, satellite TV service, Internet, or telephone service. Agent assumes no responsibility or liability whatsoever for any alleged or actual Tenant loss or damage directly or indirectly related to the malfunctioning of any appliances or equipment, or the outage of any utilities.
Tenants must immediately report to Agent any inoperative appliances or equipment. Agent will make every reasonable effort to have repairs performed as quickly as possible, but cannot guarantee repair will be completed during Tenants stay.
In the event of any persistent failure of certain critical major appliances, equipment or utilities that cause the Rental Property to become unsafe or unusable (i.e. heating, major appliances, electricity, gas or water) Agent will make every reasonable effort to accommodate Tenants in an alternate rental property and/or provide a reasonable reduction of the Rental Fee as determined by Agent. Of course, in the event of widespread utility outages, Agents options to relocate Tenants to a rental property not experiencing the same outages may be limited or even impossible.

10. Rental Fee Reduction / Refund Policy
Agent is under no obligation to provide Tenants with any form of compensation, refund or reduction of Rental Fee for the malfunctioning of minor appliances or equipment, or temporary utility outages.
Likewise, no compensation, refunds or reduction of Rental Fee will be given for (i) delayed arrivals, (ii) early departures, (iii) reduction in the number of nights reserved less than 30 days prior to the scheduled date of arrival, (iv) loss, damage or injury to persons or their personal property; (v) weather/road conditions, (vi) natural disasters, (vii) too much snow or not enough snow, or (viii) acts of God or other similar reasons or circumstances that are beyond Agents control.

11. Towels and Linens
A basic supply of towels and bed linens will be provided at the beginning of Tenants stay. Although towels and linens are not normally washed, changed or replenished during Tenants stay, such linen service is available for an additional charge.

12. Furnishings
Rental Property furnishings are subject to change without notice. Furniture, bedding, mattress pads or similar furnishings supplied with the Rental Property must not be removed from the Rental Property. Any damage to or loss of these furnishings will result in charges to the Security Deposit Credit Card(s). Furnishings must not be moved in any manner that may damage floors or walls, or that would pose any fire or safety hazards. Any furnishings that have been moved by Tenants during their stay must be moved back to their original position upon Tenants departure.

13. Parking
The Rental Property may be subject to parking rules, regulations or policies as adopted and/or enforced by local government agencies or the condominium or homeowners association (if any). Tenant is expected to be aware of, and fully comply with, such parking rules, regulations or policies. Tenant is advised not to park any trailers at or near the Rental Property without Agents prior written permission.
NEITHER THE AGENT NOR THE OWNER OF THE RENTAL PROPERTY SHALL ASSUME ANY LIABILITY OR RESPONSIBILITY WHATSOEVER FOR ANY DAMAGE OR COSTS INCURRED BY ANY TENANT AS THE RESULT OF ANY VEHICLE OR TRAILER BEING PARKED AT OR NEAR THE RENTAL PROPERTY, OR BEING TOWED.

14. Pets
PETS ARE ABSOLUTELY PROHIBITED IN THE RENTAL PROPERTY UNLESS OTHERWISE APPROVED BY AGENT IN ADVANCE AND IN WRITING. Any evidence of pets in the Rental Property may result in immediate eviction, forfeiture of all amounts paid, and additional cleaning fees being charged to the Security Deposit Credit Card(s). THE MINIMUM PENALTY FOR EACH UNAUTHORIZED PET IS $500.

15. Smoking
SMOKING IS STRICTLY FORBIDDEN IN, OR WITHIN 25 FEET OF, THE RENTAL PROPERTY. Tenants must also comply with any and all smoking restrictions in or around the Common Areas or Common Facilities. Evidence of smoking in or near the Rental Property will result in immediate eviction, forfeiture of all amounts paid and will result in additional cleaning fees being charged to the Security Deposit Credit Card(s).

16. Fireplaces / Firewood
The Rental Property may or may not include a fireplace. Caution is to be exercised when using any fireplace.
PLEASE NOTE THAT USE OF ANY WOOD-BURNING FIREPLACE MAY BE PROHIBITED BY THE OWNER OF THE RENTAL PROPERTY PLEASE CHECK WITH AGENT BEFORE USING ANY WOOD-BURNING FIREPLACE.
The use of a wood-burning fireplace requires extra caution. Before using any wood-burning fireplace, Tenants agree to (i) make themselves familiar with the location and function of the fire extinguisher (ii) make sure the exhaust flue is opened before lighting a fire, (iii) never leave a fire burning unattended, and (iv) always switch the gas valve completely off after using the fireplace. Use of the wood-burning fireplace will result in additional cleaning fees for removal of ashes.
Tenants are solely responsible for obtaining firewood. TENANTS MUST ONLY USE DURAFLAME OR SIMILAR MANUFACTURED, CLEAN-BURNING LOGS.
For gas-only fireplaces, no burning of anything other than natural gas in the fireplace is allowed. Gas-only fireplaces cannot handle wood or any other materials and will become an instant fire hazard if used improperly. The key to the fireplaces gas valve must remain off at all times except for when the fireplace is lit. When the fireplace is being used, Tenants must watch the fireplace closely and frequently. Before going to bed or leaving the house, Tenants must switch the gas valve off. Please note that gas fireplaces are seasonal and, in some rental properties, may not be operational during certain times of the year.

17. Fire Extinguishers
The Rental Property is equipped with at least one fire extinguisher, which is usually stored in the kitchen or laundry areas. Tenants agree to make themselves familiar with the location and function of the fire extinguisher(s). In case of any emergency please immediately call 911.

18. Private Hot tubs
Private hot tubs (i.e. hot tubs that may be exclusively used by occupants of the Rental Property) are considered a luxury amenity and are not guaranteed to be available or functioning. Private hot tubs are professionally maintained and checked following each groups stay.
GLASS CONTAINERS AND FOOD ARE PROHIBITED IN AND AROUND THE HOT TUB AREA. TENANTS WILL BE CHARGED $70 FOR EACH ADDITIONAL REQUIRED HOT TUB CLEANING DURING TENANTS STAY.

19. Use of Special Amenities Waiver of Liability
The Rental Property (and/or the Common Areas or Common Facilities) may include certain Special Amenities such as private or shared-use spas, hot tubs, whirlpools, saunas or pools. These Special Amenities are considered luxury amenities and are not guaranteed to be available or functioning during Tenants stay.
Tenants, and the guest of any Tenant, must comply with any rules and regulations governing the use of Special Amenities (i.e. hours of use, noise restrictions, maximum number of users, consumption of food, use of glass containers, etc.). Violation of such rules and regulations may result in Tenants being banned from further use of the Special Amenities.
Tenants understand that special risks may be involved in using Special Amenities, such as slippery surfaces when the areas surrounding the Special Amenities becomes wet. Tenants specifically acknowledge and understand that Special Amenities may pose dangers to (i) children who are not carefully supervised (ii) any person with known or unknown health risks, (iii) any person who is pregnant; or (iv) any person using Special Amenities while intoxicated or using any kind of drugs or medication. Tenants agree to explain the risks of using the Special Amenities to their guests, and also agree to be fully and solely responsible for any accidents his/her guests may incur.
Tenants understand the risks discussed above and agree that they will assume responsibility for themselves and their guests for the consequences of those risks. Tenants agree to waive any claim whatsoever against the owner of the Rental Property, the condominium or homeowners association, and/or the Agent for any accidents or claims arising from the use of any Special Amenity by any Tenant or any Tenants guest. Tenants also understand and agree that they are responsible and liable (and will pay Agent upon request) for any damages that may occur to any Special Amenity due to misuse and/or negligence including, for example, walking on the hot tub cover or damaging the liner, allowing the hot tub or whirlpool water level to become too low, or causing water overflow which damages the Rental Property or any surrounding property.
WITH FULL KNOWLEDGE OF THE ABOVE FACTS AND WARNINGS, TENANTS FULLY ACCEPT AND ASSUME ALL RISKS INVOLVED IN OR RELATED TO THE USE OF SPECIAL AMENITIES.

20. Winter / Snow Conditions
Tenants are advised that the Rental Property is located in a mountainous and extreme winter climate area. Vehicles equipped with four-wheel drive and/or snow tires are strongly recommended.
In the event of snowfall, snow will be removed from driveway(s) and parking areas serving the Rental Property as soon as reasonably possible. Please be advised that heavy snowfalls may result in delayed removal of snow from driveway(s) and parking areas. Please also note that such snow removal service does not include removal of any snow that may be on, or immediately near, your vehicle.

21. Christmas Trees
Christmas trees pose a fire hazard and cause excessive clean-up efforts. As a result, Christmas trees are strictly prohibited in the Rental Property. If any Christmas trees or similar items are used in the Rental Property, Tenants will be charged for excess cleaning expenses.

22. Excessive Noise
The Rental Property is located in a quiet residential neighborhood. Quiet timeis from 10:00 pm until 8:00 am, or as may otherwise be required by the rules of the homeowner or condominium association (if any). Tenants agree not to undertake any activities that interfere with their neighbors` right to quiet enjoyment of their property.
Tenants agree to fully comply with local noise regulations (whether imposed by local government agencies or the association) and to use common sense in keeping noise volume low after dark. Any enforcement actions by local law enforcement and/or homeowners association are at the Tenants sole risk and expense and may result in additional charges to the Security Deposit Credit Card(s), immediate eviction and/or forfeiture of all amounts paid.

23. Casualty or Destruction
Should the Rental Property be destroyed or rendered uninhabitable by an Act of God (including, but not limited to storms, floods or fires), or by any environmental disaster, this Agreement shall become null and void, and Primary Tenant(s) will be entitled to a refund of all or a pro-rated portion of any portion of the Rental Fee that has been paid. In the event of such casualty or destruction, Tenants sole remedy will be a complete or partial refund of the Rental Fee, as determined by Agent. Tenants shall not be entitled to any other compensation or damages that may be directly or indirectly related to such casualty or destruction.

24. Short-Term Vacation Rental
This Agreement is only for use of the Rental Property beginning on the scheduled check-in date and ending on the scheduled check-out date. TENANTS HAVE NO RIGHT OF EXTENSION OR RENEWAL WHATSOEVER.
IT IS EXPRESSLY UNDERSTOOD AND AGREED THAT THIS AGREEMENT REFLECTS A SHORT-TERM VACATION RENTAL AND IS NOT A LONG TERM TENANCY AGREEMENT. The rental transaction contemplated by this Agreement is neither a timeshare sale or plan of timeshare development, nor a vacation club.

25. Falsified Reservations
Any reservation obtained under false pretense (i.e. using false name(s), stolen credit card(s), etc.) will be subject to forfeiture of any amounts paid, Tenants will not be permitted to check into the Rental Property and/or will be subject to immediate eviction, and the parties involved in such false pretenses will be reported to law enforcement officials.

26. Indemnification and Insurance
Tenants agree to indemnify, defend and hold harmless Agent and the owner of the Rental Property from and against all loss, claims, liability, damage, expenses, and penalty arising from any action of any Tenant or any Tenants guest which causes injury or death to any person or damage to the Rental Property or any other property. Tenants are encouraged to secure the travelers or vacation insurance and/or renters insurance.

27. Enforcement Fees and Costs / Venue
Should Agent be forced to employ legal counsel and/or or professional collection services in order to enforce any provision of this Agreement including, without limitation, eviction of any or all Tenants or collection of any amounts due, Tenants shall be responsible for any and all costs associated with such enforcement, eviction or collection matters including, without limitation, reasonable attorneys fees.
The venue for any lawsuit, dispute resolution or other legal proceeding related to this Agreement shall be Weber County, Utah.

28. Succession, Assignment
This Agreement is binding on, and the benefits, responsibilities and liabilities set forth under this Agreement shall inure to, the heirs and personal representatives of the Tenants. However, neither this Agreement nor any rights or benefits hereunder may be assigned (in whole or in part) by any Tenant.

29. General Terms
This Agreement shall be governed solely by the laws of the State of Utah without reference to conflicts of law rules. If any section, clause, paragraph or term of this Agreement is held or determined to be void, invalid or unenforceable, for any reason, all other terms, clauses or paragraphs herein shall be severed and remain in force and effect. This Agreement is made in full compliance with federal state and local Fair Housing Laws, without regard to race, color, religion, sex, country of origin, handicap or familial status.
---
Detector de monóxido de carbono
---
Estancia mínima de 3 noches
---
The condo turned out great. Lots of seating and space. Furniture and carpet is very soft. Not once did you feel like you were crowding over anyone. Plenty of dishes etc. Lots of towels and essentials which makes traveling away from home so much easier and it's always nice to be able to wash clothes especially with kids. Plenty of parking to accommodate the boat. The house has a lot of extras for winter travelers too like boot racks, coat racks etc. The kids loved the pool and the adults enjoyed the hot tub downstairs. The entire property is well kept. They have done a great job thinking of anything you may need while staying. I was even surprised to see they had cable with most channels, that was nice. It was perfect and we will be back.
---
Ogden, Utah, Estados Unidos
Se registró en Febrero 2016
Índice de respuesta:
100%
Tiempo de respuesta:
en pocas horas
Descubre otras opciones en Huntsville y sus alrededores
Más alojamientos en Huntsville: