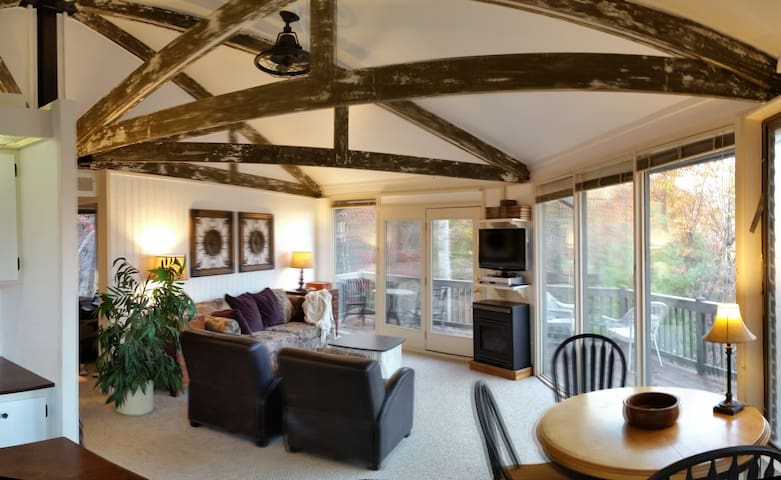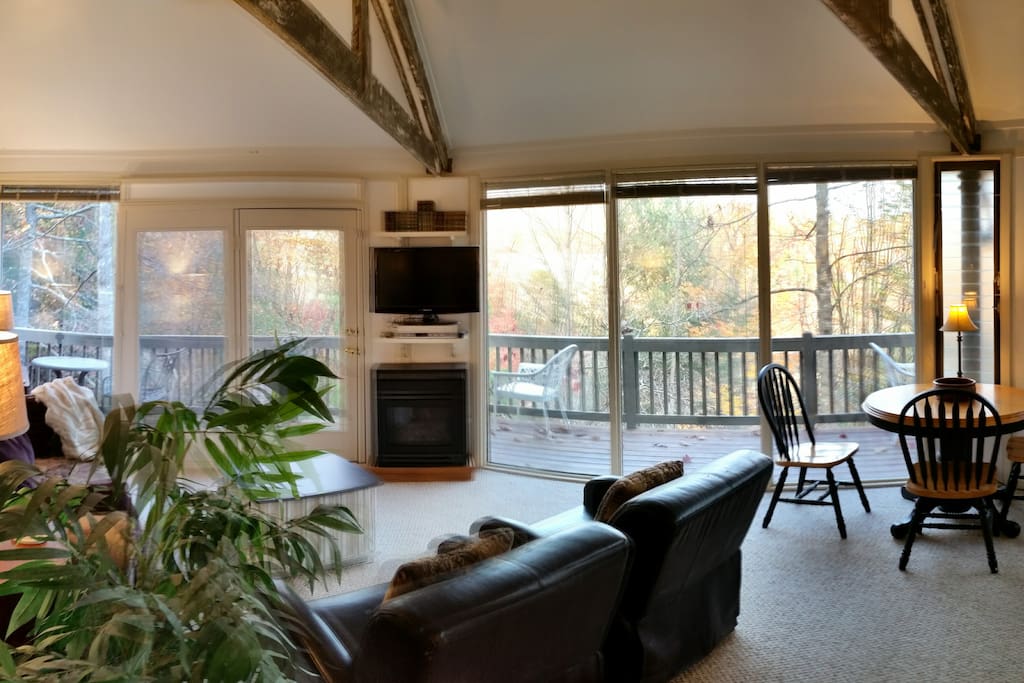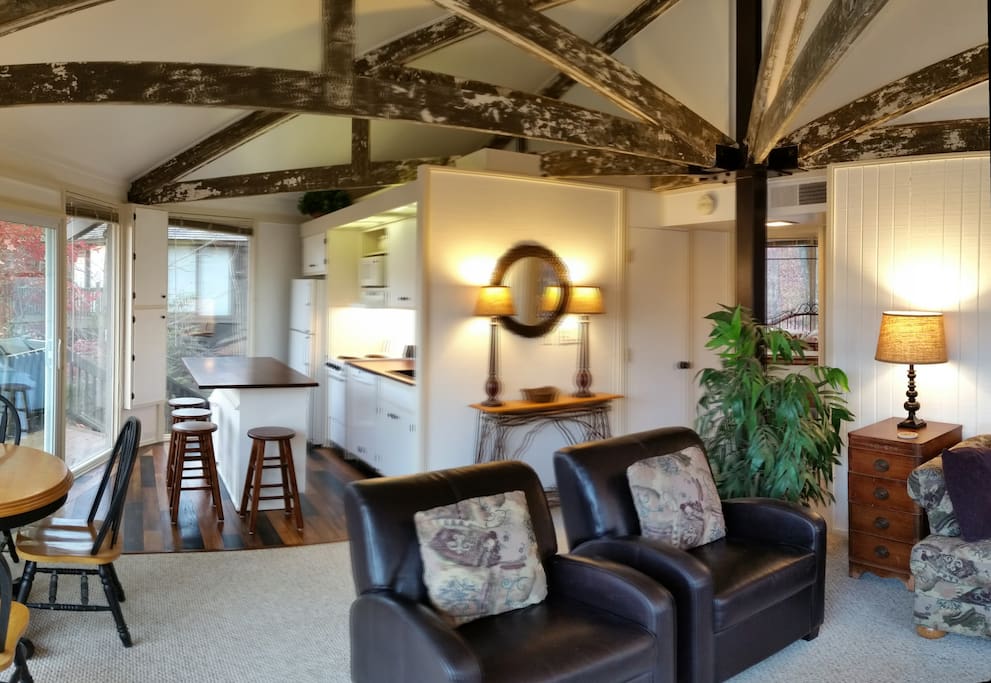 Up, up, and ahh-way! Perched on a beautiful mountainside in Big Canoe, our unique, little, octagonal piece of heaven takes you to the treetops. Inside you'll find rustic meets refined and creative meets comfortable. Recharge, refresh, and relax.
El lugar
[Bedroom 2 can be configured as 2 twins or 1 king.]
There are community quiet hours at night and on Sundays.
Disponible para huéspedes
A government-issued driver's license is required to drive onto the property. You will receive a dashboard pass good for the length of your stay.
Unfortunately, no motorcycles are allowed in Big Canoe.
All trails and parks within Big Canoe have free access. Swimming, boat rental, golf, and fitness club amenities are pay per use and are not included in the rental rates.
Atención a los huéspedes
We live less than an hour away and, although we expect that you will have a wonderful and uneventful stay, are available to come and resolve any issues. Call on us day or night.
In addition, Big Canoe has an excellent first-response team; you can call them in the event of a medical or environmental emergency.
Otros aspectos destacables
Not baby- or toddler-proof, but kids are welcome. We welcome furry family members -- dogs only -- for a $25 per pet fee.
Upon request, our two twin beds can be transformed into a comfy king with a 3 inch memory foam topper.
Swimming, boating, golfing, etc. Big Canoe amenities are pay per use and are not included in our rental fee.
We offer free WIFI. We also have a flat screened TV and a DVD/VHS player along with a movie library, and a book and games collection. We also have a Fire Stick connected to our TV and the DirectTV Now ap with which you can watch the following channels:
A&E
ABC
AMC
Animal Planet
Audience
AXS TV
Baby First
BBC America
BET
Bloomberg TV
Bravo
C-SPAN
C-SPAN2
Cartoon Network
CMT
CNBC
CNN
Comedy Central
Discovery
Disney Channel**
Disney Junior**
Disney XD**
E!
ESPN
ESPN2
Food Network
Fox
Fox Business Network
Fox News Channel
FOX Sports 1
Freeform**
FX
FXX
Galavision
Hallmark Channel
Hallmark Movies & Mysteries
HGTV
HISTORY
HLN
Investigation Discovery
Lifetime
(SENSITIVE CONTENTS HIDDEN)BC
MTV
MTV2
National Geographic Channel
NBC
Nick Jr.
Nickelodeon/Nick at Nite
RFD-TV
Spike
Syfy
TBS
TCM
TeenNick
Telemundo
TLC
TNT
TruTV
TV Land
Univision
USA Network
Velocity
VH1
Viceland
WE tv
WeatherNation
- Programming subject to change.
---
---
Dormitorio 1
1 cama tamaño queen
Dormitorio 2
2 camas individuales
---
No se admiten fiestas o eventos
La hora de llegada es a partir de las 15:00
Salida antes de las 11:00
General House Rules / Rental Agreement
65 Treetopper Lane, Big Canoe, Jasper, Georgia
Thank you so much for choosing our mountain getaway for your vacation. We hope that you enjoy it as much as we do. We live only 40 minutes from Big Canoe. Please contact us, David and Laura, for any questions or concerns about and during your stay. Please let us know ASAP if there is anything wrong with our home so that we can take care of it. We prefer you contact us through the rental website's chat, but if you do not hear from us within a few minutes, please feel free to call us (PHONE NUMBER HIDDEN)
If you have any issues with our home, Internet access included, please contact us as soon as possible. It may be that timely attention is needed (i.e. to avoid excessive repair costs). We will do our best to right the situation and minimize interrupting your vacation. Please bear in mind, though, that we are not a hotel -- just a family sharing our second home. Our goal is a pleasant experience for everyone.
House manual!
Please make sure that you read the house manual. This manual contains directions to the cabin, check in and check out information, and a lot of very useful information about our home.
Convenience items
We happily provide a few convenience items to get you started. We provide paper towels, toilet paper, dishwashing detergent and liquid, salt and pepper, coffee filters, garbage bags, and hand soap. Additional supplies can be purchased at the local grocery store. IGA is a nice grocery store a few miles from the Big Canoe entrance.
Take care
Kindly be careful to not spill food or drink on our carpet or furniture. We expect our guests to take care of our home.
Please do not track dirt into the house. If it is rainy outside, please enter through the french door or take steps to not let the hardwood floor get wet.
Little people :-)
Our home has not been baby- or toddler-proofed. Please make sure that your children are well attended both for their and our home's sakes.
Thermostat
We want your stay to be comfortable, but your consideration regarding changing the thermostat setting is greatly appreciated. We have it programmed for comfort in all seasons, and you probably won't need to adjust it. A temporary bump of the thermostat will also heat or cool the place quickly, so holding some temperature while you are out for the day isn't necessary. We try to keep our rental prices low, but if our power bill keeps going up, we'll have to adjust accordingly for future guests. We simply ask that you be mindful of this. If, however, this temperature is not acceptable, please let us know;we're sure we can work something out with you. A small fee to help us offset costs might work well for both of us.
Television
We offer a flat screen TV and a DVD/VHS player as well as a library of VHS & DVD movies, and books and games for those lounge-around days. We provide an Amazon FireTVstick with a DirecTV Now app which provides several channels for your viewing pleasure. Please do not sign us out of our DirecTV Now app. Once you sign out, you can not get back in. We also provide free wifi -- so bring your laptop or tablet!
Towels
Please do not take our bath towels out of our home. We do provide more towels in the little closet in the hallway which you are free to use at the Big Canoe amenities.
Laundry/Basement rules
There is not a laundry facility in Big Canoe. The closest one is in Jasper. We do not offer washer and dryer with our rental. We have a small stacked unit in our basement / utility room, which is separate from the living space of our cabin. We do not include them in our considerations of our rental rate, and given the rough space don't think it worthy of our guests. However, we do offer it to our guests as an added service with an additional fee of $35.
If you are interested in adding this service, let us know and we will send you an additional payment request. Should you add this service, please note the following:
- Be VERY careful upon entering and exiting the basement! WATCH YOUR HEAD! There are support beams outside waiting to grab you as you walk by, and the door does not swing all of the way open due to the odd shape of the room. The light switch is just inside the door, to the left, attached to the under side of a beam. WATCH YOUR STEP! The stairs are steep and there is no hand railing. Use special caution when leaving.
- Please do not wash our white towels or sheets with colored articles.
- Please do not put sandy articles in our washer/dryer. Make sure that you have thoroughly shaken them outside.
- Please make sure that you clean out the lint screen in the front of the dryer before using it. There is a small bag hanging up to the left for lint.
- The washer/dryer unit is not large capacity. Please do not overload it.
- The operation of the washer/dryer unit is not guaranteed, and we are not responsible for damage to your property.
- Please do not lose our key to the basement. Copying is not permitted. Please do not leave the basement door unlocked. Please store the basement key, which has a magnet on it, on the fridge.
Thank you! Happy Laundering!
Pet Rules
We allow well behaved dogs in our home at a fee of $25 per dog. So far, size has not been a problem:-)
Big Canoe is a very dog-friendly place. Big Canoe requires that your furry friend be on a leash when you go outside, though. We have a gate at the deck stairs to help ensure that nobody wanders off without supervision. We do ask that our guests follow a few guidelines which help to keep our home and community both pet- and people-friendly.
- Please try to make sure that your dogs are content should you leave them at home so that our neighbors aren't disturbed.
- Hardwood and standing water don't go well together. Please put your dog's water bowl in one of the bathrooms. (We provide a dog water bowl under the second bathroom sink.)
- Please make sure that you pick up after your dog around our house as well as anywhere people walk. We try to provide plastic bags under the kitchen sink for our guests. Feel free to use them (and add some, if you have them) to pick up droppings.
- You'll also want to make sure that your dog has flea and tick treatment. You are in the wonderful woods, and in addition to caring about your pet we need to take care that fleas don't make a home in our carpet.
- Please keep your furry babies off of the furniture. Claws are rough on the quilts and upholstery. If you would like to bring blankets to protect our property, then your furry babies can go where your blankets are :-)
Your following these guidelines helps us to share our home with other dog lovers. Thank you for your help.
Grill
We provide a small propane grill for your use -- complete with propane! :-) Please be do not move the grill closer to the house, and make sure that the plastic cover does not get melted. We like to make sure the tank is full, so it's helpful if you let us know when you leave that you've enjoyed the grill.
Parking
We have two assigned parking space -- marked with red reflectors in front of our home. Please do not park in any other spaces as parking is limited and you would be taking up another resident's spot. There is more parking within walking distance in the amenities area.
Steps
Please note that you must climb steps up a path through the woods as well as a flight of stairs to the entrance. Please step carefully and plan to wear sensible shoes.
Welcome to the woods!
Yes, you will be in the woods, even though we are just a short distance from Atlanta. Don't be surprised at the occasional bug that gets in, and -- much more importantly -- do not leave out food or trash that will draw wildlife. We cannot stress enough that you must not feed any of the animals, whether purposefully or inadvertently. There are bears and raccoons in the area; enjoy them from a safe distance! Ants are also easily attracted. We have even seen ants go to town on a trash bag staged outside on our deck for just minutes. The garbage can under the deck has a lid that will stay closed; when you take out your trash, be sure it's sealed up tightly.
We also have to be very careful of fire; although Big Canoe does have a top-notch emergency services team, I'm sure you would prefer to not have to meet them professionally. Please make sure any flame-ups on the grill are contained. Do not make any fire pits or otherwise have exposed flame outdoors.

Big Canoe rules
Relax, make yourselves comfortable, and enjoy! But please be mindful of our neighbors. Our guests are expected to use common sense regarding noise levels. Please follow any posted rules and regulations in Big Canoe. Our guests are expected to follow all Big Canoe rules and regulations and to be respectful of our neighbors and community.
Cleaning fee:
Our cleaning fee of $75 is paid directly to our cleaning crew (sometimes we are the cleaning crew). This is a very competitive rate and assumes that the unit will be left reasonably clean and not in disarray. If extra time is needed to clean the cabin, we need to pay for that time, and we think it reasonable that it should come out of your security deposit. (This includes excessive pet hair. If your dog does a bit of extra shedding, especially in the summer heat, feel free to give us a little head start by vacuuming before you leave. A little help goes a long way -- especially during the busy season.)
Security deposit:
(SENSITIVE CONTENTS HIDDEN) guests pay a $150 security deposit in advance. AirBnB guests agree to $150 of security hold in case of damage.
Your security deposit will be refunded in full if:
- Our home is left reasonably clean and not in disarray;
- Nothing is damaged or lost, either by you or through your negligence;
- All garbage is placed in the outside trash can, final dishes are started in the dishwasher, and used towels are left in the bathtub;
- The unit is left locked;
- You had no additional occupants and/or pets;
- There was no smoking in the unit nor on the premises in general;
- Inside lights and electric devices are turned off
- The gas fireplace is turned off
- Our Rules were followed.
Cancellation policy:
AirBnb - we follow the "strict" cancellation policy. Please check Airbnb for details.
(SENSITIVE CONTENTS HIDDEN)
Your rental includes a booking deposit to hold your reservation and the remainder to complete the rental; sometimes these are paid separately and sometimes as a single payment. The cleaning fee (which may or may not be included in the nightly rate and will be stated so in your quote) and security deposit are usually paid in the second payment if the rental fee is split. Your full balance will be due at some specified time before arrival (usually two weeks). If your payment is returned, perhaps due to insufficient funds or because it is drawn a non-transaction account, you agree to pay the $25 fee which we will incur as a result.
If you cancel your reservation more than two weeks before your arrival date, you forfeit your booking deposit but will receive a refund of all other monies, if any, paid for rental, cleaning, and security. Because we hold the unit for you and turn away other inquiries for the time of your reservation, if you cancel your reservation less than two weeks before your arrival, you forfeit all monies paid. If, however, your cancellation is because of the death of a family member or because of the threat of a extreme whether, your monies will remain on account for one year as a credit toward other reservations.
Thank you again! We hope you have a wonderful time, and that you come back soon!
Laura and David Thorburn-Gundlach, owners
---
David & Laura's home is a perfect place to stay for a get-away to Big Canoe. The home is soooooo cute, comfortable, stylish and very clean. The home is easy to find with Laura's great directions and definitely in one the best locations in Big Canoe for easy access to everything. Laura could not have been a better host!!!! So responsive and nice. Do yourself a favor and spend a few days or week at their lovely place!!!
---
David and Laura's cabin is cute, same as description. However, the sheets were not clean and they only gave us really little toilet paper. Maybe not a fan of Asians?
Respuesta de David & Laura:
We warmly welcome all of our guests to our cabin and treat them with kindness and respect. The only presumptions that we have about our guests are that they will be honest, friendly, & communicative, will follow our house and community rules, won't damage our property (and if that happens then own up to it and be willing to make it right), won't leave our cabin in disarray, and will do nothing illegal while there. If we expected otherwise, we would not accept the booking. Yao did several hundred dollars' worth of very obvious damage to our home. Upon discovery of it, after her check out, we messaged her. She responded that it couldn't have been her group. We sent her pictures through AirBnB and submitted a damage claim -- for less than the actual amount, still willing to help her out. Yao gave no acknowledgment nor apologies. We had to make repairs very quickly before the next guests' arrival. AirBnB helped us resolve the issue. Backing up a bit, Yao arrived at our cabin the day Hurricane Irma hit Big Canoe. We especially bent over backwards to make sure that she and her group were safe and comfortable during and after the storm. We drove 30 miles through the strengthening winds to clean the cabin for her ourselves because this was a last minute booking and our on site-cleaner was swamped with other Irma refugee bookings. When we were done, as per usual, the cabin was very clean, including the sheets, and well stocked with starter paper supplies -- eg we provided four rolls of TP for their three nights' stay. Yao gave us two stars for cleanliness. We kept her up to date with weather info, informed her of potential water, power, and Internet outages, informed her when the local grocery store lost power and that she should pick up supplies prior to entering our area, and advised her to fill the bathtubs in case of power and water outages. The morning after the storm hit, when she didn't answer our AirBnB, SMS, or phone inquires, we drove to the cabin once the roads were clear to make sure she was safe and comfortable, and later gave her detailed information when she asked when the water would be back on. We gave her our house manual three times. She gave us two stars for communication. The AirBnB transcript of our communications can attest to all we have said here. She told us three times that she enjoyed the stay, appreciated what we had done for them, and really liked our cabin. In fact, it wasn't until after we told her that we had to charge her for the damages that we heard any negative comments at all from Yao, ie this unfair, unkind, and unwarranted review with which we unfortunately are stuck. We are "not a fan" of this kind of behavior. We are very sorry this stay did not go as we had all hoped it would.
---
We had a wonderful weekend at David and Laura's. The hosts were spot-on in their communication and what to expect. They provided very detailed information about their home and tips on where to locate items. The home was spotless when we arrived...the towels fresh and fluffy! They emailed us to make sure we were able to get in shortly after our arrival....they really care! This home is unique in that it is round, and the ground to ceiling windows provided a relaxing and beautiful view of the trees. This was our first experience with AirBnB and other hosts have a real challenge to meet the fine job Laura and David did.
---
Thank you very much for allowing us to stay in your lovely cabin! It was great to get to meet you both as well. I really appreciate you allowing us to use your laundry facilities. It was very helpful because we were traveling with small children for an extended period of time. As a fellow Airbnb host, I know all that it takes to operate a vacation rental and you do a fabulous job. The cabin was very comfortable and beautifully decorated, the house instructions were very informative and we had everything we needed. I got so many great ideas from you guys! The only suggestion I have would be to provide a hard copy of the house instructions or ask that the guests print it. We had to keep logging in to the Airbnb site to get the wifi password or remember how to operate the TV, lights etc. We will definitely be back to visit our friends in Big Canoe and hope to stay with you again!
---
This is a beautiful tree topper. The decor is updated, warm and inviting. We found everything we needed. David and Laura were fantastic hosts. I particularly appreciated receiving details about the house prior to arrival - where to find light switches, tv controls, etc. Laura also sent several restaurant suggestions knowing that we would be eating out on the day we arrived. We would certainly stay here again.
---
Índice de respuesta:
100%
Tiempo de respuesta:
en menos de una hora
Descubre otras opciones en Big Canoe, Jasper y sus alrededores
Más alojamientos en Big Canoe, Jasper: