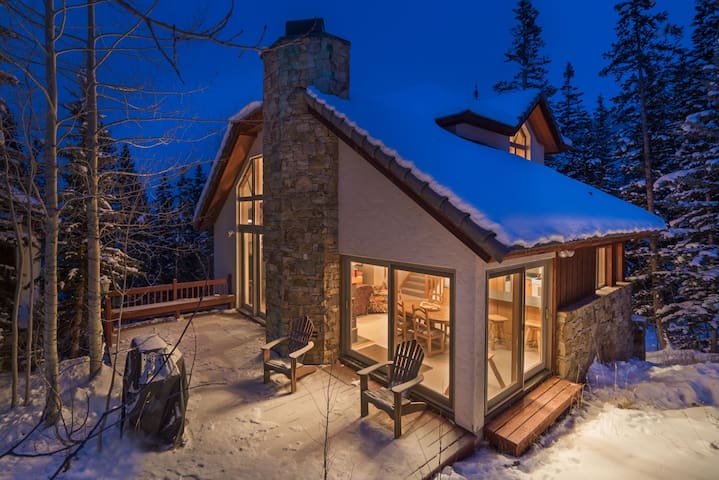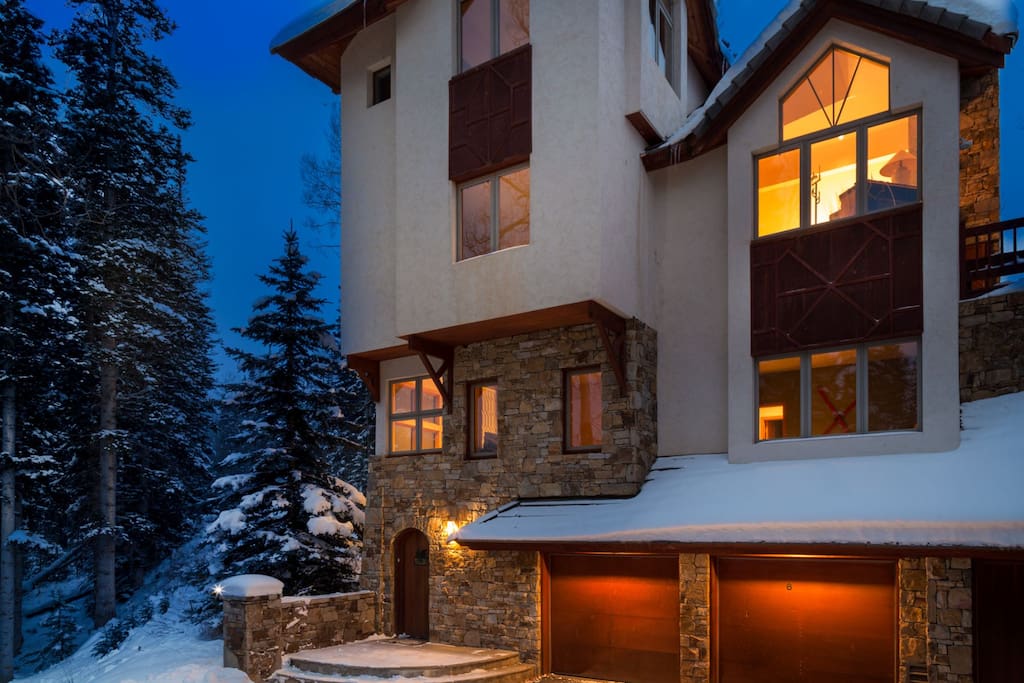 3 baños completos y uno de tocador
3 baños completos y uno de tocador
Winterleaf 6 - TRUE SKI IN/OUT RIGHT ON SUNDANCE SKI TRAIL - Sleeps 7 Comfortably - great for Two families

Sleeps: 8
Bedrooms: 4
Bathrooms: 3.5
Pets: No
Smoking: No
El lugar
Winterleaf Ski Haus Unit 6 - Ski in and out, 4 Bedrooms - 3.5 Bathrooms - Sleeps 8

PROPERTY HIGHLIGHTS
• TRUE SKI IN SKI OUT PROPERTY - Located on the Sundance Ski Run
• 2 Car garage
• In-door hot tub
• Private Internet Network
• Gorgeous Sunset Views to the North
• Ideal location for families, skiers, festival - Winter & Summer Location
• Outdoor Deck with BBQ grill
• Mountain Views
• Gas Fireplace
• Full Washer/Dryer

Enter into the home on the lowest level into a spacious entry and adjacent to the garage. Take the stairs up to the 2nd level where you will find the first two bedrooms, the laundry room and a large in-door 6-8 person hot tub - there is a shared bathroom on this level. Another flight up and you will find the open concept main living space - including the kitchen, living room, fire place, outdoor deck, access to the ski run, and the 3rd bedroom with ensuite bath. The 4th bedroom is the master and it is on the 3rd / highest level.

Starting at the Top Level:
Master Bedroom: Queen-sized Bed, Flat Screen TV
Master Bath: Jetted Tub, Double Vanity Sinks, Closet

Second Level:
2nd Bedroom: Queen-sized bed with views to the North
2nd Bathroom: Tub/Shower Combination

1/2 bath accessible to the general living space.

Lower Level
3rd Bedroom: 2 Twins-sized beds
4th Bedroom: 1 Queen-sized bed
3rd Bathroom is shared between bedroo(URL HIDDEN) Tub/Shower Combination

***All major festivals have minimum night requirements at festival rates.

Business License #005037
Disponible para huéspedes
PROPERTY HIGHLIGHTS
• True Ski and ski out access to Sundance Ski Run - Telluride Ski Resort.
• Big picture windows.
• In-door hot tub
• Private Internet Network
• Gorgeous Sunset Views
• Ideal location for families, skiers, festival - Winter & Summer Location
• Outdoor Deck
• Mountain Views
• Gas Fireplace
• Full Washer/Dryer
Atención a los huéspedes
Prior to your arrival, a member of our guest services team will contact you. We'll find out what time you'll be arriving to town so that we can meet you at the property you've rented. We'll also check to see if you need airport shuttles, lift tickets, equipment rentals, outdoor activities, or dining reservations and suggestions.

Upon arrival, we'll meet you at the front door of your rental property and show you inside. We'll give a quick tour of the property and help you understand how everything works, including televisions and any other unique features of the home.

We're excited to have you in Telluride and we're here to help you have a truly unforgettable vacation experience.
Otros aspectos destacables
Guest is required to complete a standard rental agreement provided by Latitude 38 Vacation Rentals, LLC. (Host), as part of the reservation process; which contains all applicable "House Rules" by which the Guest and all guests of guests will be required to abide by while occupying the rental property. No reservation shall be accepted unless guest has initialed each page, signed and dated the rental agreement within 48 hours of the reservation being accepted.

*PETS. Pets are not allowed in or on the Property or within property line of property. If an unauthorized pet is in the Property, the Guest shall be responsible for all damage caused by pet; and can be made to vacate property without refund of any remaining deposits. In addition to Agent's other remedies upon a violation of this provision, Guest violating this policy will also be charged a cleaning fee in the minimum amount of $500 and the Guest's credit card shall be charged for all costs incurred by Agent for additional cleaning and to repair any damage to the Property caused by the pet.


*Smoking is prohibited.

*Maximum Occupancy is 12

*Check in: 4pm
*Check out: 10a.m
- Late departures must have written approval by Latitude 38. Late departures without written authorization will incur additional fees.

All reservations are subject to the following fees:
1.) Nightly Rate - varies by reservation and season
2.) Local Sales Tax 12.4%
3.) Cleaning Fee - $325.00
4.) Damage Protection Fee: $59.00
5.) Resort Fee 0.75%
6.) A Guest Fee and Host fee are standard charges applied by AirBnB.

Cancellation Policy: Super Strict 60: 50% refund up until 60 days prior to arrival, except fees.

Additional rules apply. Guest is responsible and assumes full liability for any damages whether accidental or frivolous.
Lugar de estacionamiento privado
Apto para familias y niños
La hora de llegada es a partir de las 16:00
Salida antes de las 10:00
Guest please read through this carefully, initial each page, sign, date, scan and Email to:
(EMAIL HIDDEN)

Latitude 38 Vacation Rentals, LLC
SHORT TERM OCCUPANCY AGREEMENT
THIS SHORT TERM RENTAL AGREEMENT ("Agreement"), executed/processed this

Today's Date: _____________________________________________________________________________
by and between Latitude 38 Vacation Rentals, LLC ("Rental Agent/Host") and

Guest First Name:_______________________________________________________________

Guest Last Name: ________________________________________________________________
("Guest") for the short term occupancy of the real property described herein:

Property Address or Property Code/ID:__________________________________________________

Telluride, Colorado ("Property");

Occupancy (Sleeps): ________________________________________________________________

Reservation # (Transaction ID/AirBnB Res#/ID):_________________________________________

1(URL HIDDEN)TERM. The Property shall only be occupied as a short term vacation domicile for the term commencing on:
Arrival Date:____________________________________________________________________________________

at 4:00 PM ("Commencement Date") and terminating on:
Departure Date:_____________________________________________________________________________________
at 10:00 AM ("Rental Period").
1.1 Check-In/Check-Out Time. Check-in time is 4:00 PM at the Property. Check-out time is 10:00 AM. Early or late arrivals and departures must be arranged with and approved in writing by the Agent in advance. Unless pre-approved by Agent, any check-outs between 1:00 PM and 6:00 PM will be charged a fee equal to 50% of one night's occupancy fee which shall be charged to the Guest's credit card. Check-outs after 6:00 PM will be deemed "hold-overs" and charged a fee equal to 150% of one night's occupancy fee which will be charged to the Guest's credit card. Unless pre-approved by Agent, early check-ins are deemed to be a trespass and may be subject to the cancelation of the reservation and forfeiture of all deposits paid hereunder and/or charged a fee equal to 200% of one night's occupancy fee which will be charged to the Guest's credit card.

2(URL HIDDEN)CANCELLATION. Guest may cancel this Agreement by sending written notice of cancellation to Agent at the address set forth herein. Guest acknowledges that by entering into this Agreement, the Agent and the owner of the Property have stopped marketing and advertising the Property for occupancy for the Occupancy Period that is the subject of this Agreement.

GUEST IS ADVISED TO CLOSELY READ THE FOLLOWING CANCELLATION PROVISIONS WHICH WILL BE STRICTLY ADHERED TO BY AGENT

2.1 Liquidated Damages. Guest further acknowledges that Guest's termination of this Agreement will cause the Agent to incur substantial economic damages and losses of types and in amounts which are difficult to compute and ascertain with certainty as a basis for recovery by the Agent of actual damages, and that liquidated damages represent a fair, reasonable and appropriate estimate thereof. Accordingly, in lieu of actual damages for such delay, the Guest agrees that liquidated damages may be assessed and recovered by the Agent as against Guest, in the event of termination of this Agreement, and without the Agent being required to present any evidence of the amount or character of actual damages sustained by reason thereof. Therefore the Guest may be liable to the Agent for payment of liquidated damages in the amounts described in Section 3.2 and 3.3 below. Such liquidated damages are intended to represent estimated actual damages and are not intended as a penalty, and Guest shall pay them to Agent without limiting Agent`s right to terminate this agreement for default as provided elsewhere herein.

2.2 Termination Prior to Final Deposit Due Date. If Guest cancels this Agreement more than 61 days before the Commencement Date, the entire Initial Deposit shall be refunded to Guest, less an amount equal to $100 per bedroom in the Property.

2.3 Termination After Final Deposit Due Date. If Guest cancels this Agreement after the Final Deposit Due Date, GUEST SHALL NOT BE ENTITLED TO THE REFUND OF ANY PORTION OF ANY DEPOSITS PAID BY GUEST AND GUEST SHALL BE LIABLE FOR THE ENTIRE FINAL DEPOSIT WHETHER IT HAS BEEN RECEIVED BY AGENT OR NOT, IN WHICH EVENT THE AGENT SHALL BE AUTHORIZED TO CHARGE THE GUEST'S CREDIT CARD FOR THE ENTIRE FINAL DEPOSIT.

(URL HIDDEN)DAMAGE/INSURANCE/LOST KEYS/LOST ITEMS. In lieu of a Security Deposit, Agent requires each Guest to pay a $59.00 fee for participation in Agent's Vacation Rental Damage Protection ("VRDP") plan.

(URL HIDDEN)3.1 VRDP Plan. The VRDP plan covers up to $1,500.00 in certain damages to the interior of the Property and/or its contents that occurs during Guest`s stay, provided that such damage is reported to Agent prior to the Guest`s departure date. Damage in excess of $1,500.00 will be charged to the credit card on file. In the event of such Property Damage, the VRDP plan will cover the lesser of the cost of the repair or the replacement cost of the property, up to a maximum of $1,500.00. It is the Guest`s responsibility to promptly report any damage that is caused to the Property. The Plan does NOT cover damages arising from, or related to 1) damages deemed by Agent to be intentional, 2) theft, 3) damages in connection with violations of this Agreement, or 4) damages caused by gross negligence of the Guest or Guest`s invitees. The VRDP does not cover damages to any of the Guest`s personal effects, bodily harm, nor Guest related travel cost. The VRDP plan becomes effective upon check-in and terminates at departure or 10:00 A.M. on the last day of the reservation period, whichever occurs first. Any cost(s) related to damage, loss, etc., that Agent deems not covered by the VRDP plan shall remain the sole responsibility of the Guest.

(URL HIDDEN)3.2 Lost Keys/Parking Passes/Garage Door Openers. Guest shall be responsible for a fee in the amount equal to the cost of a replacement key, parking pass and/or garage door opener, plus 25%, for such items related to the Property that are not returned to the Agent. Guest's credit card may be charged for all such replacement fees and costs.

4. Cleaning

4.1 Mid-Stay Cleanings. If Guest wishes to schedule a mid-stay cleaning/cleanings of the Property, Guest must make those arrangements through the Agent with at least 48 hours advance notice. Additional cleaning is charged at an hourly rate determined by the housekeeper, but is currently $35.00 per hour. If Guest's occupancy is longer than 21 days, Guest must pay for an additional full cleaning of the Property, in addition to the cleaning fee included in the Total Fees, at the rate of $35.00 per hour.

4.2 Excess Cleaning. Guest shall leave the Property in a reasonably clean condition. If the Property is not left in a clean condition, normal wear and tear excepted, Guest's credit card will be charged for an excess cleaning fee in an amount equal to the actual excess charges incurred by Agent over and above the regular and customary cleaning fee that is part of the Total Fees, to have the Property properly cleaned and restored to the condition it was in as of the Commencement Date

5(URL HIDDEN)MAINTENANCE AND DAMAGE. Guest acknowledges that, unless the Agent is notified immediately upon occupancy, the Property including the furniture, furnishings and appliances shall be deemed to be in good working order, condition and repair. Guest shall keep the Property in a clean and sanitary condition, and shall immediately notify Agent of any damage to the Property or its contents, or any inoperable equipment or appliances. Guest shall not move, alter, or remove any furniture, fixtures, equipment or audio/visual systems from the Property. Guest shall surrender the Property, at termination, in as good condition as received, ordinary wear and tear excepted. Guest shall not commit any waste upon the Property or any nuisance or act which may disturb the quiet enjoyment of any neighboring occupants. Guest hereby acknowledges and agrees that insurance policies of the Agent and the Owner of the Property do not cover the Guest's personal property.

(URL HIDDEN)5.1 Damage from Ski Boots and/or Other Equipment. Please be advised that ski boots and other recreational equipment can cause substantial damage to the interior of the Property. Wearing ski boots inside of the Property is strictly prohibited, except in entryways, ski rooms, and mudrooms. Any damage to the Property caused by ski boots or other improper footwear to carpeting, hardwood, tile, and stone floors shall be the repaired by Agent at the cost of the Guest. Guests should refrain from wearing shoes inside the Property. Guests should bring slippers or other appropriate indoor footwear for use during your stay in the Property.

6(URL HIDDEN)OCCUPANCY.

(URL HIDDEN) 6.1 The maximum overnight occupancy of the Property is set by the Agent and published online at (URL HIDDEN) as the total number of people (adults and children) allowed in the property. Guest shall not allow more than the maximum overnight occupancy of the Property.

(URL HIDDEN)6.2 Guests may request blow-up mattresses for additional sleeping spaces by complying with the following requirements: (a) Guests must submit a written request to Agent for such blow-up mattresses not later than seven days prior to the Commencement Date; and (b) Guests must pay an additional charge of $75 per bed, per night in advance.

7(URL HIDDEN)HOLDING OVER. There will be no holding over or late departure without prior approval of the Agent. Any unauthorized holding over by Guest will be subject to a charge of 150% of the daily occupancy rate for the Property as published on the Agent's website at (URL HIDDEN) plus any additional damages incurred such as the cost of alternate housing for guests displaced by Guests holding over which shall be billed to the Guest's credit card.

8(URL HIDDEN)NO SMOKING. No smoking of any kind is allowed inside the Property. Smoking inside of the Property is strictly prohibited at all times. The Guest shall be responsible for all damage caused by the smoking, including but not limited to, stains, burns, odor and removal of debris. In addition to Agent's other remedies upon a violation of this provision, Guests will be charged a minimum cleaning fee of $500 that will be billed to the Guest's credit card..

9(URL HIDDEN)PETS. Pets are not allowed in or on the Property or within property line of property.

10. ENTRY AND INSPECTION. Agent and Agent's employees, contractors and agents shall have the right to enter the Property at any time in case of emergency. Agent and Agent's employees, contractors and agents shall further have the right to enter the Property upon 24-hour notice go Guest (or such shorter time period as may be agreed to by Guest), to make necessary or agreed repairs, decorations, alterations, improvement, supply necessary or agreed services, and/or inspect the condition of the Property, or to show the Property to potential purchasers.

11. LAWS AND RULES AND REGULATIONS. Guest shall comply with all statutes, ordinances and requirements of all municipal, state and federal laws regarding the Property, including the use, possession, production or sale of illegal drugs. Guest further agrees to adhere to all rules and regulations set forth by the regulatory parties for the condominium complex or homeowners association in which the Property is located, including rules with respect to smoking, noise, odors, disposal of refuse, pets, parking and use of common areas. Guest acknowledges that it has received a copy of such rules from Agent.

12. PROPERTIES FOR SALE. If the Property is listed for sale, Agent shall have the right to enter the premises and to allow prospective or actual buyers, lenders or Guests to enter the Premises upon twenty-four (24) hours prior notice to Guest. A representative of Agent or the Owner of the Property may accompany prospective or actual buyers, lenders or Guests. Guest should inquire with the Agent regarding whether or not the Property is, or is not listed for sale.

13. HOT TUBS. The use of hot tubs, sauna, spas and steam rooms within the Property is at the Guest's own risk. The Property is located at a high elevation and Guests are urged to exercise caution when using these types of amenities. Proper precautions and acclimatization to altitude is recommended.

14. CONSTRUCTION ACTIVITIES. Telluride and Mountain Village are growing resort communities. There are various construction projects that may be ongoing during your stay that Agent has no control over. Agent shall use its best efforts to notify Guests of any construction projects in the vicinity of the Property that may impact the Property at the time of booking, however, Agent makes no representations or warranties as to the future status of construction projects that may impact Guests during their occupancy of the Property.

15. UNAVAILABILITY. If for any reason, the Property is unavailable, or becomes unavailable during the dates contracted for occupancy, Agent may either (i) cancel this Agreement, refunding to Guest all payments made hereunder by Guest, or (ii) undertake commercially reasonable efforts to work with Guest to locate and reserve suitable equivalent lodging (of equal or greater occupancy value) that is managed by Agent.

16. LIMITATION OF LIABILITY. In no event shall Agent be liable to Guests for incidental or consequential damages incurred by Guest as a result of the unavailability of the Property. In all circumstances, Agent's maximum liability to Guest shall be limited to the amount of the Total Fees paid by Guest under this Agreement.

17. EVENTS OF DEFAULT. In the event that Guest fails to abide by its obligations or breaches any of the representations made herein, in addition to any other remedies set forth in this Agreement, Agent shall have the option, in its absolute discretion, to declare Guest to be in breach of this Agreement. In such event, Agent shall be entitled to require all persons occupying the Property to immediately leave the Property or be removed from Property. Defaulting Guests shall automatically forfeit the right to a return of any unused Total Fees and shall be subject to a default charge of up to $(PHONE NUMBER HIDDEN). INDEMNIFICATION AND WAIVER. Guest shall indemnify, defend and hold harmless the owner of the Property and l Agent (the "Released Parties") from any and all liability for costs, expenses, claims, disputes, litigation, judgments, and attorney fees resulting from loss, damage, or injury to Guest, Guest's guests or licensees, or their personal property arising out of the Guest or the Guest's guests, invitees and licenses occupancy or use of the Property, except for injury or damage caused by the gross negligence or willful misconduct of the Released Parties. This waiver and release is intended to be a full and complete waiver and release of the Released Parties from any and all present or future claims.

19. INSURANCE. Guest acknowledges that the Released Parties' insurance does not cover any of Guest's or Guest's invitees` personal property, including vehicles, against loss or damage due to fire, theft, vandalism, rain, water, criminal or negligent acts of others, or any other cause. Guest is recommended to carry or obtain insurance to protect Guest, Guest's invitees, and their personal property from any loss or damage.

20. MEDIATION. Guest agrees to mediate any dispute or claim arising out of this Agreement, or any resulting transaction, as a condition precedent to the institution of any arbitration or litigation under this Agreement. Mediation fees, if any, shall be divided equally among the parties involved.

21. TIME. Time is of the essence of this Agreement.

22. ATTORNEYS FEES. In any action or proceeding involving a dispute between Agent and Guest arising out of this Agreement, the prevailing party will be entitled to reasonable attorneys' fees and any costs incurred in enforcing this Agreement.

23. NO WAIVER. Failure of Agent to enforce any provision of this Agreement shall not be deemed to be a waiver. The acceptance of any fees or deposits by Agent will not waive Agent's right to enforce any provision of this Agreement.

24. ENTIRE AGREEMENT. The foregoing, plus any attachments or addendums hereto, plus any electronic mail from Guest acknowledging and accepting the terms of this Agreement, if any, constitutes the entire agreement between the parties and may be modified only in writing signed by all parties. This Agreement and any modification, including any photocopy or facsimile, may be signed in one or more counterparts, each of which will be deemed an original and all of which taken together will constitute one and the same instrument. If there is more than one Guest, all Guests are jointly and severally liable under this Agreement.

25. NOTICES. All notices and documents to be delivered under this Agreement must be in writing, and delivery shall be effective when physically received by either party. As an alternative to physical delivery, any document, including a signed document or written notice, may be delivered in electronic form by electronic mail or facsimile. Unless otherwise provided, any notice which either party may give or is required to give, may be delivered to the addresses shown on the signature page or at such other places as may be designated by the parties from time to time. Notice will be deemed effective three days after physical mailing, or on personal delivery, or when receipt is acknowledged in writing.

26. CREDIT CARD AUTHORIZATION. Guest hereby authorizes Agent to charge all deposits, fees, costs and charges arising under this Agreement to the Guest's credit card provided to Agent. The reversal of any charges to Guest's credit card arising under this Agreement shall constitute a breach of this Agreement by Guest. In the case of any reversal of charge by Guest, this provision shall serve as express permission to Agent to recharge the Guest's credit card for payment or to collect such fees, costs and charges by any other legal means.

27. COUNTERPARTS. This Agreement may be executed in any number of original counterparts, all of which evidence only one agreement, and only one of which need be produced for any purpose.
IN WITNESS WHEREOF, the parties have executed this Agreement as of the date first written above.


Guest's Signature(URL HIDDEN)
By: _____________________________________________________________________(URL HIDDEN)
Date_____________________________________________________________________
Guest Name: ______________________________________________________________

Email: _____________________________________________________________________
Address: ___________________________________________________________________

Telephone:_________________________________________________________________
Guest may alternatively sign and be bound by this document, by sending an electronic email to Agent, pursuant to which Guest agrees to be bound by the terms of this Agreement.
Rental Agent's Signature:

_________________________________________________________________(URL HIDDEN)

By:________________________________________________________ Latitude 38 Vacation Rentals, LLC

Date:_________________________

Guest, please read through this carefully, initial each page, sign, date, scan and Email to:
(EMAIL HIDDEN)

Latitude 38 Vacation Rentals, LLC

(PHONE NUMBER HIDDEN)

(EMAIL HIDDEN)

Mailing Address (USPS Only): PO Box 749

Shipping Address (UPS, FEDEX, DHL Only):
230 South Pine Street, Suite 100

Telluride, Colorado 81435
Telluride, Colorado, Estados Unidos
Se registró en Julio 2015
Latitude 38 Vacation Rentals is a professional vacation home rental management company based in downtown Telluride, Colorado. Each of our properties are kept immaculately clean and maintained. Prior to your arrival, our guest services team will reach out to you to see if the…
Idiomas:
English, Español, Français, Italiano
Índice de respuesta:
100%
Tiempo de respuesta:
en menos de una hora
Descubre otras opciones en Mountain Village y sus alrededores
Más alojamientos en Mountain Village: