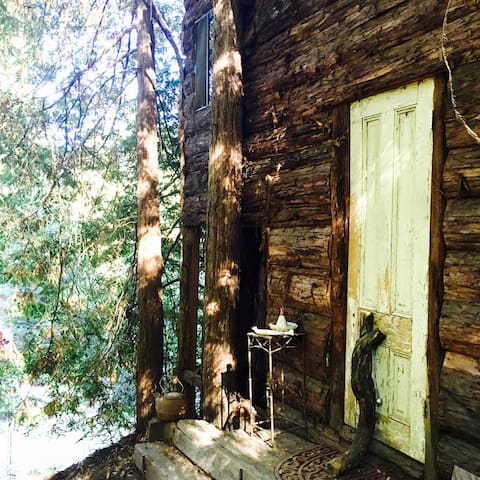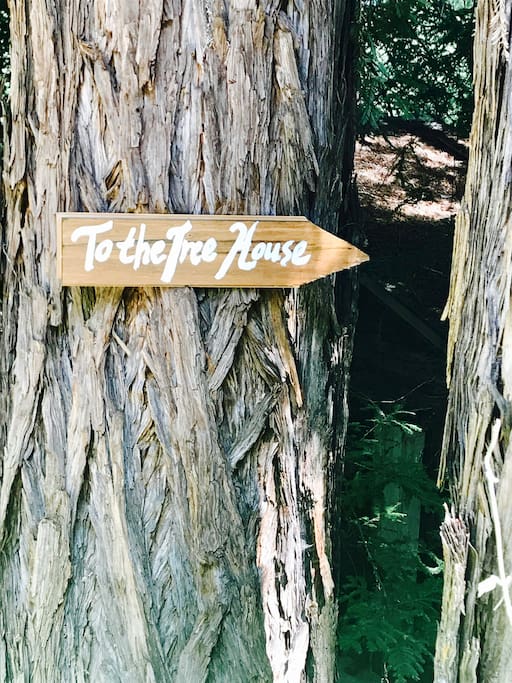 Treat yourself to a weekend getaway in Northern California's most luxurious and peaceful treehouse. Deep in the Sequoia forest in the Santa Cruz Mountains with abundant nature and trails, guests are welcome to explore and enjoy the 6 acre property.
Private Accommodations in a tiny tree house for 1-2 people nestled in the redwood forest. It is a rustic beauty, with plenty of home-made charm. It is really ideal for a couple, perfect for a romantic getaway.
El lugar
The Treehouse is a completely private and self contained accommodation, nestled in the redwood forest. It is a rustic beauty, with plenty of home-made charm. It can accommodate 1 or 2 people but it is really ideal for a couple, perfect for a romantic getaway. This elevated cabin is supported by an ancient oldgrowth redwood stump. Beautifully decorated and tastefully furnished, the treehouse boasts all the modern conveniences of home (aside from cable television and WiFi, which is probably a good thing).
The tree house is well equipped and incredibly designed. It has a comfortable, high bed (all linens provided), drinking water and a kettle for tea & a 2 slice toaster with a compact oven, a compact refrigerator and an electric fireplace. During hot days we will bring a fan. There's is also a couch and a small folding table in case you needed, to relax while taking in the views of the forests. The tree house is outdoor-shoes-free, because this is a rural setting, so please bring slippers if you like.

Our treehouse offers basic services including electricity, a private outdoor bathroom with a composting toilet. The lovely bathroom is open and spacious, surrounded by big redwood trees with a beautiful designer sink and all the running water is from our mountain. The on-demand hot shower provides the opportunity to refresh while taking in views of nature. The glamping tree house is always cleaned with environmentally-friendly cleaning products, and guests are requested to minimize their towel and sheet changes if they're staying less than a week to continue with our site's eco-friendly practices. The water from our sink & shower also drain right back to the mountain so all soaps and body products should also be biodegradable. This amazing bathroom, is and it is located right outside the tree house and it is is for exclusive use of the guests staying at the tree house.
We are in a rustic secluded area so we rather have simple, nature and ecological oriented guests that are comfortable in nature and don't expect the luxury of a city hotel.
Disponible para huéspedes
Hay un montón de oportunidades para practicar senderismo, ciclismo y observación de aves justo en el bosque, y los huéspedes tienen fácil acceso a la riqueza de la zona de actividades costeras y culturales. La casa del árbol se establece en 6 hermosas hectáreas con altísimas vistas a la montaña de los árboles más grandes del mundo, las secuoyas costeras. El camino por encima de la casa del árbol conduce a la derecha en el resto de nuestra propiedad de retiro. Hay tantas cosas que hacer en la zona es posible que desee hacer de este un evento anual. Si usted tiene intereses especiales por favor háganoslo saber y podemos proporcionar información. La casa del árbol está separada de la casa principal y el patio, y escondido en una ladera inclinada, esta ubicación ofrece tranquilidad y tranquilidad.
There is plenty of opportunity for hiking, biking and birding right in the forest, and guests have easy access to the area's wealth of coastal and culture activities. The tree house is set on 6 beautiful acres with soaring mountain views of the largest trees in the world, the Coastal Redwoods. The path above the treehouse leads right into the rest of our retreat property. There are so many things to do in the area you may want to make this a yearly event. If you have special interests please let us know and we can provide info. The tree house is separated from the main house and yard, and tucked away on a sloping hillside, this location offers peaceful privacy and quiet.
Atención a los huéspedes
Interactions are up to our guests. We are happy to help out with anything that we can do to make your stay more comfortable. Those not as familiar with rustic off the grid type accommodations may want a bit more information about the way we do things and why. We like you to have your privacy. You'll often find us bustling around the property taking care of business, or you can reach us by message through this site of anything urgent.
Otros aspectos destacables
Nuestra propiedad es un centro de retiro completo dedicado a la espiritualidad y la curación, con varios espacios de alquiler disponibles en función de sus necesidades. Tenemos instalaciones adecuadas y estacionamiento para grupos más grandes si usted está interesado en un evento más grande. Por favor, póngase en contacto con nosotros para tarifas si está interesado en alquilar varios espacios tales como nuestra yurta privada para 6 personas, a 5 minutos a pie de la casa del árbol, o nuestro yurt más grande templo que es ideal para reuniones de grupo, clases y talleres, también es Ubicado a 5 minutos a pie. Estamos en una zona rústica aislado por lo que más bien tienen simples, la naturaleza y los huéspedes ecológicos orientados que son cómodas en la naturaleza y no esperes el lujo de un hotel de la ciudad. Aquí compartimos un artículo de NPR sobre el baño de bosque y sus beneficios. Cuando mis editores me pidieron que informara sobre el baño en el bosque, llené un traje de baño. Asumí que debe implicar un chapuzón en el agua. Resulta que mi interpretación era demasiado literal. Conocí a la guía de Terapia Forestal certificada Melanie Choukas-Bradley y varias otras mujeres que vinieron a la aventura. Aquí, empecé a conseguirlo. Bosque de baño no es un baño. Nos sentamos en las orillas del río, pero no nos metimos en el agua. No es una caminata, tampoco. Hicimos caminar por los senderos del bosque, pero meandered con ningún destino en particular en mente. El objetivo del baño forestal, explicó Choukas-Bradley, es frenar y sumergirse en el medio ambiente natural. Ella nos ayudó a sintonizar a los olores, texturas, gustos y vistas del bosque. Tomamos en nuestro entorno con todos nuestros sentidos. A medida que pasábamos a través de un grupo de papagayos, tocamos la corteza. Hemos olido las nueces negras, que emiten una fragancia cítrica encantadora. También tenemos una pequeña ducha de moras maduras. "Cierren los ojos y respiren, respiren", entonó Choukas-Bradley. Se sentía un poco como un retiro de meditación. Me tomó unos minutos para aclarar el desorden en mi cerebro, y sintonizar con el mundo natural. "Cuando abres los ojos, imagina que estás viendo el mundo por primera vez", nos dijo Choukas-Bradley. Después de abrir los ojos, el verde parecía mucho más verde. Y empecé a ver cosas que no había notado antes: el aleteo de los pájaros, la ondulación del agua, el balanceo de los árboles. Una guía forestal "le ayuda a estar aquí, no allí", dice Amos Clifford, una ex guía de vida silvestre con una maestría en consejería y fundadora de la Asociación de Naturaleza y Terapia Forestal, la organización que certifica las guías. El objetivo de Clifford es alentar a los proveedores de atención médica a incorporar la terapia forestal como una estrategia de reducción del estrés. No hay duda de que el estrés tiene un terrible peaje en los Estados Unidos; Un estudio de 2015 encontró que el estrés relacionado con el trabajo representa hasta $ 190 mil millones en costos de atención médica cada uno. "Espero que el sistema de atención médica incluya [la terapia forestal] en la gama de servicios que reembolsan", dice Clifford. La práctica comenzó en Japón. A principios de la década de 1990, el Ministerio de Agricultura, Silvicultura y Pesca japonés acuñó el término Shinrin-yoku, que se traduce aproximadamente como baño de bosque. Ahora, los baños forestales están empezando a despegar en los EE.UU. Las Asociaciones de Naturaleza y Terapia Forestal planea capacitar y certificar alrededor de 250 nuevas guías el próximo año. "Queremos tener 1.000 guías entrenados dentro de tres años", dice Clifford. Hay un creciente cuerpo de pruebas de que la práctica puede ayudar a aumentar la inmunidad y el estado de ánimo y ayudar a reducir el estrés. "Los investigadores médicos en Japón han estudiado los baños de bosque y han demostrado varios beneficios para nuestra salud", dice Philip Barr, un médico que se especializa en medicina integradora en la Universidad de Duke. Un estudio publicado en 2011 comparó los efectos de caminar en la ciudad a tomar un paseo por el bosque. Ambas actividades requerían la misma cantidad de actividad física, pero los investigadores encontraron que el ambiente forestal llevó a reducciones más significativas en la presión arterial y ciertas hormonas del estrés. En promedio, los caminantes forestales, que tenían entre 36 y 77 años de edad, vieron una reducción de su presión arterial sistólica de 141 mmHg a 134 mmHg después de cuatro horas en el bosque. Esto podría no sonar como una gran diferencia, pero puede ser clínicamente significativa. La mayoría de los médicos de estos días están de acuerdo en que las personas menores de 60 años deben tener como objetivo mantener su presión arterial por debajo de 140. "Estoy muy impresionado con la investigación primaria hecha en Japón", dice Barr. Piensa que muchos pacientes podrían beneficiarse del baño en el bosque, especialmente aquellos que están bajo estrés. "El baño en el bosque puede considerarse una forma de medicina", dice Barr. "Y los beneficios de la naturaleza se puede acceder tan simplemente". No es una gran sorpresa que los investigadores fueron capaces de documentar una disminución de la presión arterial entre los bañistas forestales. A medida que la gente comienza a relajarse, aumenta la actividad nerviosa parassimpática, lo que puede llevar a una disminución de la presión arterial. Hay otro factor que podría ayudar a explicar la disminución de la presión arterial: Los árboles liberan compuestos en el aire del bosque que, según algunos investigadores, podrían ser beneficiosos para las personas. Algunos de los compuestos son muy distintivos, como el olor de cedro. En 2009, científicos japoneses publicaron un pequeño estudio en el que se descubrió que la inhalación de estos compuestos derivados de los árboles -conocidos como fitoncides- redujo las concentraciones de hormonas del estrés en hombres y mujeres y aumentó la actividad de las células blancas conocidas como células asesinas naturales. Otro estudio encontró que la inhalación de los aceites de madera de cedro llevó a una pequeña reducción de la presión arterial. Se trata de estudios preliminares, pero los científicos especulan que la exposición a estos compuestos arbóreos podría mejorar los otros beneficios del bosque. La idea de que pasar tiempo en la naturaleza es buena para nuestra salud no es nueva. La mayor parte de la historia evolutiva humana se pasó en ambientes que carecen de edificios y paredes. Nuestros cuerpos se han adaptado a vivir en el mundo natural. Pero hoy en día la mayoría de nosotros pasamos gran parte de nuestra vida en el interior, o al menos atados a los dispositivos. Tal vez la nueva tendencia de baño en el bosque es un reconocimiento de que muchos de nosotros necesitamos un pequeño empujón para volver allí. [Copyright 2017 NPR
Our property is a complete retreat center dedicated to spirituality and healing, with several rental spaces available depending on your needs. We have adequate facilities and parking for larger groups if you are interested in a bigger event. Please contact us for rates if you are interested in renting multiple spaces such as our private yurt for 6 people, a 5 minute walk to the tree house, or our bigger yurt Temple which is ideal for group meetings, classes & workshops, it is also located within a 5 minute walk. We are in a rustic secluded area so we rather have simple, nature and ecological oriented guests that are comfortable in nature and don't expect the luxury of a city hotel.
Here we share an article from NPR about forest bathing and its benefits.
When my editors asked me to report on forest bathing, I packed a swimsuit. I assumed it must involve a dip in the water.
It turns out, my interpretation was too literal.
I met certified Forest Therapy guide Melanie Choukas-Bradley and several other women who'd come along for the adventure.
Here, I began to get it. Forest bathing isn't a bath. We sat on the banks of the river, but we did not get in the water.
It's not a hike, either. We did walk the forest trails, but we meandered with no particular destination in mind.
The aim of forest bathing, Choukas-Bradley explained, is to slow down and become immersed in the natural environment. She helped us tune in to the smells, textures, tastes and sights of the forest. We took in our surroundings by using all our senses.
As we passed through a stand of pawpaw trees, we touched the bark. We smelled the black walnuts, which give off a lovely citrus fragrance. We got a little shower of ripe mulberries, too.
"Close your eyes and just breathe, just breathe," Choukas-Bradley intoned. It felt a bit like a meditation retreat.
It took me a few minutes to clear out the clutter in my brain, and tune in to the natural world.
"When you open your eyes, imagine you're seeing the world for the very first time," Choukas-Bradley told us.
After I opened my eyes, the green looked a lot greener. And I began to see things I hadn't noticed before: the flutter of birds, the ripple of the water, the swaying of trees.
A forest guide "helps you be here, not there," says Amos Clifford, a former wilderness guide with a master's degree in counseling, and the founder of the Association of Nature & Forest Therapy, the organization that certifies the guides.
Clifford's goal is to encourage health care providers to incorporate forest therapy as a stress-reduction strategy. There's no question that stress takes a terrible toll in the United States; a 2015 study found work-related stress accounts for up to $190 billion in health care costs each.
"It's my hope that the health care system will include [forest therapy] into the range of services they reimburse for," Clifford says.
The practice began in Japan. Back in the early 1990s the Japanese Ministry of Agriculture, Forestry and Fisheries coined the term Shinrin-yoku — which translates roughly as forest bathing.
Now, forest bathing is starting to take off in the U.S. The Associations of Nature & Forest Therapy plans to train and certify about 250 new guides next year. "We're aiming to have 1,000 trained guides within three years," Clifford says.
There's a growing body of evidence that the practice can help boost immunity and mood and help reduce stress. "Medical researchers in Japan have studied forest bathing and have demonstrated several benefits to our health," says Philip Barr, a physician who specializes in integrative medicine at Duke University.
One study published in 2011 compared the effects of walking in the city to taking a forest walk. Both activities required the same amount of physical activity, but researchers found that the forest environment led to more significant reductions in blood pressure and certain stress hormones.
On average, the forest walkers — who ranged in age from 36 to 77 — saw a reduction in their systolic blood pressure from 141 mmHg down to 134 mmHg after four hours in the forest.
This might not sound like a big difference, but it can be clinically significant. Most doctors these days agree that people younger than 60 should aim to keep their blood pressure under 140.
"I'm very impressed with the primary research done in Japan," Barr says. He thinks many patients could benefit from forest bathing, especially those who are under stress.
"Forest bathing could be considered a form of medicine," Barr says. "And the benefits of nature can be accessed so simply."
It's not a big surprise that researchers were able to document a decrease in blood pressure among forest bathers. As people begin to relax, parasympathetic nerve activity increases — which can lead to a drop in blood pressure.
There's another factor that might help explain the decline in blood pressure: Trees release compounds into the forest air that some researchers think could be beneficial for people. Some of the compounds are very distinctive, such as the scent of cedar. Back in 2009, Japanese scientists published a small study that found inhaling these tree-derived compounds — known as phytoncides — reduced concentrations of stress hormones in men and women and enhanced the activity of white-blood cells known as natural killer cells .
Another study found inhalation of cedar wood oils led to a small reduction in blood pressure. These are preliminary studies, but scientists speculate that the exposure to these tree compounds might enhance the other benefits of the forest.
The idea that spending time in nature is good for our health is not new. Most of human evolutionary history was spent in environments that lack buildings and walls. Our bodies have adapted to living in the natural world.
But today most of us spend much of our life indoors, or at least tethered to devices. Perhaps the new forest bathing trend is a recognition that many of us need a little nudge to get back out there. [Copyright 2017 NPR
Apto para familias y niños
Lugar de estacionamiento privado
Depósito de seguridad $200
Descuento por semana: 20%
Precio por fin de semana $140 / noche
Comunícate siempre a través de Airbnb
Para que tus pagos estén protegidos, nunca transfieras dinero ni te comuniques desde afuera de la página o la aplicación de Airbnb.
Dormitorio 1
1 cama tamaño queen
No se admiten fiestas o eventos
No adecuado o inseguro para bebés (menores de 2 años)
Horario de llegada: de las 15:00 a las 19:00.
Salida antes de las 11:00
-- We require reservations to be booked by the person who's going to stay at the listing. No exceptions.
- All garbage must be taken offsite by the guests when finished
- No drugs or alcohol on the property or people under the influence.
- No unsupervised minors at any time.
-No unregistered guests.
- No smoking or fires or firearms at any time
- If you need to check in after 7pm, we might not be available but your space will be waiting for you. If you are not comfortable checking in by yourselves please kindly arrive before 7pm
- Please remove your shoes before entering the indoor spaces.
- The retreat center is dedicated to spiritual practices and healing, there might be spiritual events happening during your stay and some areas of the retreat center might be closed to other guests.
- During the sunny months the yurt might be hot. There is no air conditioning inside the yurt. Please keep it in mind before making your reservation. Thank you!
- We are not responsible for acts of nature including encounters with wildlife. For a list of animals that live in the area please visit the big basin national park website. All garbage must be taken offsite by the guests when finished
-No unregistered guests
-No unsupervised minors at any time.
- No smoking or fires or firearms at any time
- If you need to check in after 7pm, we might not be available but your space will be open and waiting for you. Please leave the key on the table. If you are not comfortable checking in by yourselves please kindly arrive before 7pm
- No shoes allowed in our indoor spaces
- We are not responsible for acts of nature including encounters with wildlife. For a list of animals that live in the area please visit the big basin national park website.
Aspectos que también debes tener en cuenta
Es necesario utilizar las escaleras
Hay mascotas en la propiedad - Our cat Leo loves to welcome guests and play. We live in the forest and we can't control the ecosystem, specially animals living in the forest.
Limitaciones de servicios - We have a tea kettle and a compact refrigerator. We do not have a kitchen so if you want to cook you must bring your own supplies including a stove.
Detector de monóxido de carbono
Ficha de instrucciones de seguridad
Los viernes y sábados, la estancia mínima es de 2 noches.
Boulder Creek, California, Estados Unidos
Se registró en Marzo 2016
Hello, we are Shimshai and Susana. We are married with two amazing kids, and a few pets. We work at home making music, herbal products and teaching workshops. We also travel teaching and singing.
Idiomas:
English, Español
Índice de respuesta:
100%
Tiempo de respuesta:
en menos de una hora
Descubre otras opciones en Boulder Creek y sus alrededores
Más alojamientos en Boulder Creek: