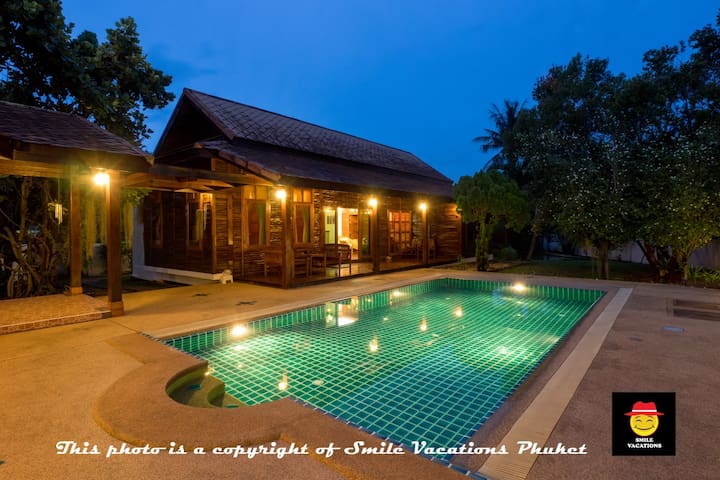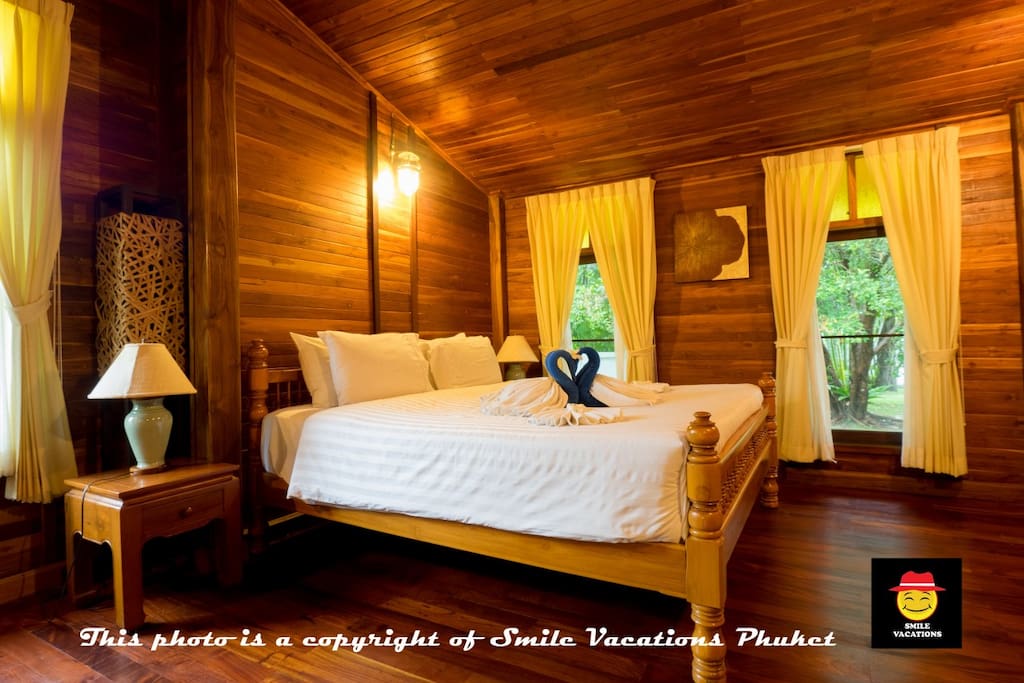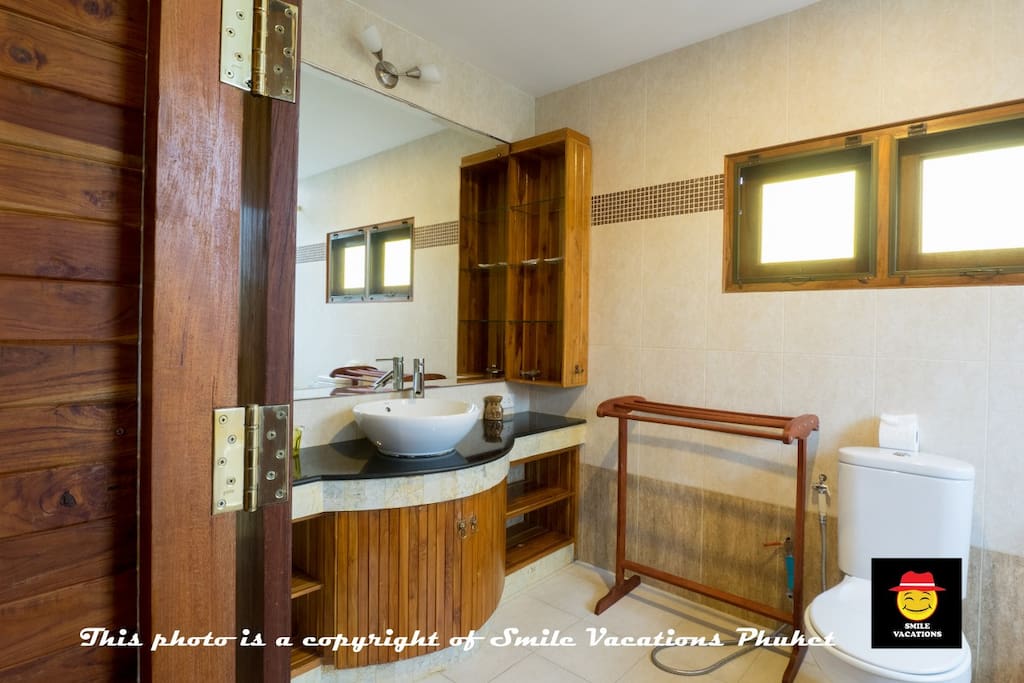 Teak Wood Private Pool Villa 100m 2 Beach Sleeps 9
Esta hermosa y única villa se encuentra a sólo 100 metros de la playa de Bang Tao, cuenta con 3 dormitorios, 3 baños, gran jardín y zona de juegos para niños, WIFI gratuito, 2 cocinas totalmente equipadas, fantásticas vistas al jardín y una gran piscina privada. Está a sólo 25 minutos del aeropuerto de Phuket, tiene restaurantes, bares y otros servicios locales a su puerta ya 25 minutos del centro de la ciudad. Está disponible para alquiler corto y largo plazo (máximo 3 meses) y viene con servicio de limpieza y mucho más :-)
This truly unique, beautiful villa is just 100 meters to Bang Tao beach, comes with 3 bedrooms, 3 bathrooms, huge garden and play area for kids, free WIFI, 2 fully equipped kitchens, fantastic garden views and a large private swimming pool.
It is just 25 minutes from Phuket airport, has restaurants, bars and other local amenities on it's doorstep and 25 minutes from the city centre.
It is available for rent short and long term (max 3 months) and comes with housekeeping and much more :-)
El lugar
Tenga en cuenta que antes de hacer una reserva, airbnb bloqueará cualquier intento de cualquiera de las partes de intentar comunicarse intercambiando correo electrónico, número de teléfono, etc. Si intenta hacer esto, verá en su mensaje "CONTENIDO OCULTADO / BLOQUEADO" LEA POR FAVOR TODA la información proporcionada abajo antes de hacerme cualquier pregunta pues usted encontrará que algunas de sus preguntas se contestan en lo que le decimos aquí. Gracias. Esta hermosa villa de 3 dormitorios es totalmente privado para todos los huéspedes y viene en un terreno enorme muy adecuado para niños y grupos grandes para entretener y jugar. Está a sólo 100 metros de la increíble (algunos dicen que el mejor) Bang Tao playa. La villa se encuentra en un hermoso entorno tranquilo con vistas de las montañas circundantes y exuberante jardín tropical. Dispone de aparcamiento para 5 coches y 6 tumbonas, zona de ocio al aire libre y barbacoa. Está a pocos minutos a pie de mini mercados, bares, tiendas de masajes, spa de pescado, spa convencional, galerías de arte, restaurantes y mucho más. El restaurante más cercano está justo fuera de la puerta eléctrica de la villa y bares, etc 30 metros de distancia. Hay más de 30 bares y restaurantes en el pueblo y más en la playa, que sirve comida Halal, comida occidental, comida india, comida tailandesa y mucho más. Alquiler de coches, motos y alquiler de bicicletas, tours y excursiones se organizan a través de nosotros y como la gente local; Nos enorgullecemos de ser totalmente flexibles si hay necesidades y requisitos adicionales. Los honorarios del alquiler de coches comienzan a partir de 1.000 baht por día dependiendo del modelo del coche y de la estación. Los coches incluyen Toyota Yaris, Toyota Vios, Chevrolet 7 plazas, BMW X4, Audi TT, Mercedes Clase E y mucho más. Todos estos vienen con seguro completo. Un conductor privado para hasta 12 personas en un minibús puede organizar para 3.000 baht para un día completo de visitas de 8 horas. Por favor infórmenos de antemano si necesita alguno de estos servicios, ya que necesitaremos hacer una reserva para usted. Para nosotros usted es nuestro amigo no sólo clientes y haremos nuestro mejor para hacer sus vacaciones tan especial como podemos con nuestra ayuda, sin ser intrusivo. Nuestros años de experiencia y de albergar a más de 3.000 clientes nos han enseñado muchas cosas. Lo más importante es que entendemos que no hay 2 conjuntos de invitados y las familias son los mismos que los últimos, cada uno es tratado como un nuevo amigo con nuevas necesidades y deseos para su viaje. Por lo tanto, le pedimos al hacer una consulta le pedimos que haga un poco de investigación en lo que es lo que quieres hacer y ver en Phuket y vamos a solucionarlo para usted. Podemos planear días y actividades para usted sin ninguna molestia en absoluto, pero necesitamos una idea general de lo que quiere de su experiencia en Phuket. Por ejemplo, una familia con niños pequeños no va a querer un ATV y rafting experiencia, mientras que de manera similar un grupo de jóvenes graduados es probable que no va a querer un día en un parque de aventura para niños. Las actividades populares incluyen: 1) Excursiones por barco en barco - Phi Phi, Bahía Maya, Isla Coral, Islas Similan, Islas Khai, Isla James Bond 2) Excursiones nocturnas y de pesca 3) Actividades de aventura como ATV equitación y rafting 4) Seguimiento de elefantes en la selva 5) Viajes a los templos de los monos 6) Viajes a los templos tailandeses tradicionales 7) días de conductor privado alrededor de Phuket - incluye piragüismo, seguimiento de elefantes, viajes a las cascadas, visitas al templo, clase de cocina, show de mono, show de serpiente, Big Buddha, etc 8) Viajes de safari 9) Phuket Fantasea Mostrar & Simon espectáculo de cabaret 10) Visitas a la fábrica de perlas 11) Parque de aves de Phuket 12) Parque acuático de Phuket 13) Zoológico de Phuket 14) Cursos de buceo 15) Esquí acuático, vela Pará. Wakeboard y otros deportes acuáticos y actividades acuáticas en la playa Podemos orgnise todo lo anterior para usted ya sea antes o cuando llegue y obtener descuentos significativos de los precios de folleto de nuestra empresa hermana. La playa está a sólo 100 metros de la villa, así que la ubicación es genial. Hay pequeñas tiendas de conveniencia a poca distancia and tuk tuk que cobran sólo 150 baht puede llevarte al gran centro comercial en 5 minutos si necesitas visitar un supermercado o Bang Tao excelente tarde y mercados de noche. Nuestras camareras vienen a limpiar cada 3 días si es necesario y llevará su ropa a nuestra lavandería fuera de sitio y lavar su ropa, devolverlos al día siguiente (si los dejas en una bolsa por la mañana) y todo esto es hecho ¡¡¡gratis!!! (Esto es para las propiedades donde no hay lavadora instalada) Am es el gerente de la villa y junto con su hermano sopa y nuestro Personal, que te cuidan bien de la derecha desde el registro en la etapa. Yo (Lee) viven localmente demasiado y estoy muy a menudo alrededor para los clientes para asegurarse de que todo está bien y que son felices. Si hay algún problema, siempre hay alguien a mano para ayudarle, normalmente dentro de unos minutos. Estamos siempre disponibles para nuestros huéspedes. Desde el momento en que aterrizar o llegar a Phuket tenemos nuestro conductor recogerlo desde el aeropuerto por lo que no hay complicaciones o preocupaciones a la llegada. Nuestros conductores están disponibles las 24 horas del día, así que no importa a qué hora llegue, tenemos a alguien para recogerlo y verificarle. Una vez que nos haya dado los detalles de su vuelo, nos encargaremos del resto para usted. Se le dirá cuál es el nombre de los conductores y él llevará un letrero fuera de la terminal principal del aeropuerto con el nombre IN ENGLISH (si Su nombre de airbnb está escrito en otro idioma, por favor, nos suministra con su ortografía en inglés del nombre para que sea más fácil para nosotros para escribir el signo). Se le darán los datos de contacto en caso de emergencia. El conductor lo llevará al alojamiento donde un miembro de mi personal estará allí para reunirse con usted. A continuación, se le dará el cheque de papeleo por el personal de cheque que le preguntará algunas cosas importantes, tales como cuándo necesita servicio de limpieza, a qué hora desea desproteger, cualquier otro requisito y también se le dará el metro Lectura para las utilidades. A la salida, se le dará otra lectura por el personal de salida. Si llega tarde en la noche o después de un vuelo muy largo, entendemos que puede estar cansado y necesita descansar. Esto es, por supuesto, bien y sólo decimos que vamos a venir a ver al día siguiente para asegurarse de que entiende las cosas y están bien. Entonces habrá la oportunidad de hablar con probablemente Am acerca de cualquier actividad o excursiones que desea organizar - podemos llegar a un plan para usted para sus vacaciones y obtener el balón rodando con la organización de todo para usted. Somos gente local, así que siempre están de guardia. No estamos disponibles después de 10 pm - 8 am pero siempre disponible por teléfono durante entre horas y siempre volveremos a usted en el día. Vivimos a 5 minutos de todas nuestras villas y apartamentos, así que si en la zona generalmente puede venir a cuestión de minutos si surge una emergencia. Animamos mucho a la gente a usar aplicaciones telefónicas para que los costos de llamar, etc., puedan ser erradicados tanto de sus facturas como de nuestras facturas. Am está muy interesado en LINE y (SENSITIVE CONTENTS HIDDEN) por lo que animar a la gente a descargar estas aplicaciones antes de llegar a fin de que la comunicación es fácil desde el principio. Nuestro objetivo es hacer que nuestros huéspedes se queden tan fantástico como sea posible, ofreciendo toda nuestra ayuda, conocimiento y sabiduría, a menudo va con usted para la cena y mostrando los sitios locales si eso es lo que quiere de nosotros. De la misma manera, estamos lejos de ser intrusivos pero siempre disponibles. El agua y la electricidad no están incluidos para animar a los huéspedes a ahorrar en el consumo de aire acondicionado. Es muy barato y el medidor se lee en el check in y el check out. Esto no es nada de qué preocuparse, pero sólo hacemos esto como mucha gente va a dejar el apartamento con todos los aircons dejado en la mañana y volver por la noche por lo que es sólo para animar a la gente a ser un poco más responsable para que podamos pasar los costos baratos A los clientes en el futuro También ofrecemos traslados al aeropuerto pero pedimos que los clientes paguen al conductor directamente. La tarifa es de 1.000 baht para un minibús (12 personas) y 800 baht para un lujo 4X4 que se adapte a 7 personas. Tenemos asientos de seguridad para bebés disponibles por favor solicite esto si es necesario. No hay ningún cargo para un asiento de seguridad para bebés en las transferencias del aeropuerto, pero si los clientes necesitan esto en los conductores privados, tenemos que alquilarlos y se cobran a 150 baht por día. No fumar dentro pero mucho espacio fuera. Por favor venga, tenga un gran tiempo y respete por supuesto las reglas y las culturas del Reino de Tailandia. Tenga en cuenta: Tenemos muchas consultas y reservas de personas que buscan la "experiencia de Patong" No tengo propiedades en Patong y puedo decir que Bang Tao no ofrece lo mismo que Patong. Patong es un lugar turístico más, lleno de bares, centros comerciales y es muy (URL HIDDEN) es el lugar para los jóvenes clubbing y no ofrece nada cerca de lo Bang Tao y los pueblos locales ofrecen. Considere cuidadosamente lo que desea de sus vacaciones. Si quieres el estilo de vida hedonista de una estrella de rock n roll entonces Patong es tu lugar, si quieres la verdadera experiencia de la cultura tailandesa, la gente, la comida, los pueblos, relajantes hermosas playas entonces Bang Tao es tu lugar. Bliss beach club donde nuestro amigo es el gerente y se encargará de usted es de unos 500 metros de la villa y podemos obtener buenos descuentos en muchos restaurantes y facil
Please note: Before a reservation is made airbnb will block out any attempt by either party to try to communicate by exchanging email, phone number etc. If you attempt to do this you will see in your message "CONTENT HIDDEN/BLOCKED"
PLEASE READ ALL the information provided below before asking me any questions as you will find that some of your questions are answered in what we tell you here. Thanks.
This beautiful 3 bedroom villa is totally private to all guests and comes in a huge grounds very suitable for children and large groups for entertaining and playing. It is just 100 meters from the amazing (some say the finest) Bang Tao beach.
The villa is set in a beautiful peaceful setting with views of the surrounding mountains and lush tropical garden. It comes with parkings space for 5 cars and 6 sun loungers, outdoor entertainment area and BBQ. It is just a few minutes' walk from mini markets, bars, massage shops, fish spa's, conventional spa's, art galleries, restaurants and much more.
The closest restaurant is just outside the electric gate of the villa and bars etc 30 meters away. There are in excess of 30 bars and restaurants in the village and more on the beach, serving Halal food, Western Food, Indian food, Thai Food and much more.
Car rent, motorbike and bicycle rent, tours and trips are all arranged through us and as local people; we pride ourselves on being totally flexible if there are additional needs and requirements.
Car rental fees start from 1,000 baht per day depending on the model of the car and season. Cars include Toyota Yaris, Toyota Vios, Chevrolet 7 seater, BMW X4, Audi TT, Mercedes E Class and more. These all come with full insurance.

A private driver for up to 12 people in a minibus can be arrange for 3,000 baht for a full days sight seeing of 8 hours. Please inform us beforehand if you require any of these services as we will need to make a reservation for you.

To us you are our friend's not just customers and we'll do our best to make your holiday as special as we can with our help, without being intrusive.
Our years of experience and of hosting more than 3,000 customers have taught us many things. Most importantly we understand that no 2 sets of guests and families are the same as the last, each one is treated as a new friend with new needs and desires for their trip.
Therefore, we ask when making an enquiry we ask that you do a bit of research into what it is you want to do and see in Phuket and we will sort it out for you. We can plan days and activities for you without any hassle at all but we need a general idea of what you want from your experience in Phuket. For example, a family with small kids is not going to want an ATV and white water rafting experience, whilst similarly a group of young graduates is probably not going to want a day out at a children's adventure park.
Popular activities include
1)Island trips by boat – Phi Phi, Maya Bay, Coral Island, Similan Islands, Khai Islands, James Bond Island
2)Night and day fishing trips
3)Adventure activities like ATV riding and White water rafting
4)Elephant Tracking in the jungle
5)Trips to monkey temples
6)Trips to traditional Thai temples
7)Private driver days around Phuket – includes Canoeing, elephant tracking, trips to the waterfalls, temple visits, cooking class, monkey show, snake show, Big Buddha etc.
8)Safari trips
9)Phuket Fantasea Show & Simon Cabaret show
10)Visits to Pearl factory
11)Phuket bird park
12)Phuket water Park
13)Phuket Zoo
14)Scuba diving courses
15)Jet skiing, Para sailing. Wake boarding and other water and beach water sports/activities
We can orgnise all of the above for you either before or when you arrive and get significant discounts off the brochure prices from our sister company.
The beach is just 100 meters away from the villa so the location is great. There are small convenience stores within walking distance and tuk tuk's that charge only 150 baht can take you to the big shopping centre within 5 minutes if you need to visit a supermarket or Bang Tao's excellent afternoon and night markets.
Our maids come to clean every 3 days if required and will take away your laundry to our off site laundry and wash your clothes, return them on the next day (if you leave them in a bag in the morning) and all of this is done for free!!! (This is for properties where there is no washing machine installed)
Am is the villa manager and along with her brother Soup and our staff, they will take good care of you right from the check in stage. I (Lee) live locally too and am very often around for customers to make sure everything is ok and you are happy. If there are any problems, there is always somebody to hand to assist you, normally within a few minutes.
We are always available for our guests. Right from the moment you land or arrive in Phuket we have our driver collect you from the airport so there are no complications or worries on arrival. Our drivers are available 24 hours a day so no matter what time you arrive, we have somebody to collect you and check you in.
Once you have given us your flight details we will take care of the rest for you.
You will be told what the drivers name is and he will be holding a sign board outside the main airport terminal with the name IN ENGLISH (if
your airbnb name is written in another language please supply us with your ENGLISH Spelling of the name to make it easier for us to write the sign).
You will be given contact details in the case of emergency. The driver will then take you to the accommodation where a member of my staff will be there to meet you. You will then be given the check in paperwork by the check in staff which will ask a few important things such as when do you require maid service, what time do you wish to check out, any other requirements and you will also be given the meter reading for the utilities. On check out you will be given another reading by the check-out staff.
If you arrive late at night or after a very long flight, we understand that you may be tired and need to rest. This is of course fine and we just say that we will come and see you the following day to ensure you fully understand things and are ok.
There will then be the opportunity to talk to probably Am about any activities or excursions you want to arrange – we can come up with a plan for you for your holiday and get the ball rolling with organizing it all for you.
We are local people so are always on call. We are not available after 10pm - 8am but always available by telephone during in between hours and will always get back to you within the day. We live within 5 minutes of all of our villas and apartments so if in the area can generally come within a matter of minutes if an emergency arises.
We very much encourage people to use telephone apps so that the costs of calling etc. can be eradicated from both your bills and our bills. Am is very keen on LINE and (SENSITIVE CONTENTS HIDDEN) so we would encourage people to download these apps before they arrive so that communication is easy from the start.
We aim to make our guests stay as fantastic as possible, offering all our help, knowledge and wisdom, often going with you for dinner and showing you the local sites if that's what you want from us. By the same token we are far from intrusive but always available.

Water and electricity is not included to encourage guests to save on aircon consumption. It is very cheap and the meter is read on check in and check out. This is nothing to worry about but we just do this as many people will leave the apartment with all aircons left on in the morning and return at night so it is just to encourage people to be a bit more responsible so we can pass the cheap costs on to the customers in the future
We also provide airport transfers but ask that guests pay the driver directly. The fee is 1,000 baht for a minibus (12 people) and 800 baht for a luxury 4X4 that fits 7 people. We have baby safety seats available so please request this if needed. There is no charge for a baby safety seat on airport transfers but if customers need this on private drivers, we have to rent them in and they are charged at 150 baht per day.
No smoking inside but plenty of space outside. Please just come, have a great time and respect of course the rules and cultures of the Kingdom of Thailand.
Please note: We get many enquiries and bookings from people looking for the "Patong experience"
I do not have properties in Patong and can say that Bang Tao does not offer the same as Patong. Patong is an over run tourist spot, full of bars, shopping outlets and is very (URL HIDDEN) is the place for clubbing youngsters and does not offer anything close to what Bang Tao and local villages offer. Please carefully consider what you want from your holiday. If you want the hedonistic lifestyle of a rock n roll star then Patong is your place, if you want the real experience of Thai culture, people, food, villages, relaxing beautiful beaches then Bang Tao is your place.
Bliss beach club where our friend is the manager and will take good care of you is about 500 meters from the villa and we can get good discounts on many restaurants and facilities in the local area because we are local people.
Getting around is very easy. We can organize pretty much anything from a simple motorbike, car or even a private driver. Taxis are available at very short notice also.

Other things to note.
1) Please pay special attention to our points about guests paying for utilities.
2) The listing will tell you the maximum allowed people in the villa or apartment. Please do not try to cheat us into booking for the maximum amount and then turning up with more than what you tell us. We simply won't allow the booking to proceed. Please be honest with us about numbers etc.
3) Be very conscious that although we can be flexible or check in and check out times, busy times of the year we may not always be able to do this. If you are arriving on a very early morning flight, for your own comfort and relaxation we would strongly urge you to book for the night that you are arriving so you can arrive at the accommodation for early check in, relax, sleep and start your holiday feeling nice and refreshed.
4) Driving licenses are not required in Thailand to rent vehicles. Passports are enough to secure rental vehicles.
5) Visas can be gained on arrival into Phuket. If you are staying for less than 45 days in Thailand a visa on arrival is perfectly acceptable. This is free of charge.
6) International travellers. Please note, when booking flights ALL budget airlines go from Don Mueang International Airport in Bangkok. You will probably arrive at Suvarnabhumi International airport.
DM airport is about 1 hours' drive away and at the end of a long flight is a really tiring and tedious experience, especially if travelling with kids. My recommendation would be to go direct to Thai Airways website and book Thai air. They DO NOT charge for baggage up to 30kg, depart from Suvarnabhumi, have an inflight nice meal and cut out all the hassle of changing airports etc. They are a tiny bit more expensive but believe me, for somebody who travels long haul several times a year between Europe and Phuket, it is very much worth the extra few $s to save the pain.
7) Once you have got your flight details please send us all information and total numbers. If you are part of a large group and travelling separately please send the group leaders name for the airport signboard. Your driver will have a sign outside the main building with your name clearly visible.
8) All towels (including beach) and bed linen is provided by us. Please bring your own insect repellants and sun tab lotions. We do not provide any lotions such as these.
9) Baby chairs and cots can be provided for families with young children at no additional cost. Please inform us if these are required.
10) If you require things at the villa for early morning / late night check in such as beer, breakfast material etc, please inform us when you tell us your flight details. Our staff will happily get these at the apartment / villa for you so you can settle in and not have to worry about shopping trips. Please note there is a 300 baht (plus of course the groceries bill) fee for this service.
11) Please pay all taxi drivers their fares directly and not to any other staff member in cash.
12) Each villa or apartment has a staff tip box. Our staff do a fantastic job for above average salaries but of course often have big families to feed and school so are always grateful for any tips. This also makes them feel more valued and comfortable that they feel they have done a good job for you.
We very much welcome your questions should you feel there is something I have maybe missed in this listing.
Address: Baan Mai Sak - Moo 3 - Bang Tao Beach - Cherngtalay - Thalang District - 83110 Phuket
My LINE APP ID is woodism if you want to talk to me about anything. If you need to contact me privately this is the only way you can really do it before a booking is made. For all enquiries about the properties though, please just keep to the airbnb website.
---
---
Dormitorio 1
1 cama tamaño king, 1 sofá cama
Dormitorio 2
1 cama tamaño king, 1 sofá cama
Dormitorio 3
2 camas individuales, 1 sofá cama
---
La hora de llegada es flexible
Salida antes de las 12:00
---
Hi, I live in Phuket and am originally from the UK. I have lived in Phuket (always in the same village Bang Tao) for 11 years now after originally working as an investment adviser in the city of London. At 29 years old i just thought 'what on earth am i doing this for....go…
Índice de respuesta:
100%
Tiempo de respuesta:
en menos de una hora
Descubre otras opciones en Phuket y sus alrededores
Más alojamientos en Phuket: