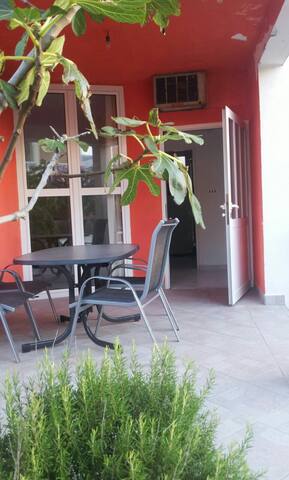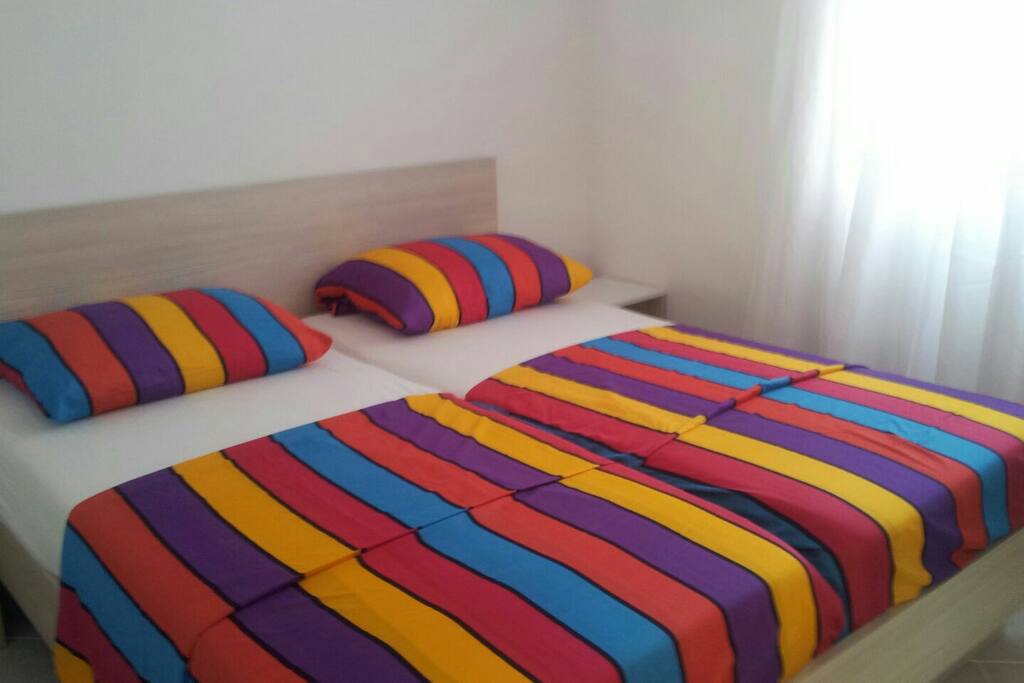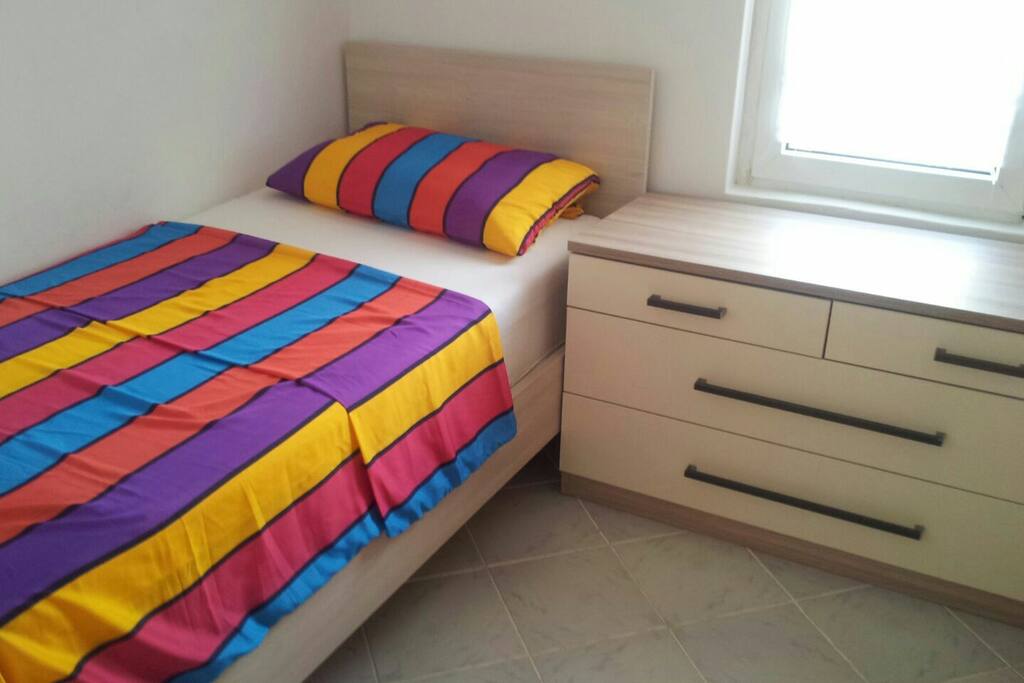 Acerca de este anuncio
The apartment is newly furnished in 2016 and located only 250m from the beach, (literally a 3 minute walk).
El lugar
A lovely 2 bed apartment (50 m2, non-smoker, one double and two single beds) newly furnished in 2016 with a kitchen, bathroom and internal dining area with a spacious, private terrace for dining al fresco. Accommodates 4 persons easily (with sleeping capacity for an additional adult or 1-2 children in the dining room area, if required). Comes with private parking and a barbecue available to guests upon request. Smoking in the apartment is prohibited.
The apartment is located only 250m from the beach, (literally a 3 minute walk) enabling guests to throw a towel over the shoulder and take a dip in the sea at any time. The stone beach is great for families with small children and non-swimmers because the water is very shallow but at the same time it provides plenty of opportunity for swimmers as well. The promenade offers two restaurants/cafeterias for all day dining.
The island is lively with lots going on all summer long which you can explore by foot, bicycle, car or quad bike.
The island Vir has an area of 22 km2, it lies north of the city of Zadar. It is connected to the mainland via a road bridge (URL HIDDEN)
Atención a los huéspedes
The apartment owners will be on hand to answer any queries and can speak Croatian, German and English.
Otros aspectos destacables
For the house rules please see:
(URL HIDDEN)
---
Plaza de estacionamiento en el establecimiento
---
Dormitorio 1
1 cama de matrimonio
Dormitorio 2
2 camas individuales
---
No se admiten fiestas o eventos
RED PRIVATNOG SMJEŠTAJA -  HOUSE RULES IN PRIVATE ACCOMMODATION-
HAUSORDNUNG IN PRIVATUNTERKÜNFTEN  -
REGOLAMENTO DELA CASA IN ALLOGGIO PRIVATO
A MAGÁNSZÁLLÁS HÁZIRENDJE - DOMOVNÍ ŘÁD V PRIVÁTNÍCH UBYTOVACÍCH KAPACITÁCH
   KUĆNI RED PRIVATNOG SMJEŠTAJA
Kako bismo Vam osigurali ugodan boravak i otklonili moguće nesporazume molimo da se upoznate s kućnim redom. Prilikom potvrde rezervacije podrazumijeva se da ste s njime upoznati i suglasni, te da ćete ga se u potpunosti pridržavati. Nepridržavanje pravilnika kućnog reda može rezultirati otkazom rezervacije, te naplatom pune cijene boravka bez obzira na raniji prisilni odlazak.
Kod dolaska u stan gosti predaju domaćinu osobne dokumente za sve osobe zbog prijave (putovnice ili osobne iskaznice, voucher) i plaćaju ostatak svote za smještaj. Osobni dokumenti Vam moraju biti vraćeni unutar 24 sata.Domaćin Vam stoji na usluzi tijekom Vašeg boravka za sve informacije i pomoć koju trebate. Predlažemo Vam da primjedbe na kvalitetu smještaja odmah javite domaćinu.Gosti su odgovorni za red i čistoću smještaja, te njih su obavezni održavati. Domaćin nije dužan čistiti i spremati za vrijeme boravka gostiju, ni odnositi smeće iz smještajnih jedinica.Domaćin će Vam promijeniti posteljinu svakih 9 dana. Domaćin nema obavezu dati gostima ručnike, kuhinjske krpe, toaletni papir, higijenske potrepštine, sredstva za čišćenje i pranje suđa, ležaljke ni suncobrani.Domaćin nije obavezan niti odgovoran za organiziranje slobodnog vremena i animaciju gosta.Gosti su dužni sami brinuti se za svoje stvari i dragocjenosti ostavljene u smještajnim jedinicama i vlasnik ne odgovara za eventualni nestanak istih. Kada izlazite vani obavezno zaključavajte vrata i prozore.Domaćin nema pravo u odsutnosti gosta ulaziti u iznajmljenu smještajnu jedinicu. Iznimku predstavljaju osobite okolnosti u kojim je neophodno ući unutra radi sprječavanja nastanka moguće štete ili opasnosti. O svom ulasku vlasnik je dužan izvijestiti goste u prvom slijedećem kontaktu. U slučaju opravdane sumnje domaćina da je bila napravljena šteta, gosti su obavezni omogućiti mu ulazak u smještajnu jedinicu radi provjere situacije.Kućne ljubimce mogu gosti uvesti u smještajnu jedinicu samo s dopuštenjem domaćina i agencije. Dovođenje kućnih ljubimaca bez prethodne najave u rezervaciji nije dopušteno, te vlasnik stana i agencija imaju puno pravo otkaza smještaja. Gost je obavezan paziti da kućni ljubimac ne skače po namještaju i ne nanosi štetu, te odmah očistiti njegove izmetke u apartmanu, dvorištu, u kući, njezinoj neposrednoj blizini i na plaži. Ako je prethodno bilo dogovoreno da će se kućni ljubimac držati vani, onda je strogo zabranjeno držanje kućnog ljubimca u bukiranom smještaju.Nije dopušteno unositi u stan oružje, lako zapaljive i eksplozivne tvari i tvari s jakim ili neugodnim mirisom te bilo koje sprave za pripremu hrane (rešo i sl.) ili druge električne aparate (ventilator i sl.) bez dozvole vlasnika.Molimo Vas da čuvate iznajmljenu smještajnu jedinicu i odnosite se obzirno prema namještaju i opremi u interijeru i eksterijeru kuće. Nije dozvoljeno premještati namještaj između prostorija, te iznositi unutarnju opremu u drugu smještajnu jedinicu, izvan kuće ili na plažu (stolice iz kuhinje na terasu, pribor za pripremu i konzumaciju hrane u drugu smještajnu jedinicu, ručnike ili deke iz apartmana na plažu, ležaljke od bazena na plažu i sl.).Korištenje opreme i uređaja koji nisu sastavni dio ponude smještajne jedinice (roštilj, garaža i sl.) dozvoljeno je samo uz suglasnost domaćina.Obavezno zatvorite suncobrane, isključite rasvjetu, električna trošila, plinske instalacije i zatvorite slavine kad izlazite iz smještajne jedinice. Posebice nemojte nepotrebno ostavljati upaljen klima uređaj dok niste unutra, niti ga koristiti uz otvorene prozore i vrata. Zabranjeno je hlađenje hrane i napitka tekućom vodom. Također je zabranjeno bacati otpatke u zahodske školjke, umivaonike i druga mjesta koja nisu za to predviđena, odnosno na dvorištu i u neposrednoj blizini kuće.U interijer i eksterijer smještajne jedinice je strogo zabranjeno dovođenje osoba koje nisu korisnici tog smještaja. Ukoliko budu pronađene osobe koje nisu registrirane ili nisu najavljene prilikom rezervacije, domaćin i agencija imaju puno pravo otkaza smještaja svim gostima. Gosti iz drugih stanova u kući ili iz drugih kuća koje nisu u vlasništvu domaćina nemaju pravo boravka u ovom stanu bez njegovog izričitog dopuštenja.Gost koji namjerno ili nehotice počini kvar ili štetu na imovini morat će domaćinu nadoknaditi puni iznos nastale štete. Vlasnik objekta može tražiti od gosta depozit za svaku bukiranu smještajnu jedinicu. Gost uplaćuje depozit na dan dolaska u bukirani smještaj. Depozit se vraća gostu u cijelosti na dan odlaska ukoliko ostavlja smještajnu jedinicu u stanju istom tome, u kojem ju je zatekao na dan dolaska. Ukoliko vlasnik traži depozit, gost će biti o tome informiran prilikom slanja predračuna za rezervaciju.Ukoliko gost na dan dolaska dolazi u bukirani smještaj nakon 19:00 sati, obavezan je prethodno nazvati vlasnika objekta ili agenciju i najaviti kasni dolazak, kako bi se i(SENSITIVE CONTENTS HIDDEN)egla situacija da domaćin, uz pretpostavku da gosti više neće doći, primi u smještaj druge (URL HIDDEN) dan odlaska obavezni ste napustiti smještajnu jedinicu do 10:00 sati kako bi bila očišćena i pripremljena za druge goste koji dolaze nakon Vas i imaju pravo ulaska od 14.00. Objekt koji ste unajmili dužni ste ostaviti u stanju u kakvom ste ga zatekli na dan dolaska - urednom i neoštećenom.Od 23:00 sati do 8:00 sati je vrijeme noćnog mira, a od 14:00 sati do 17:00 sati je vrijeme popodnevnog mira. Zbog toga nemojte smetati domaćinu i njegovim susjedima, kao ni drugim gostima u kući.Gostu koji se ne pridržava kućnog reda i remeti mir može se otkazati smještaj. U slučaju otkaza smještaja od strane domaćina ili agencije zbog povrede pravila kućnog reda gostu se ne vraća uplaćen iznos, bez obzira na skraćen boravak.
Početkom korištenja smještaja podrazumijeva se da je gost upoznat s kućnim redom i da pristaje na obaveze i uvjete ovdje istaknute. Svi sporovi koji se ne mogu interno riješiti s domaćinom ili agencijom bit će riješeni intervencijom policije ili suda u Zadru. Sve reklamacije uzimaju se u obzir samo ako su prijavljene za vrijeme boravka. Naknadne reklamacije ne uvažavamo.
   HOUSE RULES IN PRIVATE ACCOMMODATION
To make sure that you will have a pleasant stay and to prevent any misunderstanding, please read the house rules in private accommodation. When you confirm a reservation it is implied that you are familiar and agree with them, and that you will fully adhere to them. Violation of house rules can result in the cancellation of the reservation, and charging the full amount of the price of the accommodation regardless of the shorter stay.
On the day of arrival the guests have to give to the owners their identification documents (passport or ID) for the purpose of registration at the Tourist Board. The documents have to be returned to them within 24 hours. The guests have as well to give the voucher to the owners and pay them the last amount.The owners are available to the guests during their stay for any information and assistance they may need. In case of any complain about the quality of the accommodation we advise the guests to contact directly the owners.The guests are responsible for the cleanness of the apartment. The owners are not required to clean and tidy up, or to take out the garbage during the whole stay of the clients.The owners will change the bed linen every 9 days. The owners do not have the obligation to furnish any towel, kitchen cloth, toilet paper, cleaning products and detergent as well as deck chairs and parasol.The owners are neither obliged nor responsible to organize guests' free time or to entertain them.The guests are obliged to take care of their personal things and valuables left in the accommodation. The owners will not be responsible in case of any disappearance, we advise then the guests to always close the doors and windows when they go out.The owners do not have the right to enter in the rented accommodation during the absence of the guests, except to stop damages or a danger occurring in the accommodation. In this case they have to inform the guests about it as soon as they come back at the accommodation. If the owners have any reason to believe that house rules are violated, the guests have to let them enter in the accommodation in order to check the situation.Pets are allowed only with the permission of the owners and the agency. Bringing pets without prior announcement is not allowed, the owners and the agency have in this case the right to cancel the reservation. The guests are responsible for any damages caused by their pets, and have to clean the excrements left inside and outside the accommodation, as well as in the vicinity of the accommodation and on the beach. If it was agreed that the pets stay outside the accommodation the guests do not have the right to let them enter (URL HIDDEN) is not allowed to bring any weapon, inflammable or explosive substances and products with strong or unpleasant smell into the apartment. As well any cooking and electrical appliances are not allowed without the agreement of the owners.The guests are kindly asked to take care of the accommodation and its furniture situated inside and outside of it. The guests are not allowed to move the furniture or to transport it to another accommodation, outside or to the beach (the kitchen chairs to the terrace, cutlery to another accommodation unit, towels or blankets to the beach, deck chairs from the swimming pool to the beach…).The use of any equipment or appliance not included in the price of the accommodation (barbecue, garage…) is possible only on agreement of the owners.When the guests go out of the accommodation they have the obligation to close the parasols, switch off the lights and electrical appliances, close the gas and water. As well the guests are asked while they are outside not to leave the air-conditioning on if it is not necessary, and to close doors and windows while it is in use. It is not allowed to cool down food and drinks by leaving them under running water. It is forbidden to throw waste in the toilets or in any other place not predicted for this purpose like outside the house or in its (URL HIDDEN) is strictly forbidden that any person other that the guests stay inside or outside the accommodation. If any other person that the one declare at the moment of the reservation are present in the accommodation, the owners and the agency have the right to cancel the reservation of all the guests. Guests staying in any accommodation that does not belong to the owners to not have the right to enter in their accommodation without their agreement.Guests who intentionally or accidentally damage the property, will have to reimburse the owners the full amount of the occurred damage. The owners can ask the guests to leave a deposit on their day of arrival. The deposit will be refund to the guests in its totality on the day of departure only if they leave the accommodation in the same status as they found it. If the owners request a deposit, the guests will be informed about it when receiving the invoice.If the guests intend to arrive after 19:00 on the first day they have to inform the owners or the agency about it in order to avoid that the owners propose their accommodation to other guests, thinking that the first one gave up of the reservation.On the day of departure the guests have to leave the accommodation the latest at 10:00, in order that the owners have time to prepare it for the next guests arriving at 14:00. The guests have the obligation to leave the accommodation in the same condition as they found it, tidy and undamaged.The guests are requested not to disturb the peace of the owners and other customers from 14:00 to 17:00 and from 23:00 to 8:00.The owners and the agency can put an end to the reservation of the guests who do not respect house rules. In this case the guests will be charged for the entire amount of the reservation, regardless the shorter stay.
When starting to use the accommodation it is assumed that the guests are familiar with the house rules and that they agree with their conditions and obligations. Any problem that cannot be solved on the spot with the owners or the agency will involve the intervention of the police or of the tribunal of Zadar. Complains will be onsidered only if reported during the stay. Subsequent complains will not be considered.

  HAUSORDNUNG IN PRIVATUNTERKÜNFTEN
Um Ihnen einen angenehmen Aufenthalt zu ermöglichen und eventuelle Missverständnisse zu vermeiden, möchten wir Sie mit der Hausordnung bekanntmachen. Mit der Buchungsbestätigung wird davon augegangen, dass Sie mit der Hausordnung vertraut sind, diese akzeptieren und sich an sie halten werden. Das Nichtbeachten des Reglements kann zu einer Buchungskündigung führen. Ebenso wird der gesamte Buchungsbetrag eingefordert, ohne Rücksicht auf die zwingende, vorzeitige Abreise.
Bei der Ankunft in der Unterbringung ist der Gast verpflichtet, dem Hausherren seine persönlichen Dokumente (Reisepass, Personalausweis oder Voucher) zu überreichen, damit dieser die Anmeldung durchführen kann, und es muss der Restbetrag für die Unterkunft an des Hausherren bezahlt werden. Die persönlichen Dokumente müssen Ihnen innerhalb von 24 Stunden zurückgegeben werden.Der Hausherr steht Ihnen während Ihres Aufenthaltes für alle Informationen und sonstige Hilfe zur Verfügung. Wir empfehlen Ihnen, dass Sie Beschwerden über die Qualität der Unterbringung sofort dem Hausherren melden.Die Gäste sind verantwortlich für die Ordnung und Sauberkeit, sowie für den Erhalt dieser, in der gemieteten Unterkunft. Der Hausherr ist nicht dazu verpflichtet weder während des Aufenthaltes des Gastes die Unterbringung zu reinigen noch den Müll aus der gemieteten Unterbringung zu entsorgen.Der Hausherr wechselt die Bettwäsche alle 9 Tage. Der Hausherr ist nicht dazu verpflichtet dem Gast Handtücher, Geschirrtücher, Toilettenpapier, Hygieneartikel, Putzmittel, Liegen oder Sonnenschirme zur Verfügung zu stellen.Der Hausherr trägt weder die Verantwortung noch ist er verpflichtet die Gäste zu animieren oder deren Freizeit zu organisieren.Der Gast muss selber auf seine Wertsachen und anderen Besitz, die er in der Unterkunftseinheit aufbewahrt werden, achten, da der Hausherr für keine Verantwortung eventuelle Diebstähle übernimmt. Wenn Sie die Unterbringung verlassen, schlissen Sie unbedingt Türen und Fenster ab.Der Hausherr hat nicht das Recht während der Abwesenheit des Gastes die gemietete Unterbringungseinheit zu betreten. Eine Ausnahme sind außergewöhnliche Umstände, unter denen es unabdingbar ist, die Unterbringung zu betreten, um das Entstehen von möglichen Schäden und Gefahren zu vermeiden. Der Hausherr ist in so einem Fall verpflichtet den Gast sofort über das Betreten der gemieteten Unterbringungseinheit zu informieren. Falls der Hausherr berechtigte Zweifel hat, dass es in der Unterbringung zu Schäden gekommen ist, ist der Gast verpflichtet dem Hausherren den Zutritt zu ermöglichen, damit dieser die Situation in der Unterbringungseinheit überprüfen kann.Haustiere dürfen nur in die Unterbringungseinheit mitgebracht werden, wenn dies vorher vom Hausherren und der Agentur erlaubt worden ist. Das Mitbringen von Haustieren ohne vorherige Ankündigung bei der Reservation ist nicht erlaubt, und der Hausherr und die Agentur haben das Recht die Unterbringungsmöglichkeit zu kündigen. Der Gast ist verpflichtet auf seine Haustiere aufzupassen, so dass diese nicht auf den Möbeln herumspringen oder einen Schaden verursachen. Des Weiteren muss der Gast im Appartement, Hof, im Haus, in der unmittelbaren Umgebung und am Strand die Fäkalien des Haustieres sofort entsorgen. Wenn von vorneherein abgesprochen war, dass die Haustiere draußen gehalten werden, ist es strengstens verboten, das Haustier in der gemieteten Unterbringung zu halten.Ohne vorherige Erlaubnis des Hausherren ist es nicht gestattet folgende Gegenstände in die gemietete Unterkunft mitzunehmen: Waffen, leicht entflammbare Stoffe und Explosivstoffe, Stoffe mit starkem oder unangenehmen Geruch sowie Küchengeräte jeglicher Art (Kochplatte u.ä.) oder andere elektrische Geräte (Ventilator u.ä.)Wir bitten Sie, die gemietete Unterkunftseinheit, das Mobiliar, sowie die Ausstattung im Inneren und Äußeren des Hauses mit Sorgfalt zu behandeln. Es ist nicht gestattet, das Mobiliar innerhalb der Räume zu verschieben, sowie die Innenausstattung von einer Unterbringungseinheit zur anderen Unterbringungseinheit, aus dem Haus oder an den Strand zu transportieren (Stühle aus der Küche auf die Terrasse, Geschirr zur Vorbereitung und Konsumation von Lebensmitteln von der einen zur anderen Unterbringungseinheit zu bringen, Handtücher und Decken aus dem Appartement an den Strand, Liegen vom Swimmingpool an den Strand u. ä.).Die Nutzung von Ausstattung und Geräten, die kein Teil des Angebotes der Unterbringungseinheit sind (Grill, Garagen,…), können nur mit Erlaubnis des Hausherren genutzt werden.Beim Verlassen der Unterbringungseinheit müssen Sie folgende Dinge beachten: Sonnenschirme schließen, alle Lichter ausschalten, alle elektrischen Geräte ausschalten, alle Gasinstallationen und Wasserhähne schließen. Insbesondere achten Sie darauf, dass die Klimaanlage nicht läuft, wenn Sie sich nicht in der Unterbringungseinheit befinden, oder Sie sie benutzen wenn Fenster oder Türen offen sind. Es ist verboten Lebensmittel und Getränke unter Fließend Wasser zu kühlen. Ebenfalls ist es verboten Müll in der Toilette, im Waschbecken oder anderen nicht dafür vorgesehenen Orten zu entsorgen, dies gilt auch für den Hof und für die unmittelbare Umgebung des (URL HIDDEN) ist strengstens verboten Personen bzw. Personen, die nicht reserviert haben, in die Unterbringungseinheit selbst oder auf das Grundstück des Objektes, einzuladen. Sollten Personen, die nicht registriert oder während der Reservation angemeldet worden sind, aufgefunden werden, hat der Hausherr und die Agentur das Recht allen Gästen die Unterkunft zu kündigen. Gäste aus anderen Unterbringungseinheiten in dem Haus oder aus anderen Häusern, die nicht im Besitz des Hausherren sind, dürfen ohne Erlaubnis des Hausherren sich nicht in den Unterkunftseinheiten aufhalten.Bei fahrlässigen oder unabsichtlichen Schäden durch den Gast muss dieser dem Hausherren den Schaden vollständig begleichen. Der Besitzer kann für jede reservierte Unterbringungseinheit eine Kaution verlangen. Der Gast hinterlegt die Kaution am Tage seiner Ankunft in der reservierten Unterbringung. Die Kaution wird am Abfahrtstag zurückgegeben, falls die Unterbringungseinheit in dem Zustand abgegeben wird, wie man Sie am Ankunftstage entgegengenommen hat. Sofern der Besitzer der Unterbringung eine Kaution verlangt, wird der Gast darüber mit dem Erhalt des Kostenvoranschlages für die Reservation informiert.Falls der Gast am Tage seiner Ankunft die Unterbringung nicht vor 19:00 Uhr erreichen kann, muss der Hausherr oder die Agentur über die Verspätung informiert werden, so dass die Situation vermieden wird, dass der Hausherr annimmt, dass der Gast die Unterbringung nicht annehmen möchte, und er diese Unterkunft (URL HIDDEN) Abreisetag muss die Unterkunftseinheit vor 10:00 Uhr verlassen werden, damit diese gereinigt und für den nächsten Gast vorbereitet werden kann, da dieser das Recht hat ab 14:00 Uhr die Unterkunftseinheit in Empfang zu nehmen. Sie sind verpflichtet die gemieteten Objekte in dem Zustand zu hinterlassen, in dem Sie sie am Tage Ihrer Ankunft vorgefunden haben – ordentlich und unversehrt.Ab 23.00 bis 8.00 Uhr ist die Nachtruhezeit, von 14.00 bis 17.00 Uhr ist Mittagsruhe. Daher bitten wir Sie während dieser Zeit die anderen Gäste und den Hausherren nicht zu stören.Gästen, die sich nicht an die Hausordnung halten und die Hausruhe stören, kann die Unterkunft gekündigt werden. Kündigt der Hausherr oder die Agentur dem Gast die Unterbringung, weil der Gast sich nicht an die Hausordnung gehalten hat, wird dem Gast der eingezahlte Betrag ohne Berücksichtigung auf den verkürzten Aufenthalt nicht erstattet.
Es wird davon ausgegangen, dass mit dem Beginn der Nutzung der Unterbringungseinheit dem Gast die Hausordnung bekannt ist und die hier aufgeführten Pflichten und Bedingungen akzeptiert. Alle Streitfälle, die nicht intern mit dem Hausherren oder der Agentur gelöst werden können, werden durch eine Intervention der Polizei oder des Gerichtes in Zadar gelöst.Reklamationen werden nur dann bearbeitet, wenn sie während des Aufenthaltes des Gastes in der Unterbringungseinheit erfolgen. Nachträgliche Reklamationen werden nicht berücksichtigt.
   REGOLAMENTO DELLA CASA IN ALLOGGIO PRIVATO
Con l'intenzione di ofrirVi una buona permanenza e di evitare possibili equivoci, Vi invitiamo a leggere e prendere conoscienza del regolamento della casa in alloggio privato. Durante la conferma della prenotazione é sottinteso che siete a conoscienza e che concordiate con il regolamento e che lo rispetterete. Non rispettare il regolamento puó provocare la revoca dell' ospitalitá o della prenotazione con il pagamento del completo ammontare della prenotazione nonostante la permanenza abbreviata.
All' arrivo negli alloggi, gli ospiti consegnano i documenti di identificazione di tutte le persone al padrone di casa o in agenzia turistica per la procedura di registrazione dati dove saldano anche il conto dell' alloggio. I documenti verranno ristituiti entro le 24 ore dall' (URL HIDDEN) padrone di casa é a Vs. disposizione durante tutta la Vs. permanenza per tutte le informazioni e aiuti necessari. Consigliamo di notificare subito eventuali reclamazioni o richieste al padrone.Gli ospiti devono soli tener conto della pulizia dell' alloggio (per le stanze con bagno, su richiesta dell' ospite puó il padrone di casa incaricarsi di questo). Il padrone di casa non ha il dovere di fare le pulizie degli appartamenti ne di portare la immondizia nel (URL HIDDEN) padrone di casa ha il compito di cambiare la biancheria letto ogni 9 giorni, o su richiesta degli ospiti di consegnare la biancheria cosí che gli ospiti da solli effettuino il cambio. La carta igienica é prevista solo all' arrivo. Essa, come anche gli asciugamani, i tovaglioli da cucina, prodotti igienici o sanitari si possono avere solo su richiesta ma senza l'obbligo. Lo stesso vale per le sdraie per prendere il sole, ombreloni o altri requisiti da spiaggiaIl padrone di casa non ha nessun obbligo di intrattenere gli ospiti ne di organizare il loro tempo liberoGli ospiti hanno il dovere di tener conto dei propri oggetti, preziosi o valori lasciati negli alloggi. Il proprietario non ha responsabilitá di essi. All' uscita bisogna sempre chiudere le finestre e le porte con la serratura/chiaveIl padrone di casa non deve entrare negli alloggi privati senza la presenza degli ospiti stessi. In eccezzione di casi di forza maggiore, per evitare danni per la casa o pericoli per le persone. Di questo, il padrone di casa ha il dovere di avvertire gli ospiti al primo loro incontro. Al sospetto giustificato di possibili danni negli alloggi, gli ospiti devono dare la possibilitá al padrone di casa di verificare la situazione.Animali da casa (cani o gatti) sono ammessi solo con il consenso dei padroni di casa e dalla agenzia turistica. Portare animali da casa senza precedente richiesta nella prenotazione o senza precedente ammissione non é permesso. In tal caso il padrone di casa o la agenzia puo disdire la prenotazione. 
L' ospite ha il dovere di tener conto che l'animale non facia danno, che non salti per i mobili. Altretanto ha il dovere di pulire gli escrementi negli alloggi, nella casa, nel cortile e ovunque dove essi vanno fatti. Se durante la prenotazione era stabilito che gli animali domestici sarano tenuti fuori casa, non é concesso tenerli poi negli alloggi.Non é concesso tenere negli alloggi armi, sostanze e prodotti facilmente infiammabili, sostanze esplosive o con forte odore sgradevole. Senza il consenso del padrone di casa lo stesso vale per prodotti elettrici per la preparazione di cibo (fornelli, resistenze scaldaacqua o simili), ventilatori etc.Preghiamo i gentili ospiti di aver riguardo dei alloggi, sia dei interni che dei esterni. Non é permesso trasferire mobili da un spazio all' altro, di trasferire mobili o altri oggetti tra un alloggio in un' altro, fuori casa o in spiaggia. Lo stesso vale per le coperte, asciugamani e simili i quali non si devono esportare dall' alloggio o portare in spiaggia.Attrezzi e altre possibilitá le quali non sono previsti dalla prenotazione (grill, uso del garage o altro) vanno utilizzati solo con il consenso del padrone di casaUscendo dagli alloggi sempre vanno chiusi gli ombrelloni, la illuminazione, i fornelli e altri oggetti elettrici, i rubinetti dell' acqua o del gas. Specialmente non lasciare acceso il condizionatore d'aria senza la Vs. presenza o utilizzare lo stesso con porte e finestre aperte. Non é permesso raffreddare cibo e bevande con acqua corrente (lasciare che il rubinetto rimanga aperto sopra i cibi o sopra le bevande per raffreddarle). Altretanto non é permesso gettare rifiuti, stracci o assorbenti nel watter, nel lavandino o nei posti non previsti per questo (nel cortile o esterni inclusi)Negli alloggi non e permesso ricevere persone non registrate e persone che non sono utenti dell' alloggio. In caso di ritrovamento di persone non registrate o persone non previste dalla prenotazione, il padrone di casa o la agenzia turistica puó revocare la prenotazione a tutte le persone dell' alloggio (della prenotazione). Ospiti di altri alloggi i quali non sono in proprietá dello stesso padrone di casa posono usare le stanze o gli appartamenti solo con il consenso del padrone di casaL'ospite il quale per neglizenza, con intenzione o comunque provoca danni in casa o cortile dovra ripagare al padrone di casa il valore completo del danno. Il padrone di casa, se ritiene necessario puó richiedere dal ospite al suo arrivo un deposito ai sensi di danni eventuali causati. Il deposito per intero verrá tornato all' ospite prima della partenza se gli alloggi sarano restituiti come ritrovati, senza danni. Il deposito puó essere richiesto anche durante la effettuazione della prenotazioneSe per motivi vari, gli ospiti dovessero arrivare negli alloggi dopo le ore 19:00, si prega di avvisare il padrone di casa o la agenzia turistica dell' arrivo con ritardo in modo di evitare che il padrone di casa, pensando che gli ospiti non arrivassero piú, affitti gli stessi alloggi ad altri ospitiAl giorno di partenza si possono usare gli alloggi fino le ore 10:00 in modo che essi si possono poi pulire e sistemare in tempo per gli altri ospiti che devono arrivare. L'alloggio affittato deve essere lasciato come trovato, senza danniDalle ore 23:00 alle ore 8:00 é in vigore il silenzio per il riposo notturno e dalle 14:00 alle 17:00 é in vigore il riposo pomeridiano. Per questo motivo si prega di non disturbare altri ospiti e altre persone in casaL' ospitalitá puó essere revocata agli ospiti ai quali non si attengono al regolamento della casa e fano chiasso e fracasso durante il riposo notturno. In tal caso, anche se la permanenza viene abbreviata, la differenza dell' ammontare per l'affitto non viene restituita
Con la conferma della prenotazione e l'inizio della permanenza negli alloggi si sottintende che gli ospiti sono a conoscienza del regolamento e che concordino quanto qui riportato.
Tutte le contese non risolvibili internamente con il padrone di casa o con la agenzia turistica verranno risolte con l'intervento della polizia ed il tribunale di Zadar – Parenzo. Tutte le reclamazioni vengono prese in considerazione se riportate durante la permanenza. Successive reclamazioni non verranno accettate.
   A MAGÁNSZÁLLÁS HÁZIRENDJE
Hogy biztosítsuk az Ön kellemes nyaralását és elkerüljük az esetleges félreértéseket, szeretnénk ha megismerkedne házirendünkkel. A foglalás igazolásánal feltételezhető, hogy Ön ismeri és elfogadja ezt a házirendet, valamint hogy be is fogja tartani. A házirend be nem tartása a foglalás lemondását és az egész összeg megfizettetését vonja magával, tekintet nélkül a szállás korábbi elhagyására.
Érkezéskor a vendég köteles a tulajdonosnak átadni a bejelentés miatt a személyes dokumentumait (útlevél vagy személyi igazolvány, voucher) és a helyszínen fizetendő összeget. A személyes iratokat a tulajdonos köteles 24 órán belül visszaadni.A tulajdonos minden információval és esetleges segítséggel az Önök szolgálatára áll a tartózkodás alatt. Javasoljuk, hogy a szállás minőségére vonatkozó esetleges kifogásokat rögtön érkezéskor hozzák a tulajdonos tudomására, amennyiben ő nem hajlandó ezek orvosolására, értesítsék az utazási irodát is.A vendégek felelősek a szálláshely tisztaságáért, valamint ezt a tisztaságot kötelesek megőrizni. A tulajdonos nem köteles a vendég tartózkodása alatt a szállást takarítani, sem a szemétkosarat kiüríteni.A tulajdonos 9-naponta cseréli az ágyneműt, nem köteles azonban a vendégeknek kéztörlőt, törölközőt, konyhai törlőket, higiéniai kellékeket, toalettpapírt, tisztítószereket és mosogatószert, valamint napernyőket és napozóágyakat biztosítani.A tulajdonos nem felelős a vendégek szabadidejének megtervezéséért sem az animálásért.A vendég köteles vigyázni a személyes holmijára és értékeire, amennyiben a szálláshelyen hagyja őket, vállalja a felelősséget az esetleges eltűnésükért. Ez a felelősség a tulajdonost nem terheli. Amennyiben elhagyja az apartmant, kötelező bezárni az ajtót és az ablakokat.A tulajdonosnak nincs joga a vendég távollétében belépni annak szálláshelyére. Kivételt képeznek azok az esetek, melyekben elkerülhetetlen a tulajdonos belépése biztonsági okok vagy anyagi károk elkerülése miatt. Ebben az esetben köteles erről a vendéget a következő találkozásnál értesíteni. Amennyiben a tulajdonos gyanítja, hogy a berendezésben kár keletkezett, a vendég köteles beengedni a tulajdonost a szállásra, hogy ellenőrizze a helyzetet.Házi kedvenceket a vendégek csak a tulajdonos, illetve az iroda engedélyével vihetnek be a szálláshelyre. Házi kedvenc hozása előzetes jelentés nélkül a foglalásnál, nem engedélyezett, így a ház tulajdonosa, illetve az iroda teljes joggal lemondhatja a foglalást. A vendég köteles odafigyelni, hogy a házi kedvenc ne ugráljon az ágyon,és hogy ne tegyen kárt,és azonnal összeszedni az ürülékét az apartmanban, udvarban, házban, a közvetlen közelben és a strandon. Ha előzetesen meg volt beszélve, hogy a házi kedvenc kint lesz tartva, akkor szigorúan meg van tiltva a házi kedvenc tartása a lefoglalt szállásban.Nem engedélyezett a szállásra bevinni fegyvert, könnyen gyúlékony anyagot és robbanó anyagot, illetve olyan anyagot aminek erős és kellemetlen szaga van,valamint olyan készüléket ami étel elkészitésére szolgál (főzőlap és hasonló),vagy más elektromos készüléket (ventilátor és hasonló) a tulajdonos beleegyezése nélkül.Megkérjük, hogy őrizzék a bérelt szálláshelyet és hogy finoman viszonyuljanak a bútorhoz, a szállás belterében,és külterében található berendezéshez. Nem megengedett a bútort áthelyezni az egyik helységből a másikba, és kivinni a benti felszerelést másik elhelyezési egységbe,házon kívül,illetve a strandra(székeket a konyhából az erkélyre,felszerelést az étel elkészitésére és konzumálására a másik elhelyezési egységbe,törölközőt vagy takarót az apartmanból a strandra,nyugágyat a bazéntól a strandra,és hasonló).Azon a felszerelések és berendezések a használata melyek nem összetevő részei az elhelyezési egységnek (grill,garázs és hasonló) csak a tulaj beleeggyezésével vehetőek igénybe.Feltétlenül csukják be a napernyőket, oltsák el a világítást,elektromos fogyasztókat,gázberendezést és zárják el a csaphelyeket ha kimennek a szállás egységből!Különössen ne hagyják feleslegesen bekapcsolva a légkondicionálót amíg nem tartózkodnak bent a szállásban,illetve nyitott ablak,ajtó mellett.Tilos a víz,étel hűtése folyóvízzel.Tilos a szemetet a mellékhelységben található kagylóba,mosdóba és olyan helyekre amelyek nem erre a célra vannak kitalálva, illetve az udvarban és a ház közelében eldobni.A szálláshely belső és külső részébe szigorúan tilos beengedni olyan személyeket akik nem használói annak a szállásegységnek.Amennyiben a tulaj észrevesz olyan személyeket akik nincsenek regisztrálva vagy nincsenek bejelentve a foglalás során,akkor a tulajdonosnak és az irodának is teljes körű jogában áll lemondani a szállást minden vendég részére.Vendégek másik szállásokról a házban vagy másik házakból amelyek nem a tulaj tulajdonában vannak,nincs joguk tartózkodni ebben a szállásegységben az ő beleegyezése nélkül.Azok a vendégek akik szándékosan,vagy véletlenül kárt okoznak a vagyonban,meg kell,hogy a tulajdonosnak téritsék a kár teljes összegét.A tulajdonos követelhet letétet a vendégtől mindegyik foglalt szállásegységre.A vendég az érkezés napján fizeti a letétet a szállás helyen.A letét a vendégnek visszafizetődik a távozás napján amenyiben olyan állapotben hagyta el a foglalt szállás helyet amilyenben az érkezés napján volt.Amenyiben a tulajdonos letétet követel,akkor a vendég értesitve lesz arról az előszámla küldésékor.Amennyiben a vendég a foglalás kezdete napján érkezik a foglalt szállásra 19:00 óra után, akkor köteles az érkezés előtt felhívni a tulajdonost,vagy az irodát értesíteni a késésről, hogy elkerüljük azt a helyzetet,hogy a tulajdonos abban a hitben legyen,hogy a vendég nem fog megérkezni,és hogy más vendégnek kiadja a szállást.A távozás napján kötelesek a szálláshelyet elhagyni 10:00-ig,hogy ki lehessen takarítani és előkészíteni másik vendégeknek akik Önök után érkeznek és jogukban áll 14:00-tól elfoglalni a szállást.A szállást amelyet lefoglaltak,olyan állapotban kell elhagyniuk amilyenben az érkezésükkor volt – rendben és sértetlenül.23:00-tól 8:00-ig éjszakai csend ideje van,14:00-tól 17:00-ig pedig a délutáni csend ideje van.Ezért ne ártsanak a tulajdonosnak és a szomszédjainak,valamint más vendégeknek sem a házban.A tulajdonos és az utazási iroda jogában áll lemondani a szállást ha a vendég nem tartja be a házirendet és ha megbontja a békét.A szállás lemondása esetében a tulajdonos,illetve az iroda részéről a házirend megsértése miatt,a vendégnek nem fizetődik vissza semmi sem, lényegtelenül a röviditett időszakra.
A szállás igénybevétele előtt magától érthetődik,hogy a vendég ismeri a házirendet és hogy beleegyezik a követelményekbe és feltételekbe az itt leírtaknak.Minden vita amit nem lehet megbeszélni egymás közt a tulajdonossal vagy az irodával,azok a rendőrséggel vagy a Zadri birósággal lesznek lerendezve.Minden reklamációt akkor veszünk figyelembe ha azok a tartózkodás ideje alatt vennak jelentve.Utólagos reklamációt nem fogadunk el.

     DOMOVNÍ ŘÁD V PRIVÁTNÍCH UBYTOVACÍCH KAPACITÁCH
Abychom Vám mohli zabezpečit příjemný pobyt a vyhnuli se eventuálním nedorozuměním, prosíme Vás, abyste si pozorně přečetli domovní řád. Úhradou rezervace automaticky potvrzujete, že jste s domovním řádem obeznámený a že s ním souhlasíte, jakož i to že ho budete v plné míře respektovat. Nedodržování domovního řádu může být důvodem pro zrušení Vaší rezervace a zúčtování plné ceny pobytu bez ohledu na vynucený dřívěkší odchod z objektu.
Po příchodu do objektu hosté odevzdají domácímu osobní dokumenty všech osob pro potřeby přihlášení k pobytu (cestovní pasy nebo občanské průkazy, voucher) a uhradí zbytek sumy za ubytování. Osobní dokumenty Vám musí být vráceny do 24 hodin.Domácí je Vám k dispozícii po dobu Vašeho pobytu, aby Vám poskytl všechny informace a pomoc, kterou potřebujete. Doporučujeme Vám, abyste připomínky na kvalitu ubytovánií ihned oznámili domácímu.Hosté mají zodpovědnost za udržování pořádku a čistoty ubytování. Domácí není povinný čistit a uklízet po dobu pobytu hostů, jakož ani vynášet smetí z ubytovacích jednotek.Domácí Vám vymění povlečení každých 9 dní. Domácí nemá povinnost dát hostům k dispozicii ručníky, kuchyňské utěrky, toaletní papír, hygienické potřeby, potřeby na úklid a umývání nádobí, lehátka ani slunečníky.Domácí není zodpovědný za organizování volného času a animacii hosta.Hosté jsou zodpovědní za bezpečnost svých věcí a cenností, které si odložili v ubytovací jednotce. Majitel nezodpovídá za jejich případnou ztrátu. Z toho důvodu při odchodu z ubytovací jednotky bezpodmínečně zamkněte dveře a zavřete okna.Domácí nemá právo v nepřítomnosti hosta vcházet do pronajaté ubytovací jednotky. Výjímku představují zvláštní okolnosti, při kterých je nevyhnutelné vejít dovnitř z důvodu vyhnutí se možným škodám nebo nebezpečí. O svém vstupu majitel musí hosty informovat ihned při prvním následujícím kontaktu. V případě oprávněné pochybnosti domácího, že došlo ke škodě na jeho majetku, hosti jsou povinni umožnit mu vstup do ubytovací jednotky kvůli prověření situace.Hosté mohou přivézt domácí miláčky do ubytovací jednotky pouze s povolením majitele a cestovní kanceláře. Přivedení domácího miláčka bez předcházejícího nahlášení při rezervaci není povolené a majitel objektu a cestovní kancelář mají plné právo na zrušení rezervovaného ubytování. Host je povinný dávat pozor, aby domácí miláček neskákal po nábytku a nedělal škody, jakož i důkladně očistit jeho výkaly v apartmánu, na dvoře, v domě, jeho nejbližším okolí a na pláži. Pokud bylo dopředu dohodnuto, že bude host domácího miláčka držet venku, je přísně zakázané poušťet ho do vnitřních prostorů objektu.Není povolené přinášet do objektu zbraně, lehko zápalné a explozívní látky, či látky se silným nebo nepříjemným zápachem. Taktéž je zakázané používat jakékoliv vlastní kuchyňské spotřebiče (hořák/elektrická plotna a pod.) či jiné elektrické přístroje (ventilátor a pod.) bez povolení majitele.Prosíme Vás, abyste se starali o pronajatou ubytovací jednotku a nepoškozovali nábytek a zařízení v interiéru i exteriéru objektu. Není povolené přesunovat nábytek mezi jednotlivými místnostmi ani vynášet vnitřní vybavení do druhé ubytovací jednotky, mimo dům nebo na pláž (židličky z kuchyně na terasu, příbor na přípravu a konzumaci jídla do druhé ubytovacé jednotky, ručníky nebo deky z apartmánu na pláž, lehátka od bazénu na pláž a pod.).Používání zařízení a přístrojů, které nejsou základní součástí nabídky ubytovací jednotky (gril, garáž a pod.) je povolené pouze se souhlasem majitele.Bezpodmínečně zavřete slunečníky, vypněte světla, elektrické spotřebiče, plynové instalace a zavřete vodovodní kohoutky před odchodem z ubytovací jednotky. Pokud nejste vevnitř nenechávajte zbytečně zapnutou klimatizaci, a nepoužívejte ji při otevřených oknech a dveřích. Chlazení jídla a nápojů tečící vodou není povolené. Zakázané je i házení odpadků do záchodu, umyvadla a druhých míst, které na to nejsou určená, jakož i na dvoře a v okolí domu.V interiéru a exteriéru ubytovací jednotky je přísně zakázané vození osob, které tu nejsou ubytované. Pokud se v objektu pohybují osoby, které tu nejsou registrované nebo nejsou přihlášené při rezervaci, majitel nebo agentura mají plné právo zrušit ubytování všem hostům. Hosté ze sousedních domů nebo z druhých ubytovacích jednotek ve stejném objektu, které však nejsou ve vlastnictí majitele, nemají právo na pobývání v této ubytovací jednotce bez jeho povolení.Klient, který nechtěně nebo naschvál způsobí škodu na majetku, musí pronajímateli proplatit plnou výšku škody, ke které došlo. Vlastník objektu může vyžadovat od klienta depozit za každou rezervovanou ubytovací jednotku. Klient skládá depozit v den příchodu do rezervovaného ubytování. Depozit se vrací klientovi v plné výši v den odchodu, pokud zanechá ubytovací jednotku ve stejném stavu, v jakém ji převzal v den příchodu. Pokud vlastník požaduje depozit, klient bude o tom informován při příležitosti zaslání předfaktury za rezervaci.Pokud klient v den příchodu plánuje přijet do rezervovaného ubytování až po 19:00 hod., je povinnen dopředu informovat majitele nebo agenturu o svém pozdějším příjezdu. Vyhneme se tím situaci, že majitel v domnění zrušení rezervace ze strany přihlášených hostů cestovní kanceláře, přijme na ubytování druhé hosty.V den odjezdu jste povinni opustit ubytovací jednotku do 10:00 hod., aby se tato mohla uklidit a přichystat pro druhé hosty, kteří přicházejí do ubytovací jednotky po Vás a mají právo na ubytování v 14:00 hod. Rezervovaný objekt musíte zanechat ve stejném stavu, v jakém jste ho převzali při příjezdu – nepoškozený a v pořádku.Od 23:00 hod. do 08:00 hod. je čas určený pro noční klid a od 14:00 hod. do 17:00 hod. je čas určený pro odpolední klid. Proto neobtěžujte hlukem majitele, sousedy ani druhé hosty v objektu.Klientovi, který nedodržuje pravidla domácího řádu a narušuje klid v objektu, může být ubytování zrušeno. V případě zrušení ubytování ze strany vlastníka nebo agentury z důvodu porušování pravidel domácího řádu, klientovi se, bez ohledu na vynucené skrácení pobytu v objektu, uhrazená suma nevrací.
Nástupem na ubytování se rozumí, že je klient obeznámený s domácím řádem a souhlasí se závazky a podmínkami, které jsou v domácím řádu uvedené. Všechny spory, které se nemohou vyřešit interně s majitelem nebo agenturou, budou řešeny intervencí policie nebo soudu ve Zadru. Reklamace se zohledňují pouze v případě, když jsou nahlášené po dobu pobytu. Dodatečné reklamace nebudou akceptovány. 
---
Moderada
Cancela hasta 5 días antes de tu viaje y recibe un reembolso completo. Cancela en los 5 días previos a tu viaje y no se te reembolsará la primera noche, pero sí el 50 % del costo del resto de las noches.
---
We had a really enjoyable stay at Snjezanas & Ivicas apartment on VIR. I & S were so friendly and gave us lots of helpful tips in English (also fluent in German) on what we should do while on holiday in the area. The apartment was very clean and newly furnished with everything we needed. It is only a 3 minute walk from a great beach for families. While the road down to the beach was not paved that suited us as it meant very little car traffic during the morning or evening so nice and quiet. We loved eating breakfast and dinner outside on the patio. There is plenty of space for a car. Lots to do and see in the area. Would recommend the apt to anyone especially couples and young families. We will be back for sure as the apt is very good value.
---
We had a fantastic holiday at Ivica's apartment, Ivica is a very friendly, warm-hearted, hospitable person who welcomed us with drinks and snacks, gave a lot of information during our entire stay and made sure we were never missing anything. The apartment is comfortable and easy to reach by car, there is place next to the house to play for the children and my favourite were the incredible fig trees right next to the terrace which provided us the whole time delicious figs, Ivica even made us a package of figs to bring home which we appreciated a lot. The beach was just a few minutes walk from the apartment, shops and the center were not more than 5-10 minutes by car. There was a long sandy beach about 10-15 minutes by car which was also a nice option for children. All in all, we are very happy that we choose this apartment, this was our best airbnb experience until now!
---
Índice de respuesta:
100%
Tiempo de respuesta:
en menos de una hora
Tendrás los datos exactos de la ubicación cuando la reservación esté confirmada.
Descubre otras opciones en Vir y sus alrededores