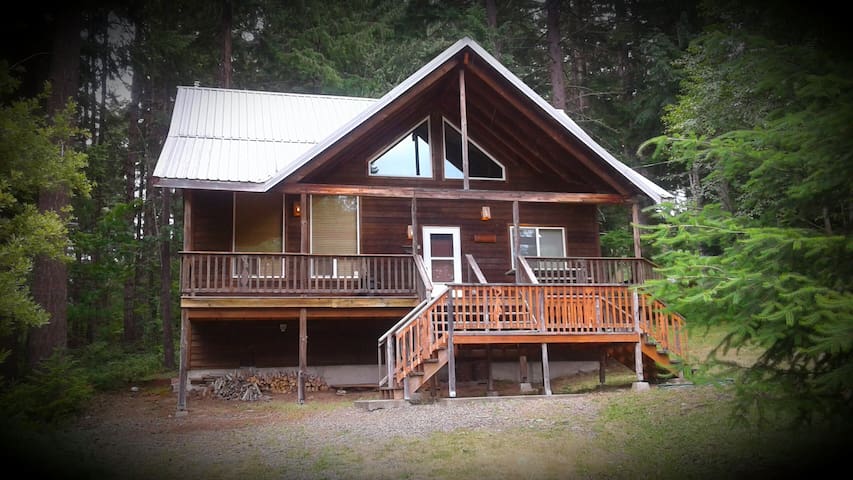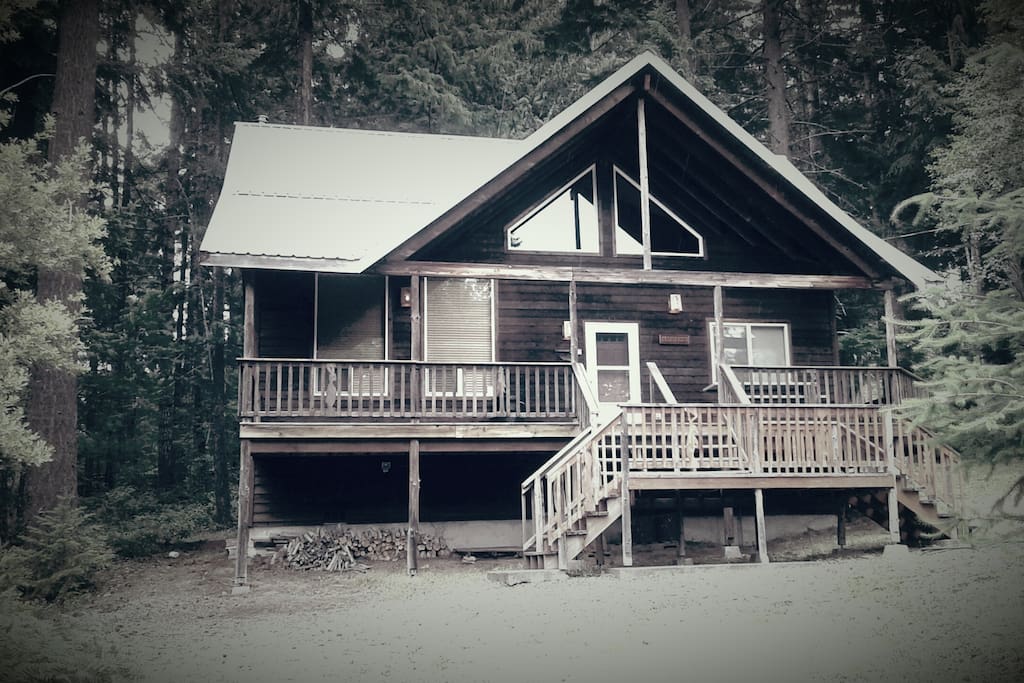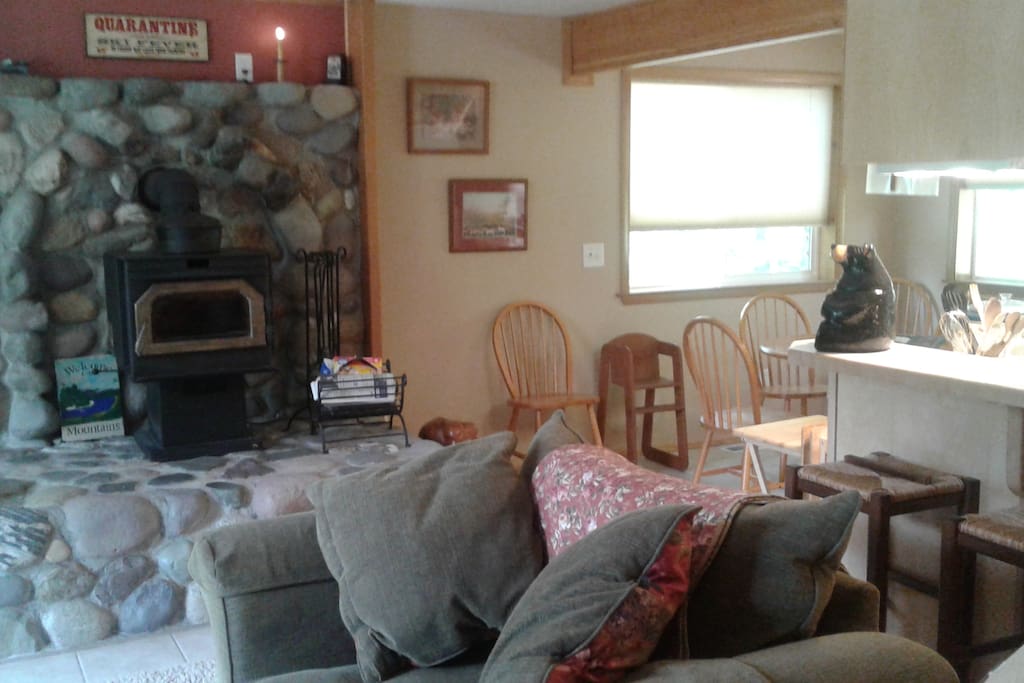 Departamento o casa entera
Our cabin is family-friendly and we are about 25 minutes from White Pass Ski Resort and approximately 30 minutes from the Stevens Canyon entrance of Mt. Rainier National Park. Our cabin is great for couples, solo adventurers, business travelers, and families (with kids).
Atención a los huéspedes
We have a hospitality supervisior and team right in Packwood that are on call 24 hours a day. Their numbers are listed in the welcome book in the cabin and in your welcome letter that was messaged to you.
Otros aspectos destacables
**** There will be an extra 40.00 cleaning charge if you are checking in or checking out on a holiday or holiday specified date (our cleaning crew charges extra for specific dates .... please inquire) ***
---
Llegada: A partir de las 16:00
Tipo de habitación: Departamento o casa entera
Llegada con acceso libre: Caja de seguridad
---
---
Personas adicionales $15 / noche más de 2 huéspedes
Depósito de seguridad $500
Precio por fin de semana $115 / noche
Comunícate siempre a través de Airbnb
Para que tus pagos estén protegidos, nunca transfieras dinero ni te comuniques desde afuera de la página o la aplicación de Airbnb.
Más información
---
Dormitorio 1
2 camas individuales
Dormitorio 2
1 cama tamaño queen
---
No se admiten fiestas o eventos
La hora de llegada es a partir de las 16:00
- Welcome to Elk Woods Bungalow
- Rental Agreement
- We trust you will have the experience of a lifetime; while joining us here in the Great Tatoosh Valley! Mt. Rainier, Mt. St. Helens, Gifford Pinchot National Forest and White Pass Scenic Byway (Highway 12) welcome you with great adventures and your expected excitement! Your adventures, peace and tranquility await!
- Upon payment of monies paid through an online site, payment is considered acceptance of this rental contract and its contents.
- In consideration of monies received and mutual promises contained herein, the owners of the subject property does hereby lease and rent to Tenant the certain property described herein and under the following terms and conditions. "Elk Woods Bungalow" information and rental data is set forth on this lease.
- RENTAL PERIOD: This lease shall commence at 4:00 PM ("Check-In Time") on the arrival day of (Your specified and confirmed date online) and shall terminate at 10:00 AM ("Check-Out Time") on the departure day (Your specified and confirmed date online), unless terminated at an earlier date in accordance with the provisions of this lease dealing with default. Check with the owners for a possible early check-in and or late check-out. (Additional charges may apply).
- ALL RENTALS ARE TO FAMILIES AND RESPONSIBLE ADULTS ONLY: (Tenant; No one under the age of 25). No one under the age of 18 should ever be left alone in the cabin for any reason. This reservation is for a total number of (tenants/guests you specified online).
- FEE TOTAL: (See online Invoice): includes rent, pet fee [if applicable], security deposit, cleaning fee, 9.8% WA tax.
- PAYMENT: Online Only
- SECURITY DEPOSIT: $500.00 is required and refundable, provided there are no damaged/missing items or additional and or extensive cleaning is required by the hospitality staff. Additional cleaning would consist of: 1.Hospitality staff having to complete basic check-out procedures listed in the "Elk Woods Bungalow" "Welcome Book" located in the cabin upon your arrival. 2. Picking up trash inside the cabin or on the cabin grounds. 3. Cleaning any stains on carpet or furniture. 4. Pick-up and removal of pet waste from the cabin grounds [If applicable]. 5. Returning any furniture to its original position in the cabin. All blankets, linens and towels are provided and will be counted before the security deposit is returned. If issues arise, the fee will be deducted from the deposit and the remainder sent to the tenant.
- CLEANING FEE: The one time cleaning fee specified on your online invoice includes; dusting, sweeping, mopping, vacuuming, scrubbing the bathrooms, making beds, hot tub maintenance [if applicable], preparing cabin for next guests and laundry, though for time sake, you agree to START one load of dishes in the dishwasher, and remove all garbage from the inside of the cabin and place it into garbage receptacles on the front porch; closing all lids tightly.
- PET FEE (service animals only): The one time pet fee of $ 25.00 per animal [if applicable], will be due and collected at the same time as the rent and cleaning fee.
- CHECK-IN/CHECK-OUT: Check-in time is 4:00 PM (PST). Check-out time is 10:00 AM (PST), unless otherwise stated or agreed upon. There is a coded lock box on the front door of the cabin. Approximately one week prior to your arrival, you will be sent driving directions, the code to the lock box and procedures. Upon your departure from "Elk Woods Bungalow" please be sure to lock all doors and windows. If the cabin is left unlocked in any way, there will be a $25.00 charge withheld from your security deposit.
- LATE/EARLY CHECK-IN OR CHECK-OUT: If you do not observe your confirmed check-out or check-in time you will be charged an additional $50.00 from your refundable deposit. Prior to your vacation, if you are interested in an early check-in time of 12:00 PM (NOON) (PST) or a later check-out out time of 5:00 PM (PST), please message the owners to see if either or both of these times can be accommodated for an additional $50.00 fee for each time accommodation requested and confirmed.
- TELEPHONE: There is not a telephone provided at the cabin, and not all cell phones work in Packwood. Regardless, please include the cell phone number/numbers you will have at the cabin with you. There are pay phones available in down town Packwood.
- PETS: Any violation or unauthorized pet brought either into or on the cabin property will result in immediate rental termination, with no refund of any kind, any evidence of an unconfirmed service pet will cause the forfeiture of your $ 500.00 security deposit.
- SMOKING: There is absolutely NO SMOKING of any kind in the cabin. If evidence of smoking of any kind is found in the cabin and/or cigarette butts thrown on the grounds, you will forfeit your $ 500.00 security deposit.
- ILLEGAL DRUGS/SUBSTANCES: There is absolutely NO ILLEGAL DRUGS OR SUBSTANCES USED AS SUCH permitted to be used within the cabin or on the cabin grounds! If evidence of illegal drugs of any kind are found in the cabin or on the cabin property you will forfeit your $ 500.00 security deposit and will result in immediate rental termination, with no refund of any kind.
- ALLERGY SENSITIVITIES: With many of our guests having allergy sensitivities we do not permit the burning or use of any type of incense within the cabin. Please feel free to use any sprays provided at the cabin for your use in fragrance/odor control. Please do not use heavy or strong scented fragrances or perfume on your departure day. Thank you for being respectful of our other guests sensitivities/allergies.
- LINENS/TOWELS/BLANKETS: All linens, towels, throws and blankets are provided and will be counted before the security deposit is returned. DO NOT remove any blankets, throws, sheets, towels (with the exception of specified towels for the community pool use) or rags from the cabin for any reason. If you plan activities away from the property that may require these items (i.e. swimming somewhere other than the community pool, boating, picnics, etc.), please be sure to bring your own, and do not take blankets outside for any reason.
- GRILLING: Grilling is permitted on the provided barbeque ONLY. No fire pit cooking unless you are using a roasting stick.
- FIREWORKS: Use of fireworks is prohibited all year. NO FIREWORKS!
- FIRE PIT: You must agree to follow ALL fire pit rules posted in the "Welcome Book" and any burn bans in effect! Wood is provided if available and additional wood and kindling can be purchased at Blanton's Market. Be sure the fire is completely out upon your departure. Failure to extinguish fires completely will result in a $25.00 charge withheld from your security deposit.
- WOOD STOVE: Safety is most important, only burn newspaper and wood. Please enjoy a fire or two. For additional fires, please purchase wood from Blanton's Market (Grocery Store in Town). Be sure the fire is completely out upon your departure. Failure to extinguish fires completely will result in a $25.00 charge withheld from your security deposit.
- POOL: Community pool rules are posted in the Elk Woods Bungalow Welcome book.
- SEPTIC: "Elk Woods Bungalow" is on a septic system. DO NOT flush any feminine products, cigarette butts, Q-Tips or etc. down the toilet. If there is any evidence of this occurring by the tenant or any of the occupants a $50.00 charge will be withheld from your security deposit. If any issues arise because of this type of occurrence, the fee will be deducted from the deposit and the remainder sent to the tenant.
- TERMS OF OCCUPANCY: The rented property is a private residence and you agree to indemnify the owner for any damage or loss to the property or its contents that occur during your stay. Violation of the occupancy limits will result in the forfeiture of all monies and termination of occupancy. We, and or the hospitality staff reserve the right to inspect the property during your stay. Further you agree to refrain from any activity which interferes with the neighbors' peace/property and will observe quiet hours at 10 PM. "Elk Woods Bungalow" owners, contract workers and hospitality staff are not liable for inoperable equipment, systems, or appliances, as major repair problems cannot be foreseen. There are no rebates or refunds issued to tenants for any reason as every good faith effort is made to insure the property is maintained to the highest standards. Tenant(s) is responsible for any damage incurred during his/her occupancy of the premises. Tenant is expected to care for the property as if it were their own and better. Tenant acknowledges that unless the owner or the hospitality staff is notified on day of check-in of any damage or cleaning concerns, then thereafter, all damages or concerns to the property during the occupancy will be the tenants responsibility and must be reported to the owner and damages will be withheld from the security deposit. REARRANGING ANY FURNITURE AND OR ELECTRONIC EQUIPMENT IS NOT PERMITTED!!
- QUIET HOURS: Please observe the 10 PM quiet hour. Outside activities including; hot tub use [if applicable], music and socializing needs to be kept at a respectful minimum level. There are other homes close by that occupy full-time residents. A violation of this agreement could result in the termination of occupancy and forfeiture of all monies. Thank you for respecting others!
- LOCKED AREAS: Cabinets, closets or cupboards that are locked and the tenant has not been provided a key to, such as owner's personal storage areas, are exempt from this lease agreement and are off limits to the tenant. Forced entry into these areas is cause for immediate termination, and tenant will be charged for any and all damage and/or any missing items. If the owner, sub contractors or hospitality staff needs access to locked areas during your rental period, they will notify you prior to entrance.
- HIKING, SKI AND SNOWBOARD EQUIPTMENT: Please store all equipment on either the front or back porches. DO NOT BRING EQUIPMENT INSIDE. DO NOT WEAR SKI/SNOWBOARD BOOTS INSIDE OF THE CABIN!
- DEFAULT/TERMINATION: If the tenant or any member of his/her party violates any of the terms of this agreement, the owner may, at the owner's sole discretion, terminate this lease with no refund of unused portions of the rent unless the property is able to be re-rented, and may enter the premises and remove tenant, the members of his party and their belongings. The tenant is notified immediately that they are subject to an expedited eviction procedure pursuant to the "Vacation Rental Act".
- INDEMNITY: The tenant agrees to release and indemnify the owner and its agents, sub contractors and or hospitality staff from and against all liability, should anyone be injured upon the premises during the term of the lease, resulting from any cause whatsoever, except in the case of personal injury caused by the negligent act of the owner, his/her agent or the agents' employees.
- LOST, STOLEN, OR ABANDONED ARTICLES: The owner shall not have any responsibility for the return of lost, stolen, or abandoned items. There will be a minimum of a $25.00 shipping charge for any returned articles/items.
- IN THE EVENT: In the event the owner is unable to deliver said property to the tenant under this lease agreement prior to occupancy, because of fire, eminent domain, act of nature, double booking, delay in construction or any other reason whatsoever, tenant hereby agrees that it is the owner's sole liability as a result of these conditions is a full refund of all consideration previously tendered by tenant.
- OCCUPANCY RATE: The tenant must disclose above in the spaces provided; all the names and ages of all occupants in their party. Your rate is based upon this number and any violation will result in immediate eviction. You can change the amount of occupants by messaging the owner prior to your reservation date to confirm additional guests and fees. "Elk Woods Bungalow" maximum occupancy is 10. (There is never to be more than 10 occupants) at any time. Occupy means overnight sleepers and prolonged daytime visitors. The cabin is not to be used as a meeting place for friends and family reunions, parties or any other type of meetings unless disclosed to "Elk Woods Bungalow" owners at the time of reservation. Violation of this agreement will be the cause for immediate eviction.
- THIS CONTRACT IS BOUND UPON THE RECEIPT OF PAYMENT AND/OR THE SIGNATURE OF THE TENANT
- Tenant certifies with his/her signature or payment that all members of their group are either part of a family group or group with responsible adults over the age of 25. Violation of any number of provisions within this rental agreement may result in the termination of this rental agreement, immediate removal from the premises, and forfeiture of all monies paid.
- Thank you for choosing "Elk Woods Bungalow" for your vacation. We are confident you will return, and recommend us to others. We hope you have an enjoyable experience vacationing in the area. Its many amenities provide a real enhancement to your stay. Please carefully review the regulations throughout this rental agreement. This document and the pet addendum [if applicable] shall serve as the complete agreements between tenant and all property owners of "Elk Woods Bungalow" cabin.
- Payment for reservation acknowledges that I have read, understand, and agree to the rental terms and regulations as printed above and on the separate pet addendum [if applicable] document. I certify that I am solely responsible for all damages to the property during the rental period stated above. Further, I certify that I am over 25 years of age and will be one of the occupants during the rental period stated above.
- THIS WILL BE A VACATION RENTAL AGREEMENT UNDER THE LAWS OF THE STATE OF WASHINGTON. THE RIGHTS AND OBLIGATIONS OF THE PARTIES TO THIS AGREEMENT ARE DEFINED BY LAW AND INCLUDE UNIQUE PROVISIONS PERMITTING THE DISBURSEMENT OF RENT PRIOR TO TENANCY AND EXPEDITED EVICTION OF TENANTS. YOUR SIGNATURE ON THIS AGREEMENT, PAYMENT OF MONEY, OR TAKING POSSESSION OF THE PROPERTY AFTER RECEIPT OF THE AGREEMENT, IS EVIDENCE OF YOUR ACCEPTANCE OF THE AGREEMENT AND YOU'RE INTENT TO USE THIS PROPERTY FOR A VACATION RENTAL.
- We hope your time at "Elk Woods Bungalow" will be relaxing, enjoyable and you feel right at home!
- REVISED 06/15/2016
---
---
Ficha de instrucciones de seguridad
---
Los viernes y sábados, la estancia mínima es de 1 noche.
---
Packwood, Washington, Estados Unidos
Se registró en Junio 2016
My wife and I are both retired, myself from the Air Force (22 years) and she from Harborstone CU after 30 years. We raised 3 sons and have 4 grandchildren. My big thing to do is golf as much as possible, and she likes to cook. We hope you enjoy your stay at our Elk Woods Bungalow by relaxing or enjoying the scenery around the Packwood and White Pass ski area.
Idiomas:
English
Índice de respuesta:
100%
Tiempo de respuesta:
en pocas horas
Descubre otras opciones en Packwood y sus alrededores
Más alojamientos en Packwood: