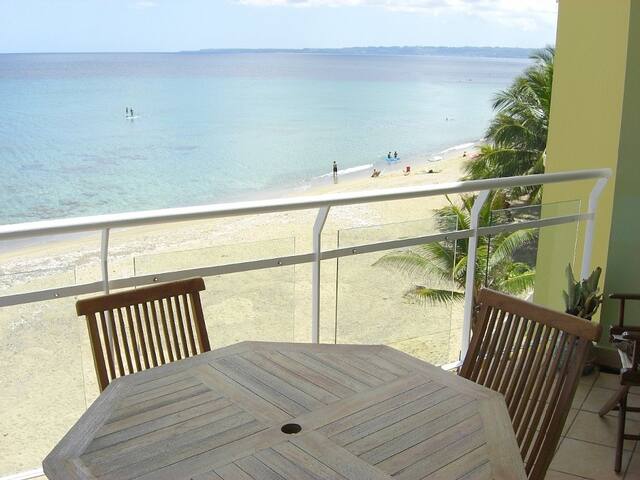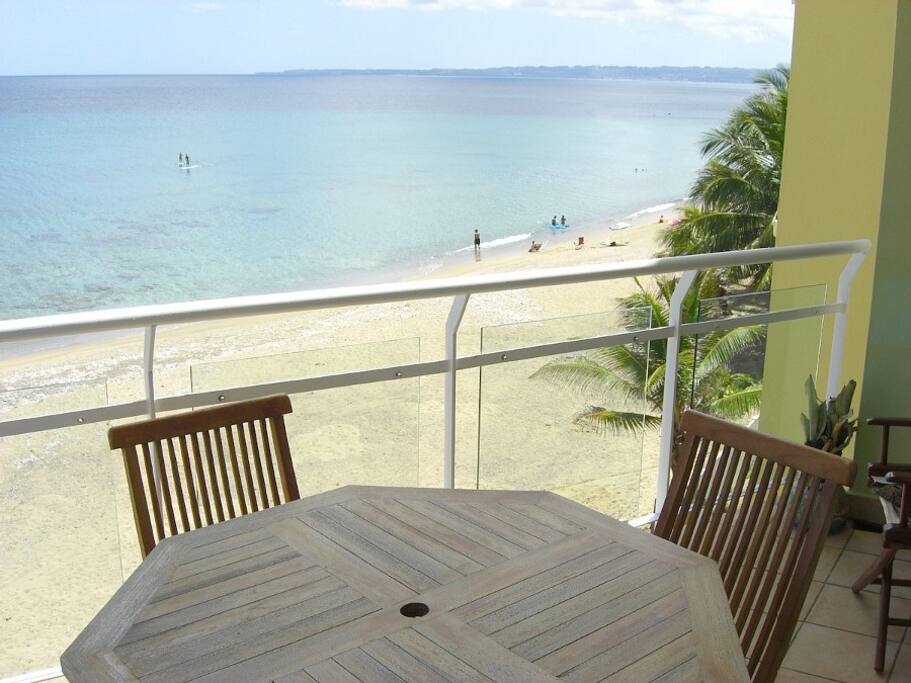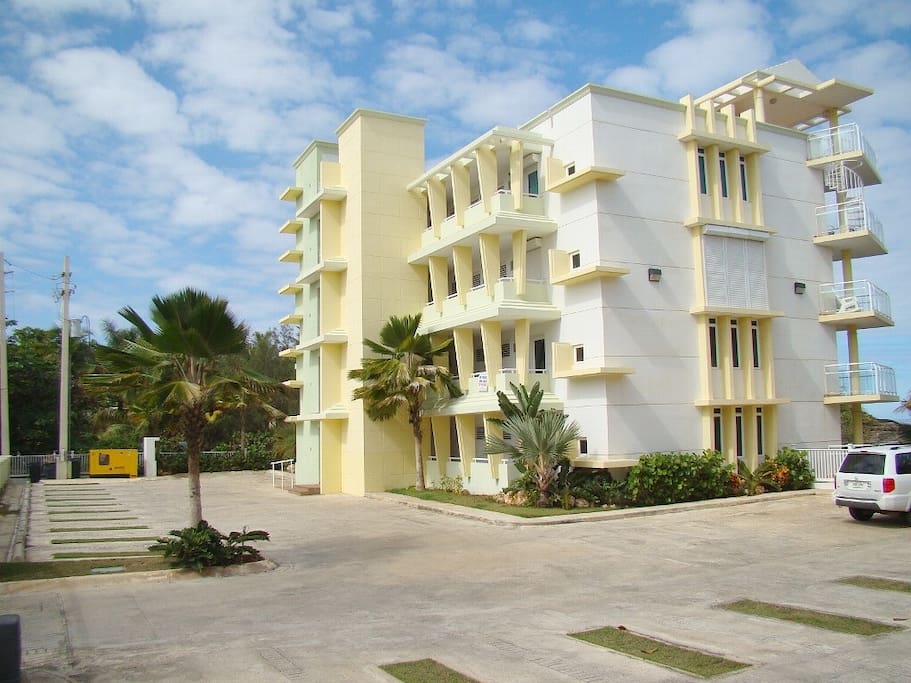 Luxurious and Charming beachfront apartment!!!
Relájese en este residente frente al mar, situado en Sandy Beach! Disfrute de hermosas puestas de sol todas las noches desde este querido dos dormitorios / dos baños condominio frente al mar, mientras se relaja en el Caribe. Camine menos de cinco minutos a muchos restaurantes locales.
Relax at this beachfront resident, located at Sandy Beach! Enjoy beautiful sunsets every evening from this darling two bedroom/two-bath oceanfront condominium, while relaxing in the Caribbean. Walk less than five minutes to many local restaurants.
---
---
Depósito de seguridad $300
Comunícate siempre a través de Airbnb
Para que tus pagos estén protegidos, nunca transfieras dinero ni te comuniques desde afuera de la página o la aplicación de Airbnb.
Más información
---
Dormitorio 1
1 cama tamaño queen, 1 sofá cama
Dormitorio 2
2 camas matrimoniales
---
DEPOSIT: To secure the dates requested a deposit of the $250 refundable security deposit must accompany the signed rental agreement. The Owners will sign and return a copy of the rental agreement along with a receipt for the deposit.
RENT: 50% of the rental fee is due 60 days before your stay. Balance of rent is payable 30 days in advance of occupancy and can be paid by cashiers/registered check, personal/business check, or money order.
DAMAGES: A refundable $250 deposit will be required in advance of occupancy, which will protect the Owners against theft from or damage to the property hereinafter referred to as "damages". Deposit will be returned 30 days after renters vacate property if the unit suffers no damages. Deposit may be applied by the Owners to correct damages and such act shall not prevent the owner from claiming monies in excess of the deposit for correction of damages. Renter agrees to provide the Owners with forwarding address prior to commencement of lease. Renter agrees to properly use and operate all furnishings, including electrical appliances, plumbing fixtures, electronic home entertainment property, and all other items of whatsoever kind or nature provided during the term. Renter also agrees to leave the home so that no extraordinary housekeeping will be required after departure. Renter understands their responsibility as occupant and accepts financial burden for any damages to the property caused by the renter or their invitee. By signing below, Renter agrees to pay replacement value for any items that are damaged or lost to theft during their stay, or for extra cleaning required. The owners will notify the renter in writing of the costs of damages or extra housekeeping within 15 days after your departure.
CANCELLATION: Cancellations are fully refundable if cancelled 60 days or more prior to the date your rental was to begin. Cancellations made between 30-60 days in advance will receive a 50% refund. Cancellations made less than 30 days in advance receive no refund. If the renter cancels and the owners are able to rent the condo for some or all of the cancelled days, the renter will receive a full refund for the days that the condo is rented. There are no refunds due to weather.
LOST KEYS: Renter will receive one front door key, one master key, and one main gate beeper. There is a $50 fee for any lost key or beeper.
MAINTENANCE & REFUNDS: The Owners make every effort to assure that appliances in the condo are in operating condition, and ask you to report any problems as soon as they are discovered. The owners will make every effort to correct the problem; however, at times we must wait for parts or outside service. Refunds cannot be made for inconvenience due to mechanical failure of appliances.
MAXIMUM NUMBER OF PEOPLE: Each home has a maximum occupancy limit. All guests ages two (2) and over are counted as chargeable guests. Any party falsely representing the number of people in the home or exceeding the number paid for may be subject to immediate eviction without refund. Over occupancy is considered a serious violation of this rental agreement. The maximum number of guests is 6.
RENTER'S AGE: Renters must be 25 years or older and supply with the signed contract a copy of his/her driver's license. Noncompliance with this disposition is considered a serious violation of this rental agreement, and the Renter will be subject to immediate eviction without refund
RELEASE OF LIABILITY: The Owners shall not be liable for damage to renter's property of any type, for any reason or cause whatsoever. Renter agrees to indemnify and save and hold harmless the Owners and Sandy Beach Apartment Homeowners' Association from any loss, liability, damage or cost owners may incur due to occupancy of the property. Any disputes arising under this Agreement shall be mediated subject to the laws of the commonwealth of Puerto Rico.
PETS: Due to condo association rules, renters may not have pets of any kind. You may see a poodle or two during your stay, these belong to owners who are allowed to have pets.
WEATHER: There will be no refunds due to inclement weather or power outages.
HOLD OVER: Renter shall deliver possession of residence in good order and repair to the Owners upon termination or expiration of this agreement.
SUBLET: Renter may not sublet residence or assign this rental agreement without written consent of the Owners.
FIRE AND CASUALTY: If residence becomes uninhabitable by reason of fire, explosion, or by other casualty, the Owners may, at its option, terminate rental agreement or repair damages.
RIGHT OF ACCESS: The Owners shall have the right of access to rental for repair and maintenance during reasonable hours. In the event of an emergency, the Owners may enter at any time to protect life and prevent damage to the property.
USE: Rental shall be used so as to comply with state, county, and municipal laws and ordinances. Renter shall not use rental or permit it to be used for any disorderly or unlawful purpose or in any manner so as to interfere with other resident's quiet enjoyment of their residence. Any misuse described above shall result in termination of Rental Agreement and no refund of any payments will be issued. Furthermore, any penalties for violations of any state, county, or municipal laws will be responsibility of the Renter.
NOISE: Your neighbors will greatly appreciate your efforts to keep noise to a minimum. Try really hard not to let the front door slam. Absolutely no loud parties, loud music, or loud voices, will be allowed, especially on the balcony. This doesn't mean you have to creep around like a mouse – it's a vacation, after all. A little effort goes a long way towards making our building delightful for everyone. Don't be shy about complaining to José Zorrilla ((PHONE NUMBER HIDDEN)) if someone else is not following the rules. Also don't be shy about calling the police (911) if you see or hear something really serious.
BALCONY: You are 60+ feet above the beach. The balcony railing is quite strong, but DO NOT lean over it and DO NOT lean against it. It's a long way down. DO not allow youngsters to be on the balcony unless an adult is with them. Please do not hang anything (towels, bathing suits, flags, etc.) on the railing. It is strictly forbidden by the condo association, $100 fine.
ELEVATORS: The most expensive single system in our building is the elevator. Jumping, holding the door open for more than a few seconds, and/or sand or water are not tolerated.
LAUNDRY: The linens and towels are clean when you arrive. They will not be cleaned during your stay by the maid service. You may, if you wish, wash them in the unit's washer and dryer during your stay. We will appreciate if you do not leave more than six (6) towels or three (3) set of sheets for the maid to wash.
INDEMNIFICATION: Renter releases the Owners from liability for and agrees to indemnify the Owners against losses, incurred by the Owners as a result of (a) Renter's failure to fulfill any condition of this agreement; (b) any damage or injury happening in or about rental or premises to renter's invitees or licensees or such person's property; (c) Renter's failure to comply with any requirements imposed by any governmental authority; and (d) any judgment, lien, or other encumbrance filed against renter as a result of renter's action.
ENTIRE AGREEMENT: This agreement and any attached addendum constitute the entire agreement between the parties and no oral statements shall be binding. It is the intention of the parties herein that if any of this rental agreement is invalid, for any reason, such invalidity shall not void the remainder of the rental agreement.
FAILURE OF THE OWNERS TO ACT: Failure of the Owners to insist upon compliance with the terms of this agreement shall not constitute a waiver of any violation.
SMOKING: Smoking is not allowed inside the property, on the hallway or in the common areas. If you smoke in any of the prohibited areas, you will forfeit all of your security deposit. However, smoking is allowed in the property's balcony, and it is necessary to use a pop can or other deep container for an ashtray so your neighbors don't get showered with ashes when it's windy.
GARBAGE: Garbage is to be placed in plastic bags and placed in the garbage bins located in the parking. Important: It is prohibited to leave garbage and/or personal property in the hallway, that may constitute $100.00. Wait until you go downstair to deposit the bag on the designated trash area.
PARKING: Renter agrees to obey all parking signs. Renter will park only in designated space for Apt. 301, which provides space for two (2) cars. Do not park on the visitors or handycap parking. Not even when you think anybody is watching. The building has cameras on the parking and it may have $100.00 fine.
BEACH SAND: It's why you came here, but leave it on the beach. There's a water hose on the walkway from the beach. Use it to clean the sand off you, your beach chairs and anything else you had down with you. Sand really wrecks carpeting, upholstery and sheets.
SWIMMING POOL RULES: Please refer to Addendum Number 1.
ENERGY: Due to high cost of energy we are demanding renters to turn off the appliances but especially the air conditioners when no one is in the apartment.
GENERAL RULES: Please refer to Addendum number 2
ATTORNEY'S FEES: In any action or legal proceeding to enforce any part of this agreement, the prevailing party shall recover interests, reasonable attorney's fees and costs.
I have read the foregoing agreement and agree to abide by the above conditions and also verify that the information provided by me is accurate and correct.
ADDENDUM NUMBER 1
SWIMMING POOL RULES AND REGULATIONS.
1.Children under the age of sixteen (16) must be accompanied by an adult.
2.No Lifeguard is on duty. All persons using the pool do so at their own risk.
3.No Diving allowed. No running, no pushing, no wrestling, no ball playing, no jumping, or any rough play in or about the pool.
4.The pool may be closed by Management at any time if judged necessary..
5.Glass containers are prohibited in the pool area.
6.For the safety and protection of others using the pool, persons with skin abrasions, colds, inflamed eyes, contagious conditions or infections, or wearing bandages are not to use the pool.
7.Consumption of alcoholic beverages on the pool area is prohibited.
8.Persons under the influence of alcohol shall not use the pool.
9.The pool is open from 9:00am to 10:00pm . 7 days a week.
10.Any person who is observed to be violating pool regulations will be asked to leave the pool area immediately.
11.Parents or guardians who accompany children must remain with the children during the time the children are in the pool area, and are responsible for the children's actions. The guardian/parent is also responsible for any and all damage that may occur.
12.The Renters, the Association and its agents assume no responsibility for any accidents or injuries in connection with use of the pool. Persons using the pool release and indemnify the Renters, the Association and its members and agents from any claims in connection with any loss of life or personal injury or damage to or loss of personal property.
13.Any person responsible for any property damage or loss will be responsible for the cost thereof.
14.The Owners are not responsible for any loss or damage of personal property of any kind. Renters are cautioned against leaving unguarded valuables in the pool area.
15.Renters are responsible for all actions of their children and guests. All persons must shower before entering the pool.
I have read the foregoing Addendum and agree to abide by the above conditions and also verify that the information provided by me is accurate and correct.
ADDENDUM NUMBER 2
Our main interest is that all our guest can enjoy the facilities without any inconvenience. Be considerate of your neighbors and guide their relatives, visitors or tenants about the rules. Remember that the holder is solely responsible for their behavior. Attached are the general rules. We encourage you to read and apply them.
General Rules:
1. No unnecessary noise.
2. No pets allowed for renters.
3. Pool Usage:
a) No food or drinks allowed in the immediate vicinity of the pool.
b) No running in pool area.
c) Children under 12 years of age must be accompanied by an adult.
d) Proper attire (swim suits etc.) is mandatory in pool area at all times.
e) Renters are not allowed to bring visitors to use the pool or showers from common areas.
4. Entertaining or activities are prohibited without previous authorization by the administration.
5. Do not hang items from balconies (signs, towels, clothing, etc).
6. Only use the parking space assigned to your unit.
7. Keep gates and doors closed.
8. Do not throw food, cigarettes, or any other items from balconies.
9. Do not leave trash in the hallways or stairways. Please make sure all garbage is placed inside the garbage containers.
10. Do not leave personal items in the hallways or stairways. Please make sure placed inside the apartment or storage area.
11. Do not move out or make any renovations/repairs without proper notice to administration or outside of the established schedule.
12. No smoking in the hallways or in enclosed areas.
13. Pool hours are: Sunday to Thursday from 9:00am to 10:00pm and Friday and Saturday from 9:00am to 11:00pm.
There is a document of General Rules for the building that has to be sign and return to the owners 3 days before check-in.
If guest violate 2 or more of this rules, they may be evicted from the property. There will be no refund of the security deposit or of any unused portion of the stay.
Loud music, noisy behavior, disrespectful actions or behaviour towards other renters and neighbors as well as excessive numbers of vehicles will not be tolerated.
---
---
---
Estancia mínima de 2 noches
---
The location can't be beat but the building, apartment, and company who runs it all need serious help. Things broken: master bedroom shade was on the floor when we arrived, the bathroom towel holders were missing, the bathroom mirror / shelf combo was very lose and felt like it was going to fall out of the wall, the toilet paper holder did fall out of the wall, every single handle in the apartment is rusted, several of the windows in the kitchen / dinning area don't close very tight so bugs come in at night, there's tile falling off the balcony, and the wifi did not work even after unplugging / plugging it back in. The host company did not fix the bedroom shade or wifi per our request. The building has a million silly rules, they expect renters to wear bright yellow wristbands there entire time staying on the grounds. There are 5 different locks to get in and out, the outer most door locks are very rusted and in need of repair. The location is amazing for beach access and getting to a few very nice restaurants and bars. My wife and I had an amazing time when we were OUTSIDE of the unit but within, its a nice place that has become run down over the years. If you are looking for a surf trip for the dudes, go for it but if you are looking for a nice romantic beachfront rental--look elsewhere. This place is run by a company not an owner and the service / level of care shows.
---
Idiomas:
English, Español
Índice de respuesta:
100%
Tiempo de respuesta:
en el mismo día
Descubre otras opciones en Rincón y sus alrededores
Más alojamientos en Rincón: